It´s one day after this year´s edition of Boot Duesseldorf had its traditional closing concert of all boat´s horns and signals and I slowly arrive back from ten days living in the boat bubble. The first night spent in my own bed, at home, in my flat. Familiar scents, noises of my neighborhood. Meals cooked by my own and – best of all – a day spent in total silence. After ten days of ten hours of constant talking, I guess, I didn't spoke 100 words today. A bliss.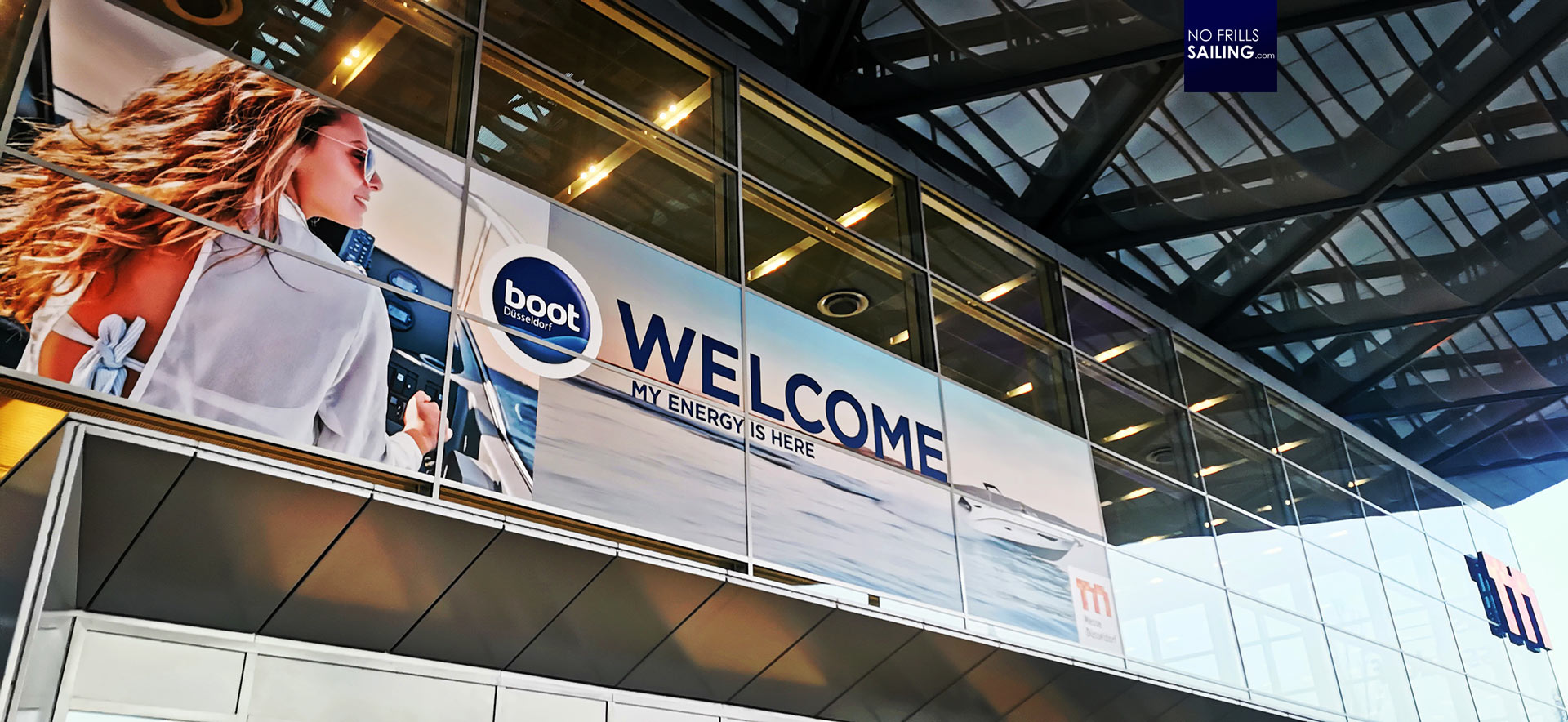 Nevertheless, I am thrilled. After a – let´s say – retained anticipation of this world´s leading trade fair of the boating industry, especially after three years of being cancelled, some big brands cancellations and many rumors in the run-up of the show, I am personally very excited and happy. To make a long story short: Boot Duesseldorf 2023 was a big time success.
An industry in crisis mode?
I try to be a realistic guy and I take life in a "worst case" approach: Meaning, I prepare for the worst, work for the best and usually the truth lies somewhere in between. With Boot Duesseldorf, my prediction of an extraordinary rush of visitors was right. I also predicted that the ratio of lookers, dreamers and – for us as boat dealers – more or less uninteresting people to serious buyers and people with realistic projects will be much higher than in the years before. I was right too. The influx of people was awesome, from day 1 until day 10.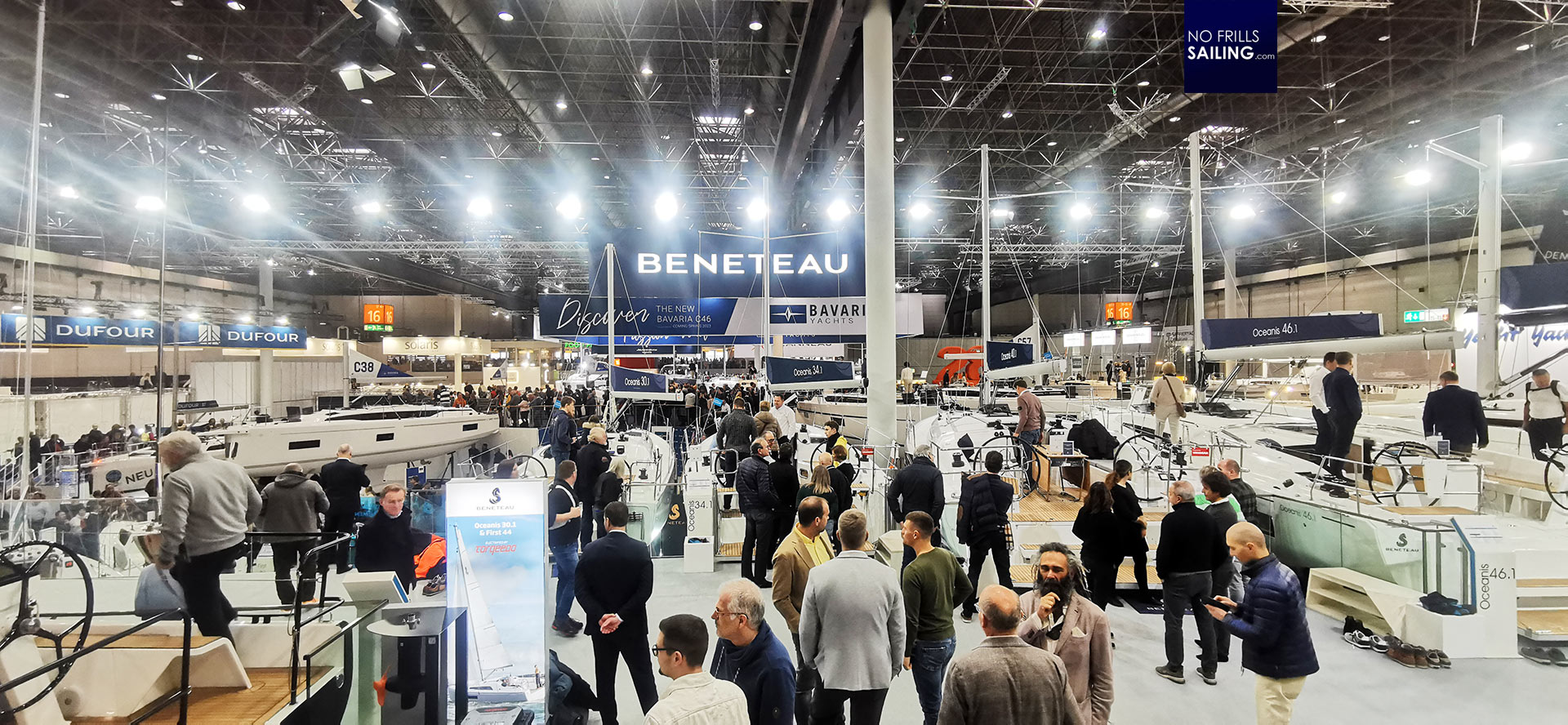 Therefore I had piled up the team of our company and we arrived with the biggest crew ever: Three guys on the sailboat stand of Beneteau, two guys with Excess, two with Beneteau power boats and three with Cranchi luxurious yachts. After a "World War Z"-like opening weekend with a tremendous overload of constantly arriving people and two fully booked days of the adjoining week it was clear to me that we even could have used one member in our team for each stand more.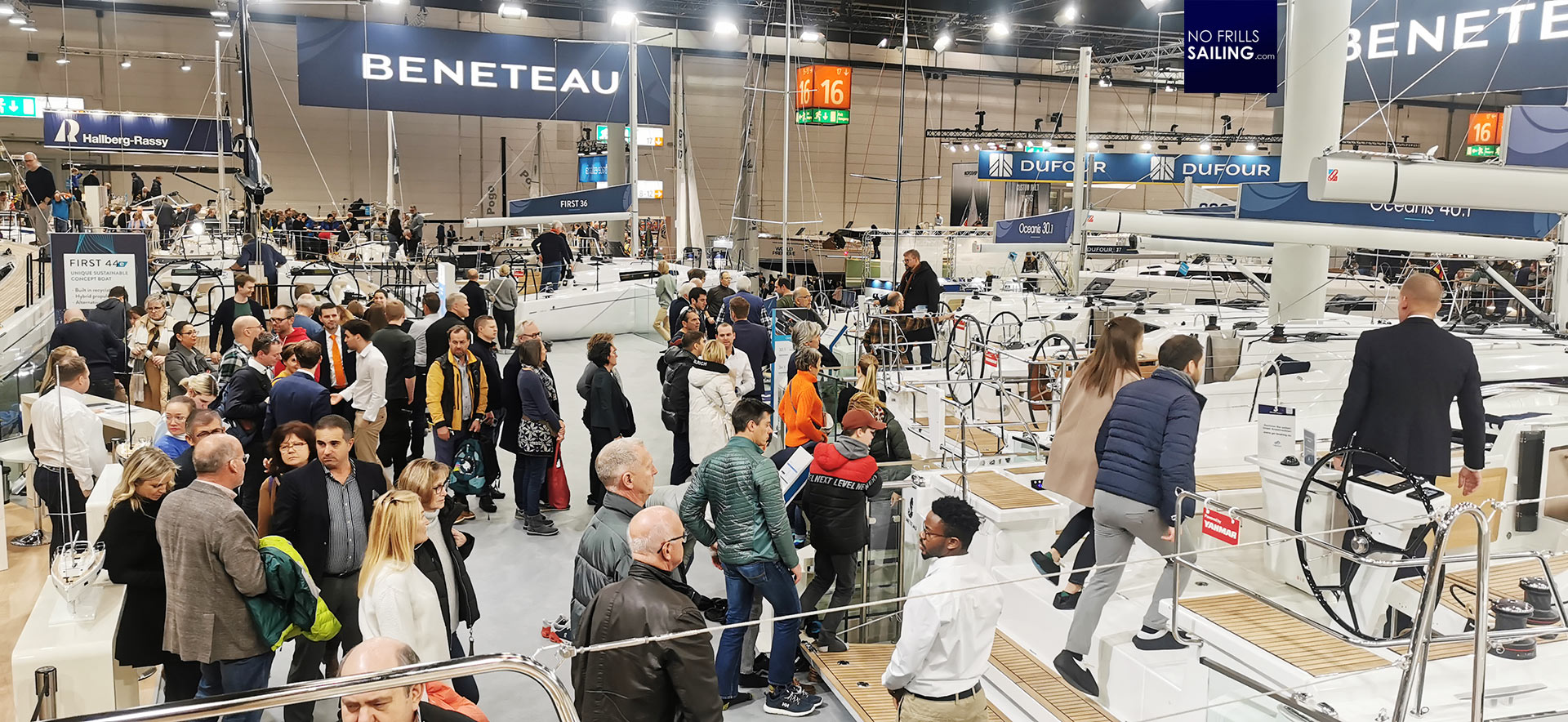 With opening at 10 a.m. guests started to arrive. Next to my +120 appointments for boat consultations and walkthroughs, a permanent stream of day visitors arrived at the desk of the hostesses. Thank god we had these angels ready and prepared: Had the stand been open, like it was with Bavaria vis-à-vis, "World War Z" would have become reality. We worked for 8 hours straight and – this is literally no exaggeration – I wasn´t able to take a piss, let alone a break for eating a snack. Constant talking, counselling, shaking hands (thank God we can shake our hands again!), smiling and boat chit-chat. I kind of foresaw this in Paris …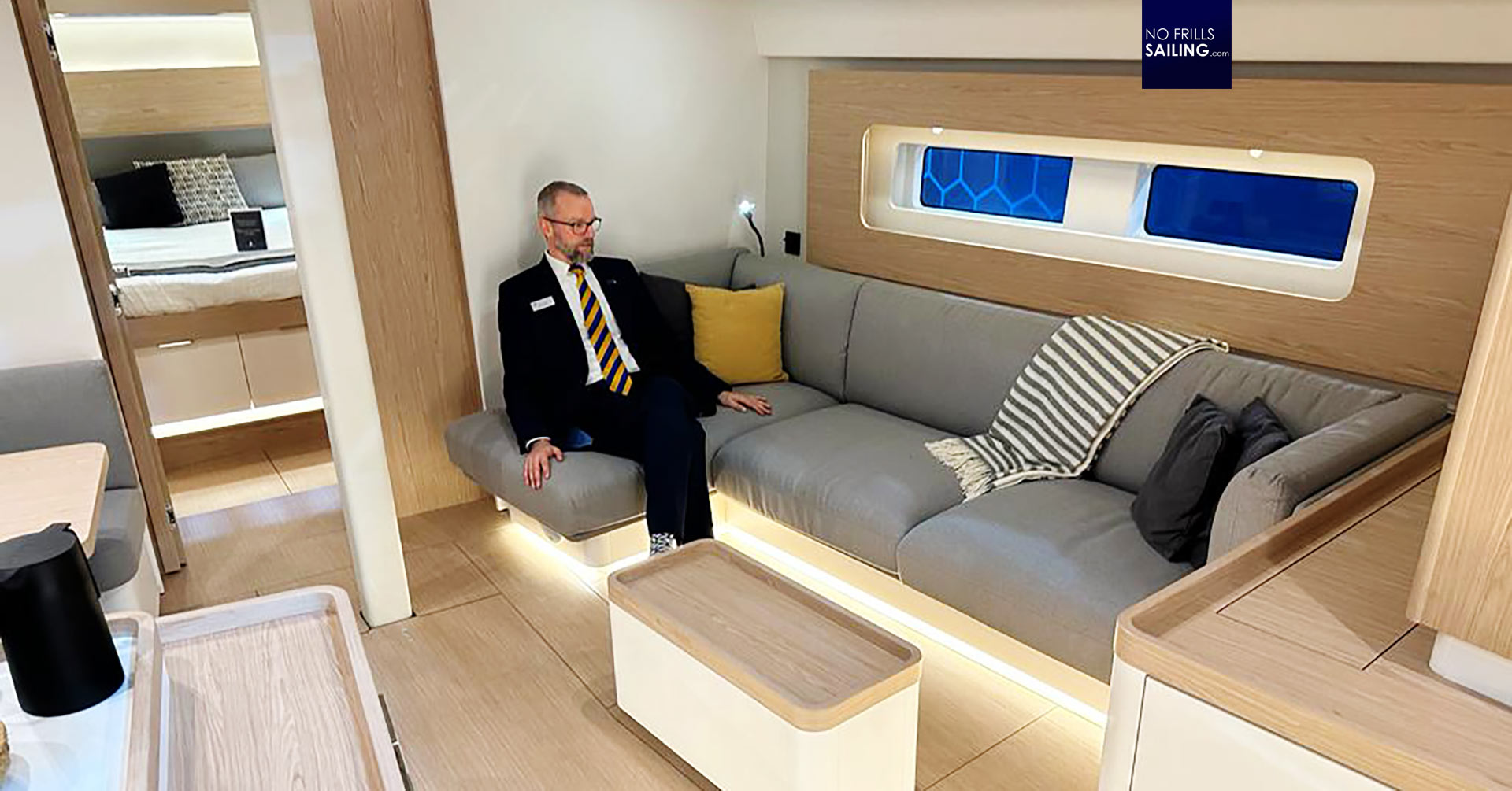 Bot not just talk. The great surprise for us all was the fact that apparently something shifted. In the years before (and I am now for my seventh round in this business, attending roughly estimated my fiftieth boat show) most of the dreamers, trash talkers and time-stealers had been scrimmaging around the big boats, 50 feet and higher. Not so this time: It has been the smaller and mid-sized boats from 30 to 40 feet where most trash talk took place. According to the feedback of us all on the stands, extraordinarily enough, the serious people had been on the big units 45 feet up. And of them, a lot came buy. That´s a good and a bad sign, of course.
One man´s meat is the other man´s poison …
Many rumors had been circulating in the business, starting with Cannes 2022 when a very definite group of people didn´t tire to mention that Boot Duesseldorf would not take place: No heating would be allowed, Covid-restrictions in place, energy crisis and many brands already cancelled. Apparently, this was trash talk too. Yes, there had been some blank spots in the halls with some brands not coming. But out of the big names, only X-Yachts and Hanse did not show up. Good for the rest: Our stands were full of people, dealers and yard representatives smiling and happy.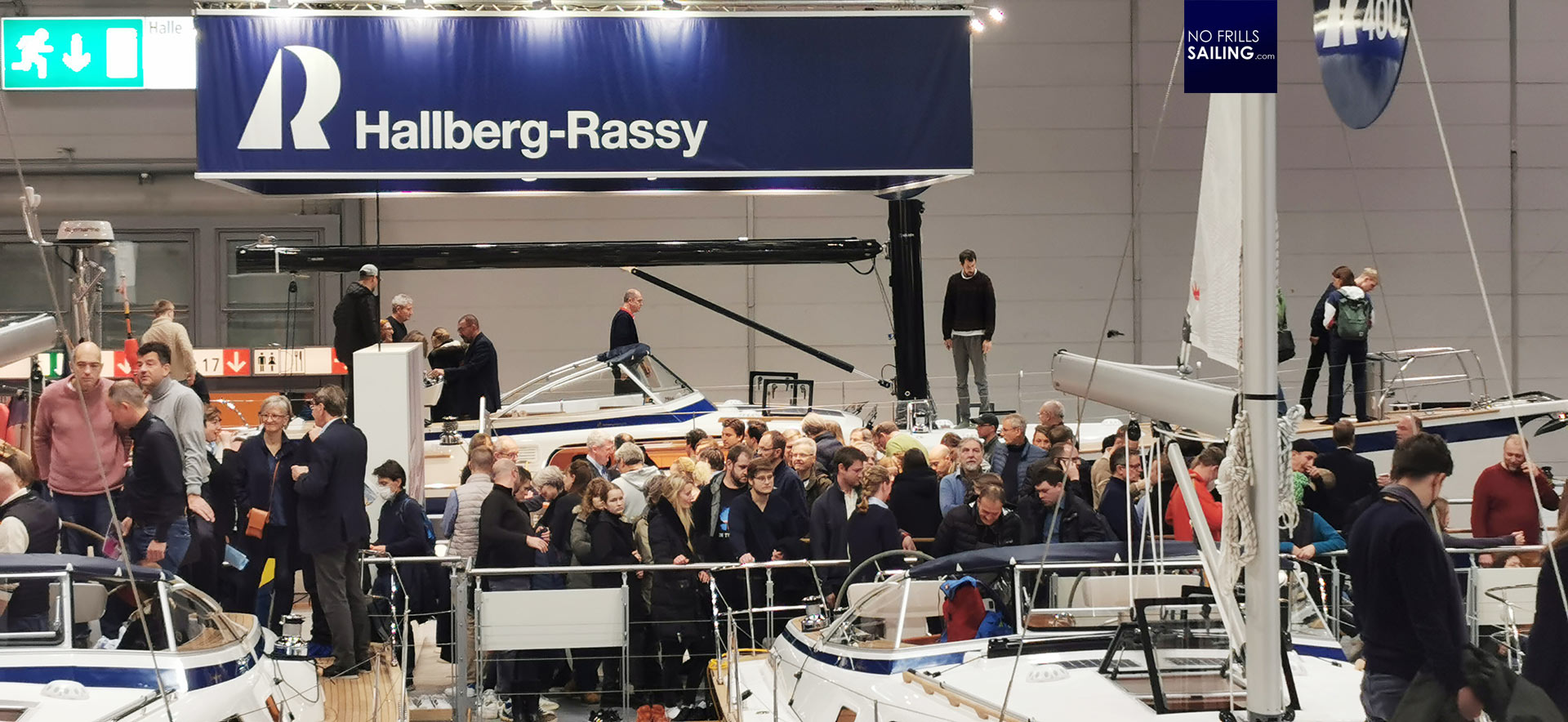 On the contrary: Hanse and X-Yachts missed a big time opportunity. Showing their latest models and – for German boat builder Hanse maybe even more important in the light of their, let´s say, not so bright looking stock developments. To add injury to insult, I welcomed no less than two families on our Oceanis 46.1 because the buyers (the father) wanted to show their families what 46 feet feel like. Embarrassing for a big brand like Hanse who wold have certainly had a big feedback on their new 460 and brand new 510. On Thursday last week things fired back with some more rumors circulating about the situation of this group. Well, I am not that of an insider, but the jigsaw seemed to fit. But, let´s talk about the good things.
Celebration time
The guys of Seascape – who had been present on the stand all the time! – threw a big party on the stand in light of winning the "European Yacht of the Year 2023" award that was won on Monday. To be honest, even if the list of her contenders for the title "Best Performance Cruiser 2023" was very intimidating, winning this for the First 36 was great news for the team.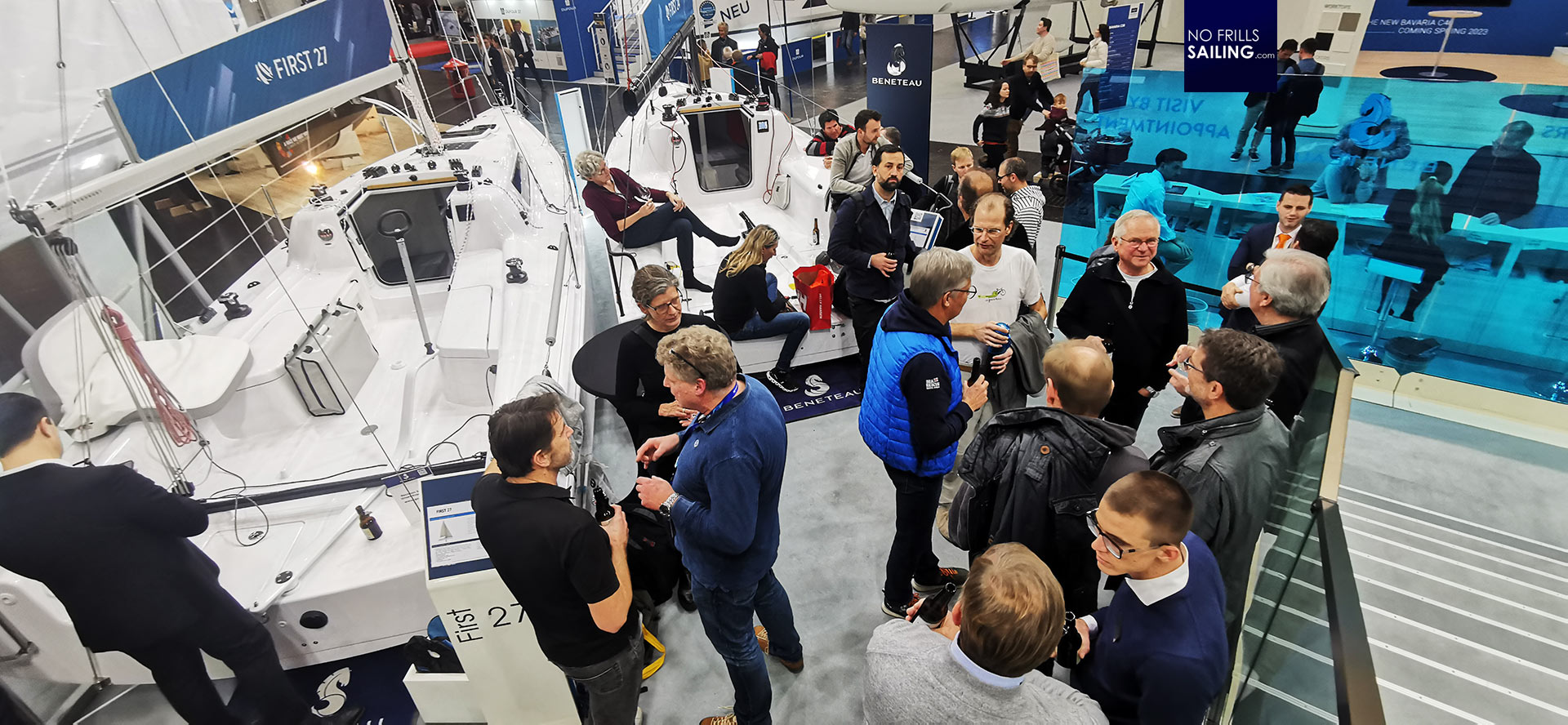 But what a great thing: Andraz Mihelin and even Kristian Hajnsek, who normally chooses to operate more in the background, were on the stand. Ordinary visitors had the chance to talk to them and even get a full boat tour from them. Not to mention Tit Plevnik, Tomo Novak and Femke Köster, the whole operational forefront of the Slovenian boat builder, were there the whole show for personal counselling and walkthroughs. Is there any other brand offering this? Well, I saw Magnus Rassy proudly presenting the brand new Hallberg-Rassy 50, but that was all.
The new title is just another big award for the First 36 which added to a long, very outstanding list of awards: British Yachting Award winner 2022, Voilier de l´annee 2023 by French Voile Magazine and Boat of the Year 2023 by famous magazine Cruising world. I am sure, that the latest prize won´t be the last. In this, of course, a good portion of visitors on our stand wanted to see the princess and most of them were full of praise – I had the feeling that in the big shadow this small boat casts the brand new bigger sister, First 44, kind of got lost a bit.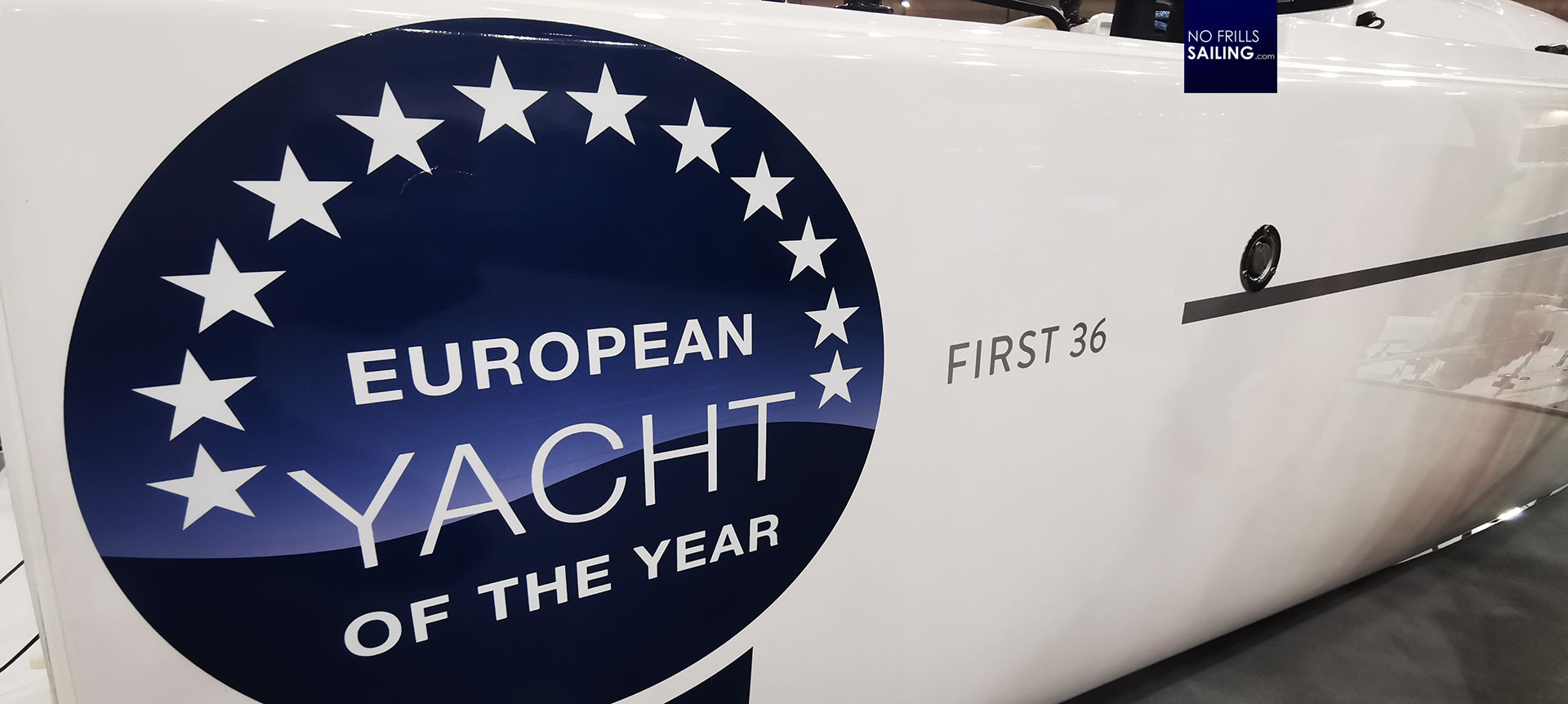 Nevertheless, the First 36 was for me the coolest boat of the whole show, which many of my friend, colleagues and visitors kept on assuring me. Of course, this is in the eye of the beholder and I would say that as many advocates for the boat there are equally deniers, but honestly: This show couldn´t deliver all too many sensations. Nothing new to see at Jeanneau, Bavaria or Dufour (with a surprisingly very small stand showcasing only the new Dufour 37). Even Beneteau, although having the biggest setup, couldn´t deliver a big "bang", all boats, as nice as they are, are already in production and there was no real world premiere.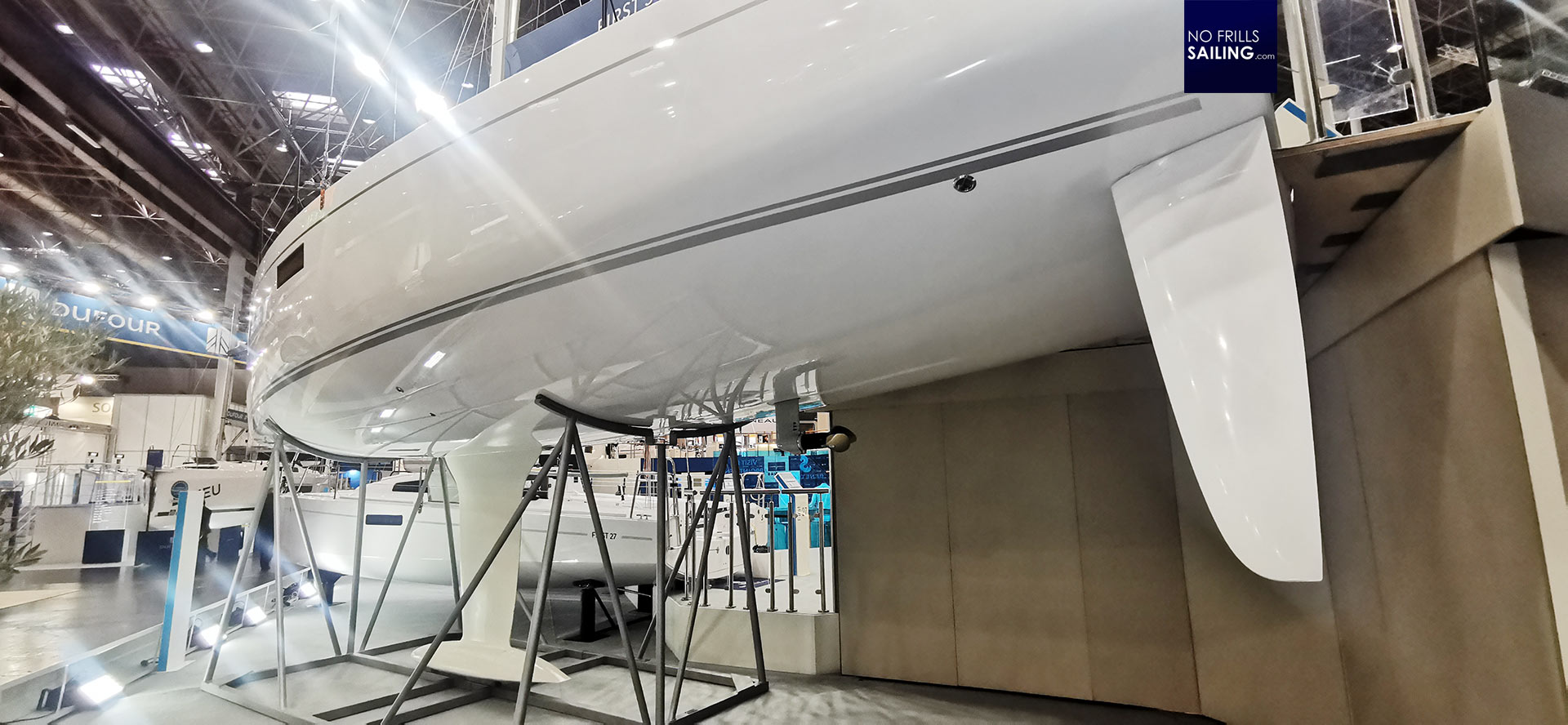 Well, I exaggerated: Of course there were many highlights. And many more than I had previously expected. For example, the new Bente 28, which I missed to walk through in detail due to time restraints, was a big hit in Hall 16. Also, seeing the Dehler 30 OD together with a Varianta on the Speedsailing-stand celebrated the 60 years (!) anniversary and was a nice re-assurance that the Hanse Yachts Group was still there and by all means can offer some nice boats. So, let´s look at the great boats to see, the highlights during Duesseldorf 2023 …
Duesseldorf special: All the great boats in one spot
As I had pointed out in my preview article "Boats to look forward to" my very personal selection of yachts and boats to be seen was a nice bouquet of boats from big to small, from classy cruising to serious all-out racing. To begin with, I absolutely loved the Oyster that, traditionally, had her stand right behind Beneteau. Every day I arrived well before opening time to admire the wonderfully balanced, tempting lines drawn by Rob and Tom Humphreys.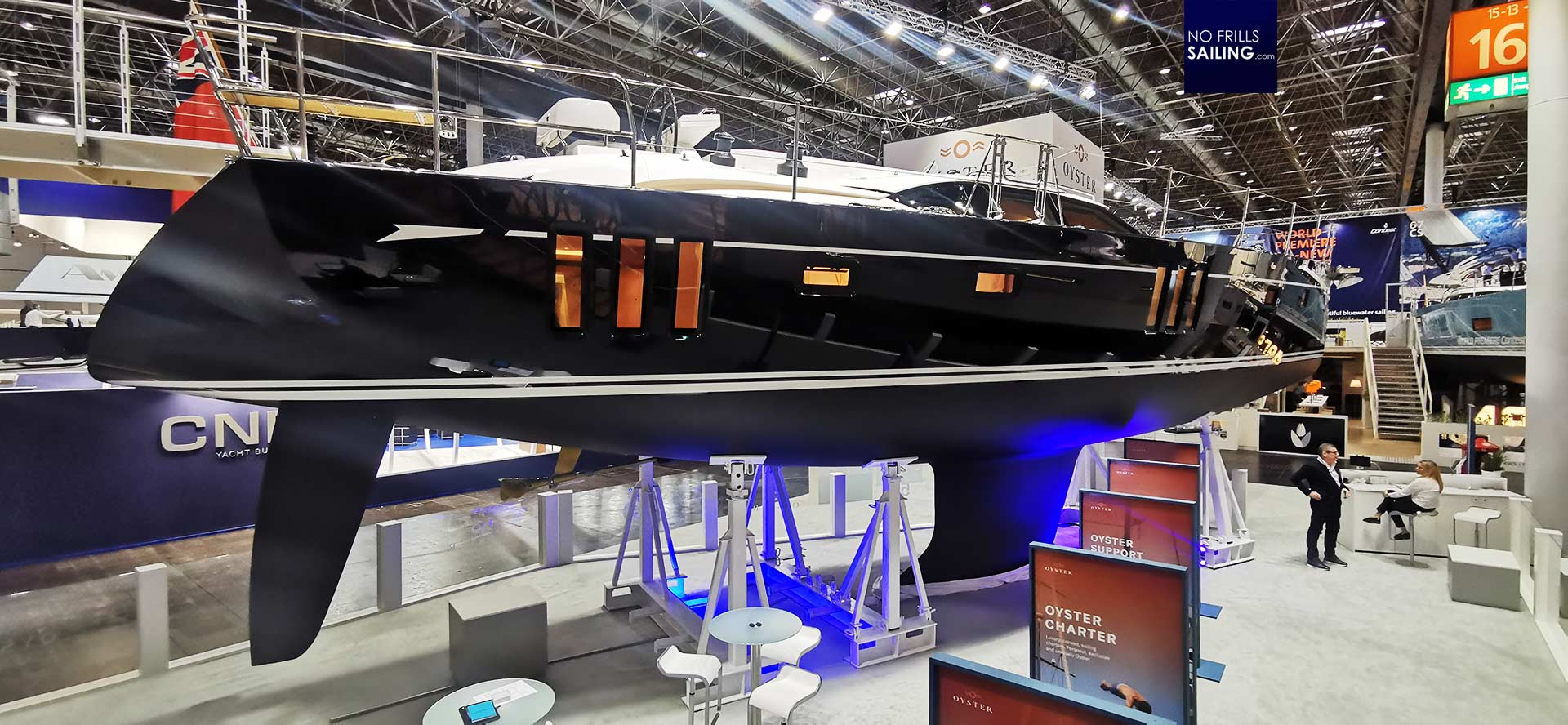 A dream yacht for me, she will remain, I guess. Nevertheless, I greeted some well-known faces of the Oyster yard and of course did my detailed walkthrough with excessive photographic documentation. Look forward to this article, dear reader! CNB, now sold to Solaris, presented a rough mockup of a new +70 footer and this is definitely a boat to look forward to see next year or maybe even during this year´s Cannes Yachting Festival in September. I was absolutely stunned by the Neo 570 full carbon racing cruiser, much more by the welcoming, polite and open style of the people running the stand. This walkthrough-article will be a stunner, fasten your live jacket and have fun!
Small boats was a big thing on Boot Duesseldorf. The above mentioned Bente 28, which I sadly missed, will be a boat I try to sail in spring on Lake Constance for an article. Also, seeing the Aeolos P 30 live and in her full beauty was a great thing! This boat definitely got lost behind the big catamarans in Hall 15 and had deserved a spot-on stand in Hall 16. Much more than the boat, her designer and builder, Hans Genthe was cool to meet. His friendly, almost shy and quiet polite style makes it hard to believe that he in fact is one of the craziest sailors of small boat out there.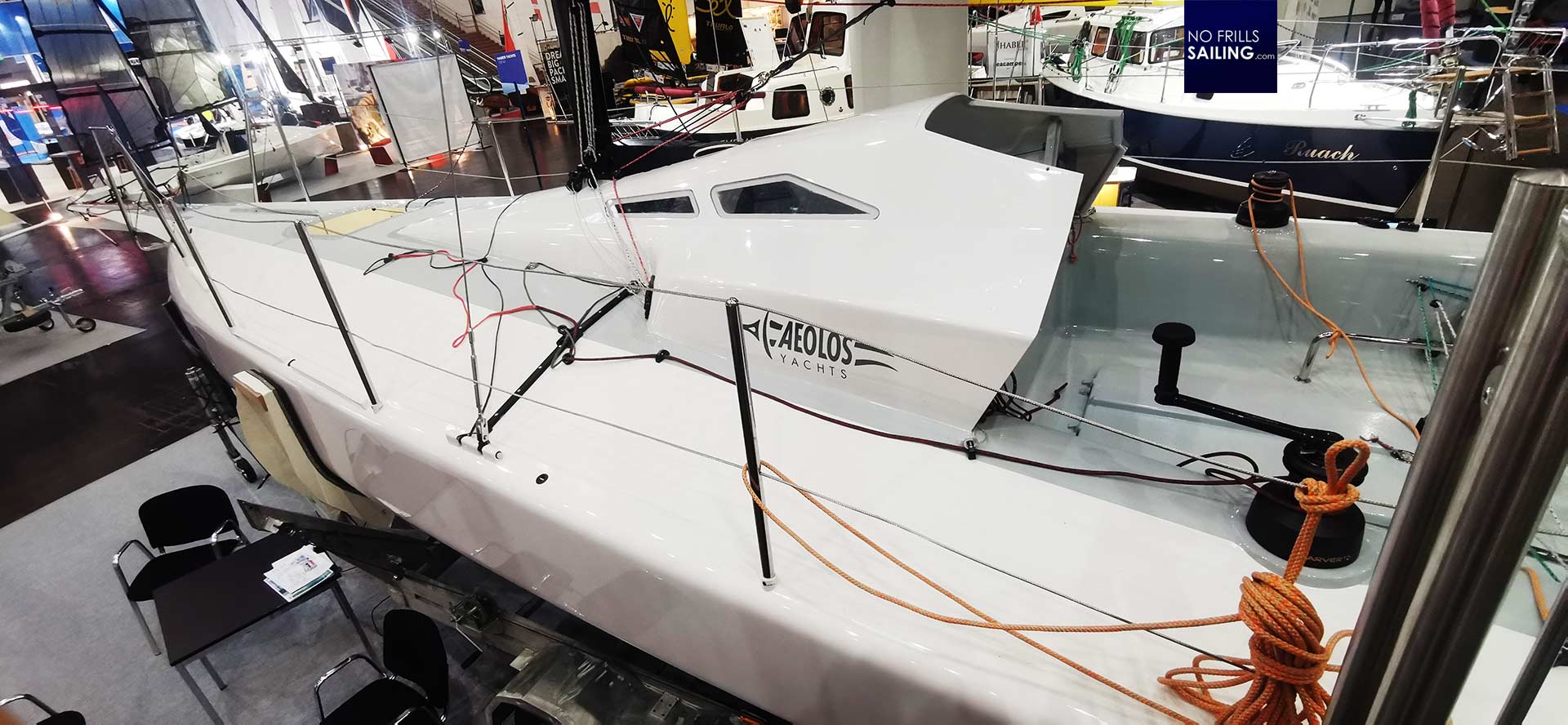 I´ve seen some more very interesting sailboats, smaller and bigger, and, dear reader, as promised, you can brace for no less than six full detailed walkthrough articles to be published within the coming weeks. In this, Boot Duesseldorf 2023 was also a big success. Speaking of "interesting sailboats" – I feel extremely humbled and proud that the maker of one of the best sailing blogs in the net, Paolo of Interesting Sailboats.com insisted of meeting me on the stand and even mentions my blog in his. I bow down, Senior, it was such a pleasure meeting you, legend! (Even if his reviews are dreaded and his verdicts are spot-on, honest. Like the one about our beloved First 36 …)
My résumé of BOOT Duesseldorf 2023
"One death you must die", is a German saying, loosely translated. Meaning, there is no such thing as a perfect boat. And because of the fact that a boat finds his skipper, always, and because this is a very special thing, like falling in love, not even the most objective, data-driven cold-hearted fair analysis can predict which boat you will decide to board. It´s like falling in love: Something talks to us, no matter how small the bathroom may be on the one boat or how stupidly designed the winch layout is. In this, a show like Duesseldorf is the perfect place to be: "Boat Tinder", as we like to call it. Swiping through the whole palette of big, small, slim and thick, beautiful and practical, expensive and even more expensive boats. Good for the people seeking inspiration, good for a whole industry making a living out of delivering each sailor his very own dream boat.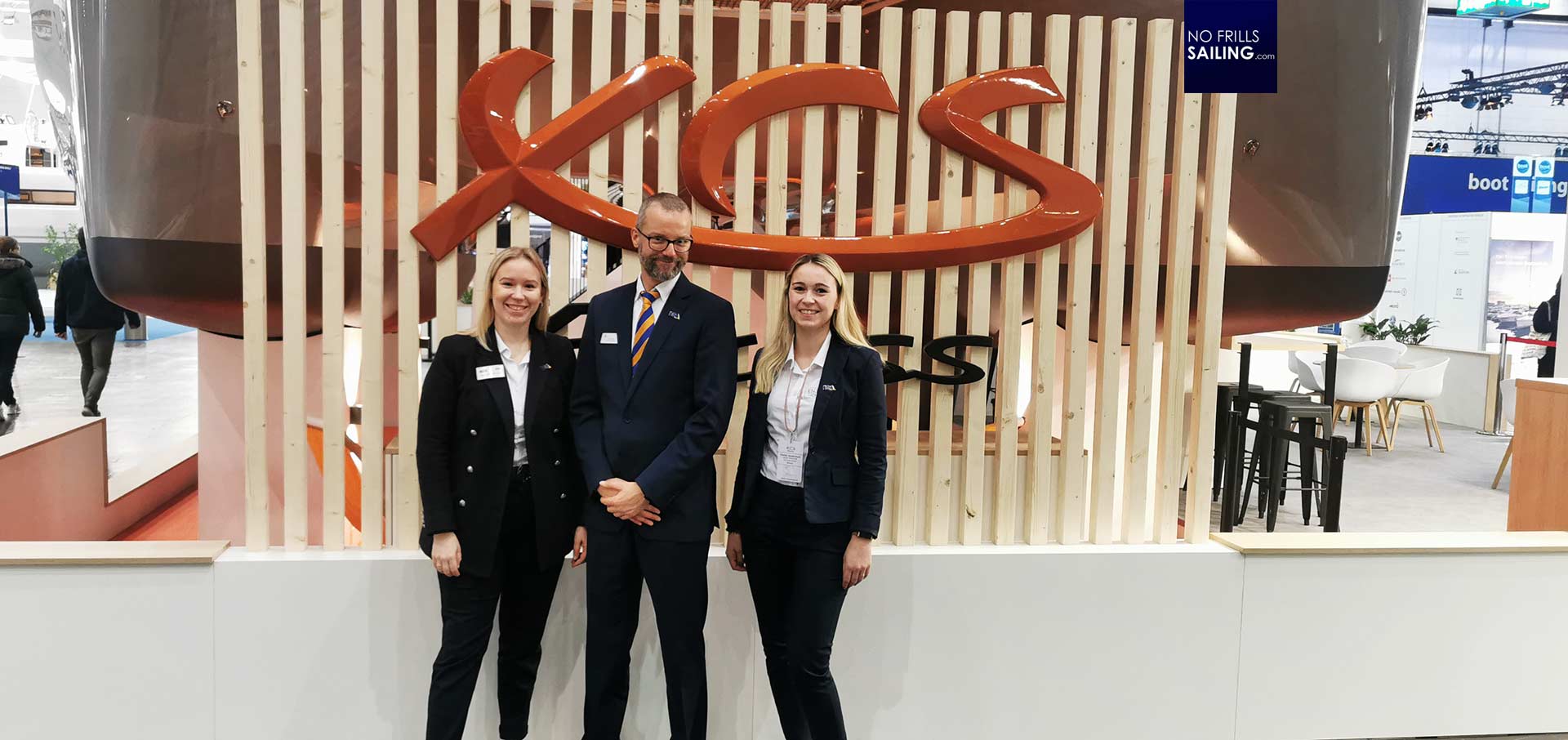 I for myself look forward to weeks of work on my desk. Interesting new people to start conversation with, dozens of families starting their journey to owning a boat, dozens more who completed another milestone in their voyage to becoming a boat owner. I thank my team on the Beneteau and Excess-stands, great work, always staying polite, smiling, talking, explaining and inspiring. Glad to having worked my ass off the last weeks, I look confident to a successful spring and summer ´23.
You may also like to read:
Boats to look forward to for BOOT 2023
Cannes 2022: Summer, wind and great yachts