Sitting at Nice airport right now, I am trying to sort all of my impressions and memories of the Cannes Yachting Festival 2022. It has been a wonderful show, Cannes is back, I shall say. Perfect weather, a great occasion and many, many interesting sailboats to see. Still full of amazing memories and colorful pictures, it is hard to sort those out worth mentioning. The past days have been restoring my image of Cannes boat show of being the most beautiful yachting dates at least in Europe.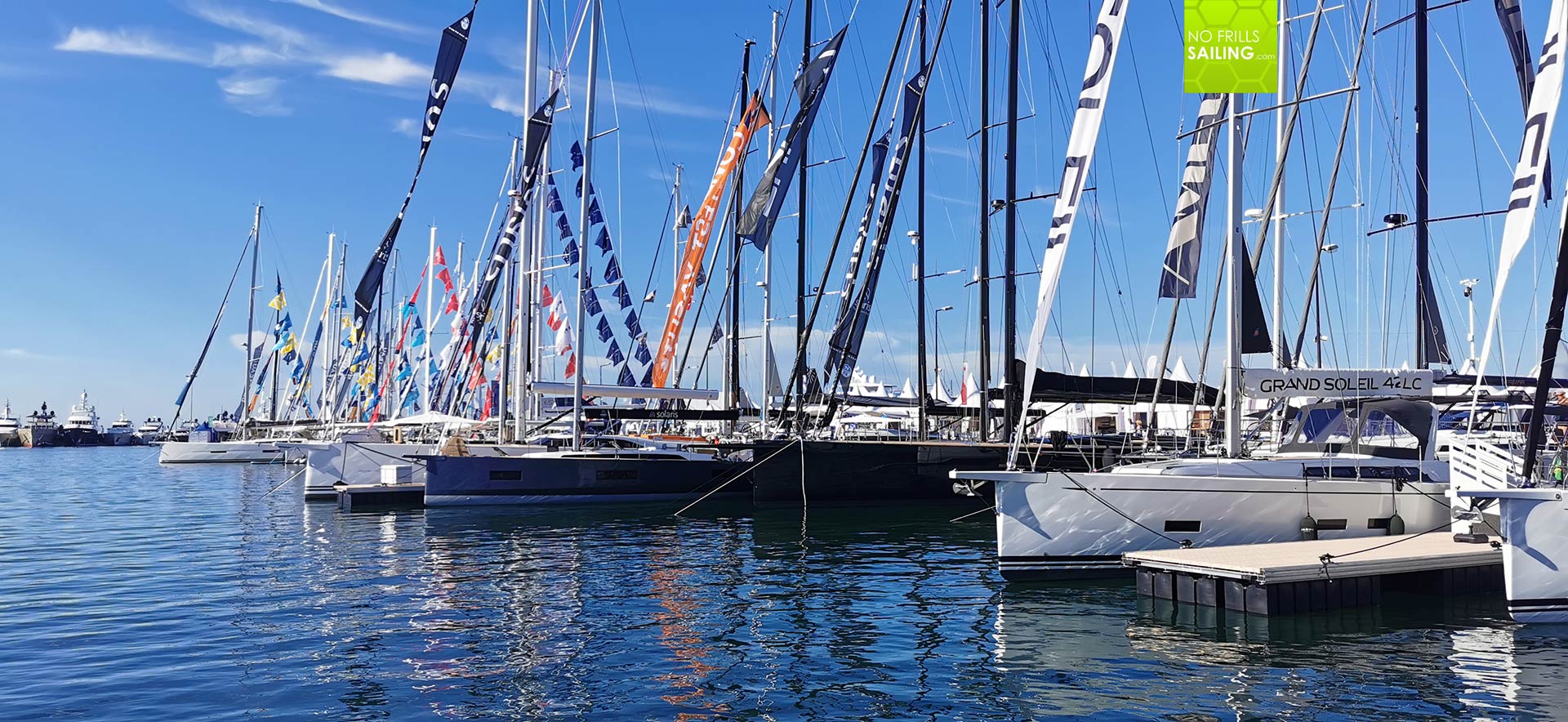 Of course I have been here for work: As a Beneteau dealer I spent my time during the show on both the monohull sailboat display of my French partners and the Excess Cataramans-venue just around the basin. In this, there wasn´t much time to stroll around and of course I couldn´t see all the boats. I missed some boats I originally had on my list, but therefore discovered some other boats I hadn´t been in my sights before. So, let´s dive right into it: Welcome to Port Canto in Cannes!
A complete setup
Upon entering the boat show I noticed that a large portion of boats on display belonged to smaller, more exotic brands. Boats you rarely see on other boat shows. One of them was the new Django 12.50 (which unfortunately I couldn´t visit thoroughly) but walked by a dozen times minimum to acknowledge that there is sufficient interest in these "niche" market yachts: At least valid for the Django, this boat enjoyed a full house of visitors every time I walked by.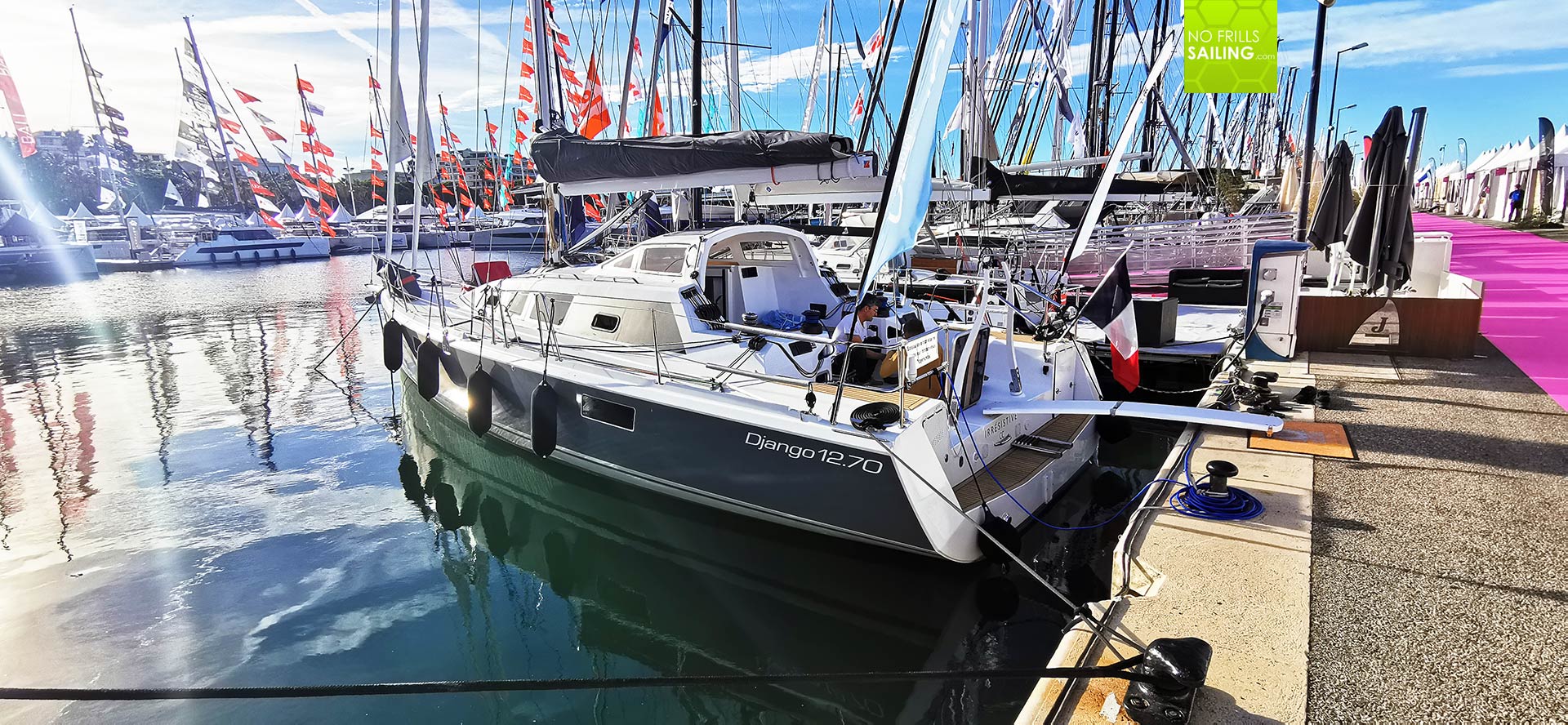 Another great occasion was the Wauquiez 48 Pilot Saloon. You can look forward to a complete walkthrough article of this yacht. I don´t want to spoil you, but this definitely was one of the great highlights of this festival: A wonderfully crafted, spacious, intelligently designed and masterfully built cruising boat for sure! She offers all the amenities you´d expect to see in a large Oyster, a splash of French charme and just a great concept. You may want to shorten the waiting time for the article by checking out my walkthrough of her smaller sister, the Wauquiez 42 yacht.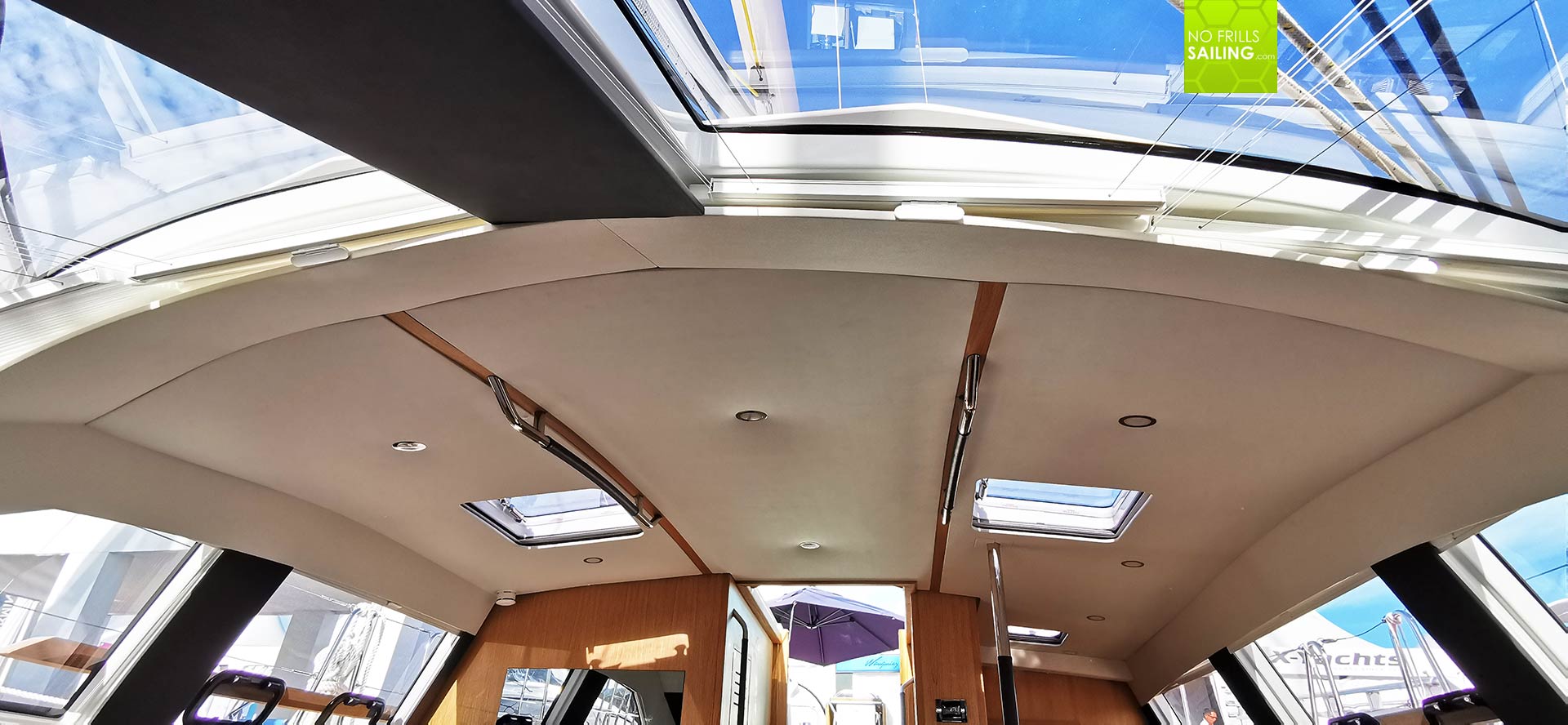 Another great occasion was meeting Jean Pierre Kelbert again. He arrived aboard a JPK 45 performance long cruising boat and I´ve had the pleasure to chat with him for a while. We talked about the Corsica incident (a violet storm with 90-100 knots wind speed had hit the island a week before, sinking a dozen yachts and killing 9 people) and he told me that they had been hit by that storm too whilst sailing towards Cannes. With some 50ish knots hitting the yacht in open water, Jean Pierre nonchalantly commented that he "reefed a bit of the Genoa" and the boat behaved pretty nicely. Well, that´s for JPK …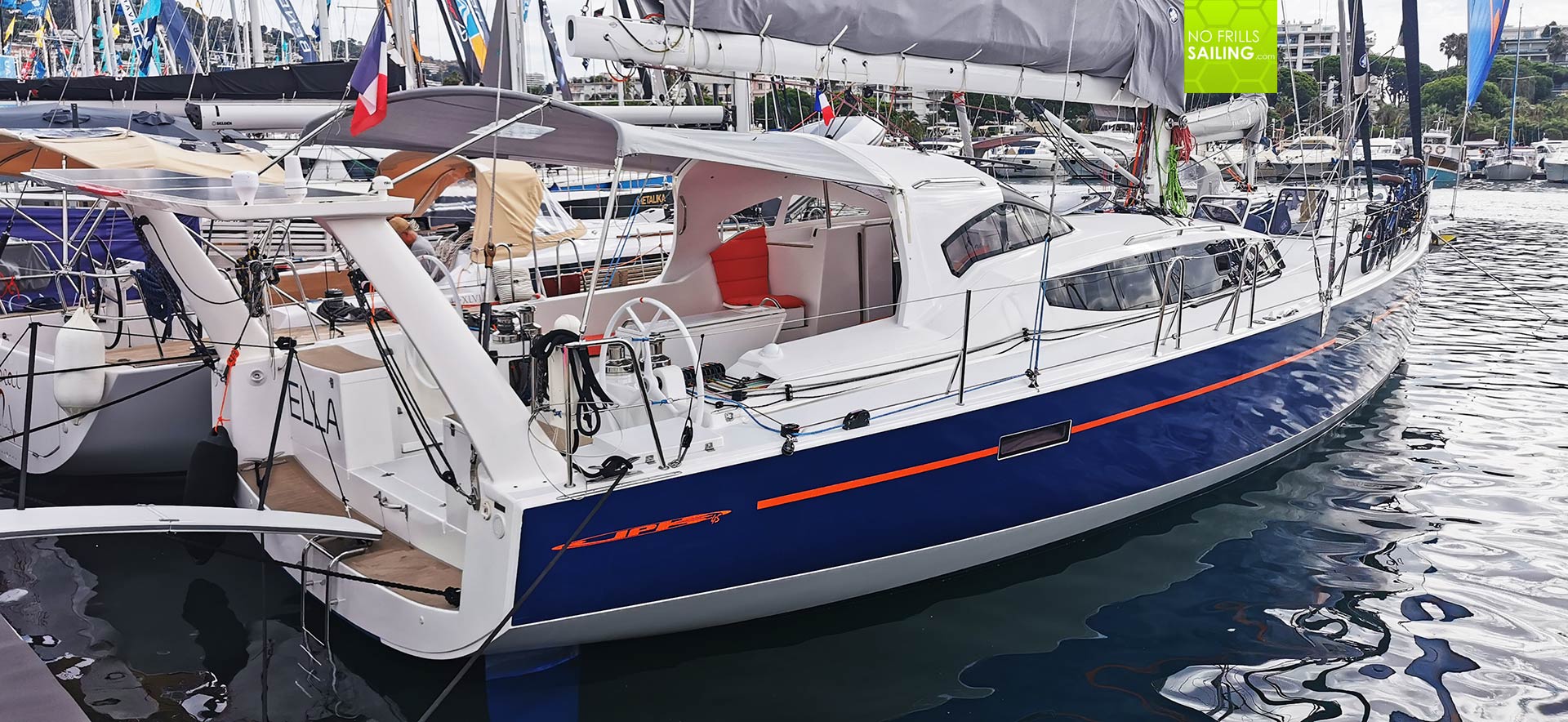 Sadly I wouldn´t find the time to come back although being heartfully invited by him to do the full walkthrough, this missed opportunity is really stressing me out. Maybe next time! I also couldn´t see many more boats which bothers me. Well, somebody has to work. Besides, it was great to see so many brands arriving with such a complete setup of boats. This is mainly the smaller brands and exotic boats but also the big names of the industry as well as the production boat companies. As I said, a very attractive setup, I shall say that no one I spoke to missed a thing. Cannes delivered big time.
Much desired boats finally at hand
Lucky me, thanks to my "gift" to get up early and arrive at the venue long before the official opening time, I was able to see quite a lot of boats and do some shooting. First of all, chatting with Matteo Polli on the ponton of Grand Soleil, he invited me to see his new 44 performance live.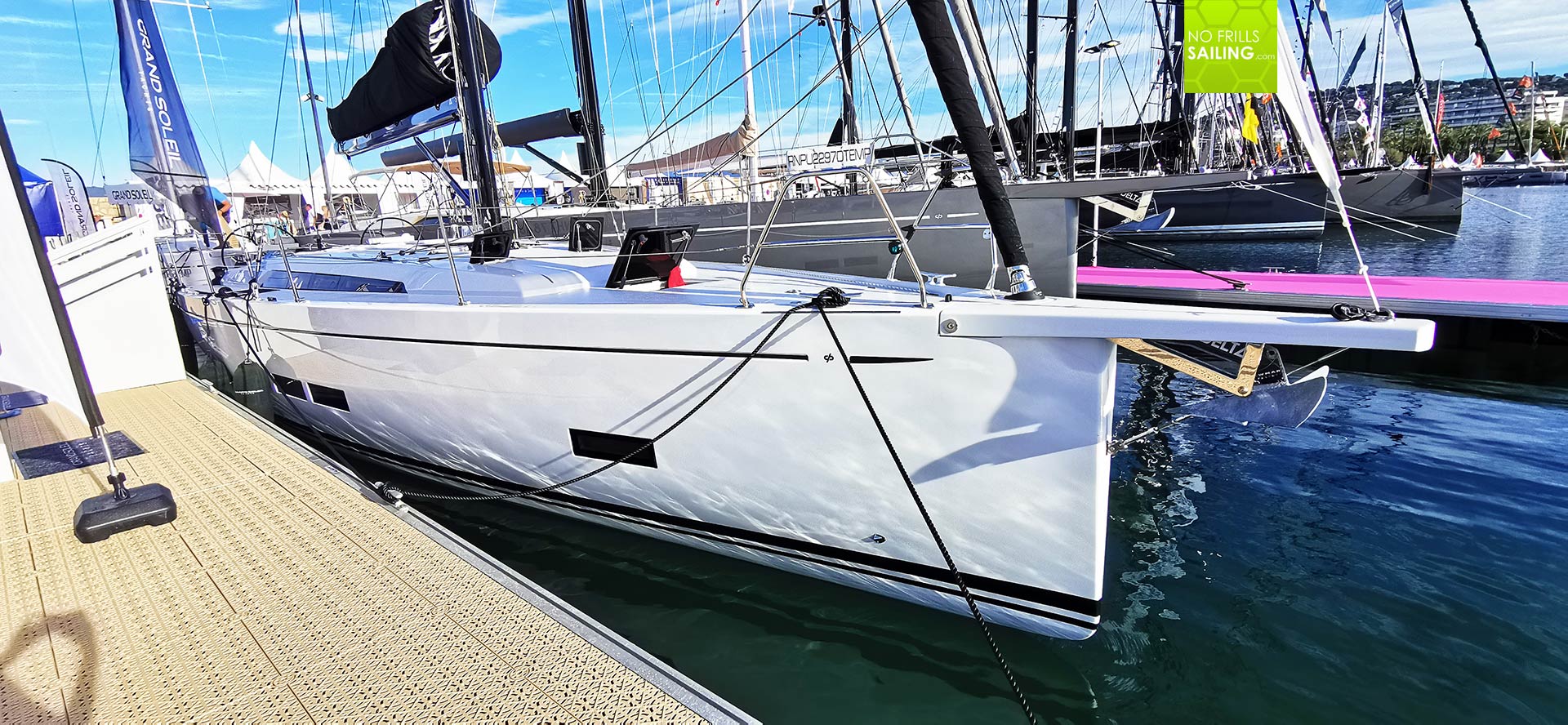 This new yacht is one of Polli´s latest projects and she is already living up the aura that his designs radiate. Following into the steps left by his marvelous Italia Yachts 9.98 and other Fuoriserie-boats made in Choggia, the new Grand Soleil 44 will be a serious contender for "our" new First 44 celebrating her world premiere at Cannes as well. You may look forward to a complete walkthrough of the Grand Soleil 44 soon, enjoy my interview with Matteo Polli on her concept all the while here.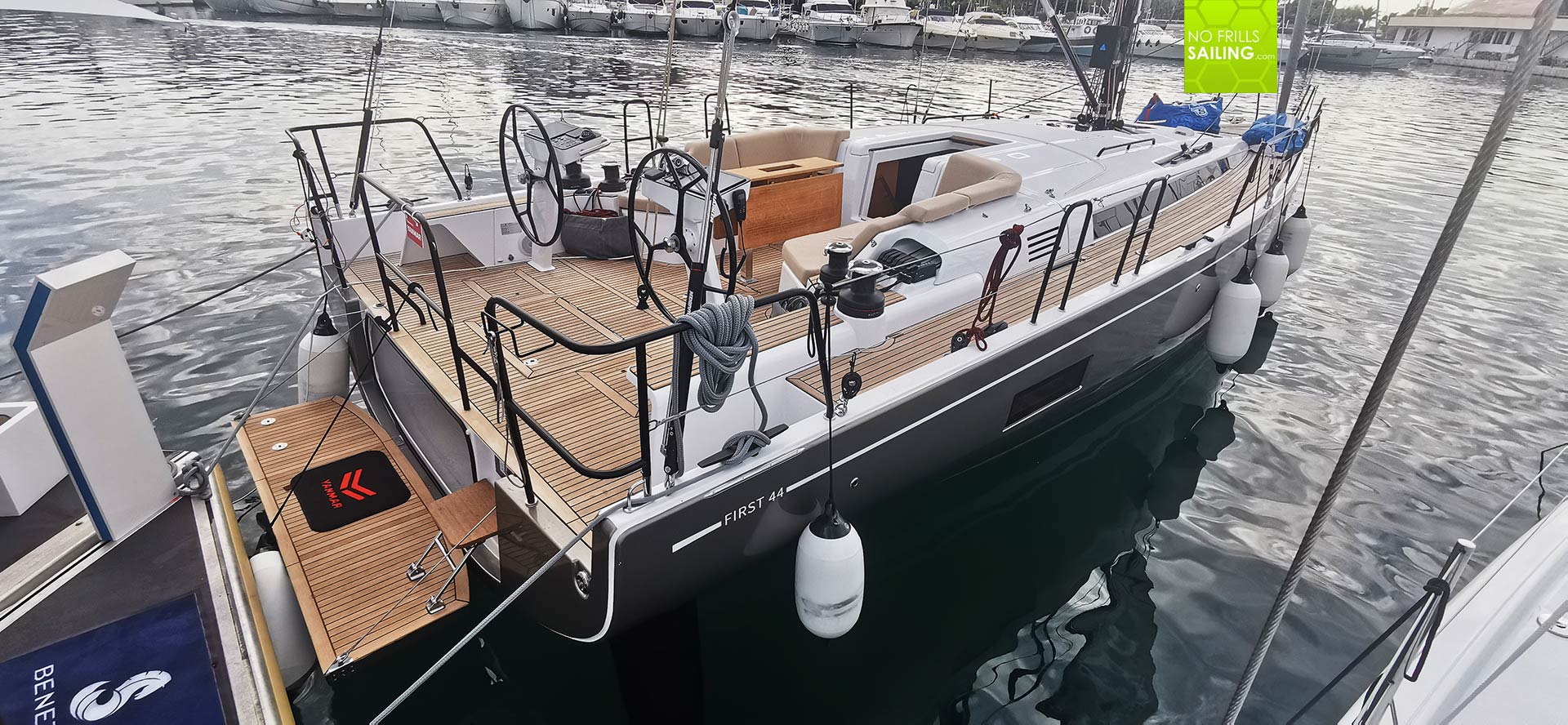 Speaking of performance yachts, there had been quite a few: X-Yachts arriving with some models from 40 to 60 feet, Mylius and ICE Yachts a well. I met Umberto Felci and we chatted for a while, but – you already guessed it – I had no time finally to meet him aboard his latest Carbon-racer made in Italy. Instead, I spent much time thinking and contemplating aboard the new First 36 at the Beneteau pontoon, as well as aboard First 44, our two new racing horses in the stable.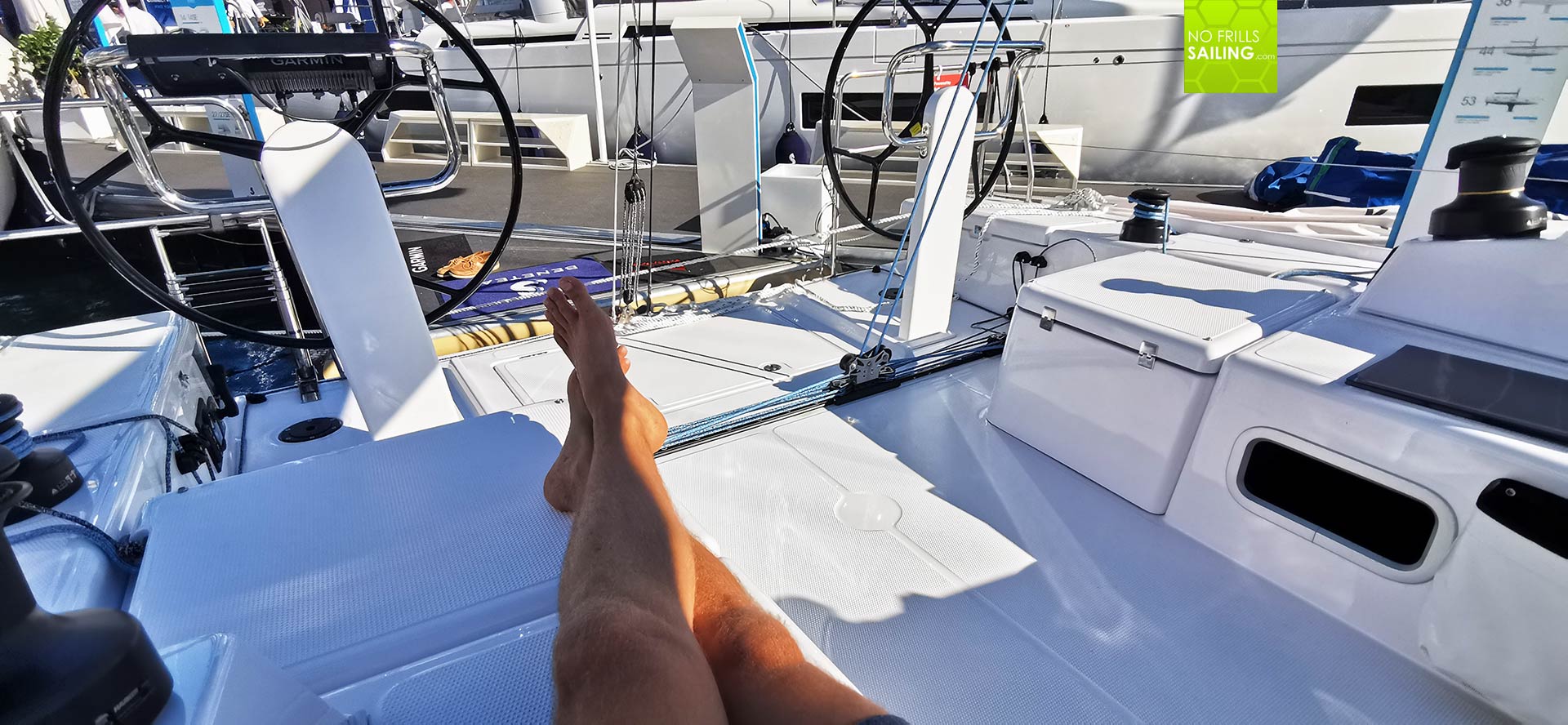 Whereas I have already done extensive walkthroughs in the First 36 and the new First 44 externally and internally, you may look forward to a "POV-style" article of the First 36 as I used the time alone to discover more details and gain much more inside int this new Sam Manuard racer which is, as anticipated but nevertheless exciting, going through the roof in terms of orders placed. Stay tuned here!
Quo vadis, boat business?
Which brings us to market, policies and politics. As every part of the economy, the boating industry and business had been and still is severely affected by the general condition supply chains are in. Skyrocketing energy prices and the ever increasing pricing of raw materials such as Epoxy or processed goods like electronics, electric appliances and such make for an overall stressed and difficult situation. But here we are: Nothing of this really seems to matter in Cannes: The overall mood amongst the yards, dealers and the visitors is positive.
Boats and slots are sold. Almost no brand can deliver boats in 2023 and for most of the production boats even 2024 is sold out already. Same goes for equipment, sails and such. The industry is booming. Although, I shall say, I´ve noticed way less visitors over the week than usual, also specifically way less Germans. Instead, Americans kind of flooded the pontoons therefore, I guess, there is always a winner when there´s a looser. Nevertheless, I personally and speaking for "my" brand, found it was a very successful show.
Luxury overkill
In this, Cannes always is a showcase not just for the everyday brand and big production companies but also for the luxury boats. Michael Schmidt´s Y Yachts had no less than 3 big boats moored to the pontoon and with their Y9 even presented the biggest sailing yacht apparent. Her transom was so huge that, early in the morning when I arrived, the sun had not been managed to rise behind it. A crowd of sales personnel crawled busily between those yachts and their exhibition tents which suggests that them Ys seem to be going good.
Nautor´s Swan had an even bigger setup right next to the German luxury brand and talking to some sales persons from their staff the show had also been quite successful. I admire the classy Swans by German Frers but only to the mid-sized boats. Those huge yachts, say 60 feet up look nice but are just merely big toys for the ultra-rich, no real practical purpose. In this, the mega-hyped folding bathing platform of the Swan made me smile a bit: We´ve had a similar concept on the old Oceanis 48 years ago (though not as automatic).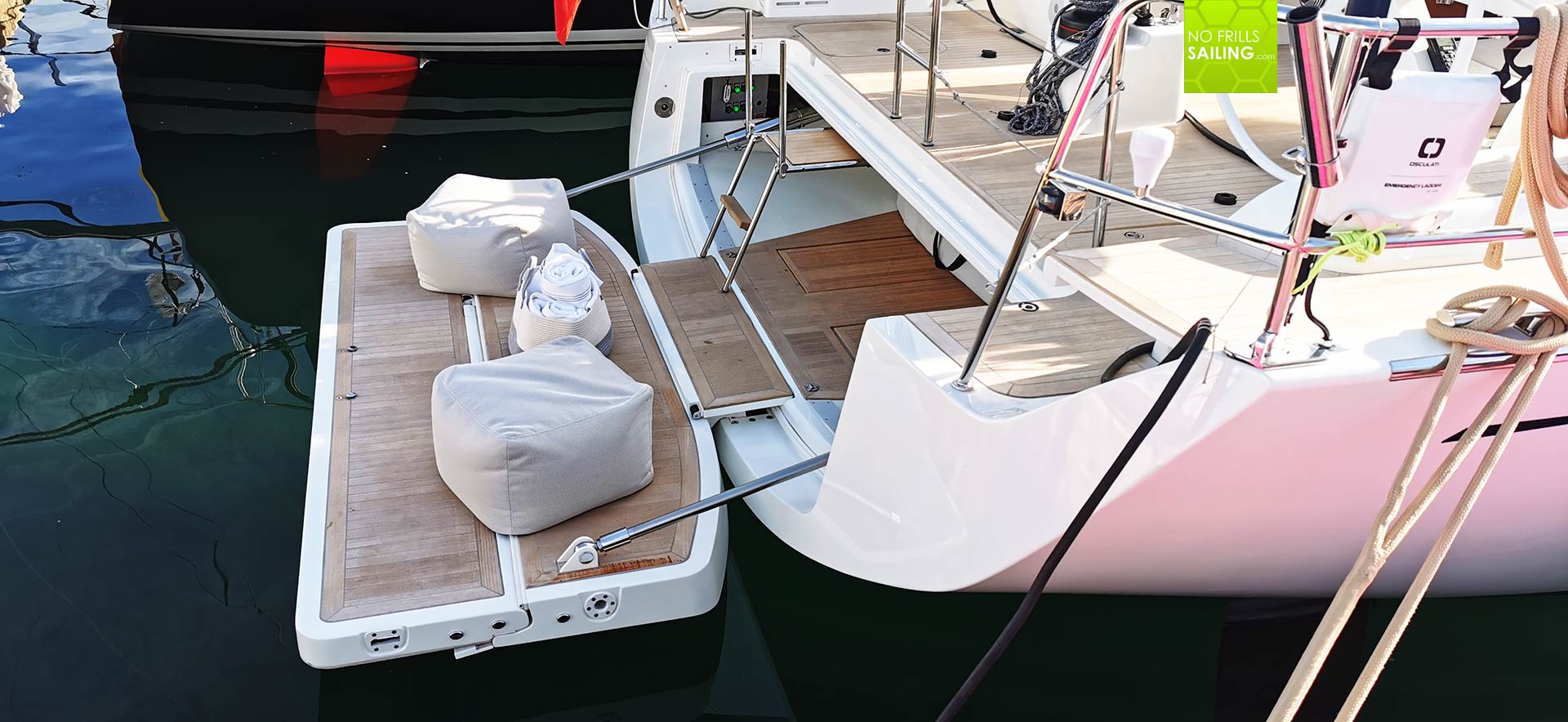 I was stunned though to see that Oyster this time had only one boat at the show. The marvelous Oyster 495 had made her way from Hamburg boat show in May to the Cote d´Azur and it was cool to meet her again. Nevertheless, I wondered why Oyster did not show bigger boats here, the "small" 495 seemed a bit outsized and squeezed in the middle of Mylius & Co. Hallberg-Rassy was a disappointment, to be honest, just a 44 moored way at the end of the pontoon. Well, there will be reasons for this I guess …
The more "affordable" side of the spectrum
Of course, not all yachts shown have been garnished with a hefty price tag. Take our new flagship, the Oceanis Yacht 60. She also celebrated her world premiere in Cannes and was a real looker. With a budget right under 3 million Euro she is definitely in a much more realistic budgetary range than her carbon-made counterparts. I will publish a detailed walkthrough soon as this boat is full of surprises: A new fresh layout, some very nice details and – compared to her phased out predecessor, the Oceanis Yacht 62 – a much lighter hull.
This new yacht is said to be some 5 tons lighter. 5 tons! She was sailing so exquisitely well that guys from Beneteau told me that during sea trials and her transfer by sea to Cannes the new First 44 came into serious trouble following her. I am sure that some "light millionaires" will start to appreciate the combination of great sailing performance, her fresh design approach and the "nice" price. Nicely priced, by the way, was another great boat: The Solaris 40.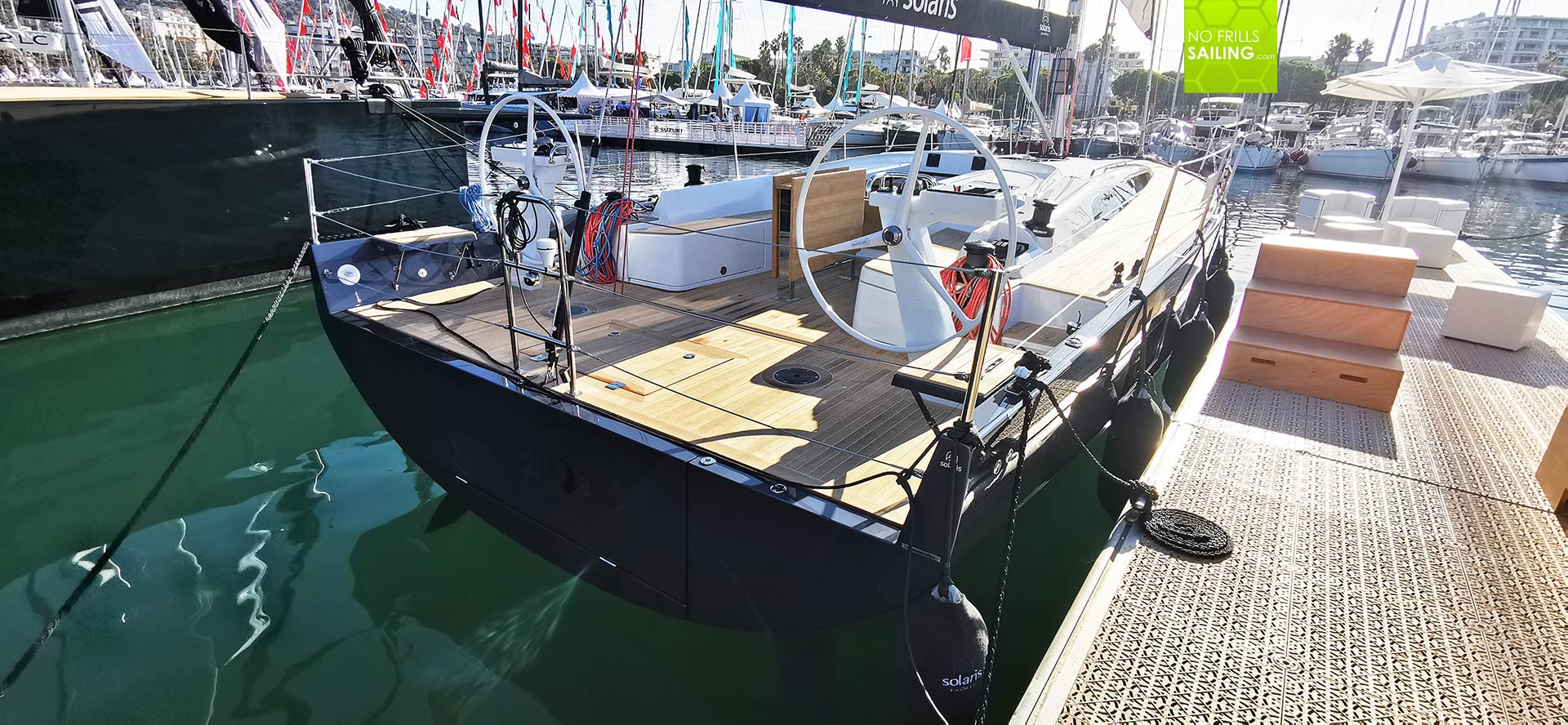 I was so muc looking forward to see this smallest of the Aquilea-breed in Cannes since I talked to Javier Soto Acebal about her. With around half a million Euro to be invested, owners of this boat will receive a marvelously, flawlessly crafted sailboat of absolutely stunning visuals. Solaris is in my eyes one of the very, very few brands to manage bringing up and cultivating a very own, distinct character. Look forward to this article as this Solaris 40 is absolutely gorgeous!
Last not least, the other end of the "affordable" spectrum, I was excited to finally get to see the new "French"-Hanse, designed by Berret-Racoupeau. You may remember my article from her first sea trials in Greifswald/Germany as I was puzzled and amazed learning that Hanse finally decided to go ahead and make a completely new boat. Not just updating a deck and the interior by keeping the old hulls. And what a boat they´ve made: I liked the great interior craftsmanship, I´d say that this boat has the potential to be a game changer for the German brand.
Doubling the fun
The game change may also be mediated on the big brand production catamaran market by Excess, our multihull-brand. The new Excess 14 was shown first time here and she was a banger. Admittedly, for the first time since I work in this business I´ve had more appointments and consultations aboard the catamarans than on the multihulls.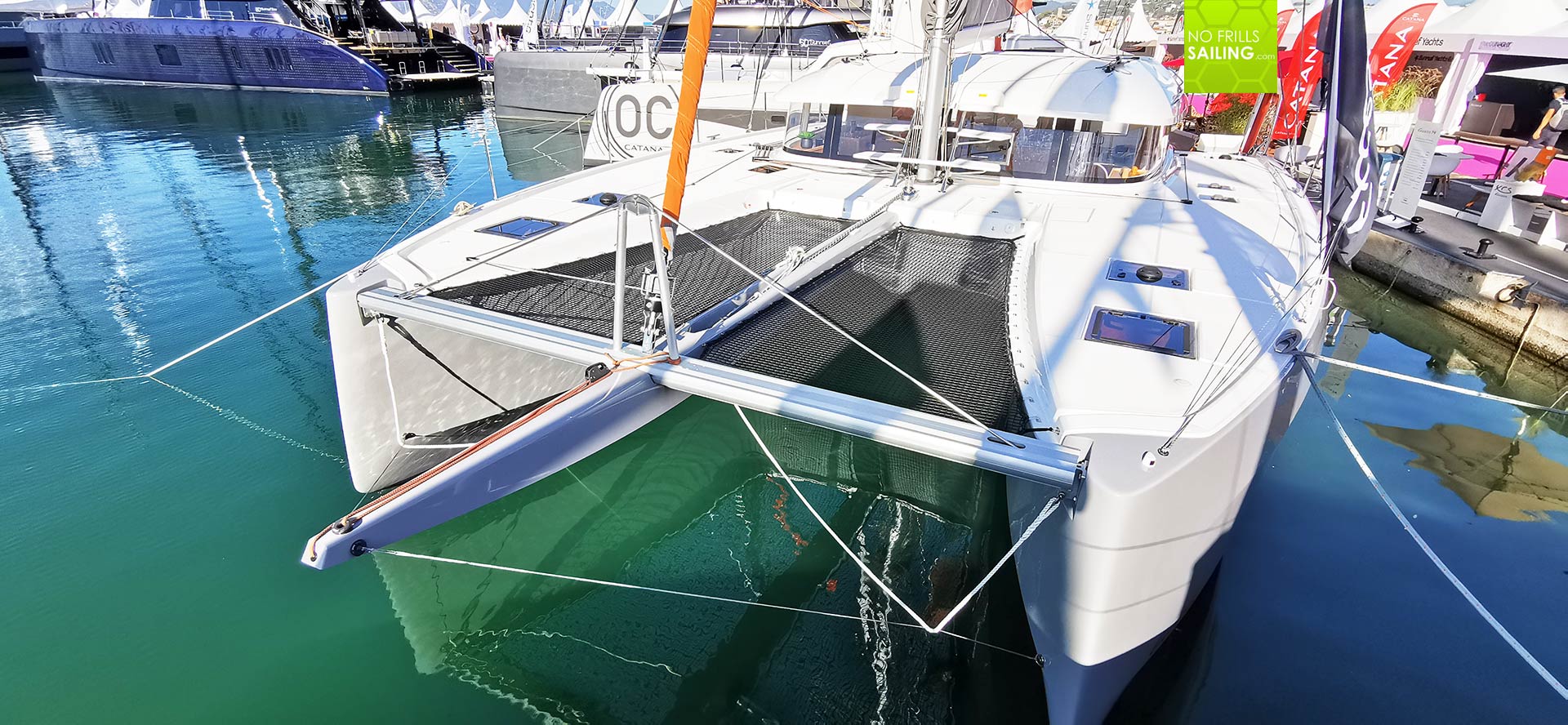 It seems we have a trend here. So, apart from the complete walkthrough article in this new 44 feet cat you may look forward to an in-depth article about a shifting focus of boat-buyers. The trend towards more and more catamarans, some reasons why people are motivated to buy two instead of one hulls and where this market may be going is a very interesting topic worth researching. Coming back to this very boat: The new Excess 14 will undoubtedly break new ground again for ordinary sailors sailing extraordinarily quick (and not sacrificing safety and easiness of navigation).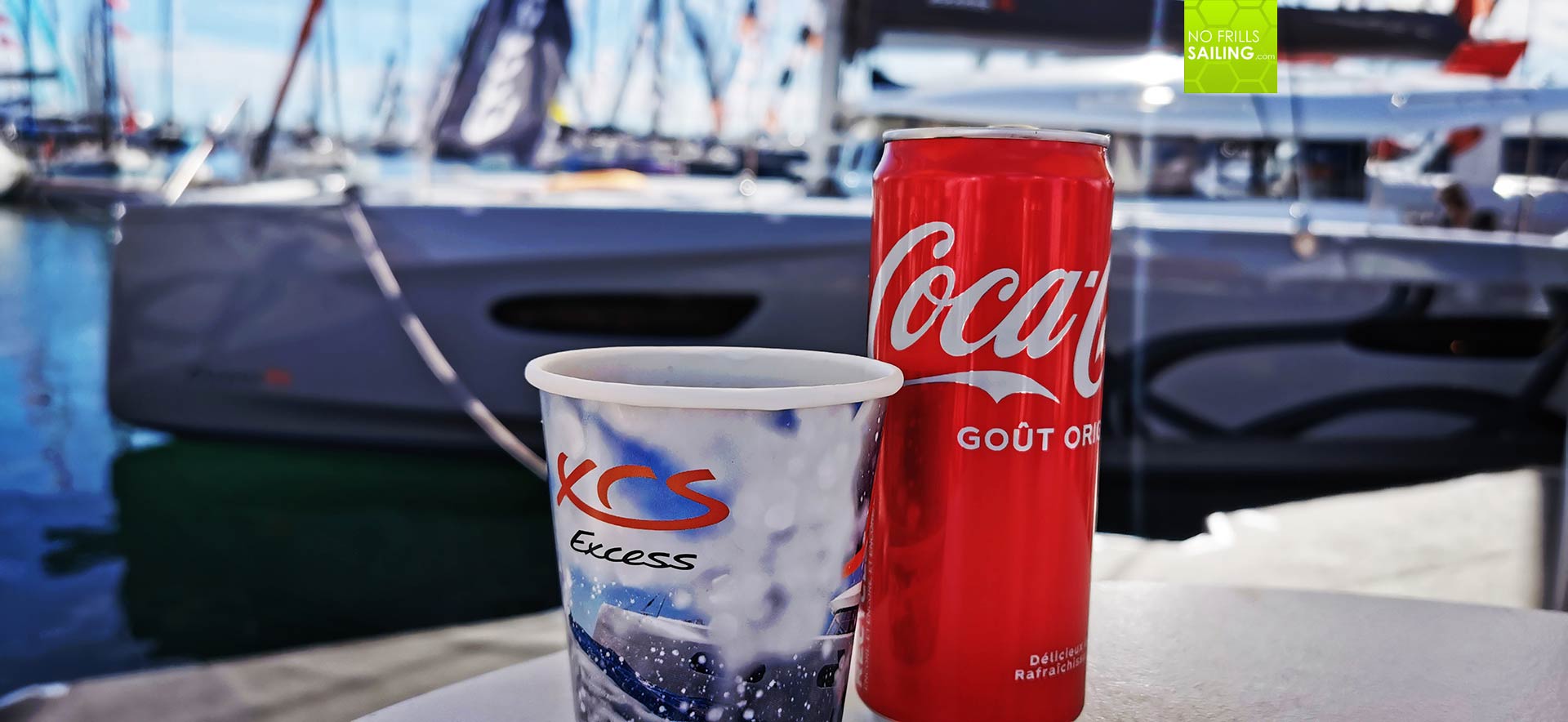 Apart from the new 14, our Excess 11 enjoyed an unbroken stream of interested people. The 38 feet long boat still offers for most private owners the best compromise of (a load full of!) interior volume and performance versus budget and running cost. This is of such magnitude that the yard is sold out for the coming year completely, listening here and there I´ve already hears the number 2025 when talking about delivery windows. Oh well …
A résumé
Shortly before boarding my plane back to Germany I try to grasp this year´s edition of Cannes Yachting Festival. We missed the last one due to Covid-restrictions and so my last edition was a "Chinese Gybe", as I headlined the article at that time accordingly. Something felt awkward and strange. This year I am in a very, very different mood. Apart from the standard traditional Cannes-problems like too less bathrooms and a near-catastrophic food and drink-situation, I´d rate this show an absolute success.
A great setup of attractive yachts, almost all brands – big and small – had shown up and were on display. Great weather with hot temperatures and a nice sea breeze paired with mostly optimistic and fun-laden exhibitors. Although an underlying, kind of hidden, sense of a coming crisis was to be mentioned all the time, apart from shocking headlines in the news, this whole industry and the clients walking the jetties seemed surprisingly optimistic and on the ball. Order books are filled to the brim, everyone is sold out for one or even two years to come. And so I take as much of the Cote d´ Azur sun with me, boarding my plane and flying back to Northern Germany, where temperatures are already as low as 15 degrees: Winter is coming. And I am sure, I´ll need much of that Cannes-canned sun.
Check out the upcoming Cannes Boat Show-articles and walkthroughs of the boats mentioned in this article – click on the hashtag #cannesyachtingfestival
Similar articles you might find interesting:
Chinese gybe: Cannes Yachting Festival 2019
The all new First 53 as seen at Cannes
Something very special: Gulliver 57 at Cannes