It is always very interesting to getting to see where a product is made: The birthplace of boats on the other hand, the yard, is even more an exciting site to visit as I would fancy that everybody fond of boats has a certain fascination for yards. I love boats, and I love beautiful boats even more. Solaris yachts are among the most sexiest lines currently under canvas in yachting for sure. Some days ago a long awaited occasion finally came true: I was able to visit the Solaris yard.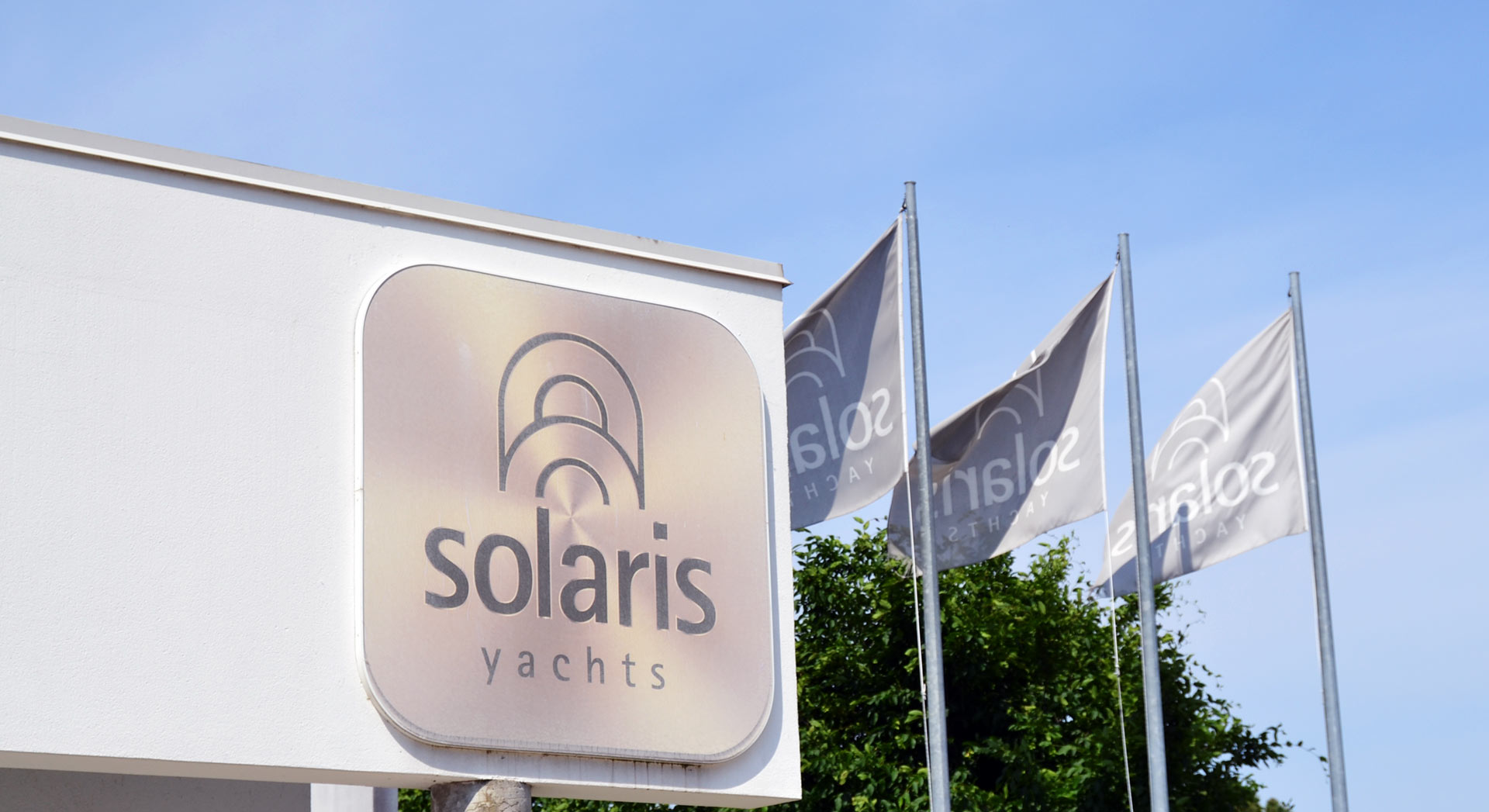 It is just some weeks after I´ve had the pleasure to interview the renown naval architect Javier Soto Acebal on his work for Solaris (read the utmost exciting interview here) that I paid a tribute to the yard and as a good harbinger the weather couldn´t have been better: 29 degrees Celsius and a clear blue sky. Driving down to Aquileia, where the yard is situated, was pure pleasure as Italy was blossoming in the fullest fresh green.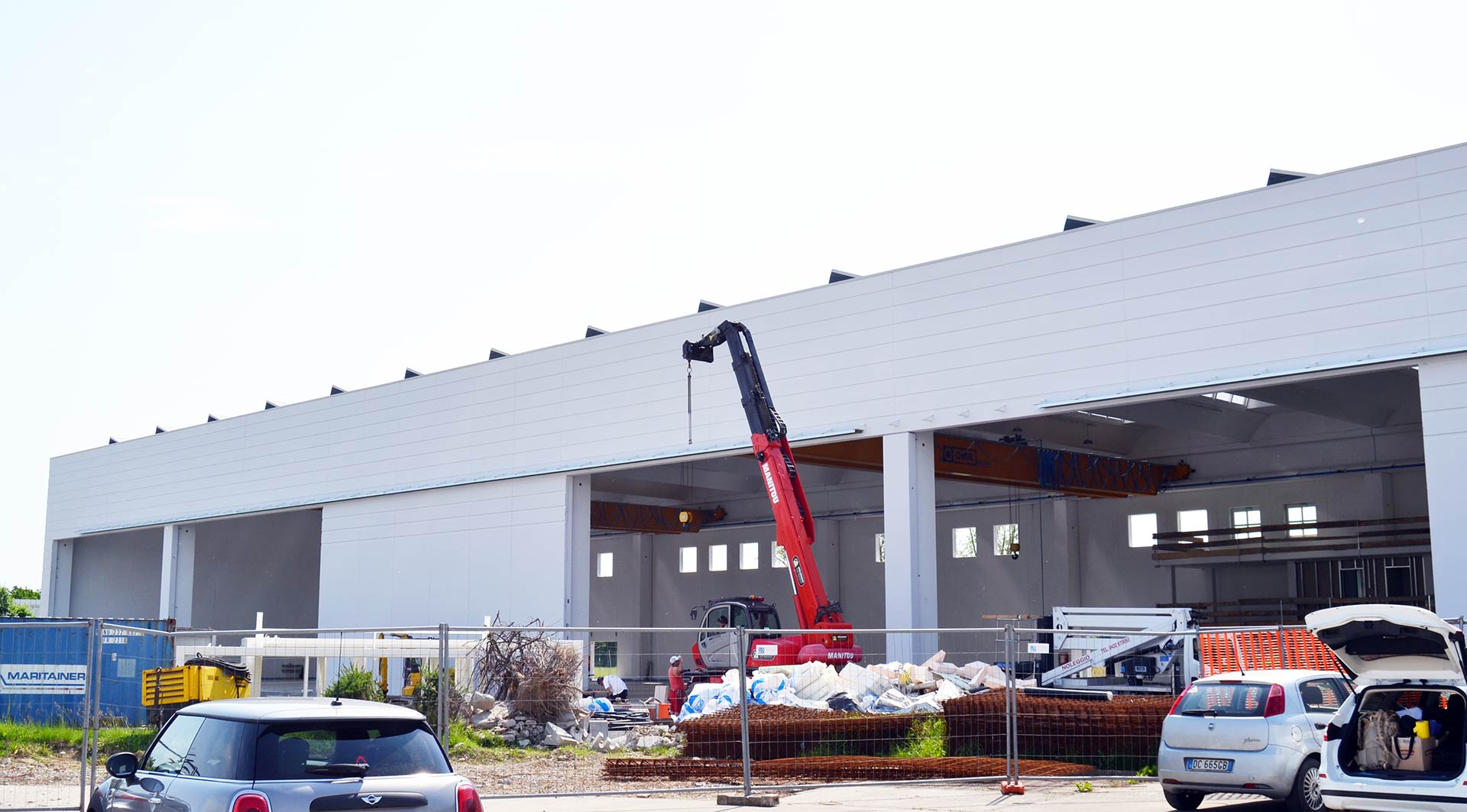 Aquileia is a small town situated between Trieste and Venice in a region called Friulia. It´s a marshland full of fresh, saturated alluvial sands accumulated by a one-meter tide over the centennials. Aquileia is situated at a small, very shallow river. Some 1.5 miles downriver is the Laguna Grado, a lagoon similar to the more famous one to the West, the Venice laggon. Life here is slower, not so hasty and crowded by millions of tourists. Upon arrival I am first shocked: Is it truly here where Solaris yachts are made?
Visiting the Solaris yard in Aquileia
I am greeted by Francesca who is in charge of communications at the yard. We are talking in the atrium of the headquarter office for some minutes when Jean-Pierre joins us. He is responsible for the South of Italy and as it happens he will be my guide for the yard visit for this day. Being half Swiss/French half Italian Jean-Pierre resembles exactly the attractive mix that I also like in Solaris boats: Being fast, aggressive performance cruisers on the one hand and offering a vast set of comforts on the other.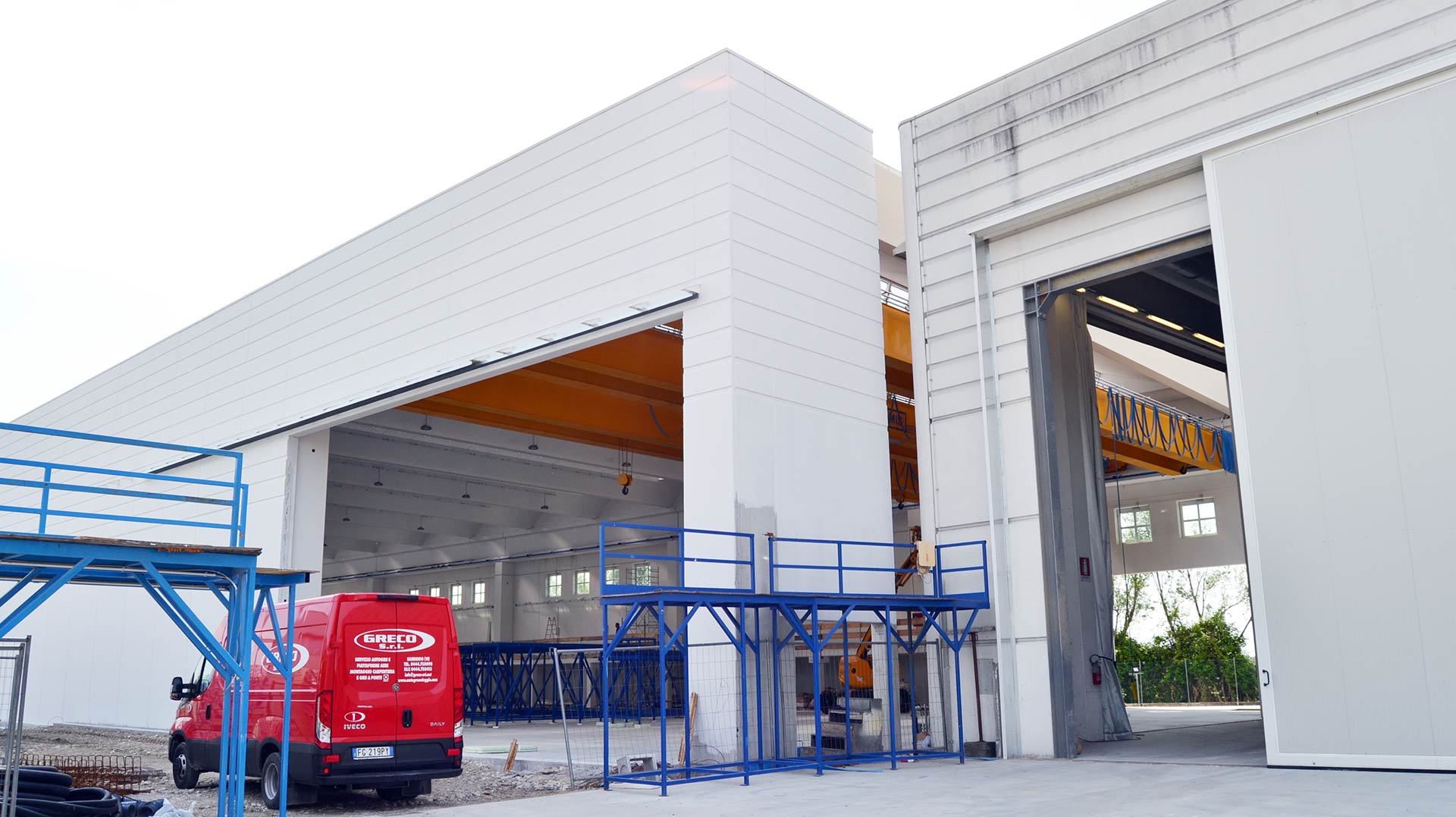 At first we go outside to walk around a huge construction site: Serious extension works is going on here as Solaris builds a huge production hall right next to the current one. By guessing I would say that they could easily double the available production space here. This hall will be finished during 2018 as Jean-Pierre assures me and will have a huge impact on production logistics for sure.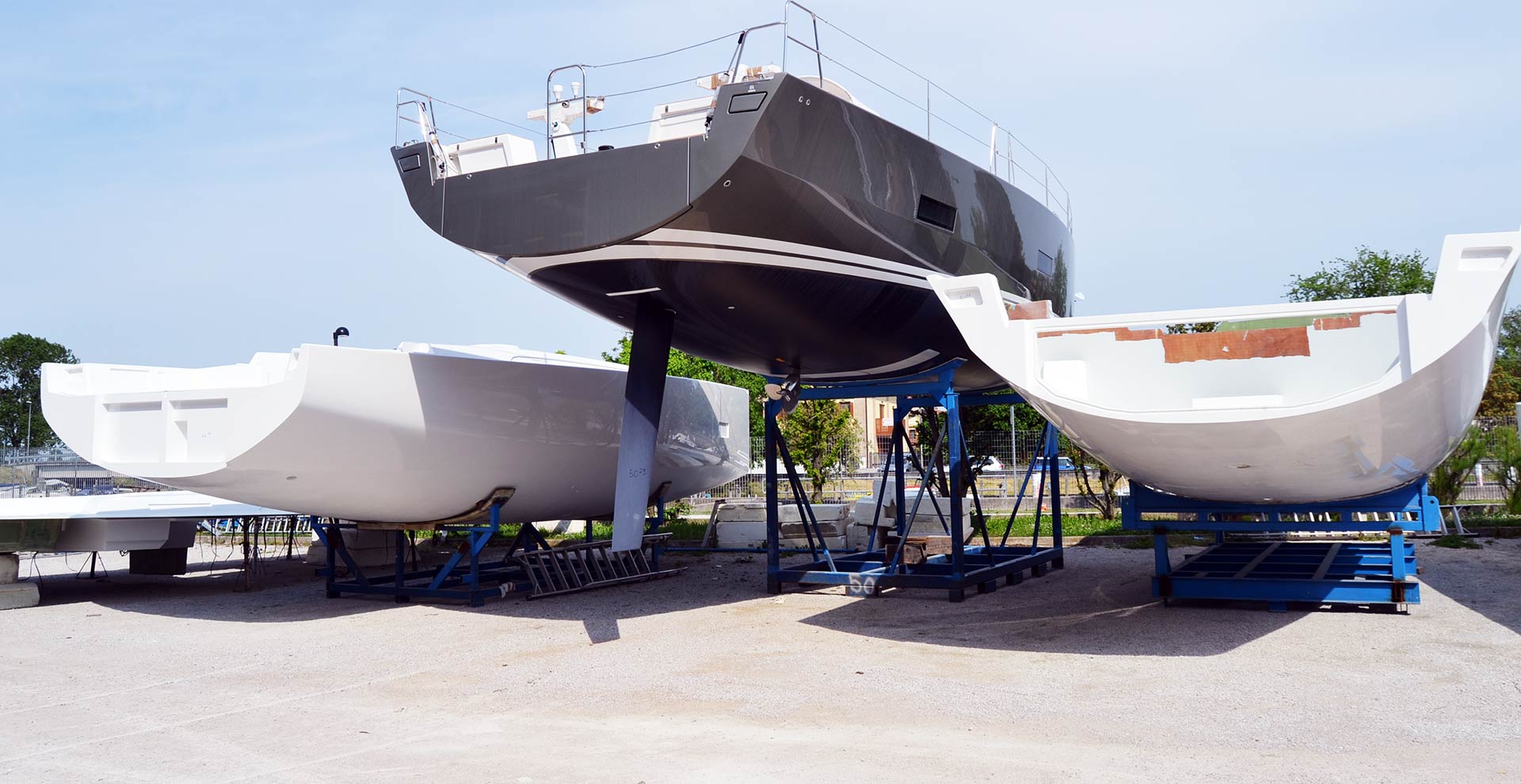 As we take a short halt in front of the actual production hall, Jean-Pierre has to answer an urgent phone call, which leaves me some time to roam about. In front of the hall a bunch of nice masts have been laid up and some workers are preparing the masts to be stepped: I discover black powder-coated (?) aluminium masts as well as some beauties made of carbon fibre. Directly vis-à-vis the big entrance doors of which one or two are partially open some 5 or 6 hulls are stored ready to be fitted. I instantly notice the distinct signature lines of Mr. Soto-Acebal: Sharp dreadnaught bow, very sleek and low profile superstructure and the nice chines of the stern section. Could I choose one here, please?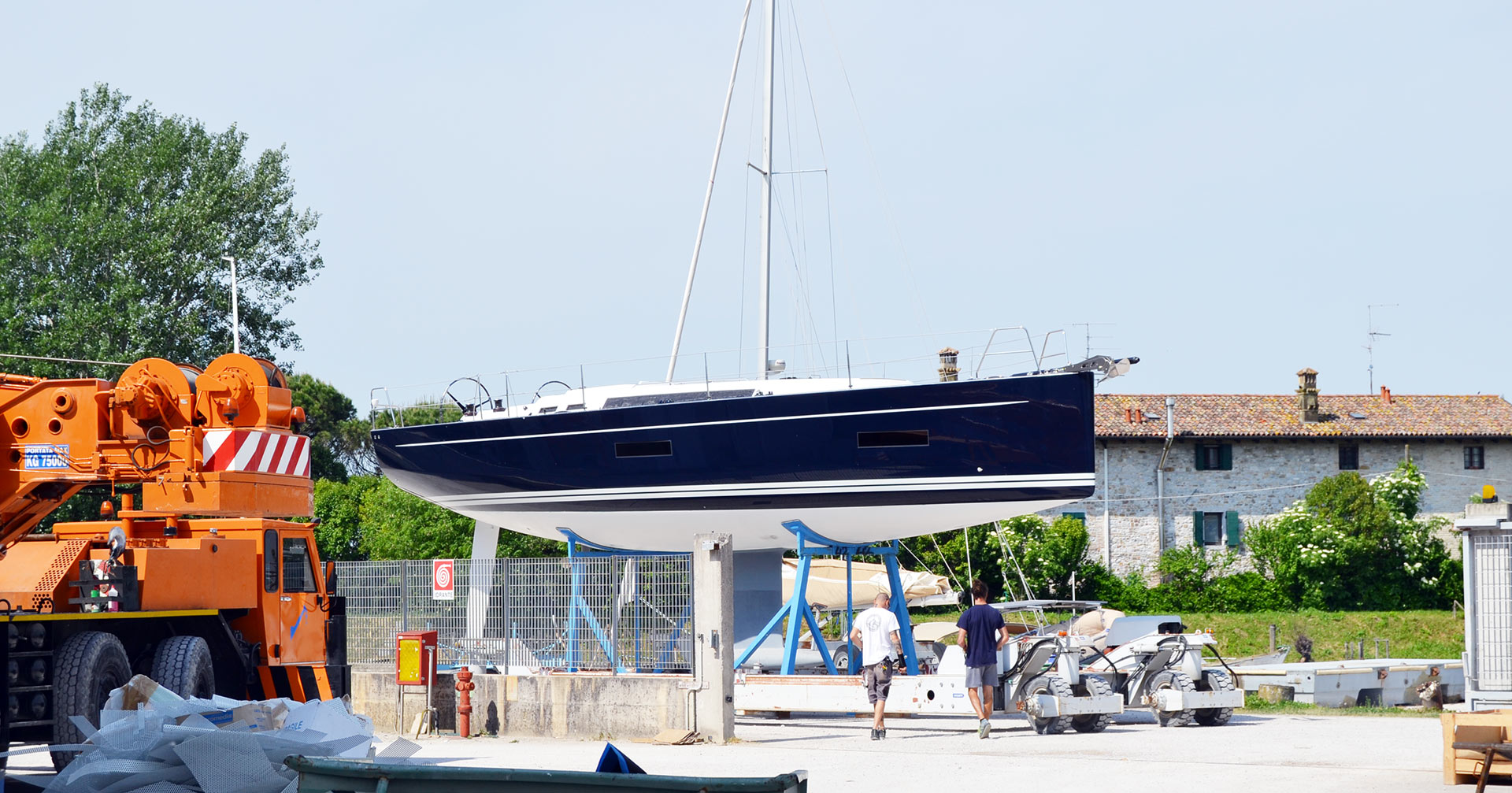 One "smaller" Solaris yacht – of course painted in the dark blue colour with two stripes on the waterline – is pulled out on a stand by a small tractor. Although it´s some 1.5 miles to the sea, clients can have their boats delivered and commissioned by the yard itself here at Aquilea. With high tide the yachts then can steam downriver and enter the lagoon to proceed to open Mediterranean waters then. Here´s one lucky owner getting his Solaris 42 being prepared …
The production site of Solaris yachts
Finally Jean-Pierre hangs up and invites me to the hall. We enter the place just where the new hall is currently being built. Three bigger yachts are on their building stands at this moment, a Solaris 50 (my favourite boat of the current line), her bigger sister, the Solaris 58 and the second biggest boat of the current range, the Solaris 68 are laid up here. Solaris as a company is owned by 6 private people, Jean-Pierre explains: No foreign money, no stock market stuff, no rush to generate dividends.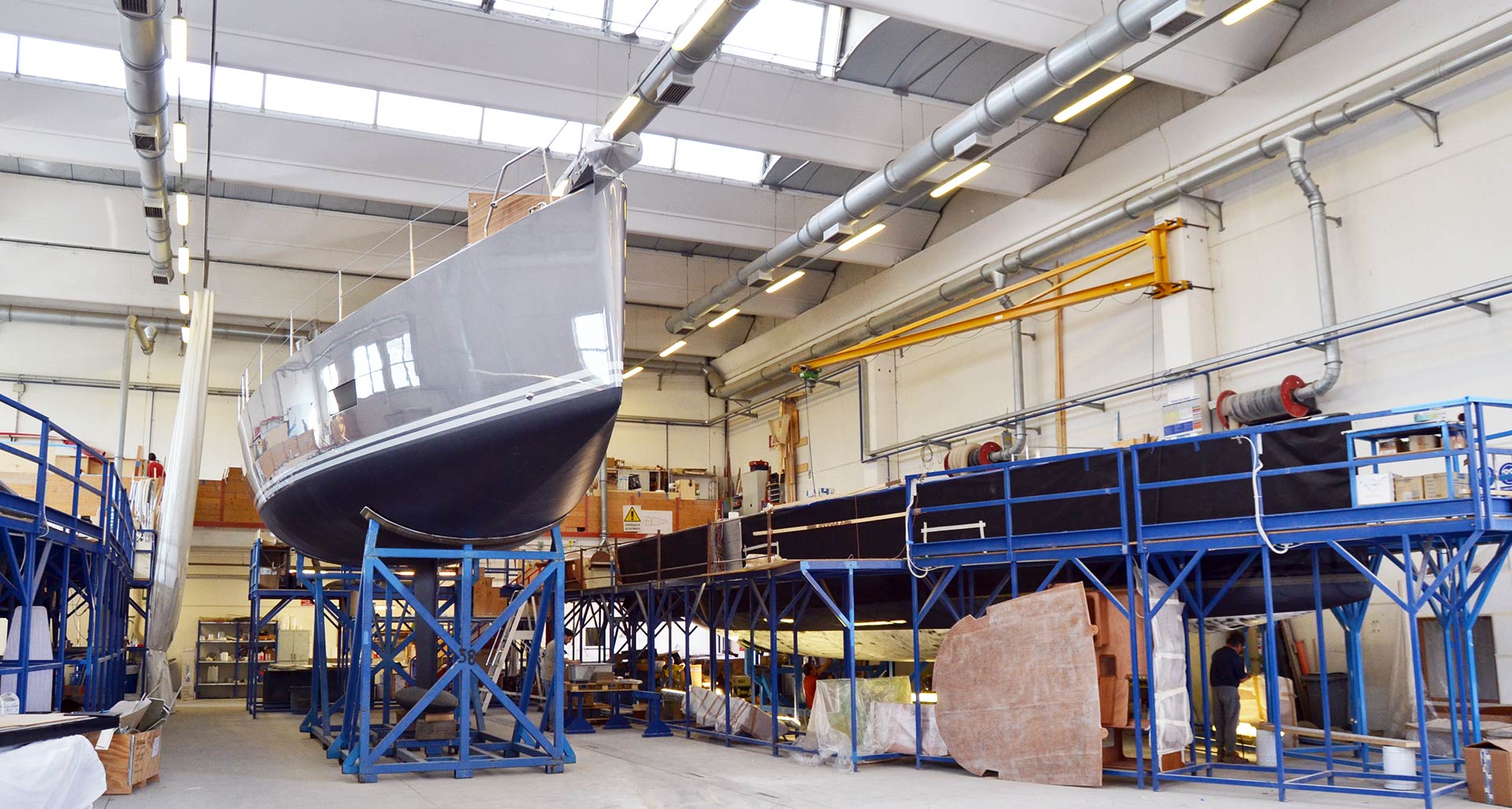 The hulls and all the connected lamination action does not take place here at Aquilea, as Jean-Pierre explains, but is done in the second location of the yard which is located in Forli. It´s a more than 330 kilometres drive to Forli to a very different place of Italy near Ravenna where the company has another big facility. There the hulls are made and driven up to Aquileia by trucks. In this location the fitting of the boats takes place.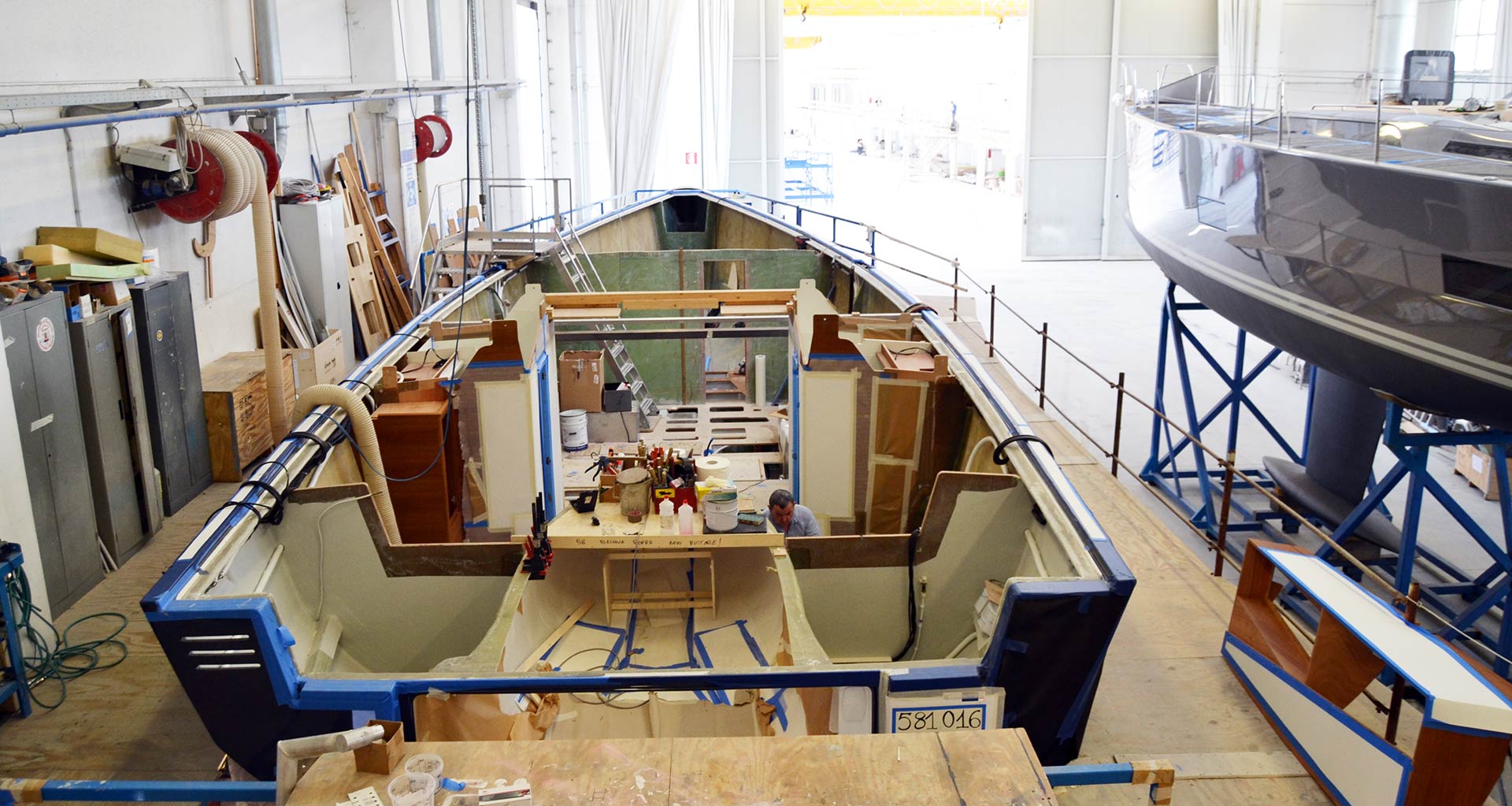 The Forli factory is specialized in lamination and vacuum infusion. It´s making hulls also for other brands and buyers: Jean-Pierre tells me that it is there where some of of the carbon fibre Wally yachts are being born as hulls. Upon arrival, a new raw Solaris hull is being put in the hall and prepared for painting: Cutting out surplus GRP material and preparing the Gelcoat surface for receiving her paint. As I understand, to paint a boat the yard must remove all other boats and seal off the area: A time consuming and inefficient process. The new hall currently in build will solve this problem.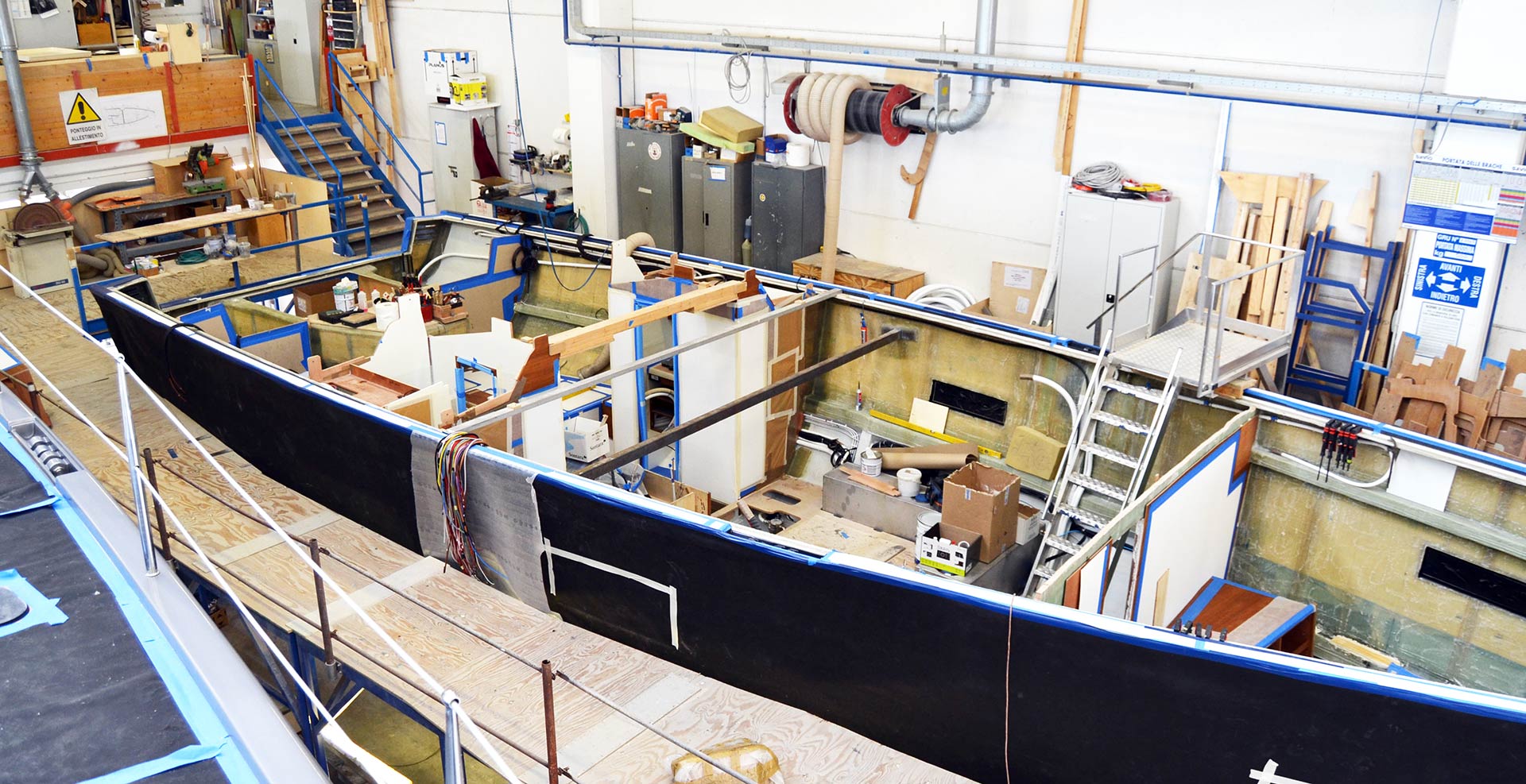 We walk near the Solaris 58 so that I can see the workers doing their fitting action. Apparently the hulls are made by vacuum infusion and I can see the foam core of Divinycell. Bulkheads are laminated to the hull, either made of strong thick laminated plywood or of hardened foam-core material which should be rigid but also very light. There is not a particular system visible here as the four boats in this area all are in a very different state of the building process: One of the 58 yachts had just begun her life, one another is nearly finished with her interiors fitted completely and the deck glued to the hull, the protective foil has been removed and the keel mounted. I guess that they put a new raw hull at the building lot when a finished boat leaves and start there. So it can happen that a nearly finished yacht is parked next to a raw hull.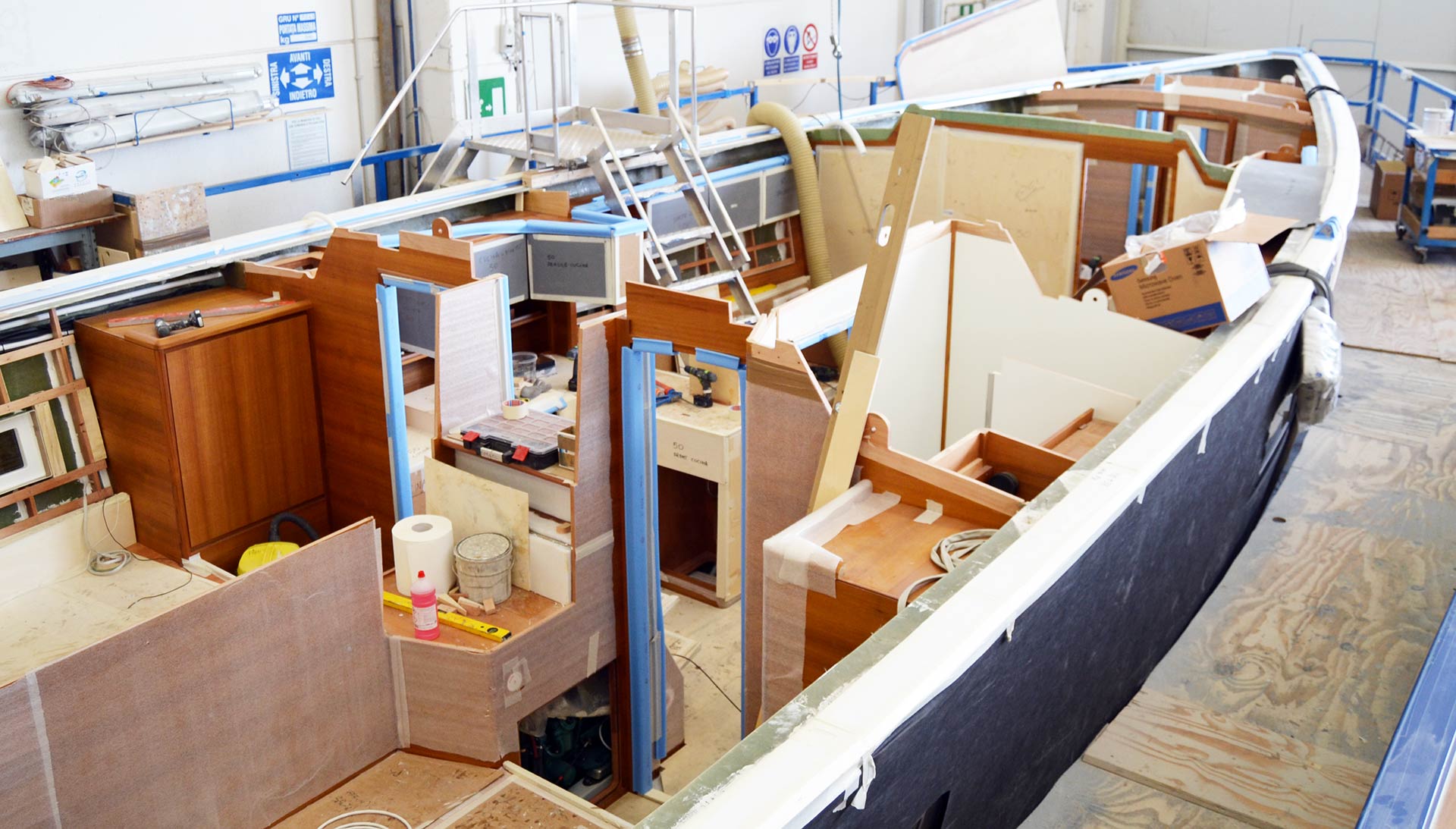 Sometimes furniture is already fitted and covered in protective foil. Being acquainted with the building process and production management of larger yards such as Beneteau (read the article here) seeing this style of making a boat is rather different. It reminds me of a manufactory or workshop rather than of a modern assembly line as seen in the larger yards. I know that there is of course some kind of system applied here but I guess a Solaris worker is able to work on a larger variety of tasks than his colleague at a big production boat yard where the process is more strictly defined by a assembly line building process.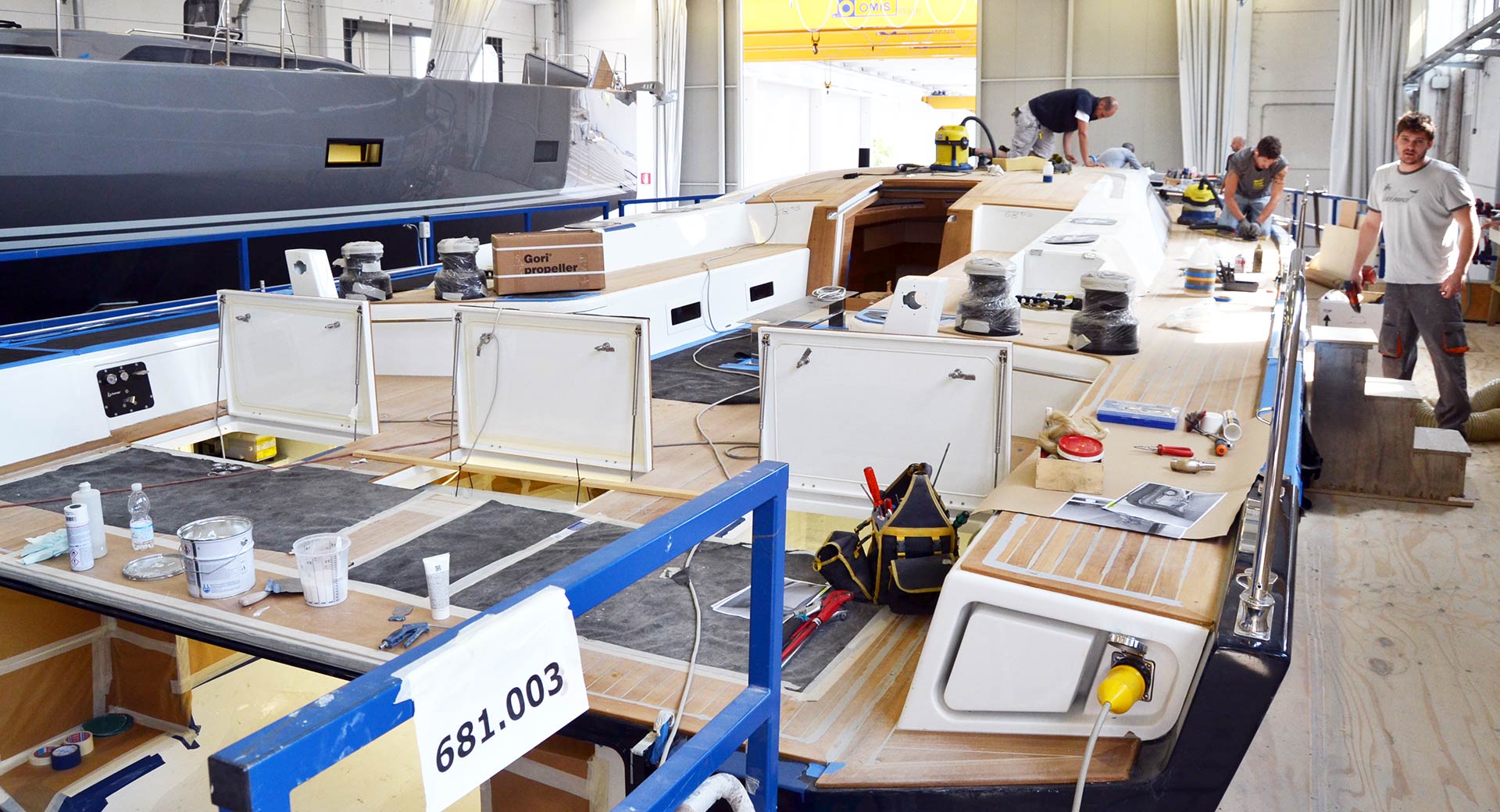 What I liked was the workers: All are happily greeting me with their "Buon giorno" and a warm smile, although I am jumping on and off every boat to get every detail and bother in their work space they do not chunter or give me an evil eye. At one occasion a worker also started to blare out a song that could have been sung in the Milano opera for sure against the noise of the building machines which remined me of a Spaghetti-advertisement in TV. Very Italian. I think it´s a good thing to work for Solaris judging by a look at these people.
Production details at Solaris yachts
As you may know from one of the older posts I have never made it onto the Solaris yachts stands on the big boat shows like Boot Duesseldorf (read it here and here) and as well not in Cannes. So I´ve taken the chance and jumped onto one of the nearly finished boats to have a look at different production details. First on the Solaris 50 is positioned myself behind the starboard helming position.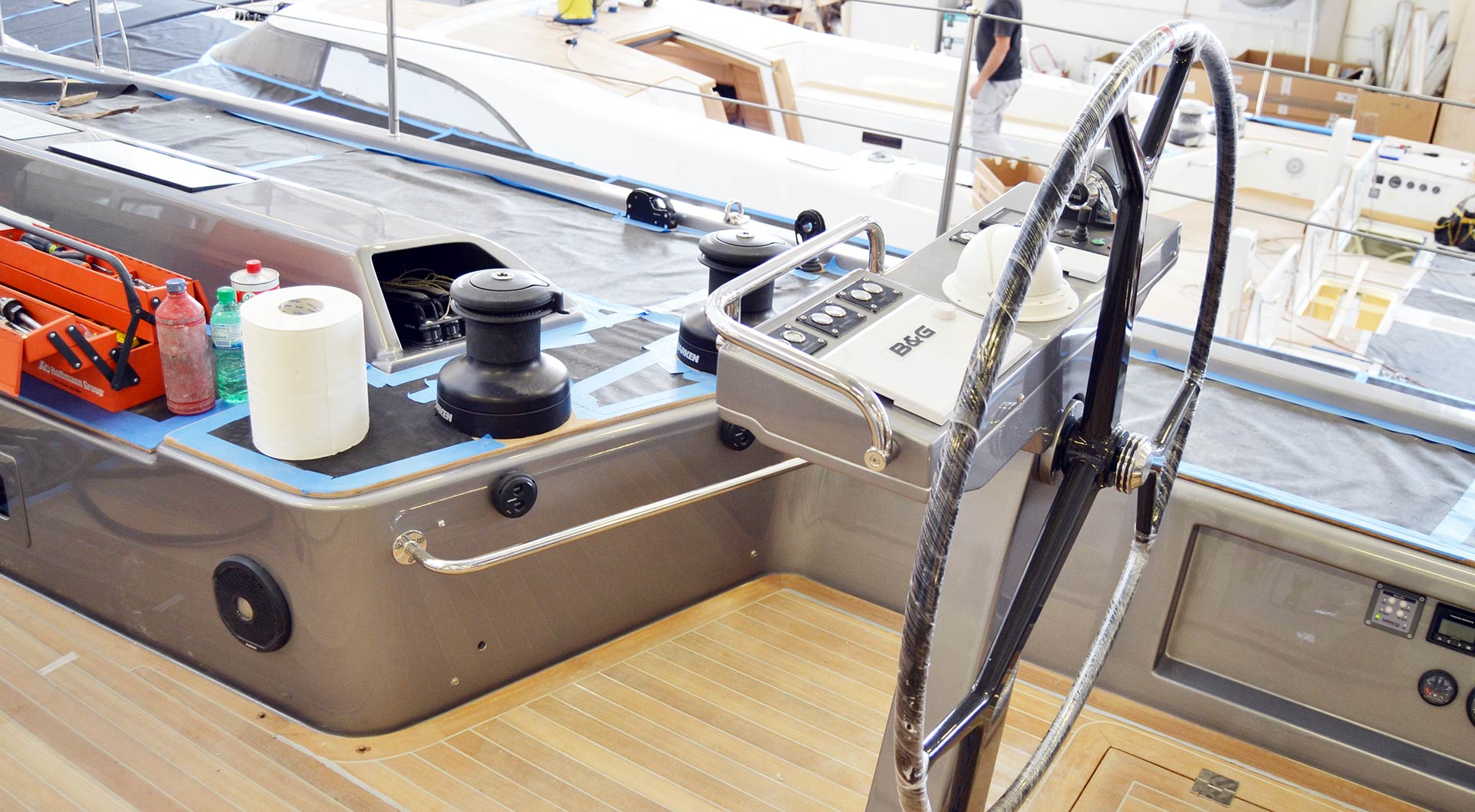 I instantly noticed the sleek yet rock solidly mounted steering post onto which a nice carbon fibre wheel was already mounted. Of course, Solaris sailing means push button-sailing but in contrast to some other boats I´ve visited, just like the fabulous Hallberg-Rassy 64, push button sailing on this Solaris means to being able to push pleasantly few buttons at all. I liked the fact that all lines are run hidden under GRP-panels on this boat so that there is no hassle in the cockpit with lines and ends.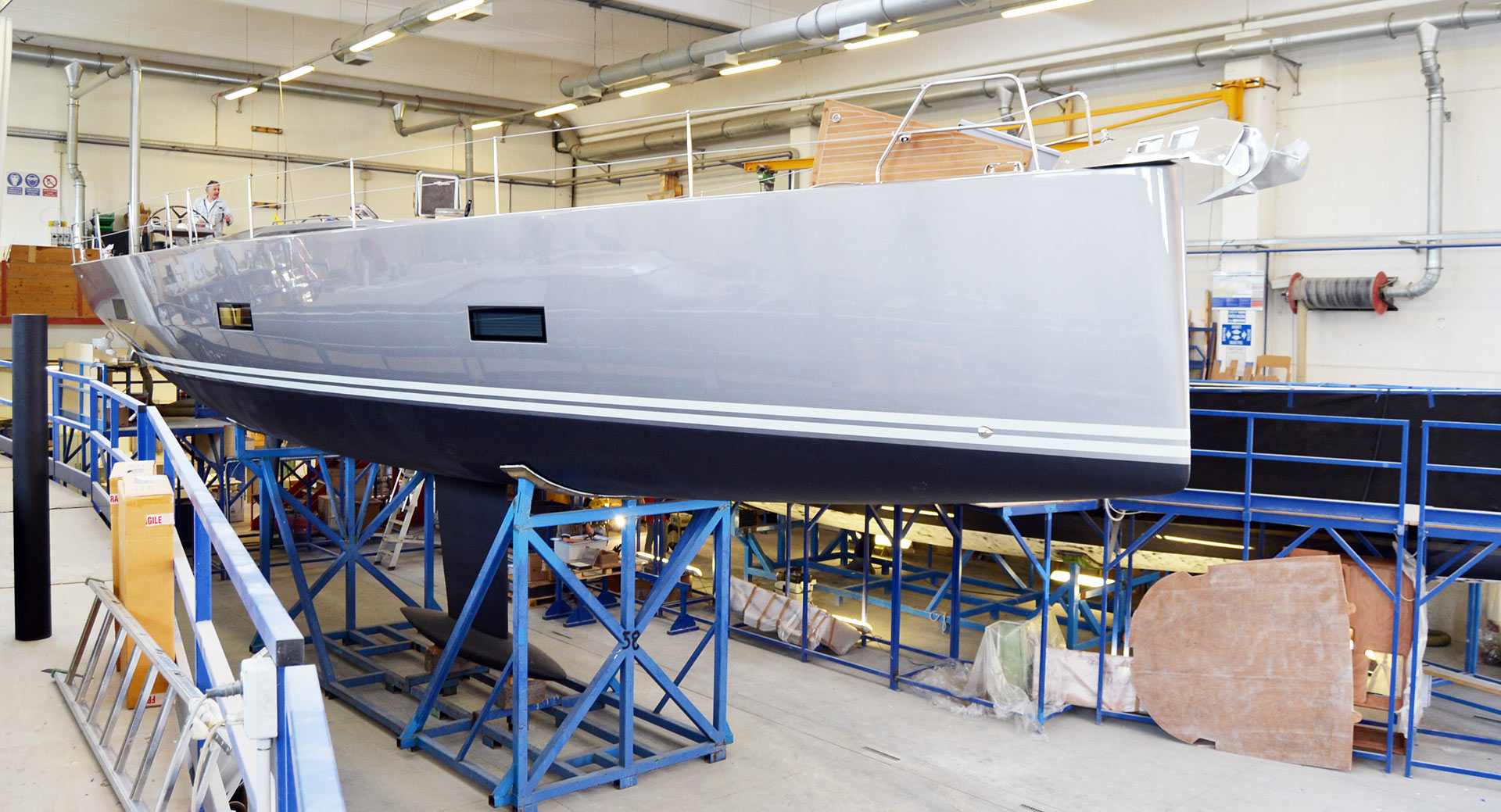 As Javier Soto Acebal was explaining to me quite nicely during our interview the design of a Solaris yacht is matched by no other boat of any other brand in the current market: There´s the dreadnaught bow first to be mentioned accompanied by a very, very low profile of the cabin superstructure. The freeboard is relatively high to generate internal volume and to make up for the low cabin roof of course. I loved another, mostly unnoticed detail of course: The keel with a straight forward keel fin makes the boat appear aggressive. Also, very fine chines to the rear end. A marvel indeed!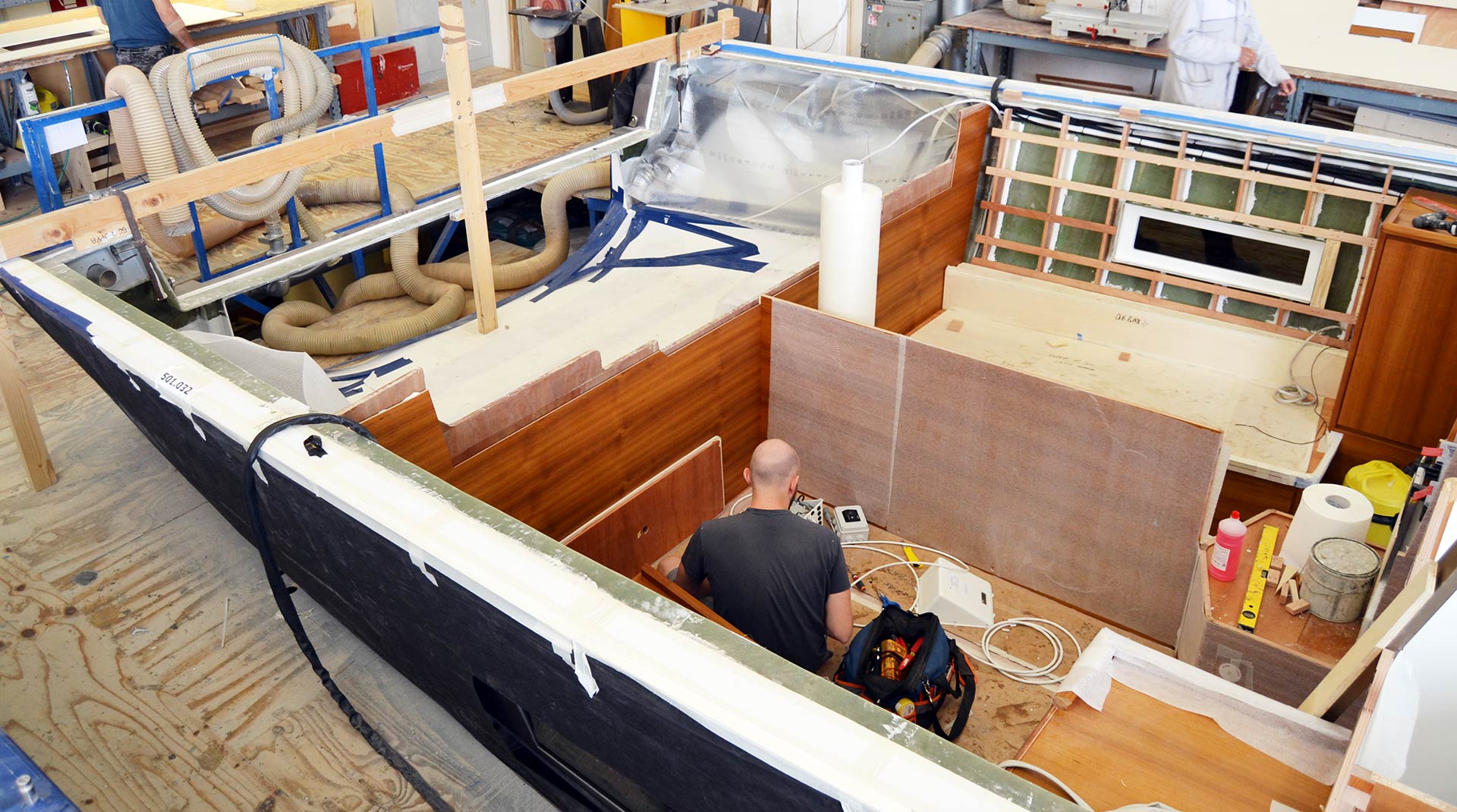 But being in a yard also means to get an insight onto things which are normally hidden when the boat is finished. As we stood next to the 58 in the building process I was gathering a closer look onto the mounting techniques for the panels and frames which may cover the bare GRP structure in the end. This is of utter interest for me because, as you know, I am in the refit mode with my own boat and have experienced quite something with making my own panels and substructions (read about this here)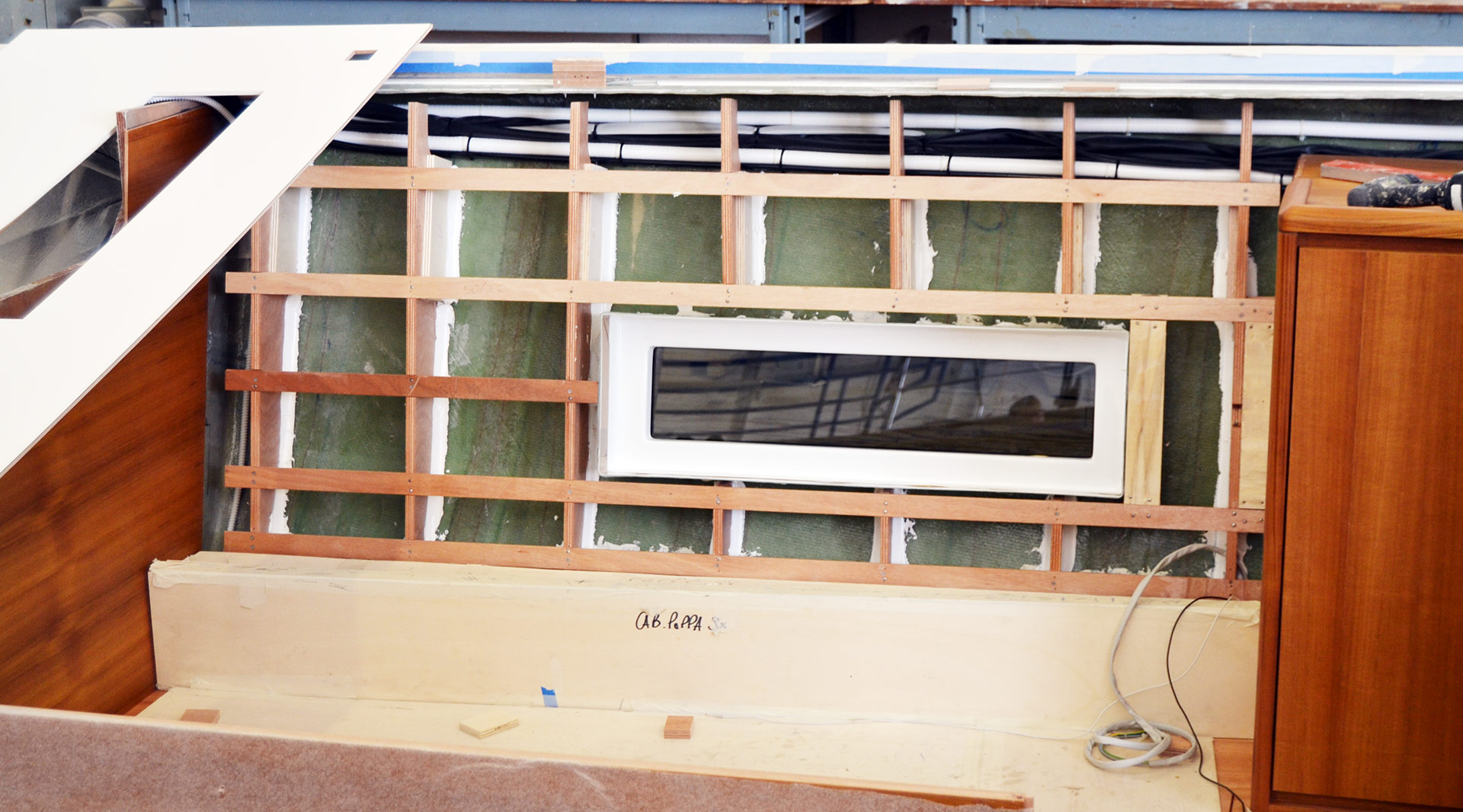 With Solaris I was firstly surprised in the best of sense by the rigid and solid foundation the panels are receiving here: Very thick vertical plywood-chunks are glued to the GRP. This is done with a number of frames and in a manner that I honestly have no doubt that the panels, later to be mounted here, will have a firm fit. No squeaking and no gobbling, just a very durable construction. I am pleased!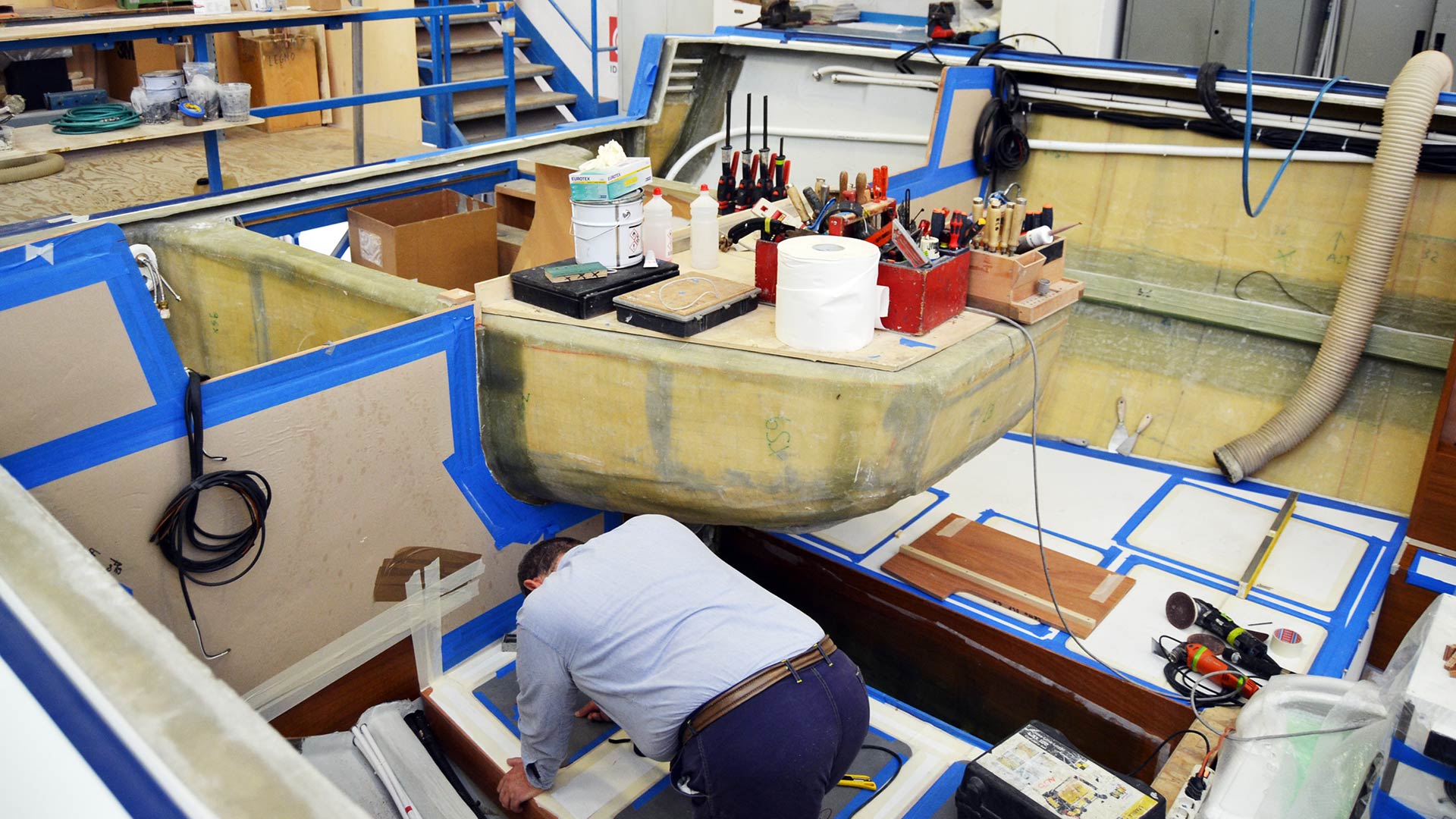 I was also excited to see how they make the dinghy garage on the Solaris 68: Apart from the rear secition of the boat that is making a very, very wide and deep storage volume, the forward part of the dinghy garage is a moulded GRP-piece that is resembling a tub maybe, that is reaching as far as one fourth up into the rear cabins. I recon that this solution offers both biggest volume with less sacrifice of cabin space of the boat itself. Never seen this in this clarity.
An exclusive look at the all-new Solaris 44
Jean-Pierre led me into a big room of the production hall. After closing the doors behind us there was suddenly quietness surrounding us. A very nice odour of fresh wood was pleasing my nose as we entered the room. I noticed a familiar view on a very large plywood construction. Well, honestly, onto two of these. Jean-Pierre asked me not to take pictures nor name the very size and specification of one of these things as this hasn´t been announced yet, so I agreed of course and focused on the other: This was the mock-up of the all new Solaris 44.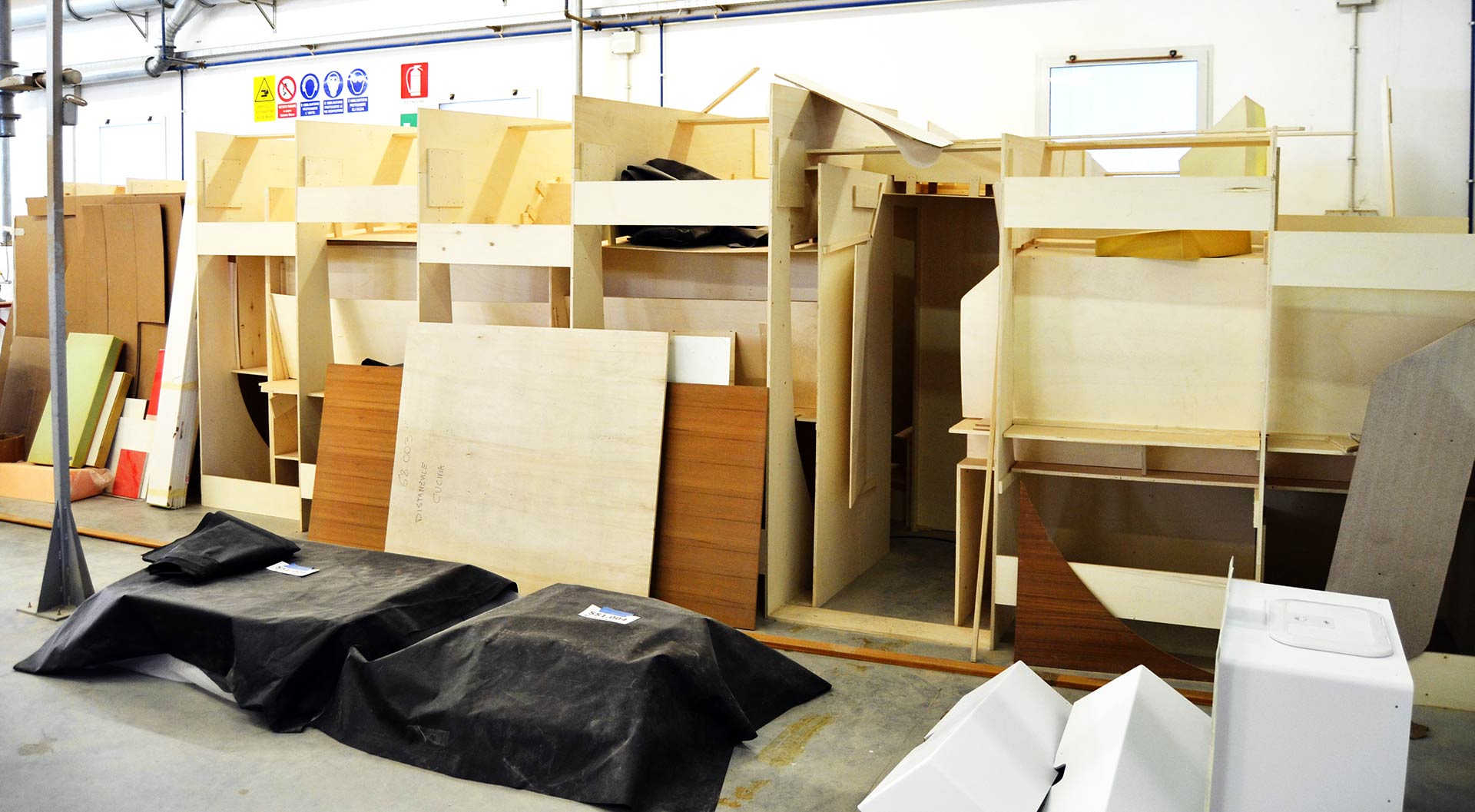 This latest of Acebal´s designs has been announced on Cannes and Boot Duesseldorf and here I am, looking at the very working model of the interior mock-up. The boat will have a length over all of 13.25 metres with a beam of 4.15 metres and a max draft of 2.60 metres. The boat will carry 118 square metres of upwind sail area and will come as a 3-cabin version. I was so excited to enter the mock-up.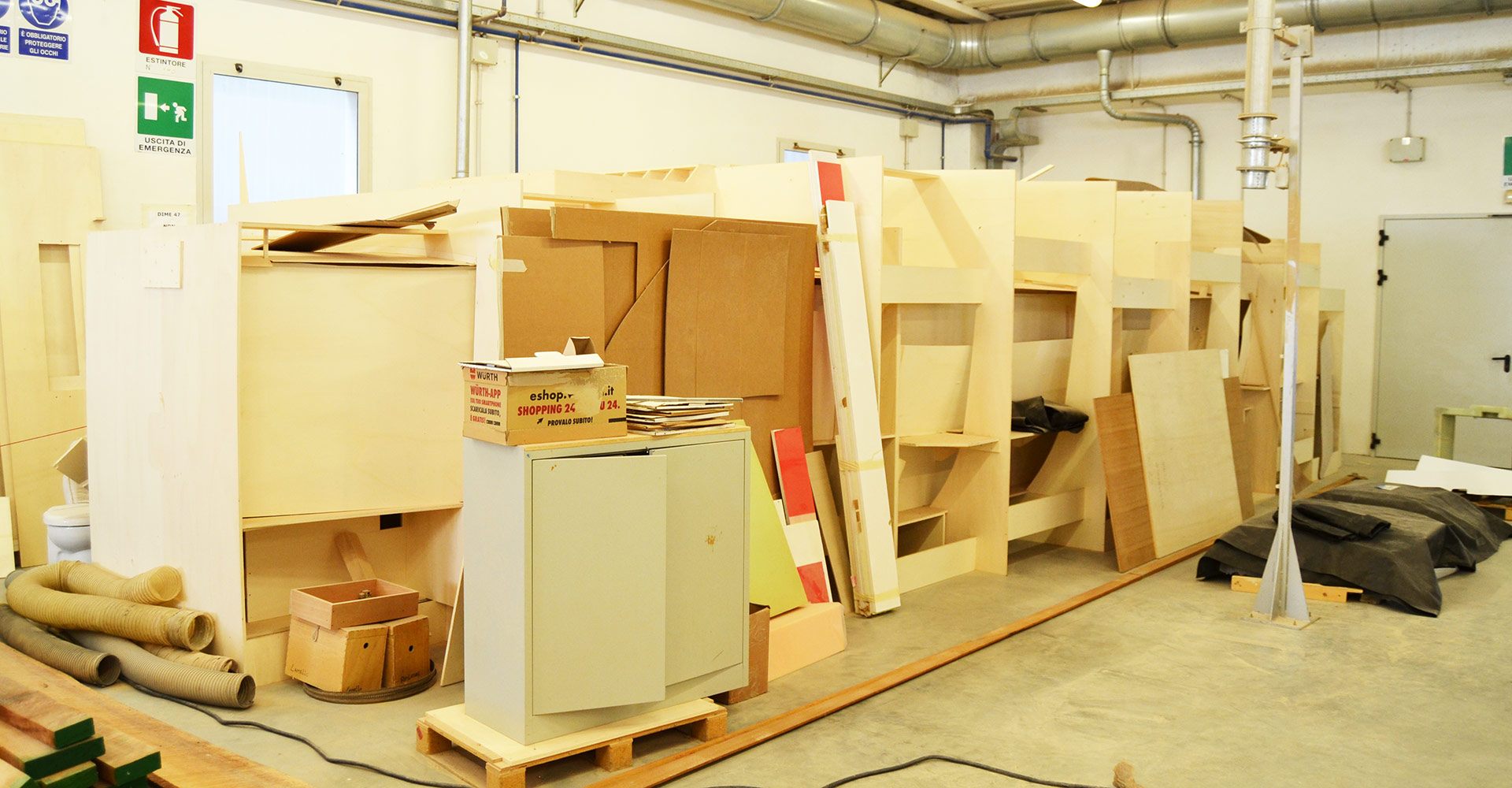 First I was surprised to see the mock-up as I thought modern yards don´t do this anymore. As some of the naval architects I spoke to in the past years – like German Frers, Umberto Felci or Marc Lombard – told me, any "offline"-work such as sketching, modelling or, you guessed it, making mock-ups has been replaced by computer aided design on "online"-work. No, insists Jean-Pierre, Solaris is making a mock-up model of each new yacht here to get a first hand impression of the real measurements of the design. I can just applause this attitude and approach!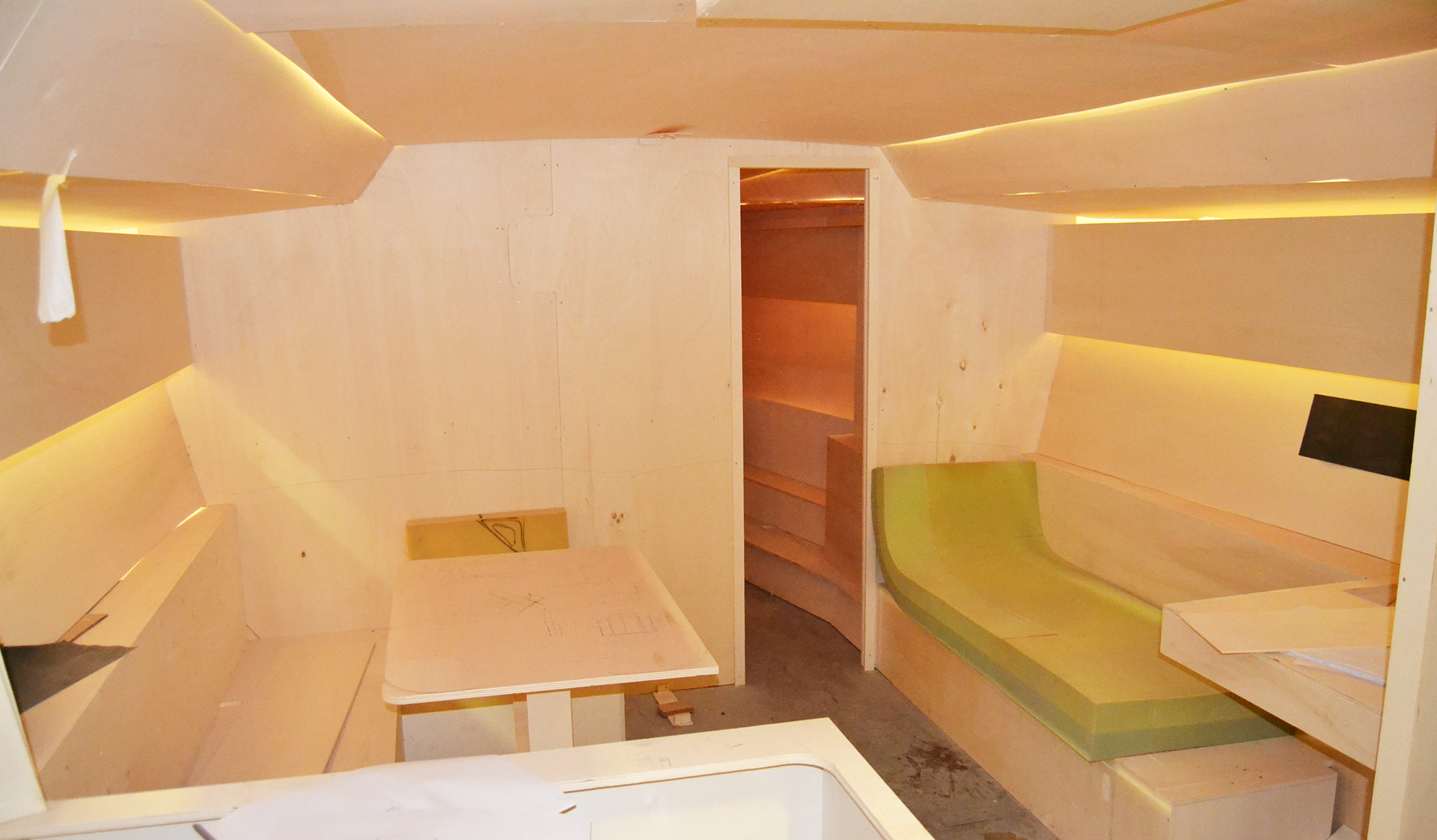 The new Solaris 44 will have a pretty classy salon with an L-shaped seating situation around a dining table to port side with a 3-seater sofa facing this arrangement. I love the sofa because this is my personal preferred resting place during off-watch: Get yourself braced here with full gear on and taking a nap – you are fast back on and in the cockpit in case somebody needs help.
The dining table appeared rather small I must admit given the fact that more and more yachts – even in this medium size – are made by the yards to welcome as much people as they can. But I assume, right as the company´s slogan "built for sailors" goes, Solaris is expecting these boats to be run not by overgrown charter-crews. I thing the dining table will perfectly do for four people´s full range of crockery during a dinner.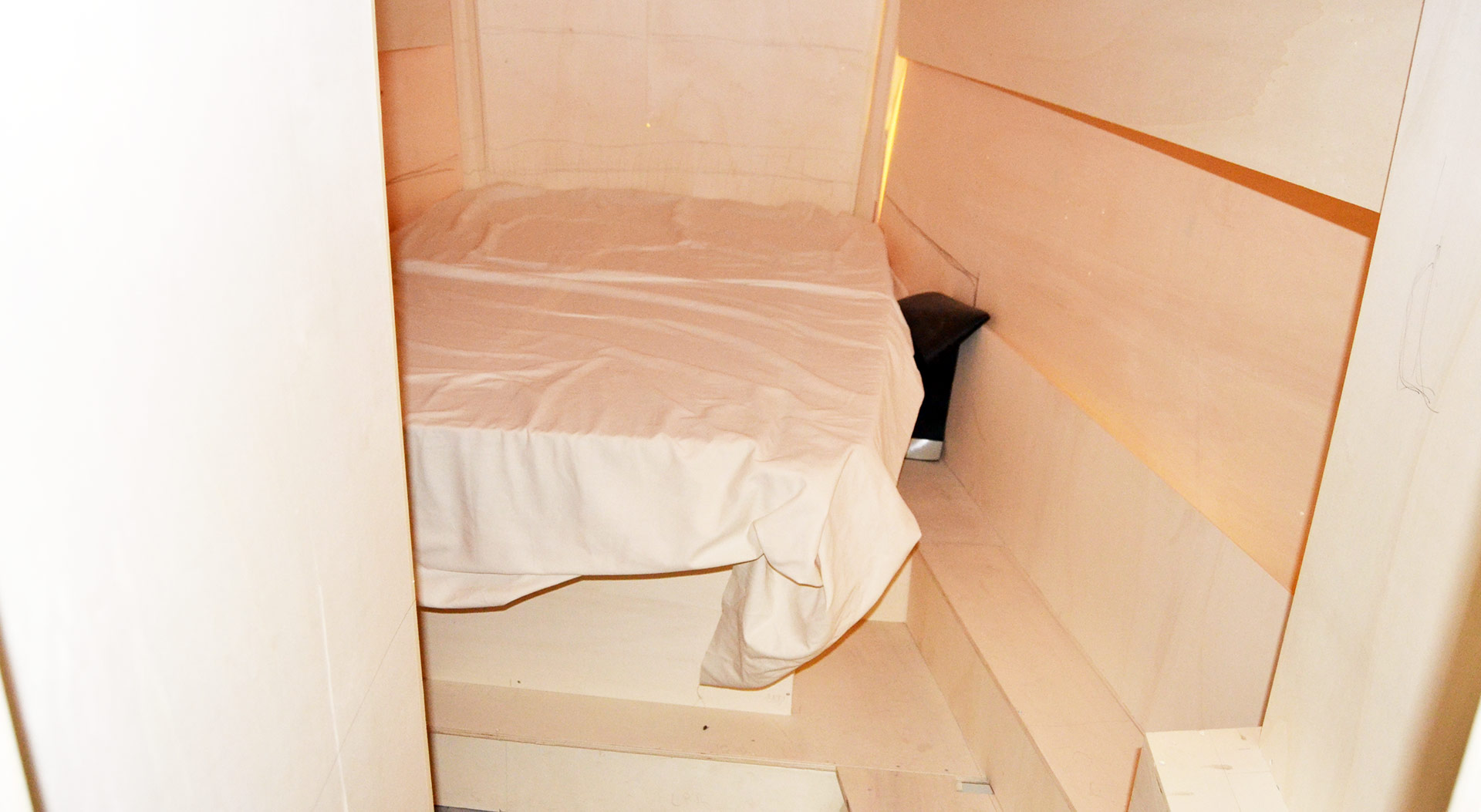 The forward facing owner´s cabin in the front is classy too: There´s an island bed that will – judging from this rather solid wooden model – offer more than enough space for two adults to find a good night´s sleep. The en suite bathroom will be slightly bigger than the aft heads because the shower is somewhat bigger. But that´s not too much of a difference. There will be a locker to the right hand side upon entry but it would take a real boat to see if there´s enough of it. I assume Javier Soto Acebal and the yard will have taken care of it for sure. Jean-Pierre led me to another part of the hall where I saw a hull closely encapsulated by a scaffold.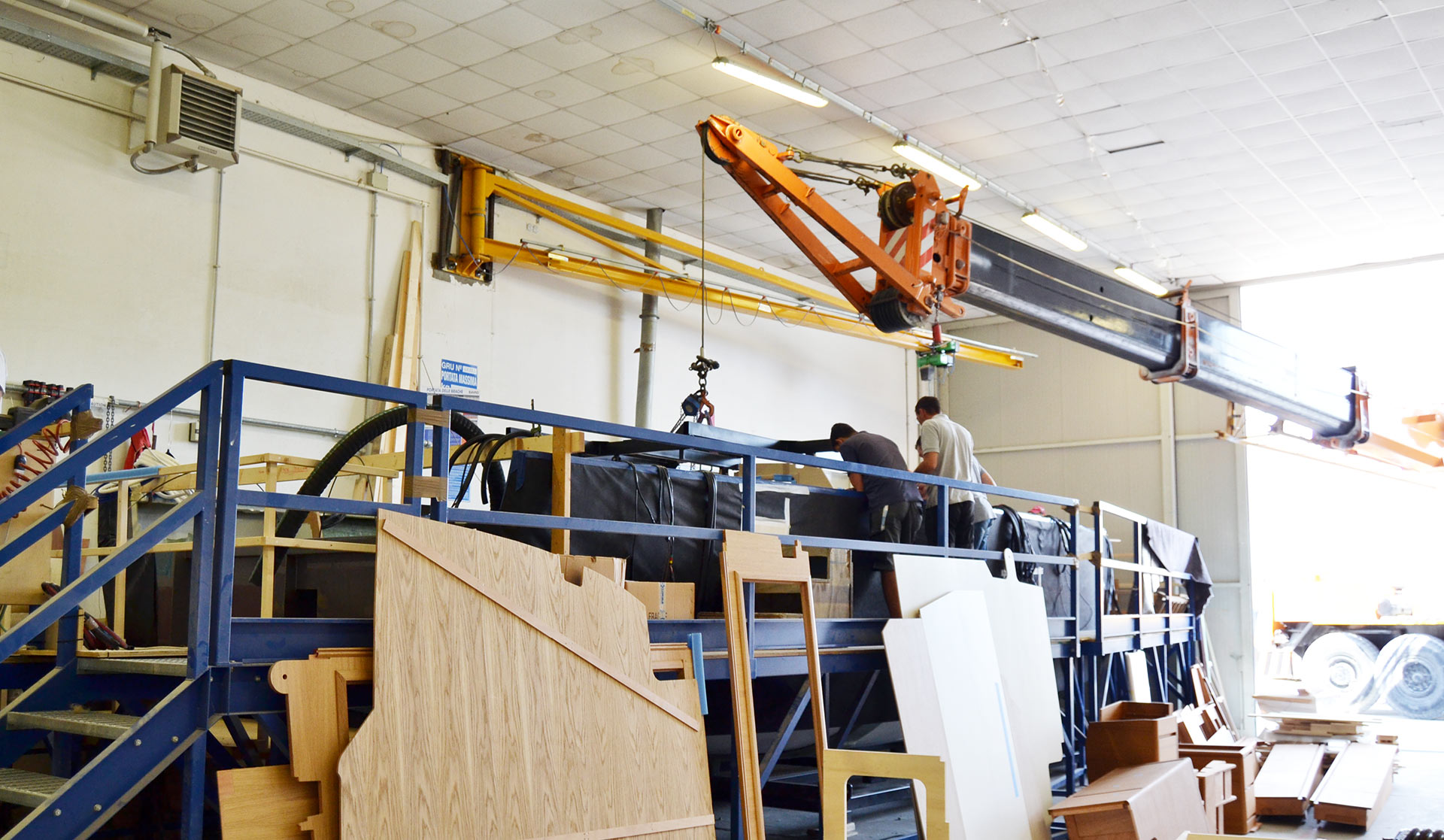 Jean-Pierre invited me to take as many pictures as I wanted to: "This is the new Solaris. Hull number 1!", he said with pride. My heart jumped as I just came out of the mock-up and yet here I was standing in front of the very first boat! I entered the stage and noticed that serious mounting works had been going on: A large crane standing outside was just lowering the large salon-module into the hull. A handful of employers had both of their hands full of work: I could easily detect the tension in the air.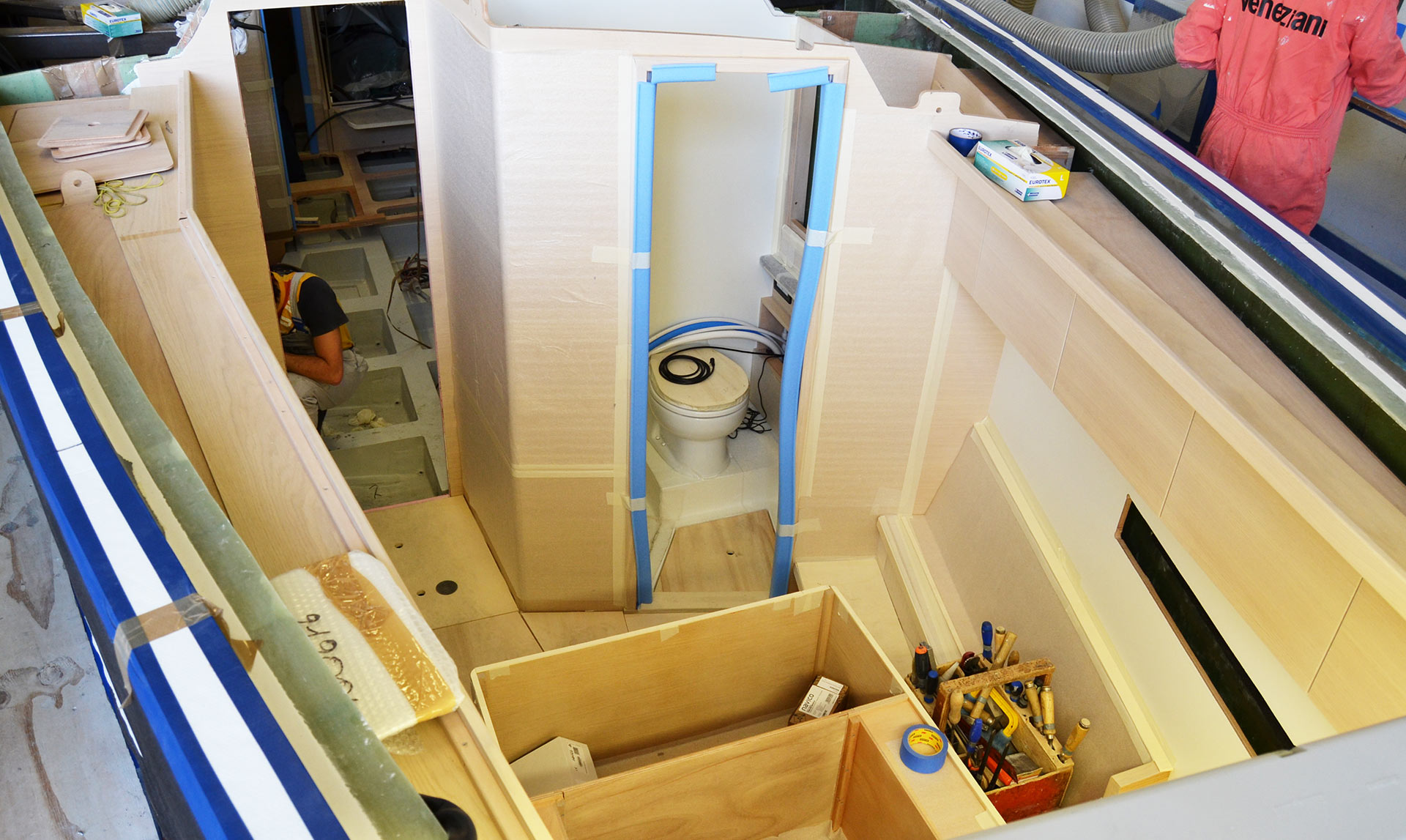 I circumvented the crowd hoping my appearance wouldn´t take their concentration off of their task and peered into the fore cabin of the boat. As you may have noticed, I am currently working at the refit of my own fore cabin (read it here, here and here) and I was pleased to get a deeper inside into this one: The nice lightly brushed Oak interior, the real size of the en suite bathroom and of course locker to starboard side. I was exceptionally pleased with the size of the large portholes which will make for a great view when the sailors awake at anchor and this will be their first sight …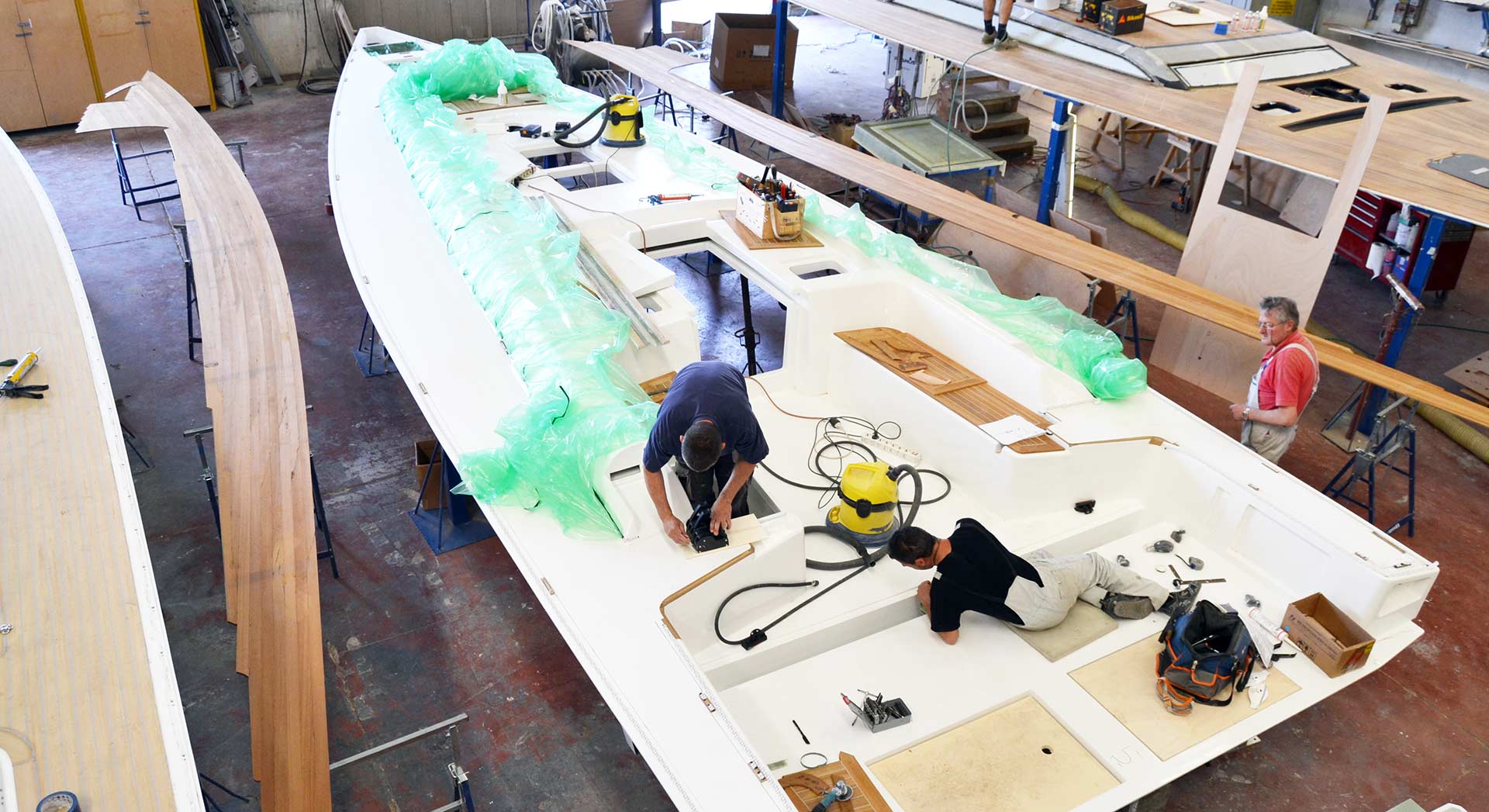 We then proceeded to the second big mounting spot in the hall of Solaris where I could witness the fitting of the deck of the new Solaris 44 sailing yacht. The workers had just prepared the very large Teak-parts for the gangboard of this boat which had been stored next to the deck part ready to be glued to the boat. Again, I admired the very, very thin cabin coachroof and the sleek lines this yacht will resemble when finished. A true Soto-Acebal-design!
Interior fittings and modular production technique at Solaris
On our way back to the office building we came by the mounting hall where I could gather a glance at the fitting techniques utilized here at Solaris: Large wooden racks and gauges are used to pre-mount all of the interior parts. Jean-Pierre explained that by using these gauges the yard can assure the proper and exact fitting of each and every module.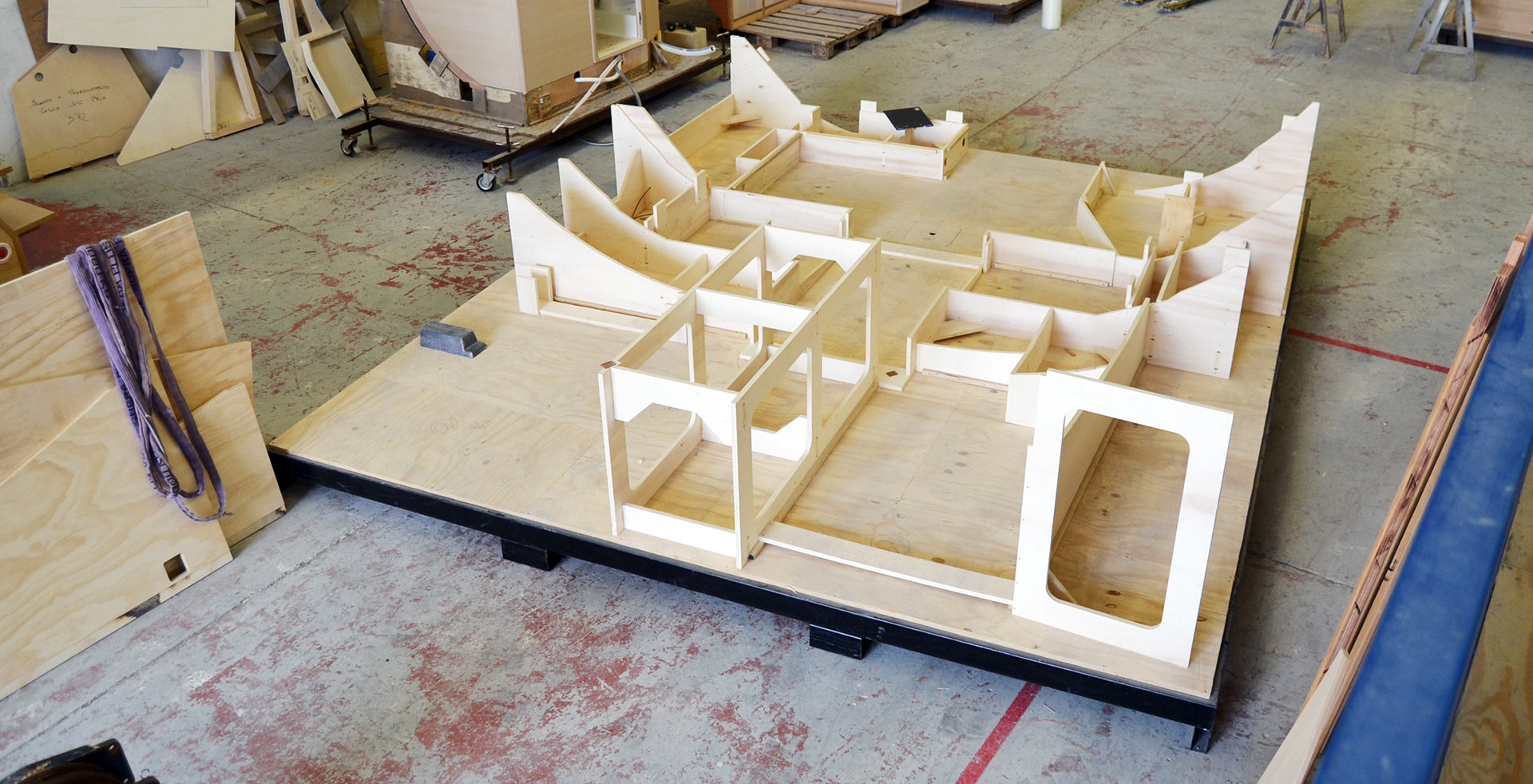 Also, the yard is faster in producing the interiors as this is done outside of the boat and thus no worker will hinder another: In principle, all of the boat´s interior modules like galley, fore cabin, salon and heads can be pre-fabricated at once by different workers at the same time and finally being brought here to the final assembly. This may speed up crucial building time: A typical 50 feet boat, as Jean-Pierre told me, takes about 4 months to build after order has been placed.
Although I find this a logical and most useful step to building a yacht (rather than bringing every part of the interior fitting as a separate to the hull – just as I do in my refit project, I noticed that the new building site Solaris is currently constructing on this property may be desperately needed: And this with a proper crane on the ceiling so that the large modules do not have to be hauled into the boats by an outside car-crane would facilitate working efficiency very much here.
Interior building quality at Solaris
On the building lots of the last part of the hall there were some nearly finished boats ready to being rigged to be handed over to their happy new owners. Upon request I was allowed to enter a Solaris 50 to inspect the internal building quality with a closer look. One thing could be noticed at once: I didn´t noted any sign of pre-fab modules. The whole interior appeared to be made from one hand.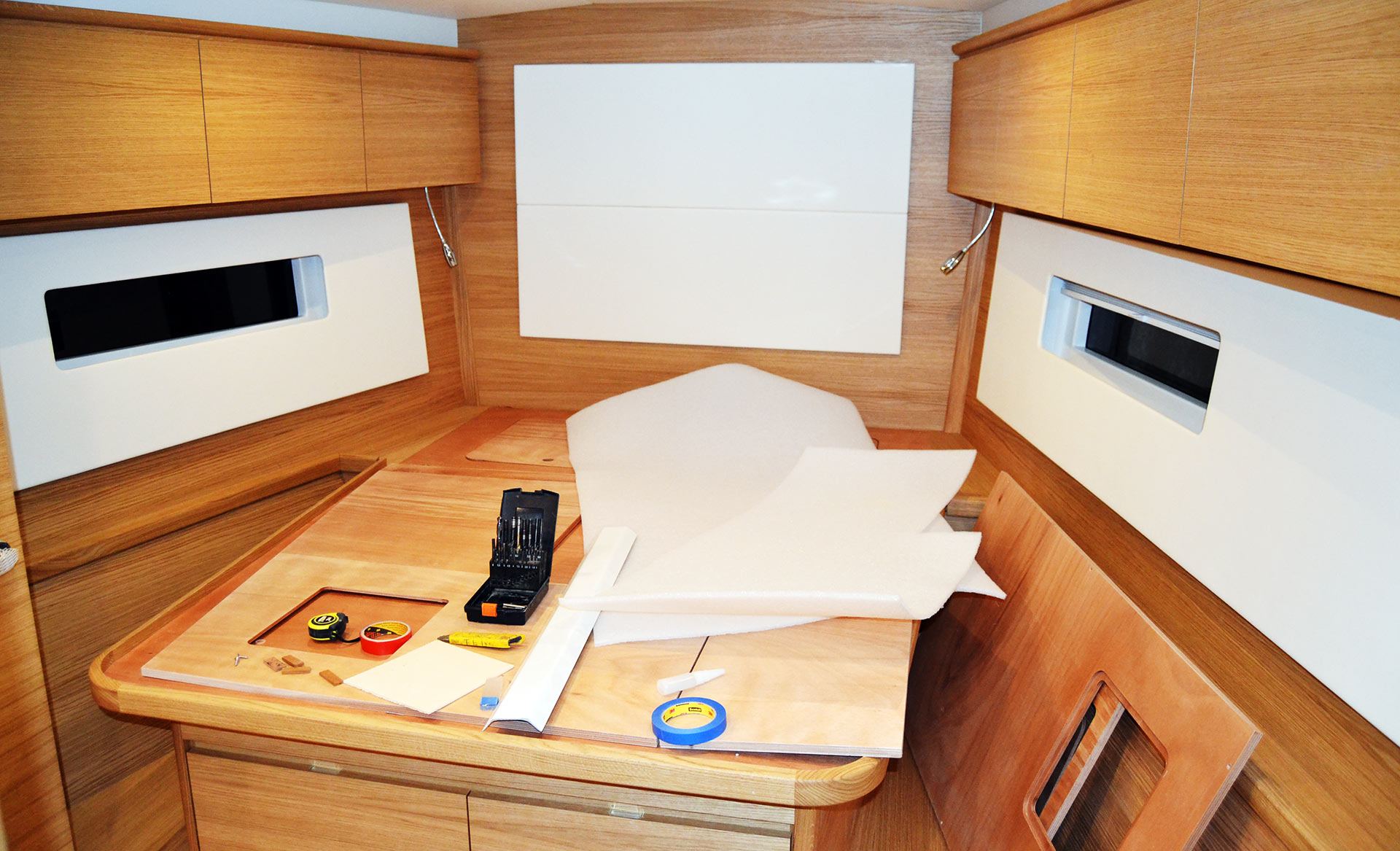 The wooden fittings of the front cabin of this Solaris yacht had been done in an exceptional quality. The material strength was thick and solid, even the veneered sections appeared to be made from a heavy quality which really is a good thing. Every scratch is a pain in the ass to refurbish when veneers are too thin.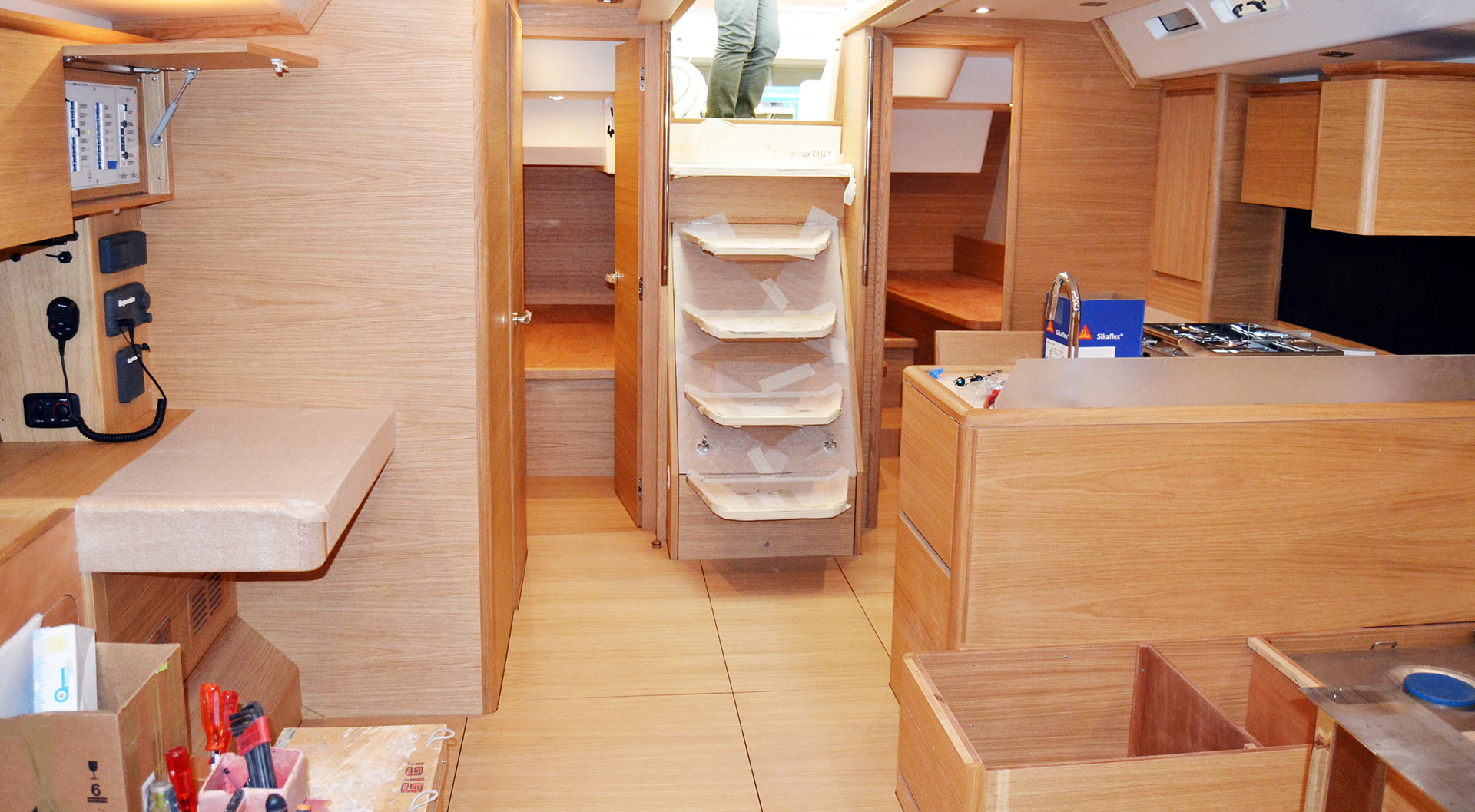 The salon of the Solaris 50 is – again – very classy and the bigger version of the Solaris 44 as previously seen. Corners are rounded to ensure minimum risk of injury in case of heavy weather sailing and choppy movement of the boat. I loved the fact that this particular boat has been fitted with just one single type of timber (light Oak) and admired the flooring panels which showed one continuous wooden grain pattern. Nice!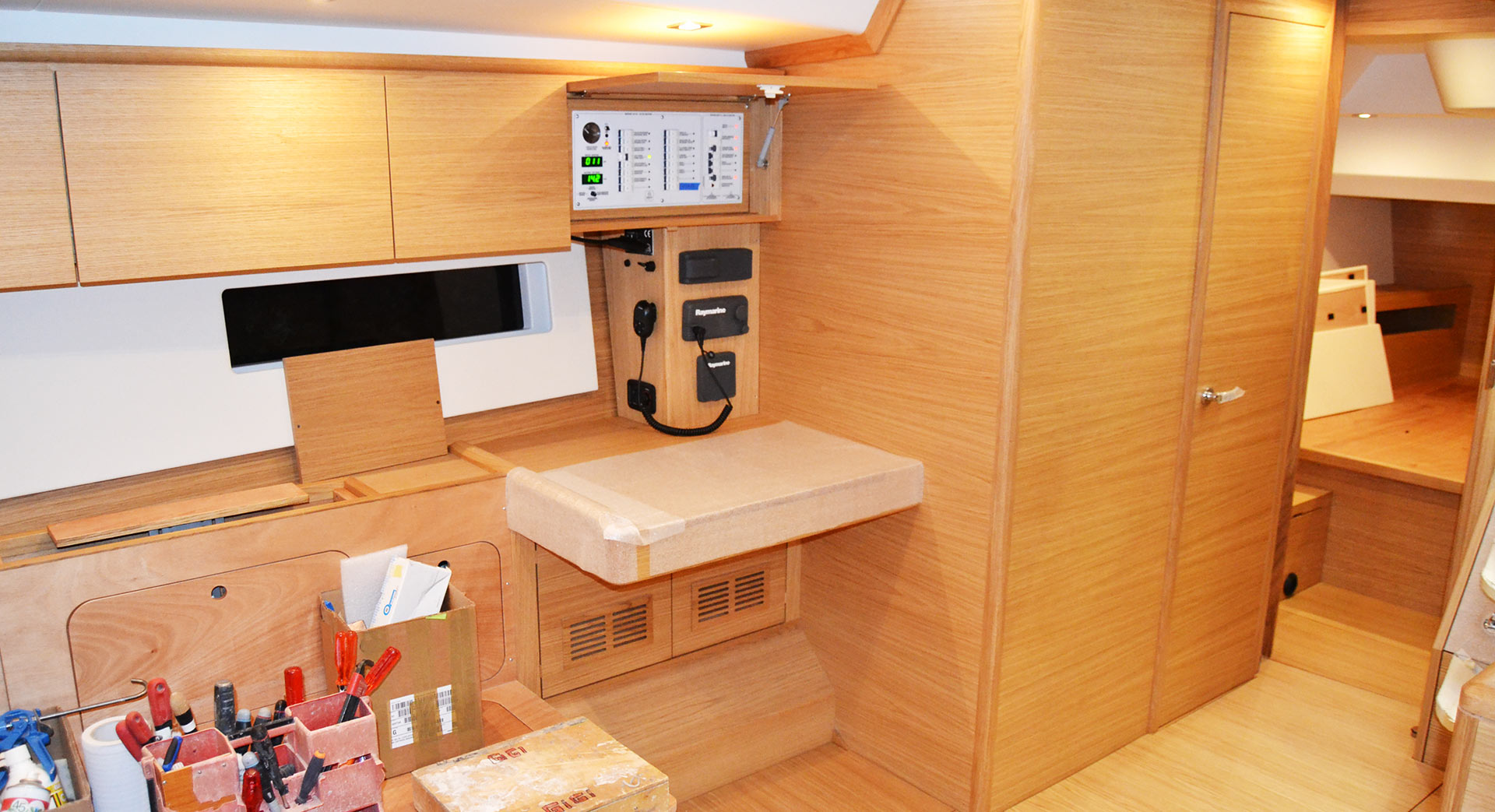 What I disliked, to be honest, was the small navigation station. That´s the thing with modern boats: As most skippers rely on tablet-based navigation and sailing planning, the classic chart table and classic naval chart work disappears more and more. I can see the point of the yards to save precious internal volume and not give it away for such dated things such as nav-stations, but I like classic approach (like on this Oyster 745) more. I guess in the Solaris – like with so many other contemporary designs – that´s a concession to modernity.
Full praise on the other hand goes to the finishing quality of the roofing panels. This has nearly broken my neck and my morale on my own boat during refit (read about it here, here and here) and so I know what a mess it is to make and to mount roofing panels in a way that nobody notices the obstacles this construction poses. In the Solaris, the building quality is exceptional, there is zero clearance between the panels and I was simply amazed by this fine detail.
No wonder, as Jean-Pierre explains, all of the interior carpentry is done by Solaris company, no sub-contracting. As I noticed a pile of thick Teak batten in the joinery I was convinced that he was right. Solaris yachts are rarely seen in our waters and that´s definitely because these boats have their price. I think this is worth it and the yard rightfully demands these prices for there is done so much efforts to make these boats as fine as they are.
Final touch and delivery of a Solaris sailing yacht
Visiting the second-largest and final assembly hall of the Aquileia facility of Solaris I could witness the "smaller" boats being fitted. Starting with Solaris 37 with up to 47 feet these boats will be done here. This part of the facility offers some four building lots to be worked on at the same time. Together with the four lots in the first part this makes eight yachts this yard can be producing at the same time. I am curious how many they can make here when the new big hall is entering production.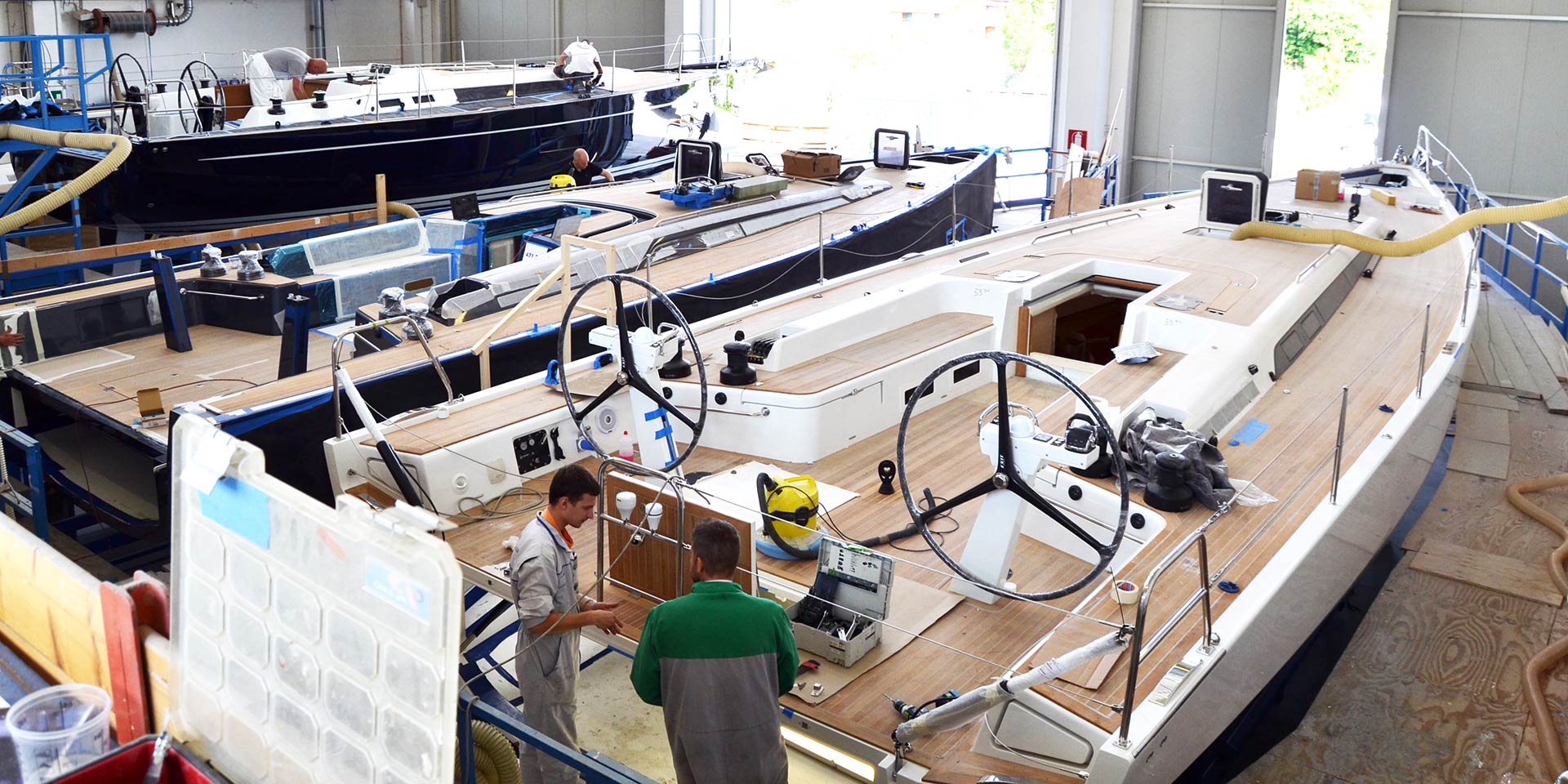 Three of the boats I saw here were nearly finished with their Teak deck being already mounted, winches installed and steering wheels rigged. This is one of the advantages of being able to have the boat commissioned right here at the very yard: You do not have to wrap the boats and pack the stuff for a long transport then. Also for the dealers: The boat is readily mounted with all reelings up and stuff mounted – less work to do by a third party.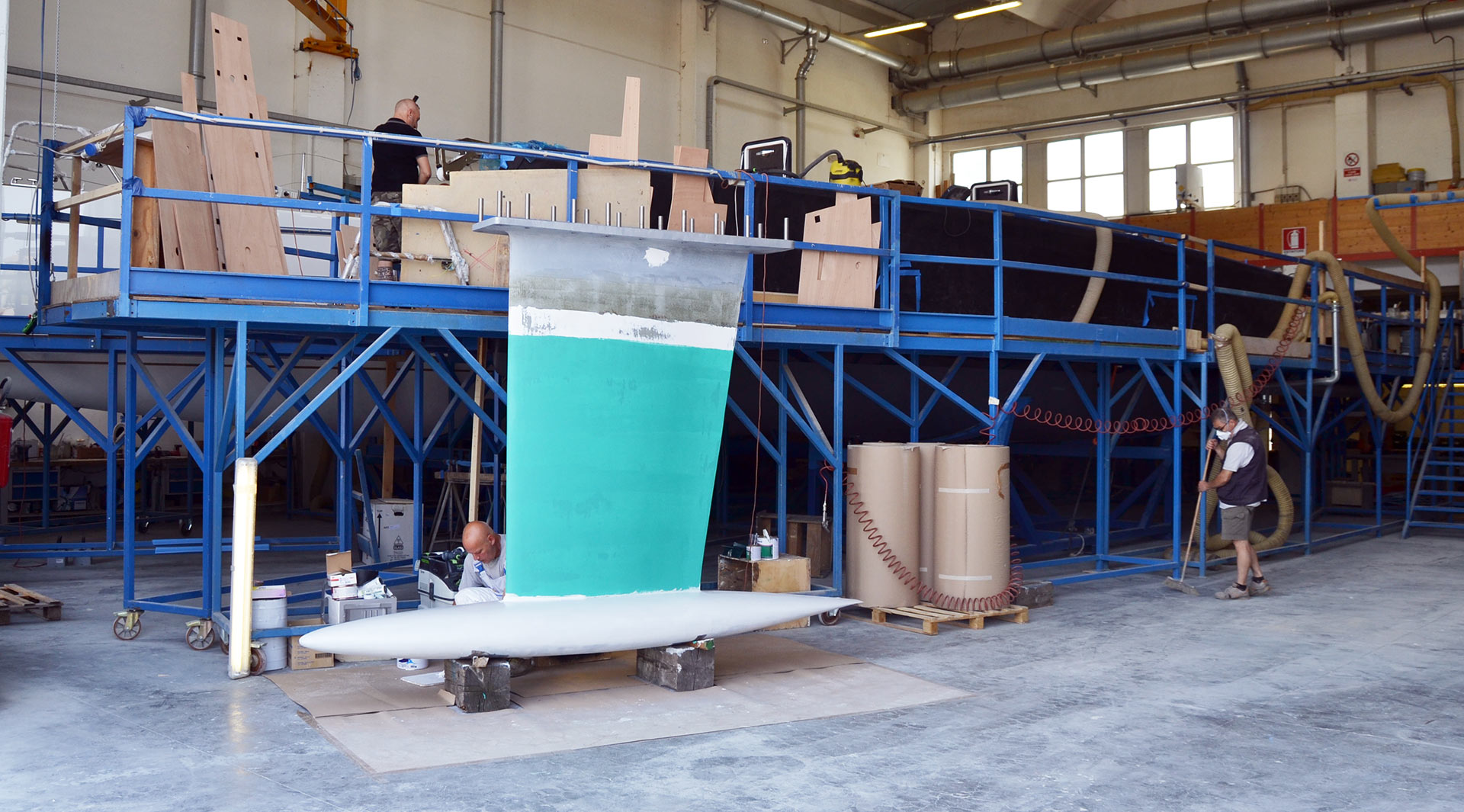 Keels. A love of mine. The keel is seldom seen on a yacht yet it is the keel that decides if the boat is stable or not. Keels for Solaris are the one and only part of the boat that is not made by the yard itself. As I have noted above, I love the style of the Solaris keels with their straight up forward facing edge of the fin and the rear end aslope. Notice the fine thin design of the keel bomb that is of course made of pure lead.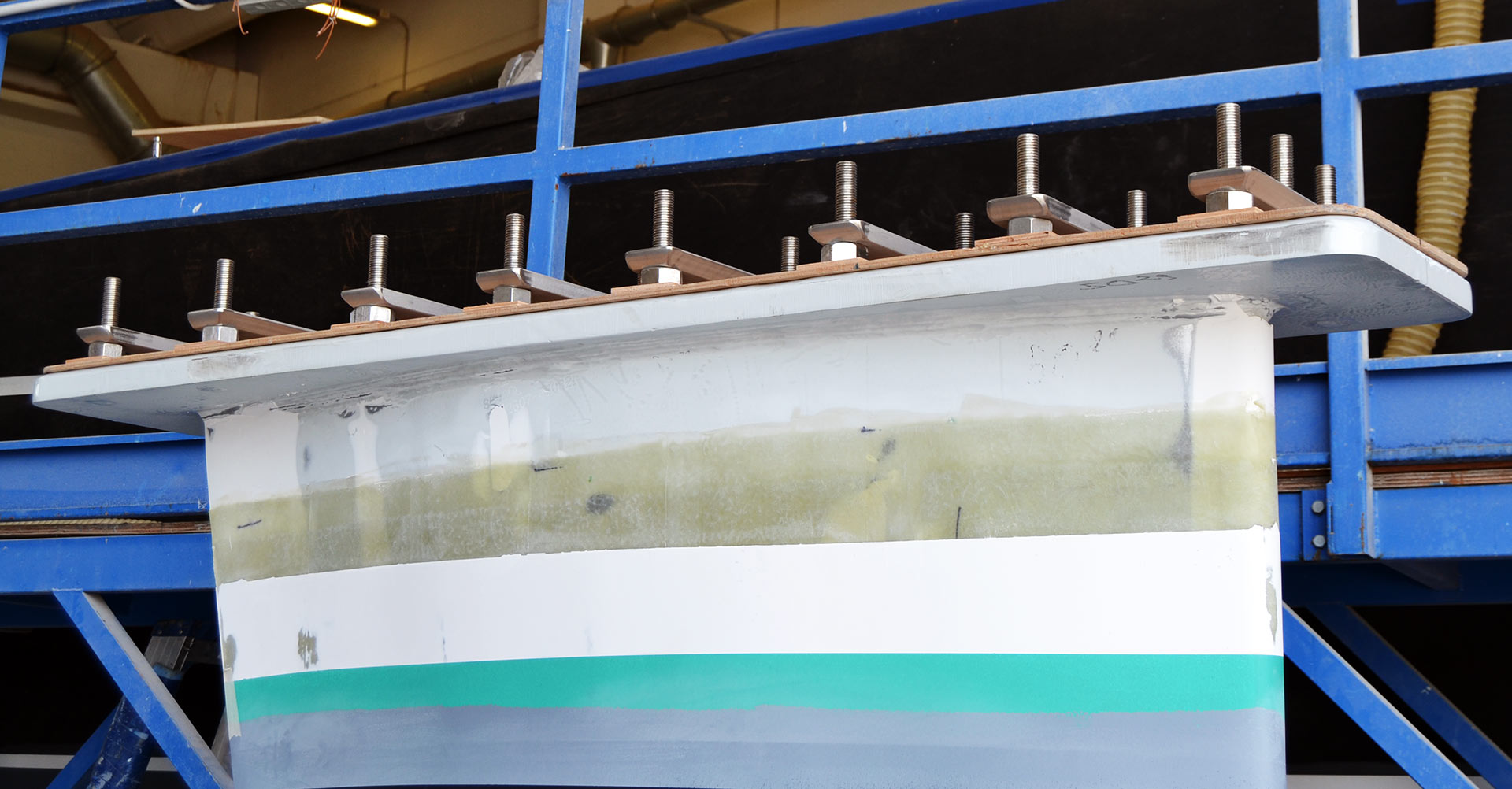 This particular keel had been fitted with no less than 17 thick stainless keel bolts and 8 even more so thickly nice rounded counter plates acting as giant flat washers. This should make the keel attached to the boats nice and firmly and guarantee a solid fit and longevity.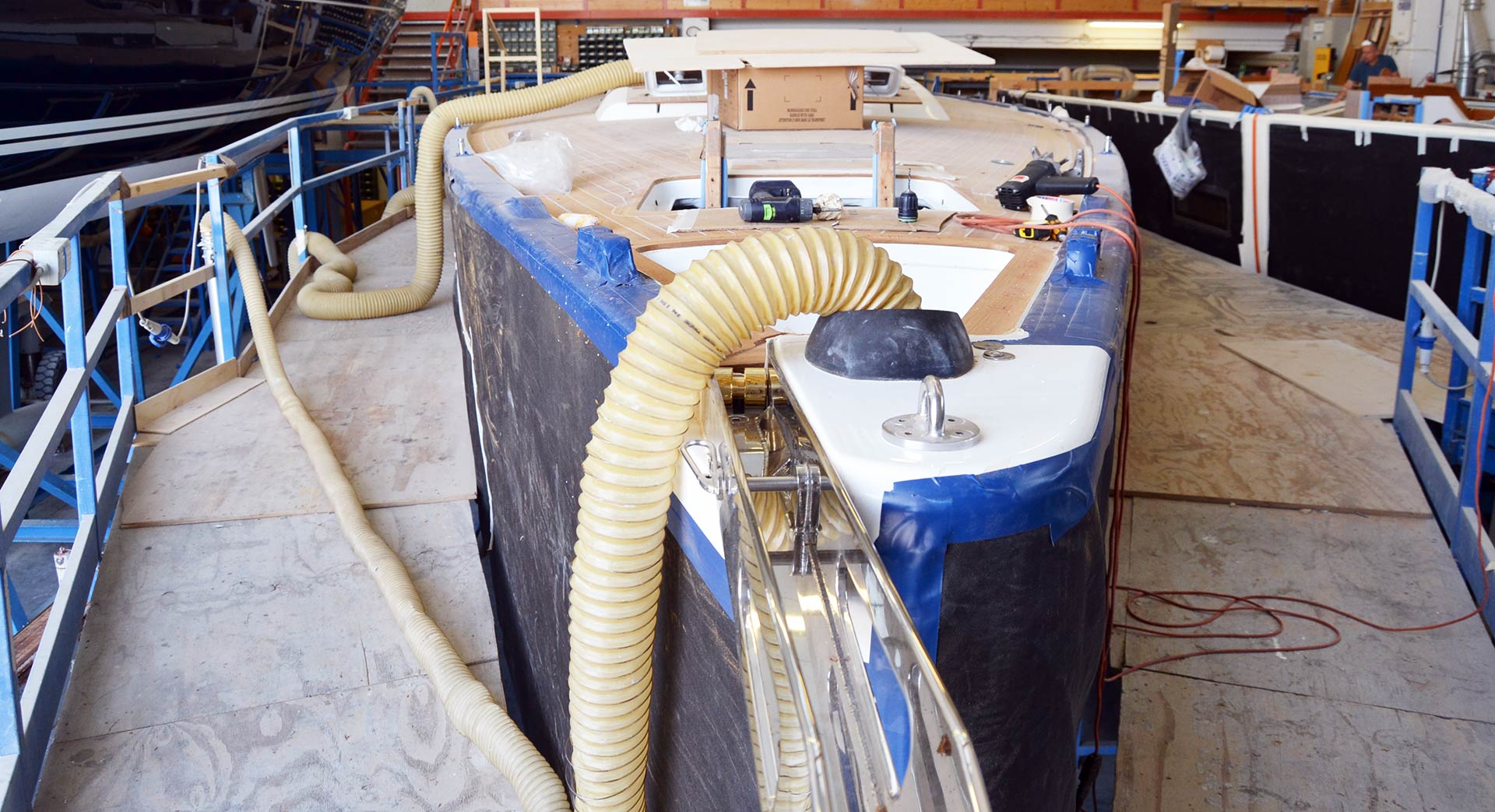 As most of Solaris boats are painted in the company´s signature dark blue colour, the boats remain wrapped up in protective foil right up to the very last day of the whole production procedure. I´ve noticed that each worker is either wearing protective footwear for not making damage to deck and lacquered surfaces or they would take off their shoes when they proceed onto the boats and down below decks. I´ve seen different things in other yards …
When finally the wrapping is removed and the Teak deck is polished and oiled, the hull will shine up just as we love it from the marvellous advertisements or the most exciting boat show displays of Solaris. One of the boats was just readied to be commissioned and I must admit these yachts look very much tempting: That´s the essence of Solaris, I guess: A very, very, very sexy design that makes large appetite. I guess, sailing in one of these must on the one hand satisfy this appetite and on the other hand cause a load full of new appetite for sure!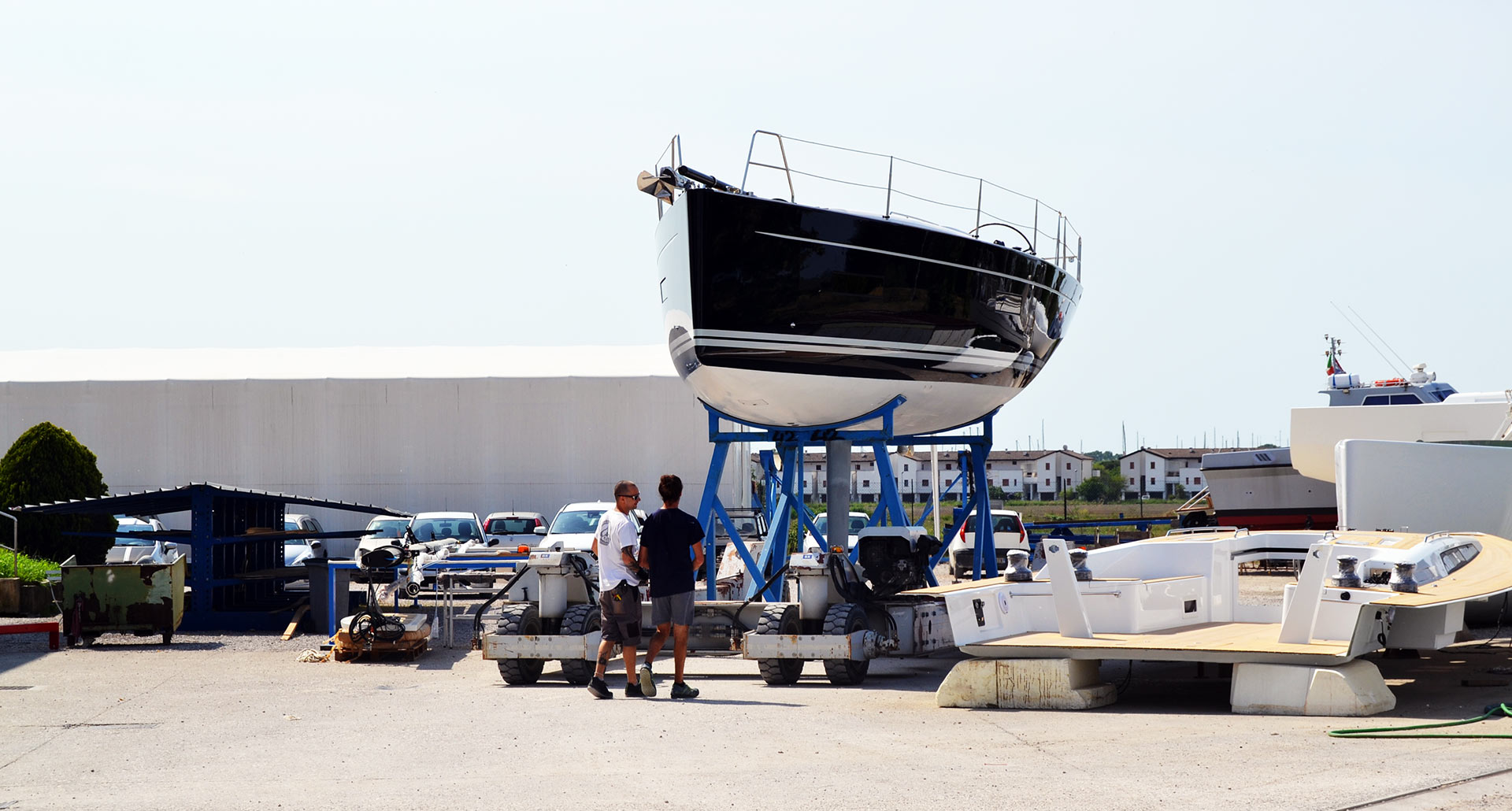 Just as a small Solaris 42 was being pushed by a tractor to the southernmost tip of the Solaris property to be put into the water, our factory visit ended. I was allowed to greet the people in the design office (but of course could not take any pictures) and shake hands with a Greek owner who just arrived to take over his brand new Solaris 55. As I saw him waiting there, pleased by excitement and pleasant anticipation, I suddenly was so jealous: As much as I appreciated the 29 degrees Celsius outside, as much I hated the prospect of getting into my cooking hot car instead of joining the friendly skipper to take over his Solaris yacht and sail her out to the near Mediterranean Sea … and bring her down to the beautiful coast of Greece.
Thanks to Francesca for kindly inviting me to the Solaris yard and Jean-Pierre Mari for taking your time to show me around. I am looking forward to seeing you guys again at Cannes boat show.
You may also like to read:
Interview with Javier Soto Acebal, the Solaris designer.
Exquisite sailing yachts by Luffe of Denmark
Performance cruisers of plywood: At RM Yachts of La Rochelle