End of January has a big red circle around the days in the calendars of the boating industry: Duesseldorf boat show is drawing the attention of the world´s leading brands, all those smaller boat makers and the whole entourage of sailmakers, equipment manufacturers, clothing, tech and virtually everything connected to yachts, yachting and watersports in general. It´s a definitive must and – at least for Europe – the closing of the boat show season that starts traditionally in September with Cannes Yachting Festival. No question: I was there for sure.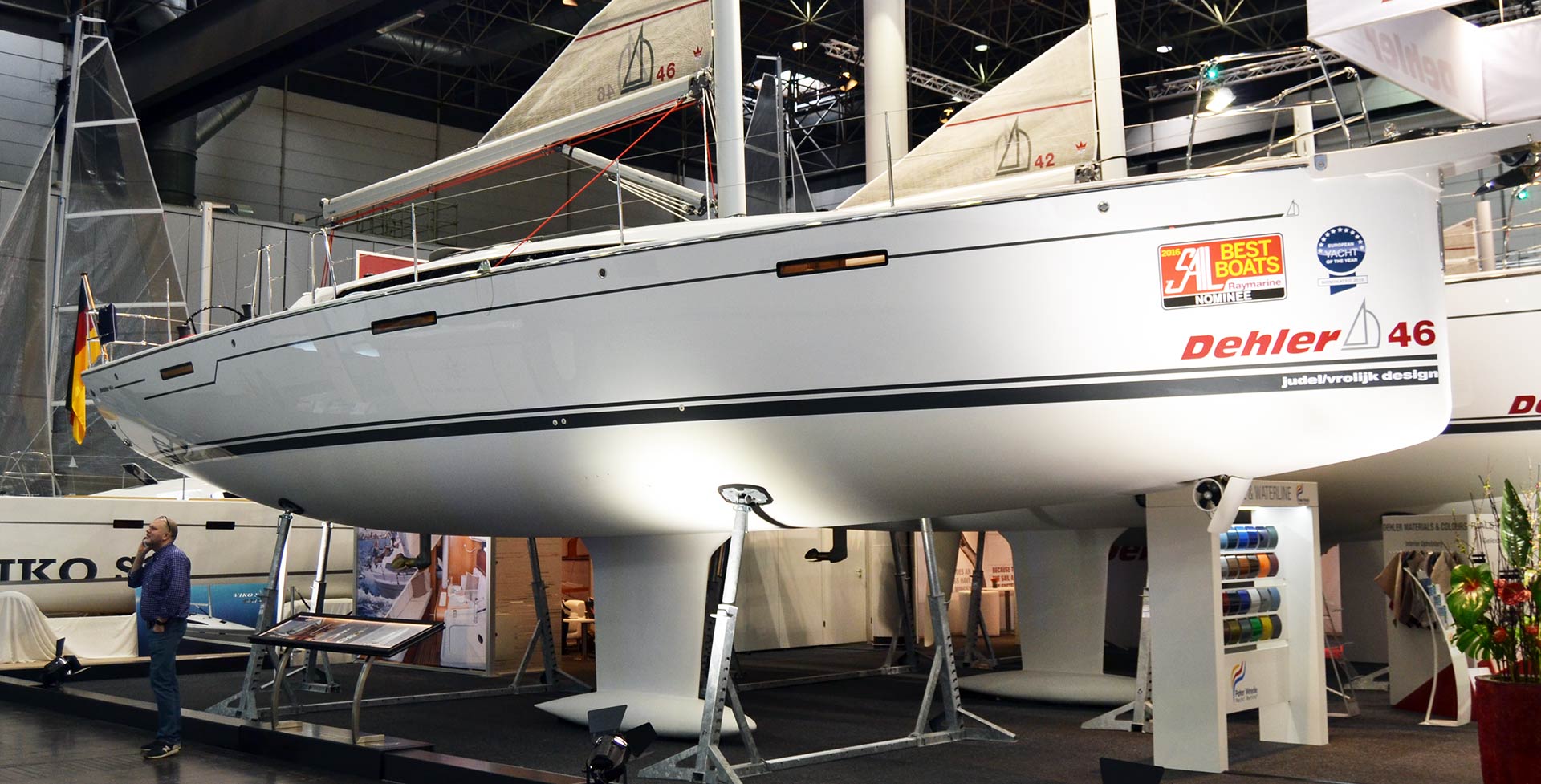 First of all a quick round-up from my perspective: Compared to last year´s show I was overwhelmed by the crowds which I found strolled the booths in larger numbers. I also got very much more positive feedback by friends and acquaintances from the industry on the quality of this year´s visitors. Is that the much-awaited upswing and so desperately needed recovery of the boating industry? Virtually everybody was there and it was a pity for me that I wasn´t able to meet everyone in person as I by myself was working here too. At least I found some time before opening and after closing time of the show to have a small chat to some people and take a closer look onto some yachts I found particularly interesting. Let´s start our small journey …
The expected unexpected
First I took a look at the Dehler yachts stand because I came by the booth every morning from my parking lot – and it´s a brand I really like. A bit frustrating though as there wasn´t really anything new to be seen. Even the Dehler 46, which is my favourite of ship of their line, looked a lot less sexy than last year although I still admire her fine lines, especially the stern section is among the most thrilling hull designs to date. I hope they will come up with something new in the coming years.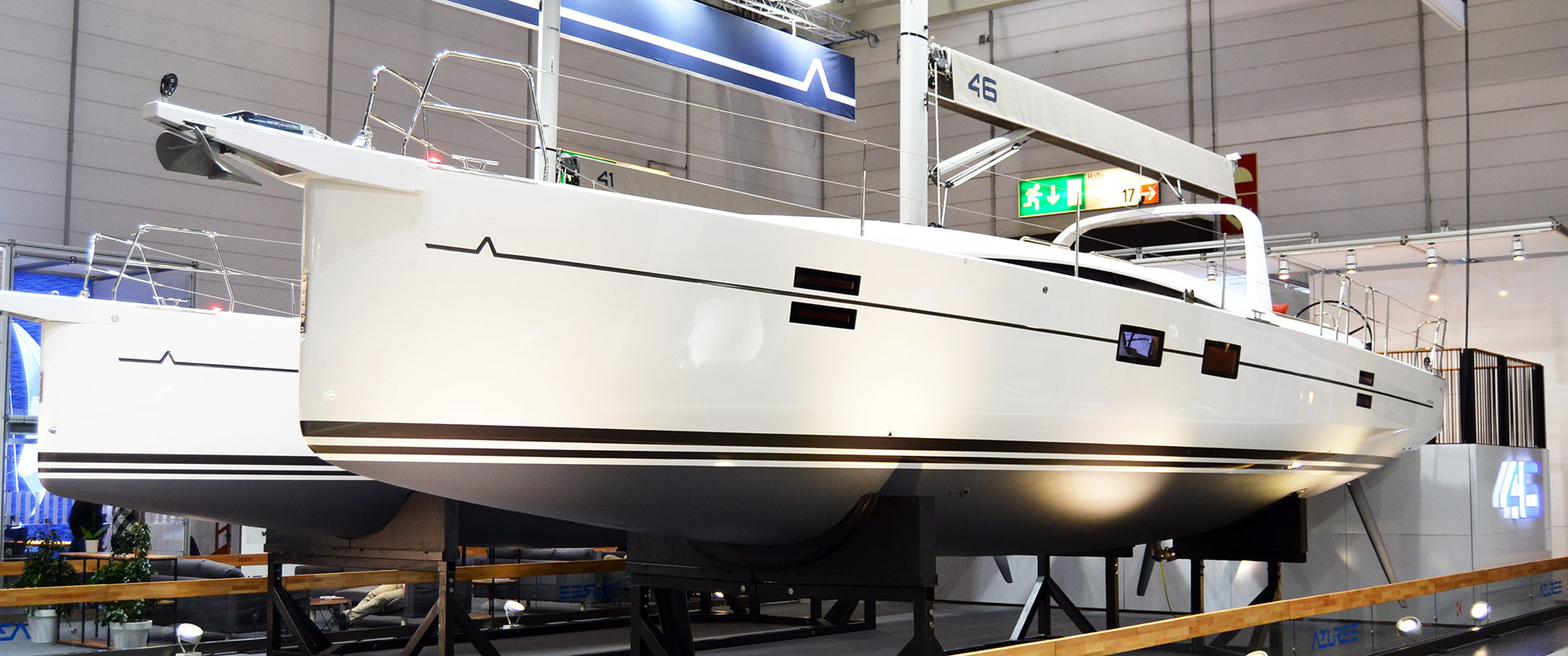 Azuree is also brand I closely follow. The Turkish boat maker produces arguably fast performance cruisers and I must admit their design brought up something fresh. Last year I was roaming the internals of the Azuree 42 and I was astonished on the vast volume generated by the wide hull. Their understanding of using the space and filling it with modern furniture was exciting, although this year I was a bit shocked of Azuree yachts boasting a mainsheet-arch, which is something I really dislike and in my eyes – no matter how practical this solution may be – it´s just ugly. Glad to hear that one can order a boat without this thing.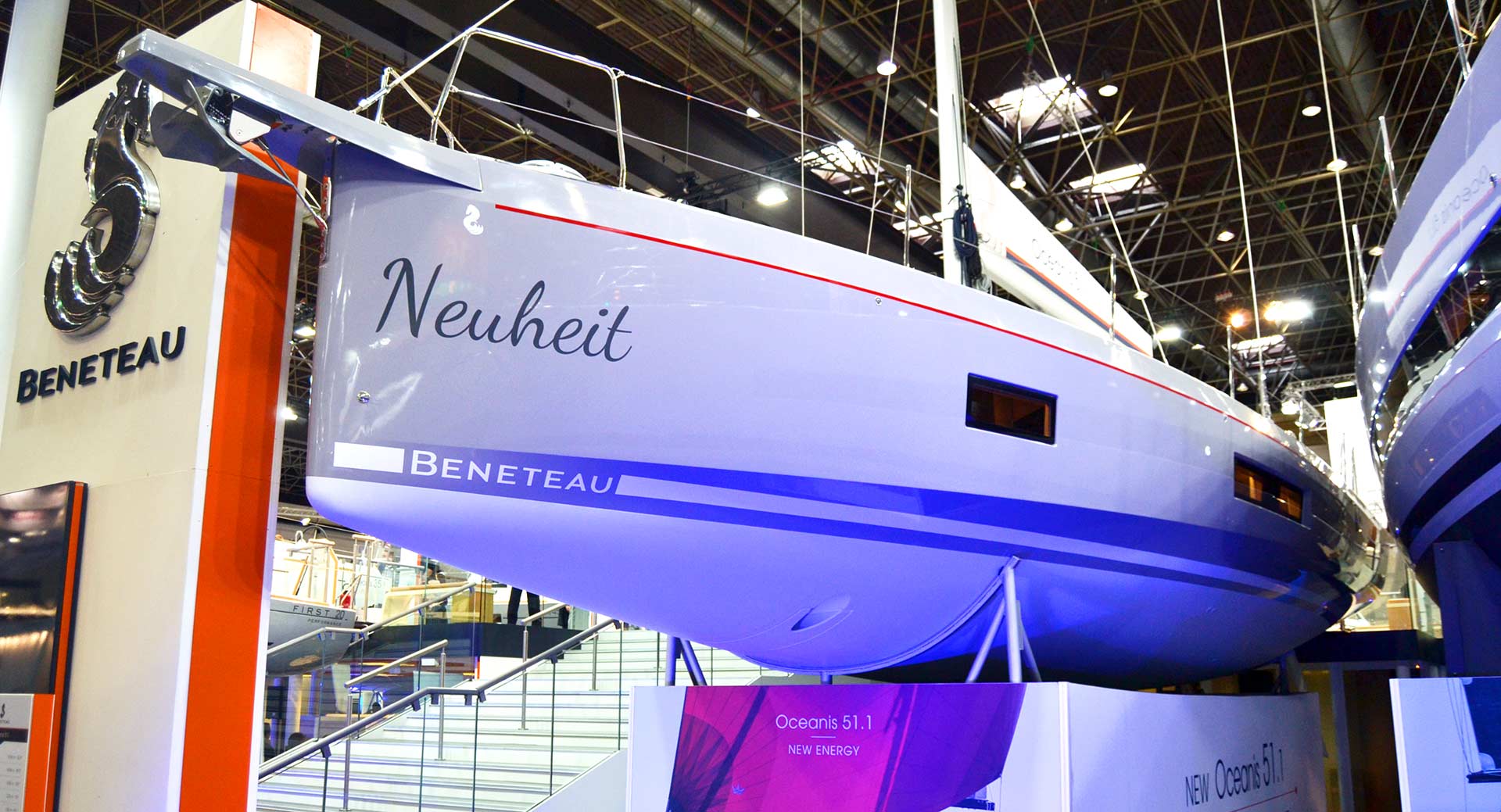 At the Beneteau stand kind of every yachts from the First 20 to the flagship, the Oceanis Yacht 62, were on display but there was one particular boat that was filled to the coamings with curious visitors virtually from opening to the end of the show: The Beneteau Oceanis 51.1, which is internally dubbed as the "magic boat". This yacht sets a new definition for cruising yachts, hull design and interior design and it was a pleasure to witness the visitors coming down the entryway and – no joke – having their jars dropped. What a cool boat!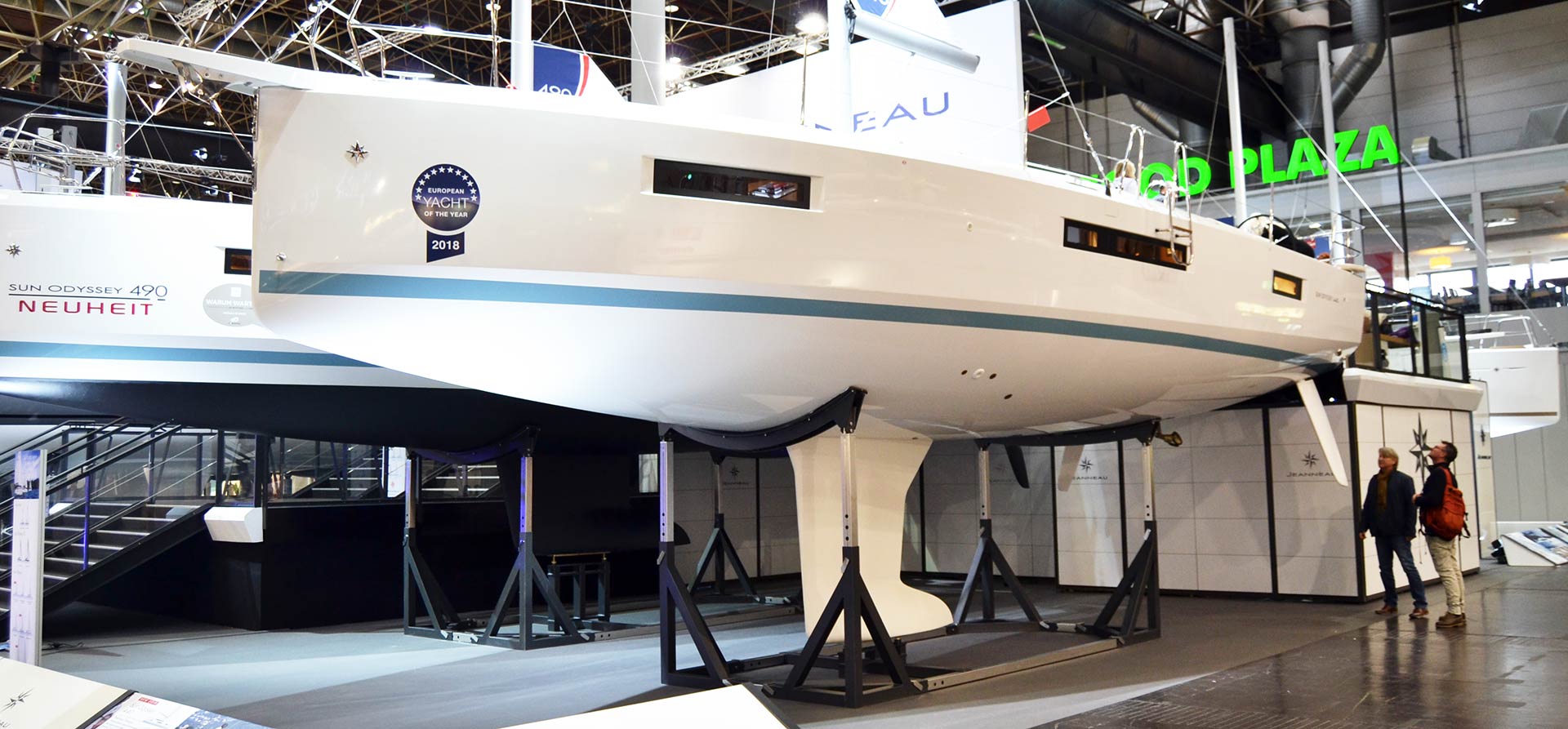 In this context I was a bit disappointed to learn that the Jeanneau Sun Odyssey 440 had won the prestigious award of the "European Boat of the Year" in the category Family Cruiser because despite her admittedly nice design the boat cannot live up the the Oceanis 51.1´s qualities, as I would think. Also I find it very annoying that Jeanneau is one of the brands making their yachts appear bigger than they are: the 440 is a 42 feet boat, the 490 is a 47-footer. (Here´s an article on this subject).
Meeting people
As I said, it was a very crowded and very busy boat show. So busy I have been that I even couldn´t make the round to say at least Hello to some essential people. I couldn´t meet Magnus Rassy nor Flemmig Ancher of X-Yachts, which was a pity because I was so keen on seeing the all-new X 4-9. I hope I cane have a look at this new performance cruiser of the X-series in spring in Haderslev, hopefully in the water then. A person I was able to meet on the other hand was sailing legend Jimmy Cornell, who took his time and was available for a very interesting interview on blue water cruising (the first of a three-part series) during the show which will be published here soon.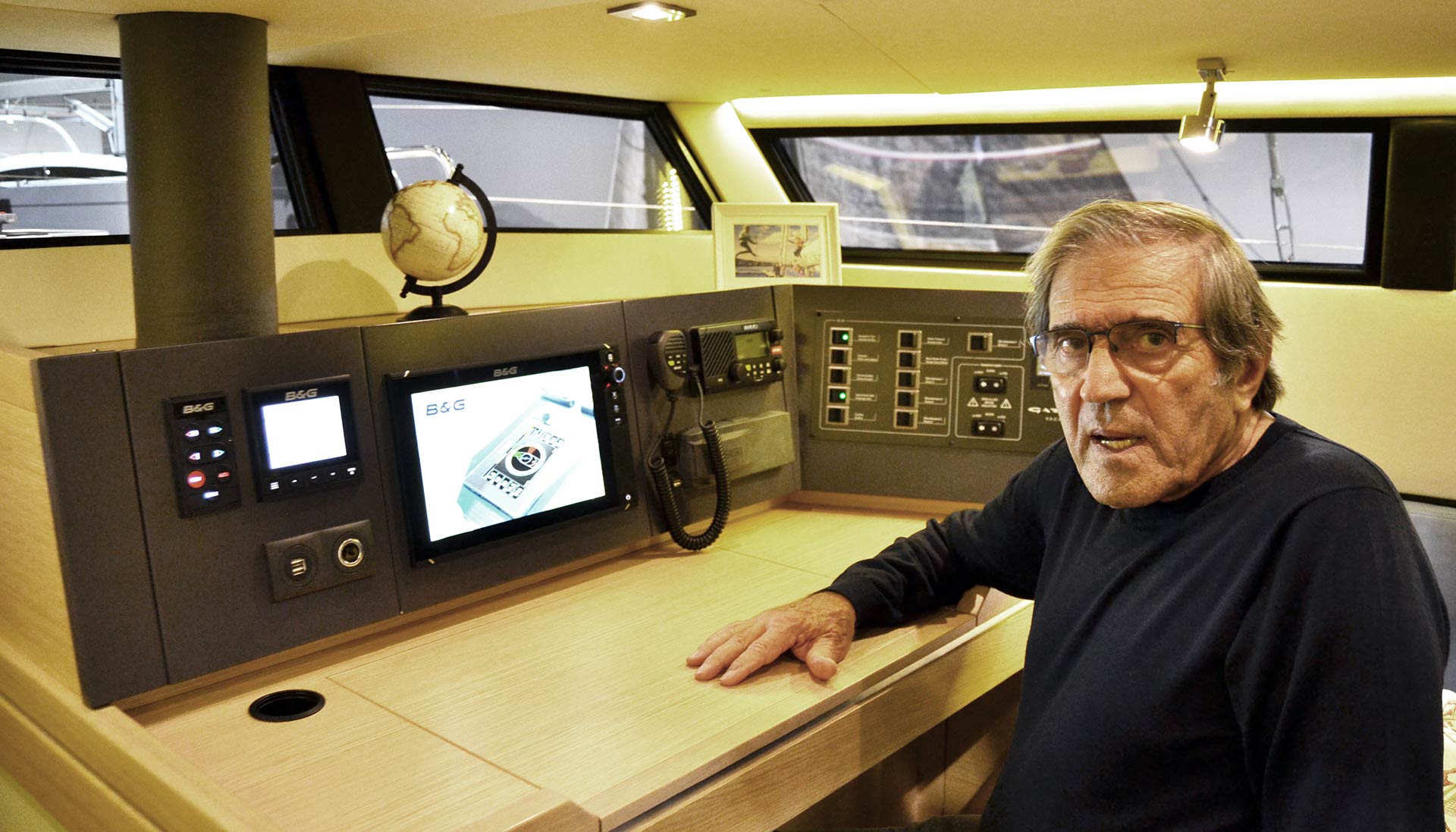 Jimmy had his own small book-stand in front of the new Garcia Exploration 45, a full-fledged aluminium cruising yacht which was developed in collaboration with Jimmy and – as he told me – was to be the perfect yacht for a circumnavigation from his point of view.
Another guy I´ve met, too briefly, to be honest, was Alexander Vrolijk (yes, THE Vrolijk) who was showing me the status quo of his new project, the BENTE 39 cruising yacht. Interesting to see how his ideas and visions take form in this yacht. I will also post a BENTE-article in the coming days.
There had been plans for some more meetings with Olivier Racoupeau, Karl-Heinz Dehler and German Frers as well as with some other well-known people of the boating industry but this year it was really crazy. I hope I can deliver these stories during the coming months. But let´s go back to some boats on the show again.
Innovations in yachting
I found in terms of innovation this year´s BOOT edition wasn´t that outstanding but there are some nice things which I would recount as worth mentioning. First there was the most innovative booth of the fair, which was in my eyes the Elan GT5 performance cruiser. It´s a mixture between a deck saloon yacht and a wide-sterned cruiser (which does not appeal very much to me, but that´s a personal taste). What was compelling about the GT5 was her style of presentation.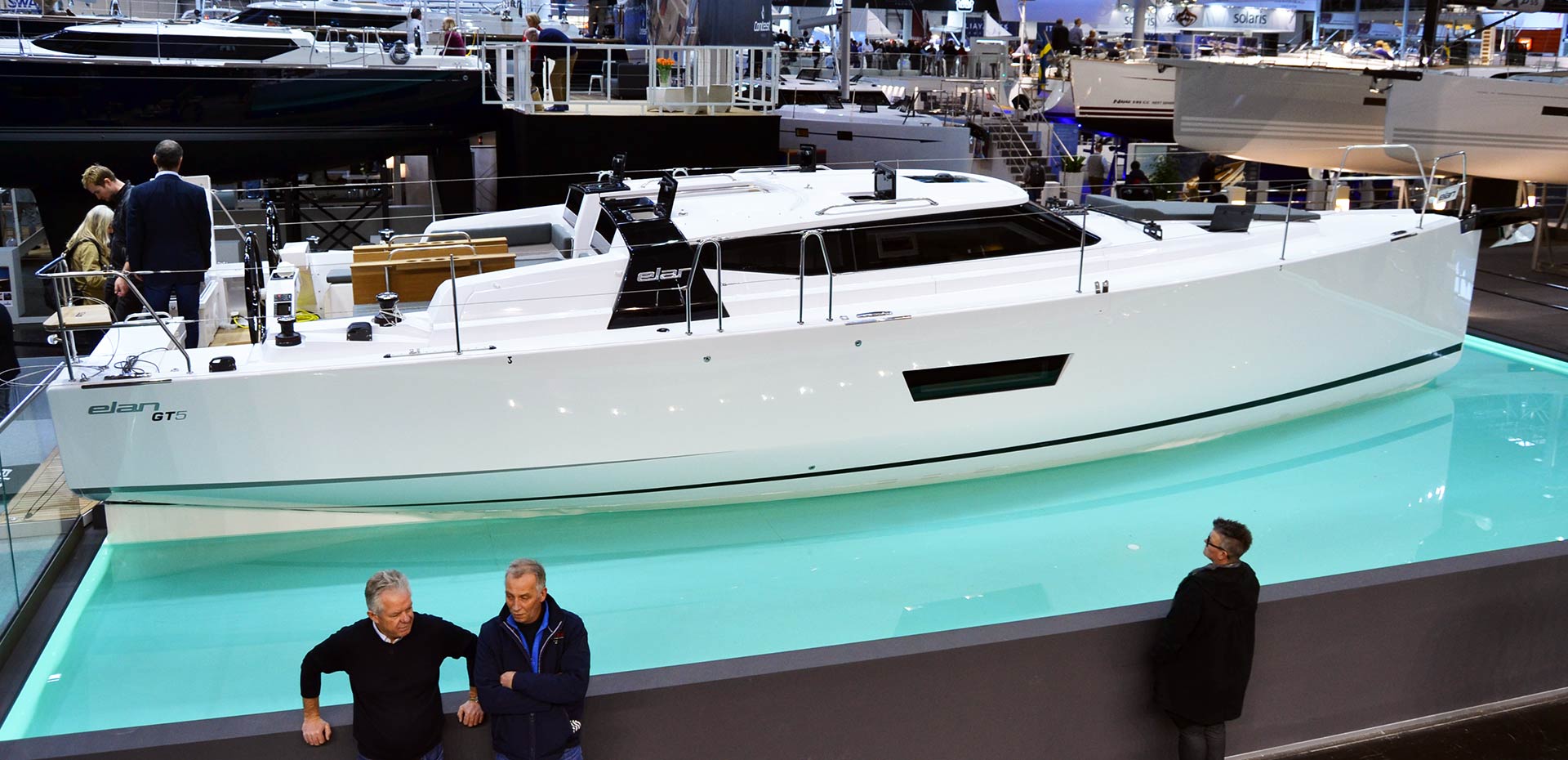 The booth designers simply put her in the water which was something never to be seen on the BOOT Duesseldorf – an in-water presentation. The stand was drawing a load of people and was a clever marketing coup.
Another – rather small thing – was catching my attention in Hall 15 where the smaller, lesser known brands have their booths. It was the Diva 34, a small sized cruiser made in Sweden. This 10.33 m loa boat didn´t appealed to me because of it´s beauty (because it hasn´t got any) but because of it´s complete absence of Scandinavian yacht style. She appeared like a mashup of current design trends, adding a negative bent keel and an attractive price. Well …
Speaking of innovation. Hallberg-Rassy had their new 340 on display which I was only able to take a look at from the outside. I also was keen on seeing the 48 MK2 which is the yacht of choice for so many circumnavigators but – again – time was missing. But I was also a bit disappointed by the Swedish boat maker as well as there hadn´t been anything really new – despite the kind of dated looking dodgers on the 64 and 48 which – from my point of view – do not really add to the otherwise classy and nice design of the boats. But that´s only my personal opinion.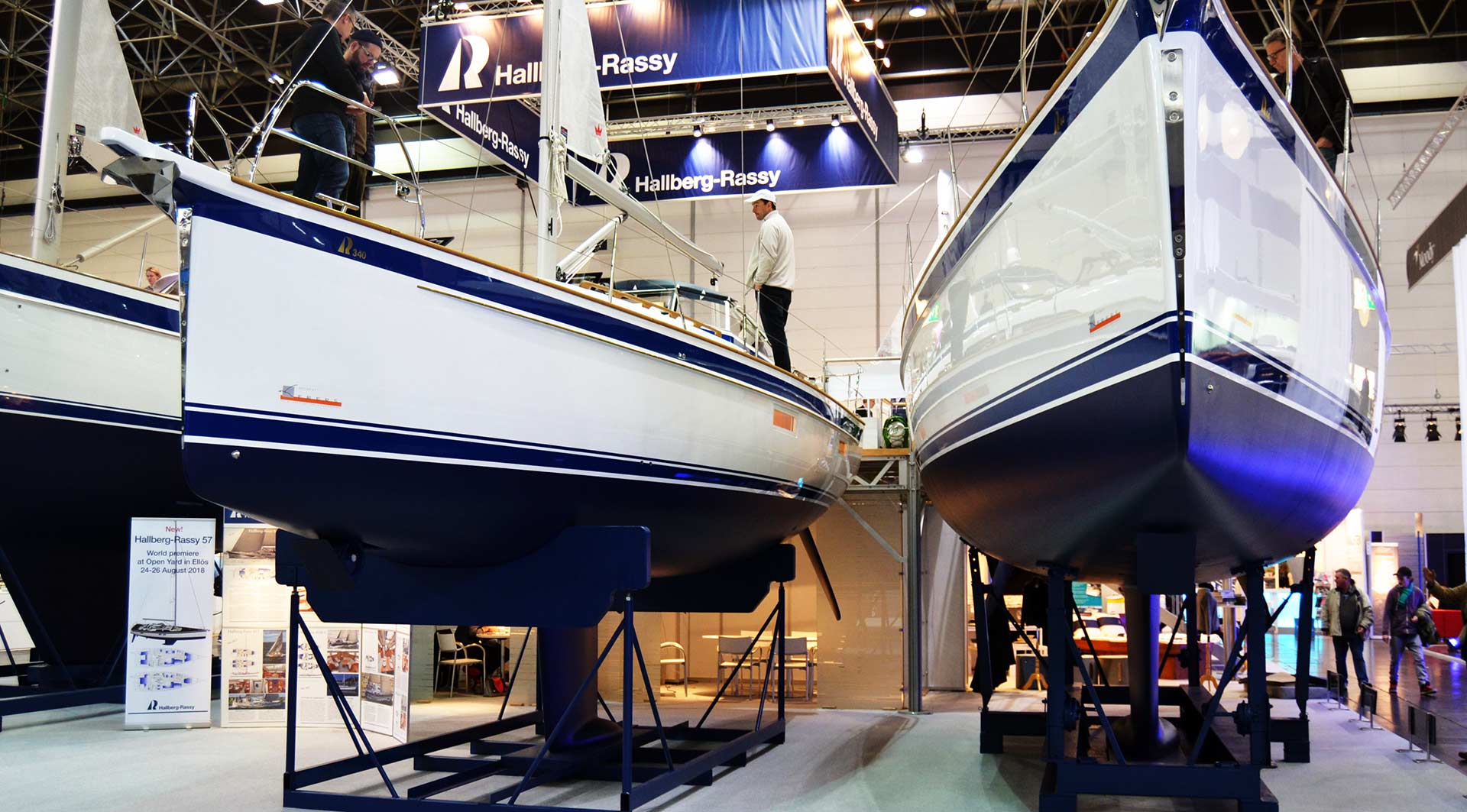 A real blow was in fact Croatian brand called More Yachts with two boats on display – unfortunately a bit off the main corridors because these boats were really catching my imagination. Sleek and streamlined like a flatfish. Wide stern, racy looks and when I entered the boat – oh my god, it was like a revelation. The quality of the interior fittings, the choice of materials and the overall looks made my eyes glow like a child on Christmas eve. Just wow. A detailed article on this boat will be definitely following in the coming days here.
Well, as I said it, not much of news going on here. Solaris Yachts had their – admittedly nice – booth of last year, Bavaria was showing their new C-line (which is not very appealing to me so I quit visiting their booth) and Hanse Yachts didn´t even try to trick us into believing that there was something new to see. I loved to see the Pogo 12.50 at Structures´ stand and the Django as well. But in the end, the real, real, real cool thing has been two of the big yachts.
My personal highlights
Getting to know some people from Chantier Naval Bordeaux – dubbed CNB – last year during Cannes boat show they invited me to see their CNB 66, the "smaller mid-size" of the current line of four available boats available. I know, this is far out of reach of almost everybody reading this sailing magazine but this yacht was completely blowing my mind. I would swap the grey hull for a classy white one, but I´d take the rest as it is: just perfect!
The boat´s interior is a complete different galaxy in terms of joinery and quality of craftsmanship. I was instantly at home in the large saloon where without any complications the complete ensemble of the Russian state ballet could have a performance of the Swan Lake. Not to mention the cabins – or should I call it "the lofts"? Of course, a detailed article on this one will follow here as well.
Last but not least my favourite of this year´s Duesseldorf boat show: The Oyster 475.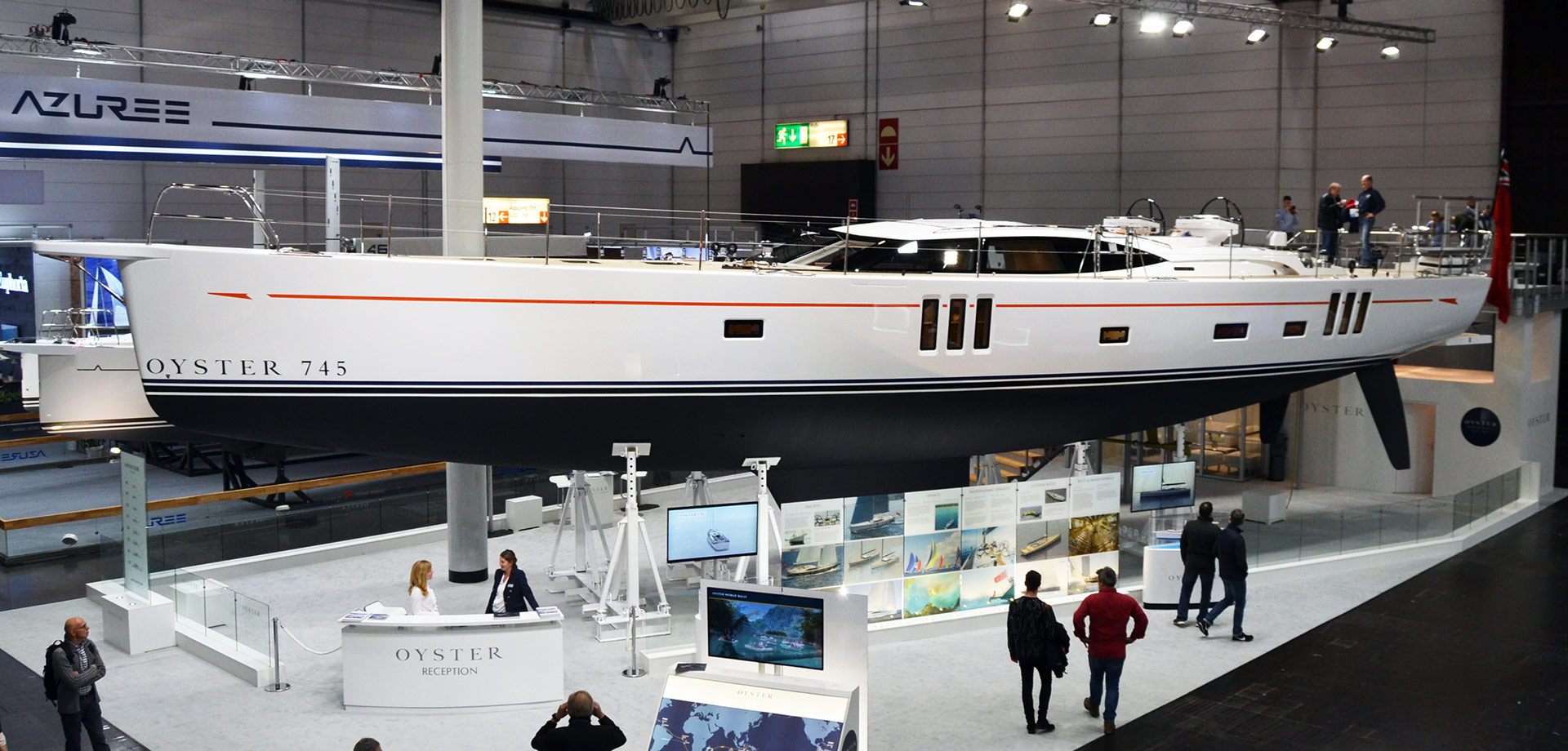 She is of course as well out of reach as the CNB but she is quite a different boat though. Where the CNB is a perfect yacht for the luxurious Mediterranean vacation, the Oyster is my role model of a thoroughbred blue water cruiser. She is the ultimate deck saloon yacht, bristling with elements of luxury but also with very a practical layout for the long-haul. Modern design, perfect finish, light suffused, inviting – just an ultimate dream boat in every inch. I was deliberately making a detour every day to come by the Oyster stand to admire this yacht. And – you guessed it by now – a detailed article on the Oyster 745 is due to be published here soon.
So folks, that be it, 10 days of Duesseldorf boat show 2018 and the things I found noteworthy. Stay tuned for a handful of more articles on a variety of topics and yachts.
You may also be interested in reading:
Yacht interior concepts at BOOT boat show Duesseldorf 2017 Parts 1 and 2
Roaming the Hanseboot
Cannes Yachting Festival 2017