Finally I can publish this article with now Benteau revealing their pictures of the first First 44 in the water as well. During my last trip to France I did have the luck to see this brand new yacht on the pontoon in Les Sables d´Olonne where the yard had early adopters and the press invited to see the boat and have a little sea trial. Now, with Cannes Boat Show and her official world premiere ahead, I got greenlit to have my own pictures published. Here we are.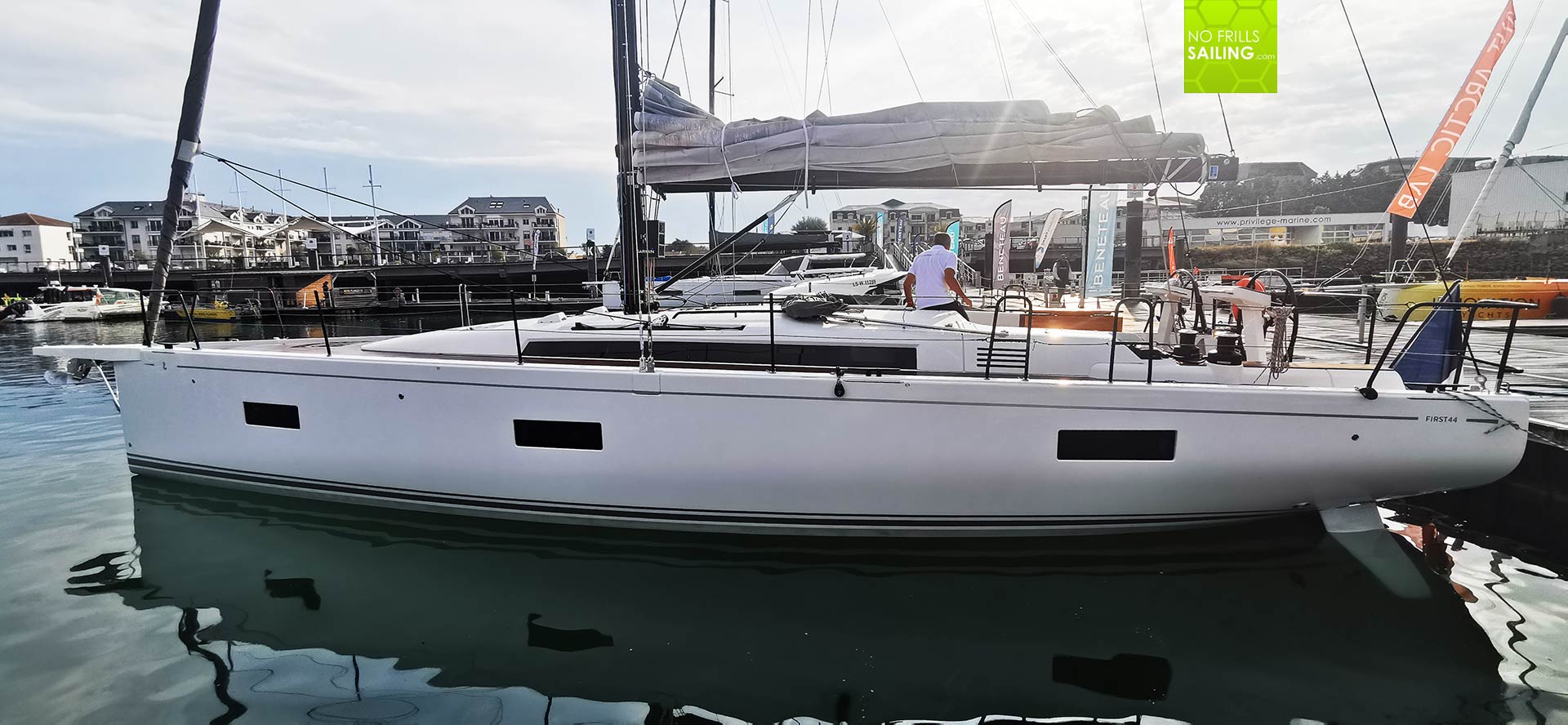 I saw her tied up at the pier and recognized her lines immediately from afar. Maybe that has something to do with my job as a Beneteau dealer, but maybe this is because the designers – in this case again the team effort by Biscontini and Argento, just like on the First 53 – have achieved something you not often see in boat design: A form which can be linked instantly to a brand or a name. The First 44, in my view, is such a boat, she is clearly a Beneteau, clearly a First.
Continuing the First Legacy
In this, Beneteau now closes the range of available boats according to their plan of 2018 to revive the legendary First-range. Now sailors can acquire a fast boat made by Beneteau starting at 14 feet all the way up to 53 feet. With the First 36 launched recently by Seascape, built exclusively for Beneteau, the new First 44 is the last brick in a solid wall of products to be offered. I personally miss a 30-feet-First, but that´s another story …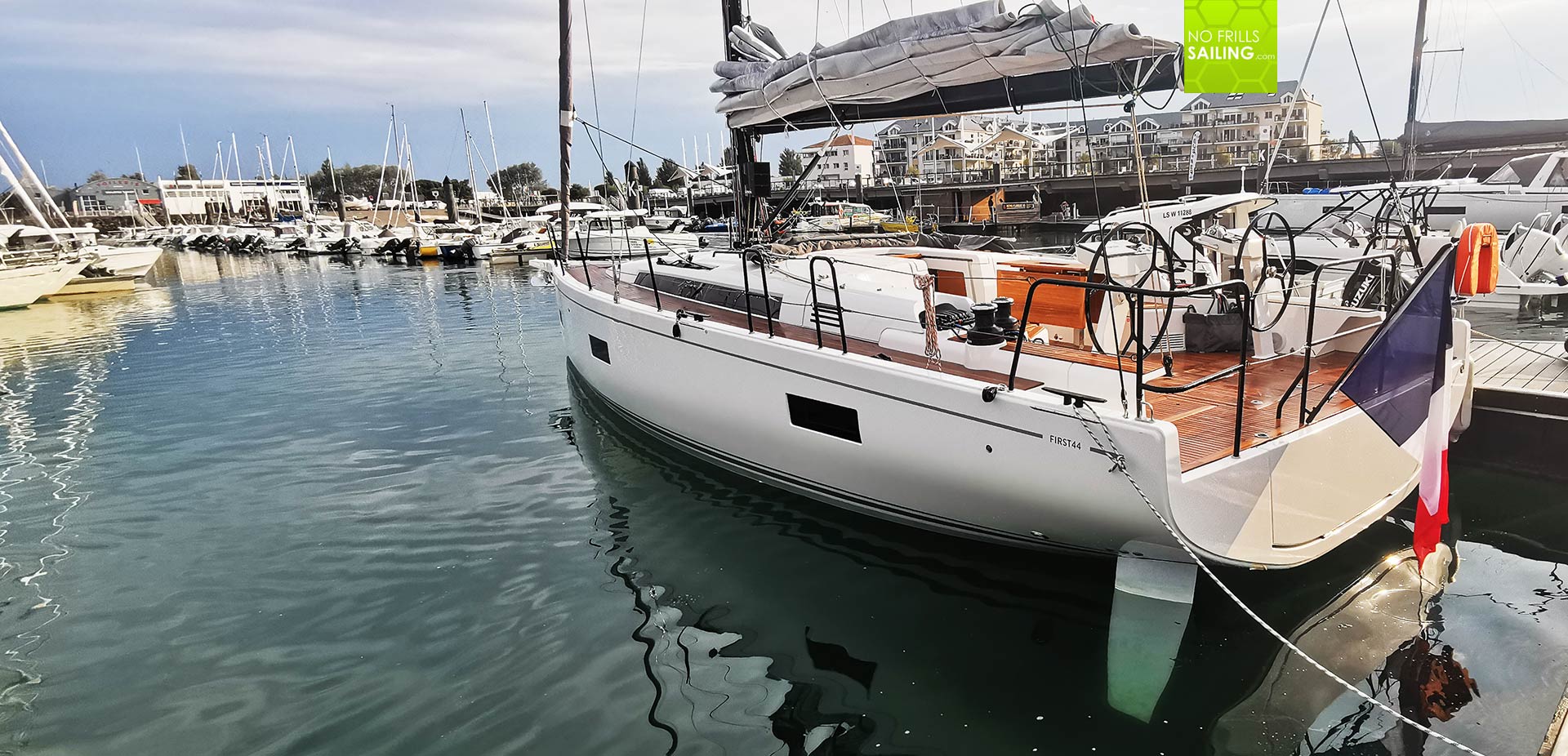 Looking at the new First 44, at first, it is always the same impression: These boats look so, so, so much better in real life than on the renderings done by the designers. I don´t now why this is, but that´s the reality. I remember when the First 36 was announced, many have stated their disappointment about how "boring" or "unambitious" she looks – well, look at her in reality: She is a beauty indeed!
Same here with First 44. Her elegant lines, fine entry and compared to her wide beam of 4.25 metres, she appears very slim. Roberto Biscontini managed to design a hull that comes with softened hard chines which create a nice stern overhang by fewer wetted surface. A nice positive sheer line creates a sensationally flat looking hull, the even flatter appearing deck and coach makes her look sexy, aggressive but also in a way timeless, classy. I like it very much.
One sexy stern
Definity the most sexy angle from which to look at the new First 44 is the stern. Again, the big blueprint and role model was the First 53 (which, by the way is not called "First Yacht 53" anymore, but just "First 53" for the sake of one consistent line of products). Her open, wide transom excited me three years ago the same as it does it now on the First 44.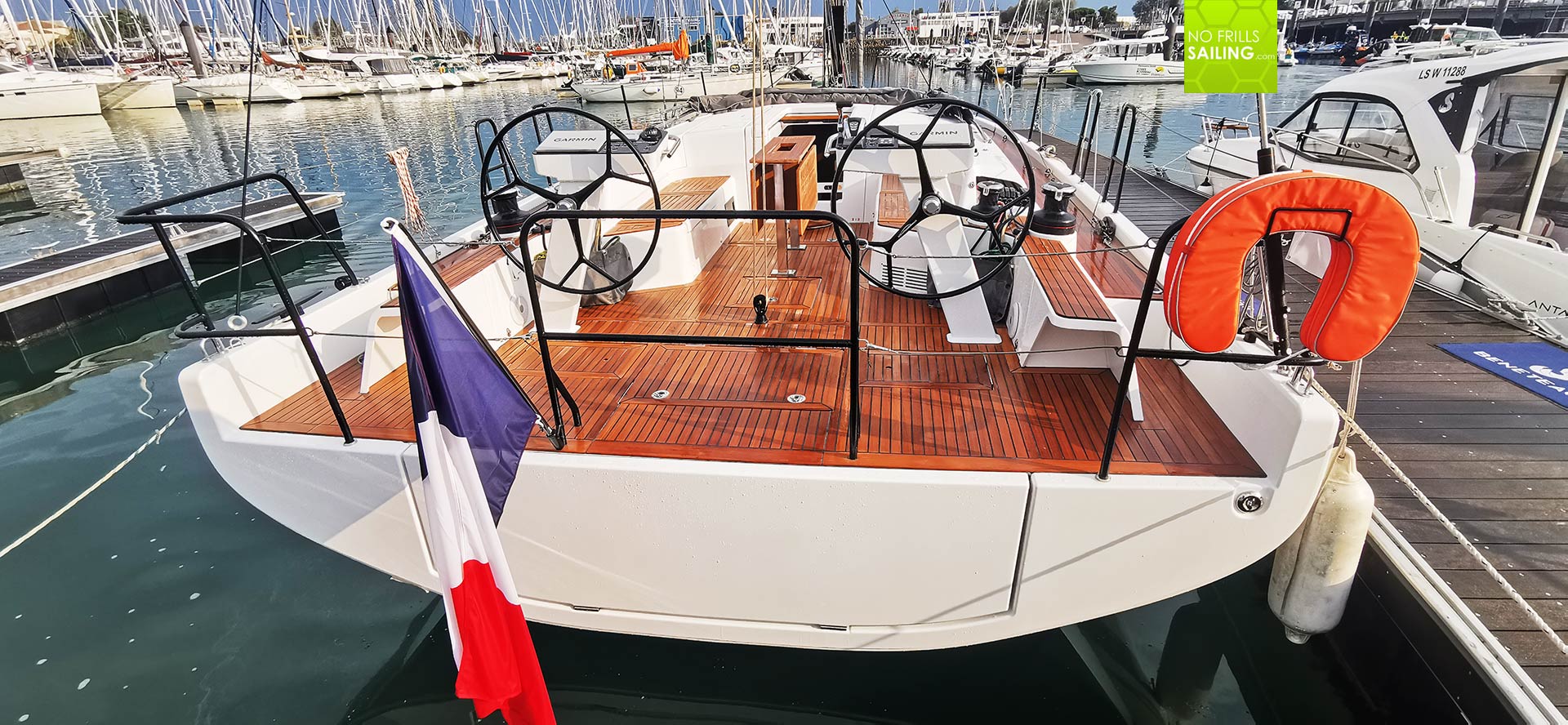 Just like on the First 53 the have the coamings ending well before they reach the transom. The steering seats are "hollow" and seem to be floating above the deck. This creates the impression of a very low, brightly open and darn sexy stern section. Imagining standing here steering the boat, angy white foam of praying water just behind my back, must be impressive. No less impressive then mooring stern first in some marina, catching the eyes of every passing boat lover, fishing for compliments.
Beneteau has clearly done a great job in finding a good solution to transfer the absolutely stunning lines of the First 53 to a smaller sized boat. I know from many, many conversations with clients and prospects that the 53 is a true dream yacht for them. Now managing to come up with a mid-sized yacht conveying exactly this appearance creates a product that will surely attract many prospects and sailors wanting to invest in a 45-feet-performance yacht for sure. So, let´s have a look at what the new First 44 has to offer.
Push button sailing: First 44 technology
As the bulk of her owners won´t be all-out racing crews nor professional racers, Beneteau decided to have the worldwide launch of this new boat done with the cruising-version of the First 44. There will be a dedicated racing version as well, scheduled to be launched in a few months. Main difference will be a 1.60 metres taller mast with more sails area and a race-crew optimized deck layout. Later more on this.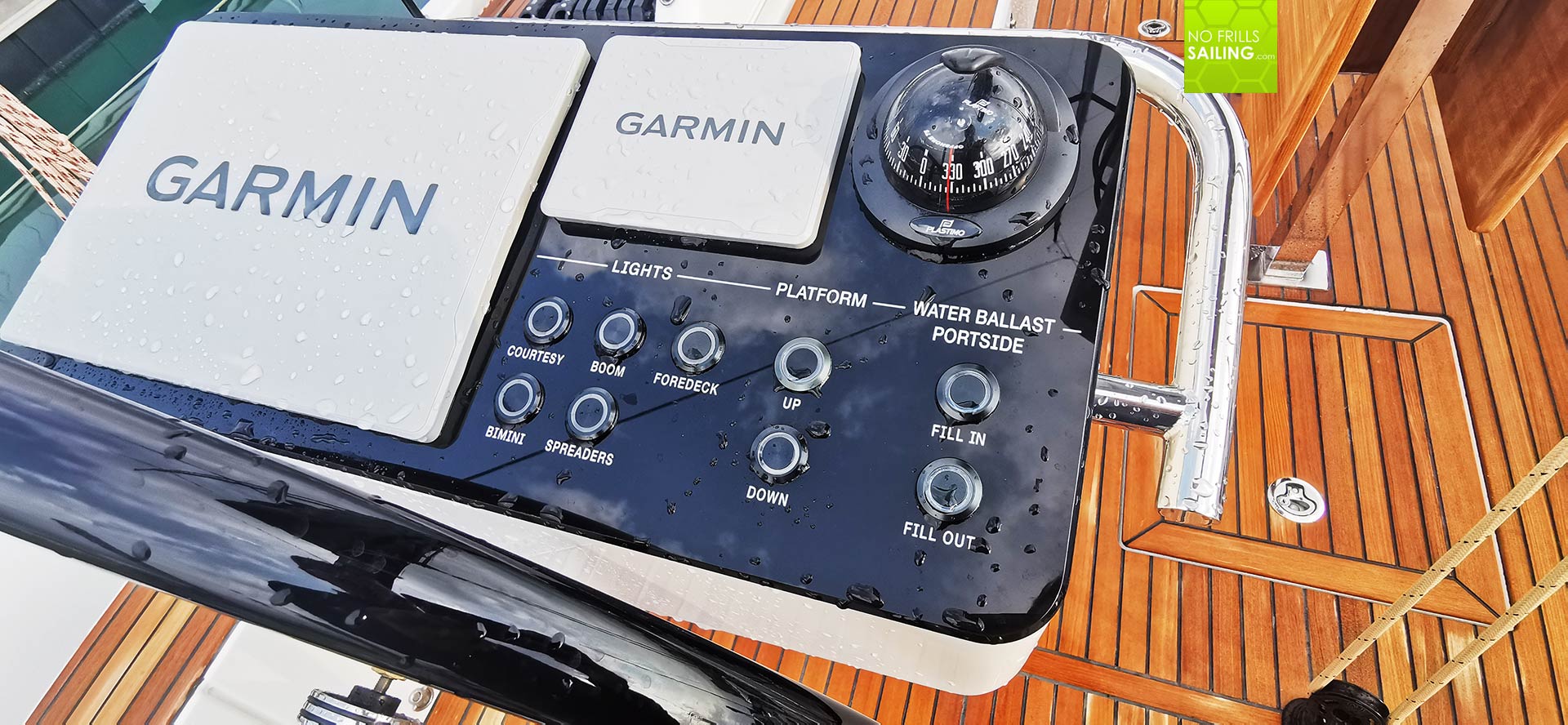 Owners of the cruising version will also have the choice of taking on some quite nice features enhancing the power of the boat. Foremost the water ballast system: Although a pain in the ass on many boats, Beneteau decided to develop a low-maintenance, rigid and care free system of water ballast-tanks. 300 liters each will be a welcome ballast increase upwind.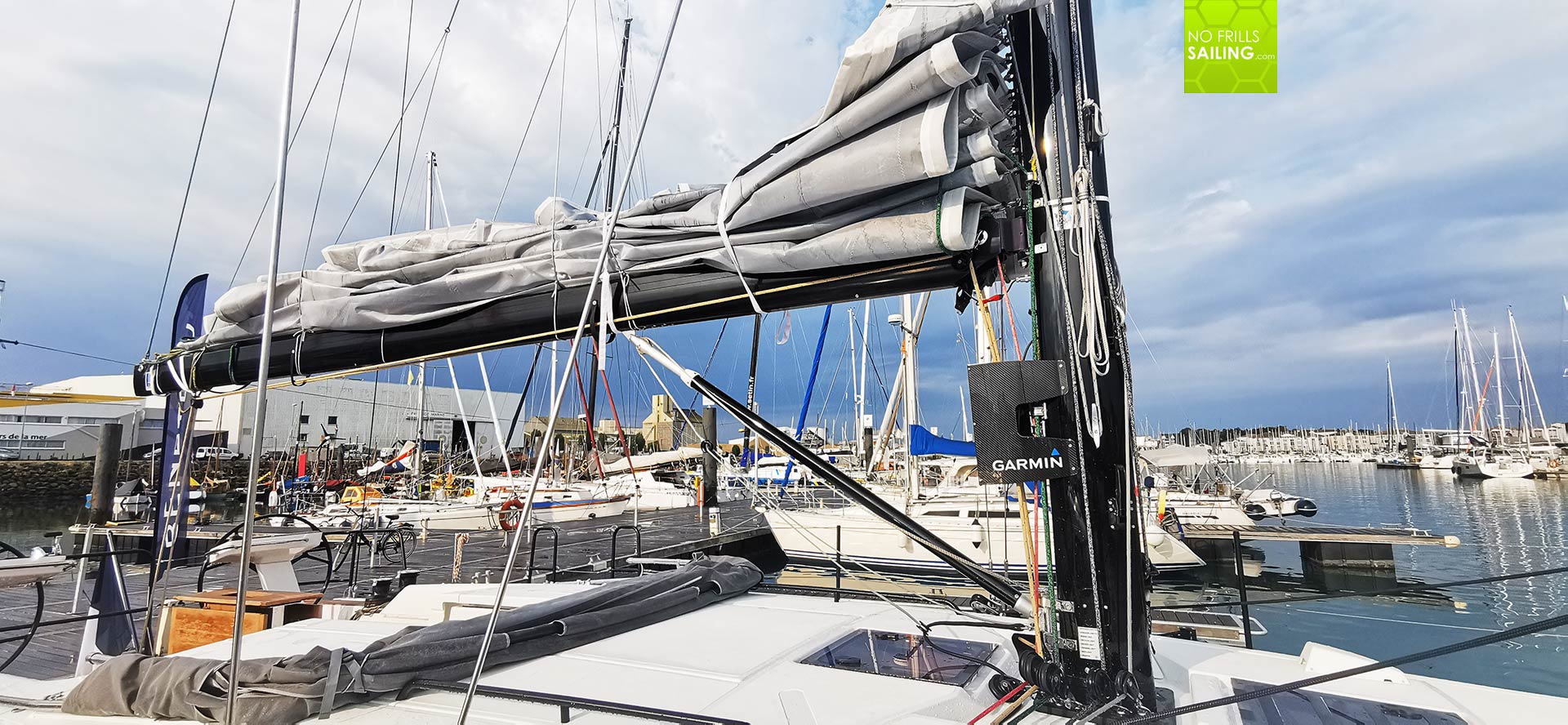 The boat is optimized to be driven by small crew and even single handed. In this, not only the water ballast-system but also the hydraulic boom kicker will be operated easily from the steering posts by pushing some buttons. Electric Harken winches (Performa on the racing version of course) are electric just like many other features. I have a mixed feeling on this because the more electric and electronic features a boat may have, the more glitches they can develop. But, well, that´s the trend now.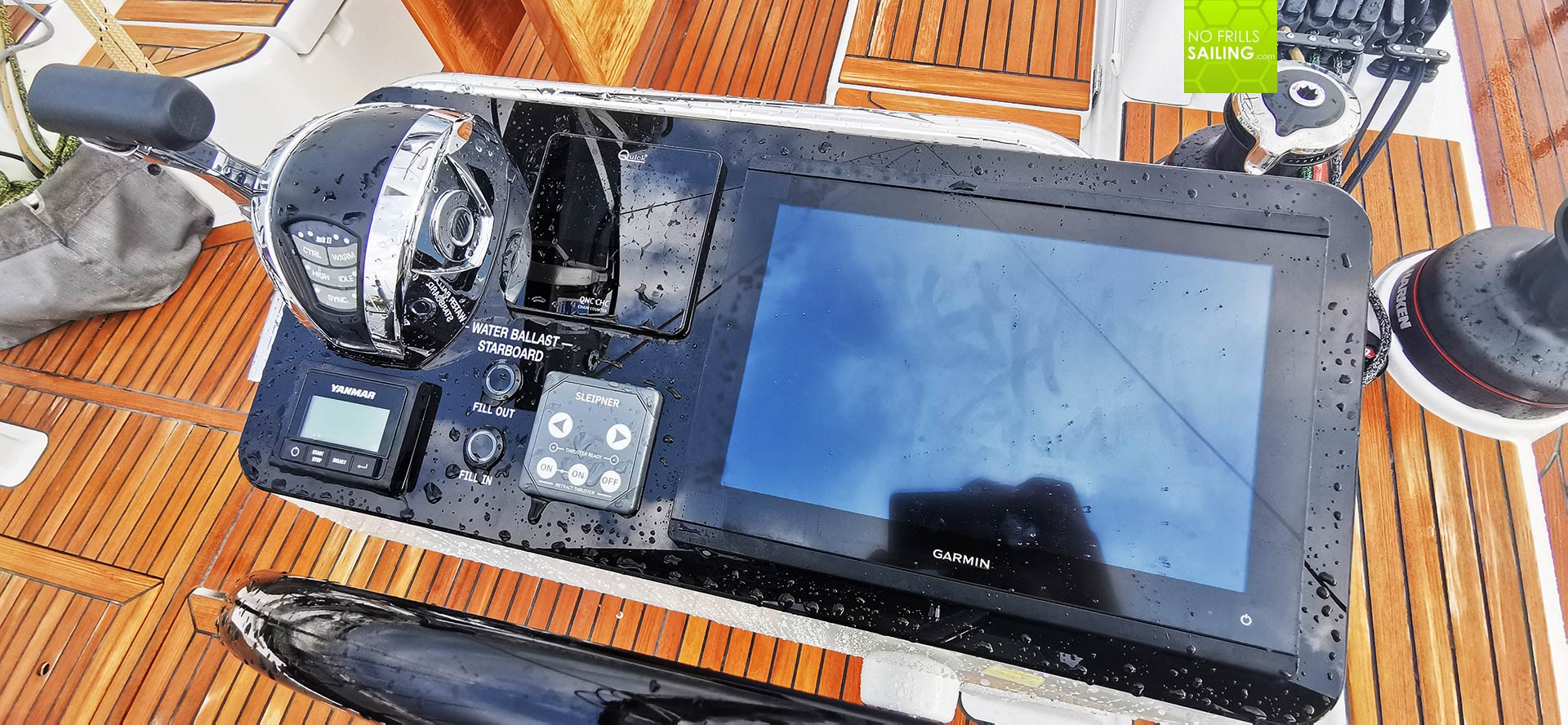 Speaking of electronics: Beneteau decided to switch suppliers for their boats rather radically. The reasons are multiple for skipping long term partner B&G and personally, to be honest, I am a saddened about this decision, but the yard struck a deal with Raymarine (supplied on all cruising yachts of the Oceanis-range) and with Garmin for their performance-yachts. In this, the First 44 will be equipped with Garmin electronics.
Two versions upcoming
Let´s talk a bit about First 44 "cruising" and "performance". The cruising version, as I have seen on the pontoon, is a boat designed and built for the average sailor. Meaning, an owner who loves to go fast, maybe attending the occasional regatta, but focuses on owning a quick boat that brings the joy of sailing and fun of speed together with all cruising comforts and amenities. In part 2 of this article I am going to walk you through the First 44´s interior, by the way.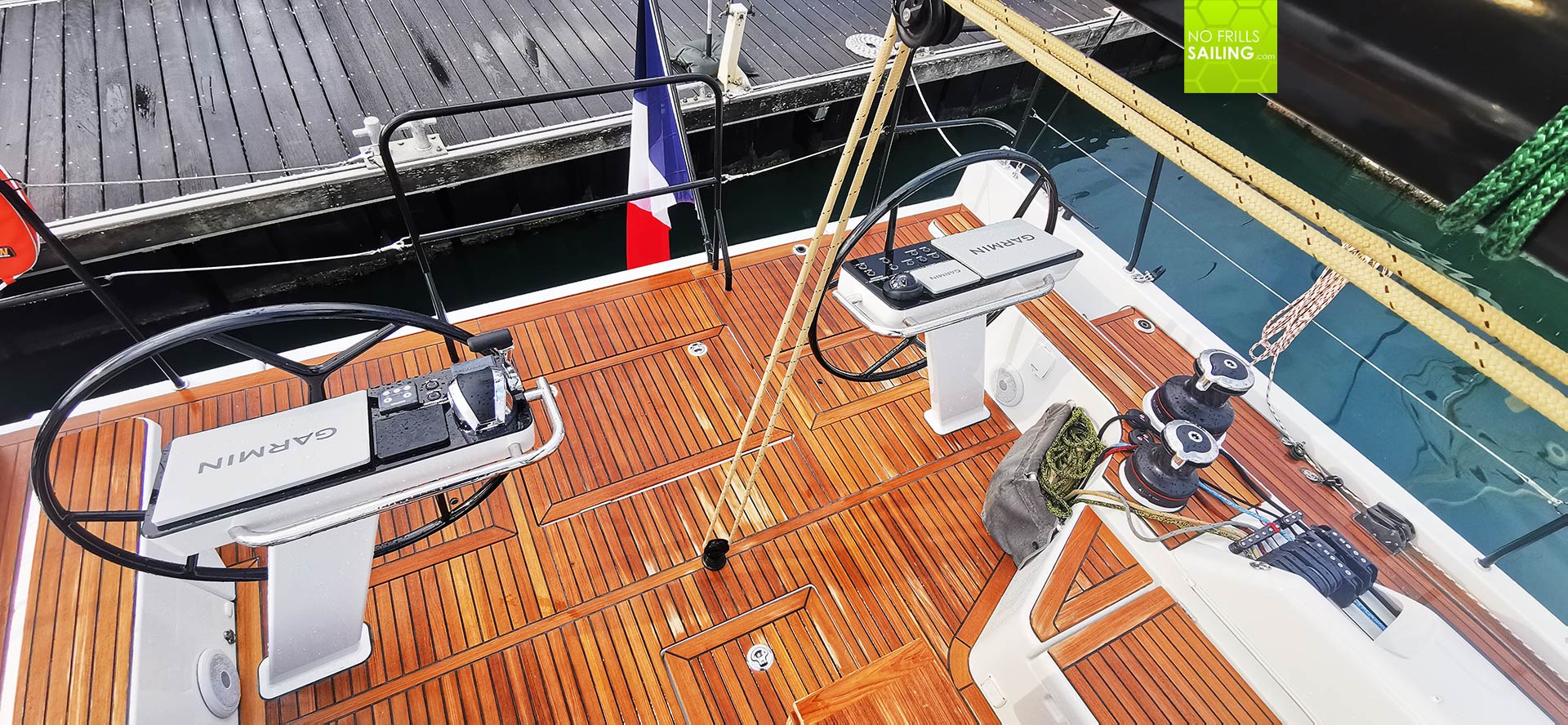 The running rigging, deck layout, positioning of the winches therefore is designed to suit a single- or double-handed crew. All winches are brough abaft just in front of the steering wheels. Trimming the Genoa (or the self-tacking Jib) is thus no problem. The mainsheet is diverted via a simple pulleye bolted to the deck. I am sure the cruising First 44 with her 103 square feet upwind sails area in basic configuration (121 sq. m. with performance carbon mast) will have quite a lot of power to move her astonishingly 10.6 tons (light displacement) quickly through the water.
On the upcoming performance version even more weight reduction is made possible by first skipping many options: There won´t be an anchor/chain on the boat, saving a lot of weight and acting positively to the weight-trim all over the boat. No heavy Teak-decking, instead light EVA-foam. There won´t be the big helm station consoles, instead a proper mainsheet traveler for even better main sail trim. Cockpit table is kicked out, no HiFi-equipment and other bling. Water ballast reduced to 200 litres which will shrink filling-/emptying times.
The six winches will be re-positioned to be accessible by different crew members on the racing version as well. A powerful combination with premium-grade equipment by supplier Harken and – by the choice of the owners – superior laminate sails will surely make the First 44 to become a serious competitor in regattas, I am sure.
Will the First 44 be the new performance reference?
The market for performance boats is not only fiercely fought over by different brands. Matteo Polli´s Grand Soleil 44 may be a direct competitor, the "usual suspects" Italia Yachts, X-Yachts or more special brands like JPK or Pogo have more or less similar boats in their portfolios to offer. Beneteau is a big production boat brand which is known for power in innovation and bringing forth new developments with big impact but also to come up with price-worthy-solutions accessible to "everyone". In this, the starting price for a First 44 at 335.000 Euros exVAT (375.000 € exVAT for performance version) seems absolutely reasonable and surprisingly low.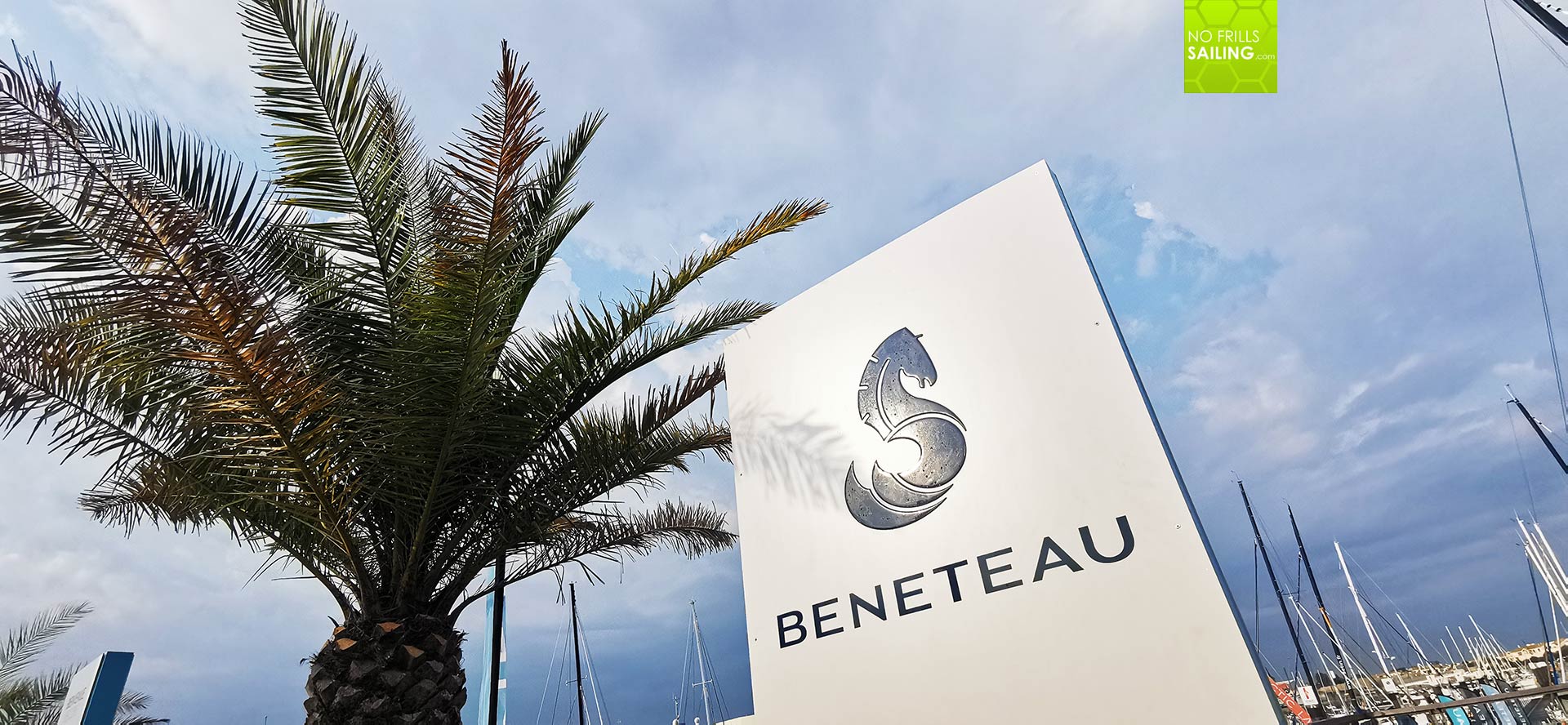 Surely, the finished boat, completely fitted and commissioned in the water, will clock in at much more, but owners seeking this level of sailing sensation and comfort in the size of 44-feet won´t be the ordinary occasional skipper but rather experienced and dedicated sailors with a clear emphasis on speedy sailing. As I will be flying to Cannes Yachting Festival in 2 days, I am clearly looking forward to meet the First 44 again on the jetty, this time with an ye kept on her competitors to look even closer.
Please check out the interior walkthrough of the First 44 as well, coming live tomorrow.
Related articles you might find interesting:
Talking to Damien Jacob about the First 44 concept
First 36: Massively excited
Matteo Polli´s Grand Soleil 44