I am a big fan of Pogo Structures, as you may know. Not only did I do some of my first sailing miles ever on a Class 40 built by Pogo but I have very vivid memories of sailing these boats when I started my "sailing career". I have the greatest of respect for the building quality and sailing properties of these boats and so I am happy every time a get to see a Pogo mooring or sailing somewhere.
XXXXXBILD 01 pogo 36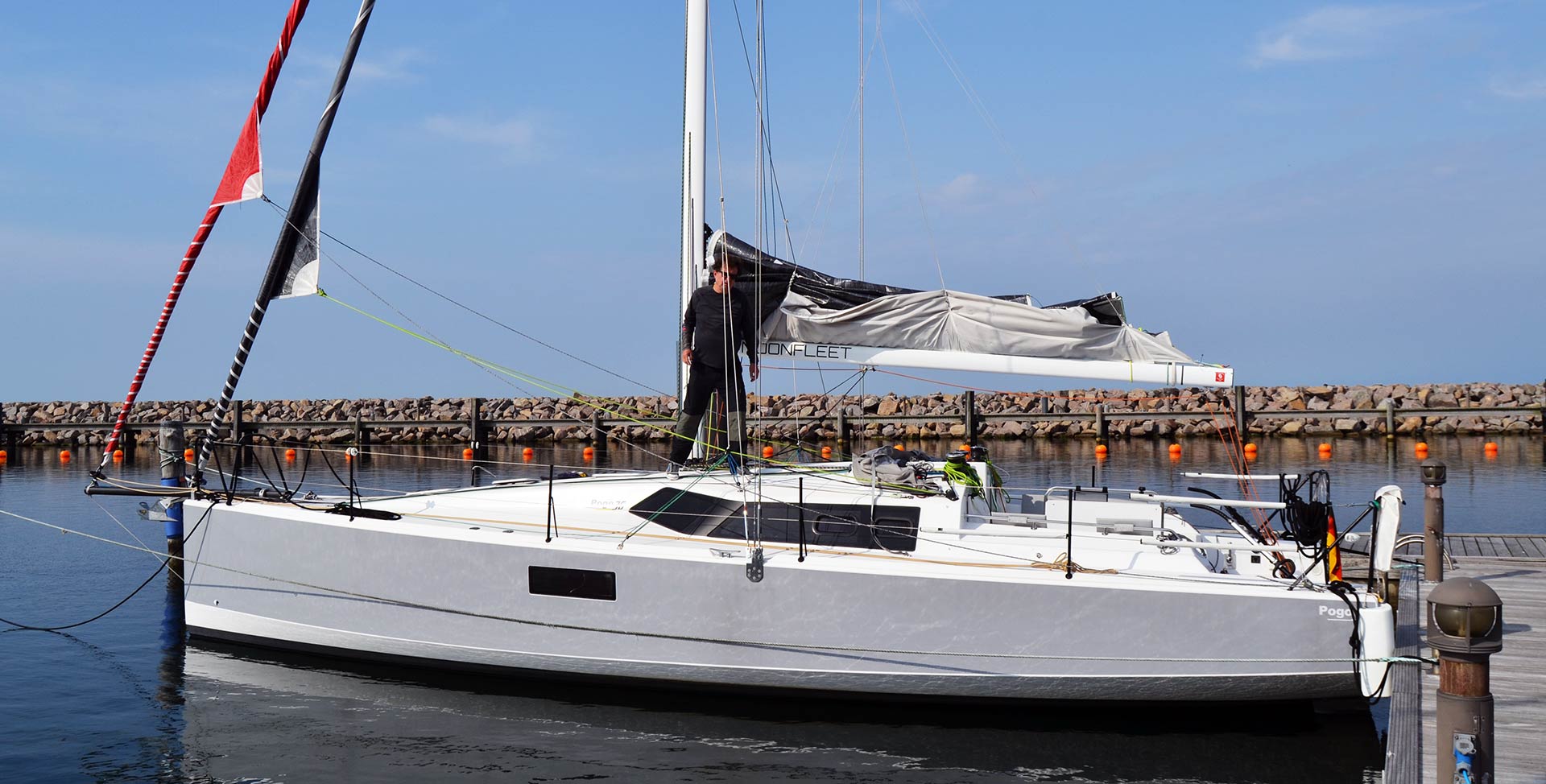 This week I was especially lucky when I met Thomas who I am acquainted with and – as it turns out – he is the owner of a fantastic Pogo 36. Weather was great and I had some spare time so he kindly invited me over to a quick sail around the block, as he said and I happily joined and jumped aboard. I had already extensively seen a Pogo 36 from inside during Boot Duesseldorf 2 years ago (read that article here) and so I was very keen on experiencing this sailing bullet under sails.
No wind, even for a Pogo
Well, first things first – wind went down to absolute zero just the moment we had all sails up. It was dropping from 4.4 knots true (the boat still made 2.9 knots over ground with standard Genoa and mainsail) and even for the Gennaker there was not a single last puff left. No problem, we thought, because at the horizon a very dark scenery was building up and moving toward us.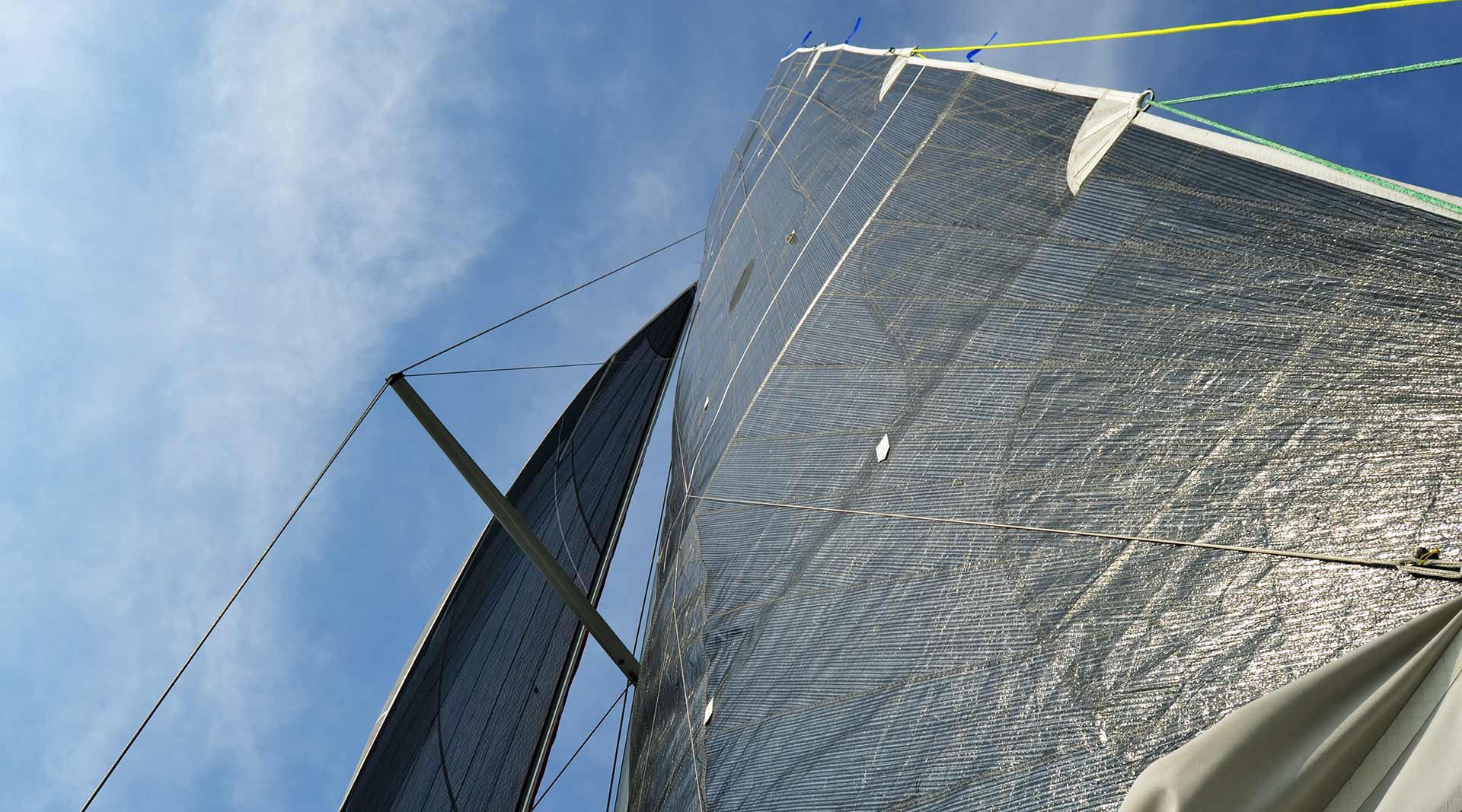 Time to get home, Thomas decided and I agreed, I felt no desire to go through another lightning storm again and so he started the engine and the boat hauled back to the marina again. Which was a lucky chance for me because – although not being able to sail a single mile – in this I got the chance to witness and learn something about real singlehand sailing and handling of a boat.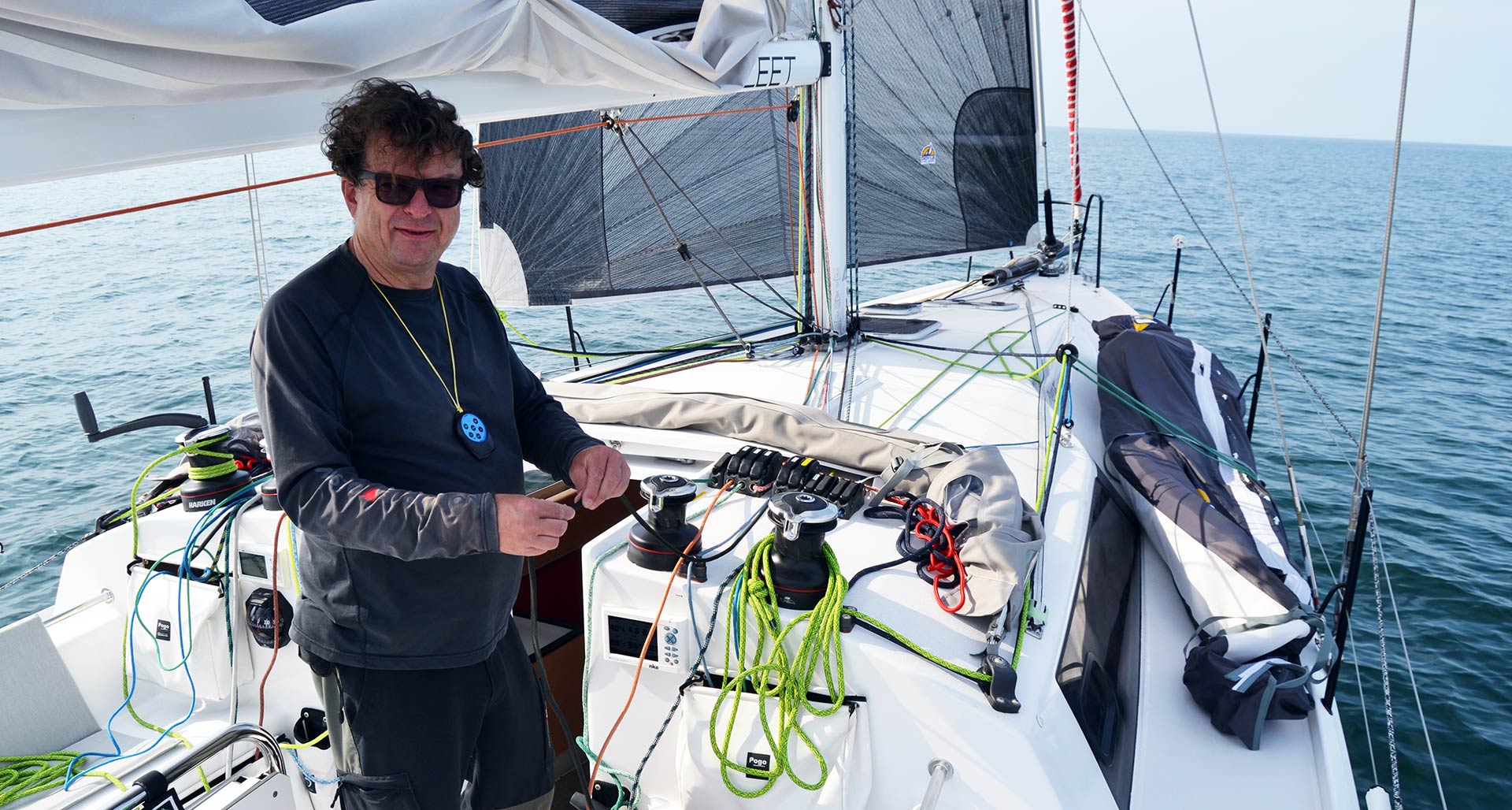 Thomas is a keen sailor since he was a child and he was deciding to buy the Pogo because he was seeking a boat big enough for longer sailing trips offering a decent amount of comfort (which the Pogo 36 does perfectly well) and being able to sail quick, trim nicely and have an emphasis on sailing fun. Not to mention the swing keel which enables him to enter the shallowest of anchorages and marinas. So, let´s watch how he lands the Pogo 36 alone in all wind-conditions.
Singlehand sailing lesson: Mooring alone
The Pogo 36, so he tells me, has numerous properties which define her as being perfect for single hand-handling. At first, she is a very agile boat. Weighing in about only 3.3 tons she is considerably lighter than for example a Dehler 34 with 6 tons or a Jeanneau Sunfast 3330 with 3.5 tons. The two tiller-steered rudder blades convert every single impulse instantly to very vivid course changes.
So after we prepared the flat stern fenders Thomas stopped the boat in the wind and had her steam slowly backwards towards his berth. As we say: "Much wind – much speed, less wind – less speed" he adjusted his throttle to a point where the boat was still obeying his steering impulses but not being pushed off course by wind.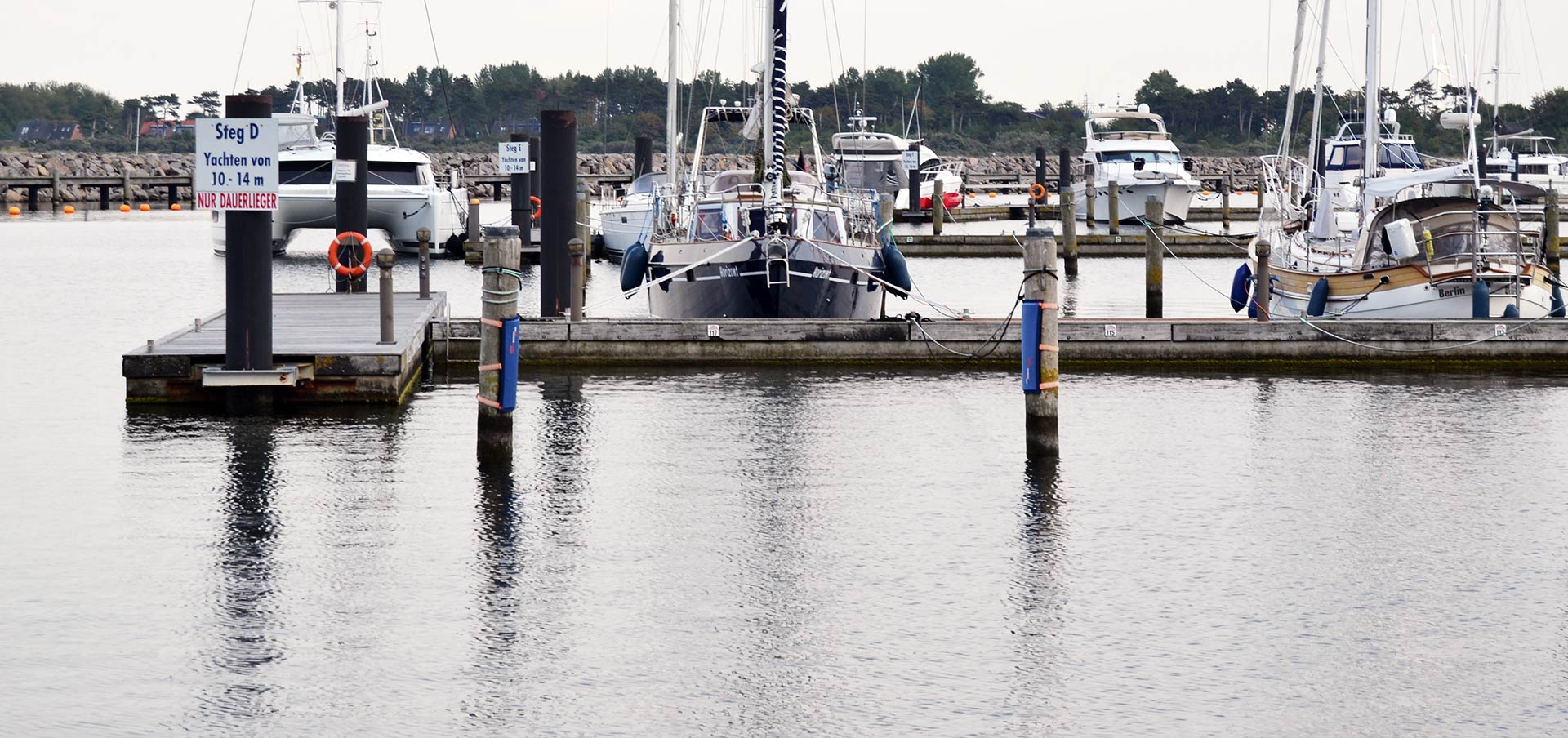 Because with the Pogo 36 the shrouds end up in chain plates which are mounted directly onto the hull an the widest point of the boat, that´s a pretty vulnerable spot of the boat when it comes to accidentally hitting a bollard or something, so Thomas prepared his home-berth accordingly with some bumpers around the bollards in exactly the height where the shrouds might come into contact with them – otherwise he needed no special preparations.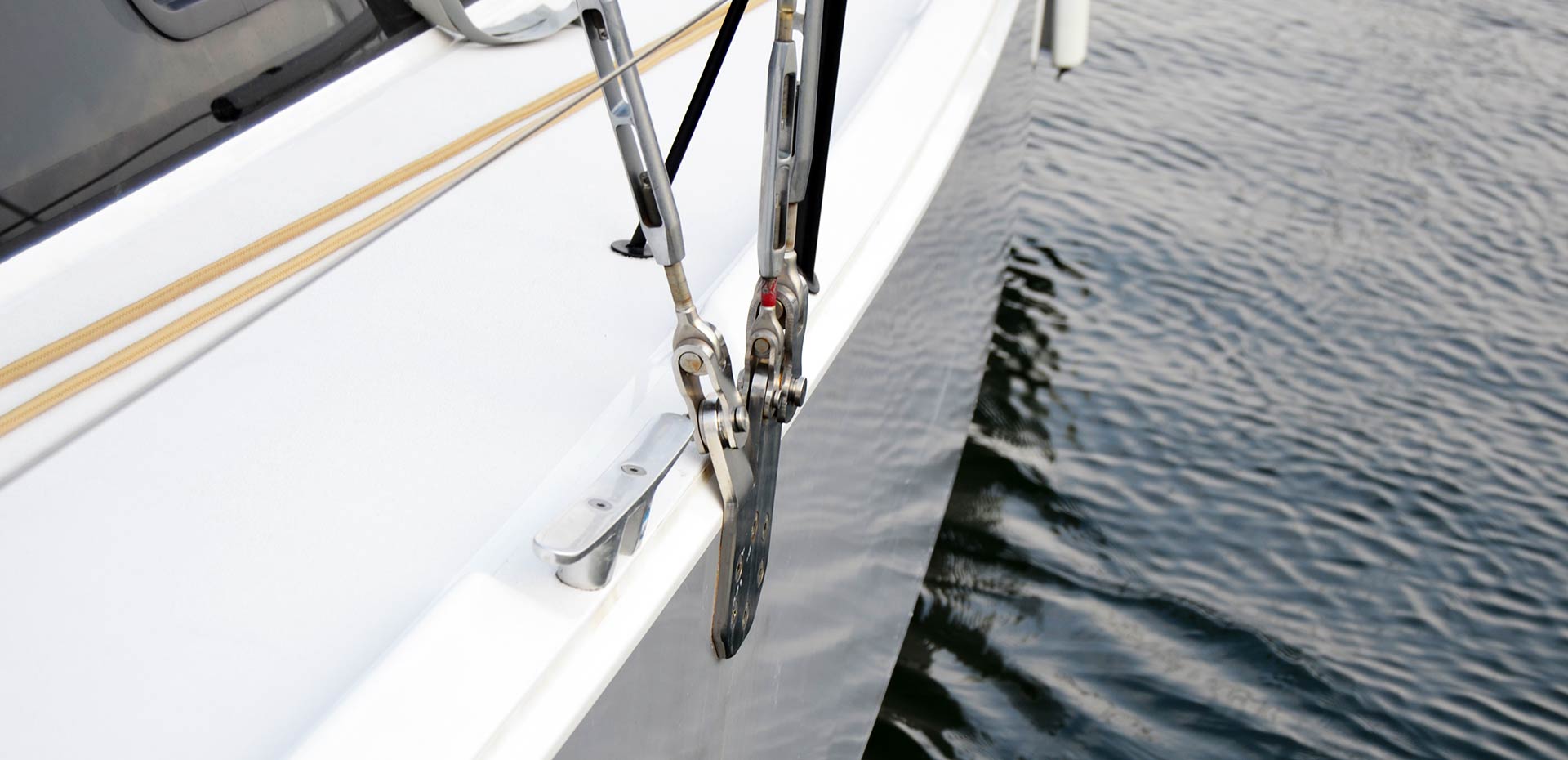 The boat was running backwards like being a train on tracks. That´s not a property limited only to Pogo-boats but as far as my own experience goes it´s something that all double-rudder equipped yachts have in common. They are fantastic in adhering to steering commands at low speeds and just awesome to land stern-first. Same with the Pogo – no stress at all, as Thomas was insuring, that this manoeuvre is just perfectly executable even in strong sheerwinds.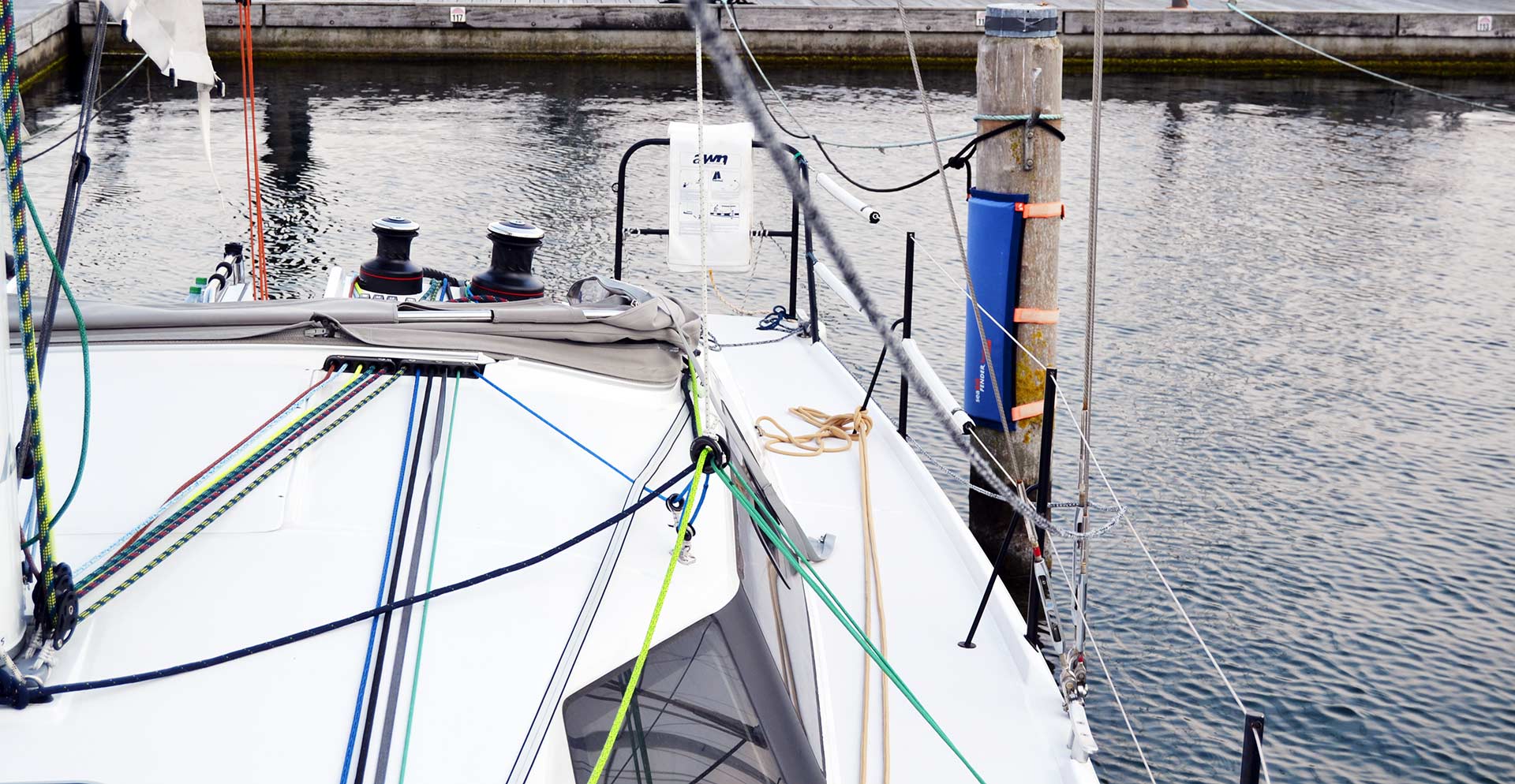 Shortly before the pontoon he almost stopped the boat but retained some momentum. Just making sure that the yacht wasn´t hitting the jetty too hard, je put her stern perfectly aligned with the pontoon and the boat finally came to a halt when hitting the pontoon – he then immediately shifted to back gear and had the boat pressing herself into the pontoon. Then he got up: Time for rope works!
Advantage of a dead flat stern
That ist he advantaged of having a flat stern – the boat may be pushed by engine power onto the jetty whilst the sailor can tie her up or undo the lines when casting off. And it really worked! The boat stood dead still at the jetty and Thomas was assuring me that this even works in heavy winds coming in from dead aside.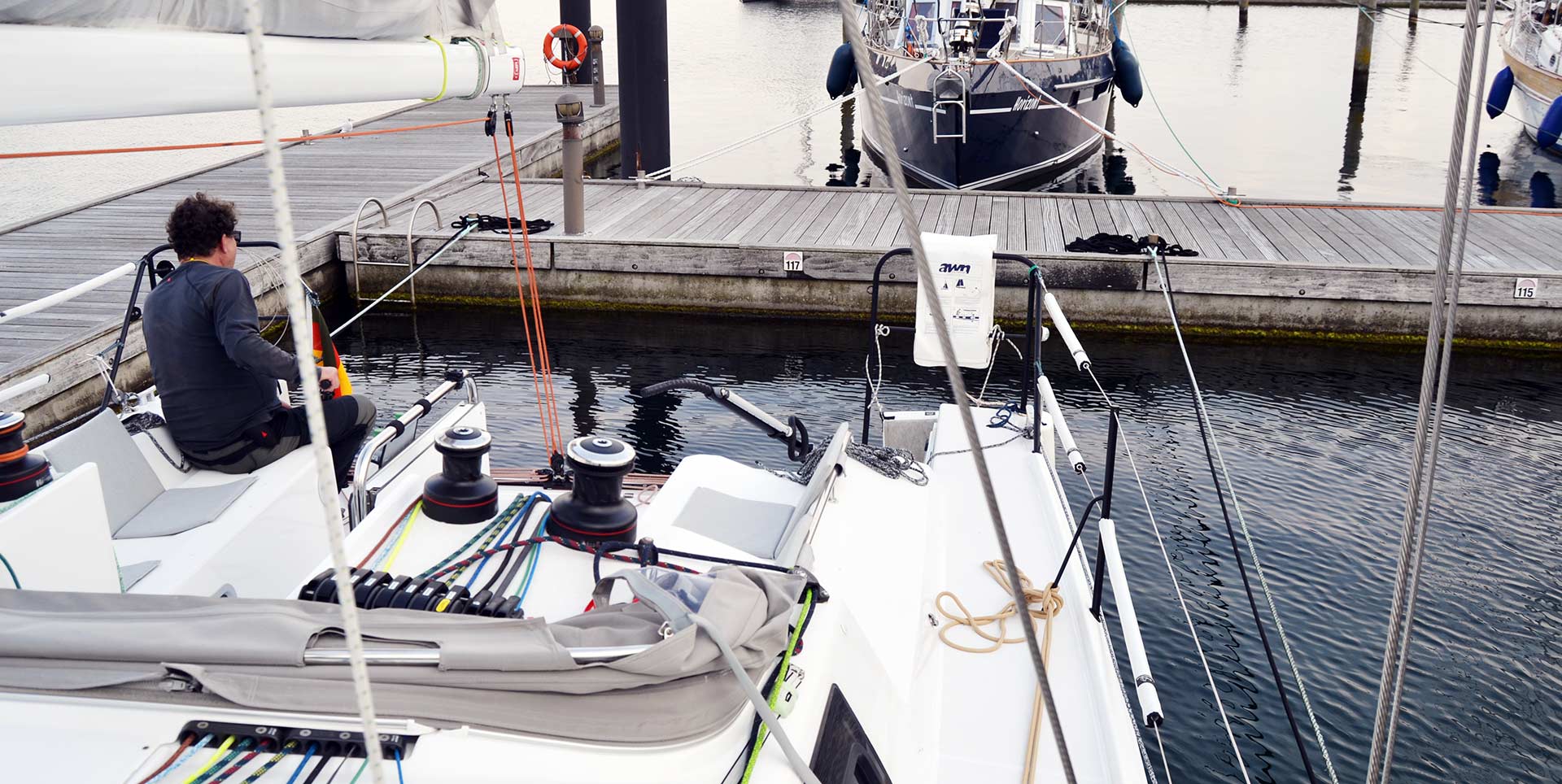 We first attached the stern lines, giving them nearly a meter or so clearance, then he reversed gear and steamed into the stern lines. The boat now aligned herself in the middle of the box which made it easy for us to have the bow lines attached and tied up accordingly. It works the same way around when casting off: Steaming into the stern lines, taking in the bow ropes, going backwards and taking in the stern lines – and off you go.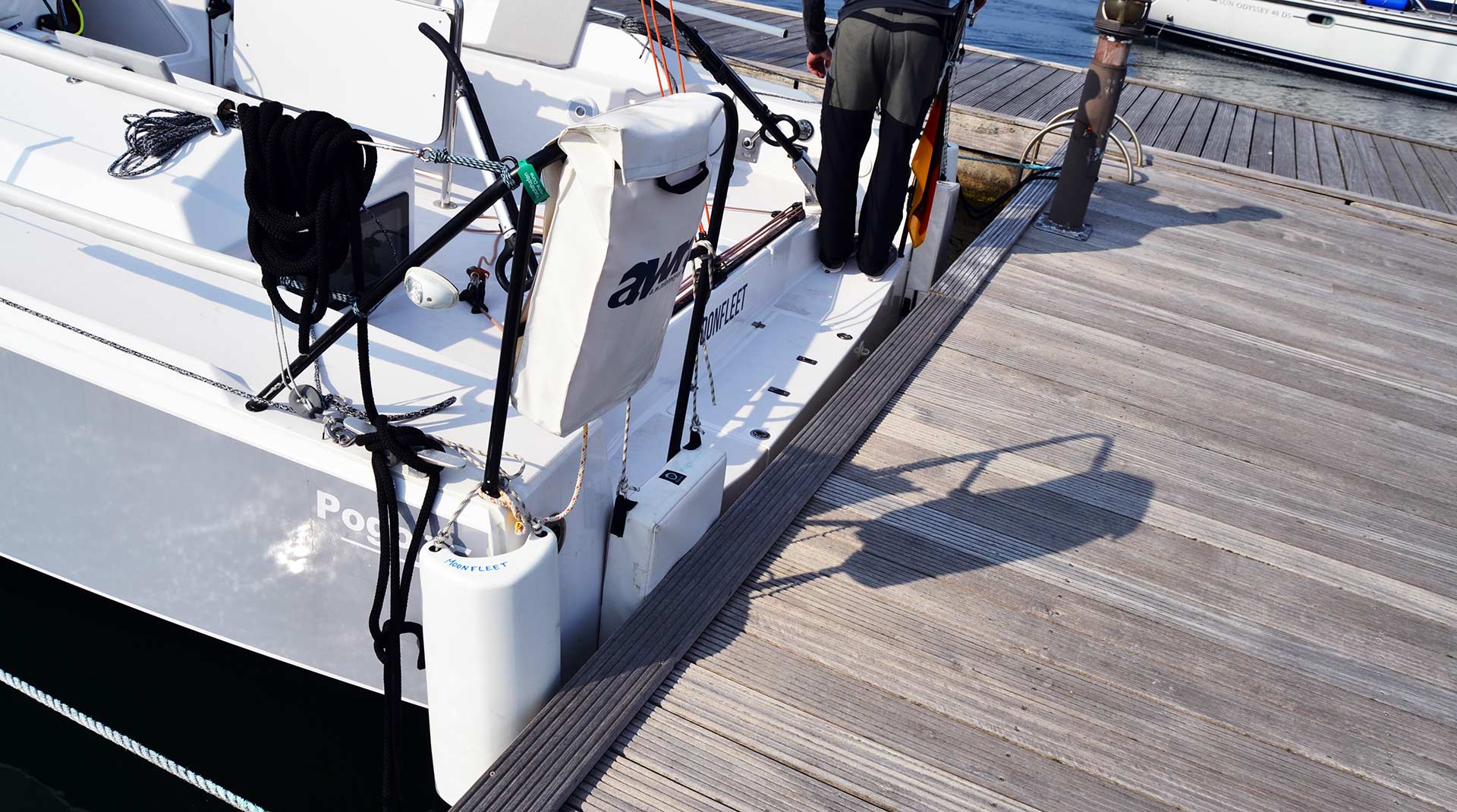 I was very surprised and excited to seeing this simple yet beautiful manoeuvre. Same as admiring the layout of the lines on the boat itself which is designed to support a single skipper mastering this boat, this simple but practical and effective manoeuvre was a short but very interesting insight in single hand code of practice.
How much boat does a man need?
Even though I wasn´t able to experience the sailing abilities of the Pogo 36 (which I hopefully will be able to make up for some time with Thomas) this short trip was a valuable lesson for me. It once again brought up the question of how much boat a man may need? I love the 46 footers, I admire the large 50 feet or bigger boats, like the oceanic cruisers by Oyster for example. But those small boats are very, very charming: Manageable, easy, way more affordable and in most cases much more practical indeed.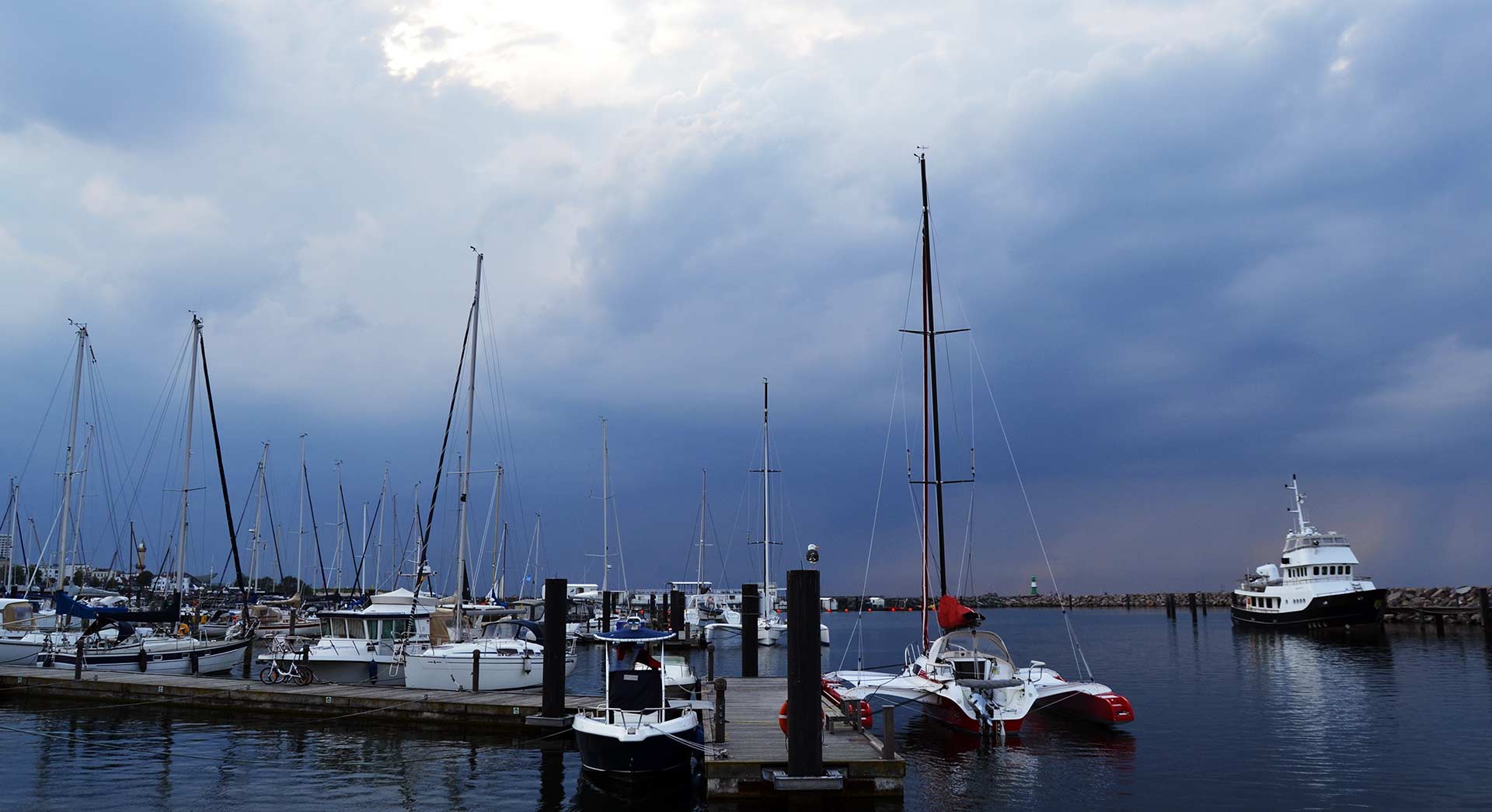 So again, it´s always a compromise of many things and for every sailor everytime again the answer to the difficult question: "What do I want to do with my boat?". The Pogo 36 is a perfect answer to many of these questions for sure, a very special boat in many respects. By the way, we were lucky being in harbor again – just 10 minutes after we had her landed, hell broke loose …
Other Pogo- and Class 40-stories may be read here:
Charly Fernbach shows the Pogo 36: Complete walkthrough
Sailing a Pogo 40 to Heligoland and around Fyn, Parts 1 and 2
A new Class 40 designed by Marc Lombard