It is 4.30 in the morning when my smartphone was gently ringing, vibrating next to my ear. I roll over, enjoying the warmth of my sleeping bag, and reach for the sunshade that is still closet in the skylight above me, pulling it open. Suddenly the fore cabin which is my refuge is flooded with glistening light, a wave of cold fresh air rolls down over me, the scent of salt and a virgin morning on my tongue. Getting up is a matter of minutes – I am good at this – and five minutes later a hot coffee is boiling on the fire. I have to do this. Martin is still asleep.
Half an hour later the engine of URSUS, our Beneteau Oceanis 30.1, is running and I am casting off the lines of the yacht. Single handedly I am taking in all ropes and push the boat away from the pontoon of Karlskrona Marina. Which is no problem: No wind at all, the strong gusts of the past days have worn out and the sea is as pasty as liquid lead. The boat is in course and steaming towards the outer submarine barriers which mark the last (visible) line of defense for Sweden´s most important naval base.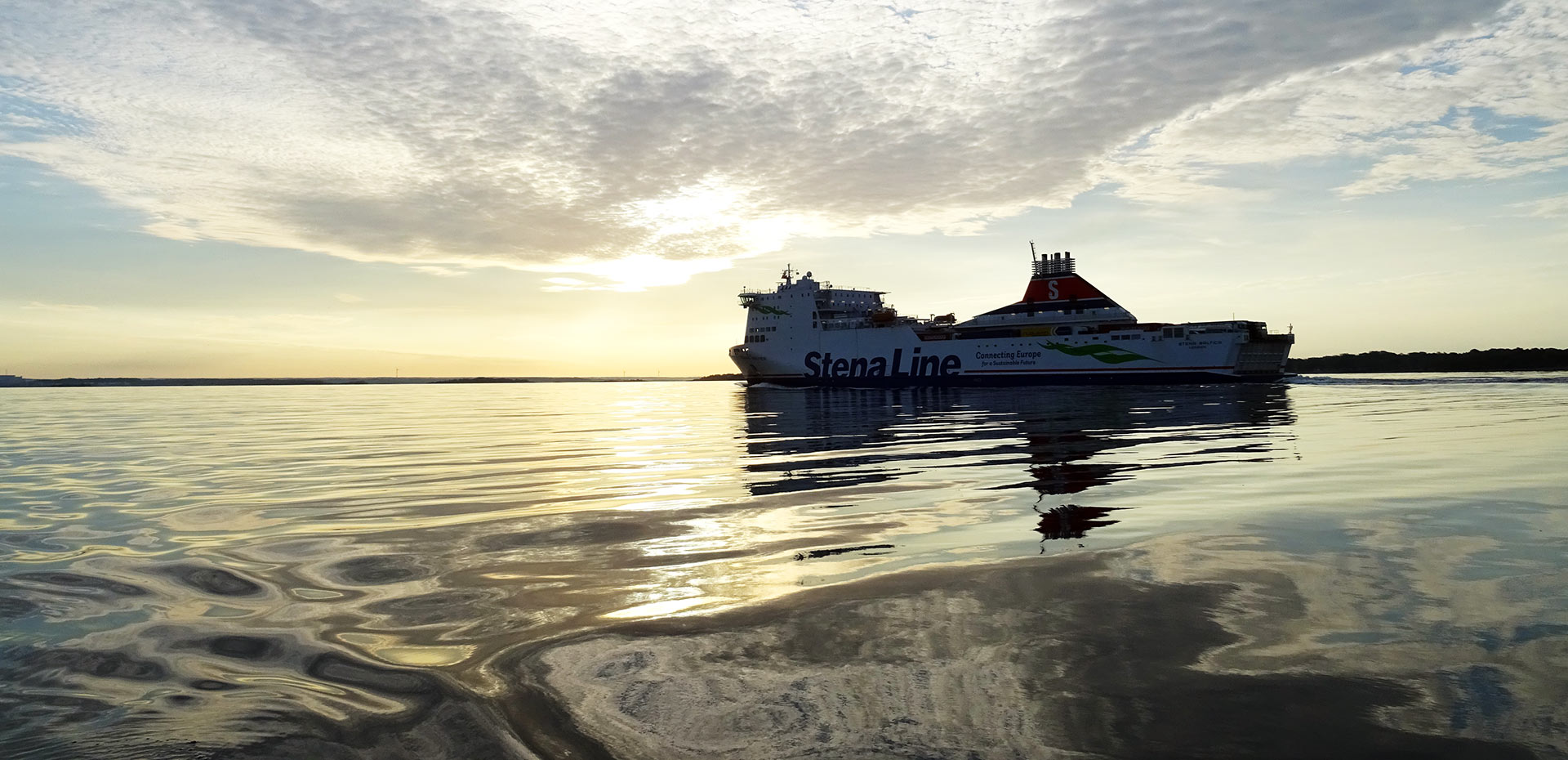 After one layday here in Karlskrona it is a blessing to be helming the yacht again. It takes me an hour to leave Blekinge Skäregarden, the archipelago of Blekinge, out into the open sea. Steering due South and later turning her bow to the East, my plan for today is clear, as I told Martin yesterday: "We have to do more miles now", I said: "We´ve not been making too long legs up until now, which is fine, but starting tomorrow we have to bridge bigger distances if we want to arrive in the Stockholm archipelago on time." He agreed. And I got up at half past four to make this early start happening. We are in our way to Oeland today.
Growing winds: Sailing Oeland or Kalmar Sound?
As the boat veers to the East, wind starts to grow and I pull up the sails. It is 9 o´clock and the engine was running for four hours straight, it´s a bliss turning it off and feeling the gentle heel of the boat. Just 9 knots true wind and the boat is sailing with just over 5 knots, but that´s okay. Martin gets up as well and we have a nice second breakfast. Hour for hour the wind grows, as we round the southern most tip of continental Sweden and I put the bow round to a northerly course, we already have 16 knots true wind and the boat jumps to life with 6.5 to 6.7 knots. That´s sailing!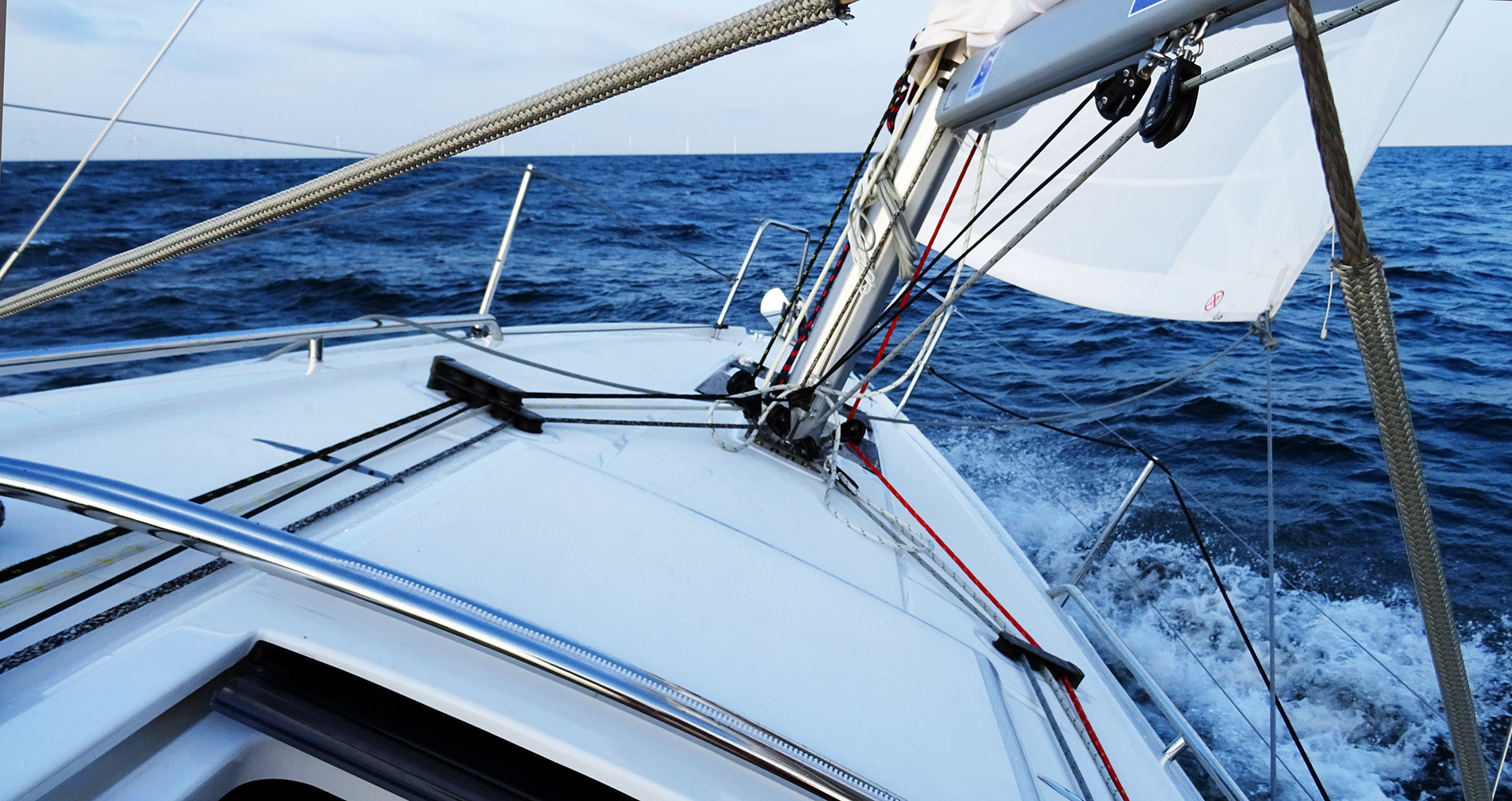 We are putting in a reef to the main and furl in the Genoa a bit as the wind gets more gusty. Now we are talking! It´s around noon and we are eating up the miles. It´s a great sailing day and although I am tired as hell I stay up to enjoy this quality time. "We have to make a decision!", I am screaming against the wind. Martin asks, which. Well, I describe the two options: "We can either sail through the Kalmar Sound between the Island of Oeland and Sweden, which is said to be scenic and definitely has more options for landing the boat in a proper marina – or we go around the island having it to our port side." Which is better?
Well, the Kalmar Sound is narrow, very narrow and as the sailing instructions for this area are telling, the sound may produce a strong current of up to 3 knots depending on the direction of the wind. Now we have a North-Easterly blowing which may evoke a current within the sound. Not so good for our small engine. "Let´s go around full speed", I decide and identify the harbor of today´s leg: Karehamn. Martin agrees and so we leave the southernmost tip of Oeland to our port side and dash North. Waves are building up, we snack a huge pile of sandwiches and I go down to get a nap.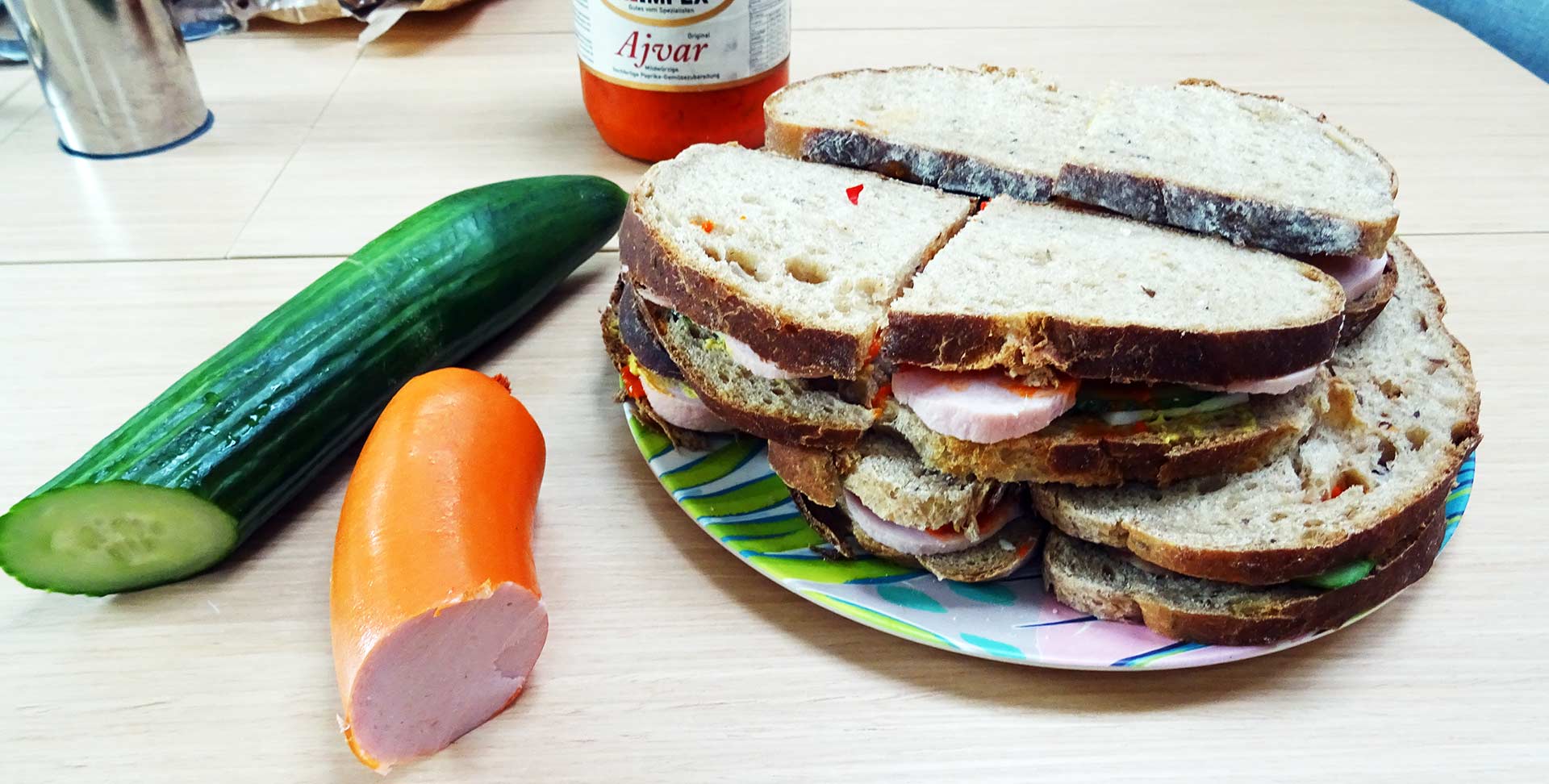 Sailing along the coast of Oeland is not very exciting, to be honest. The island itself is just 140 kilometers long and measures at the widest part just 16 kilometers. In ancient times the island was completely covered with forests, now there is just open lands, most agriculturally utilized. The highest elevation is merely 50 metres so as we sail along in just 2 to 4 miles distance the island appears as a thin strip of sand against a darkening background. Rain was setting in at noon and although it is not pouring down all too strong we observe thick rain clouds over land. It´s definitely not nice weather to be sailing. And I am worrying about the wind direction which is shifting to North ever more – we want to sail North and that means have to tack our way up. Doubled sail time, doubled sailing distance.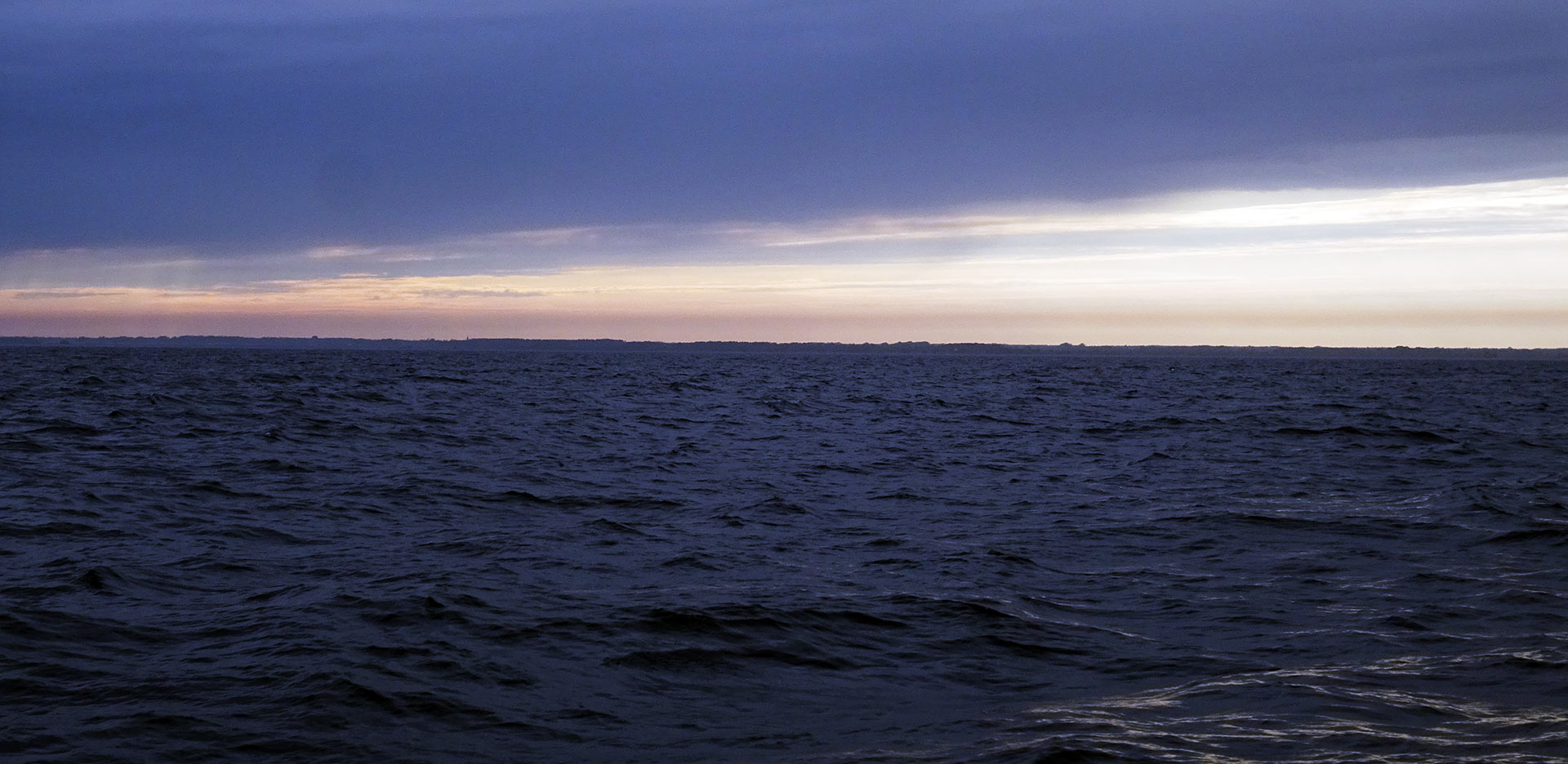 Waves reach heights of 1.50 meters now with ease and as our small boat is going upwind that´s a lot of movement aboard. Using the toilet is a challenge now and although I couldn´t prepare a warm meal as there was too much rocking. As it grows dark at half past 6 in the late afternoon, the thick clouds which have overcast the whole sky make it dark outside. Thick banks of rain pass by, luckily only touching us. Wind is now exactly blowing from where we want to go. I decide to go nearer to the land, hoping to have less waves there. We take down the sails at 8 p.m. and start the engine: Just over 15 miles to go. Steaming to the dark …
Karehamn on Oeland: A stopover for the Oceanis 30.1
Next morning, I get up first again – Martin turns out to be a late riser on this trip – to check the boat´s lines first. Wind is really blowing hard and the boat is rocking in her berth. Yesterday night, when we finally landed the yacht in Karehamn at 23.45, wind was already up screaming. I had the boat tied up with more lines than usual because I wanted to have it safe. In bright daylight thinks look a lot different and I am amazed to look at this scenery now: What a night-hustle this have been just hours ago!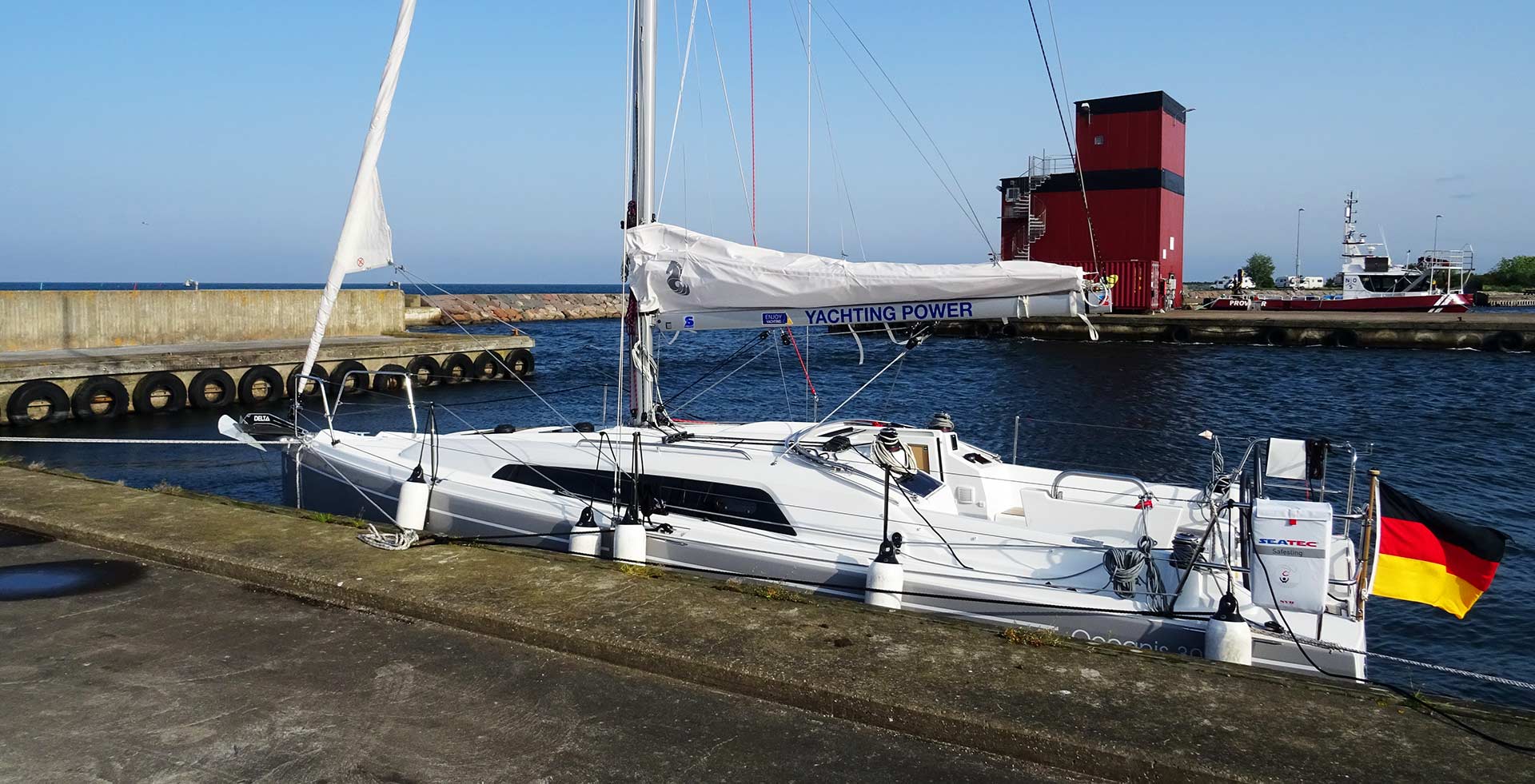 Karehamn harbor was definitely the trickiest entrance to a harbor I ever steered a boat into! I went to the marina´s entrance and took a look at the buoyed fairway: That is what I would call narrow! The marks for starboard and port are merely 15 metres apart. Yesterday, when the boat was nearing the harbor, there wasn´t any lights. Neither the entrance was lighted up now the buoys. We glazed into the darkness and tried to identify the buoys, which in two occasions was a near-collision. I couldn´t slow down too much because the waves kept on pushing the boat out of the fairway to the shallow. That was exciting!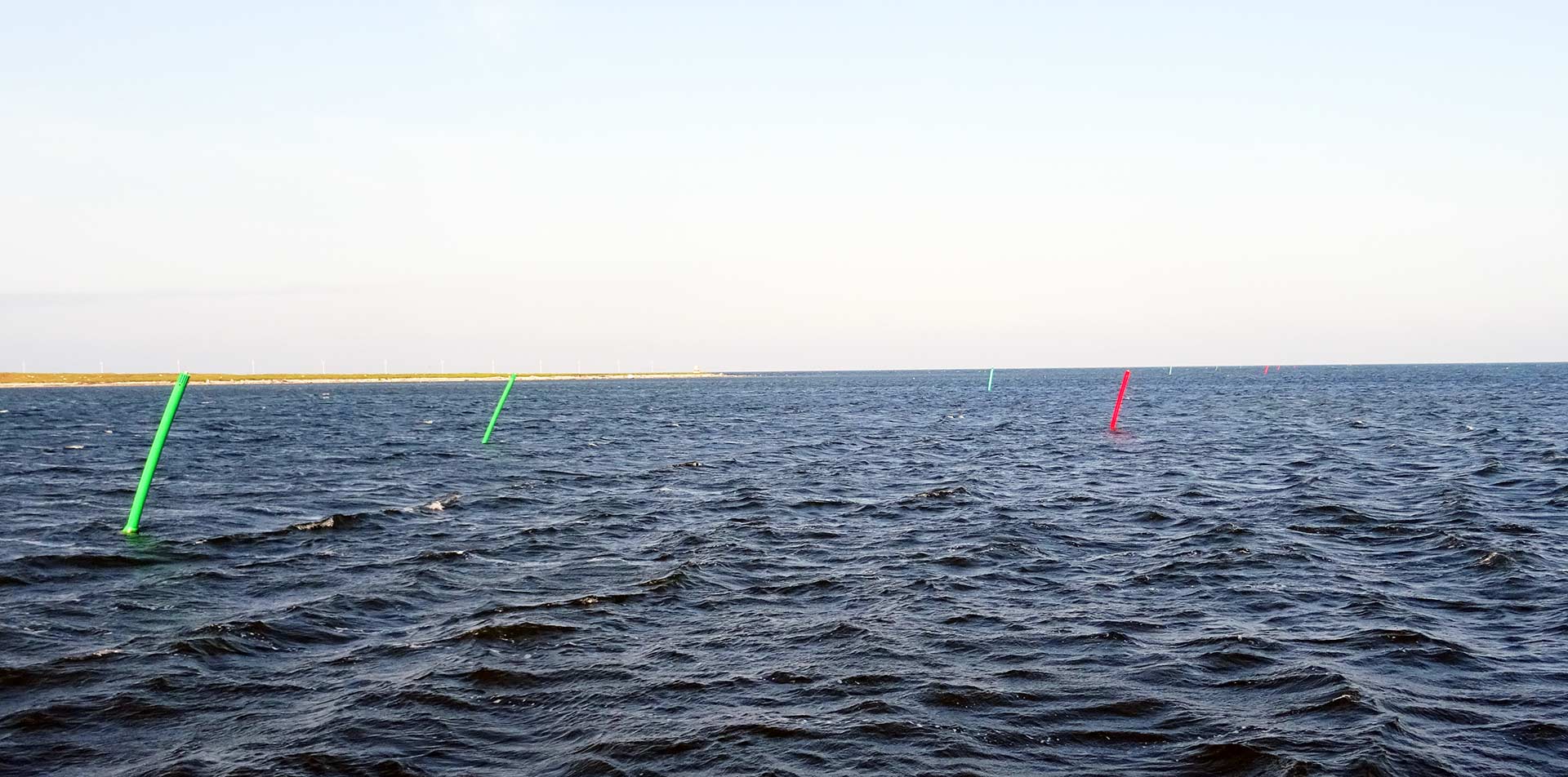 So, standing here, I definitely understood what the sailing instructions meant by "Karehamn should be piloted by daylight best." Although in the end landing the boat was a no-brainer, my Adremnalin was up and we were very excited. Karehamn is the only harbor that can receive boats in all possible weather and around the clock – for us, the only choice that day. Leaving Karlskrona we´ve made 43 miles with engine and sailed another 46 miles, which is a 50/50 situation. But I was happy: We had made it to bridge a big portion of the distance to Stockholm.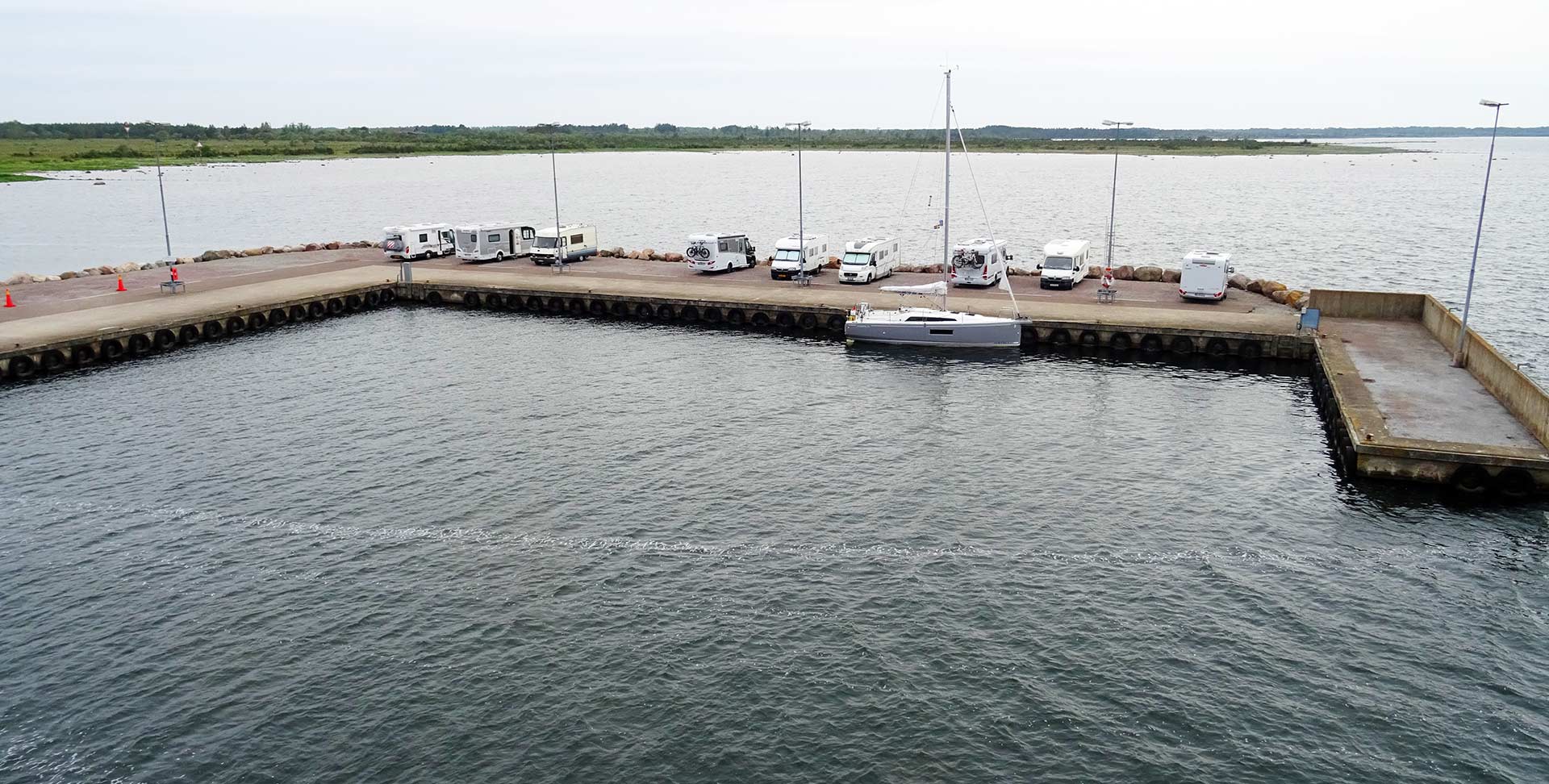 I climbed an installation to look down to the Karehamn harbor: It´s a simple port with a rectangular concrete jetty of not more than 55 meters in length. I though to myself that we were very lucky yesterday that no other boats had been berthed here which would have made landing even more trickier. Wind was blowing very hard and I was happy to having the room to land the boat safely without having to look for other boats. And considering the boiling seas outside it was very unlikely that boats would come in. After Martin woke I checked the weather: "Martin, that´s another layday here on Oeland!" 24 knots from North-East. Waves too high. From the direction in which we had to sail – no way!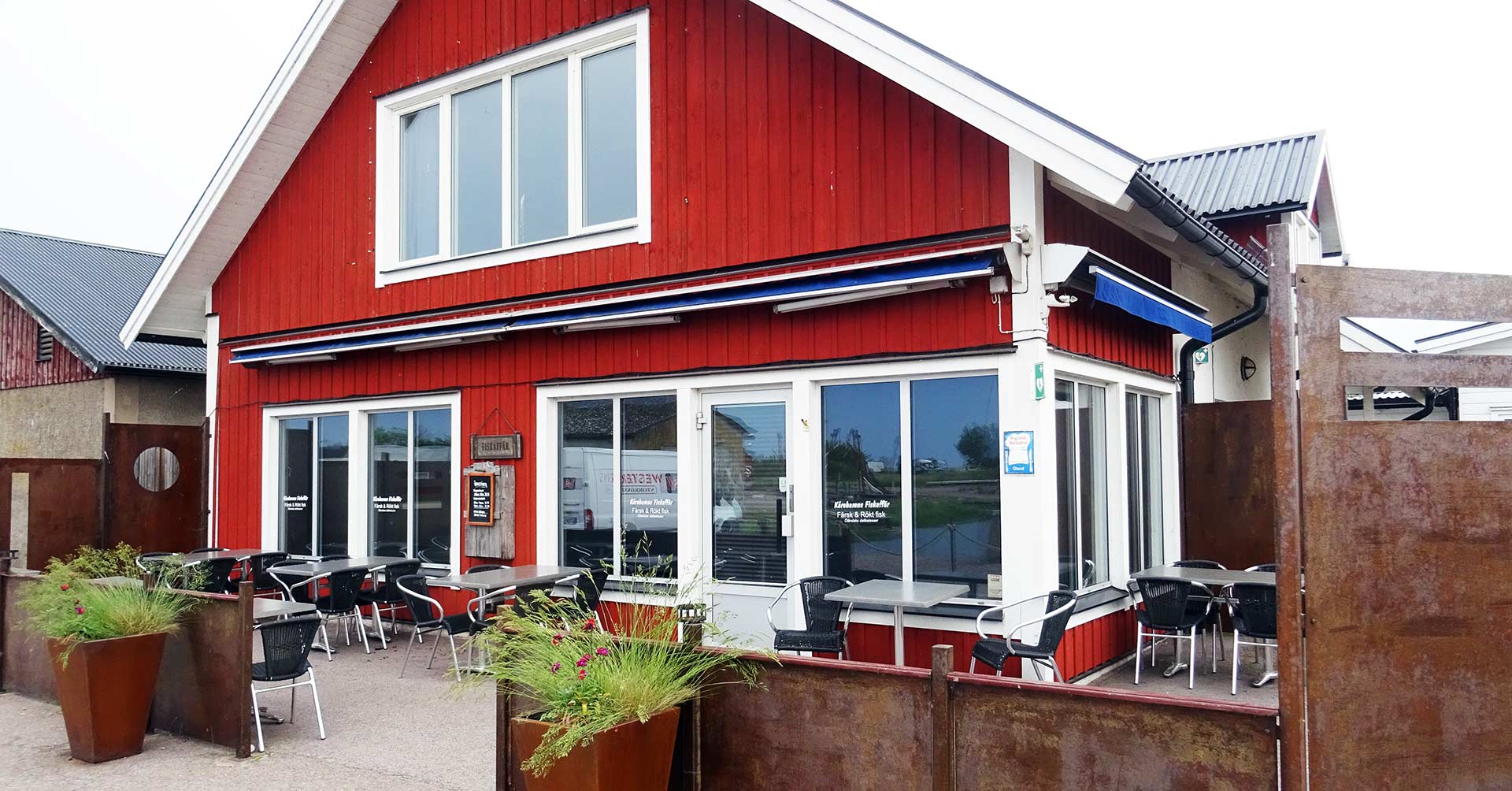 So what to do on Oeland? This barren island may host some interesting gems like birds and stuff, but it is definitely not a tourist´s spot like Bornholm or – hopefully – Gotland which was the next on my list. Karehamn itself is populated by some 80 people. The most important spot of the village was the fish shop down the harbor and the fish-restaurant. People gathered here, so did we: Cheap menus and very tasty craft beer from the island. The Oelanders were very helpful, because we needed an adapter for connecting to shore power and Diesel. One of the caravan-people agreed to drive us to the nearest gas station, where we filled five one and a half gallon bottles which we emptied of fresh water in need for a canister.
I used the time to complement the logbook, we cooked a nice meal and phoned home. Wind was still not easing and the boat kept on rocking at her lines. Just before Karehamn harbor is a small island called Borgholm, which shields the bay from most of the waves, yet still the breakers came in violently. I could easily imagine how the sea was like outside: Martin was pushing to cast off again, but I held him down: "Believe me, you don´t want to be outside now!", was my repeated phrase. Deep inside I felt with him – I also wanted to leave.
Wrong decision? Leaving for Gotland.
Staying on Oeland wasn´t that exciting to be honest. I wished the weather would have been better so that we may have shown some more motivation to explore the island, but it wasn´t. Instead we had to cope with low temperatures (wasn´t it mid-June with Midsommar approaching?) and rain showers all the time. Martin was eager to leave, especially when wind seemed to ease a bit: "When do we cast off?", he was asking. I checked the weather models every hour or so to see if the weather was changing for the good. It didn´t. Still blowing hard from North-East (where Gotland was situated) and still too hard. Thinking oft he waves that may have built up outside, I didn´t like the idea of sailing out. But I hated staying in the harbor as well.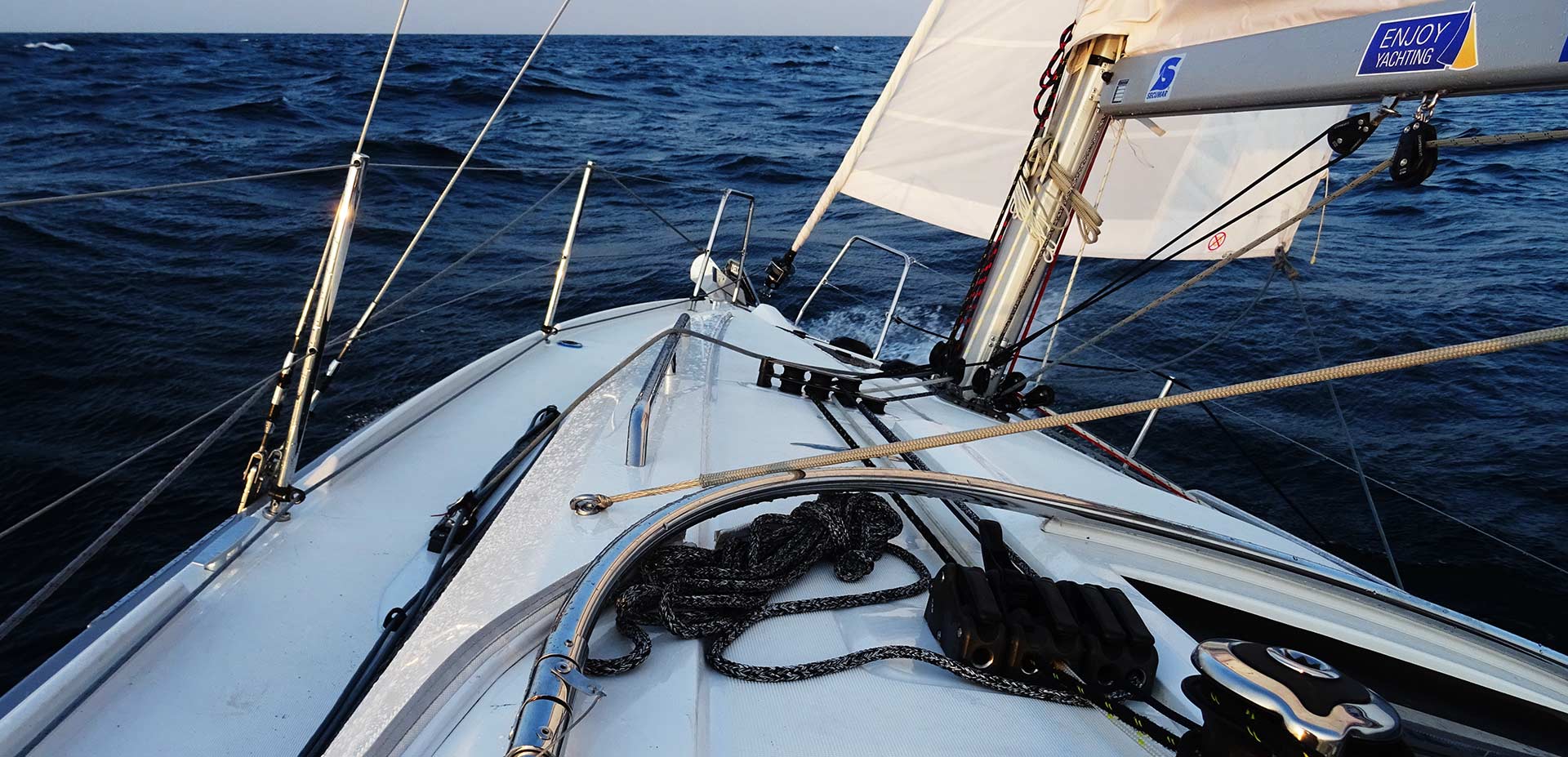 Okay, we left. At 8 p.m. the same day we enjoyed another dinner and set off. I thought I´ve found a weather window that was appealing and may be fitting, so we cast off. Being outside I instantly regretted my decision: The boat was sailing well around 7 knots which was fine, but in the third and second reefs respectively. Waves were pounding the yacht and she had to take on quite a heavy beating. I wasn´t happy at all – and cursed myself for that matter. I shouldn´t – now with some distance I know that the boat was behaving just fine and also the heavy weather situation we were in wasn´t that bad at all. The small Oceanis was dealing with this quite fine.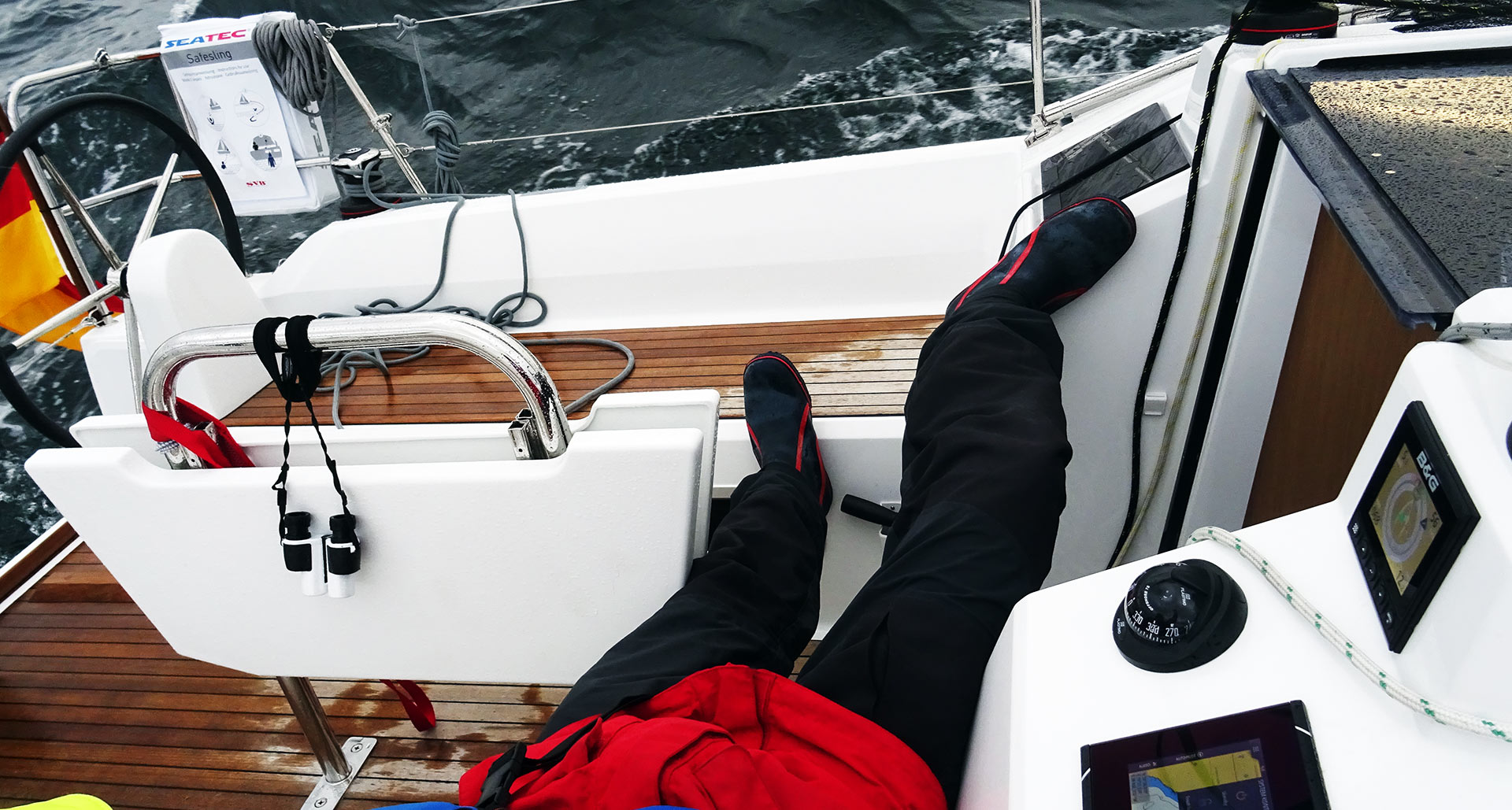 The sun went down and the wind eased a bit. I took out the small note I´ve made and checked for the weather forecast. "Wind is expected to ease further more and will shift to a Southerly as soon as around 10 p.m.", I told Martin: "It seems that it will go down almost to a halt, so again, we will have the joy of motoring to Visby the coming morning." I said. But, again, I had to learn that weather at sea is much more than checking Windy or Windfinder.com – as it happened to be a completely different experience.
A night amidst thunder
At first I realized something was wrong when I noticed that from behind – from the South – a dark rain front was approaching. I again cursed myself: Checking for weather in sailing should always also comprise checking for precipitation. "Get on the weatherproof hardware", I advised Martin and made a note to myself: Never again just look for the wind, also check rain! As I had to stand outside during the first downpour, I really marked that note in thick red.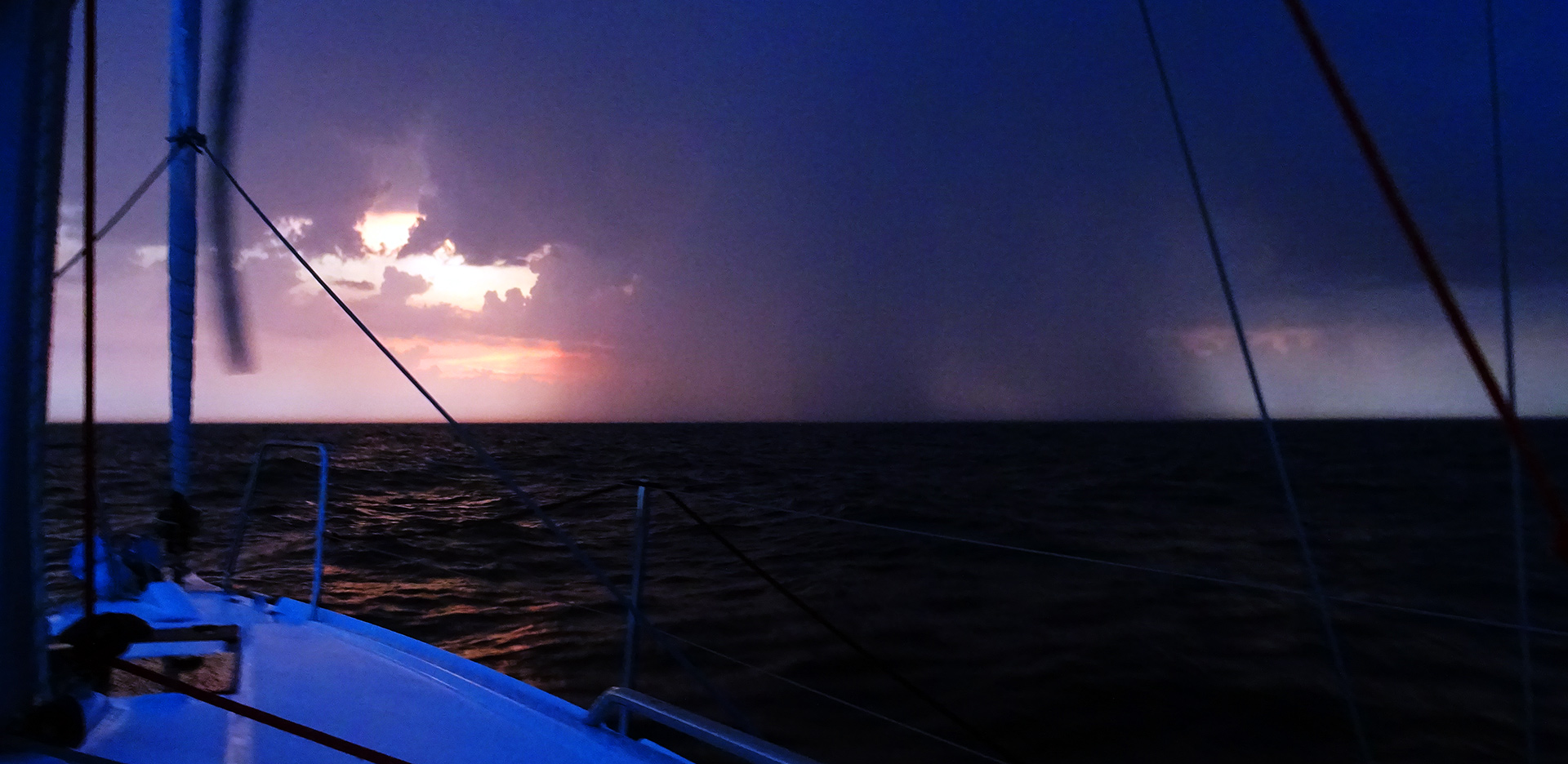 Within the clouds heavy thunder was to be heard. Lightnings struck over the sky, it was both beautiful and scary. Martin came up and just in this moment the first thunderstorm was so near that we took in the sails and started the engine. There ere heavy gusts rolling in front of thunderstorm – that´s my experience from land – and I of course didn´t wanted to have the sails blown away of the boat heeled over excessively by these forces. It was an awful night coming: Wind eased a bit but stayed to blow with 15 to 17 knots. As the direction had shifted, so did the wave patters begin to change and the former uniform wave pattern shifted to a chaotic crossing from every directions. Thunder kept roaring and occasionally the boat was sprayed with rain. We began to be on watch for an hour or so, relieving the other to go down to find some rest. As I came up at 2 or 3 o´clock Martin was in an alarming mood: "This one will get us full front!", he pointed to a staccato of lightnings just abaft: Red glowing energy was striking the seas and he was right. I altered course slightly to the West, hoping we could outmanoeuvre this one.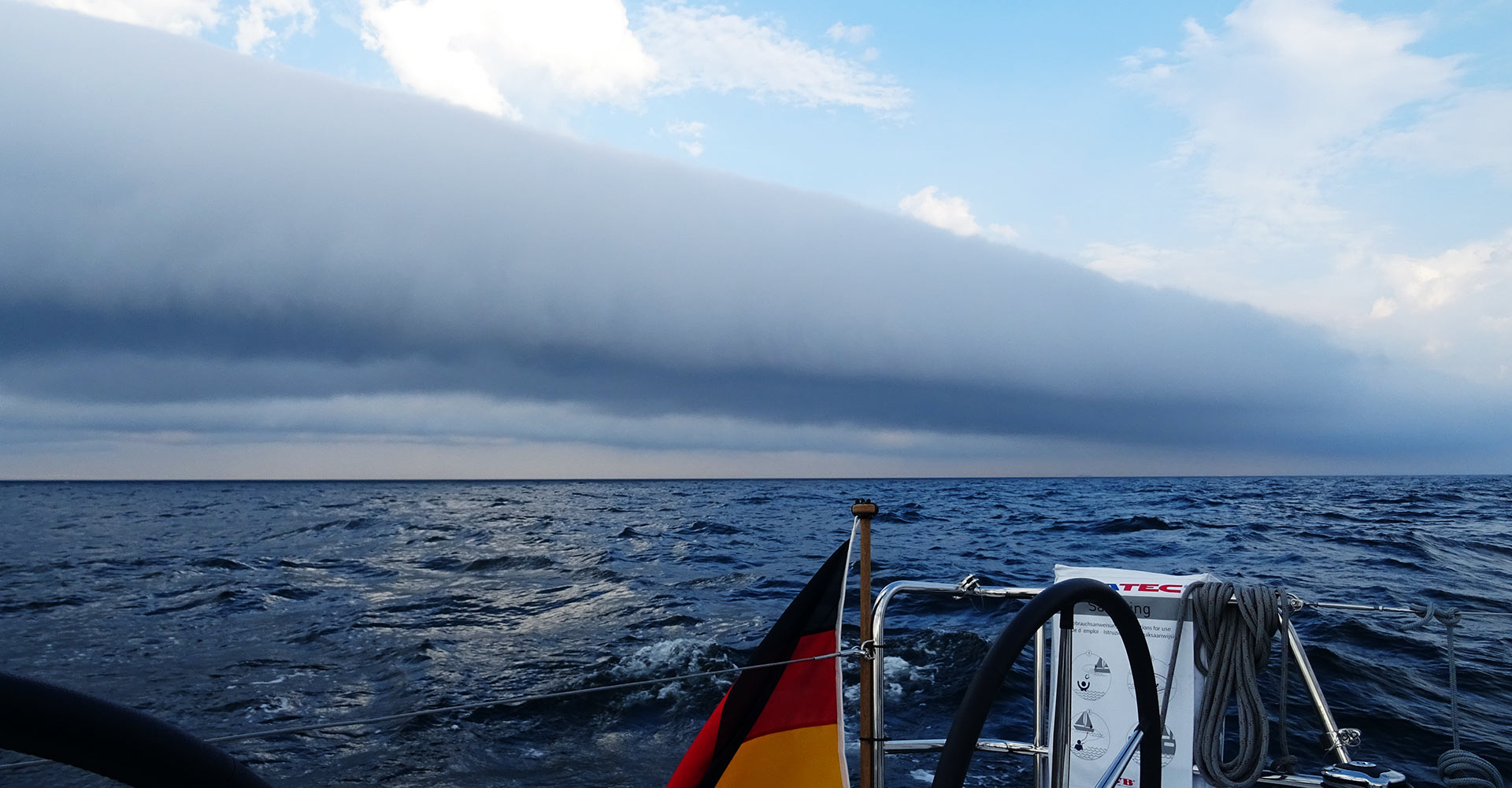 We could! When the sun came up next morning the last of the four thunderstorm cells had passed us to stern side and it seemed that the front was over. We were so exhausted! The waves still were chaotic and sailing wasn´t an option, when from abaft a rolling cloud was approaching. I had never seen such a phenomenon in my whole life before so I had Martin come up to watch it: It was a huge sausage of thick, white and wet cloud. I began over the Island of Gotland to our starboard side and went all across the horizon. As it approached – faster than 20 knots for sure! – it was rolling and furiously spinning.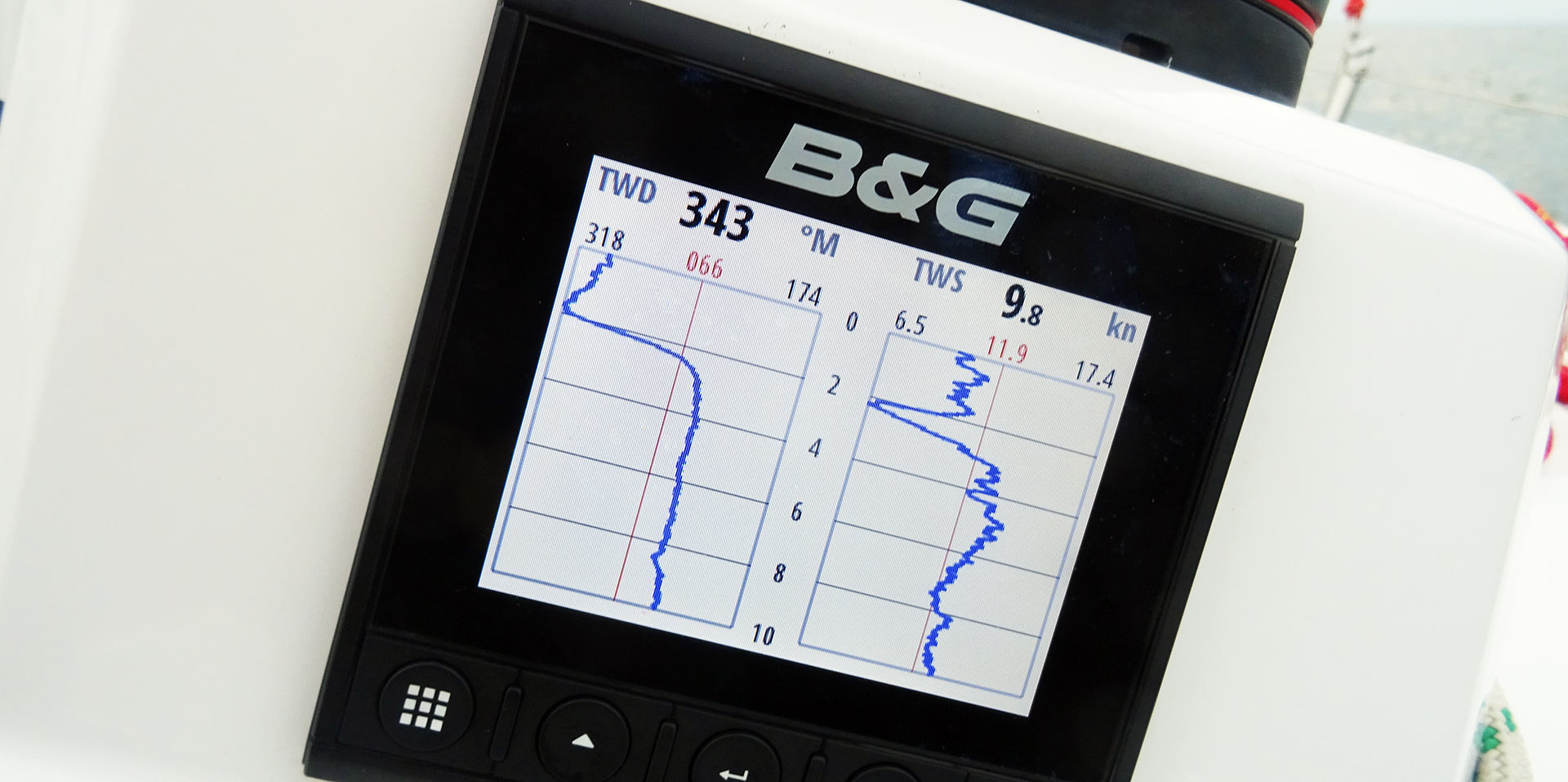 Wind patterns changed dramatically as it passed over the boat. Wind went down to almost zero, then came back full force. Ahead of the cloud the air was freezing cold (maybe falling down from it?) and as the cloud went by, we could feel a heat intensifying so strong that I had to open the jacket for not sweating too much.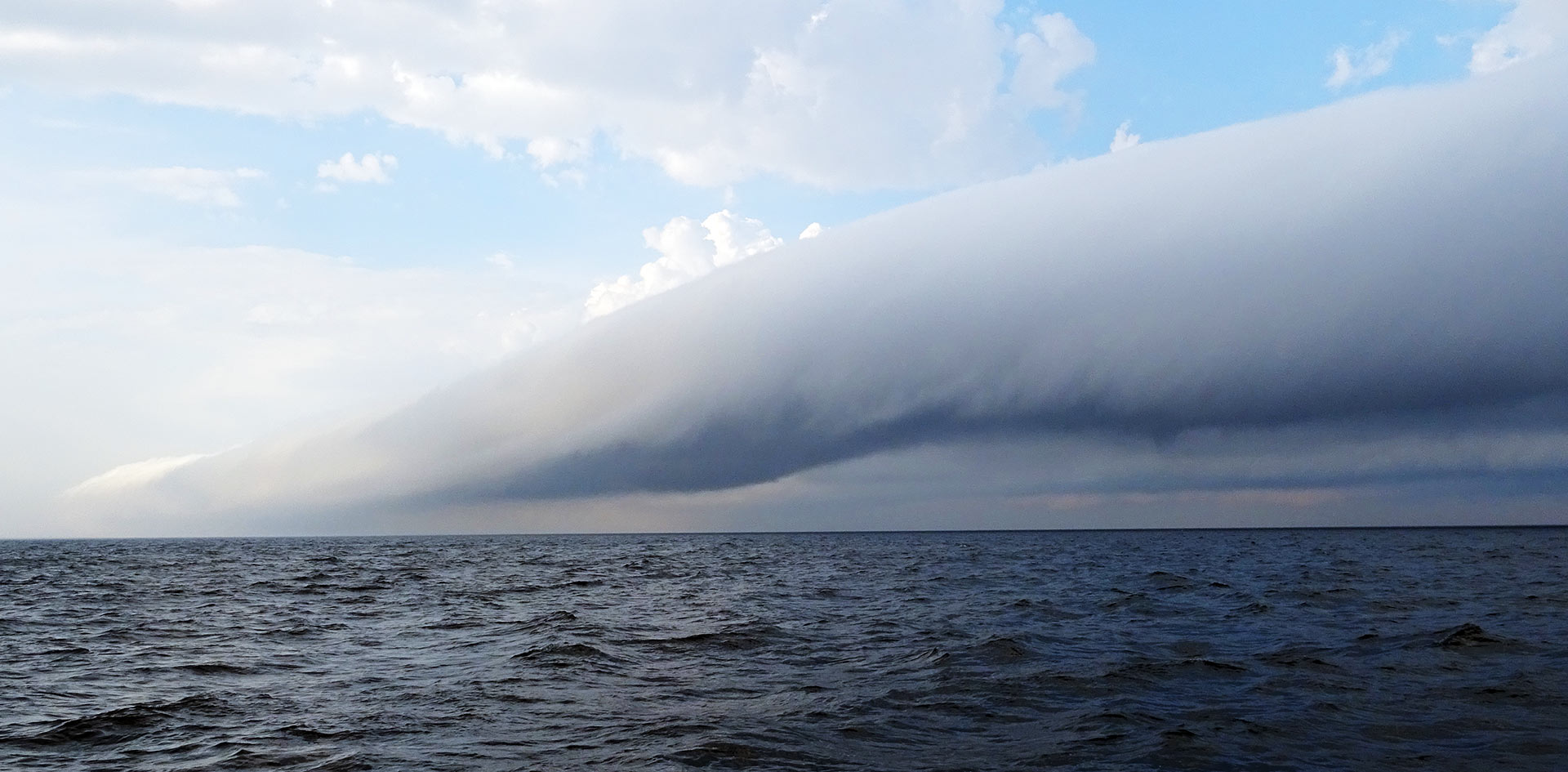 Sailing in these conditions was impossible, more so because Martin fell asleep soon and I was alone again. Due to the ever changing wind patterns of the passing rolling clouds (all in all it have been four of these things passing us) trimming of the sails and reefing in and our would have been a nightmare. I do not regret having steamed along in the thunderstorms although sailing had been possible, but as this was the first time of my life in the middle of a thunderstorm at sea I really didn´t knew what to expect. Could have been worse, I know, but I like playing it safe.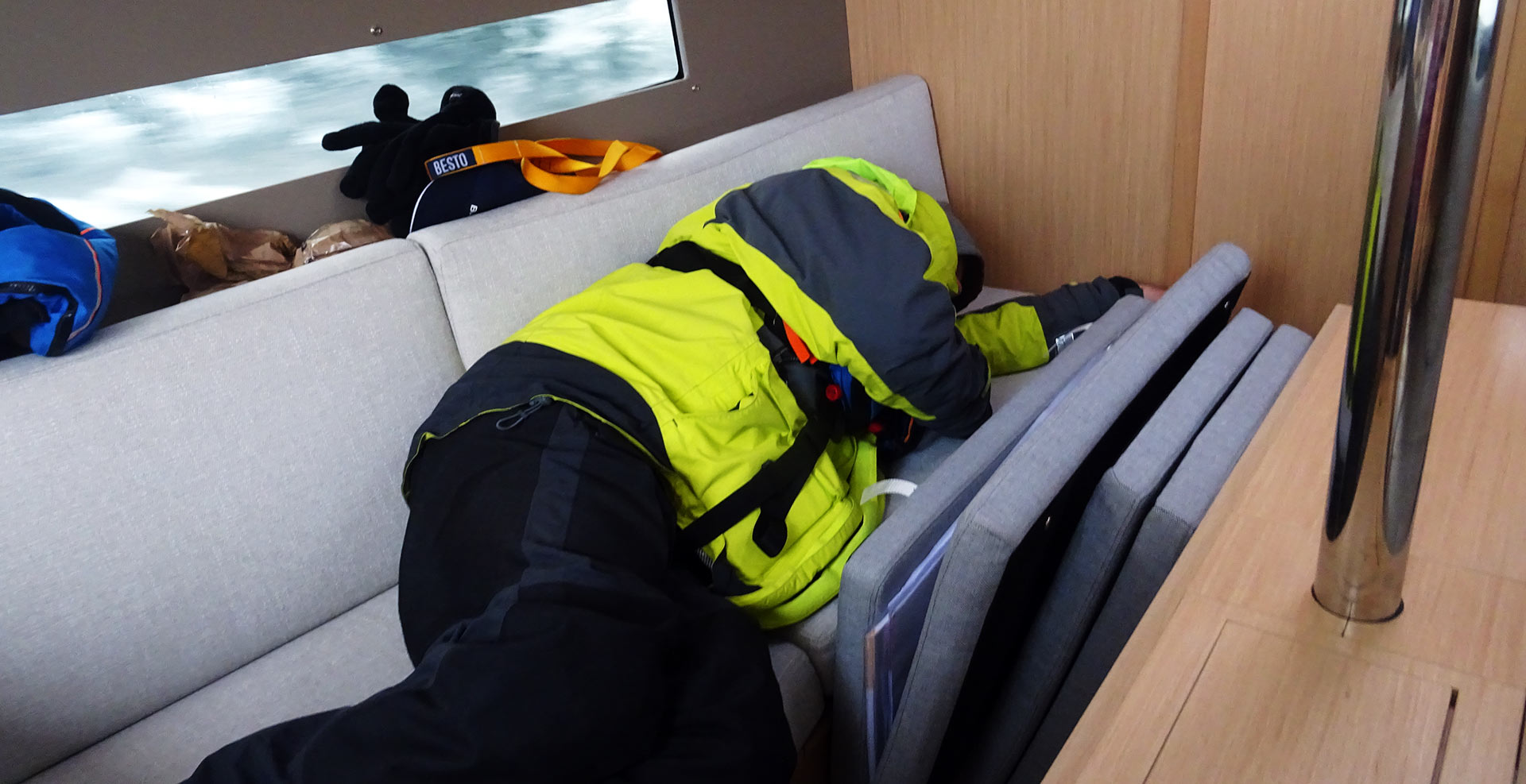 As the sun was up in full force and Martin relieved, I went down to write the things we experienced the last night to the logbook. At home, I knew, was a still unread book, called "Weather at Sea". This, I promised to myself, would be the first book to read upon returning. This thunderstorm-night wasn´t the first weather experience that had shown me my inability as a skipper to know what is coming up. I was still too inexperienced and still had too little knowledge of how a thunderstorm really works and which implications this weather has for sailing.
Reaching Visby on Gotland
It all was forgotten quickly as a last rain shower was wetting everything and everybody again (and thus returning the cold temperatures). Sun was up and to my starboard side the patterns of Gotland became more and more distinguishable. Since I sail, since I can read, since my first books about the German Hanse I wanted to come here. Gotland – a name like a riddle, like a fascinating story from the past. I once read that nowhere else on Earth scientists have found more valuables than here.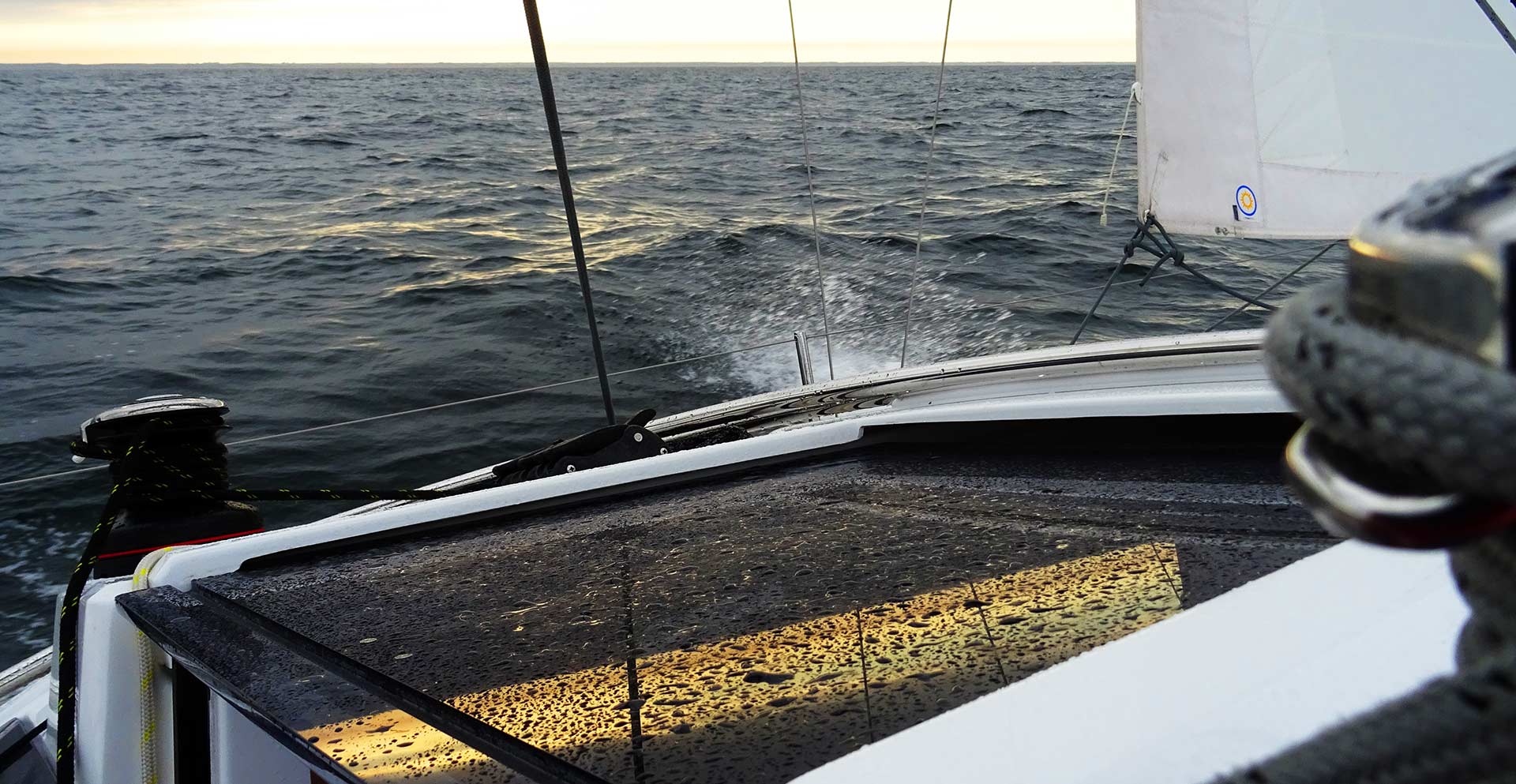 Gotland was the central hub of all seaborne merchant traffic of the Baltics for more than 500 years. The main capitol of this island, Visby, is a well renown name worldwide. Every piece of trade goods shipped over the Baltic Sea went by this Island – and as such, Gotland and Visby especially became very powerful, very rich and – of course – became victim of many conquerors. My home town of Luebeck, former main city of the German Hanse, played a major role here as well: Gotland was directly liable for taxation to Luebeck. As we came here sailing from the Luebeck Bay 6 days ago, I could imagine the power of Luebeck that time: Being so far away!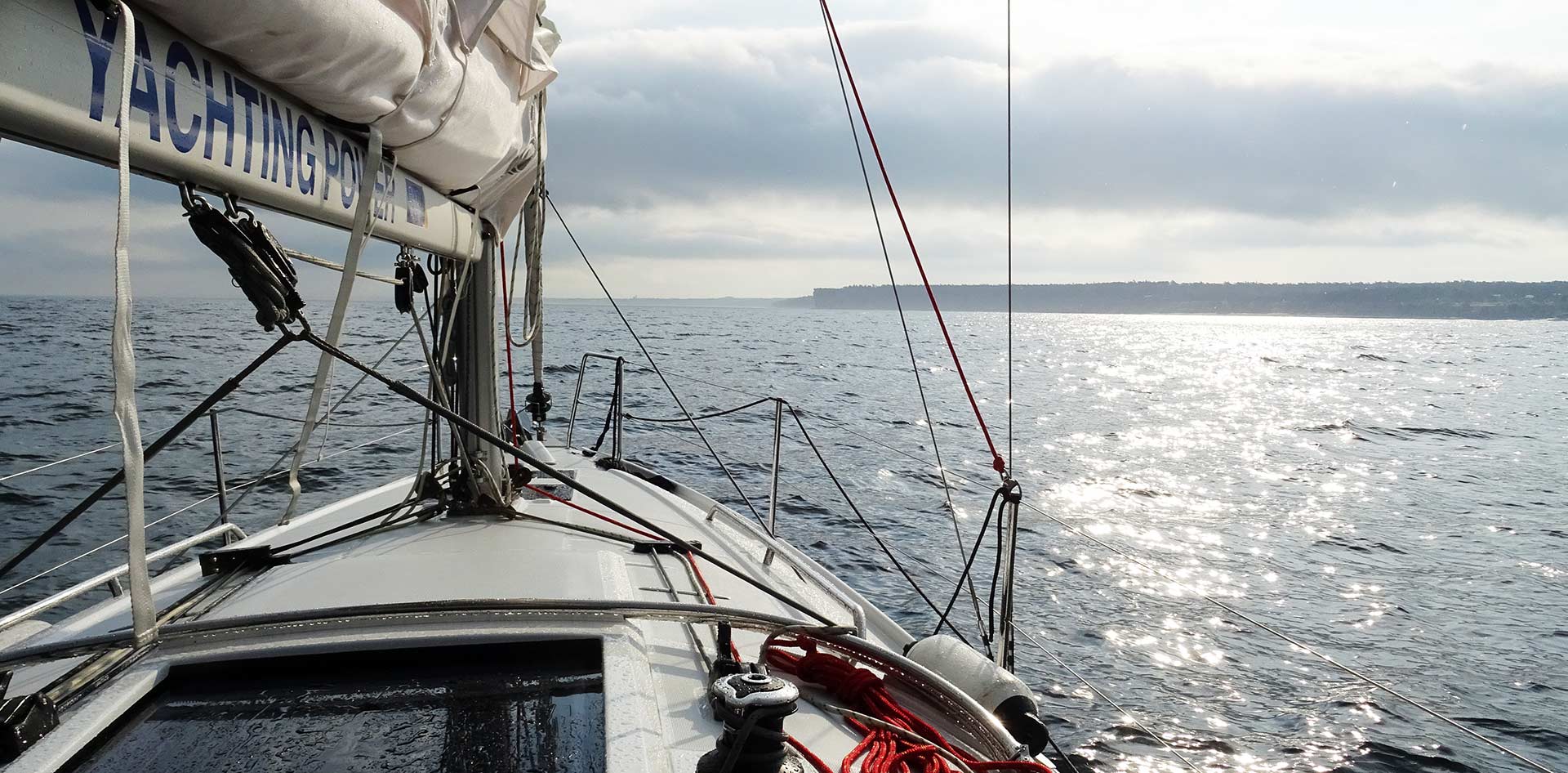 We steamed North as the sea began to calm down. The coats line is far more interesting compared to Oeland and soon I was able to see the white cliffs with lush green forests on top. A power boat was suddenly dashing towards us with full speed and judging from my small binoculars I could determine a carrier plate with Radar and blue flashing lights: No doubt, that´s the Swedish Coast Guard. I stood firmly at the helm when they slowed down and passed the boat in minimal distance. I greeted – they greeted and with full power dashed away again.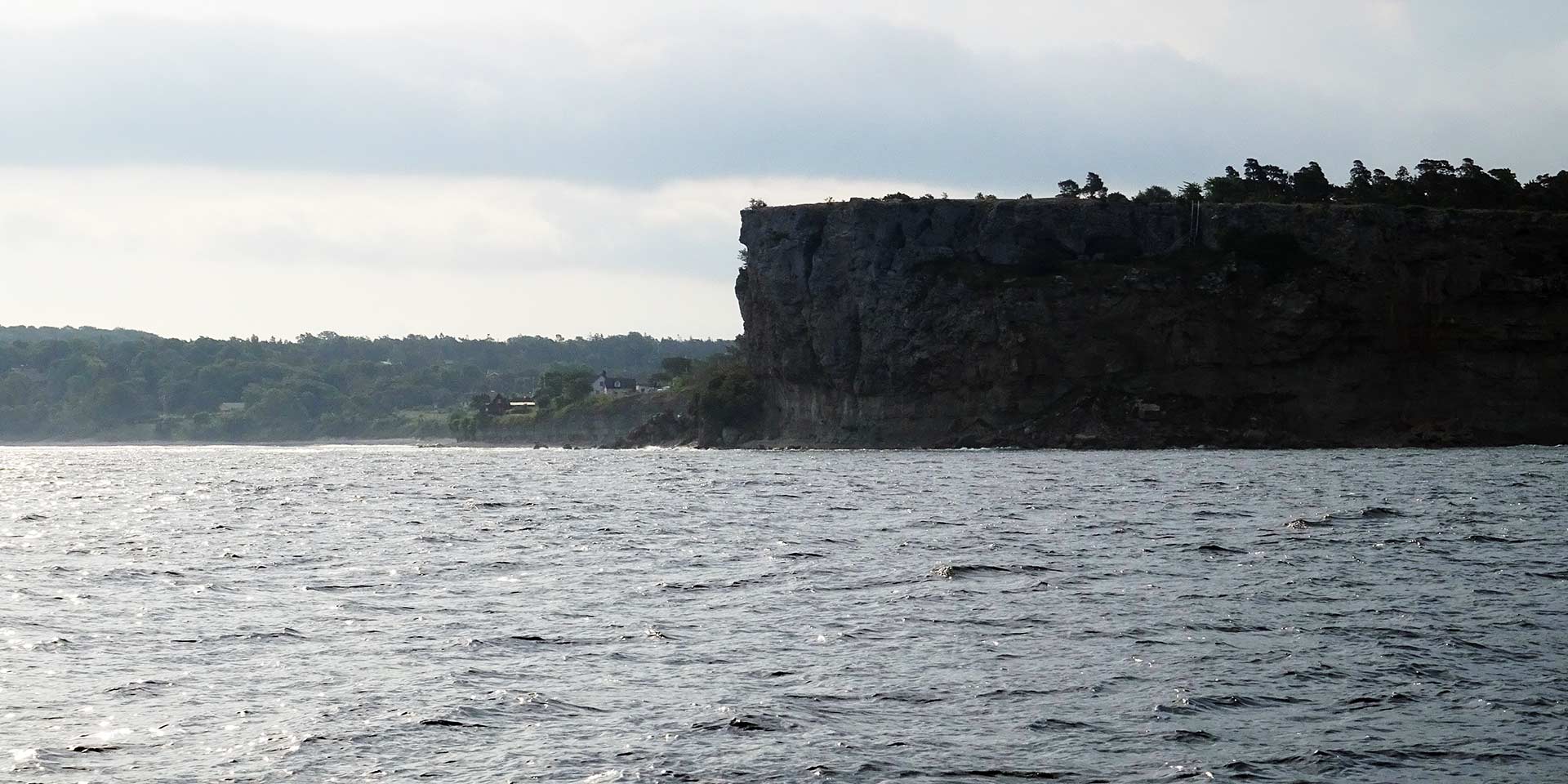 A last cliff to negotiate and there it was: The harbor of Visby! Finally. Martin came on deck. He was looking awful. That last night was a bit of too much for him apparently and when I advised him to rigg the boat for landing, his motions were very slow. "You see, Martin, that´s nonstop sailing", I told him, referring to our initial plan to be sailing night and day: "It is really hard for the body to get accustomed to shifts of watches. It usually takes two days to cope with it." He was just mumbling something of a shower and a bed. I felt perfectly with him: All I was longing for now was a shower as well. But then, excitement was putting a grip on us.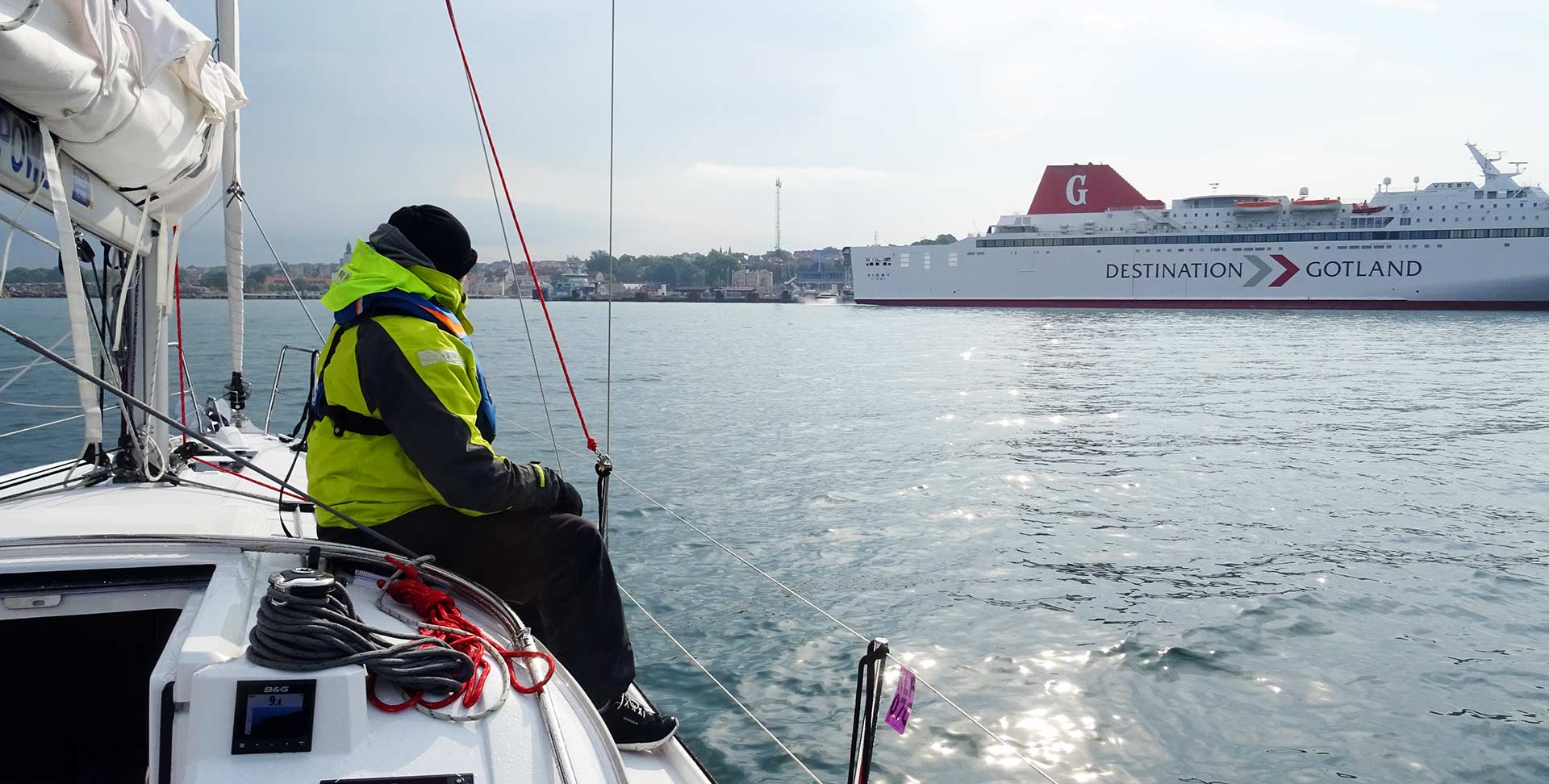 As I slowly steamed into Visby harbor the tiredness was suddenly gone and we got excited. Gotland was new territory and we felt like really having accomplished something. We passed the big Gotland-ferries ready to go and greeted some sailing yachts with their crews which left harbor early. Certainly, we were the first boat of that day to arrive! I steamed all along the harbor right into Visby marina and went alongside the main quay. What a bliss to switching off the engine!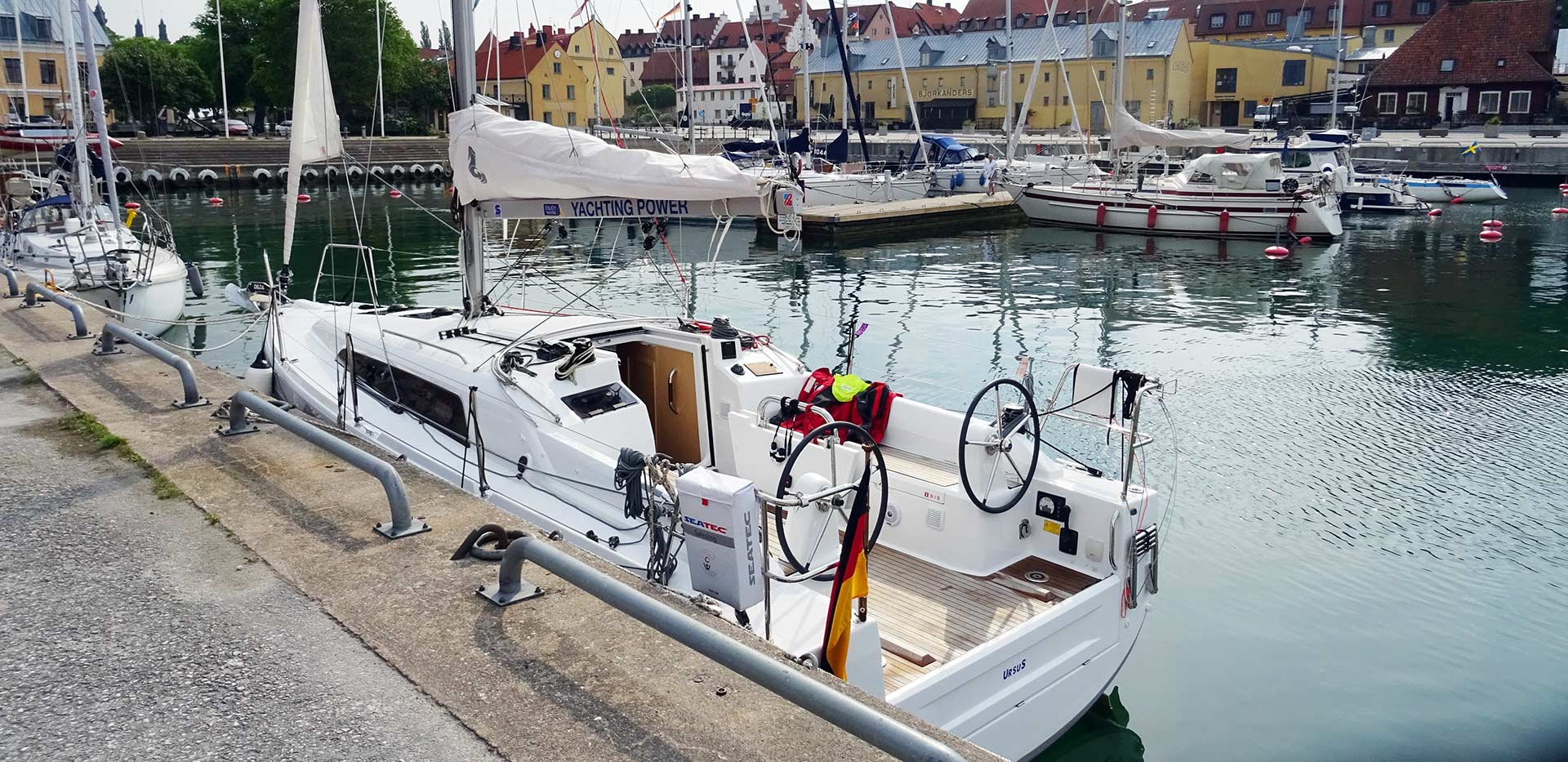 Now, here we were: After 11 hours of trying to circumvent thunderstorm cells, after a roller coaster ride in violent seas, after watching a fascinating wind ballet the Oceanis was safely tied up again and connected to shore power. We paid the harbor fees, received our bathroom codes and the first thing we did was to storm the showers and get rid of the dirt of the past two days. Then we fell asleep for three or so hours, not longer because steaming hot hunger made us get up and conquering the city of Visby.
Sailor´s relief: Hot shower, long sleep
I do not want to talk too long about Visby, but I can guarantee you that this spot is worth a visit! It is one of the few places where you can actually see a whole medieval town in it´s original state. The long impressive city wall with countless defence towers and ruins is a must-see. Hundreds of years of European politics and powerplay of countries have left their impressive marks on this city. We were strolling around, enjoying excellent food and of course some liters of beer. It gradually grew warmer and this added to us feeling blessed.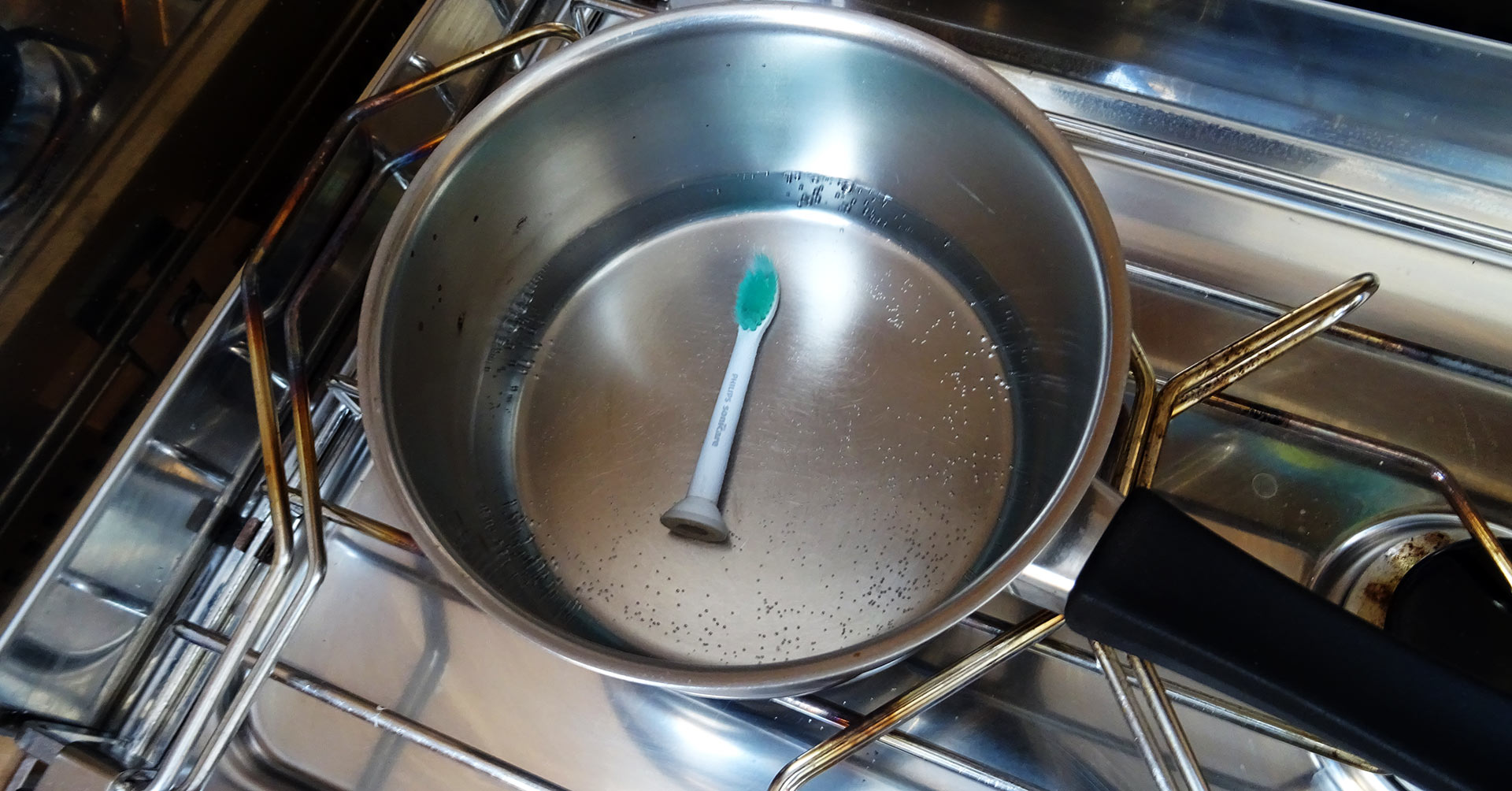 Well, back on board Martin had a not-so nice job to do: "Rigg ship for sailing" means to have everything stowed away and rigged even for heavy seas. He seemed to have forgotten to pack away his toothbrush. I found the poor instrument laying in a puddle of salty water that had a bad smell in our head – due to the stormy seas apparently the toilet had leaked and as I was giving the boat´s head a decent wash Martin was cooking his toothbrush to clean it.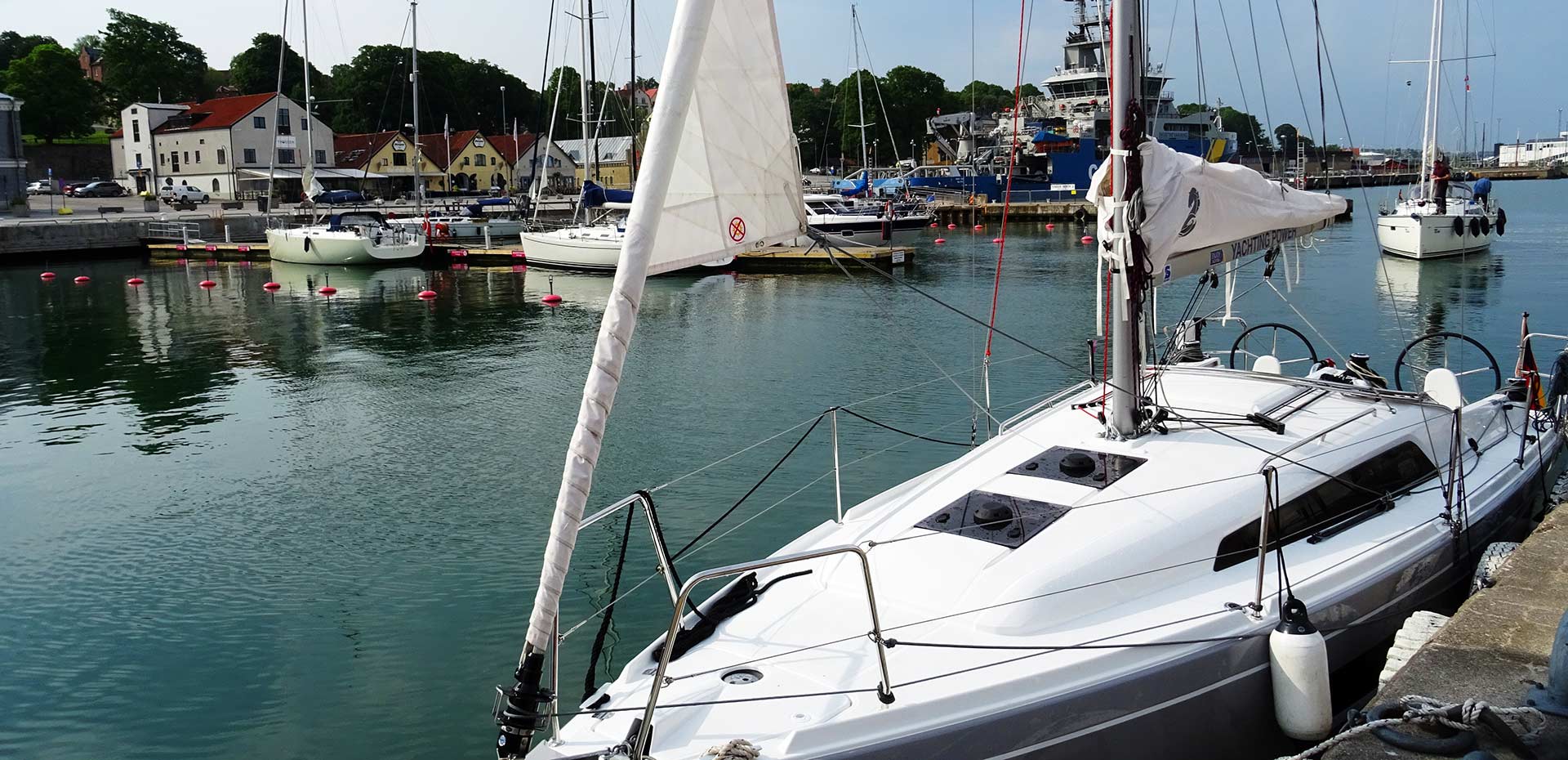 We spent the whole following day in Visby. The clouds on that day disappeared completely and now, on the eighth day into the trip we finally got our summer weather feeling. I used the time to study the intricacies of sailing the archipelago and learned, that we would need special anchoring utensils to be able to have the boat tied to a small rocky island of which there are tens of thousands. So we drove to a nearby shopping mall where we got a set. Everything was up and ready for the last 80 miles to Stockholm where we finally would arrive to our destination: The garden of small islands. A garden which many sailors confirmed, was to be the most beautiful sailing area in the world.
Course 000 – Up North into the Swedish Archipelago!
In some ways I felt like our adventure was just about to begin, which was an odd feeling given the fact that we were on our 11th day in the trip when we finally casted off from Gotland in the early hours of the morning. The sea – again – was very calm and although I did had the Gennaker up for some 15 minutes all my baiting the wind was useless: We had to use the engine.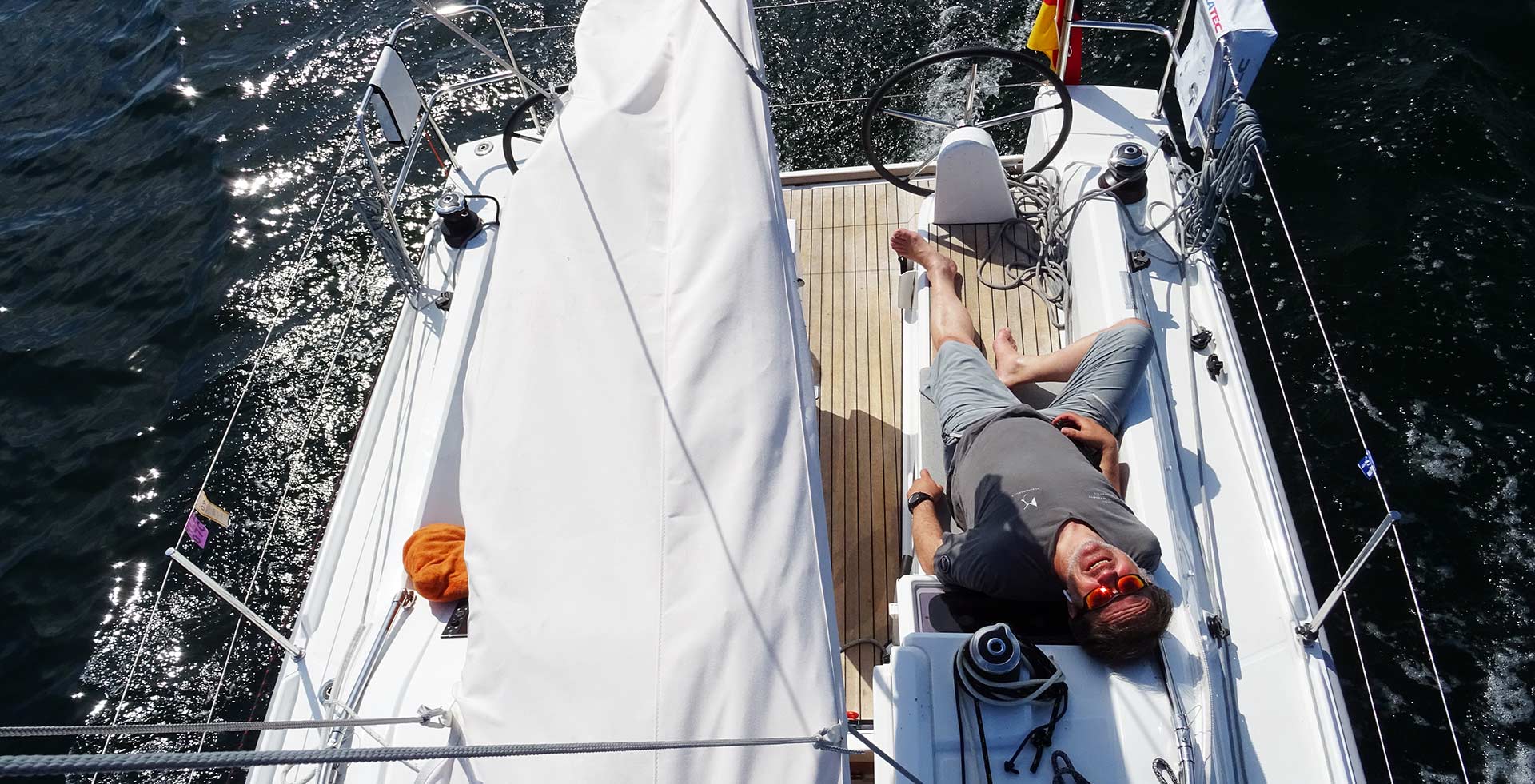 There was no wind at all, not even 3 knots or so. The water was behaving like goo and at 10 o´clock in the morning it was so hot that we began longing for a bimini on our little Oceanis. Steadily we steamed along with 5.5 knots right on the track of the Gotland ferry, which then overtook us after 3 hours and quickly disappeared over the horizon. There wasn´t much to do: Sleeping in the sun, putting on another layer of sunscreen, preparing a snack. Nothing to do though, not much, when you head North on a 000 degrees course.
Well, at least I had my fun with the seemingly impossible task of getting our boat fly-free. As I had experienced in sailing trips before, somehow like out of nowhere thousands of thousands of small flies overrun our boat. There were everywhere. Small annoying insects that did nothing else than just sitting around in the sun. They didn´t sting, they didn´t crawl. But they began to cover every surface of the boat – including the crew. Martin gave up soon and tried to hide away in the darkness of his cabin, but returned for fresh air. I grabbed my flip-flop shoes and hit them wherever I could, starting at the bow and ending at the stern. This cost me some time and at least I had the feeling of doing something good.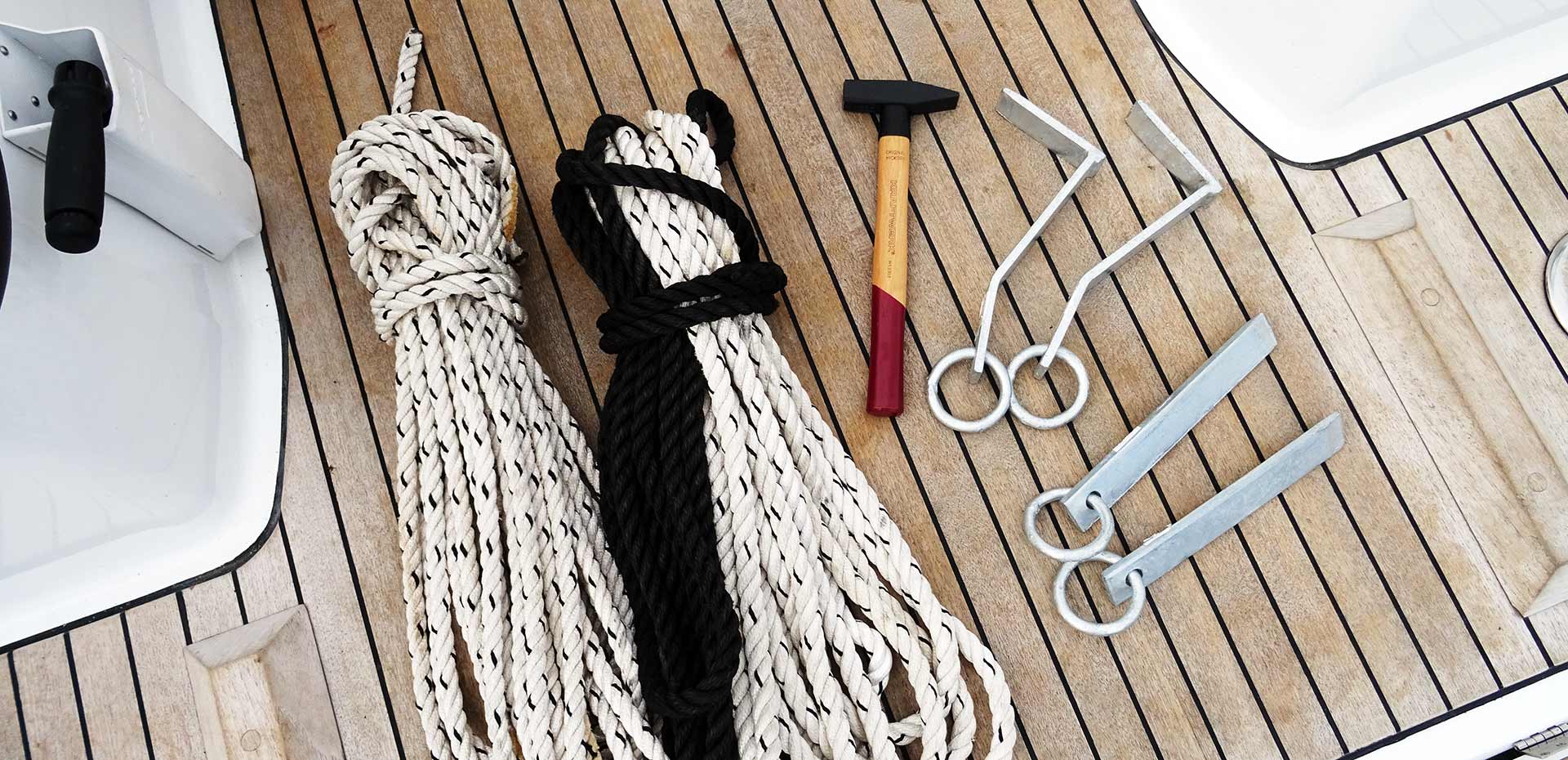 When I lost enthusiasm in fly-killing, I tried to read more into this special technique of putting anchoring-irons to crevices of the rocks to tie up the boat to. In the archipelago that´s the common way of landing a boat: Bow first to the rocks, a mate will jump to the rock with a hammer, the irons and the lines and puts the irons to the crack in the stone. Then the lines will be put through and secured aboard. But I saw a problem coming up: In order to be able to do in this way, you need a stern-fitted anchor, mostly on a rope with just a very short chain. Nothing we had aboard. I thought long time about it, but decided to just let it come and give it a try.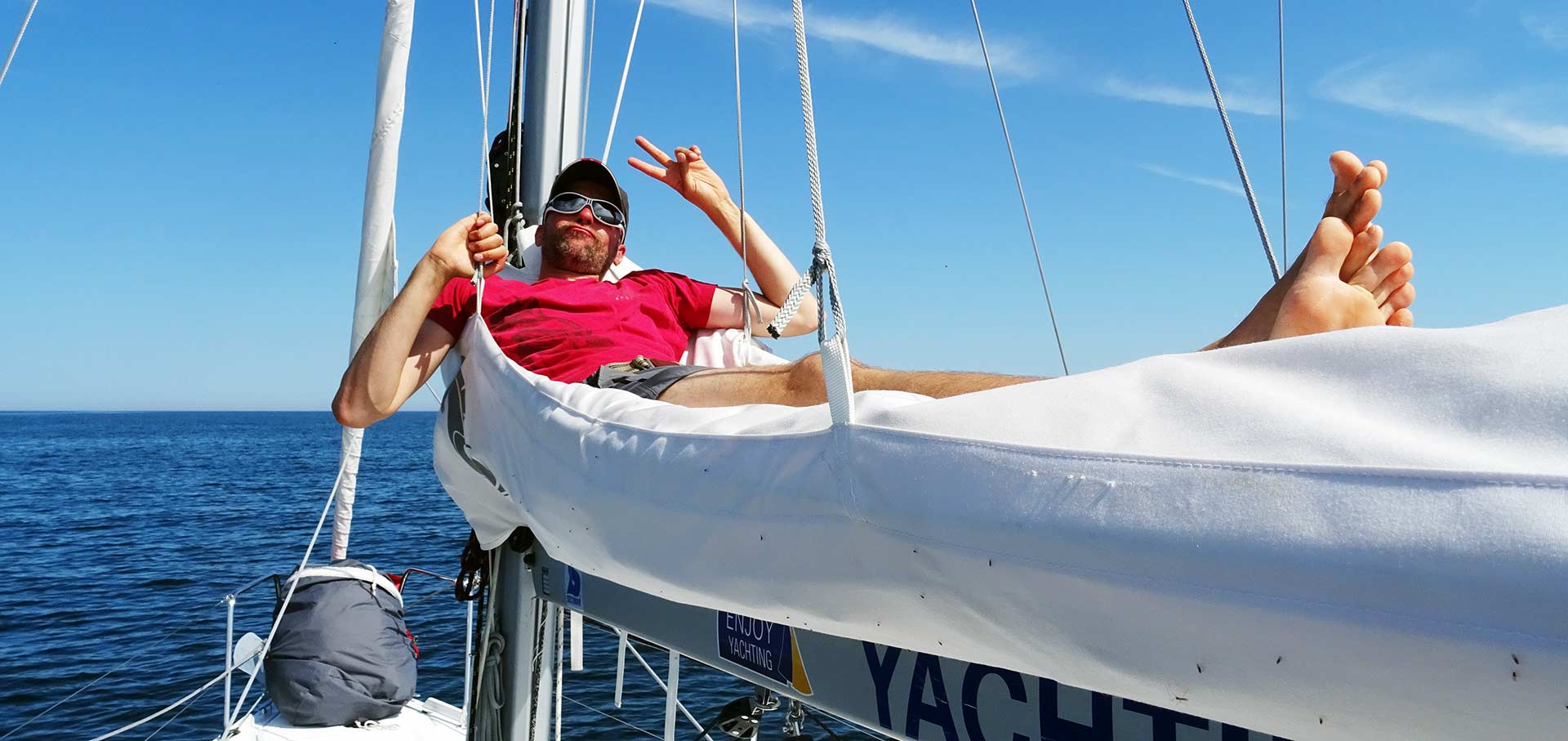 When it became too hot I retired to the lazy bag on the mainsail boom which was a real treat: Martin was down in the cockpit where he could act fast just in case and I could have myself planted just in the coziest manner up there, closing my eyes and enjoying the sun. There was even a small breeze of fresh air up here, though not really refreshing.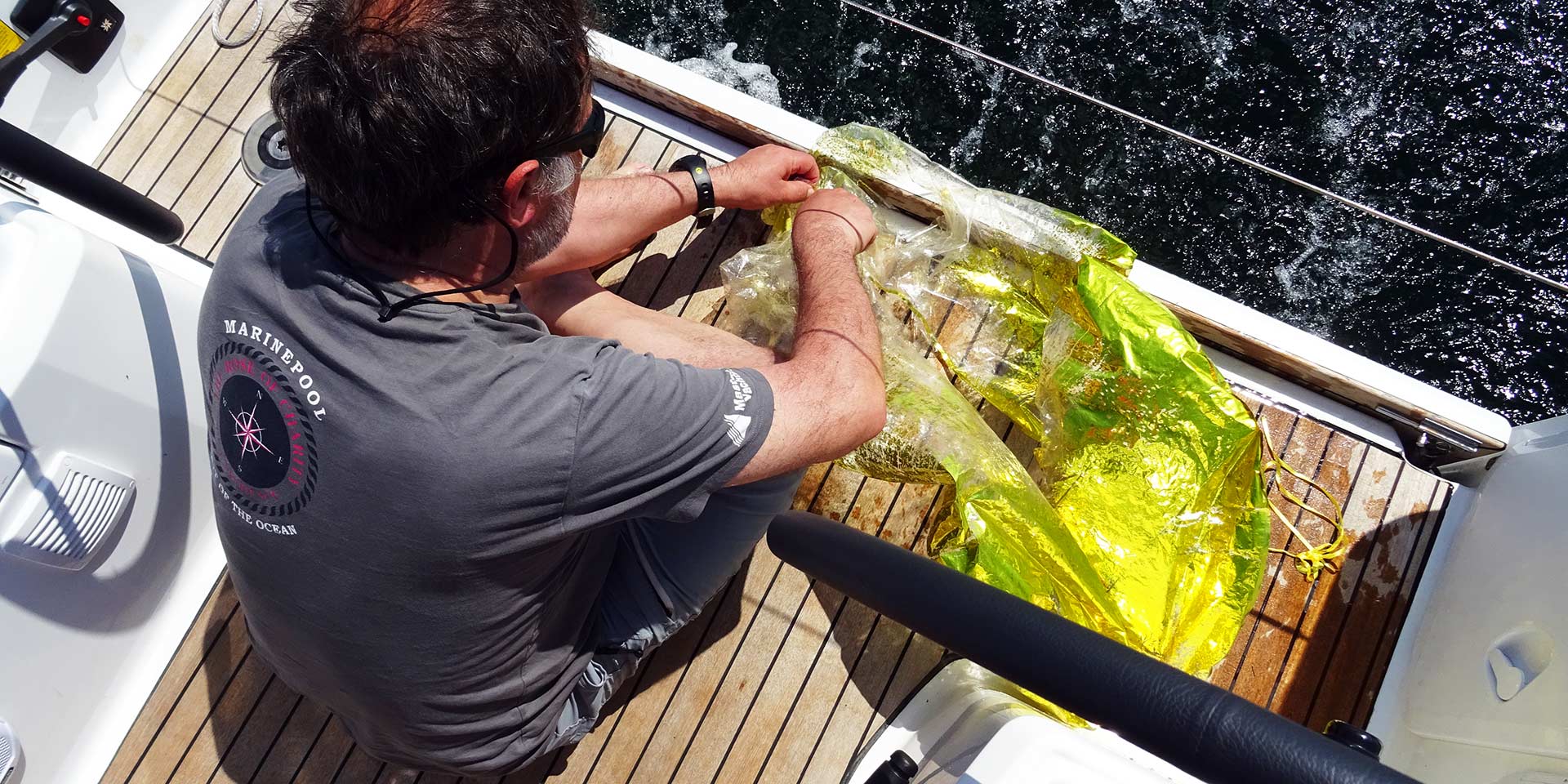 The only exciting thing that happened that day was the sighting of a neon-yellow thing in the water. As it could have been that this was a man in the water I quickly released auto pilot and steered to the object. Luckily it turned out that this was just a balloon, possibly fallen off of a cruise ship or the ferry. We took it aboard, cut it open and deflated it. Another good piece of junk out of the ocean. For 11 hours it went that way, course 000 with steady 5.5 knots. Nothing happened. But then, just when another ferry was going to overtake us, I could see them: The first real rocks of the much longed for Stockholm archipelago!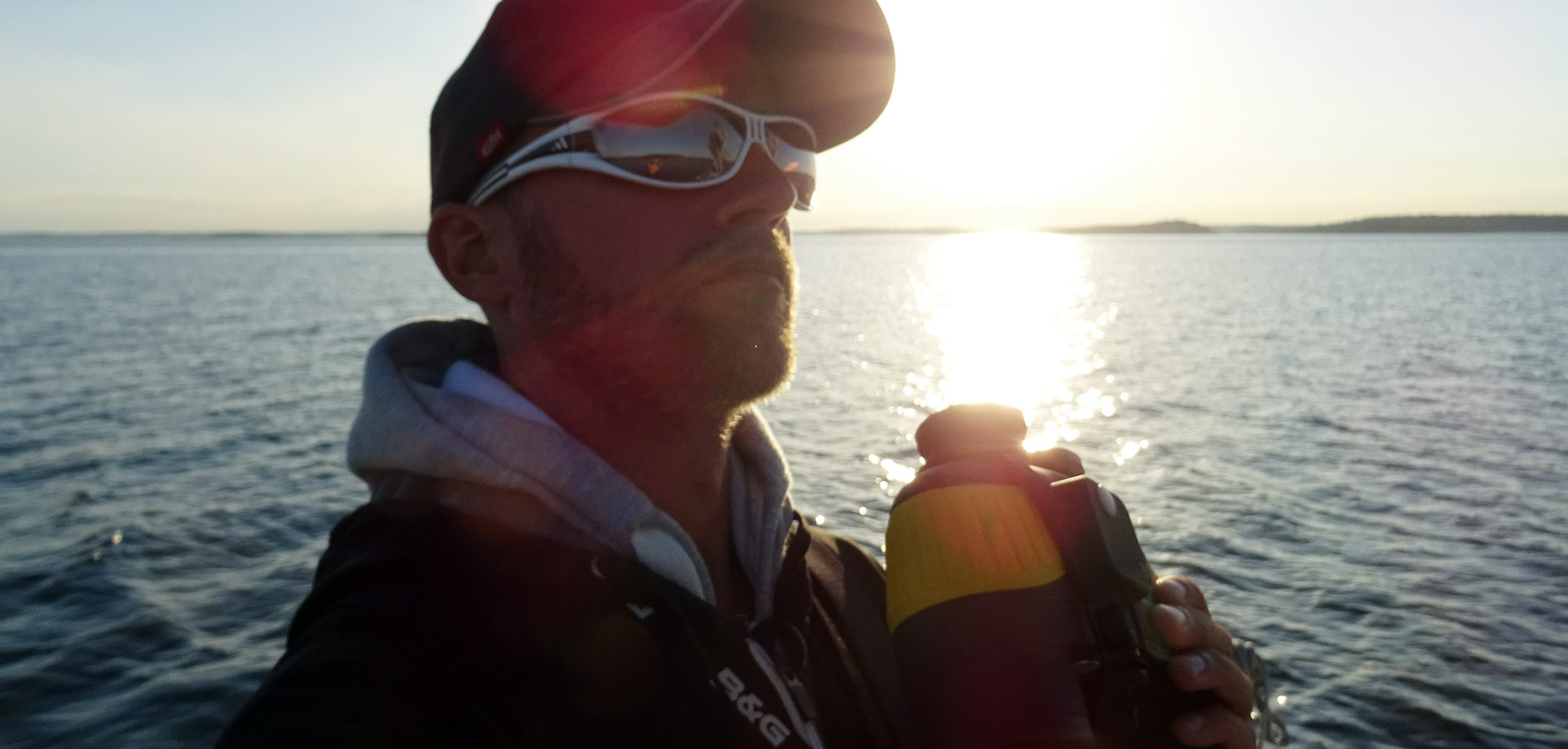 I was eagerly holding to my new binoculars (I bought bigger ones in the outdoor shopping mall on Gotland to replace my very small binoculars) and was fascinated by watching the coast line come up over the horizon. I did have a distinct plan how to sail the Stockholm archipelago. A plan that I had developed on Gotland. But first we´d had to land our boat safely for the night, take a good portion of sleep and then head into the adventure of these thousand-islands-area.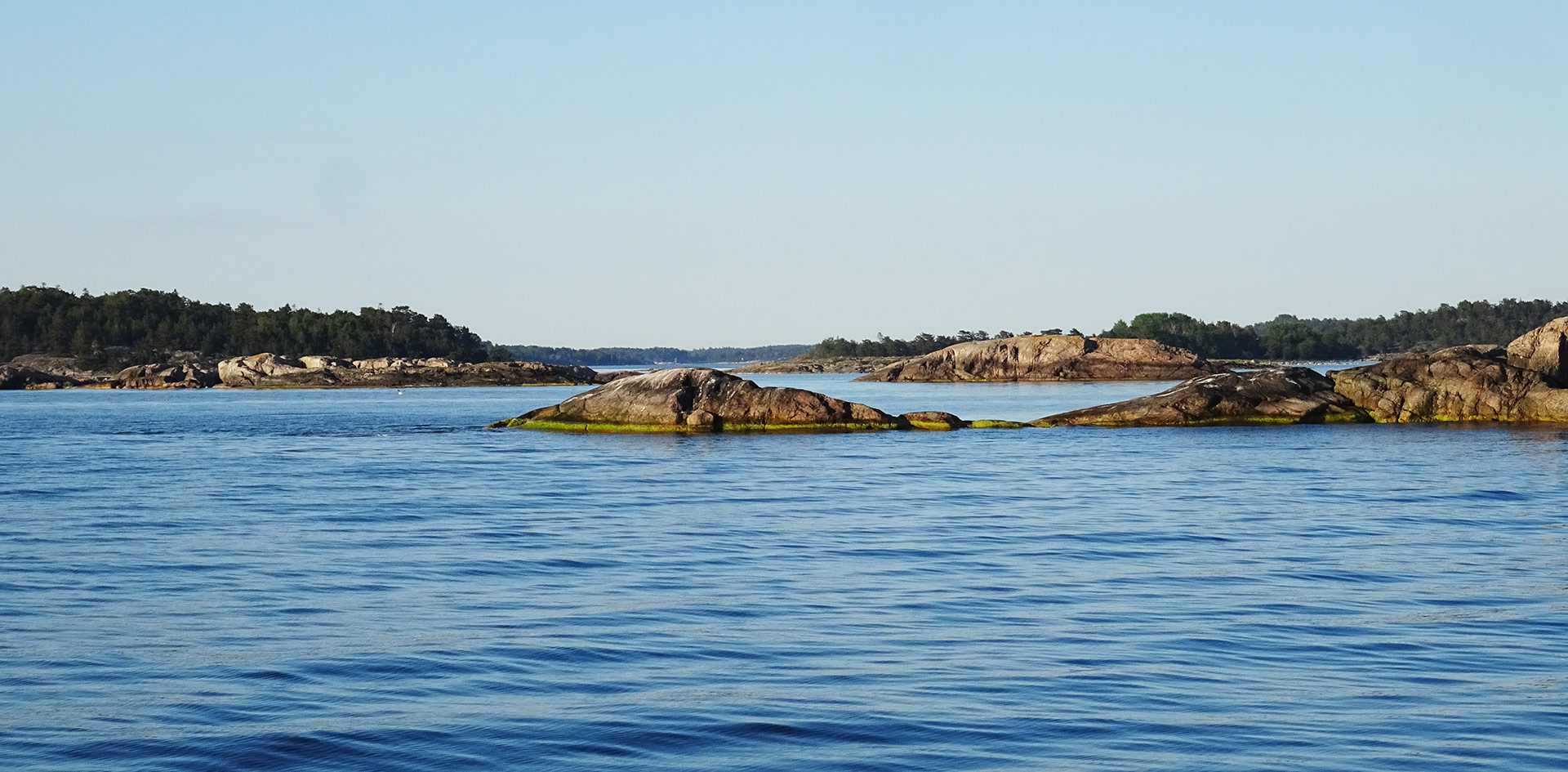 We got nearer and nearer and suddenly the boredom was washed away – this is it! We are here, I congratulated Martin, myself and our brave little boat to this accomplishment. After sailed for 11 days now since we started in Germany for 460 nautical miles, there she was: Ranö. The name of our first island of the archipelago to drop our anchor. As our boat slipped into this whole new world of rocks and trees I knew that something great was about to happen. What a great place on Earth this was!
You might read all Sweden Sailing-articles by clicking on the hashtag #swedensailing