The nicest time of the year is nearing: Sailing in summer! I bet most certainly a great number of you, dear readers, are in some way or the other getting ready for the "big trip" of the season, be it on a charter yacht or on your own boat, be it as Captain or as member of a crew. It´s most exciting, I think, and it get even more exciting when the trip ahead is promising something new, something different. Same with me: As my very special summer sailing trip of last year (read it here) is still providing for great memories, this year will be even better. I am sailing a prototype!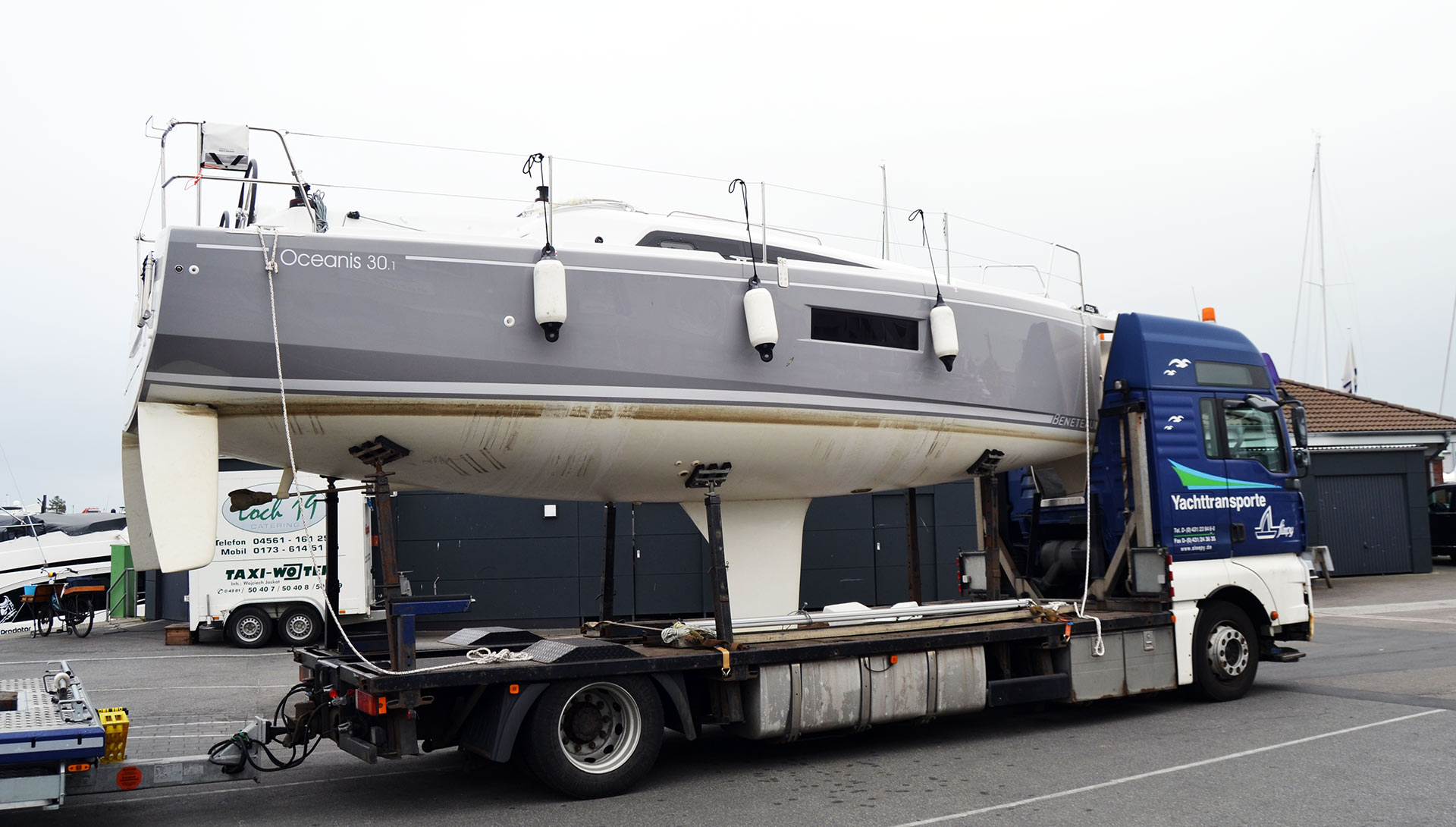 Best about my job working for the German dealer for Beneteau yachts is that I frequently get to sail on these boats, be it transfers for owners or my company or with clients. This time a 16-day trip of a special kind is ahead of me. I am responsible to sailing the prototype of the all new Oceanis 30.1 from our German boat show near Luebeck over to the Swedish dealer in Stockholm where he takes over the boat for his boat shows. So, here we go, summer sailing!
Planning the big trip: Who and when?
Originally I had planned to sail with two guys. Recently, one of the crew members had to decline the offer and slowly I get accustomed to the idea of sailing to Sweden with just one friend of mine: Martin May. I got to know the actor during our VIP-regatta in Croatia last year and we became friends in sailing. Martin was playing the "Lieutenant in love" in the famous German U-boat movie "Das Boot" on which I as well interviewed him (read it here). So, that´s a 2-person-crew.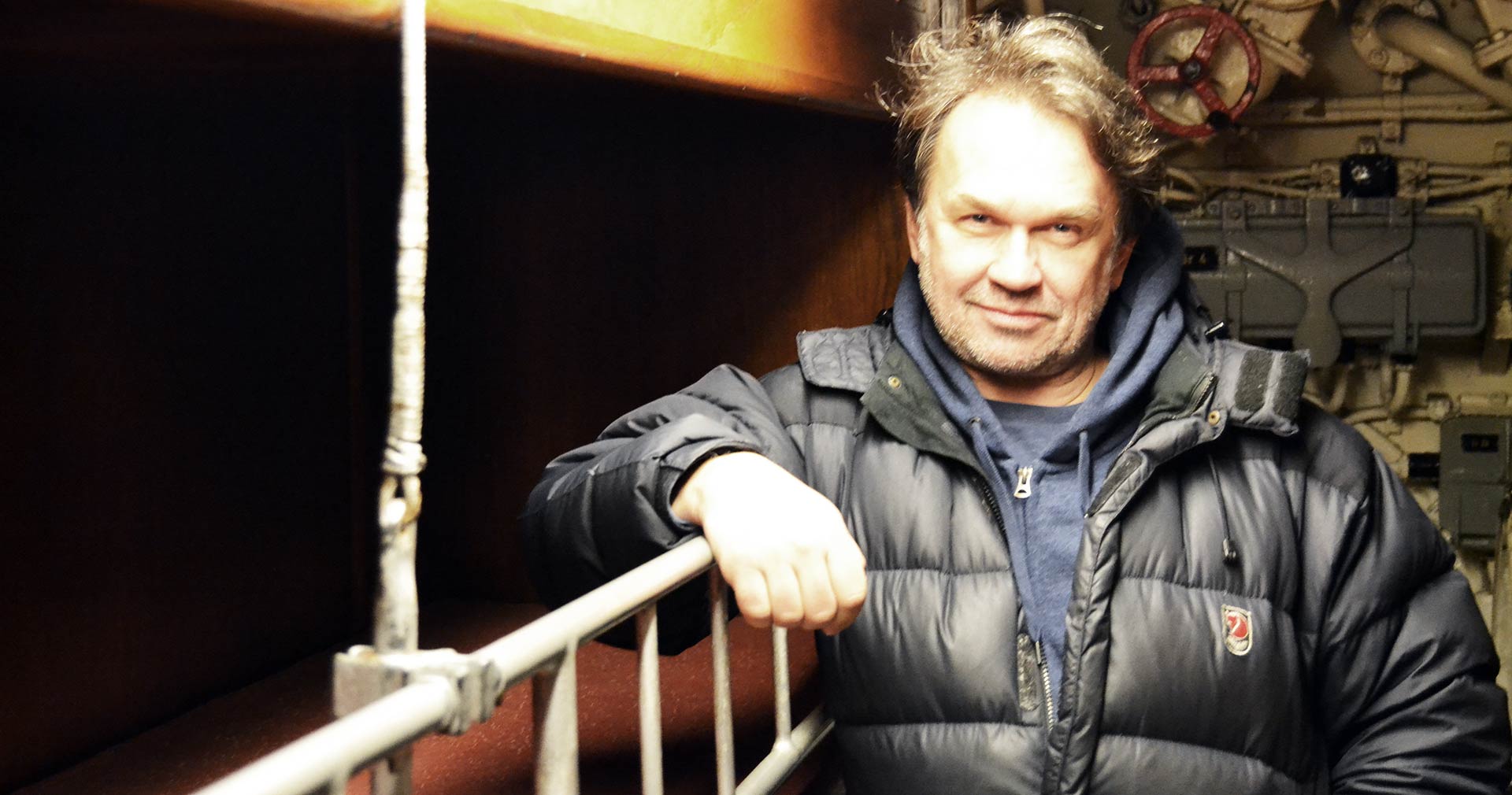 This decision comes with various implications. First of all, this is a private sailing trip and to some degree we all need legal certainty. I mean, who is responsible for what? Who is paying which amount? From past sailing trips I know that especially during longer sailing trips tension can arise and otherwise small chicken-feed can develop into a full-fledged mutiny. So, in advance, I do have a Crew Contract which is regulating the legal basis of the sailing trip.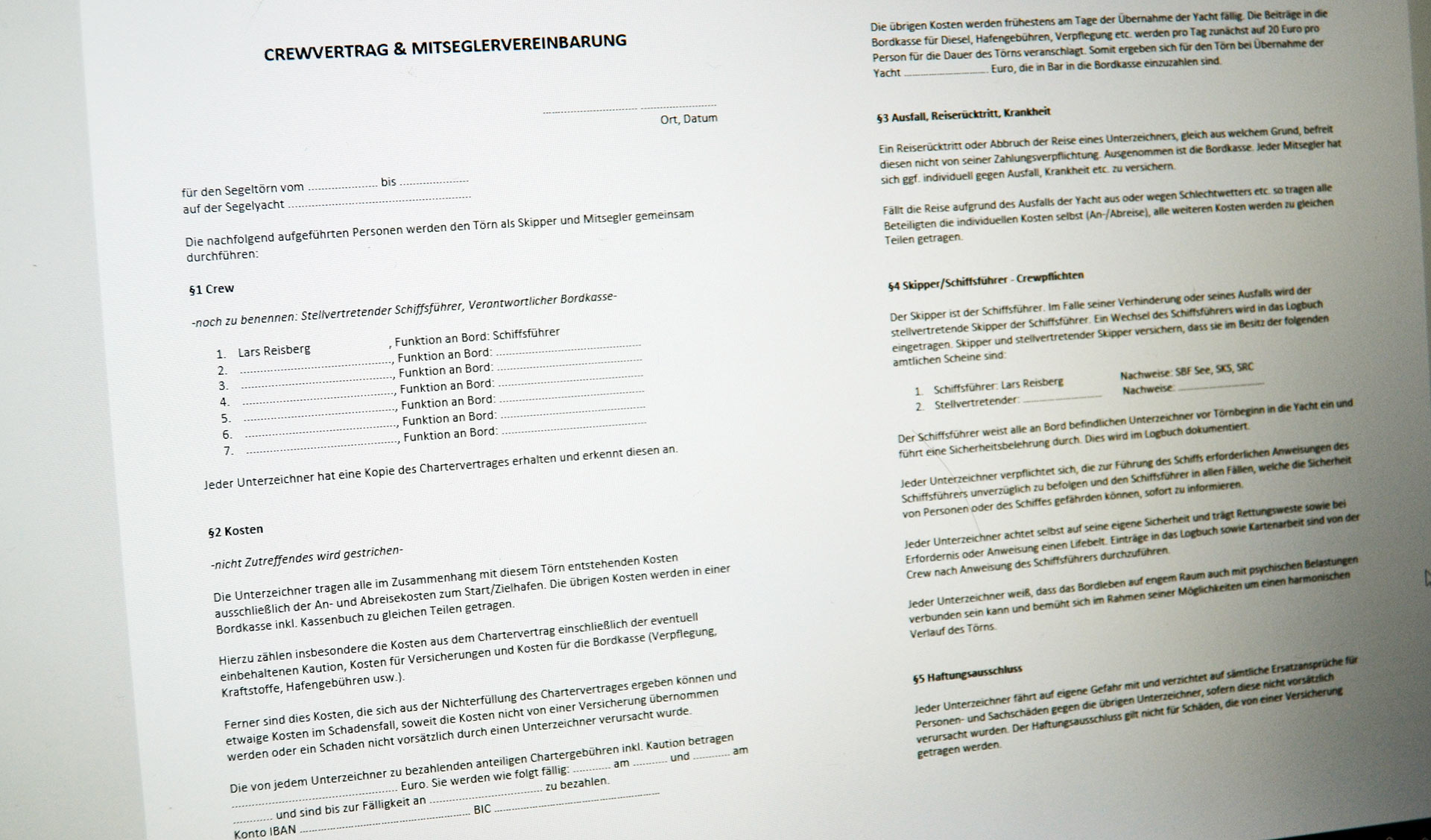 This contract is managing topics like: Who is the responsible skipper? Who is second in command? Payment policies (especially for charter crews!) who is paying what and when to whom? Crew-cash – which amount, payable when? In my case, that´s a 20 Euro flat per day, everything has to be paid in advance before the trip. The contract also contains some safety regulations which will be specified later. I can strongly recommend everybody to have some sort of crew contract ready because this can and will prevent misunderstandings well in advance.
With that topic settled – well ahead of the casting off-date – I can concentrate on planning the voyage. Which, for me, is a personal pleasure with many shades. I have made a similar article some time ago where I tried to show how I approach voyage planning in the first place – you may read it here. With my big Sweden Sailing-trip, that´s no different, except for one detail: This time I am sailing into unknown waters I´ve never visited before. And these waters are one of a kind: The Swedish Archipelago.
Sailing trip plan: Breaking down the voyage
But before going there we must cover a pretty long distance: I start voyage planning by firstly measuring the overall distance sailed. I use a Google Maps-based sailing distance calculator which is online here. A pretty intuitive and simple easy to use tool which gives a good first impression of the overall length of my sailing trip. For the Sweden Sailing-project this tool gives a 660 miles distance from Luebeck bay to the Island of Utö, the first rock I will be hitting (literally) entering the vast Archipelago of Stockholm.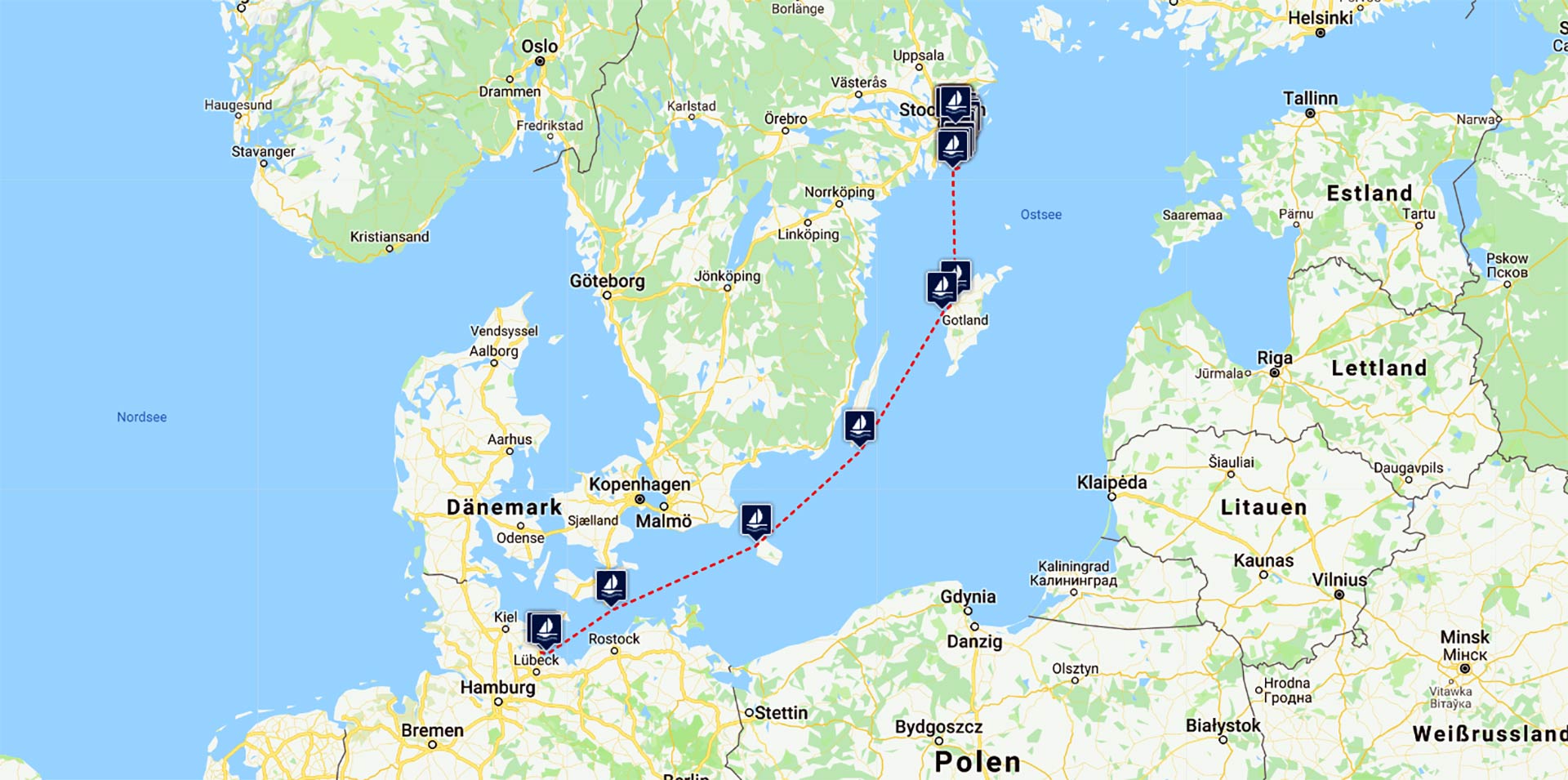 With the overall sailing distance set, I start to break down the trip into smaller chunks, which are the legs of the journey. My first idea, when we were still a party of three sailors, was that we try to sail up North as quickly as we can, skipping the already well-known waters of the Eastern Baltic Sea. That´s all the up to the Island of Bornholm which I have visited two times so far and all in between is a well-known and therefore rather boring area to sail within.
This breaking down into legs is done on paper charts which enables me to have exact distances measured with the compasses. Taking down written notes about each leg, looking for possible fall-back harbours and already checking for alternative sailing routes in terms of variable winds is best when looking at an actual paper chart. For me this also meant to investing in the latest chart set of the Swedish Archipelago, which is another 180 Euros spending. But, as we know, having good charts is a matter of course for a good skipper.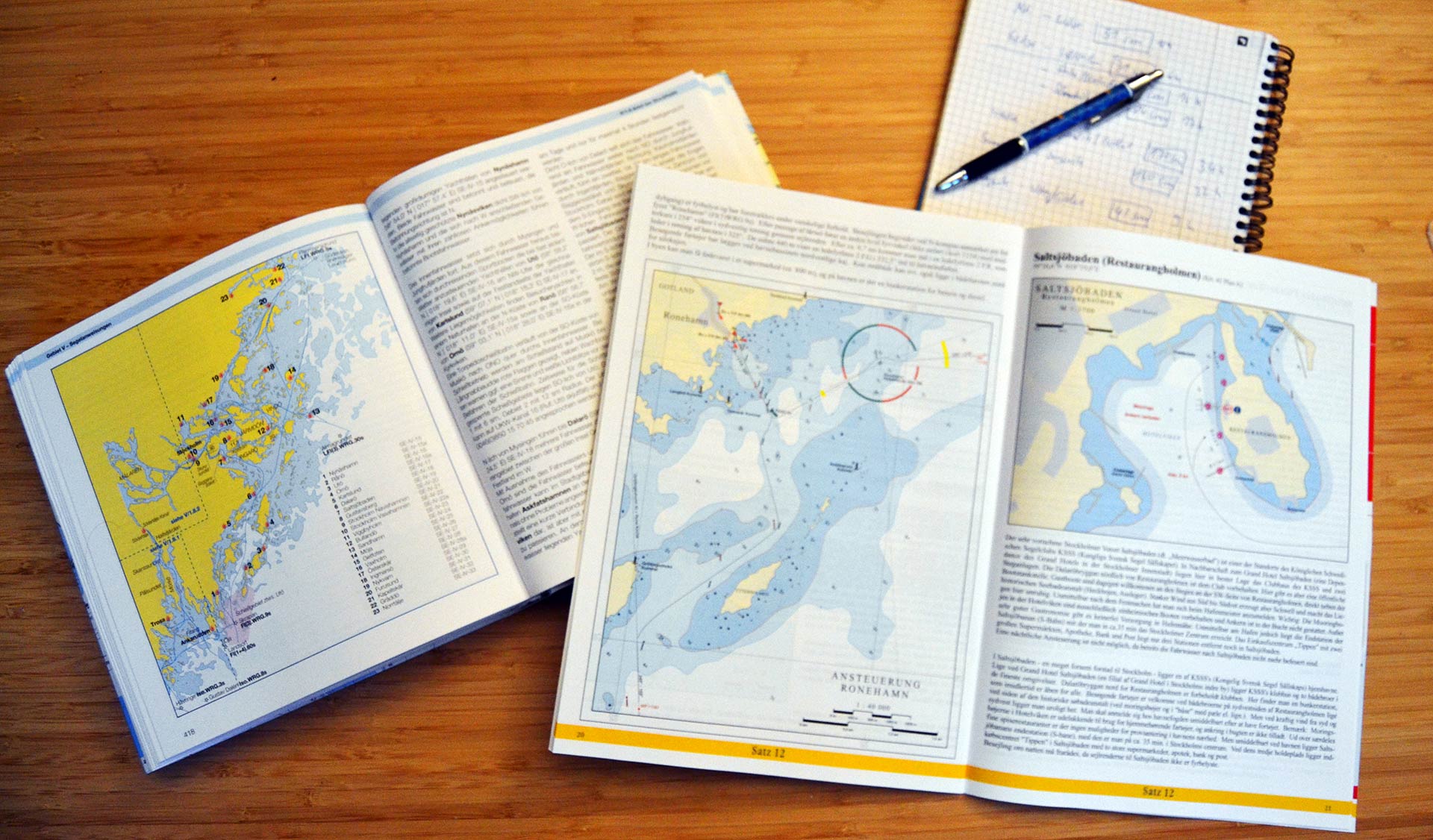 I also check possible harbours to land – because sailing non-stop is not feasible, even with a three-person crew. The initial plan was to reach Bornholm in one leg. That´s a 160 mile-journey (with winds from the West, no tacking needed) and given an assumptive average speed of 5 knots (which is pretty fast for a boat that is less than 10 metres) that's 32 hours non stop-sailing. And that´s just the first leg. The second leg to the Island of Gotland would be 170 miles with assumed 35 sailing hours. Tough! Which brings me to the lookout scheme. Well, with three guys running the boat it´s pretty easy: 4 hours on, 8 hours off. You can sail the boat nicely with that scheme. Not so with just two persons.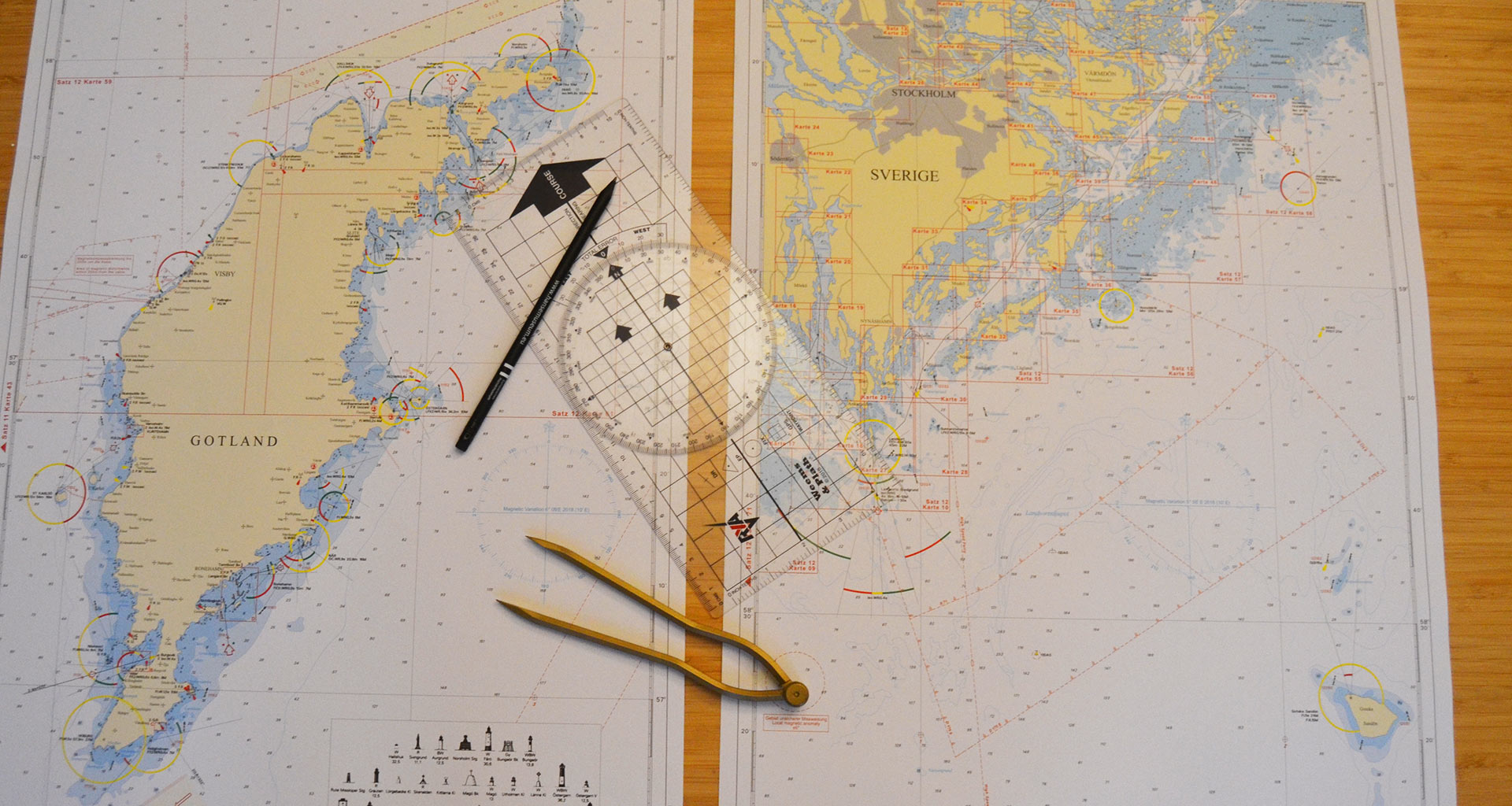 When I sailed for my first time as skipper I had a 24-day sailed in a 2-hours on/off rhythm and I must say I was destroyed after the trip. It´s most certainly not possible to run the ship safely on this scheme for more than two days. The body just isn´t made for a 2-hour-shift system. We agreed to try out a 4 hour on/off-system, which is the only possible scheme here, and we have to see how we cope. The alternative is, of course, sailing double handed during the day, maybe 20 to 34 hours and having the landed in one or the other harbour after one day to get some rest. This, of course, would compromise my idea of getting as fast as we can up North and spending some days roaming the Archipelago. We will see, it´s a dynamic process. But with just two guys sailing, it´s still a tough project ahead!
The boat: Being prepared
Another big thing is the boat. As our Beneteau Oceanis 30.1 arrives just today at the starting point of the trip, the Ancora Marina in the Luebeck Bay area, for the first time I see this boat not just as a product for selling (as it was during the past days in my job) but as the upcoming temporary home for two sailors. She will be safely and possibly fast bringing us to our distant destination. But there are some things to be done first.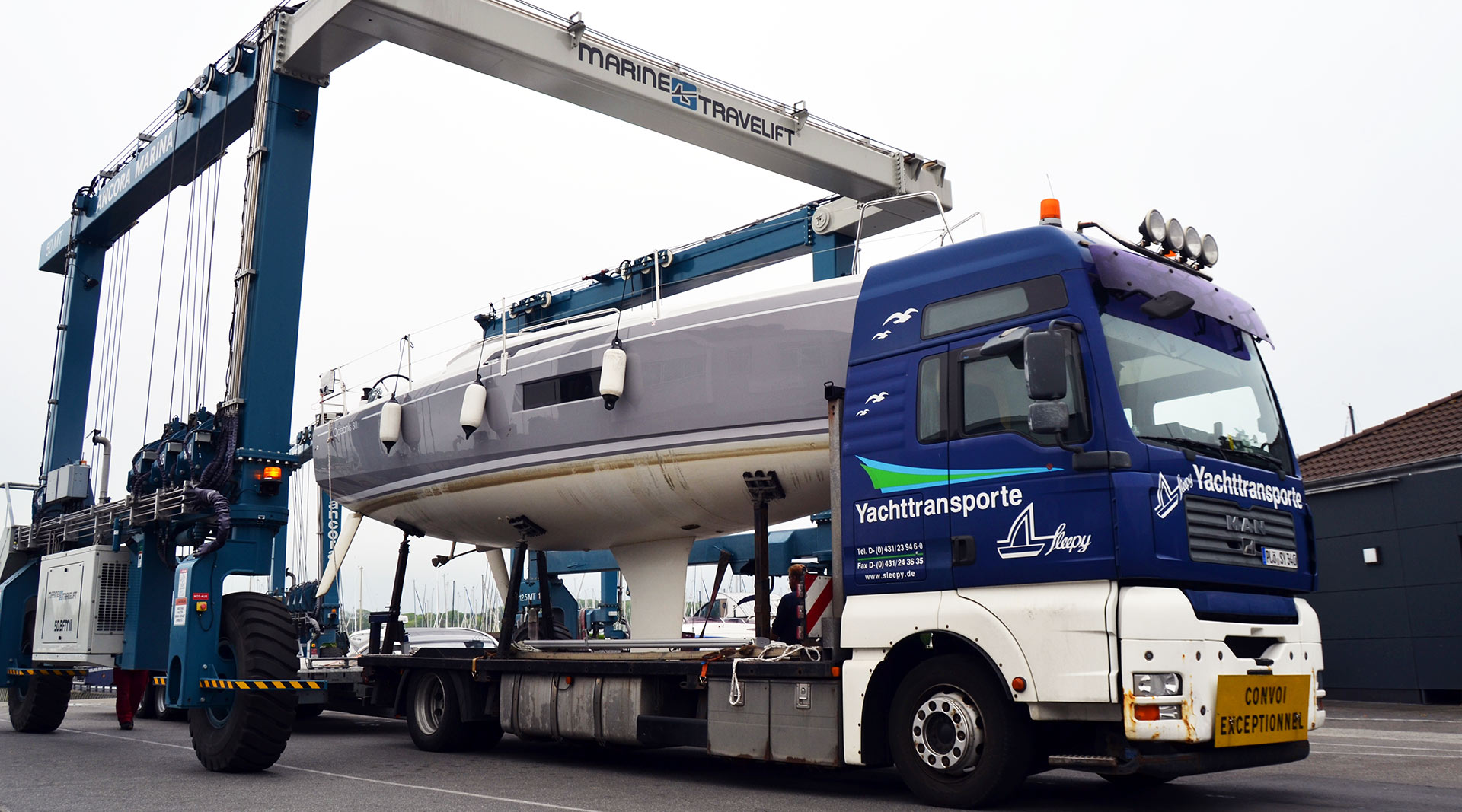 Of course the whole rudder-mechanism and the engine will get the full attention of our maintenance-guys. Checking all valves and bearings – well, we have too, at least she is a prototype that has been sailed only briefly before, never on such a long journey. Talking yacht-safety, of course nothing really is aboard yet: No emergency ladder, no buoy, no life raft, no radar reflector, so rockets and stuff. All will be fitted to the boat in the coming days ahead.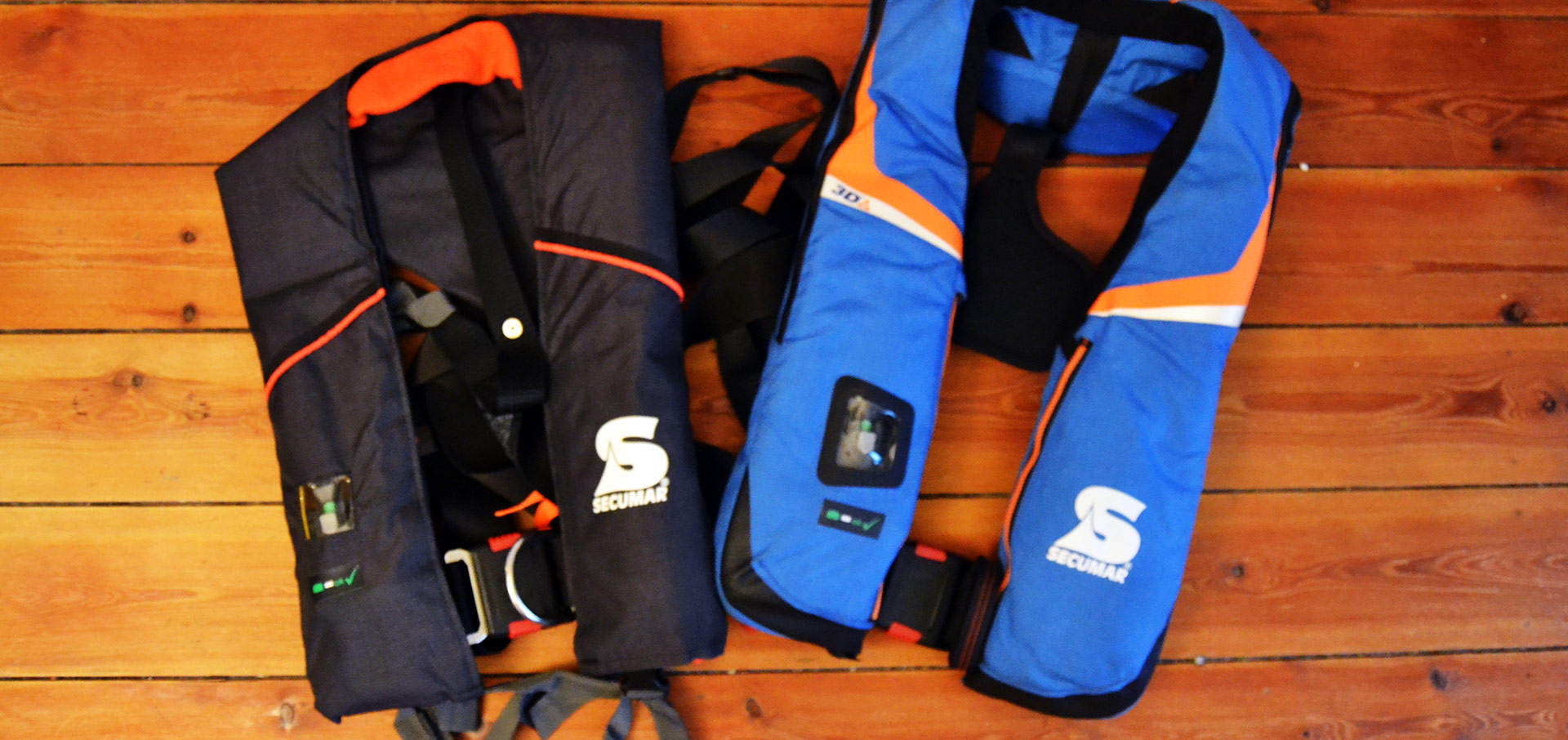 That said, the personal safety gear like life jackets will be provided by Secumar – a fact of which I am very happy about because I will switch my private 150 N-jacket for a professional life jacket that is in use in commercial shipping. Martin will provide the basic stock of plates, knives and forks and cooking stuff – and I am sure there will be some very nice meals prepared, filling up a bit my Onboard Cuisine-section.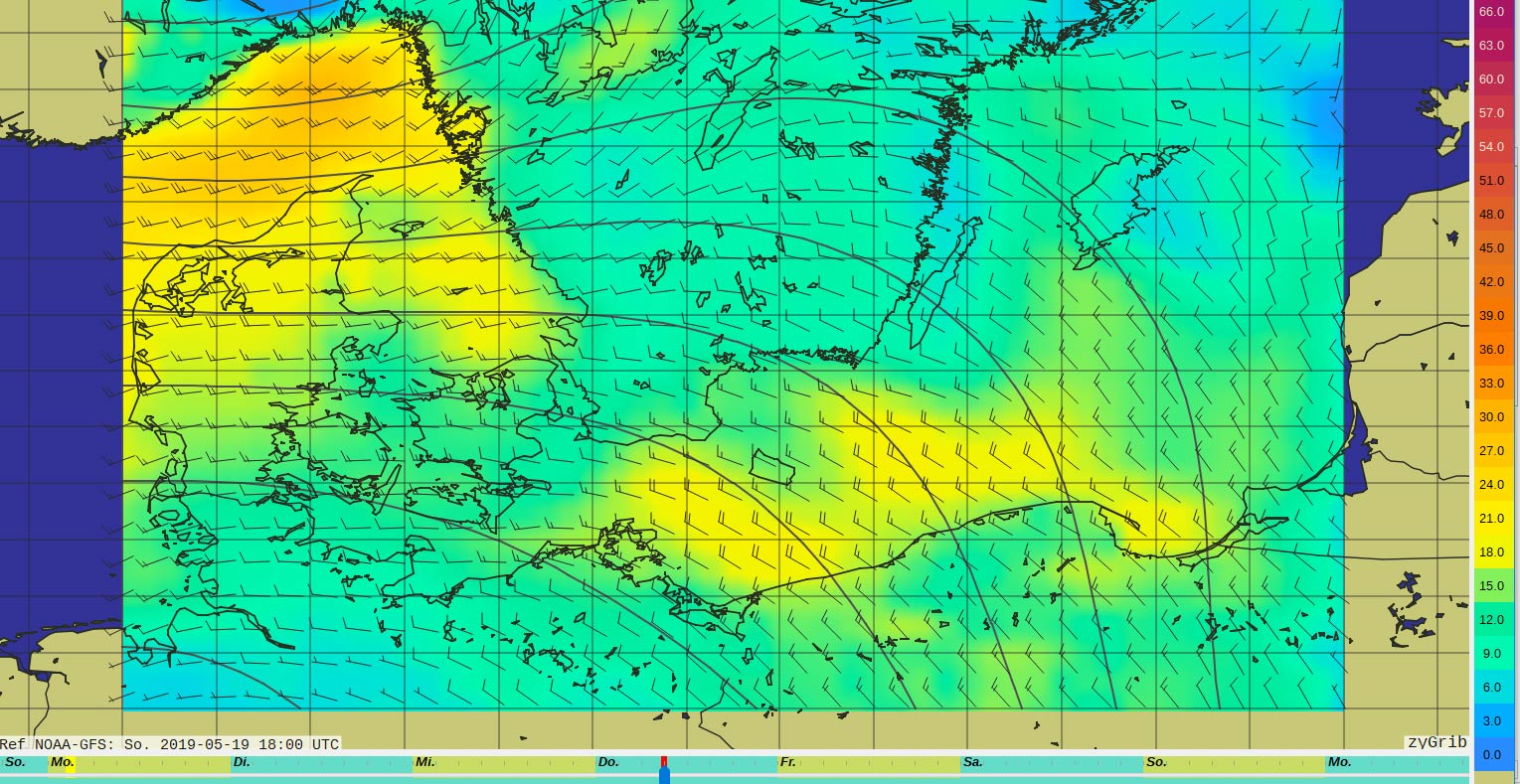 In the end I am very excited about this trip! It will be a very demanding sailing trip on a brand new never-trialled boat with a minimum crew. I am looking forward to setting sails and casting off again, leaving behind all the difficulties of my day-to-day life and again being able to feel the complete freedom that only a sailor can feel when he takes in the lines and leaves the shore for the waters, the waves and the seas. Stay tuned for – most certainly – very exciting Cruise Reports of this upcoming Swedish sailing adventure on the Oceanis 30.1 prototype!
You may acquire all articles of "Sweden-Sailing" by clicking on this hashtag #swedensailing
As well interesting to read:
Old school trip planning 
Weather routing software
My first time as a skipper