I´ve read virtually a hundred books about sailing …
… so casting off for my first sailing cruise to bring SY OLIVIA from the Baltic to the North Sea and upriver Elbe to her new homeport of Hamburg wasn´t supposed to be a big deal for me. At the beginning, at least. The nearer the big day came, the more nervous I got: Planning a sailing cruise of 4 to 5 days duration is not an easy task for a freshman like me. No matter how many books I´ve read about that particular topic.
Being an experienced marketing-pro I know how to handle big projects and challenges, even on unknown ground, so I started to break down our cruise into smaller partitions which I thought would be easier to handle. Where do we sail along? What do I need in order manage the distances? How many persons are on board and what do they need? Where can we land and which specific informations do I need to sail safely and in time?
Even though transfering SY OLIVIA from the Schlei to Hamburg isn´t really a long cruise of not more than 130 miles – it has it´s perfidies. Our tripp can be split into three major stages and each stage differs greatly from the other. First the Schlei and the Baltic Sea – a very tight fairwater with heavy traffic, than a load of military (and partially) restricted areas, shallows and wrecks and (again) heavy traffic – than our trip through Kiel Canal – the most crowded waterway in the world with it´s very own rules – and last but not least upriver Elbe – a tidal water with strong tides and currents, and only a fraction less crowded than Kiel Canal.
Wow, what a task!
Planning a cruise – the major milestones
Stage one to Kiel reminds me of the navigation-tasks I had to complete during my Yachtmaster-Class. I can apply all things I´ve learned so far and spend some hours over a freshly bought and latest dated D32 sea chart of Kiel bay area with a sharp pencil and plotter.
We don´t need any navigational input to bring OLIVIA from her old homeport to Schleimünde. But from there I set course to the south boundary of a military area. I like the idea not to rely on my electronic equipment on board OLIVIA (which I do have plenty of) but to negotiate my my by classic means of seamanship: Helm by compass, hand bearings of landmarks or buoys. I want to navigate OLIVIA the old school way.
SY OLIVIA doesn´t have a deviation chart, so I will use my Raymarine to steer her with GPS-based true course from my electronic compass and to verify my position – calculating my offset and dead reckoning is a hourly routine I do really look forward to. Along the sandbanks and trying to avoid the commercial waterways we will reach Kiel Approach after 7 waypoints I did determine for that 25 miles stage. Day one under sail will end at the flood gates of Kiel Canal in Holtenau.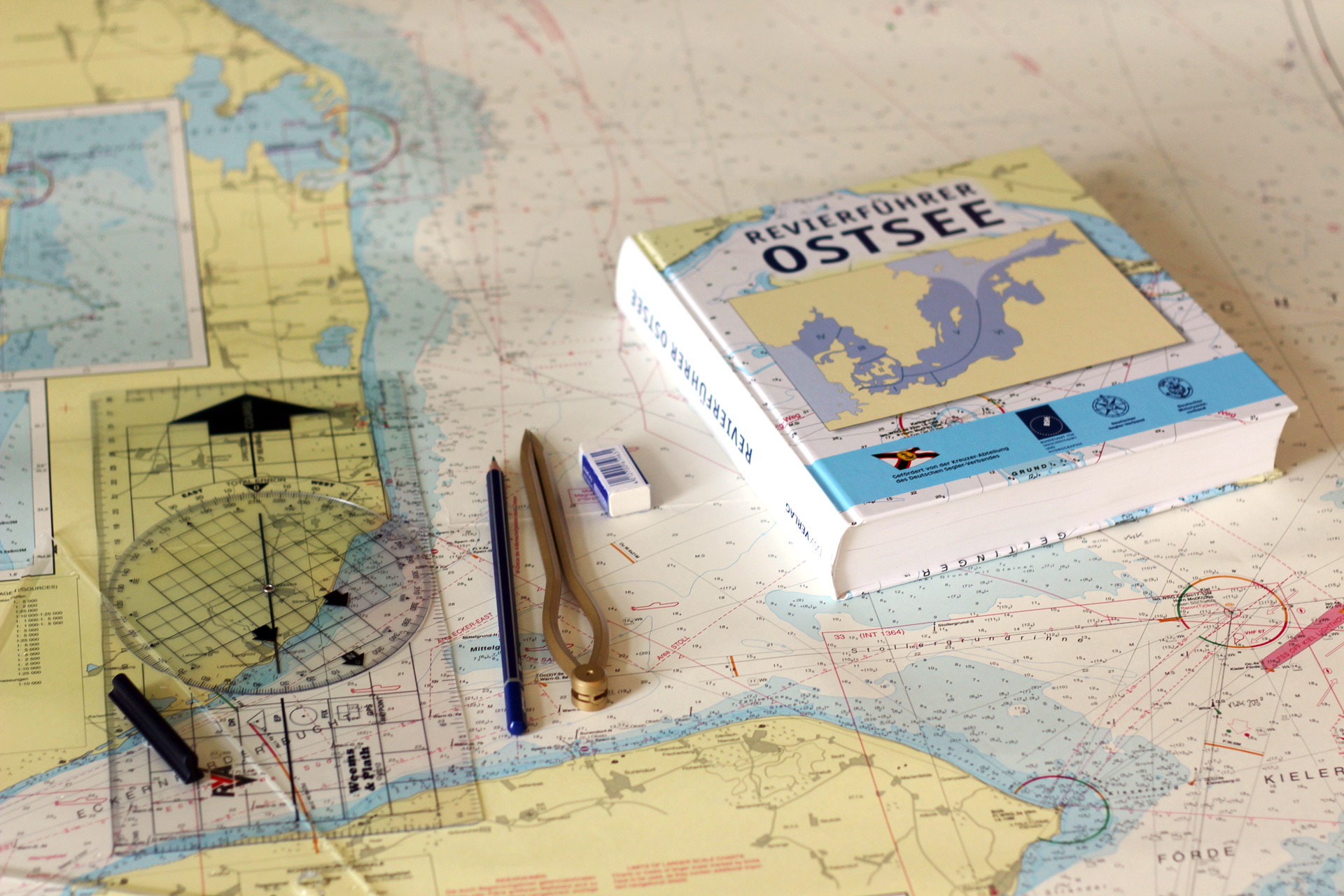 Stage two: Through the Kiel Canal. Here we have the most frequented waterway of the world and a bunch of rules to recognize. First of all sailings yachts and all non-commercial traffic is only allowed to travel in daylight. So I determine dawn and sunset for my cruise planning. Danger of fog and mist is in September/October always a real chance and because in case of low or no visibility all non-commercial traffic will be halted on the channel, I do plan 2 days for the passage of these nearly 50 miles from the Baltic to the North Sea.
I do also check all available Marinas in the Channel and determine which of the locks do work (currently only 2 of 4 in Holtenau and only one of 4 in Brunsbüttel – waiting time!) and possibilities to bunker Diesel or have a save god night sleep underway.
Last but not least, River Elbe. Mighty, mighty river that will bring us to Hamburg where OLIVIA will spend her winter onshore. Of course we will try to sail all the way up, but being a tidal water with a load of currents, tricky, stony and dangerous shallows and during high tide a fairly crowded waterway used by all kinds of ships, including all these fascinating but intimitatingly huge Maersk-Freighters … this will surely be the most exciting stage of our trip.
I check the tides and realize that we are lucky: If we´d manage to leave Kiel Canal as early as possible we´d only have to go against the stream and draining water for just an hour and we´ll be able to flush into Hamburg on the flood-wave in just one single day. If winds will blow steadily from north-west or south-easterly, we could set sails and do this stage without the constant rumble of OLIVIAs Diesel engine.
Plotting the right courses: Chart-work is homework.
I love navigation. I love to measure miles, determine courses with my plotter, do parallel translations with triangle and ruler and build a waypoint-system, set up a cruise plan and pre-determine when to change course onto which buoy or heading. Applying my freshly acquired knowledge on these topics is great fun – and besides helps me to get more and more confidence in my own know-how for my upcoming Yachtmaster´s exam.
But I don´t just draw lines on charts. Setting up Excel-based charts helps me to pre-calculate timings based on average speeds, Utilizing my thick book about sailing area Baltic Sea gives valuable information on general weather or current phenomena in September/October and a general overview on what to expect during our journey.
I also check my pilot book for planned overnight-stays and I also look for emergency harbours in case anything bad happens.
Boat logistics: Feeding the crew´s hungry mouths.
Having finished the sailing plan, I look down on my work: I do have a pre-filled chart with my sailing directions for the Baltic Sea-Passage, a waypoint-based cruise-plan with pre-determined bearings and (hopefully precise) instructions when to change course to which bearing.
I did check for all the information needed for our Channel-Passage including working hours of the locks, where to land for overnighting and to refuel if necessary. I do have Information on dawn and set of the sun and the tides of River Elbe during the days of our cruise: I feel confident having everything I need with me to master the task sailwise.
Having done the skipper´s work, I switch to ship´s cook-mode and open a new Excel-document. What do we want to eat and drink on our 4, 5 day-passage. Knowing that the cook is the second most important person on board, I spend several hours in calculating litres per person and day and trying to compile a both attractive and tasty menu.
But hey, we are no cruise-ship. I do have a fridge (and even a freezer) on board OLIVIA, but do I want to spend some hours on a daily basis with cooking? Managing to have a diversified but also easy to prepare menu is a task I find far more difficult than plotting my courses through submarine-training waters and high-speed ferryways. In the end, it´s a lot of pasta …
Sailing weather – Forecasting the perfect window of opportunity.
Finishing all these things far in advance, checking and cross-checking all data with a comfortable timeframe ahead steadily builds up confidence. I more and more look forward to our "big trip", I can brief all other persons on board OLIVIA and – most important – have time to run everything through again and again.
In doing so, I set up another (and the final) Excel-sheet: Spare parts to be bought until Day X. Oil- and Waterfilters, a spare V-belt, 5 litres of engine-oil, a lot of tissue to secure a clean refueling-process, warm socks and all stuff needed prior departure land on that list: Having started to work on that trip early, there´s no hustle in buying all kinds of stuff the days before we cast off. Besides: Confidence grows even bigger. It´s not an easy task being responsible for a newly bought ship, mastering the trip and doing this in a safe manner.
But one crucial part of the whole sailing plan can only be looked at two days in advance. Weather. Meteorological situations – especially in autumn – can change very rapidly. Though I do occasionally check forecast two weeks in advance and regularly surf to all these weather-websites – a real trustful forecast that can be trusted should be used two days prior sailing.
Here I like the old school-way again. I could just check for local forecast of the particular sailing areas alone. But it´s the whole picture I am interested in first. So I print the general weather situation for North Atlantic, North Sea and Europe: A pretty stable High is responsible for a very beneficial weather situation during our planned sailing time. Knowing that Highs produce a wind flow clockwise to the Low, I can predict general wind directions on my own. Northwesterly winds with southern tendencies: Just Perfect!
I favour windfinder.com for checking local forecasts: And not surprisingly it correlates with my own forecast drawn from the isobare-chart. We can expect perfect winds with 9 to 10 knots from astern, changing to south and thus blowing us right into Kieler Förde in front of the locks. 15 to 17 degrees Celsius is no hot summer anymore, but just fine for sailing. Lucky me – big Lord Poseidon is of great help this time.
Lucky those who have Pilots as friends …
Well. I´m not an official Yachtmaster yet. Nor do I have any experience in sailing a yacht like SY OLIVIA. Even if I´d say that doing the passage through Kiel Canal poses no problem to me, the sailing part – especially on the possibly rough Baltic autumn seas and the Elbe – is a task I could never manage alone. So I´m lucky that a friend of mine – a professional North Sea-pilot, experienced Sailor (with captain´s patent) and passionate sailing enthusiast has both time and motivation to be part-time captain of SY OLIVIA for our first trip as new owners.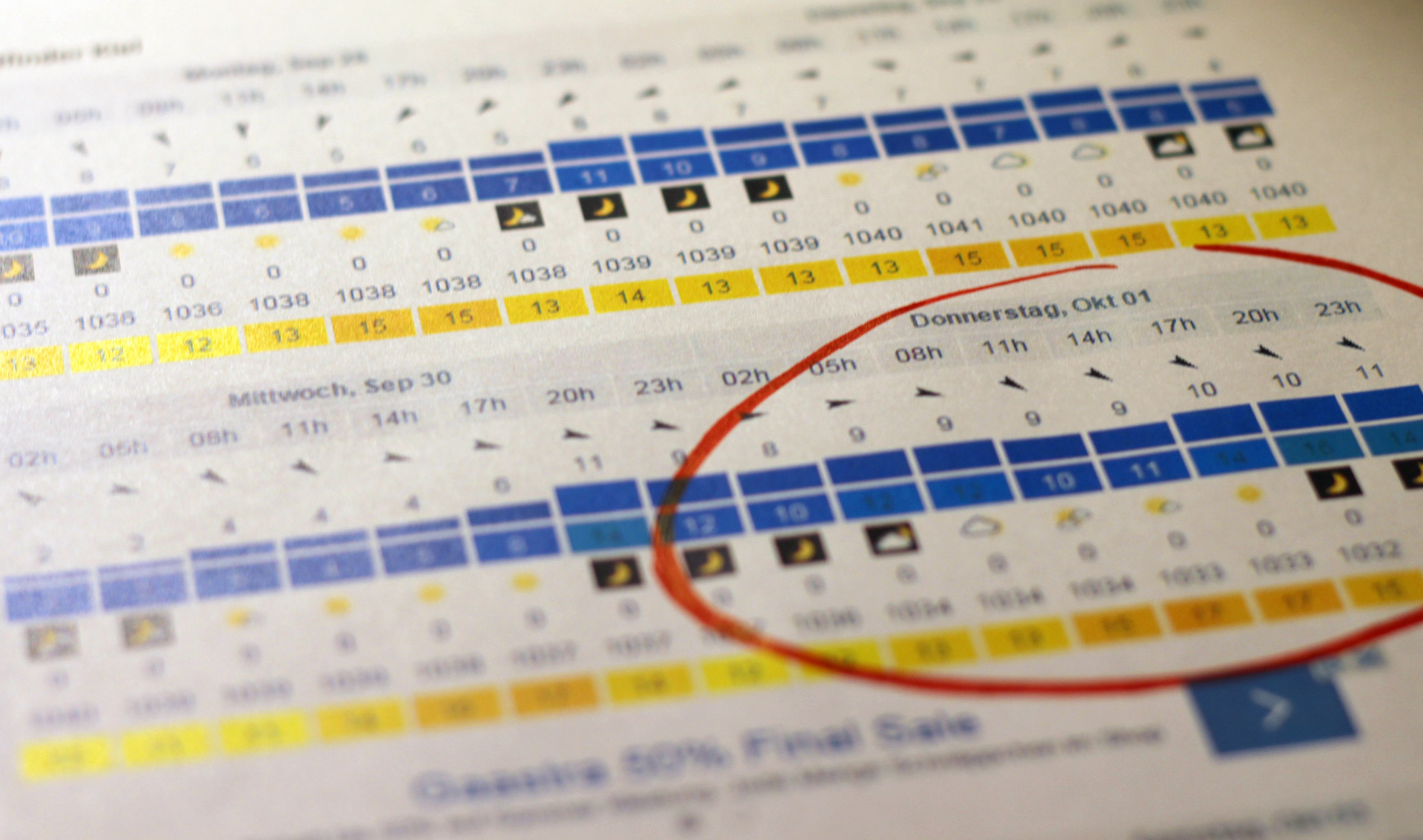 His lifetime experience both as seafarer and his experience with sailing vessels make me look so much forward to that trip that I cannot hide my pleasant anticipation. Besides: I am planning to ask him a thousand questions and more – perfect preparation for the Yachtmaster certification which I am going to pass only three days after we arrive in back Hamburg.
A tight schedule, a plan that covers everything from bearings, buoys and sailing directions, a plan for emergencies and unexpected landfalls, comfortable provisions-planning and several weather-, tide- and wind-forecasts in my pockets and the help of an experienced sailor we feel well prepared to bring our fine yacht to her new homeport.
What was it like when you planned your first-time ever big sailing cruise? I look forward to your comments and stories.