Sun went down behind the spars of iconic SS RICKMER RICKMERS …
… and it was time to cast off for our night-cruise through Hamburg harbour. It´s not a mandatory part of our course to become yachtmasters but highly recommended (and a cruise my sailing school is renown for) too. The same day, some hours earlier, we´ve already spent our second day in class and – apart from knots and the basics of navigation – went through all the buoy-, lighting- and fairway-stuff needed to hopefully steer a ship safely through the darkness.
It´s not very complicated though, but much to learn in a short time. Remember: Green on starboard, red on port. The same with fairway-buoys upstream when Lateral-A is applied. Toplights and special lights for ships like dredgers (we met one later) or military ships (also in port when we were cruising), sector-lights and beacons catched our attention for the whole of 6 hours in class.
Enough for the theory.
Skipper Jannick welcomed us 8 persons on board MS MERI LEIJONA right as the sun was down and Hamburg harbour awakened to it´s full bloom of all kinds of different lights. I am living here in this beautiful city for 8 years now and the port is – though always of interest – no special thing for me anymore. But I must admit, during our cruise I began to see it with different eyes.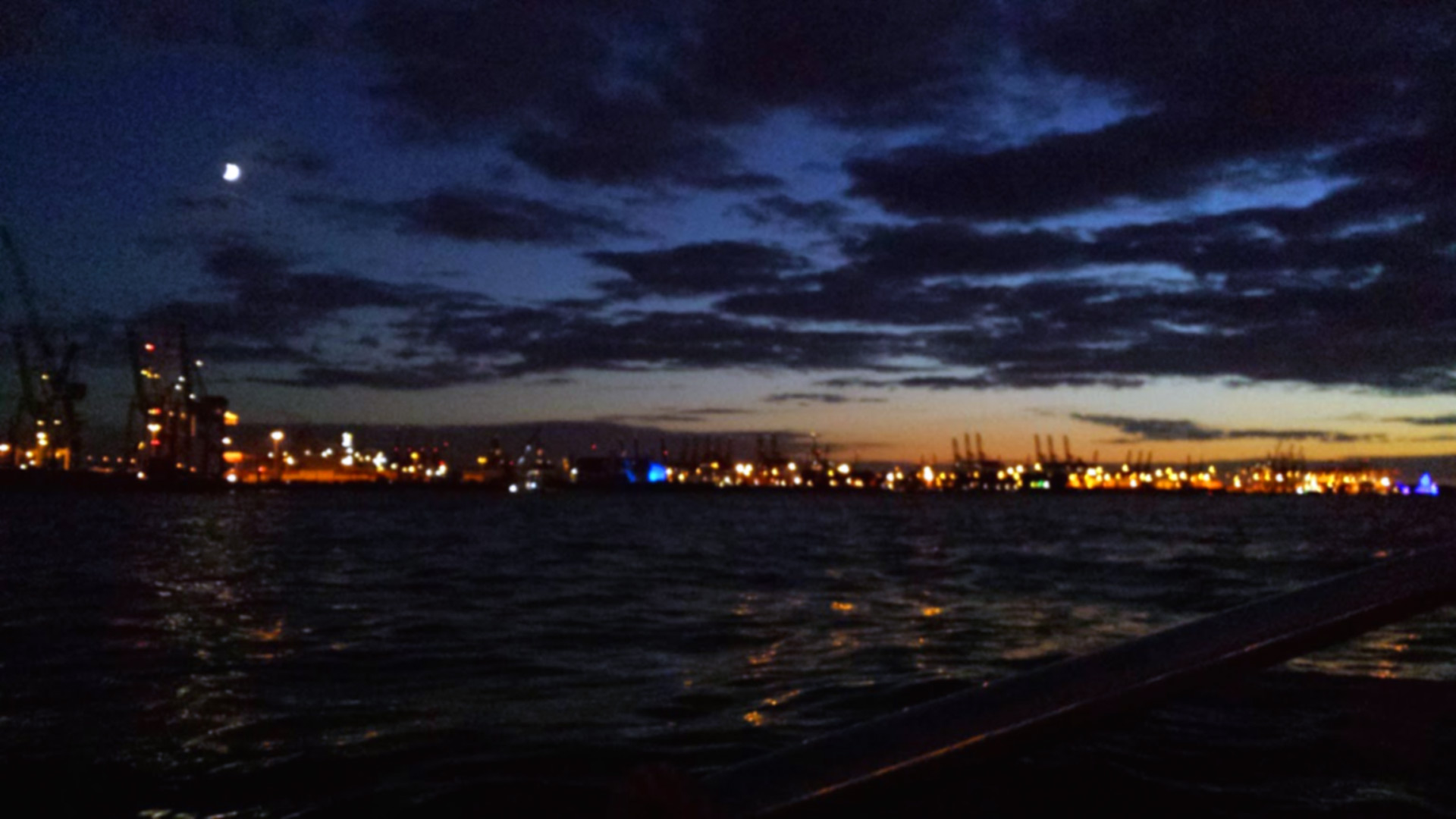 While every 10 to 15 minutes one of us was placed at the helm to steer the boat downriver Elbe and later with port-rudder into the "Köhlbrand" called part of the harbour, the others were studiously trying to identify buoys by counting their lights and intervals. "There, that should be a Flash-Green-8 sec on 11 o´clock!" we were shouting or. "Caution, Occulting Red – 3 plus 1 – 14 sec right on starboard ahead!". Everyone was busy to be the first to name a specific buoy.
Others had a flashlight and a chart of Hamburg harbour on deck and quickly checked for our judgements. I was right sometimes. Sometimes I was not. "Don´t bother", said Jannick, a young but experienced skipper, "That´s something you´ll get used to. It´s really like driving a car."
Navigating your yacht by night. Safely.
It´s no rocket science, I now know. But it´s also definitely not a no-brainer. When I was finally at the helm, I found it quite labourious to steer my course at the one hand, control my speed (we´ve had quite a swell from time to time caused by other ships and a lot of ferryboats), identify other boats and ships by their lights, prevent collisions and solve my task, given by Jannick: I had to identify a sector light on my port-side and turn the boat before reaching the green sector.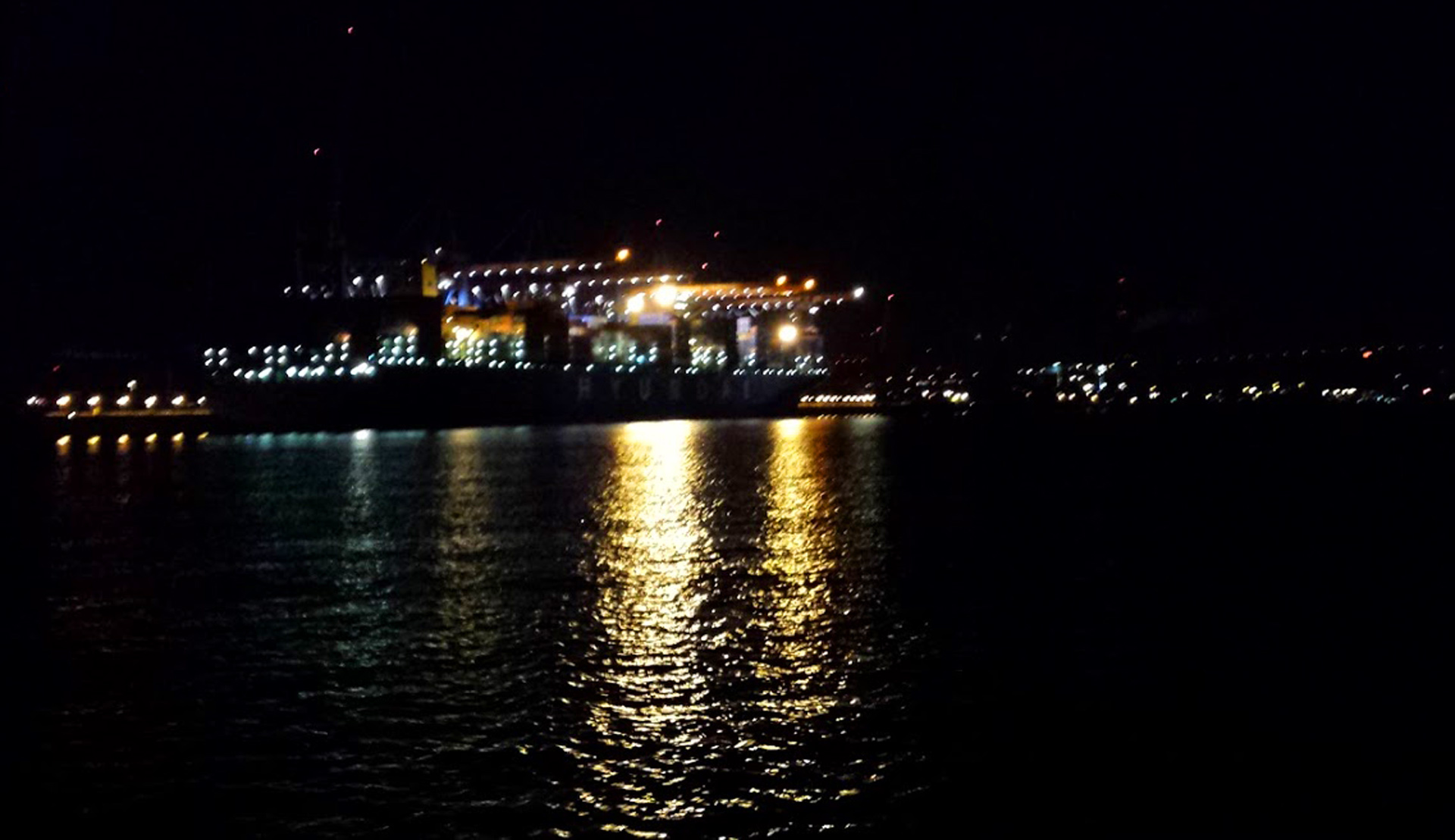 As you can imagine, I overrun the white ("safe") sector (where I would have had to rotate) and moved onto the green. No danger at all, but if that was a real situation, for example in a shoal, we´d have had to call the tugboats on channel 16 …
But I learned so much, I never could´ve learned sitting on a school-bench. Back on the forecastle I really felt better prepared and joined the others again in our game of identifying buoys, other ships and lights.
Bonus: I was finally able restore my slightly injured pride by being the first to call "Look out helmsman – Cardinal-ton "North" on our starboard right ahead!" – it was hard to see (because  non-working) buoy and so Jannick gave me a appreciatory nod.
Back on land …
… we thanked our Skipper for the both awesome and valuable experience. It´s really something quite different to see all kinds of buoys and beacons working at night in a real harbour than in a book. Besides, Hamburg port is one of the busiest and best-lighted ports in the world (so they say) and we really appreciated the opportunity not only to steer MS MERI LEIJONA but to get a lively insight into navigating by night.
So if you are underway to become a yachtmaster as well – ask your sailing school if they offer a similar night-cruise in a port or at least on a waterway. It´s really worth it and helps to memorize the yachtmaster´s theory in terms of navigating at night very much.
What are your experiences with night-cruising? Or are you a daysailor? Appreciating your comments.