Wow, that was some hard days of research and paperworks. Finally it´s over and I´ve got a clearer overview of (hopefully) all the legal stuff connected with buying a yacht. This was the last item on my big list guiding me to my own sailing vessel and after weeks of searching, reading and comparing for the best offer to consider, various appointments in marinas around Hamburg and finally our test run with SY OLIVIA we are now in the final phase of the purchasing procedure. Surely, this is one of the most important points to work through but at the same time one tiring aspect of sailing as well. To be honest: I really hate paperwork.
So, what should a newbee yacht-owner pay close attention to? Here are my experiences.
The perfect contract of purchase.
First of all, the contract of purchase. It is the single most important piece of paper that not only marks the point where the yacht passes over into your property but it should also manage all eventualities in case something goes wrong.
First of all: Refrain from writing your own contract. Instead use ready-made contracts available on the internet. There you´ll find plenty of specialist solicitors or national sailing associations which offer various blanks of contracts. Your advantage: You won´t forget crusial paragraphs or aspects of the purchase. Those pre-printed forms are generally accepted before courts in case something bad happens. Most of those contracts have been rounded out and brought to perfection over the decades and many thousand purchases. My own contract of purchase has been written by a renown lawyer and under sanction of the German Cruiser Association.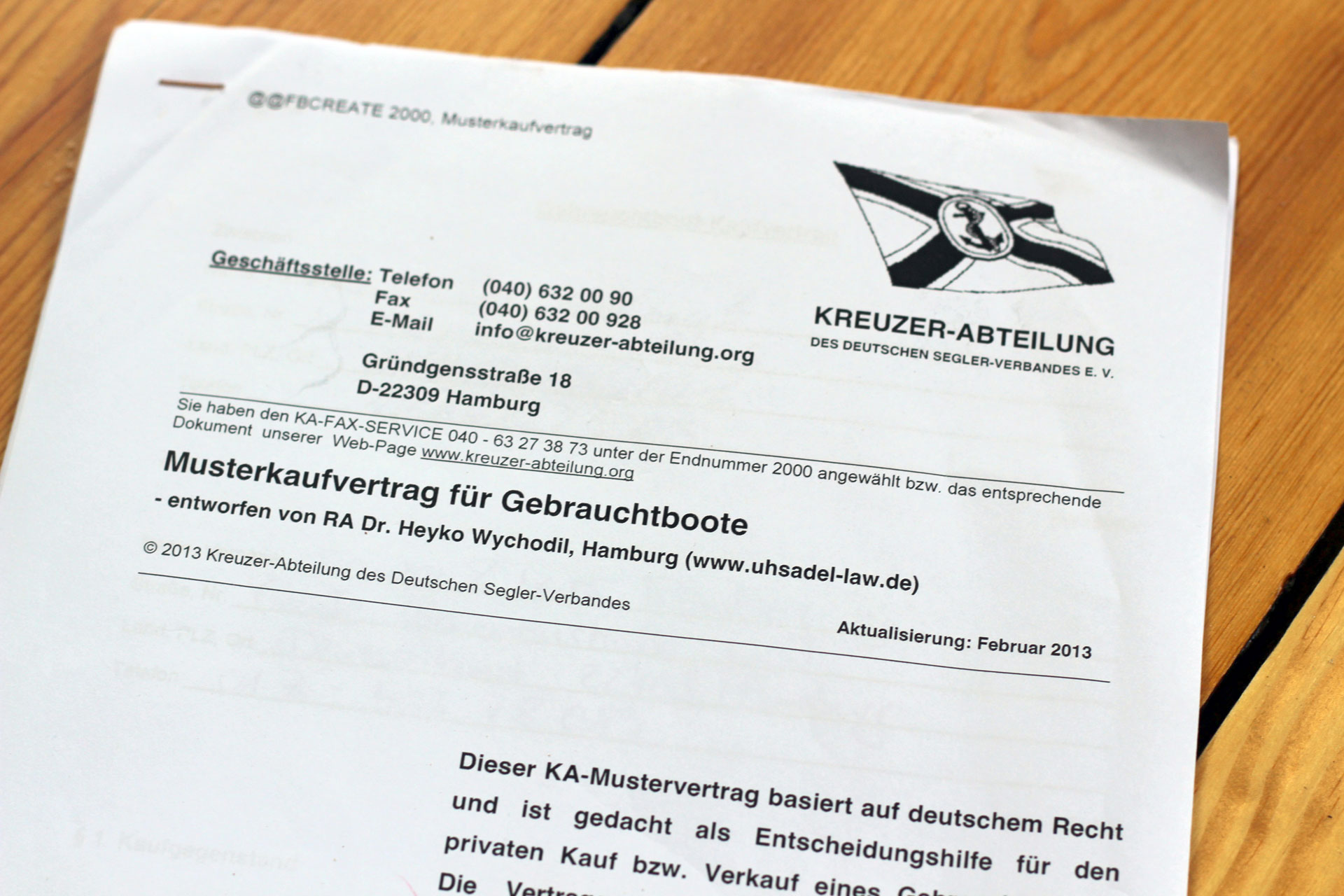 Two main features should – apart from the official stuff like who is seller, who is buyer, adresses and so on – always be contained in a contract. It´s the heart of this document, to say so: A thorough description of object of purchase. The whole boat and all of its features including a detailed list of all the equipment. When going through each item one should take a close look onto every one of them: Often a large amount of spare parts turns out to be old, useless scrap in reality. Expensive scrap.
May be wise: Additional clauses.
Here´s my hint: Set the date of purchase at least one week into the future. This will give you time to think everything through or maybe undertake additional test-runs. Take time to go through the list of equipment item by item – maybe you´ll be able to negotiate the price again when some of the items turn out to be not worth their state value. Batteries for example should won´t have any value at all after three years, electronic equpment loses 50 per cent in value after 5 years.
If you forget this clause – in most countries a buyer is generally allowed to step back from a purchase within 14 days after signing a contract. This clause should be added in your doecument (to the gain of both sides) in any case.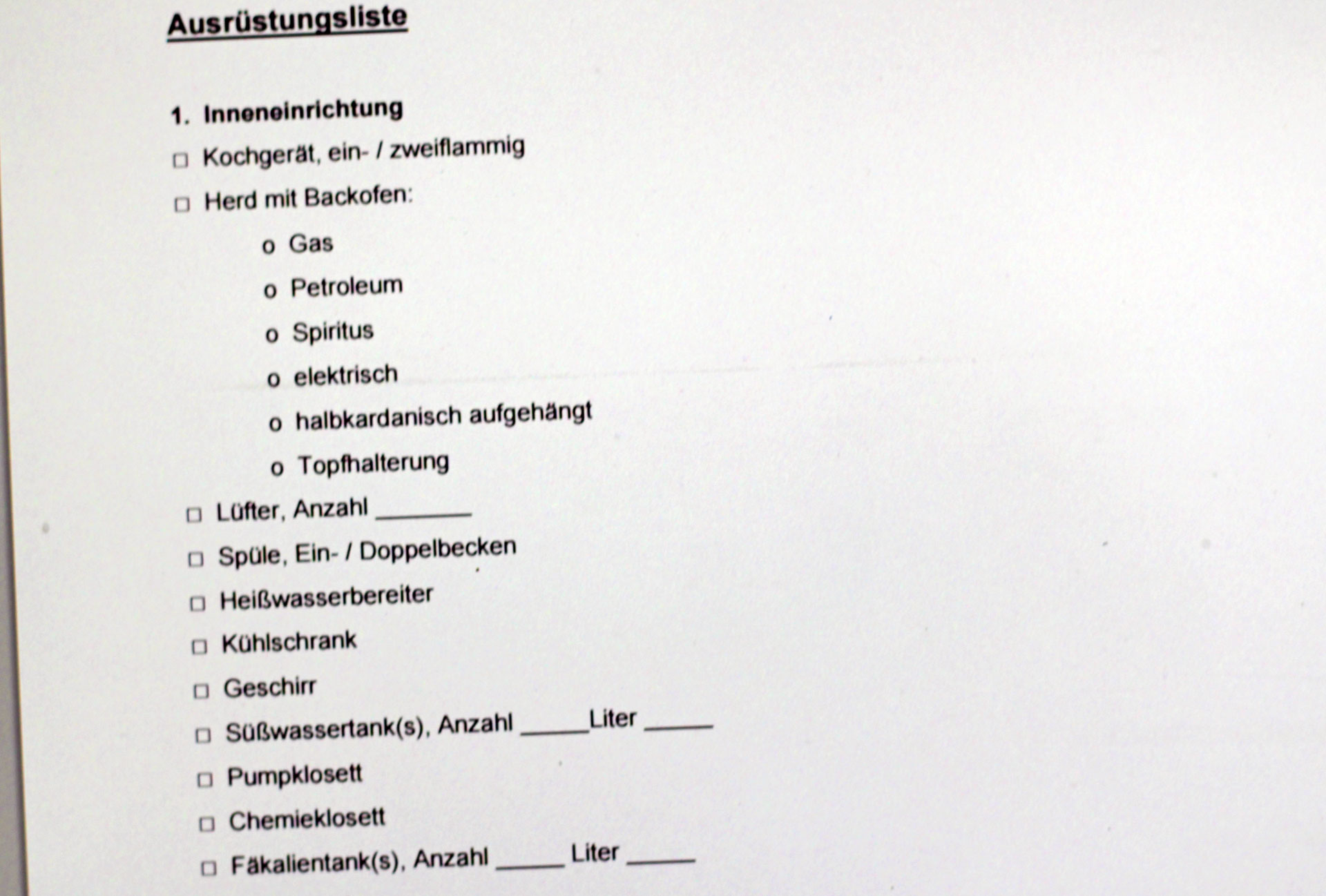 My friend Jan who recently bought a used Bianca 27 in Denmark told me that he insisted on one special clause for his contract: Because both he and the then current owner agreed not to invest in craning and taking the yacht out of the water. So he couldn´t have had a close look onto the underwater hull. Although he was diving down and tried to inspect screw and rudder, he was certainly not able to look for hair cracks at the keelson or – worse and thus risky – for osmosis in the GRP hull. So his special clause says that if he will take the boat back home to Germany and out of the water for winter storage. If he detects osmosis, he will have the right to give the boat back with full compensation of the amount payed.
A lot of  paperwork: What a seller should provide for.
 After we´d mutually signed our contract (and clinked our glasses) the now pre-owner took out a big heavy bag. It was full of papers: All kinds of manuals, documents and bills. So, if you buy a used boat it can be very useful to ask for those papers as well. Bear in mind that the pre-owner should provide for the complete collection of all documents belonging to the boat and her equipment like engine, clutch, furlex, sails, radio, plotter and all the other electronic and mechanical stuff.
Speaking of electronics: It´s not only proper style but essential that all circuit diagrams (first of all lighting, all electric wiring and of course all modifications done by the pre-owners) are part of the documentation. There´s nothing more annoying than reconstructing connection schemes by following the cables.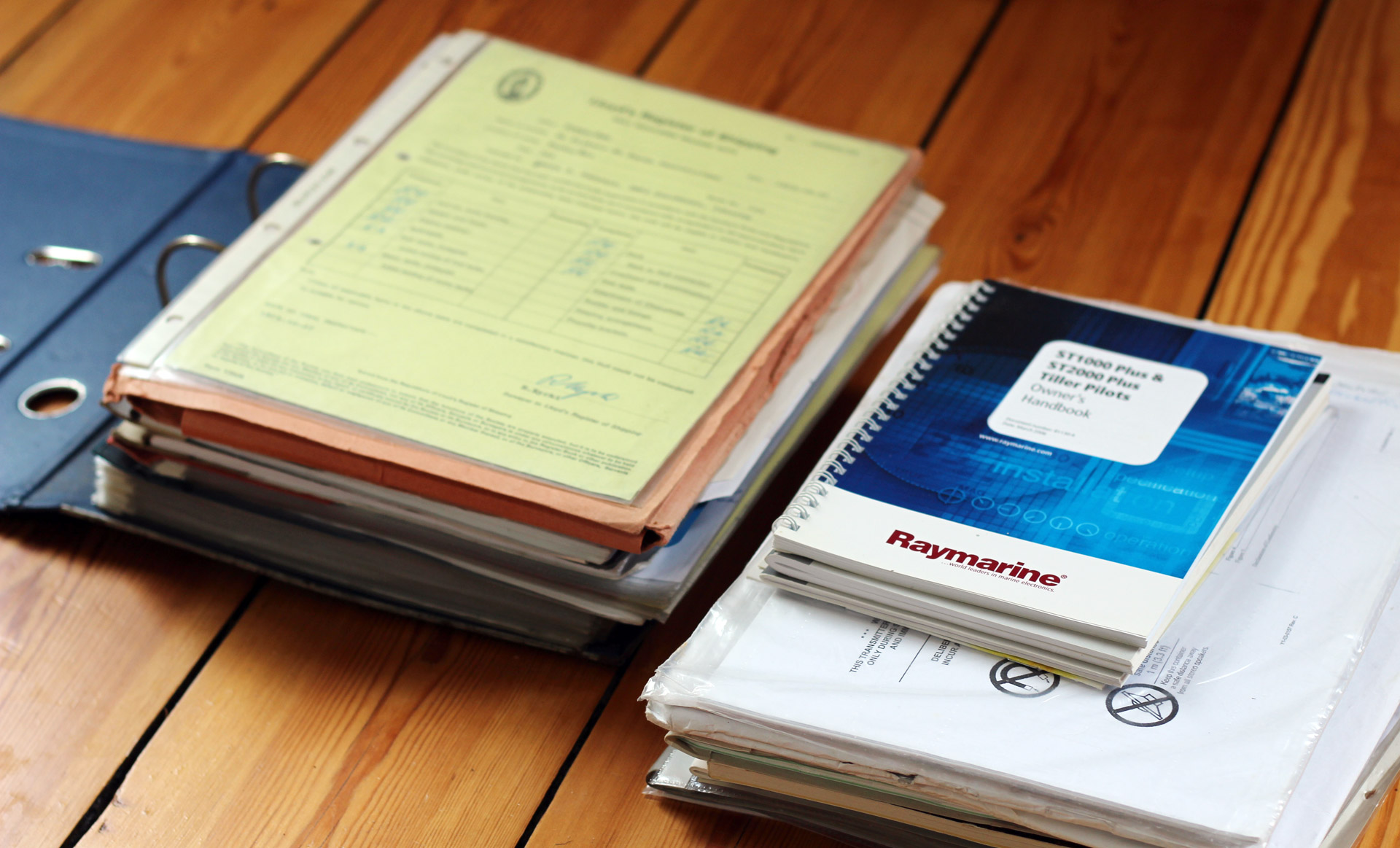 Inspection- & Acceptanceprotocols (for example of the radio- or the security-equipment) are of special interest because they provide information about the discipline of your pre-owner and the overall condition of the equipment. It´s useful to ask for a look at those documents before the purchase (as I know now).
Besides, even all the old bills can be useful too: Imagine a service-partner who was maintaining the boat for the last years. It can be of advantage to contact these enterprises because of their knowledge of your boat (and possible special price offers for regular customers). Sum up the amounts of the bills and compare the sum to the stated investment your pre-owner tells you about – could this be right?
Take your time to read through. No really: Take your time!
Not just in case something breaks but also for you newbee to really get to know your freshly bought used yacht it really is an invest worth it to fully read though every piece of paper you can grab. Especially the manuals. OLIVIA´s pre-owner was especially commendable: He has marked the most important parts of the manuals for me and did note menemonics by hand into the sketches and plans. The knowledge you will gain by reading through will pay off: At the latest when you start to implement your own technical ideas for alterations onboard.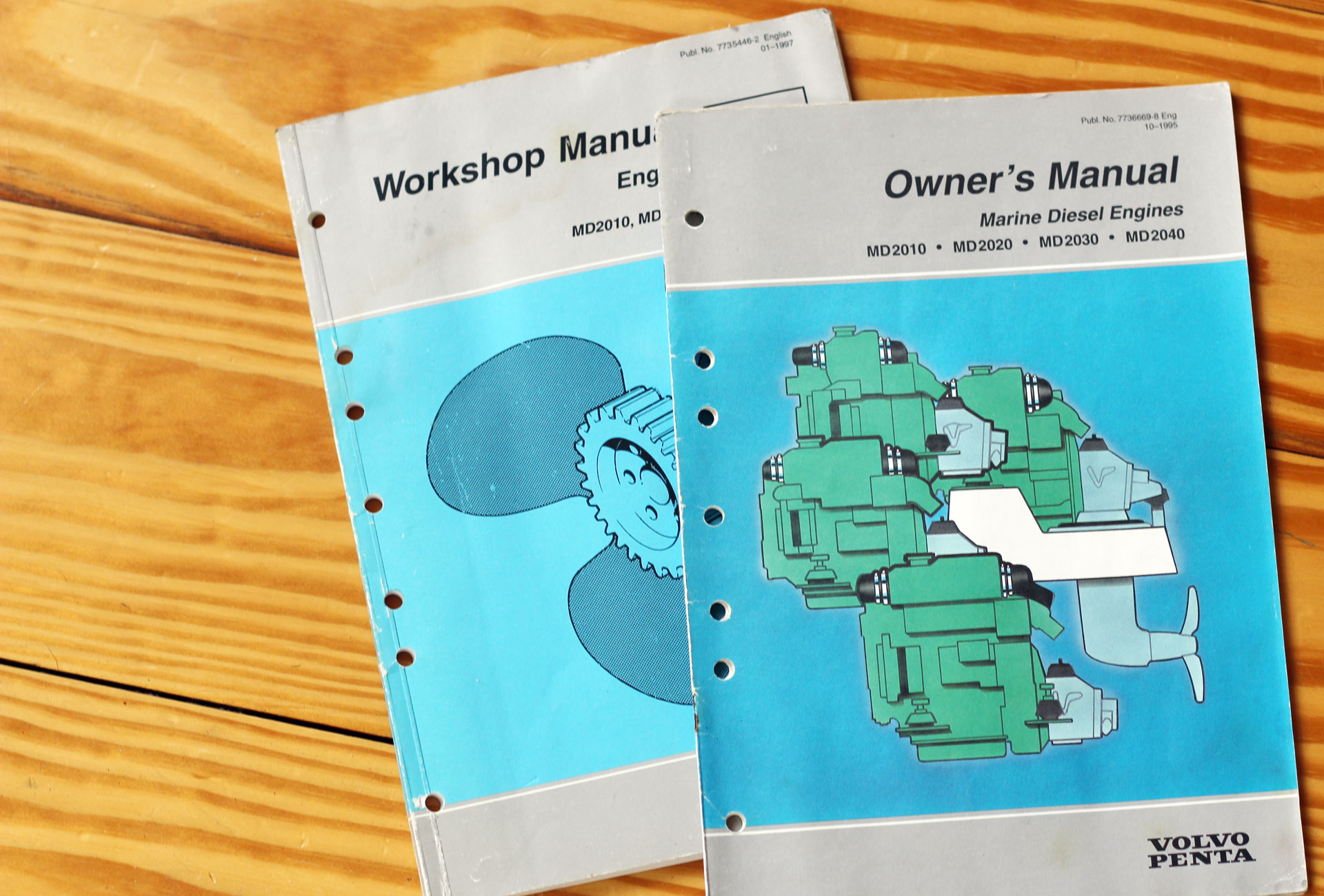 Although you won´t think of re-selling your freshly bought boat in the first place: Just imagine for a second yourself being the seller in some years – having a complete set of papers will put yourself in a comfortable bargaining-position.
The perfect Yacht insurance?
Right after we had bought OLIVIA another task was popping up: A buyer should provide for full coverage of the boat insurance-wise from the day of purchase. As the name tells it, a liability insurance is mandatory. This insurance will cover damage that you may inflict on other when sailing your yacht.  Another insurance is the comprehensive insurance that will cover damage inflicted on your boat, her equipment and yourself and passengers.
There is a jungle of virtually hundreds of possible insurances. But how to find the right one?
I started by researching the internet. There are special websites which will compare insurance offers. It´s a good start to gain a general oversight. But don´t hazzle, because the amount of money you´ll have to invest for coverage should not be the only factor for your decision – insurances do vary greatly in their performances. Be aware that there is a possibility of very big amounts of damage sums which can be caused by you and your yacht.
Just imagine a total loss near the coast: Bills for recovery from the sea and recycling of your boat, the cleansing of possible pollution of the marine environment by diesel-fuel and personal damage inflicted on passengers and other may sum up to millions of Euros. This is why I´ve just used the comparison websites just for getting some insight.
Mandatory: The liability insurance for your yacht.
I´ve finally found the liability insurance vor OLIVIA by a webservice that was bulk-posting my data to 15 different insurance companies. Some 12 hours later my inbox did receive the first offers. What a nice and convinient service. In the end we decided to choose a coverage of damage of up to 10 million Euros.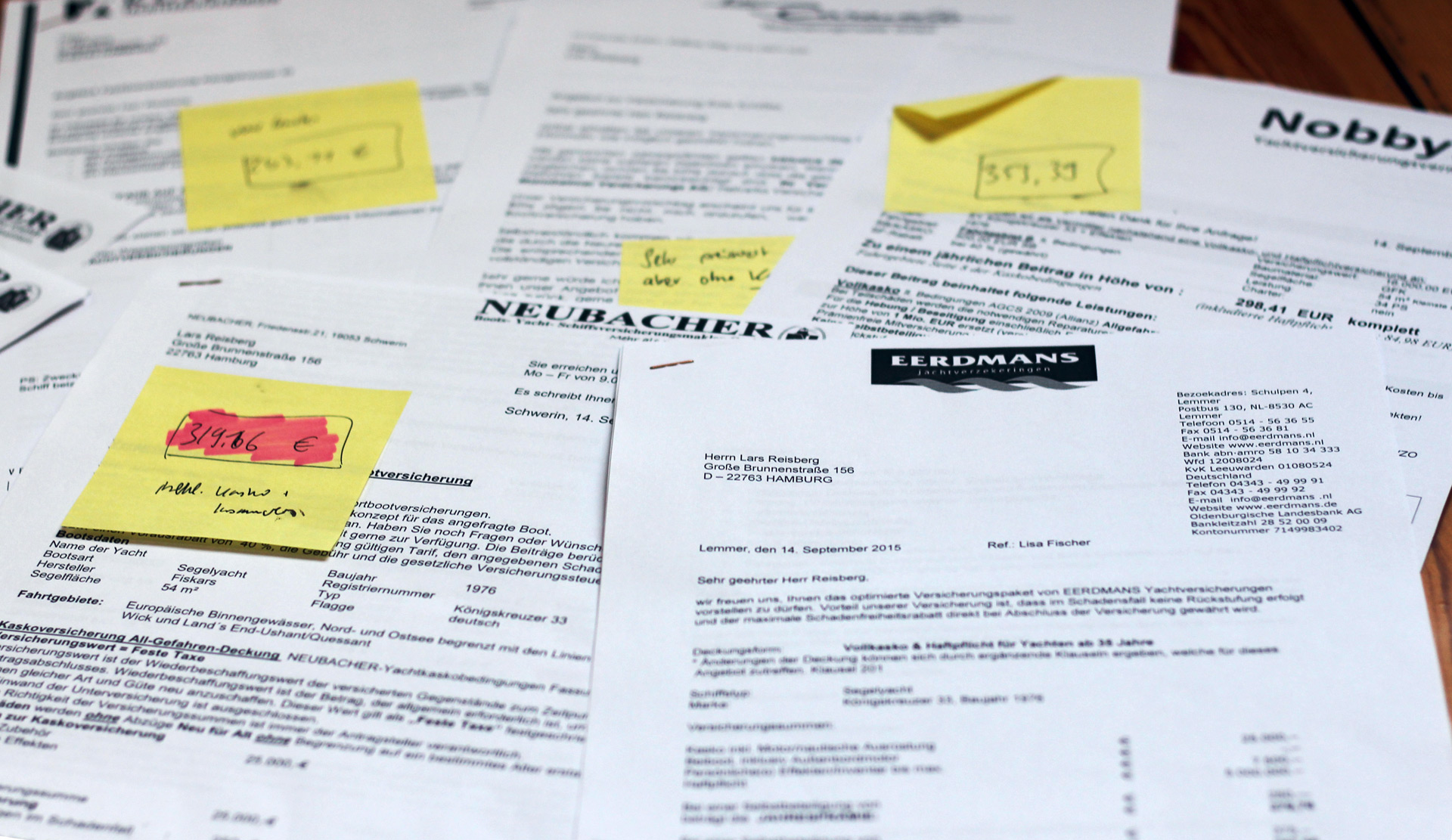 Offers I had received do range from 60 Euros per year to 130 Euros. We decided to choose a combination package of liability and comprehensive insurance.
Comprehensive insurance for boats: Big differences.
When choosing a liability insurance is virtually a no-brainer, it´s a bit more complicated when it comes to the comprehensive insurance. There are huge differences – as one can easily see by the amount of pages it takes to explain an insurance. In one occasion I received up to 8 pages alone.
Prices for the policies also do vary greatly: Although we can rule out the biggest risks such as no chartering we´ve got offers from 150 Euros to more than 350 Euros per year. So where are the differences? At first take a look at how the amount of coverage for a total loss of your boat. Some policies covered 10.000 Euros, some up to 25.000 Euros. Very important – will the insurance ersetzen losses of equipment (such as masts or sails) by the fair value or replacement value? That´s important because a mast which will only be compensated for at it´s fair value can be some 10.000 Euros below the current replacement value. How annoying!
Check out for savings potentials by restriction of the areas in which you plan to sail: Why cover risks for the Horn of Africa when you´ll never be sailing there?
Besides those checks it can be useful to not only check for offers in the internet but to make actual real appointments with insurance brokers in person. Prepare a list with questions in advance: "What if …?" can give you valuable answers and a good feeling which insurance company might suit best for you and your boat.
Additional accident-insurance for you and your passengers?
Thinking of sailing cruises one often imagines going out to sea with friends. If you plan to do that more often you should consider signing an accident-insurance. We will certainly go as a whole family onboard OLIVIA and so I´ve instantly checked if my own accident-insurance also covers water-activities and – most important – my child. And it does.
It´s slightly different with people who are not my family. Guests are not covered by my own insurance but since we don´t plan to undertake regular big cruises with friends, I think that´s an insurance I´ll skip this time.
Can be very useful, just in case: Legal costs insurance
Taking a monthly look onto my bank account there´s always a big sigh connected: Primarily when I do realize how much money all my insurances comprise. But there is one insurance – sadly enough one of the most expensive – that´s really worth it´s price. I am lucky to only having to use the legal costs insurance twice in my lifetime up to now but I can say I was glad to have it.
Since I´m aware that water-traffic with highly valuable boats can under bad circumstances lead to major conflicts in courts it was no question to extend my legal costs insurance to cover the yachting activities as well.
My favourite document …
… is the certification issued by Lloyd´s of London (in Finland) for my King´s Cruiser 33. That is something that won´t be done nowadays so for me this paper has a touch of the "good old days" well – besides, it´s an official statement that my boat met the high standards of Lloyds back then.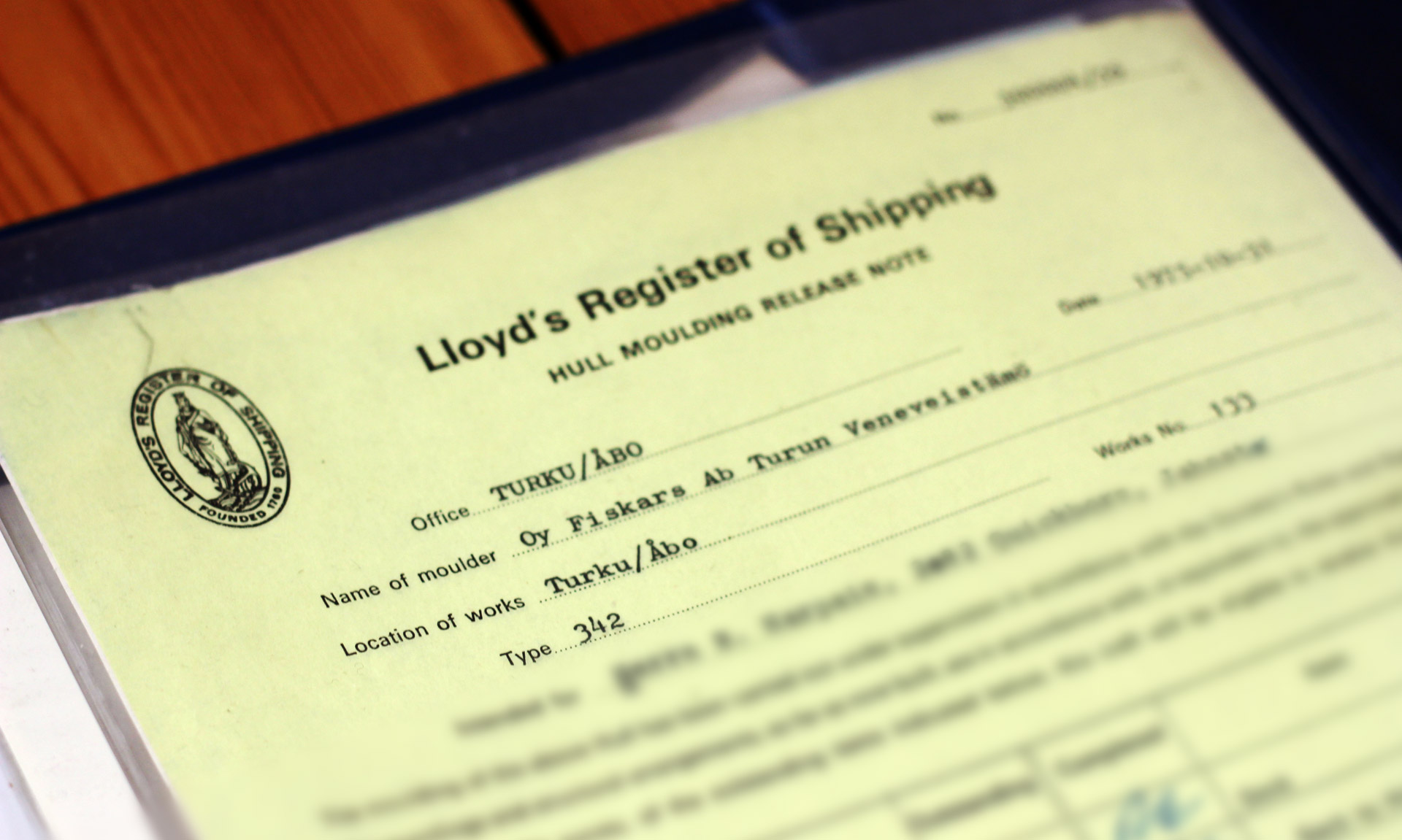 So after having done all the paperwork I am right now reading through all the engine-manuals and bills, all the plans and wiring diagrams of OLIVIA. Right next to me I have always a pencil and a piece of paper ready: I am noting all my questions. By the way: It should be of no question that the pre-owner offers by himself assistance and willingness to answer questions even some time has passed after the purchase. Lucky me: My pre-owner did mention this right on the first day we´ve met. Something which added to the good feeling we´ve had with our boat from the beginning.
Which experiences do you have with your pre-owners? And which insurances do you consider essential as yacht owner? I am looking forward to your feedback.