After four days of sailing the magnificent Beneteau Oceanis 30.1 with my sailing mate Martin May all the way East starting in Neustadt in Holstein/Germany via Gedser, Klintholm and Simrishamn we managed to arrive in Karlskrona one day later – read the full article here. As all previous ports of call have already know to me, Karlskrona was the first marina which I didn´t knew and I was super excited to being here.
How to sail to Karlskrona Stadsmarina
Of course I was heading through the submarine barriers and was sticking meticulously to the buoyed fairways as this was my first ever time in the archipelago of Sweden of which the so-called Blekinge-Skärgarden is the southern most area where a sailor might find these hundreds of thousands of smaller and bigger islands. Karslkrona is more than that: It´s the main naval base of Sweden, it still was back in the glorious days when Sweden ruled the Baltics and it still is.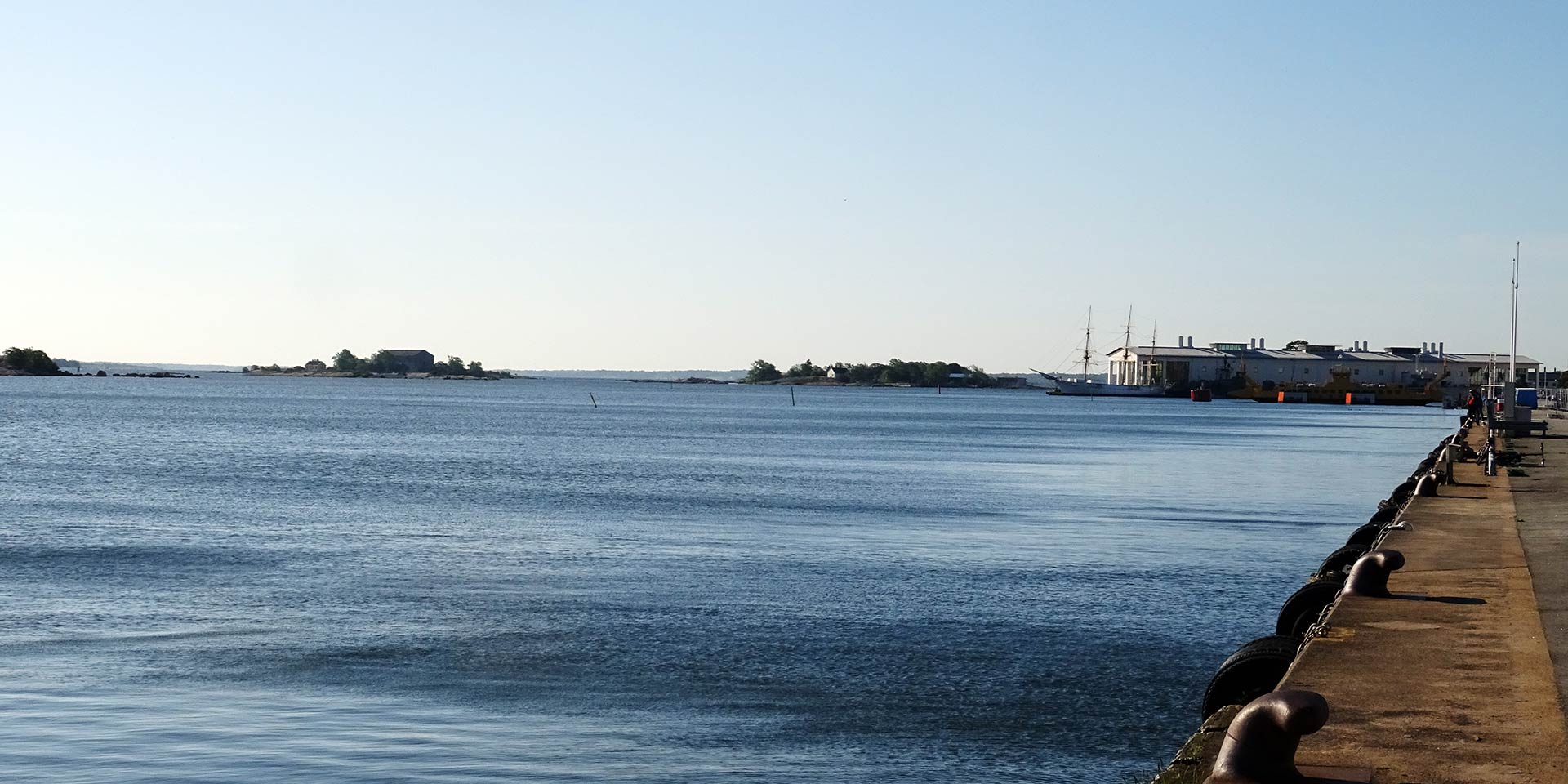 Coming here is a no-brainer IF you have the latest detailed charts and some experience in negotiating these waters. I will later post an article about my archipelago-time and how special sailing in the midst of these islands is, but I can tell you: It´s fascinating and scary at once, it´s exciting and awe-inspiring. So when I entered these waters I took down the sails and went by Diesel as I didn´t wanted to be distracted by sails trim whilst navigating the narrow fairways. It blew hard with 15 to 17 knots so sailing would certainly added more excitement but also more risk to my first time here. Karlskrona Stadsmarina is at the Northern side of Karlskrona so you have to round the whole city that is kind of located on a big island.
Mooring in Karlskrona Marina
The harbor itself offers just over 100 guest berths, the harbor´s draft ranges from 2 metres minimum to well above 5 metres, so even big boats will find a place here. There is the first pontoon where bigger boats may go alongside, all other pontoons have fingers to have the boat tied to. As it was pretty early in the season I had our small Oceanis 30.1 brought to the big boats pontoon which was no problem.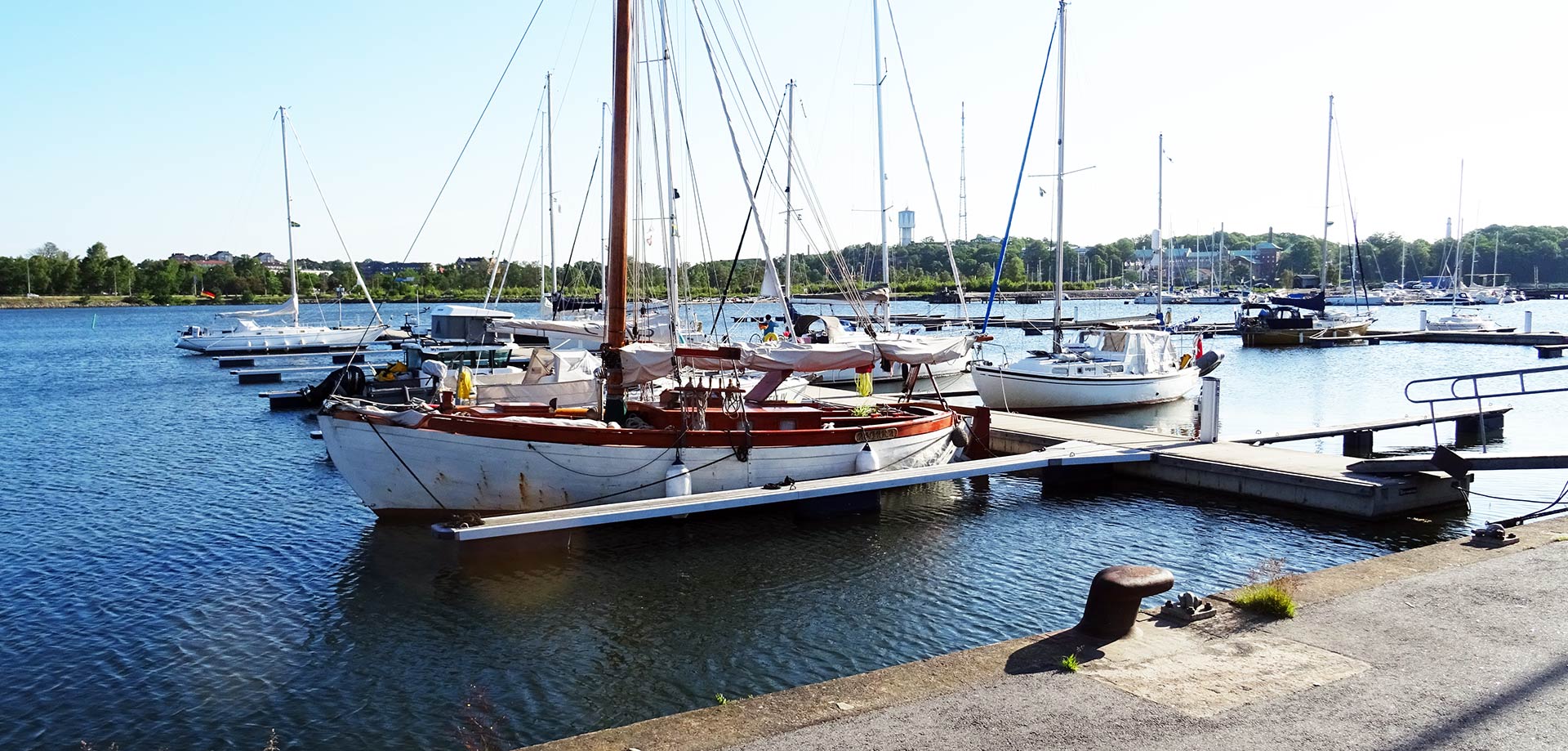 Mooring is very lush here. You land the yacht and after some time the harbor master will come by, say hello and collect the demurrage. Everything is brand new here, the facilities, the pontoons and the people running the place. Tone is very friendly and the staff will be happily recommend restaurants and spots to go to if you ask (and if you don´t like to eat out in the 3 restaurants which are located directly on spot in the marina itself). What I found a bit crazy at first was the very, very strong winds! All of the time we stayed here we had to cope with a sharp wind. But thinking it over it made perfect sense to set up a harbor here: It was the time of sailing ships before steam so they had to find a place which offered a constantly blowing breeze.
Demurrage in Karlskrona
Sweden is definitely not a low-cost country and so are the prices for demurrage either. Our 10-metre-boat was costing 21 Euros a day, a 40 footer will come it at a daily rate of some 27 Euros. But this is something people sailing in the Scandinavian countries should always bear in mind when they plan their trips: Food, beveragers (especially beer!) and general cost of stuff is way above German or Southern European levels.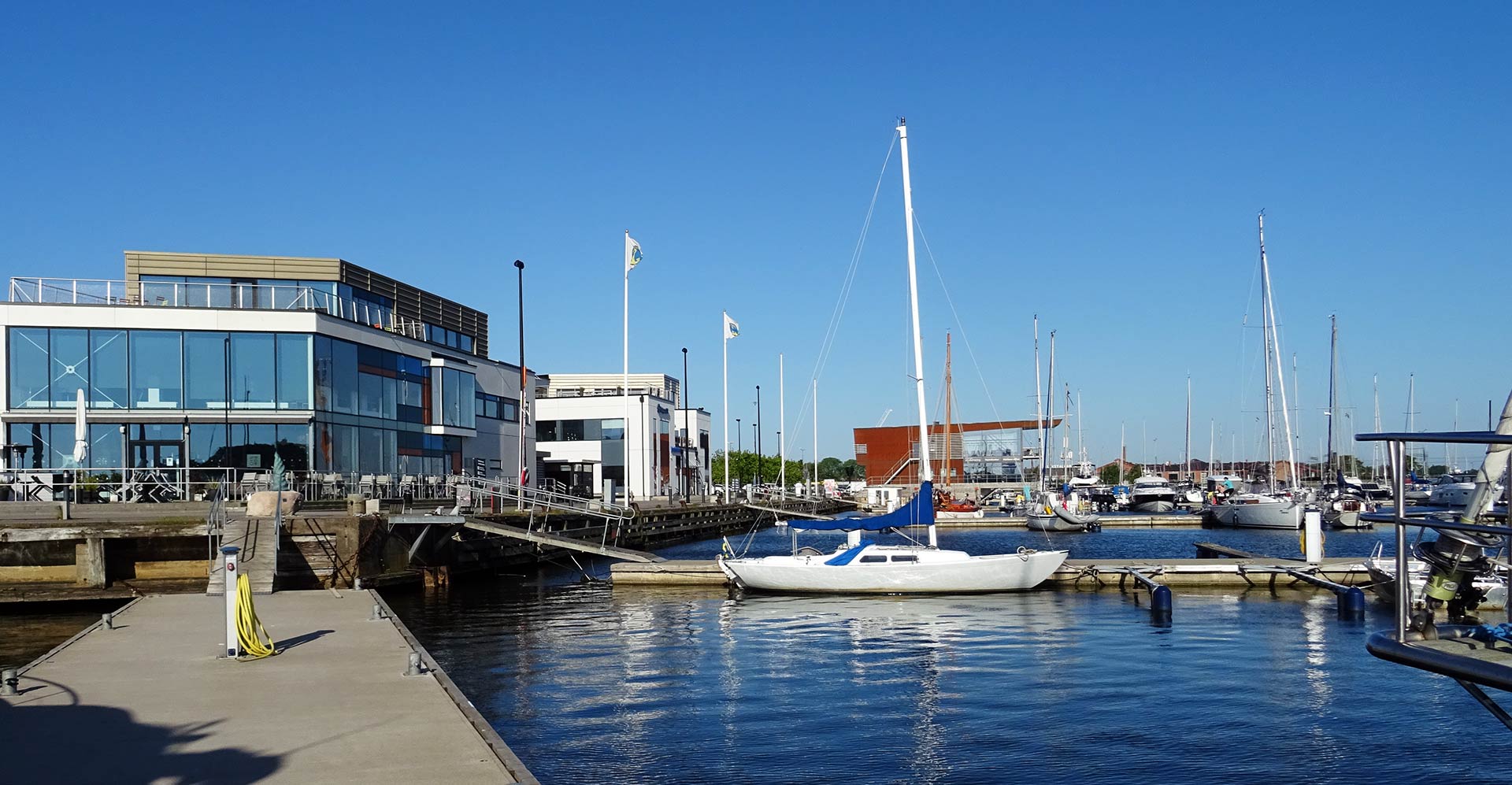 On the other hand, you get perfect service – almost everybody in Denmark and Sweden speaks spotless English – you get WiFi (well, not yet in Karlskrona but they are working on it) and you get a clean tidy atmosphere. We loved it here from the first minute we landed the boat (except for the violent rocking of the boat due to the wind).
Bathroom Facilities
First thing after being tied up? (Yeah, right after the beer, of course) Taking a long hot shower. Bathroom facilities on Karlskrona Stadsmarina are pretty basic in terms of style, but have over the time we were there been always clean and tidy. Showers are included in the demurrage and neither need extra-money or tokens nor have a time limit. Although they cease to shower after 15 seconds or so, but you just learn to keep pressing the shower-button constantly.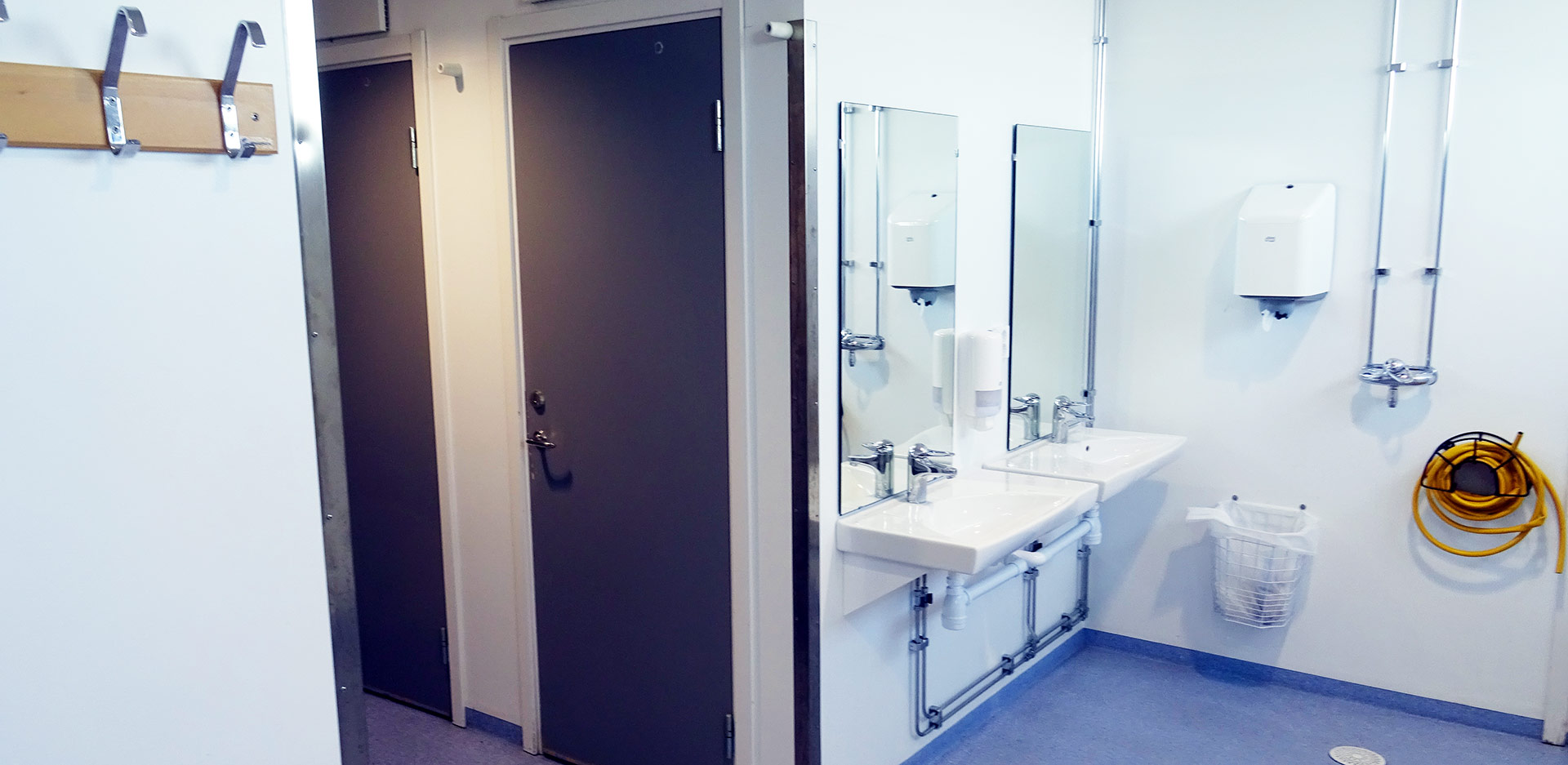 A bit odd and sometime adding some inconvenience to the sensation of getting your own body clean is the fact that the toilets are directly adjoining the showers. In this case my strategy always is to avoid taking a shower (or a dump, vice versa) when other people have their morning or evening cleansing. On the other hand, what is adding extra convenience here is the fact that a nice sauna is working all year long so you can relax here and have your body heated up to the bones again. Nice!
Eating and Resting One´s Oars
The City Marina of Karlskrona features no less than three restaurants. One is specialized in BBQ-style food, the second is directly on a pontoon and may be characterized as a bar offering simple snacks and handy food and a third one – slightly higher priced – is specialized in local food and fishy dishes. As the town is just an 800 metre walk away, we didn´t try any of them three but rather enjoyed a perfectly grilled steak in the town center.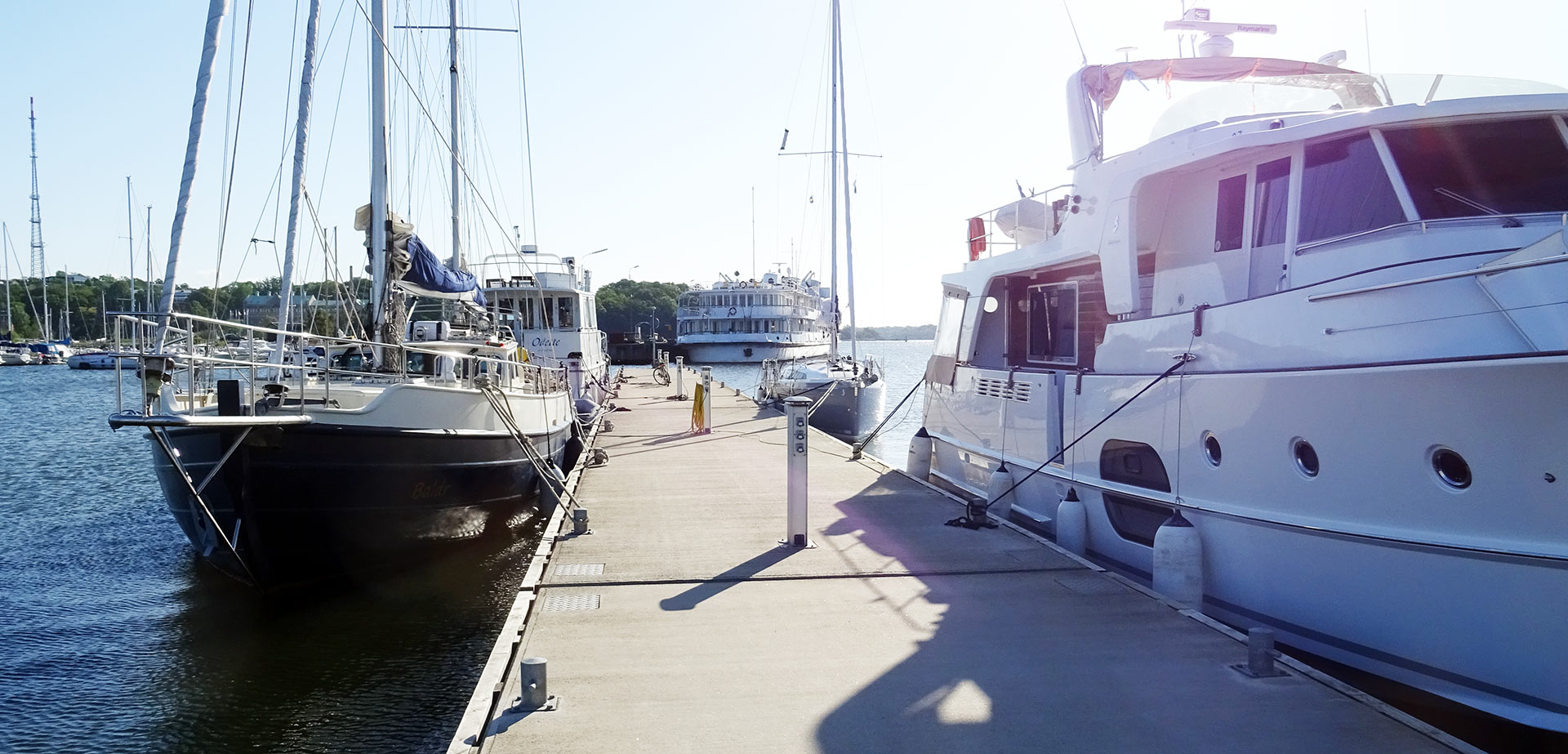 Speaking of the city. Karlskrona still hosts some of the biggest assets of Sweden´s navy: I got to see the Stealth Frigate VISBY and some submarines here. So they are honoring that naval heritage with a very, very good museum. Here you can see Sweden´s first ever sub and one modern sub on display, have several ships tied up and a truly remarkable exhibition. We spent more than 4 hours in this museum and it´s a definite go to! By the way – entrance is free! The city itself is very small and can be strolled in a few more hours by feet or by a rented bike.
Karlskrona Marina: My Overall Assessment
Mooring here was great. I was able to get some first experience of the Swedish archipelago, enjoyed great food and friendly people and could really dive into naval history in the museum. If you happen to sail northbound you should definitely make a stopover here. The harbour is modern, functioning without problems. The only drawback is that this marina couldn´t really convey a sense of own character to me because of the very simple and functional design. Nevertheless, it´s a nice place to be.
My overall assessment of Karlskrona Stadsmarina is 7 out of 10 points
Link to the Marina Website here
All marina reviews here
You may browse all Sweden-related articles by clicking on the hashtag #swedensailing