The waters of the Baltic Sea are perfect for both short trips "around the cape" and long cruises. So many countries are situated in its shores and there´s a huge variety of different cultures, people, traditions, foods and languages. I love Denmark, especially the Danish South Sea, but if you go a bit further south to Germany you´ll find in the state of Schleswig-Holstein one of the most beautiful spots of Germany (yepp, there´s more beautiful places in Germany than just Bavaria). People are friendly, population is sparse and nature breathtaking. Neustadt is one of these nice towns: Lush, relaxed and so nice to spent some days there. If you reach Neustadt by boat, it´s probably the ancora Marina you will find a berth. It´s Germany´s biggest privately owned harbor.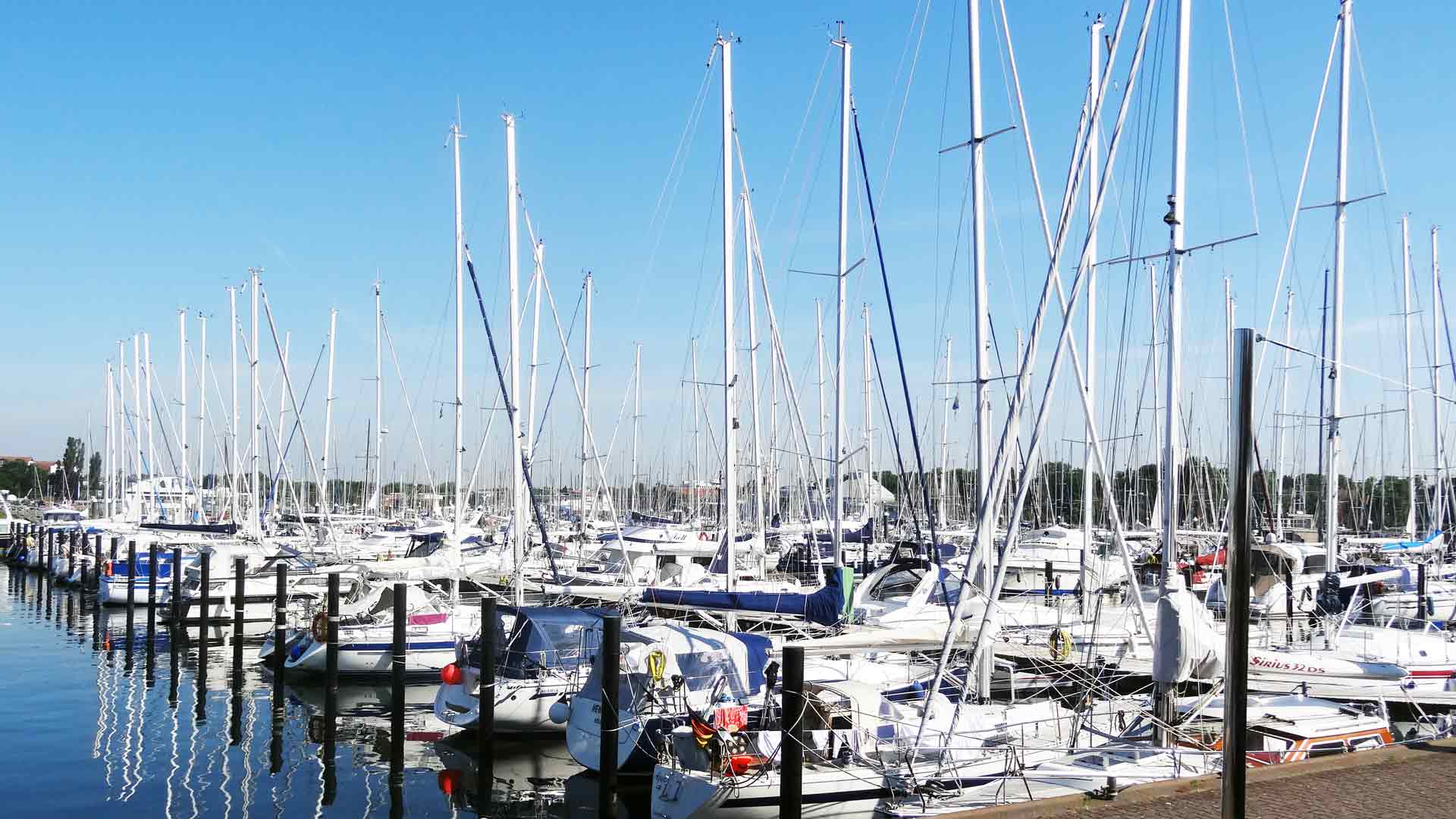 Neustadt has been founded back in 1244 and is proud of its long history. Once a prospering town and a strategically important harbor, it was fishing that made Neustadt rich. Nowadays some 15.000 people live here and enjoy the high quality of being a citizen to this town. It´s small, it´s quiet and it´s so nice. Neustadt is situated some 20 miles south-east of the Island of Fehmarn, the "most sunniest island of Germany" on the western part of the Neustadt Bay. If you come here, you might find other interesting towns like Travemünde (where the famous square-rigged Flying-P Liner PASSAT is moored), Lübeck (during old Hanse-times some 500 years ago one of the most important cities of the world) and the former border to the German Democratic Republic in the East, where population still gets sparse and huge white beaches look so tempting. (Besides, there´s no danger anymore to enter these eastern waters …)
How to sail to ancora Marina
Rounding Fehmarn it´s just 30 miles south-east into the Neustadt Bay to reach Neustadt. Approaching is easy but a skipper should do his navigational homework for the shoreline is peppered with stones and shallows. As I was told, it´s quite often that sailors underestimate this fact and sail all too near to the landline and will ground. But no problem: There is a SAR-Base in Neustadt and those people know how to fast bring you off the rocks – which should naturally be avoided in the first place. Neustadt approach is a waterway with buoys, ancora Marina leaving main waterway to the left. Ancora Marina indeed has three different basins: North-, South- and East-Basin. As a guest, you will probably choose the biggest of them three: East-Basin.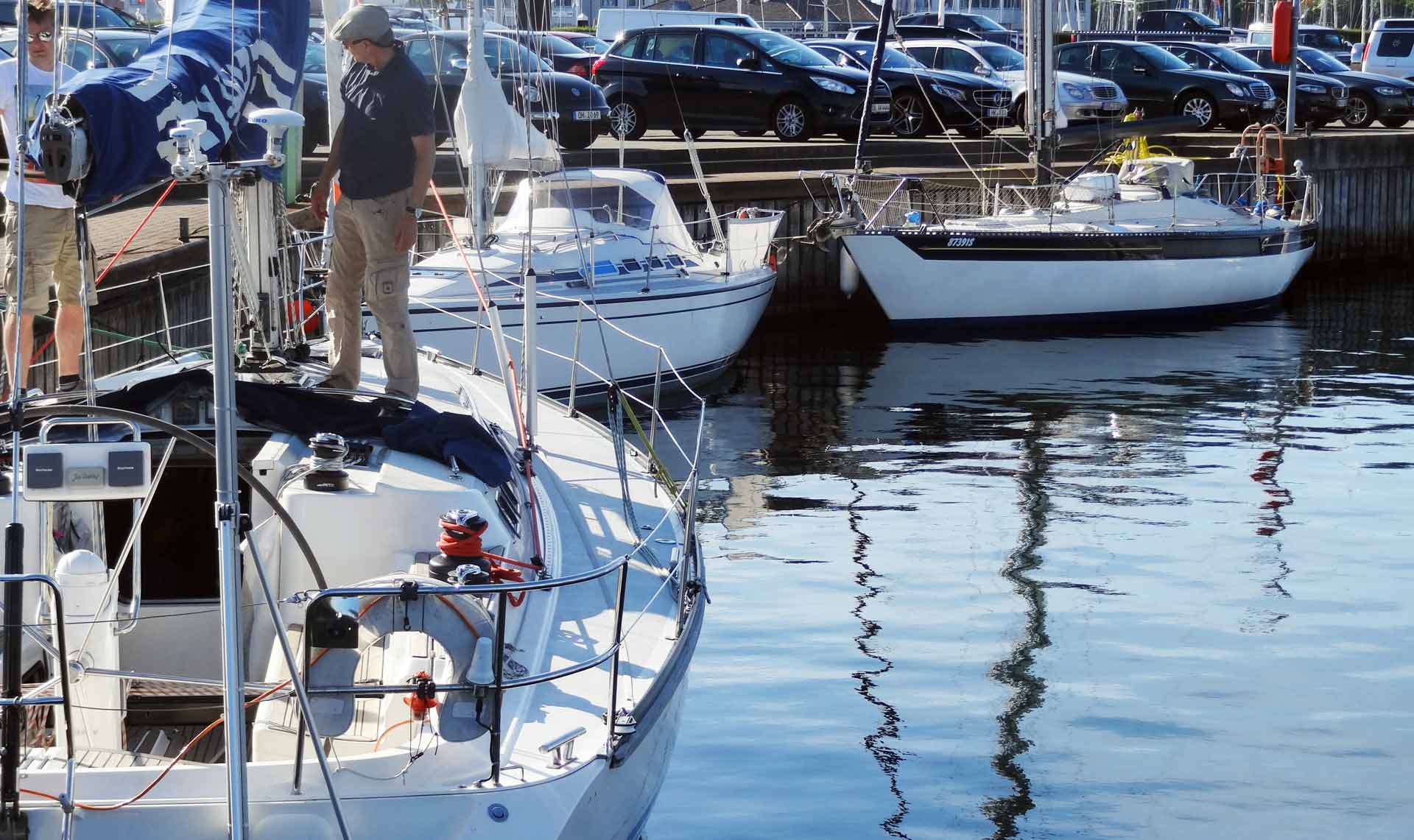 Ancora Marina offers some 1.400 berths for boats from 6 to 35 meters in length. Most of the berths are occupied but there´s virtually every time a free berth for guests. Draft in the port is up to 4 meters, so plenty of room for boats of nearly all sizes. The marina offers all amenities a modern port should have and a sailor would need: Elvström Sails has a department here, Hallberg-Rassy has it´s German headquarter here too, a small yacht-shop with all kinds of spare parts, clothing and stuff, a yard for smaller and bigger repair-work and of course all things needed upon arriving in port during a longer cruise. Above all: Atmosphere is relaxed, people are very friendly and despite the fact that the area is huge … you won´t feel it because architecture and concept of the harbor is clever.
Mooring at ancora Marina
Having found a suitable berth you may – as always – proceed to the harbor master to pay your demurrage, connect your boat to the energy service-plugs and take in some fresh water. There is no swell at all in the marina so berthing here is a dream, no motion (when weather is calm) when tied up to the pier side, sleeping will be nice here. Refueling can be done by steaming up to the North-Basin but waiting space at the pier side is limited, there´s only small room for maneuvering so it is clever to be there first or last (and best not during weekend-days) because four yachts in a row and the pier is chock-full. There is always an energy-plug within reach and no more than 20 meters away, same with fresh water supply. For those who want a change in living conditions, there is a vacation rental service with nice flats with an even nicer view and two "floating homes" available though reservation should be done well in advance.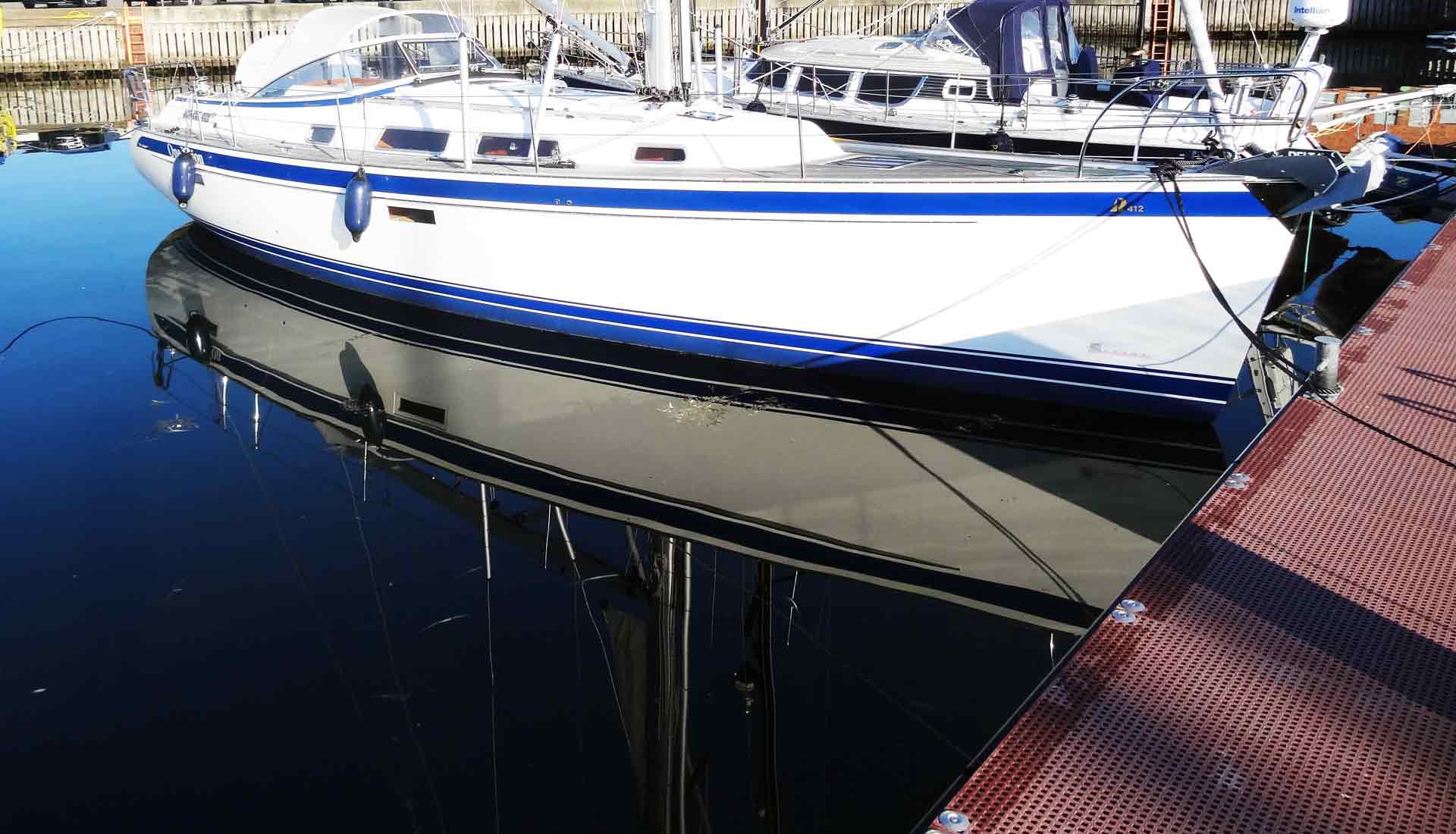 The ancora Marina has two restaurants, one between North- and South-Basin and one (with a very nice view over the port and a terrace offering an even better view over the Sea) right at the southern tip of the East-Basin. Food is good, though a bit higher-priced and be aware of longer waiting times especially during weekends for it is also a popular spot for locals and tourists. As I was mooring here for 6 days I found out that steaming into Neustadt port directly just one mile further up the sound and mooring there for some hours directly at the waterfront, there´s a restaurant called "Klüver´s" which is best in town: Fish and other local eatery and local made hand crafted beer is a dream. Visitors to Neustadt should definitely stop here for a bite and some tasty drinks here. Back to the ancora Marina: A small "super market" offers nearly everything you need, but prices are naturally very high. The next real supermarket is some 2 kilometers away into town – a long way by foot. There´s a shuttle-service by boat from ancora Marina to Neustadt Harbor running from Friday to Sunday, which is very comfortable.
Demurrage in ancora Marina
Ancora Marina is called the "5 Star Marina" and is definitely not one of the cheapest spots to hit when visiting Germany. But it´s worth it I think because amenities here are plenty, service exemplary and atmosphere near-perfect. Prices for daily demurrage range from 18 Euro for a 33 feet ship to 22 Euros for a 40 feet boat. That´s more than double the normal price of "1 Euro per meter" as expected to be in most European marinas, anyway, for five stars you are going to pay more everywhere.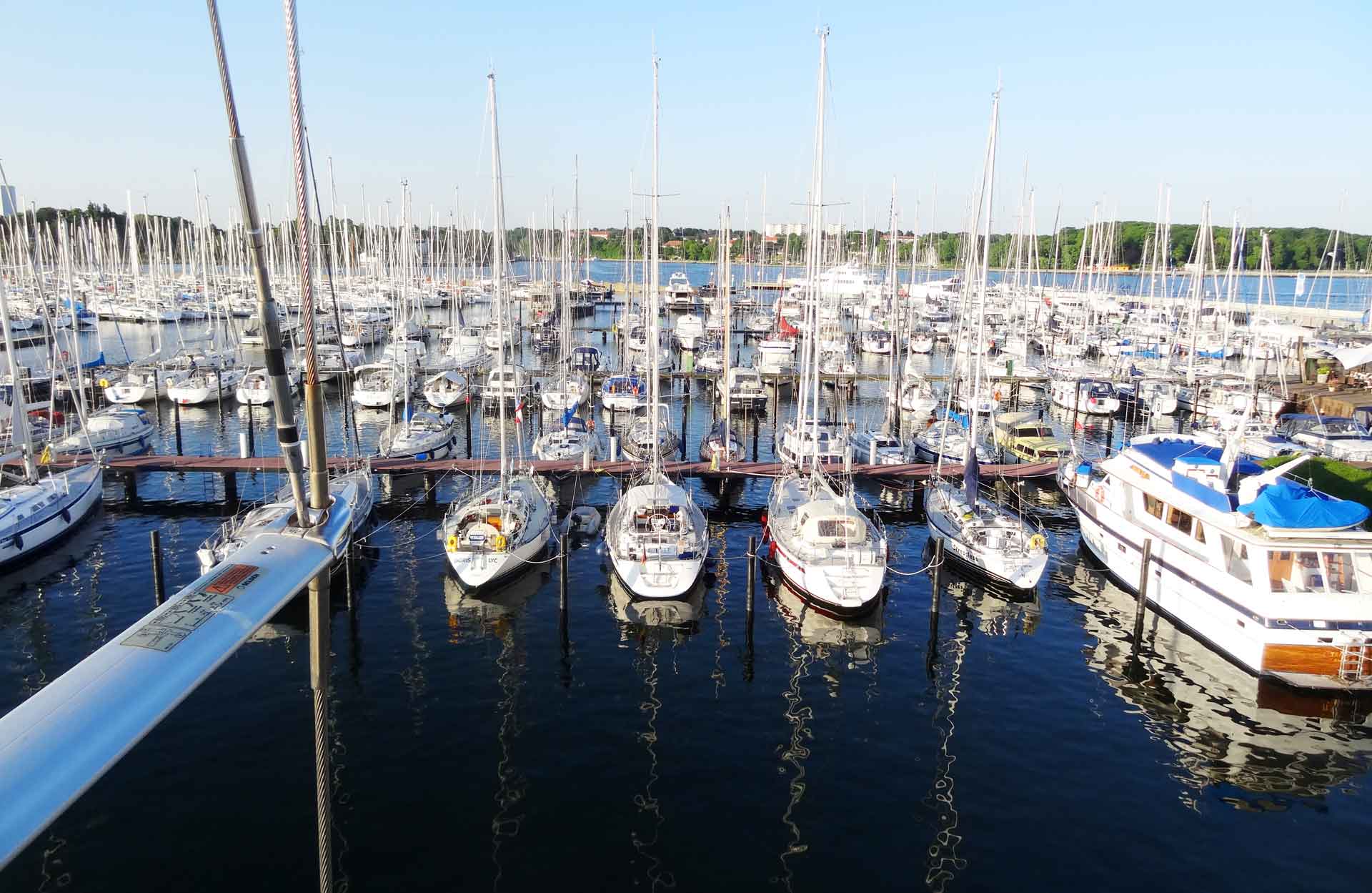 What´s a bit odd in my eyes is pricing for additional people because there is just one person included in the demurrage, every further person will be charged 2.50 Euros daily. When mooring with my 33 feet King´s Cruiser and my family here for a 3-day-weekend we would pay a total of 76.50 Euros, of which alone 22.50 Euros is the total fee for additional crew. That´s far too expensive from my point of view, I would surely limit my visit due to this pricing. Anyway, high prices like this will make sure that your pierside neighbor is likely to be the owner of a 44+ feet Hallberg-Rassy …
Bathroom Facilities
There are 4 big bathing houses in ancora Marina and all of them are within comfortable reach. Utilization of showers is included in the fee and quality of facilities is exemplary. There is a cleaning service every day at 7 a.m. and therefore facilities do always resemble best appearance. Taking shower, having a shave or just a dump should not be feared here.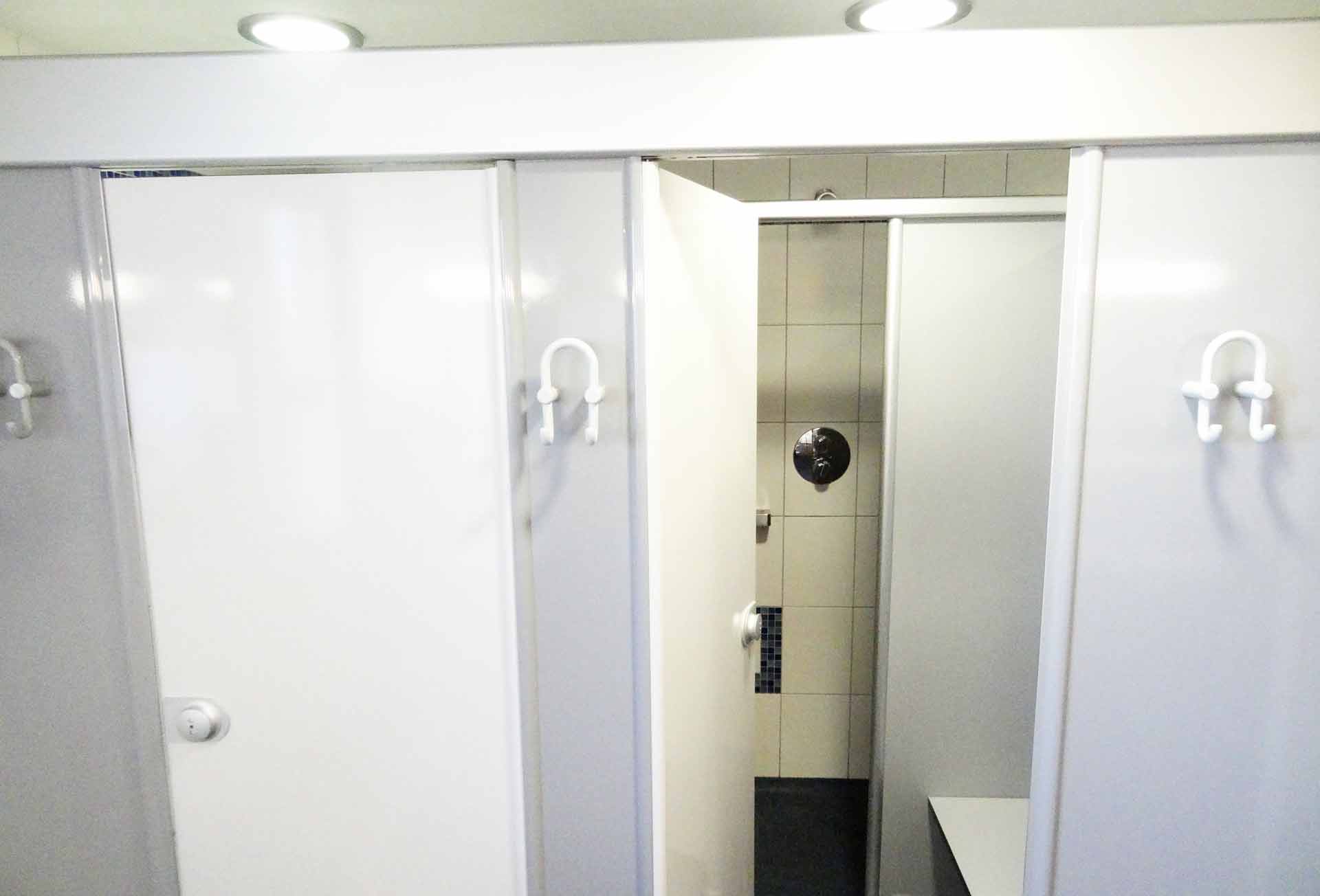 It can get a bit crowded in the morning and evenings when most of the sailors and their crew will storm the bathrooms but going here in "unusual times" you will mostly have the whole building for yourself. I don´t have anything bad or censorious to add here – that´s really 5-star arrangements in my eyes. Clean, neat and nice.
Eating and Resting One´s Oars
As I said earlier, there are two restaurants in ancora Marina and both of them offer higher priced food. I liked the "Meyer´s Sea Lounge" most for it offers a nice view over both the marina and the Baltic Sea and has a neat terrace right on the levee protecting the marina. Prices aren´t that cheap at all but food is worth it: Servings are big enough, variety of drinks and wine to choose from plenty of. There is a third place to get something to eat, a snack bar where they do serve a nice breakfast (and prices are much lower here too).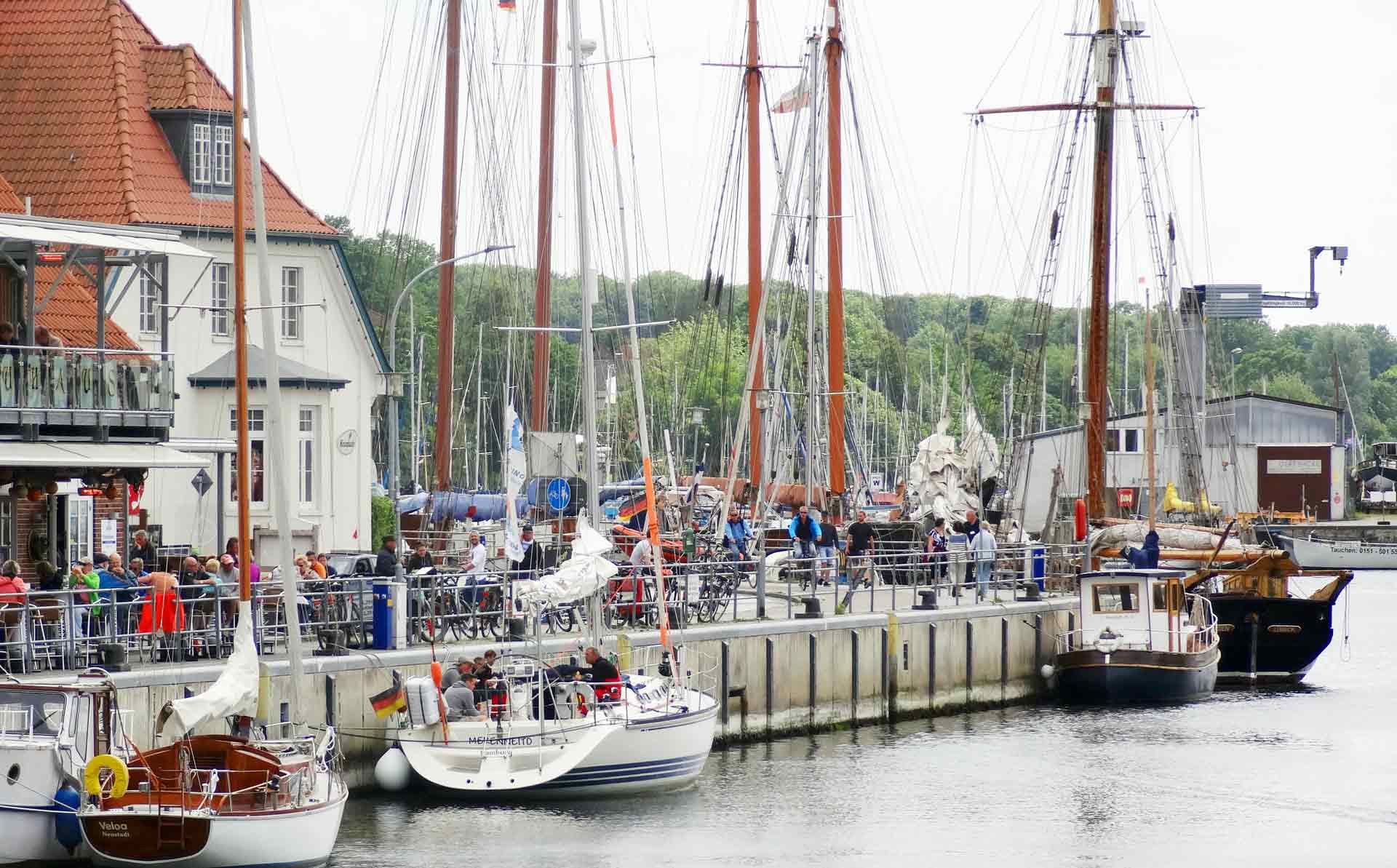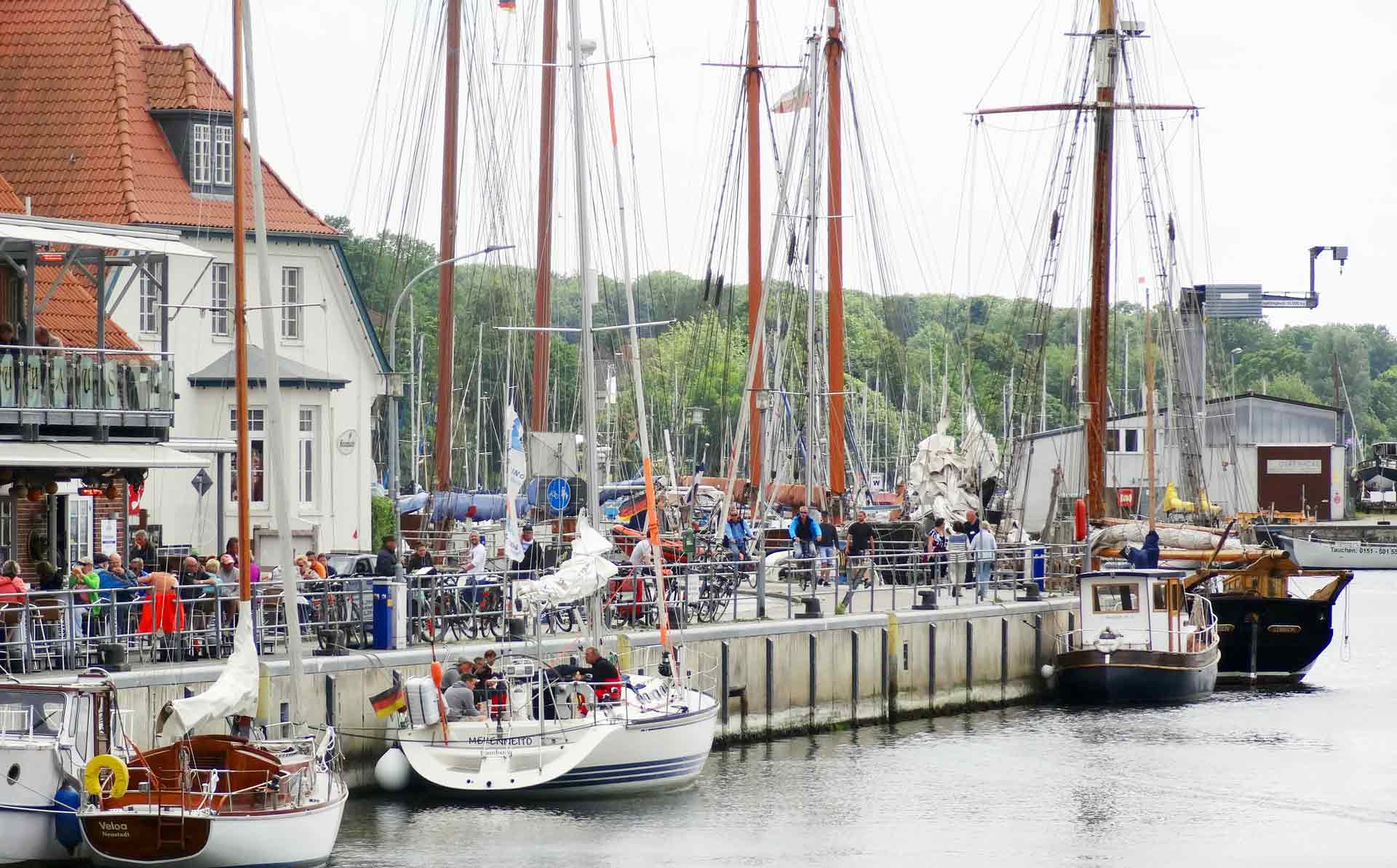 Atmosphere all over the place is very relaxed. You will definitely find quiet hours here, people are friendly both service personnel as well as your pier side neighbors. Spending time at ancora Marina can be used for trips to Neustadt which is worth a visit – here I had the very-very-very best icecream of my life (!) at a genuine Italian coffee shop called "Dolomiti". Believe me, I was puzzled like nothing. Also, very recommendable is "Klüver´s", a restaurant right at Neustadt Waterfront where they make their beer and you can have a look on to the production: This is real good German Beer as it should be. Neustadt is a nice town, the surrounding landscape as well though you´ll need a rented car to explore it. Nearby town of Travemünde is also worth a visit, especially because here one of the famous square rigged Flying-P liners, the 4 masted PASSAT is moored.
ancora Marina: My Overall Assessment
Neustadt is worth a visit, the whole bay area is a nice place to visit, not so crowded like other German Baltic shores, people are friendly and atmosphere is lush. The marina has a lot of pros: It is huge and you are likely to get a berth here at any time you visit. Bathroom facilities and amenities are exemplary and plenty of, as well as restaurant and eatery though it can get crowded over weekends and prices are above average. Neustadt offers plenty of things to see over the course of a weekend, the nearer spots to visit as well.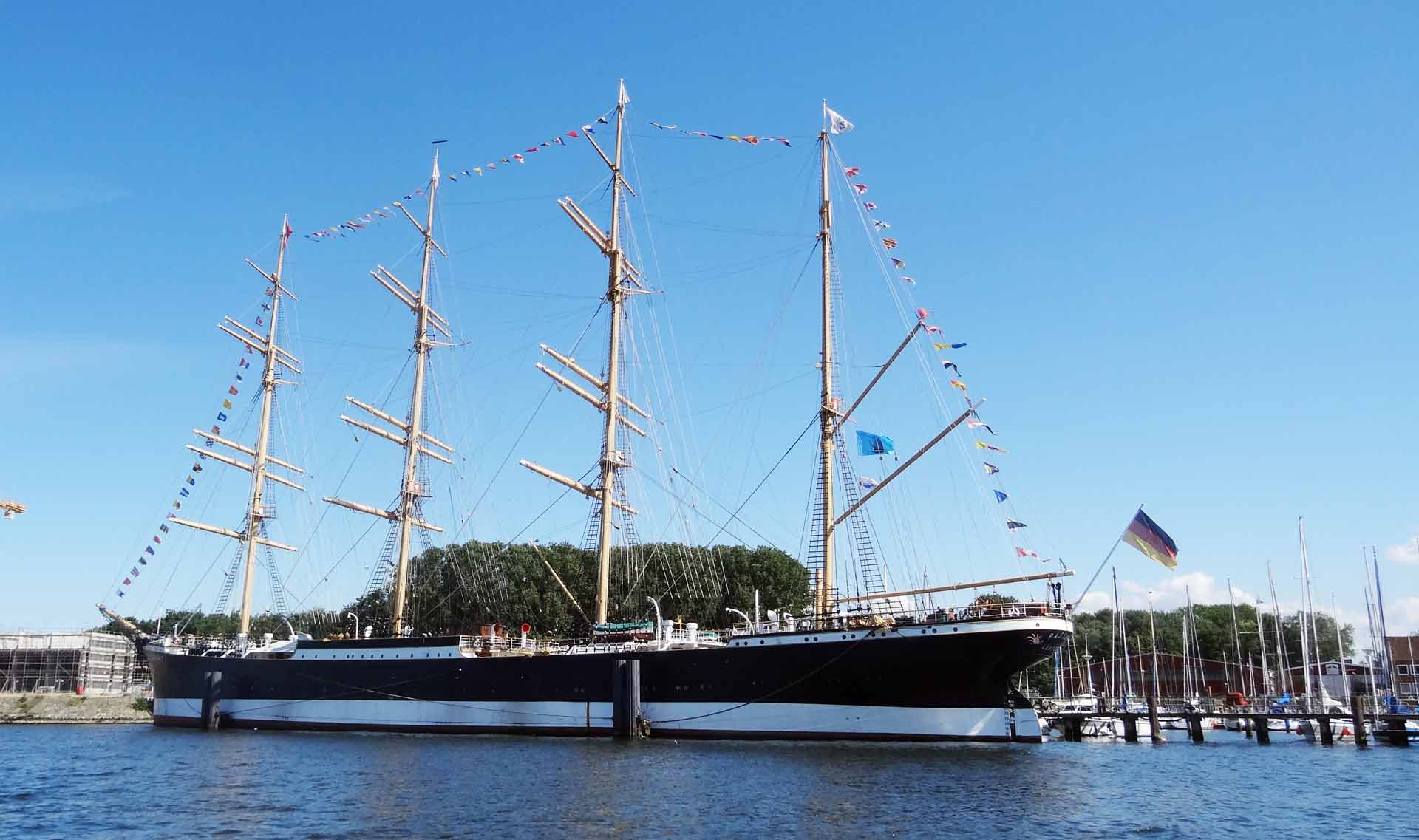 What I really didn´t liked have been the high prices: Demurrage is way above average and I dislike the additional fee of 2.50 Euros charged per person in particular because it makes a visit quite expensive. Nevertheless, if you have something to repair at your boat, have to take it out of the water and get inspected, get your sails or engine serviced, ancora Marina is definitely offering a wide range of professional providers of such services.
As my all-in-all grading would be much better, the very high pricing made me downgrade the overall assessment of ancora Marina to 7 of 10 points
Link to the Marina Website here.