Marc Lombard is one of the most renowned naval architects and yacht designers in the world and bears the status of a legend especially in France. He is the one who is responsible for those chatoyant names just as the Beneteau Figaro 1 and 2 (read about it here), Ofcet, RM Yachts (read about it here) and even large production companies like Jeanneau, Nautitech or Privilege hired the designer. Lombard even did the re-design of the Alubat Cigale 16, the larger sister of my all-time favourite, the Cigale 14. He is known for his combination of unconventional approaches to a design in combination with powerful and fast hulls.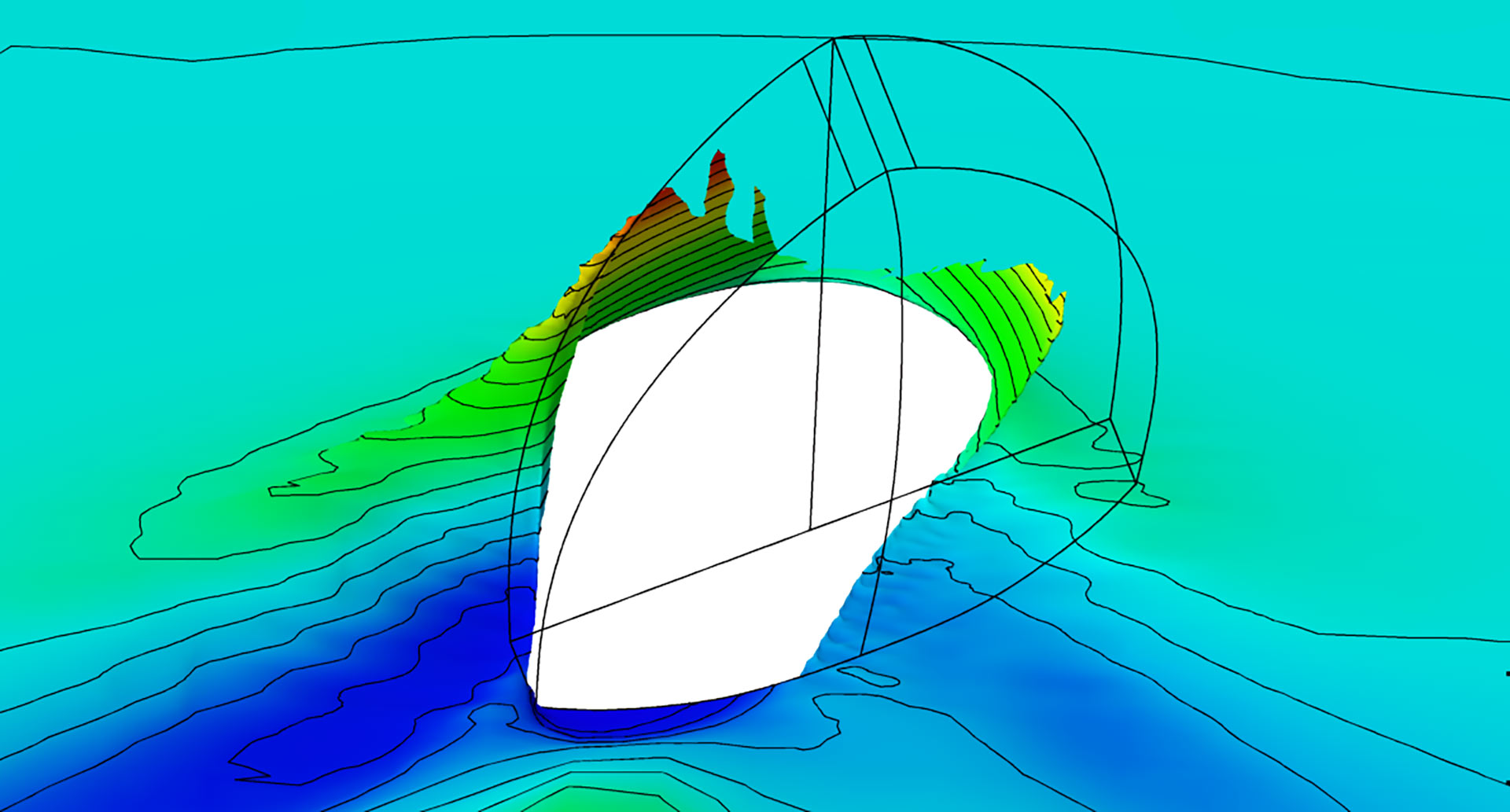 When I checked on his facebook-account lately I got aware of his latest boat touching waters: A Class 40 racing yacht. The LIFT 40 prototype launched this week made me pick up the phone again and contact Marc to have him interviewed on this beauty – you know that I am in love with Class 40 racing yachts (read my article on Class 40 yacht designs with Lombard, Merfyn Owen and Britton Ward here) and I love to sail these whenever I can.
Lars Reisberg | NO FRILLS SAILING.com: "Marc, good to have you again and thanks for taking some of your precious time to answer my questions. As you are the designer of the legendary Akilaria Class 40 yachts there are already Class 40 designs available. Now there´s a brand new one. Please tell me about the origin of the LIFT 40. Is it a one-off? For whom did you design this yacht?"
Marc Lombard: "Oh yes, the new design definitely a one-off design! The period when we were able to produce a "production-Class 40" is about over. This is due to the fact that the Class 40-fleet now counts a large number of boats, and that, beside general naval architecture progress, top construction with no "production compromises" is necessary to achieve all parameters at the top. This is: Minimum weight, maximum allowable righting moment, maximum centring of all weights. Even if on paper the rule leads to similar parameters "power to weight ratios ", difference is made on hull shape new tendencies and many details that leads to a better boat."
NFS.com: "So you´ve got a client who wants to be at the top of the Class in terms of racing?"
Marc Lombard: "Yes, definitely. We designed the boat specifically for Louis Duc who sailed previously on our designs, both on Mini class and Class 40. His boat was exTALES, originally designed for Gonzalo Botin and twice winner of the world championship in Class 40-racing. Louis also choose two very competent yards for the actual construction of the boat: Vi/D2 in Caen in the Normandy was in charge of overall managing and deck and appendage construction. Gepeto in Lorient did the composite of hull and structure. This has definitely been a good choice! Louis had good contact with my partner Eric Levet and H.P. Shipman, naval architect at MLDG and placed 3rd in Mini-Transat 2009. Both have principally been in charge of the Class 40-design this last winter at the office."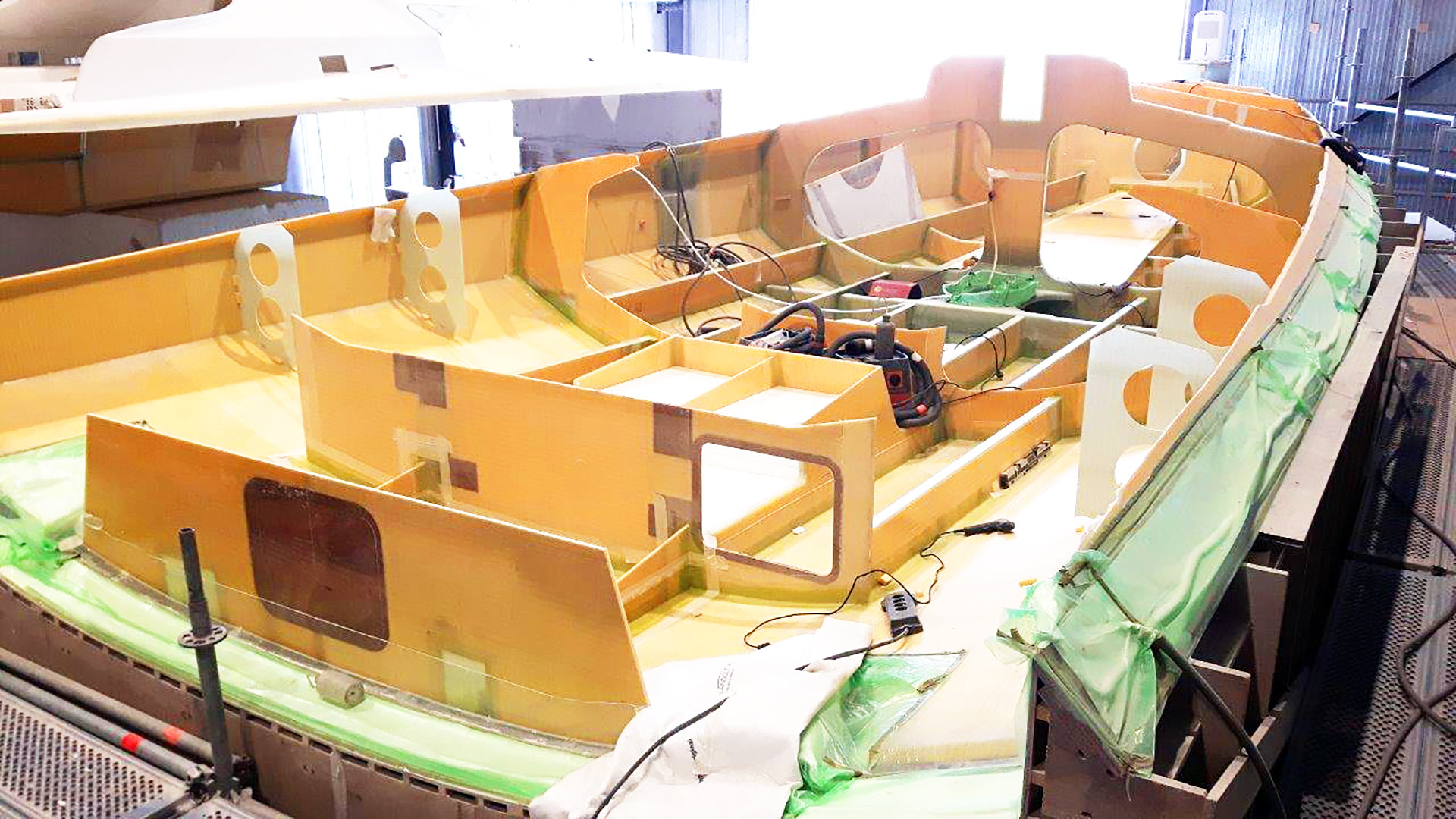 NFS.com: "Can you give a general description of this yacht with an emphasis on the briefing that was given to you by the Louis Duc – which premises does this yacht adhere to?"
Marc Lombard: "Well, there hasn´t been a real specific demand from Louis, except to design with emphasis on power at sailing angle which is different than power measured by the rule. This of course to maximise performance on reach and upwind courses, maybe even more than on our previous designs that where orientated on full round performance, but within a production way of building. For the rest, Louis asked an all-round optimisation, keeping the best of our previous designs but improving even more on certain details. We discussed some specific demands, like the use of a fixed bowsprit plus a separate orientable spinnaker pool – by the way, as opposed to our super successful previous orientated bowsprit used by many concurrent. This to optimise windward tack point on spinnaker, theoretically better with this later configuration. At the end we designed his solution, but pointing the risk of damage if for example used the wrong way of the pool in manoeuvring the boa. For at the end a limited gain versus risk of misuse I would say."
NFS.com: "You are – next to many other projects – well known for your Akilaria Class 40 racing yachts. Are there differences between the LIFT 40 and the Akilaria yachts?"
Marc Lombard: "The main difference, as said before, is the fact that the boat is built as a one-off design, with little or no compromise on price side: The boat's infusion is made with better technology, shaping foam, using as little resin as possible. Main difference with previous Akilaria's construction is the fact that the hull and deck has no gelcoat, but a paint finish which by itself allows a gain in weight of over 80 kg. This gained margin can be used to have a more rigid boat, a stronger boat and a better centre of gravity. Of course, that is impossible on a production boat, as the price is much higher at the end. This was also made possible because we limit the investment on tooling by using and adapting an existing deck mould built by Halvard Mabire for his last boat. Also on appendages, as a prototype, we went directly to a lifting rudder solution, which again is impossible on standard production Class 40, because of far more expensive configuration."
NFS.com: "Let´s go further into detail with LIFT 40. What are special abilities or features of this boat in terms of hull shape design and appendages?"
Marc Lombard: "On the design side, the optimisation is made mainly on hull shape which has far more volume forward, allowing a greater power at commonly used heel angles. Large investigation on CFD program was made on this boat to increase usable power without penalty on drag side, to preserve at most performances on full downwind conditions. To achieve this we worked a lot on the shape of hull both under and over flotation line, including deck lateral shape, the goal to achieve minimum measured power but maximum sailing power. Forward stem and keel line slope is also a major key in the design, it is developed to move forward the centre of immersed pressure as soon as the bow comes down. It is a critical compromise which without CFD we would have been unable to adjust the necessary amount of slope: Too much would lead to increased drag all round, too little would lead to bow down and through-wave-behaviour large problems. This is also one reason we tried not to go to full scow stem like on certain mini designs: We believe that there is a possible compromise with a less ugly shape than scow stem that I don't like is heavy weather as a possible structural weakness. Beside this, large optimisation was made on appendages. With an even thinner keel for example, larger lifting rudders. This is to allow a larger amount of rake of the mast and perfect steering balance. This was necessary with extreme volume of the hull forward, and keeping bow up all the time."
NFS.com: "What about rigging and sail plan?"
Marc Lombard: "As I said, the aim was to keep extreme volume stem up and above the water. For this purpose, the sail plan has a clear aft position relative to the hull to help the necessary aft trim.
On mast side, with one spreader configuration we allow relatively low windage and low centre of gravity. This configuration only works with carbon mast that allows different wall thicknesses in different parts of the mast. On paper, the result shows progress on all points of sailing. And the fact that the rudders acts as a major item in the lateral resistance also gives a very live steering. For sure this help in finding the good sail trimming. With this sort of configuration, the boat shows clearly an unproperly sail trimming: As this would pose a large problem for a cruising boat, but in fact it´s a major key for a full racer."
NFS.com: "What will be the speciality of this yacht?"
Marc Lombard: "Definitely the boat should be super-fast on reaching and upwind points of sailing, but keeping the same performance than our best previous design downwind. Especially the performance we achieved with the Akilaria RC3 design."
NFS.com: "Will LIFT 40 set a new standard in Class 40 racing yacht design and what´s the general difference to Owen Clarke, Pogo etc.?"
Marc Lombard: "Previously, we constantly improved our production design Akilaria, but within the construction compromises, it was difficult to move on a large step forward. Compared to other designs, I think we've moved to a very new standard of Class 40 boats, by interpreting the latest tendency developed by our design office in terms of racing boats. In this case it´s especially the Mini Class latest evolutions. Except for foil design that is prohibited on Class 40, but that will be present on future design of this size like on our Black Pepper Code 1 in few month time."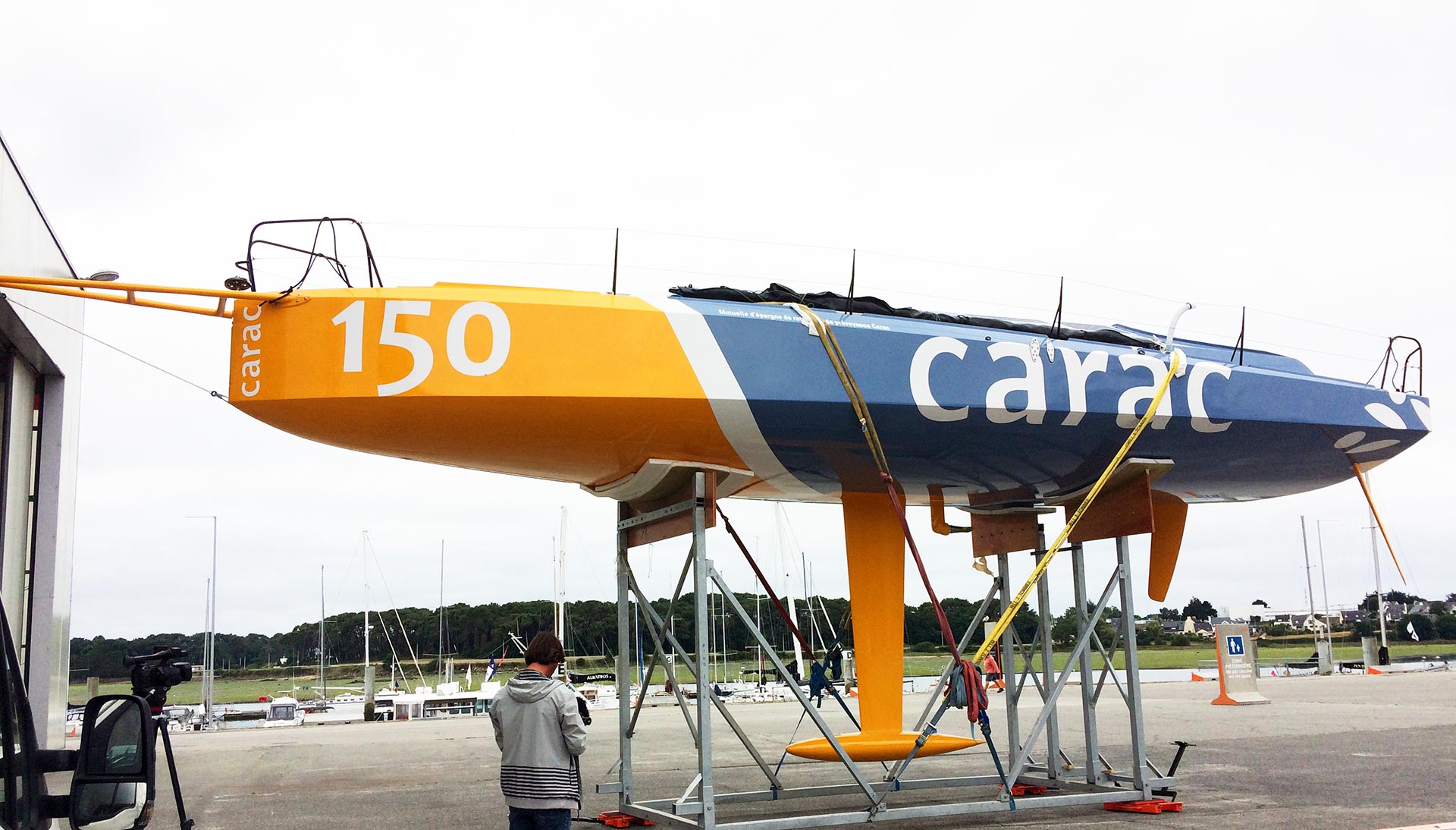 NFS.com: "When will LIFT 40 hit her first race and will be there other boats of this class?"
Marc Lombard: "CARAC, that's Louis Duc boat's name, will be racing this summer at the Fastnet race, followed by the Transat Jacque Vabre, this coming fall. Considering the time and overall budget of design of this new boat, we definitely would like to build a few other boats on this design, We already have some contacts, but, as usual for racing boats, decisions will probably have to weight race results."
Marc, thanks again for opening up some interesting insights in your latest design. It´s always interesting to learn about the stories behind the racing yacht designs as it is mainly their approach to solving problems which can in terms of a scaled down-process have big influence on production cruising yacht designs. I will definitely check for LIFT 40 CARAC´s progress and performance in the racing world.
Other interesting articles on this topic:
Alex Lang´s Mini Class 650 Dudley Dix design made of plywood
The mystery of La Solitaire – the FIGARO 2 racing yacht
Marc Lombard on designing a yacht