Following my instagram- or facebook-feeds you might be aware of the fact that I am currently being based in France, more specifically in Les Sable d´Olonne. I had sailed an Excess 11 sailing catamaran from here to spain the week before and am now waiting to receive a second one which I will then sail to Germany. Since the cat isn´t readily commissioned yet there are some days now to spend – and for me a great chance to get to know this great little town a bit more than just seeing a pontoon, a marine shop and a supermarket.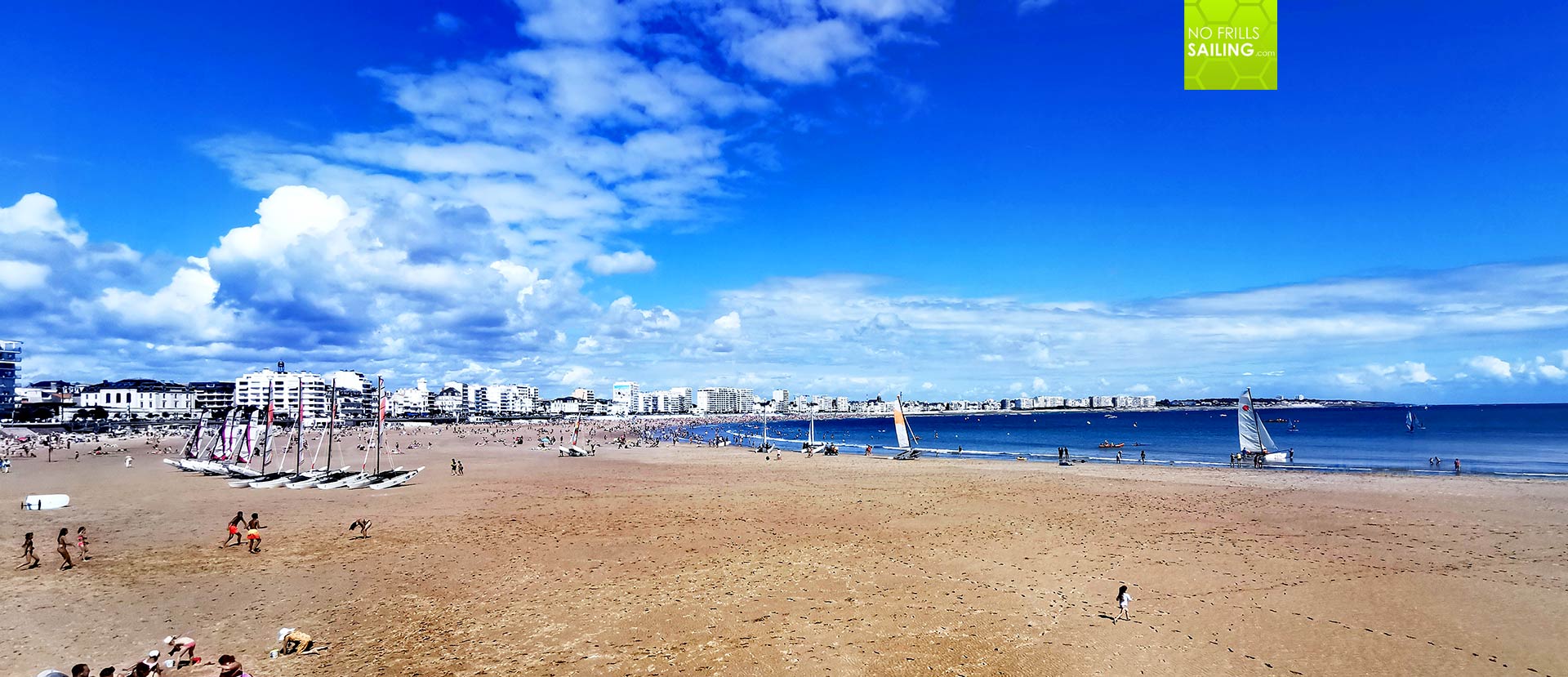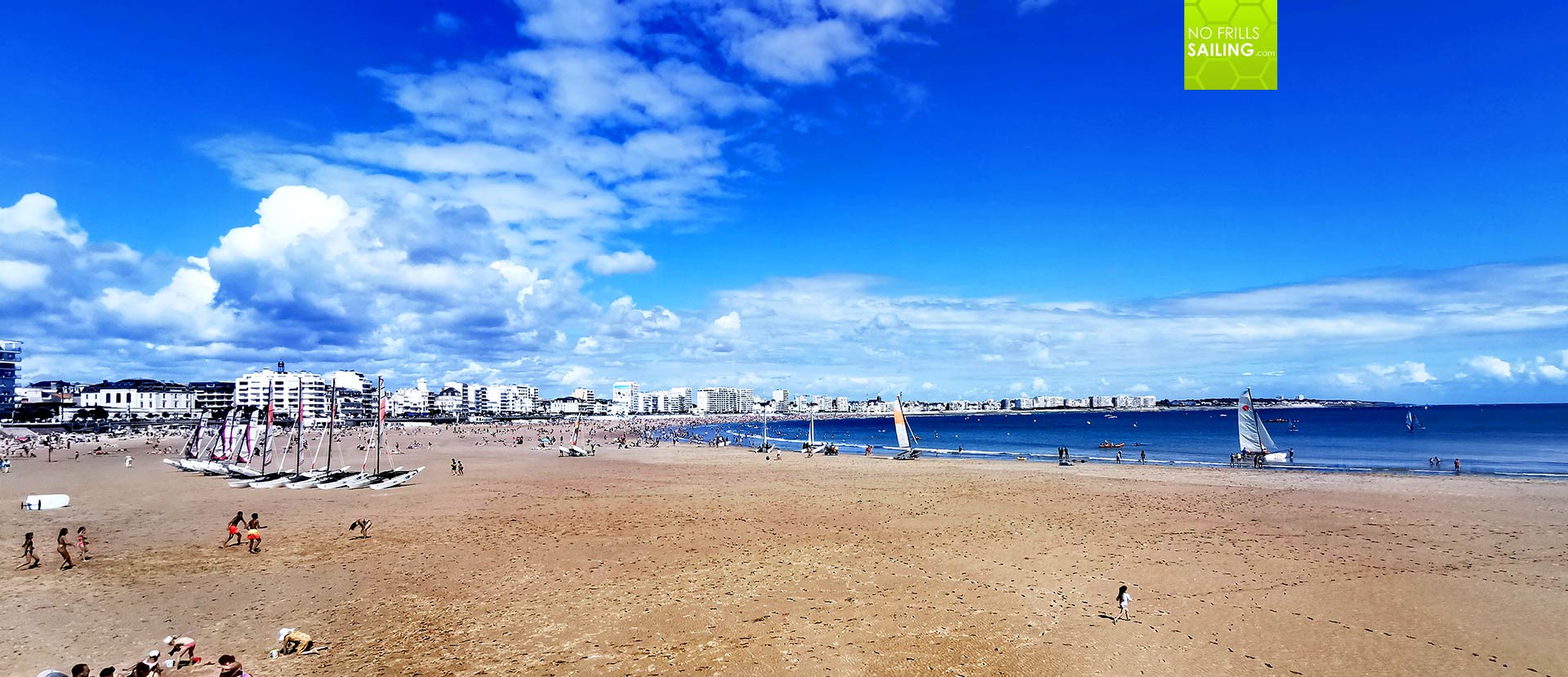 Les Sables d´Olonne is one of the main focal points of France´s sailing community. Just as Lorient´s LA BASE (of which I have also written an article that you can find here), Les Sables enjoys great publicity and is know all over the world. Why? Well, ever heard of the Vendeé Globe? Yepp, it´s this most famous and prestigious single hand races of the world which starts and finishes right here. But les Sables is much more than just this race, which of course indeed is the greatest happening of the town, transforming it every 4 years to the epicentre of the interest of sailors worldwide.
Les Sables features a vivid fishery scene which can be seen in the brasseries and restaurants all over town, offering the freshest and tastiest of seafood and fish you can imagine. If you happen to come here by boat or caravan, don´t miss the opportunity to buy these wonderful products in the marché des halles or in one of the fish-shops situated near the harbor. There is also a big, big beach, the grand plage, which is a big attraction both in summer and in winter, when the fiery brutal waves come in from the roaring Atlantic Ocean. But, of course, it´s all about sailing in the end here in Les Sables …
Always something to see at the pontoons of Les Sables …
As the base of the Vendeé Globe race the main pontoon may draw in your attraction. It is open to the public and you can enter at will, everybody is welcome. At the pontoon several small shops offer fast rides on Skidoos and even quicker ribs, going further down the wooden planks you will see the first brightly colored racing machines, see the tips of the huge carbon masts and maybe find a crew of people bustling around a boat to ready it for another seatrial.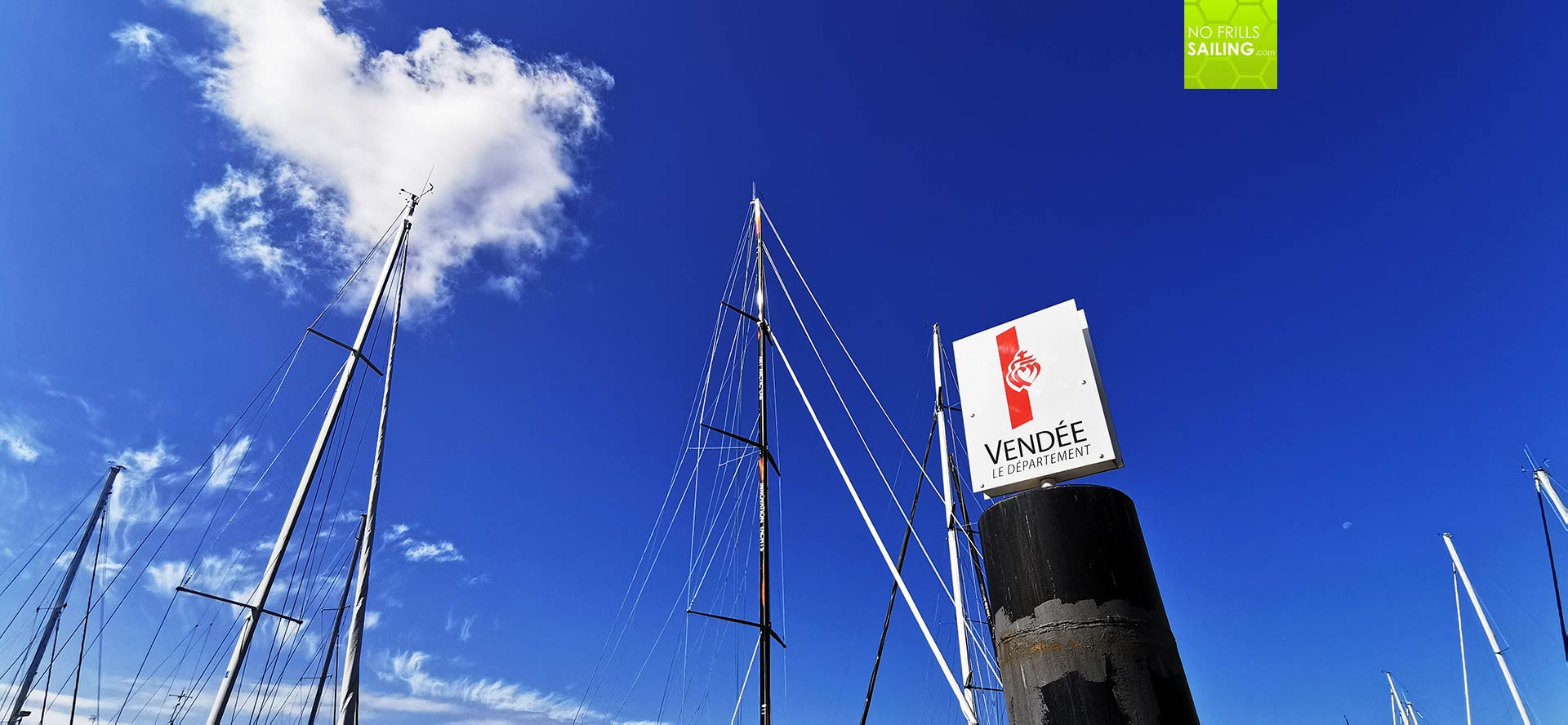 On this exact location the big races find their starting point and will be finished. Be it the Vendeé Globe, some of the big Class 40-events or smaller races – Les Sables apparently offers an attractive infrastructure for pro-sailors. But also amateur and private skippers appreciate the marine service offered by Les Sables harbor and countless adventures of circumnavigations had begun here.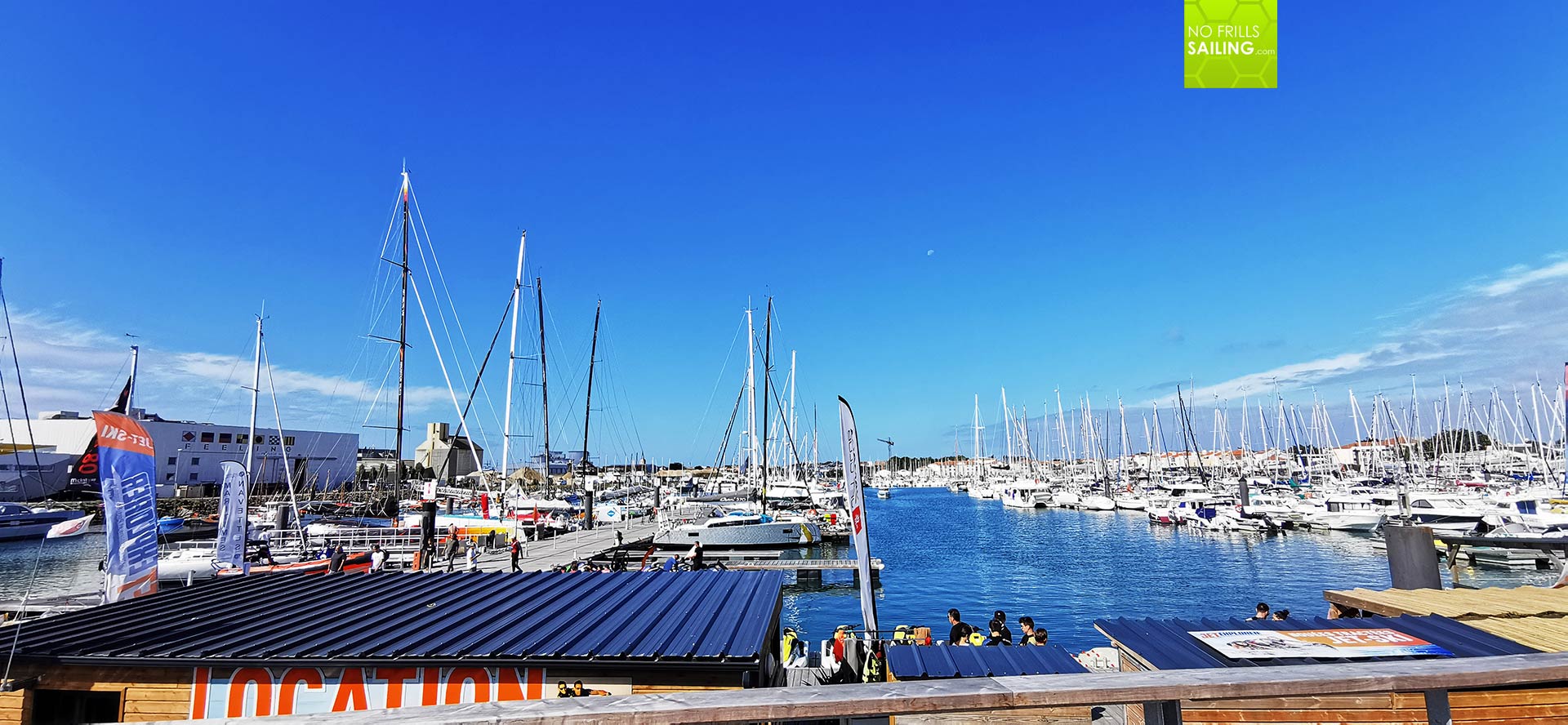 If you happen to be here, take at least one day time for yourself before focusing on your boat and project again, to let the town´s charme, the fine character of the beautiful people here to take over your goodfeel. Enjoy good food, a local (strong!) Blonde beer and have a long walk along the jetties of Les Sables – I promise you won´t be disappointed. Here´s what I was happy to observe, feeling like a mixture between a secret agent, eavesdropping on prototype-state new boats and a little child, entering the forbidden warehouse of Santa Clause.
IMOCA: Like strolling the Formula 1´s pit lane
Fist thing you´ll probably notice will be the IMOCA 60 racing yachts, of which always a handful are docked here. It´s possibly not the Crème of boats, like HUGO BOSS or CHARAL but even the "older" models are absolutely stunning to see at a fingertip´s distance.
When I was, among other boats, I took a long look at Finnish pro-skipper Ari Husela´s IMOCA. This boat, equipped with the trademark outriggers and old-school daggerboards, finished this year´s Vendeé Globe in 25th place. Standing there, looking at this rocket and letting the immense machinery act on your imagination is simply stunning. Imagining to being in charge to control this monster in waves big as houses and wind speeds beyond safe is a true mindfuck. If you are lucky, you may meet someone from the crew or even the skipper himself (I wasn´t lucky, but nevertheless enjoyed the midnfuck).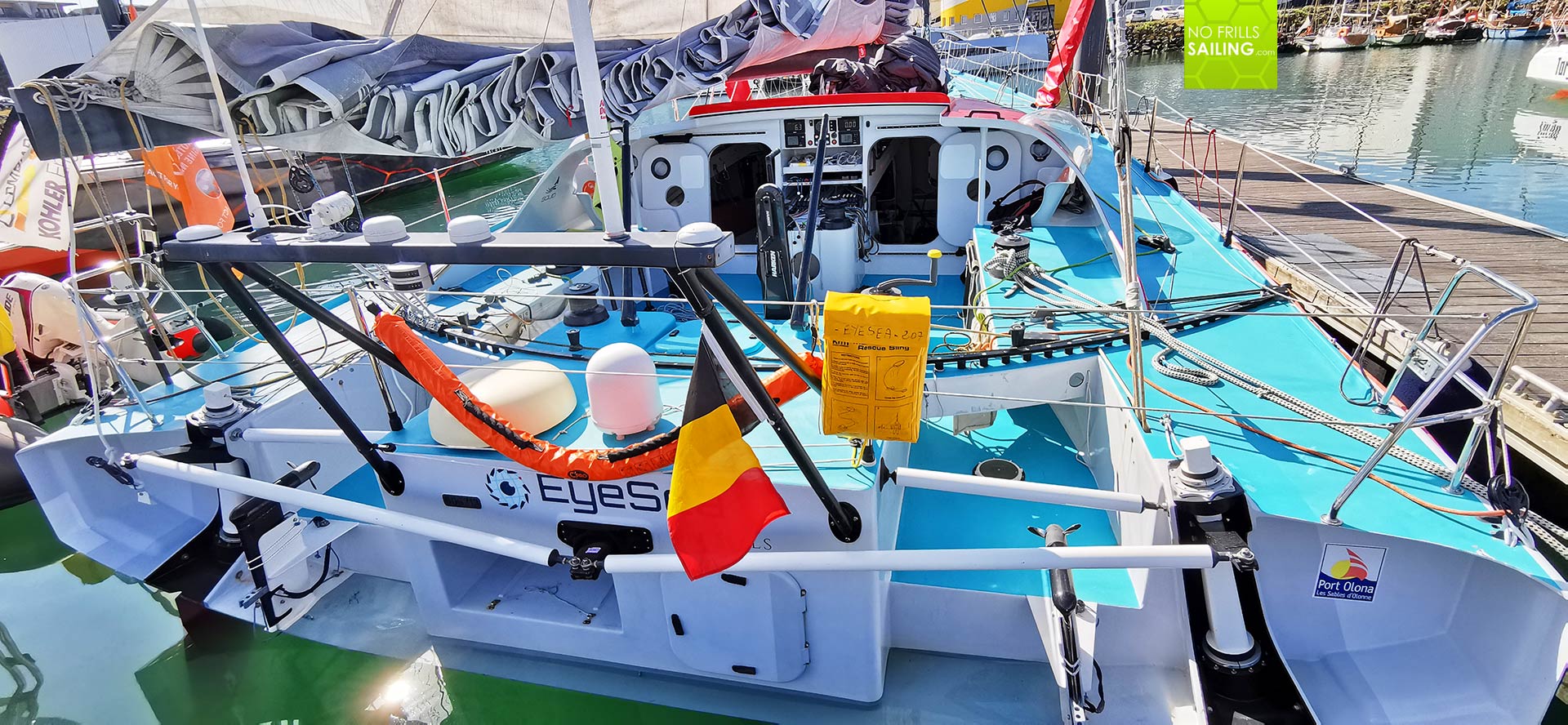 As a keen sailor, standing there at the stern of another IMOCA and trying to identify the different ropes, which one has which purpose and what goes where, is fun and interesting. Seeing the working space of a pro skipper in an IMOCA, an awe-inspiring experience that you won´t get anywhere else in the world but here – and maybe in Lorient too. Amazing to see these "Formula 1"-boats, even more amazing to realize that it takes just one dedicated man or woman to steer these around the world.
Prototypes and other interesting sailboats
Some berths further I recognized a rather familiar shape and smiled with joy: Norbert Sedlacek is an Austrian skipper and adventurer. He already has achieved so many things as a sailor that his palmarés reads like the line-up of a who-is-who: A 2 year circumnavigation to start with, followed by two Vendeé Globe participations of which his second was a finish in place 10 (of 30), a circumnavigation of the Antarctic continent and many other adventures, written down in multiple books.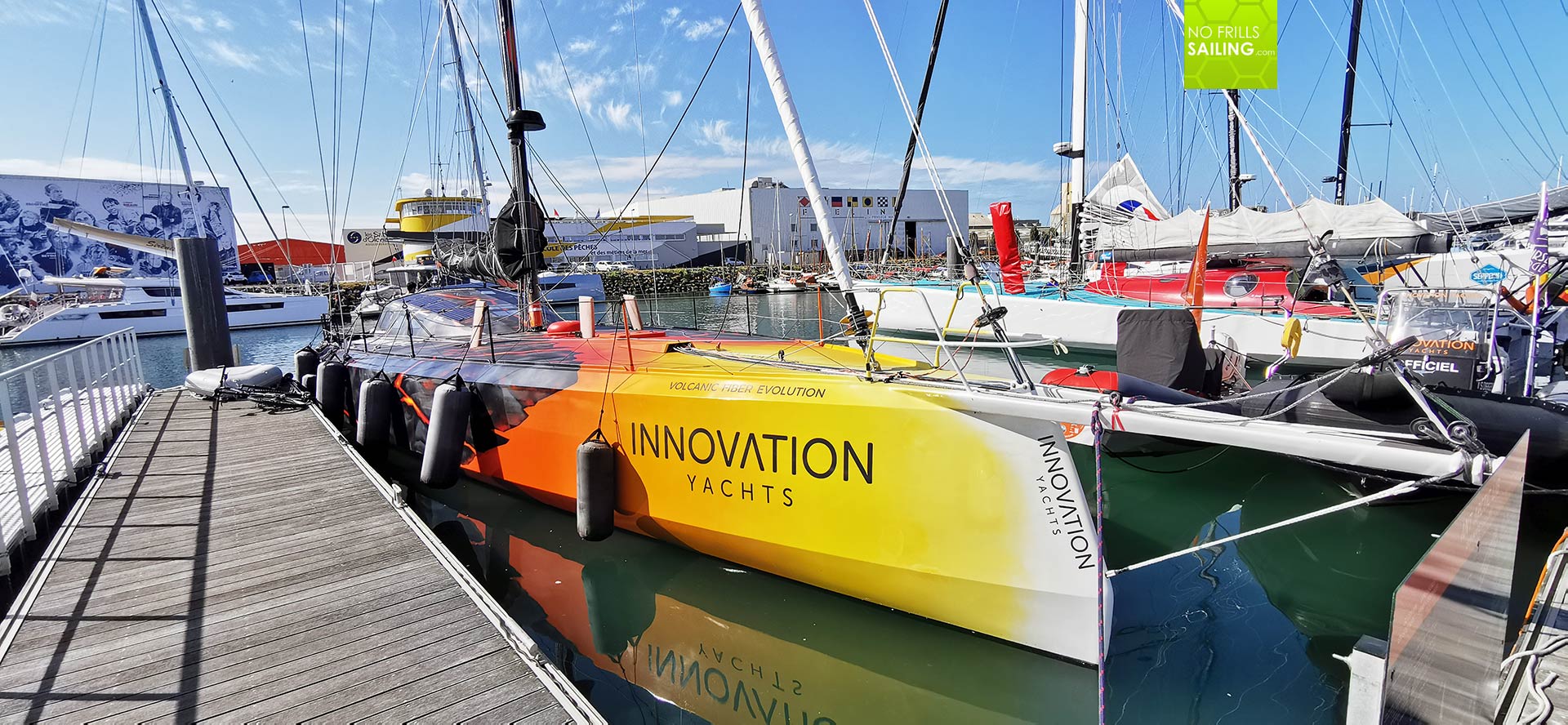 Norbert is now preparing his new, fascinating Open 60 one off (made from Volcanic fibres, read my article here for his new project. A double circumnavigation, comprising the rounding of the Arctic including the Northwest-Passage, a dash down the Atlantinc Ocean to round the Antarctic as well. A fascinating guy with a clear, vivid will, focused on achieving his goal. Maybe I will find some time to speak with him in person later …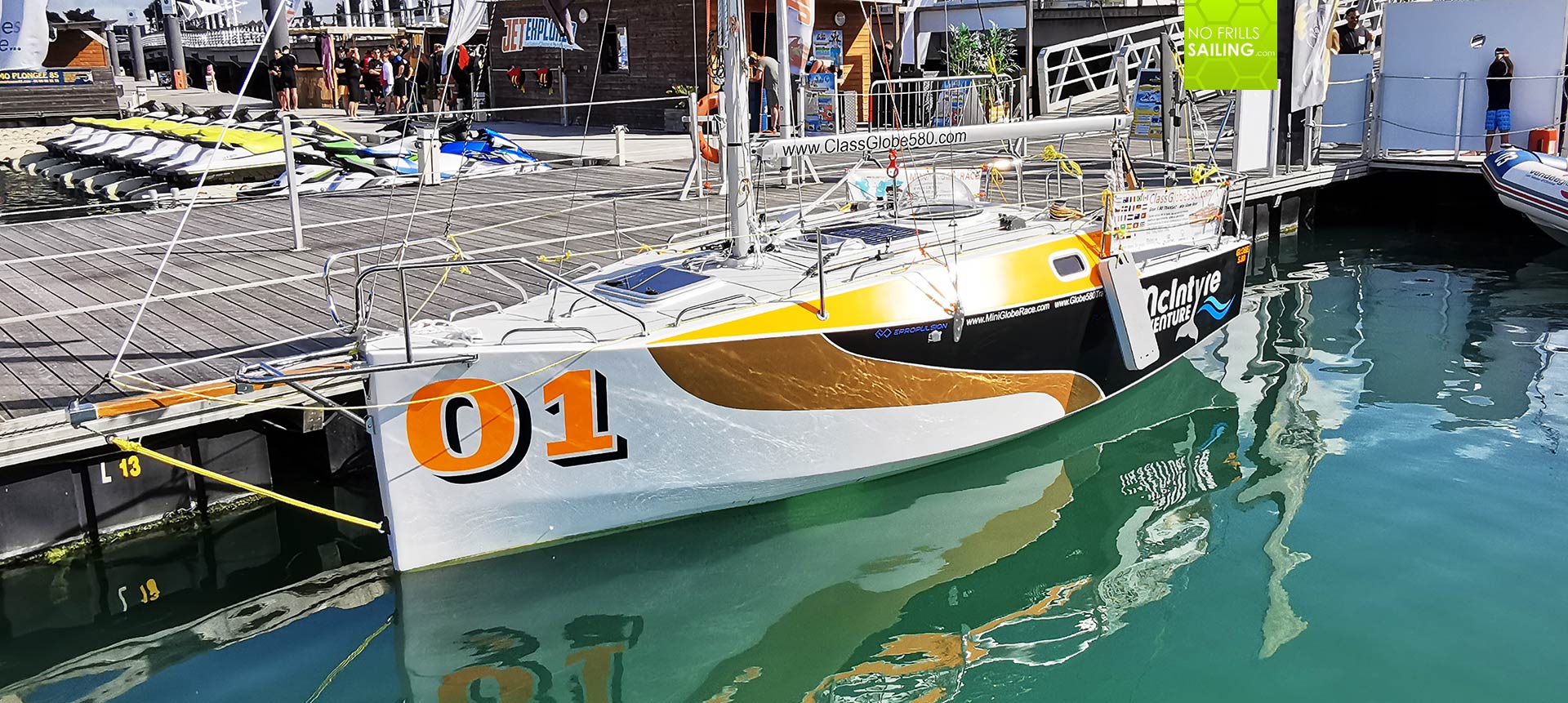 I also found another interesting sailboat here: From 60 feet down to just 19. The Mini 5.80 Class, or Class Globe 5.80, is pretty amazing project. Designed by Janusz Maderski one can buy either the plans or a kit and start building the boat in a backyard. The boat should be Ocean-capable and offer great offshore fun at a low price. There will be an inaugural MiniTransat event just for the these tiny boats, starting in November 2021 – so maybe, if you happen to be a good craftsman and you start building your own soon, you may be at the starting line in Les Sables this winter?
The Golden Globe racers gather again
Besides all these carbon-made high tech offshore racing boats and prototypes, there is also the other end of the spectrum to be found here. I did extensively cover the Golden Globe Race last year, the successor of the most famous 1968/69 circumnavigation event that forged such heroes as Sir Robin Knox-Johnston or unforgotten Bernard Moitessier. Also my personal best-of maritime story ever, the hair-raising tale of Donald Crowhurst.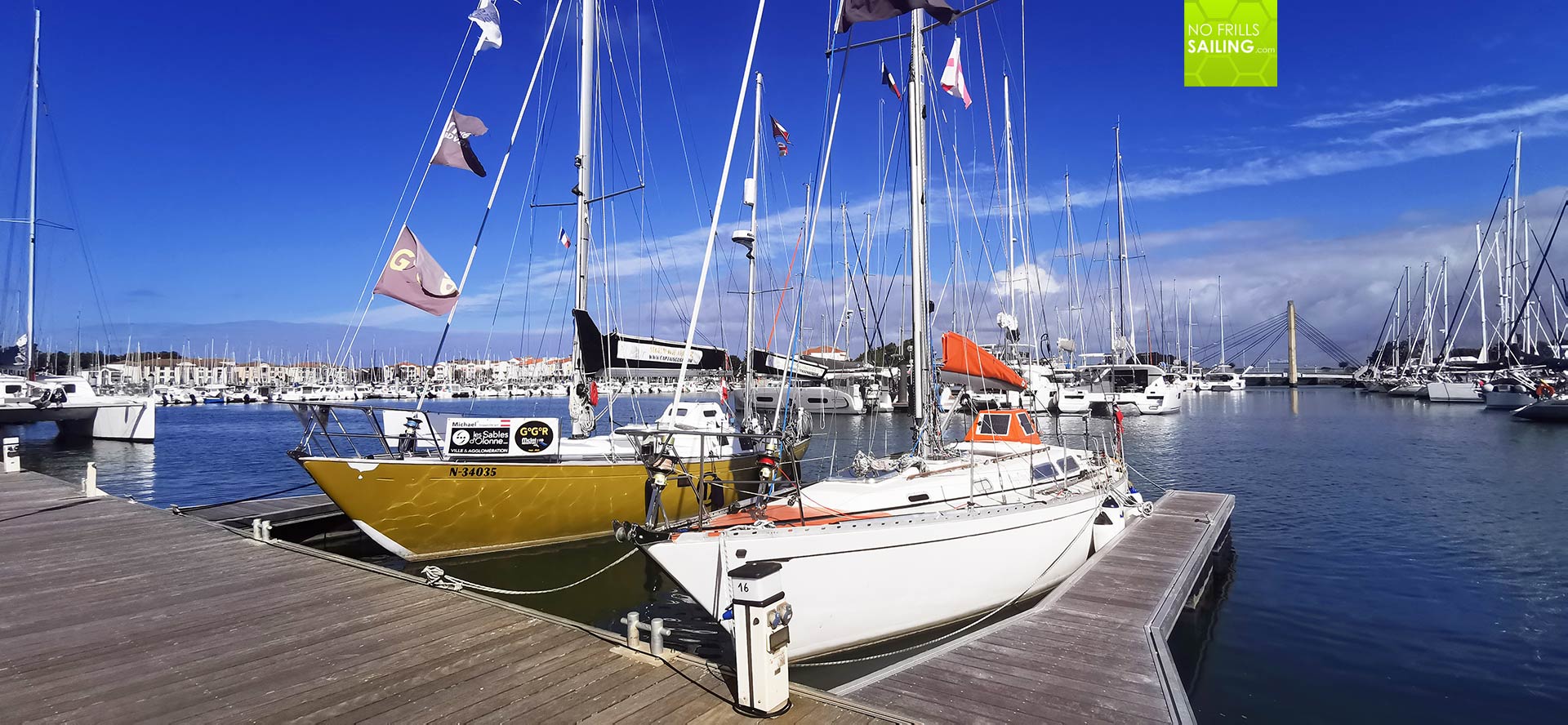 The Golden Globe Race is back and there will be a second edition in 2022. Three of the entrant´s boats are currently berthed at Les Sables pontoon and I found it particularly interesting to take a closer look onto these boats. Apart from the hard dodgers and some solar panels the boats appeared to be as classy as every 40-year-old GRP boat in any harbor anywhere might come around. Standard masts, standard rigging and no frills whatsoever. But would I dare to tackle the brutality of the Southern Ocean in such a 35-feet classic? Well, I don´t know …
Speaking of prototypes
Back to the present, Les Sables is always worth a visit since it is one of the big bases from where the yards launch their new products or sailing magazines are invited to come to to sail these. This week I observed an all-too familiar shape and it caught my interest. You may know that I am big fan of aluminium-made sailing yachts and a such, every silvery shine of a hull will pull me in like a magnet.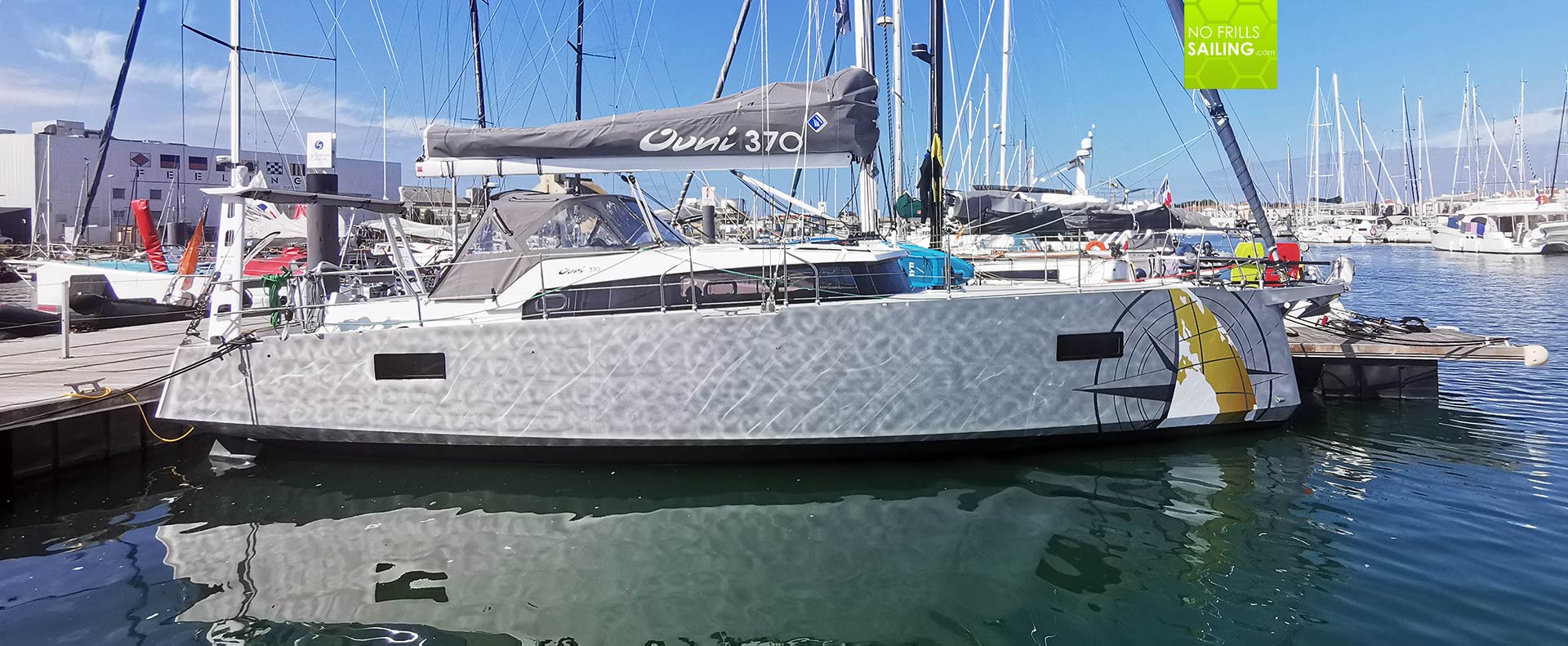 Moored there I found the all-new Ovni 370 by Alubat. The smaller sister of the Ovni 400 which was launched in 2019 will be having her world premiere at La Rochelle boat show in a few weeks. The yard´s crew is now preparing the boat and they will probably have some sea trials, maybe a press ride on this boat too. What I found particularly interesting was the striking difference in boat design which comes out very sharply by looking at this new Ovni 370 and one of her predecessors.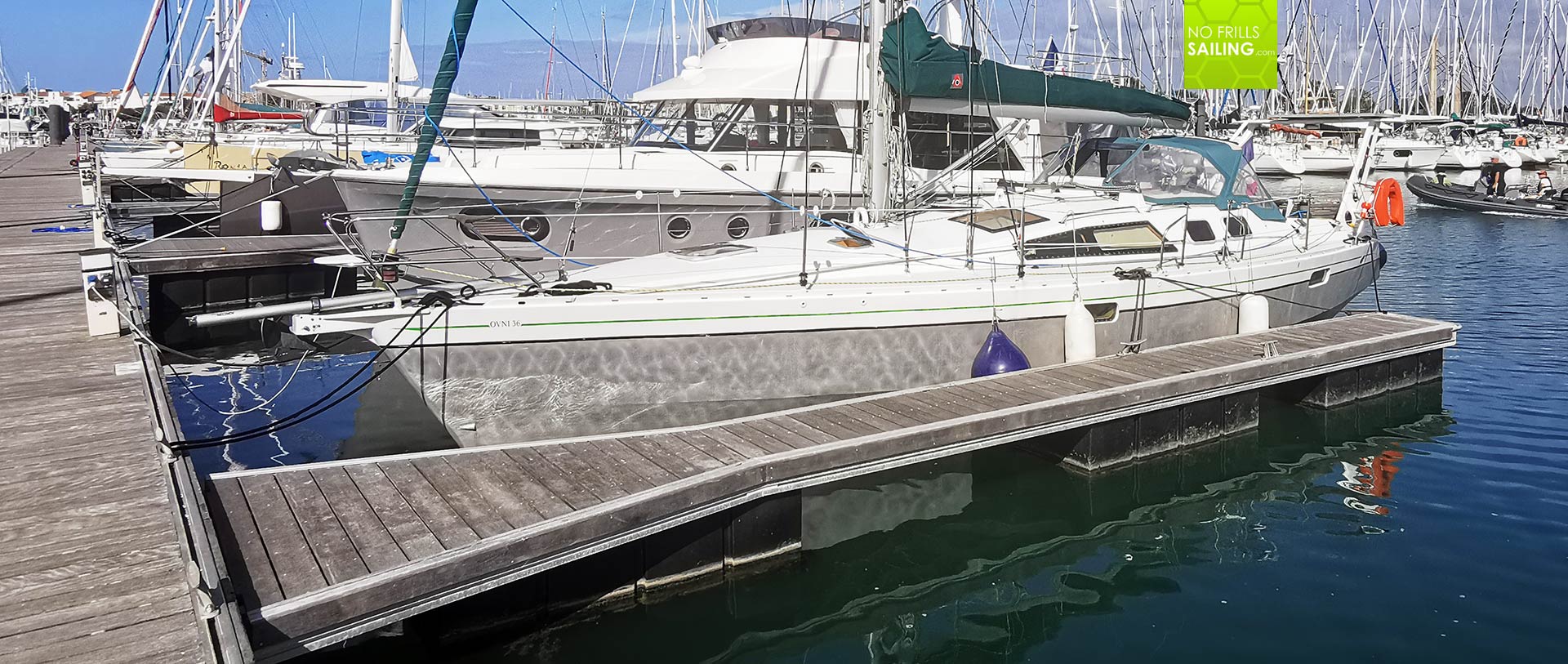 Although I love looking at new shapes and enrich myself by reading about new developments, there is a certain regret when looking at the old boats with their clean lines, sharp bows and fine entries. On the other hand, these new shapes, optimized for downwind-racing, offering plenty of internal volume and stability do as well not deny a certain charme. Les Sables is full of Ovnis, this legendary boat with over 1.500 of them built was and still is the base for so many adventures. We will see if and how the new entry can continue the story of Alubat. Suddenly another hull #1 steamed past me …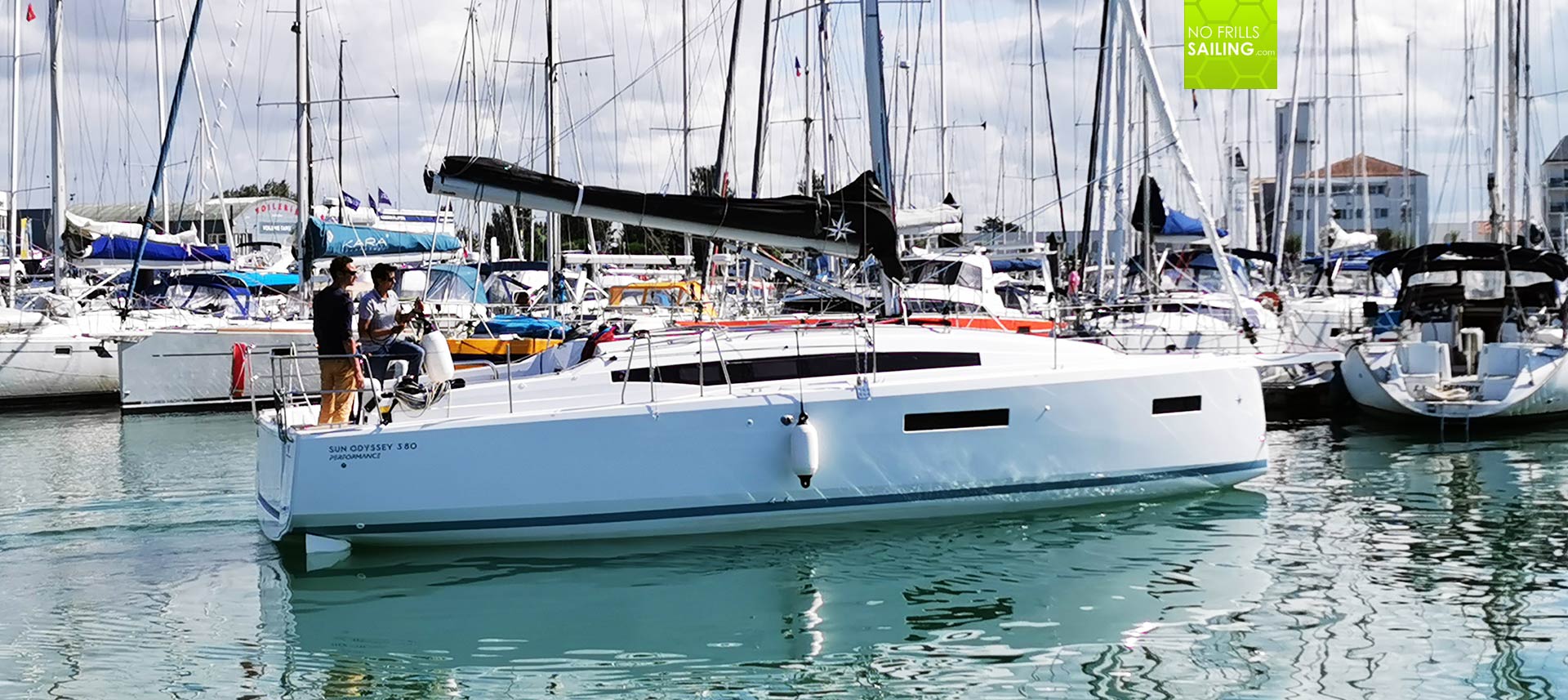 It was the all-new Jeanneau Sun Odyssey 380 bearing clearly the signature lines of my favourite naval architect, Monsieur Marc Lombard. This yacht is as well to celebrate her world premiere soon and will certainly draw in much attention. I found it particularly interesting to see how the negative bow now seems to be a common sense even in big production companies: After Dufour´s new 470 and recently announced new French-designed Hanse Jeanneau joins the "inverted" club. One another boat, I cannot fully disclose, also caught my interest.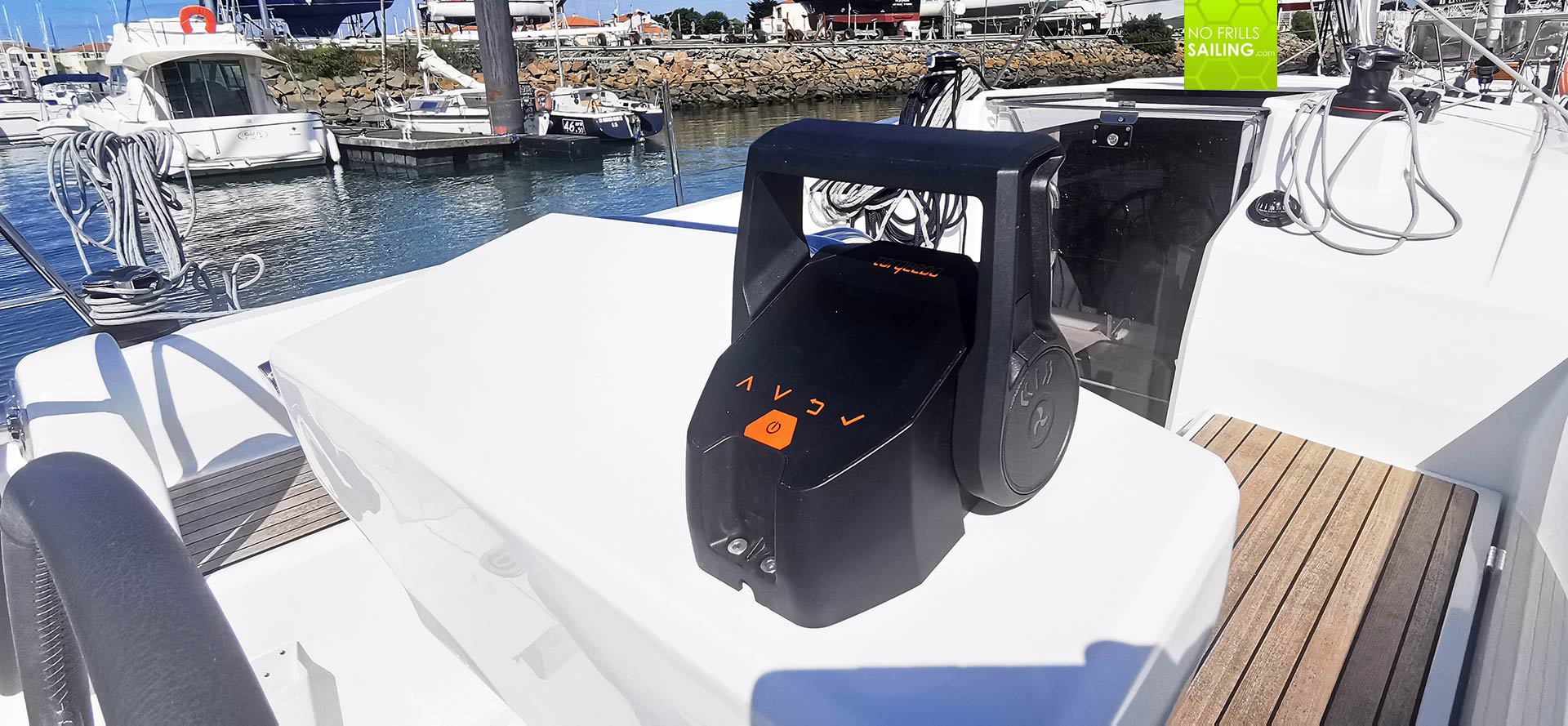 Parked there in a less visible corner of the harbor I found a small yacht. Mounted on this experimental prototype were not the all-familiar B&G-instruments or plotters but a single lever. Clearly not a Bowden cable throttle for a Diesel-engine but the lever for an electric engine. Hybrid powered and even solely on electric power running boats – at least for the smaller yachts – are clearly a big thing to come in the next 2-3 years and it was cool to see a first major player playing around with a real boat here.
Killing time in Les Sables … worth a stay
Les Sables is a treat, much more for a sailing guy. You can spend hours at the jetties and watch all sorts of boats, you can always start a chat with a skipper or simply enjoy the warmth of the sun on one of the brand new wooden benches installed on the quayside. Les Sables is one of the big launching spots for new boats – as for yachts made by the Beneteau group. Every day one or two big Lagoon cats will be brought to the water here, the even bigger high-value brand Privilege is situated just vis-à-vis. My catamaran is currently nearing completion.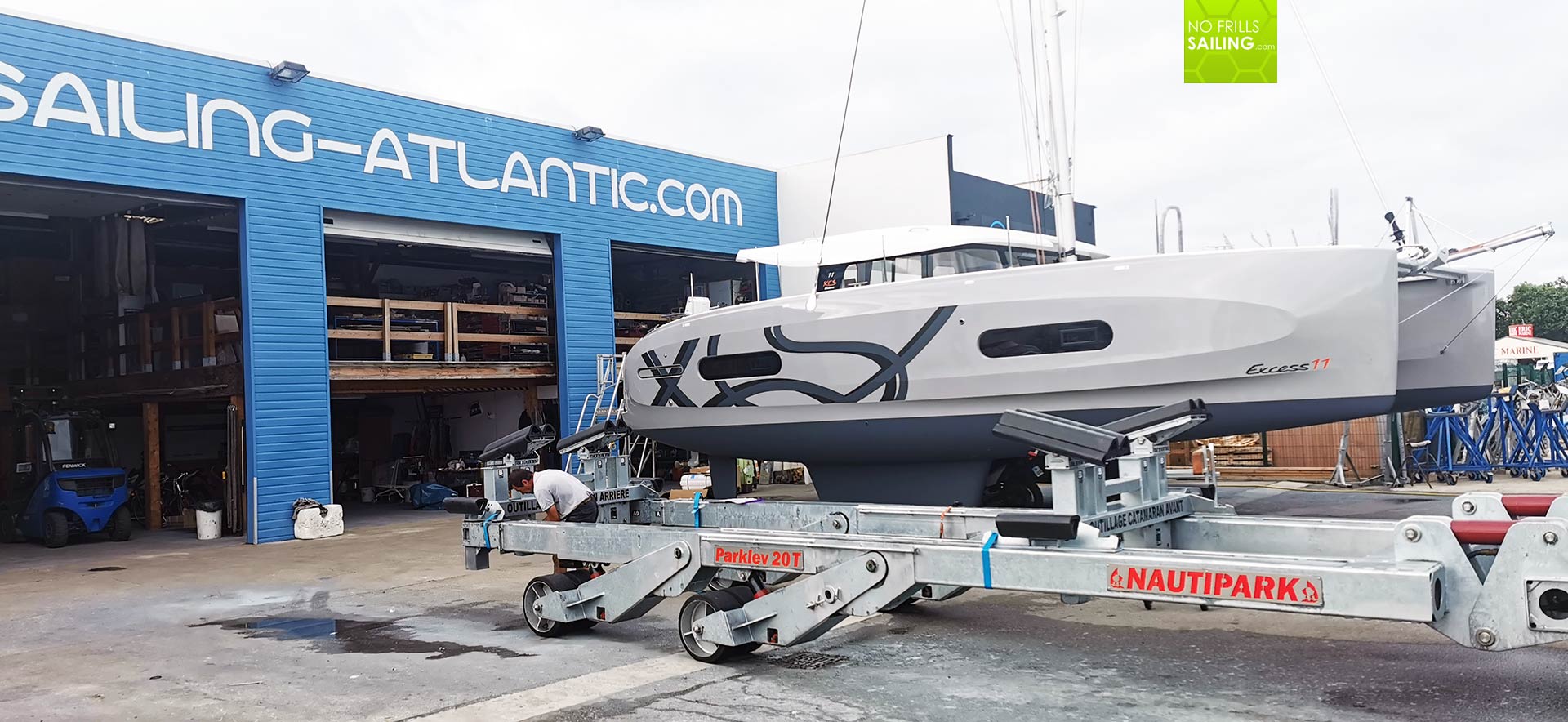 So I spend my days here, checking for the progress on my boat and wandering the jetties to look out for some new interesting input. It´s half work-day half vacation: For people like me, having the luck to making their passion pay for a living, this "workplace" is clearly a cherry on top. I love being here, the French atmosphere and even started a Babbel-course online to improve my French language skills. Now, celebrating French cuisine with trying out good food and working online is probably the best time of my year as a boat dealer.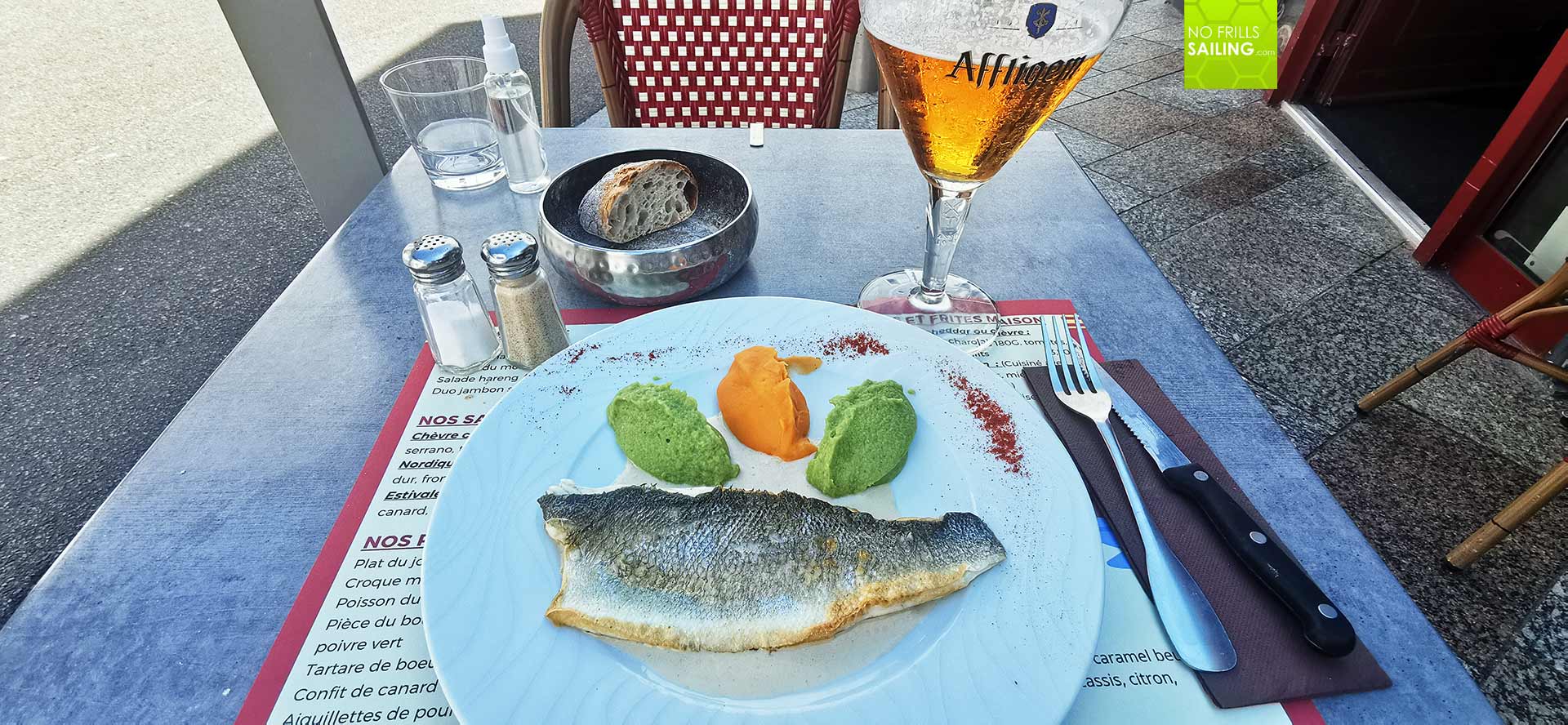 My catamaran will be seeing water today as well and slowly, but surely, I will change my level from "lush vacation" to "competent skipper" again. Before me lies a 900 mile transfer cruise of a brand new boat through the Bay of Biscay, the English Channel, the North Sea to Germany with a second leg through Kiel Canal to my home town of Luebeck. What a great trip this will be – and I hope you´ll be my companions on this one too.
You might as well be interested in reading these connected articles:
At Lorient´s LA BASE: Where the pros, the big names and big boats team up
Looking at used alumium boats: A trip to France
How to tackle your first catamaran trip