As my first ever real big sailing trip on a multihull is approaching fast, I am step by step preparing myself to casting off. A competent crew has been compiled as I am looking so much forward to sailing with my friend Martin May (you know him from German movie classic "Das Boot" and another sailing mate I know from last summer´s Bay of Biscay/English Channel-trip. That for sure is a great crew.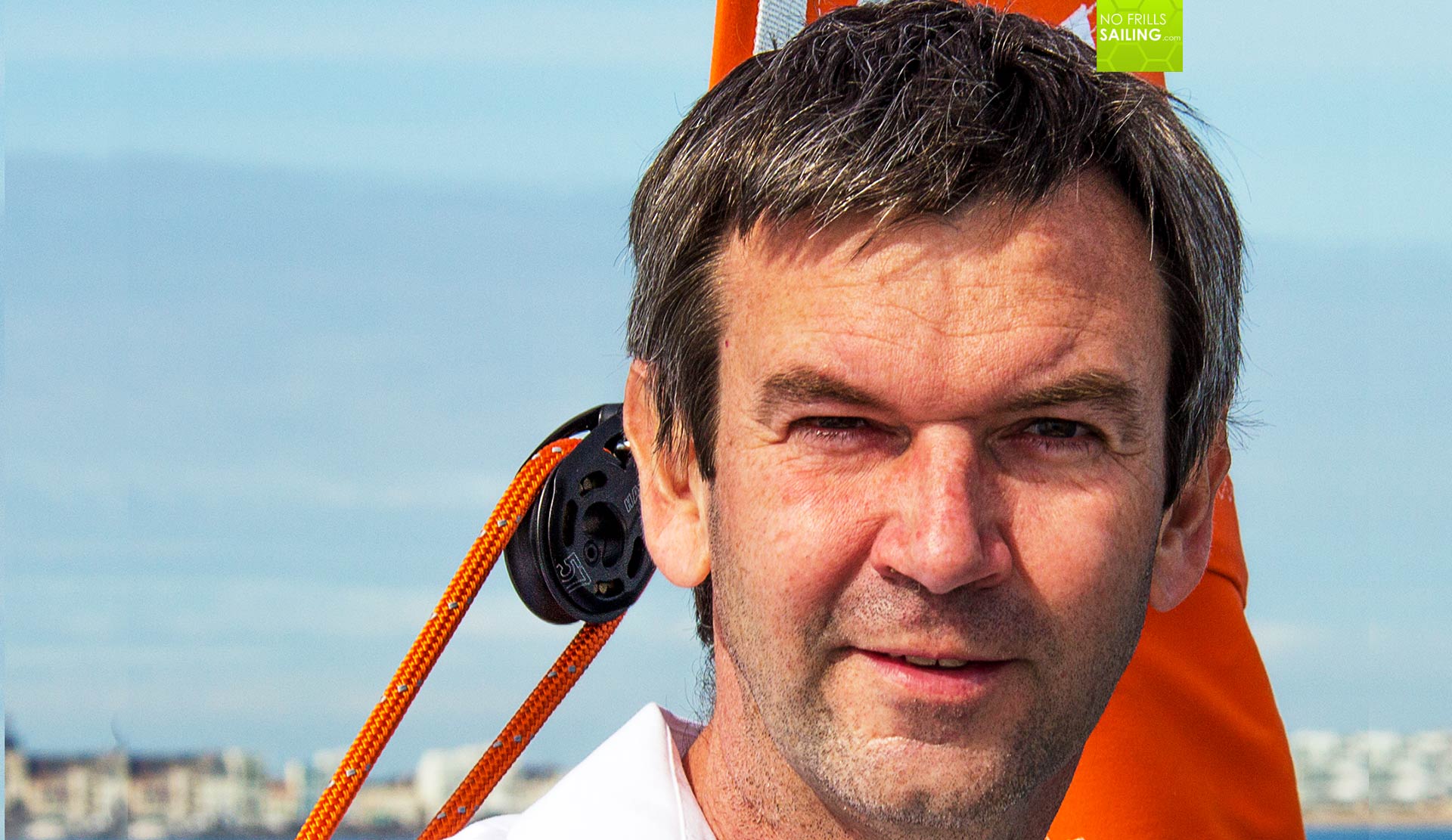 But I also much think of how to handle the catamaran, how to cope with the special sailing properties in comparison to a monohull. Thousands of questions arise and I am happy that the Excess yard connected me with catamaran "Guru" Hervé Piveteau who agreed to answer my rookie questions with patience. Thanks, Hervé, in advance, your time spent is well appreciated!
Casting off a first time with a Cat
Lars Reisberg | NO FRILLS SAILING.com: "Hervé, as you may know, I will have my first "big" Cat-trip in a few weeks aboard an Excess 11. This interview should clear up some questions for sailors used to monohulls. Your input on sailing abilities and sailing techniques, especially in comparison to monohulls, is of great value. In general, what should a monohull-sailor be expecting when boarding a cat for the first time sailing-wise?"
Hervé Piveteau: "Well, Lars, the main – and I shall say huge – difference will be that there won´t be any heel! Which may be obvious for sure in theory but every time you will cross a monohull you will notice "Oh, this boat is heeling!". A second major difference on most cruising catamarans is what we call "Less Sensations". That means you are well protected, high up on the water and there won´t be heeling and generally reduces the sensations of speed and movement. Excess catamarans however, with limited freeboard and twin aft helm stations, are designed to reduce this gap and offer the monohull sailor more sensations than other cruising catamarans. And last not least, the third big change is the view: No heel and lowered manoeuverers, means that no jib is shading the horizon. The clear roof glazing on the Excess 11 will let you keep an all-round view from the saloon, the cockpit and the helm stations. This is a big change when you come from a monohull and even for cat—sailors used to other cruising cats. And, of course, not to forget, average speed on a cat is generally more steady, while a monohull will be more prone to ups and downs on the speedo. This can at times reduce seasickness."
NO FRILLS SAILING.com: "Let´s talk about leaving the jetty – a cat is manoeuvred by engines, like a power-boat. What would you advise to a first time cat-skipper when tackling the task of leaving or landing the boat in a narrow harbour for the first time?"
Hervé Piveteau: "Catamarans have bigger windage and smaller appendages than monohulls and that may appear that these might be much harder to manoeuvre! Well, the reality is different. The key to handle your Excess catamaran is: Take your time! A monohull needs speed to make the rudder efficient for manoeuvers, whereas the catamaran remains fully operable with virtually no speed. So calm down, take you time, practice trials and training in the harbour. You will soon be amazed with the precision you can achieve. After little time you will much prefer docking your catamaran in any narrow harbour over any monohull."
On sailing capabilities of a Catamaran
NO FRILLS SAILING.com: "Our trip will lead us from Les Sables d´Olonne via Ile Ouessant/Ushant into the English Channel. The Biscay-Part most likely will be upwind sailing against the Atlantic waves: What would be your suggestion for this part? How is a cat, especially the XCS 11, behaving upwind?"
Hervé Piveteau: "No secret, cruising catamarans have poorer pointing abilities than monohulls and they will be less efficient on an upwind point of sail. Traveling out of the Biscay Bay upwind with a monohull can at times be hard, and any cruising catamaran will make this experience longer, I would say. The Excess 11 makes no exception: It is a safe boat, it is able to face wind and waves if needed, but waiting a couple of days in the harbour for the ideal weather, would probably be the preferred solution of most users. If you have to face seastate and wind with a cat, the main advice would be: Don't try and point too high, the last degree you think you gain, reduces boatspeed and increases leeway. Accept the angles a catamaran is good at, and concentrate on the forecast and routing."
NO FRILLS SAILING.com: "Regarding the polar diagram of the Excess 11, what is the preferred point of sail, the most pleasant/effective wind speeds in which to sail? Where are the reefing-points and what are conditions (especially referring to wave heights and frequencies) the cat does not like so much?"
Hervé Piveteau: "Well, that is really hard to give one single pleasant and effective point in regards to the polars. Depending on your tastes and habits, you may prefer the speed and sensations of a 30 knots crosswind with two reefs or you might like surfing long waves under spinnaker with 20 knots TWS and zero stress. As an alternative, sailing 50 degrees AWA with Code 0 in 6 knots of thermic breeze can also be a delight. If we focus on the less pleasant points, the strong-wind-close-hauled-in-short-waves is definitely not a cats' favourite. That is the one anyone would try to avoid! Another angle sailors (especially racers) do not like is the 110° true wind angle in strong wind and waves: At this angle, if you need to depower the boat, it is hard to choose between luff and bear-away. Alternate 100 degrees and 120 degrees roads in strong conditions is generally a better practice On the other hand, the very light wind (below 5 knots), with no "Pulse Line"-Performance Rigging nor Code 0, can also become very engine-prone, we would not recommend this as sailing pleasure."
NO FRILLS SAILING.com: "Speaking of the performance pack, our particular catamaran won´t be equipped with "Pulse Line". What would I be looking forward to if the cat would boast this option?"
Hervé Piveteau: "See, the "Pulse Line" rig offer many "aero"-benefits. The taller sail plan allows grabbing higher winds, which are generally stronger. The aspect ratio of the sails is better, and gives more lift with less drag, especially when the sea state is moderate. The added sail area directly affects the power/displacement ratio of the boat, giving better speed and accelerations. To sum up, the "Pulse Line" acts like a turbocharger in a car. It will improve both performances and sensations. But, all the above is true in light winds and calm sea. On ocean passages, as soon as you need to reef the sails the benefits get lost, and you carry a taller and heavier mast."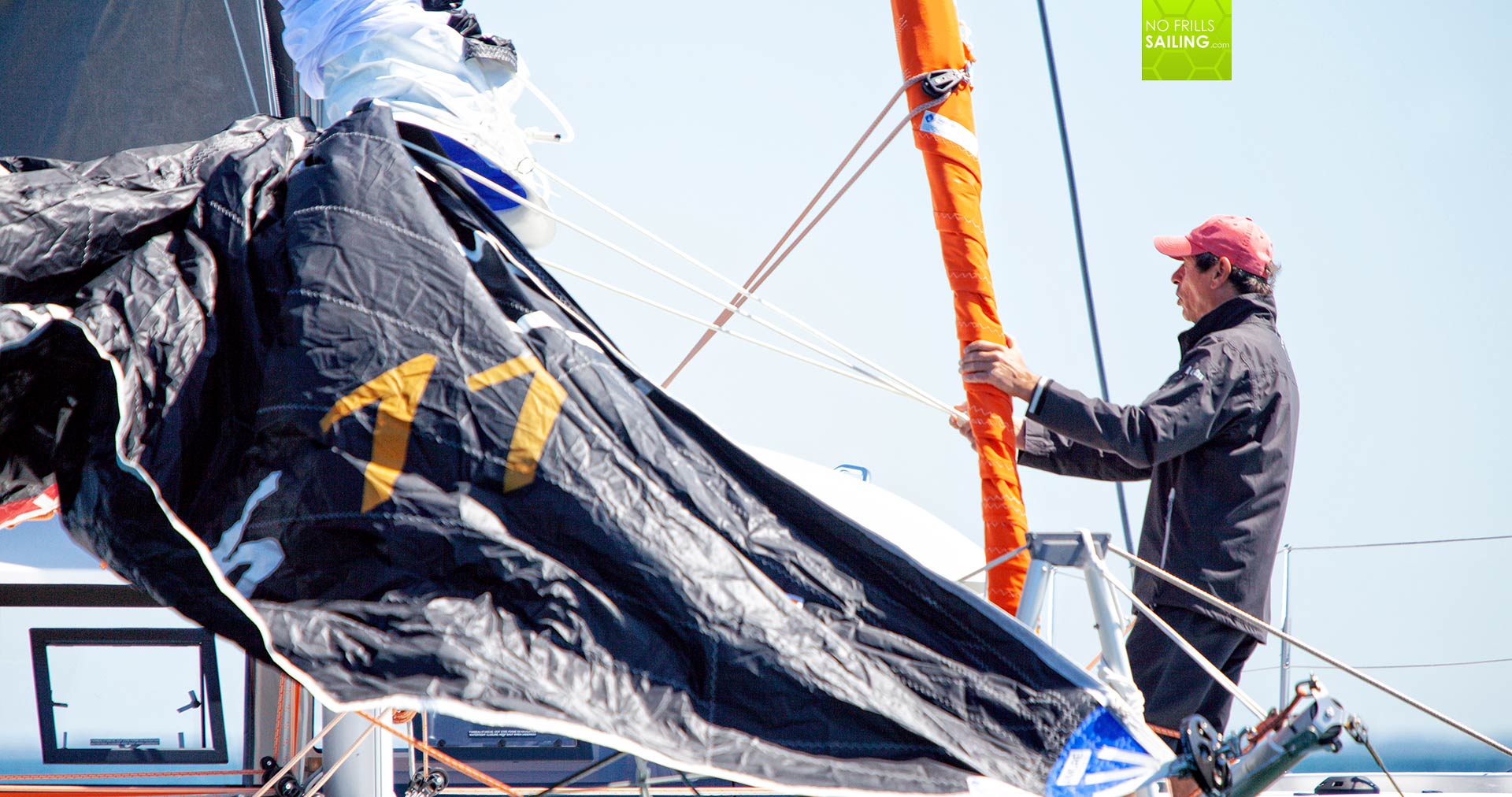 NO FRILLS SAILING.com: "Passing Ile Ouessant we will be turning to starboard and dash down the English Channel, supposedly powered by a Westerly wind. What can I expect to happen when the cat catches a wind from behind?"
Hervé Piveteau: "Well, that is simple: You might expect Pleasure! Fun! Ease! You will enjoy a dry and protected cockpit. Your average speeds will be high and effortless, there will be no stress with the boat rolling from side to side. Sensations while steering in the waves and enjoying social life aboard. This is the part of the journey where you might choose to sail a multihull for the rest of your life."
Light wind summer sailing in a catamaran
NO FRILLS SAILING.com: "That sounds tempting, Hevé. What about light wind sails like Code 0 and Gennaker? First-time owners often tend not to go for these sails, maybe because they think it is some kind of "specialty" or they fear it might be too complicated. What would you suggest to people in "fear" of such a sail?"
Hervé Piveteau: "Those sails have originally been designed for single-handed offshore racers. They were the answer to complex spinnakers and asymmetrics. Improvements on furlers and tight luffs have strongly improved the ease of manoeuver, making those large and powerful sails accessible to any user. For cruising, the Code 0 is a key to more sensations and better performance, it is another possible "turbo". The only caution to take with those sails is to carry and furl them only in the wind-range they are designed for."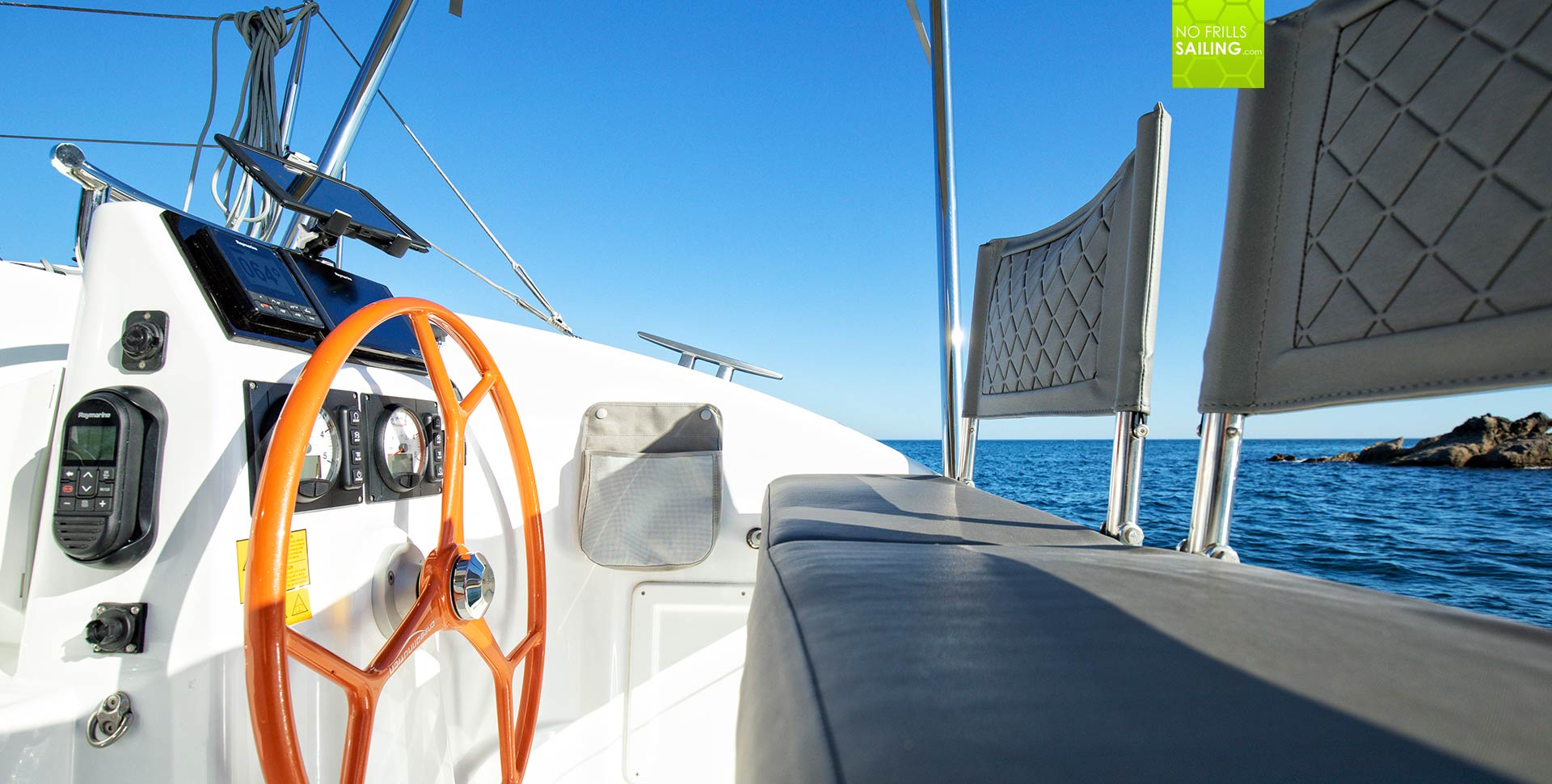 NO FRILLS SAILING.com: "The whole trip down the English Channel and Northern Sea to the German harbor of Cuxhaven amounts to some 900 nautical miles.  How fast would you think the trip can be dome if we do not make a stopover somewhere in normal wind conditions (July/August)?"
Hervé Piveteau: "In this season you may encounter predominantly light winds, especially when being offshore. Hence, an average of 150 milles/day is probably a safe target on an Excess 11. If you manage to have good conditions and seastate, you could easily get to 200+ milles in a full day. So we are talking about 5 short days in straight line and good weather, and more likely 6 to 7 days in real life."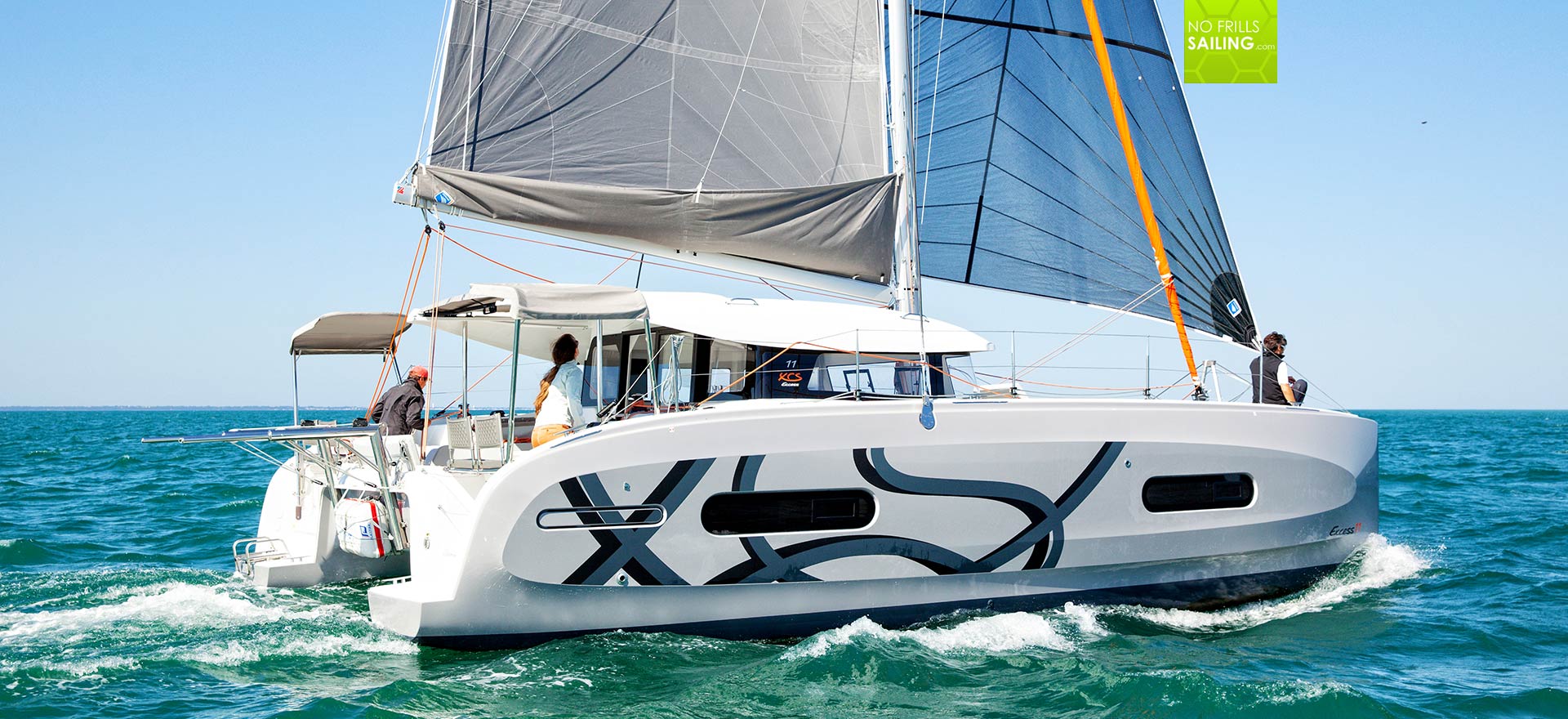 NO FRILLS SAILING.com: "Do you have any suggestions in general what we should take into account when sailing the first time on the cat? Any hints, secrets or advice?"
Hervé Piveteau: "Not too much. Just, use the boat in its designed range, do not under power or over-power the sails, do not try to point too high. And lastly: Just enjoy the ease of manoeuvre and the life on board, HAVE FUN, guys!"
Thanks so much, Hervé for taking your time. Your advice is valuable and interesting and we will certainly think of you when aboard the boat.
You may read all Excess 11 Catamaran-related articles by clicking the hashtag #excesscatamaran
Other catamaran-related stories:
Summer sailing action: Delivery of an Excess 11