Summer 2021 might again not be the sailing season we are used to and wish for due to the Covid-19-restrictions but nevertheless we should all be positive about things getting back to normal. My own boat is doing fine and will hit the water soon, besides that I am happy to working in the boating industry which enables me to be on boats for my job. Delivering boats to their new owners is always the highlight of my job and such a new climax is up to happen this summer again.
This time it is something special: A catamaran. You may know that I am working for a German Beneteau dealer and as such we are also importers for my country of the new multihull brand of the Beneteau Group, the light, sporty, new and fresh cats called Excess. These are the "fast sisters" of of market leading brand Lagoon (also by Beneteau). This new breed of cats has been introduced 2 years ago and – slowly but surely – people start to recognize the brand and the new features these boats bring with them.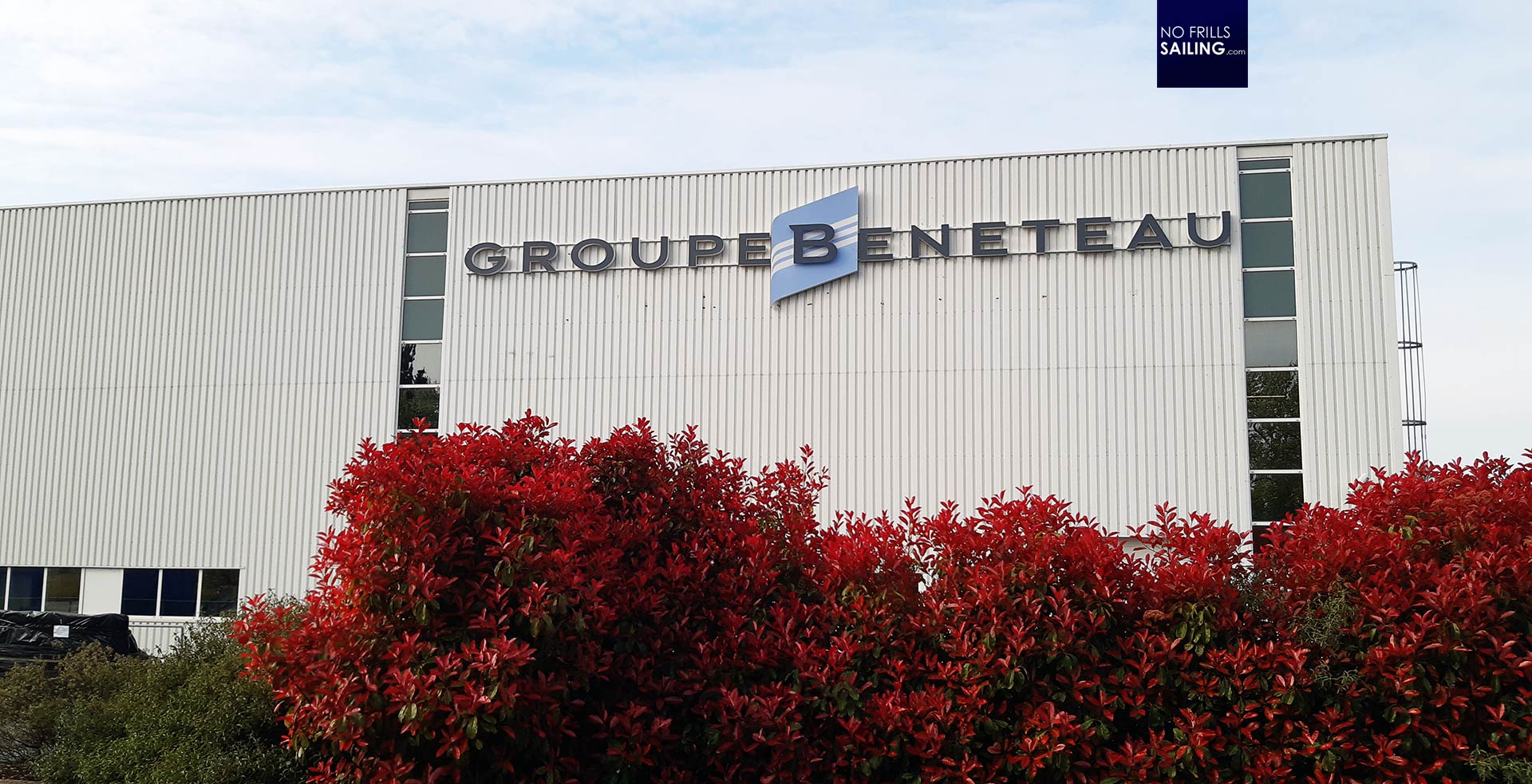 So currently one brand new Excess 11, a 38 feet catamaran, is being made in France in the yard. Our client want the boat in Germany and during negotiations we offered him my skippering service to bring the boat safe and in one piece up to the Baltic Sea on her own keel, which is a new sailing adventure for me. Many things will be already known and routine, others won´t: First on the list – it´s a catamaran, and thus me first time sailing a multihull.
First time on a Catamaran: What to expect?
To be honest I am and will be – I guess – a monohull-type of sailor. I just love the heeled sailing, the gentle (and rocky) motion of the boat ploughing the seas. A catamaran has so many cool things to offer, which is first and foremost volume, volume, volume. Even a "small" cat like the 38 feet Excess 11 offers such an astounding level of comfort on a scale that a keen monohull sailor will surely envy the roomy saloon, the 360 degree view, the big, big, big cabins and space both on and under deck.
In this, I am looking so much forward to experiencing the "cat-feel". On the other hand, the cat will be fast. Darn fast! I have already tried out sailing Excess in Valencia some time ago where I checked out the Excess 12 and the flagship, the 50 feet Excess 15 and I was astonished of the featherlight manoeuverability of both cats on the helm and their sailing speed especially in light wind conditions under Code 0 and Gennaker. In this, I am also looking so much forward to the transfer cruise of this new Excess 11 and the trying out of the sailing capabilities under real life offshore conditions.
Excess offers two versions of the rigging, which in case of the Excess 11 is the standard rigging with 77 square metres sails area upwind or the "Pulse Line" with a higher mast and some upgrade, boasting 82 square metres of upwind sails area. "My" cat will be equipped with standard rigging which will be interesting to check: It is commonly known that multihulls do not point very well in comparison to monohull yachts, so that will be interesting to check out. Is it really that bad or are people exaggerating?
I am also looking very much forward to manoeuvering the cat within harbors. There won´t be many as this trip of course isn´t a pleasure cruise and my holiday, it´s a professional delivery. On the other hand, Covid 19-restrictions still forbid entering harbors in Great Britain – which is such a big pity again! – so there is not too much chance to test the unique steering capabilities of a multihull, which in terms of mooring and landing the boat is manoeuvering with two engines instead of using the rudders. All in all I am looking forward so much to this experience!
Planning the Voyage: An old Acquaintance
Looking at the route it´s a no-brainer and I am thankful for having done this very cruise already last year: I joined my dear friend Skipper Wilfried, with whom I delivered a 46 ft monohull to the Canary Islands more than 4 years ago and won a dear friend: We brought his Bavaria 37 from Porto to Ijmuiden in the Netherlands last summer which was a great, great trip. In this, starting the catamaran journey in Les Sables d´Olonne will consist of three major parts.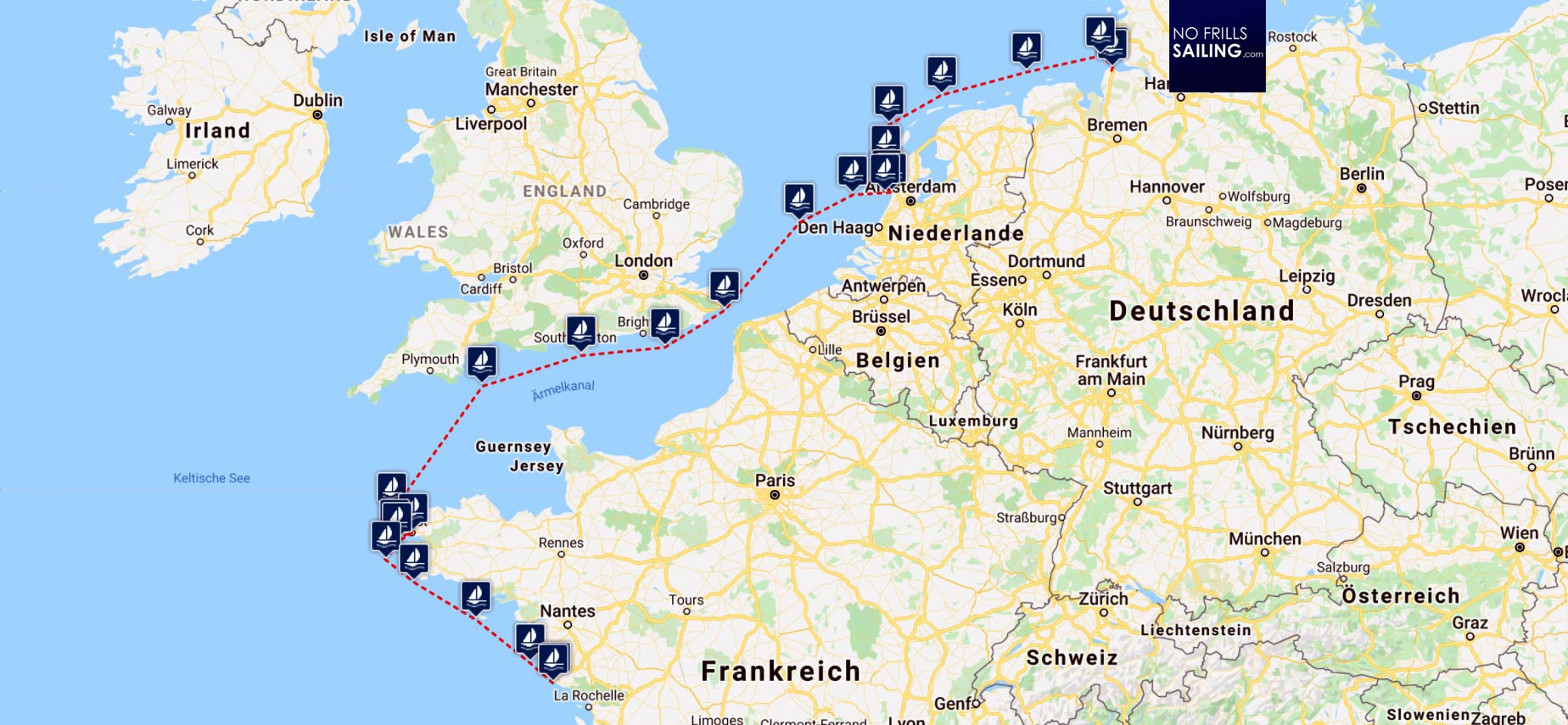 First will of course be the Biscay-part which is just a 30 to 40 hours trip – possibly upwind – or 200 miles to the City of Brest, where I plan to have a layover day. Getting the cat out of the Biscay and into the English Channel (then possible on a downwind point of sail) – will be first priority and passing a good weather window is crucial. Since this trip will take place in late July we won´t be subject to too many hazardous weather conditions I hope.
The second leg will be the already known part of sailing across the English Channel. From West to East means using the predominant Westerly winds and since the catamaran will be on at least a reaching if not running point of sail it promises to be the fastest and most fun leg: Some 480 miles from Brest through the channel to Ijmuiden again, the second of the planned layover marinas. Ijmuiden will be great since I already know the harbor and mooring there won´t pose any problems. From this point on, the third and final leg will be breaking new ground for me, as we will have to go another 200 or so miles around the Frisian Islands of the Netherlands and Northern Germany to Cuxhaven where I will hand over the cat to the second crew.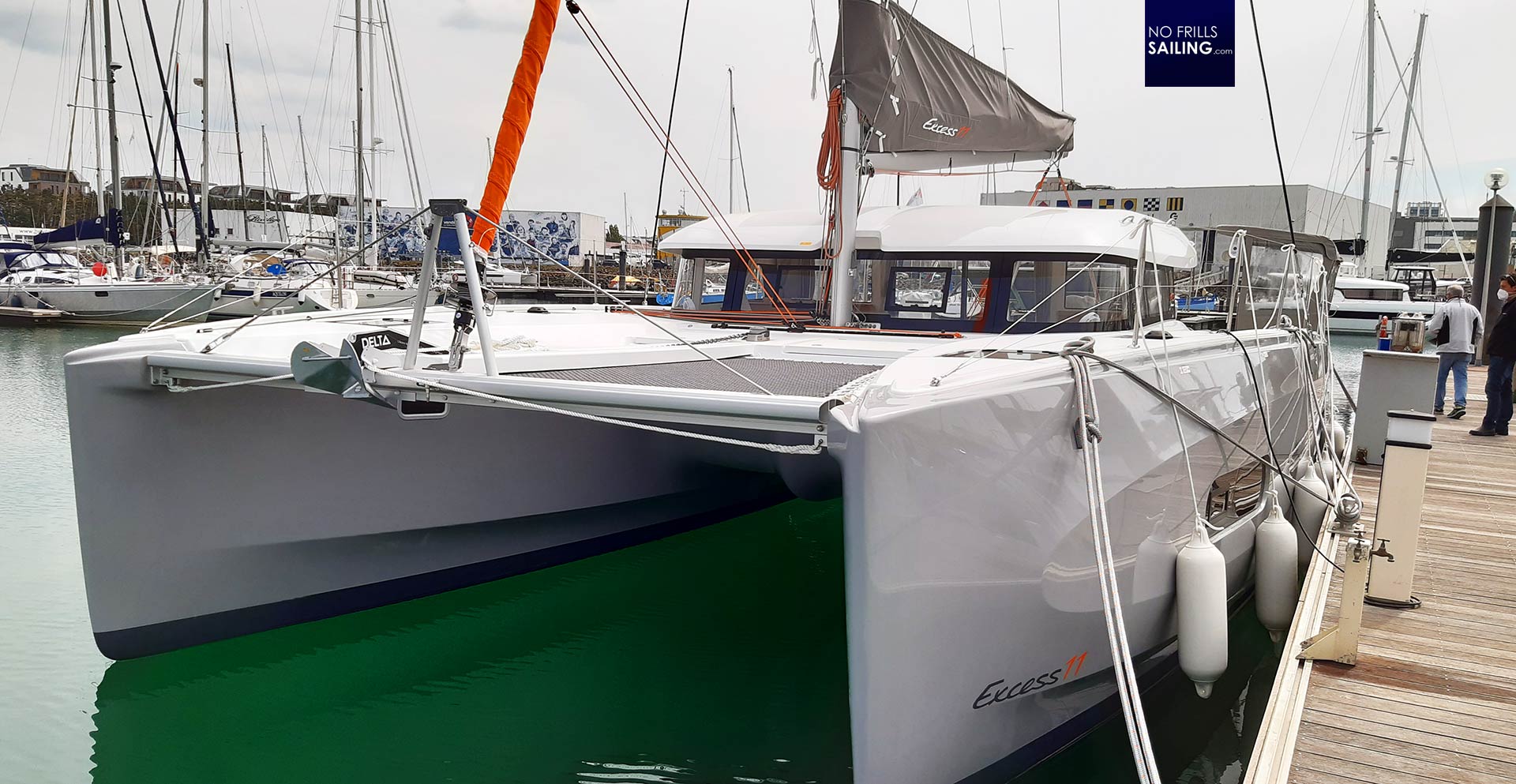 All in all that´s a 900 mile-trip, 2 stop over harbors (as of now) within a 17 day time window from arriving in Les Sables d´Olonne and taking over the boat to landing it safely in Cuxhaven in Germany. Given an average speed of 5 knots we will be some 180 hours on the water. I am looking forward so much to this delivery cruise: A brand new boat, two hulls to get accustomed to, a course that mostly fosters the strong points of sailing with a multihull and – hopefully – this all during the warm months of the year. And let´s see, it´s maybe this first tim  sailing a catamaran that will change my mind about multihulls? Who knows …
Thanks so much, Rodrigo Valverde of EXCESS for roaming the yard for me and taking these pictures of the actual EXCESS-production in France: Maybe "my" cat is one of them?
You might as well be interested in reading these articles:
Boat delivery: What exactly happens before an owner boards the first time?
First time on a cat