My job within the pleasure boating industry comes with a lot of different facets –most of them are exciting and diversified. Such as last week when my profession brought me to the Spanish town of Valencia again, a thriving city rich of culture and proud people, the center of the America´s Cup and a refuge sun-worshipers, fleeing the beginning winter of Northern Europe. I had the chance to board the catamarans of the new brand Excess for clients sea trials: For me it was the first time aboard a multihull and thus a defining impression.
The question "Monohull vs. Multihull" is as old as there are private boat owners. The internet is full of articles and videos about that issue and owners of both boat types are arguing vibrantly which concept of yacht might be best suited. Well, I do not want to join this "pro and con"-argument since I answered this question for myself already: I am and I will be stay a monohull-guy for several reasons, but nevertheless I am open and excited to having the chance to sail the new cats.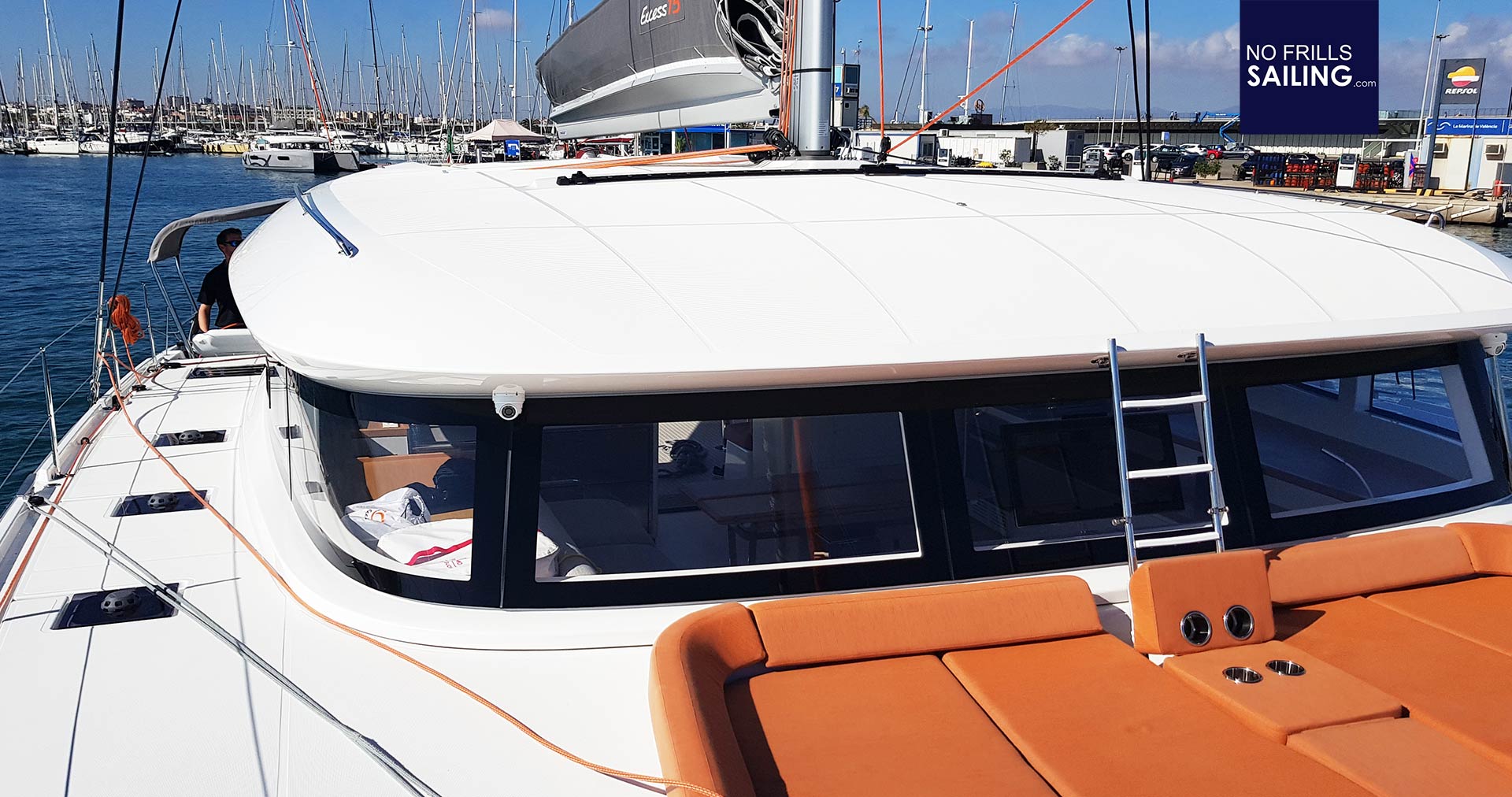 As of now the French company – which is part of the Beneteau Group, already being market leader in pleasure cats with Lagoon – had provided two catamarans for the time being, the 40 feet Excess 12 and the flagship, the 50 feet Excess 15 with which I chose to sail on the first day. I was welcomed warm by the French pro-skippers and boarded the mighty cat that was moored alongside the jetty of Marina Juan Carlos I in Valencia. Getting aboard was the first task: The hull is so huge that you can jump aboard from astern or climb a ladder that was attached to the hull.
Steering a Supertanker? Catamaran Feeling.
Here´s my first impression: The cat feels much, much, much bigger than "just" 50 feet. Offering much more internal volume it´s predominantly the large width that is creating a sensation of vast extent. The aft cockpit is as wide as the boat, I felt like being on a terrace of a flat rather than aboard a seagoing vessel. Starting the engines – of which a cat has of course two – I checked the steering position. The Excess catamarans are conceived to be a quick sailing, fresh and new approach to multihull-sailing: Thius they sport a steering position down on the main deck without offering a flybridge.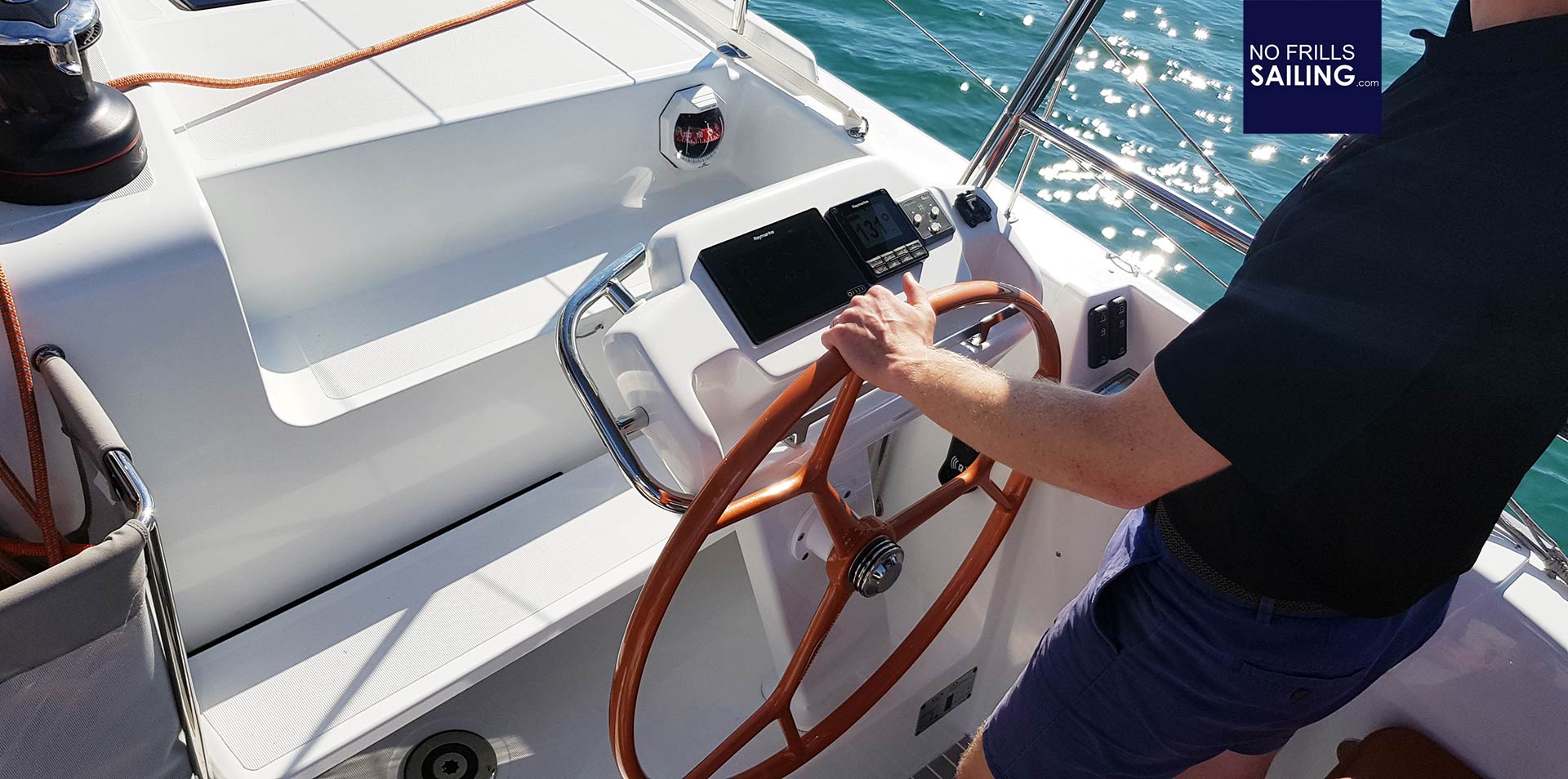 That hast he advantage of a deep mainsail boom, more sail area and bringing back the helmsman to the social circle in the boat rather than keeping him out and away up in the fly. Steering position on the Excess was pretty familiar to one on a monohull and I was surprised how good the visibility from back there really was: The helmsman can see through the salon-superstructure because of the clever positioned and well-though shaped windows.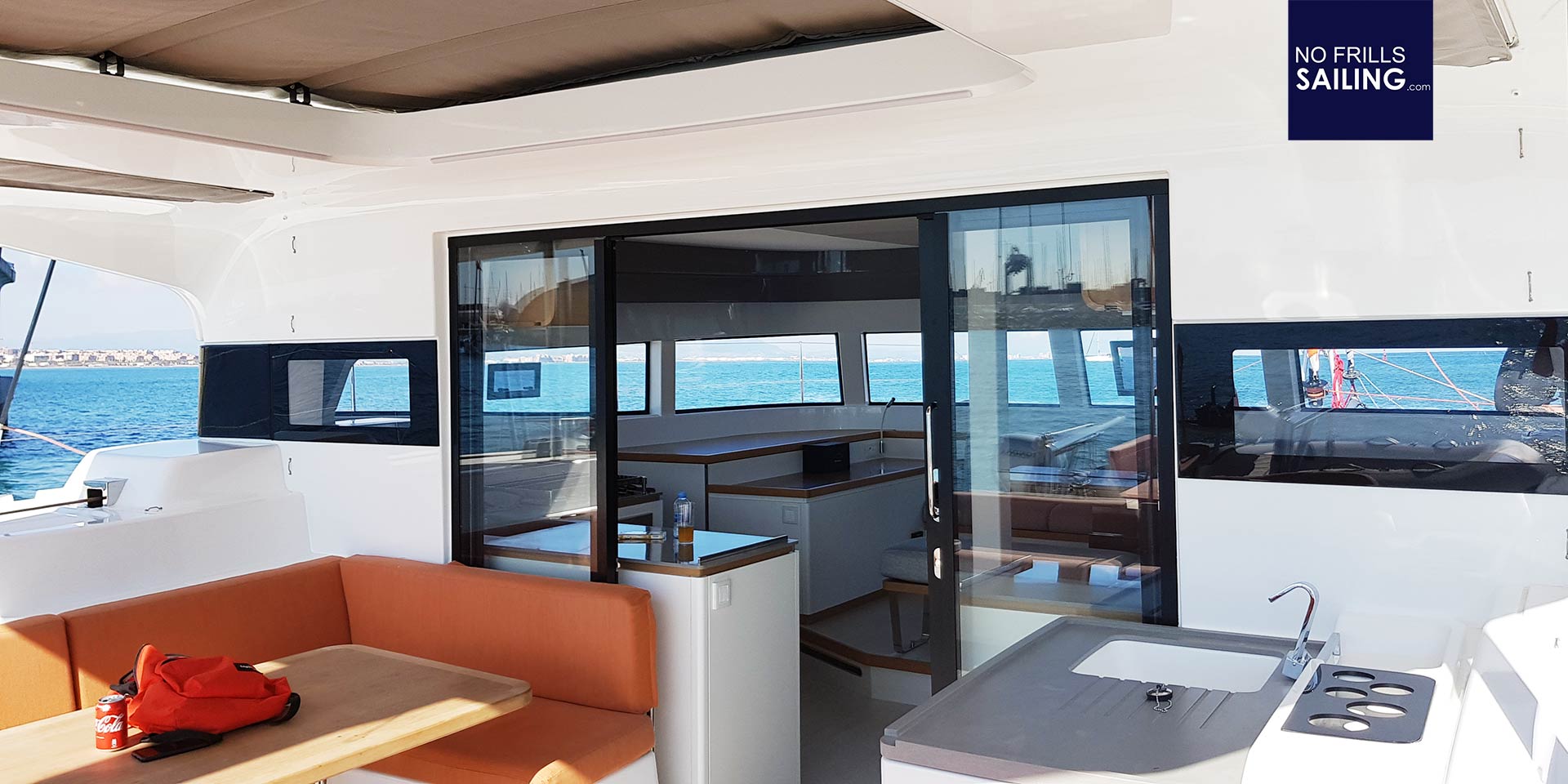 You also have a great view over the hull and with some practice will easily be able to estimate distances when steering the cat. Manoeuvering the huge Excess 15 out of harbor was a no-brainer for the skippers, for me it certainly would have been a lot more exciting: Since a cat has two engines, maneuvering out and into a berth is almost completely done by utilizing both screws. By having one engine run backwards and one forward, the cat will turn on a spot easily. Rudders will be applied when the cat moves through the water. The Excess 15 is also equipped with a bow thruster although our skipper never had to use it.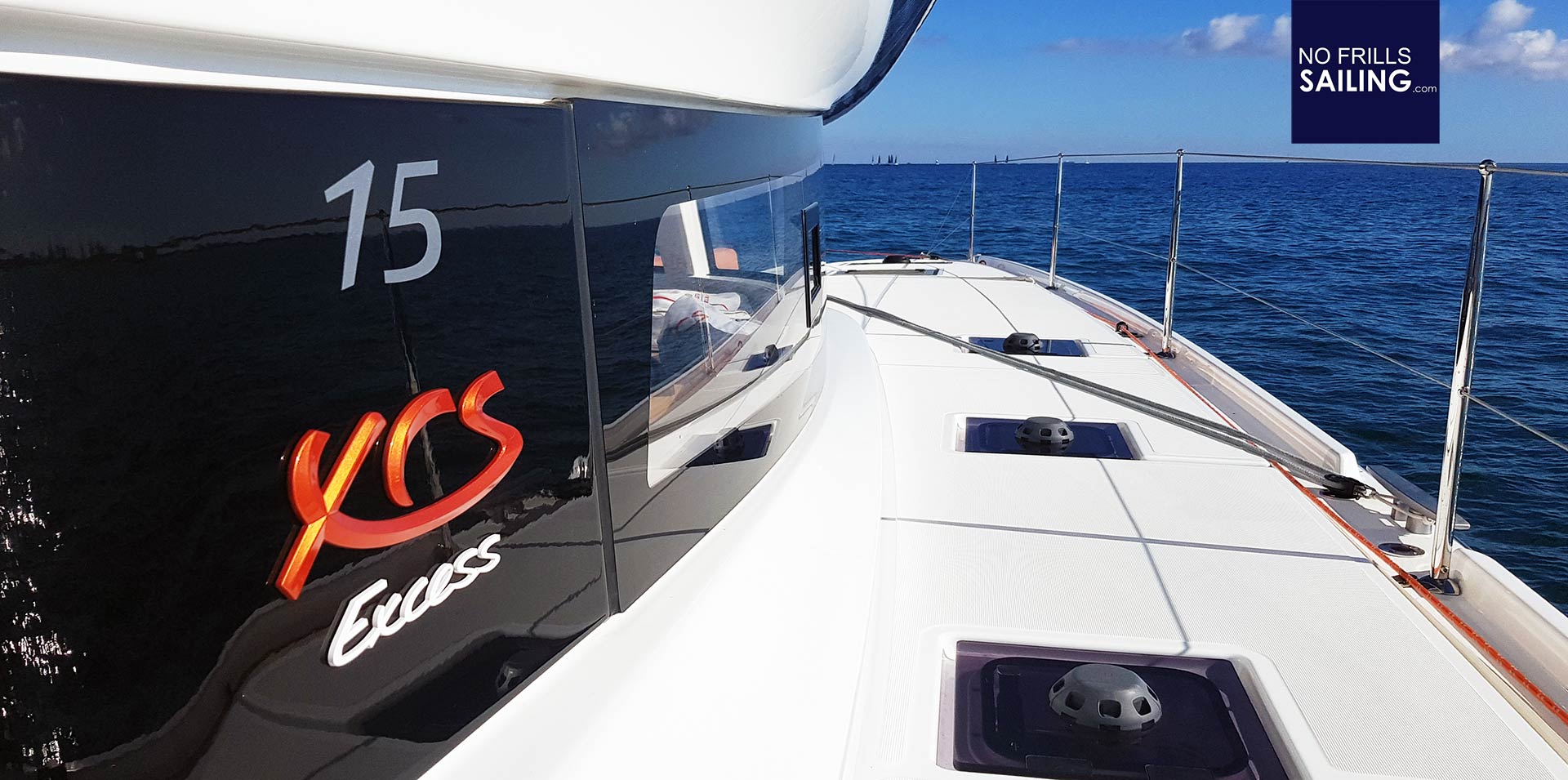 Upon casting off and once having cleared the narrow parts of the marina, the skippers handed over the wheel to me and so it began, my first ever sailing experience aboard a catamaran. I stopped her and began to test maneuvering. It´s really as easy as ABC: Just have the screws turned against each other and the large boat will move and turn. Once in motion, the cataraman will also follow steering orders by the wheel, although I felt that the large Excess 15 needed much more steering impulse (or speed) to turn than the smaller Excess 12, which is logical. On the rudder both cats behaved very good: Holding a due course was a no-brainer and I felt that the multihulls were much easier to control in keeping the course than a mono due to having two blades, two hulls, two keel-fins. On the other hand, rudder-feedback on the Excess 15 was much less than on the 12 which also is in line with monohulls where I have the impression that the bigger the boat gets the harder it will be to receive feedback in your finger tips at the wheel. But now – let´s hoist some canvas!
Sailing the Catamaran
Which infortunately wasn´t that big adventure during my sea trial days in Spain. A local high pressure system was delivering best possible weather with temperatures around 23 degrees Celsius and a sunny, clear blue sky – but now wind at all. So had to wait for thermal wind and land-sea-wind circulation which arrived and brought a very, very, very light breeze of 6 to 7 knots true wind.
As you may have read in previous post about light wind sails, I strongly recommend a Code 0 and/or a Gennaker to be a matter of course on every boat. Sailing in light air with normal mainsail/Genoa-combination is just a pain in the ass, sporting a dedicated light wind sail will propel you onto a whole new level of sailing. Same here on the catamaran. Unfurling the large Code 0 laminate sail was done in seconds after it took us a minute to hoist the large mainsail.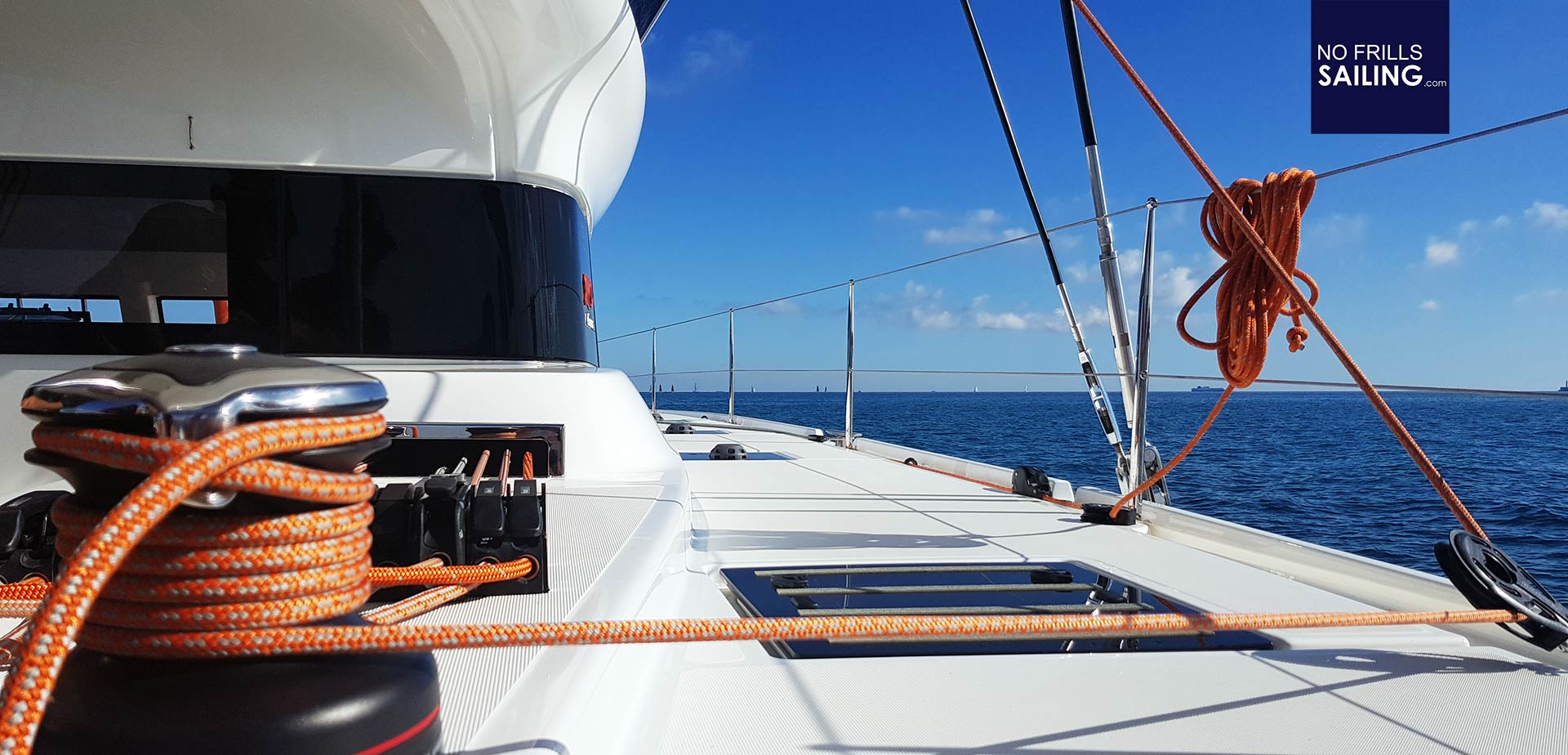 Running rigging on the Excess 15 s well-thought through and optimized for short hand sailing. The primary and working winches are put to starboard side where all reefing lines, all halyards and the Jib-sheet (self tacking) is lead to. All lines run flush-covered under deck, the designers made sure that the lines are lead over the least necessary number of blocks. Just the Spi-halyard and port-side Code 0-sheet is lead to the port side winch.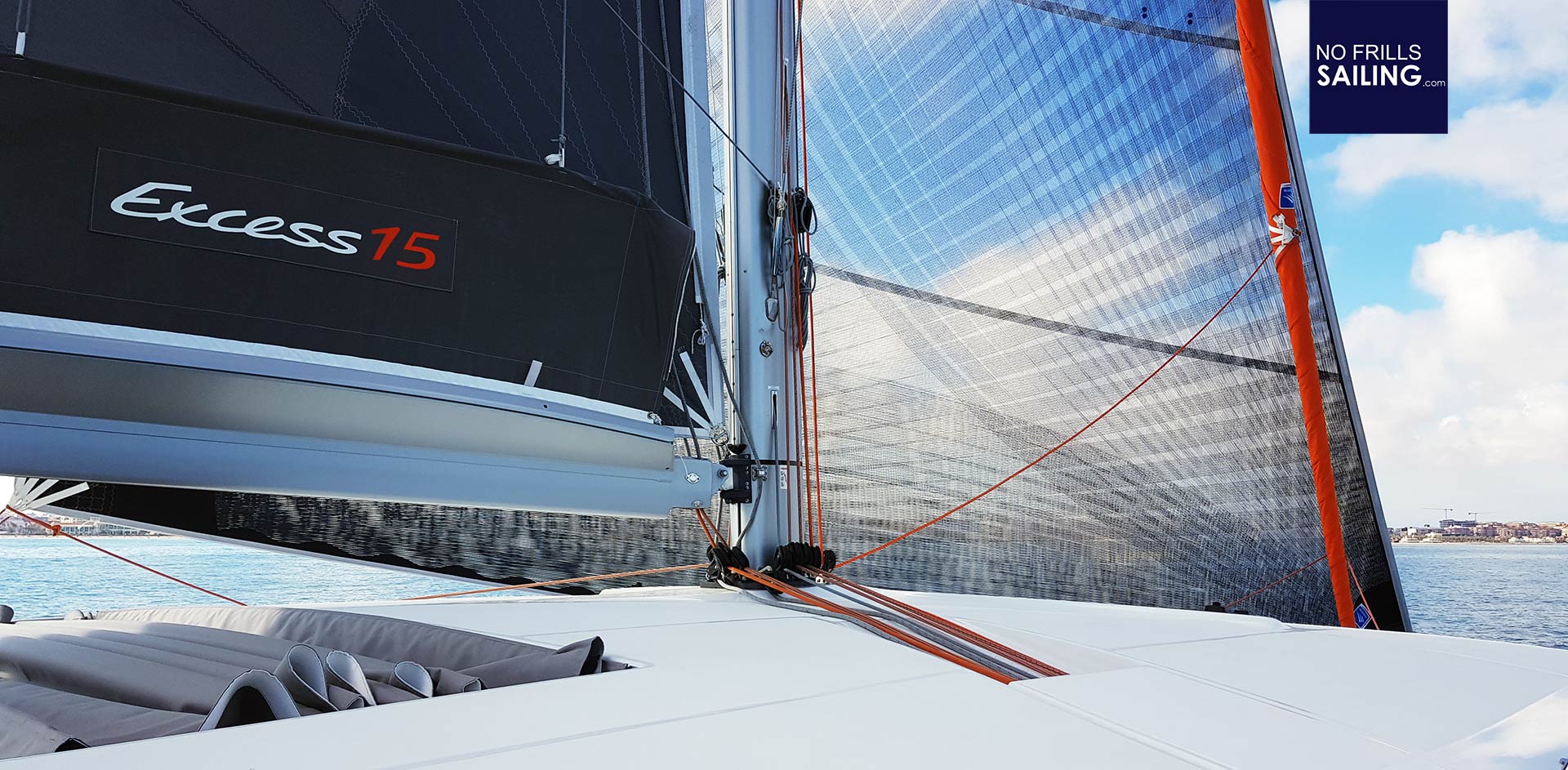 Looking at the (non apparent) wind I was very, very doubtful that setting sails would have any effect – but the magic effect of the Code 0 set in immediately and all on board got excited. The cat jumped to life and with 80 to 90 degrees wind angle sported over 6 knots over ground! Wow, what a performance! Although as a monohull-guy I missed all signs of sailing (meaning heeling and alike) the cat really ploughed the waters and a constant loud gurgling at the read end set in. What a bliss sailing with 6 knots in a 7 knot-puff!
I tried all points of sail of which – as expected – upwind was the least powerful. One of the skippers put it that way: "It is stupid to go upwind in a cat. If so, use the engine. A cat is sailed on the fastest point of sail according to the winds at hand – in our situation that´s a beam reach now – and this is how you do it." Well, that´s why I am a monohull guy, but keeping in mind that most catamarans are run in charter business with crews seeking a week or two of pleasure, sailing becomes secondary.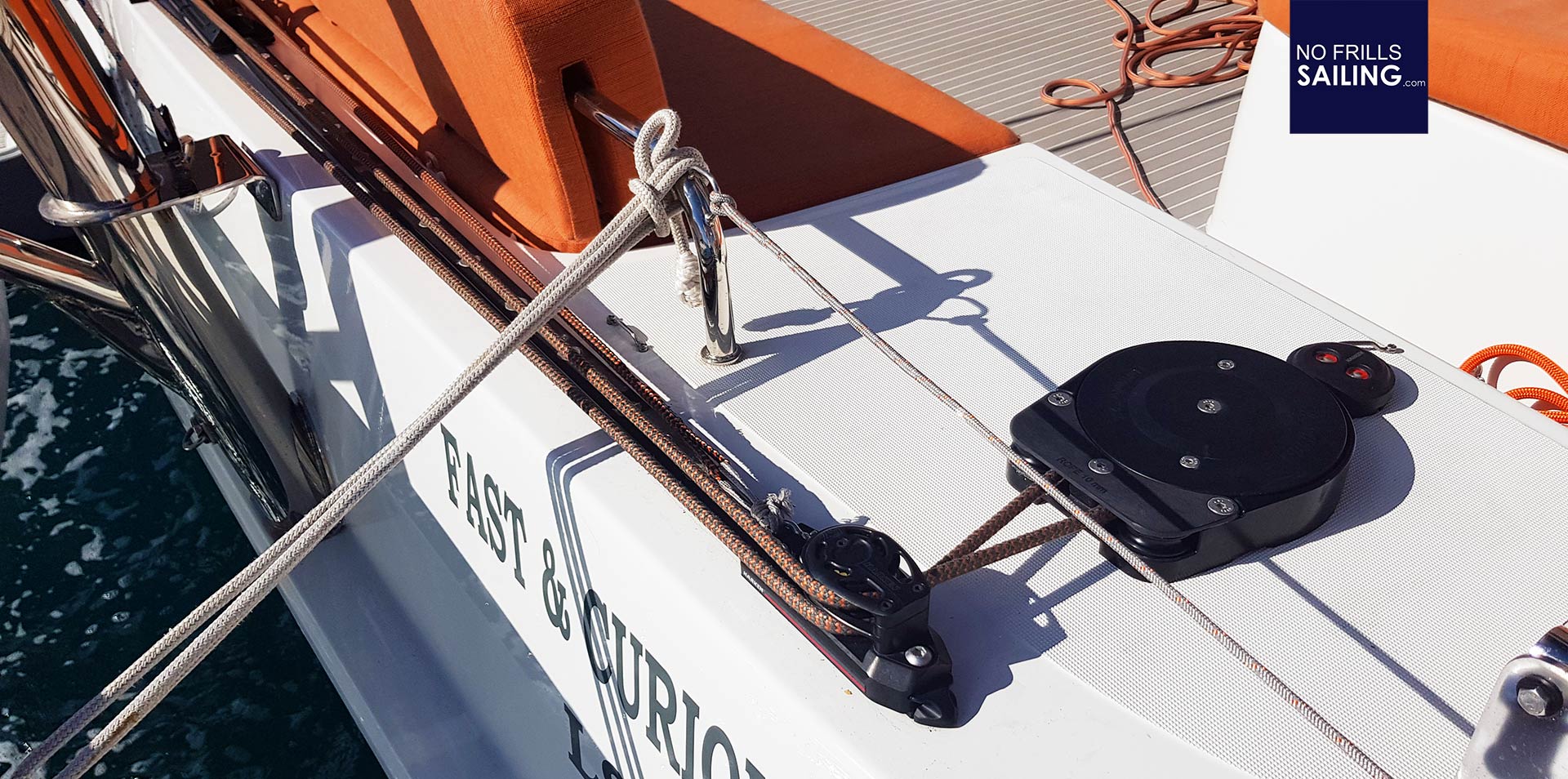 Nevertheless, even on a round the world-trip with your family the Excess may do well. The Excess sports a very powerful rigg with loads of sail area, the cat is leight weight compared to competing big brands and thought through inside. The square head mainsail is not only powerful but also easily mangeable, looking at the electric winched mainsheet traveler and easy reefing system. All in all the cat behaved surprisingly vivid, even in this light winds, and after 20 minutes at the helm I felt more and more confident in controlling this huge boat.
Catamaram vs. Monohull: The Old Question
I will remain a monohull-guy for sure but I found this experience to be very enlightening and refreshing. Seeing and experiencing by myself how easy it is to control this huge boat was a delightful lesson in seamanship. I also found it very interesting and surprising to again witness the power of the wind and the efficiency of modern sail plan-design and sails, like the Code 0.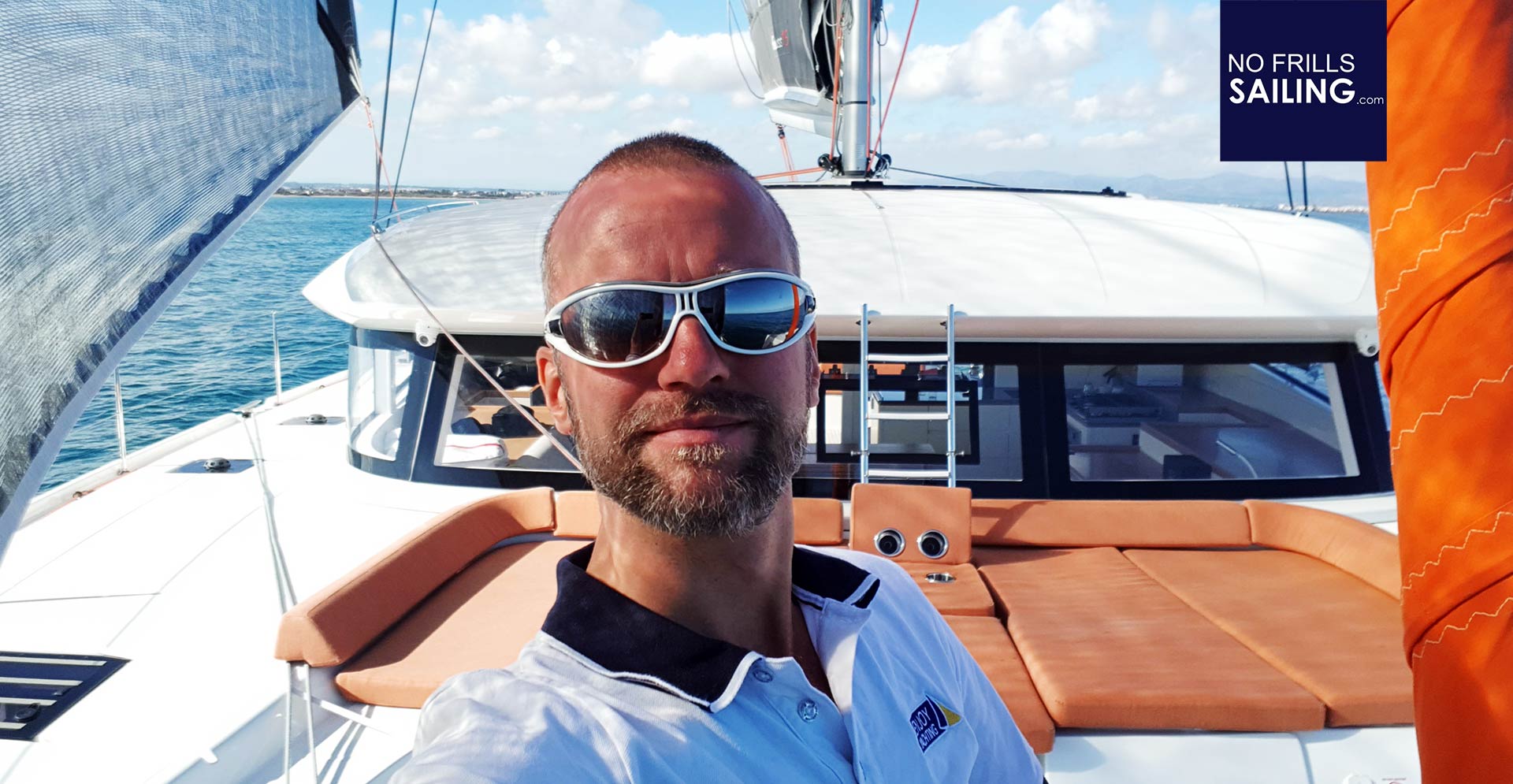 Also very interesting was the overall feel of the catamaran in motion. Although we didn´t have real waves I could feel the difference in sea motion as I have been reading about it: Compared to a monohull, there is less motion in terms of excessive heeling but on the other hand the cat therefore sports a kind of "rocky", short but intense kicks. One will get used to it without doubt, but as a monohull sailor I found this experience particularly interesting. Another one was the feel of the vast space available – both on and under deck. I just imagined getting up after a good night´s sleep in one of the huge cabins: You can really "get up" without any fear of hitting your head hard. The cabins should be called "rooms" instead because that´s what they really are. The saloon is more an NYC-flat with a 360-view. Breathtaking.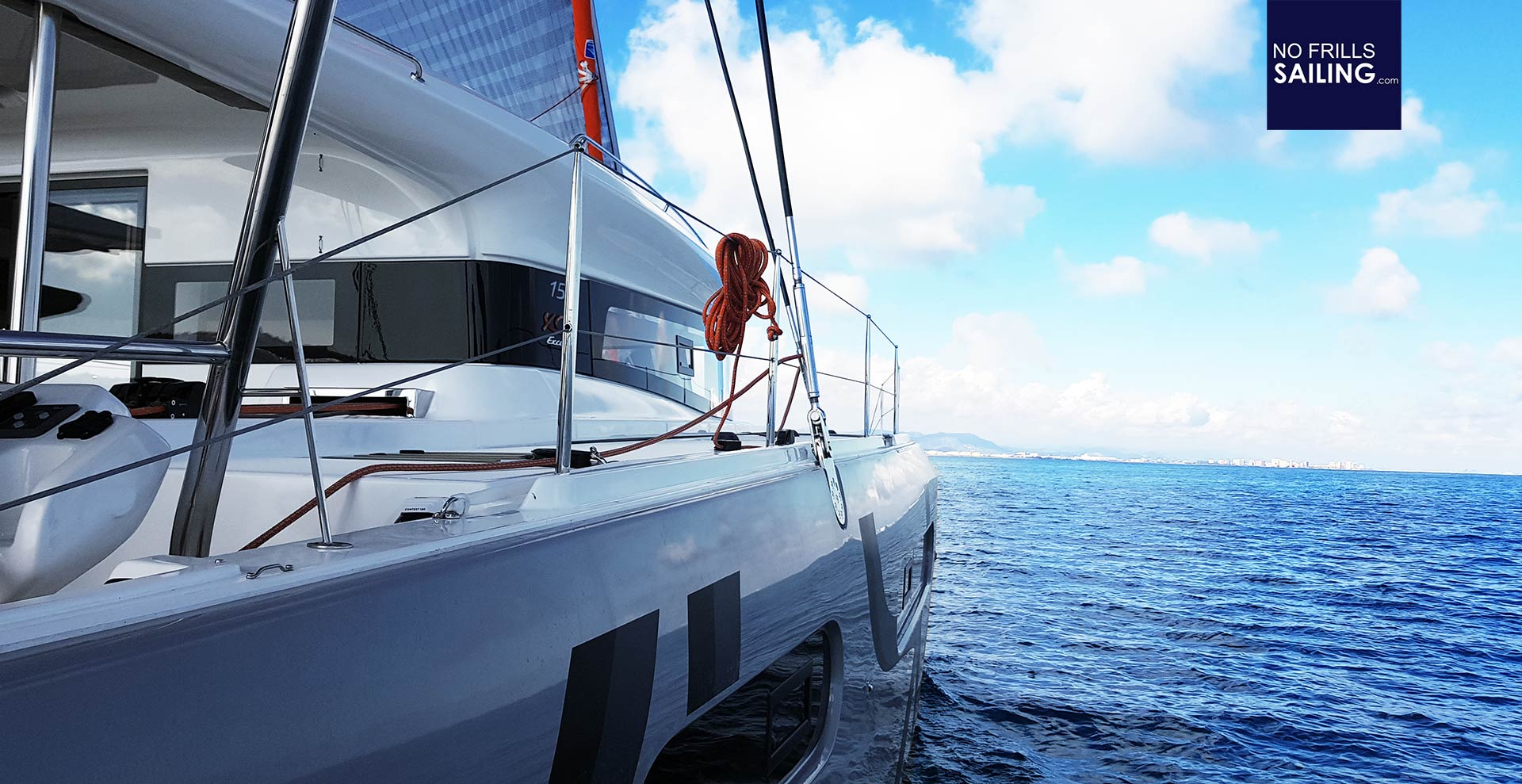 So, when seeking pleasure and luxury on a smooth long haul sailing trip with your loved one or your family a catamaran like the Excess might be the perfect choice. Enjoying cockpit life, sunbathing, exciting days at anchor in distant bays or sailing in nice winds on the Coconut Route – the catamaran has many, many thinks a monohull can never offer. For me, my next task will be to try to experience sailing properties of an Excess cat in stronger winds and waves to widen my range of experience. We will see when that will happen.
You may also like to read these articles:
What is the best boat for a long haul trip?
The perfect blue water cruiser – asking Jimmy Cornell
Hallberg-Rassy 64: A role model blue water sailing yacht