This article is referring to my sailing trip traversing the Bay of Biscay and the English Channel – you might read all related articles by clicking on the hashtag #biscaysailing
Today marks a special day: FREE WILLY will conclude her homecoming journey and finally reach her new home port on the beautiful island of Usedom in Peenemuende. You read it right: That Peenemuende where some 70 years ago the V2 rocket was developed by Wernerh von Braun. Luckily, the island has been converted into what it can do best: Host people to spend unforgettable holidays there. FREE WILLY be moored here. As I cannot attend her glorious approach I at least want to dedicate an article to that fine boat: This boat was built in 2006 and although that is "just" 14 years ago, this boat might be considered a classic. I want to review the boat and dive deeper into that topic: How was a production boat built back then compared to now?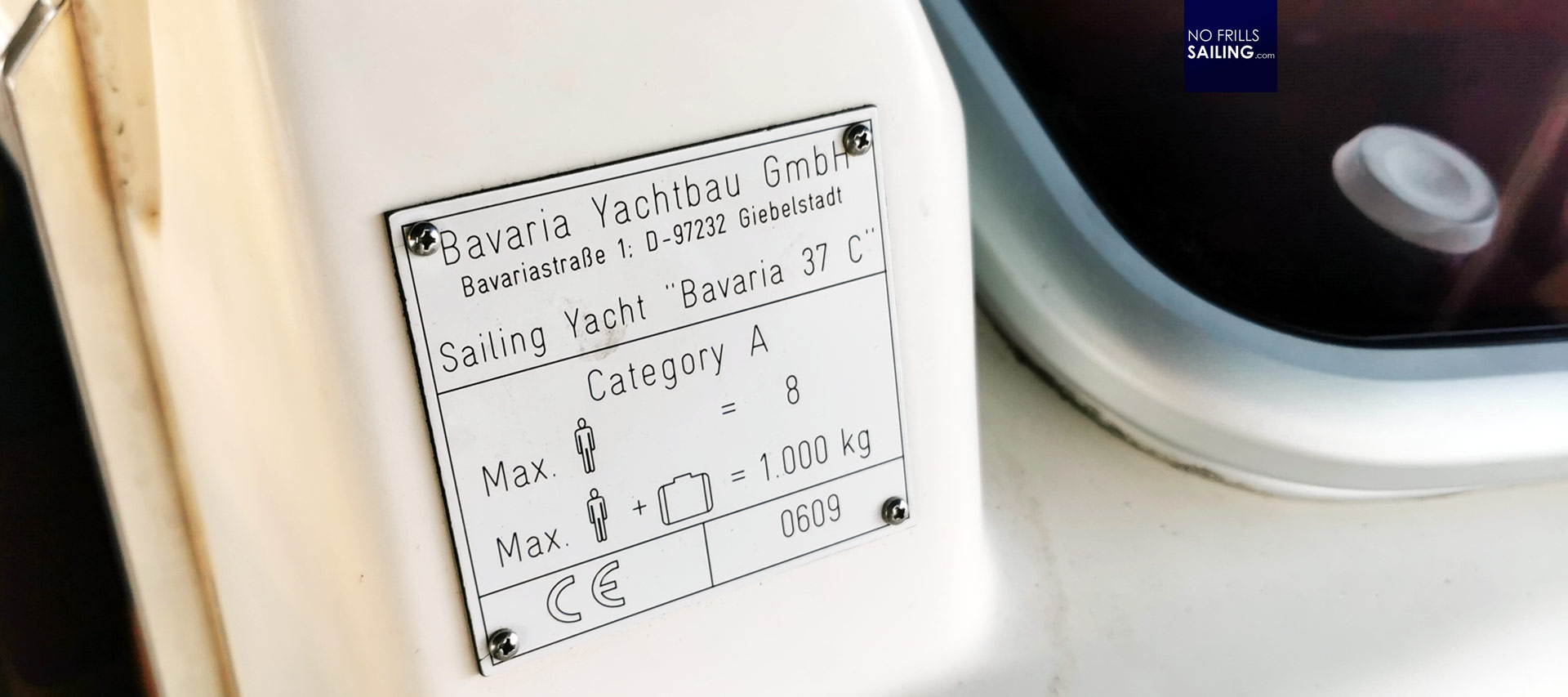 FREE WILLY has a total length of 11.30 metres and a width of 3.85 metres. Her draft goes as deep as 1.95 metres with a total displacement of some 7.000 kilograms (light displacement). Compared to a modern day Bavaria 37 that´s slightly wider and some 1.700 kilograms heavier. The boat I sailed on – at least the hull – has been designed by Slovenian J&J Design whereas current Bavaria 37 Cruiser is a Farr Design-hull conceived in 2015. Bavaria just lately came up with completely new designed hulls by Cossutti Yacht design which are now marking the latest generation of hulls. Well, regarding the current trend of hull design, FREE WILLY was a true time travel when it comes to experiencing how boats where made back in the day.
Rounded edges, lots of wood: Production boat building now and then
But let´s start with her interior. As a boat dealer I do have a pretty good insight into how modern yachts are built throughout the range of all relevant production boat brands. Cost saving production methods such as the making of modular units, whole pre-wired and piped galleys, cupboard-modules for example call for proceedings as fast and easy as possible. That means that there are basically no rounded edges anymore. Apart from cheaper (but also lighter) materials, especially veneers, this trend made it possible to build the boats faster and cheaper. A whole different picture on the Bavaria 37 Cruiser from 2006 …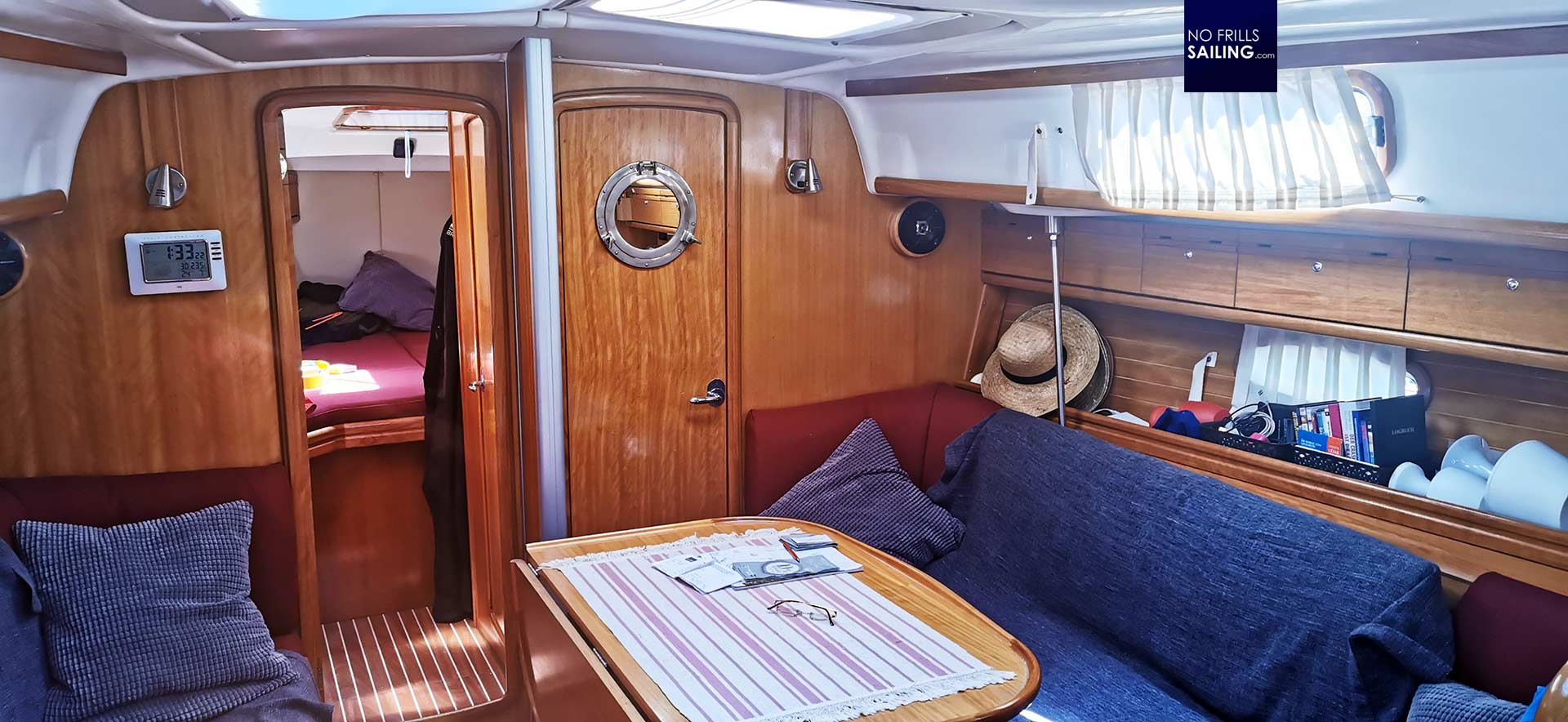 The boat welcomes the guest with lots of massive wooden details, rounded edges, grab handles which are worth their name, luxuriously glossy-painted veneers made of the real stuff, not the fake Alpi-veneers. I was stunned by the degree of craftsmanship still dedicated in that boat even in year 2006: This was standard, reasonably priced big production boat´s quality just 14 years ago. Wow! You do not see this in current Bavarias, nor in Hanse, Beneteau and name it. As years went by, apparently, pressure to make boats cheaper and have number of unit output increased, yards switched too rationalizing processes and reducing costs. Well, that medal, of course, does have two sides.
What I liked about the Bavaria 37 Cruiser immediately was her "shiplike" layout. Just take the entryway down: It´s a steep ladder, indeed, but due to the increased angle – in contrast to Beneteau´s "not steeper than 45 degrees"-policy – this yacht creates large volume inside. Yep, you have to climb a steep ladder, but is it really taking away comfort? Everything inside was well-sized and placed: Again, in modern yachts I sometimes observe "crazy" solutions, for example placing the main switch panel not where the nav station is, but somewhere else (where it is most convenient production and cost saving-wise). In this yacht, everything was tailored to fit a sailor.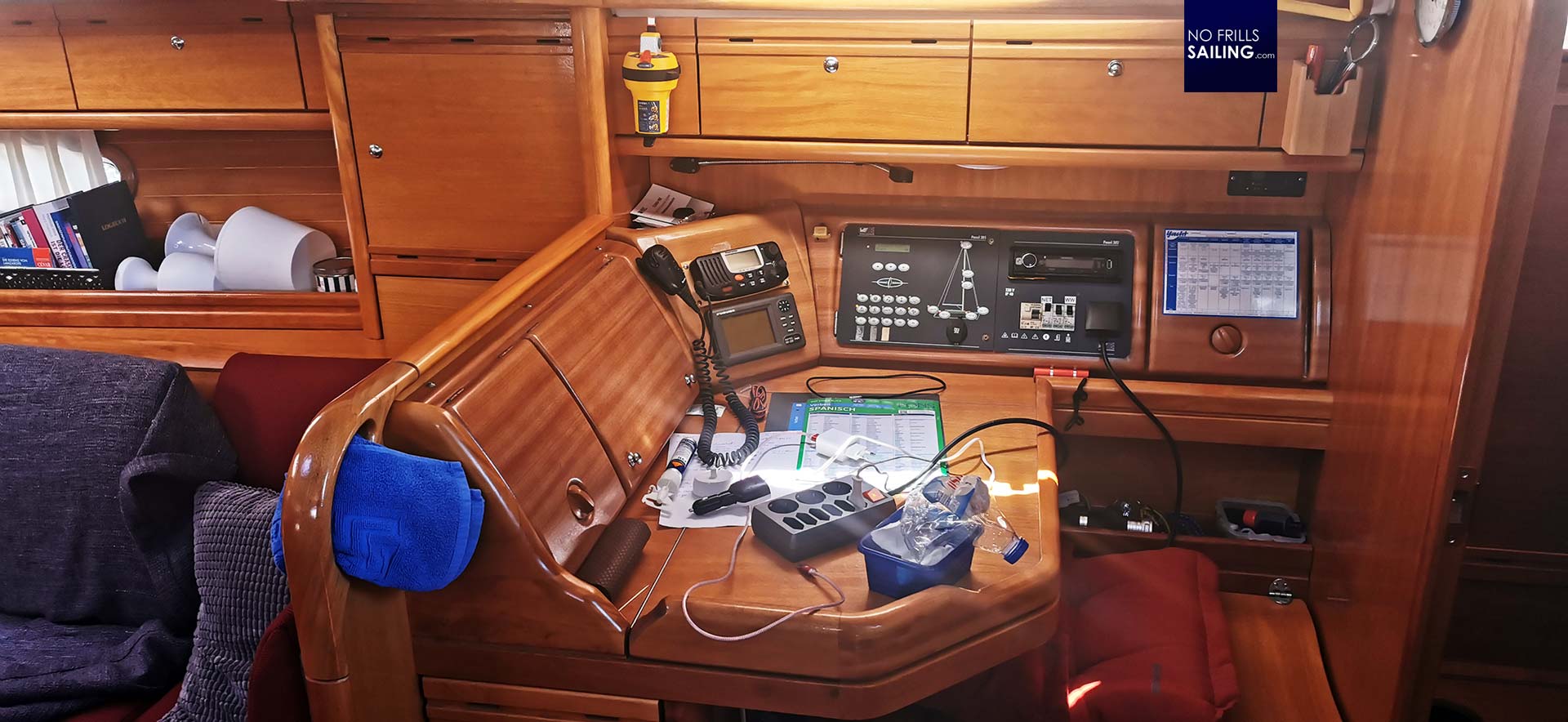 But I could also observe in small details the lingering cost pressure even in that 14 year old boat, first harbingers of a new age: Hatch covers or flaps made of cheap plastic, knobs and small fittings not made of massive metal anymore. But these were small details, still not dominating the interior´s appearance and thus easy not to recognize. I love FREE WILLY´s interior setup: A proper nav station  with a large chart table, loads of practical shelves and cupboards. The saloon was both spacious and inviting as it was narrow enough to offer lots of points to grab to safety when boat was rolling all too heavy: What a difference to these wide, open, free ballrooms of modern yachts. Nice to look at, potentially dangerous in heavy seas or extreme heeling.
Sailing a classy displacement hull
A real eye-opener was sailing the Bavaria 37 Cruiser. She was not s sprinter in present terms: Her speed was decent but not thrilling. But on a cruise, a holiday, a vacation I would recon most people don´t really care about sailing 7.6 or 7.9 knots. Of course, sailing fast is always nice, but on a long haul cruise other properties of the ship become much more important. So, back on the Bavaria, she sailed just fine. Always very stable, conveying a feeling of absolute security. I trusted the boat the heaviest of weather situations and never had a sensation of the slightest mistrust.
The hull had been designed by Slovenian J&J Design-office. Sailing the boat even through higher waves upwind was pure bliss, I can say! Compared to these modern-day reaching-optimized hulls with wide sterns and voluminous entries this "oldtimer" hull behaved awesome! I was shocked to realize that this "old" boat mastered the seas better than many of the present day hulls I´ve sailed in the past years. The term "seakindness" applied in every aspect of the word just beautifully to that hull. In essence: Trading in some speed for more sailing comfort pays off just fine for people sailing longer and farther than just one or two weeks in charter and best weather conditions.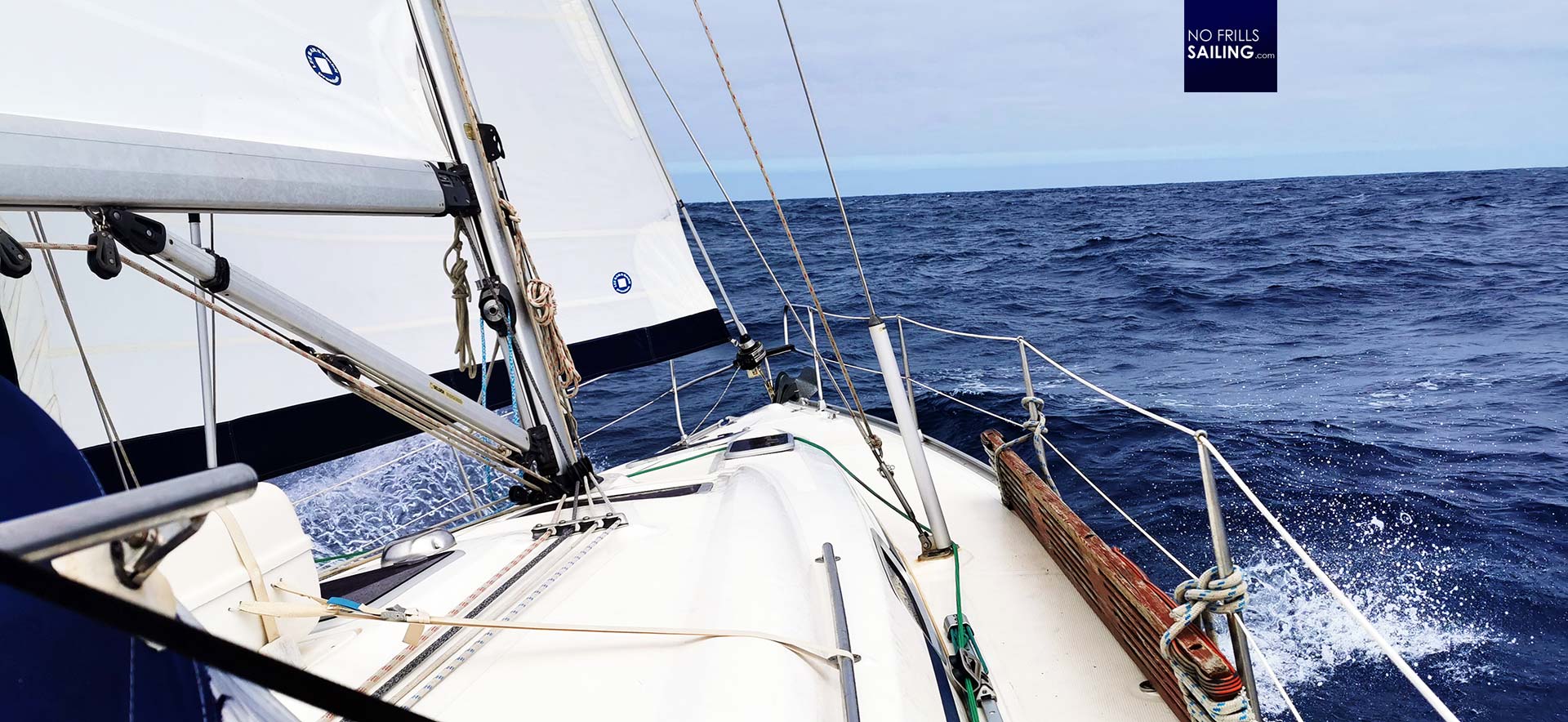 We did have heavy rolling during our cruise through the Bay of Biscay and much more after clearing Dover and entering the North Sea. Even in this tremendous rolling and abrupt movements of the yacht the hull did not plunge into the water a single time! What a difference to, let´s say, to sailing the Beneteau 46.1 upwind in comparable conditions to Bremerhaven – the hull (flat bottom, wide stern, no-V-shaped entry) was battered by the seas constantly and I couldn´t stand the hard blows and shivers in the rigging. Nothing like this on the Bavaria: That´s thanks to the V-shaped entry in the bow and the seakind, round-bodied hull itself.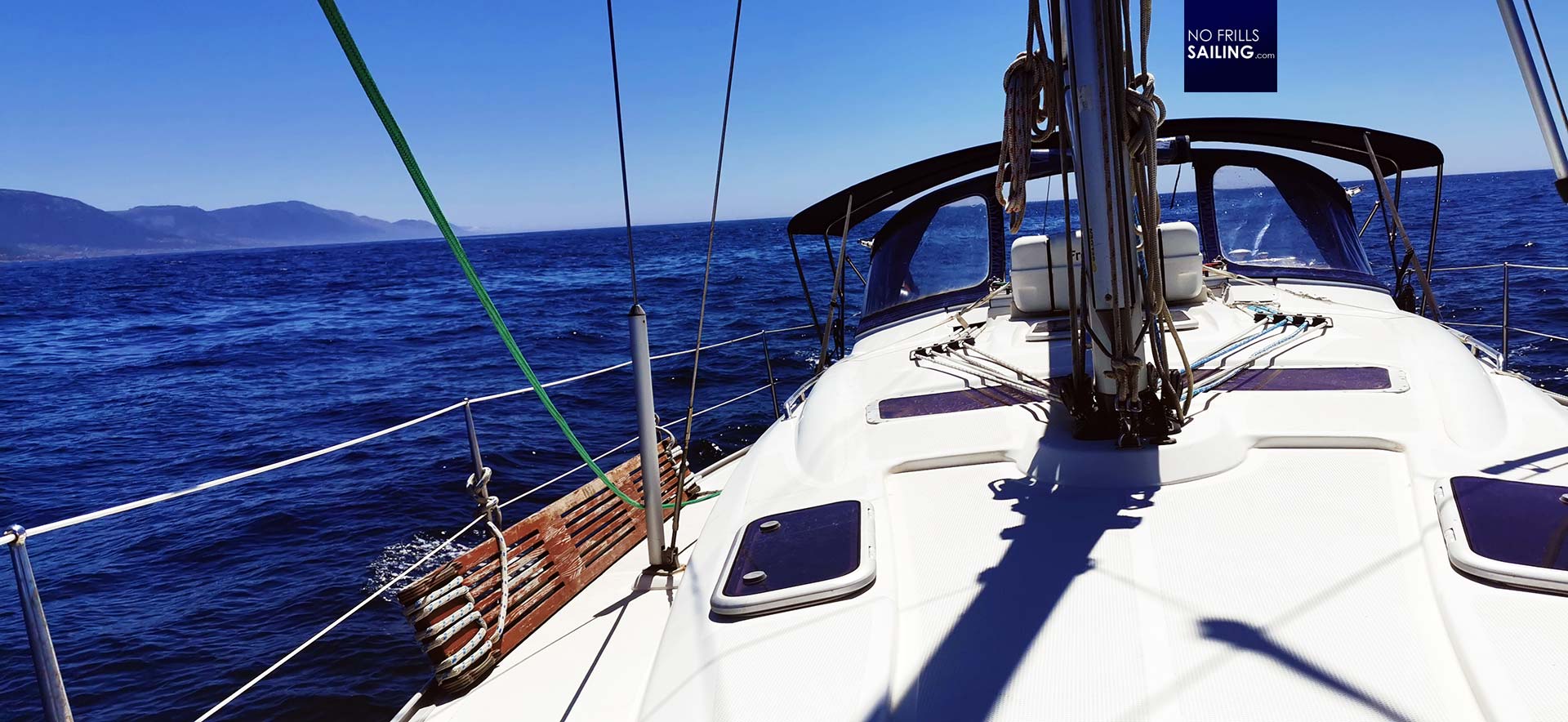 When it came to sailing her, I as well have only praise for that boat: Fitted with a Furlex (kind of first generation furling systems) Genoa and an in-mast furling mainsail FREE WILLY was pretty standard equipped. The owner had invested in brand new sails beforehand and tried (successfully) to safe money by ordering China-made online-designed sails. As for the Genoa the performance was good, the mainsail – as every low-price non-battened main sail – the application of the word "performance" is a mere joke. But as we were mostly sailing on reaching points of sail it was no problem.
I liked the Seldén mast and rigging. It´s what you´d expect from a decent fitted cruising yacht made to tackle the high seas. It´s a pity that these are not standard on big production boats any more, a switch toward cheaper mast-suppliers (without leaving an upgrade choice to clients) is what I criticize by the way most about Beneteau yachts. Anyway, On FREE WILLY the furling and reefing system was kind of antique: You had to go to the mast and pull a switch, setting it to "in and out" or "just reefing". This could be kind of dangerous in heavy seas, clearly modern furling mechanisms are far better without any need to leave the cockpit..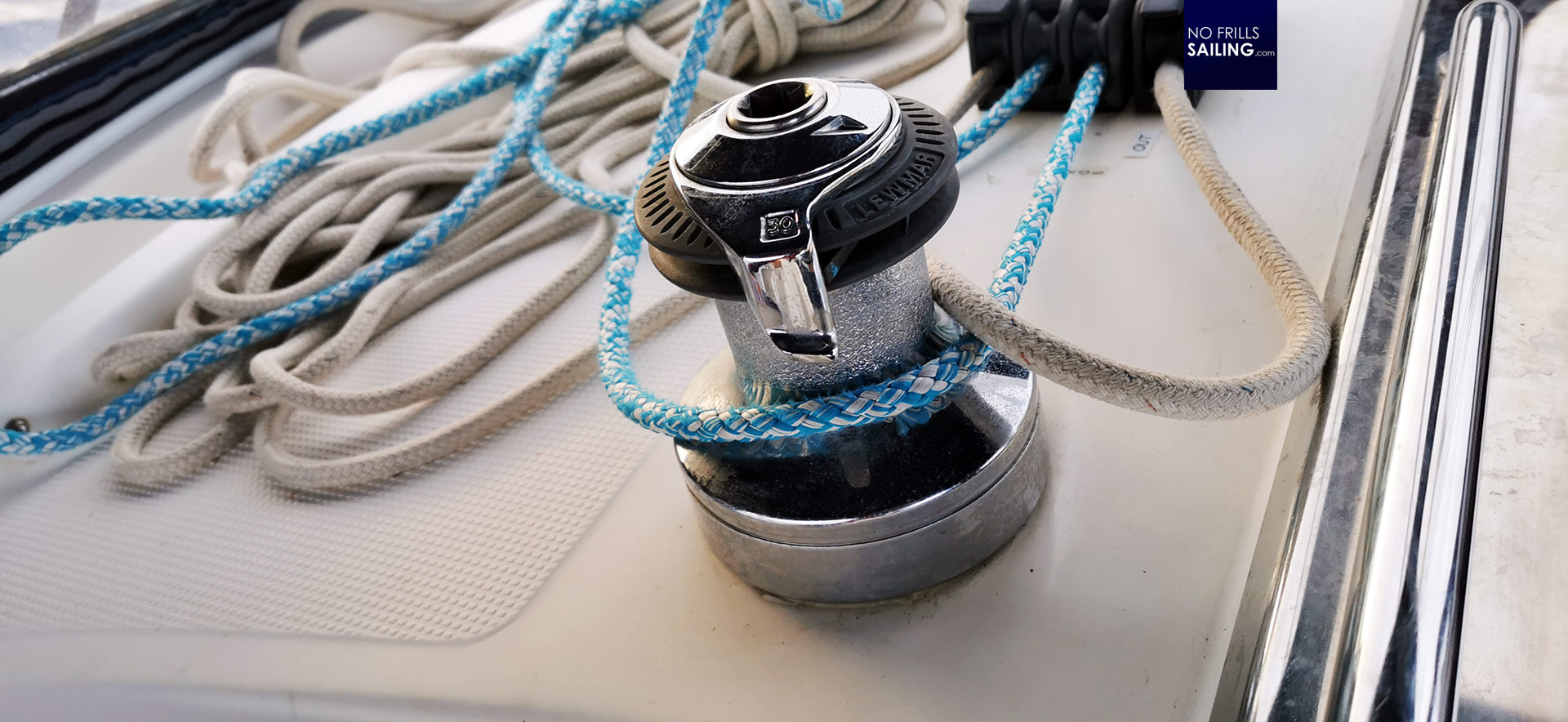 This 2006 built Bavaria came with a pretty classic winch layout: Working winches for mainsail, in- and out of the furling, reefing and other trimming lines are put on the coach roof to both sides of the entrance, Genoa winches on the coamings. None of them with "single handed sailing" in mind apparently, at least in a way single-hand-sailing is defined today. Thinking back to, for example, the Beneteau Oceanis 46.1 where all winches are put abaft and the helmsman can work all lines from there, this is just not possible on the Bavaria. Nevertheless, thanks to our fourth crew member, Mr. Autopilot, trimming sails and even performing tacks or gybes was a no-brainer. I found the size of the winches sufficient – which one cannot necessarily claim in some modern cruisers made for spare time good weather vocational sailing with clearly underdesigned winches and jammers.
A sailing yacht´s cockpit from the past
The cockpit. Surely the most defining place in a boat and one of the points where – still today – yachts have their most numerous differences. In the Bavaria 37 I found a "cockpit of the past" as I shall name it: Narrow, high coamings, not very spacious. A cockpit made for sailing, not for chilling out. Side benches with massive Teak, in the middle dominated by a large cockpit table. The table itself was clearly not designed to host big dinners: Teak-tabletops could be folded to increase surface but it still was very, very small. What a difference to current tables with huge surface areas!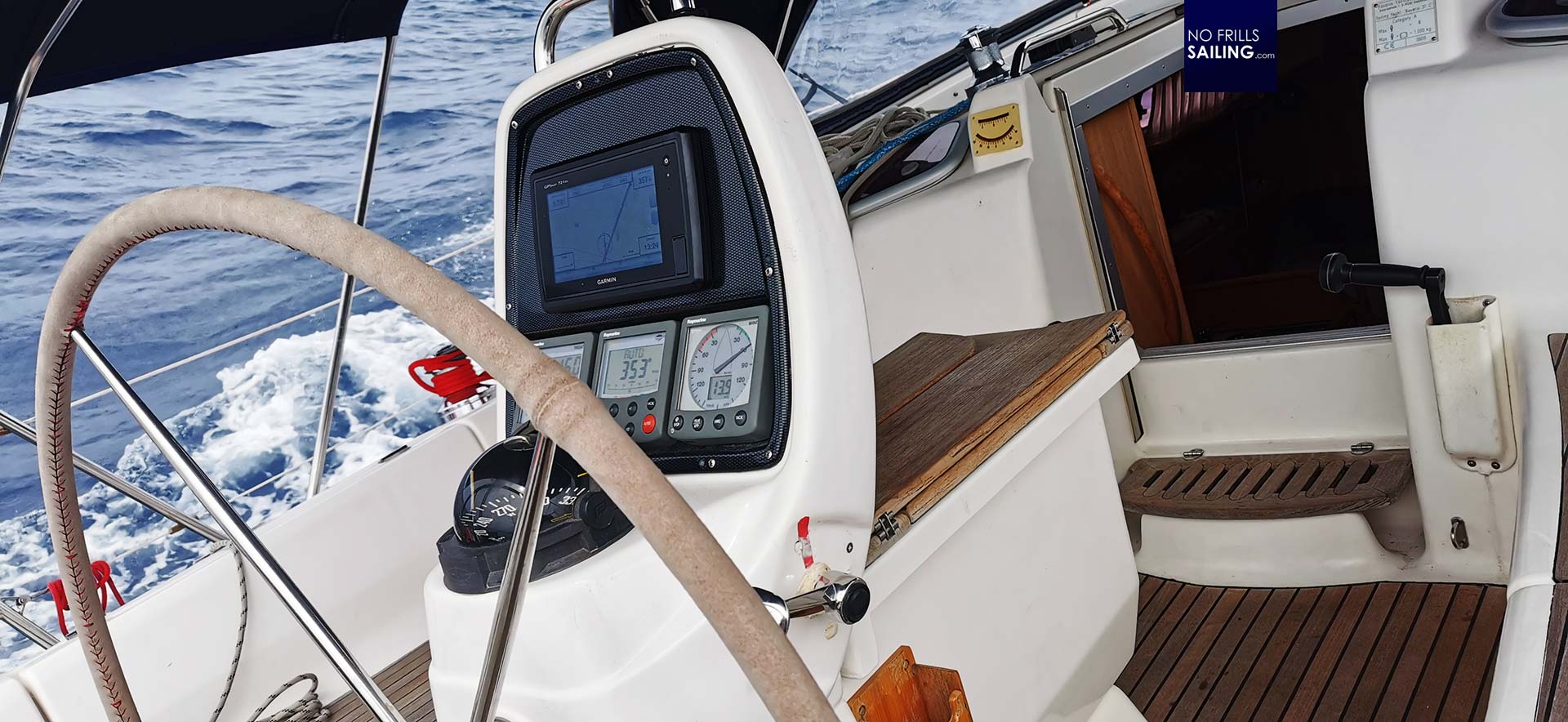 On the other hand, the massive GRP-base of that table was perfect for wedging oneself between table and benches safely in violent motion and heeling. The whole cockpit conveyed a sense of safety and security. The high coamings seldom allowed spray to reach us, sitting on the benches made them good backrests. On the stern-facing end Bavaria mounted a large instrument panel that was huge and is not very pretty to look at but could house all relevant gauges, instrument and the plotter in just a perfectly calibrated eye-height. That was just awesome: You did not have to bend down or perform other wrenching motions to take a look at your data – they had been just in front of your face. The only modern boat I would say offering a similar approach to cockpit design is Hallberg-Rassy – boats made for safe passage sailing primarily, not for hosting big cocktail receptions.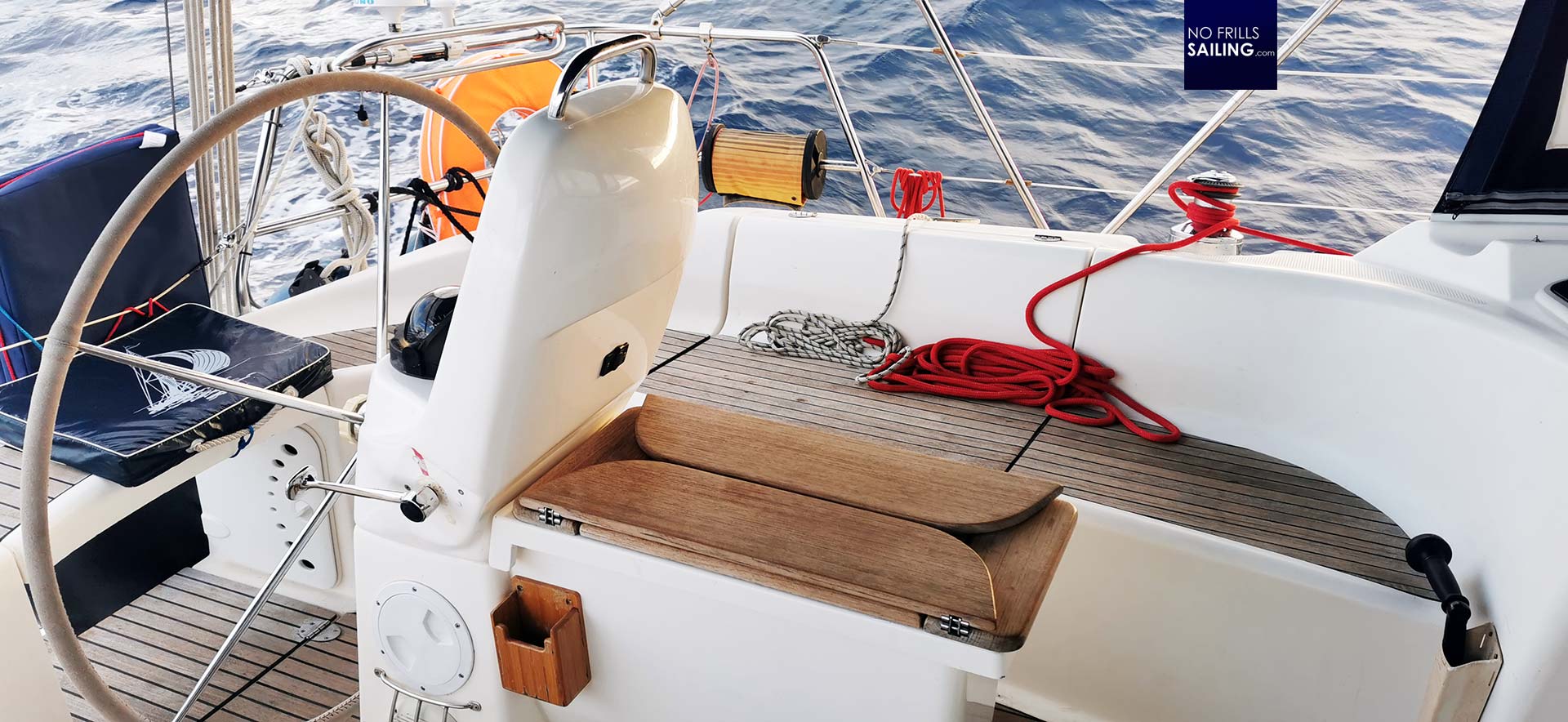 You may have read the recent articles about my journey to define my new "perfect" boat and my hindsight that "smaller is better". In this, sailing 1.200 miles in the Bavaria 37 Cruiser also contributed to this change of mind. Before I thought that for a long haul cruise in the high seas you ought not get smaller than 40 feet. Now, sailing with two guys for two weeks I must say that 37, 38 feet is more than sufficient even on very long legs of sailing (as long as there aren´t more people aboard). As much as I loved sailing the 46 feet Oceanis and as lush and luxurious being on a boat that big might be, 11 to 12 metres will do just perfectly fine!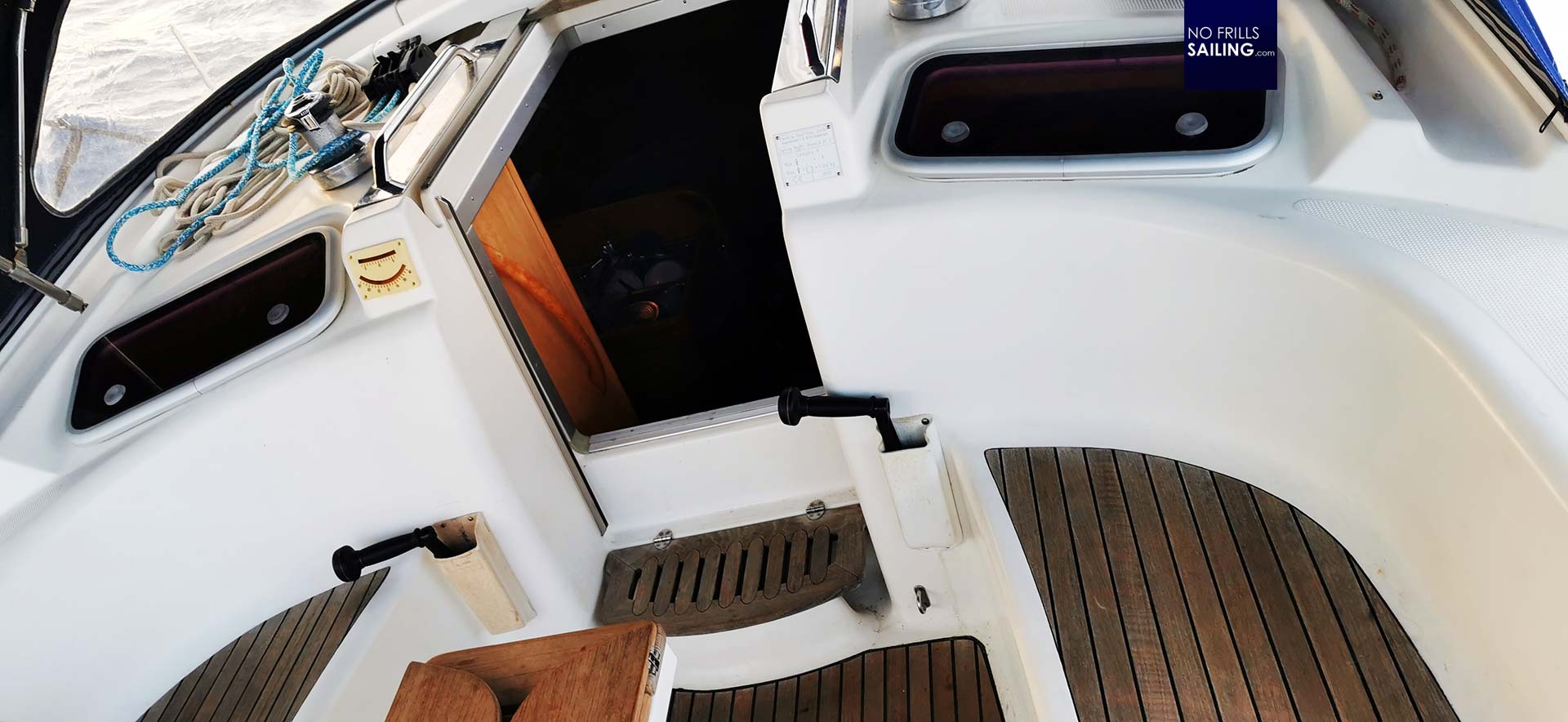 One thing though I couldn´t understand apart from all the serious praise I do have for the Bavaria: The cockpit benches were completely inadequate for standing long watches. See the round edges at either ends of the benches? It looks fine, but it´s absolutely impossible to lean against them facing backwards and to the front. You could not lean against the superstructure, you could not lean against the backrests. Just stupid. In this we had to figure a jury-rigged backrest-system made of fenders. Not very nice.
It´s the details …
But that was the biggest and surprisingly enough one of the very few downsides I could find in the Bavaria. Quite the contrary: The boat was bristling with small, pretty details which made my heart jump in joy: For example the rack for the two-part drop-boards to close the entryway. It is just so convenient and so simple: Two pieces of wooden profile mounted behind one of the cabin doors: A safe, clean proven way to get rid of the heavy plastic boards. I miss these handy small details on modern boats where these boards are flying around in bench lockers or laying around loosely in the cabins.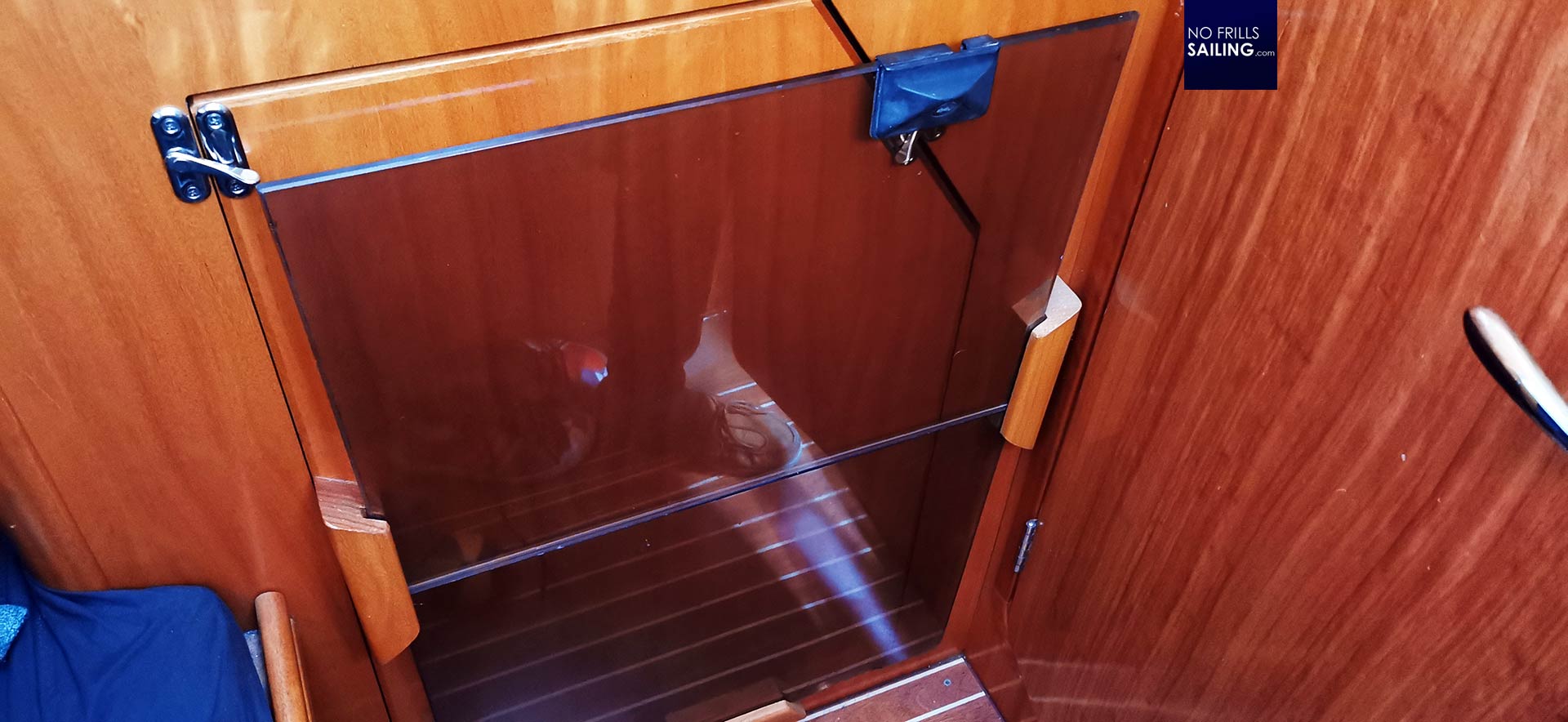 I was also stunned by the quality fit of the sprayhood. Clearly, the owner had the denim renewed some years ago, but the design and the fit of the sprayhood was still according to the original bars and these were tight fitting, very robust and had a superior overall quality compared to recent models. There are numerous example for these tiny nice details: Take the door-fastener to keep them open during sailing. On modern yachts you get these magnets: Apart from the fact that they are loud as hell, they cannot hold a door open in heeling or heavier seas. On the Bavaria a simple hook secured the door. Perfect!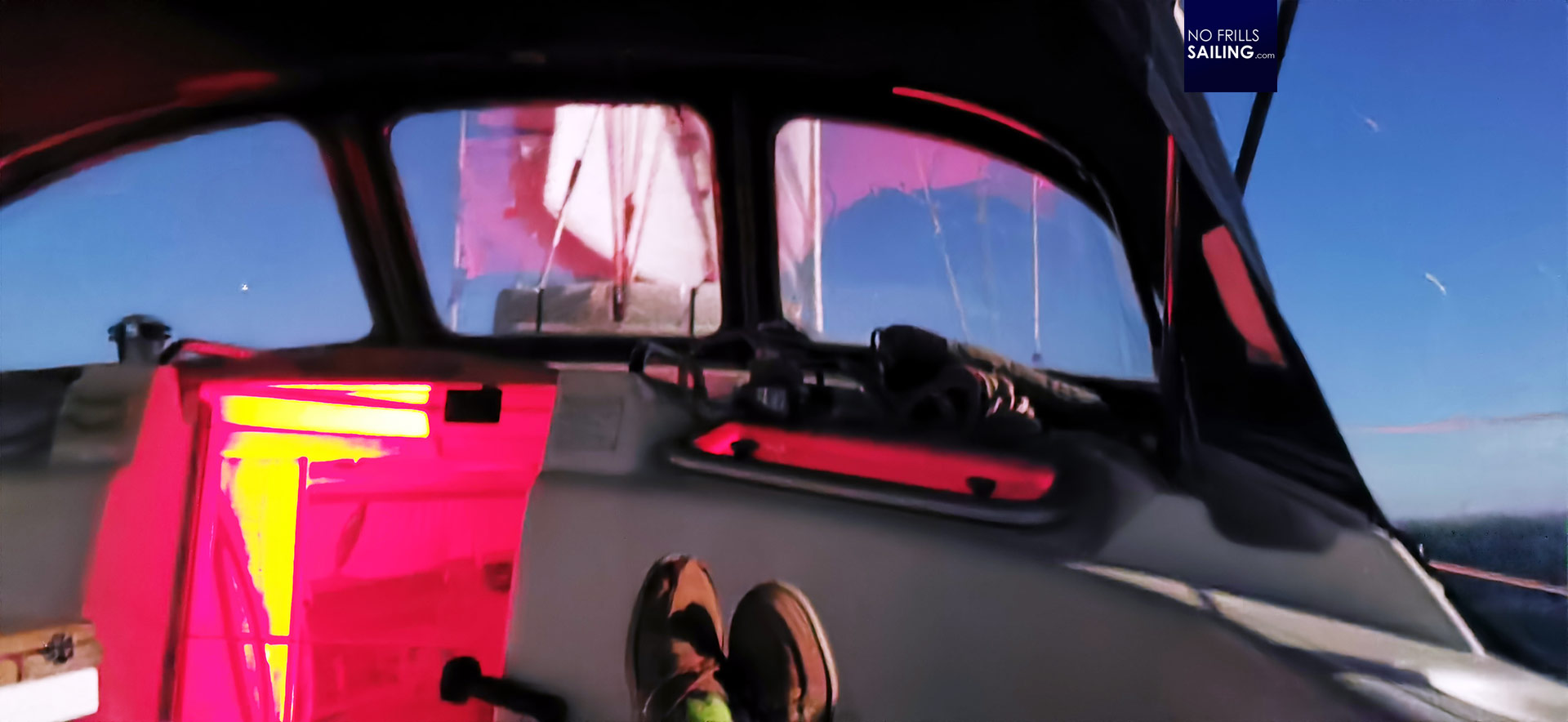 Why don´t they make boats like this anymore? One might ask and right so! Well, I would say that is because of the fact that most of these units are sold to charter companies where the yachts are mainly used as "maritime chillout zones". Sailing and made for sailors is secondary: Large open cockpits and BBQ, wet bars, air condition and huge ballrooms under deck are priority. It was quite an experience to take a vivid look back to how boats were made 15 years ago.
Bavaria 37 Cruiser from 2006: A verdict
So, is the Bavaria 37 Cruiser a good boat? Most definitely yes! She is a heavy boat, big round bodied displacement hull which clearly cannot live up to modern standards of quick sailing especially on reaching points of sails but she is nearly perfectly tailored to fit the needs of a decent sailor. She may stand exemplary for a long-gone time when sailing was done by decent skippers rather than by spare time-captains on their annual 2 week charter vacation. No offense here: The yards are just offering what the market is demanding. It´s fascinating though to see that if you nowadays seek a boat with these qualities you almost inevitably end up at the high priced brands like Hallberg Rassy, Amel or alike.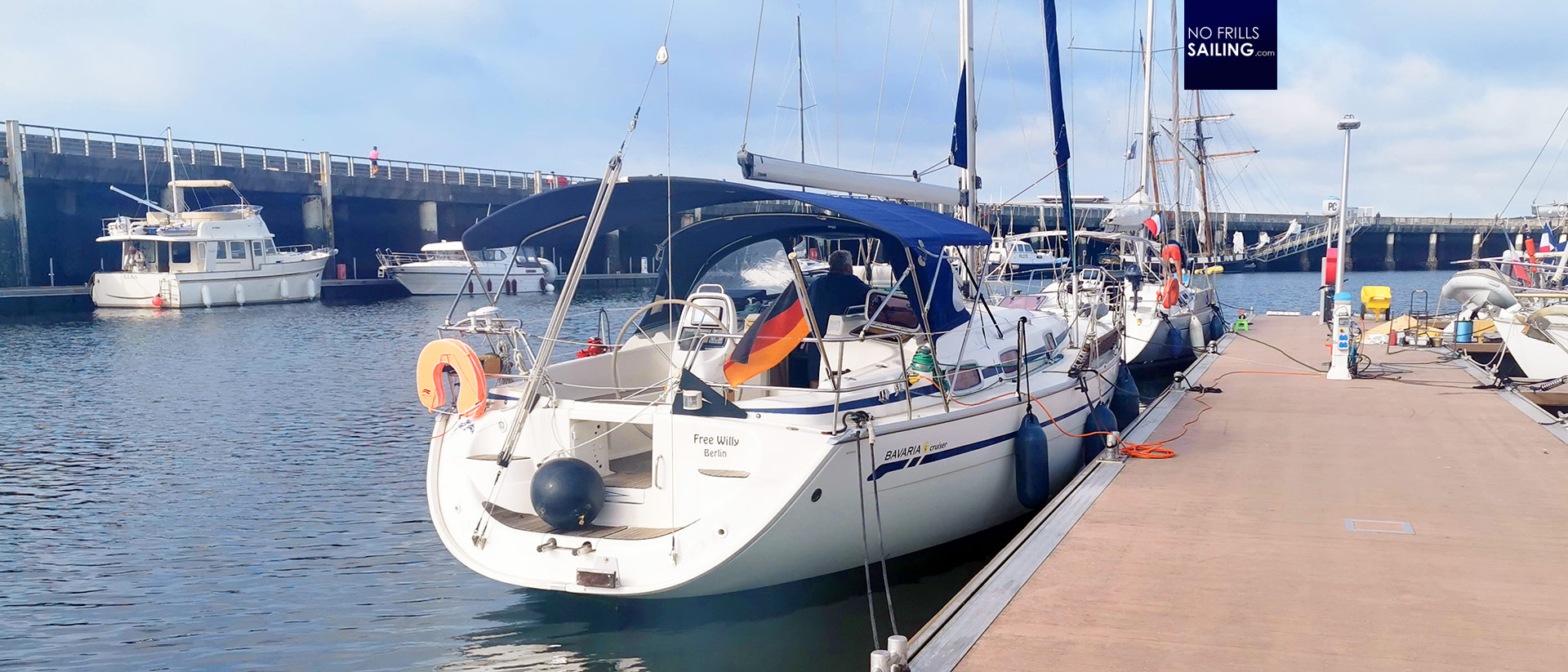 From my experience with our clients I as well know that you can indeed turn your modern chined hull and holiday-optimized cockpit into a fairly decent long-haul-trimmed sailboat, but that´s an effort the owner has to undergo. Sailing FREE WILLY was like a time travel and it felt awesome. I learned so many things and was able to widen my own horizon. Clearly, a time travel from time to time opens your eyes.
You may read all articles of the crossing of Bay of Biscay and English Channel by clicking the #hashtag here
Also interesting about great sailboats:
Arcona Yachts of Sweden: Interview with legendary Stefan Qviberg
At Solaris Yachts of Aquilea
Blue water cruising yacht at highest level: At Amel Yachts of La Rochelle