I will never forget that moment when I realized with a thorough scare, that having a searchlight at hand can be a thing of utmost importance when sailing. It was two years ago during a foul weather sailing trip in late October, when I tried to land the boat in a small Danish marina. Nightfall had passed hours ago, it was pitch dark and due to the fact that it was off-season no lights had been switched on inside the marina´s basin. A heavy downpour set in and I did not see anything. Thick rain, my glasses sprayed, pitch black. No lights at hand. It was terrifying and frightening.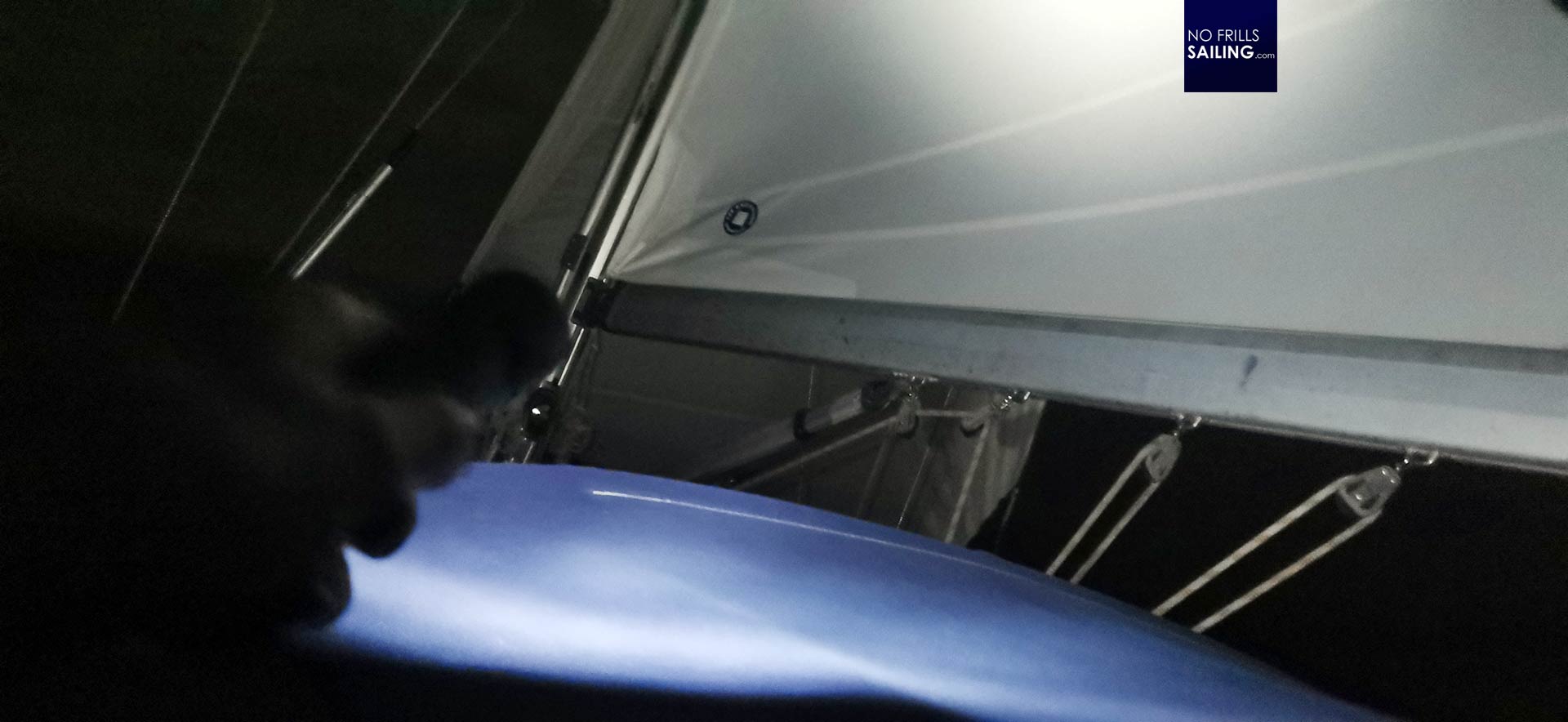 We landed the boat without a scratch, but I had been conveyed a very important lesson: Never ever leave port without a proper searchlight! Well, since than I carry one with me. But not one of these big, clumsy but marine-dedicated special searchlights like we know them from movies, but a rather small one. LED-technology makes it possible: There are powerful searchlights available which are small and light enough to be handy – I have one in my sailing jacket. Always quick at hand. Let´s take a look at what a modern, small but powerful searchlight can do for you as a sailor.
Range of application for lights in sailing
At first, why going for a searchlight? Well, being back from my big summer sailing trip sailing through the mighty Bay of Biscay and the English channel (read all articles here) I can say that I went through the process of getting through a total of 14 night watches of which a large number had been dog´s watches – starting in pitch black and ending in pitch black. During these watches we partially had sailed in complete darkness. Of course, you can see the instruments and all data – but not the sails, not the boat, not the surrounding area.
One or two times the wind was very strong and I had the boat moving along the reefing threshold: Is it too much pressure for the rigging or not? That was the question. I was happy to being able to take out the searchlight and have a quick look into the sails. Also to control the trim: Are we having the right sails trim for the given point of sail? You cannot see any tell tale in the darkness nor any leech of the main sail. I as well was able to light up the ocean´s area well in front of the boat to check for possible fishermen´s buoys or floating stuff. Not to mention the good feeling of being able to illuminate a dark marina, finding a pontoon or a bollard in the darkness when entering an unknown harbour. Good news is: You do not need to go for a big pro searchlight anymore like the ones they use in submarine movies.
Differences of small searchlights
The specialist shops and sailing-dedicated online traders offer a wide choice of pro searchlights. They are very strong and have great power, but they are big, heavy and clumsy. I chose the smaller, lightweight and handy version. See the difference between a classic MagLite and small LED battery-powered searchlights in the picture below. These new small searchlights will fit neatly in a pocket of your sailing jacket or may be places well within quick reach inside the saloon, say, next to the entryway down – ready for being grabbed when needed.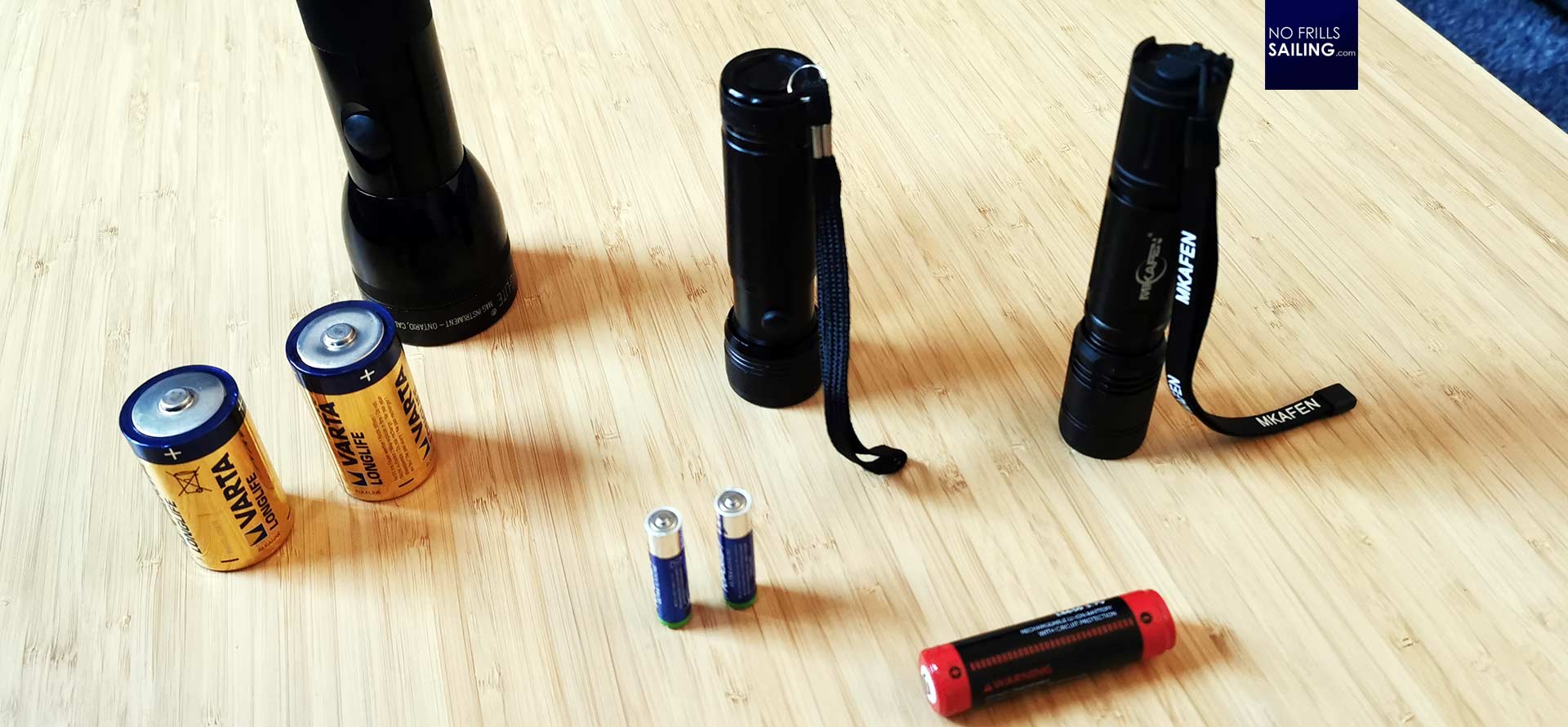 When you gor for a battery-powered LED-searchlight there are basically two kinds of lights: First is the ordinary battery, Micro and Mignon powered. I did have a Micro batteries powered LED-light on the sailing trip through the Bay of Biscay and it was well sufficient to light up the sails up to the top and illuminate the area surrounding the boat to a sufficient distance, helping also to helm the boat safely when entering a dark harbour (like we did in Brest when we arrived at 0300 in the night). Micro battery powered lights are cool because you can get these batteries – when empty – almost everywhere in the world. Replacement batteries can be stored for a long time without any sufficient loss in power. Downside: Their light output is good, but there can be more.
So I went to another kind of LED-searchlight: Tactical searchlights. These are used by law enforcement and security services. They do have a huge light output and will throw a crazy amount of light out into the night, lighting up brightly everything with a range that blows your mind. See the difference between the Micro-battery and the tactical? Pro of this technique is the light output and range (which on the other hand is a serious hazard to crewmembers and other people because these can and will BLIND people and possibly harm people´s vision when put directly into their eyes). They use a special rechargeable Lithium-battery that can be recharged via USB. I love my new searchlight!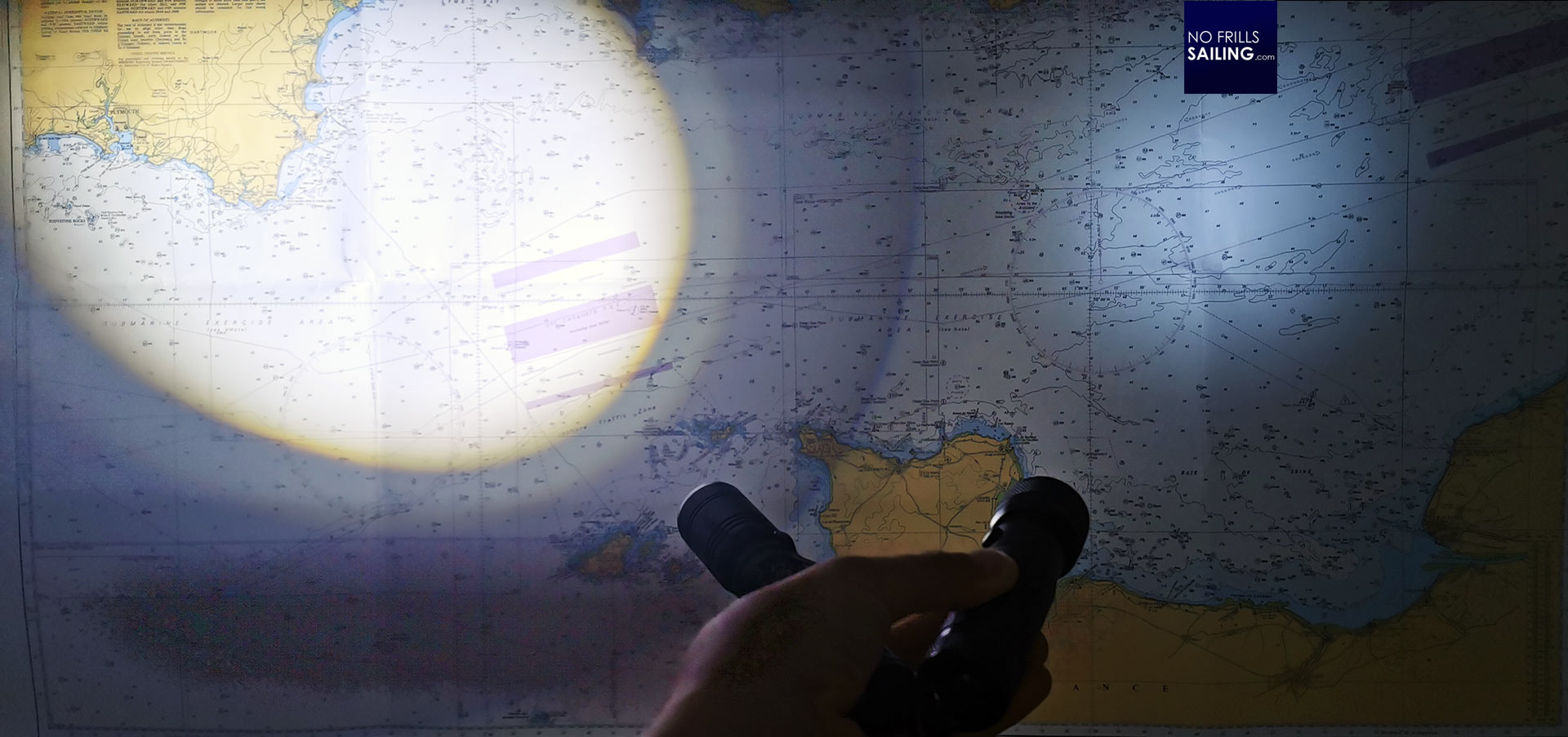 I bought it via amazon, as simple as that. It´s the Mikafen tactical searchlight. Incredible 1.200 lumens will make a micro-sun rise when the light is activated. It comes with a recharging cable (but you might use any other Micro-USB connector). It has a handy clip to, for example, put it to your sailing cap and use it as a fixed headlight and a cord as a safety tether. The amount of light it emits is just mindblowing. Price? 16 Euros. Sixteen Euros! Any questions?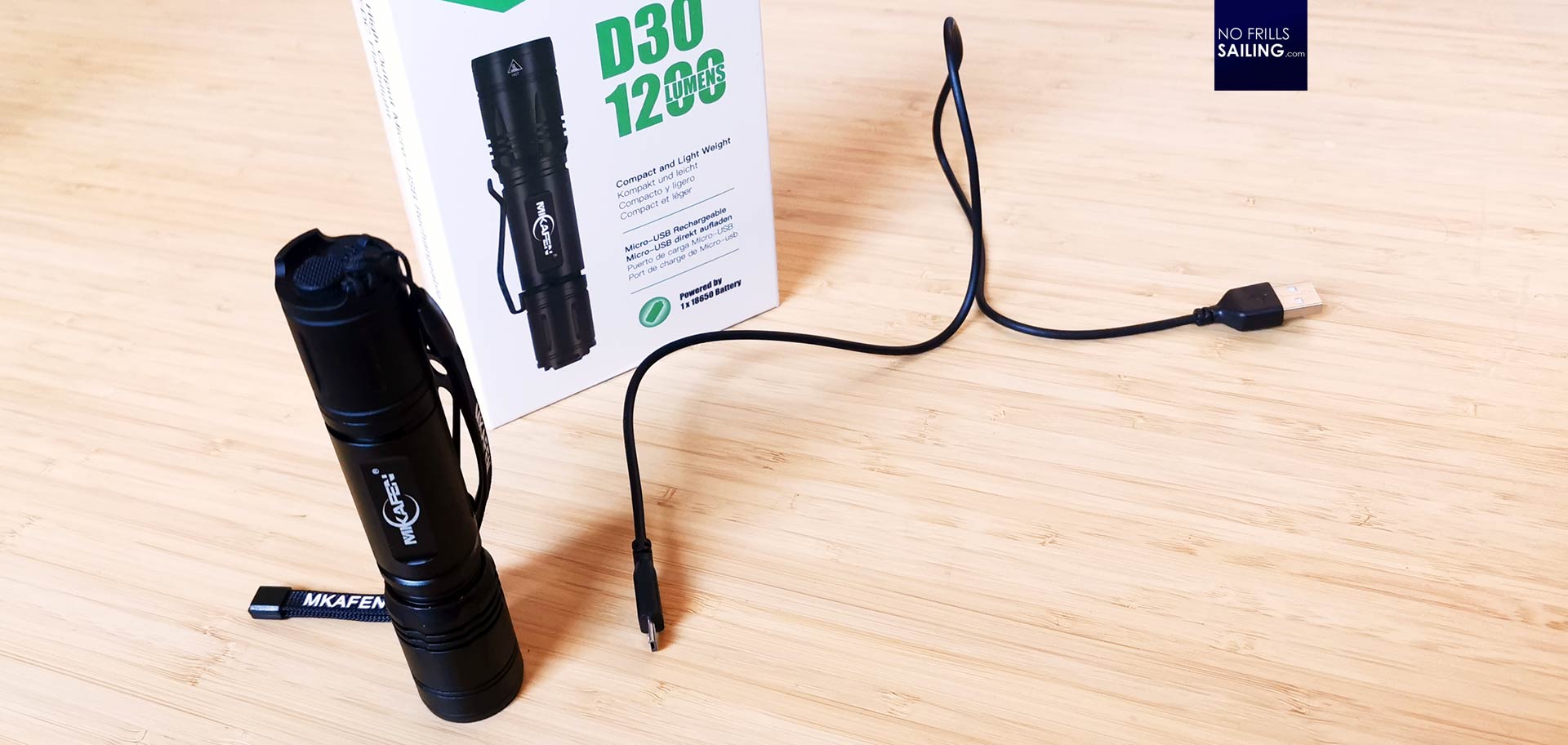 No matter for which searchlight you go in the end: Check for a version that is waterproof at least because there´s a good chance that you will have to use the light in rain or moist weather conditions. I do carry one light at any moment in my sailing jacket, the second light is positioned at a fixed place inside the boat´s saloon near the entryway. That small, cheap piece of equipment increases sailing safety manifold and truly is a skipper´s essential.
You may also read the following articles:
Product review: The classy Ibberson sailing knife
Good sailing boots by Gill
How it´s made: A child´s life jacket