When it comes to sailing and boat building, France may be the hotspot of yachts and yacht design with a focus on "la grand large" – the big tour. Which is no wonder since this country is bathed by the notorious British Channel, the mighty Atlantic Ocean and the Mediterranean. Looking at France´s history there is a glorious and long period of overseas travel and their share in the grave history of colonialism and of course a – still vivid – very tight relationship to the sea in terms of fishing. No wonder that this nation is crazy about sailing. And no wonder that, especially along the Atlantic coast, a staggering number of yacht builders have their home. Such at Amel of La Rochelle.
As it happens I was down there for another meeting at Beneteau when during some hours of spare time I spontaneously grabbed the phone and dialled Amel´s number. Five minutes later a very friendly Madame from the marketing department agreed to show me around. That´s what I love so much about France: Their strong pride in everything they do, be it the Boulangerie next door or the boat yard – if you ask, they will happily show you around. A long coastal traffic jam later I arrived – one hour late – but Stephanie waited and smiled upon arrival: Closing time of the yard, yet still she took her time off of her well-deserved evening spare time to show me her yard. I felt welcome, embraced and honoured. What a great entree!
Aboard the Amel 50
What makes the legend of an Amel? I rarely see these yachts in our home-ports and marinas of the North but of course reading blogs and circumnavigation-stories (first to mention the crew of DELOS, of course) there´s a good chance that these people fancy the Amel. But why? Upon taking the captain´s chair in the doghouse of one finished Amel 50 I begin to understand what an Amel yacht is setting apart from other blue water cruisers.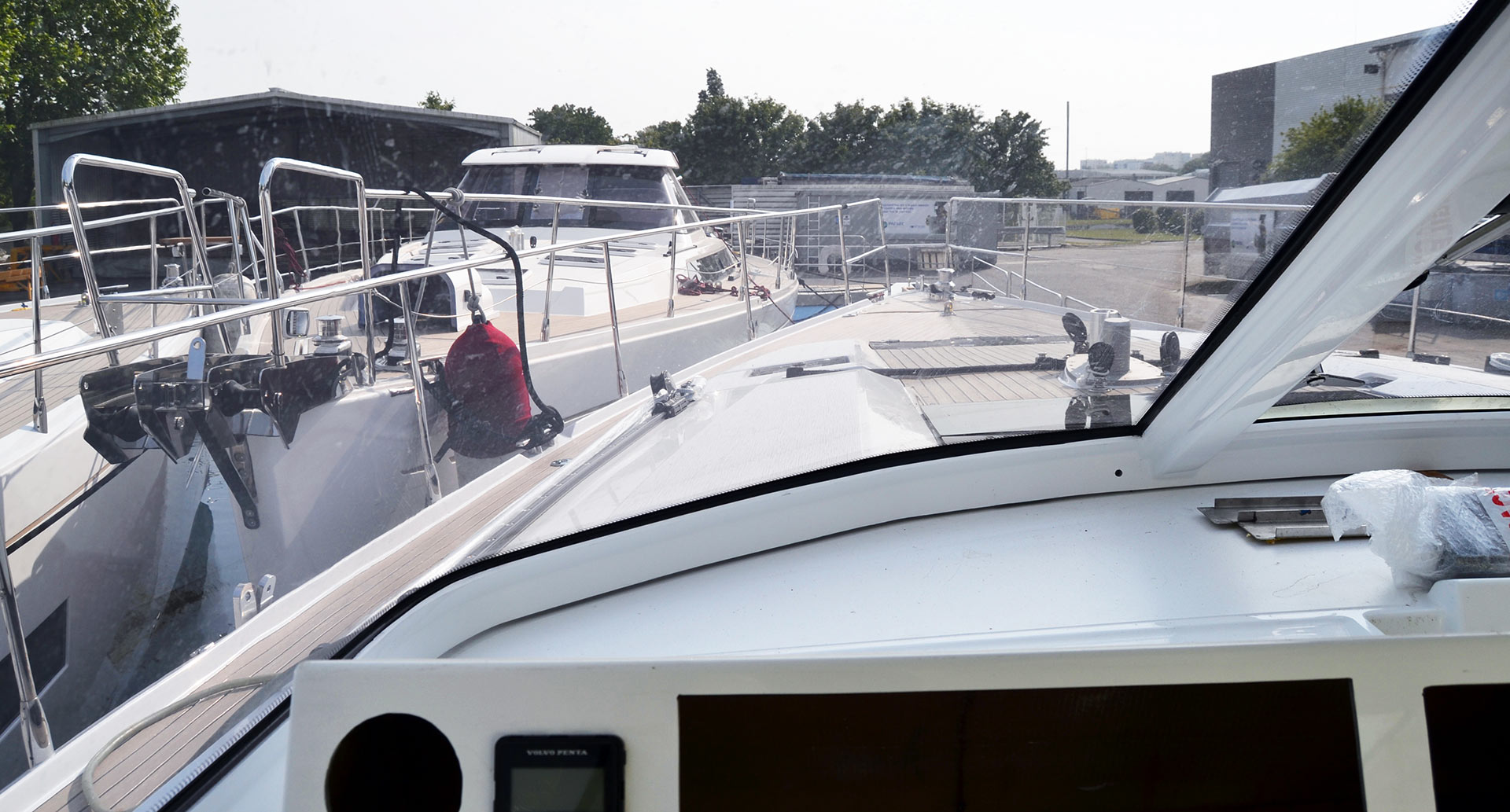 The yard was founded 1963 by Henri Amel (originally named Henri Tonet) who was born back in 1913. Amel took over a then existing workshop and transformed it. His goal was – and it still is the core value of Amel today – to make easy to sail, sturdy and yet comfortable sailing yachts. From the beginning Amel was making thing very differently than other yards. For example, he utilized his own glass fibre mats, was laminating (not glueing) bulkheads to the hulls and used Polyester-resin. The focus was set on long distance cruising very early and Amel spezialized in making large boats.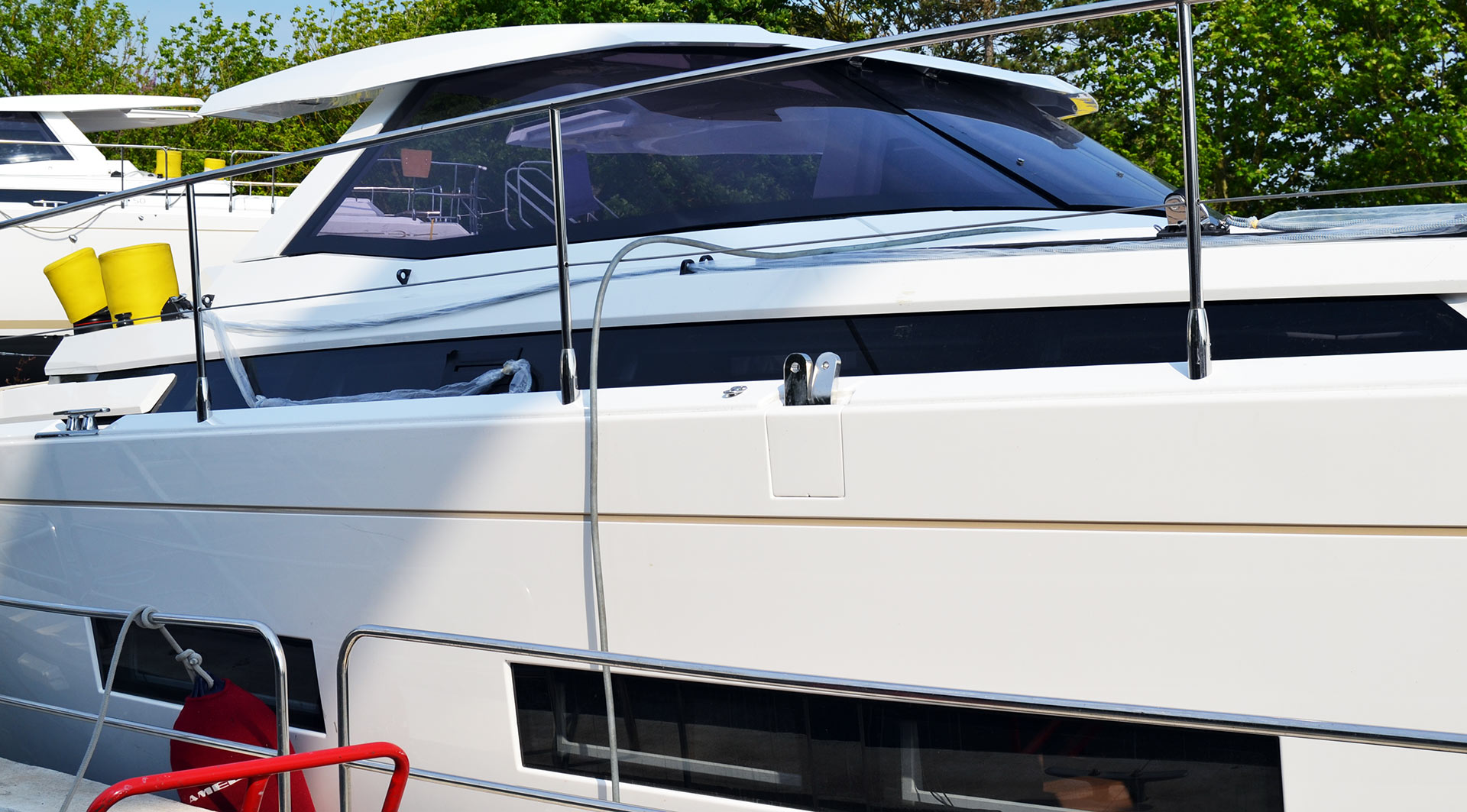 His boats fast became a brand in sailing. Partially boosted by the fact that the Amel yachts featured the Ketch-rigg, so to say, the twin-masted configuration of a sailing yacht. This was up until the late Sixties a very common rigg as it was considered to be most versatile to adapt to the different situations out on the ocean but later almost completely replaced by the sloop-rigging which can be seen as the standard in yachting today. Sitting in a bran-new Amel 50 this brings me back to the big fuzz about Amel two years ago when the new 50 was introduced with a big bang: The first sloop of Amel in more than 10 years!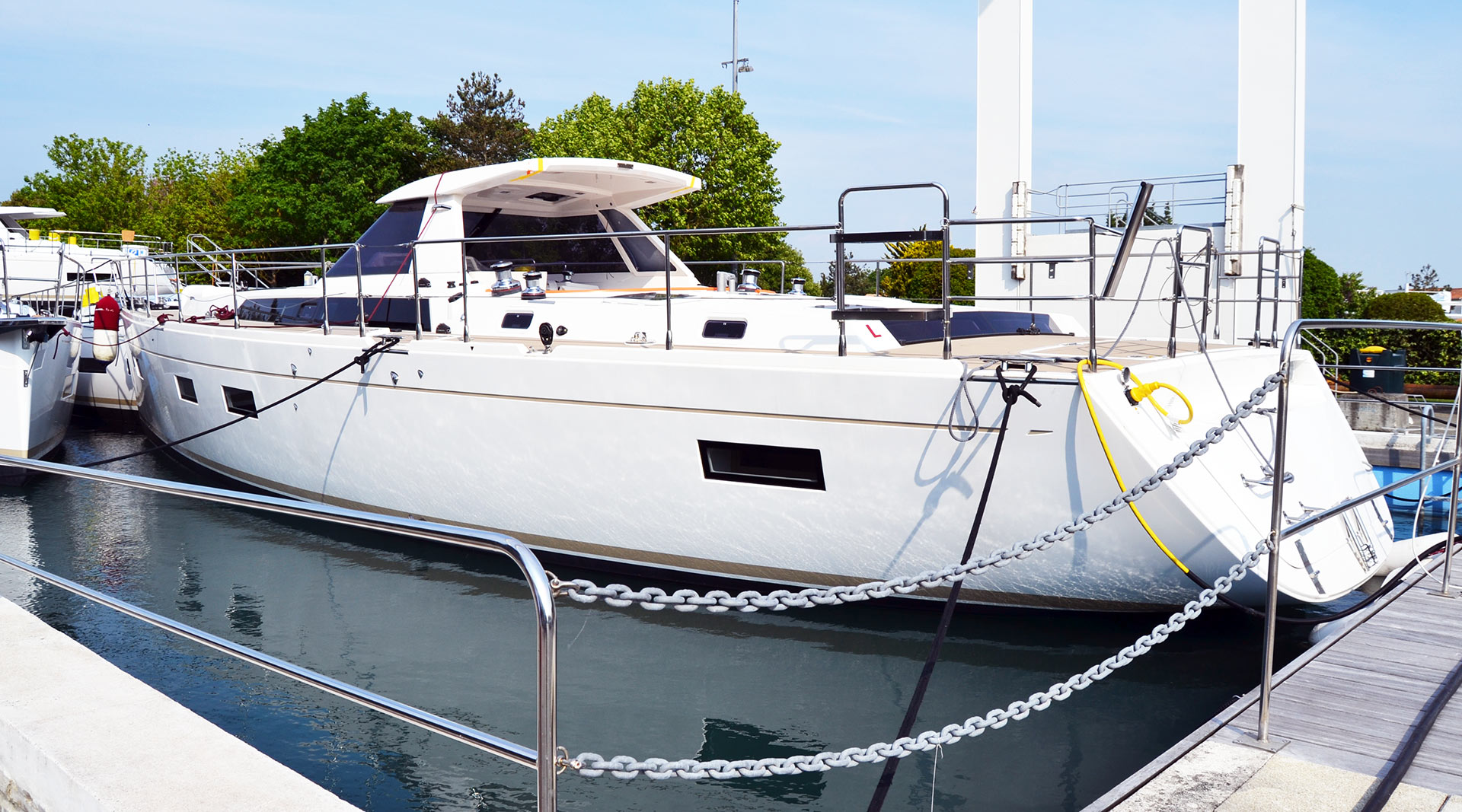 Despite being a sloop, the new 50 completely adheres to Amel´s core values and features everything that always was part of a boat produced in Perigny/La Rochelle: These yachts are solely made for the travelling couple, will feature a big, big aft owner´s cabin, a large deep center-guest area outside and a very safe and secured helming position under a rigid, massive doghouse. To name just a few points. A half-finished Amel 50 raises my interest and I board the boat.
Amel´s Approach to perfect Blue Water Cruising
She is a 50-footer and I would more and more agree to say that 50 feet is just the perfect size for a couple or a family to go on a multi-year voyage around the world or to cruise the Oceans. 50 feet offers enough internal volume to house sufficient big cabins and a living area worth it´s name. And right so, the Amel 50 is proof of that. Upon entering the salon is wide and welcoming. On the port side, facing foward, a large working area (I wouldn´t call it solely nav station is adjoined by the U-settee with a nice large dining table. Facing this cosy corner is an evenly cosy settee to starboard side. What I loved most was the galley though.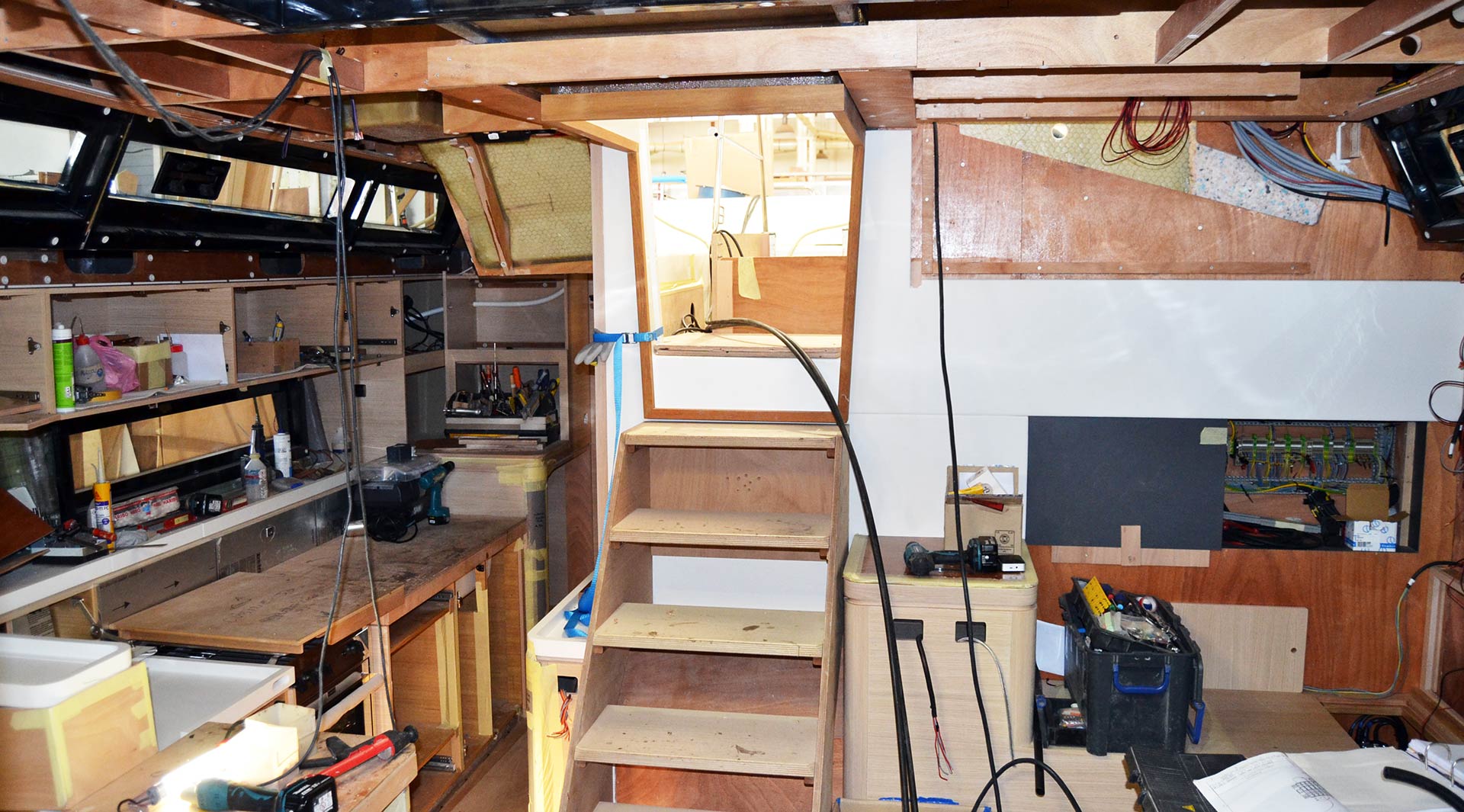 It´s a deep longitudinal galley that much reminded me of other classic long haul sailing yachts, like the Oyster – two steps down and near the center of gravity of the boat at the pivot point of the hull, it would be the perfect location for the galley. In the Amel 50 there will be loads and loads of stowage, a nice, very big working top with sinks, a big oven and freezing/cooling capacities all over the place. The big porthole will make for a great view outside both at anchor or underway.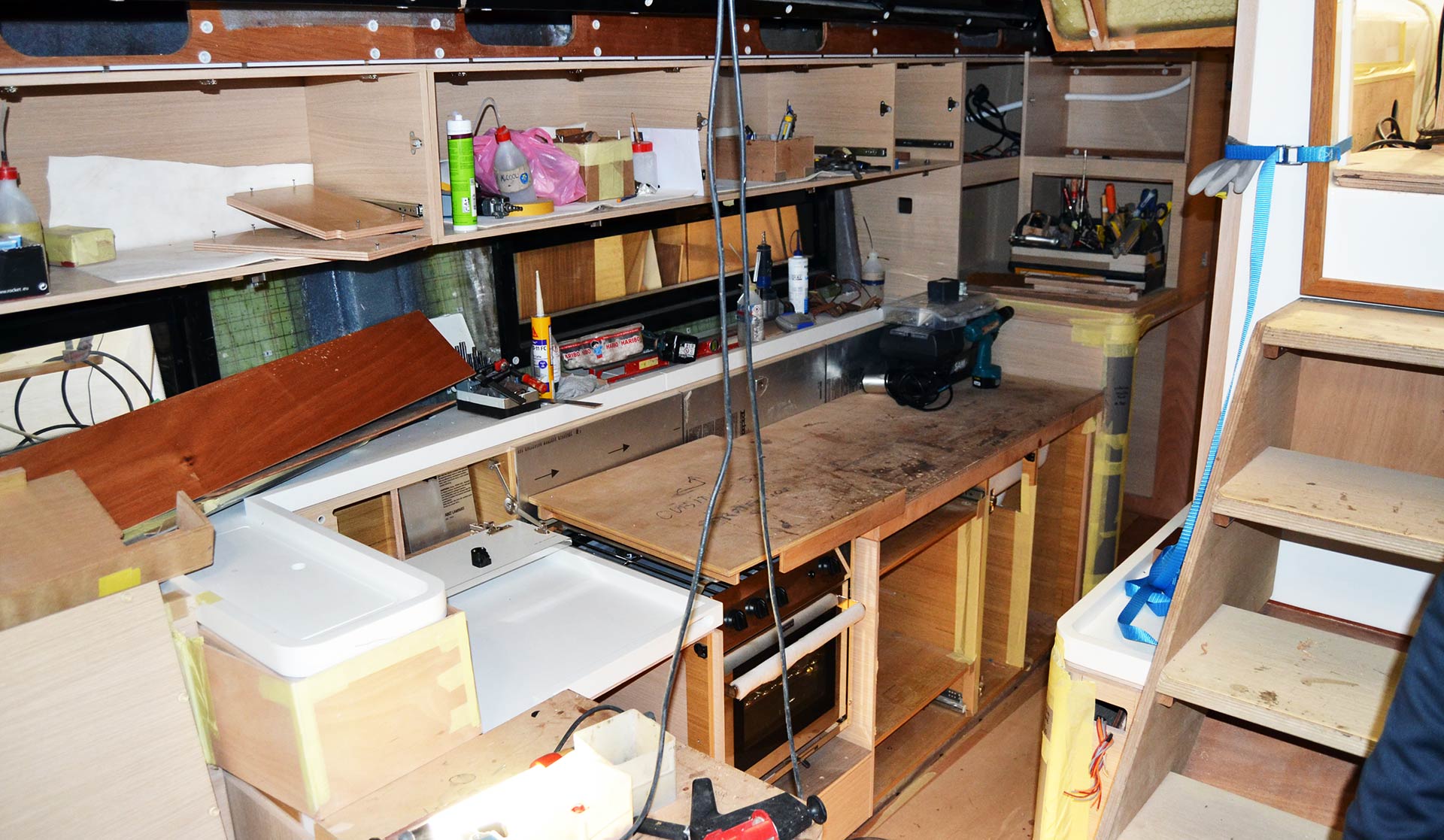 Also great the navigation station with the main switch panel and technical controls of the ship. Of course, the Amel 50 is a push button-boat with lots of electric stuff and energy-intensive equipment (if ordered by her owners of course) and so there´s need of an area to have it all controlled. The working station consists of the main switch board which is integrated into the rear bulkhead running all around the corner featuring the technical equipment for underway: Plotter, VHF, AIS and all the stuff. The nice chart table will be partially covered in fine leatherworks. What I love most about this nav station is the two-seater settee instead of a lone stool.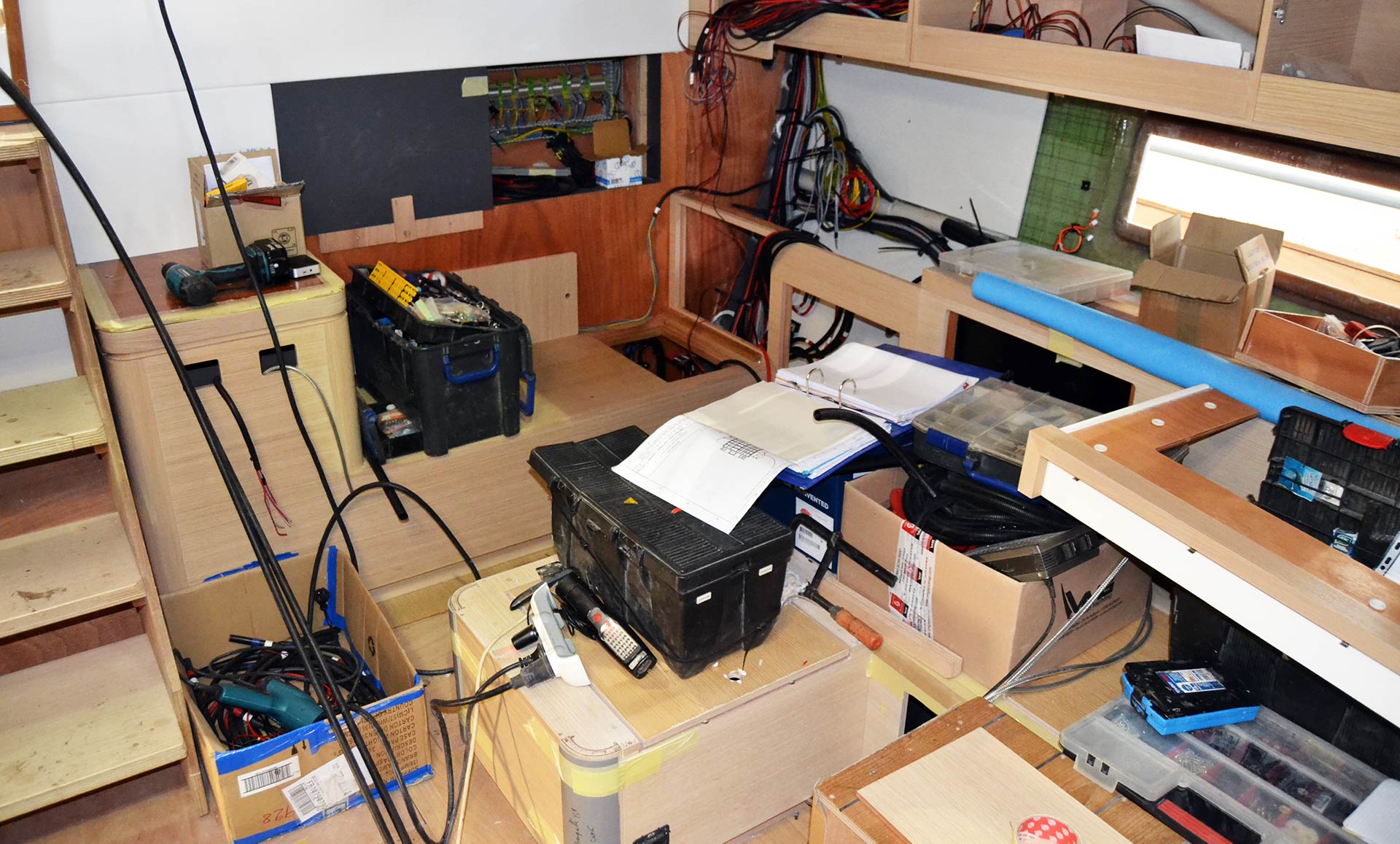 I will take a thorough look at the cabins later but from what I have seen so far from the Amel´s internal layout I must judge that it is true: These boats aren´t meant to go to charter companies or professionals. These are real owner´s boats tailored to suit the demands of a private owner fulfilling his dream of a long sailing trip. Everything I see is done in a rigid way, built to last, as to say. Lots of massive wooden parts, big screws, massive steel handles. I am much impressed by the sturdiness of the building quality and begin to understand why Amel has such a tight standing and loyal fan base of sailors all around the world.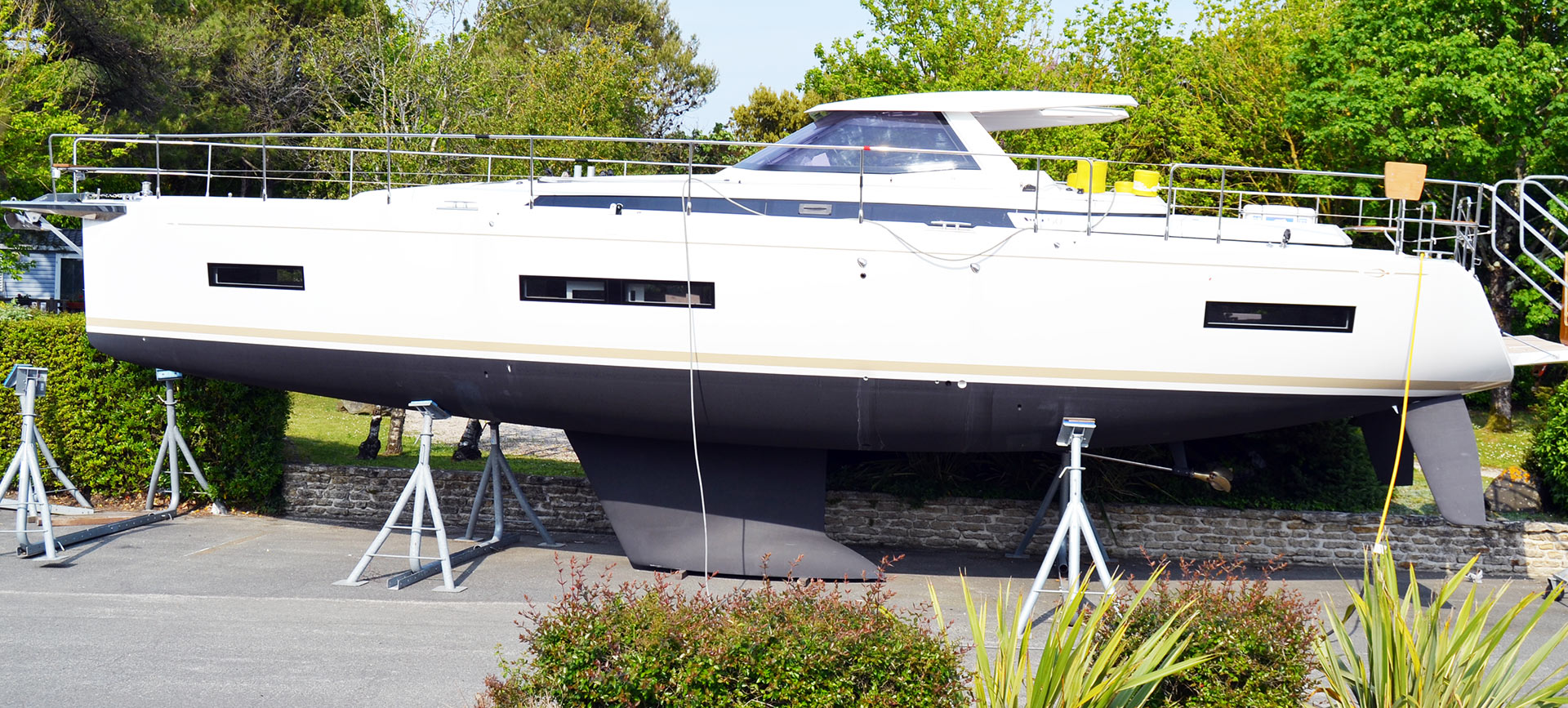 We leave the parking space for half/finished boats and Stephanie insists to show us how the yachts are actually made. As we cross the large yard compound that is consisting of multiple big halls, I ask her how many of these boats are produced here in la Rochelle annually. She tells me that around 15 boats from the "small" 50 and two to four units of the larger 55 and 64 models are built here per year. This is quite a nice number! As we walk on I am surprised by the cleanliness of the area and the fact that they have nicely curbed flower beds and an overall very much cultivated outward appearance – it looks not just like a yard, more like a nice big backyard with lots of yachts. Then she finally opens a door and we stand in the middle of where the Amel is born.
Sturdiness and Seaworthiness: Amel yachts for going everywhere
Amel yachts are made of GRP with a foam core. The rigid lamination is done by vacuum infusion process and utilizes common state of the art techniques. As we enter the production facility for hulls I smell the familiar odour of resin and hardener components, but not that much as the building is ventilated – this kind of air conditioning is providing for the best possible air temperature and humidity for that the newly built hulls could harden the best possible way.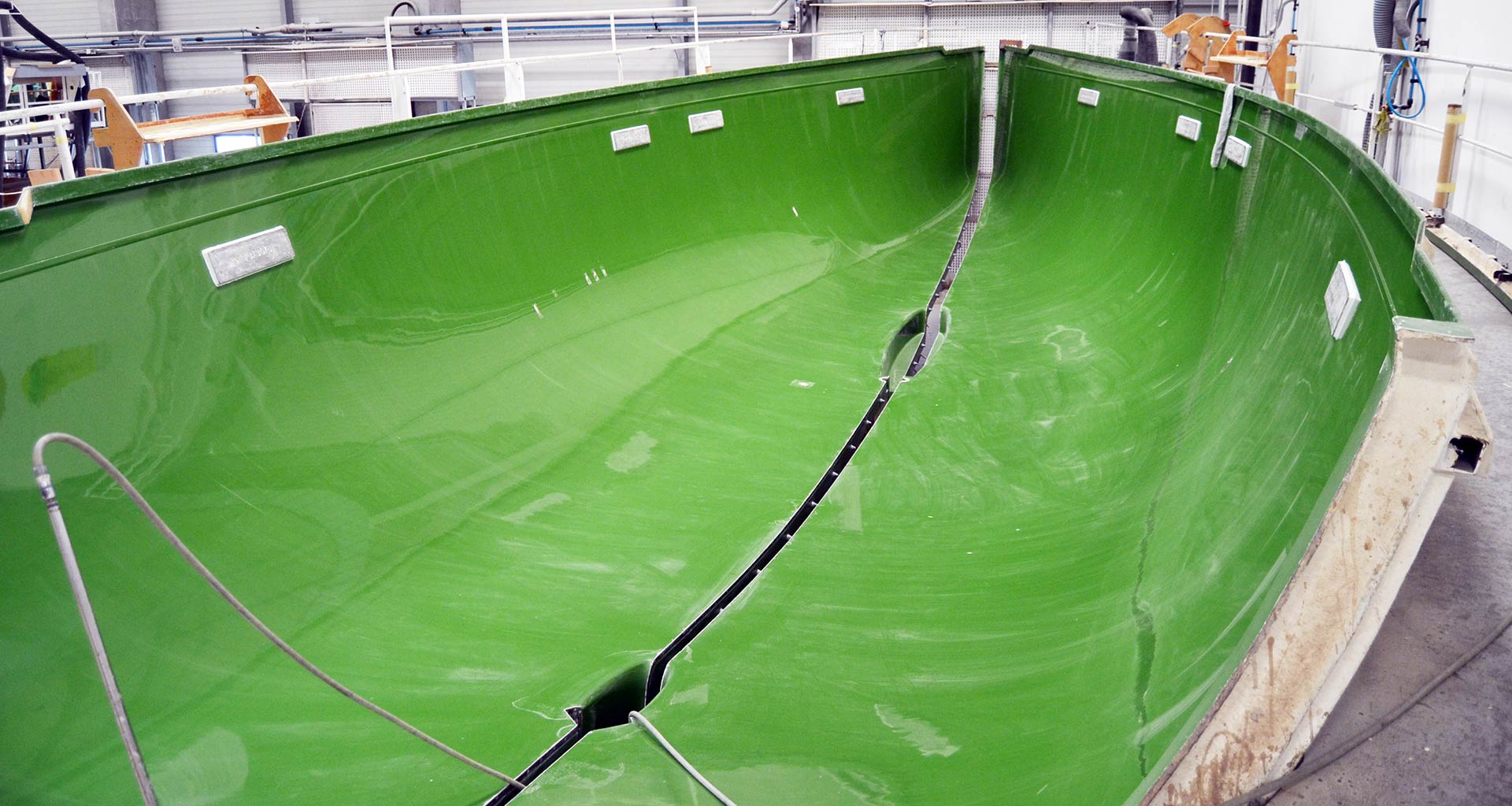 Amel yachts, starting at the smalles 50 all the way up through the three-boat range to the 64 feet boat are done with female moulds. The moulds are consisting of two halves which will make separation process easier as the hull can be taken out by just setting the moulds apart: No crane and no brute force for separation needed here. It is worth noting that the Amel yard is just a 10 minute walk away from the Dufour-compound – Michel Dufour is seen as the pioneer in GRP-moulding in yachting. Michel Dufour and Henri Amel together with two other – at this time famous and big yards – Henri Hervé and Roger Mallard founded the La Rochelle Boat Show which still today is an important boat show for France´s boating industry.
Looking at a freshly started mould of the Amel 50 – the first layer, Gelcoat, has been sprayed into the mould literally just minutes ago and the whole mould is scenting the all-familiar nice smell, I easily notice some nice constructional features of Amel yachts: The deep bilge can be seen with ease at the center of the hull. Like for example Hallberg-Rassy where the deep bilge is also an important asset of the boat, this detail will provide for more safety when underway.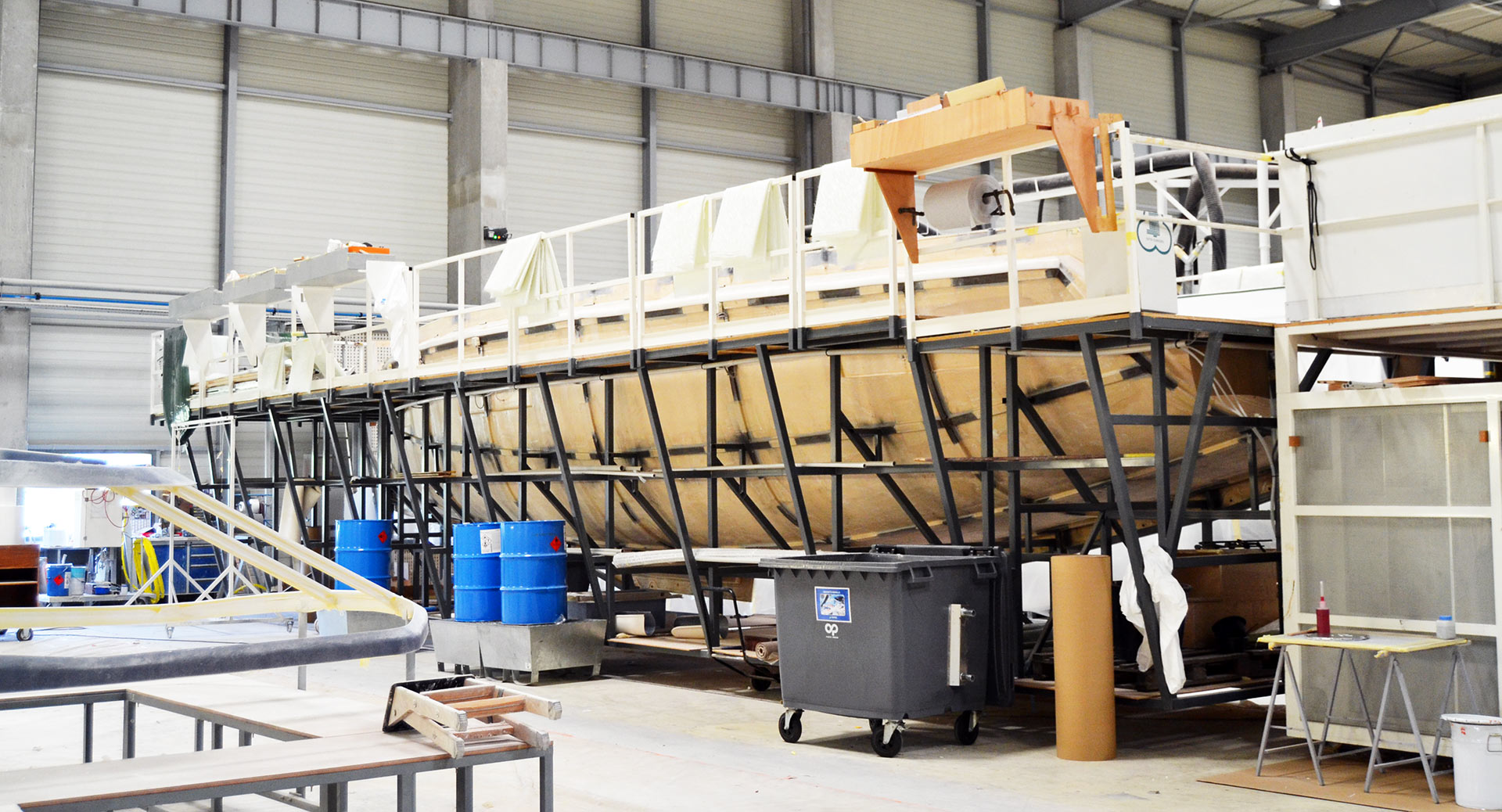 Another production slot further we see a mould already in infusion process. After putting on some hundreds of pre-cut mats of GRP-garments the whole mould will be covered with a thick plastic sheeting. Through a system of pipes the resin-hardener-mix will be essentially sucked into the inside of the plastic bag and thus into the GRP-garment by a vacuum that is produced by pumps which are exhausting all the remaining air from the plastic sheeting. This process takes just a handful of hours. Another day or so and the hull has hardened sufficiently so that the sheeting could be taken away.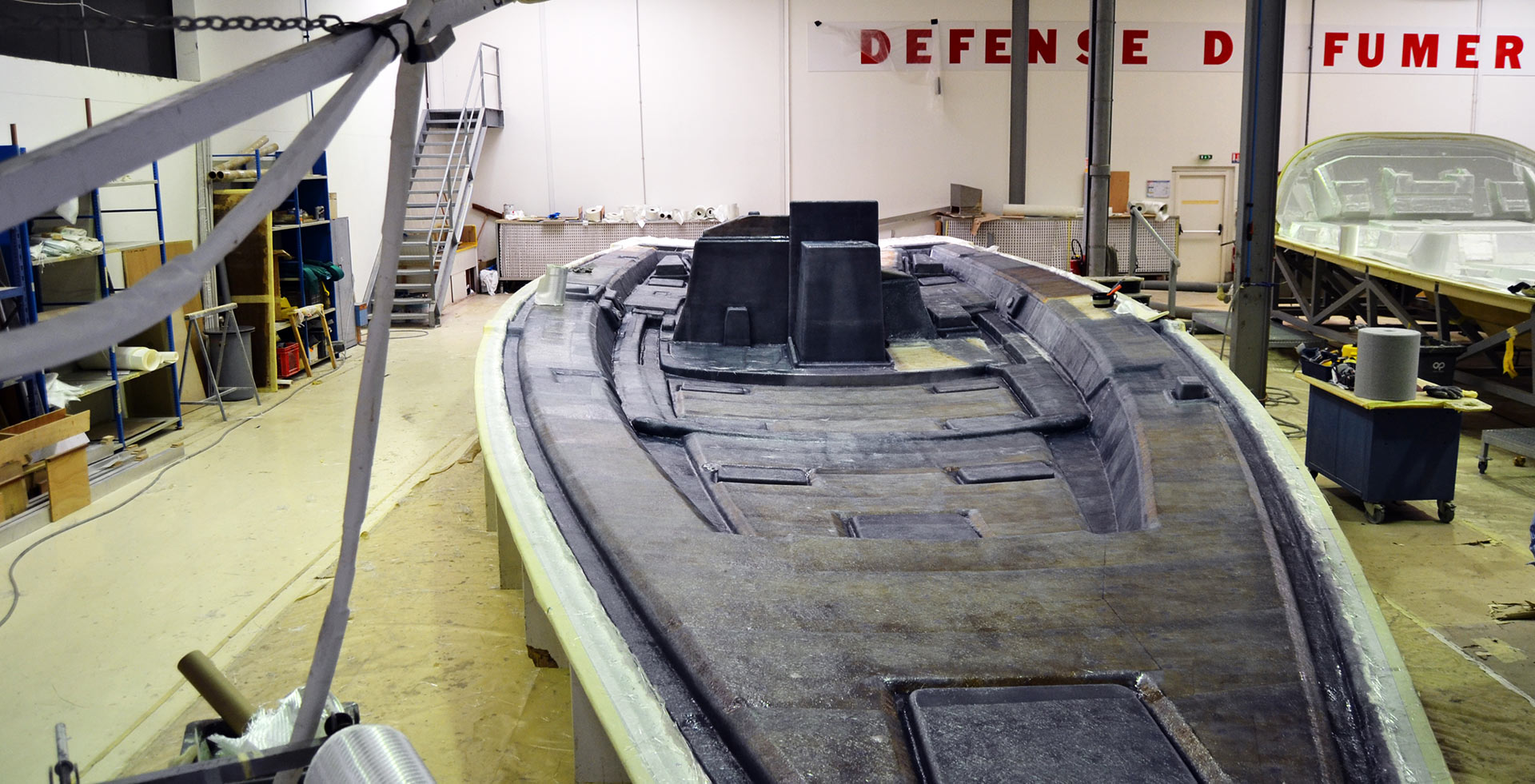 What is eye-catching all over the Amel-compound both inside and outside the building are big, big "No Smoking!"-signs at walls and on plaques. Amel is a punished company as it was completely destroyed by a large all-consuming fire that ravaged like a fury back in 1968. Back then, literally starting from zero, Henri Amel became a vanguard of operational safety with an understandably focused commitment on fire prevention. In this connection I also notice that the Amel yard is exceptionally clean and cluttered – surely a byproduct of taking job safety seriously.
In one corner of the production hall I can see the all-famous Amel-signature in series production: The dodger. As Amel yachts are made for go-everywhere sailors, a thorough protection against spray, bigger waves, strong winds and all other elements of the seas had always been a hallmark of any Amel yacht. What I like about the current, very modern Berret-Racoupeau-designed doghouse are the nicely curved front windows which are a beauty for sure!
Interior volume and owner-orientation
We enter another production hall where the interior fittings are mounted. I can see an Amel 50 (or is it a 55?) in a very early stage of fitting which is just perfect to have a thorough look at the bulkheads and how they are mounted. There are virtually a dozen of thick, massive wooden elements which serve as structural bulkheads from bow to head, adding to the integrity of the construction. The huge aft-section with a dedicated housing for the steering mechanism and the huge, huge lazarettes is clearly visible.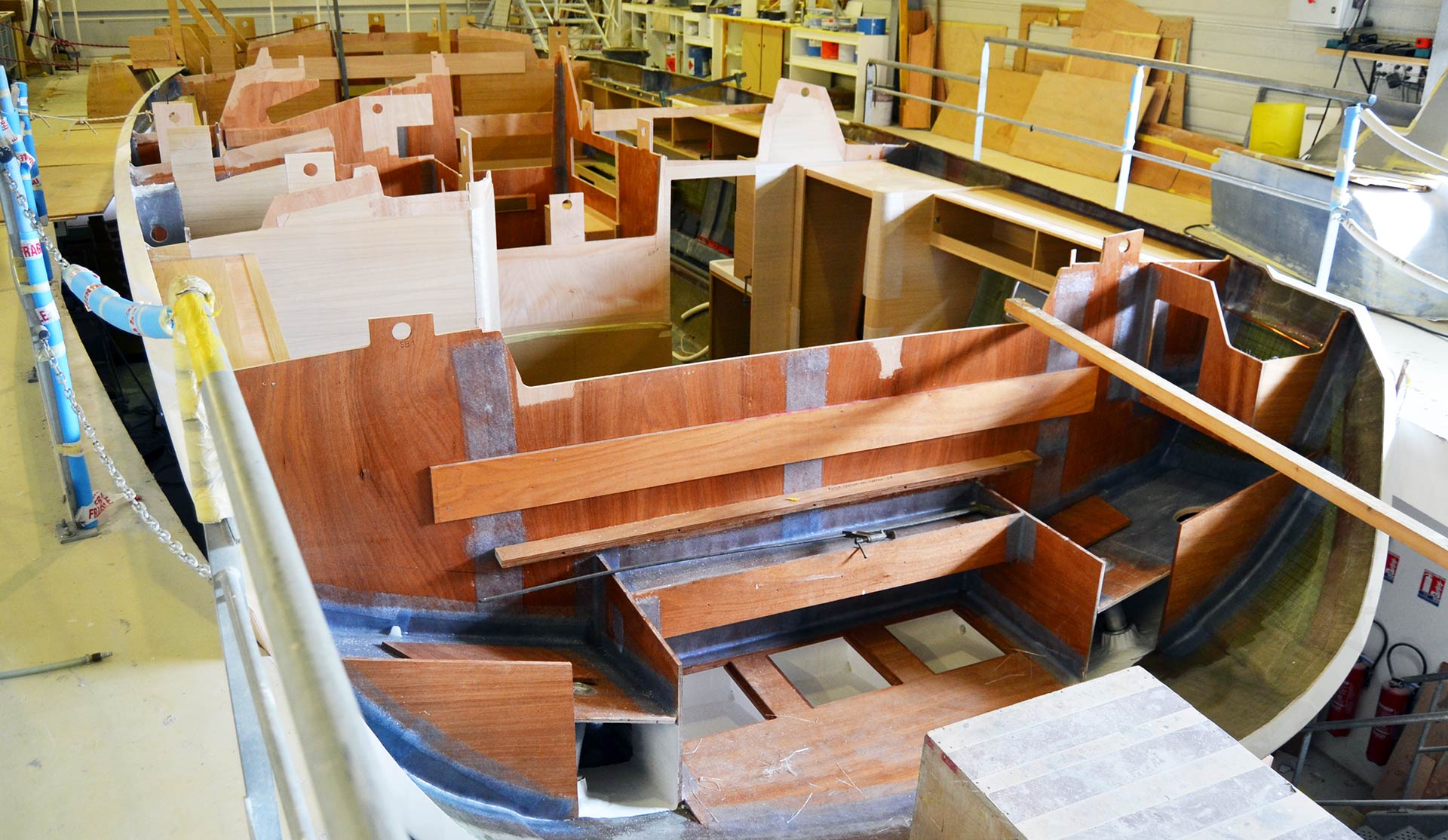 Another nice insight aft is the big owner´s cabin which is just a dream. The centered berth is more than sufficient for two people. The big portholes to either sides will surely provide for an unmatched view over the anchoring sites right upon waking up and opening the eyes. A large hanging locker, easily dropping 5 feet to starboard side, lots of other stowage, the en-suite bathroom and an intimate working place to port side aft make this owner´s cabin complete.
Currently, Amel offers three kinds of interior styles which is the – notorious – light Oak, of course brushed, not glossy painted, than a more classic approach in Mahogany, glossy painted, which would be my first choice. And then, Stephanie is very proud to show us, Amel offers – as she says the only yard to do so – a very special kind of wooden fitting: Indian Rosewood or as others call it, Palisander. This looks just awesome, I can assure you!
As with almost every modern production yard Amel also tries to pre-fit all internal parts and groups them to modules. That speeds up production process and minimized time-consuming on-boat mounting time. The modules will be put into the boat, readily located cables will just have to be plugged and the module mounted to the hull: Done! Another corner of the hall brings back the all-too familiar smell of GRP.
Amel´s Signature Fake Teak
No boat without Teak, that´s a classic and this is also applying to Amel yachts. But does it really? Of course the yachts made here in La Rochelle at the Amel yard receive a decking but Amel´s approach is unique in the whole business. It´s fake Teak through and through, but done with a proprietary and stand-alone technique that only Amel applies to their boats.
Stephanie explains that with the current new line of Amel yachts they have put a lot of effort and research in further enhancing their design and characteristics of the Amel fake Teak decking. In negative moulds for smaller moving parts of the deck like locker-lids I can easily spot how it is done: The mould has a fine anti-slip grain worked into it. Then – labour intensive and done by crafty hands – the fake Teak colour, a kind of Gelcoat – is applied together with the Koto-imitation.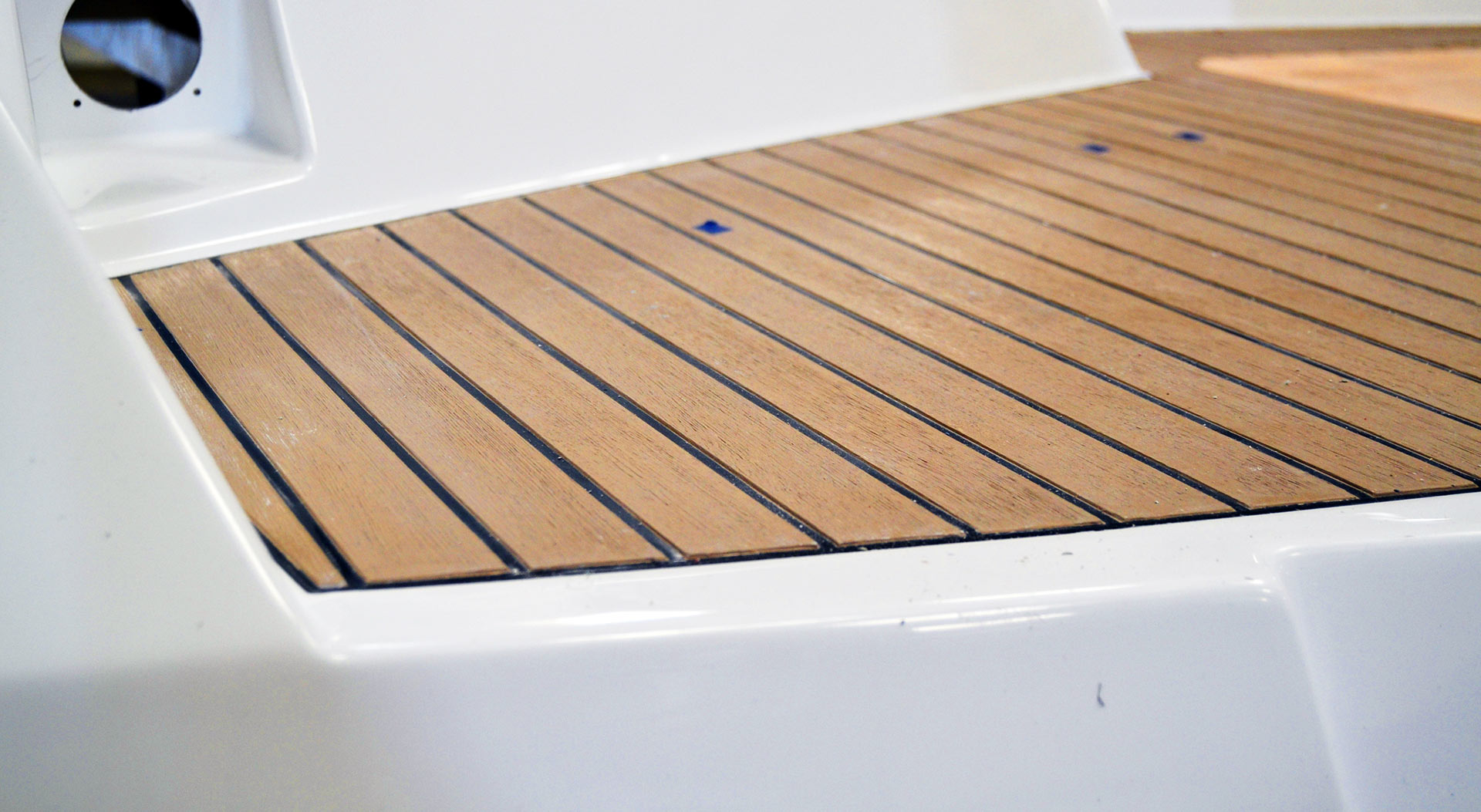 Together with the glass fibre mats and the resin mixture the coloured parts are hardened and after being taken out of the moulds the new non-slip decking in faux Teak is finished. I must admit from looking at older Amels in harbours I was never really a big fan of the Amel-designed fake Teak, but seeing this new design I must say that their research into an improved design and technique has payed off: It looks just as nice as the best Teak imitations I have seen so far.
Stephanie explains that with the Amel 64, the flagship, you can order real Teak decking, but the very practical, non care anti-slip fake Teak decking of Amel still is and will remain a major signature of the yacht. It frees the owner from time consuming and expensive cleaning work, maintenance and the horrific costs of eventually having to renew a whole deck in real Teak. You think it is "cheap"? Amel´s fake Teak technique is actually more cost intensive than fitting real teak – but this will surely pay off throughout the boat´s life.
Interior fittings at it´s best
One boat further down the production row already has received the deck and that means that internal fitting is mainly done. I am keen in boarding the yacht which is granted by Stephanie: Another thing that comes into my mind, nothing seems to be forbidden here, I am allowed to shoot whatever detail I want, ask whatever question comes into my mind and Stephanie is happy to grant me access or give an answer. This all comes with a certain degree of pride in her. And proud she can be for all of this for sure!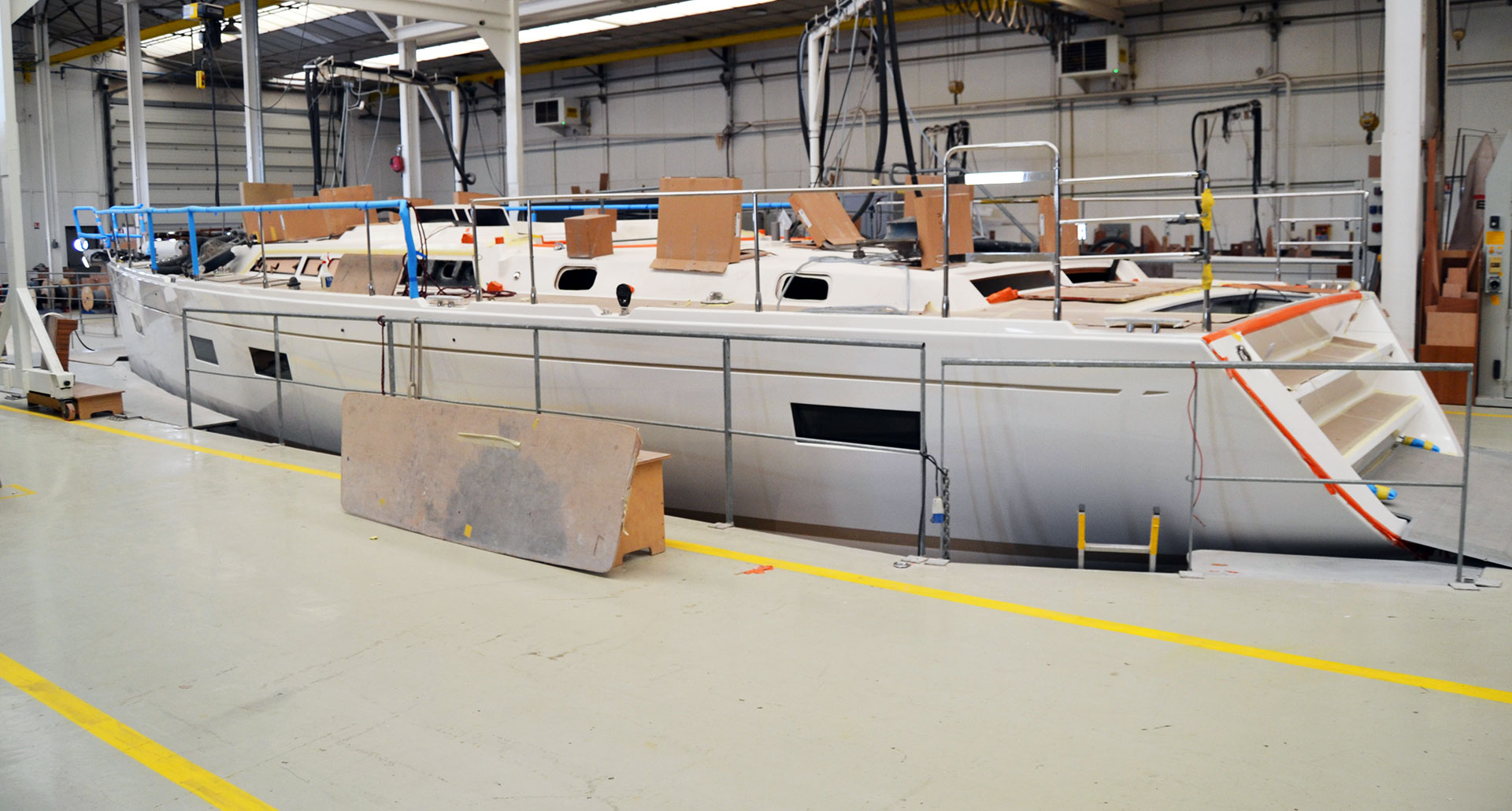 As I come down the entryway into the boat I see a half finished interior with large portions still not mounted. This opens up some nice insights in how the yard works and how the boat is constructed. Firstly I am stunned by the quality of the panels and facings of the boat´s walls and bulkheads. These are done partly in nice, curved wooden veneers or – in this case – in a leather-like synthetic foam-baked fabric that is dedicated to marine use and which is both lighter in terms of weight and is brightening up the salon sufficiently. Third: It looks just awesome!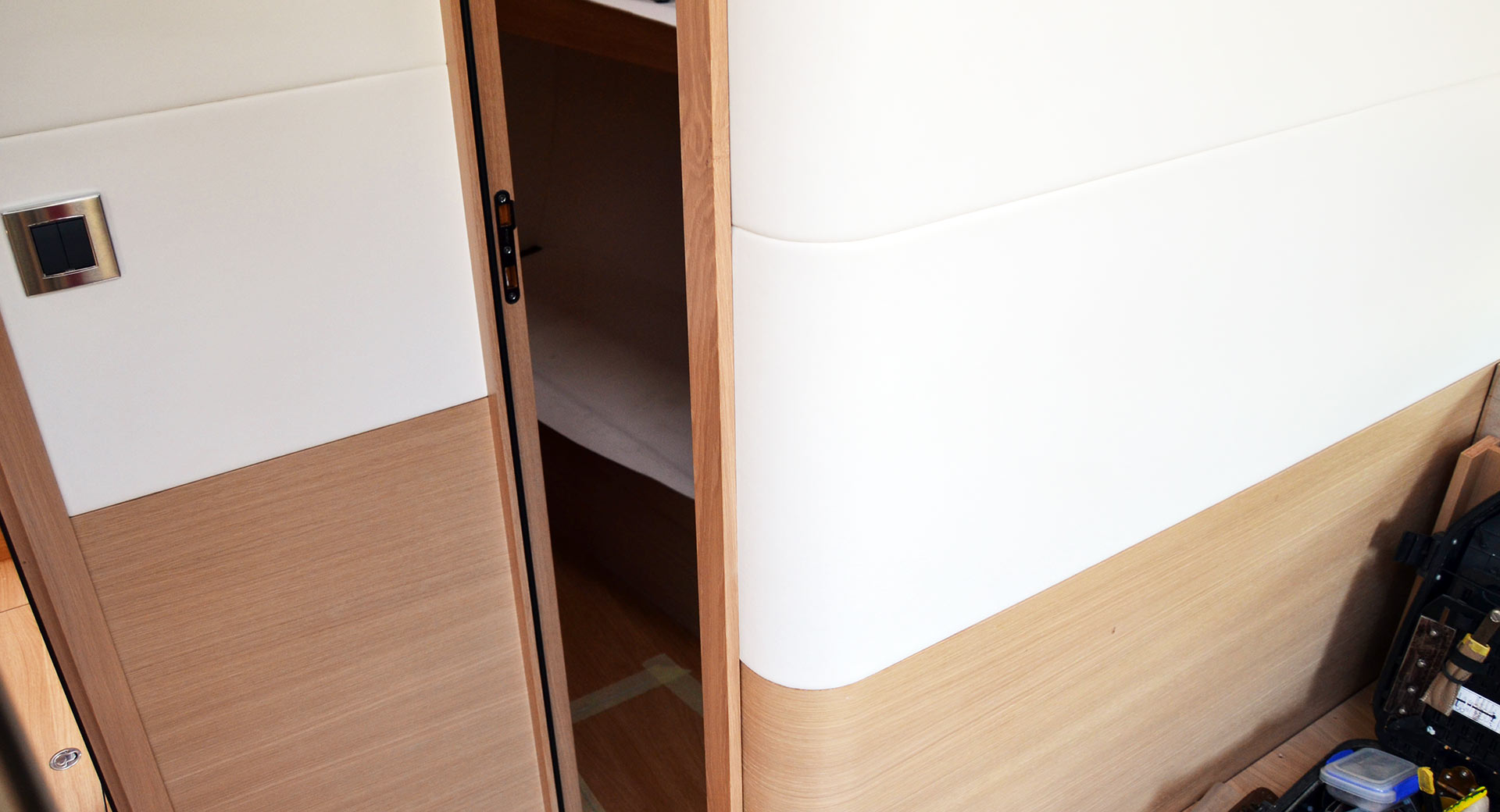 The overall quality of the wooden internal fittings and the carpentry is gorgeous and as good as it can get. There are practically no seams visible, everything is rock solid mounted and diligently protected against defects for the owner in being. I just fell in love with the ship´s doors which are completely covered in stitched brown leather. Brilliant idea and adding so much to the character of the boat!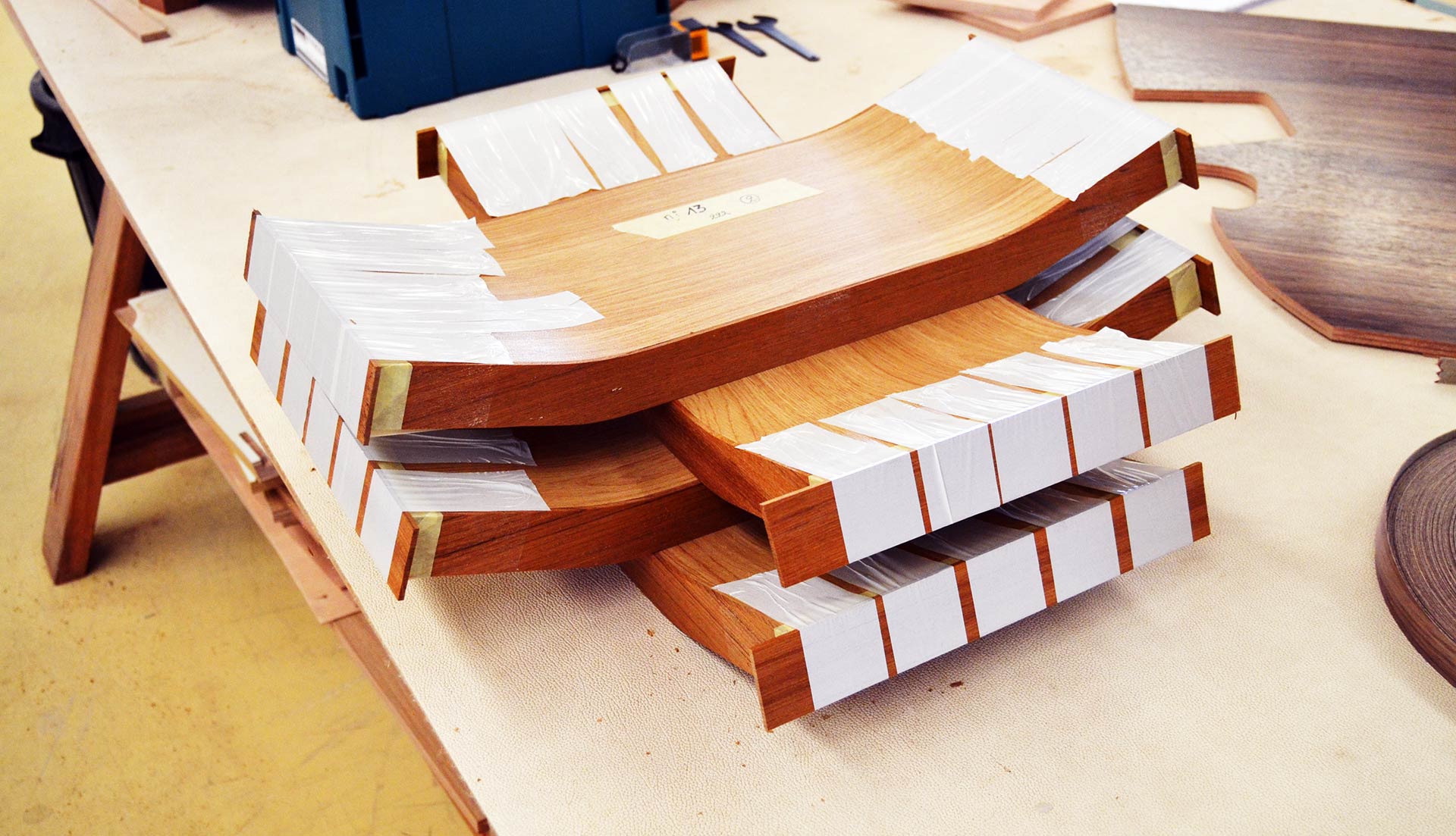 As I have done and I am still doing a major internal refit of my own sailing yacht, the King´s Cruiser 33, I am always keen on taking a look at how professionals do the things which I have recently done as a – well, calling myself an amateur would be too flattering at all! – and so I take a thorough look at the roofing construction of the Amel 50. Juste awesome! A very solid substruction directly attached to the sandwich foam cored GRP-roof and very, very nicely done set of roofing panels attached to it. I envy this boat!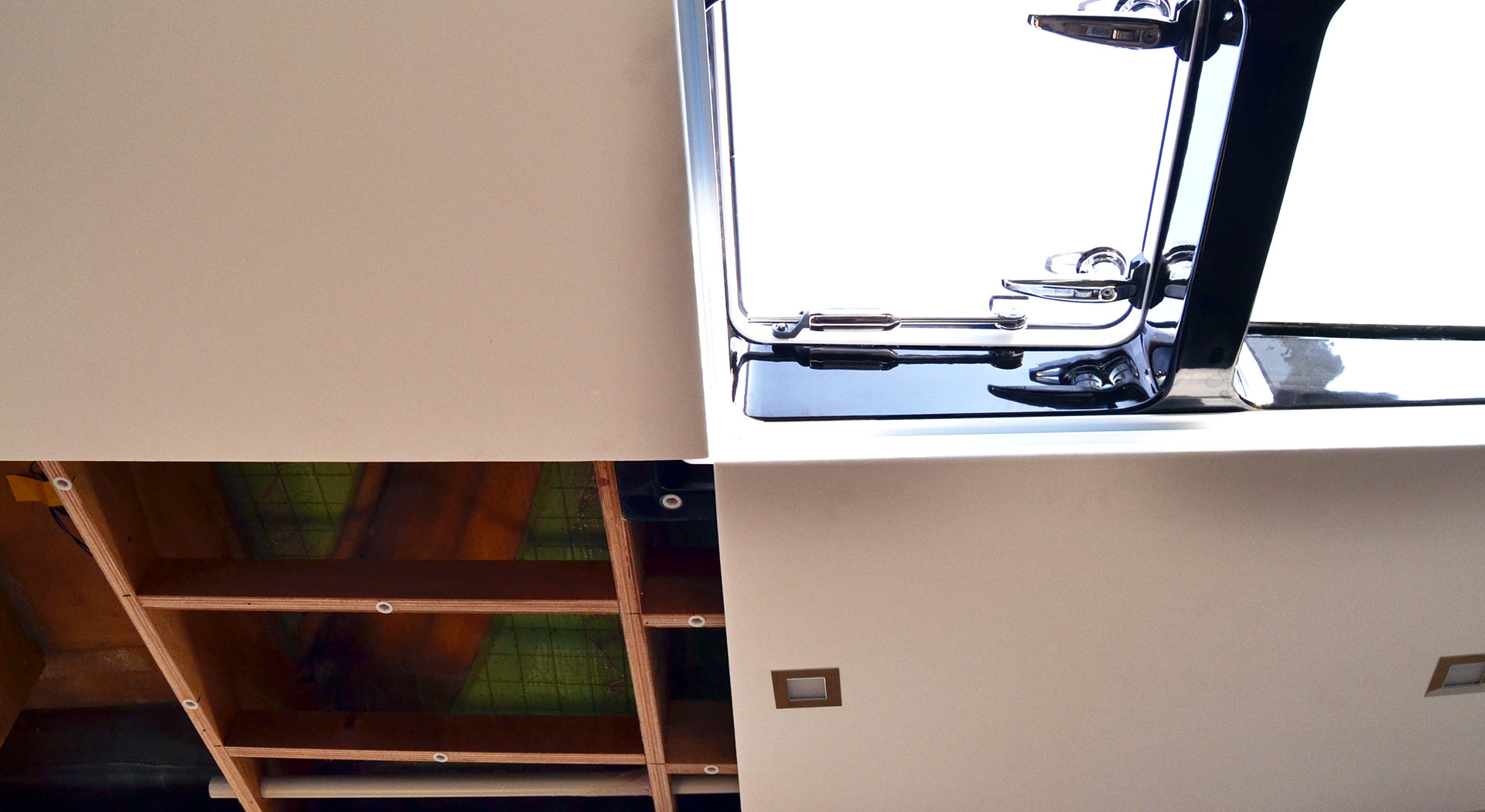 There are so many details and so many nice things to say about this production step of an Amel yacht that I could produce a whole series of articles, but let me point out here that what was roaming my mind all the time spent in this production hall was a thought that this does not look like production boating but like making a semi-custom yacht. There are so many nice details you simply won´t find in large production company´s boats which set these yachts apart from a whole lot of ordinary boats. And I begin to understand even more, why Amel is such a favoured brand among circumnavigating sailors – the boats are just gorgeously done and so very well executed!
Effortless push-button sailing in an Amel
We leave the workshop and Stephanie opens up a part of the hall where a big "No Pictures!"-sign is posted, but apparently I can do shoot freely. It´s where Amel´s masts and the rigging is prepared to be installed. That´s another fascinating story that comes with an Amel yacht: The yard does not utilize series production rigging by one of the big names in boating history. An Amel mast is proprietarily manufactured unique equipment only to be found on these boats.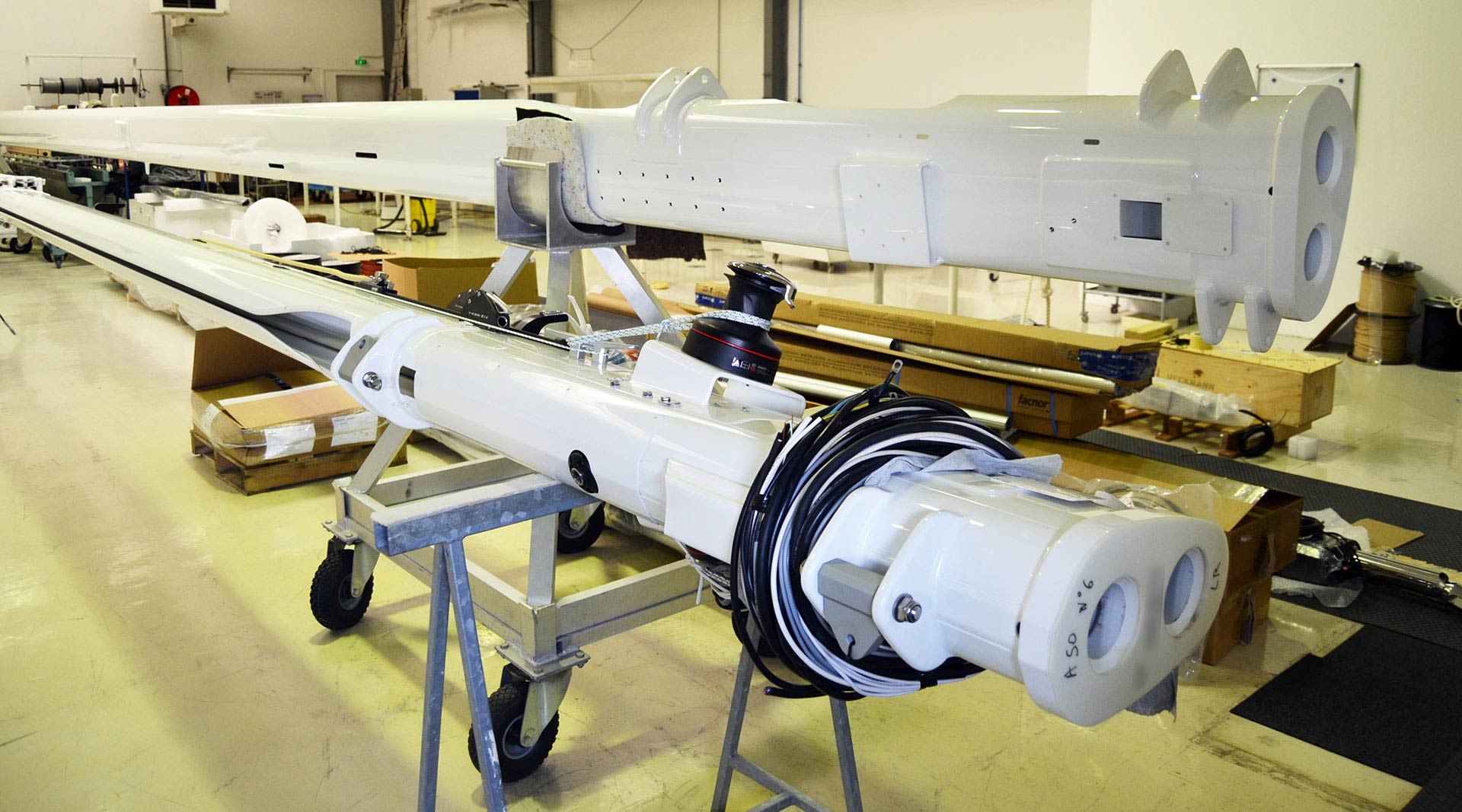 Amels are (now) push-button sailing yachts which means that a skipper does not have to put in physical effort whatsoever to hoist and trim the sails. Everything is done from the flight deck´s helming position. By the way, there are as many as three cameras mounted on the boat so to oversee the constellation of the sails. But back to the mast and the boom: It´s in-mast furling, all electric of course. The point is, that the masts are made especially for Amel by a Swiss company.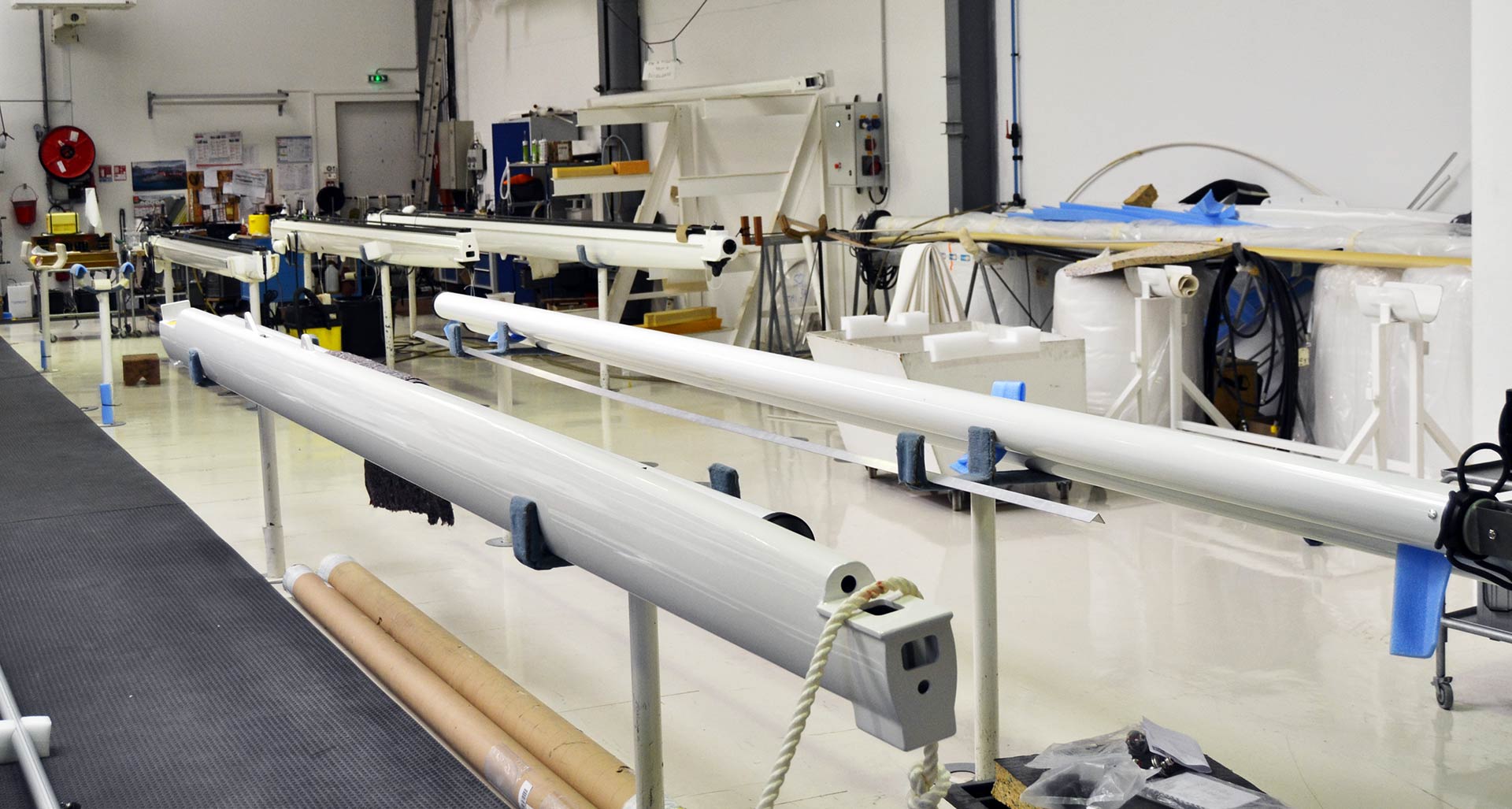 They are massive and very pretty. As I touch the mast I can almost feel the heavy quality and the spotless finnish of the bright white paint that has been applied to the aluminium mast. The inside consists of two inner tubes. In the first one the rolling mechanism for the main and mizzen sails are run – completely separated from the running rigging such as halyards and stuff which is running through a second tube. No meddling of each other will ever happen.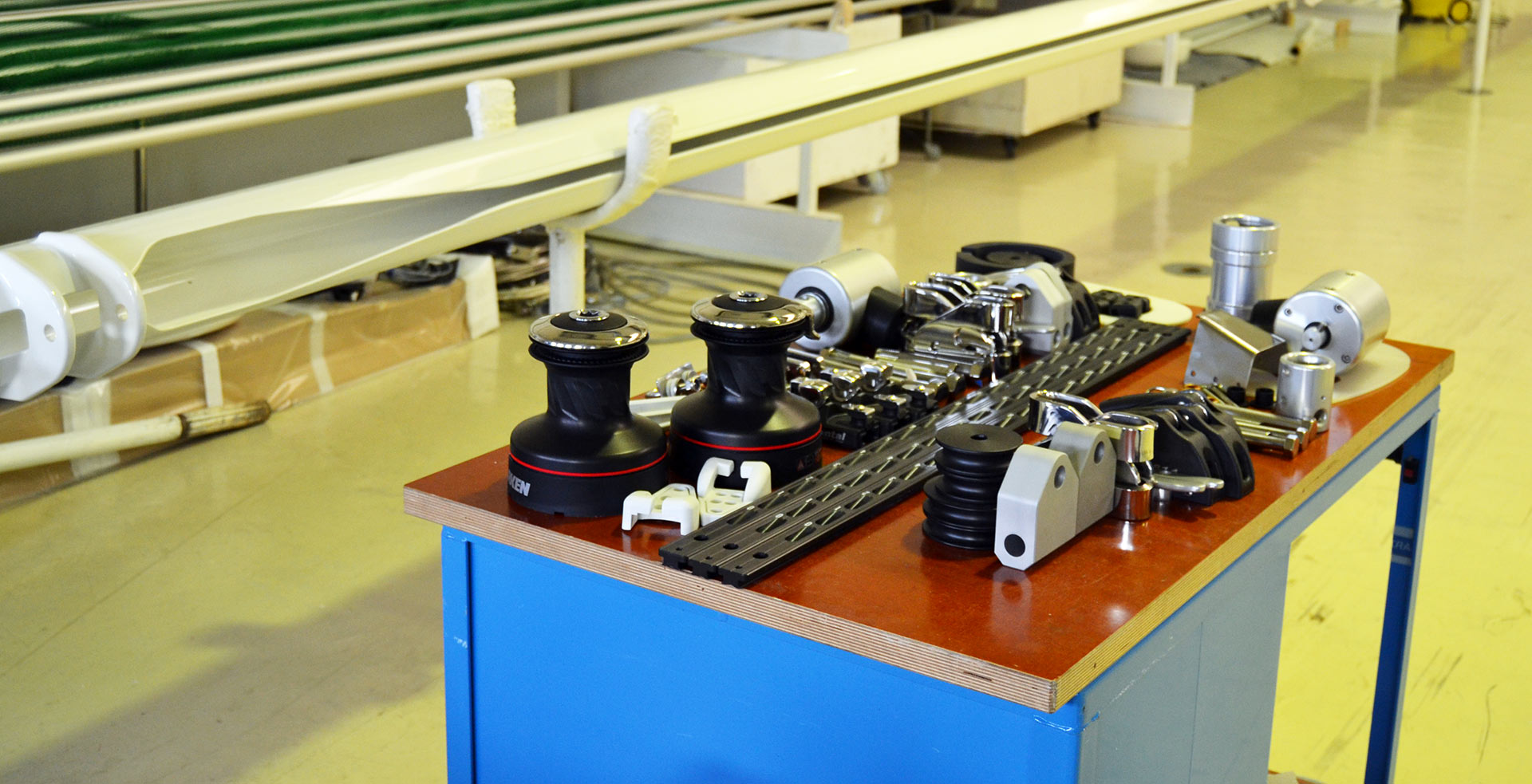 The mast and the pigg is completely done here at the Amel yard in La Rochelle so that the service provider commissioning the boat for the client wherever she is going to hit the waters does not have all too much trouble in get the boat running. I again am very touched by the cluttered clean workplace here and the nicely stacked utensils which are going to be mounted next.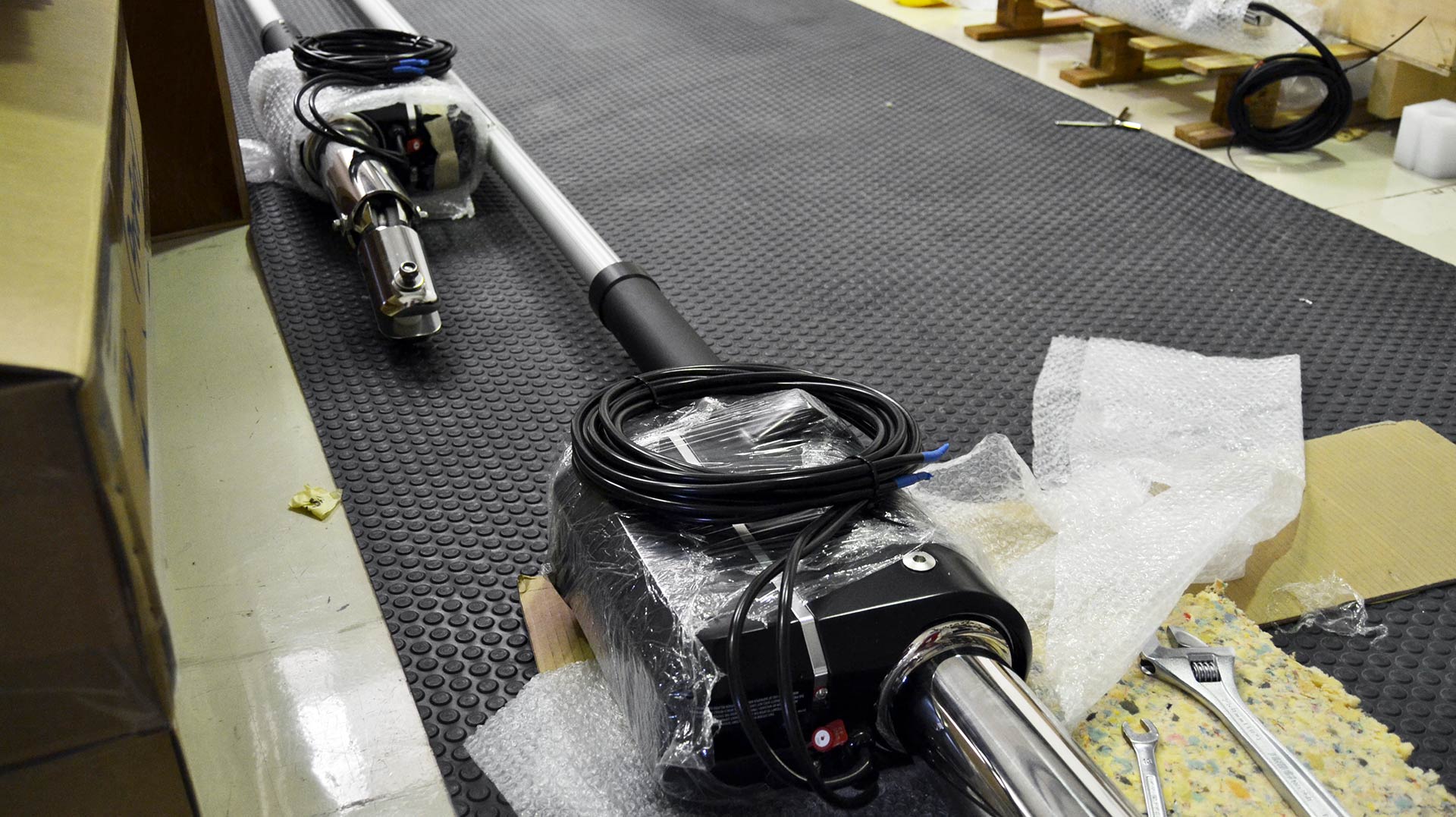 Of course, every electric system can (and eventually will) brake some time so with Amel each and every important component in the boat is redundantly installed: There are two autopilots for example. If something with the electric furling systems fails, it´s just two bolts unscrewed, electric engines will be unplugged from the mechanism and one can crank in the sails with an ordinary winch. Nice.
Indistinguishable Amel
We are closing this exclusive tour and are back on the large free open space with the testing pool where three Amel yachts are moored and receiving first trials and last bits of equipment. After seeing all of the production, I do have now a different view on these boats. Although the design is for my personal taste too beamy with a too high freeboard, I begin to admire certain aspects of it as well: I simply love center cockpit yachts now as I consider them the best way for a couple to enjoy their dream yacht on a dream sailing trip. With the Amel, the owner´s cabin are just awesome indeed!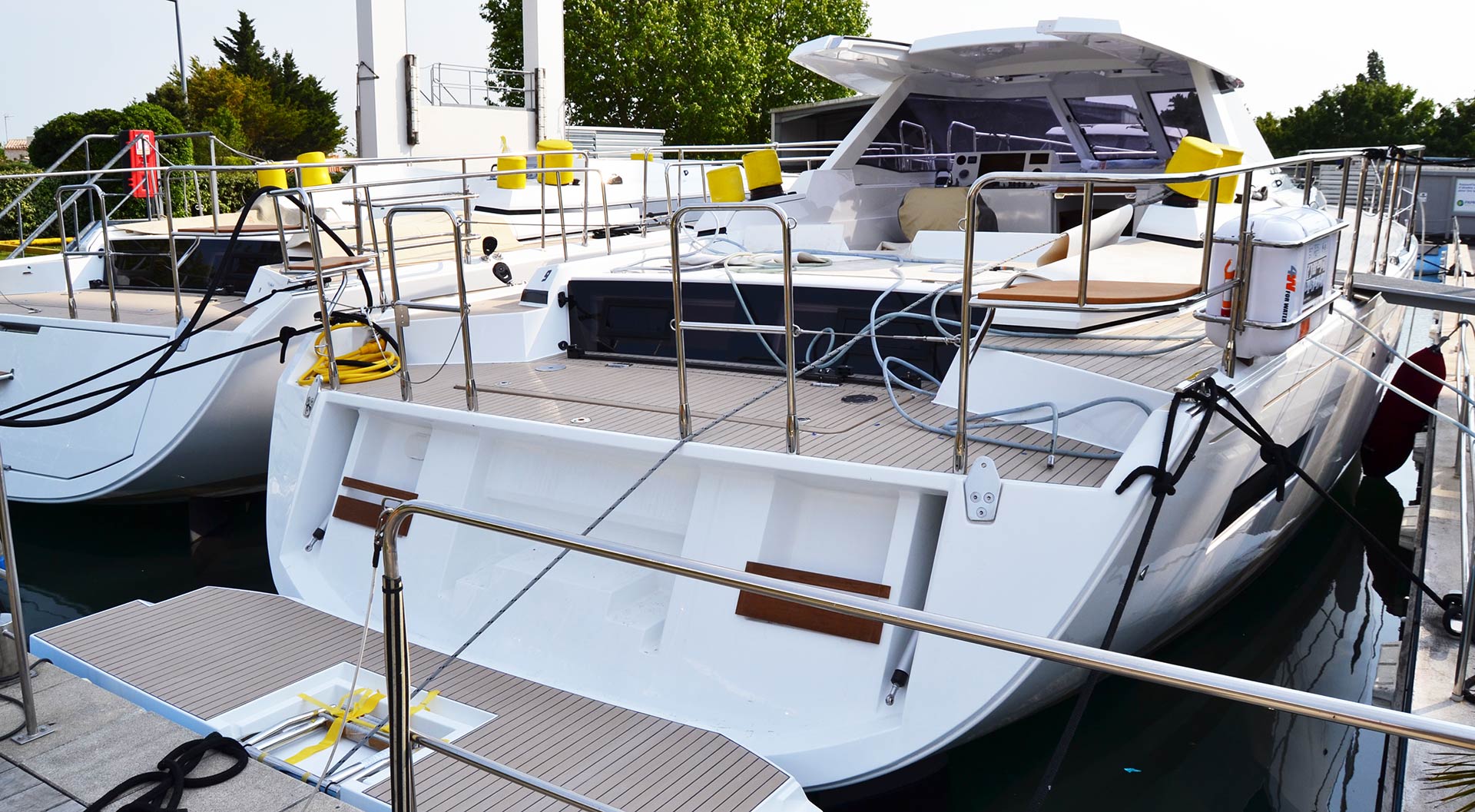 I also see the signature style in Amel´s boat design which has been interpreted with bravery by Berret-Racoupeau, centering the boat´s main styling around the large doghouse but by focussing on a more edgy style Amel yachts now got a fresh new style. Stephanie agrees and tells me that the company is happy to welcome – against the trend of the overall market – especially young new owners to the Amel family. I think this is partially at least due to the adventures of SY DELOS, which of course are closely monitored by the yard as well. The young and fresh new approach of the Amel-yachts may on the other hand also appeal much more to younger people.
But there are also nice other details, like the solid handrail that is running all along the boat from bow to stern – very rigid and imposing a lot of safety especially when weather conditions may get rough. By the way: Can you now notice the fake Teak? If I wouldn´t knew, I would barely notice. As we walk back to the main building all along the halls we have seen during the past hours, Stephanie reveals another detail of the yard, which really fascinated me.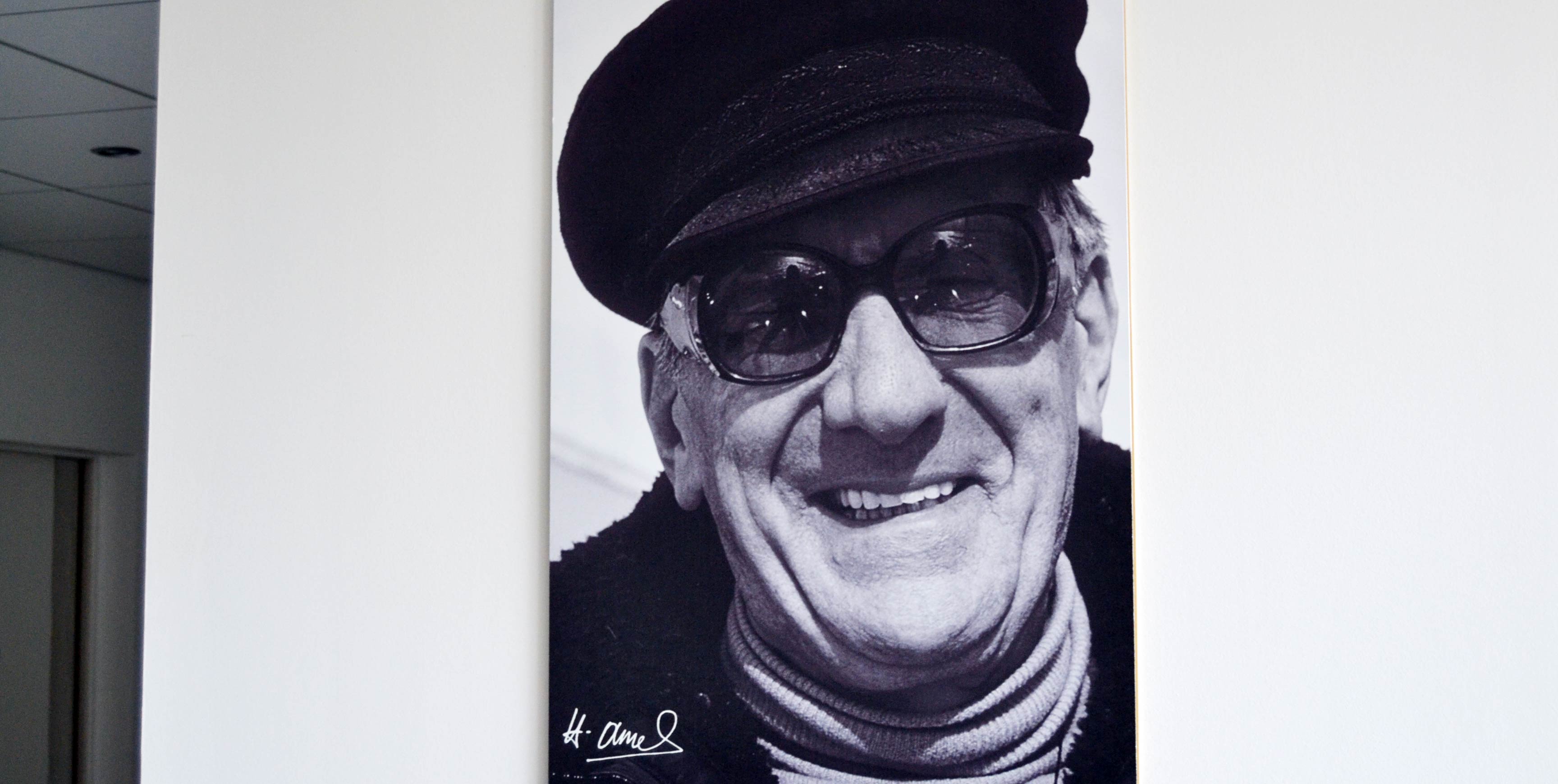 She said that Henri Amel not only loved his yachts and the yard and the way he was producing the boats – he also loved the people who were working with him. He saw them as a part of the family, he saw his whole company as one big family. So, in his last will he decreed that the value of the company may be shared among the employees. Isn´t that just awesome? This company really belongs to the very people who work here! Stephanie also owns some shares and reveals that she is now staying with Amel for decades. Isn´t this the best way to insure a loyal, enthused and motivated workforce? I´m baffled in the most positive sense of the word.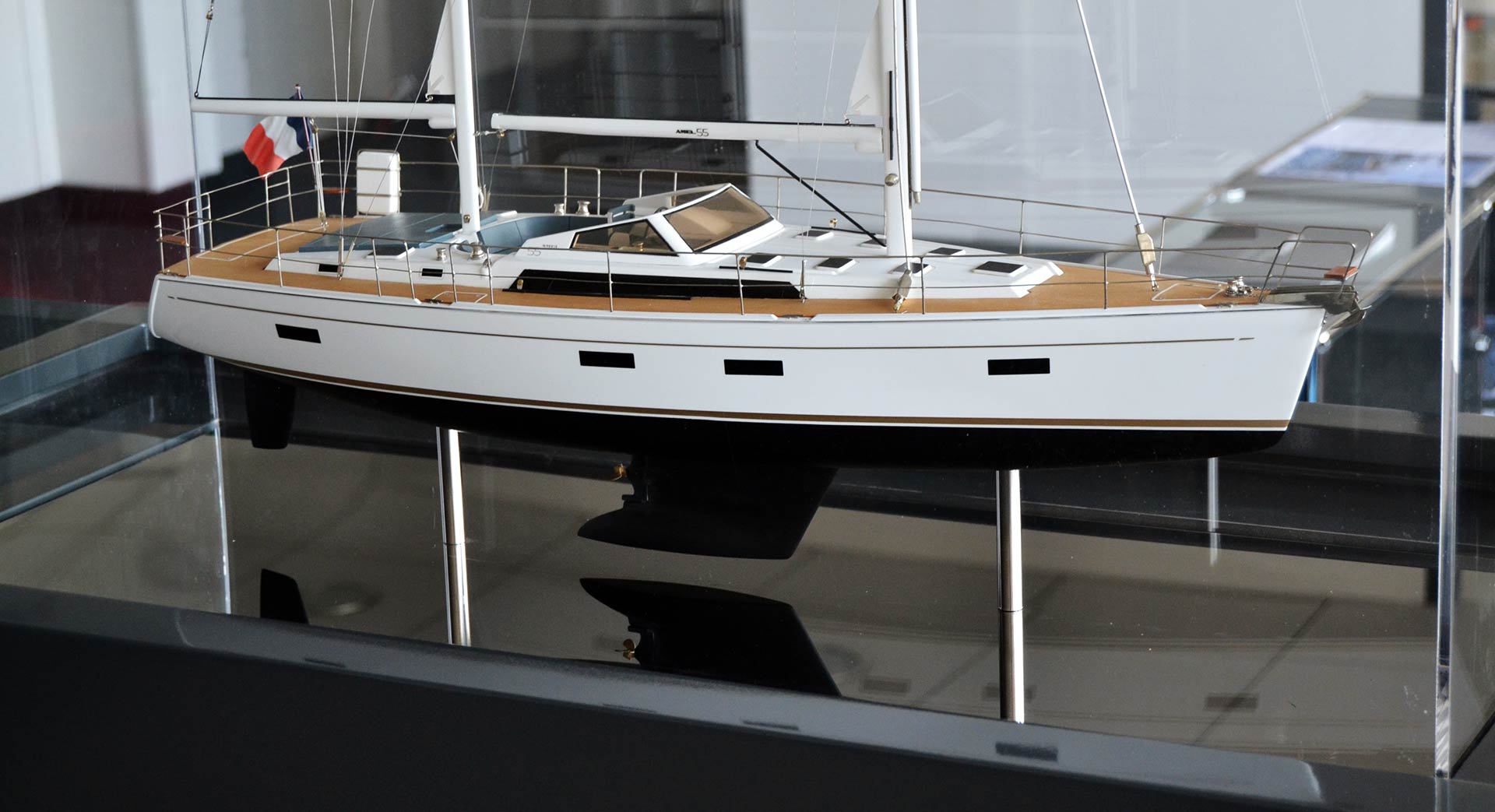 So I say Goodbye and thanked Stephanie, who was sacrificing her spare time after a stressful working day to show me around in the yard. In her yard. As I leave the building, I am smiling. It´s a fascinating concept, a unique boat with no second in the market and a very, very fascinating company with a rich history and culture. And – I´m sure now – this is a company with a great future as well. I take a picture of the model of an Amel 55 with a classic windshield and I decide: This is for me the true Amel-style. It must be a ketch rigged boat, then it´s a true Amel!
Thank you so much, Stephanie!
More great cruising boats? Read this:
Walkthrough of the "small" Oyster: The Oyster 575
Gunfleet 58 from an owner´s perspective