I am a great fan of Gill clothing as you may know. Since my very first days as a "sailor" – even though I did not have any certificate nor a single mile under sails in my logbook, I chose this brand and went forward buying some foul weather gear. That was no less than 5 years ago: A good friend of mine had bought a used sailboat, BERTA, and invited me to join him on the transfer cruise from Denmark to Germany. The trip never happened for some reason, but since then I put on Gill when suiting up for sailing.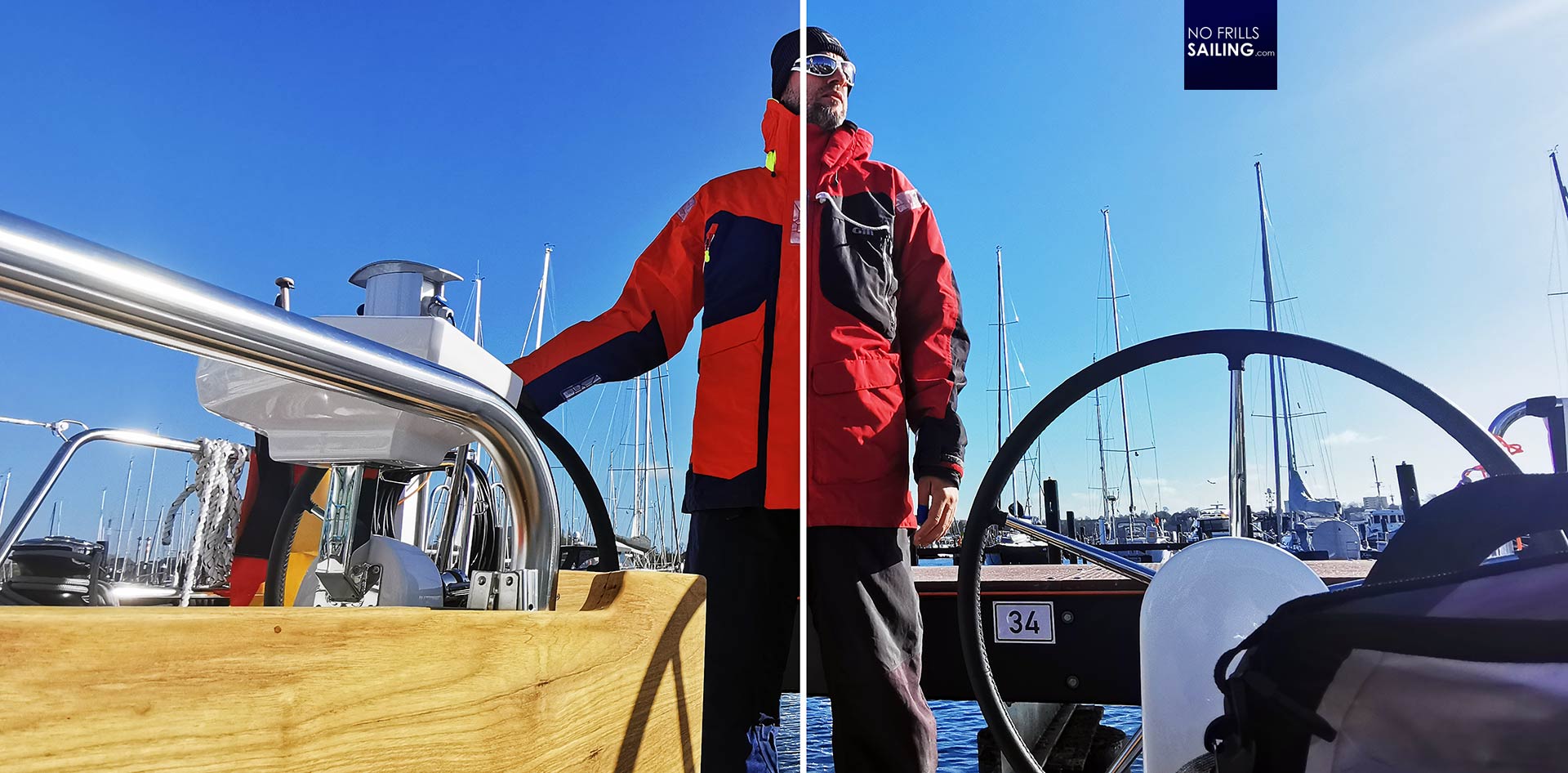 Can you spot the difference? Now, after such a long time I decided to get a fresh set of trousers and jacket. Just for fun, not a necessity: With a brand new own boat currently being fitted for touching the water I felt it might be time to re-new my sailing cloth as well. What a nice co-incidence then that Gill had recently refreshed their legendary Offshore 2-set and brought in some new colors as well. Let´s go for it!
Nick Gill´s idea: 20 Years of Success
Did you know that back in the Seventies a guy named Nick Gill had a vision of making better sailing clothing? He had the idea of controlling the whole supply chain from the very first step of manufacturing the garments to the last chapter of real-life testing. So he used a chance and provided a groundbreaking sailing jacket to the America´s Cup: The OS2 was born. Now, 20 years later, the same jacket – with some minor changes – is still the benchmark in sailing cloth and worn so dearly by thousands of sailors, be it private cruising skippers or professional racing crews all over the world.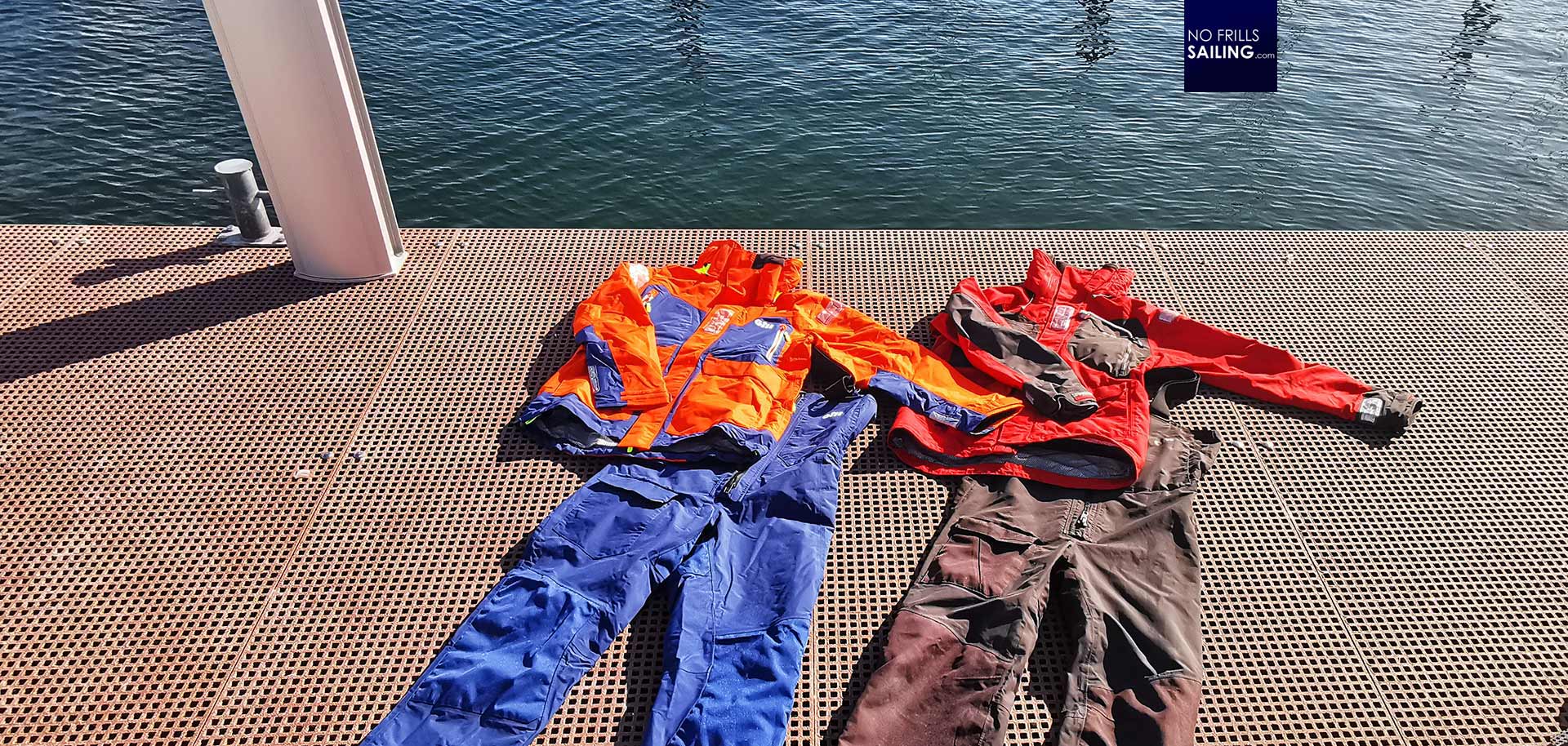 I was lucky, to be honest, as I went into a sailing gear shop in Hamburg 5 years ago, knowing absolutely nothing about laminates, garments, layers, waterproof and breathable clothing. I was also lucky that the counsellor in the shop offered me a choice: Cheap for occasional use or a bit more expensive, but far superior in everything. I haven´t regretted a single moment choosing the latter.
5 years of use: Looking at my old sailing gear
Why? Because Gill is really not just a fancy brand selling stylish sailing-like clothing for fahionistas imposing as sailors, this is gear made from sailors for sailors. Every OS2-jacket is tailored and produced in no less than 36 hours, the same way it was done some 20 years ago. One jacket consists of 189 single parts, brought together with care and competence. Looking at my 5 year old gear, I can see the quality.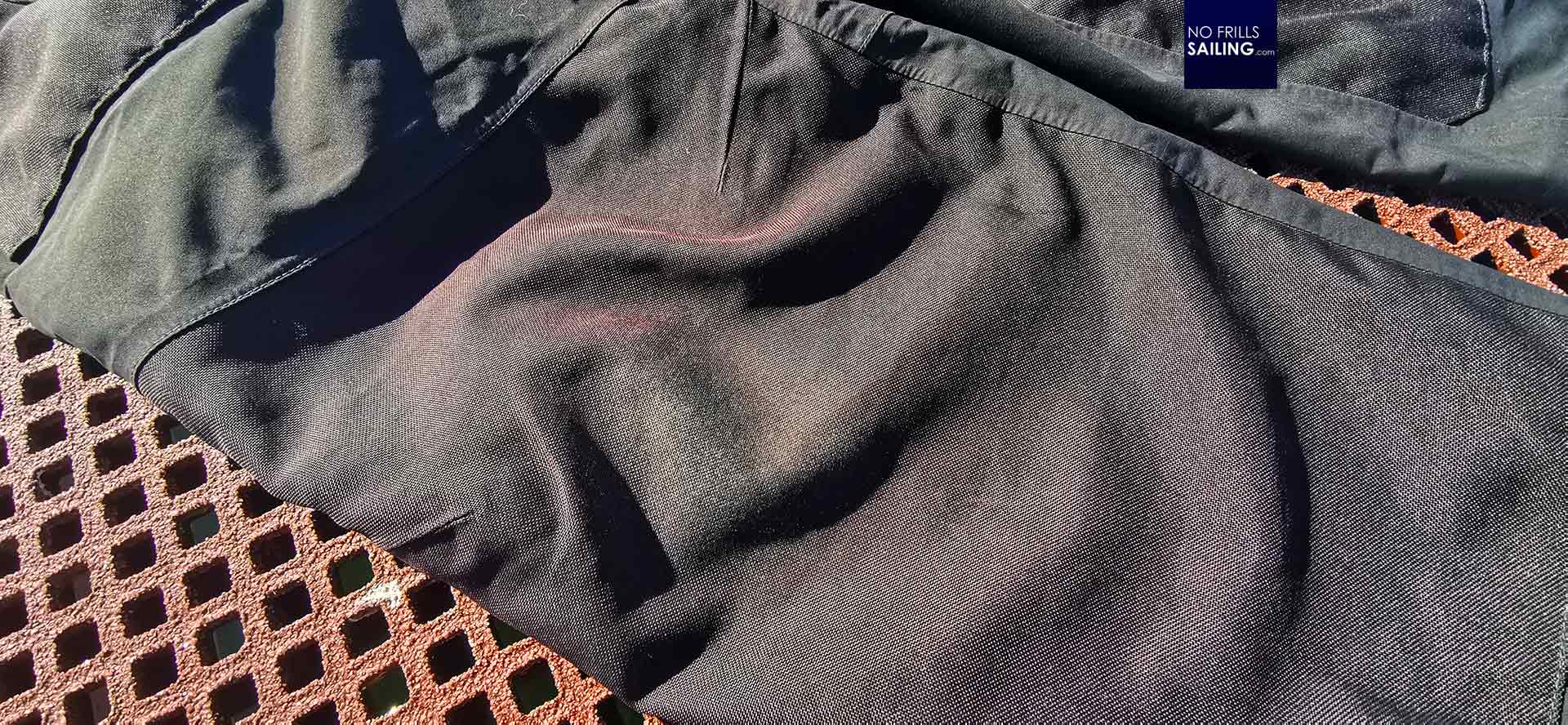 Look at my trousers: These have been worn so much, being exposed to salt water, spray, fresh water. Dried, soaking wet, dried again – hundreds of times. These trousers had been exposed to UV-radiation so massively and I was down on my knees uncountable times, crawling the decks of so many boats: Look at the garment – virtually nothing! There is some wear of friction directly at the knees where most of my body´s weight had been put onto, but the whole trousers are still black (no bleaching!), still 100 per cent water proof and fitting just fantastic.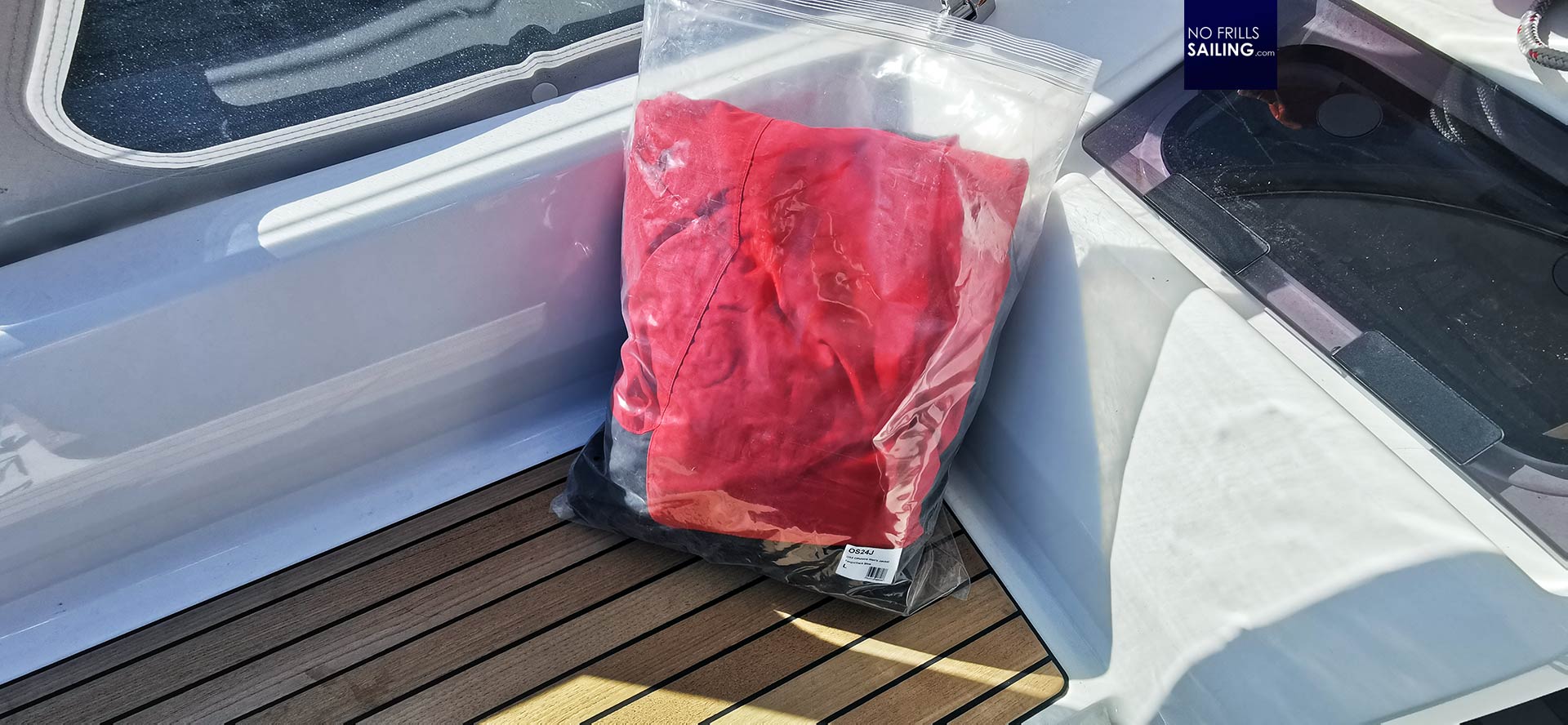 All pockets on the pants work, still providing waterproof shelter for my smartphone or other things, the fit is perfect and the Velcro-braces to adjust the fit of the trousers aren´t worn out just a bit. In a world of obsolescent product-design and the strive for ever shrinking lifetimes for any product, this is absolutely awesome and – from my point of view – unique. Now my new collection of the latest OS2 version arrived. And I was keen to check it out in a real-life sailing session.
The new OS2 4 Offshore Sailing Jacket
I chose not to have the classy red-black design as I thought it might be cool to try out something different. White/grey would be messy with dirt and stains, I guessed, black wouldn´t suit me much so I found it very much interesting to choose the new blue/orange colored jacket and the blue trousers. Let´s take a look at the jacket first. At first glance it appears to be identical to the OS2 jacket I am used to, but there are some changes.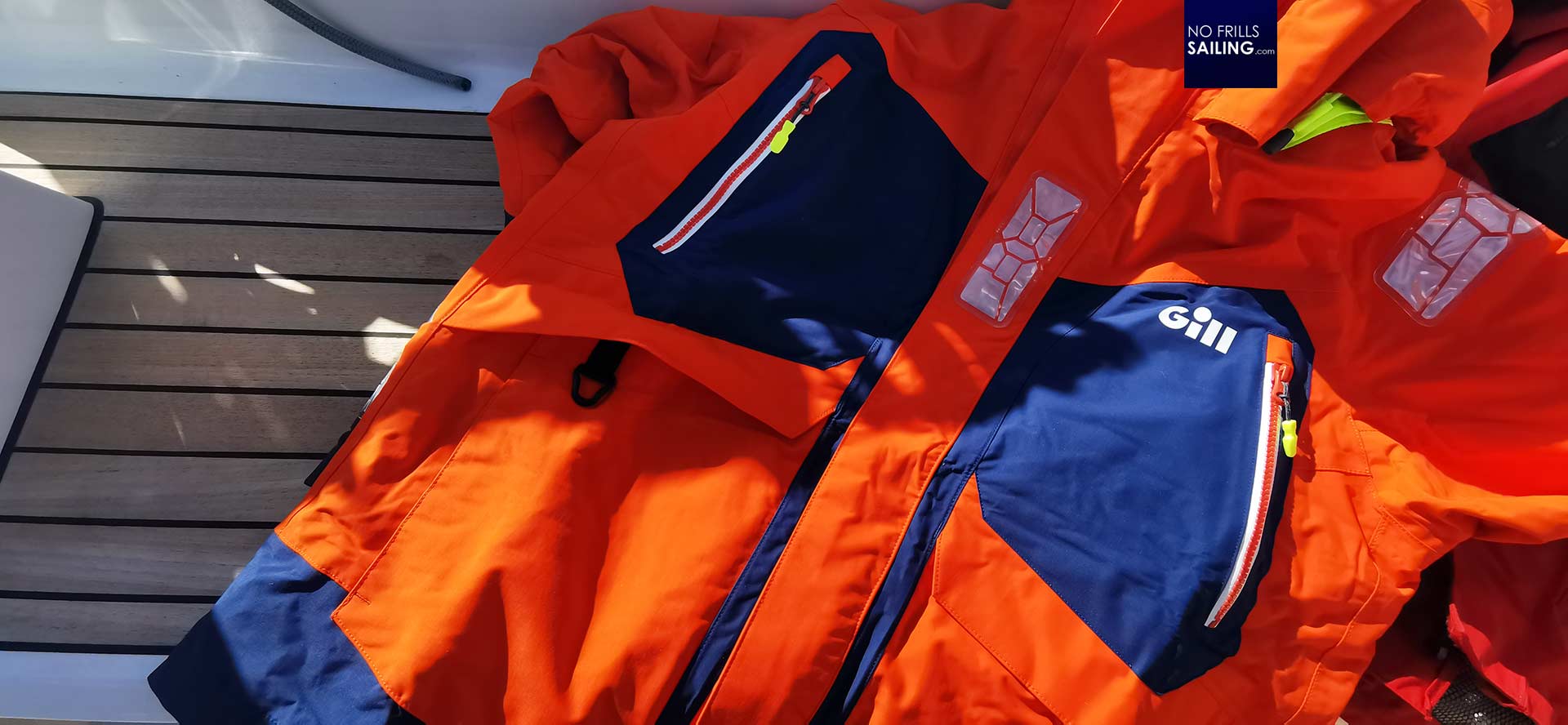 First of all the zippers – of which I can only say good things, much in contrast to other brands like Marinepool where there is literally always a problem with the zips as far as my clothes are concerned – Gill has them now with rubber bands and grab handles which makes it much, much easier to open and close the zips. Thinking of ice-cold fingers or thickly packed into gloves, that´s definitely a good point. The two front pouches are stepped with furry garments to offer some warmth during cold night shifts and the others are rubberized for water protection of gear, like a flashlight or the smartphone.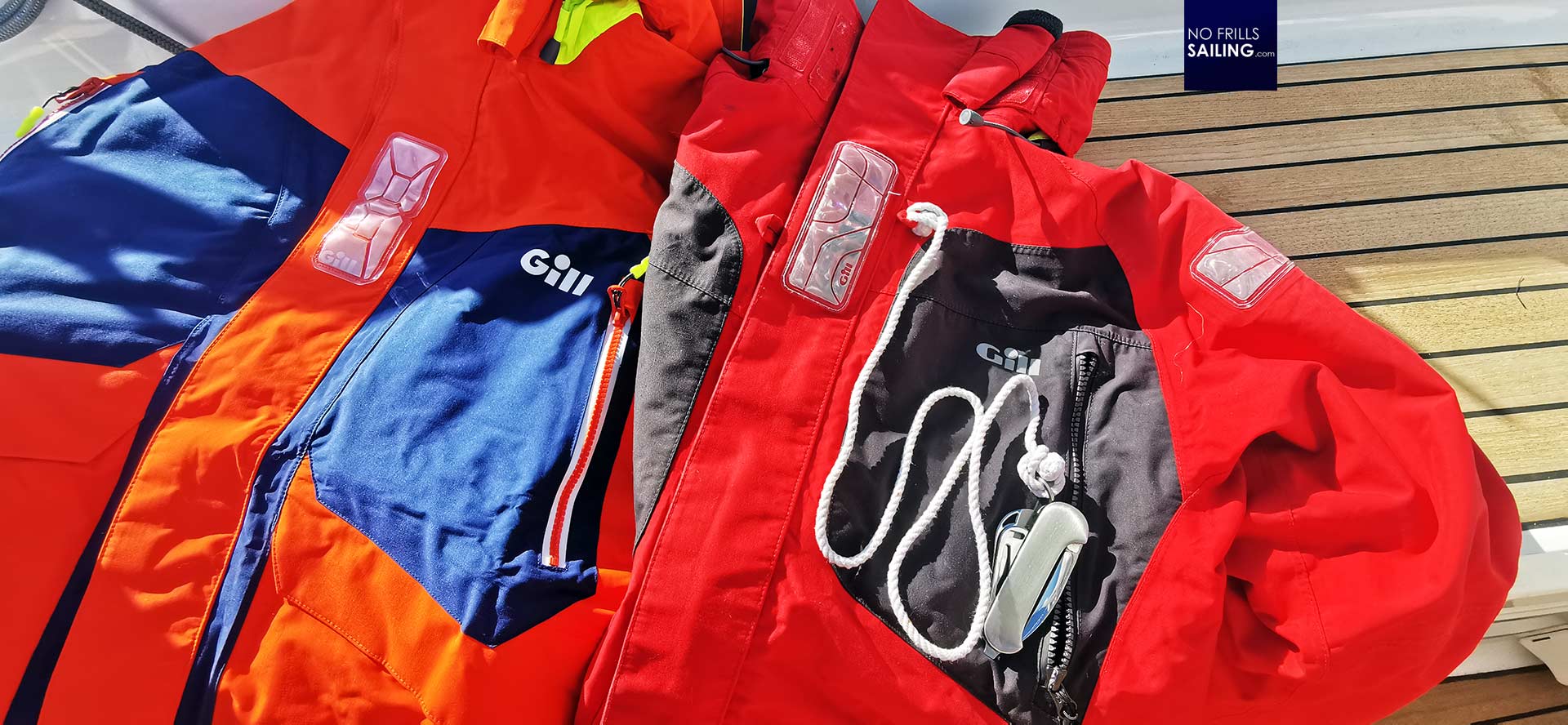 What I missed a bit have been the hooks. Somehow Gill got rid of them on the new jacket (or maybe in the course of the last 5 years since I´ve bought my new jacket). You know about me fancying the Ibberson sailing knife so much that I have it strapped to a little, one meter piece of thin rope and fitted to the old jacket – thanks to the loops which are sewed to the jacket. Now these are gone. But behold, there´s an alternative.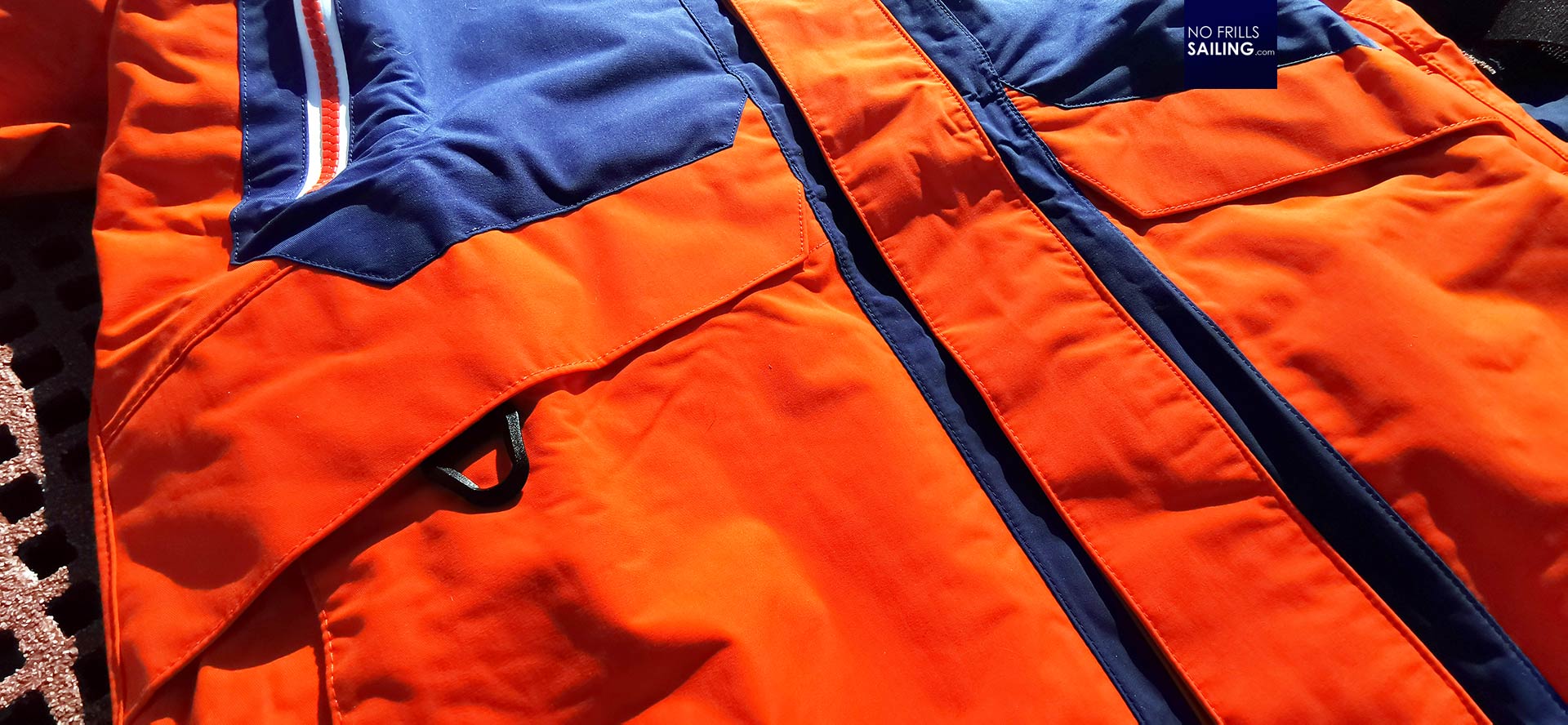 I found a hook at the inside of the poches of both the trousers and the jacket so that I was able to re-fit the sailing knife to the jacket, which is a good thing. Unboxing the jacket made me shortly hesitate if my choice of color was still a good one, but the more I look onto the jacket the better I think my choice was: Thinking of a MOB-incident or any other situation where it might be crucial to wear something that can be seen easily by others, choosing the bright shining colors like orange and the corresponding contrast with blue was a good idea!
Offshore OS2 Sailing trousers
I must say, more than the OS2 jacket I love the new pants. These are also almost exactly matching the old one – still a bit stiff because of the brand new state of the garment – but I immediately felt "at home" wearing the new blue trousers. Yet, some minor changes appeared over the course of my first day out on the boat with the new combination.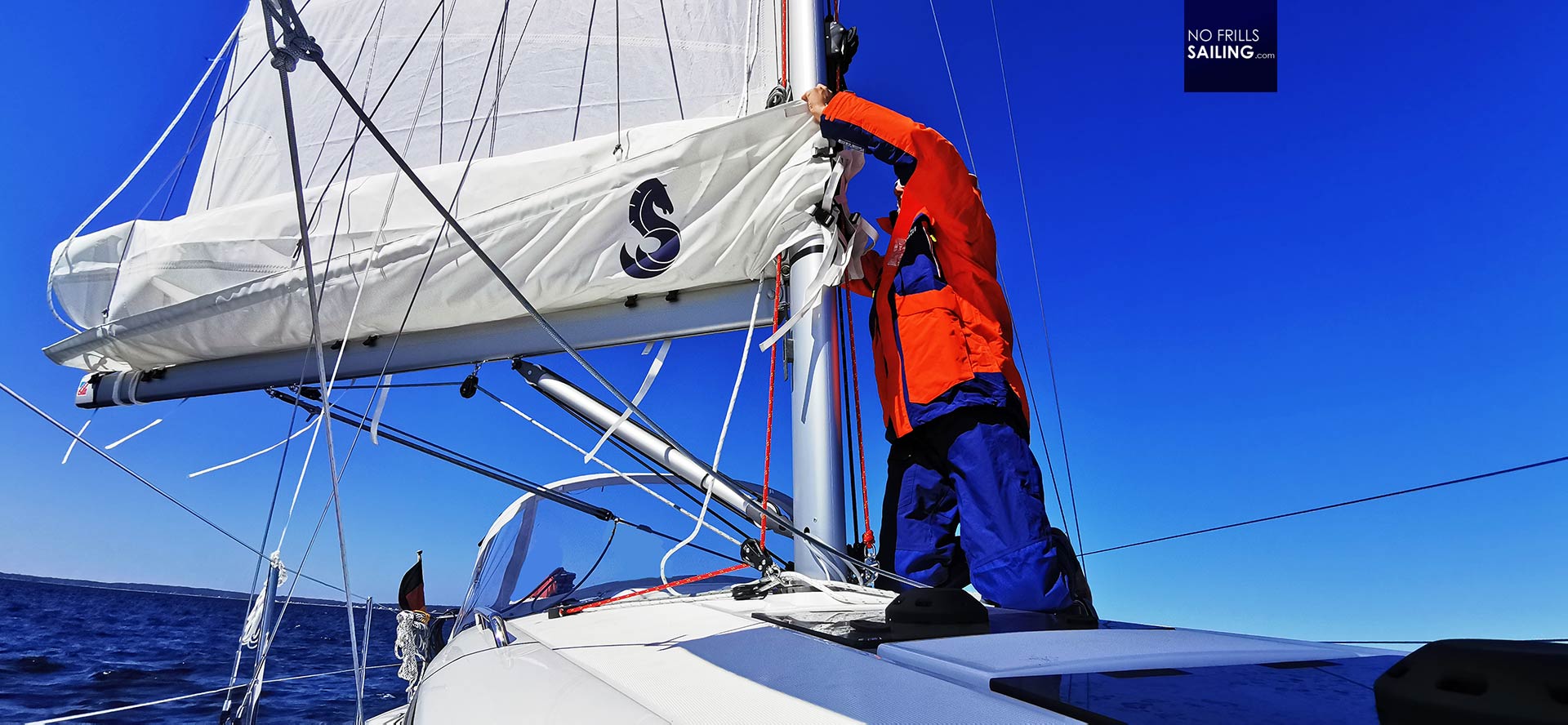 For example, the Velcor-adjustable suspenders have been shortened by Gill so that they may spare some material. The functionality isn´t compromised in any way. Whist sailing I let my partner do all the steering work whilst I was running up and down the deck to work the lines and the sails – just to get an impression of the wearing comforts of them. I must say it was just perfect: Nothing more but also nothing less than I was used to during the last 5 years of intensive sailing.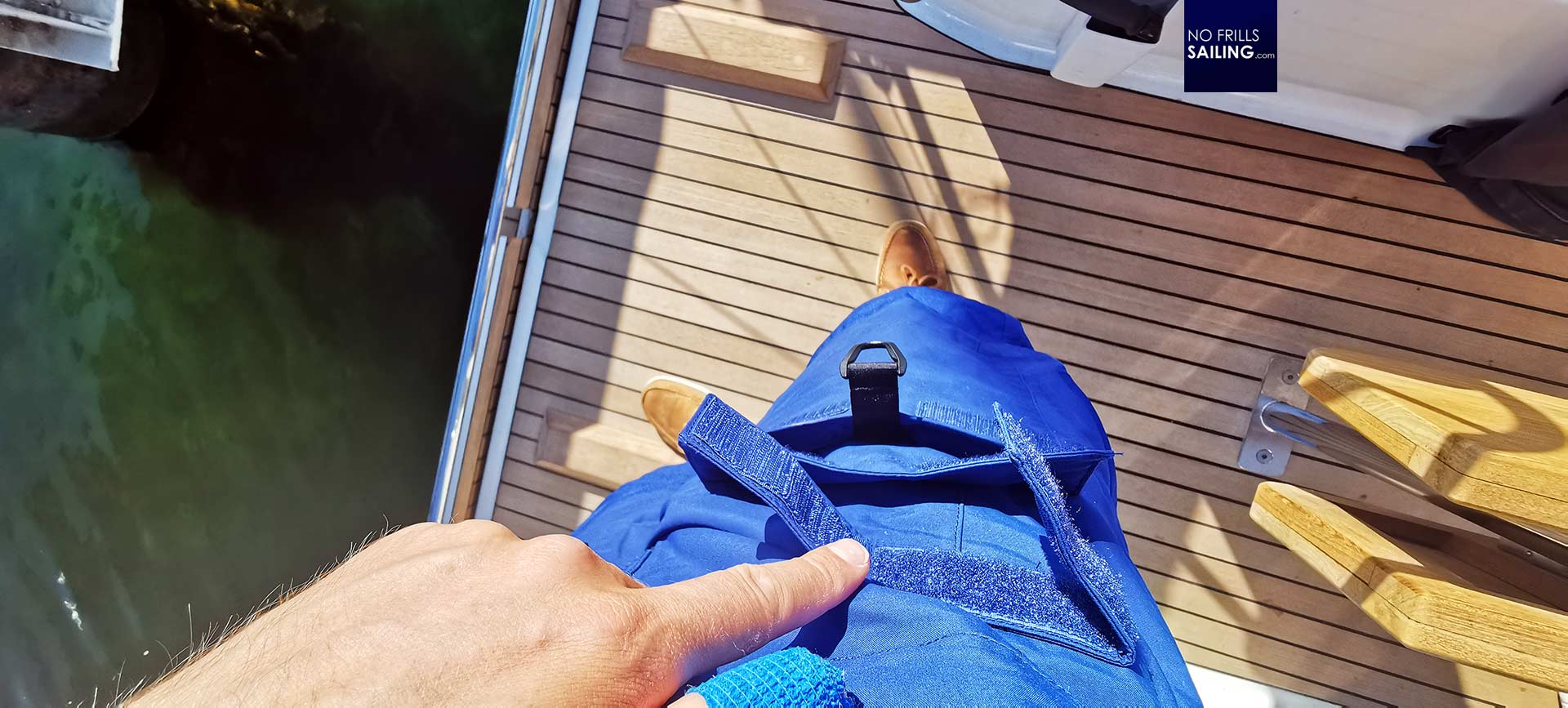 On the pants some little helpers had been incorporated, such as a multifunctional Velcro-lashing to have fitted tools or other things to the right-hand side of the trousers. There is also one of these hooks to attach more tools and the large pocket on the right thigh is still there, although it appeared to me that the rubberization of this pouch is much thicker – hence more waterproof – than on my old pair of trousers.
Looking forward to new Sailing Adventures
Least to mention, all cords and stitched appeared as high-quality as ever. Still a kudos to Gill to incorporate a zipper for opening up the layers of the jacket to reach the outer layer from inside – for stitching ship´s names or logos or have a better entrance for possible repair work. It is seldom that a company provides a consumer product with such a high emphasis on a long lifetime, maintenance and even repairs.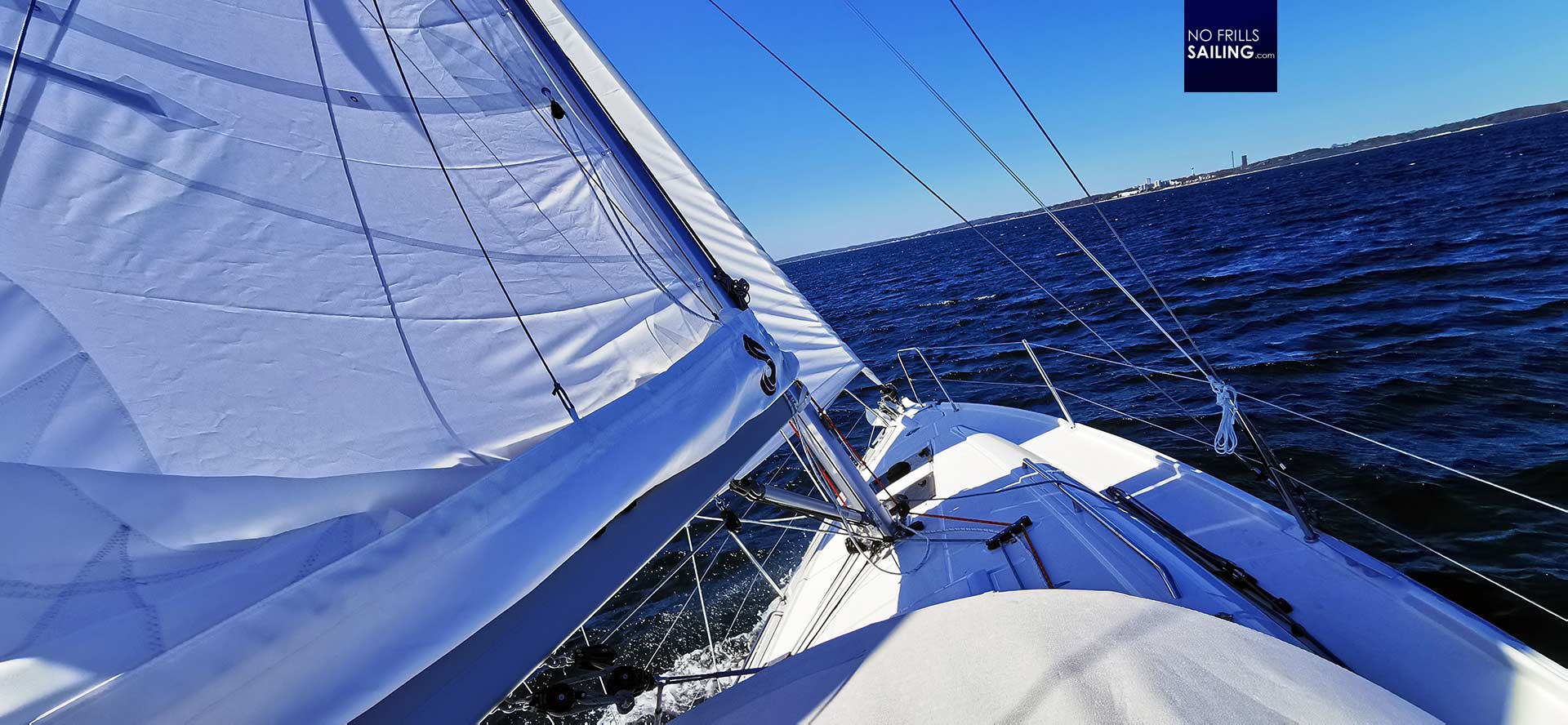 Admittedly Gill has not been a safe. When I decided to go for new sail clothes I also considered giving other brands a chance, maybe. But now, holding the new suit in my own hand and having sailed a full day of strong winds, some spray and still chilly temperatures I am as sure as a man can be that this was the right decision: Stick with Gill.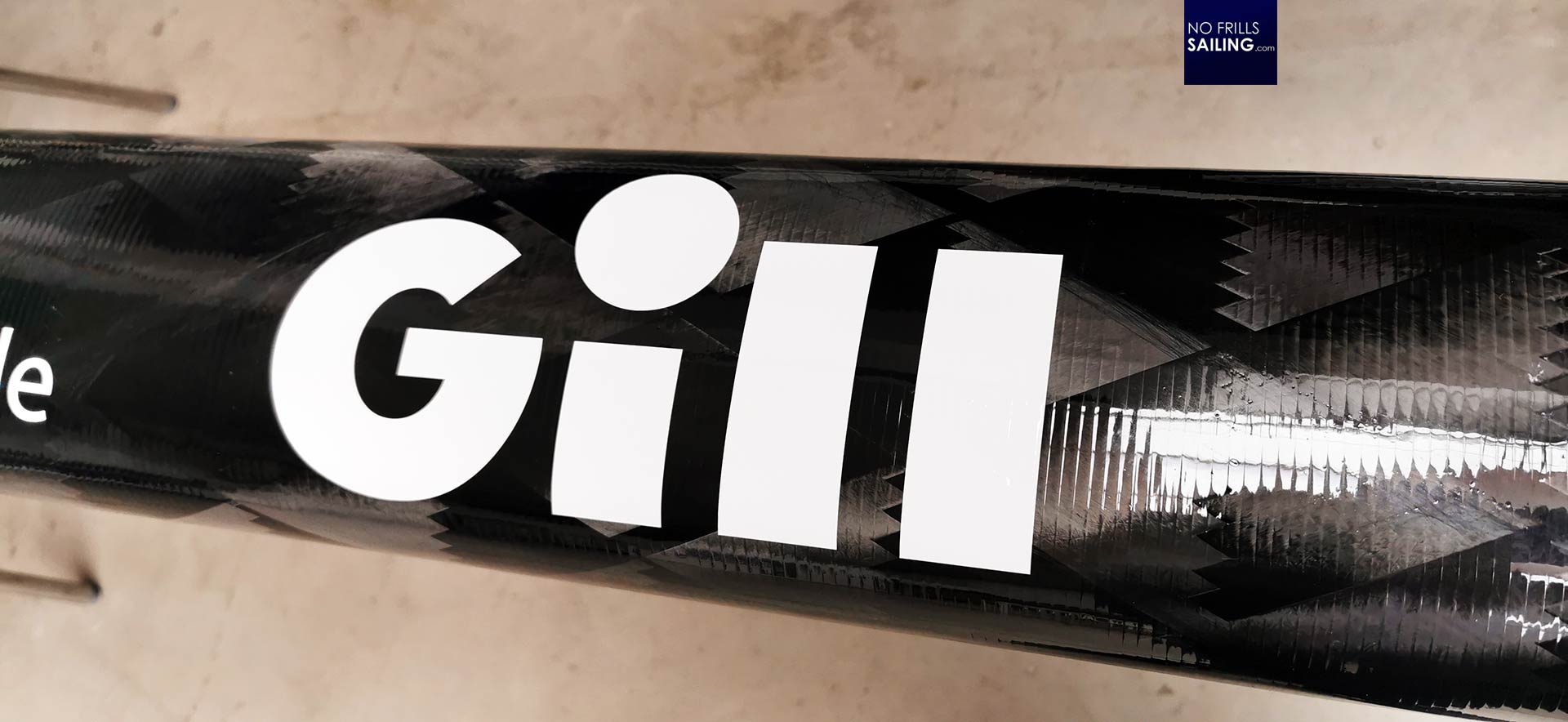 Speaking of "sticking": I am not keen on putting my boat full of brands and hawk around with logos, but apart from the Seascape and Beneteau stickers which I wear on the boat with pride, Gill is the only one I put on the boom of GEKKO with similar feelings as I a sure that these clothes will not just look nice but keep me warm and safe whilst roaming the seas.
You may also like to read these articles:
Warm oilskin, underwear and other essential sailing gear
Testing a pro-survival suit
How it´s made – at life jacket-maker Secumar