As this – let´s call it – "interesting" year is slowly drifting towards autumn and winter, boats are coming out of the water and the sailing season draws to an end, a last highlight, at least sailing-wise, is appearing on the horizon: My boat nears completion and apart from Covid 19 cases going up again with countries partially of fully going into lockdown again I am still pretty positive about the project of collecting the boat by myself in Slovenia. We will se if that can happen or not. In the meantime the yard is busy to finish the boat. Which brings me to the position of making some solutions for the new boat and one of these is to come up with a proper name. Naming a boat is a long tradition and has a similar impact on seafaring humans like having a dog.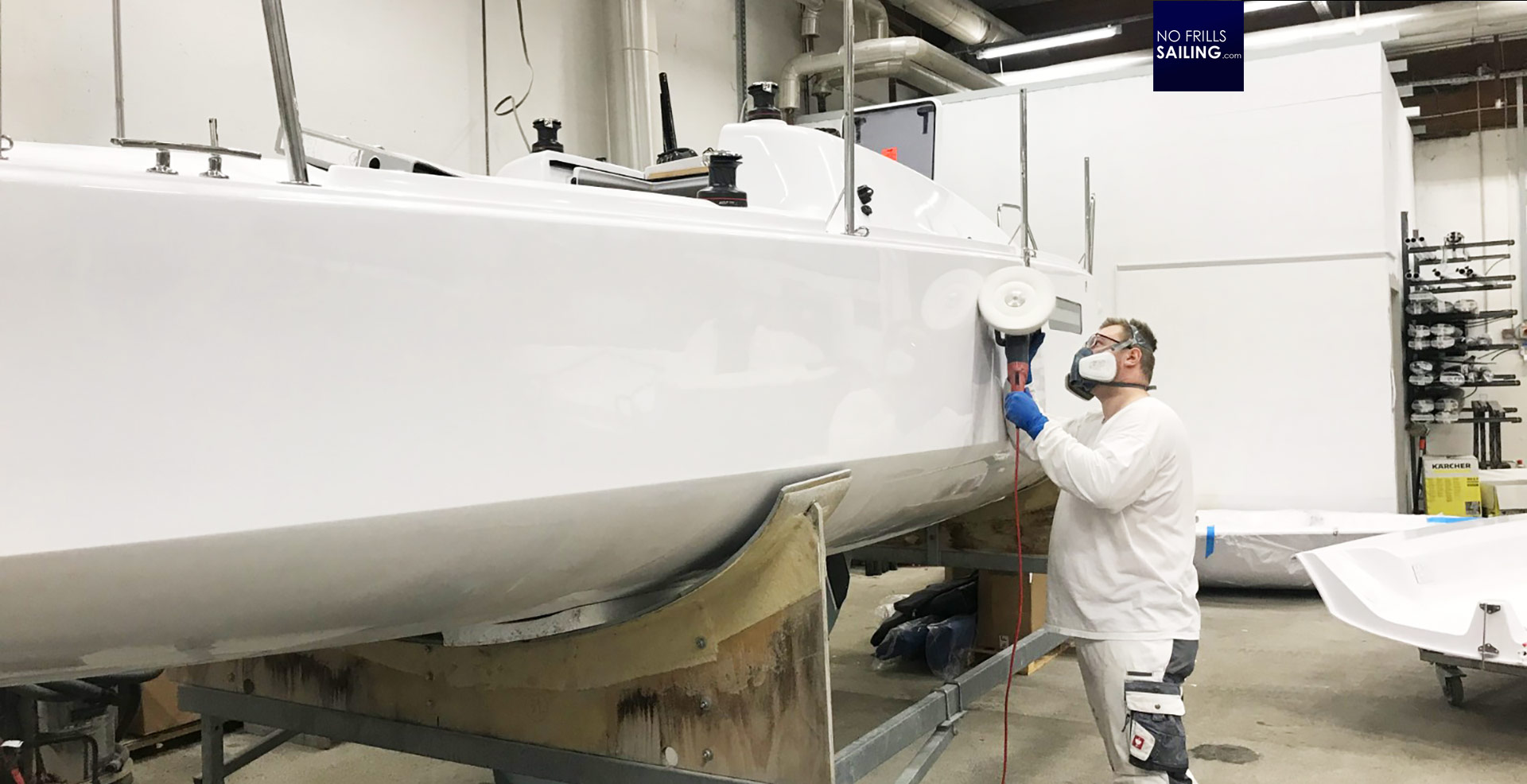 Both, dogs and ships, are loyal companions since the advent of man and thus the importance of a ship´s name cannot be underestimated. Likewise, finding a stupid name – at least when I see it in marinas – kind of always offends me personally and makes me feel sorry for the boat. So that is the task of the past weeks and as I am a dad and my kids are super-excited to see a new boat coming up (a boat that is actually in the water and not on dry stand with their daddy sanding Teak things all the time) I decided that my kids are the one who should decide which name the First 27 might bear.
Getting my kids excited
During our vacation some weeks ago in wonderful Greece I repeatedly talked with them what might be a good name for the boat. I was surprised how eager and concentrated they began working on it and how seriously they took the task. I began to show the pictures of the boat in the yard. I am lucky to receive a VIP-treatment here by Seascape in Slovenia, a service surely not every client gets: The guys regularly send pictures of my boat and the advancing state of building the boat. By this, I was able to explain to the kids what was going on there. We´ve had some interesting names in the discussion. Such as "LOGAN´S RUN", which is a name obviously I came up with. Logan´s Run is one of my favourite classic SciFi movies and somehow I loved the idea of this movies´title (and the typo printed on the DVD cover) as her name. Although, it´s a bit somber.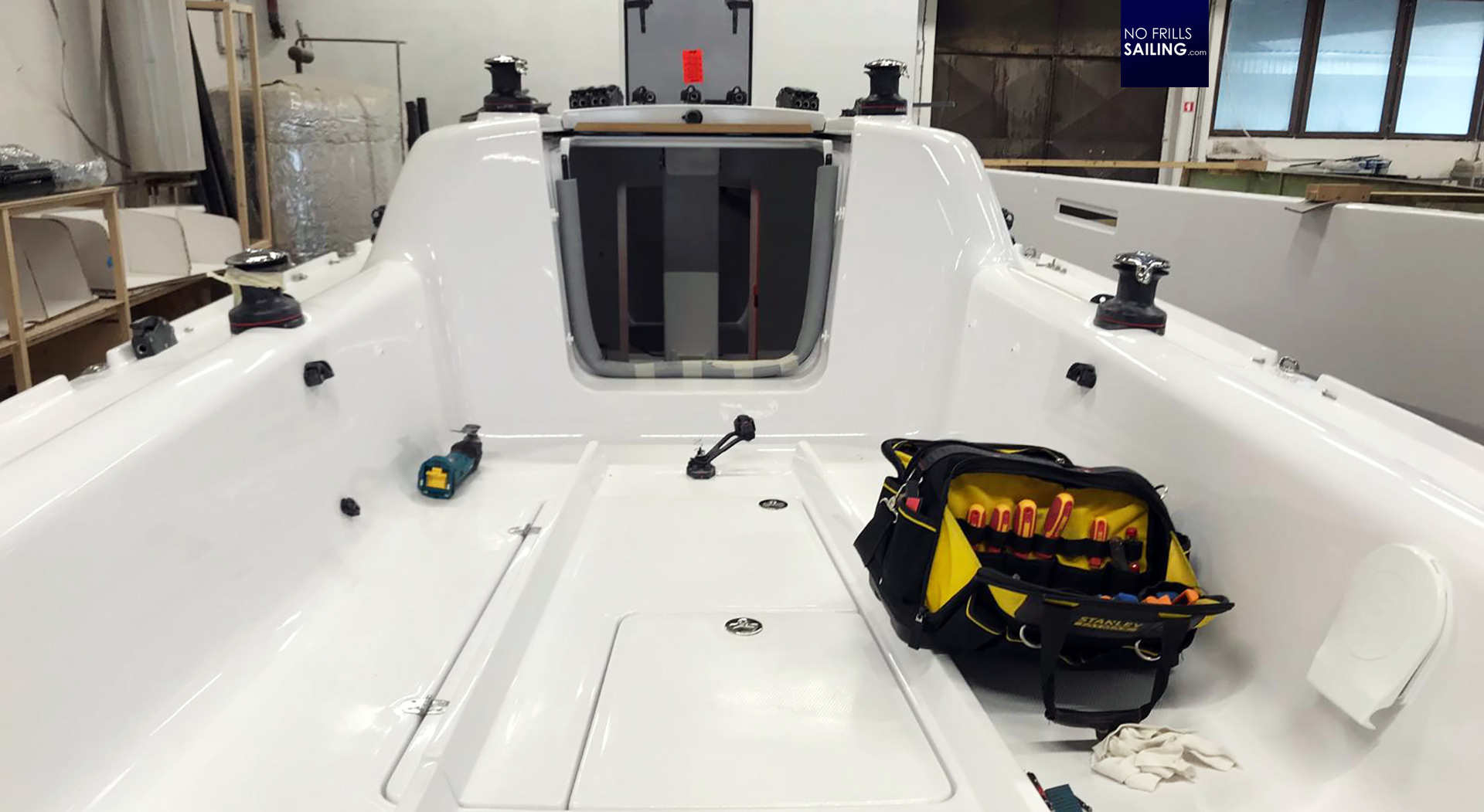 We looked up classic Greek names and found that "TARAS" was kind of interesting: It translates to "The Unsettled" which I liked as it kind of refers to the character of this boat being fast, very quick. "SOI" was also a good suggestion, meaning "The Life", but a bit too pompous for a 27 feet boat. Now, every morning when we got up and took a breakfast stroll at the beach we went past a little coastal forest to the beach. There a little green turtle used to live, we saw and greeted her every morning. The kids named her "OXXO" and that was also the name they strongly proposed.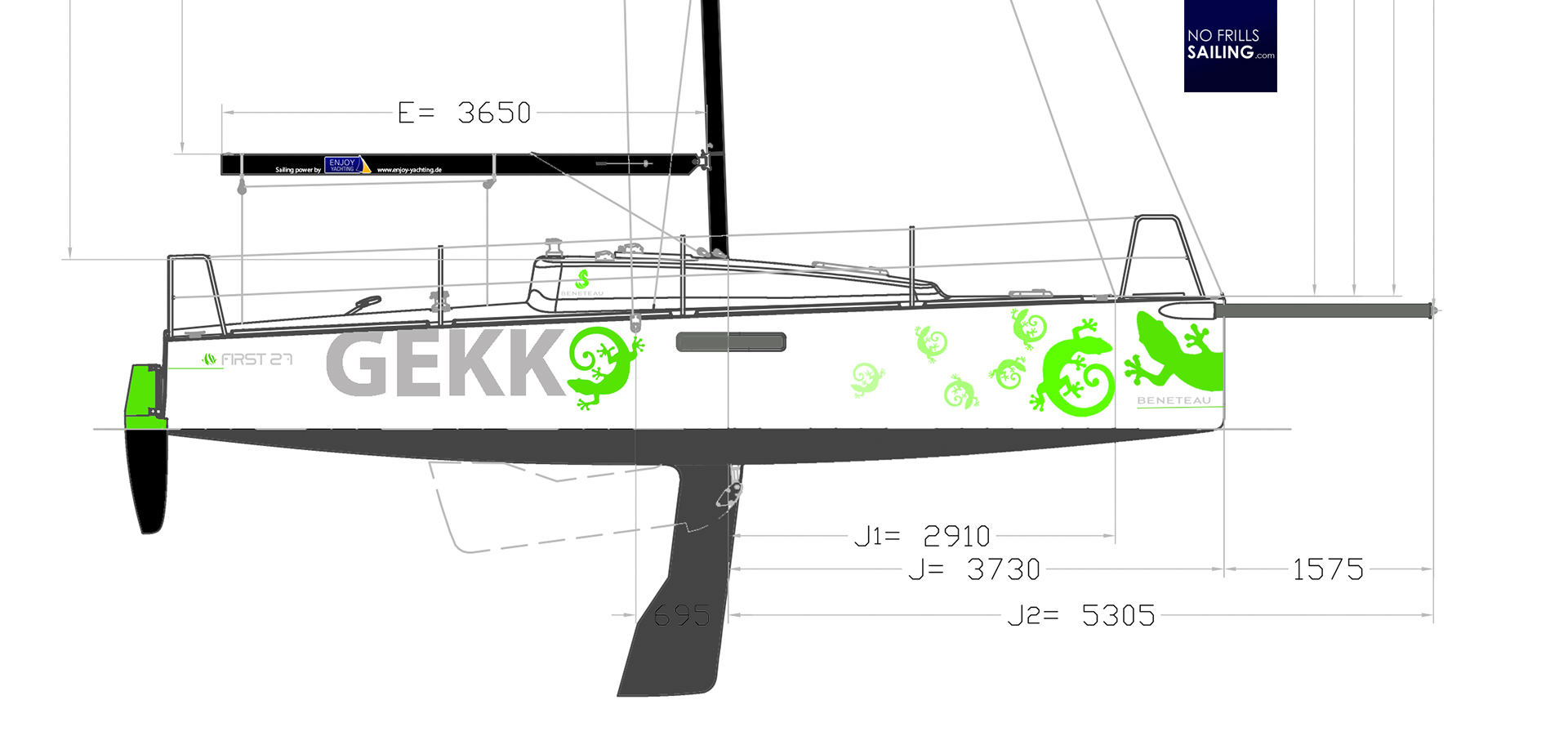 I liked this idea very much because it was a short name, very catchy and also beautiful to look at when printed on a boat´s stern. It also had a personal meaning and a story to it, a significance for the kids as they loved the turtle and every morning got excited when she was there munching her fresh green grass leaves. What I did not like though was the connotation of a turtle being a slow animal – it just didn´t fit to the fast sailing First/Seascape. At one night, we heard a loud scream coming from the sleeping room of their mother: We ran there and saw her straight up in the bed. She pointed to a small thing at the end of her bed. A gecko. A cute, small, sweet, green gecko. Finally, the name had been found!
Designing my new boat
So we all agreed on naming the boat "GEKKO" which is a ship´s name I am totally fond of. The kids love it too as it as well as "OXXO" has a personal meaning and a connection to a nice memory for them. So I sat down to come up with a quick design for the boat´s outer appearance, mainly taking on the green skin of the gecko we saw that night and transferring it to the boat. A day or so later I received a new set of pictures, this time from the boat´s interior. The Seascape/First 27 is admittedly not the brightest boat in terms of natural light. There are only two hatches functioning as skylights and two narrow hull windows. So I opted for the most "fresh" look choosing from the available cushion colors. Orange cushions. Light grey side bags.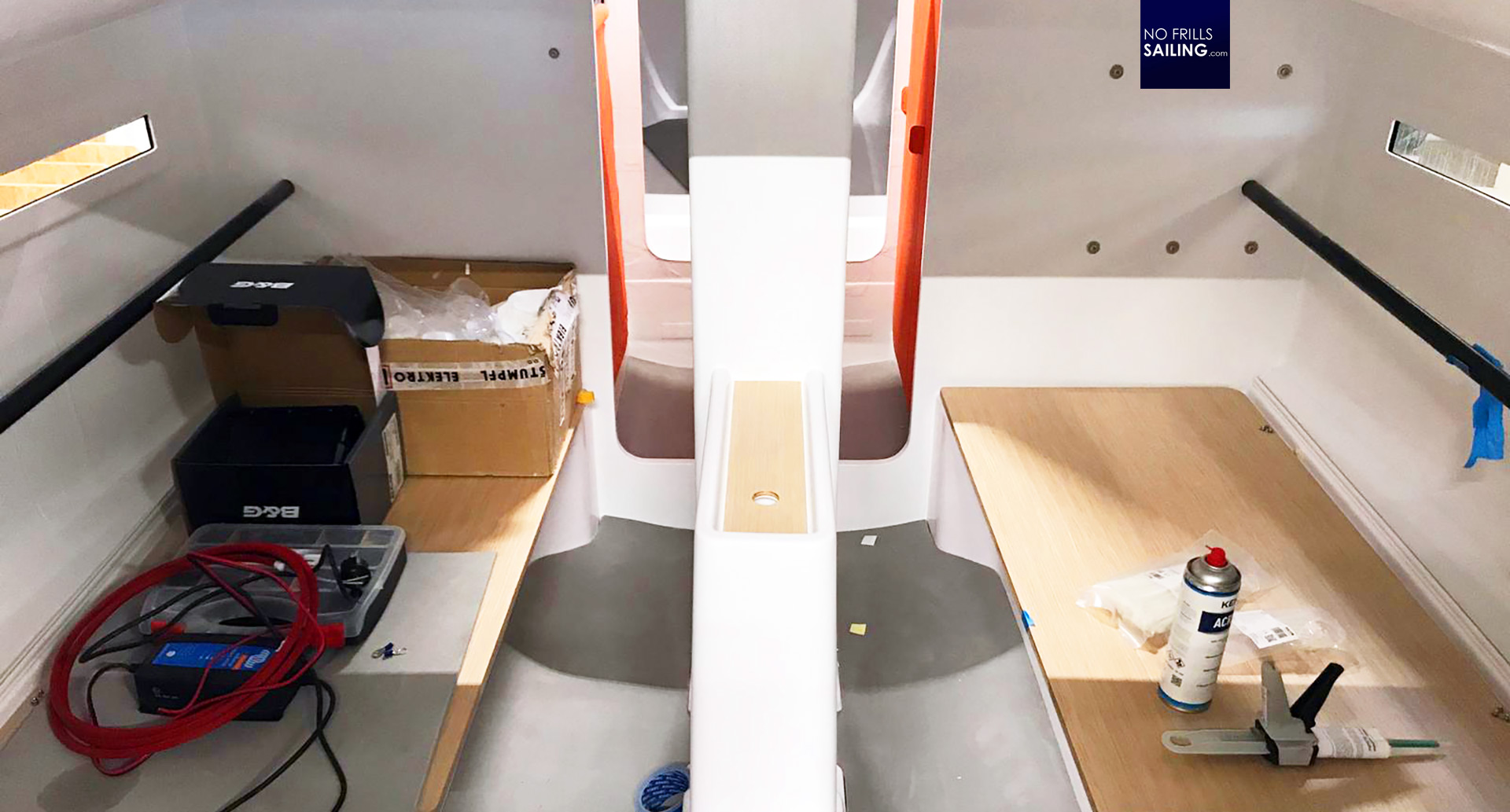 How could I draw a connection from the boat´s color choices to the green gecko? I did not had an answer yet. Skipping any decisions on that I just enjoyed seeing the boat being completed. A closer look was revealed by a picture on the hydraulic system for the swing keel – a feature I am going to take excessive advantage from as I love anchoring and promised my boys to "explore" shallow areas, "secret" bays and "pirate islands". So lovely.
I also contacted my old friend from Rosch Yachts, Ralph, whom I visited some years ago near Hamburg (here´s the article) who runs a company manufacturing and applying faux Teak solutions. He visited me on the First 24 MADCAP which I was sailing late summer in the Baltic Sea and took some measurements: I am going to replace the standard flooring inside the boat with a new fake Teak boarding in light grey with white caulking. That day my son very proudly showed me a drawing: A green GEKKO boat. How proud can a dad be?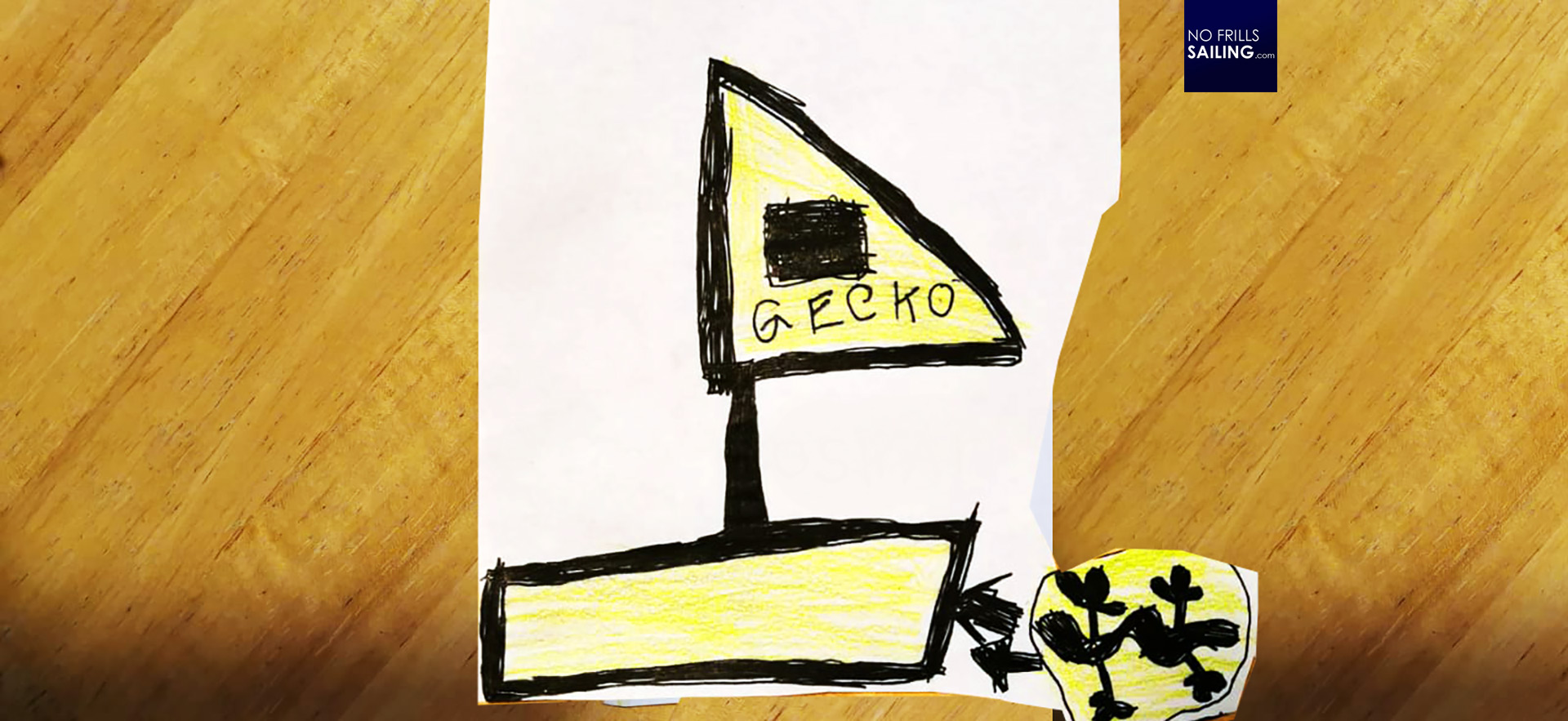 The kids are really excited and can´t wait to see the boat. It is so satisfying to watch them talking about it, how we would board her, spend time on her, sail her and – most heart moving – be together as a family on that boat. It warms my heart and it is really a relief and makes me so much look forward to see the family being excited and cutty on when the new boat will arrive: "Daddy, wen GEKKO is there, can we sail to …?", is a frequently asked question now. I am so happy.
Adjustments
Nevertheless, as I think about the design choices I have made when I was ordering the new boat and the design I am thinking about from her outward appearance in connection with the new name we all agreed upon I wasn´t that satisfied. Having a predominantly white boat with orange and green cushions inside is somehow a stark contrast to the plain Granny Smith apple-green approach of the outside. I would have to make an adjustment.
On one of the pictures sent to me by the yard the boat is seen from the side. Still all white. Like a fresh sheet of paper, ready to be written upon, a new story to begin with, a new chapter. Literally, a new chapter for my life and most certainly a segment of my kid´s life that is going to have a major impact on their lfes. I take these choices very seriously: We all have memories of our youth that have kind of shaped the way we are now. I am sure, this boat will have an impact on my kid´s life: I want it to be a good, useful and wonderful one.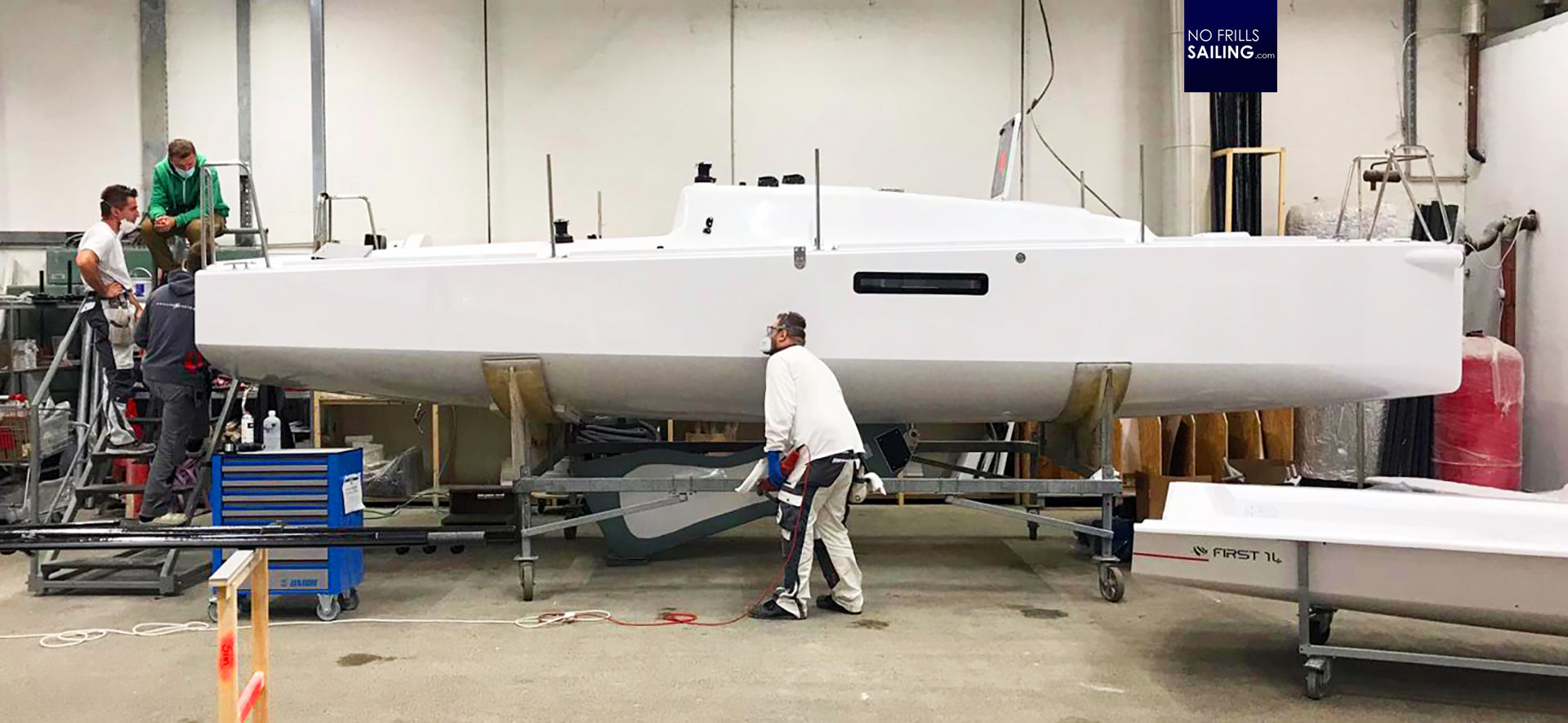 Going through the specifications I noticed that another design choice of me – the Gennaker – did not really fit to the green GEKKO-design. Orange and blue are going together most perfectly, but orange, blue and green is a rather odd combination for sure. I called the yard and tried to switch from Light Blue to Neon Green, which would have been most perfect for GEKKO, but the Gennaker has already been produced and delivered. Now. Blue.
So it took me one or two night sessions with Adobe´s Photoshop to step by step apply changes to the overall green-design of the boat up until I did had the idea of incorporating the blue of the Gennaker and have it turned into green the down to the stern. I love that new design, it got an instant approval by my kids. I find it more exciting to look at because it´s more colorful, more dynamic. It also fits to the blue Gennaker, communicated the name GEKKO much better.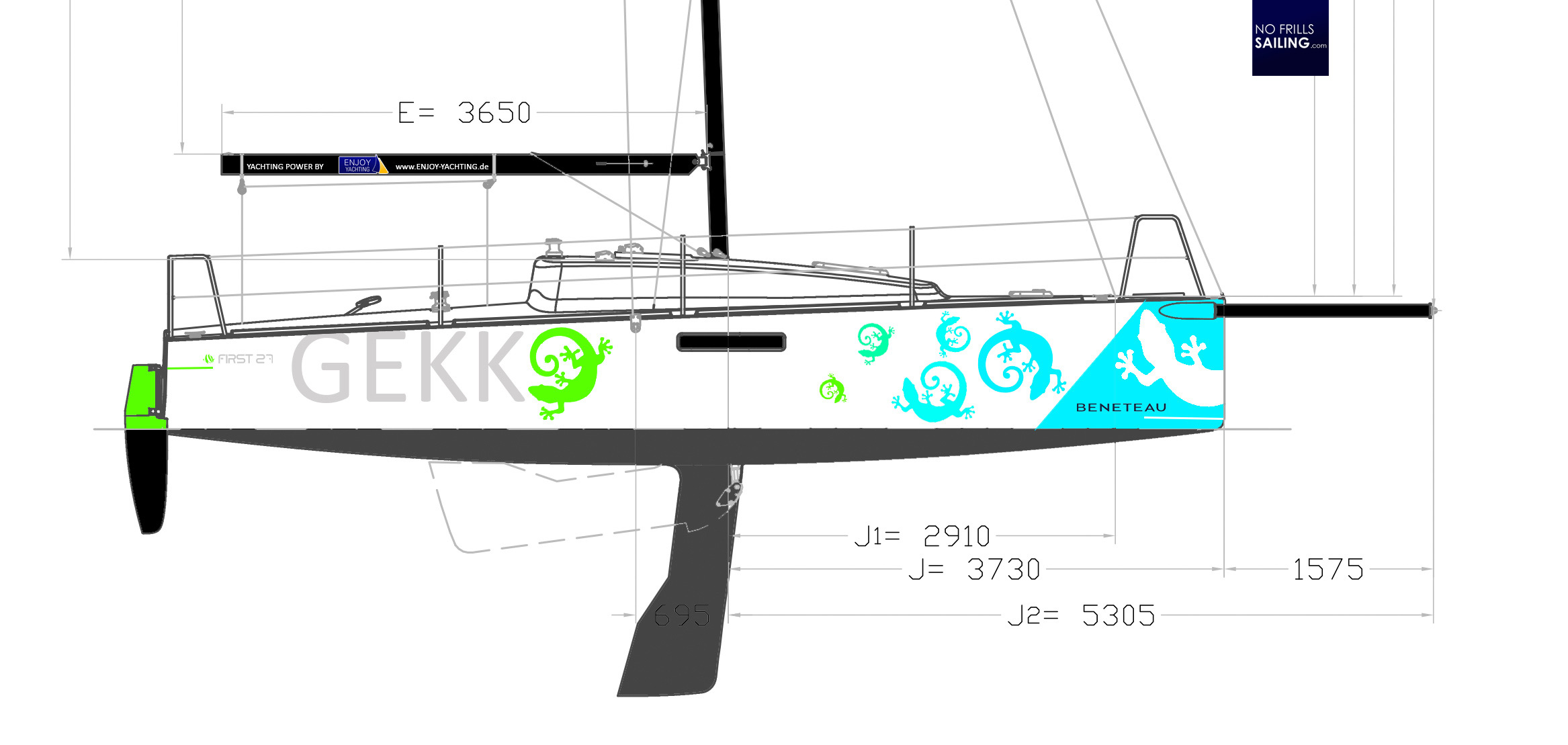 With that name – GEKKO – and the final design for the hull, I am now eagerly awaiting the good news of the boat being completed in the yard in Slovenia. Hoping to be able to drive down and collect it an the yard by myself somewhat around early December is still an occasion I strongly hope for: Lucky me, as a Beneteau dealer this would be an occasion of my professional work so even in case of a lockdown it would be a designated "professional case". We will see. For now I am very happy of having found a name that has a true meaning to me, to my family as well and being able to come up with a catchy unique design for her outward appearance that fits the overall character of the boat. What a great start into autumn for sure. How do you like it, dearest readers?
You may also be interested in these articles:
Criteria to finding one´s new boat
Decision made: Why I opted for the Seascape/First 27
First time on a small sailboat