As summer moves on and the hard grip of Corona virus at least apparently and slowly seems to loosen a bit a kind of partially normality has returned to my life. I am happy that both my job and the market I am working in – up until now – do not seem to be affected as much as I had feared at the beginning of the crisis. We are all working hard and hoping for the best. Good news slowly emerge as well and they are giving hope. For myself – very personally – there are also very good news I´d like to share with you guys. I still can´t believe it and saying it out loud still feels kind of awkward: My new boat is ordered and she is in production right now!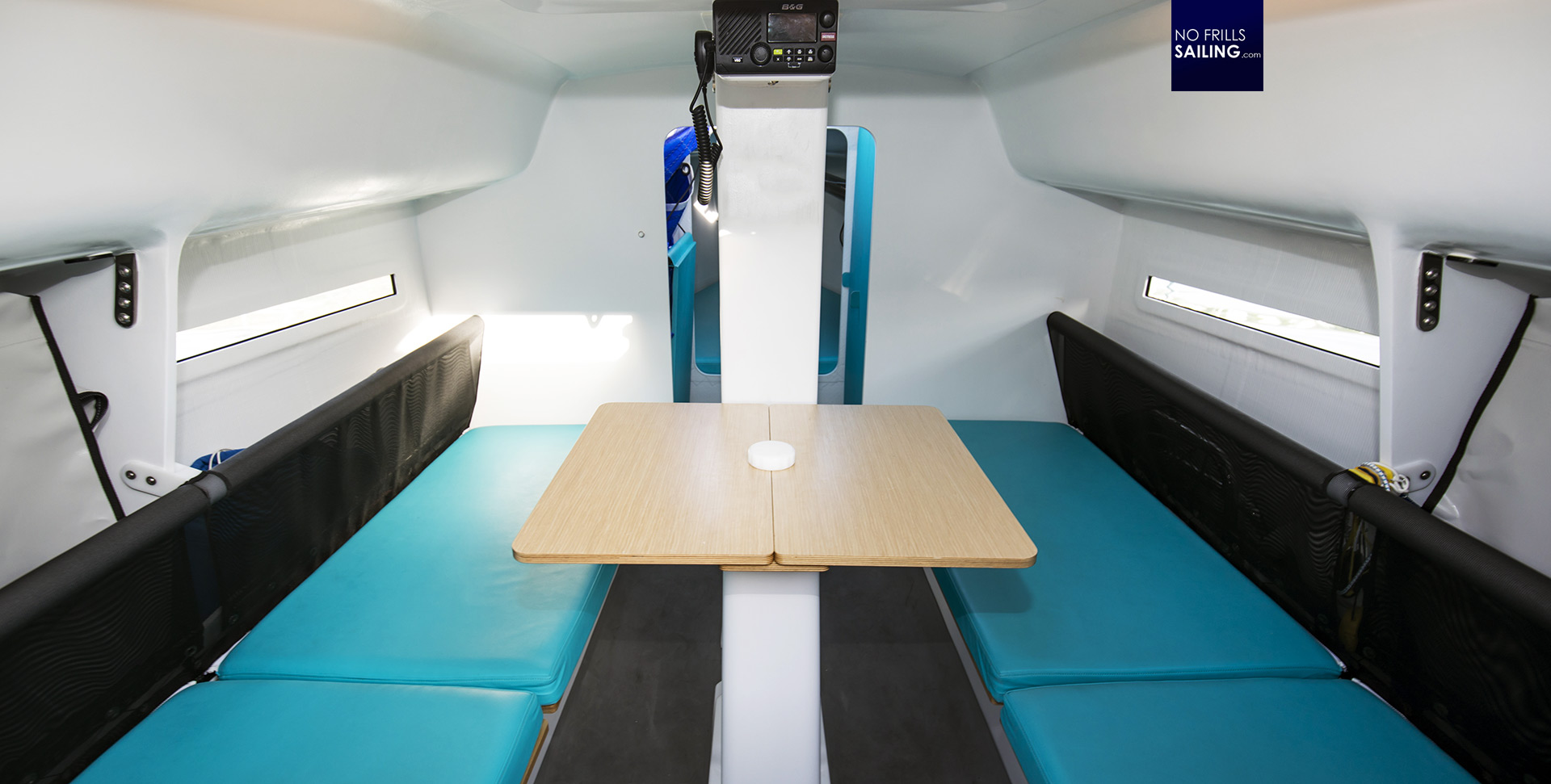 Yeehaw! Yes, you are right: She is finally ordered just a couple of weeks after selling my old sailing yacht, the King´s Cruiser 33 OLIVIA which is now in good hands. After a long, troublesome and exciting journey pre and after Covid 19 I´ve finally come to terms and made a decision: It´s the Beneteau First 27 I am going for, or, for the more classy people, the Sam Manuard designed Seascape 27. Why I finally chose this boat? Well, read this article. Now I´d like to tell you more about the specific configuration and why I chose particular options – and others not.
The specification of my new sailboat
First of all you need to understand that due to my job I am able and obliged to sail with the "big" boats during normal working time. That´s for example as a part of the handover process to clients, yard visits or sea trials with clients. Also, sometimes my company, as we are a Beneteau dealer, may have yachts available as showcase-boats which I can and have to sail anytime. So, after calculating the whole project I´ve decided that it would be a massive waste of money to acquire a bigger boat for myself as I can sail them literally anytime I want.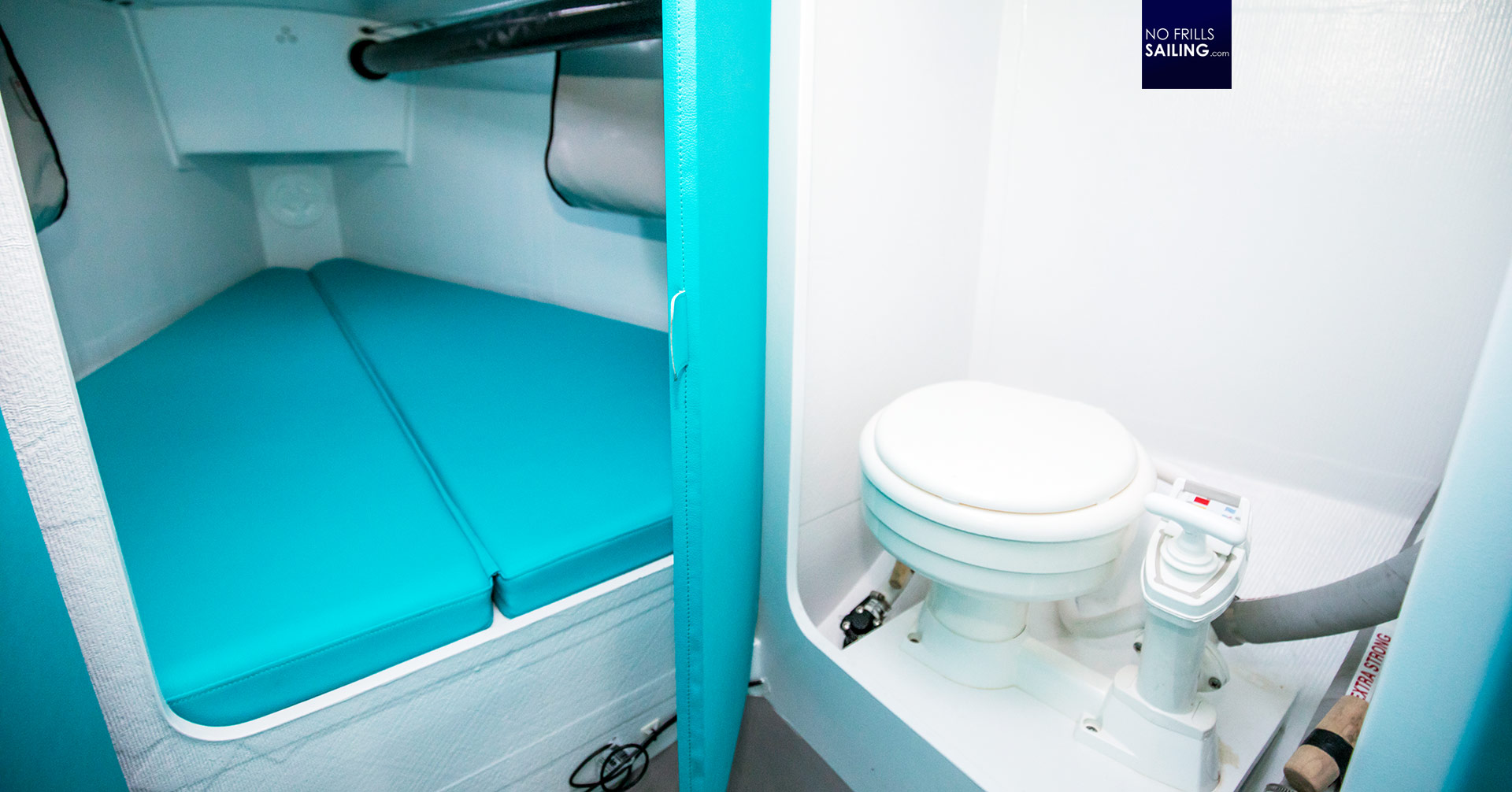 All the pros for a small boat I have outlined in one of the earlier articles so, how is the new First 27 equipped? Well, most of the time I will be out sailing alone or double handed. These will be short trips, daylight sessions, prolonged weekends and mostly with my kids. So I need a boat that grants a minimum of onboard comfort. The First 27 is blessed with a proper onboard-toilet which is a great feat. I also like the various berths, either in the bow for two people or the bunks in the small salon. Of course I did not choose the flamboyant blue color as shown in this picture but shiny orange, just like with our First 24 MADCAP we just received in the company.
I did not opt for an engine yet. That´s due to two thoughts I currently have: First of all, the Tohatsu outboard engine is very, very loud. That is a thing almost all Seascape 27/First 27 owners I know of tell me and an experience I did for myself when I tested the boat two years ago. It´s loud and – which is of more concern to me – powered by ordinary gasoline which, well, stinks. I hate the smell of gas. And I know no matter if you store the tank outside of the cabin under the cockpit, it will stink. Alternatively Torqeedo offers as powerful electric version, the 4.0 Cruise, which won´t stink at all. But this machine comes with a huge price tag – that´s 13.000 Euros compared to the 4.200 Euros for the combustion engine. Well. I have to think very hard on that one …
The question of the sails
When the order was placed, I received some whatsapp messages sending a colorful palette of all available Gennaker-colors. Again, the choice was simple for me as I have a clear vision of what the boat should be looking like: I opted for the "Aqua Blue"-color for the 80 squaremeters Gennaker for which I am so much looking forward to finally try out in person. A bit harder is the decision to make for the standard sails of the boat. See, the Seascape-DNY is deeply rooted in shorthanded racing. That was the idea of Andraz Mihelin after he sailed the Mini Transat. Of course, both the 24 and the 27 feet boats are conceived to be used for travel, vacation and "mini cruising" but the boats are still built to be light (vacuum infusion) and fast.
So sail-wise they come with laminate sails by One Sails and/or North Sails. Normally I would appreciate that fact because, as I mentioned earlier, I can sail the large yachts which are mostly equipped with standard Dacron cruising sails, anytime I want. Luckily my company is also dealer for Quantum sails – so I asked our contact to give me a quote for a jib and mainsail by Quantum made of a high-quality cruising laminate but not as "aggressive" as the true racing laminates delivered by the yard. I do not have a price for these yet but I am looking forward to how both offers compare.
Pleasant anticipation …
The First 27 should be ready within the coming weeks and arrive maybe late summer or autumn. A trailer is ordered too which is now in production in Southern Germany. I am excited like a small boy, as you may imagine, and hope to get to sail the First 27 this year before winter arrives. Other than the big decisions on engine and sails, I opted to have the "big" auto pilot, a B&G NAC2, the whole solar-power and shore-power package, the table, the electric/hydraulic lifting keel, and VHF. I did not yet order the plotter but I know I will have to fit one to the boat. All in all I think the boat will come with a very good configuration.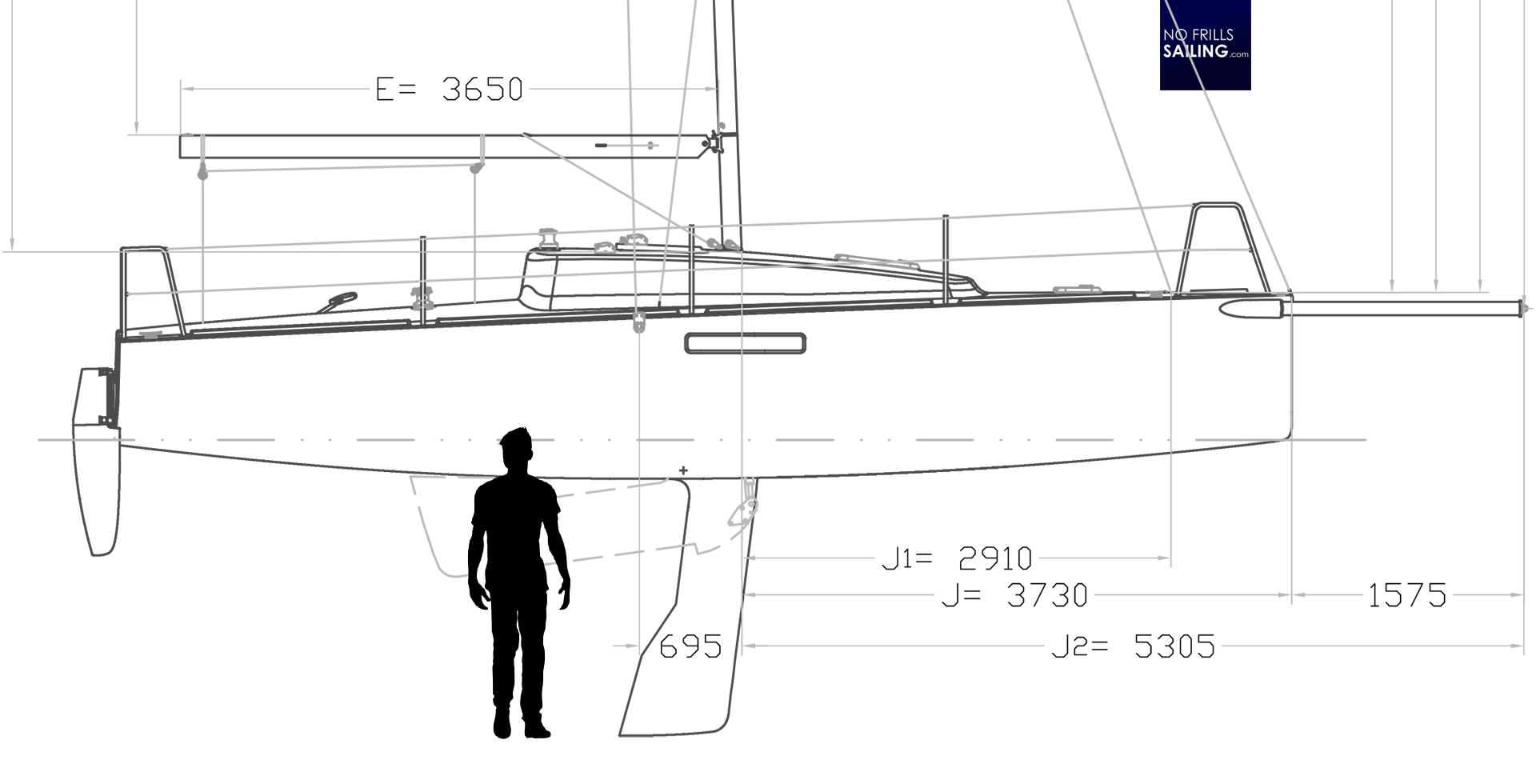 Most of all my kids are excited too. At last we will have a boat at our disposal for short sailing adventures "around the corner" and a chance for me to slowly familiarize them with sailing other than putting them on (sometimes intimidating) big cruising yachts. As my oldest boy is now a swimmer, we maybe next summer begin to sail the Opti – having a slightly larger boat to practice, sail, have fun with and sleep on will surely be a great thing for the two. As a daddy, this is what I am so much looking forward too. But also towards sailing with friends: The First 27 can be a hell of a fast sailing beast with big time fun coming up. And last but not least, also longer coastal and Baltic offshore cruising is on the horizon. Finally I won´t have to board foreign ships but can take my own boat to Sweden, Finland, Norway´s Fjords or maybe old England? Who knows …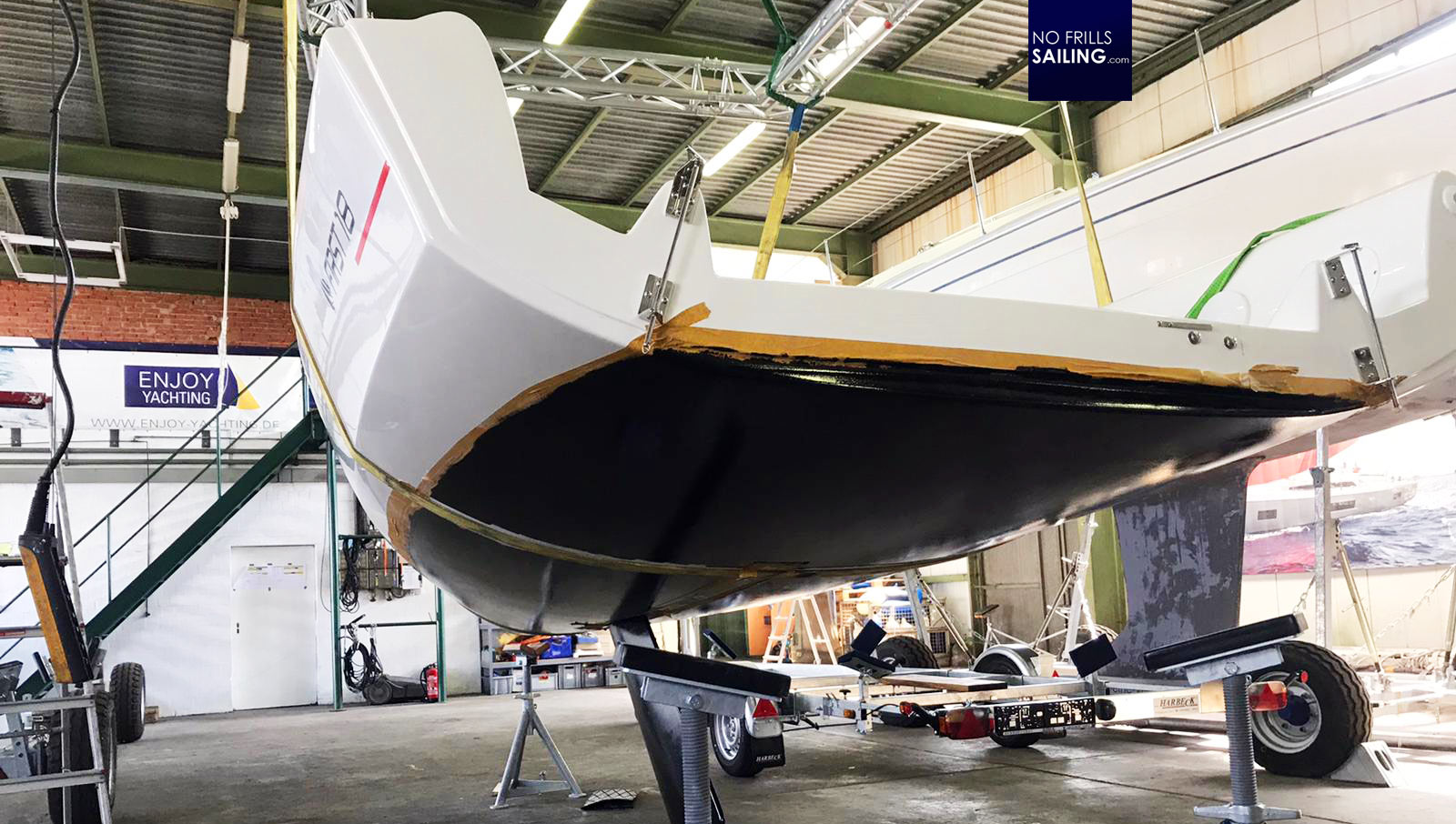 Right now patience is the motto. As the First 27 is in production, I focus on the First boats we have available at our company. That´s a First 18 which is now prepared and afterwards the First 24 MADCAP which will receive her antifouling next week to be taken to the water by me. A good chance to practice on her and improve my small boat sailing capabilities, there is still a summer sailing trip looming and I hope I can pull this one off soon. So, here we are: New boat coming up, exciting times and certainly after all that Covid-19 turmoil very, very good news.
You might as well be interested in reading these articles:
Small boat – big fun?
Finding a new boat
Used boats – what to consider when buying one