They say there are two lucky days in the life of a boat owner. You most certainly know that saying. Today was such a day for me – I´ve finally handed over OLIVIA, my King´s Cruiser 33, to her new skipper. Nico, a very determined and sympathetic guy from Hamburg, arrived in the morning with his 3 lovely kids, all excited to get to see their new boat. I must admit, it wasn´t that exciting or lucky for me: Although my decision to sell OLIVIA is month old now, I had very, very mixed feelings about letting her go.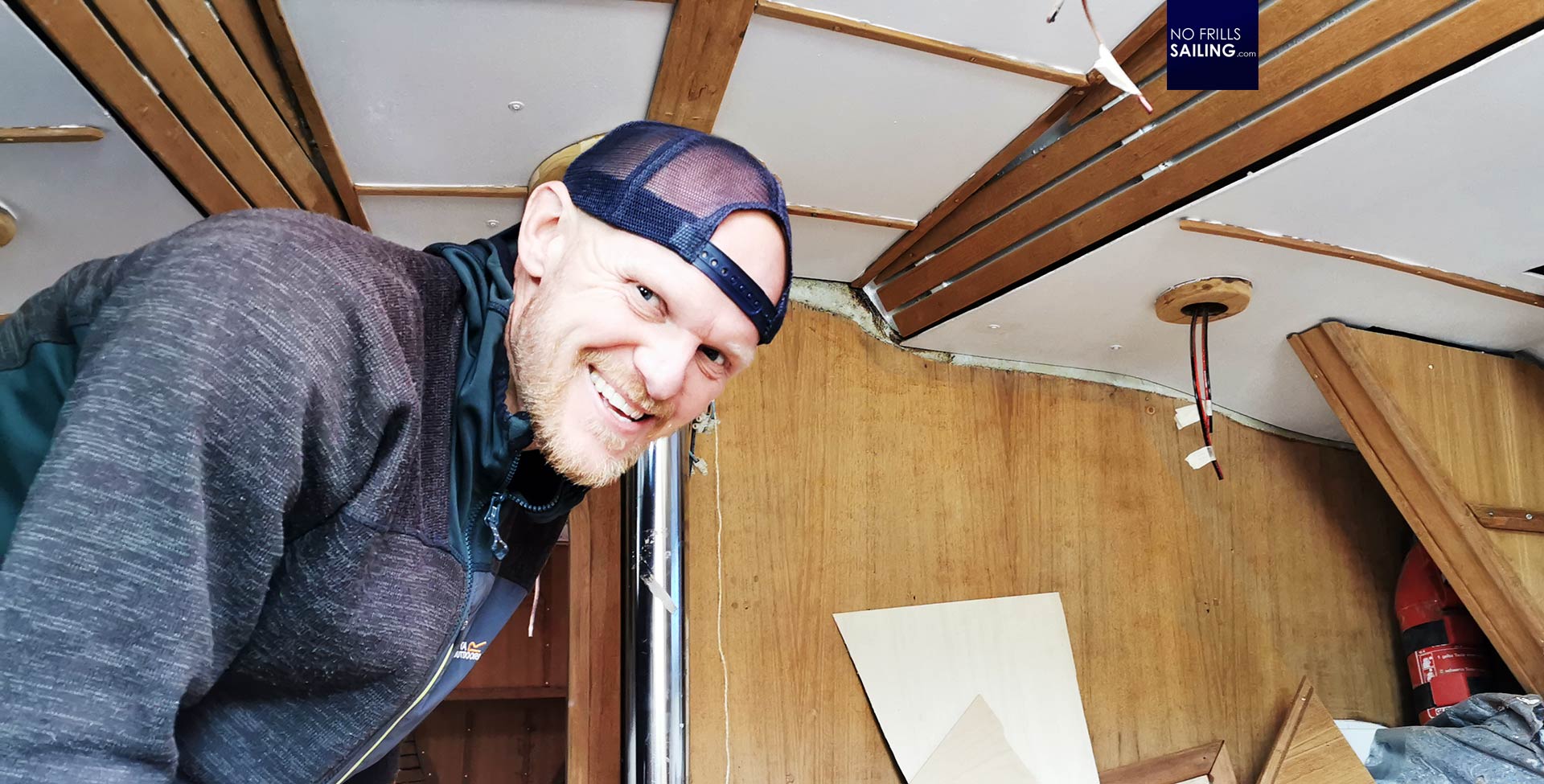 I´ve spent more than 450 hours working aboard this yacht during the last three years. I went through good and bad, I learned so much from this boat and I dreamt myself away sitting in her large saloon taking a break from sanding, painting or cutting stuff. She was a big part of my life and the centerpart of my longings, my thoughts and plans for the future. Letting her go was much, much harder than I´ve thought …
Paperwork first
I welcomed the Nico family in my flat in Luebeck early in the morning to clear the paperworks first. Therefore I downloaded a standard sales agreement for used boats and filled in the blankets with all information requested. It was as easy as ABC because the boat is in a "refit condition" so I did not have to specify the usual details for a ready-to-sail craft. We ran through the contract, signed it and the boat was officially not in my possession anymore. Strange feeling though …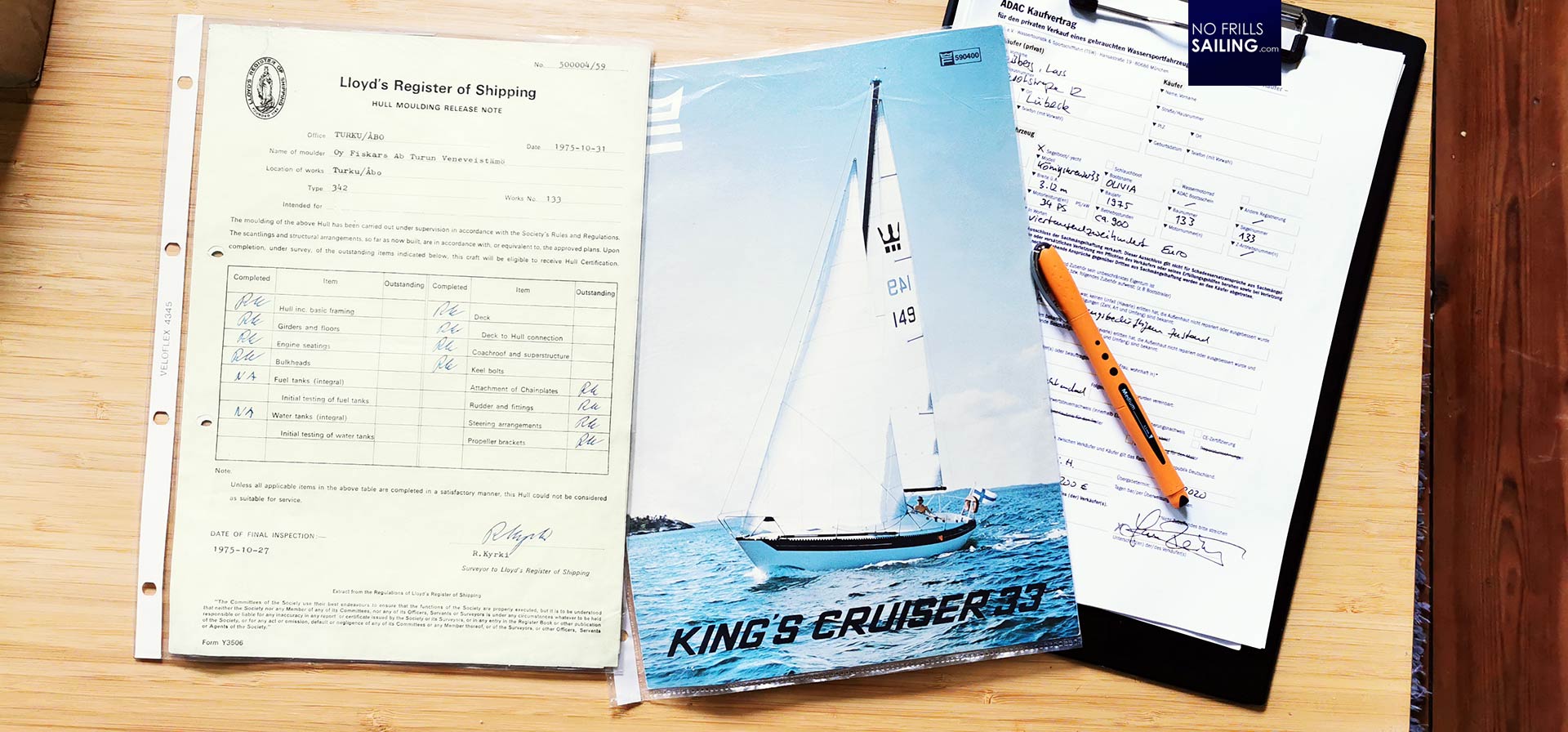 With the contract I handed over the original document of Lloyd´s of London (yeah, back in these times the boats had been commissioned by this entity, today you´ll get this service solely with buying an Oyster) and all insurance papers of the boat: The new owner under German law has now 4 weeks time to have the boat insured to his name. And then, of course, the keys to the yacht.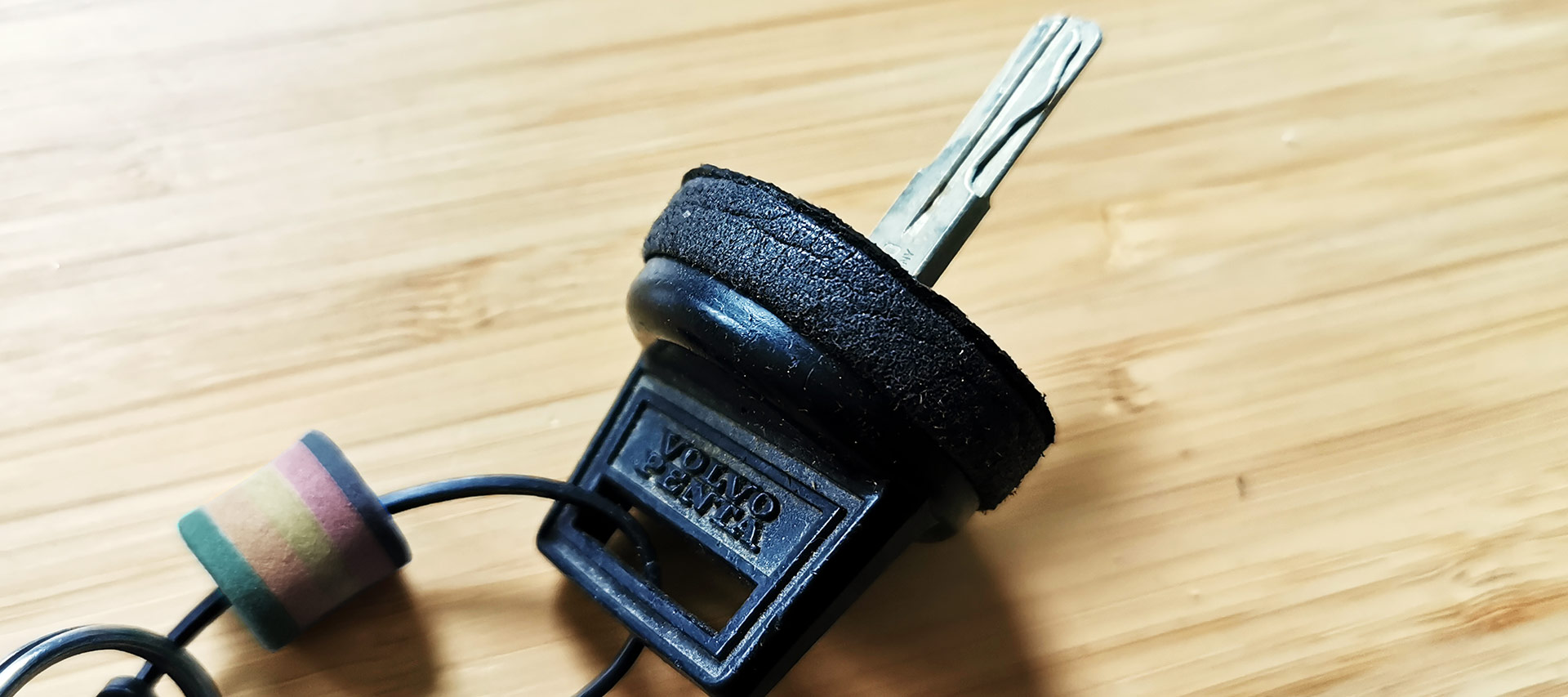 Down in the parking lot his car was waiting: "It will be empty, no problem", he told me on the phone the other day when I said that he´d need a big car to carry all the stuff. With three seats already occupied by the kids it was a tough game of Tetris to store away the cushions of the King´s Cruiser. But eventually we´ve had it complete and set off to the marina.
Boarding the new Boat
There she was in all her beauty and glory. Still I love the sleek lines by Pelle Petterson and think this boat is an absolute GRP-classic of the IOR-era. Nico knows the boat well: "We´ve had a similar boat by Fiskars, a motor-sailer. But now I do need something quicker and … a bit more beautiful." And beautiful this boat is indeed! Roaming the interiors I showed him the neuralgic points and explained where the tricky parts are: "I know it´s a lot of work still to do – but I was looking for a nice boat, a cool project and a bargain. And here we are: She is exactly like I thought. Nice!"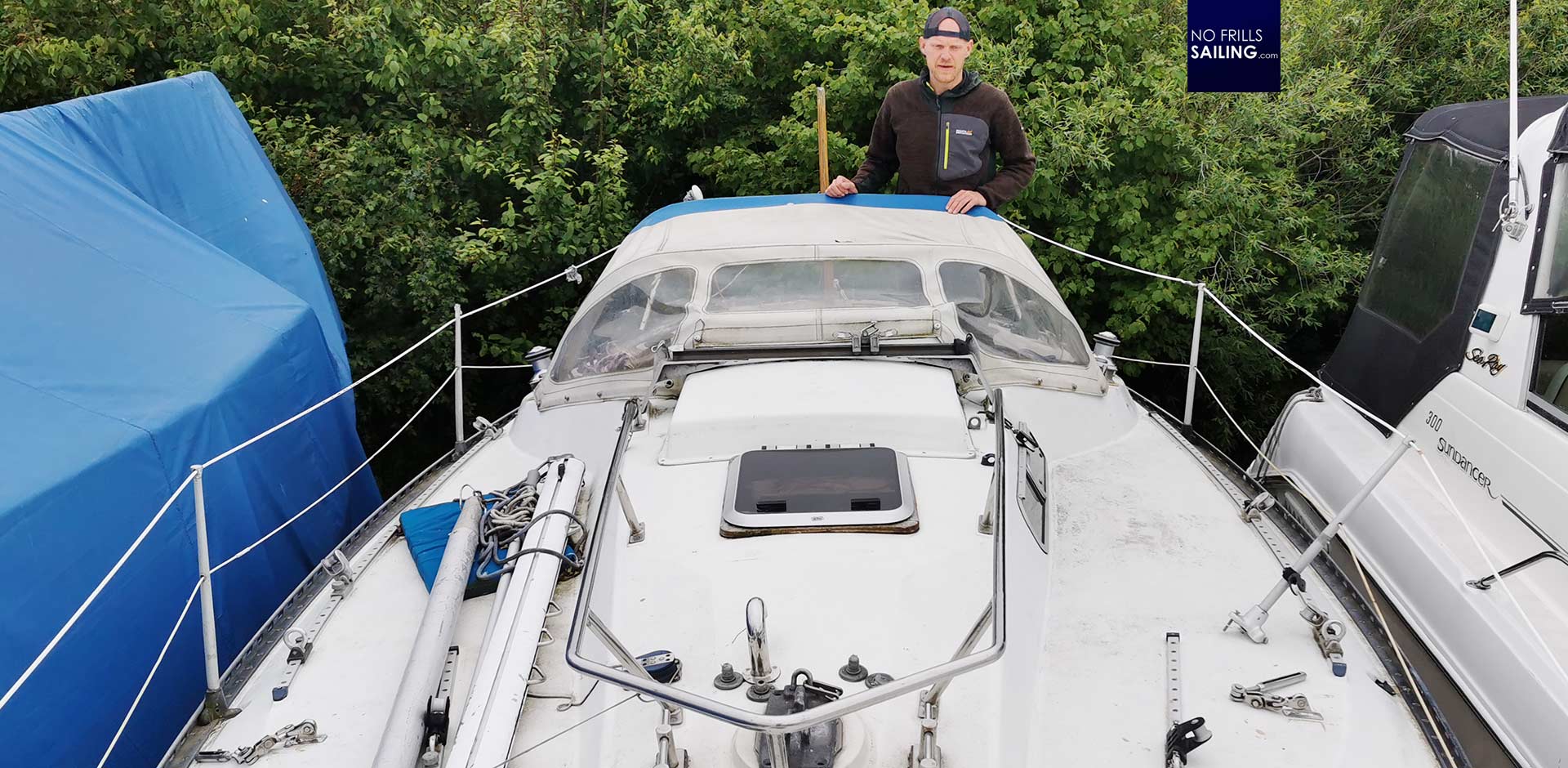 I was of course not hiding any information from him: Being open and honest always and not concealing the critical points of this boat, or let´s say, the refit-work still ahead, is a matter of honor for me. As I cannot sell a boat in my professional life I won´t do it in my private life as well. And here I am, slowly adjusting to the fact that OLIVIA is now the property of another one. I begin to feel good for the boat because I know that Nico is determined to finish her and bring her to the water again – something I couldn´t be so sure of anymore.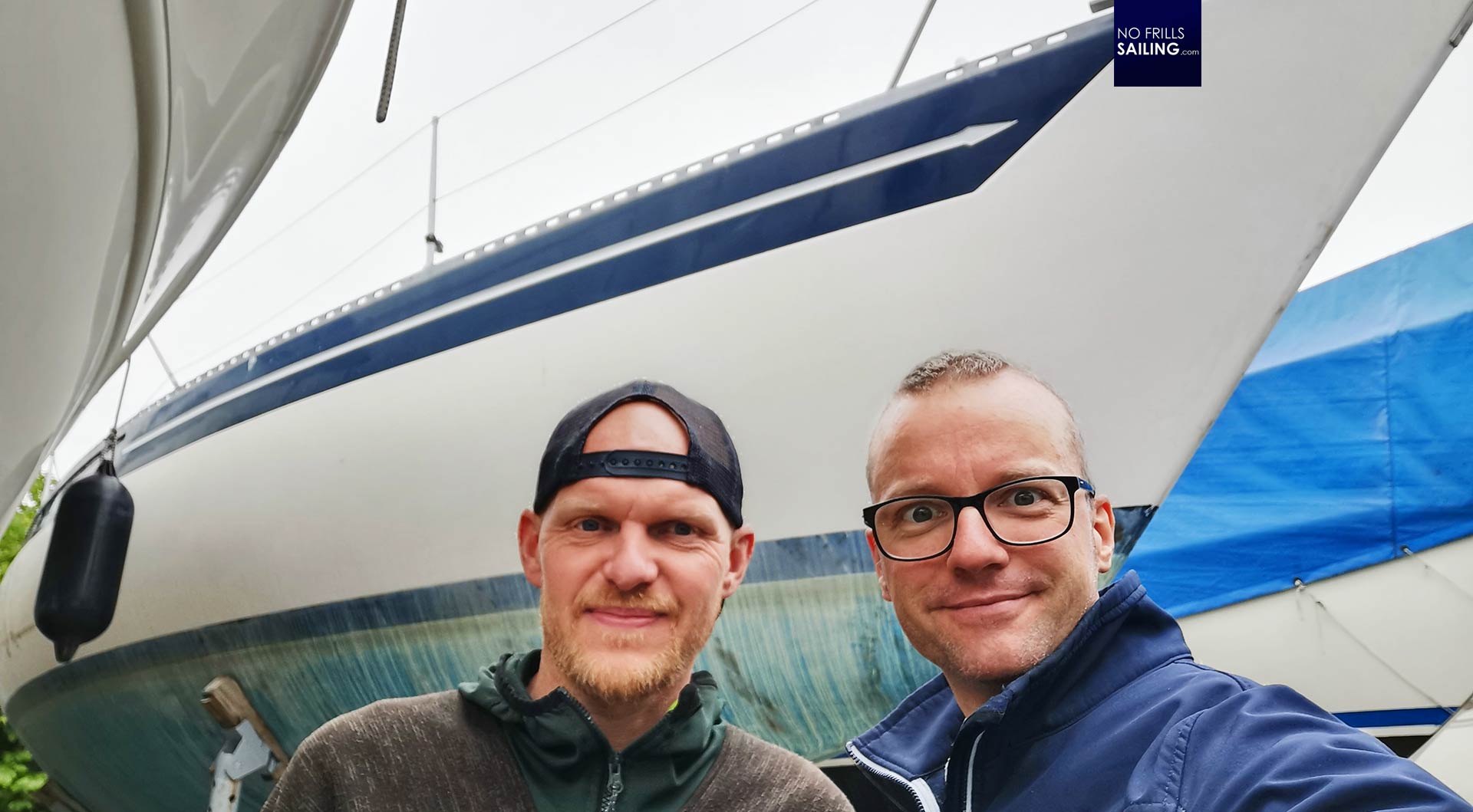 For OLIVIA and Nico and his nice family a new chapter has now begun. I wish them and the boat all the best – many, many lucky and satisfying hours aboard. I will try to keep track of this yacht from time to time, looking for her progress and Nico advancing to make "my" boat to being "his" boat. Thank you, guys: And all the best for you!
For me, of course, a new chapter will begin soon: As you may have read, I´ve nearly made my decision which boat to buy next: It will be a new boat, no refit, so sanding, no painting, no dust – just hoisting the sails and off I will be to some new adventures. Stay tuned!
All articles on Pelle Petterson´s masterpiece King´s Cruiser 33:
All data and my refit project
All articles on the Kingscruiser 33 refit
Visiting with the first owner of Kingscruiser 33 #133 OLIVIA