As Corona is slowly retreating and – Thank God! – boating business is waking up as well as the whole sailing scene, I can start to think of the upcoming summer vacation. Well, for sure, it will take a lot of time to return to "normal", whatever this new normal will look like, but as marinas are opened again, owners are allowed to see their boats and bring them back to water after this long winter season and at least our neighboring countries open their boarders as well, a summer sailing trip in the Baltic Sea at least appears to be feasible. So, here I am thinking about my summer sailing trip. A client of mine inspired me …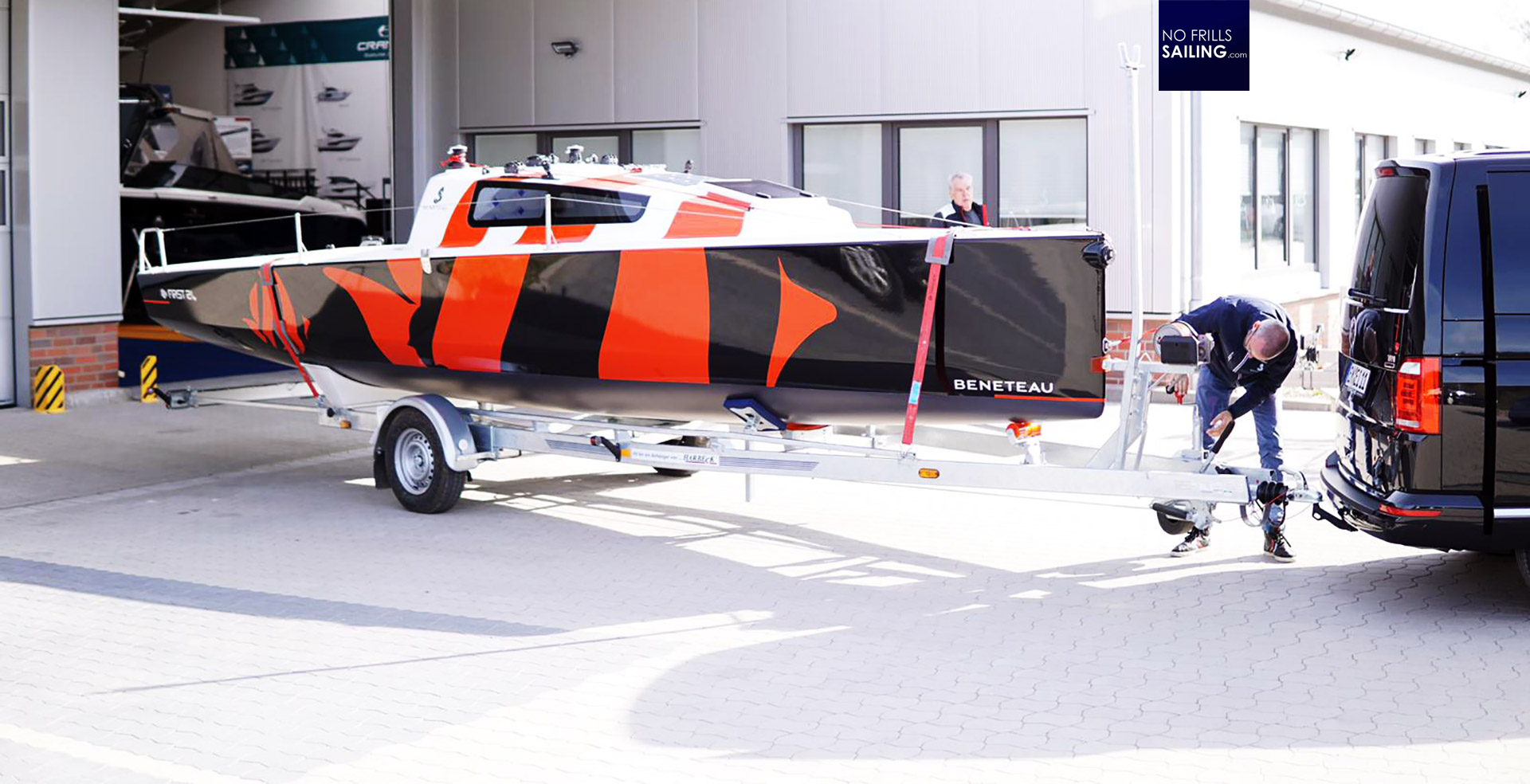 Some weeks ago I delivered a brand new Beneteau First 24 – the ex-Seascape – to Dieter. Dieter is a client of the company I work for and I remember vividly his bright face when he saw his First 24 the first time, his son so proud, both craving for going out and hoisting the sails for the first time. I also remember very clearly what he said to me upon leaving: "That´s the best boat size: Small enough not to annihilate your bank account, very gentle in maintenance cost, can be transported everywhere, robust and – fast, fast, fast for max fun!" Well, I cannot disagree as he was absolutely right. One week after handover Dieter sent a picture showing his First 24 at the crane: "Let´s roll!", he wrote. I was envy.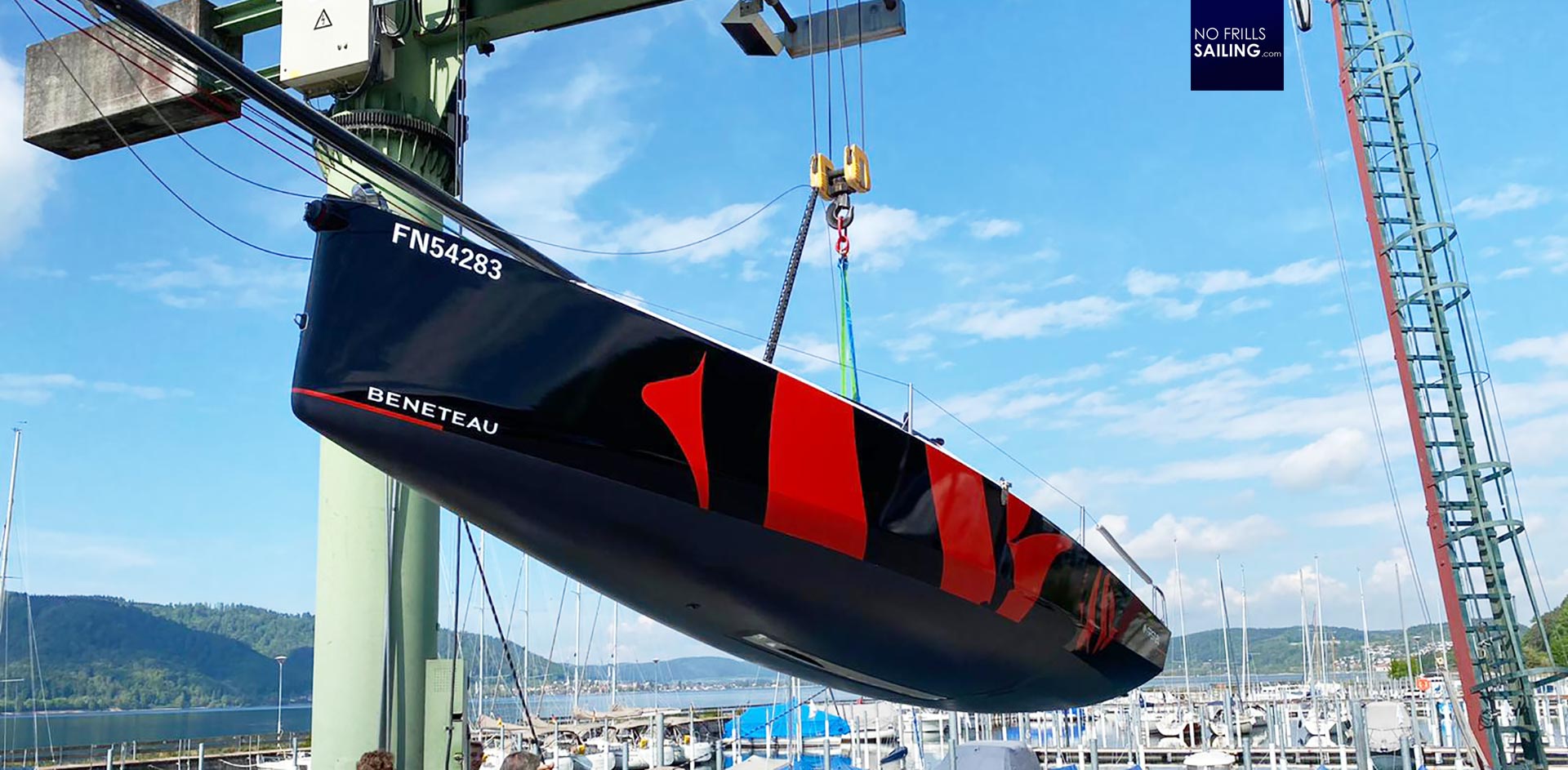 As Corona-restrictions become more and more loose a certain feeling remains after the virus. Many people, including myself, kind of fancy a more humble approach to life. Value the small things. Think and act local. Taking it down a notch, being a bit quieter. I don´t know, I feel like turning the volume down is the right thing to do. So for me, boarding a +40 feet yacht for my private summer sailing-trip of 2020, when thought of it, did not feel right. How lucky I am that my company will receive a First 24 in the coming weeks as a stock boat …
The Sailing Trip: A Madcap-Tour
Since the first thought of this sailing trip-plan hit my brain I called it the "Madcap-Tour". I just love this word – and most certainly this boat will be named MADCAP – and when planning the sailing trip on my computer I realized that it will be a trip for people being a little crazy for sure. So for a start the name and the motto fits perfectly.
I have one destination in the Baltic Sea still unseen up to now: That is the Island of Anholt. I tried to sail to Anholt three years ago with a Beneteau First 30 but a very fast approaching low pressure system and the strict advice from my sailing mate (who is a professional pilot in the German Bight/North Sea) made us cancel this destination. Anholt is an island just in the middle of the Kattegat, an open water area between Northern Denmark and Sweden, the "doorstep" of Gotheburg. The island is said to be very, very beautiful and since I am a big fan of the Island of Bornholm I guess it´s worth a visit.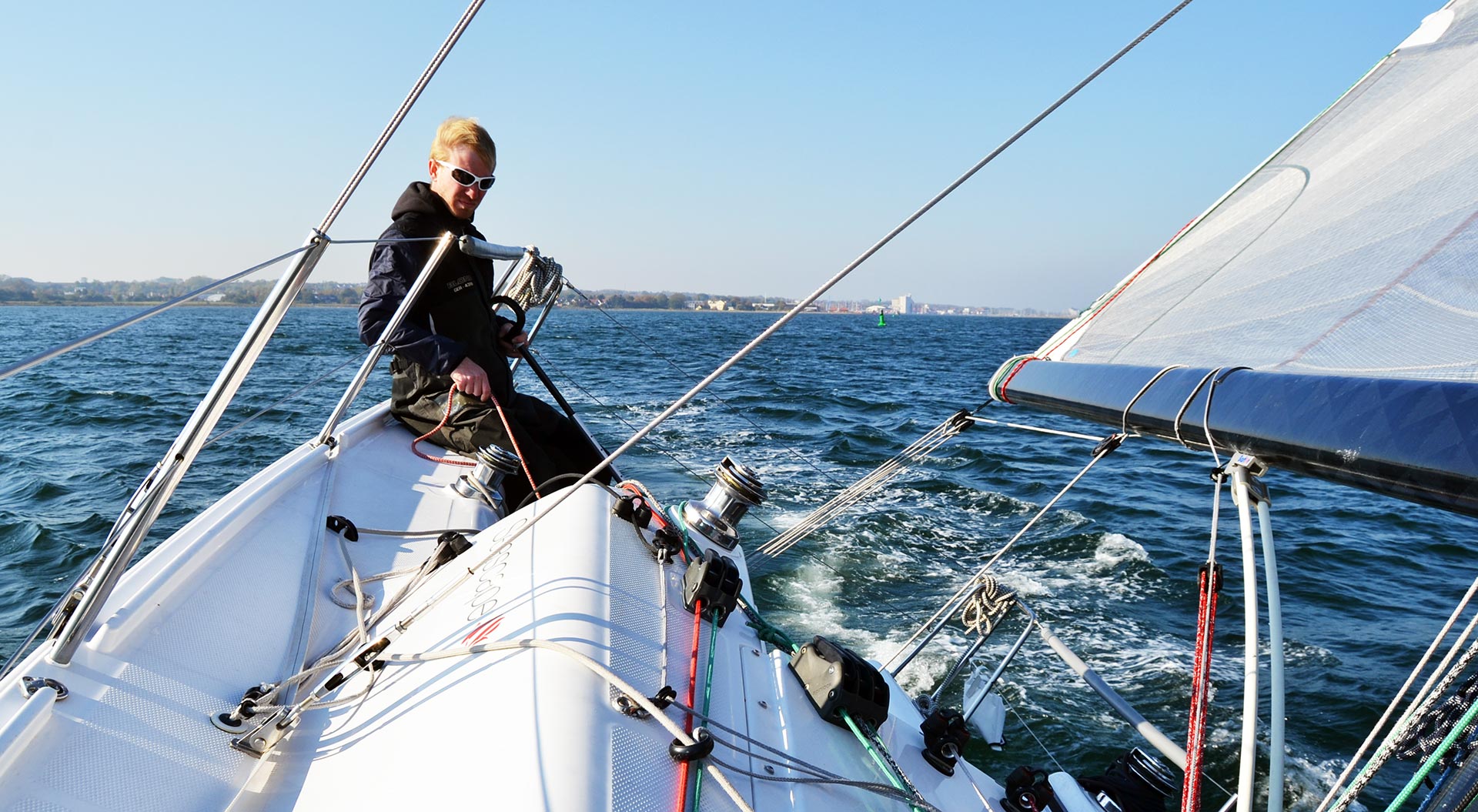 Why "Madcap"? Well, since my sea trial on a First 27 I know that sailing the Seascape-boats is unlike sailing a "yacht". These boats are more sports utility than yacht. They´re made for fast and fun sailing, for downwind planing and regatta racing. The boat I will be boarding won´t be equipped with any – not even the basic – amenities "needed" for a sailing vacation: No WC, no heating, no galley … basically, the boat will be empty. Thus it will be light and on the other hand being equipped with laminate performance sails and a Gennaker the focus is on quick, pure sailing. 400 miles. A Madcap-trip for sure.
Minimalistic Approach: How much Boat do you need?
I like this approach since it fits my latest decision in which direction I should go for my own new boat. Since my King´s Cruiser 33 is sold and one cannot live without a boat, I am looking for a new one. Some changes in my personal life and also the change in perspective due to Covid 19 brought me to the conclusion that less is more and that the old saying "go small – go now!" is the way to go for me. Sailing on an even smaller boat like the First 24 should be a great dress rehearsal of how much boat do I really need and how small I am willing to go.
The Beneteau First 24 is a fascinating boat. I will post more on her sailing abilities as soon as I have the MADCAP in the water and for this time I am focusing on her interiors. She is far from being empty, of course. If a sailing yacht is a "caravan on the water", the First 24 can be described as a "tent on the water". Because that´s what she feels like when being boarded. There is no panel, no wooden accessories and no facing whatsoever: Just pure lacquered vacuum infused GRP. The boat´s interior is one single continuous room – just like in a tent.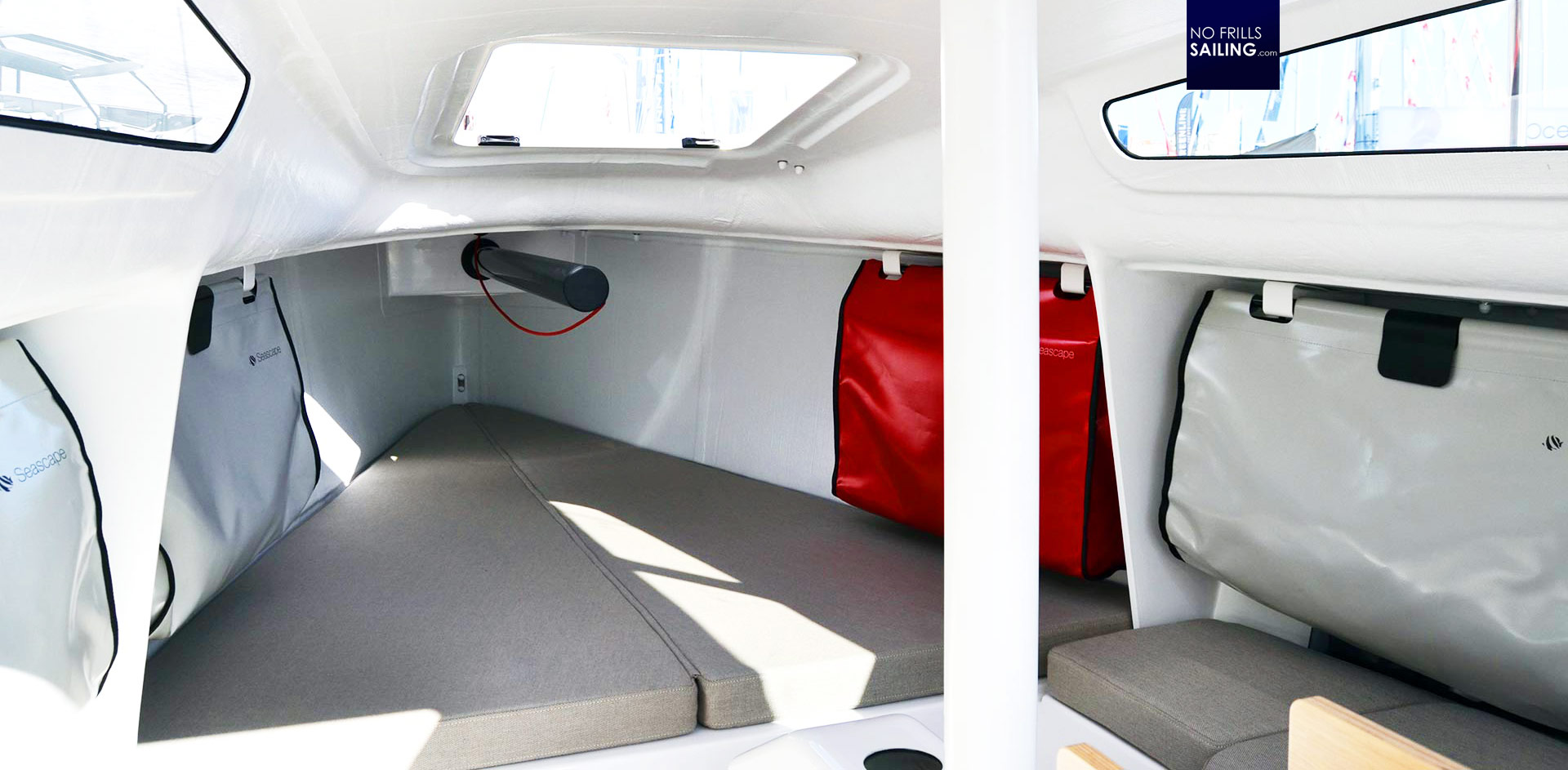 The fore "cabin" features a V-shaped berth that will be more than enough for one adult, two may fit if one of them is a slim lady and both are love. Two another adults can find a good night´s sleep on the aft bunks where they can place their heads on a cushion-extension right in front of the entryway to the boat. It´s here where a portable toilet could be stowed and a small fridge may be cooling some cans of beer – none of which is ordered for "my" boat.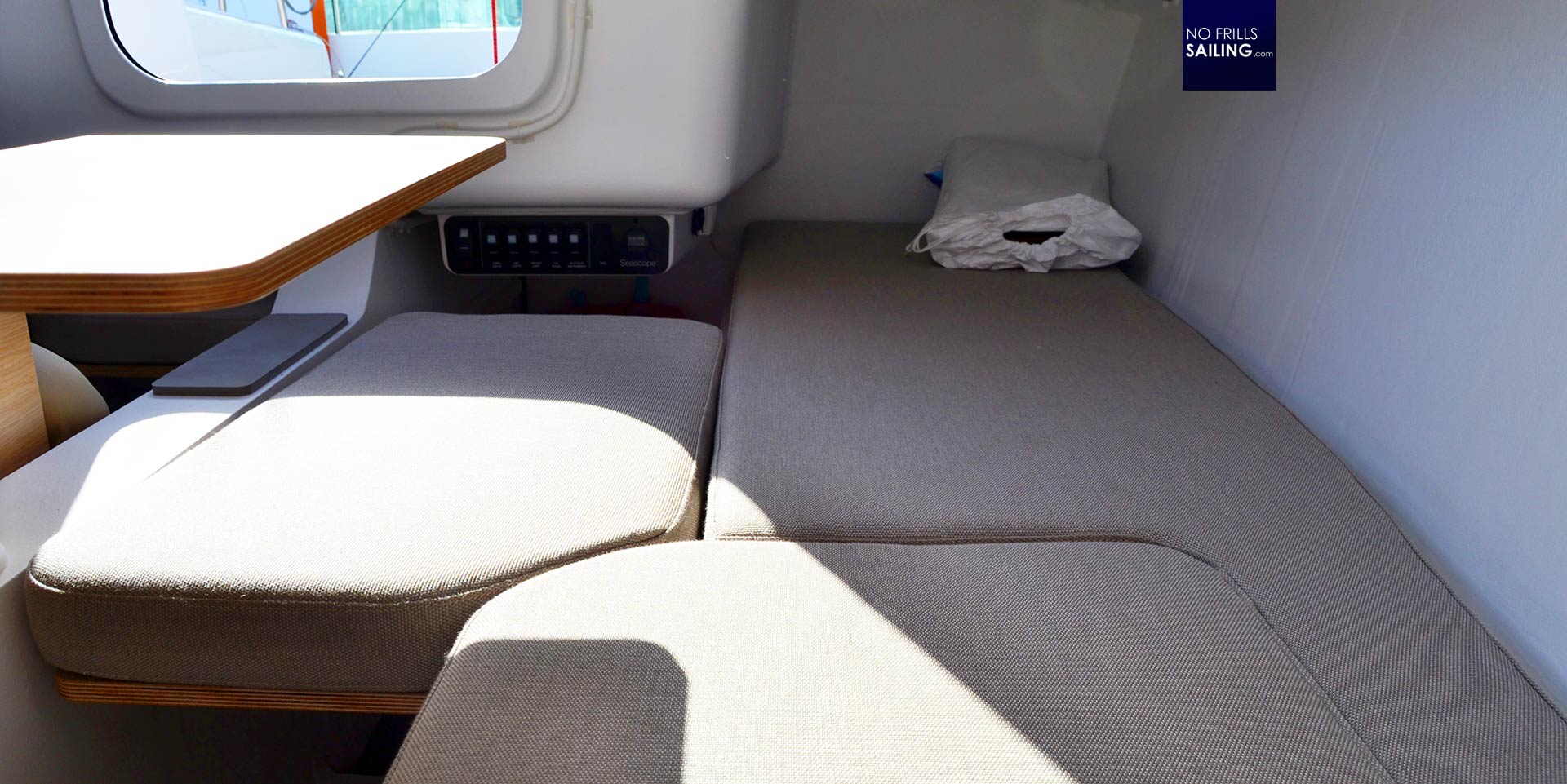 There will be internal LED-light, which is a big thing and I am thinking of taking a camping-stove with me to being able to at least provide for a hot coffee in the morning, a hot tea whilst sailing and preparing an emergency-meal if there is no restaurant in the various harbours I plan to visit. A rather minimalistic approach – but I reckon it fits the boat. The emphasis is purely on sailing: Tiller steering without auto pilot, which means 400 miles constantly at the helm – no nonsense, no comfort, no frills sailing the purest way. And guess what? I am so much looking forward to it!
The "Less is More"-Challenge
Another thing that comes to my mind is a rather small detail on the First-boats: Andraz Mihelin, one of the masterminds behind the Seascape-idea and founder of the company, showed me these ingenious pouches two years ago during Cannes Yachting Festival. Each First 24 is equipped with four of these bags. Made of a rugged material and fitted with carbon handles, they are simply hung onto the saloon-walls. You take the empty pouches back home and arrive with them at the boat when the trip starts: No repacking and stowing of empty travel bags needed. Upon arrival, you take the bags with you back home again to have the laundry done. Great!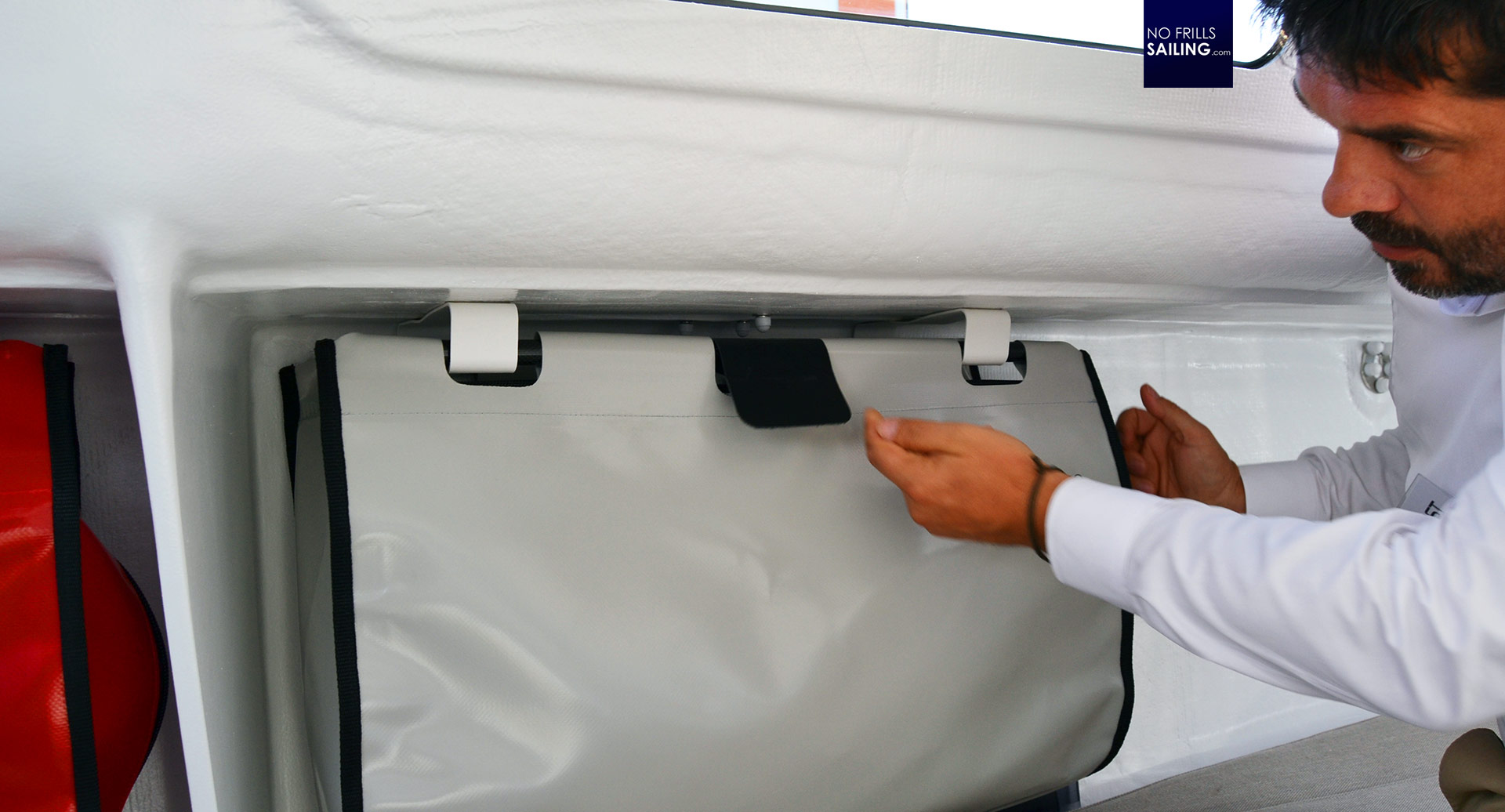 So here´s the challenge: Since I will be sailing this trip double handed the challenge will be to try to get by with just two bags for each of the crew members: Not more! Just two bags of clothing for 10 days of sailing. Will this be feasible? It perfectly fits the "go small – go now"-approach and will be a great test of just how much or how less stuff you need to have a great time. I remember very vividly that I had a load of unused clothes after all of my previous sailing trips. So that will be very interesting.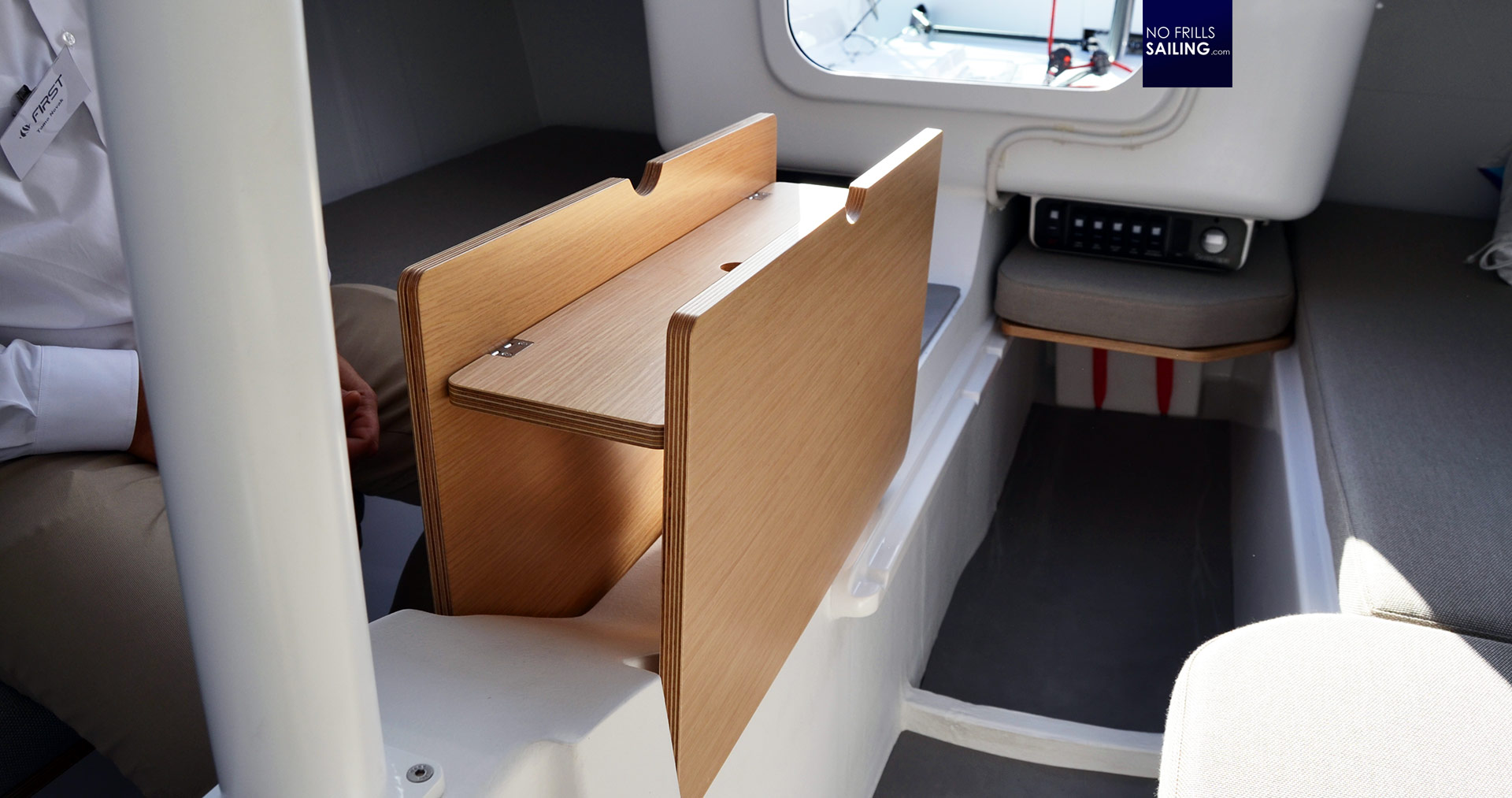 Same goes for the "boat life" aboard: The FIRST 24 won´t have a fridge nor will it have a proper galley. There´s now head, no fresh water, no bathroom, no heating. We will have a small table that fits to the "saloon" and up in the cockpit: That´s all. So how will life be? I am looking forward so much to this experiment – lots of sailing, real hard handwork, constant steering, no electric and electronic aid. A Madcap-trip for sure.
Now, let´s roll!
As of now I am eagerly awaiting the delivery of the boat. Great news from the company headquarters last week that production facilities are working again so I hope that the yard in Slovenia will have the MADCAP finished in the coming weeks: I plan to cast off the lines sometime in June – hopefully in the midst of a hot boiling summer with some moderate winds and hot, hot temperatures. Then it´s 400 miles of pure sailing with a daily dosage of some 50 to 60 miles.
As my client Dieter keeps on sending me whatsapp-pictures of his BLACK PEARL being ready in the water, my anticipation keeps on growing and I can´t wait to see MADCAP arriving and being rigged the first time with her beautiful all-Carbon mast and the powerful laminate sails. So, dearest readers, I hope you join me in my #madcapsailing challenge and stay tuned for more "go small – go now!"-sailing adventures.
You might as well like to read:
At the Seascape production facilities in Slovenia
Sailing the new FIRST 27 – old Sescape 27
Go small – go now!