It have been exciting 4 days again at Europe´s nicest boat show (if you ask me): The Cannes Yachting Festival, which is opening right now for the last weekend was again a great venue to attend. The Vieux Port all along La Croisette was again crowded by both hundreds of yachts of all sizes and people of all colours and preferences. The Cannes Yachting Festival is considered the most beautiful in-water boat show of Europe and so it was no wonder I´ve found all relevant brands attending the show. Here´s a quick overview on the boats I found most interesting and on which you are going to get some in-depth articles coming up.
Most awaited production boat premiere: Beneteau Oceanis 46.1
Well, of course, as I am working for a German Beneteau dealer (the best 🙂 we all were very excited and looking forward to seeing the Oceanis 46.1 being introduced to the public. And it was a true success – the "small" sister of the most successful Oceanis 51.1 (read about it here) drew much of the attention of the public visitors.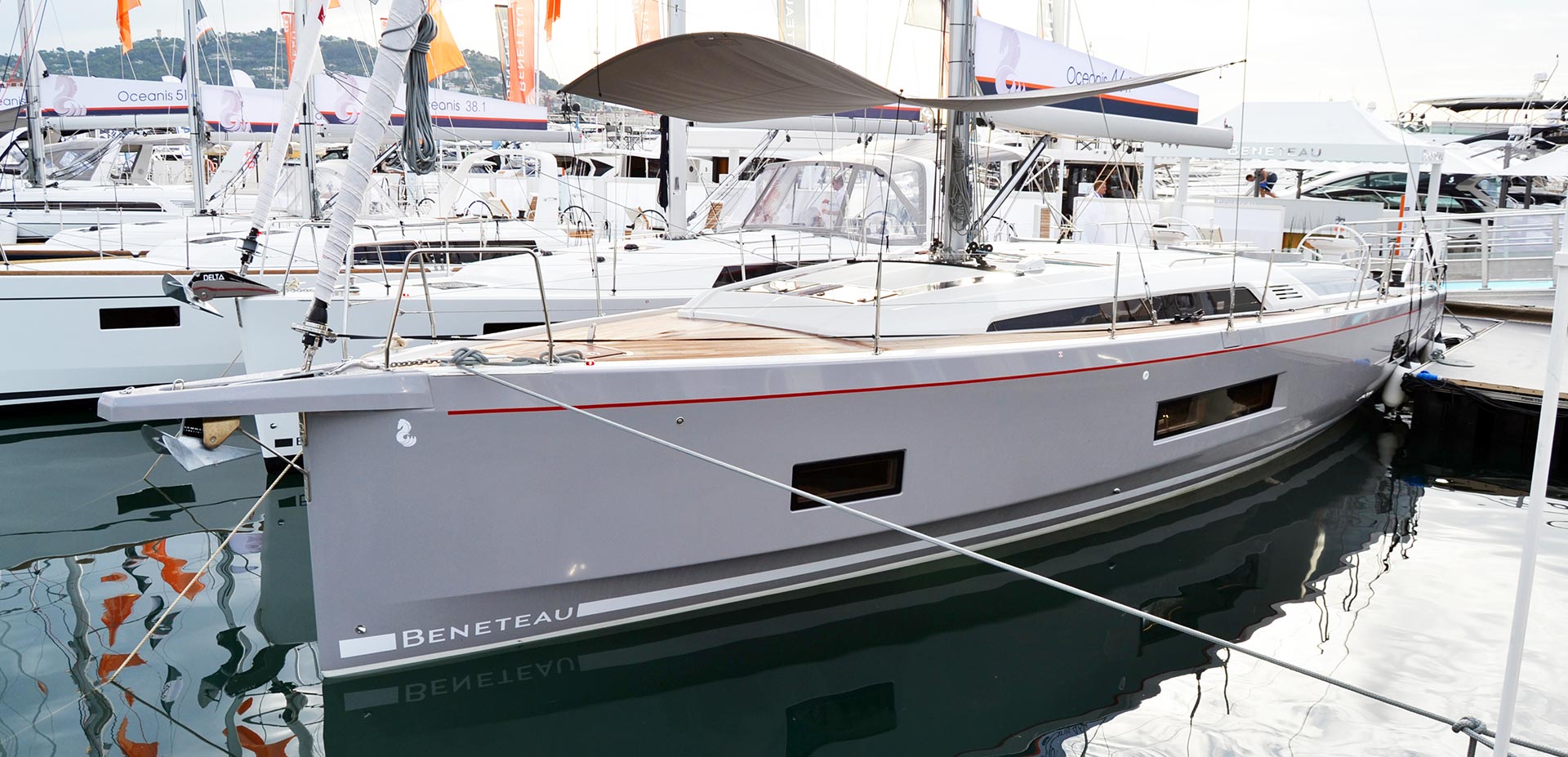 But she is truly more than just a miniaturized version of the 51.1 – a whole new hull design (of course again with chines beginning at the bow which increase the interior volume to a never before seen degree: The Oceanis 46.1 carries volume of a true 48-footer! And, as it is the specialty of the world´s biggest production yard Beneteau, with a price tag that might be very interesting for clients. The yacht comes 45.000 Euros cheaper than the next 48-footer of the competition.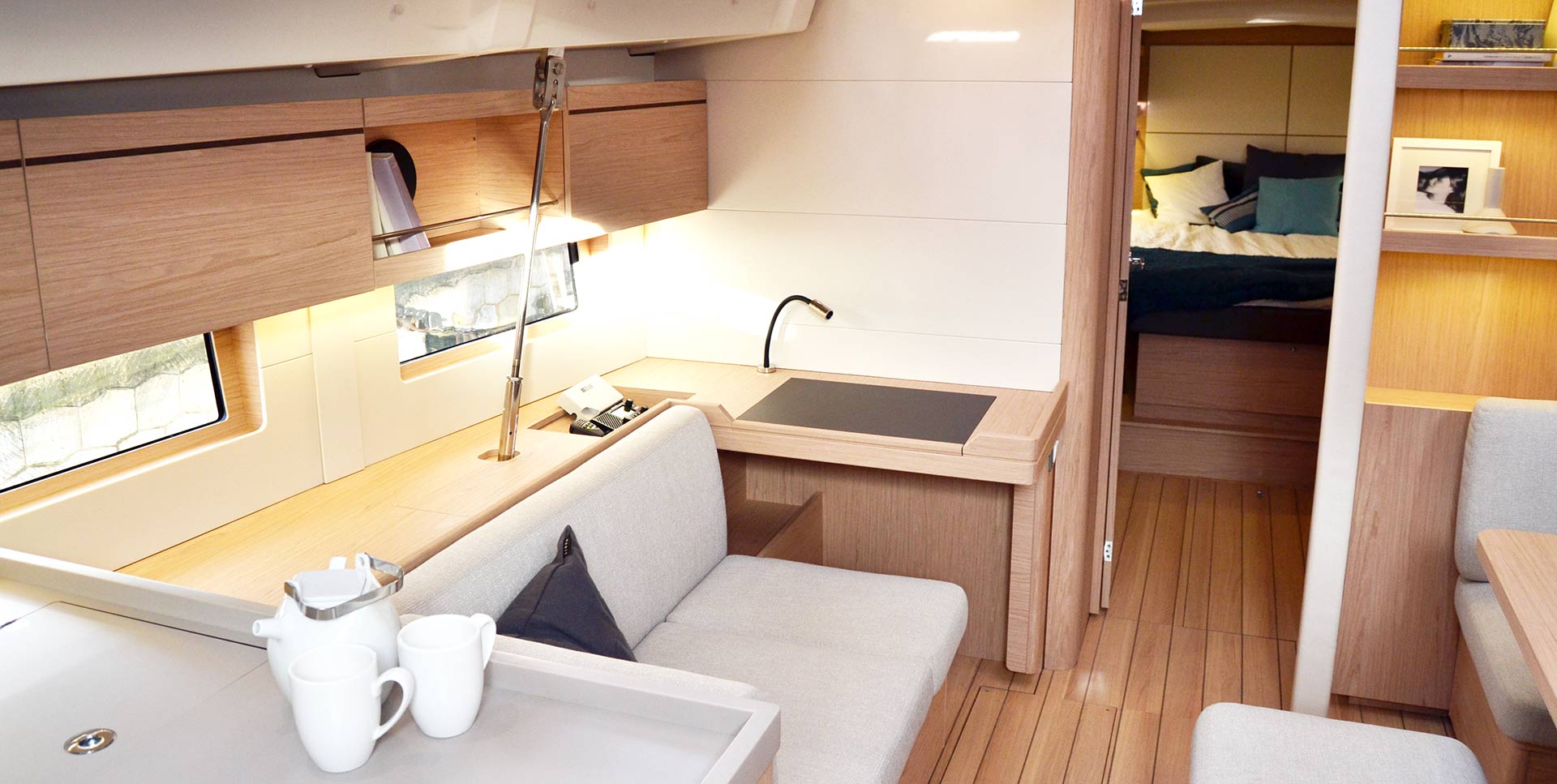 No wonder that I myself found very little time to roam the pontoons in search for other beautiful yachts because I was booked fully with appointments of interested guests. The Oceanis 46.1 was quickly sold out for the upcoming sailing season 2019/20 and if somebody would place an order right now the boat won´t be ready for commissioning until November/December. Crazy!
Bent deck superstructure: Eleva Yachts "The Fifty"
Also a bit crazy but an interesting design, I found, was "The Fifty" by small Italian boat maker Eleva Yachts. I recently read about the concept of this boat and was happy finding her moored just next to the Beneteau and Jeanneau basin and was welcomed warmly by the yard´s owner who happily showed me the boat.  The new approach of "The Fifty" is a bent deck superstructure.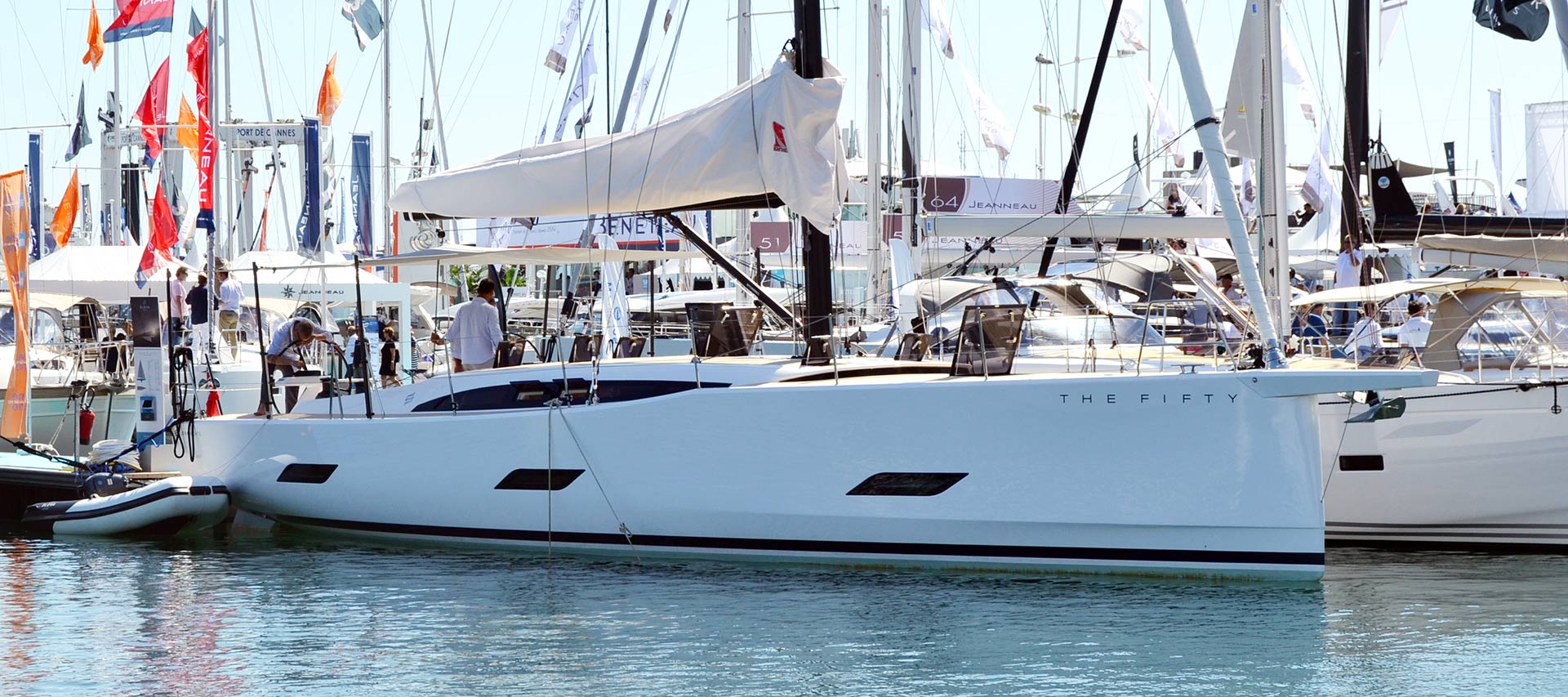 Just forward of the main bulkhead the deck is raised about 20 centimetres which would increase internal volume and standing height in the forward part of the salon as well as in the owner´s cabin. If this approach pays off and how "The Fifty" is looking inside you will be able to read in the upcoming article.
Cigale supersized: Magic Saloon on the Gulliver 57
The second of my three most favourite boats of the show was the Italian made Gulliver 57, which in essence is a supersized Cigale. Marc Lombard in collaboration with the Milano-based yard re-worked the Cigale-concept (read here about the first generation Cigales by Finot and the new Lombard-Cigale) and pushed it even further – the outcome is a sleek, fast, cultivated cruiser.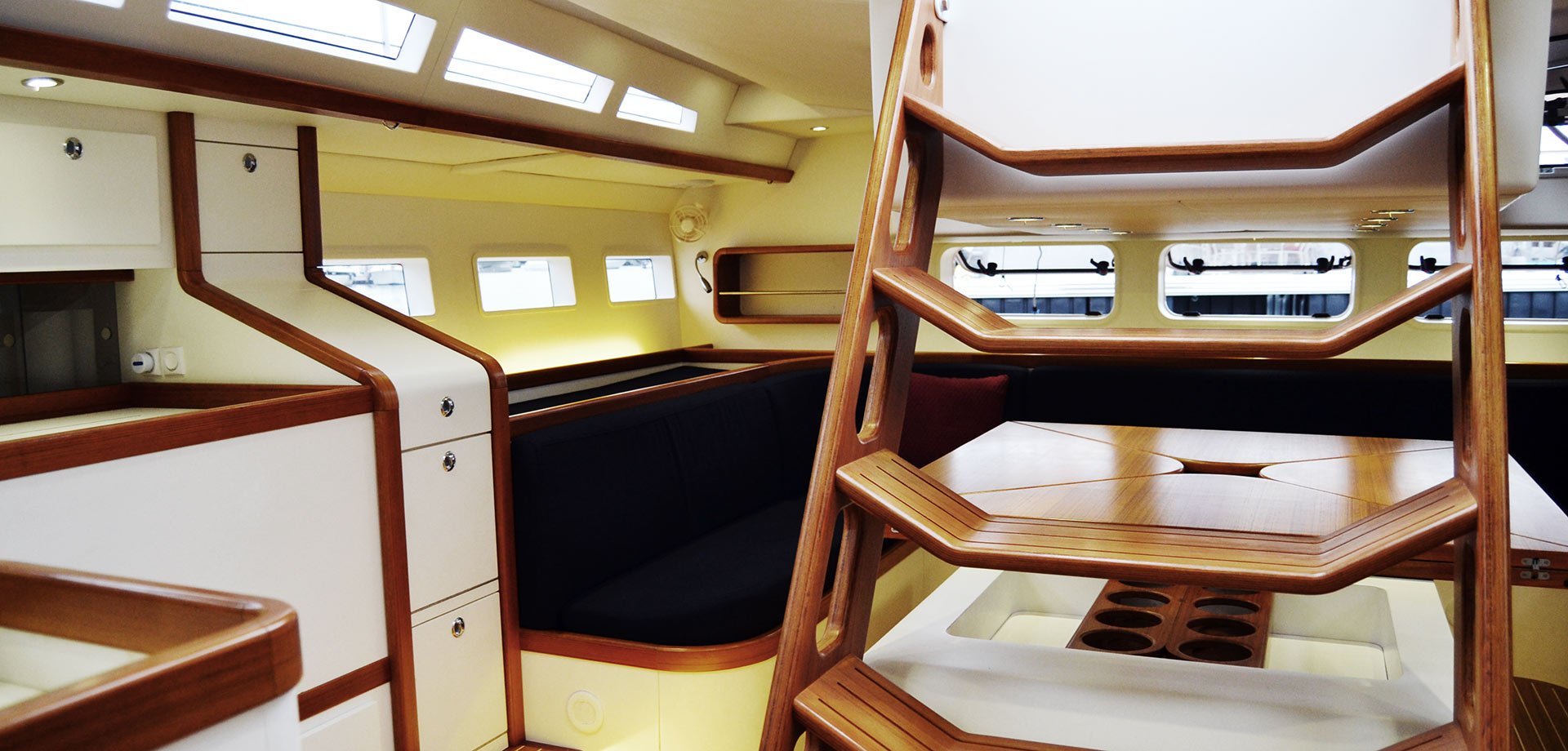 Of course she was carrying the "magic saloon" concept which I still find absolutely ingenious and tempting. I spent nearly an hour roaming all cabins, looking into lockers and in cabinets but always ended up sitting at the extra-large table in the huge aft salon enjoying an almost 270 degree view out of the portholes and imagined myself sailing along an Ocean in this beauty.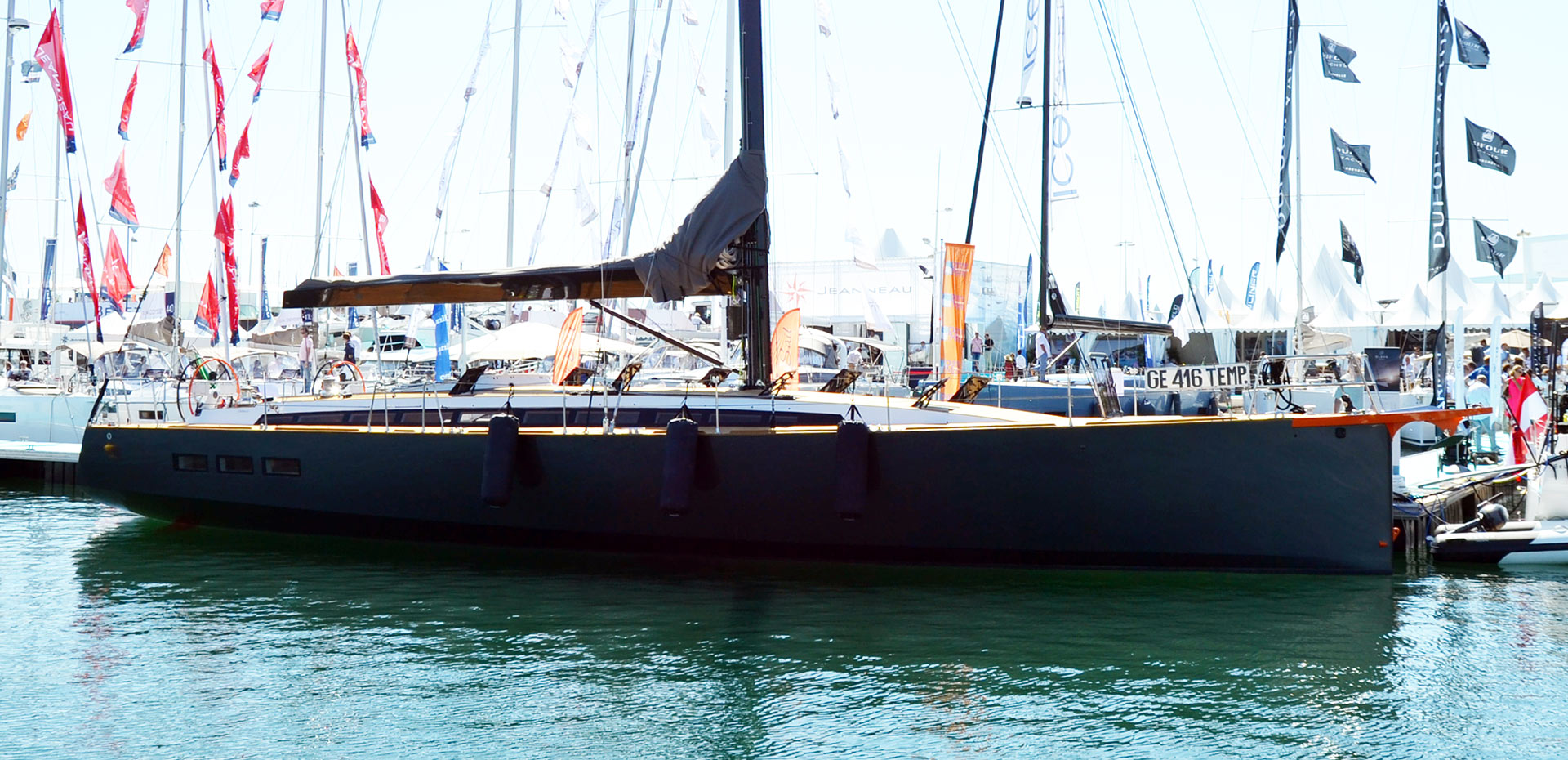 And a real beauty she is indeed! Apparently the yard (or the respective owners) put an emphasis more on style so that this Gulliver 57 was equipped with lots of Teak on her deck and a decorative pitch black adhesive foil-cover all around her hull. I loved the boat and you can bee looking forward to an article on her interiors.
Meeting old friends: Umberto Felci on his ICE 60
Speaking of old friends, most happy to meeting naval architect Umberto Felci again on a true beauty (for me the most beautiful boat of the show), the ICE 60 which was celebrating her world premiere at Cannes. The perfectly crafted carbon-glass hull unmistakably showed the style and lines of Felci design bureau and I was happy spending quite some time with him and the yard owner aboard the new ICE 60.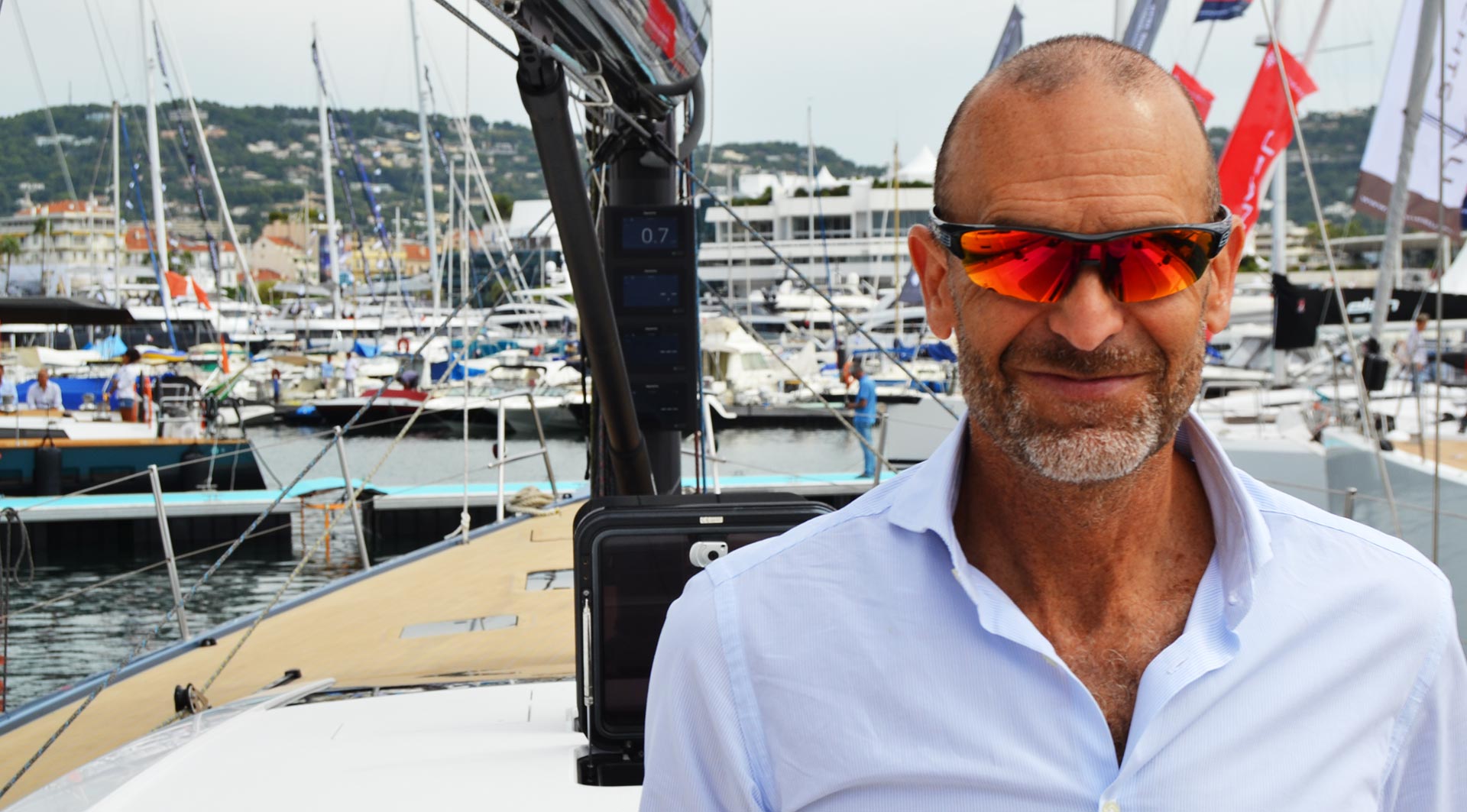 Umberto showed me the principal features of this sleek fast cruiser and also pointed out some aspects which can be changed by every owner placing an order – for which the ICE 60 can be considered a full customizable sailing yacht. And a pretty fast one too! Not mistaking the fact that this particular boat (on owner´s request) had been fitted with a boom-furling main, more performance oriented fitted boats would easily be pretty tough competitors.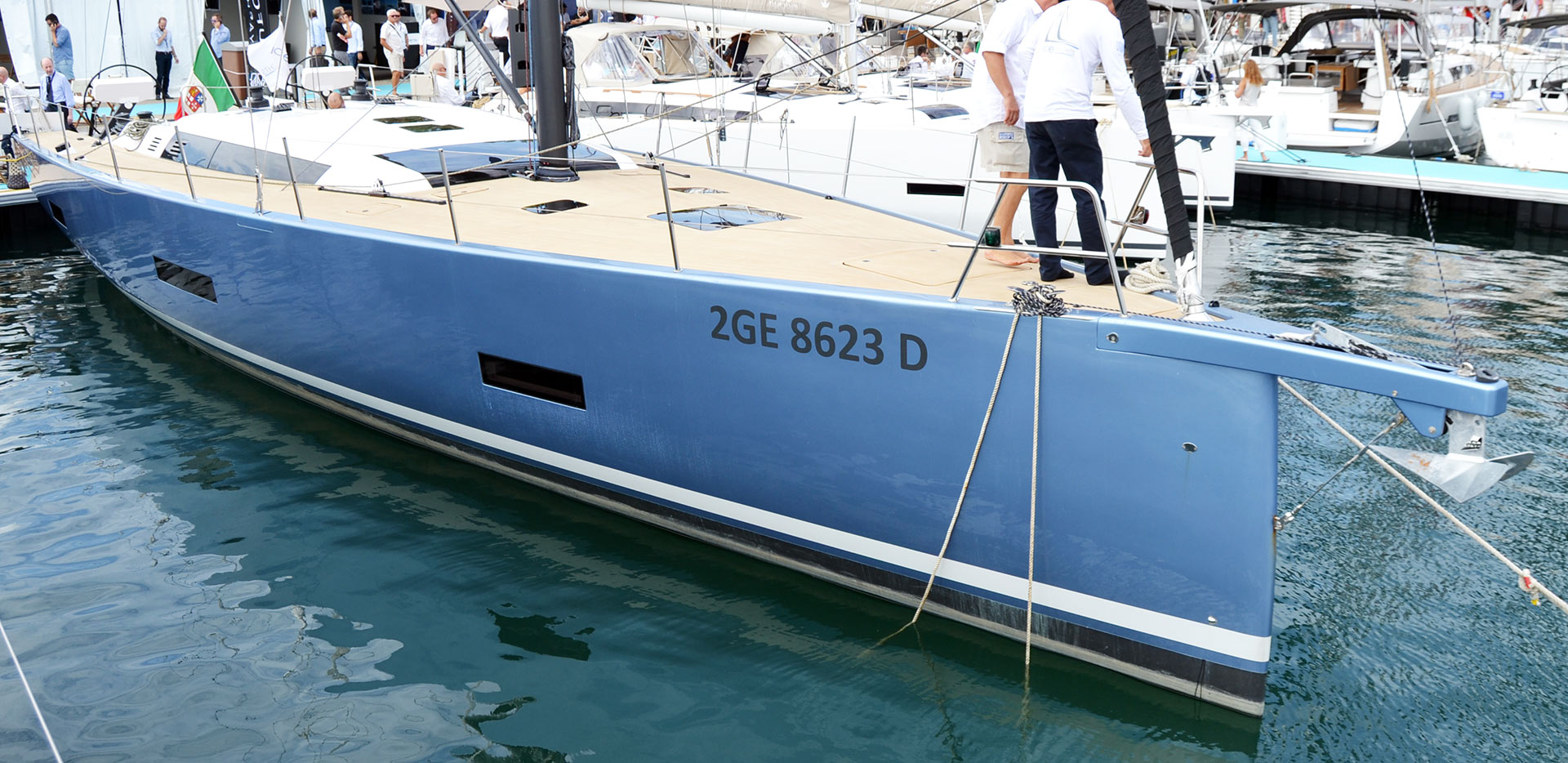 The ICE 60 also featured the biggest berths I´ve ever seen so far on a sailing yacht and you might be looking forward as well as myself to an upcoming in-depth article on this boat here on no-frills-sailing.com. Thanks to Umberto Felci´s unique lines and approach to sailing this was definitely a highlight of the show for me!
Tempting 44-footer: Solaris 44
Another great boat in a more "affordable" range in terms of both price and handling was the world premiere of the Solaris 44 which I was very keen on seeing live. As you may remember after having read my article of the yard visit at Solaris in Aquileia (read it here) I had the opportunity to see the 1:1 mock-up of the Solaris 44 interior – but for understandable reasons haven´t been allowed to publish there pictures.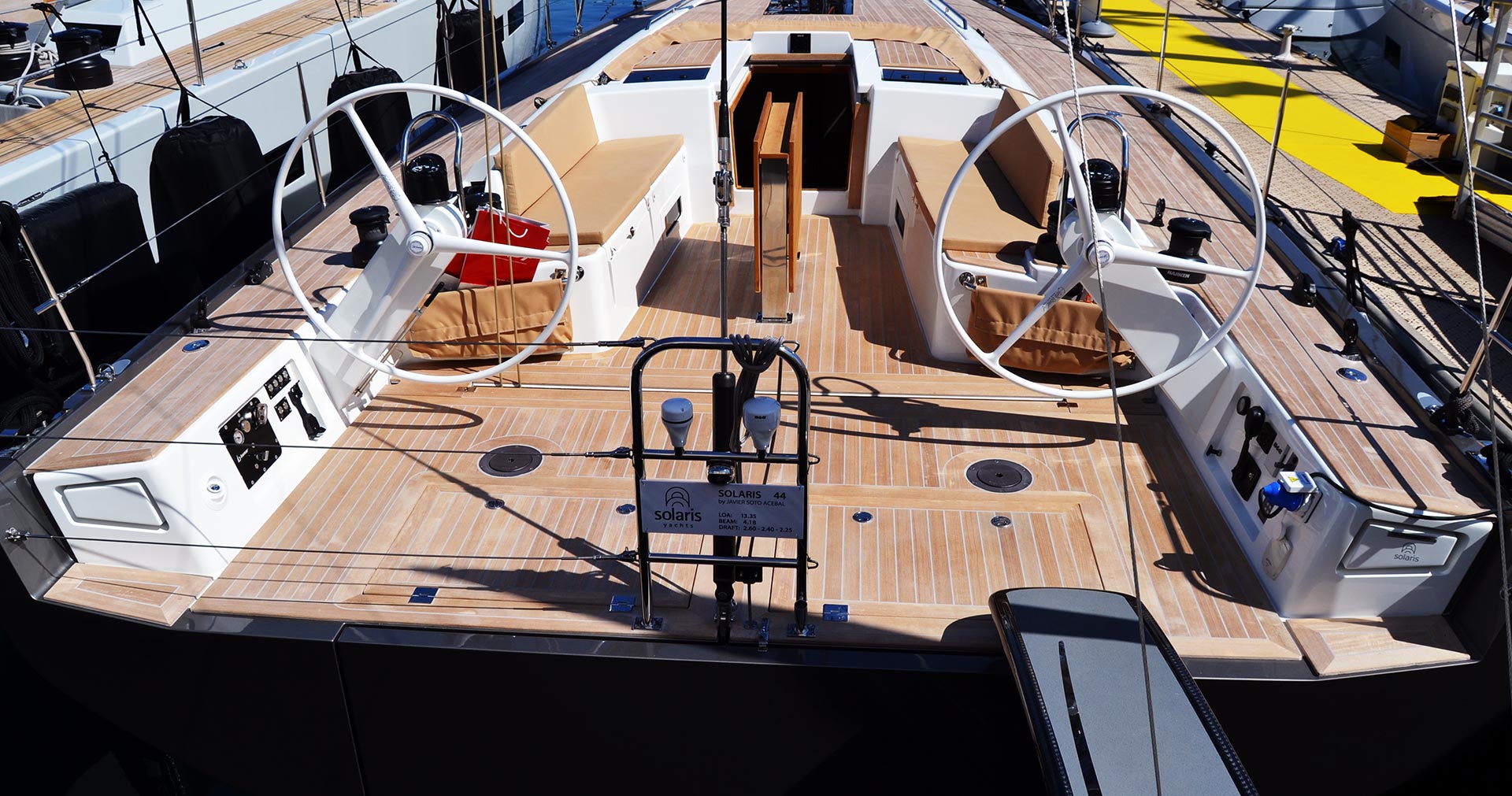 In one of the next articles I will now make this happen to show you this interesting approach to yacht´s interior design and compare the mock-up model with the real boat as seen in Cannes. I am sure this article will grant an exclusive insight in how boat designers work and how much imagination is still needed to conceive such a complex product like a sailing yacht´s interior.
Overview on current yacht design in one off & production boats
Apart from these yachts – again, on which you might expect in-depth articles coming soon – Cannes Yachting Festival was presenting an overview on almost the complete range of sailing yachts starting at 40 feet. There were many boring boats, some very exciting boats and some extraordinary yachts. For example I was happy seeing Oyster yachts alive and kicking presenting the marvellous Oyster 745 in the water (read my detailed walkthrough here).
I loved the classic Swan 54 on which I previously talked with design-god German Frers and was happy seeing the X-49 and other well-know boats moored at the jetty. So sad that I couldn´t find time to take care of my appointments on the all-new Baltic Yachts 67 (read my interview with Marcus Jungell on the Baltic 67 here) which had also had her world-premiere here at Cannes. It´s a shame and I hope I can deliver this some time in the future.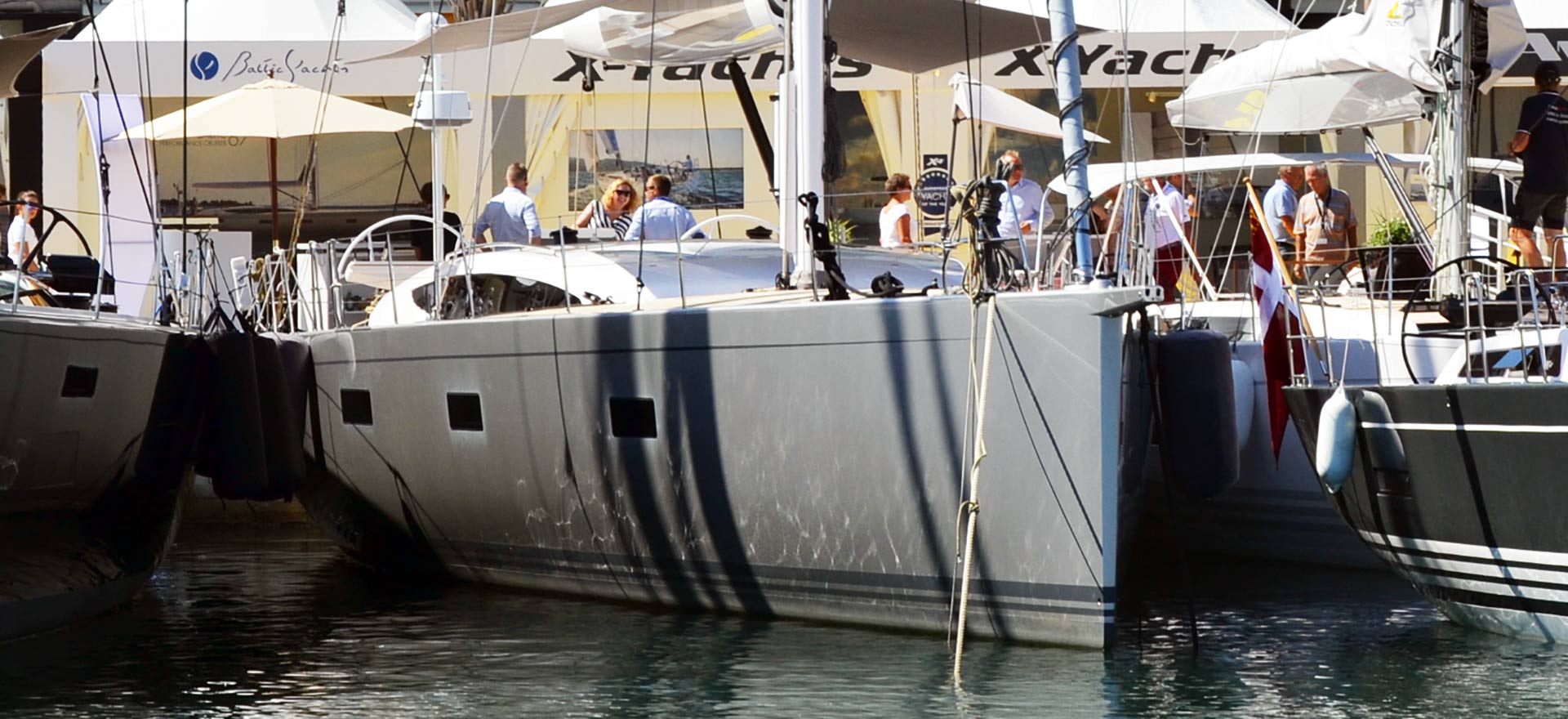 I also missed my appointment in the Mylius 80 which was originally planned as the pinnacle of this year´s visit at Cannes but, as I mentioned at the beginning of this article, due to so much interest in the Oceanis 46.1 I was putting our guests and clients first, obviously. Nevertheless, a great Cannes Yachting Festival again and I am looking forward to presenting some hopefully interesting stuff to you, dear readers.
Cannes Yachting Festival at it´s best: Some of my fave articles on this Cote d´Azur tradeshow
Hallberg-Rassy 64 at Cannes – blue water cruiser role model
Sailing a Rolex: Oyster 757
New RM 13.70 in the water