For me it was one of these days when everything was perfect: I was visiting the South of France, my beloved country, weather was just perfect with a shiny blue sky and the sun was burning down hot as hell. I was happy for having the best job in the world and on this particular day in having a very special appointment: I was going to meet Frederic of AYC Yachtbrokers in Port St. Louis. Besides the fact that he actually had a nice surprise for me as he knew I was a big fan of aluminium yachts – later more on that – I finally was going to get to see my first Alubat Cigale 16 in real life. And this was really something I was looking forward to for such a long time!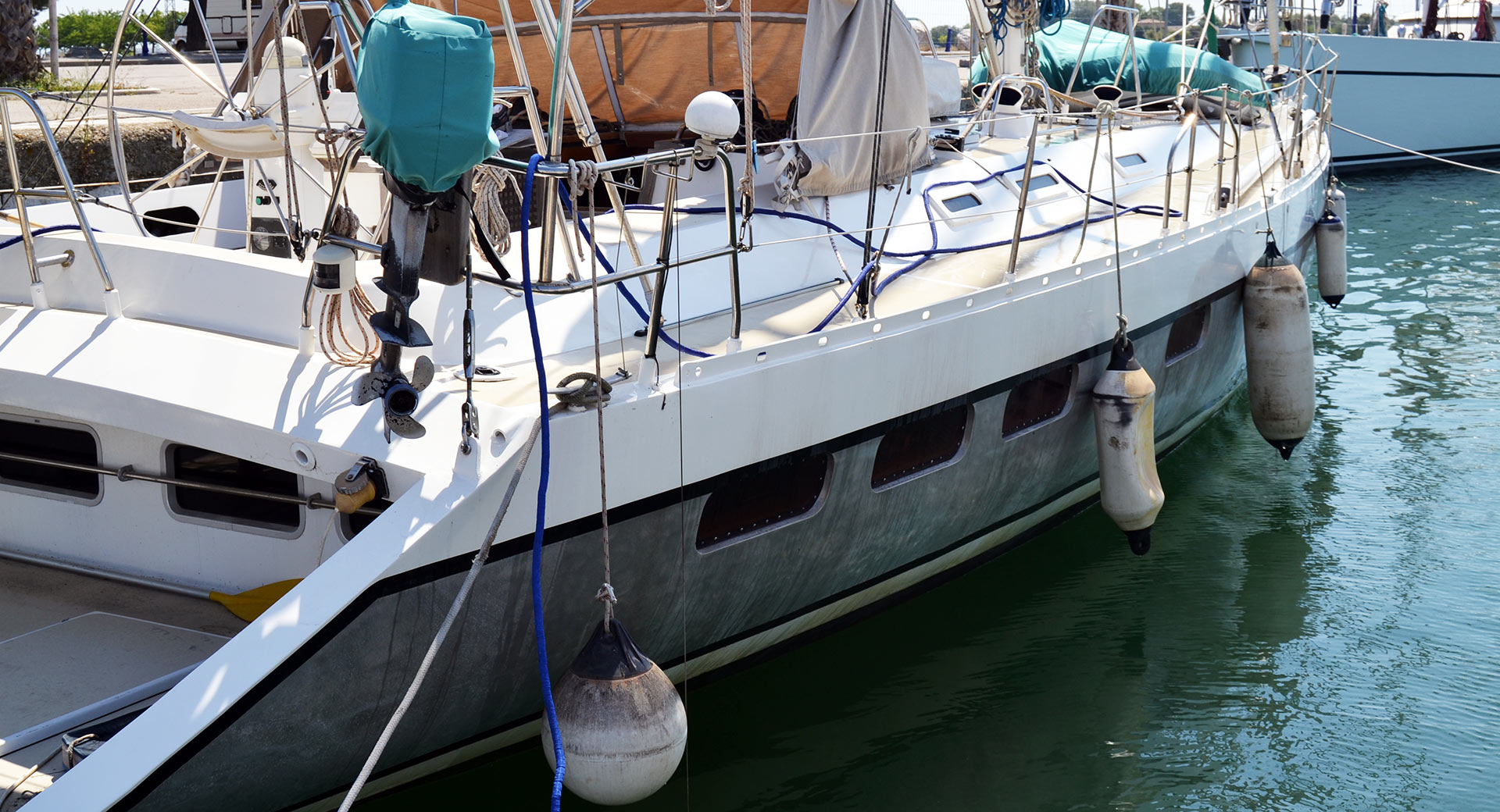 Frederic agreed to show me not just one Cigale 16, but two. His company is currently selling these boats on behalf of their ageing owners, and like it was destiny, these two boats were available for a complete walkthrough at Port St. Louis. Lucky me! More so – one of the boats was on dry land ready to be fully refitted in the course of the coming year, the other one right at the jetty. I was smiling all over when we got nearer the yacht in her berth – there she was!
Magic Salon Concept: The uniqueness of a Cigale sailing yacht
"So what´s the fuss all about with your Cigale 16?!", you may ask. Well, that can be explained in a very short sentence: Because the Cigale is the one and only yacht that has this unique, clever and ingenious concept I´d like to call the "magic salon". And I really wonder why this configuration remains restricted to the Cigales solely and no other yard is offering this magic salon? I really can´t see why. What is magic about it? Then let´s have a look.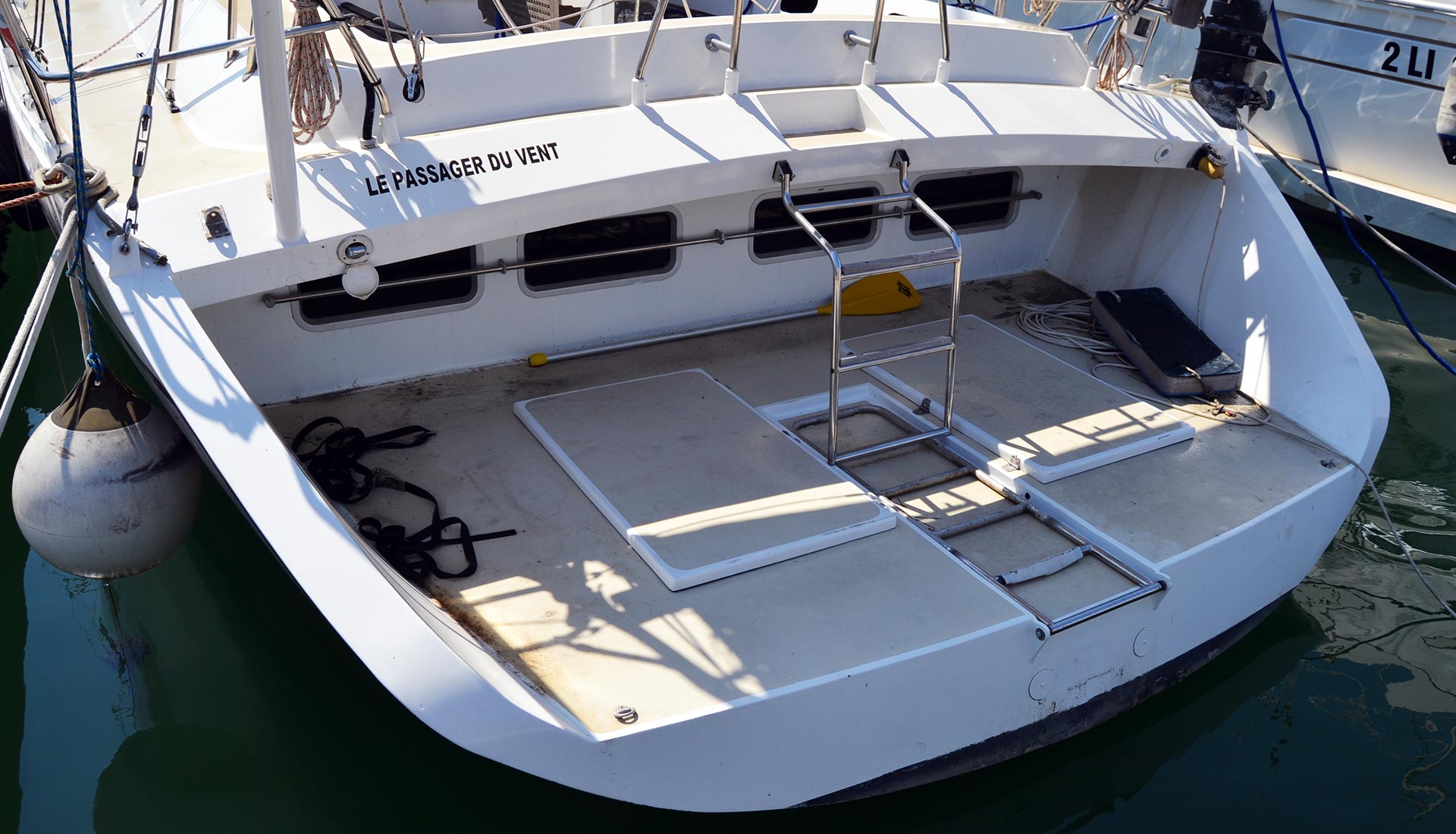 Upon looking at the Cigale 16´s stern section you might notice a load full of portholes in her hull starting at 3 metres before transom and running all around the boat´s aft section. In the case of this very Cigale 16 I counted no less than 12 opening all through the hull. Because the Cigale is made of aluminium that´s no structural problem in having these opening, because, we know: Steel is real! These portholes are essential, well, because – because of this: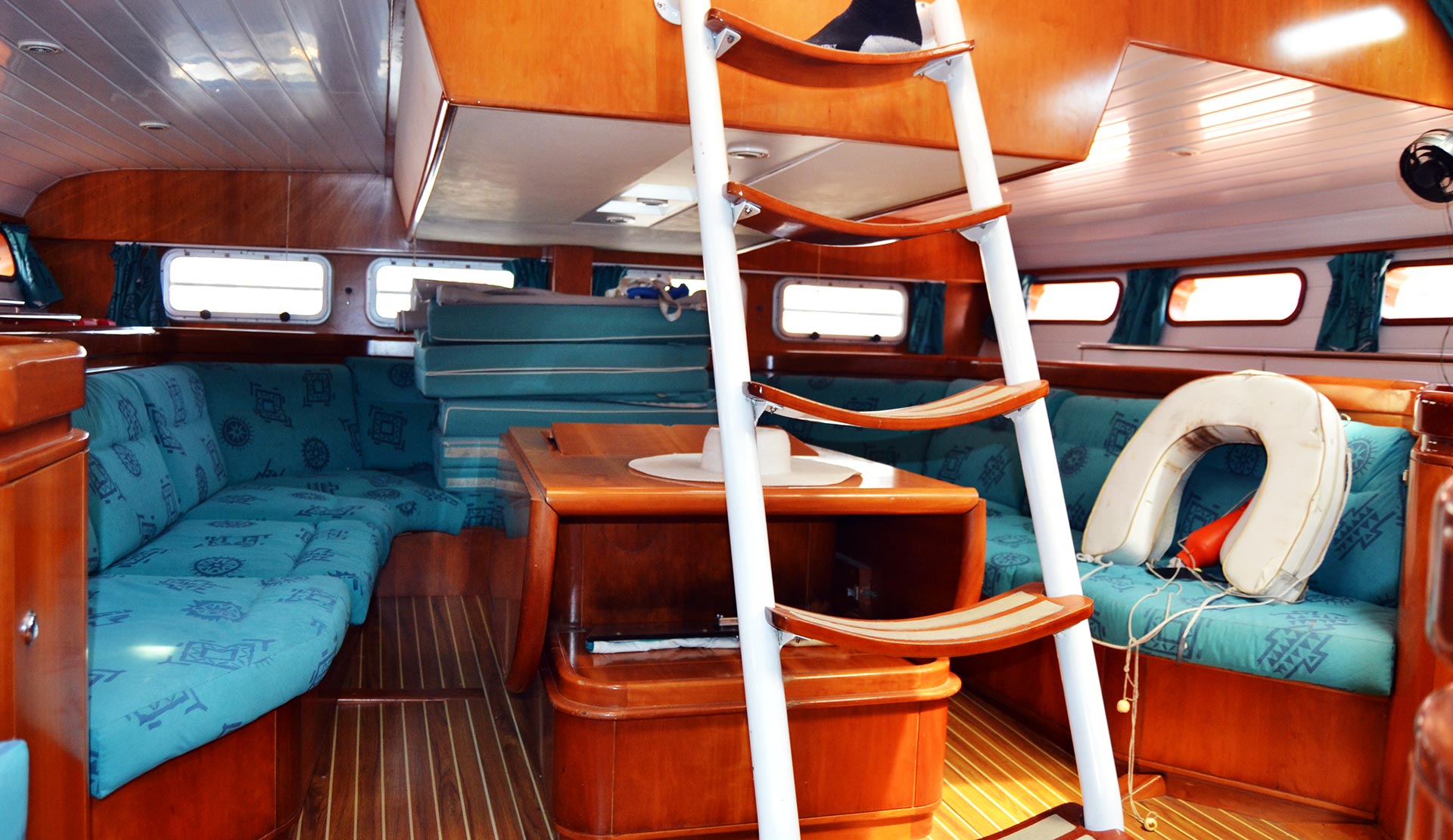 Instead of having two aft cabins and the salon positions in the center of the hull – as it would be the classic layout of a sailing yacht – the Cigale has a very different approach. The salon is occupying the whole aft section of the boat, utilizing the whole volume under the cockpit area. You see this huge room? It´s just fantastic! There is a wiiiiiide U-settee that is providing space for … I don´t know … 20 people or so. A long running settee that is so wonderfully placed that while seated you have this gorgeous view all around. Though those portholes. I love it! I simply love it and I must confess, now that I was sitting in person inside this Cigale 16 I was in love with this boat more than ever!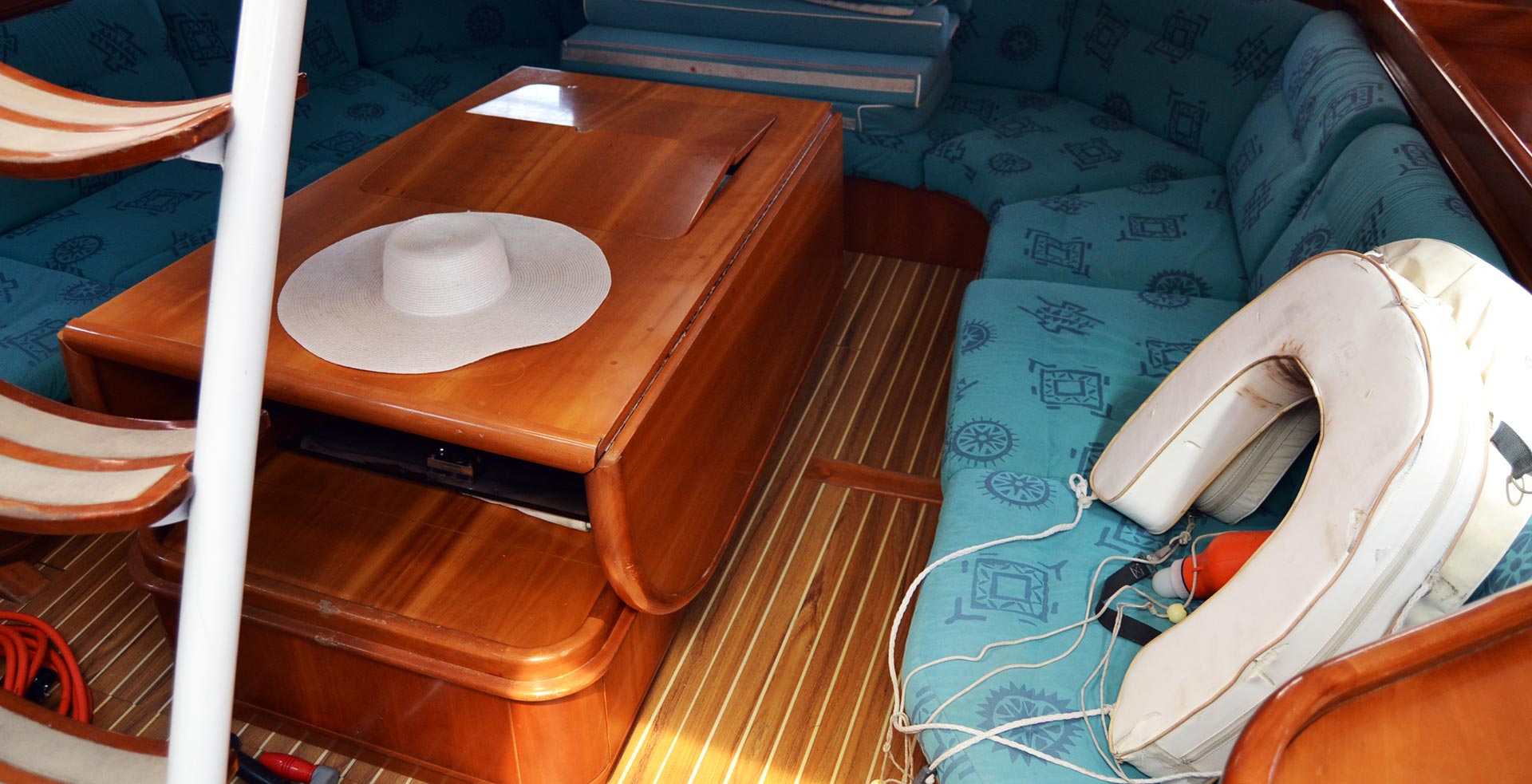 The dinner table in the middle of this salon houses plenty of stowage for stuff. Like all the gallons of fresh water or a decent stock of beer. Perfect! Now, in this very Cigale 16 the owner has opted for lots of stowage behind the backrests of the salon´s settee – in the standard version there are berths to either side – sailing heeled this could be an awesome place to find a quick sleep near to the cockpit in case something happens.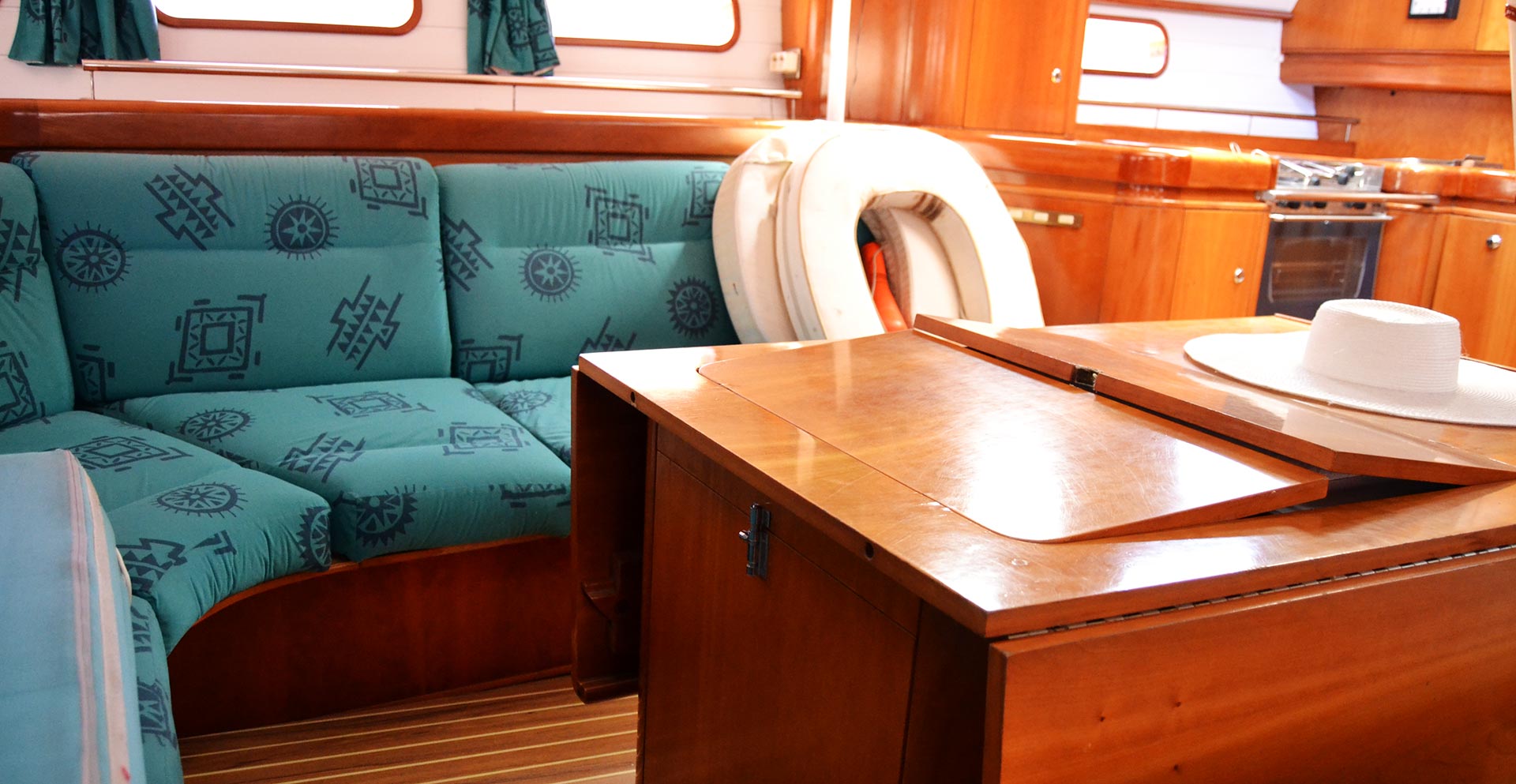 Sitting around the table I checked every position and found the headroom was unbelievably high and also so much space for my feet (I am a tall guy). Erverything on this 16 metre yacht is big – although 16 metres is not that big! The measurements are well chosen and I simply loved sitting around in this magic salon. Really, I cannot think of any reason why you shouldn´t have this on other yachts as well.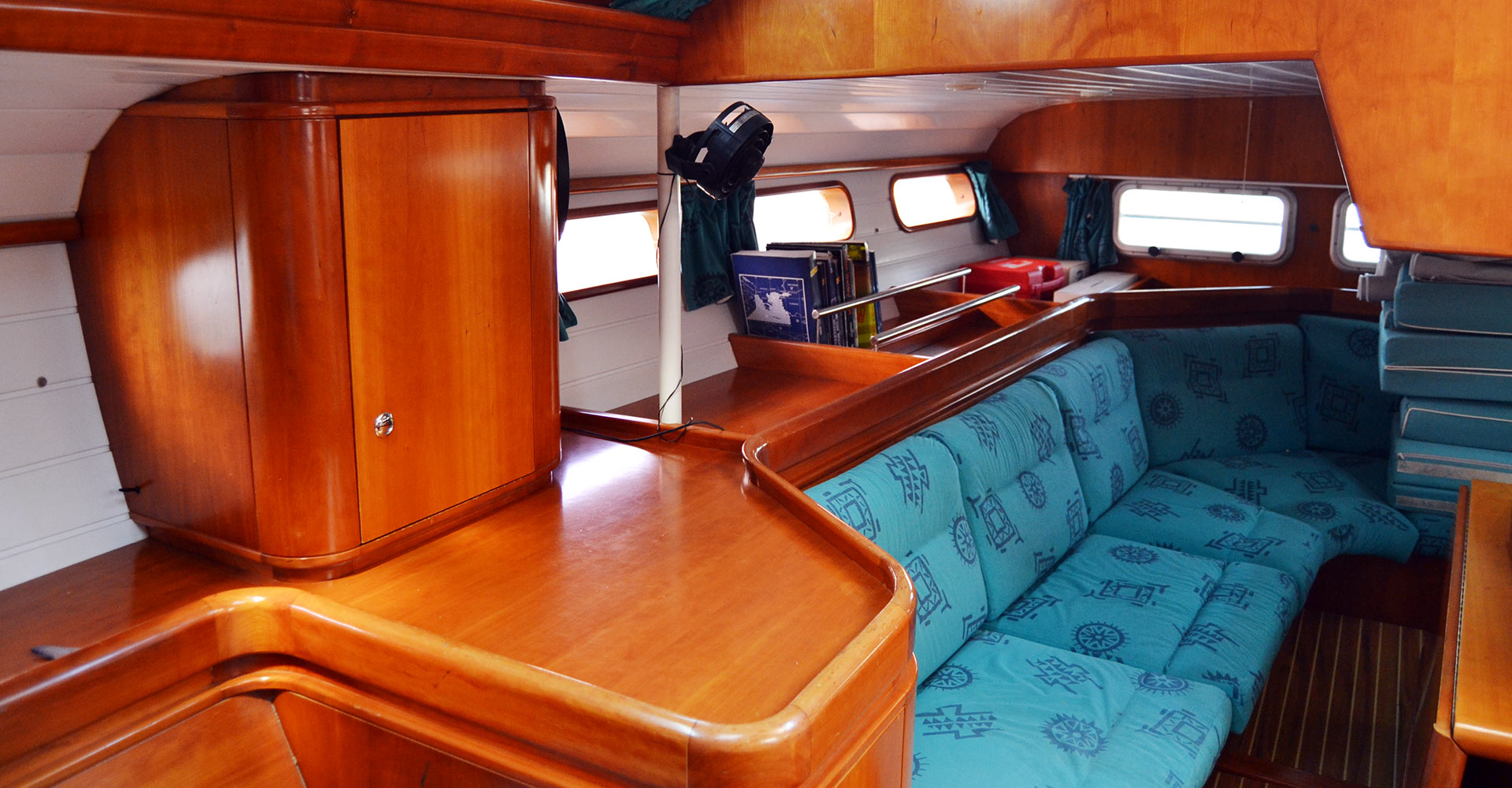 See, when I go sailing in a yacht I regularly chose not to have one of the aft cabins if I can. Why? Because – particularly in GRP-boats – I hate it when I want to sleep and people are clattering around on my head. Sound travels quick in GRP and even when they try not to walk brutally loud, it appears as if an elephant would jump from the side lockers, doesn´t it? Second, you cannot for this reason have the small windows open for fresh air – which are venting into the cockpit – because that makes you listen to their conversation as if you would sit right next to them in the cockpit. So – that´s perfect in the Cigale: The watch can talk and run around as they please, people in the forward cabins (and there are only forward cabins in the Cigale) will find a good night´s sleep at any time.
An ultimate yacht for the long journeys
The Cigale is a dream yacht for many sailors and – because of her age – for some generations of sailors. That´s on the one hand, again, because of her very durable material, but on the other hand because of the fact that she is conceived for passage making. Jean-Marie Finot designed the Cigale (as the legend goes initially just for himself) in 1999 and you can still see what he had in mind: Traveling fast and in comfort.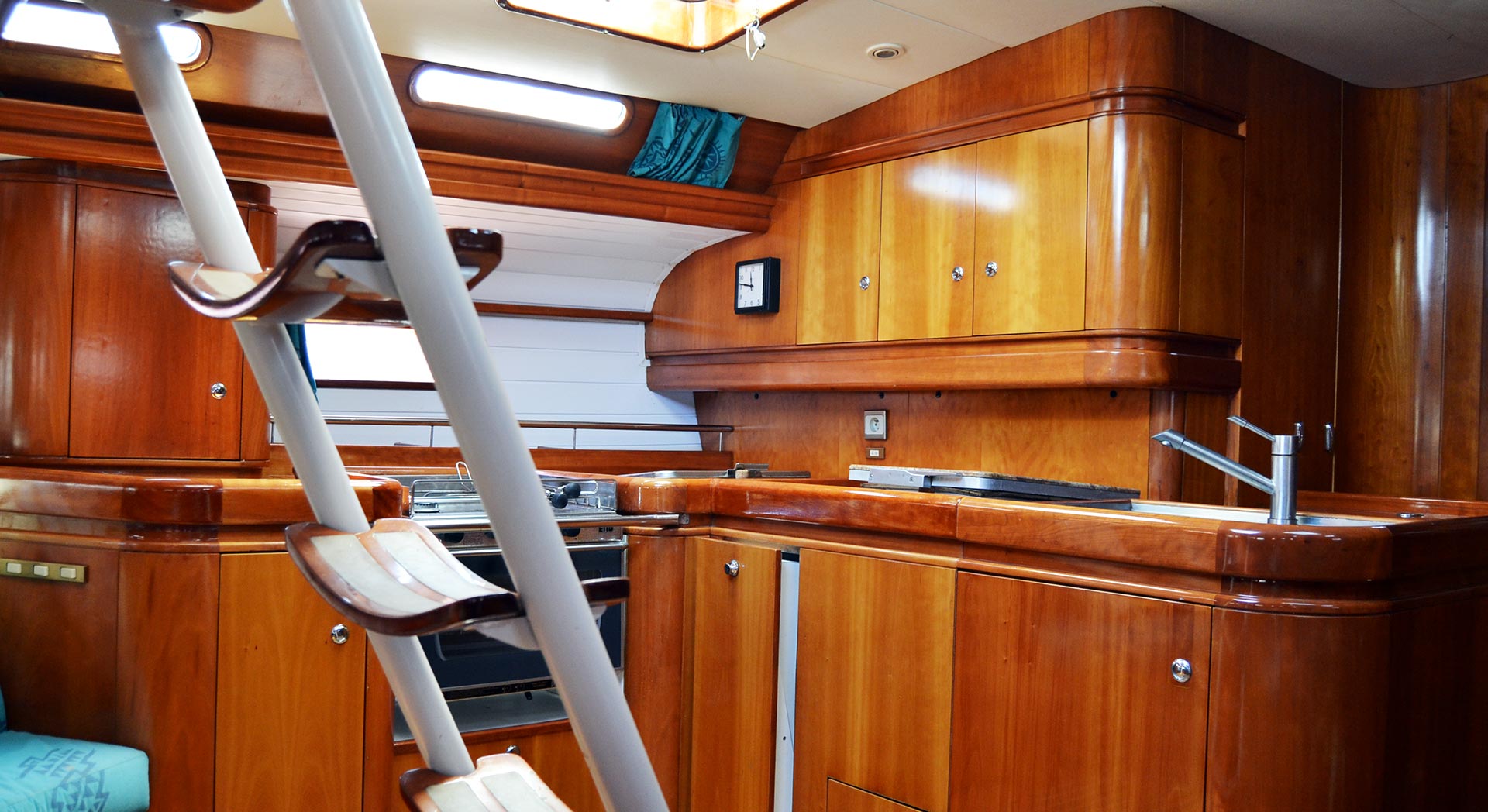 The galley is a nice example. Here´s another advantage of the "magic salon" – the galley is really huge! In classic layouts the galley will always have to fit either way as L- or U- or longitudinal galley between the settees of the salon. I have been sailing on 46 feet boats (which are quite big, I would reckon) yet still felt cramped whilst cooking. Not so with the Cigale: Because of the galley being placed on port side right at the main bulkhead, there simply is so much room … it´s almost like you can dance a Tango while chopping the veggies. Awesome!
The galley offers plenty of stowage, a decent gimbaled stove and lots of fridge-space to have stuff cooled. And there is one more thing to it: Other that people tell when referring to the Cigale, the engine is not under the dinner table in the salon: It is in the galley. On the other Cigale we´ve visited the wooden engine housing had been removed and I was able to take this picture: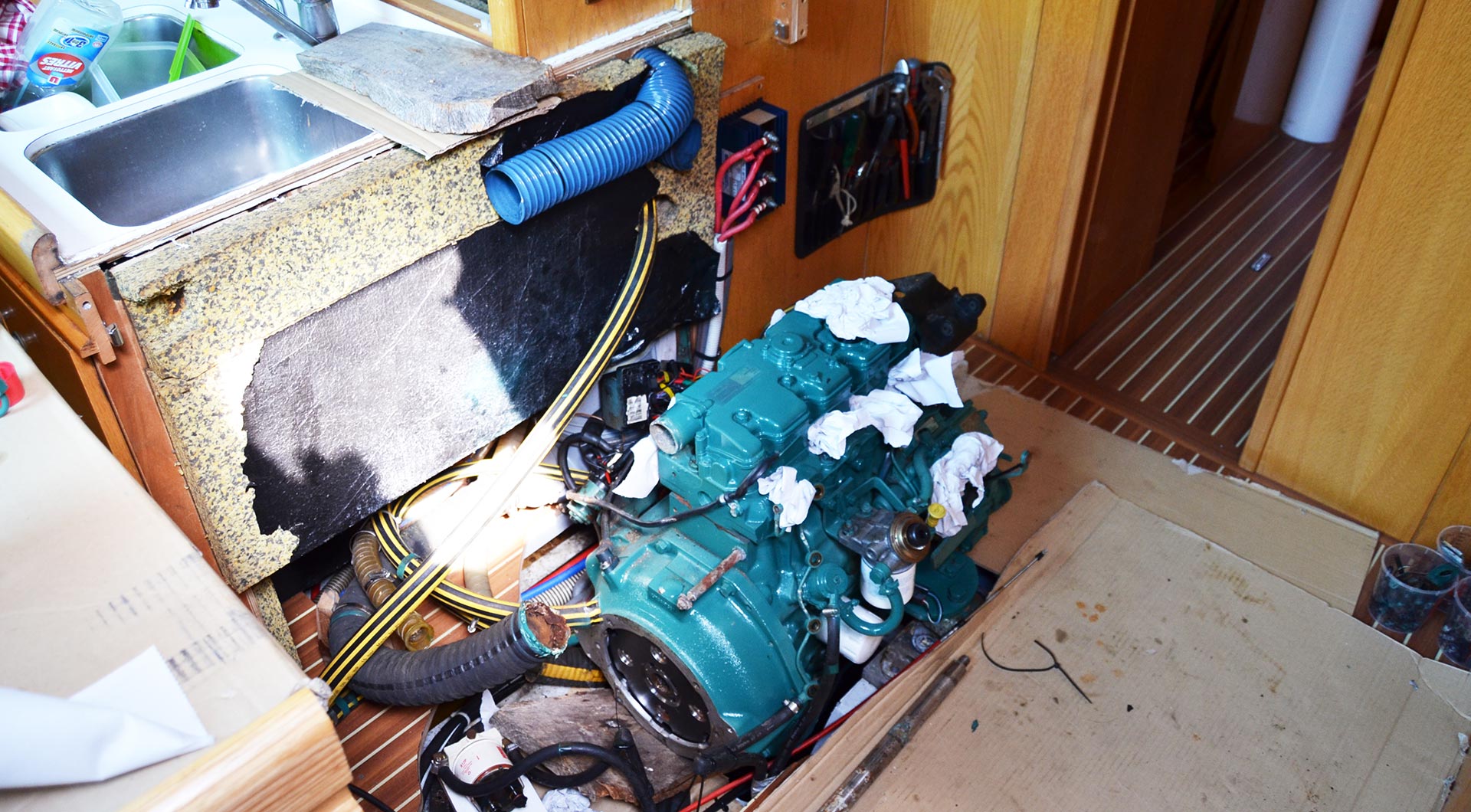 Now isn´t that the dream of a skipper? I mean, not for the daily routine check of drive belt and oil-level, but in case something bigger has to be done or the engine failed and you have to give her a thorough check. Well, in classic boats you inevitably have to either crawl under the folding entryway and yourself between the fixed housing or you have to crawl through even smaller passages through the aft cabins (well, unless you own a Hallberg-Rassy 64 of course). Not so with the Cigale – 360 degrees accessible, lots of natural light, lots of space to work in. Fantastic!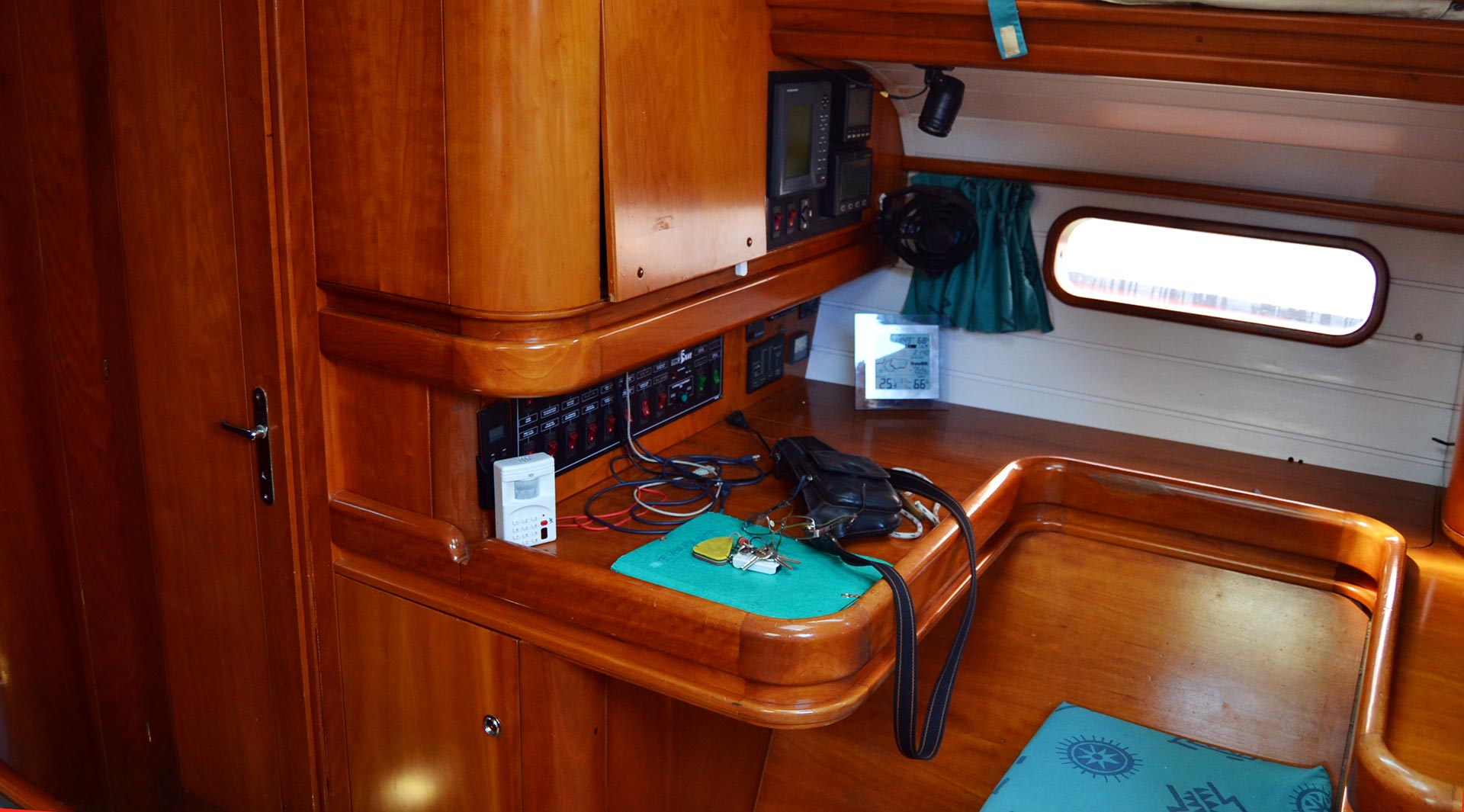 I love classic nav stations and especially chart tables, as you may know from the efforts in my own boat to build the perfect chart table. I found the nav station in the Cigale 16 more than appropriate: Upon coming down the ladder from the cockpit it´s right there on the starboard side. A nice seat, big chart table and the main switches for the electronic equipment. It must be a treat to sit down here as skipper and do your chart works …
Cabins in the Finot Cigale
As I mentioned, the Finot-designed first generation Cigale yachts all have their cabins in the front of the boat. In the standard configuration that´s three cabins and two heads. To port side there´s a big double cabin I would dub the owner´s cabin, vis-à-vis would be a pullman cabin with two single berths stacked upon each other. In this particular version the owner removed it and fitted a big bathroom with a bathtub. Yep, a bathtub.
The cabin size is more than sufficient. The bed is long and wide enough for two adults, again one porthole in the hull right where your head would lay down on a pillow and one opening skylight-hatch in the roof. I liked the colour scheme of dark lacquered wooden bulkheads and white lacquered ceiling which makes for a nice and bright atmosphere.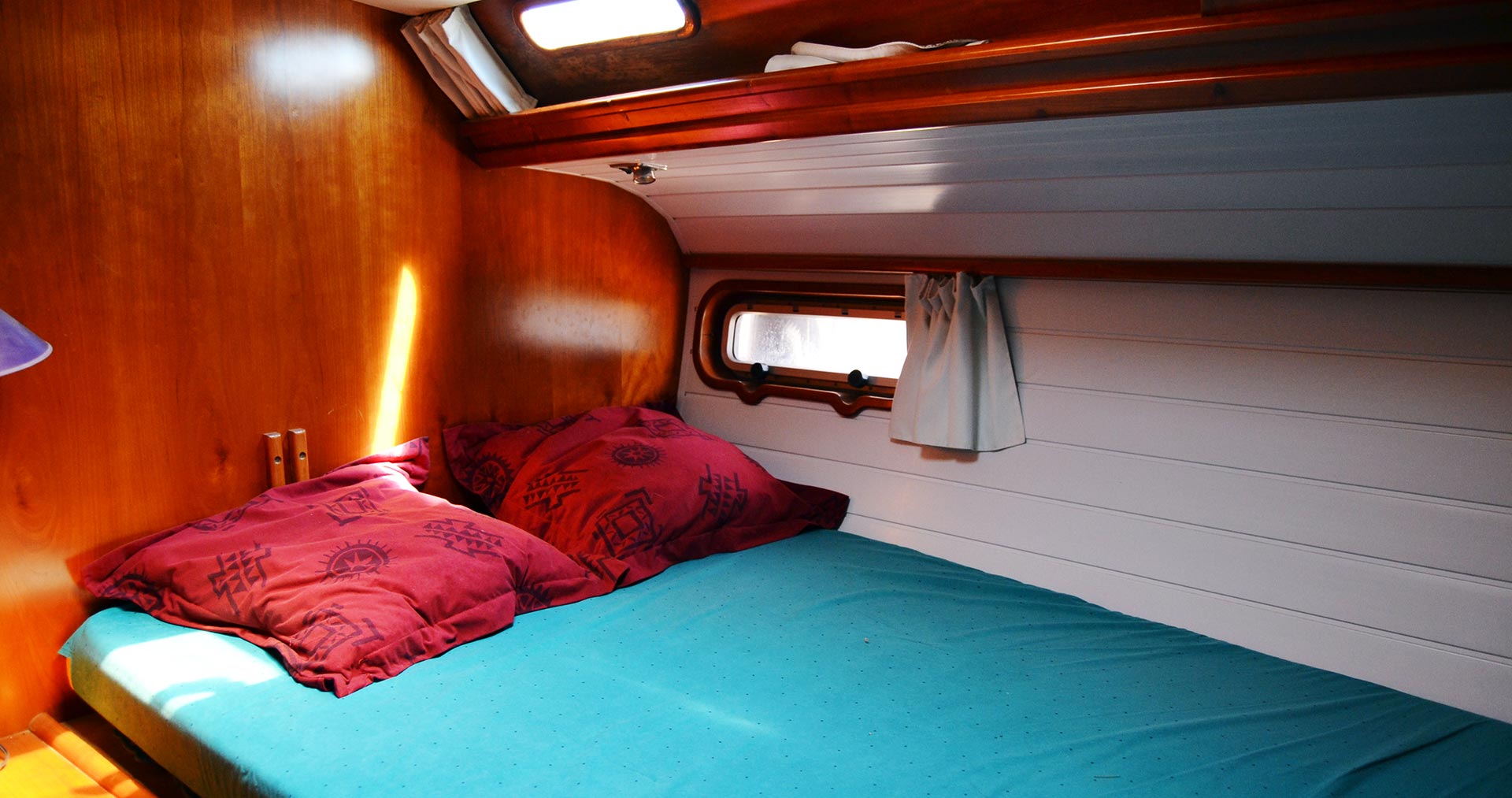 The owner´s cabin forward is even bigger – not the bed, which roughly has the same size as the one in the cabin just seen – but there is a big sofa on starboard side that could easily act as a reclining chaise lounge or an excellent place for getting dressed and undressed after a long watch on sea. This cabin has it´s own en-suite bathroom. In this cabin I probably noticed at last how time has been moving on in yacht interior design in the last 20 years – such a "dark" cabin wouldn´t be acceptable in modern day cruising boats at all. Nevertheless, I personally am not so keen on having the biggest cabins as possible as I have the opinion that I anyway only sleep in here – as long as the berth is big enough, I´m fine.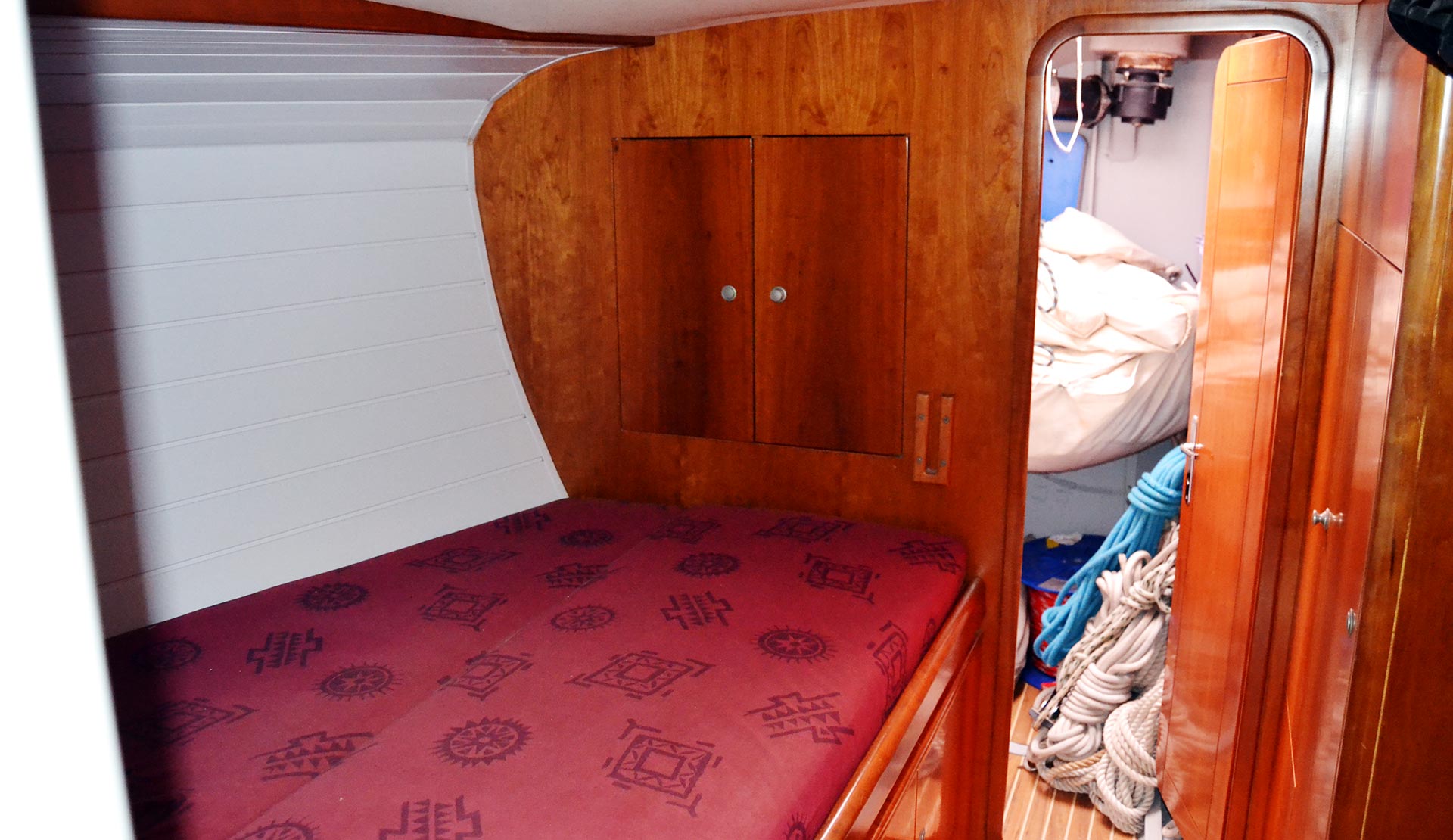 Entering through a big door in the forward bulkhead one will reach the sails locker which is also huge. I loved the big powerful retractable bow thruster mounted here – again, perfect for maintenance. The next bulkhead acts as watertight crash box and behind it is another big sails locker and the anchor chain locker, which is huge by itself as well. So much volume in this 16 metre yacht, it´s exciting to see.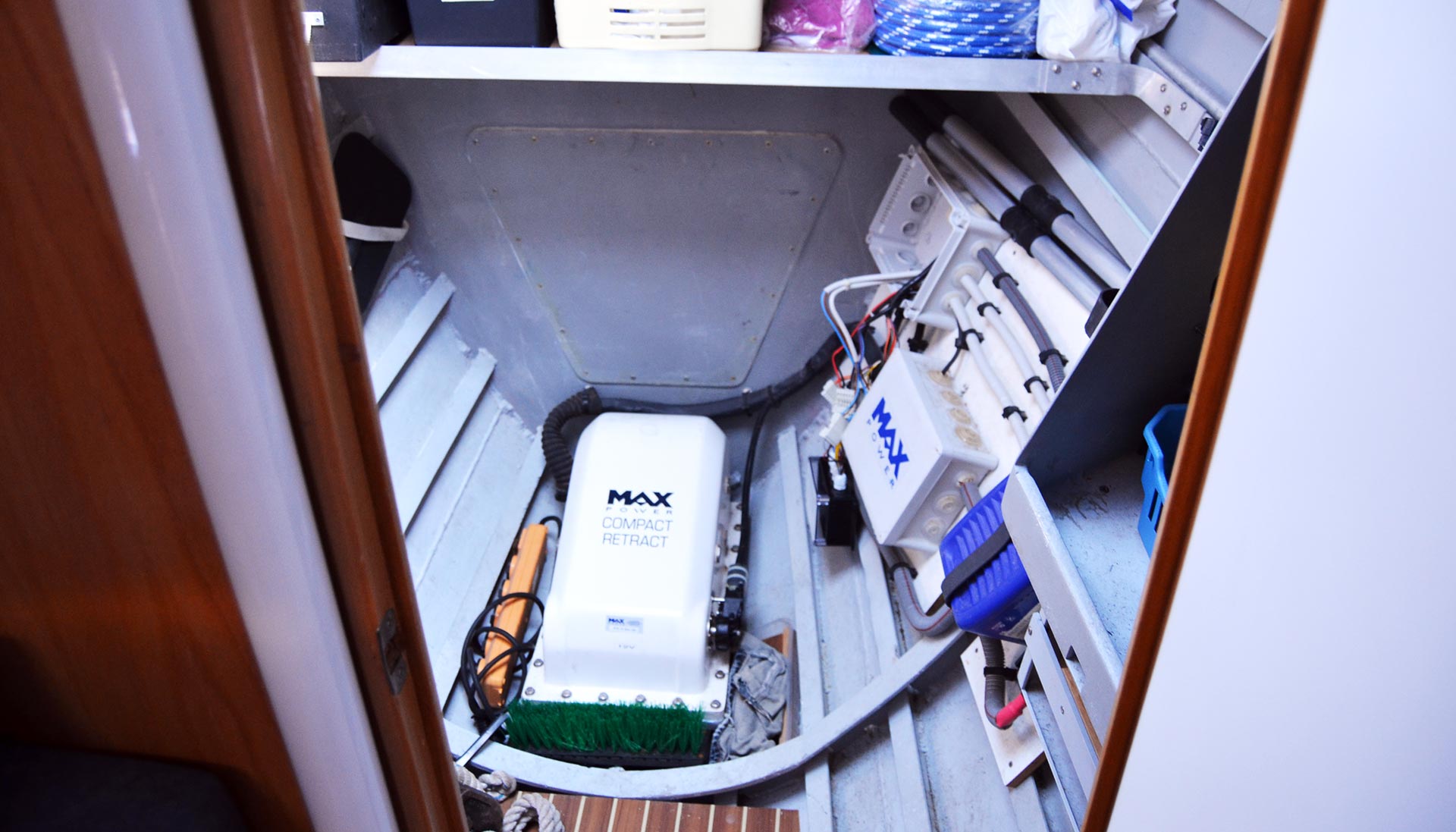 The interior of this boat was really catching my imagination. The woodworks had been done in exceptional quality and craftmanship, so many full-timber pieces, nicely dune curves and this sense for accessories and style was exciting to see. You don´t get this level of joinery on current day cruisers. Thinly veneered lightweight plywood. 90 degrees-angles and sharp edges, that´s sadly enough the fact in at least nearly all production boats. It´s reassuring to see that there still are some boats around that don´t adhere to the light brushed Oak trend … can´t stand this anymore.
A sleek, fast ULDB-cruiser
Lucky me we´ve also had one Finot-designed Cigale 16 out of the water so that I was able to take a look at her hull. The Cigale 16 was conceived by Finot as a fast sailing yacht. The boat bears resemblance with Open-racing yachts, which can best be seen at the nice, large flat transom (that by the way can take on a dinghy with no need for those awful davits).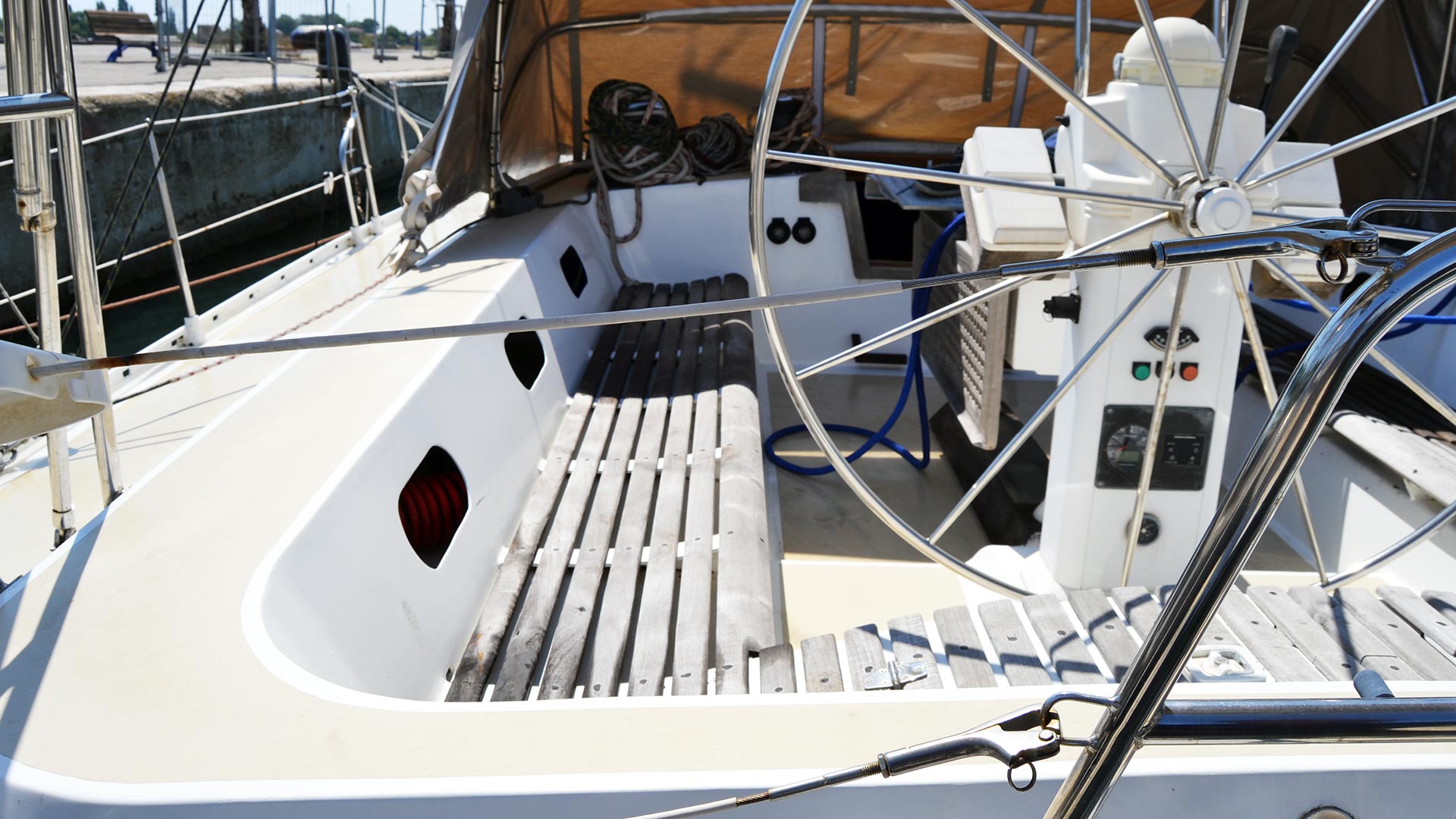 But also the cockpit: It´s flat, the coamings are not too high. One single steering wheel on a single rudder blade. Nice big winches. Just love it! Of course, again, today you wouldn´t do a cockpit like this anymore: First of all people want free and effortless passage aft to a big bathing platform. The Cigale 16 can offer a platform but you´ll have to squeeze through between steering wheel and coaming. Then they want sunbathing-stuff all over the place. In the Cigale the cockpit is … just a cockpit.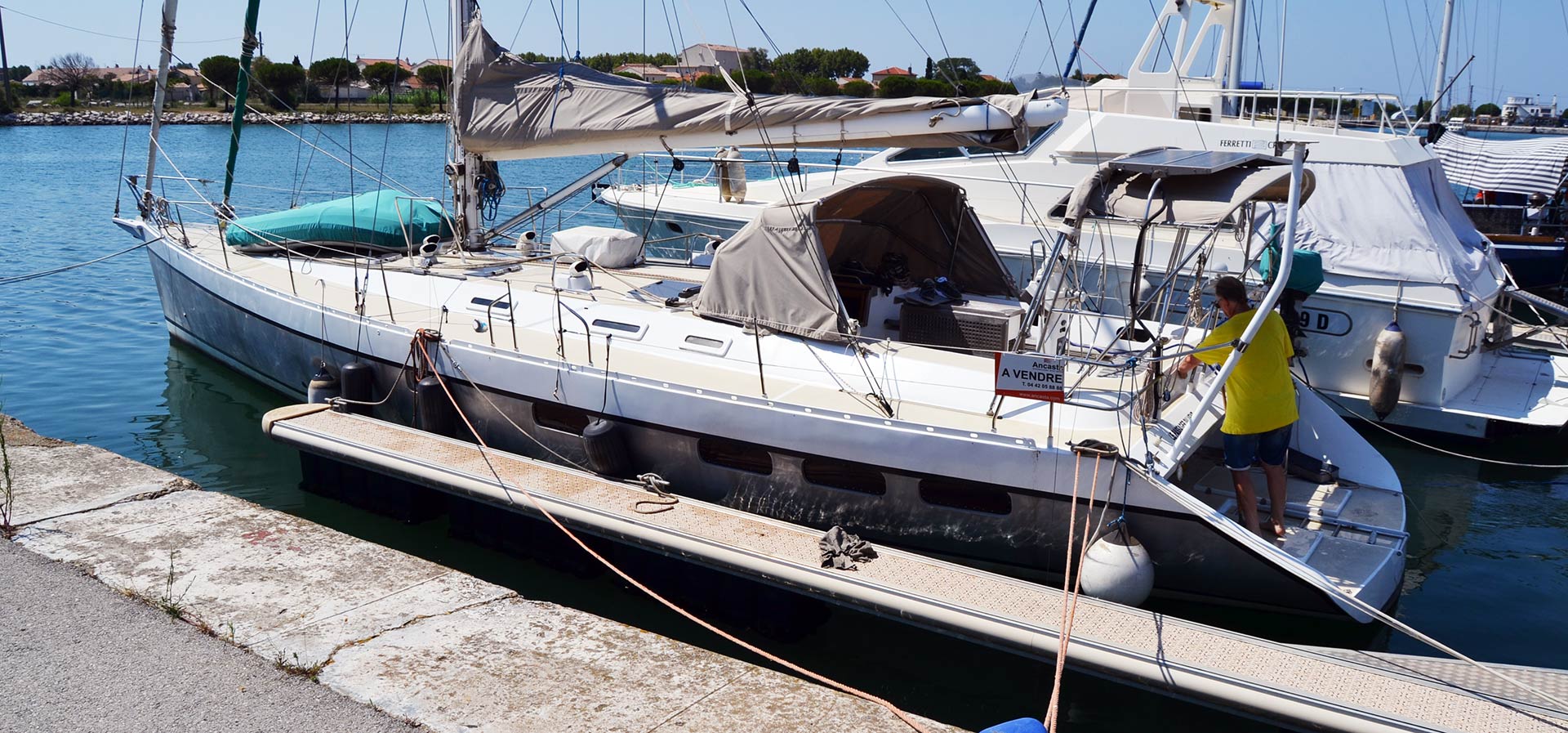 Looking at her full side I notice the portholes in the cabin roof which resemble a kind of loopholes. You wouldn´t do this on modern day boats and in fact that´s something which was redone accordingly by Marc Lombard in the second generation of the Cigale (which you can read here). On the other hand in the second gen Cigales the nice woodworks have also been replaced by more modern, angular and without doubt easier to manufacture joinery.
She has a nice sleek, yet somewhat flat-bottomed somewhat full-bodied hull. Round chines, for sure, make her having a nice seakind motion even in rough weather. Building an aluminium yacht with a perfect round chined hull is an art of it´s own, which I was able to witness by myself when I was visiting the Benjamins yard in Emden/Germany where the also famous Berckemeyer yachts are made.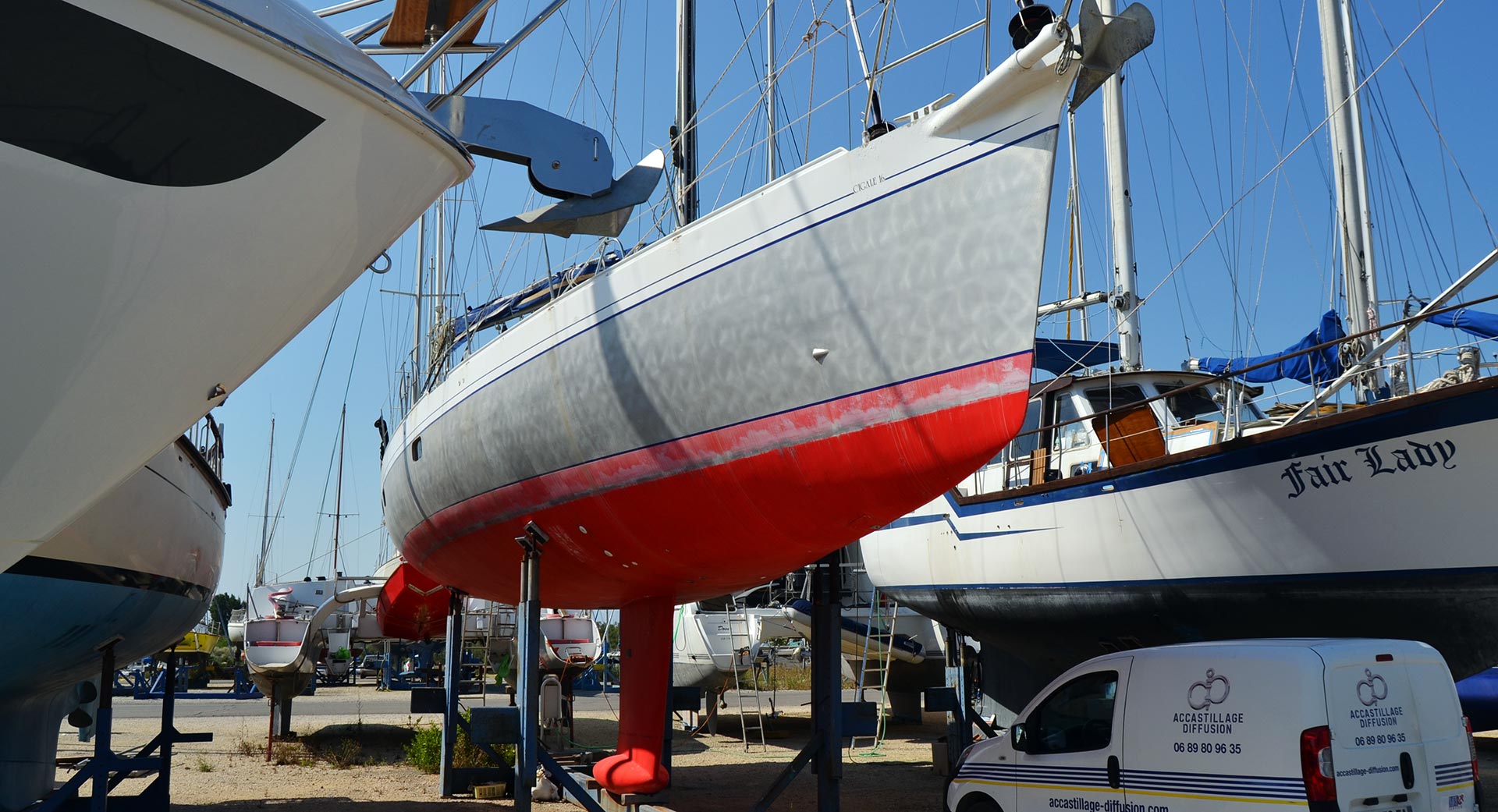 I like the sharp bow that I can imagine cutting effortless through waves when racing upwind. Nevertheless one can clearly see a nice V-shape in the bow section which would enable to boat to dive into waves rather than plunge down. I guess she is a fast boat on every point of sail although not a specialist on either one of them. As Frederic and the owner of a Finot-designed Cigale 14 assured me: She is damn fast!
High performance sailing in a Cigale 16
The Cigale is made by French yard Alubat – which I have been visiting recently, read it here – and Alubat is more known by their other range which is very, very successful: The Ovni. The Ovni is a hard chined aluminium cruiser made for the long haul with a distinct feature: The centreboard. Not so the Cigale. The Cigale is everything an Ovni is not. And one reason for this may be the fact that the Cigale bears a fixed keel.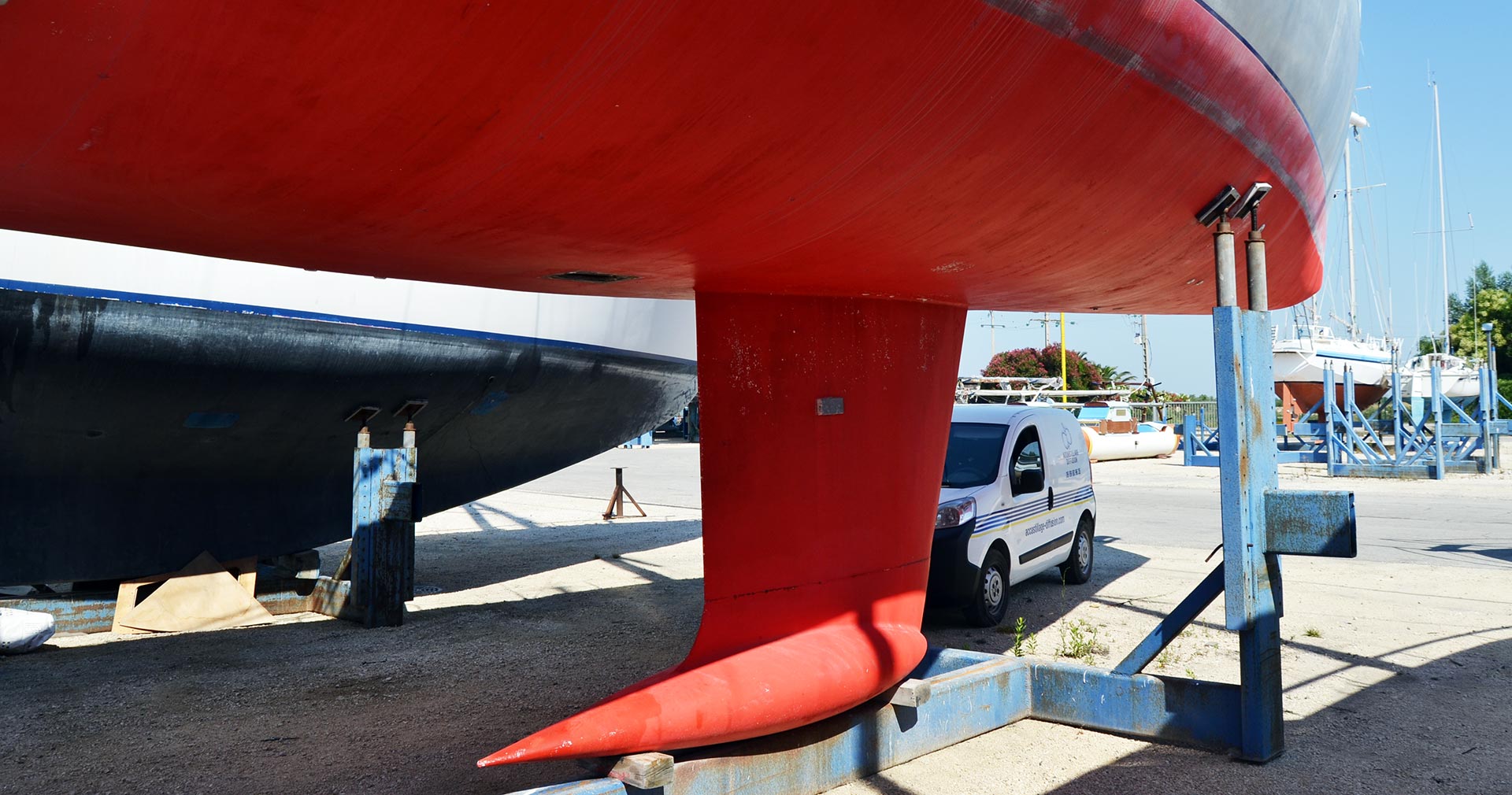 This yacht has a displacement of 8.000 kilograms. That´s just 8 tons! And behold – a ballast of 3.3 tons in the keel. Wow! That´s a ballast-ratio of 41 per cent! You barely get 35 per cent in modern cruisers today. But there is more adding to stability in the Cigale 16 – the water ballast system. Frederic climbs into the boat and I remain outside.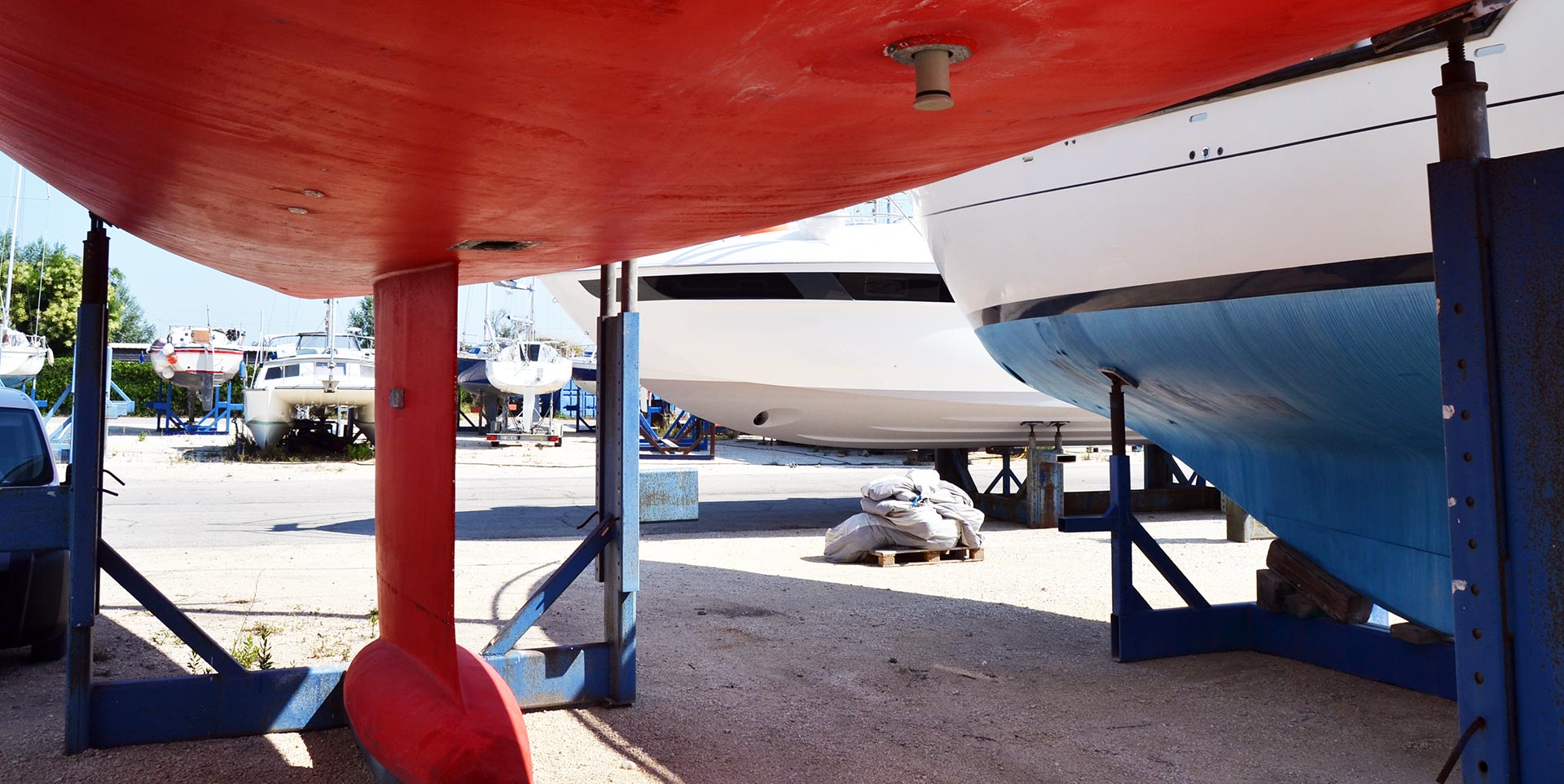 After a minute – right behind the keel fin – a small grey tube drops out of the hull. That´s the inlet (and outlet) for the water ballast. It works free of pumps and doesn´t need any electric of mechanical assistance. The opening hole placed forward will – when the boat is making speed – force the water into the tanks. Turned by 180 degrees, facing aft, the water will be released from the tanks and pour out. Ingenious.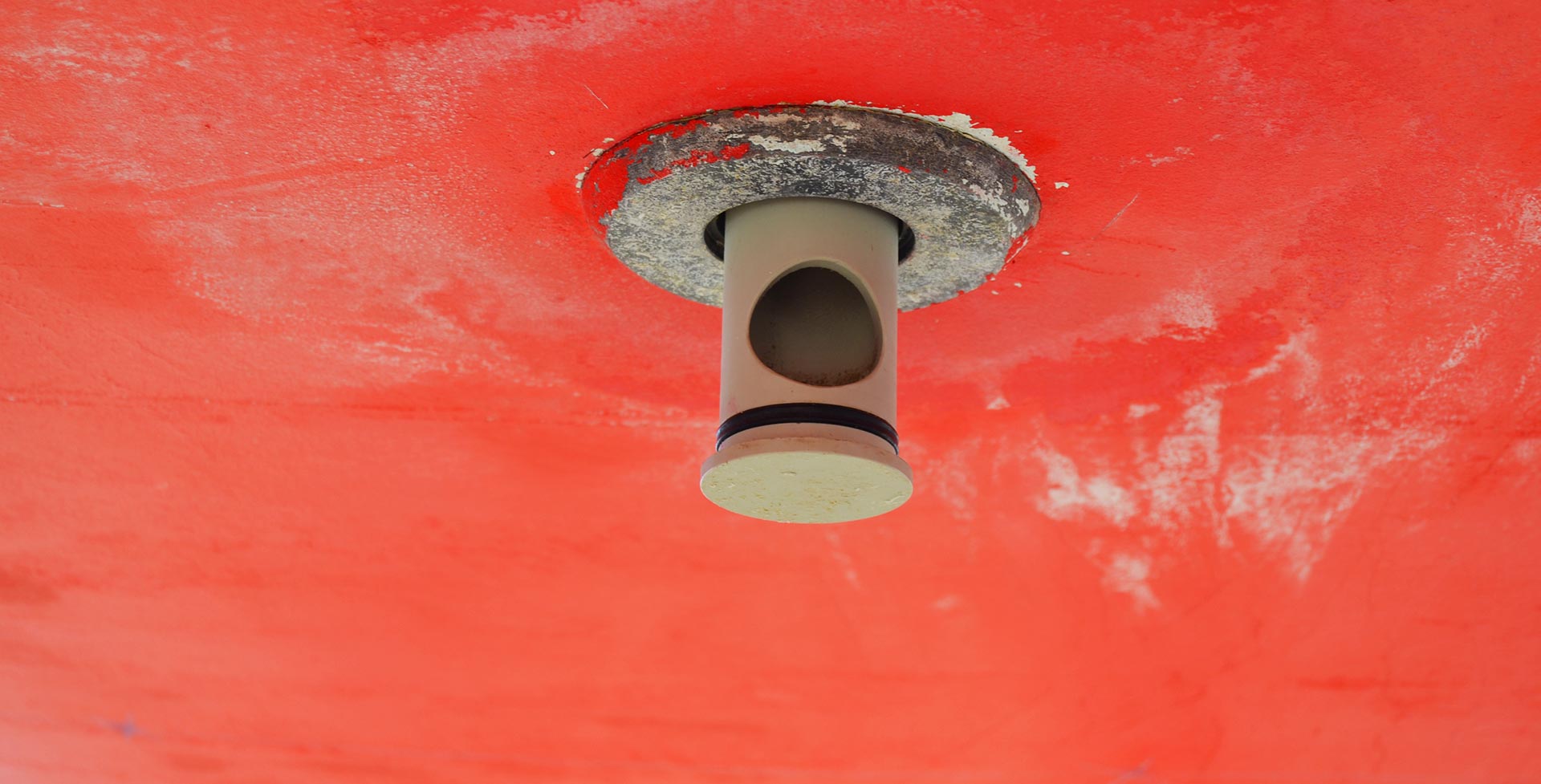 Frederic tells me that he once crossed the Atlantic Ocean in the Cigale 16 as part of the ARC. The didn´t really competed and raced but surely people want to go fast. He assured me that even in cruising mode the ballast system is easy to use and has a pretty cool effect, especially going upwind. The boat will stand just plain upright and dash through the waves …
What a great boat!
What a nice boat this would be for me, I think and I know that even with this particular boat´s considerably low price I simply cannot afford it. Aluminium comes with a price tag. The material makes the boats not just durable but also holding their value over decades. Used Cigale 16 – even the first gen boats – range around 350.000 Euros. That´s a load full of money, considering the fact that a brand new Beneteau Oceanis 51.1 costs the same.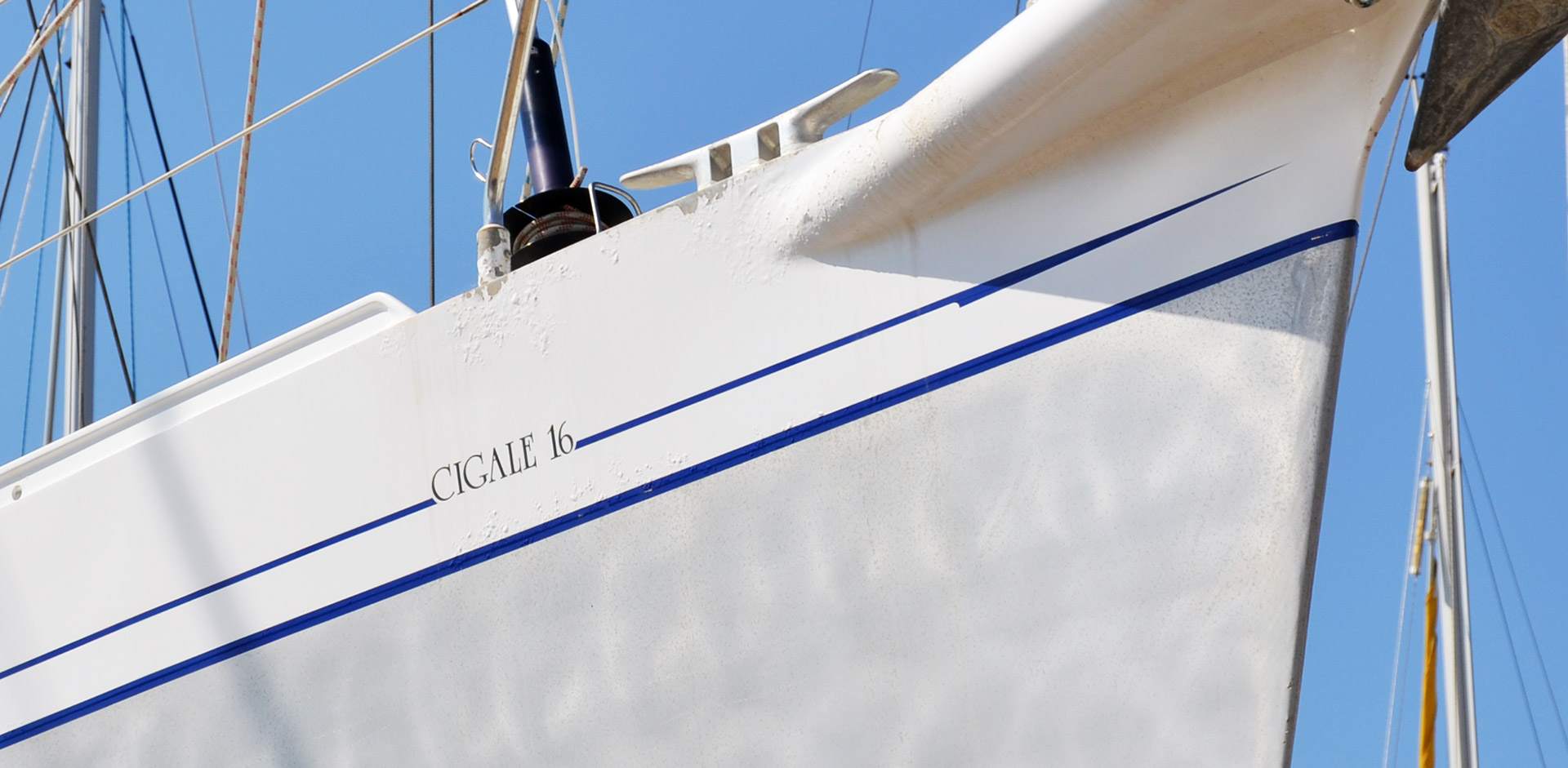 Of course, aluminium has it´s downsides. That´s don´t mess with galvanic corrosion, caused by micing different metals aboard and mooring at steel sheet pilings as well as the paint. On aluminium, simply, no paint will stick really good. As they had told me in the Benjamins yard, roughly ten years after bringing on the paint, you´ll start thinking about renewing it. And painting an aluminium yacht is a pain in the ass. With a hefty price tag. I spotted some not-so-nice issues in this Cigale´s paintjob and I guess the owner will have to invest a lot in the coming years here.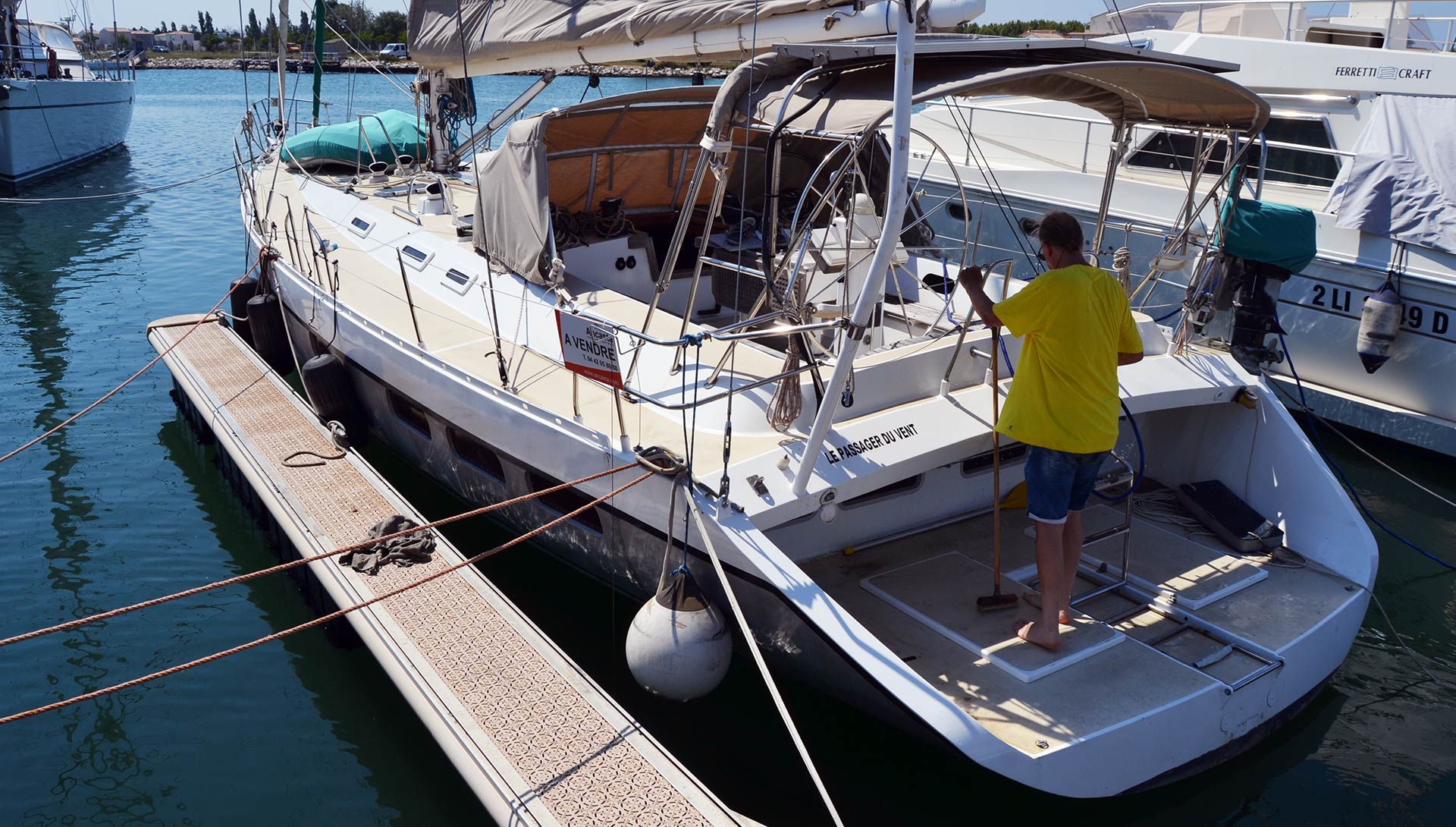 Nevertheless – don´t paint aluminium, I would say. Basta. The Cigale 16 is a true classic and I was really happy that Frederic offered me the chance to inspect these two boats thoroughly. Again, no chance to have them sailed (there wasn´t any wind anyway) but maybe that will eventually come later. I love the Cigale, I love the classy Finot-designed boats as well as the 2011 re-design done by Marc Lombard. She is – thanks to her "magic salon" really one of my all-time favs when it comes to dream yachts.
Thanks again, Frederic of AYC Yachtbrokers!
You´ve been infected with the Cigale-virus? Here´s more:
The Finot Cigale 14 – talking to an owner
Marc Lombard on the new design approach of the Cigale 16 
Yard visit at Alubat – home of the Ovni and Cigale