There are some very classic harbors a sailing yacht crossing the Baltic Sea cold (and definitely should) enter at one point: That´s Klintholm for sure, all the nice little marinas around the Danish island of Fyn like Aeroskoebing for example and of course Bornholm with Gudhjem. These are the Gold Standard ports of choice as to say and if you happen to sail my home waters please pay a visit here. But there are some other marinas, smaller destinations, nobody really knows and it could definitely also be a great choice to go here for one or two days. Lohme on the German island of Ruegen is such a choice.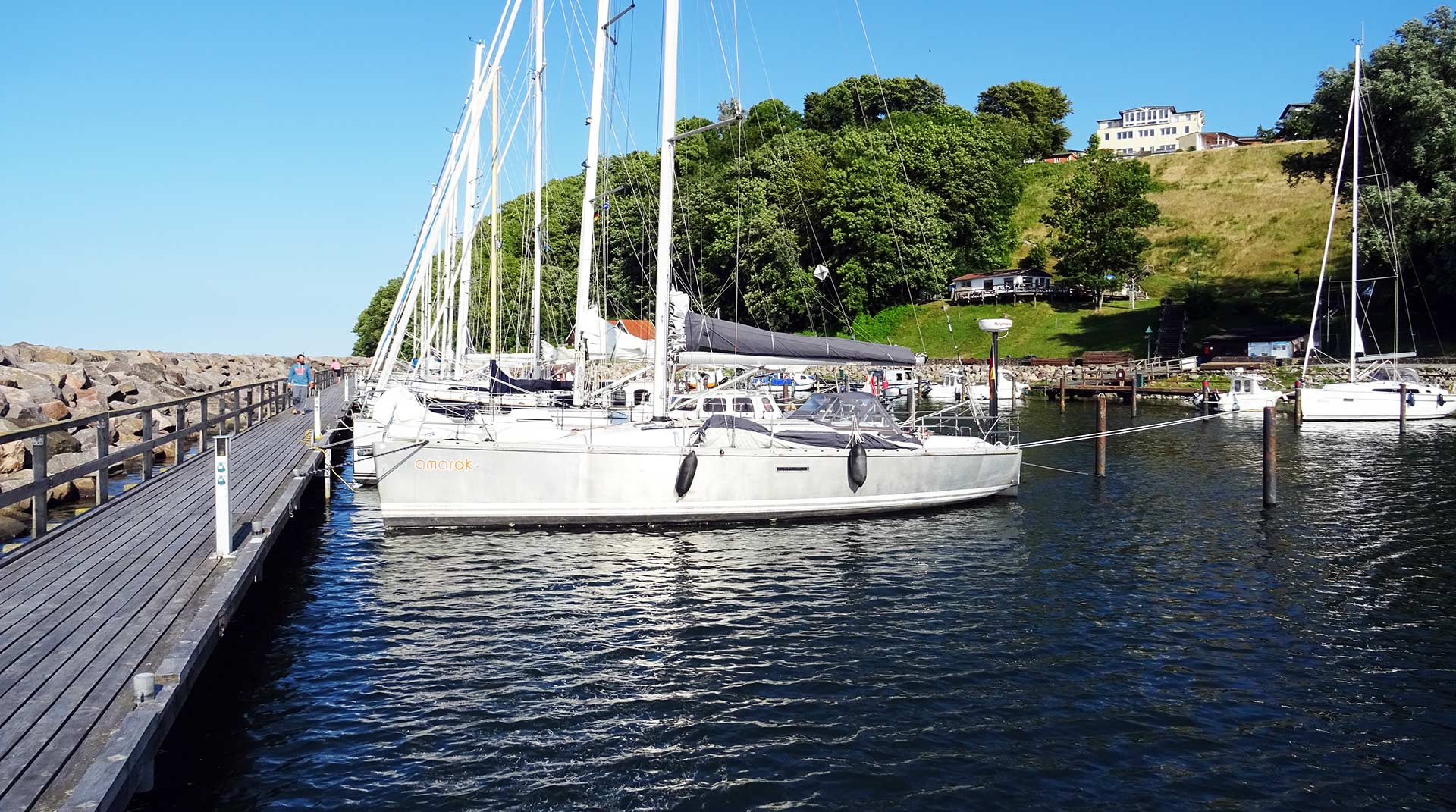 Lohme is situated on the Eastern part of Germany´s biggest island Ruegen, an area that is called the Jasmund. Lohme is very small. Very, very small and it cannot be seen from afar as this marina is not surrounded by a big town or even a small fisherman´s village. The marina a fairly new and really not too many people know of this place. If you seek a time-out from the berth-run during high season in Summer in the Baltic Sea – Lohme is a nice quite place you should go to.
How to sail to Lohme Marina
Sailing to Lohme is not a problem. The approach can be done easily from every angle as the depth around the harbor is 4.70 metres until your reach the breakwaters which mark the entry. Lohme cannot easily been spotted from more than 2 miles afar because the harbor is very, very small and there is no visible settlement surrounding the place. There of course is a small village but that´s sitting on top of Ruegen´s steep coats that has an elevation of 30 to 50 metres.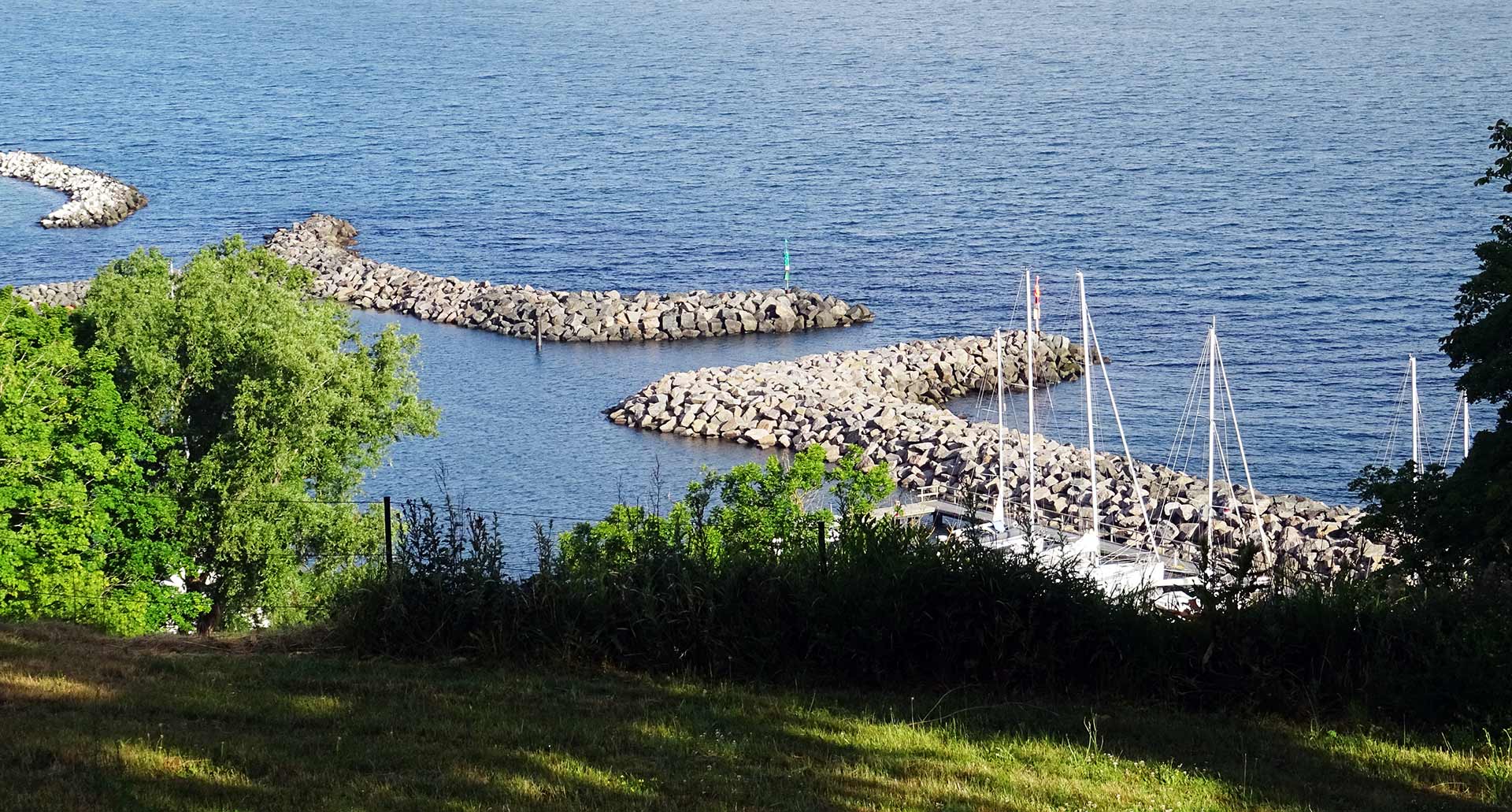 The entrance is tricky though: If there is a strong wind blowing from the North, entering the narrow marina could be dangerous as depth will be 3 to 3.30 metres right after entering the marina and down to 2.50 upon going to port to the berths. Upon entering, keep to starboard side of the fairway as there the channel will be deeper as port side (max zoom on your plotter!) If waves come in high you maybe should consider choosing another port (go approximately 7 miles East around Ruegen to the big port of Sassnitz or try some 5 miles to the West the port of Glowe).
Mooring in Lohme Marina
Mooring here is pure treat. It is very, very quiet and that may be because of the fact that Lohme offers not more than 53 berths of which a third may be restricted to very small vessels with a shallow draft. Not too many permanent resident boats will be mooring here and as we were entering (read about our fantastic sailing trip in an aluminium cruiser-racer here) we actually didn´t found too many guest berths occupied as well. Very nice!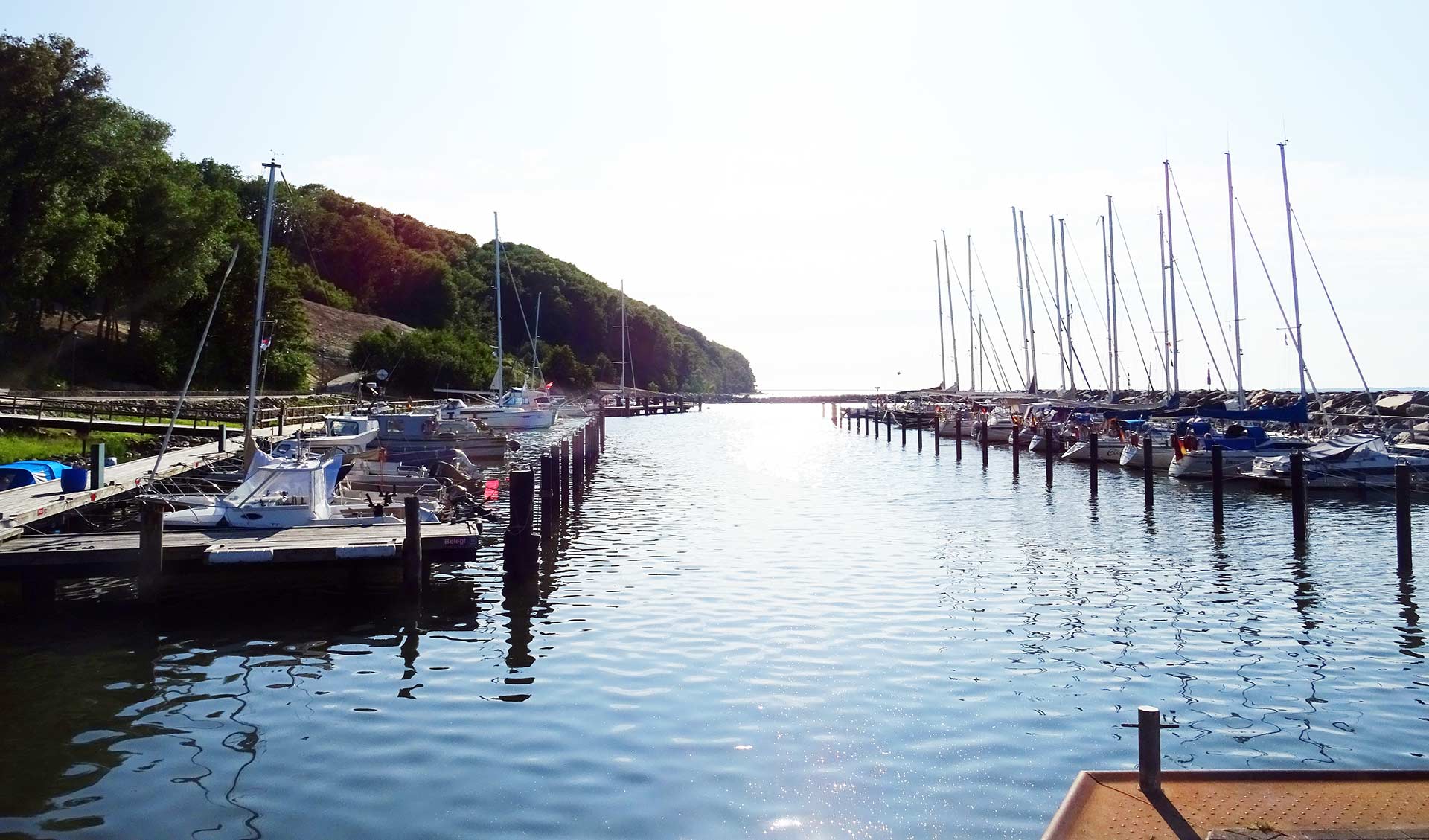 As there is no "civilization" visible here, you will get the impression of mooring in the midst of nature. This will spread a very relaxing feeling. The marina offers BBQ-fireplaces set up for you which are very inviting – offering a grand view over the Baltic Sea.
Demurrage in Lohme on Ruegen
There is a harbormaster sitting in his small office who is happy to collect the fees from you and help you finding your way around. Demurrage in Lohme on Ruegen is well priced and I think it´s okay: That´s a daily demurrage of 14.50 Euros for a boat between 11 and 12 metres LOA, up to 14 metres it´s 19 Euros per day and every additional metre adds 1.50 Euros – but because of the shallow draft and practically no wide enough berth nor any room for manoeuvres I don´t think that boats bigger than 45 feet will find accommodation here. Below: Try it, it´s worth it!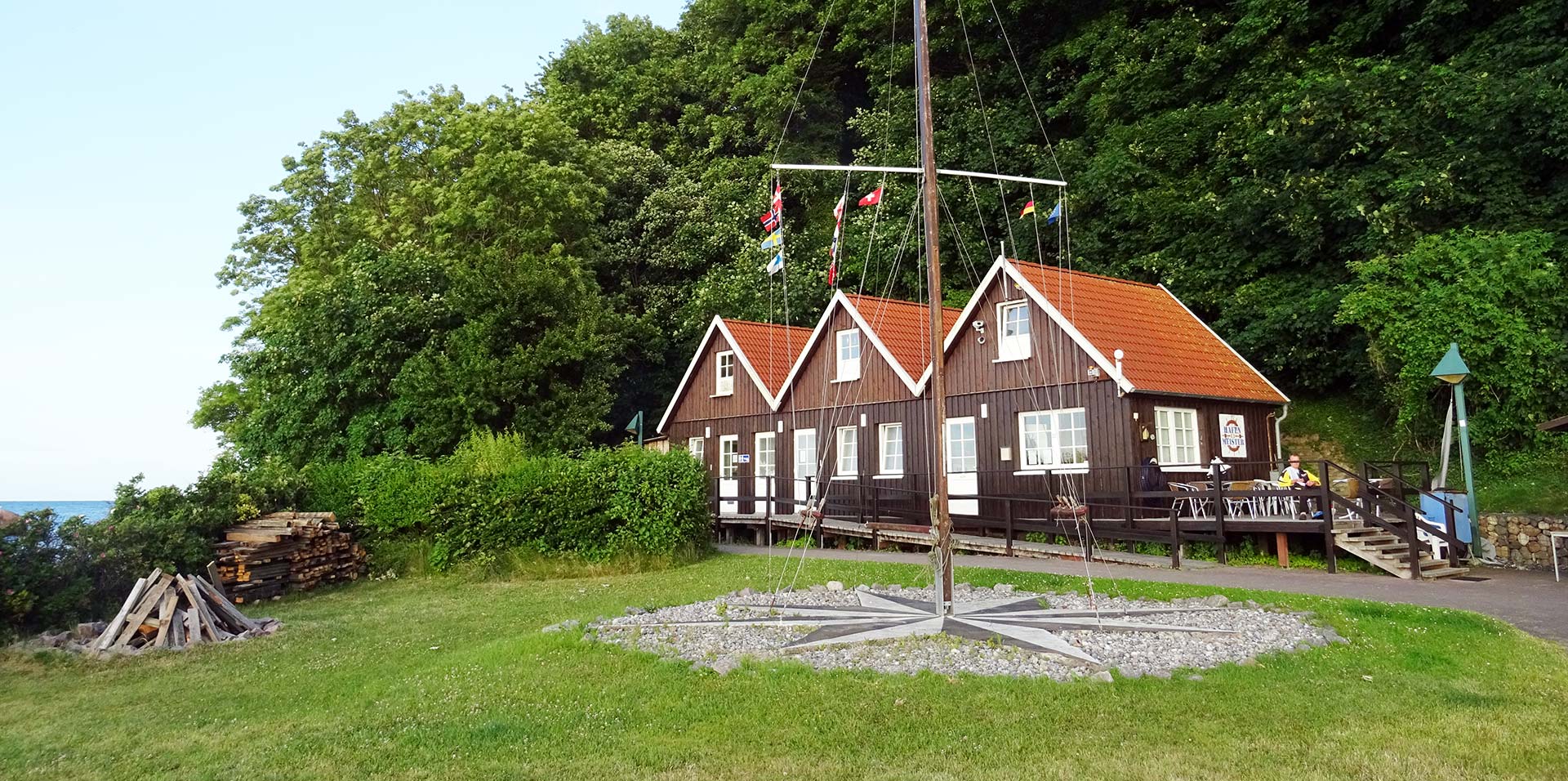 Of course, a leftover of the past is the pay-per-shower thing where you have to buy coins to put in the showers to get the water flown. Unfortunately these awful installations are still quite common in German marinas and that´s also the case with Lohme. 3 minutes of warm water for the shower is 2 Euros. Also a big fuckup still with Germany is WiFi – it´s not included and will be charged 2.50 Euros per day. There is still so much room for improvement: In Danish marinas this is meanwhile common sense to be included in the demurrage.
Bathroom Facilities
Speaking of taking a shower: I found the bathroom facilities in marina Lohme being quite okay. Toilets are clean (but, which is of concern for me personally) not very well (sound-)protected from the surrounding mates. There are just 2 shower cabins available – again, not after you have bought a coin to get out the nice hot water.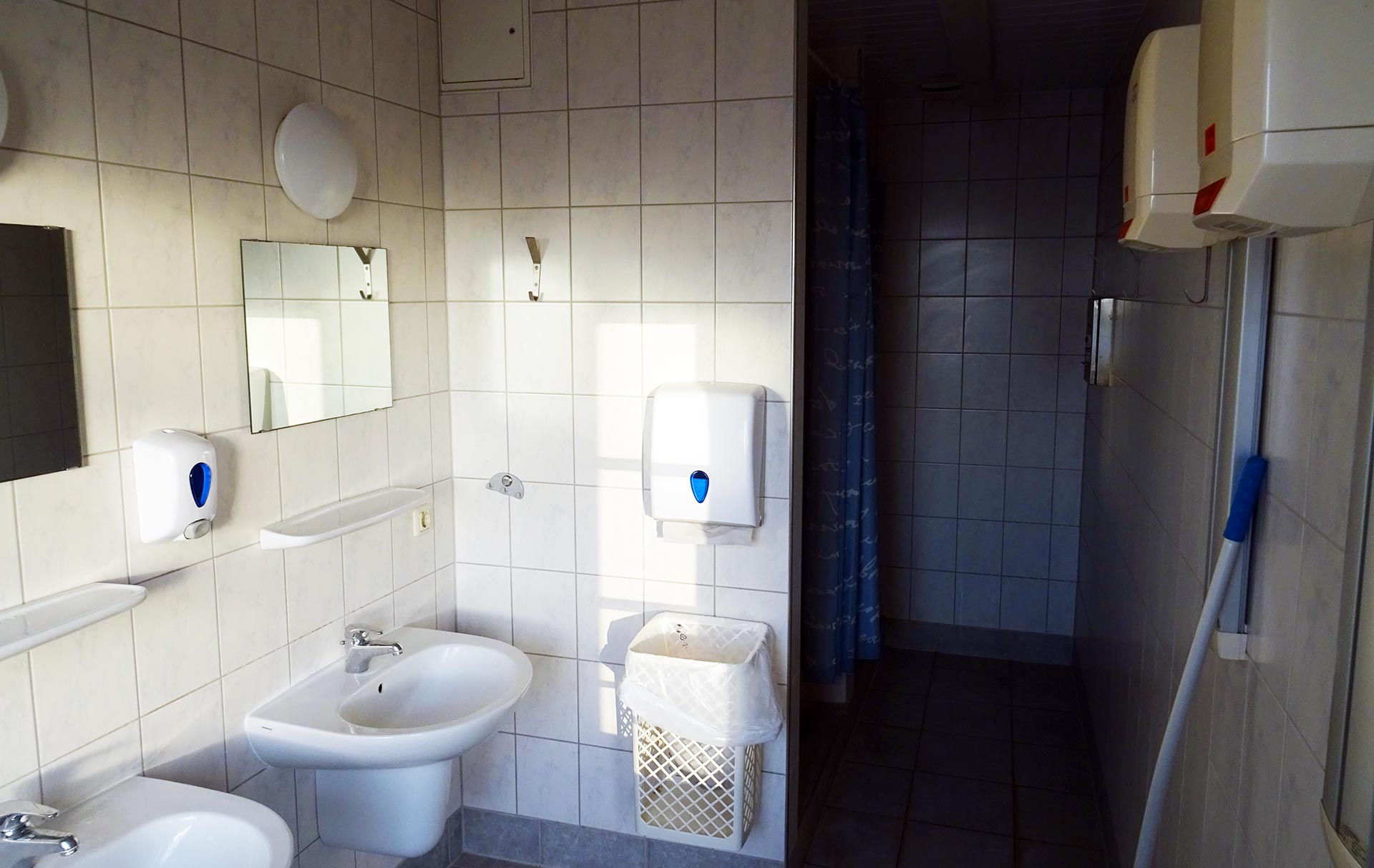 Also two big sinks to get washed or shaved properly are available in the same room (where hot water flows freely and you can also get a decent full body wash here). Not so, of course, during rush hour when people will be waiting in- and outside in queues to get a decent shave as well. But all in all, it is sufficiently sized. A neighbouring room is equipped with a washing machine and a dryer – but these won´t run – you guessed it – without some proper pre-bought coins.
Eating and Resting One´s Oars
If you seek having a big meal outside and letting your ship´s galley staying cold that time, Lohme has some nice things to offer: There is the Café Niedlich halfway up the hill ("niedlich" means "cute" in German) where you will taste some sweet stuff, bakeries and coffees during daytime. It is also a popular destination for strollers and locals as well as tourists who occupy one of the countless holiday flats.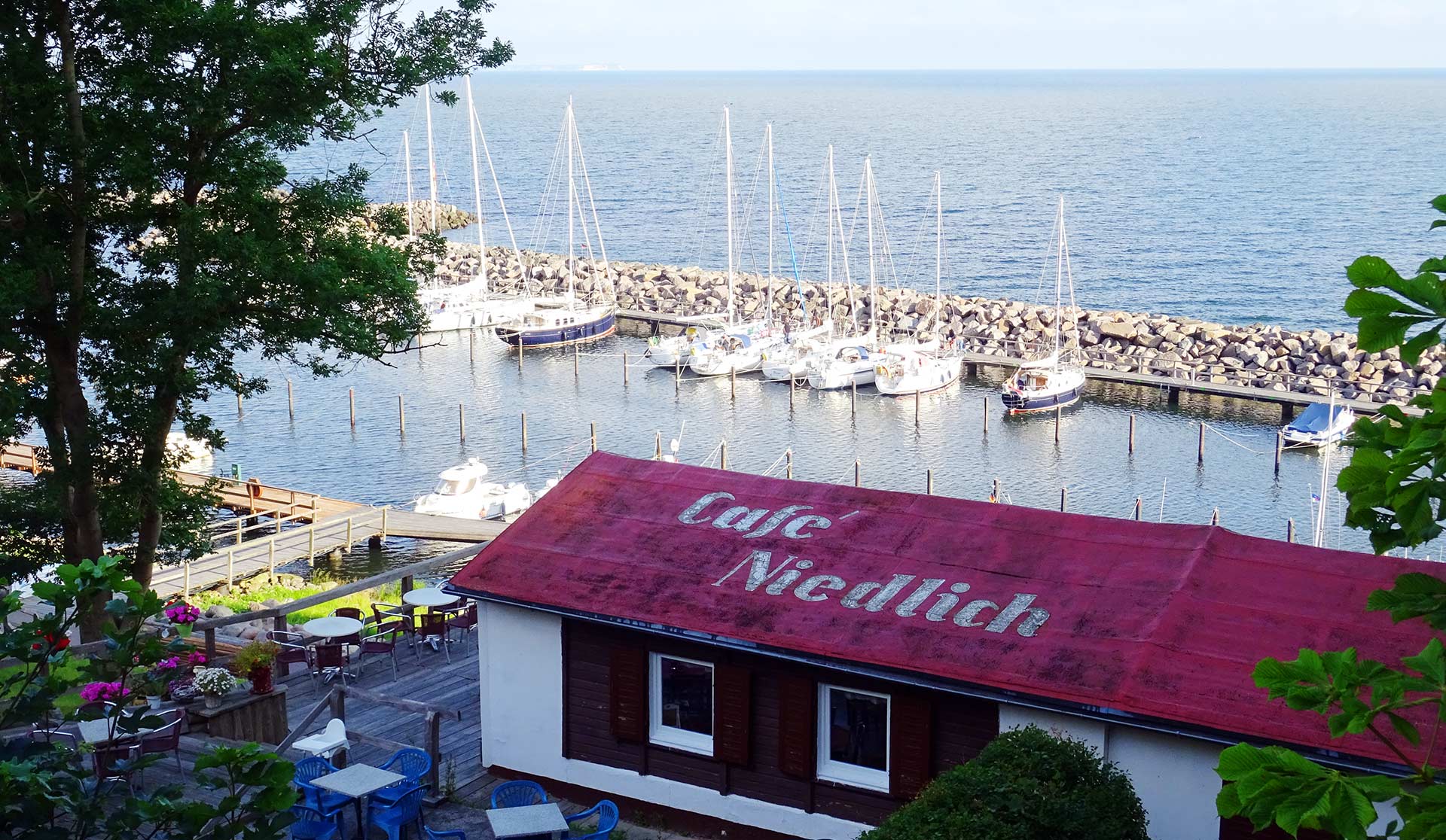 As hungry seafarers, we were very much impressed by the huge portions and great quality of the homemade food offered by the restaurant called "Daheim" (which means "at home") where you get great food and nice German beer. We also can recommend the "Dorfladen" (means "village grocery") where you can sit down it the courtyard in the morning and will receive a full fledged great breakfast from A to Z for a very small budget. That was awesome!
Lohme Marina: My Overall Assessment
Lohme marina is a different world. It´s not Oyster yachts and fancy people, it´s more used boats and old salts. There is no bling, no frills, no fussing around. Real people, real villagers, real food. It´s a nice, calm and in its own way refreshing port and something very different from what you´d being expect. The surroundings are quite nice and will make up for the shower coins easily.
My overall assessment for Lohme Marina would be 7 of 10 points
Link to the Marina Website here
 All marina reviews here