There was one harbor that was actually sticking out during my last trip around the Danish island of Fyn (read the article on the first 3 days here) and that was Aerosköbing marina. Why? Because here I´ve found a true marvel in the Danish South Sea, one of the most attractive sailing spots for German sailors in the Baltic Sea.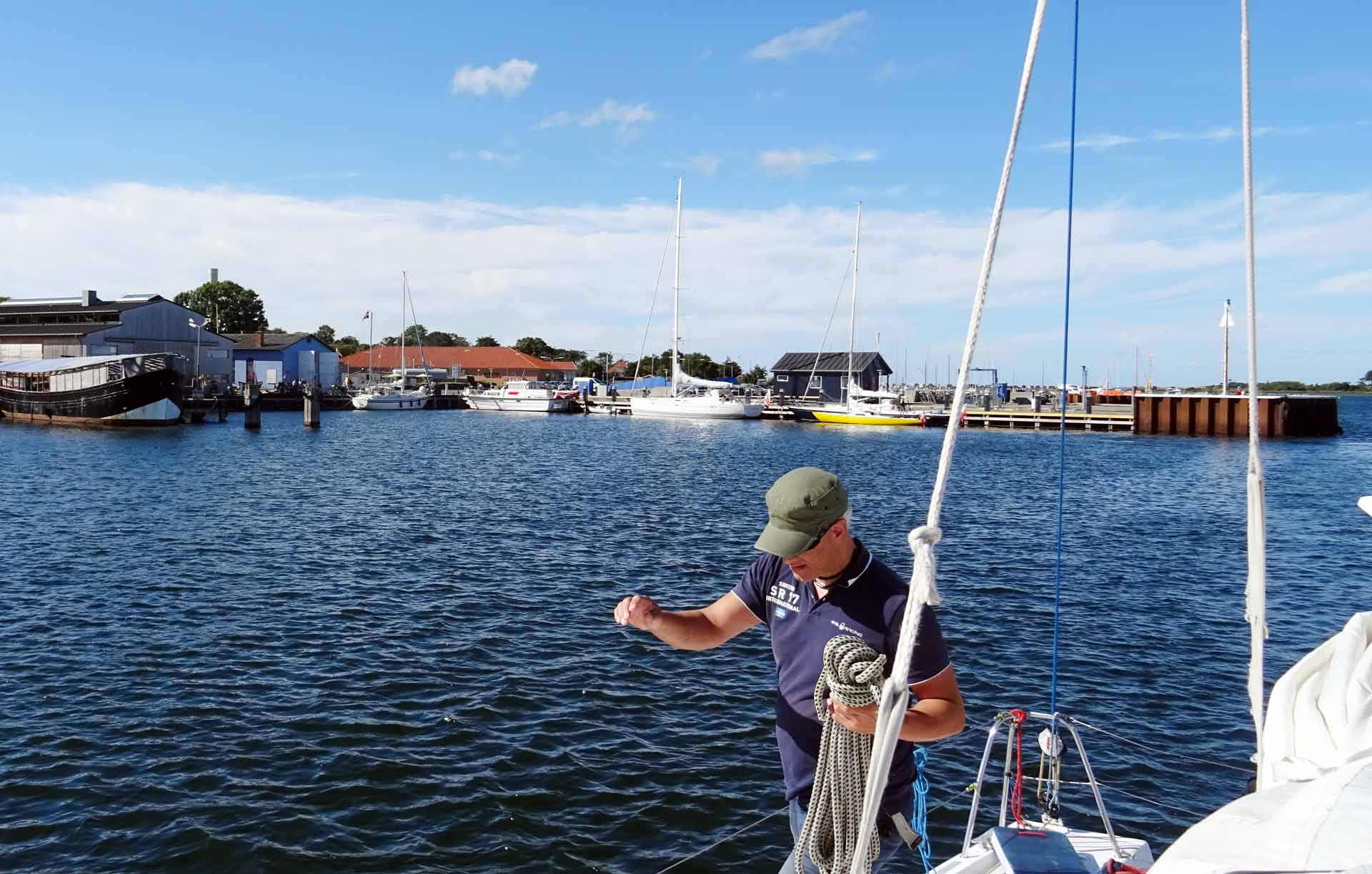 It´s a small commercial harbor – of which I am talking about here in this article – and a modern marina with a capacity of up to 120 to 150 boats. When I did arrive we´ve found the small fishing harbor half empty offering various possibilities to moor our Class 40 racing yacht and we gladfully took this opportunity: Mooring here has the big advantage of being tied up right in front of the old town of Aerosköbing, more than 750 years old – and having exclusively a much less frequented bathing house.
How to reach Aerosköbing Marina
The island of Aerö is located south of Fyn and covers only about 90 square kilometers. Some 6.000 inhabbitants live here, most of them in the "large" villages such as Aerö. The southern side of this island features a very beautiful steep coast with up to 30 meters, some forests which is untypical for Denmark and small villages. Aerö is located on the northern side of the island, well protected against the rough winds and swell in the little belt.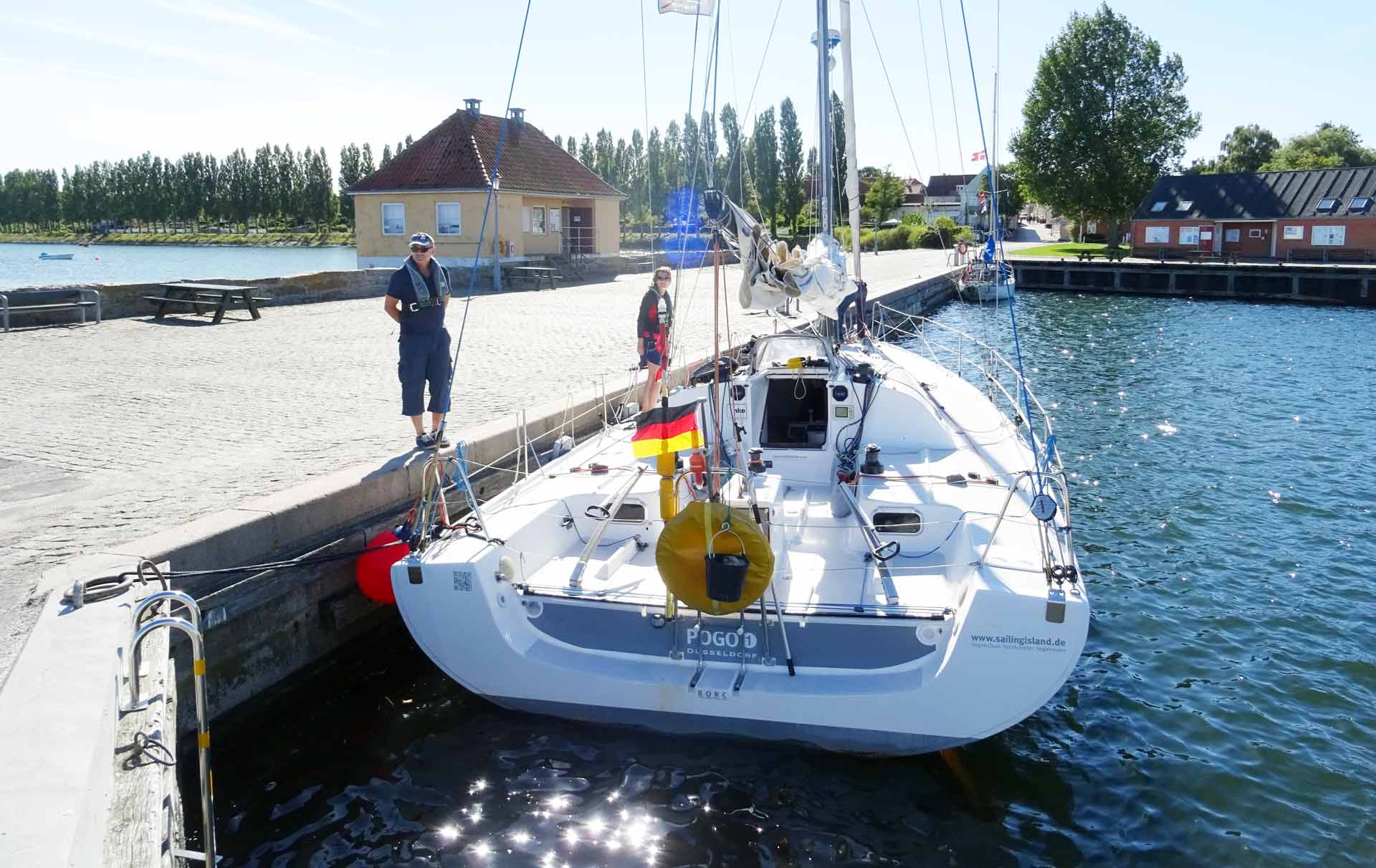 Reaching Aerö is a no-brainer, approaching the harbor is done by following a narrow fairway with lightless buoys. Diverting from that fairway is not recommended as there are shallows and some stones. The skipper is advised to sail with caution as the Aerosköbing ferry line is also running to Aerö regularly and these are big fellows.
Demurrage at Aerosköbing Marina
We arrived with a 40 feet boat at Aerosköbing. There is no such thing as a vending machine, here the harbor master will come personally to each boat with his bicycle to collect the demurrage. We had to pay 160 Danish Crowns, which is some 20 Euros per night. Electric energy and fresh water is included in this price, using the toilets as well. Taking a shower is a different thing though.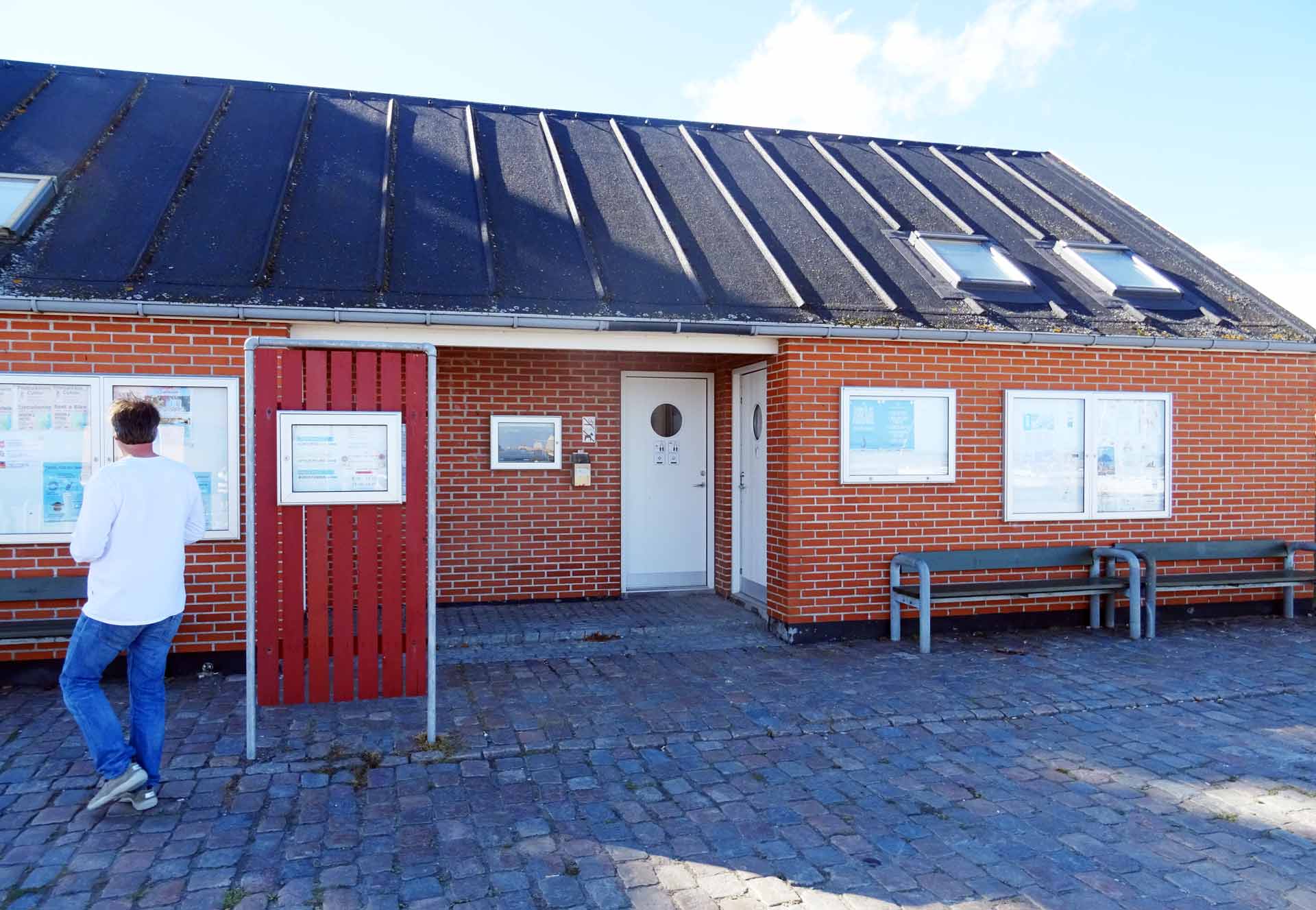 If you want to take a shower, there´s a vending and changing machine in the bath-house which will provide for shower coins. 4 minutes of hot shower is 10 Danish Crowns in Aerosköbing. Inserting a 5 Euro bill will change for 5 coins of 10 DKK. Which is a nice business for the harbor, since 30 DKK are only 4 Euros. But anyway, let´s be generous here, because the community and the harbormaster are trying to maintain this harbor to a high standard.
Bathroom Facilities and Amenities
Which brings us to the Amenities of Aerosköbing. The city center is small but worth strolling around. Very picturesque, dreamy and well kept. Not for nothing is Aerosköbing called the "fairy town". In the small harbor there´s not much commercial activity and one should prefer mooring here over the marina, though the marina is beautiful too. There´s a newly built and well kept small bathing house in the harbor which houses the toilets, showers and washing machines (also with DKK coins).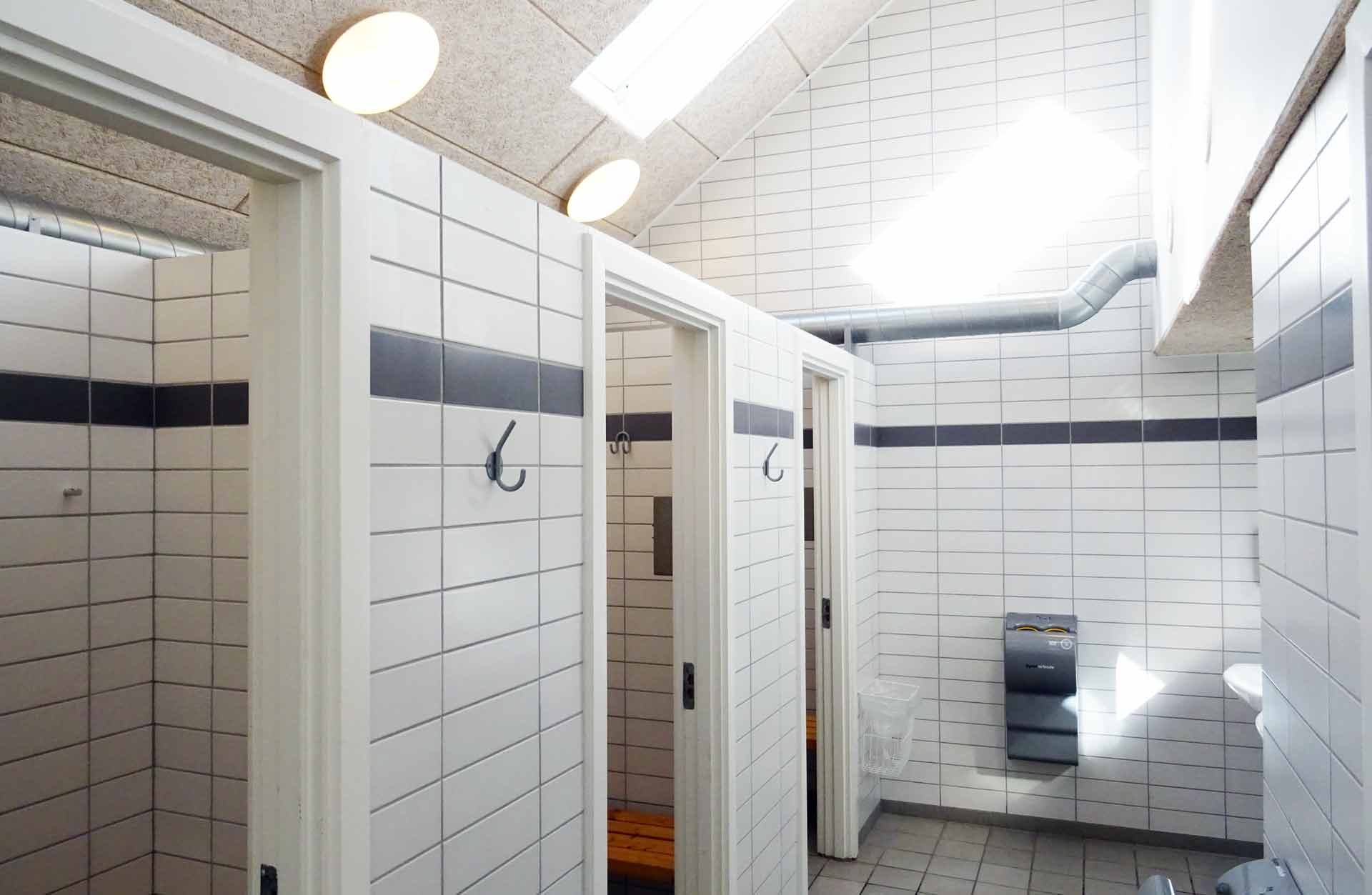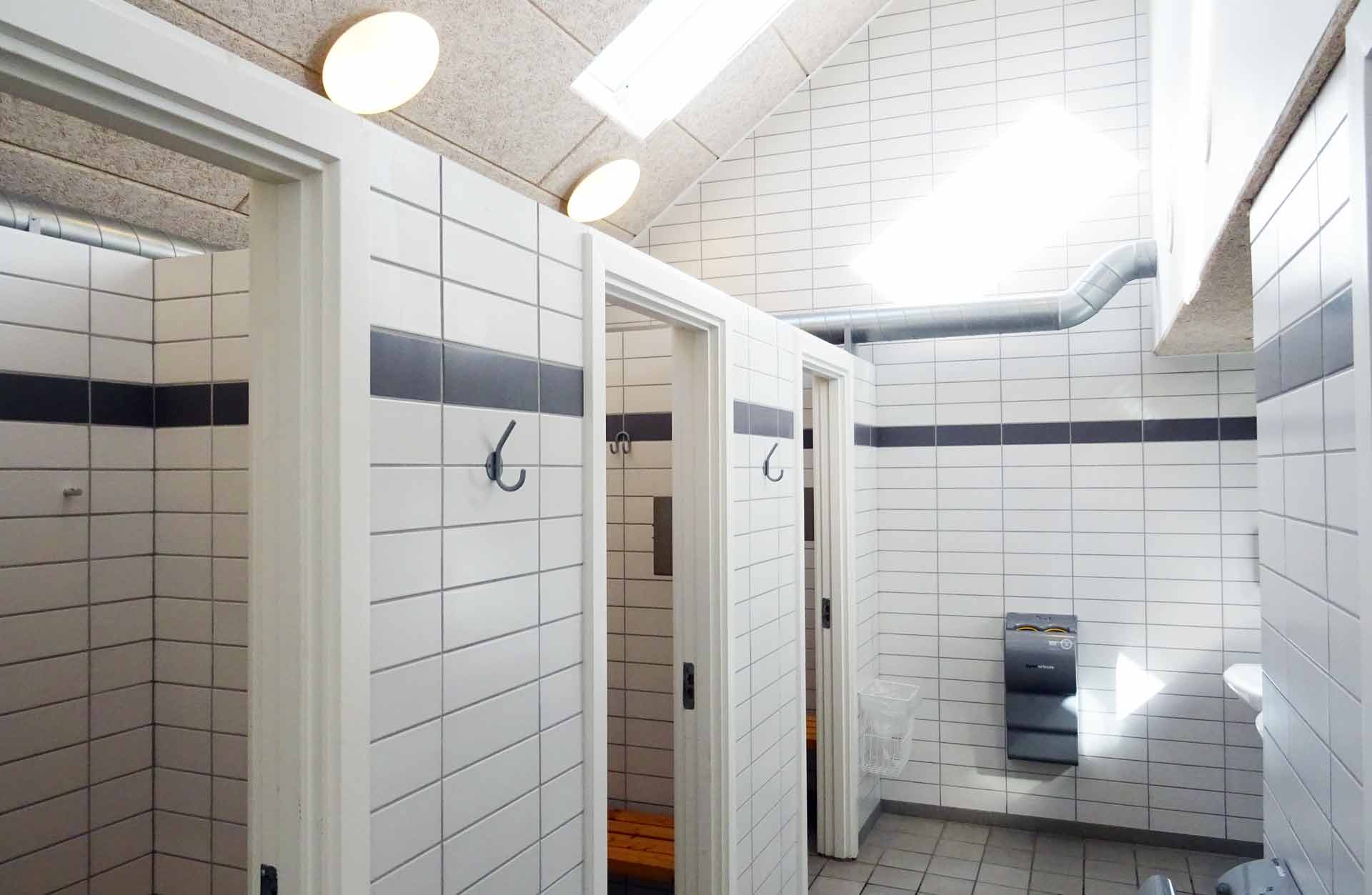 The facilities are new, clean and spacious. Normally there´s not much traffic here so that there´s a good chance of being alone in the house. I liked it very much for the tidiness which was boosting my comfort. The harbor also offers a BBQ-station with a most beautiful view to the seas, the marina also features a children´s playground as well. For breakfast fresh bakery can be ordered, some 500 meters by foot is a big supermarket to buy all stuff needed for the sailing trip.
Aerosköbing Harbor: My overall Assessment
Of all the harbors and marinas we´ve visited in our Round Fyn-trip Aerosköbing was the most beloved one. I liked it particularly for its beauty, the quietness and the half lonely-half picturesque atmosphere. To start a sailing vacation here is the best possible "taking down to earth" spot one could think of: Diving deep into the flow of Denmark, its friendly people and their unique style of living.
Aerosköbing Marina therefore gets a great 10/10.
See other marina reviews here
Read my article on the sailing trip around the island of Fyn here