One of the major benefits of working in the boating industry is that I come to enjoy sailing as part of my job. Well, sometimes this "enjoying" is a wide stretch for people, just like last weekend when I tackled the task of transferring our Beneteau Oceanis 46.1 boat from her current location in Rostock – the major cruise ship hub of Germany – to the North Sea. The boat is sold now and she was due for a cargo-ship transport to Greece. The carrier would be arriving 5 days later (very short notice on this one!) and so we did have some trouble organizing the transfer. No vocational easy cruise this time: Instead, a cold, windy and wet Baltic cruise with some time pressure was on the agenda. Let´s go!
I arrived with my partner at the marina at 1900 that day after a normal workday. We´ve had a car full of food and drinks for 5 days and the minimum equipment of sleeping bags, blankets, plates, fork and knives and some stuff. The boat – being a brand new exhibit – wasn´t equipped with anything you would need for sailing. Just the live raft. That´s all. The rest was upon us, even the German flag had to be fitted to her stern by means of wire straps. I felt kind of tired after a long day working and some 3 hours on the Autobahn driving East to Rostock.
To go or not to go? Weather concerns.
"Let´s chill out, turn on the Diesel-heating and have a nice evening. Get some sleep and have a smooth start tomorrow …", I wanted to say but weather planning and forecasts for the coming days averted this: As it seamed, we would have had a small weather window with – admittedly – favourable and nice winds setting in … now! … which would last exactly up until the coming day in the afternoon. Then the wind would die off completely – just to re-appear in near gale-force within the next three days.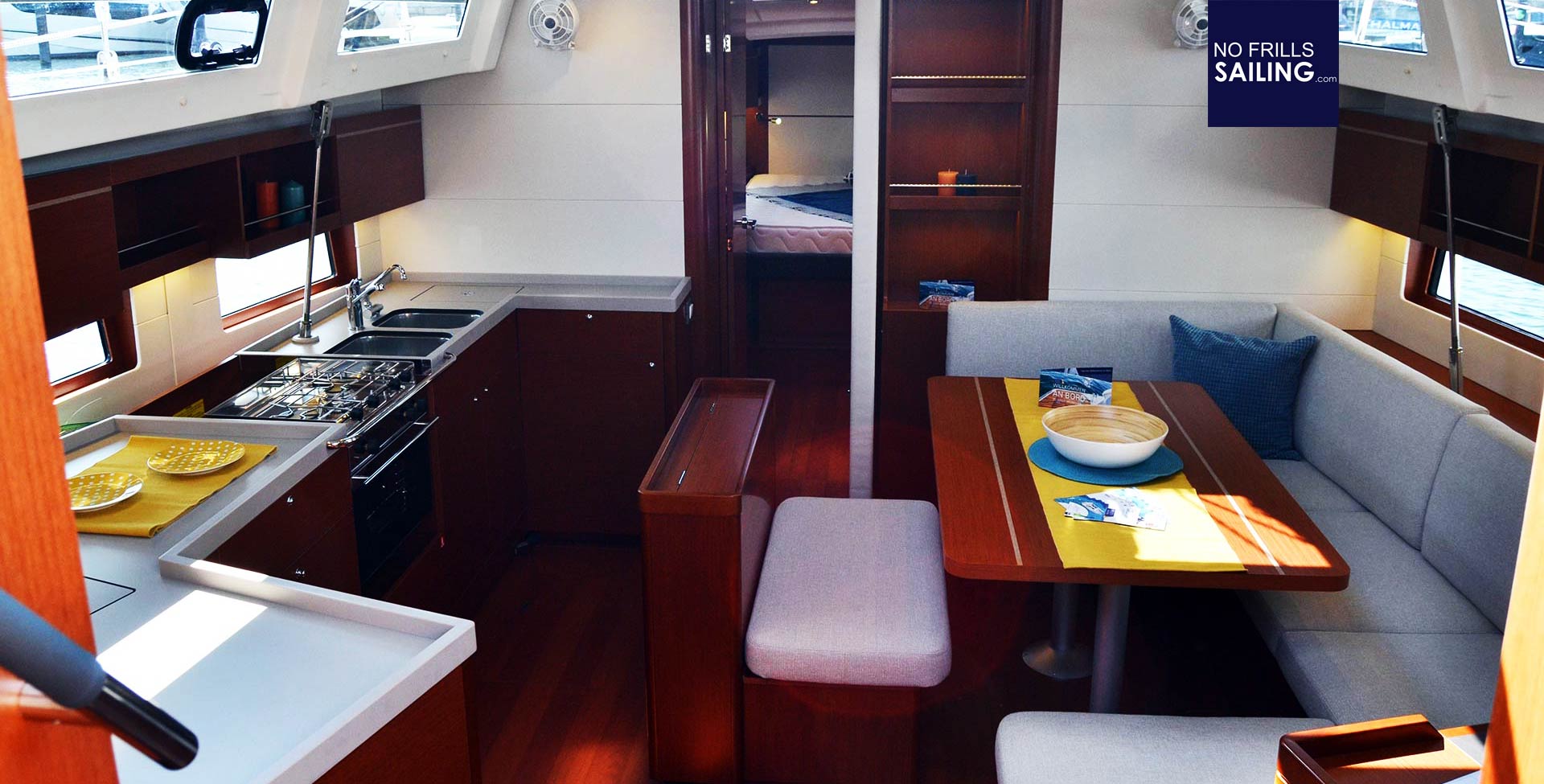 Chill ou? Sleep? No way! We talked about the situation and decided to leave port immediately. Utilizing the favourable winds over night to arrive hopefully just in time in Kiel, Germany´s sailing hot spot. This would then mean that we would have calm weather while traversing the Kiel Canal and would give us one, maybe two days advantage to sail the North Sea to Bremerhaven – final destination – before the gale force winds would be arriving. Well, casting off was kind of an overcoming since all of my body´s fibers called for a good night´s sleep. Nevertheless, wind began to increase and so we dropped the lines and the Oceanis slipped out of the otherwise empty marina. Bye, bye, Rostock – it was such a great pleasure being here!
Standard furling rigging sailing performance
For the coming 16 or so hours I must say that this was the first time in my sailing life that weather forecast turned out to be precisely true. We set full canvas, which on our Oceanis 46.1 was the standard in-mast furling mainsail (rigged with standard Elvström Dacron canvas) and the furling Genoa. This would certainly not have been my choice of sails for this boat but complaining didn´t helped – instead I looked forward to gain some experience with furling rigging in stronger winds. For the first hour wind came from dead astern with 9 knots, making us run with 4.5 knots SOG. Not very speedy. But then, clearing Rostock roadsted, it increased to 12 knots at 9 o´clock and reaching 17 knots at midnight. We picked up speed ever so slightly, mainly due to a windshift to a South-Westerly breeze. It turned out to be a bliss sailing the boat under these conditions!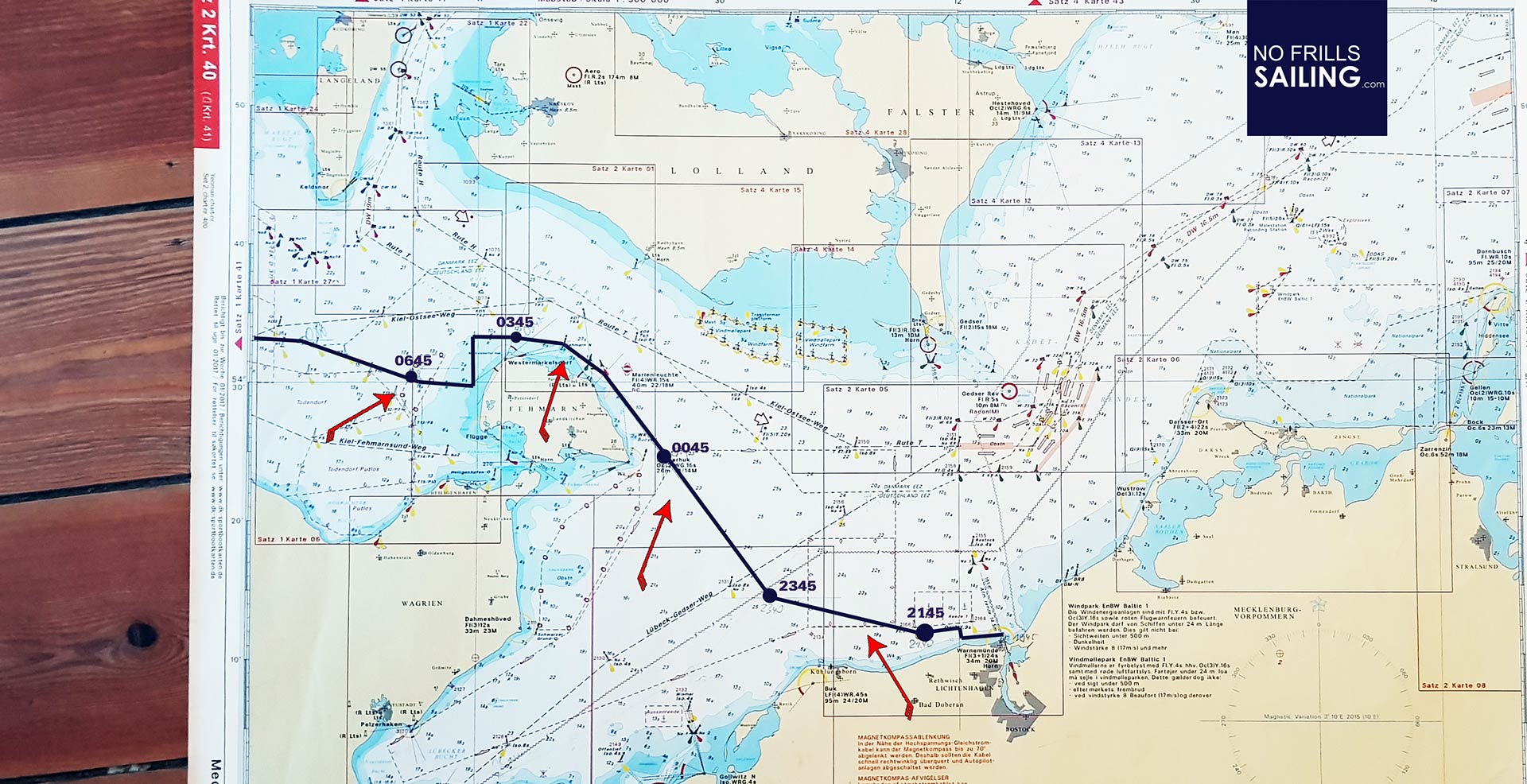 With winds shifting to a Southwesterly breeze and waves being smaller than one metre the modern hull form of the Beneteau, derived from her bigger sister, the Oceanis 51.1 began to show what it can: Winds increased to a steady 20 knots TWS and so she took off at a TWA of 90 to 100 degrees, clocking down the miles. The two-hour rhythm of logbook entries revealed afterwards that the boat did 13 miles in the first 2-hours-shift, 15.5 miles in the second with flying through the pitch black dark night so effortlessly that it was pure joy. Sometimes I steered by myself, testing her capabilities and the feeling of the double rudder configuration which I liked. It´s not as direct as a single rudder but a sensible helmsman will certainly find the wind-echelon and get a feel for the boat. On the other hand, double rudder always means less forces on the shaft, less power needed for the helmsman and less work (thus battery-strain) for the autopilot. My partner retreated down to the salon where she found some two hours of sleep just when we rounded the Island of Fehmarn and I luffed the boat to an 80 TWD.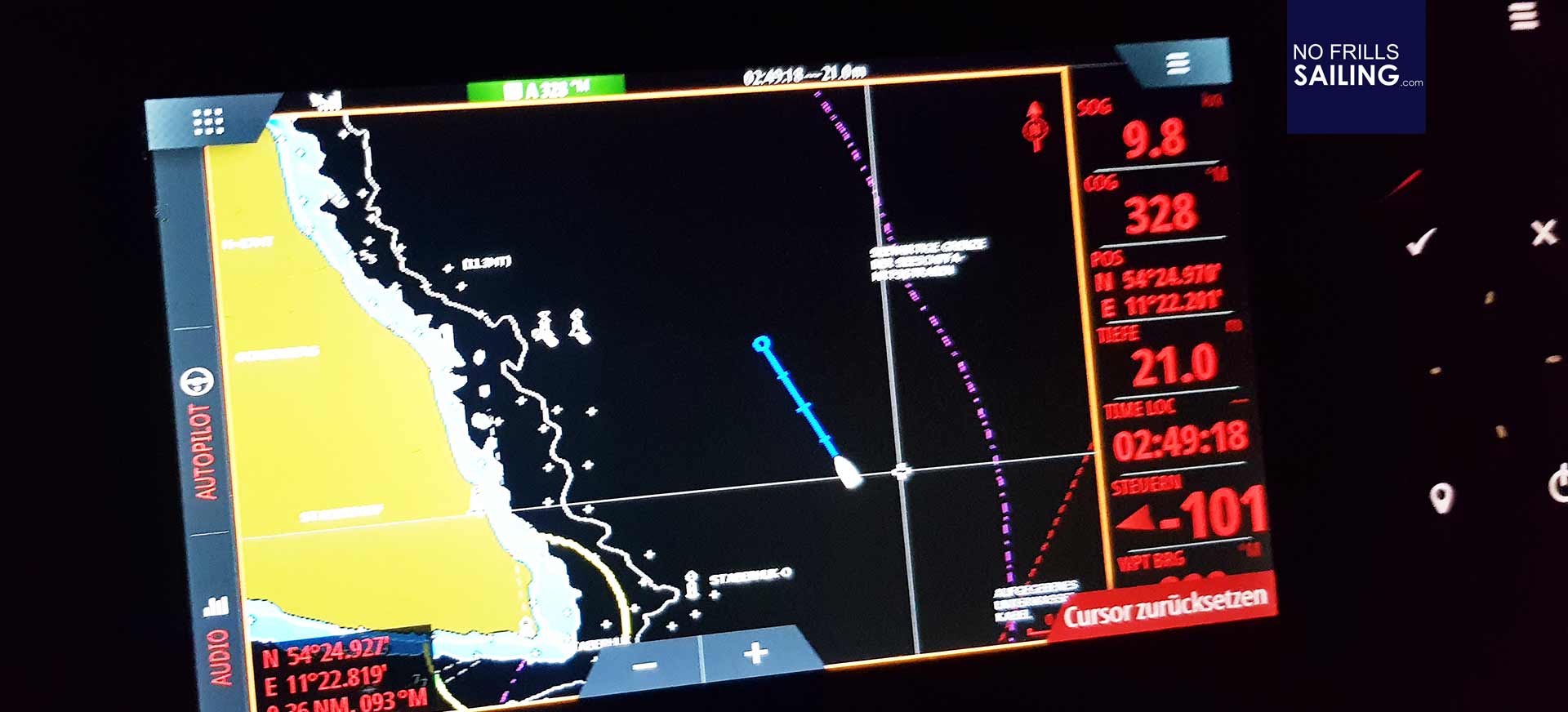 Did I say I loved it? Negotiating the darkness by the help of the B&G plotter and the buoys and lights I just had to avoid ramming the fairway markings. Otherwise the overcast sky was ripped apart by apparently much stronger winds in the upper altitudes and revealed a perfect splendid starry sky. After taking her nap, my partner joined me and we admired the wonders of this perfect night sky together. Time flew by just as the miles melted, no wonder – our boat dashed down the Baltic Sea at no less than 9 knots over ground with a maximum speed of 11.8 knots SOG clocked by the plotter. So much for the "slumber" Dacron canvas on in-mast furling …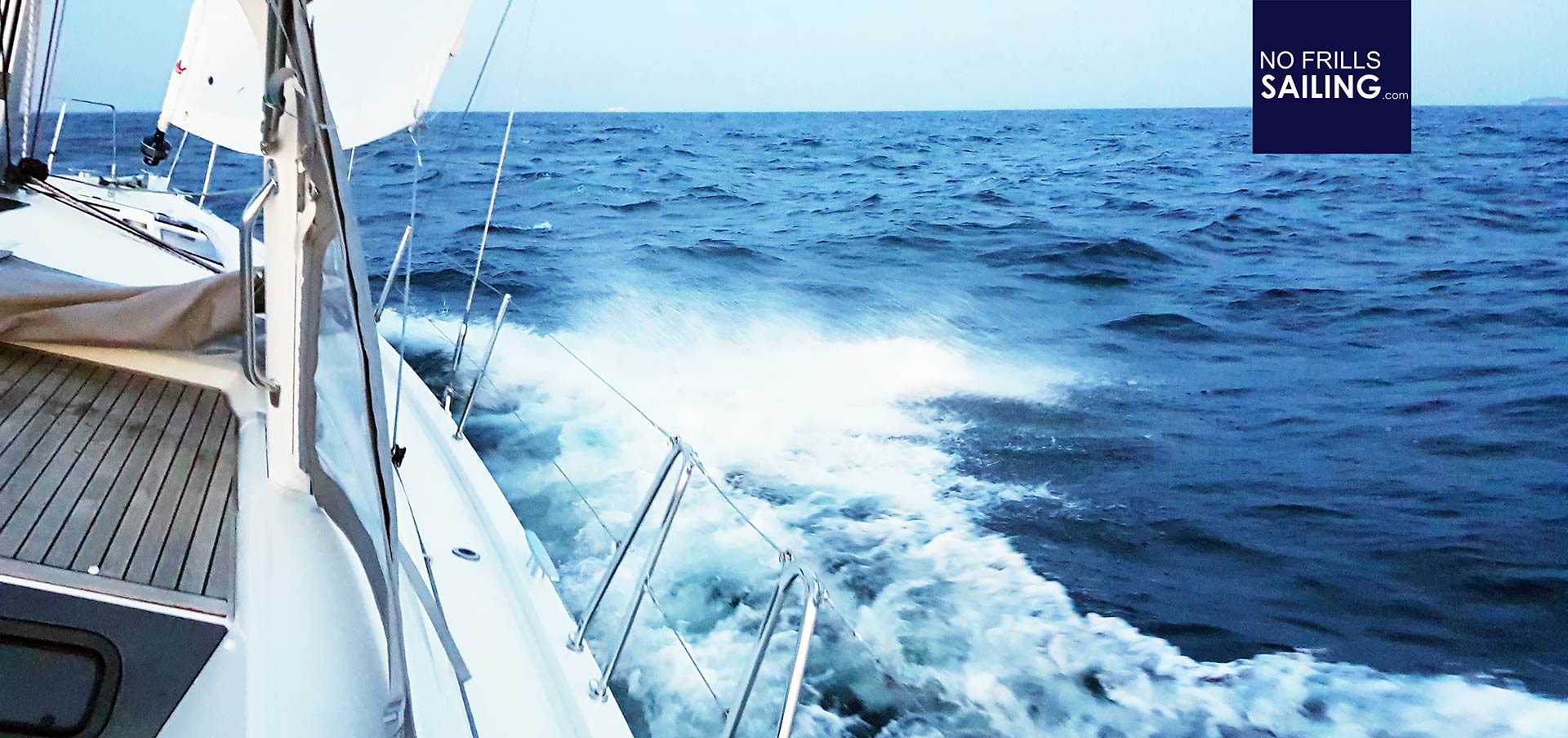 Well, that goes for reaching courses of course. Things changed somewhat dramatically the next morning. Wind eased a bit to 18 knots but became more gusty with heights of 24 knots. Rounding Fehmarn which I passed in under 1.5 miles distance, waves increased once we cleared the wave-shadow of the island. With winds now having battered the Baltic Sea for some 12 hours now and a fetch of over 15 miles to the shore, wave height increased suddenly and wind shifted more west – The boat moaned under the loads of the gusts which went on to hammer her rigging for 2 to 3 minutes just to "die" down to normal 18 knots, coming back after some 5 minutes or so. I reefed after my partner suggested that she might be over pressing. Now, with Genoa furled to the third reefing point and the mainsail reefed as well, going upwind, the whole "dilemma" of modern easy-rigging was apparent: 3 to 4.5 knots SOG upwind was the result. Not a shiny number for a 46 footer but poor upwind performance when reefed is the price you pay for an otherwise very easy handling.
Just in time!
Over the next hours wind went down more and more to 12 – 15 knots TWS so that I was able to shake out the reefs at 0900 in the morning. The cold start in Rostock and the whole night up here at the helm now demanded the toll: My stomach was groaning louder than the winds and I happily devoured Mom´s good old hand made Potato salad (of which I would have loved to share the recipe, but I fear it´s a family secret) and a hot tea. What a pleasure!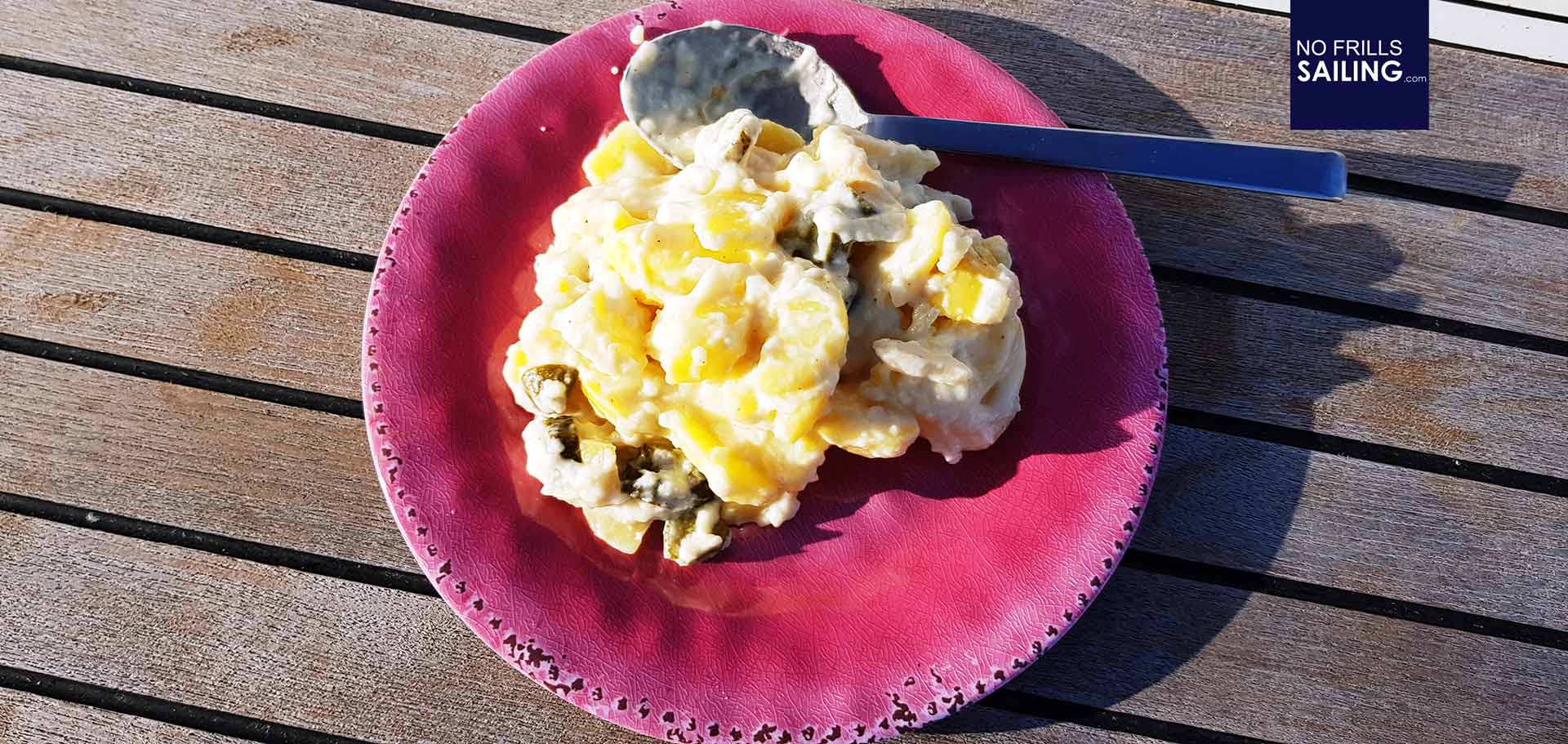 Because of the fact that the forecast was up to that point spot-on precise I knew that wind would be down to zero within the next three hours so I tried to squeeze out as many miles of her as I could. Unfortunately both the commercial traffic lanes and wind direction prohibited a direct course towards Kiel Bay area. I chose to steer true West where I should have taken a more southerly route but that kept us being fast (5 to 6 knots, nearly upwind with 45-50 degrees TWD) with occasional tacks to South to avoid the TSS-areas. It worked fine. Lush sailing.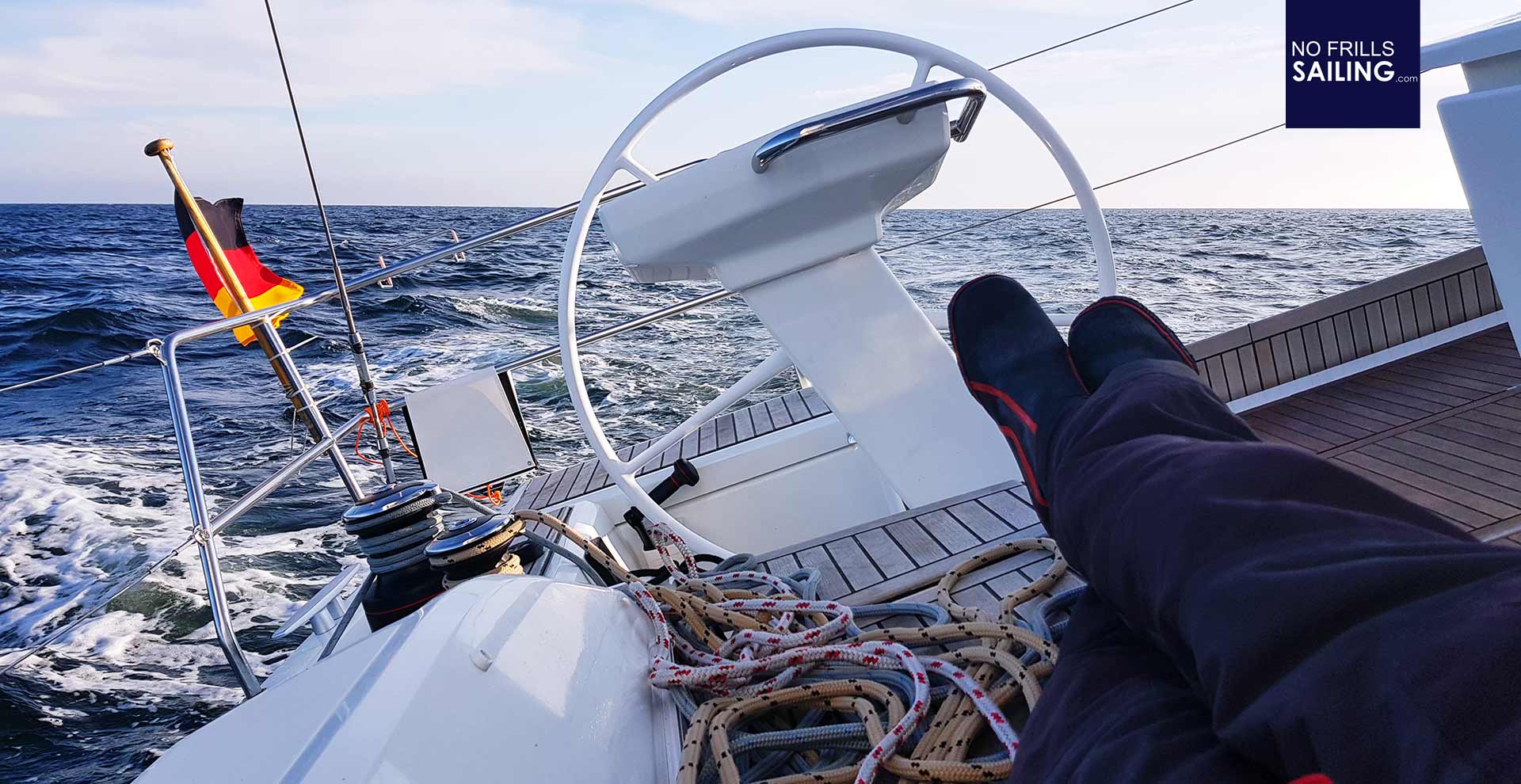 The autopilot managed to keep the boat steady on course and – what a surprise in November! – the sun came out, shining so bright and warming my oilskin that I took a nap on the Teak and really enjoyed a summer-like sailing condition. Truly, I would later call these the happiest and most peaceful hours of the hole sailing trip. Just off Kiel lighthouse, which also functions as the offshore pilot station, wind finally died completely and at 1100 – just as predicted – I took in all sails and started the engine.
Not that it came as a surprise but only minutes later I spotted a U-boat. Kiel is where German yard HDW produced the famous submarines and passing this apparently brand new sub having her shakedown cruise or some sort of sea trials was a welcomed diversion. The sub was accompanied by a small tender boat. A jet circled the area in low altitude, I think they kind of tested her Radar. By the way, taking pictures through the binoculars works just perfectly well, as you might see at the photograph.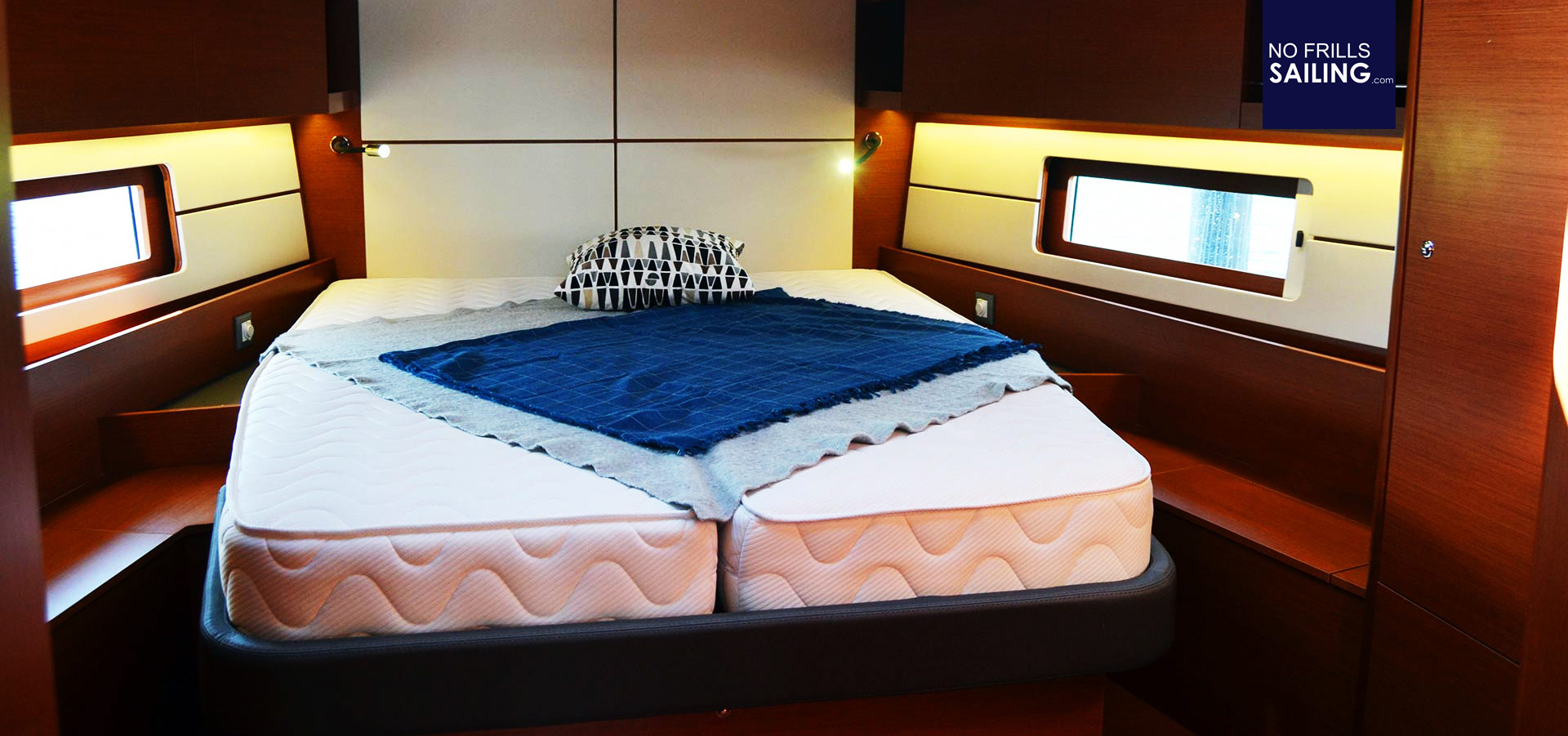 Half an hour later we entered Strande harbor where after some phone calls and internet checks I found somebody willing to re-open an otherwise closed boat´s gas station to refuel our yacht. That was a must-do because we were down to under 40 per cent of the Oceanis´ 200 liters capacity. Why? Because sailing season in Germany ends in October and with some 100 miles to go as a responsible skipper I wanted to have our tanks full. Another twenty minutes later we landed the yacht in another empty harbor, tied her up and … now there you go … fell asleep instantly after enjoying a hot tea and some more Potato salad. This time everything was so perfect: A warm boat (thanks to Webasto heating!) and an even warmer sleeping bag in the large owner´s cabin. What a relief after 18 hours of sailing!
Kiel Canal: Daylight hustle in November
But the joy was short term. Getting up at 6 o´clock the next morning really wasn´t that nice. It was still dark but I insisted in redying the boat that early. Why? Because the next leg of the transfer cruise was to be the famous Kiel Canal – connecting Baltic and North Seas this waterway is one of the busiest lanes for seaborn traffic in the world. As rules say, pleasure craft are only allowed to use the channel during daylight time which was set to start at 0630 that day, ending at 1630. So, let´s hurry and cast off, place ourselves in front of the locks and call the lock keeper.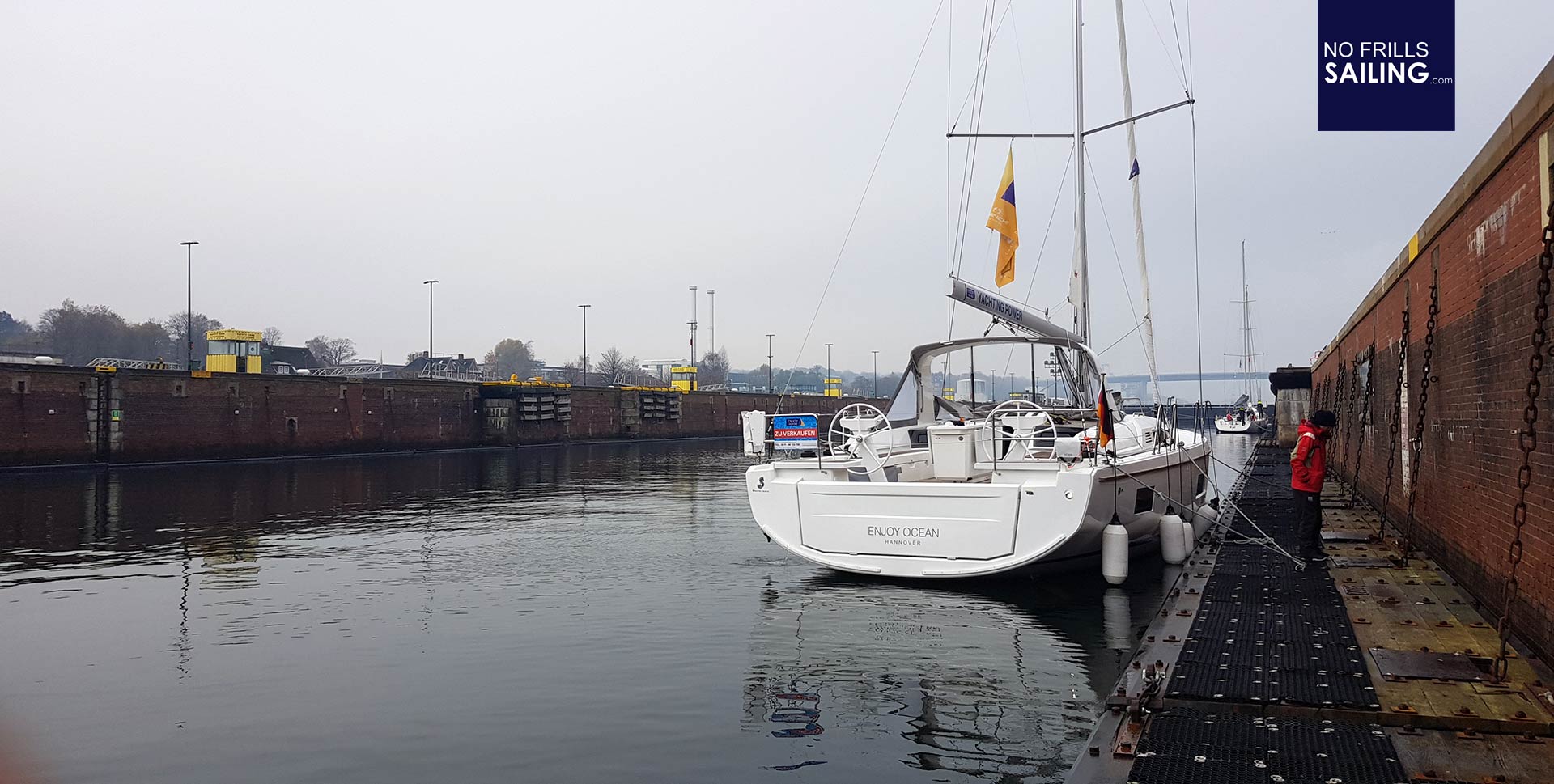 Well, we did arrive in time, but upon calling the locks I received this answer: "As of now there is still fog on the channel. Pleasure craft are not permitted yet. Please wait." So we did. Circling in low gear in front of the locks we were then joined by two other sailing yachts. And the coast guard. They used the time being to check every one of us. Coming alongside I did have my certifications ready and we happily chatted with the guys for 10 minutes. Then, suddenly, at 0830, the white light appeared, indicating to enter the large Holtenau locks.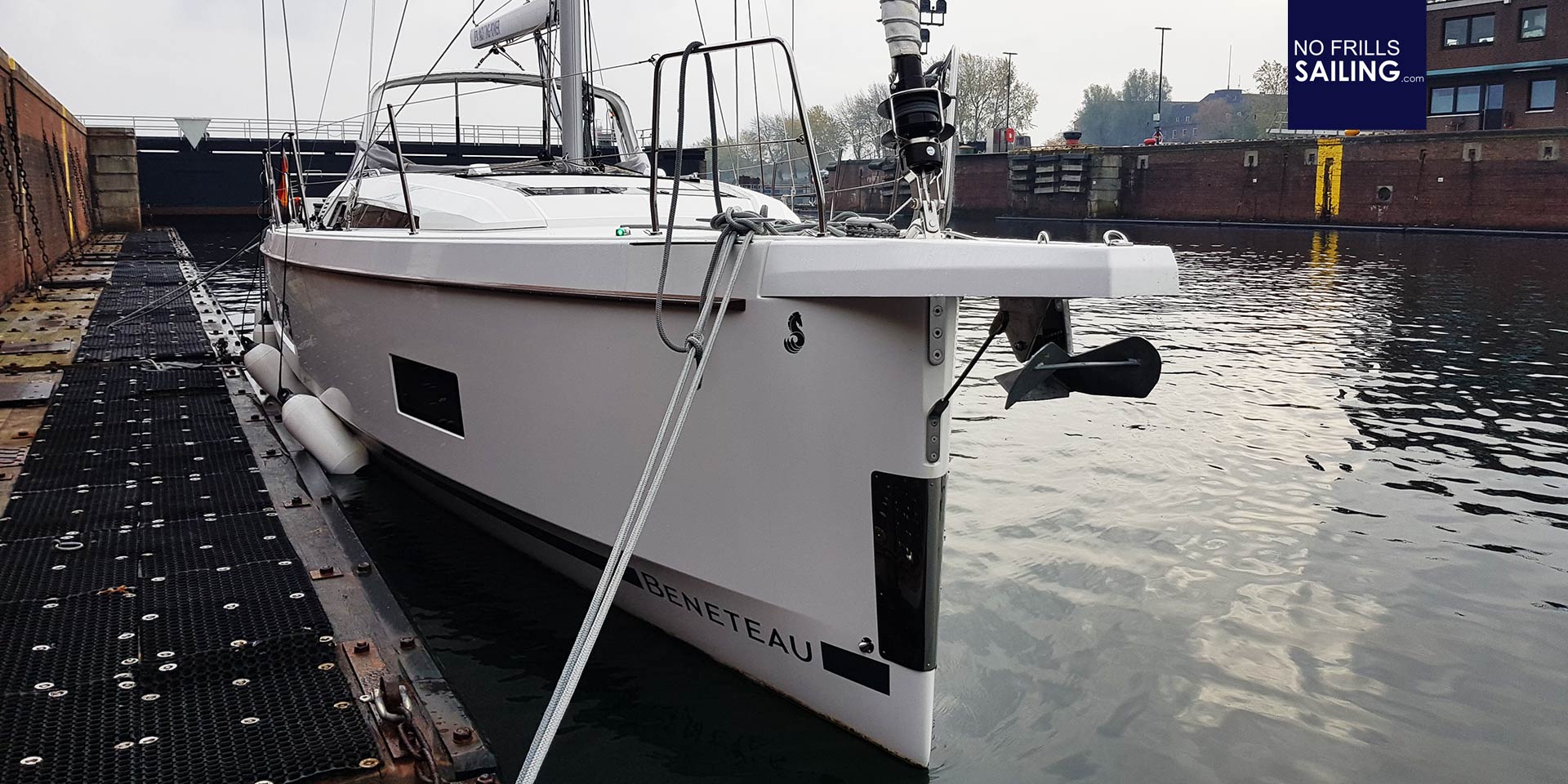 Last time I was here was 3 years ago after I bought my OLIVIA, I was so overwhelmed by this experience. Now, with just two boats (one left in the meantime) in the locks it was a different experience. Since the Oceanis hull has cutting edge chines just over her water line and with the wooden pontoons being not higher than 10 centimetres over water we had to release the fenders into the water to protect the boat. Locking down to channel water level took some 10 minutes and after paying the toll (some 30 Euros for our 46-footer), we entered Kiel Canal.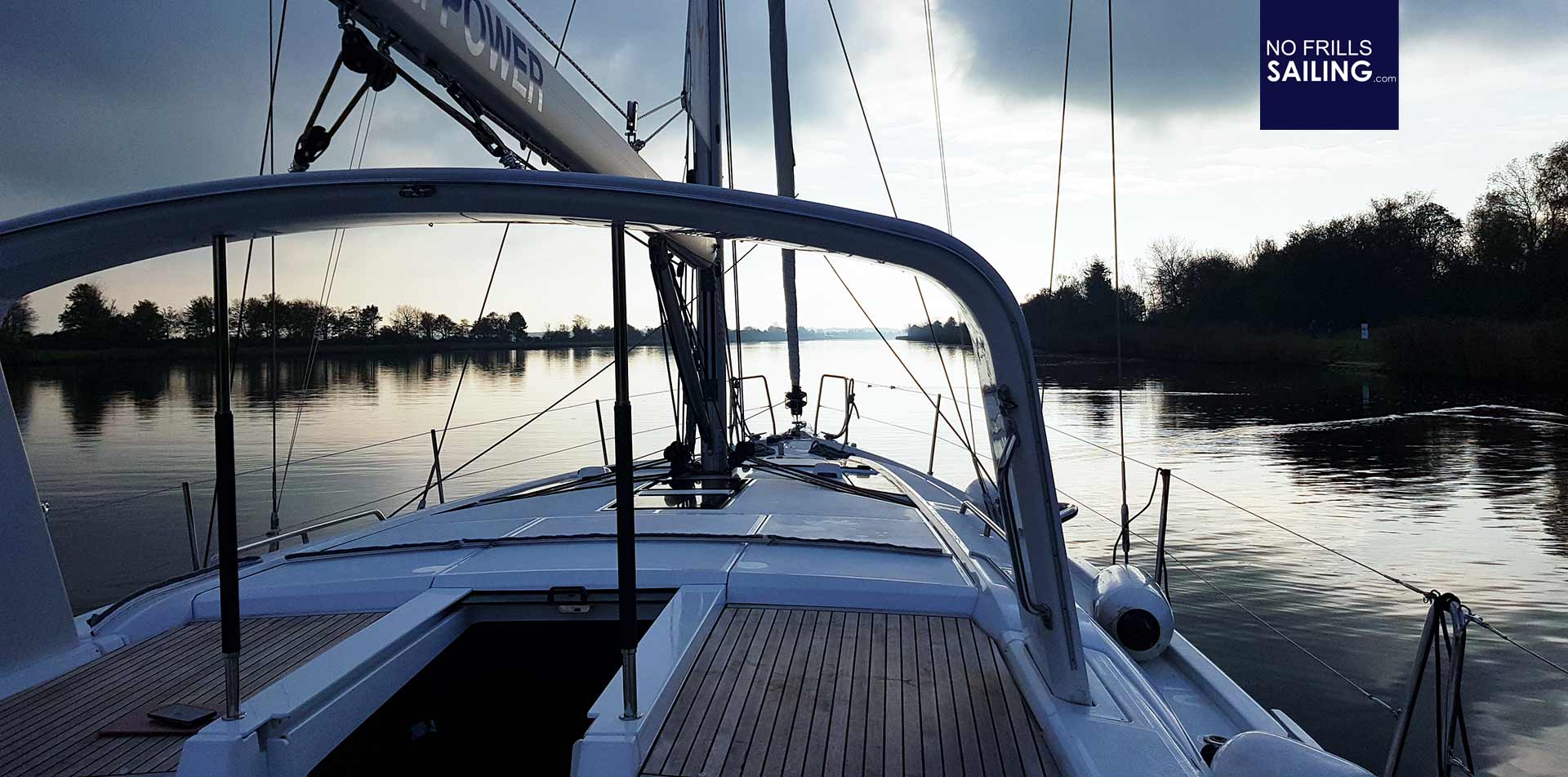 Boating in the channel is kind of boring with occasional hightlights, that is: Passing big ship traffic. Most of the time it was just icy-cold. Helm was taken over by the autopilot so that I found some time to unmount the sprayhood and remove some other parts of the boat´s equipment. Checking the log it quickly became clear that due to the late opening of the channel we wouldn´t be able to cross the whole rout down to Brunsbuettel locks (into River Elbe and thus into the North Sea) so that now the quick start in Rostock paid off: Having started one day before schedule we not only utilized a nice wind-window bus also gained a whole day. One day we would need now.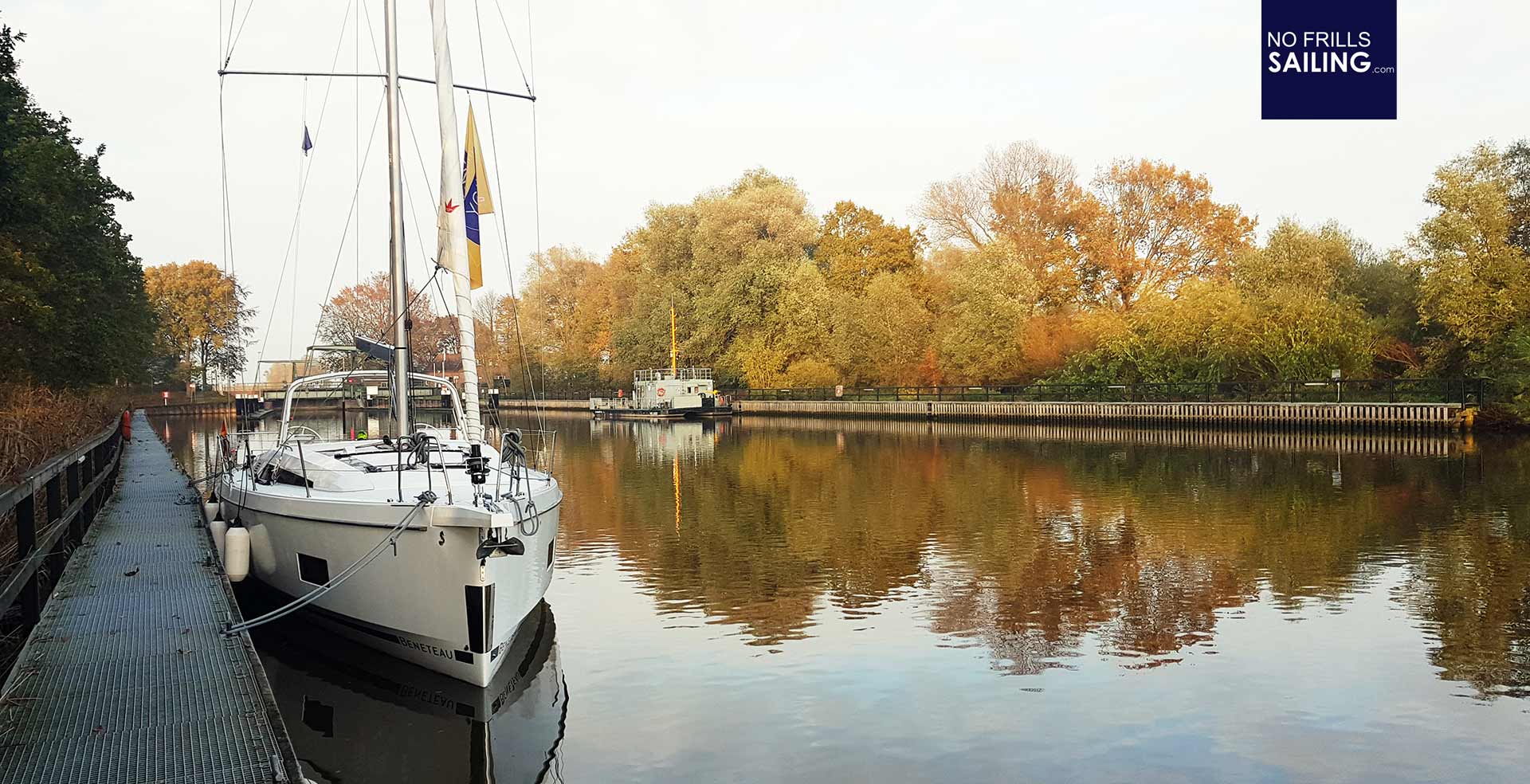 Because sun was due to set at 1630 I killed the engine after 30 miles (20 more to go to the North Sea) at a spot called Gieselau Canal. That´s a junction to another small river going up North. Here two jetties have been prepared for boats nearly halfway through the channel offering a nice and calm sleepover. I landed our ENJOY OCEAN at exactly the spot where three years ago my OLIVIA moored as well. I became a bit emotional as well. Getting out of the weather gear and enjoying the traditional landing beer, we took our chance to enjoy the last sunny hour of the day and took a walk in the landscape, immediately making new friends alongside …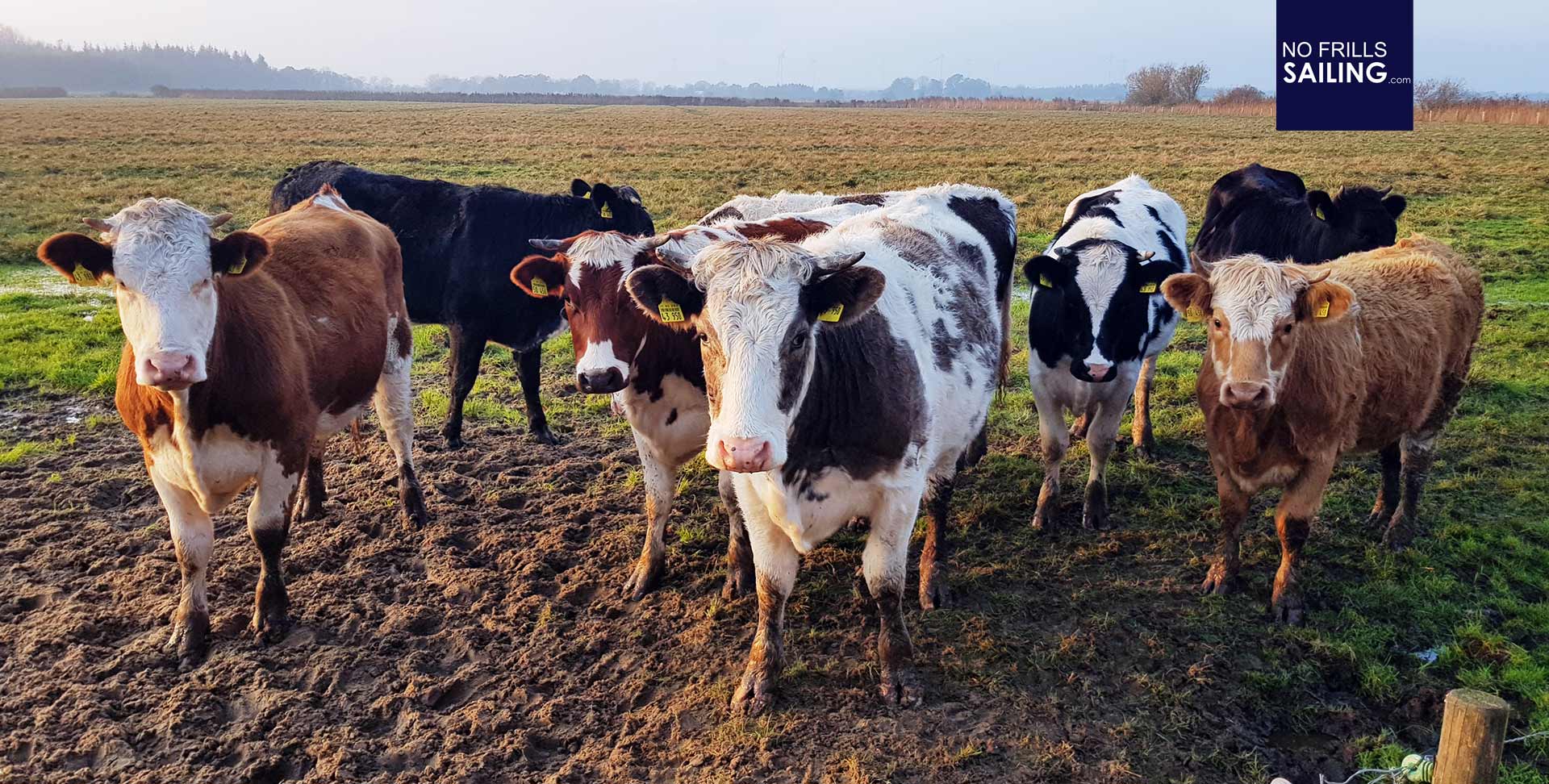 Back in the boat, with the Diesel heating turned to full power, we checked weather forecast again. And we also took into account another – much more defining – detail: The tides of mighty River Elbe. The North Sea, especially the shores, are prone to very strong tides, pushing water in and out of the Elbe estuary at speeds easily reaching 4.5 knots. To make things more complicated: It was not just the River Elbe´s rides which had been of interest, but the tides of the River Weser as well, because some 20 miles to the West this was the estuary we would have to enter in order to reach our final destination – Bremerhaven. We checked everything and reached a conclusion: Tides were working against us. With low tide setting in pretty late the coming day around noon there was no need to hurry – and certainly no chance to get out to the German Bight and rounding Scharhoern reef – the main obstacle on the way West to Bremerhaven. So we went to bed, knowing that tomorrow the clock wouldn´t ring at six. Calm before the storm …
You may also like to read:
Inshore transfer of an Oceanis 35.1 parts 1, 2, 3 and 4
Sailing a 46ft yacht from Lisbon to Fuerteventura, parts 1, 2
Baltic sailing in foul weather: Beneteau First 30 Racing, parts 1 and 2