Yesterday was a pretty happy day for me because out of the blue a big truck came to a stop in front of our company´s headquarter: The long awaited delivery of three First (ex-Seascape) boats arrived. Two of these, First 18, already sold with happy clients receiving first whatsapp-pictures impatiently waiting for the handover of their boats and one, a First 24, which was yearningly awaited by … well, by me.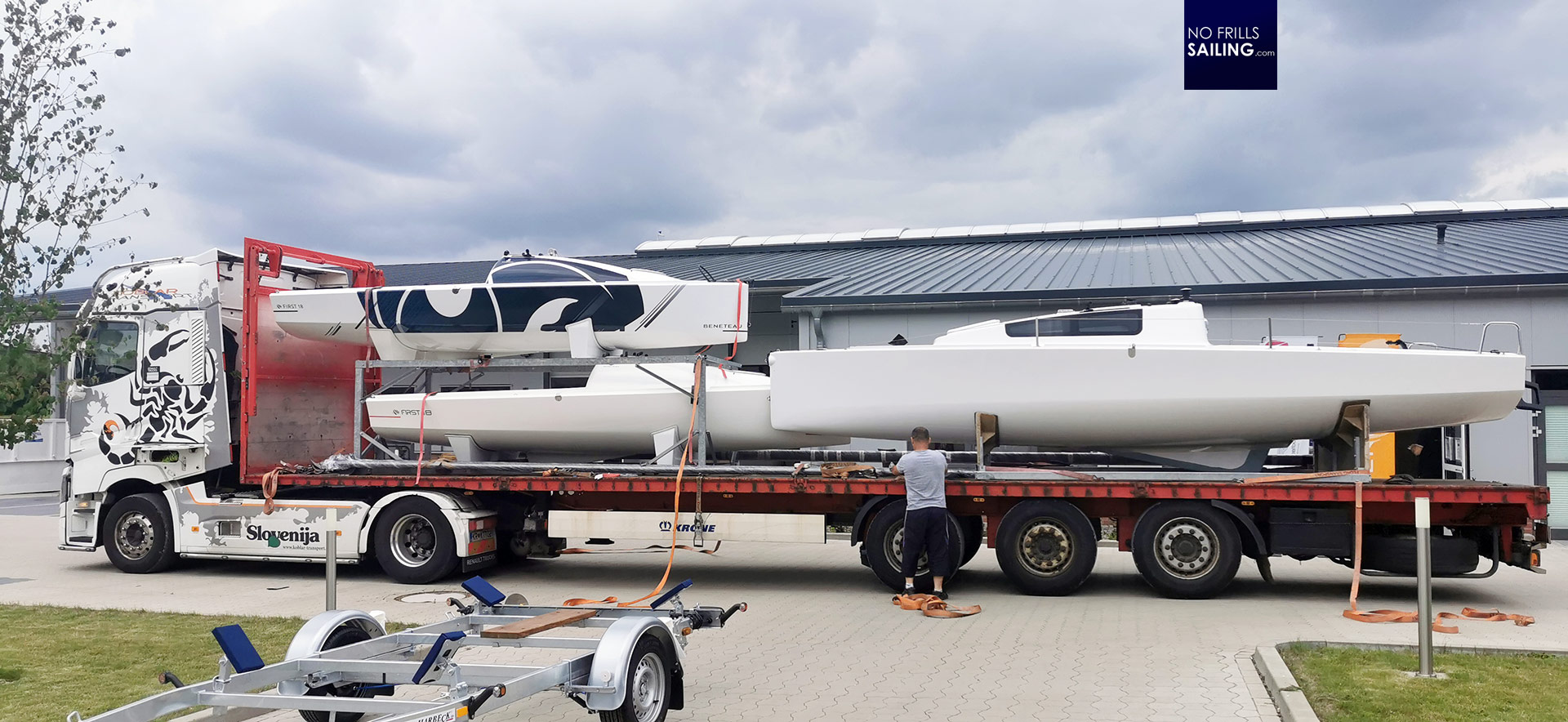 So we alarmed our team and called in our friendly service technician with his strong forklifter to get off these brand new boats and make sure that the friendly Slovenian truck driver can drive back home to his loved ones. As much as I felt happy for our clients, on that day, I literally just had eyes for one boat: The 24. But why is that?
Beautiful FIRST 24
Well, you all may have read about my journey of acquiring a new boat. That was in February and Covid-19 was still far away. Some first news came up but it just didn´t felt like changing the world forever. I had a project coming up requiring a big boat, so we went to Southern France to look for rigid, aluminium made oceangoing yachts, like the Allures or Cigale. Well, that dream cracked and imploded. So while freeing the First 24 from her transport-straps, I thought back to March.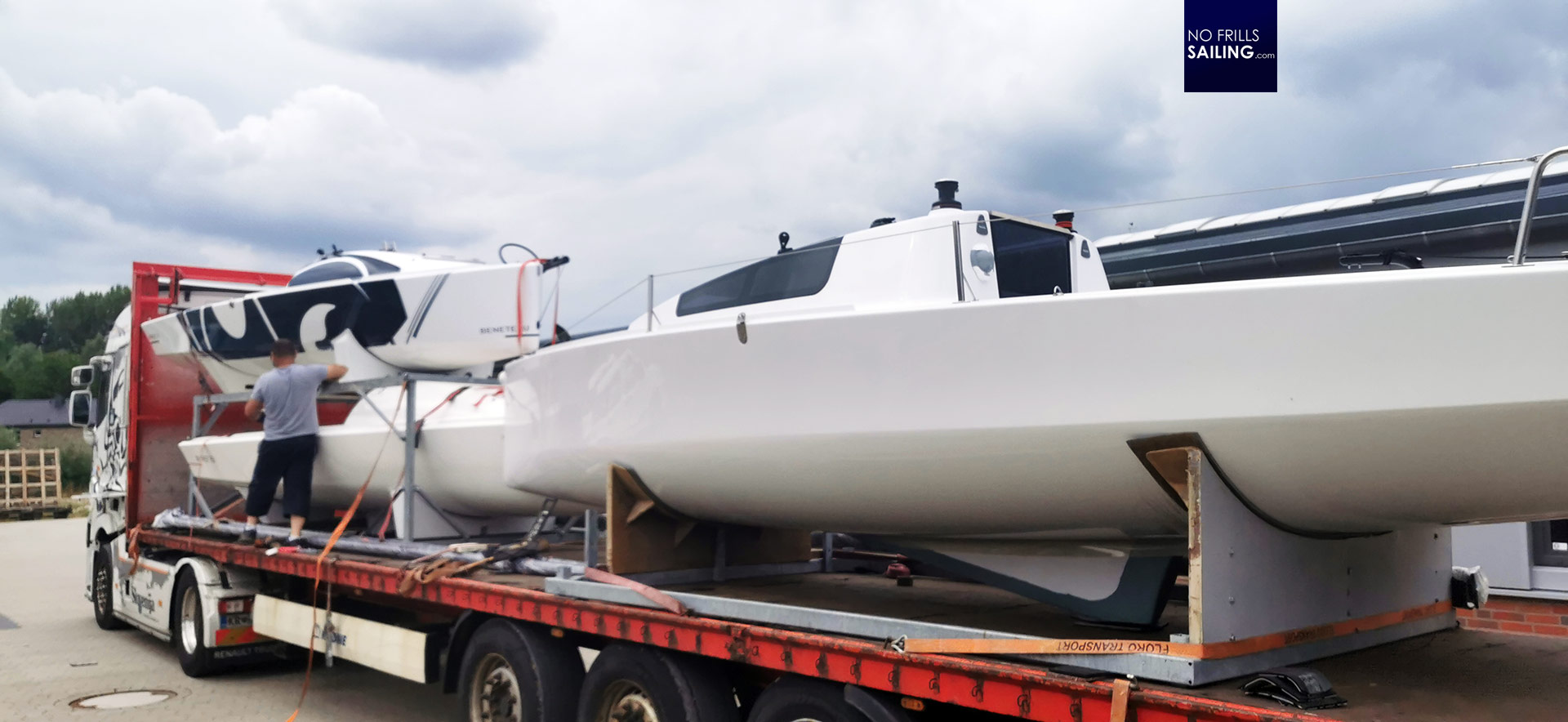 Corona virus and all implications made not just my dreams of owning and sailing a big boat crumble. It kind of took my feet back onto the ground and made me re-think projects, sailing in particular and my plans. I gradually but surely understood that going small – but going now may be the alternative. And that this alternative must not necessarily mean to abstain from something. I think, that it´s exactly the other way round: Going smaller and kind of confining to a tiny boat might be opening up lots of other chances which are otherwise not visible.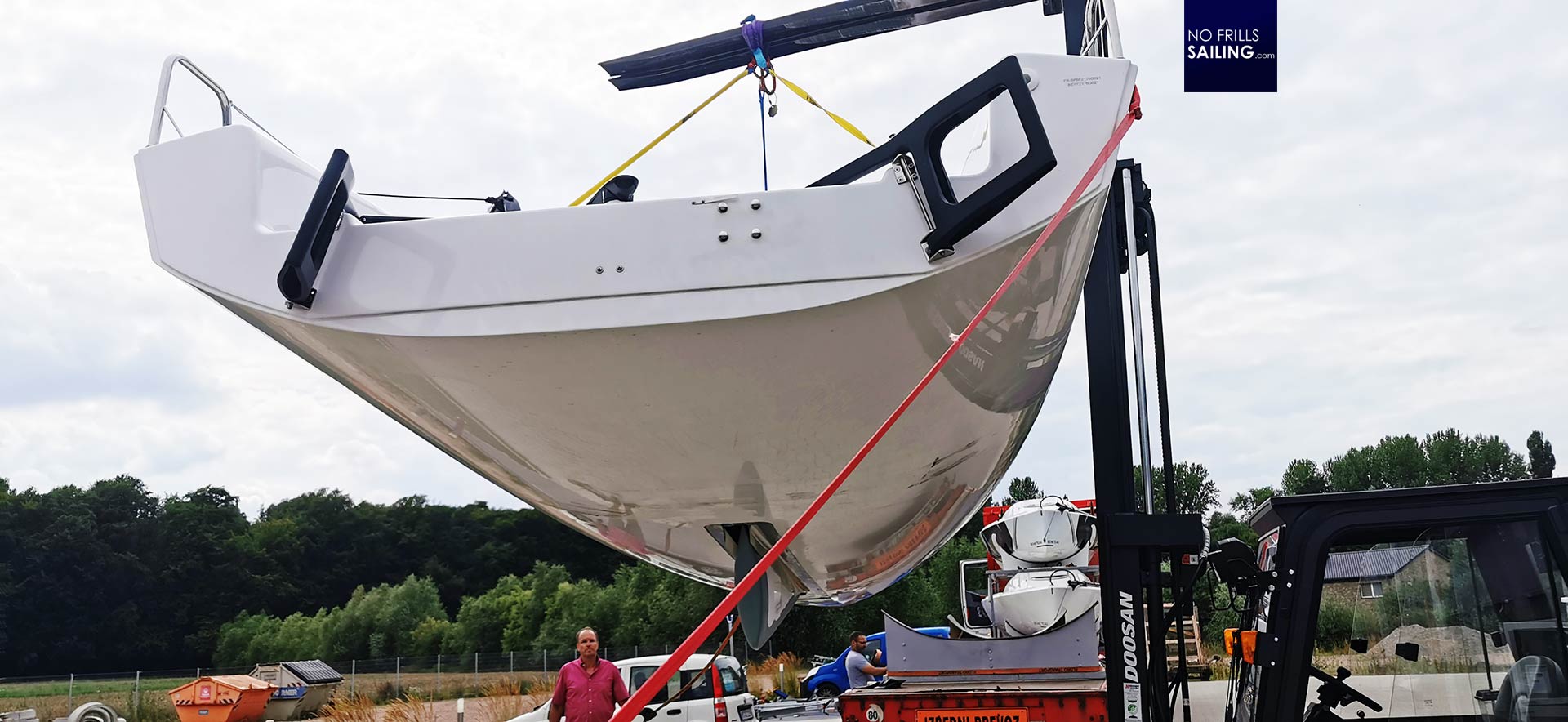 The First 24 – and her bigger sister, the First 27 which I am about to acquire for myself – come with variable draft. Having these swing keeled boats with literally no draft at all means to be able to sneak into bays, inlets and rivers which are absolute no-go-areas for fixed keel and big boats. Fact is that most of – at least my own – sailing action takes place not far from the shores. I love being at anchor: A small boat is a definitive plus in this matter.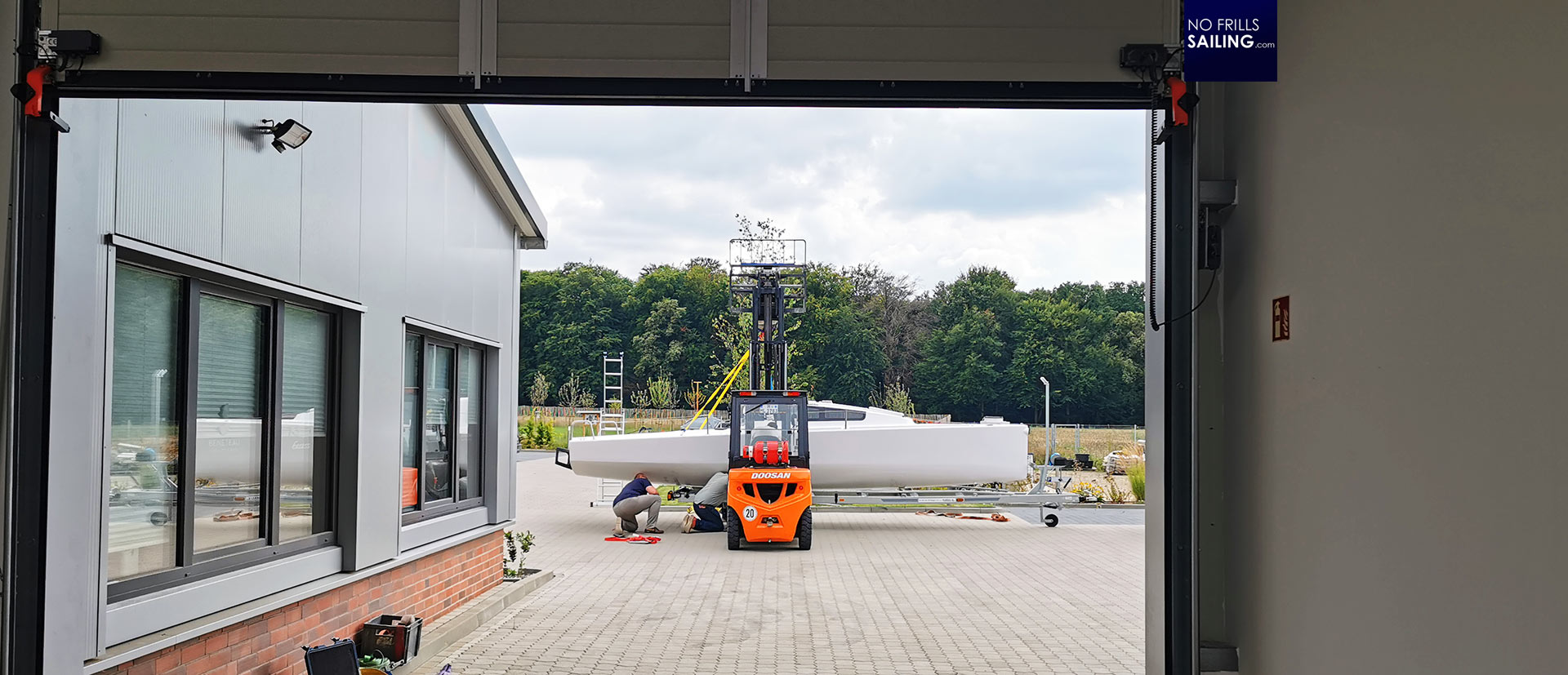 So, as we take the First 24 off from the truck I am happy because the first real step of the plan is about to become reality: Testing out what it means to be "micro cruising". That´s a term I kind of invented as a motto for my new project. After selling the King´s Cruiser 33 and thus closing my refit-efforts on that boat my next step would be collecting miles and experience on a small boat like the First 24. Meaning, getting ready for the whole micro cruising-thing.
The Idea behind "Madcap"
The First 24 is an ideal boat: She is very small, manageable but at the same time a very powerful boat capable of quick sailing. So I came up with the "Madcap"-idea which essentially is taking this boat on a sailing trip lasting 8 to 10 days that will take me some 400 miles from Northern Germany´s coast to the tiny Danish island of Anholt: You may have read the article.
Now, summer is in full bloom and as it seems I won´t be able to sail the "Madcap"-tour anytime soon but it´s safe to say that somehow maybe a shortened version of this – a small "Silverrudder"-like trip around Fyn or some other crazy stunt will take place in early September. Whatever and whenever this will be the case, I will have the chance to take my first steps on a small boat, sail her over long legs and hours, live on her with limited space and amenities and test out some of the new "micro-cruising"-equipment.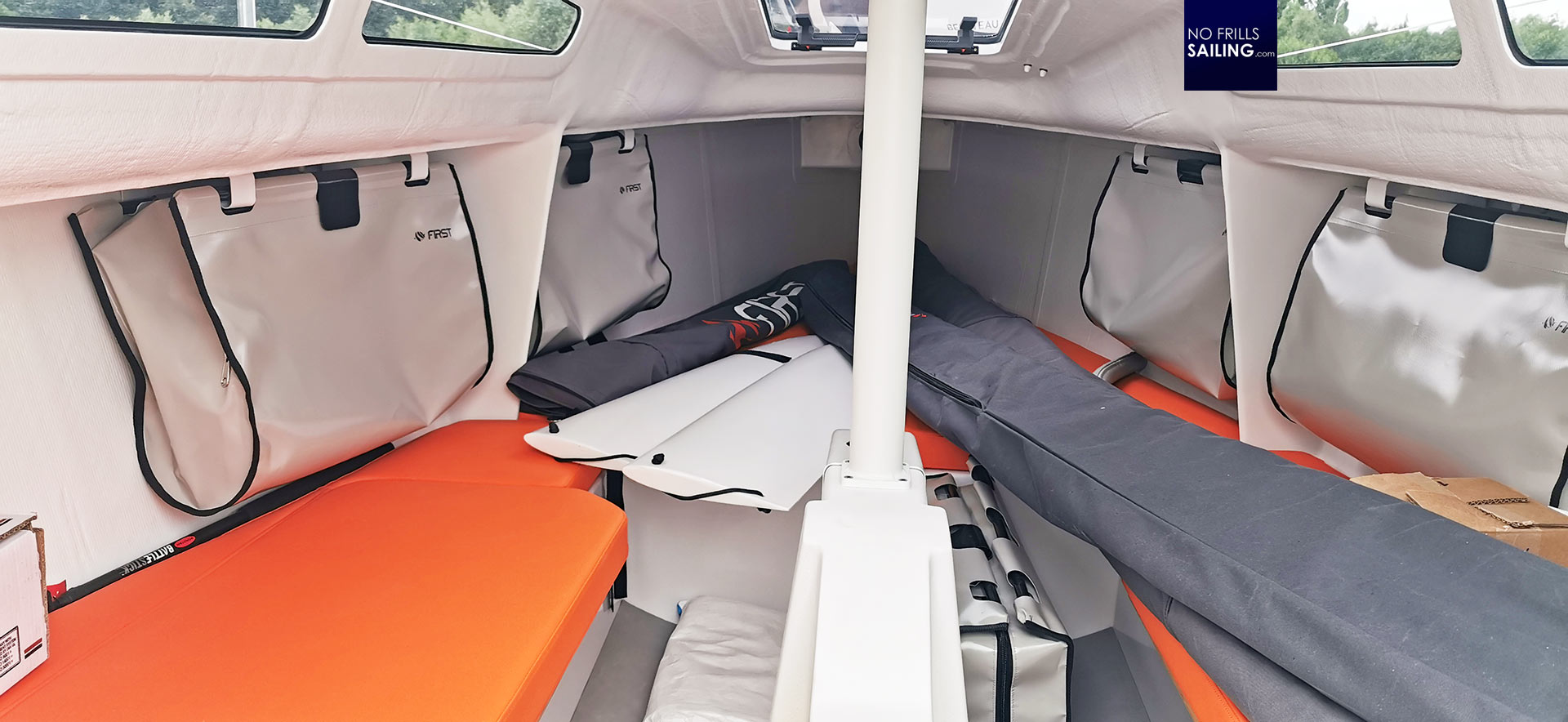 Taking a look at the cabin of the First 24, although cramped as usual when receiving a brand new boat from the yard, my heart jumped: It was absolutely the right decision to order this boat in the colors as seen. Orange cushion, grey applications. I really love it! It´s fresh, friendly and vibrates positively. I guess this might be the color-combo of my own boat as well … but far more interesting than this is the upcoming task of arranging myself with this tiny amount of space available.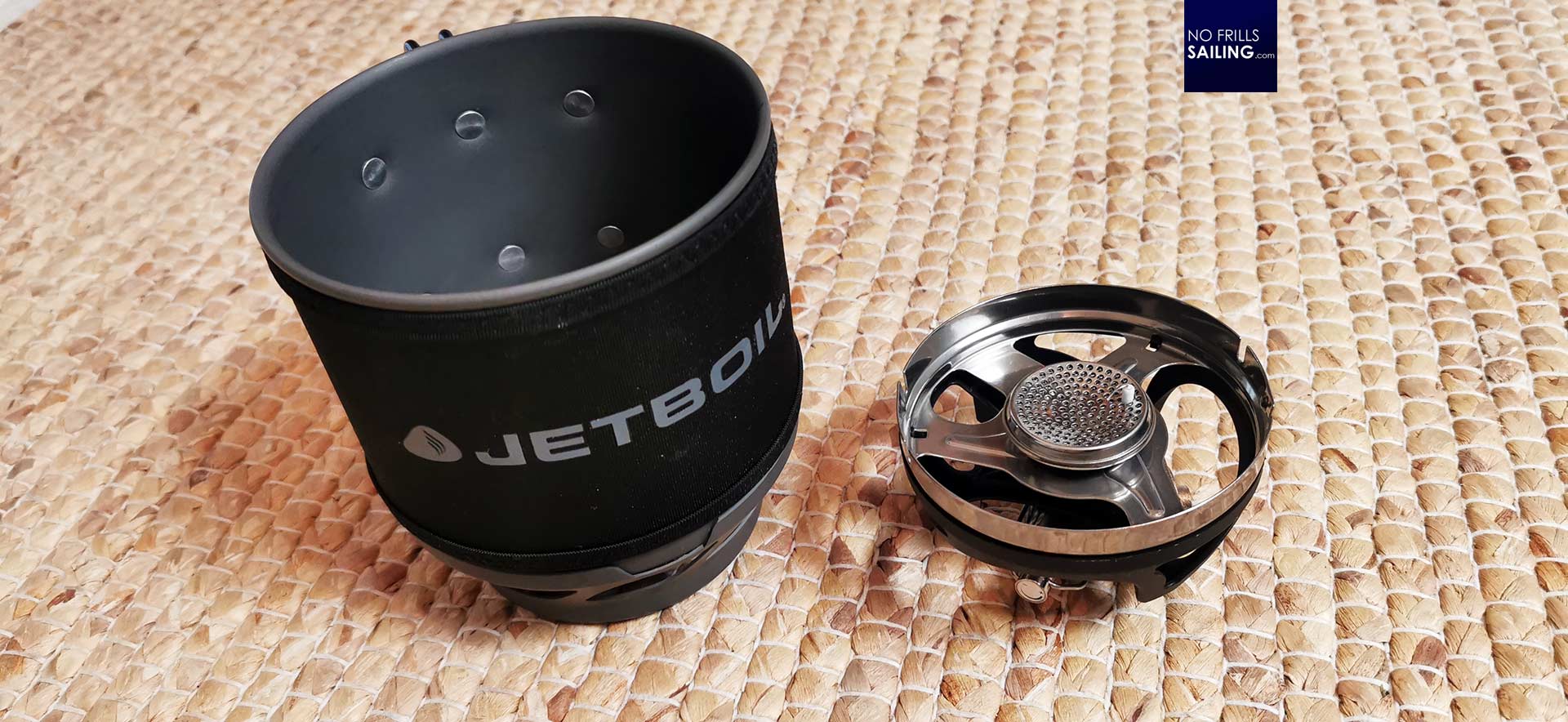 As you may have read previously, I´ve bought a Lotus BBQ – and I already tested it. Now, for the morning coffee and some basic meals I´ve acquired the JetBoil cooking system and I am very excited to test it under real live conditions. So this whole "micro cruising"-idea takes shape and I have a pretty clear vision of what a galley must look like and be capable of. Topics still untouched is the personal hygiene-subject. There is no WC on the First 24 so I might fit a Porta Potti and thinking on that opens up a whole bunch of other questions. But that´s for later.
One chapter is closed and done and that is the question of going from A to B. First boats are lightweight and slim, putting them on a trailer and driving these boats to sailing areas of interest is as easy as ABC. For my job I have trailered a lot of boats now and I can safely say that it´s really a no-brainer (except for the part of going as slow as 90 to 100 kilometres per hour … on a German Autobahn feels a bit odd as a German). Bearing this exceptional mobility in mind I might re-think the "Madcap"-route and find another interesting sailing area?
Let´s get started then …
Allright, so let´s get started then, I might shout out and bristling with energy I go on with the plans. First of all a graphic file is produced and sent to the foilmaker. The boat is will be christened to bear the name ENJOY MADCAP very soon, which is an important step for every boat and every boat´s skipper. By the way, I think, MADCAP is a very fitting name for a small, quick beast like the First 24, don´t you think?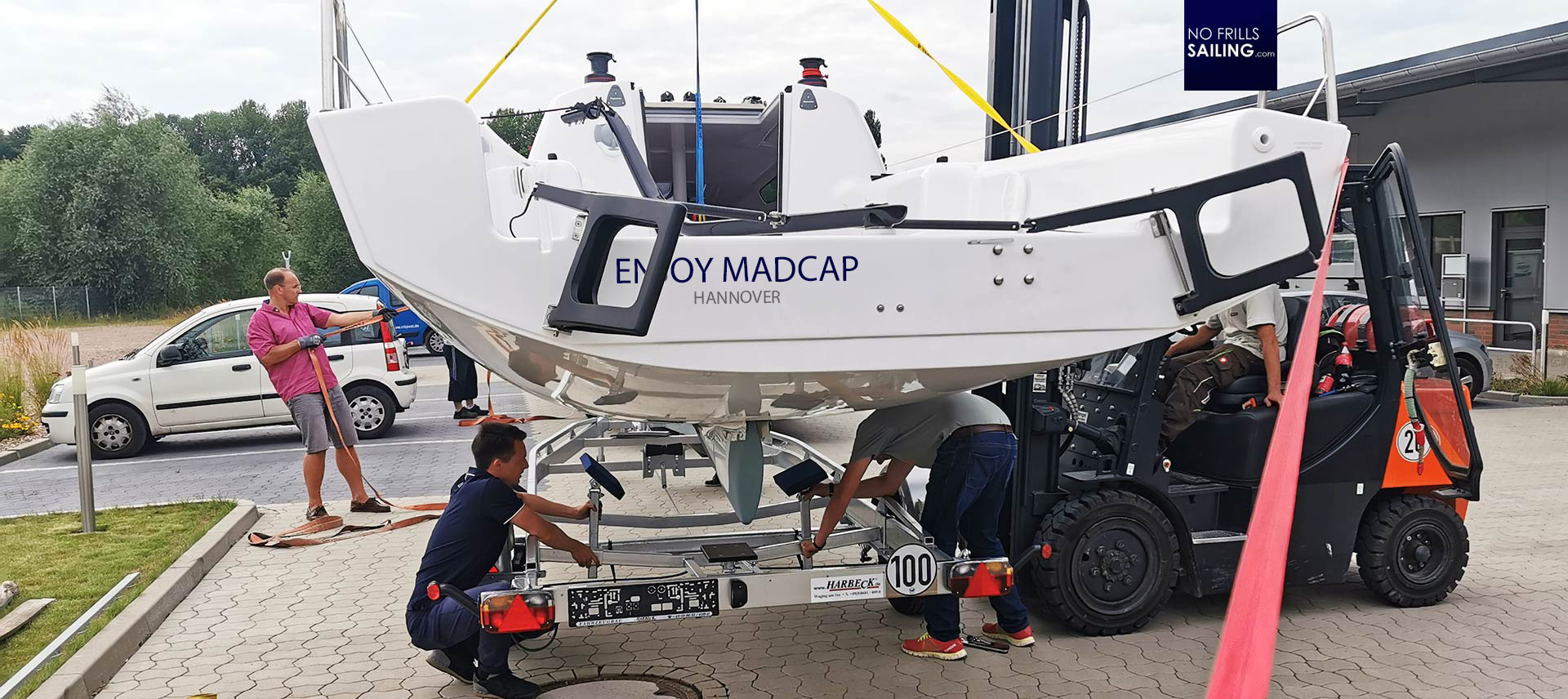 As we prepare the boats in our showroom I plan to apply the antifouling and in my mind recall the next steps to get this boat ready: MADCAP still needs an outboard engine. We are thinking through the pros and cons of a possible all-electric powerhouse for that boat, namely the Torqeedo long shaft engine but I must say I – right now – tend towards a pretty standard petrol-powered outboard engine. That´s a decision still in the making.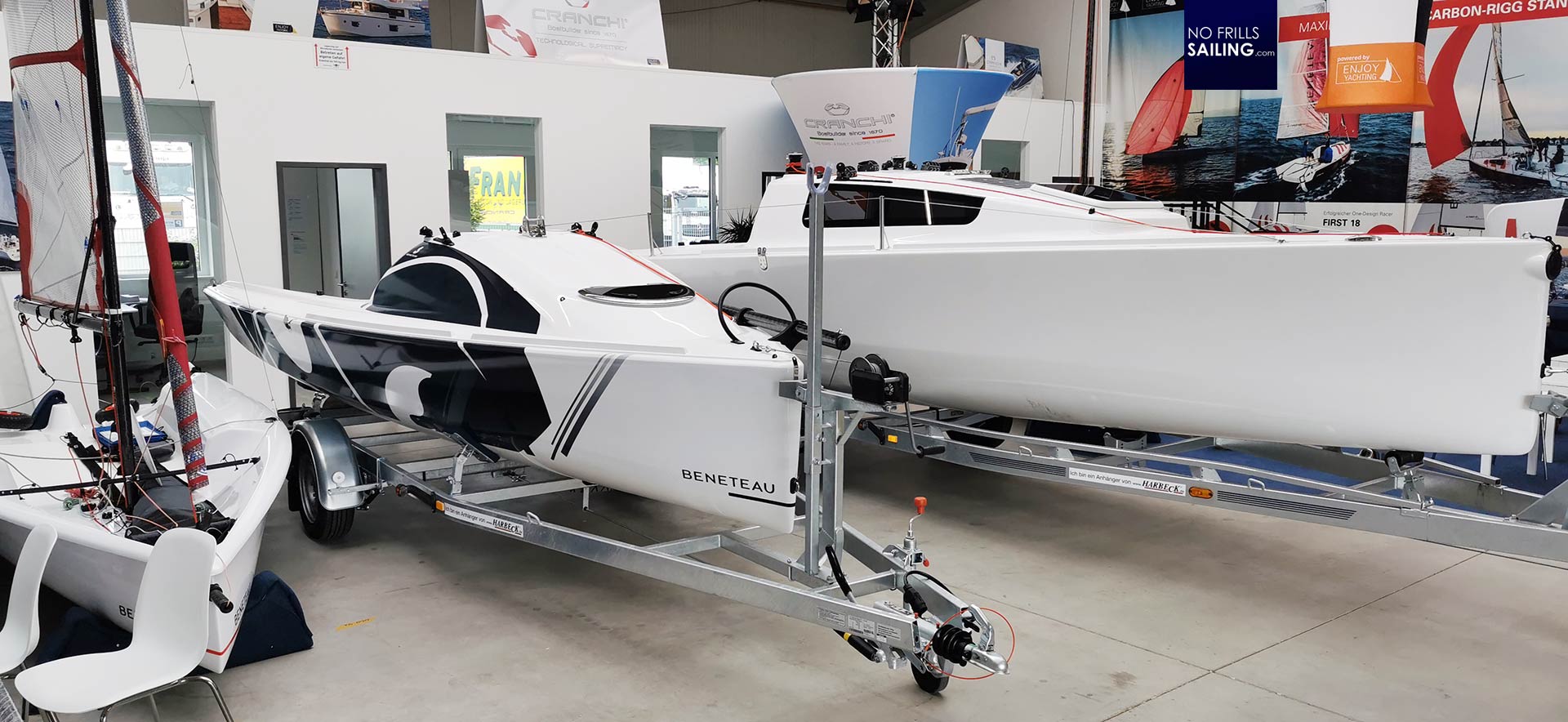 With our company vacation time coming up in two weeks works on MADCAP will come to a halt too. But in August I am planning to have the boat finished and ready, rigged and set up for her first time hoisting the laminate sails and speeding up to life: I am again excited like a little boy.
You may also like to read the following articles:
A Classe Mini 650 from plywood
Sustainable green boatbuilding?
Aboard the Dehler 30 One Design