It was a great day to see a boat: Sunny, clear blue sky, some fresh wind in the air. Just like approximately one year ago when I sneaked around the then brand new prototype of the Dehler 30 OD during Cannes boat show (read my article here) I found myself sweating in the sun giving Oliver Schmidt-Rybandt a call arriving at his company´s site in the Baltic coastal town of Rostock: Germany´s Dehler 30 OD epicentre – called Speedsailing.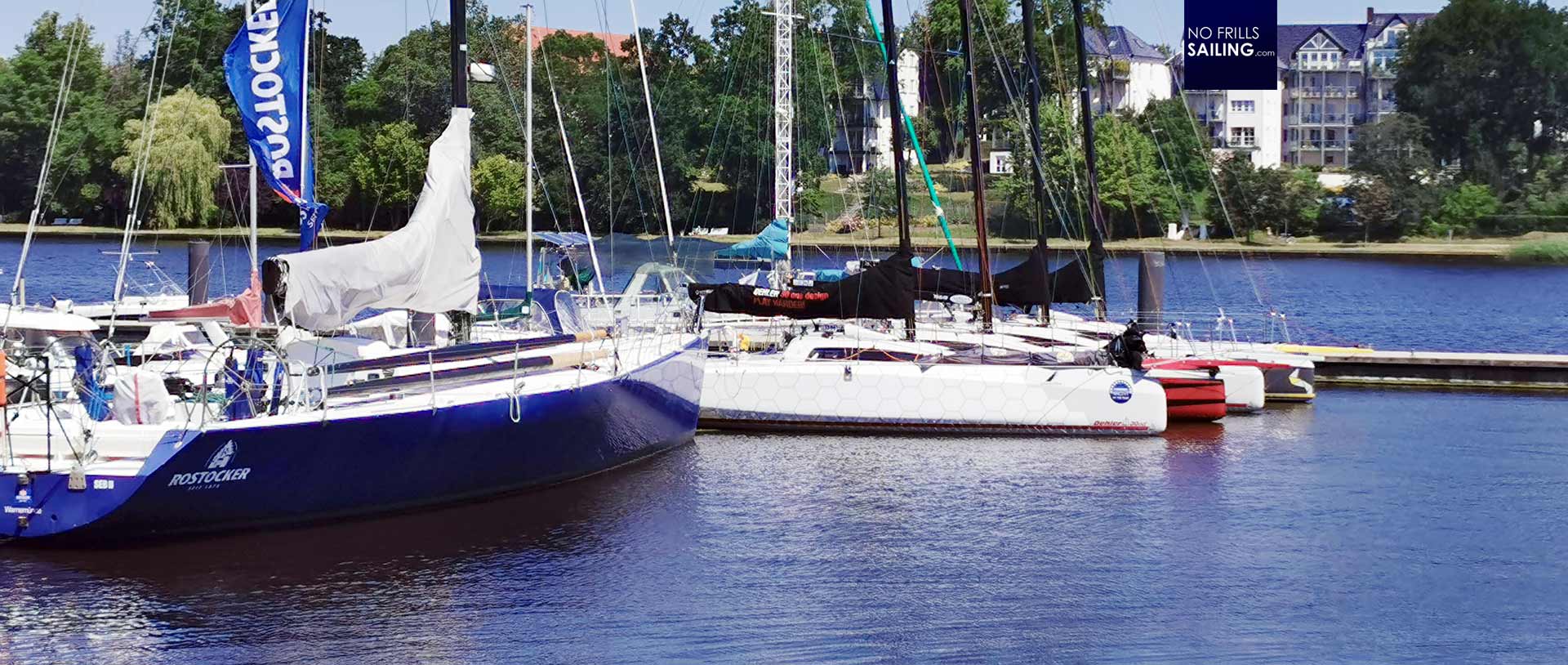 Speedsailing is the world´s one and only company offering not one, not two but three ex-Volvo Ocean Race racing yachts for sailing events and crewed charter. They have come up with a thriving business model of staging races on these thoroughbred racing yachts for company-events: And those boats aren´t just any boats, it´s Germany´s first and only V.O.-race winner of 2002 exILLBRUCK (now renamed GLASHÄGER after her sponsor), the exTOSHIBA (now called ROSTOCKER after a local beer brand) and last not least the exSEB (now re-christened OSPA). That story for sure is a different article – but essential to know in order to understand the history of the newly conceived Dehler 30 One Design. Oliver greets me with a bright smile – and all of a sudden I am inside the story.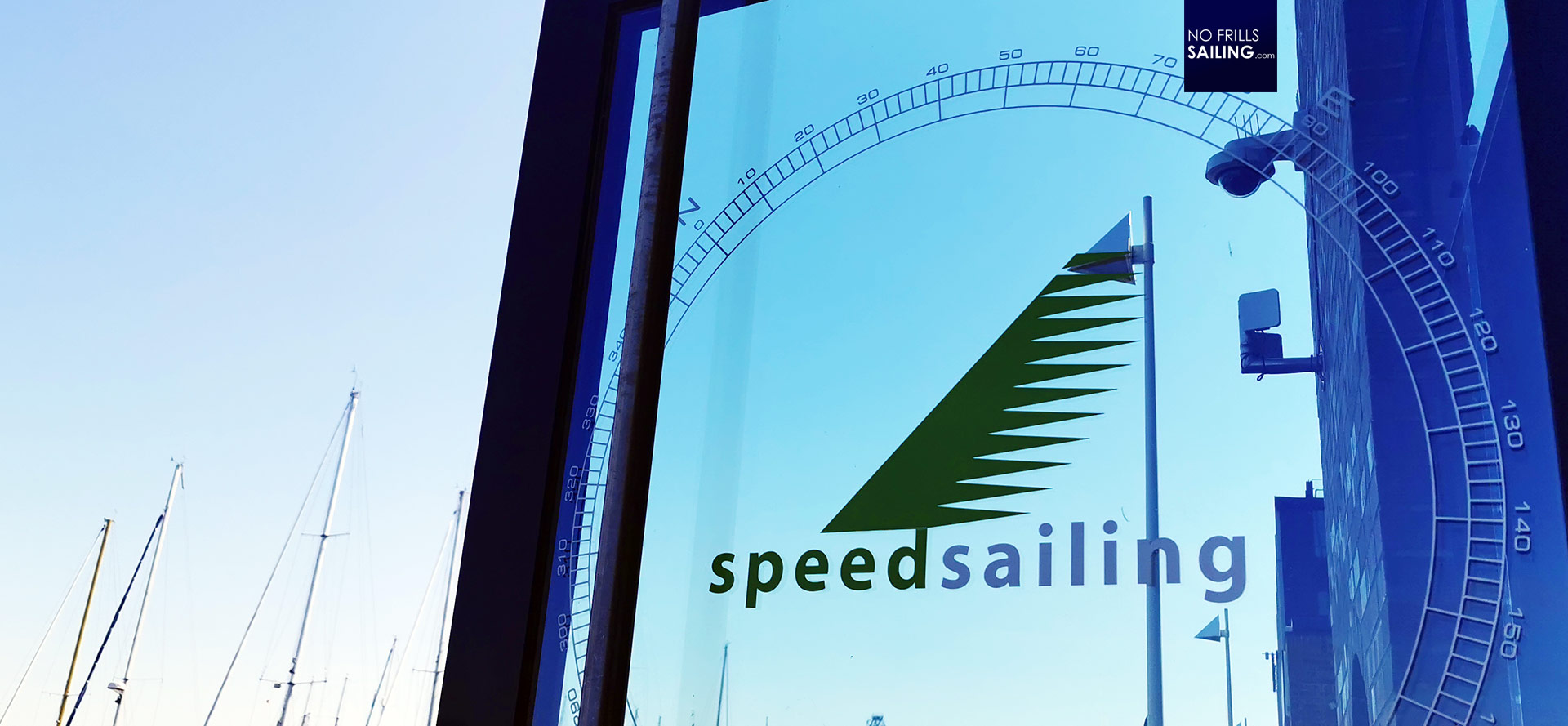 "The Dehler 30 OD had a different internal name. It was the ´Project D16A´, says Oliver: "Meaning that they had started in the year 2016 to think of making a 30-feet Dehler. Somehow I got involved when then project manager and father of the idea, Kalle Dehler, and Judel/Vrolijk series-boat chief designer Matthias Bröker called me: They wanted to sail a Pogo 30, which we have in charter here in Rostock." Kalle Dehler and Matthias Bröker had previously sailed the Silverrudder which is a huge event with some 250 participants annually – a non-stop single hand race around the Danish Island of Fyn. "There they kind of realized that single and double hand racing wasn´t a small niche anymore. This is where the idea was born to conceive D16A. And now, their next step appeared to be sailing on a really good example of quick 30-feet sailing: The Pogo 30."
How the Dehler 30 OD was conceived
Oliver explains: "At the regatta they saw that something big was going on. Silverrudder is not just a bunch of people re-enacting a race, no amateurs trying to stage something they are not – no, it´s a really professional and determined group of dedicated sailors out for serious racing." Oliver says that this event changed the way Project D16A was treated internally at Hanse AG: "And somehow I slipped into that project because we´ve had a Pogo 30 as kind of a role model for that project – not far away from Hanse AG in Greifswald. So I regularly met with Kalle Dehler and Matthias Bröker. And I liked it: Being part of the development of a new racing boat promised to be exciting."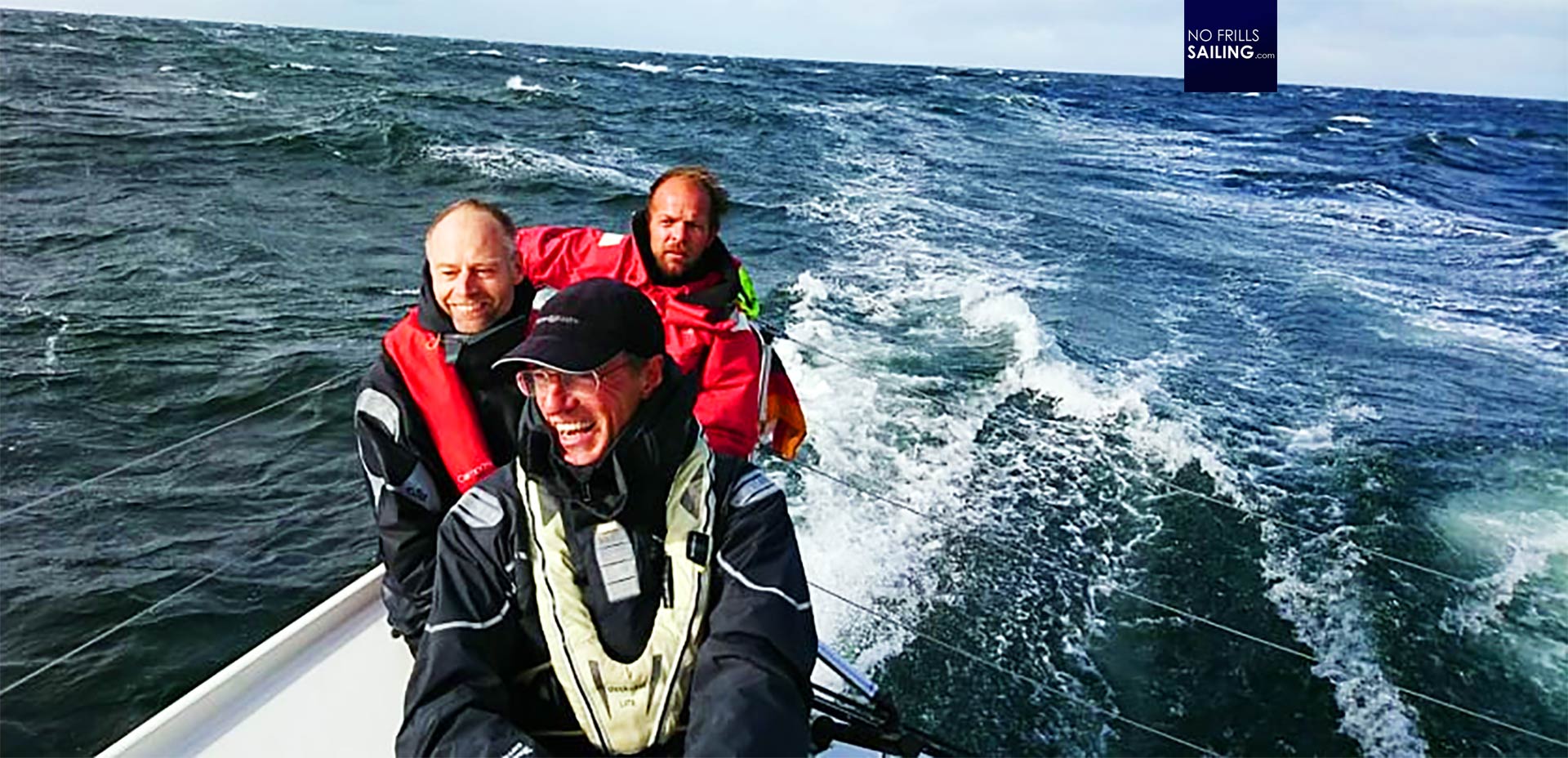 I have already see then Dehler 30 OD in real life – that was during last year´s Cannes Yachting Festival when I sneaked onto the Hanse Group display and roamed this little boat by myself – today, having Oliver Schmidt-Rybandt on my side and being able to ask all of my questions was a huge leap forward: More so because Oliver might to date be the one with the most sailing experience on that boat – he  recently finished the Baltic 500 double handed regatta with a sailing mate on the 30 one design. Race-inspired, that´s what the Dehlr 30 OD is, in fact.
"After attending the Silverrudder race and sailing the Pogo 30 extensively Kalle Dehler and the Hanse Group revoked parts of their original idea for the Project D16A, although the principal design and some features like the double rudder configuration were set.", Oliver tells me: "But before that it was actually planned to just simply take the hull from the Hanse 315 and have a new deck-mould which would then be combined to a new, racier boat." Oliver smiles: They saw that this was not going to be a successful and promising idea – although the Hanse 315 in my view is an excellent yacht and her hull is very fast, I don´t think that any changes to a 315-based Dehler would have made this hull faster. In reality, Kalle Dehler, I guess, realized that they needed something completely new." And that was when input by Speedsailing and their connection to the Volvo Ocean race-community was absorbed into Project D16A.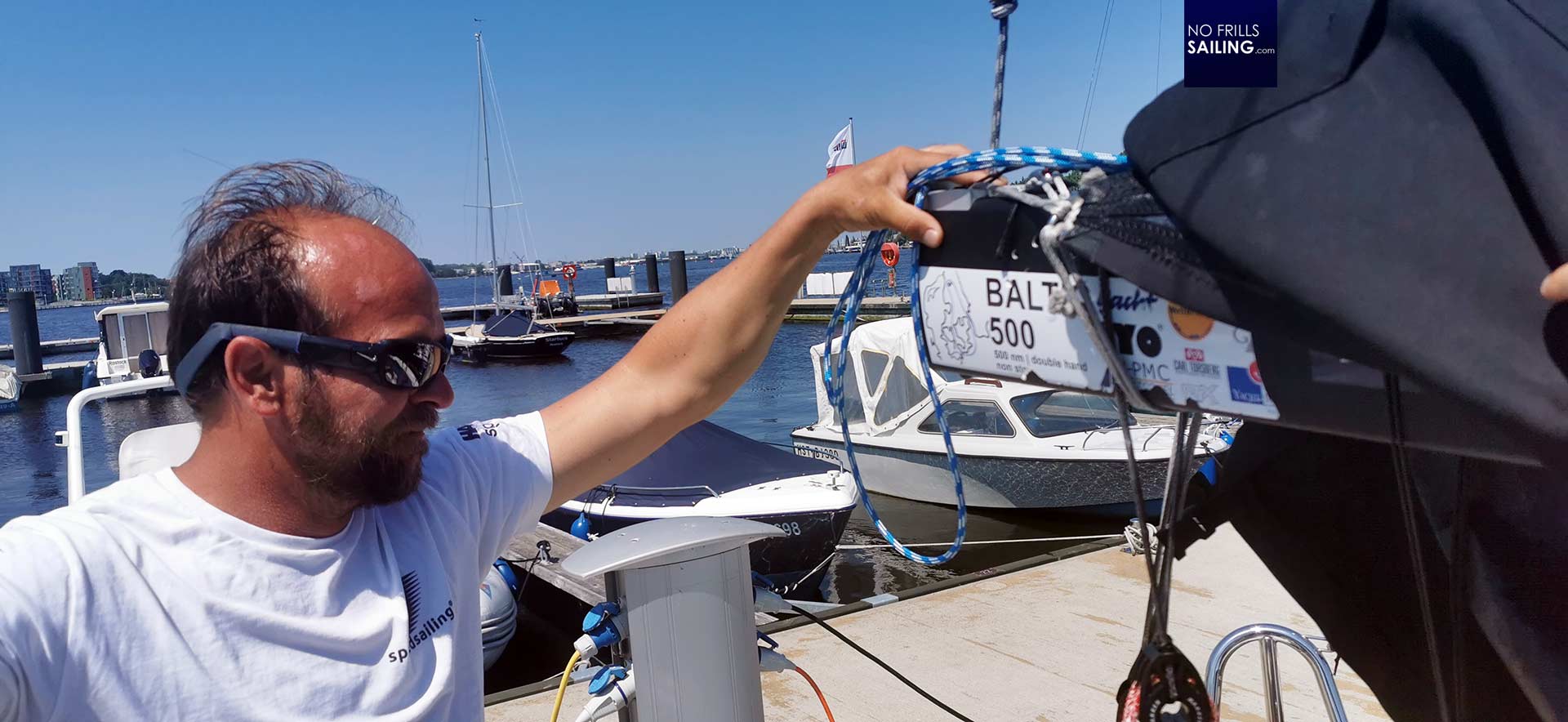 "We started to play around with some ideas.", he tells me and points to the Volvo Ocean Racers of his company Speedsailing: "As it turns out, there was a race taking place for Volvo Ocean Race veterans. And we too had the chance to sail the exIllBRUCK against other retired and active Ocean Race yachts. It was a dash through the North Sea from Gothenburg to Den Haag in the Netherlands. On that occasion I was able to arrange a visit for Kalle Dehler on one of the actual modern Volvo Ocean Racers where we inspected a thoroughbred racing yacht. And here he understood how the new Dehler would have to be like … I can trace back the decision to have outriggers and adjustable rudder blades exactly to this event … the whole project really entered a new world."
A serious racing boat: Not a Pogo
When the idea of converting the Hanse 315 hull into a new Dehler was finally skipped, they did have to get the green light by Hanse Group. "I still wonder where this huge company, listed on stock exchange, owned by share holders and so forth, gained the courage and to a certain extent also the craziness to let us loose on the D16A-project.", Oliver laughs: "Because it was a hell of an evolution to get to a point where this boat finally had emerged." Oliver is proud of stating that it kind of all changed here in Rostock: "Right here at our secret Pogo sea trial", he reveals.
Speedsailing is one of the only places in Germany where one can charter bareboat a Pogo. "Out of the blue, Kalle Dehler called and asked if they could sail one of our Pogo 30 and I said ´yeah, sure, come on over!´" But as we stood nearby a brand new boat recently delivered to her proud owners, I quickly understood the difference: "This was what Kalle Dehler had to experience at first: This huge amount of power, the high speed of a Pogo. He was fascinated and kind of entered a whole new world.", Oliver tells me. From the heart I can fully understand this process: Even with me, sailing the Pogo 40 was a true revelation! "But, you can see – the Dehler 30 OD is not a Pogo. It cannot be – look at it."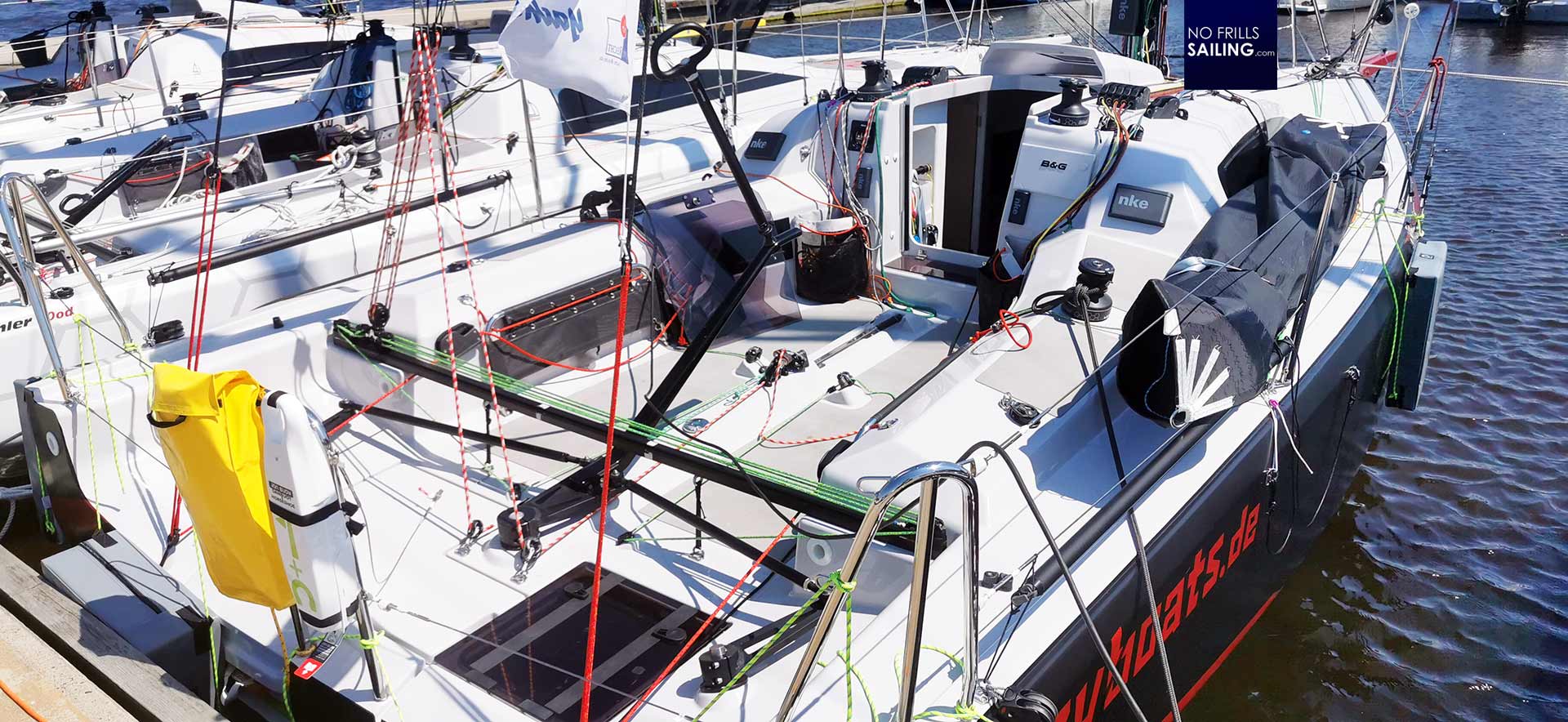 "The Pogo-idea is to have a boat that is fast and very powerful on the one hand but also at the same time very much optimized for cruising. Just look at the cockpit, see how the lines are running, the winches are placed: The cockpit is virtually empty! The boat is conceived to be sailed by one person and in this mostly by auto pilot." Oliver tells me, that he was able to convince Kalle to go for a Pogo´s power – but to scale down and copy a V.O. 65´s layout. "We would have to go on full racing mode here!"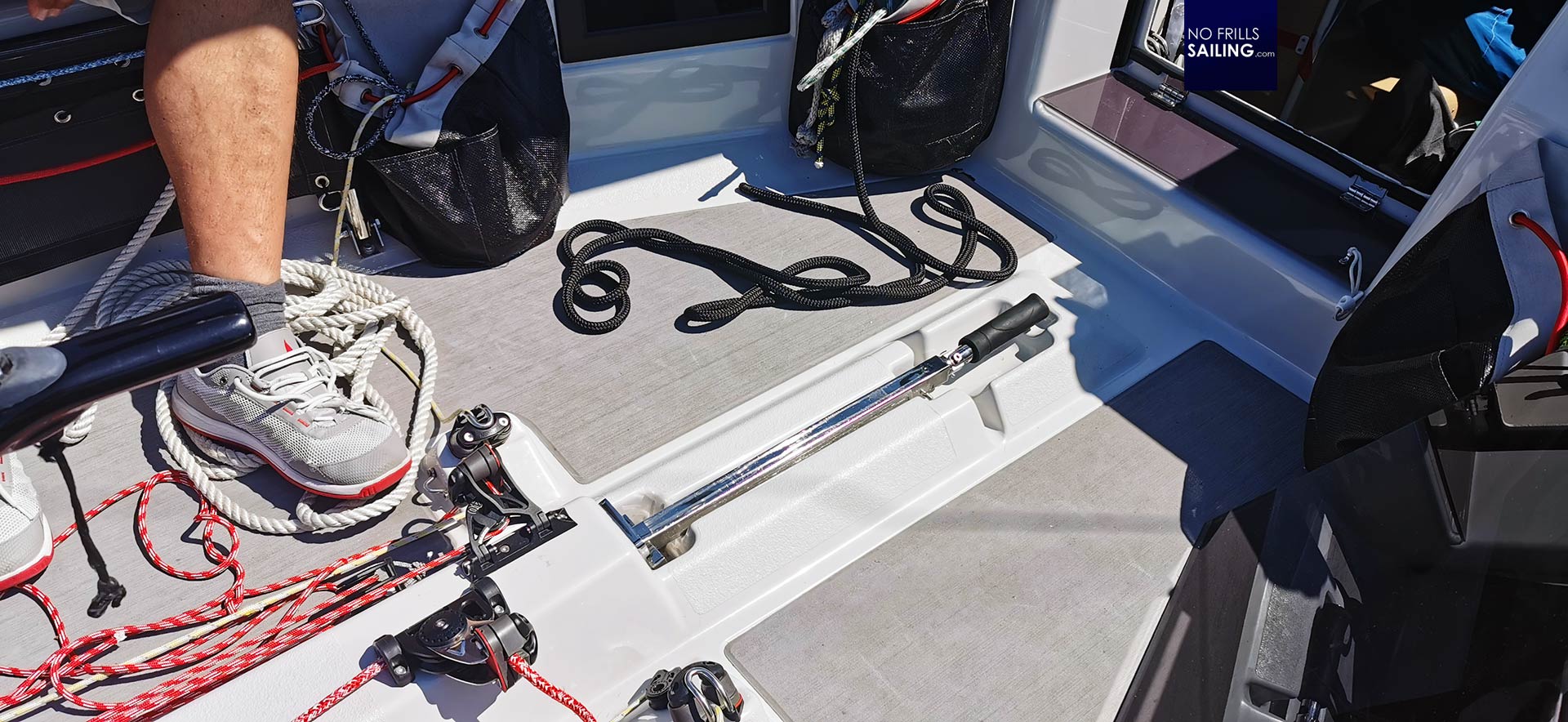 One thing, Oliver tells me, that was really surprising was the extend to which they were able to use Hanse Group´s development division: "I was astonished by the determination and lust for going new ways here. These people are a great team, most of them are friends in real life and they function perfectly as a unit. The only downside was that they weren´t racing sailors, most of them neither sailors. Nevertheless, every idea we came up with was extensively calculated and checked. Just like the retractable propulsion unit." Oliver tells me that a calculation revealed that a fixed shaft or saildrive would have meant to loose 7 to 8 seconds to the mile: "Which in a one design race is huge. So we´ve had to come up with a screw-less hull."
"We had so many ideas", Oliver tells me: "Even with propulsion itself. We said: ´Why can´t we have an electric engine on this small boat?´, so we began to talk to the big names in the market." But CE-requirements and offshore racing rules collided with their set standards of weight and consumption of internal volume: "Battery capacity is still not sufficient to provide a strong enough electric propulsion system that can drive the boat for 8 hours or 150 miles, which is the CE-norm. And there were numerous problems with re-charging devices, battery issues and so forth. I still can´t believe it, but we haven´t been able to fit an electric engine that could meet all legal requirements here."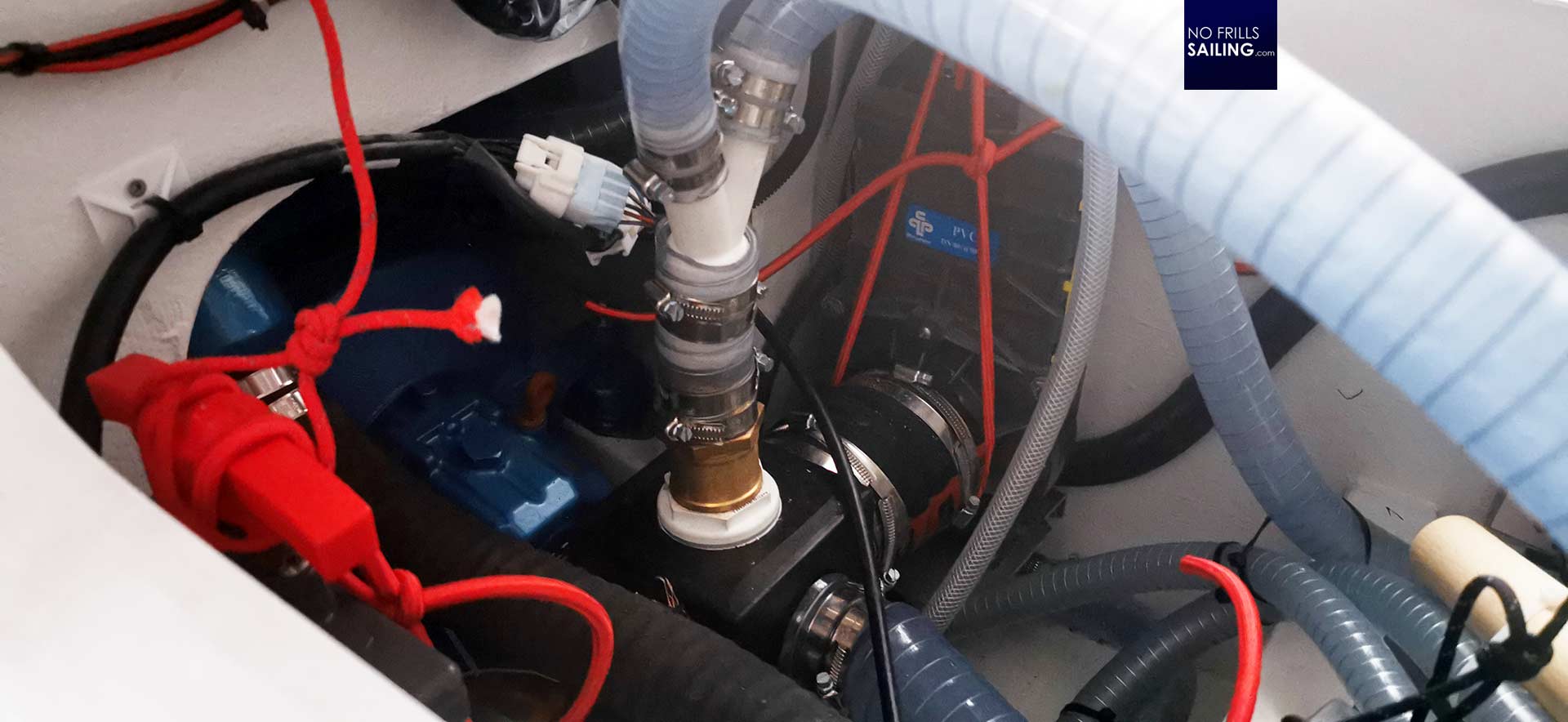 But Oliver says they are happy with the small Nanni-Diesel: "This is going to be build at least for the next seven years which is very important – remember, the Dehler 30 is a one design class boat so we must be able to provide a platform that is unchanged for the coming years." As we go down the companionway, Oliver invited me to roam the interiors: Planned as a true racer and clean sports utility, the Dehler 30 OD does indeed sport a cruising-ready interior fitting which I was keen to see in real life and in detail.
Cruising comforts at a minimum
Of course saving weight was the big issue for this boat so one cannot expect a fully equipped, panel-veneered classy interior. The Dehler 30 OD is what I would call "practical" and in a sense kind of kinky. I always liked the idea of a clean, wood-less boat´s interior, fancied the mesh-parts with which the bare GRP of the boat is partially covered: "Most owners skip this option", Oliver reveals. But I must say that for me the idea of using mesh material is ingenious – it´s cheap in production and very light weight, but the visual effect is immense. One can also repair or replace these parts far easier than wooden panels.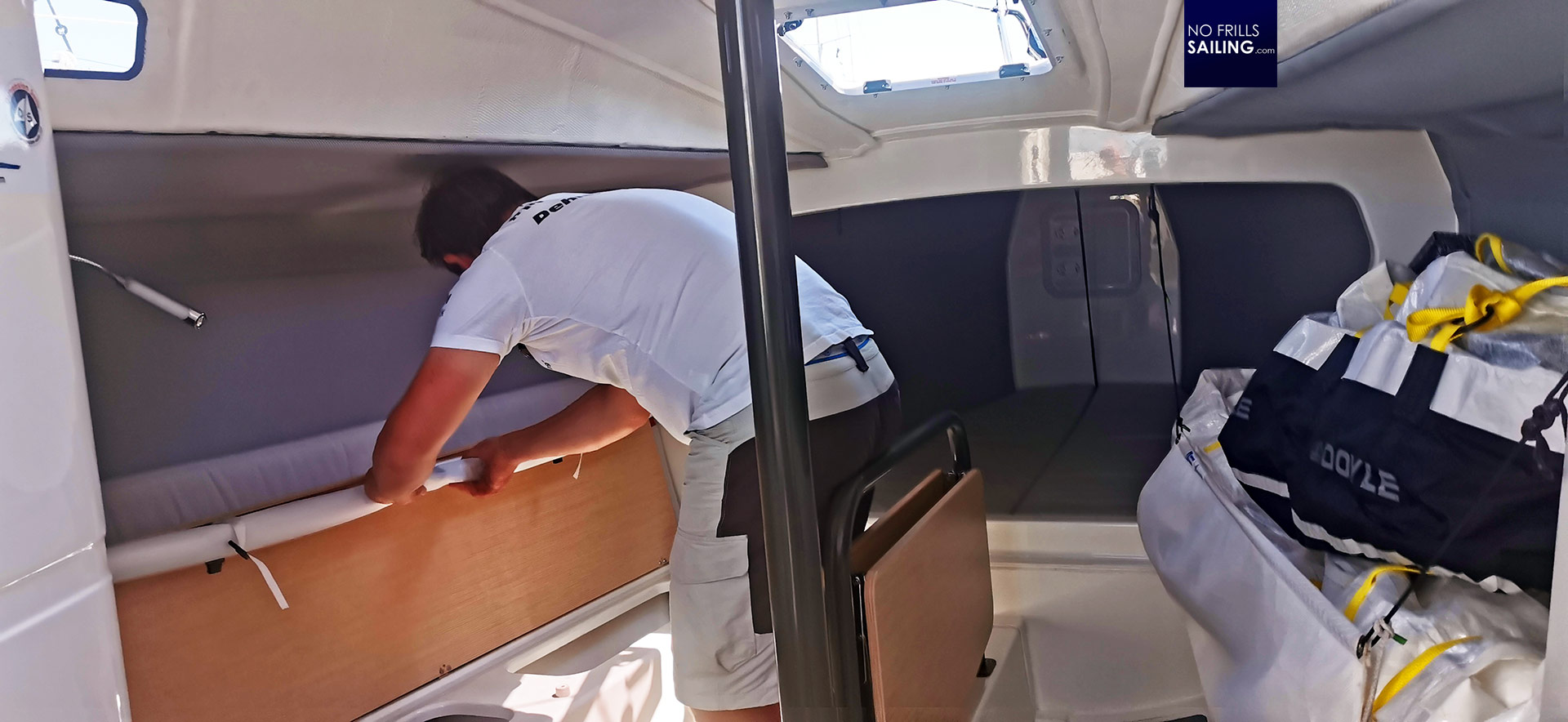 Berths on the Dehler 30 OD are more than sufficient: "It was a huge thing for us to have real berths on this boat, all are 2 metres or longer and if you look to the forepeak you might notice how spacious the bed area is indeed", says Oliver, as he demounts the studding sail of the port side saloon bunk. These are standard and turn the bunks into huge stowage spaces for sails – or will secure a fellow crew member for his well deserved watch below during a rocky offshore race.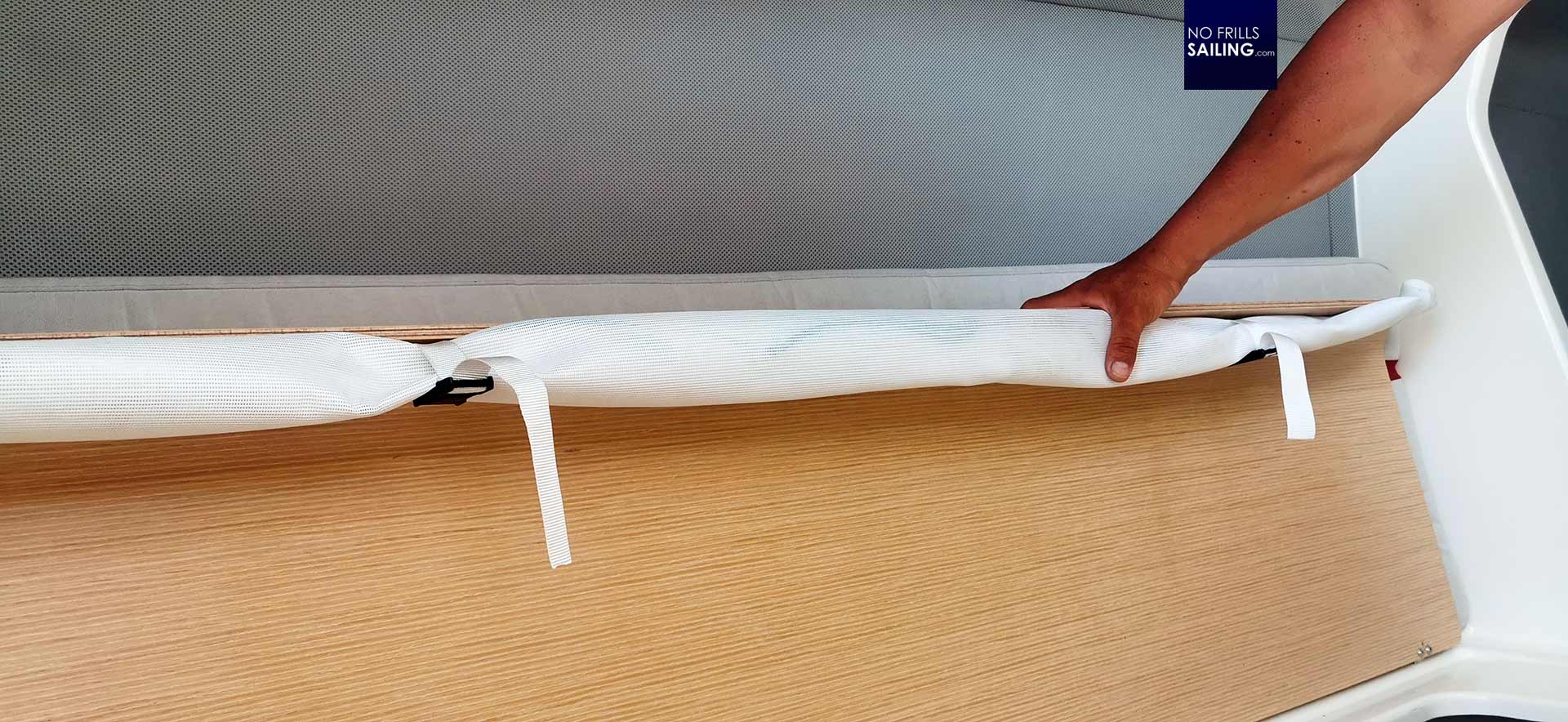 It´s these small things which make the Dehler 30 OD so attractive: "It´s a one design boat, again, so the owners can be sure to have a sail ready yacht that has almost everything on board when they start.", tells me Oliver: "But of course, we haven´t went too far with the one design class rules here. Take for example the Figaro 3, which in many aspects is a great boat – but meant for real pros. The rules of the Figaro class are even stricter with electronic equipment stipulated by the class itself. That means that in Figaro the whole boat is race-ready with almost no choices for the sailors except the sails – for us, our class rules are more open, sailors can equip their boats more freely: That of course opens up the boat for a bigger market and makes it more interesting for a wider range of skippers. We do have kind of normal families just seeking a fun boat for fast sailing and cruising and we do have serious racing guys opting for the all-out racer."
Comparing Figaro 3 to the Dehler 30 OD is a no-go for Oliver. Although even for the Dehler 30 OD they had thought of foils: "Yes, we had calculations ready for all sorts of design decisions, just like DSS-foils. It was fascinating! We even had a canting keel-version and all sorts of crazy ideas for the 30 OD, but in the end, this hull in combination with that great, great keel-bulb-configuration proved so fast and stable, that we were able to skip these ´fancy´ ideas." Instead going for the expensive and eccentric stuff the development team could focus on her intrinsic values.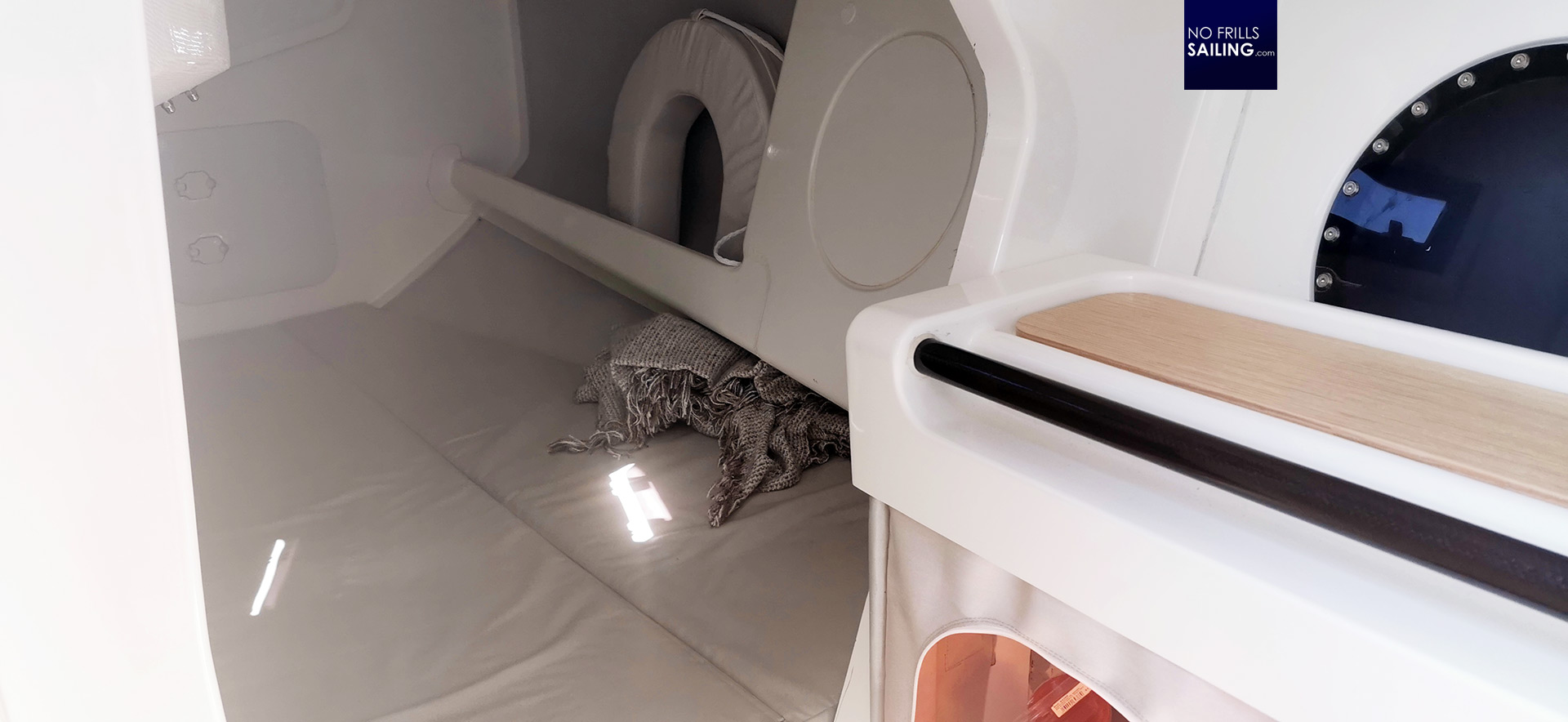 I check out the aft cabin. Again, sleeping area is big so that two adults can easily find some sleep here. I mean "some" because in order to save weight there is no bulkhead or at least something to close off the engine compartment: It is just open. That is maybe great for ventilation and maintenance of all the parts mounted down here – but maybe not so practical when sailing on starboard bow when your sleeping butt may be slipping through the GRP-framework ending up on the cooling pipes for the Nanni …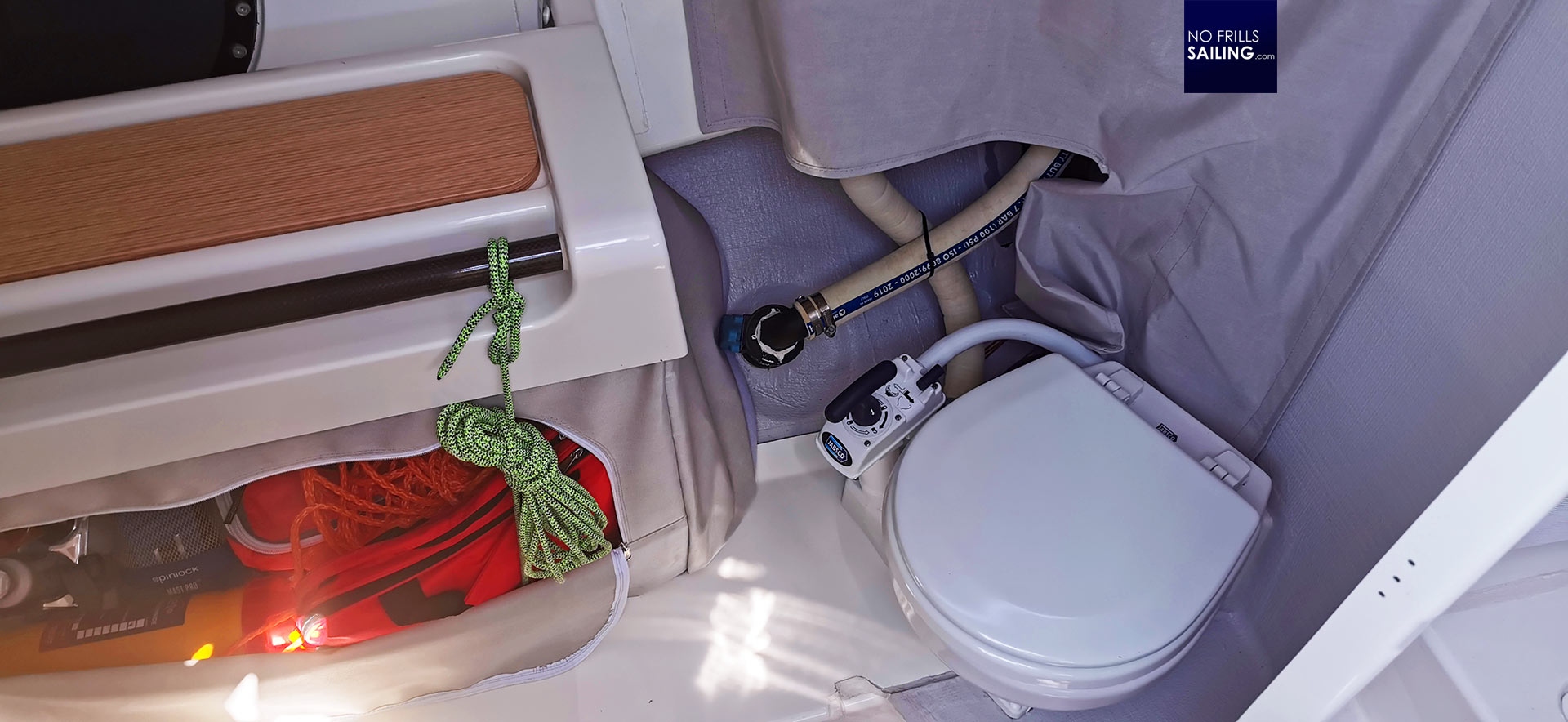 I liked the bathroom. It´s sealed off from the saloon by some very lightweight doors. Well, it´s not a door in the true sense of the word, but taking a dump one can sit down here in privacy, close the folding screens and find at least minimum relaxation. Behind the sink to either side next to the entryway are the 200 litres-ballast tanks. Filling and emptying is done via a set of simple rope-operated valves and an electric pump. Filling one tank takes some minutes but having it full of water may be adding weight to the leeward side of up to three people on the reeling.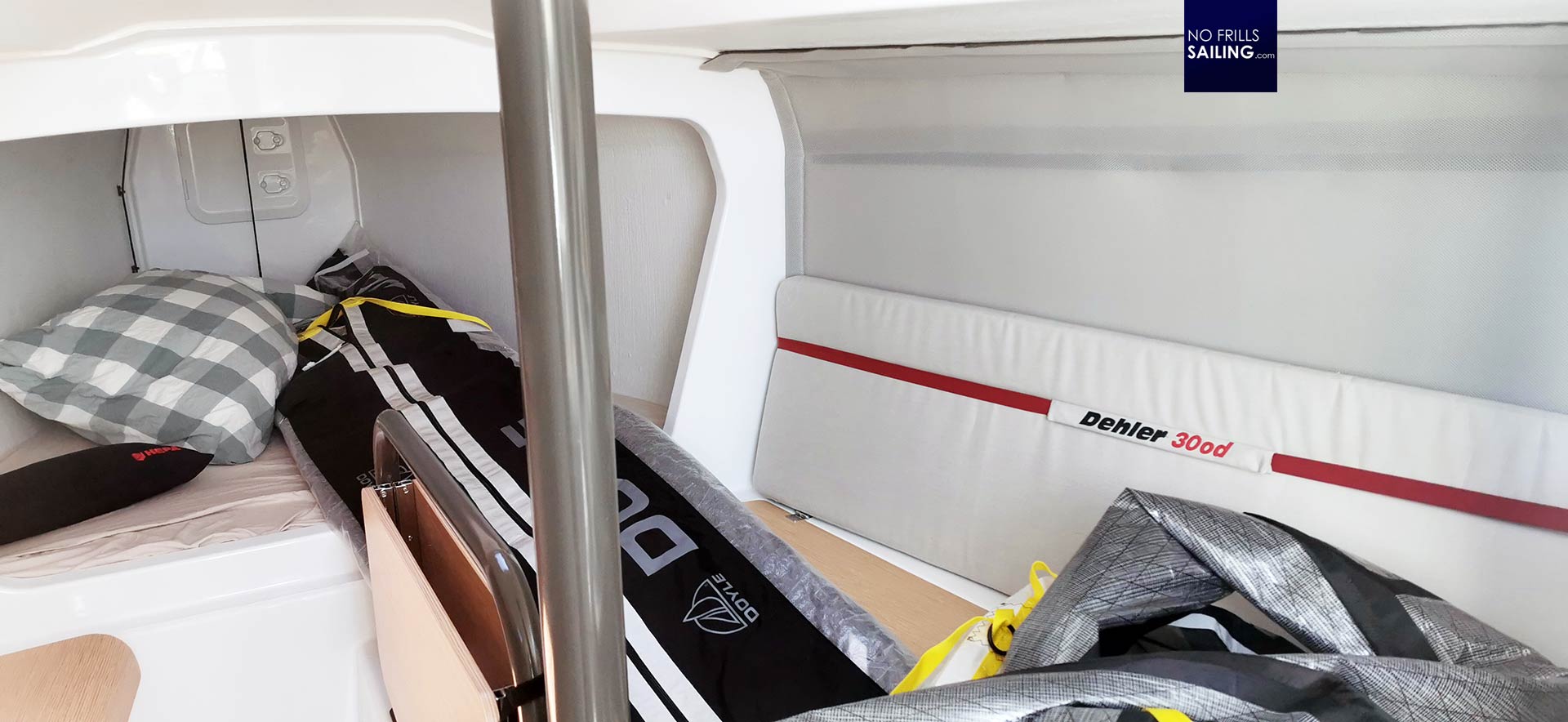 The saloon itself is simple, but clever: A folding table, two settees to either side convertible to bunks – here at least some wooden impression is given – and a wide open forward bulkhead frame giving way to the huge forepeak. As one already knows it from the Pogo and alike, the framework of the inner hull is part of the room itself, especially the huge main frame onto which the keel and the stand for the stepped mast is mounted. I liked the modular galley though.
It will provide the crew with all the basic necessities and can be used by a ship´s cook for providing hot and tasty meals during a hot race: There is a sink, a one-burner stove, some stowage and a fresh water tank. It´s not a proper galley meant for making a four course meal but it will perfectly do to keep spirits high among the crew. As I said: The Dehler 30 OD is an all-out racer with some cruising aspects, not the other way round like the Pogo would be characterized.
Production boat issues: Raising the quality
"It´s interesting to see the boat evolving here", says Oliver and points to the other Dehlers moored at the jetty: "Currently we have our own boats, the prototype and number 02 here and three series production boats which are sold. You may take a look at these because some things have slightly changed." Firstly, Oliver points to the roof of the saloon, which he describes as the "B-side" of the mould: "It´s always hard and requires a load full of efforts to make the B-side looking nice", he explains, "and Dehler is definitely making some progress here."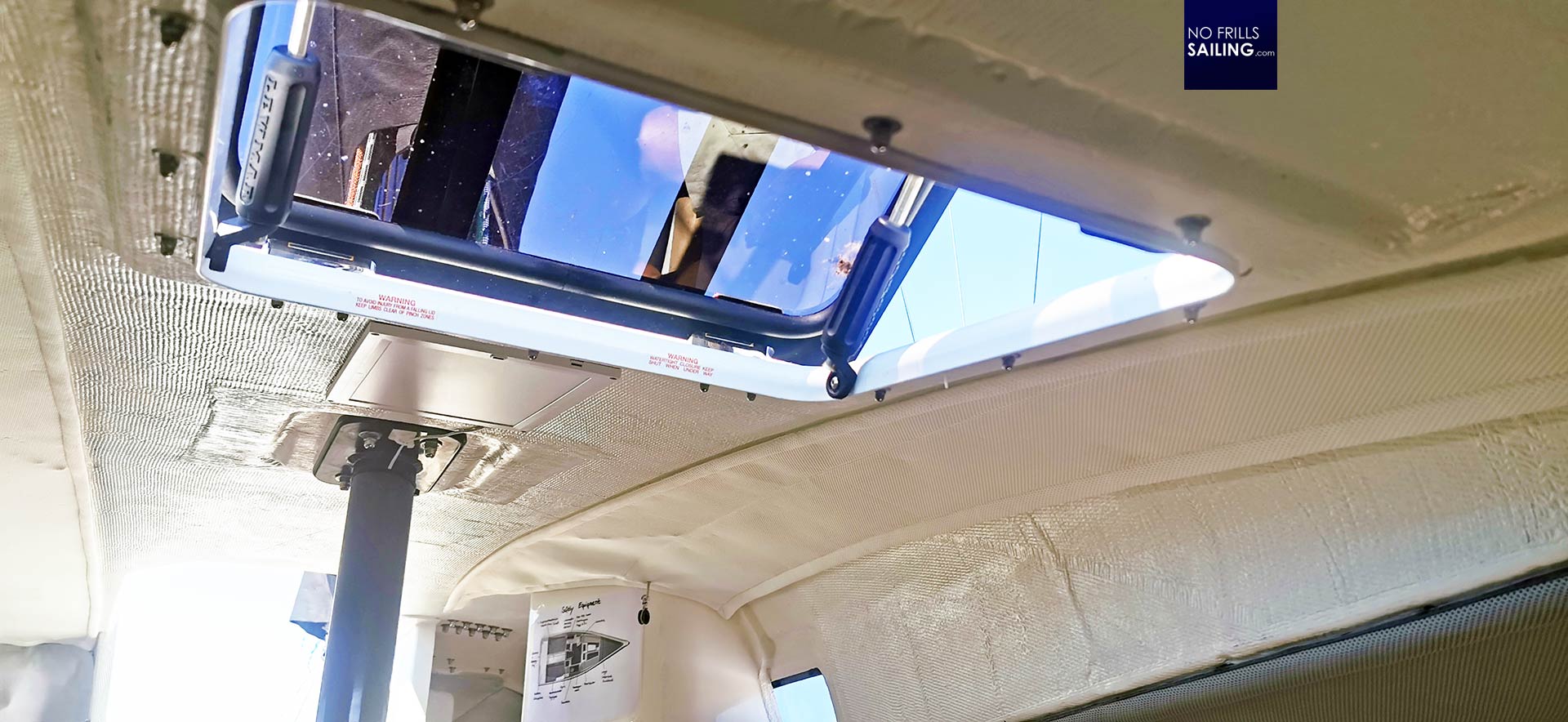 As he points up over his head, I understand: The A-side, the one directly connected to the smooth inner area of the mould, will always be nice and clean. But the other side where the plastic foil during vacuum infusion process has been situated is a different thing: "Again, look at Pogo – which is in my view the absolute best example for GRP-moulding as they are providing both excellent A- and B-sides and spare no expanse to re-work their GRP-parts. But if you compare hulls 01 and this one, you´ll notice that Dehler got better in this as well."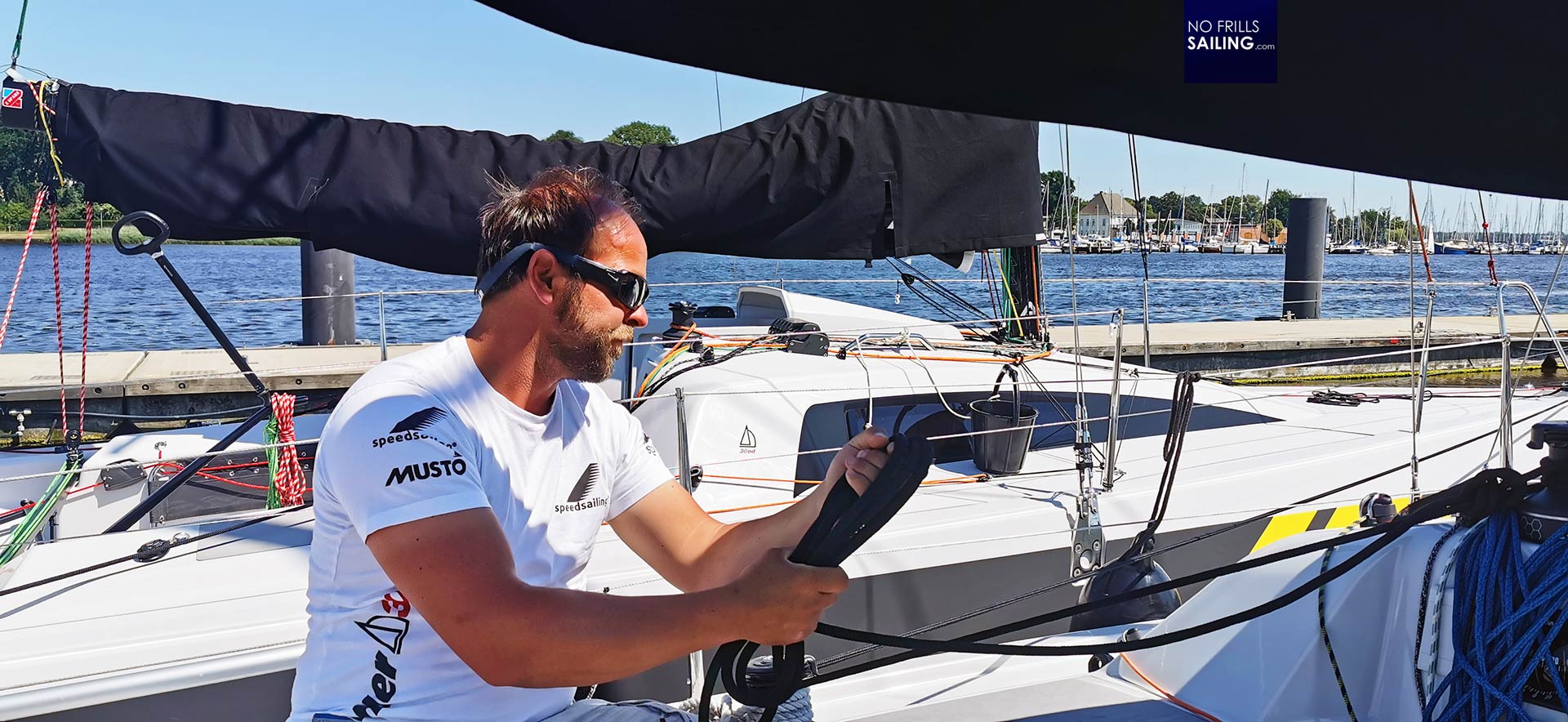 As Oliver is cleaning up some ropes in the cockpit, he starts talking about the selling process and his role in the current run up of sales of the boat: "Speedsailing is kind of a mixture between a proper dealer for these boats and a counsellor. See, most of these boats go to racing sailors who are very determined to win races. They all have high expectations and aspiration – and special needs and wishes. That´s where we join in. A typical Dehler-dealer might not have the competence or simply the knowledge for giving proper advice, so they hire us." Oliver points to the mumble of ropes and sheets in the cockpit: "Take the running rigging …", he says.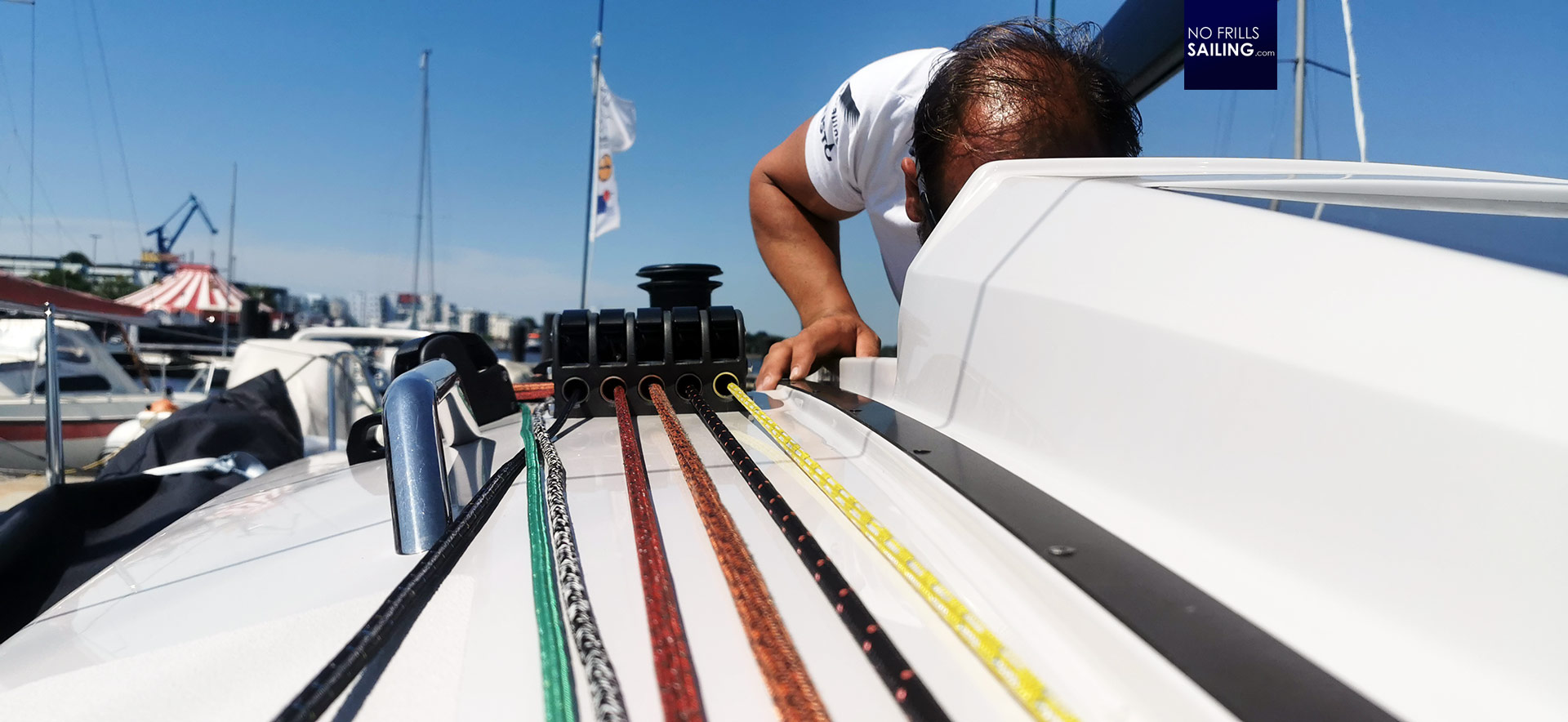 "Almost everything on this boat is done by ropes. Now, on normal cruising yachts a skipper wouldn´t mind ropes in general, it´s just two halyards and three sheets. Maybe an outhaul and two reefing lines. That´s it. Here we have a multitude of ropes and lines. And so many soft shackles. There are different qualities and properties needed or wanted for different lines and you can really tune your boat to a max by investing some brain into choosing ropes. It´s like a huge playground for me, it´s my specialty if you want to call it this way and so dealers and clients are using this competence."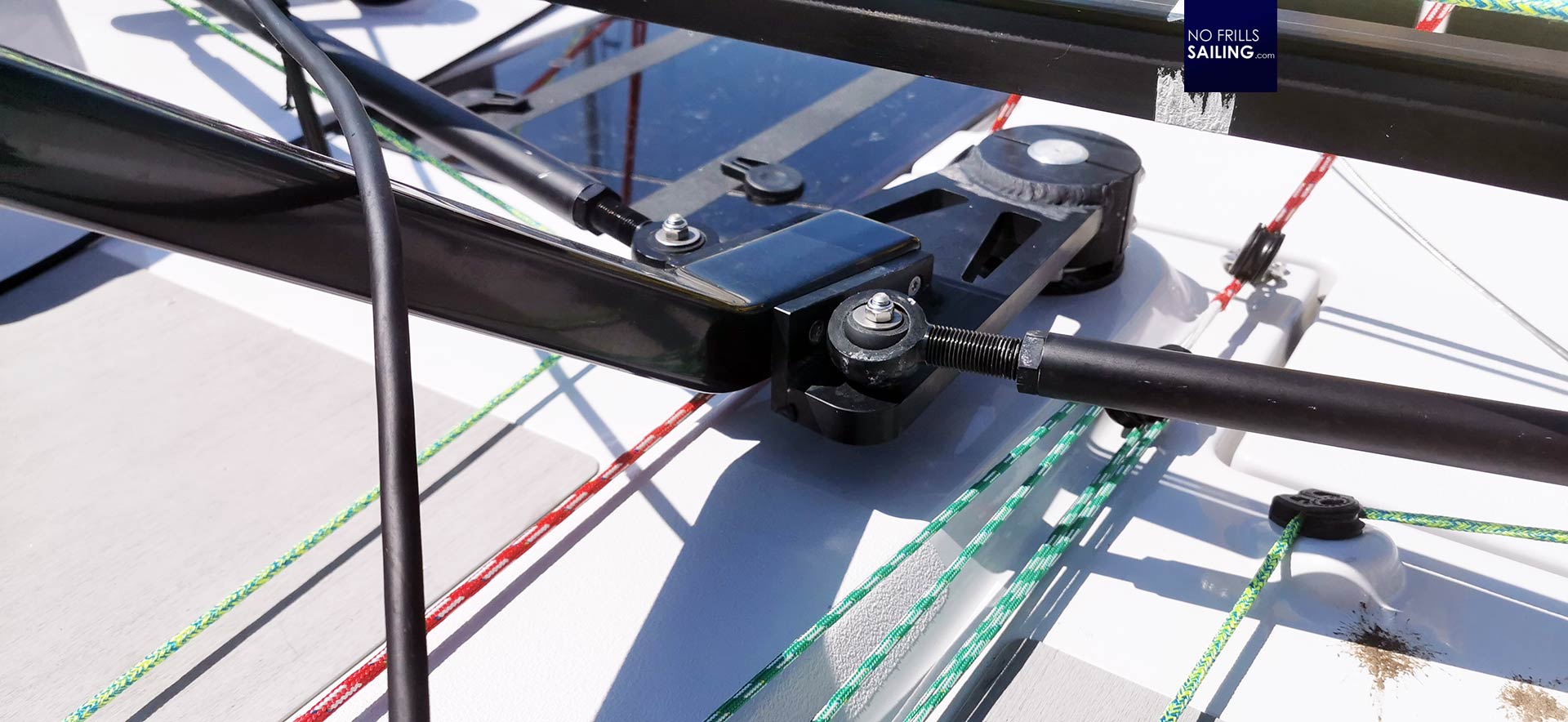 Oliver shows me the prototype tiller and the series production tiller: "Dehler changed the massive aluminium made part where the tiller is mounted. The tiller went a bit forward, increases leverage for lighter steering and they changed this particular part for better maintenance and durability. That´s just one small example for a process." Being a one design boat, naturally, the yard cannot take all too big steps, but enhancing the boat is still taking place. Oliver assures me that even now with development phase concluded and the boat in series production they still have a direct line to the yard feeding constantly information on how the boat performs and what may be changed or not.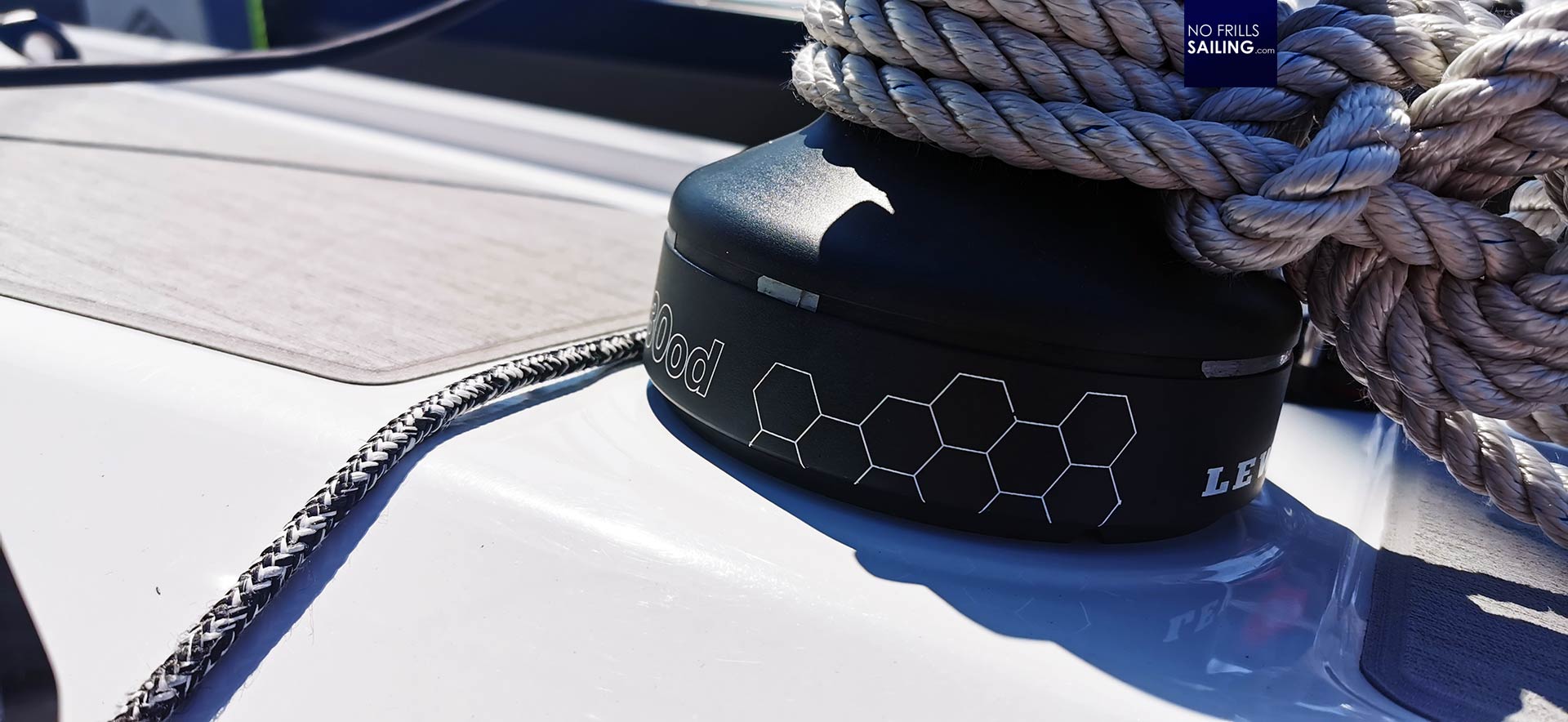 "In the end, when I look at this boat, it´s an unbelievably cool story how it came to life and why it looks and behaves the way it does.", Oliver says, smiling proud like a daddy: "What I am telling you now is not a marketing phrase, it´s really true: When we´ve had the sea trials for the yachting press in Ginesta last year we´ve had the crème de la crème of Europe´s and America´s boat reporters sailing the 30 OD. And I can tell you, not a single journalist left the boat without being impressed by both the performance and the concept itself. They really did. I guess they didn´t had expected Dehler coming up with such a racing machine. And, yeah, I know, I am biased, but my personal impression is this: She is a hell of a boat!"
A growing Dehler 30 OD-fleet
Which is something Oliver and his mate Otto Timm were able to impressively prove during Dehler 30 OD´s first proper race: The double handed regatta "Baltic 500". Two of these brand new boats participated in this non-stop regatta. "We have been – apart from the Classe Mini – the smallest boats of the whole fleet. But we managed to constantly sail within the front pack of the race. Imagine these small boats being faster than bigger racing yachts, quicker than X-Yachts or other dedicated boats. We even lead the field on large chunks of the upwind tacks which I find more than remarkable." Remarkable was as well that Oliver sailed this tough ride with a broken foot …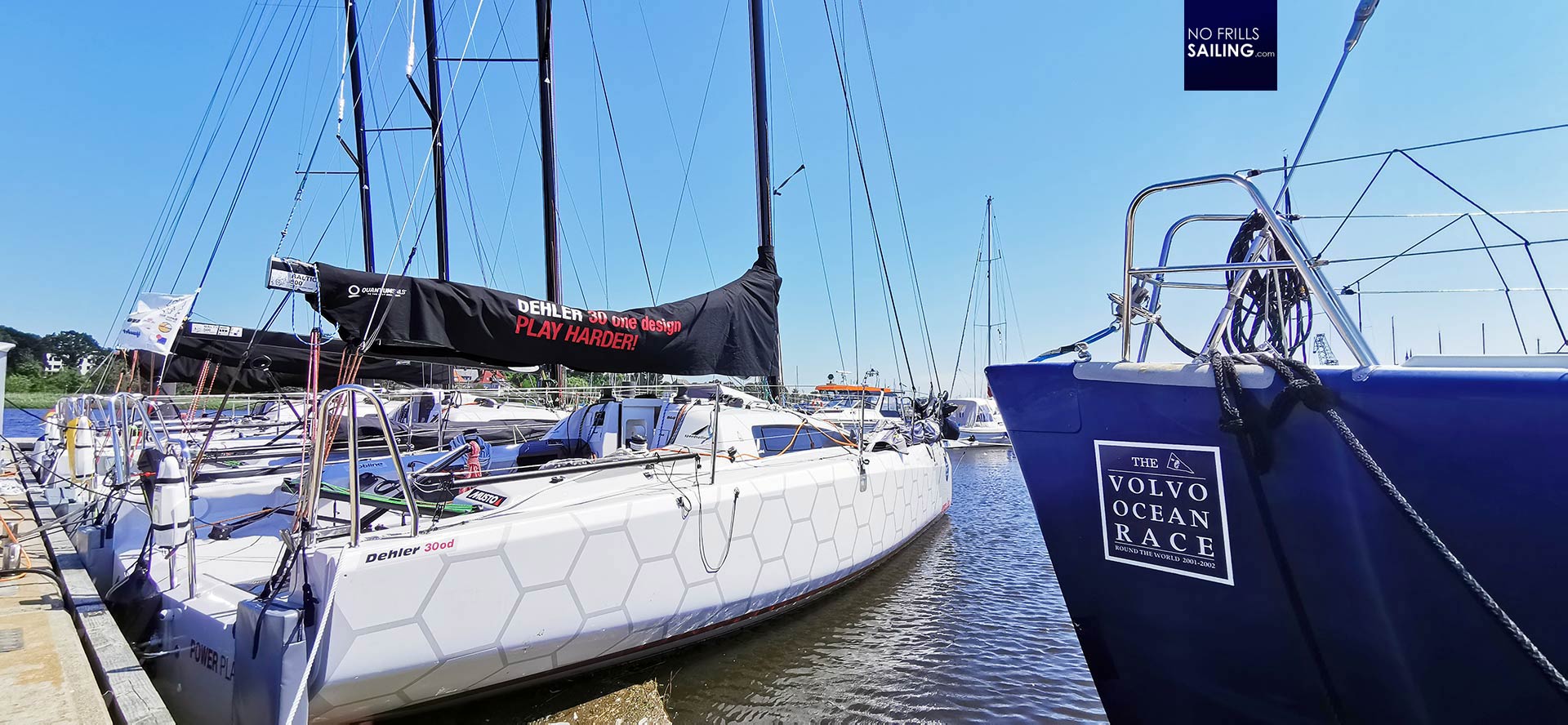 So I sit there and I am really impressed by this little racing machine. With the complex running rigging, outrigger stems, laminate sails and modern hull lines I think that this boat is exactly what people are looking for when seeking a pleasure machine looking for regatta-adrenaline. Sales success is ramping up – an overall proof of concept: "All in all some 50 boats have been sold so far, 10 or so of which are done by us", Oliver tells me. Considering the market-niche for which this boat is build, 50 units after a few weeks of sales is a great success and I congratulate Oliver for this effort.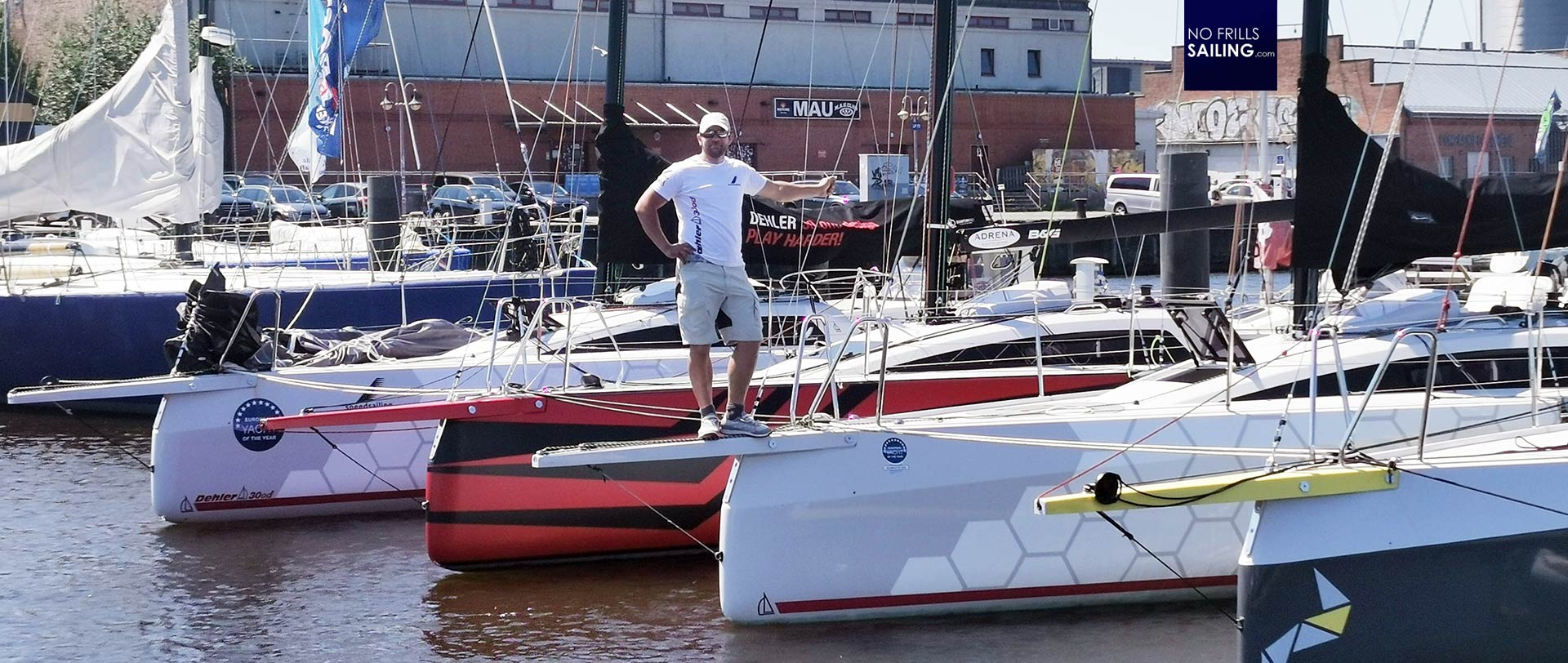 "You know", Oliver says: "I don´t think that there are niches any more on the boating market. I would rather say that the market consists of equally equitable clusters of client groups. The Dehler 30 OD is a highly specialized boat for sure – but the group of people for which this product is interesting is far from being a ´niche´, that´s my daily impression from contacts to sailors."
I leave the Dehler 30 OD, not without making sure that next time I come here we will hoist the sails and take s dash out on the sea. I am very impressed by the little grown up racer, delivering a full punch of Open 60 racing feeling: "For around 160.000 Euros you can start sailing a 30 OD. Rigging her fully capable of seriously competing in races, well, that´s a different price tag …", Oliver smiles.
Thanks Oliver for spending your time with me and letting me get this exclusive insight into the story of that boat.
You may also be interested in reading these articles:
First look onto the new Dehler 30 OD during Cannes Yachting Festival 2019
Talking Figaro 2 with Marc Lombard
Matteo Polli talks design iterations of keels and appendages