Oh well, where shall I begin with? This year´s edition of the Cannes Yachting Festival at the famous Cote d´Azur was – as it is in every year´s sailor´s travel calendar – the highlight of the boat show season. Being here in Cannes is not just the starting point of a new sales season but, from my personal point if view, the most beautiful boat show of Europe, possibly worldwide. Well, it has been until now.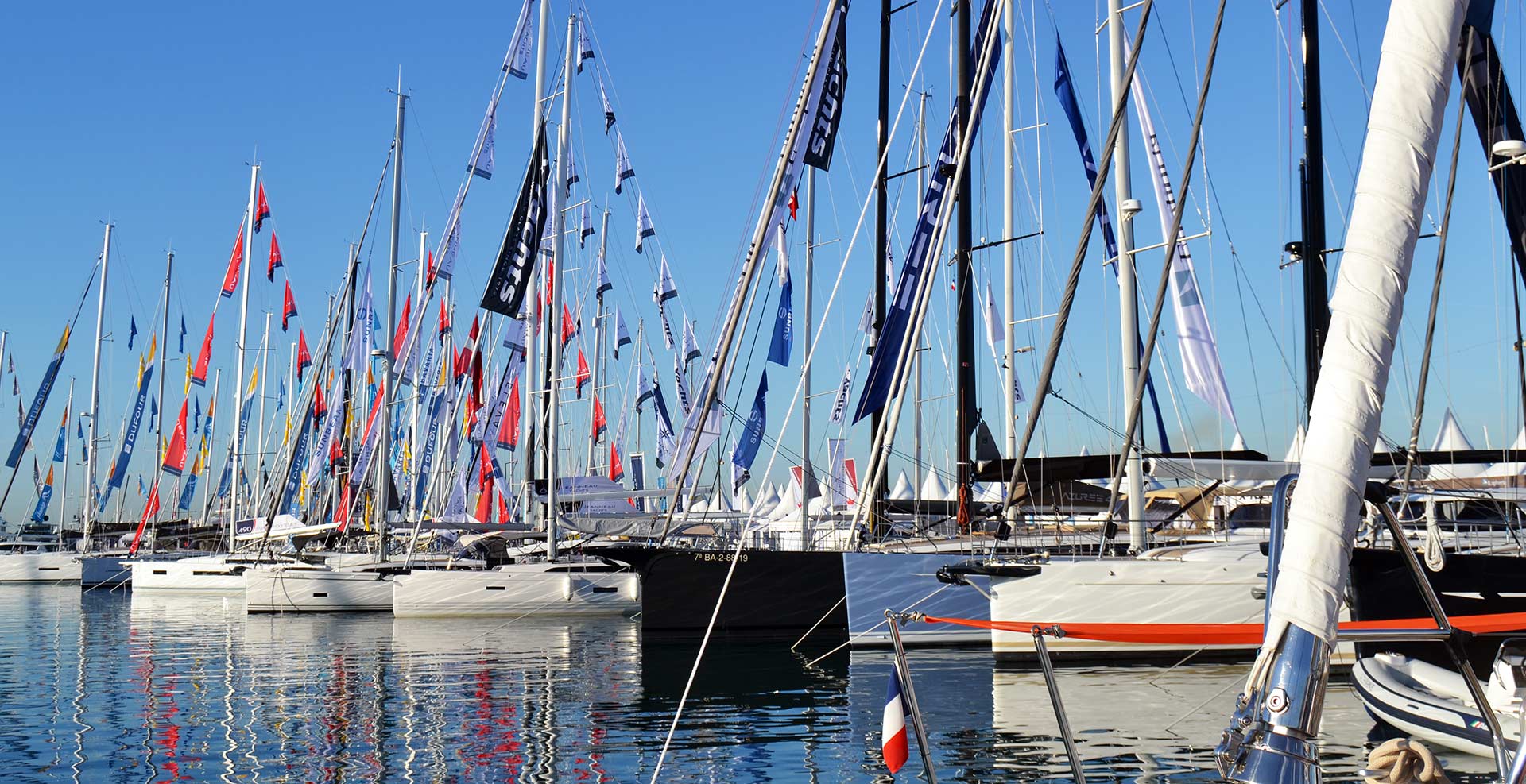 Apart from the fact that a visit to Cannes is always a treat, the edition 2019 didn´t really live up to the past boat shows I was happy to being part of (read here about my 2017 and here about my 2018 visit). Business-wise it was a big success (later more on that), but from the visitor´s perspective which I am now taking I must honestly admit: Cannes 2019 was a turnoff. There are two reasons for that.
How to crash a party
When I arrived dark clouds had already began to form an overcast sky and so the show began to with a downpour I haven´t seen in years. For the complete first day it rained cats and dogs, flooding the jetties, drowning booths and soaking people (including myself) to the bones. Of course, that changed quickly and this first opening day of the show became in retrospective a running joke, but in a sense that bad start was a harbinger.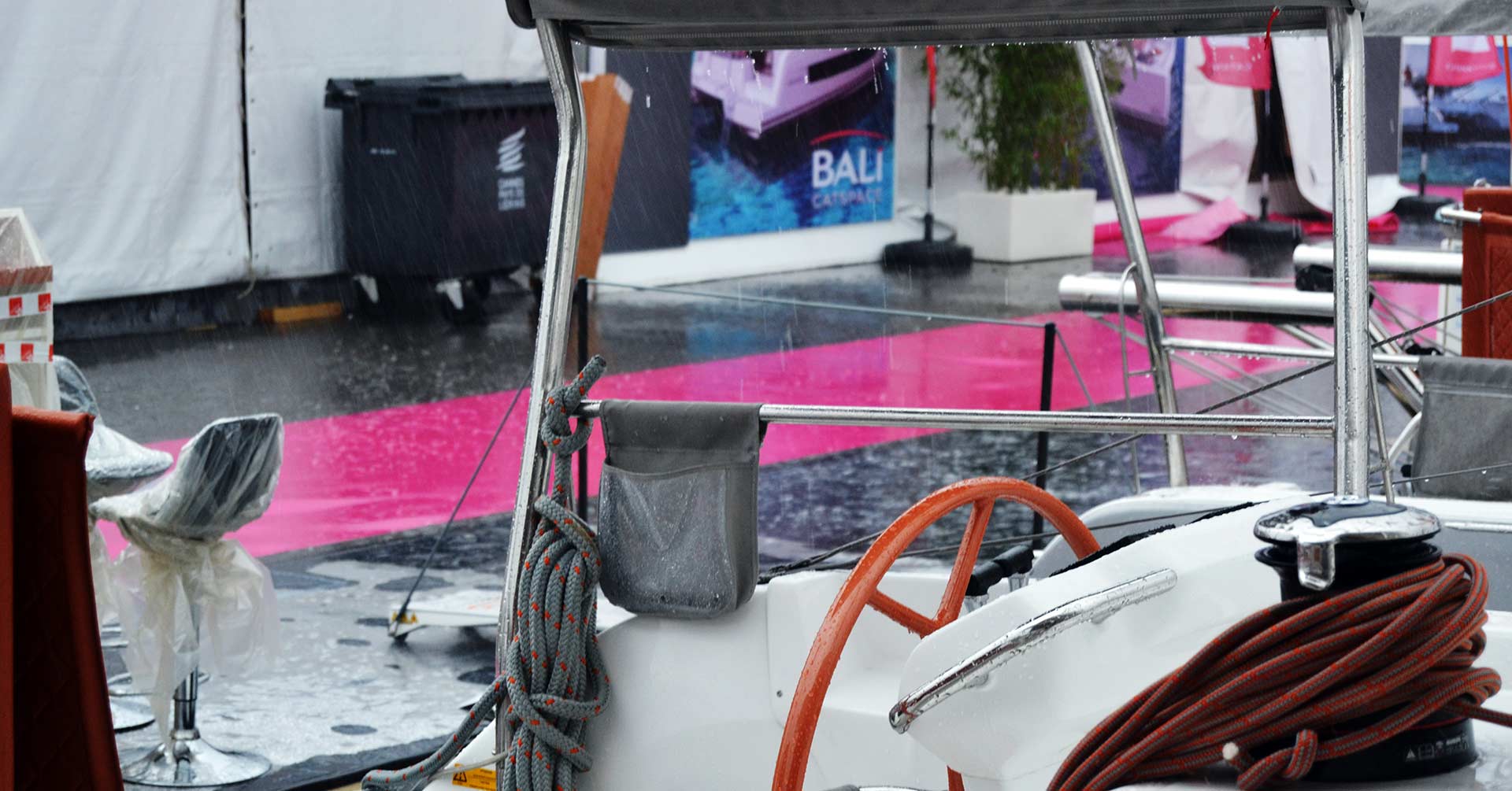 I do not really know why they did it, but months before the start of the show the organizers announced to split up the show and have it divided. Powerboats and superyachts would be staying the Vieux Port, the famous marina alongside La Croisette. But sailing yachts would have to leave and be relocated in Port Canto of Cannes. Well, ere the problems start: A walk between these two locations took me (a fairly fast walker) some 30 minutes. During daytime when the waterfront was crowded with people, a walk lasted even longer, eating up easily double that amount of time. Surely, there were boats acting as shuttles and busses (though I never saw one) but anyhow, that split meant a serious inconvenience for visitors, exhibitors and of course professionals.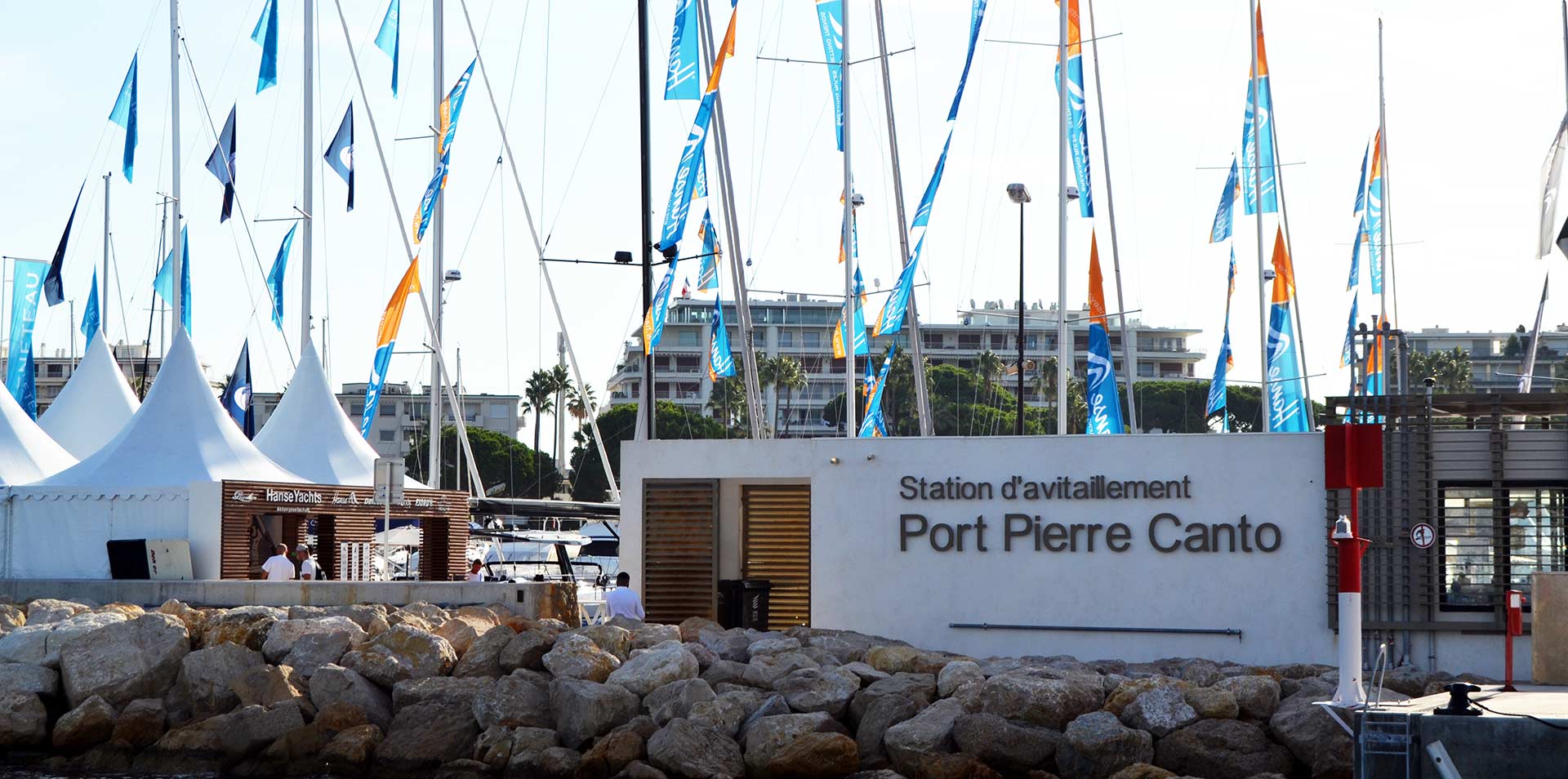 Why? Because even the big players in the market like Jeanneau or Beneteau, market leaders, were forced to double their spendings in booths, people, logistics. That in the end meant smaller booths of course, less service like catering or drinks and in the end a serious cut in glamour. I mean, a really serious cut in glamour: What made Cannes so attractive all the years, that massive amount of boats from 40 to 150 feet now was completely gone: Both marinas being half-empty (or half-filled with small, private owned, normal yachts and boats) couldn´t create that Yachting festival-spirit at all. It was a shame! And so I found rarely any highlights during the show. In fact, there had only been a handful of yachts of interest for me this year.
Biggest highlight for me: The Beneteau First Yacht 53
Of course, my expectations were the highest for finally getting to see the new First Yacht 53 by Beneteau which for me was and still is one of the two highlights of the show. Beneteau announced the coming of that boat some 2 years ago and we had been forced to wait that long, just days to go for the start of the show they released first pictures of the prototype under sails and so I couldn´t wait to get to admire here lines in real life.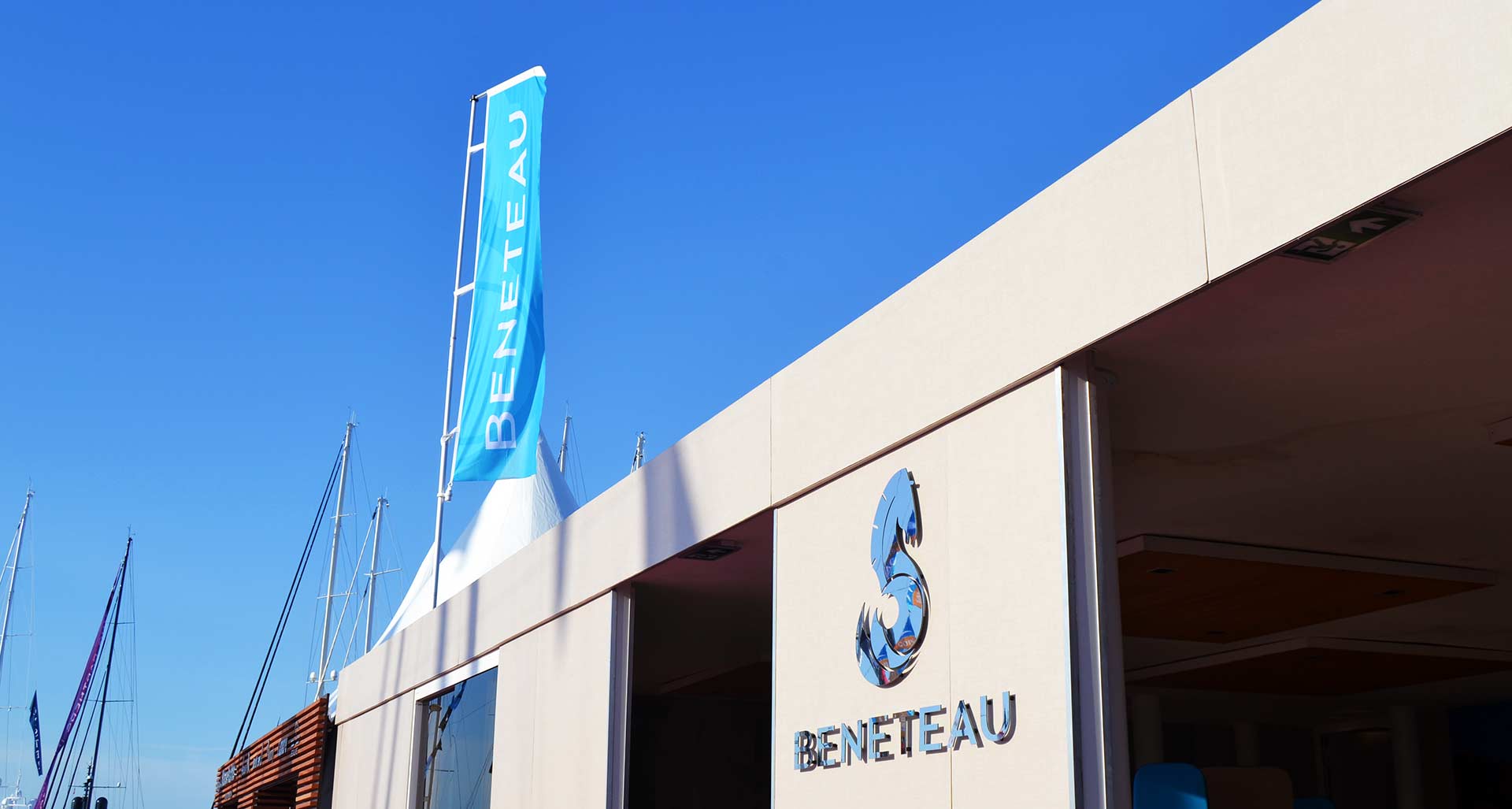 And there she was – finally in all her beauty. I must say that all my expectations have been satisfied and even surpassed my secret hopes for the boat. She looks stunning! With here 5 meters max beam carried full aft, her flat sexy stern section cleverly designed, black stanchions and steering wheels and the new dark-blue hull color she truly is a love at first sight! She is a head-turner, a full-fledged wow-machine for sure!
And so she was during the whole show: Although the yard had a nice representative cross section of their Oceanis cruising line at display, with the still-wonderful Oceanis 51.1 and the gorgeous Oceanis 46.1 most of the traffic on that booth was queueing to get one of the rare tours aboard the new First Yacht 53 – even the luxurious flagship, the fine Oceanis Yacht 62 kind of felt deserted compared to the overwhelming interest in the First Yacht 53.
For sure people wanted to see that boat because of her beautifully designed outward appearance by Lorenzo Argento, her fine classic lines, the mentioned stern section and the beautifully balanced appearance, somewhere between flat-aggressive and lush-luxurious. But the real star and is her interior: Look at those beautifully crafted round furniture parts, the complete absence of a chart table, the radical re-thinking of the dining-area and the stunning sofa! I will go into depth in a complete walkthrough in the coming articles. With the new First Yacht 53 I was partially making up for the split setup of the show.
30 Feet Racing Devil: Dehler 30OD
The second highlight for me of this year´s Cannes Yachting Festival was another performance yacht – but one from the other end of the range: Dehler´s new 30 one Design Racer was long awaited and she had her debut here in Cannes. During the third day I went to the show especially early to being able to admire her lines before the crowds would hinder my sight. A beauty she is! I am very proud as a German that Dehler came up with this boat which – I hope – will have a big impact and success.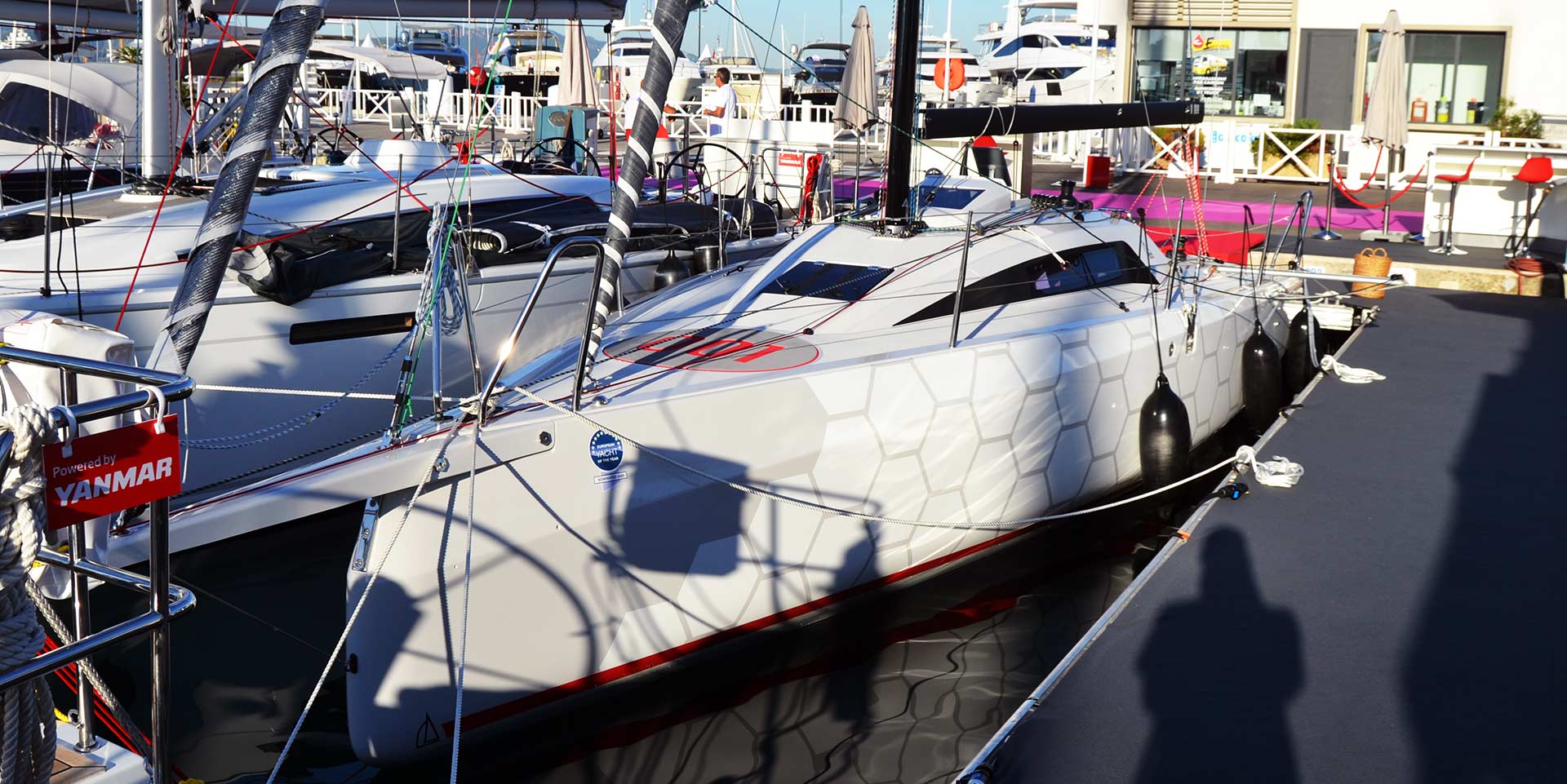 Though just being some 30 feet long, she is a badass looking racing devil for sure! Since I was happily delivering the Beneteau Oceanis 30.1 prototype to Sweden or sailing a First 30 Performance in stormy conditions I am very well aware of the fun that a keen sailor can squeeze out of such a "small" machine – and judging the vast amount of different trim lines both on the coach roof and in the cockpit of the Dehler 30OD I am more than sure that this little mean bastard will kick ass if driven by an appropriate skipper. Hats off, Dehler – that thing will be a true star for sure!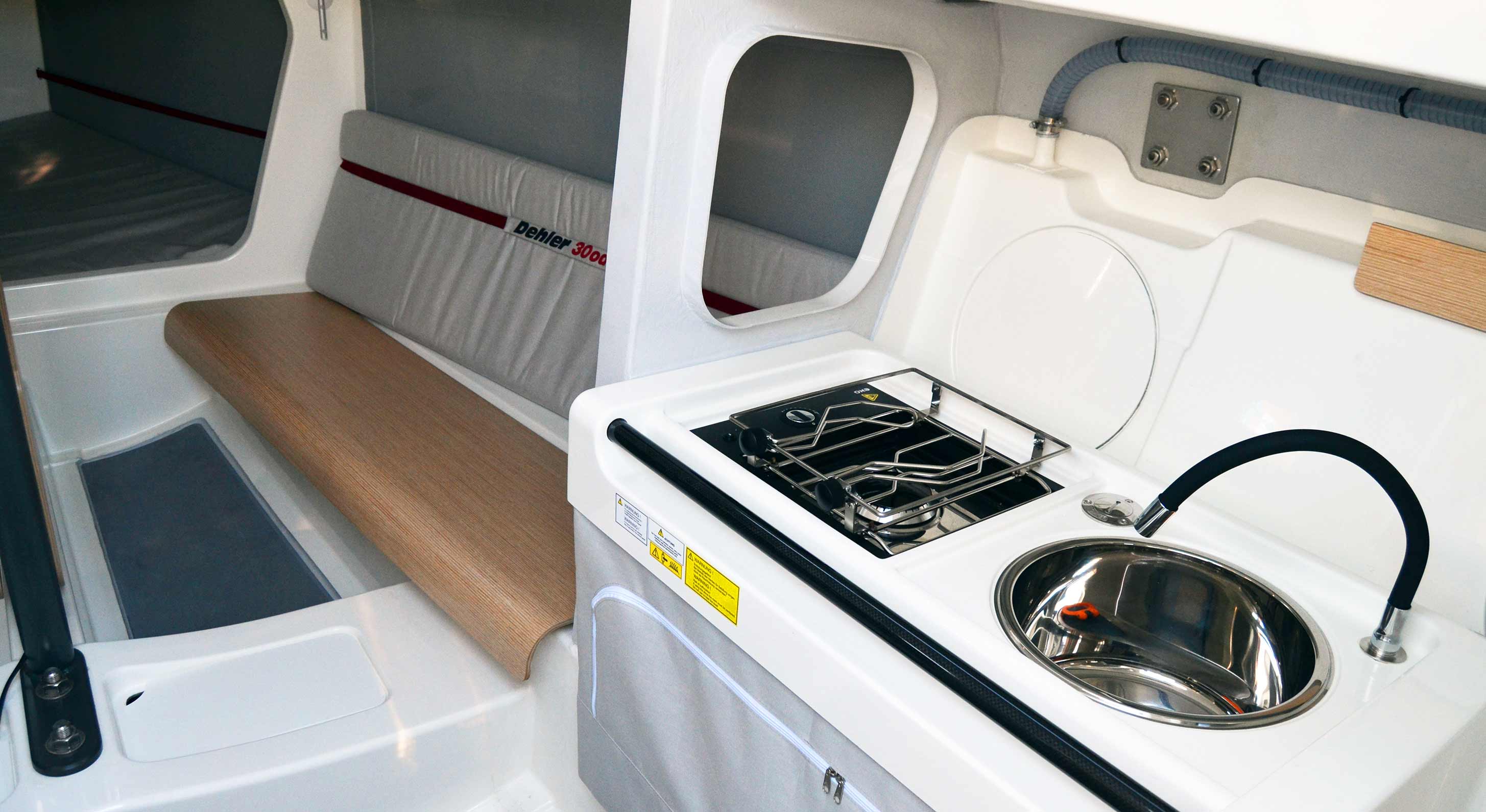 She will be because she also offers a certain level of interior comfort as well. Other racing-optimized boats like the Figaro 3 which are true racing boats made solely for being strong at one thing: Regattas; won´t have nothing to offer for the skipper, nothing else than speed and fun. The Dehler 30OD comes in handy. A proper bathroom, a small galley, cushions and even some veneer and panels for the bare GRP surface. A clever, young and spirited approach to bring fun, quick sailing and even cruising to the people. This boat will be object of a more detailed article too, of course!
More performance coming up
This year I focused not so much on the big luxurious cruising yachts like I did in the past years. Of course, Oyster was there with two yachts (the 675 and the 885) but since they somehow did not manage to present their very interesting brand new "pocket superyacht", the 565, I refrained from meeting them. I also skipped Mylius, Southern Wind and Co – although these boats of course are true delights and a treat to look at. Instead, I was happy meeting my friends from Italia Yachts.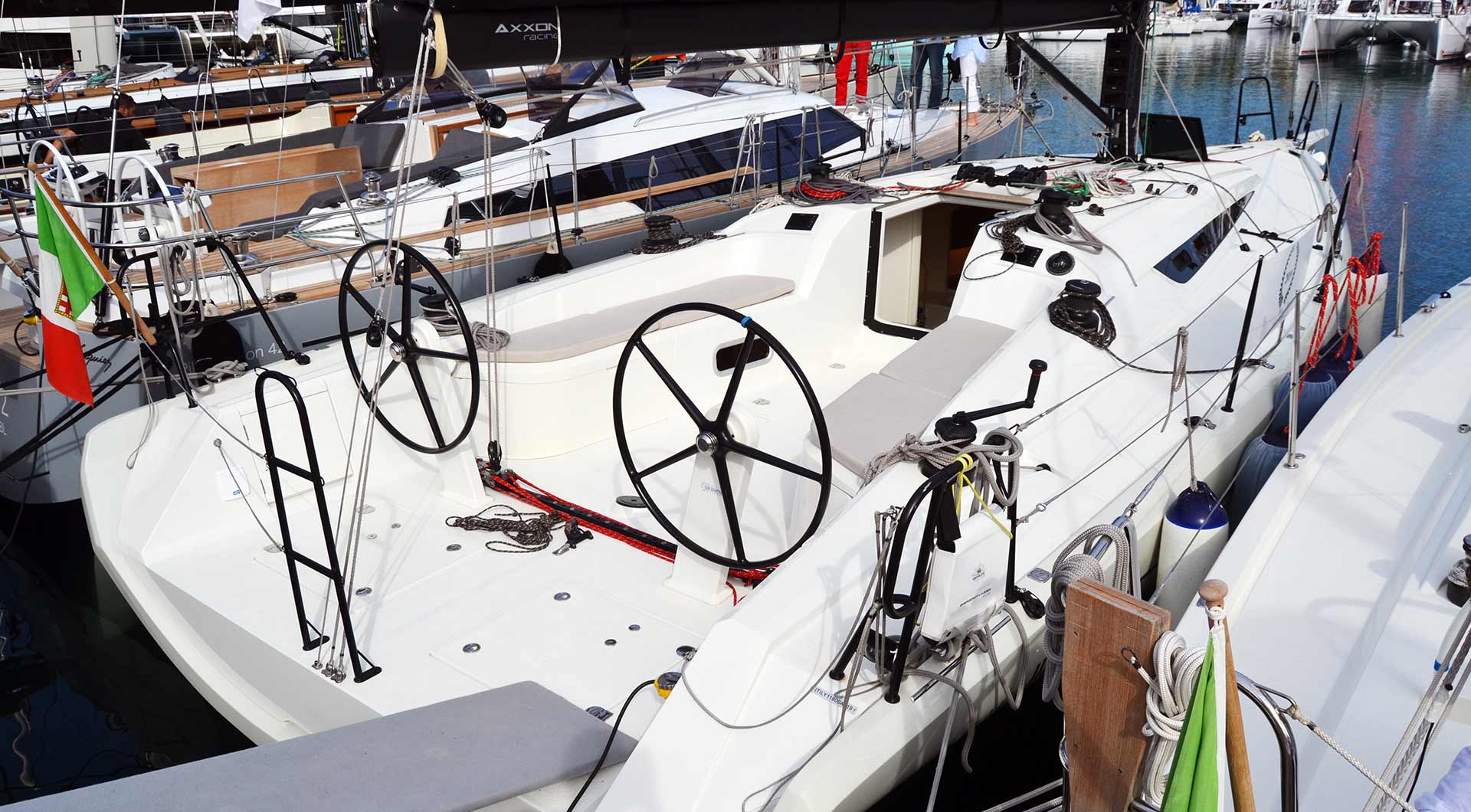 They had their marvelous Belissima cruising line at display with the 13.98 which in fact has been the first ever sailboat I fell in love with during Hamburg Boat Show 2015 (read it here), but later their brand new 39 feet 11.98 Fuoriserie arrived at the third day of the show after dashing over to Cannes from Fiumincino (that´s 310 miles) over night in 12-18 knots TWS in more-than-quick 29 hours! No wonder that this ORC-optimized racing boat won the World Championships at an instance and is currently nominated for "European Yacht of the Year 2020" in her category!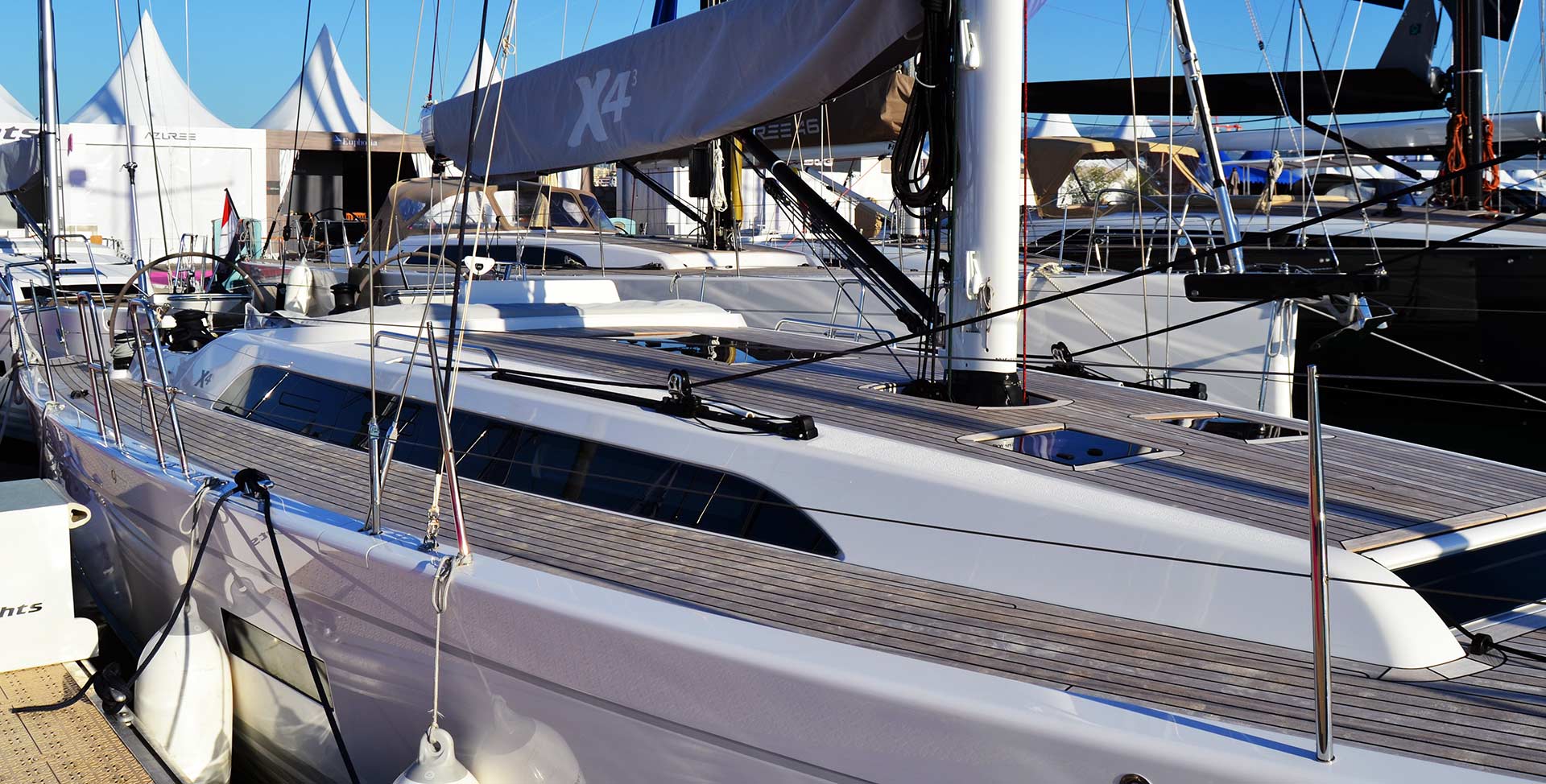 Other performance yacht brands had been present too, like the mentioned Dehler yard and of course my Danish friends from X-Yachts. X-Yachts had a nice range at the pontoons with their XP-55 being the biggest (a yacht that I visited one year ago) and the X4.0 that had her world premiere in Duesseldorf this year. I didn´t had the time to jump aboard that ship unfortunately, but I try to do so this autumn in Denmark, we´ll see. That´s for the performance yachts.
Cruising yachts highlights
For "normal" sailors the Cannes Yachting Festival had the "usual suspects" in form of the big names of production boat yards but also the smaller brands. I was happy to see at least one (small) Hallberg-Rassy mooring at the pontoon and the awesome Sunbeam 46.1 from Austria which I was lucky to get a private tour on last year during her sea trials for "European Yacht of the Year"-award in Barcelona – read that article here.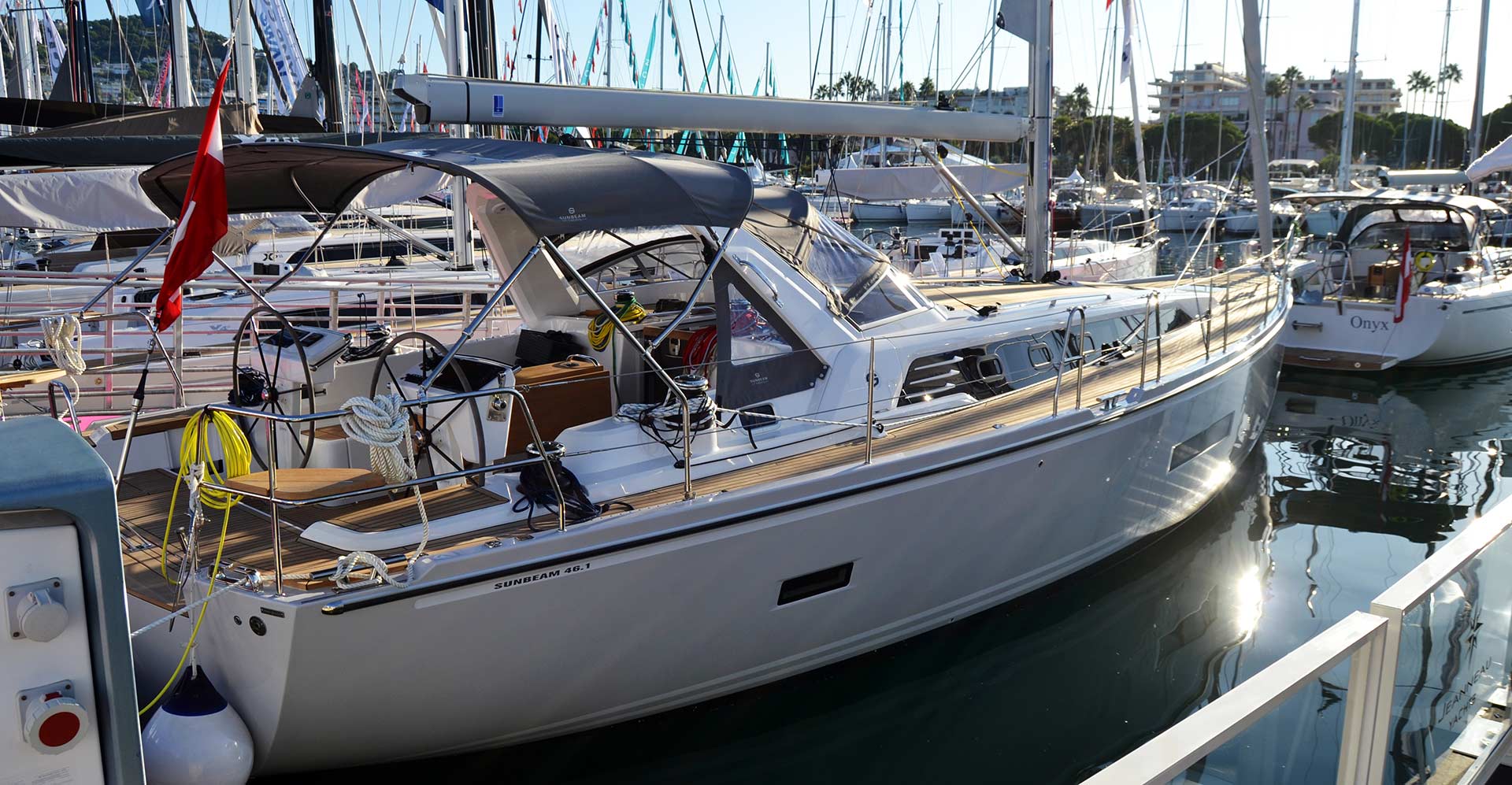 Missing – and that is said with true regrets – was a tour of the all-new Nautor´s Swan 48 which is a true shame for me! I just didn´t got the time to have her toured in detail and so I could only take some pics from the outside. The Swan 48 may be one of the most compelling (higher priced) models for cruising sailors demanding a higher degree of quality. I remain alert to have this boat visited in detail during upcoming Boot Duesseldorf for sure!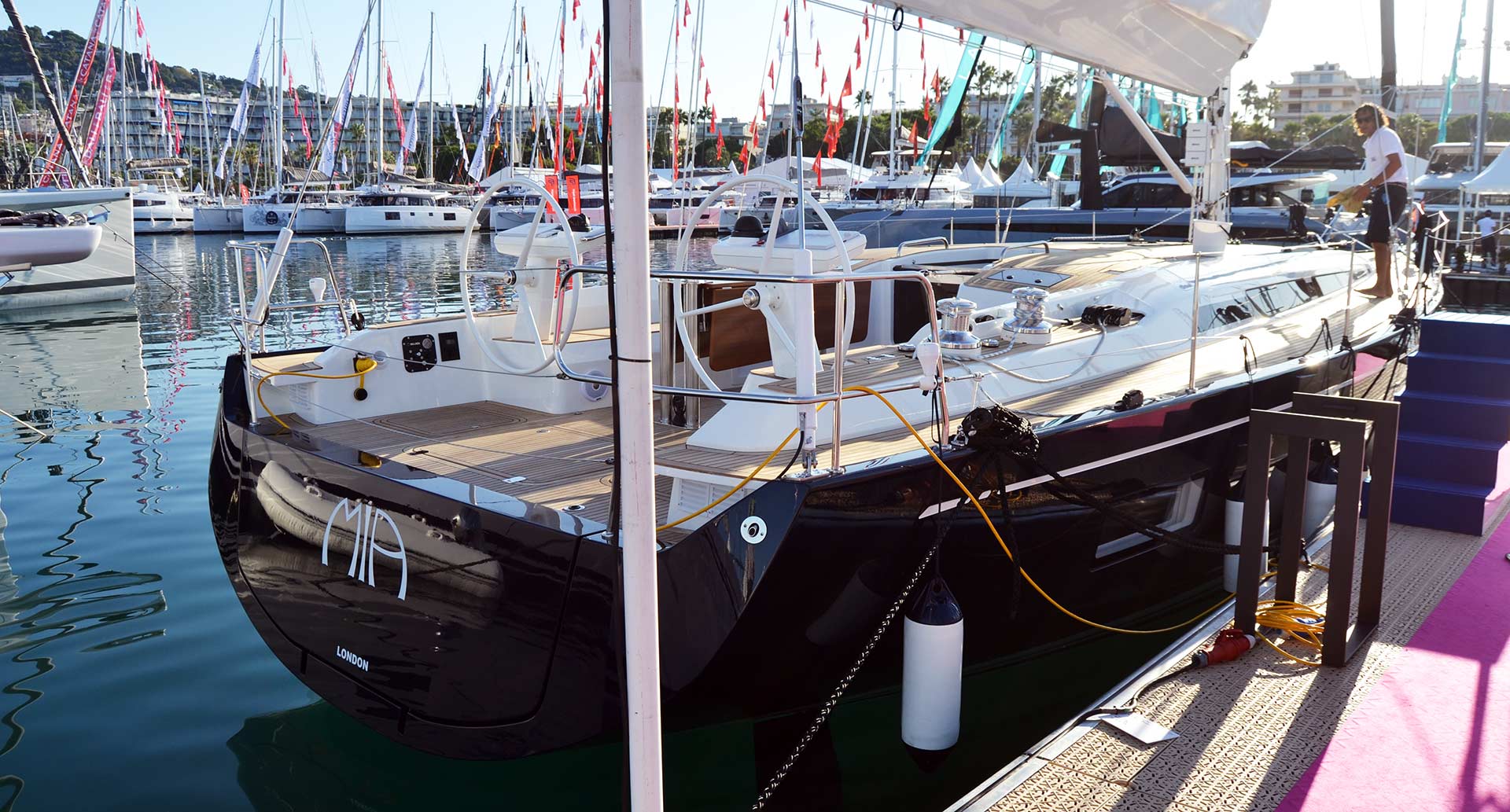 But in the end, that was it pretty much cruising-wise. I waved at RM Yachts which had been placed at the farthest end of the pontoon and I had the impression that here at Port Canto the multihulls had some how an even bigger appearance than in previous years. Knowing that the catamaran market is soaring and with a new sporty-cruising cat brand names Excess celebrating their world premiere, I was amazed to see that many cats moored.
Keeping it real …
Nevertheless, no matter how nice all the Solaris, full-carbon Michael Schmidt boats, Mylius and name-that-brand boats are, one yacht stood out for me in particular and was my personal highlight of the show: The aluminium built Gulliver 57, essentially a Cigale 18 with a lifting keel and lovely Italian design. I simply love these yachts as they are my all-time favourite boats. Made for sailors (just look at these huge Anderson winches!) and made for the long haul journey.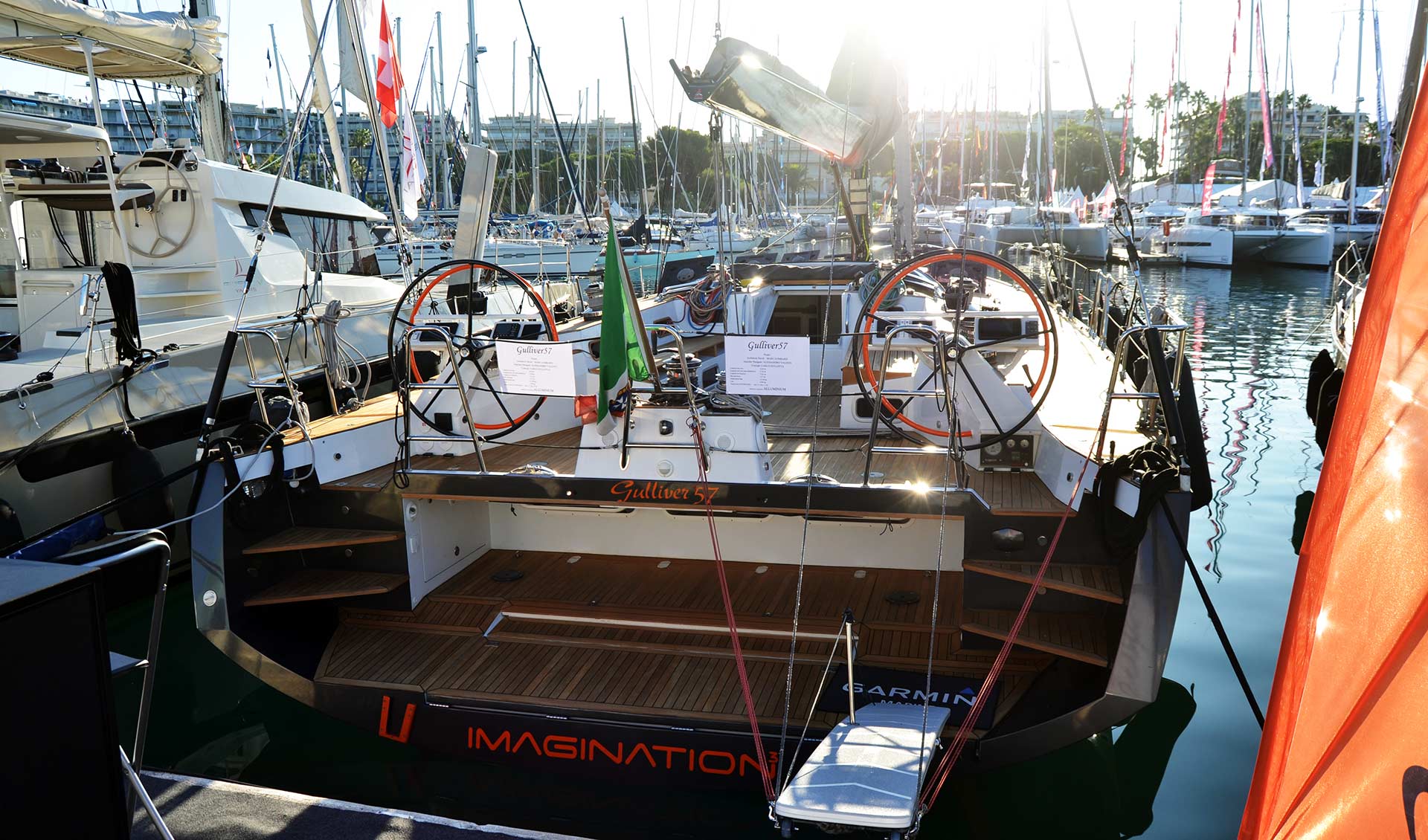 So, how was Cannes 2019 like? My personal opinion (confirmed by many people from the business I spoke to) is that the split of the show is definitely doing harm to the show. The glamour is simply gone. Already suffering from not too many visitors, I am sure this year´s edition has seen even less people coming. I sincerely hope that the organizers will return to the old concept. Business-wise the show was a hit: It is still a must-go to for people seeking to buy a boat before the slots are gone in the course of the boat show season that started … now.
You may also like to read:
Alubat´s Cigale 16 re-visited by Marc Lombard
Nautor´s Swan 65 in the detailed walkthrough
At the Italia Yachts yard