Two days ago the world received the first ever pictures of the brand new Beneteau First Yacht 53. I found myself utterly excited and fell instantly in love with this boat, fully embracing her fine lines, the great design and all those details which make this boat so unique. I even couldn´t wait with this very article – since I am going to see hull #1 at her world premiere at Cannes Yachting Festival to which I will be flying to tomorrow. I just cannot wait … she is too beautiful! Let´s dive deeper into this new benchmark of Performance Cruising Yachts.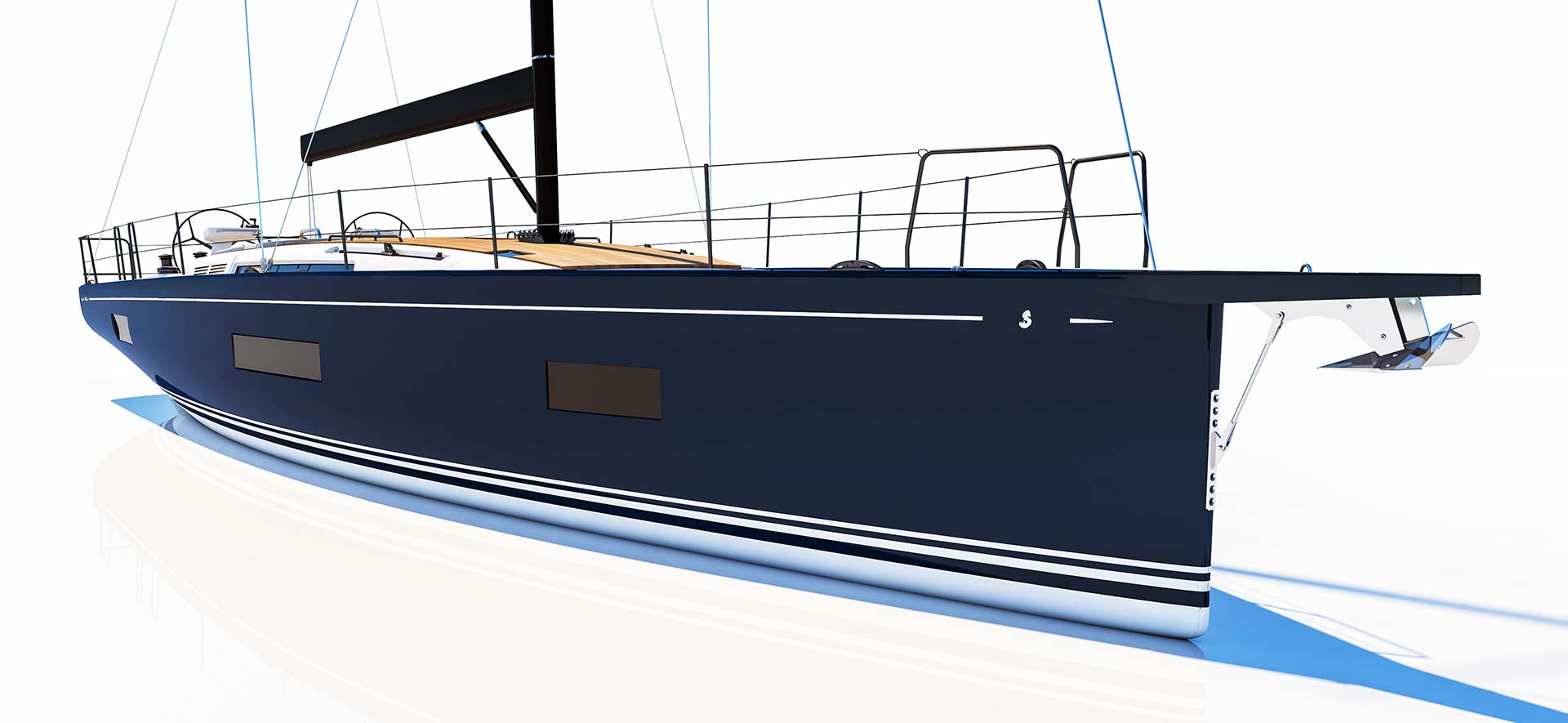 In late 2018 – in fact right at the dealer´s meeting prior last edition of the Cannes Yachting Festival – Beneteau chief of products Gianguido Girotti announced that "First is back!" in front of us dealers. It was just a short, 5 seconds lasting rotation of the First Yacht 53´s rendering and the response was awesome: The whole dealership of more than 200 people jumped out of their chairs and applauded in rejoice. A little later we´ve got a chance to take a look at her interior´s mock-up. Of course, it was strictly forbidden to release any information on this new boat up until first renderings had been published during BOOT Duesseldorf in January 2019.
Absolutely stunning first pictures under sails
Reception of the new boat was mixed. Some people expected the new First Yacht-line to carry a bigger punch, maybe hoping for a more extreme design approach just as they did with the new (the seventh, actually) iteration of the Oceanis cruising-line when the French market leader showed up with the new Oceanis 51.1 which was – and still is – a head-turner. The Oceanis was a whole new concept and approach in design – the new First Yacht 53 did seem to take a different approach.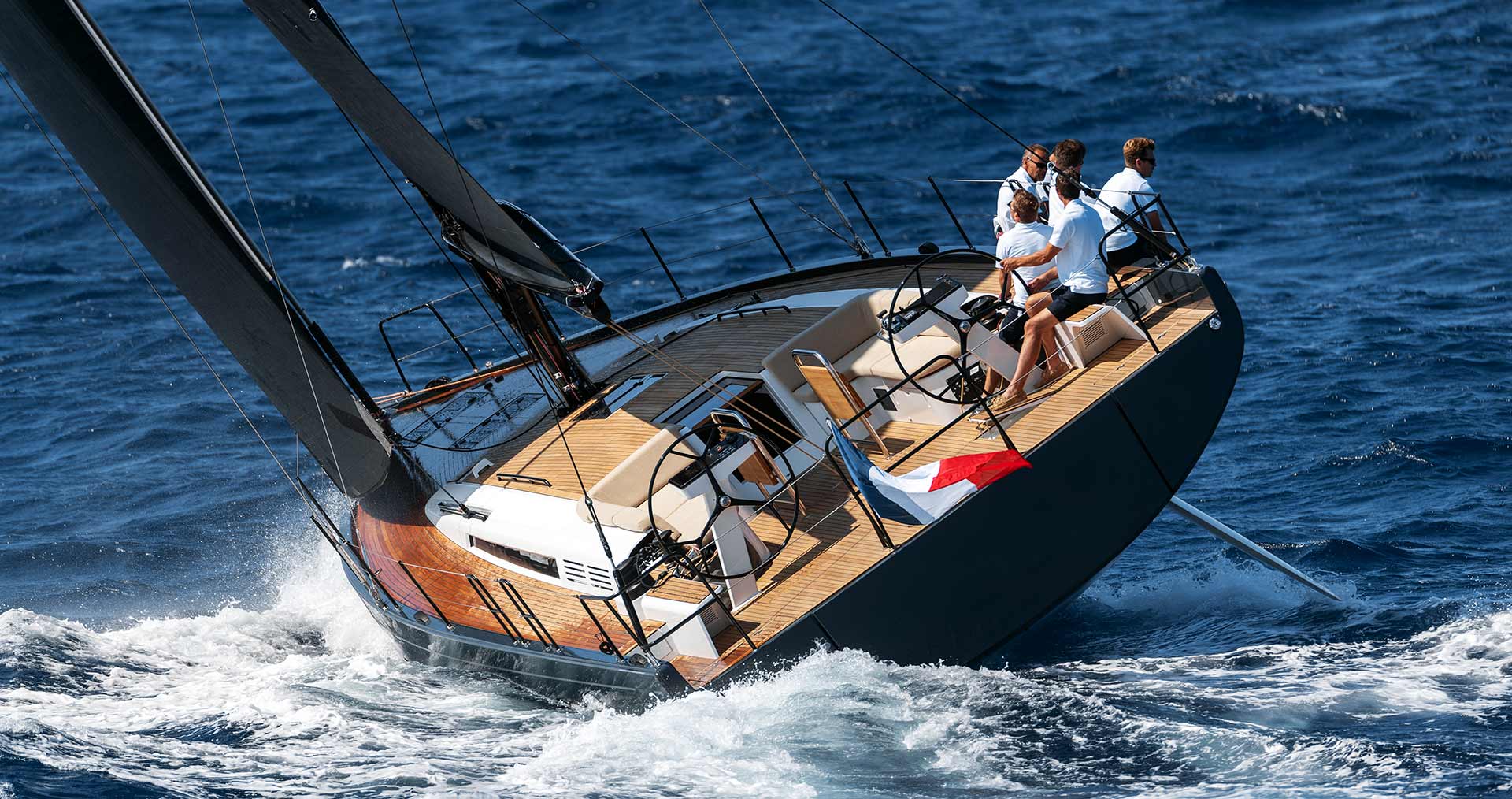 I must say, at first I was a bit reluctant too in embracing the First Yacht 53´s design: It´s very conservative, even more settled and "ordinary" than the Oceanis-line. But now with looking at these first pictures of her, that feeling is totally gone: The First Yacht 53 is a stunning beauty and with that boat Beneteau is making so many thing right, that I even have to make a list to not forget one. I absolute love the clean, clear lines. The sheer line is spectacular, especially when looking at the boat from stern. Her numbers are breathtaking: The First Yacht 53 is running against the big names in the field, namely the Solaris 50 and Solaris 55 as well as against the X-Yachts XP50 and XP55. Let´s look at the numbers here.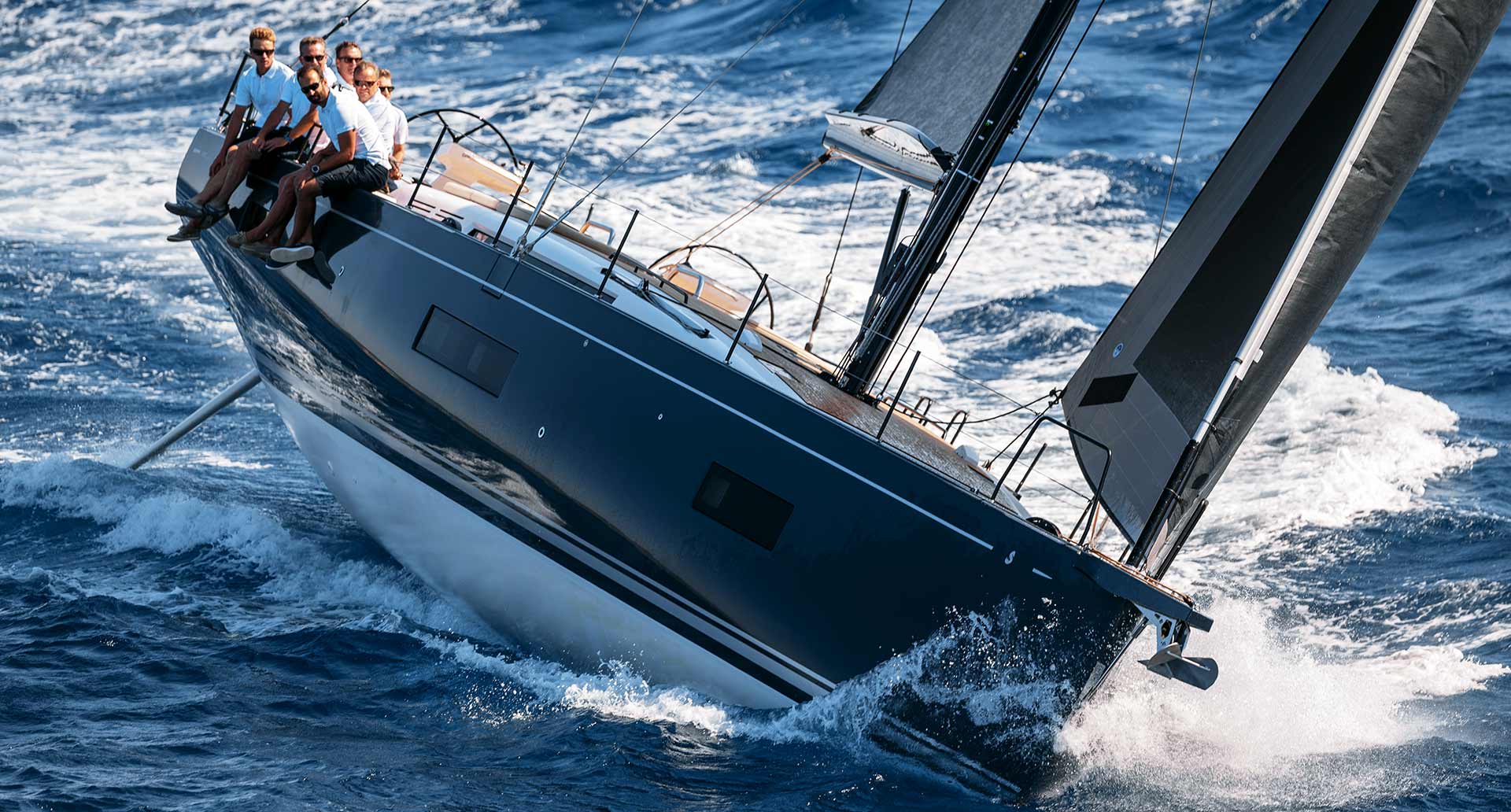 As Gianguido Girotti put it: "We want to aim high. We want to make a yacht that can be sailed in Gentlemen´s races and compete for winning." By that, the setup of the boat is just perfect: With 17.16 meters length over all and a width of exactly 5 meters, the First Yacht 53 is bigger than the two Solaris boats. She is in the middle between both when it comes to weight, with her 15.5 tons against 14.2 and 17.6 tons of the Italian boats. Against the Danish performance boats, the First Yacht 53 is right in the middle when it comes to weight but way bigger in both dimensions and volume. Regarding sails area-displacement ration, the standard version (Alu mast and 166 square meters upwind sails area) the First Yacht 53 scores a 5.16 with both X-Yachts having 5.14 and 5.16. Regarding Solaris, they have 5.22 and 5.1 – skippers and owners wanting to really take out the big guns can order the First Yacht 53 with a full-carbon mast and even more sails area (173 sq.meters) then scoring 5.27 SA/D-ration. Let´s rock and roll!
Revolutionary interior design
So in a sense what they did with the exterior design of the new First Yacht 53 was extremely clever: Not take on the signature-sexy-design of Javier Soto Acebal´s Solaris yachts and also not take on the very clean design of X-Yachts but instead to come up with an own "French" concept for the outward appearance – and they´ve done a fantastic job here! The First Yacht 53 clearly IS a Beneteau and a very appealing one too. Just look at the stern part with that open transom – I am so much looking forward to taking my own pictures aboard and show you dear reader what I mean with this. But let´s move to the inside, because here Beneteau really gets into a higher gear and steps up a notch!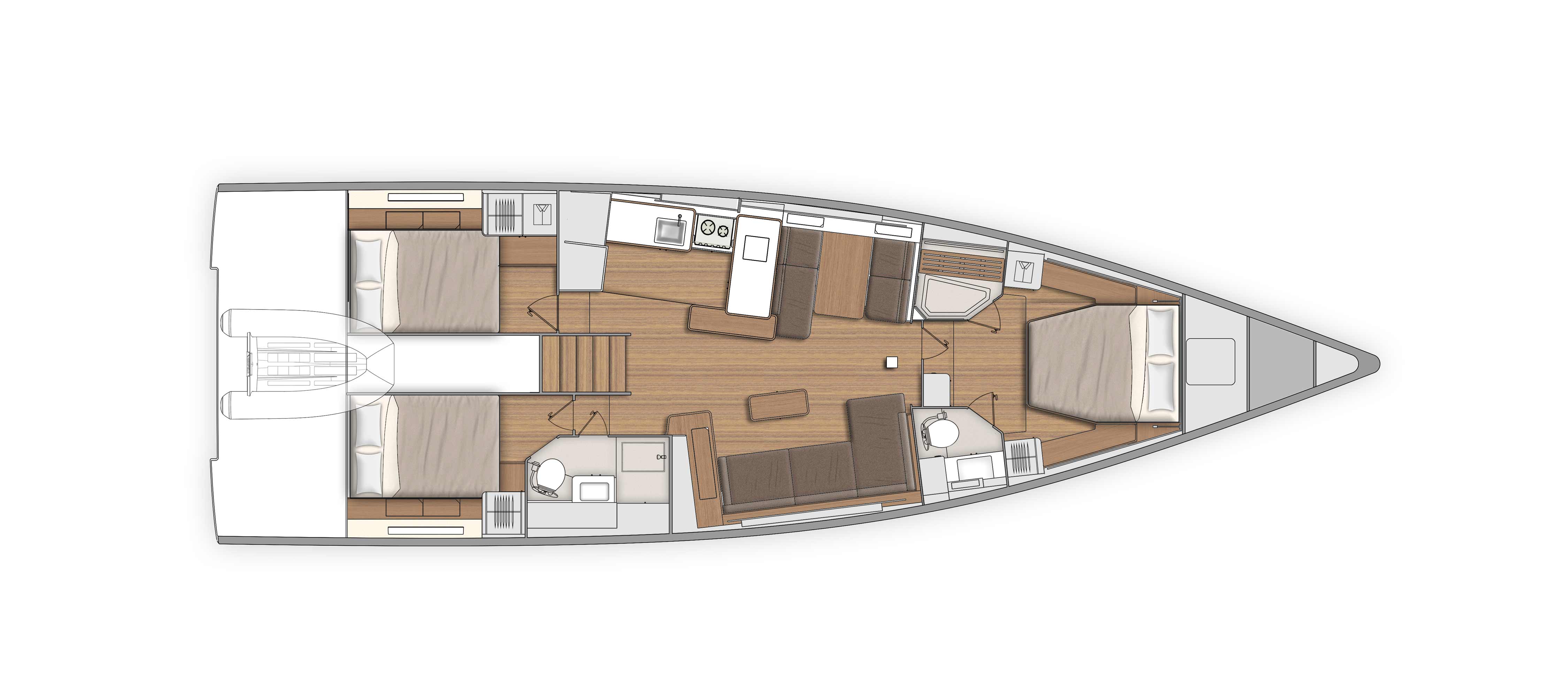 As I was pointing out in my first article on the new First Yacht 53 (read it here) the real revolution of the new First Yacht 53 will be her internal arrangements. At first glance the standard version with 3 cabins, an L-galley and a forward owner´s cabin seems to be pretty conservative. But take a closer look. Don´t you see it? There is no dinner table anymore! Well, at least not the classic one we are familiar with from other boats.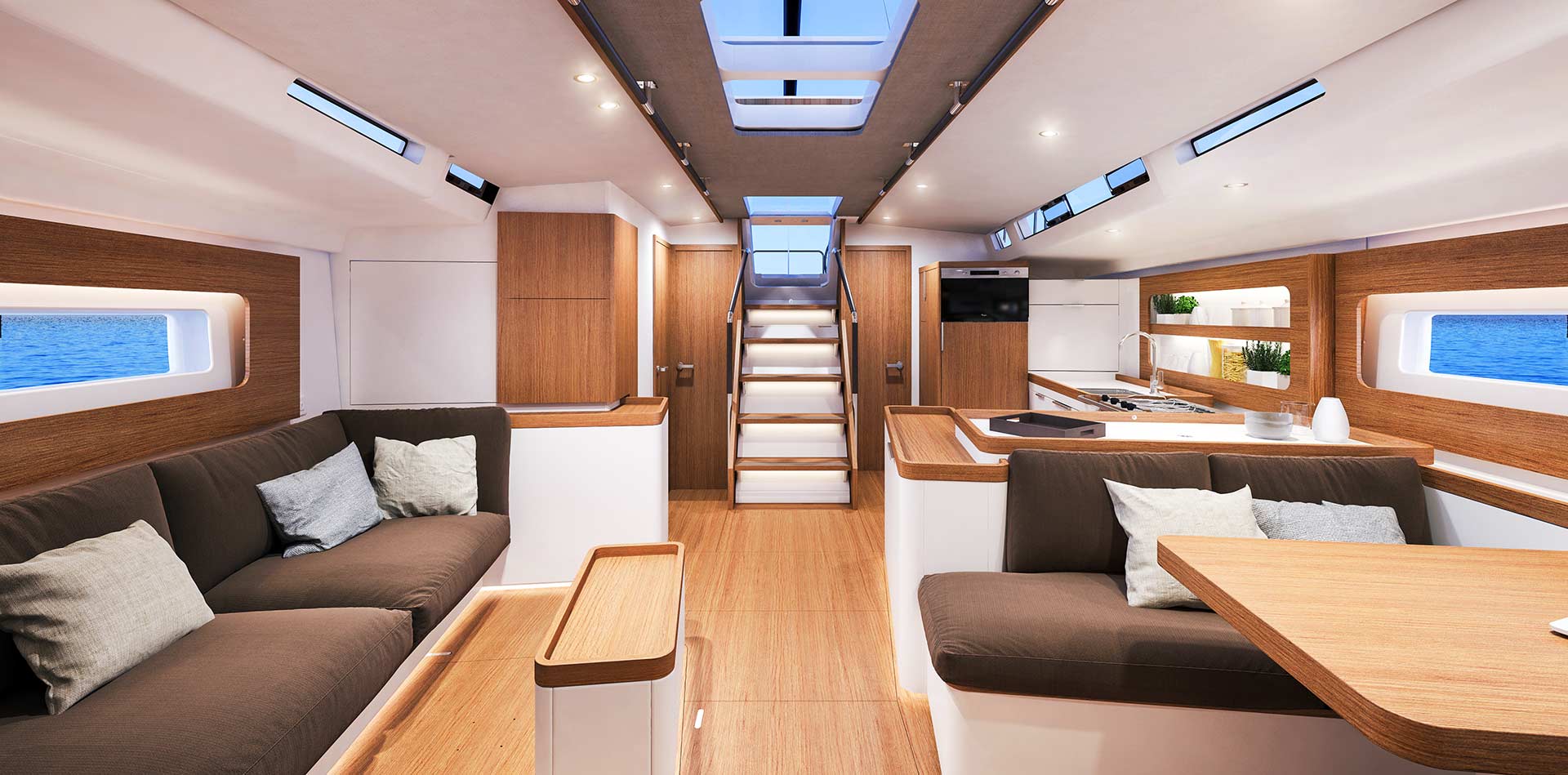 If you haven´t read my walkthrough of the new Nautor´s Swan 65 yet, you should do it because this – otherwise gorgeously designed and beautiful boat – for me shows best what is going absolutely wrong with interior design of big boats: The designers just don´t know what to do with all that space! And it doesn´t start with 65 feet – even the smaller, let´s say 50-feet yachts offer so much internal volume but designers tend to react all in the same way: Fit in a large seating area with an even larger dinner table. "Nonsense!", says Beneteau: "We know from our clients that they simply do not need such big dining tables in the saloon. When they use the saloon, that´s normally for recreation, sipping a drink and socializing – but not being seated around a huge table!", said Gianguido Girotti on one occasion. So, here´s who they solved this in the First Yacht 53.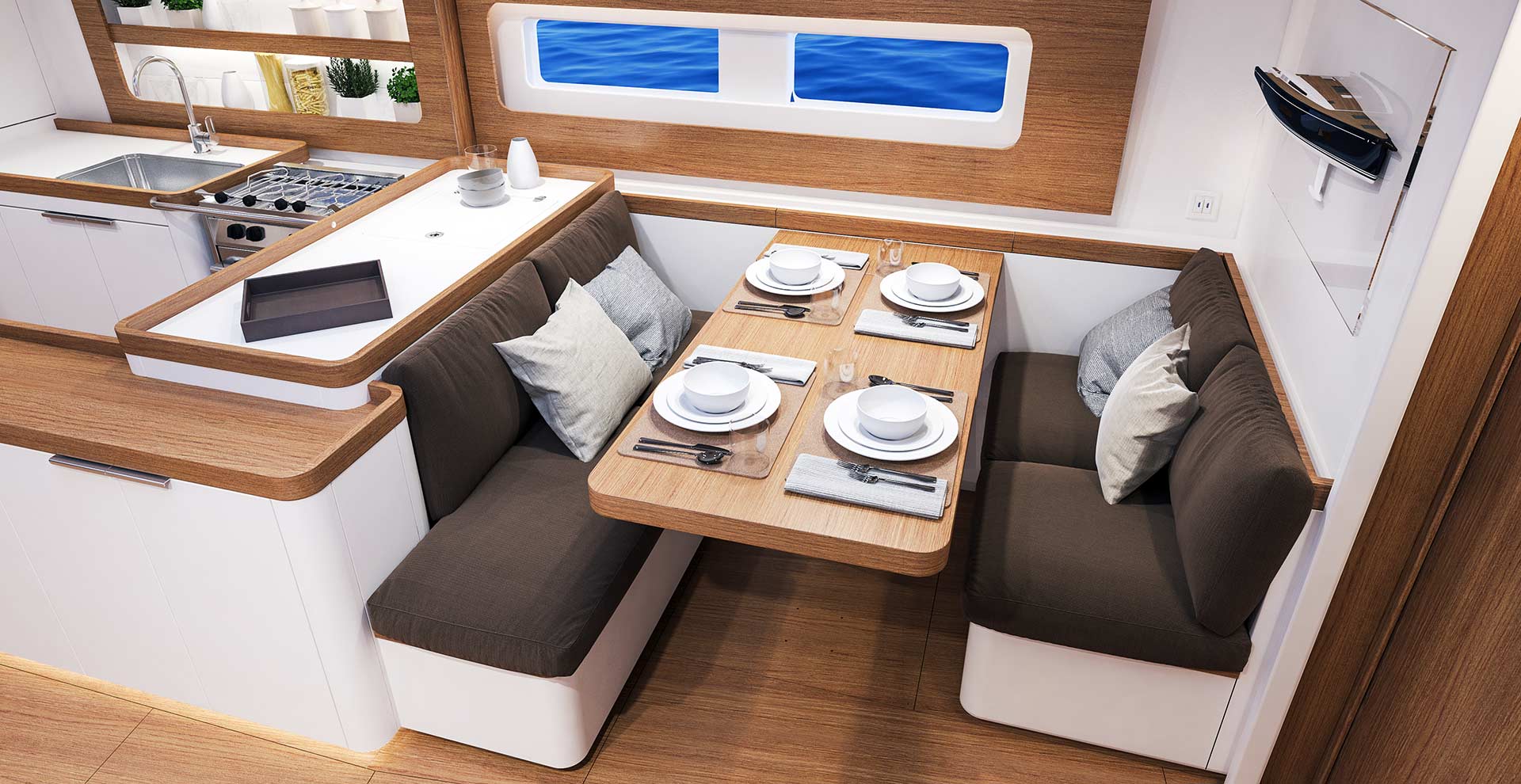 There is just a small table, large enough to receive four persons having dinner, directly on port side in front of the galley. The whole starboard side, no freed of the big "last supper dining tables" got a large reclining sofa, very cozy, very big, and a small "coffee table". Exactly what you would expect after a long day sailing fast: Just relax, make yourself at home, put your feet to the table and chat with friends while having a nice sip of Rum. I absolutely love this idea and cannot wait to see it with my own eyes!
Dinghy Garage included
Another big step forward is the inclusion of a dinghy garage at the stern of the boat. Beneteau does not offer such an amenity in their Oceanis cruising boats of 51 and 55 feet stating that including a dinghy garage at this size would take away too much of internal volume and thus comfort from the aft cabins on the one hand and since 51 feet-yachts are too small and too narrow for the commonly used dinghy-sizes it would also be limiting the size of the dinghies. I support this standpoint – checking "small" boat´s garages made me conclude that this was rather a marketing gag of those brands than rather an honest approach. On boats that size a decent davits-system is the way to go.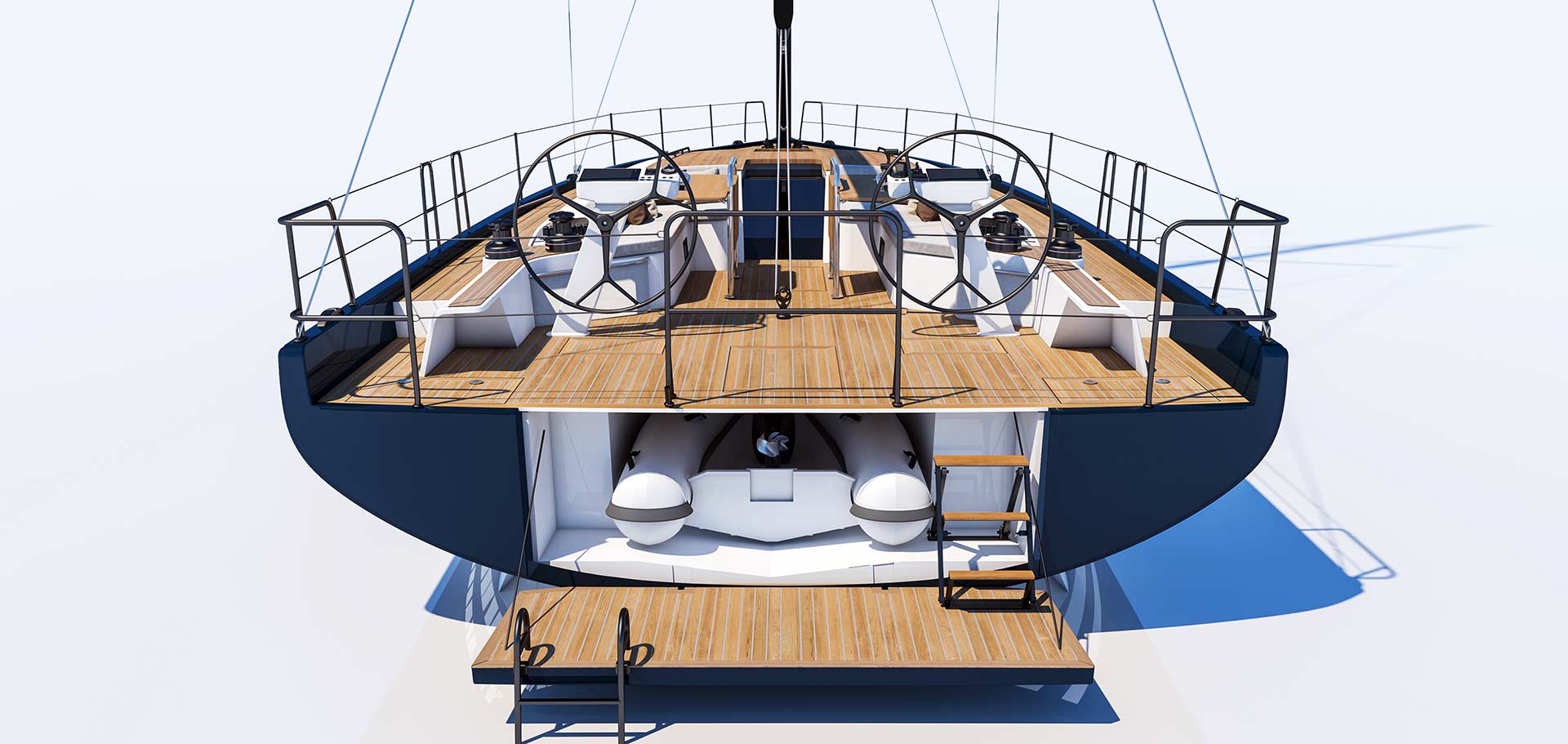 Not so with the First Yacht 53 which at seventeen and a half meters length and a stunning 5 meters beam offers more than enough space to have a dingy included. It will definitely not be the Jet Tender 280 that fits into here (or will it?) but I am going to give it a thorough check. I can see the advantages of a davits-system (and I am also aware of the disadvantages), but on a performance-oriented boat like the First Yacht 53 the dinghy should be out of sight at all time.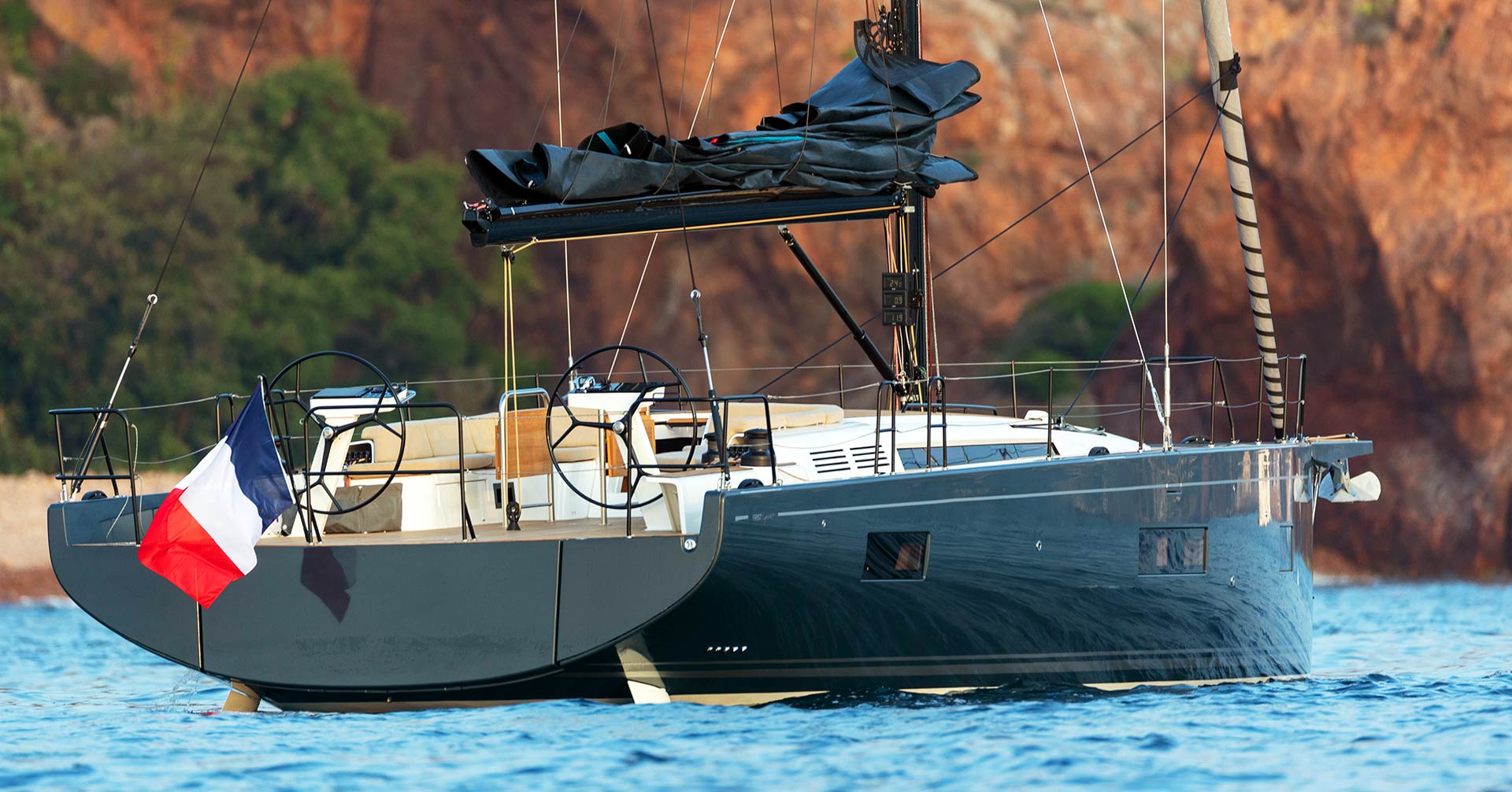 So in the end the pictures released by the yard are looking very, very promising. In fact I instantly offered a kidney to my boss in exchange for a First Yacht 53, she is an absolute dream yacht. And with that, she will be excitingly successful too: Starting at a basic price of 478.000 Euros ex yard and ex VAT she is extremely competitive and attractive. Having done "my" full configuration of the First Yacht 53 to a sailing-ready state I ended up at 685.000 Euros ex Vat for a nice equipped First Yacht 53 with standard Alu-mast and rigg, the performance version clocked in at just under 800.000 Euros ex VAT, which is a fantastic bargain for a yacht of her character! Of course, adding all the luxury stuff like Gen-sets and AC, freezers, ice-makers and gadgets like that, the yacht will easily crack the one million barrier, but that´s up to the owners, of course.
Starting Shot for a new breed of First Yachts
The First Yacht 53 is definitely not a yacht for ordinary sailors. She is meant to inspire "Gentlemen´s Racers" which make up a growing segment in the market. As statistics have shown, the classic circumnavigator who, after a successful life, spared his money, bought him a big boat and sails the world is surely and not so slowly diminishing. Younger folks, still in the middle of their working life, successful and blessed with money, are replacing them. These people want fun, excitement, quick sailing and performance – but at the same time, they want to give them a treat. That´s what the new First Yacht 53 is all about: Going out and race, have fun, sail hard, win – and then enjoy your friends at anchor or in harbor and offer them a luxurious boat.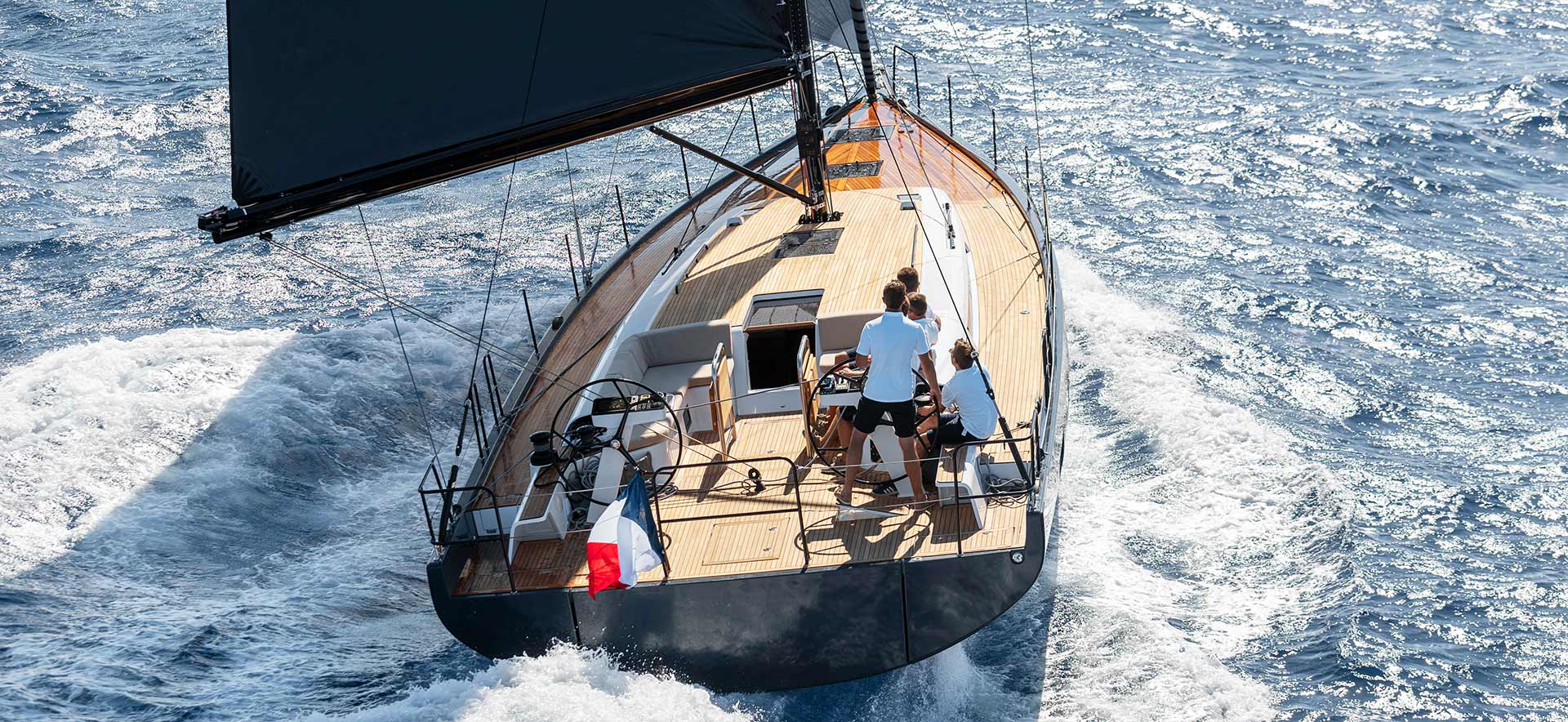 The First Yacht 53 is just the start of the complete revival of Beneteau´s performance line. Other boats – both smaller and even one bigger – will follow. I am very excited in having a First Yacht on the more "realistic" 40 to 45 feet-segment coming up. But for now, I am very much looking forward to seeing the 53 now in two days by myself in Cannes. She is definitely the highlight of this year´s boat show at the Cote d´Azur on the one end of the scale – on the opposite side there will be the Dehler 30 OD which I am most excited about. A small pocket-sized all-out one design racer. On both boats, be sure, I will deliver dedicated and detailed articles. See you in Cannes!
You may also like to read about these dream yachts:
Alubat´s Cigale 16 by Marc Lombard
The new Oyster 745 in a complete walkthrough
A day at CNB in Bordeaux