When I was roaming the BOOT Duesseldorf boat show – and I would state that if you attended the show it would have been the same with you – it wasn´t even conceivable to walk by the Solaris-stand without stopping for some minutes in admiration of the boats. Solaris is, in my opinion, currently making the most sexiest, most tempting, most attractive lines when it comes to boat design. These yachts are so darn sexy that it was hard for me to not have a look at these boats each day of the show.
So after some days working at the boat show I took my chance to jump aboard "my" Solaris, the Solaris 50 which is my favourite boat of their range of products, to do some shoots which will hopefully help to explain why these boats do have this irresistible nimbus, this temptation and why the design concept of Solaris is so unique. And why it works so well (at least for me).
A masterpiece by Javier Soto Acebal
I´ve had the pleasure to talk to Solaris yachts designer Javier Soto Acebal some months ago (read my interview here) who assured me that "sexiness" indeed was one of the intentions when it came to designing these yachts. The Solaris 50 for me represents the most felicitous iteration of the Solaris design concept, because the 50 feet range for me is the best compromise between maximum measurements for providing speed (waterline length) and safety as well as being manageable with minimum crew.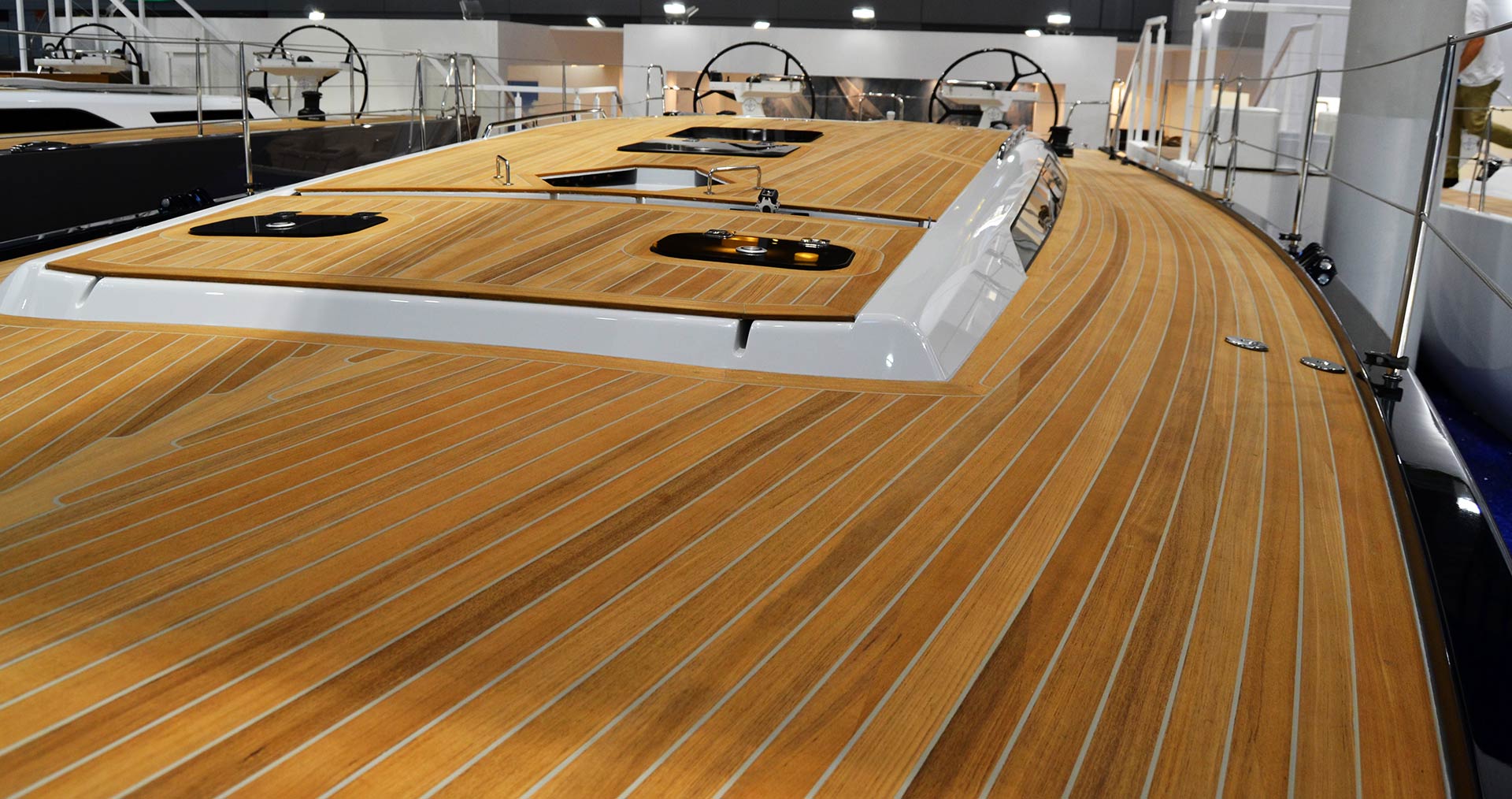 So, by looking at the hull first one recognizes that there barely isn´t any superstructure, no coach roof at all. The boat appears to be almost completely flat: Like a giant surf board with Teak deck, one could say. The hull has a positive sheer line that is slightly increasing to the bow which furthermore helps to let the cabin superstructure "sink" into the deck itself. At the front the cabin coach roof has a height of less than 15 centimetres, amazing, isn´t it?
Of course, the price for having this almost flush clean deck is a larger freeboard that is increasing interior volume dramatically as well. I would say that the downsides of this practice (increased displacement and weight) are negligible: The Solaris 50 weighs in just 600 kg more than the benchmark, X-Yachts XP50. Also, increased area for wind to have the boat pushed and drift is also something a Solaris skipper will have in mind. I think, everybody wins with this.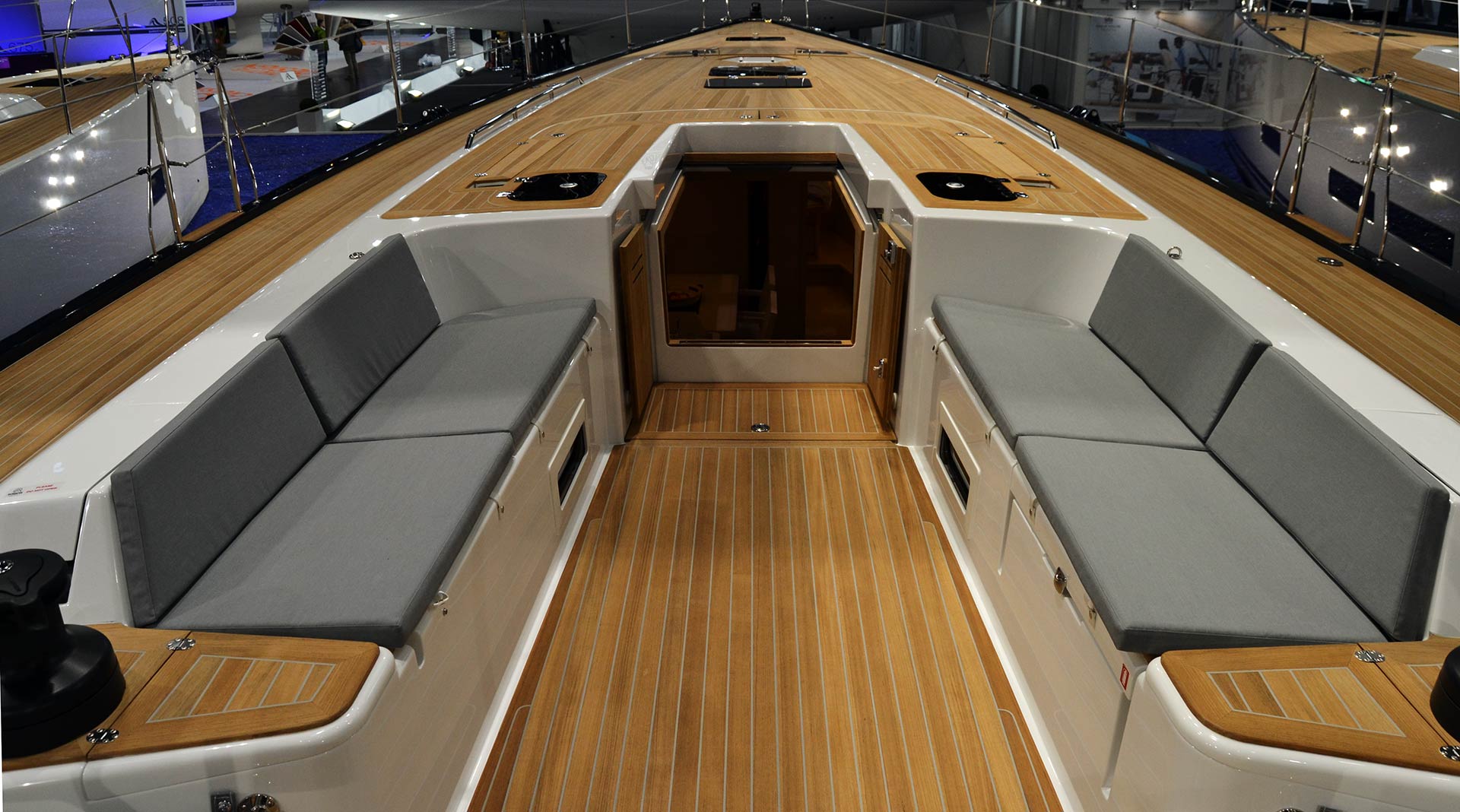 The outcome is stunning: Standing behind the steering wheels the skipper as well as the guests and crew have an unlimited perfect and breathtaking view over the whole boat up to the bow – whilst remaining seated! That´s something that isn´t achieved by any other boat to my knowledge. Yes, I know, I know, when spray comes over there´s barely any protection and in harsh weather a deeper cockpit may provide more safety, but this article is about sexiness. And in terms of sexiness, the Solaris 50 is the undisputed Miss Universe of sailing yachts!
Sailing a Solaris 50
But what is it like sailing a Solaris 50? Unfortunately I hadn´t have the chance being aboard a boat like this under sails as for now, although there was a slight chance when I was visiting the yard. Nevertheless, putting myself behind the wheels in Duesseldorf I got a glimpse of what it might be. All working winches are positioned well in front of the wheels and can be worked upon by both the helmsman and a trimmer. It goes without saying that all lines are running covered.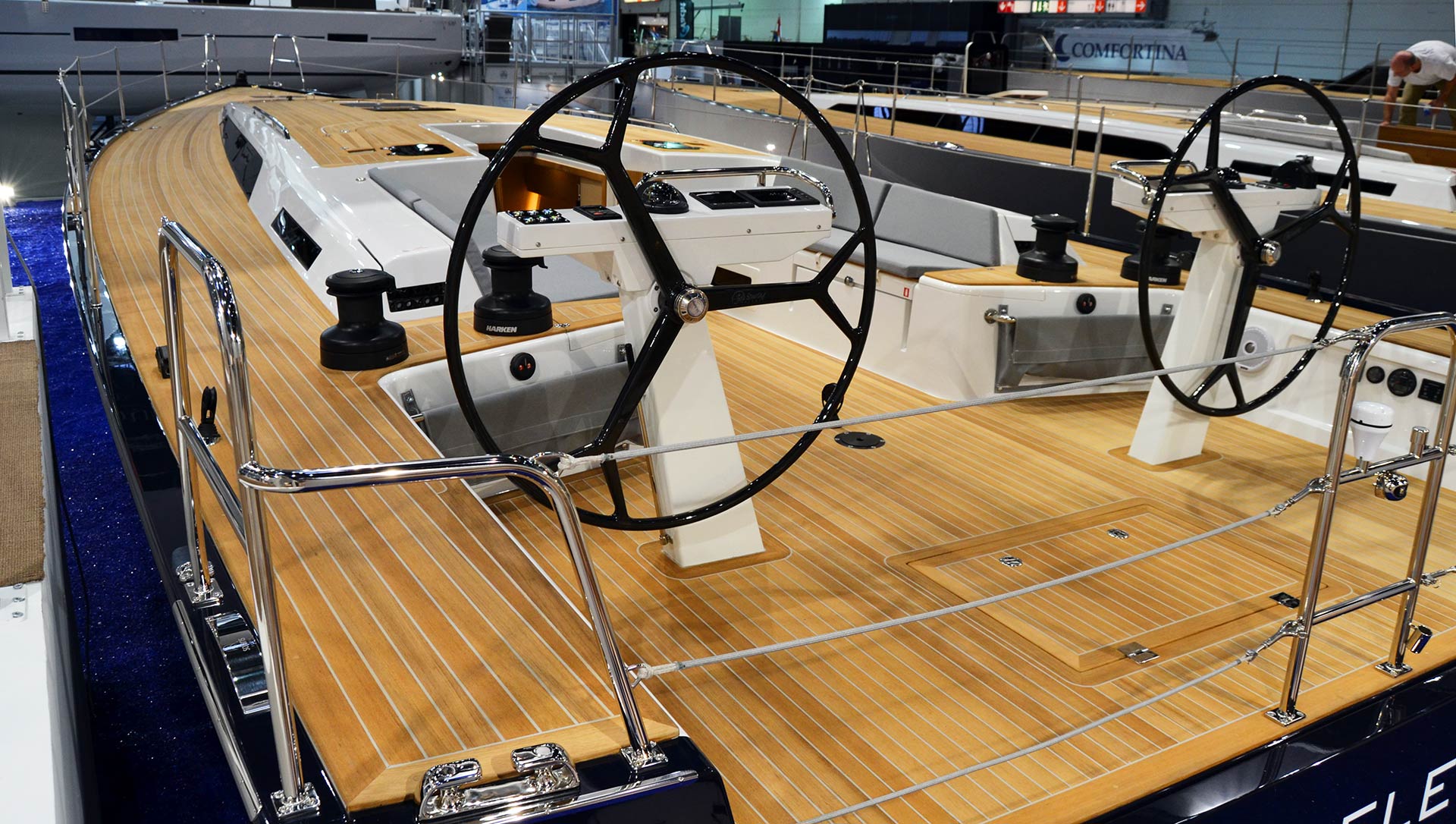 Looking at the benchmark, the XP50, the Solaris 50 is just 30 centimetres shorter, but with a max beam of 4.55 metres versus 4.33 metres (plus the higher freeboard) the Solaris 50 offers much more interior volume. The price, as said, is a plus of 600 kilograms in displacement with half a ton less ballast. No questions, the XP50 is the better performer on the race track, albeit the Solaris 50 carrying 6 square metres more sail area. But that´s just numbers: The XP50 is a designated performance cruiser, the Solaris 50 is a high performer offering loads of space and luxurious ambience.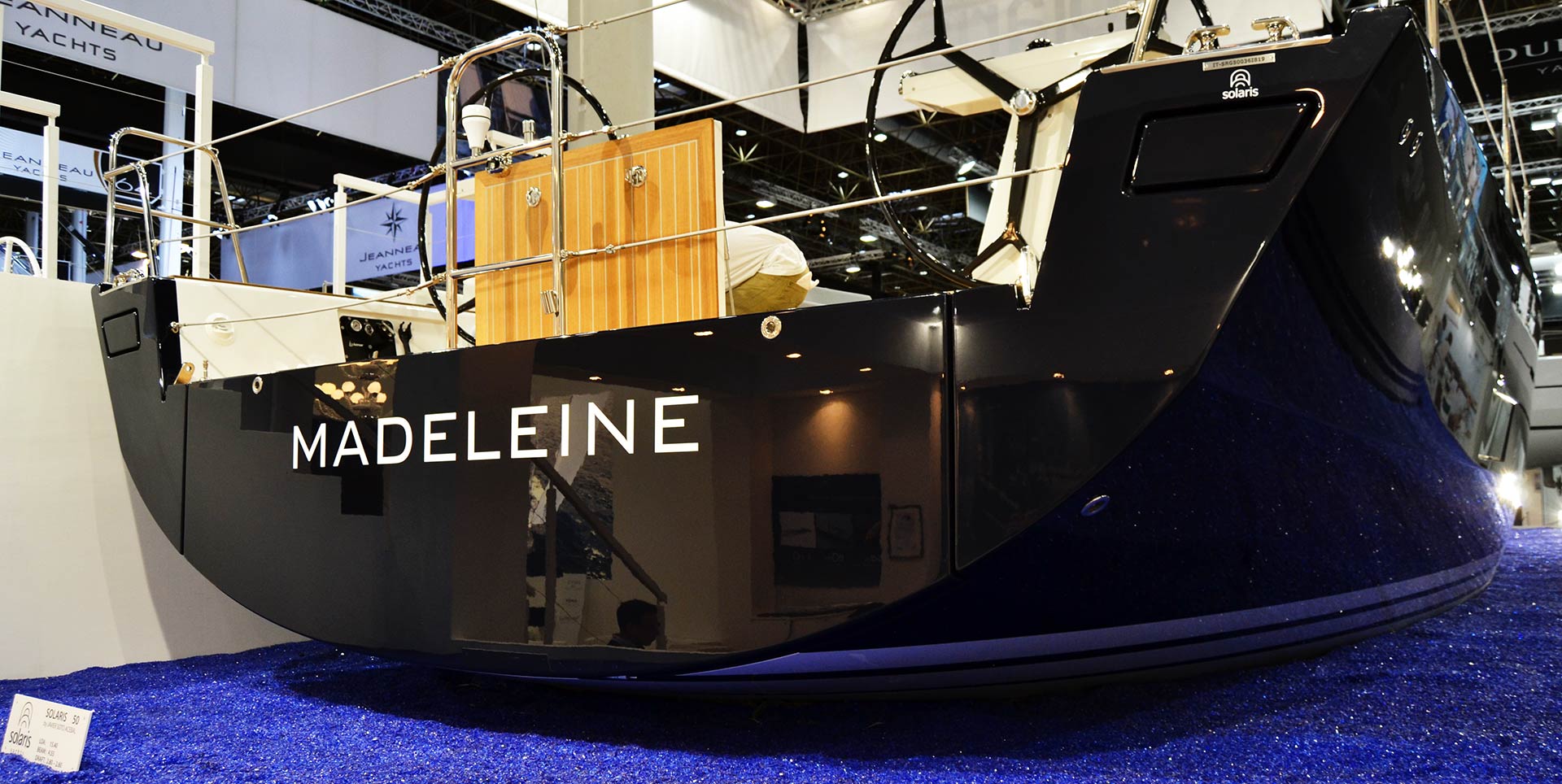 So, I leave sexy MADELEINE and wave Goodbye: Her owners made a great choice and will certainly have hundreds of hundreds of miles of pure fun sailing this beauty, bringing her to the limits and screaming when she catches a gust, heels over and speeds up. Hats off, Javier Soto Acebal, this yacht truly is an all-time classic even today, an outstanding, unique design that inspires so many of us, even just by looking.
Love Italian yacht? Here are some other nice articles:
Visiting Italia Yachts yard in San Giorgio di Nogaro
Super sexy as well: SuperNikka Vismara V62
Gulliver 57 at Cannes Yachting Festival