It´s undeniably a matter of fact that the heartbeat of sailing is defined by what France´s thriving yard scene is putting out. Most of the defining yacht brands are French, which doesn´t come as a surprise since sailing is part of the culture here, two adjoining Oceans and a rich history as a seafaring nation makes boatbuilding a crucial part of France commercial landscape. Big brands like the market leader Beneteau and Jeanneau and smaller brands like fantastic JPK or Pogo Structures are just opposite poles of a vivid, lively and healthy industry that shapes sailing worldwide. CNB is one pivotal part – and one of the more interesting as well.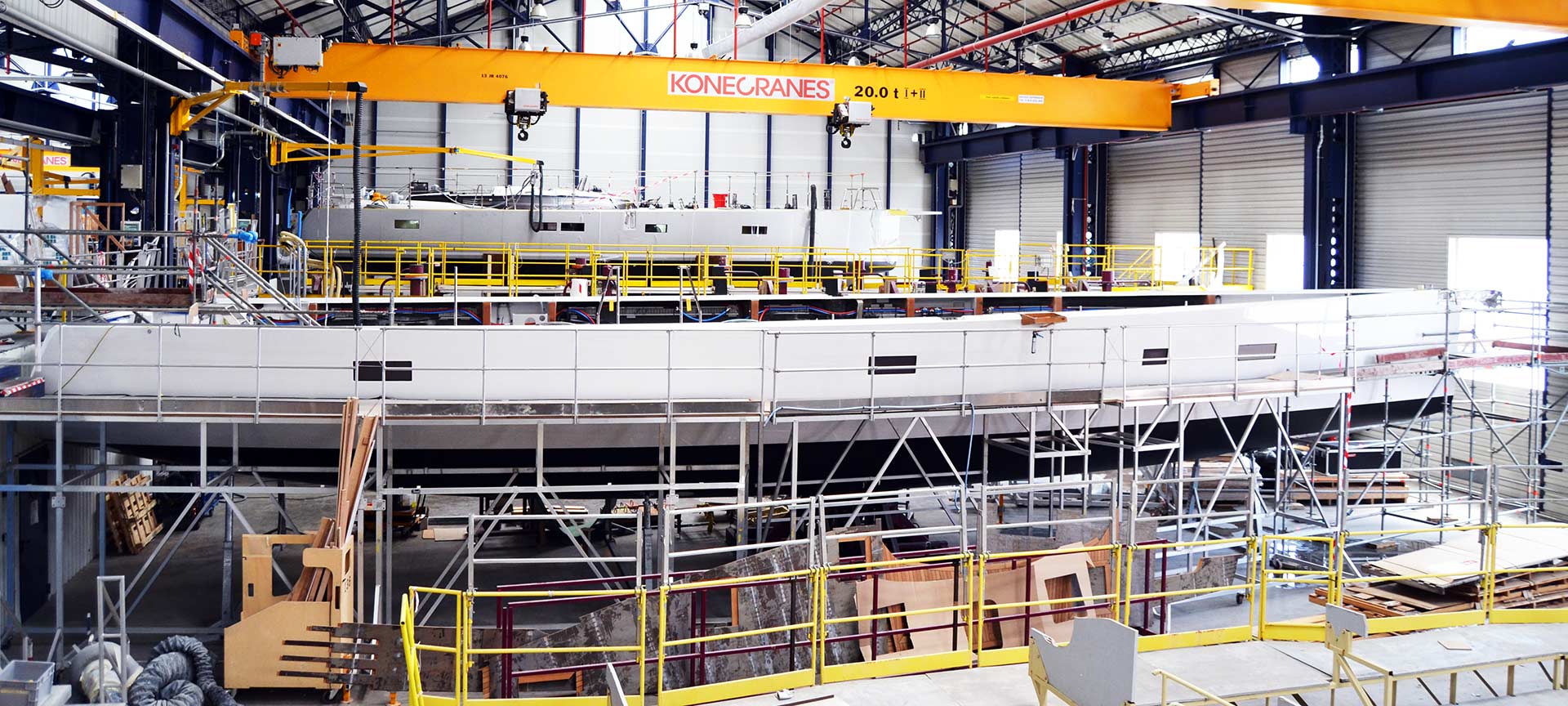 CNB stands for Construction Navale Bordeaux, a rather unspectacular name for a brand with an aura like CNB has. Found just over 30 years ago, CNB is undeniably one of France´s most shining brands when it comes to yachts. It´s an upper brand for sure, the annual output won´t climb higher than 10 units and so the circle of proud owners of CNB yachts is a rather handpicked community. I was happy that Yann Masselot, CEO of CNB and the brand director, and Matthieu Brouillet, welcomed me to show me around in this place that is so soaked with history.
Bordeaux´s last CNB 66
I am equipped with safety shoes and off we go. At the huge place right at the River Garonne that dashes by with a tide-induced current of up to 4 knots CNB is situated for 32 years now – and in it´s last breaths. The whole production is due to move over to a larger, more modern place in Monfalcone, Italy: "We are currently building our last CNB 66 here, hull #14", says Matthieu – I am sure they all have a crying and one laughing eye. "As you may know, almost all building capacities nowadays are dedicated to the Lagoon catamarans here and with the arrival of Beneteau Group´s latest brand, the catamaran brand Excess, it was decided that the CNB-production moves to Italy for that matter." Why? Because in Monfalcone, where the group already builds the huge Monte Carlo Yacht-boats, they are fitted and ready for the semi-custom building process of CNB boats as well.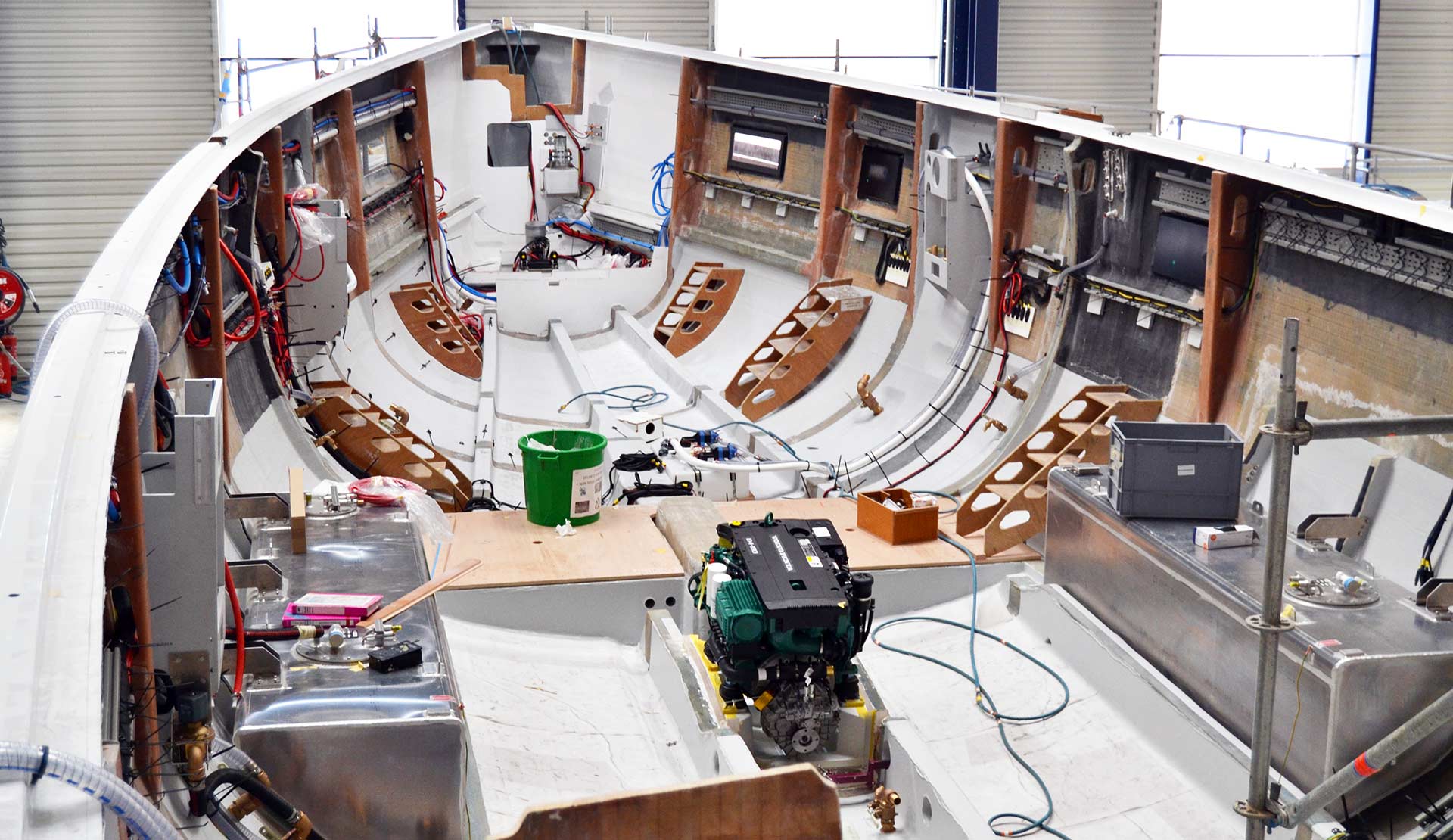 It´s a strange feeling, even for me, I must say, strolling the sheds and looking at the boats and all those people who have been building the CNBs for so long. As well strange to think of the "B" in CNB as "Bordeaux" but now seeing the boat´s production moving over to Bella Italia. Of course, their Italian colleagues will know who to do it – Monte Carlo Yachts is as well an upper brand with a high emphasis on exceptional quality. CNB is so French as French can be – and I am sure they make sure that CNB stays that way.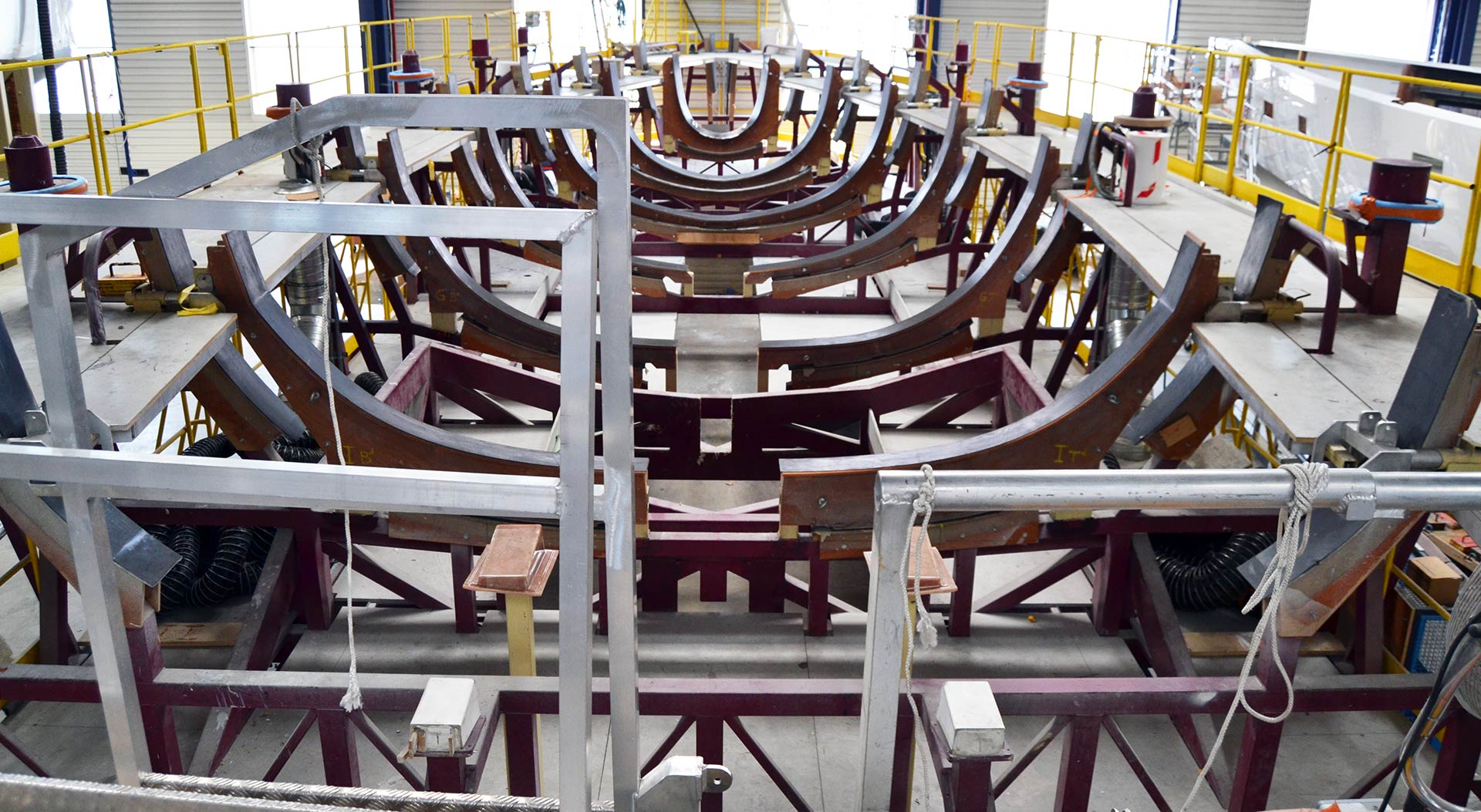 Sure, the decision was right and will be best for both product and the group´s strategy as a whole, but I know that strange feeling when we are talking about Swedish boats being laminated in Poland or Latvia. In a globalized world with big corporations, multi-brand strategies and a complicated supply chain management you sometimes end up with these facts. The quality of the product does not necessarily change, but it´s true, it feels strange. Nevertheless, for CNB the move to Italy can as well mean a leap forward: That´s because of the unique building technique of these yachts that for me came as a total surprise.
CNB´s secret: Modular building
I´ve visited a load of yards and when it comes to GRP-moulding, lamination and production of boats it´s almost always the same: There is a mould into which either monolithic or in sandwich-technique the hull will be laminated to. Then you have an inner mould or a strengthening brace that is put inside. Later the interior arrives. Well, not so with CNB. At CNB they have brought a unique approach to perfection, an approach that I had previously only thought being utilized with military or rather bigger ships: Modular building.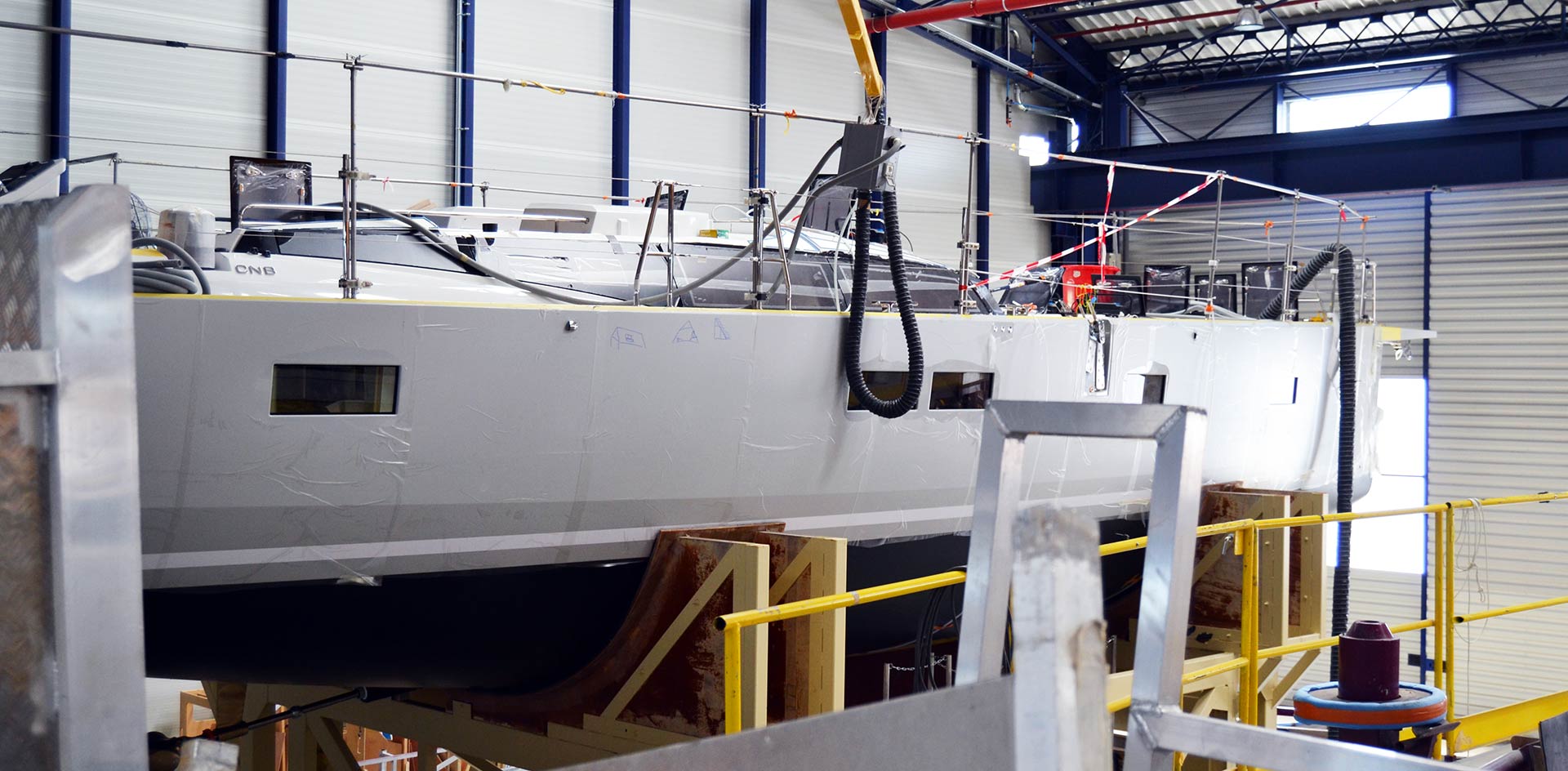 In essence: After the hull is laminated it will be brought to a special shed. At a different production place up to four modules (for the CNB 76 for example) are pre-fabricated. That means, that a big GRP-piece is moulded and completely pre-fitted with piping, electrical wiring, furniture and stuff. All of the moulds are made that way. Cranes will now transport the modules to the hull and starting with the bow segment these are glued to the outer hull. "With this technique we are adding the strength to the hull and insure a unique level of stiffness", says Matthieu: "We have a very narrow allowance of just 10 millimetres per module – just as thick as a little finger."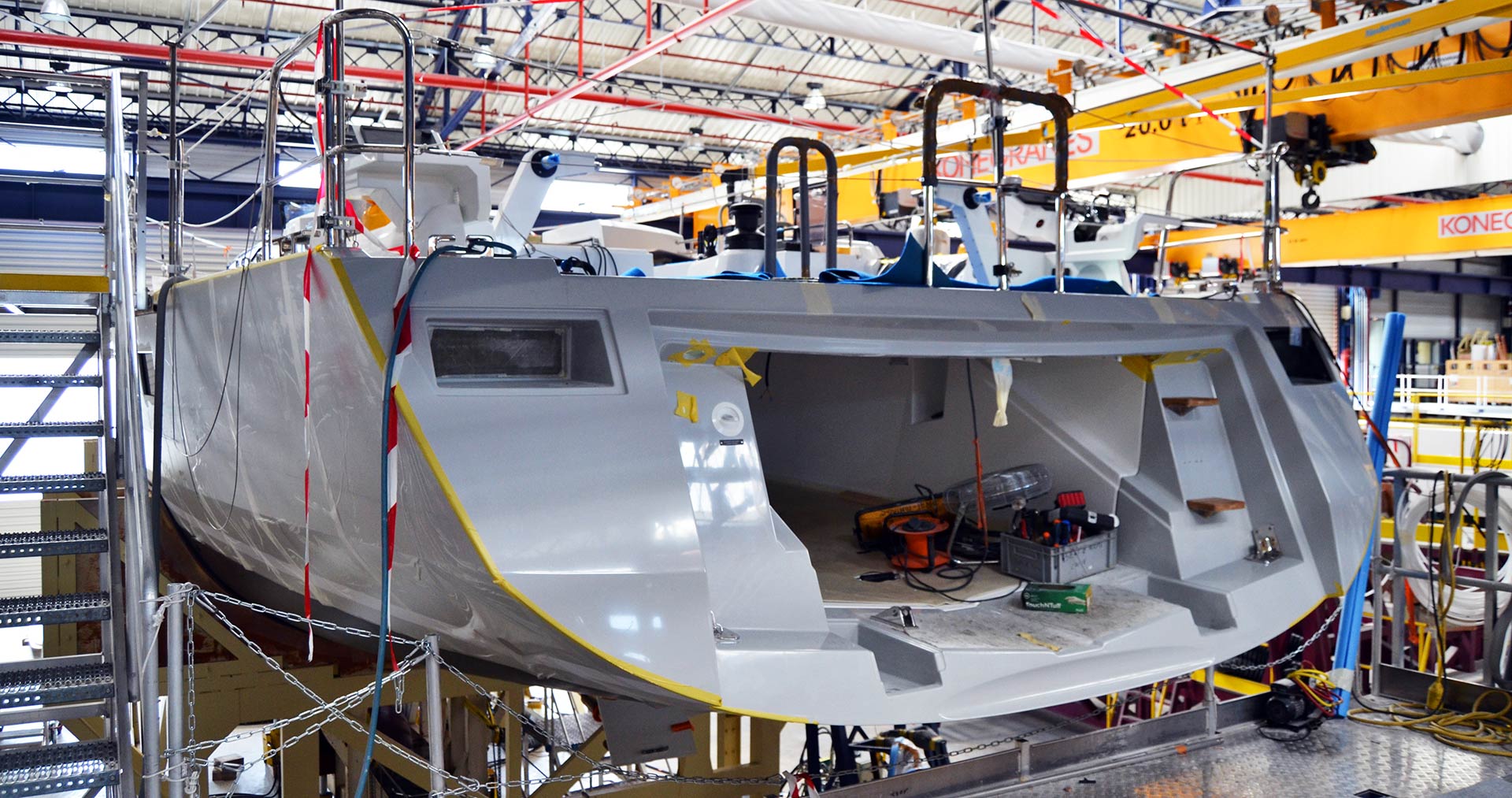 I´ve never seen a production process like this – and I am a bit sad that I was not actually allowed to take pictures of the actual modules. But I was able to see and understand the advantages of such a production style: Decentralized production means that the modules can be made all over the yard at some point and only have to join the actual building hall for the final assembly. At the module´s assembly the access to the module is 360 degree open – people can work easier and more free at a certain module and don´t have to enter the rather cramped boat. And of course, people can work on all modules at the same time – thus saving production time at last.
Semi custom yacht building
Nevertheless, this production method is only feasible with such high-end products as the CNB (or Monte Carlo Yachts), because it is more costly and elaborate that classic "conveyor belt building" in the production yards. A CNB is technically a production boat, but as I was able to whitness in all three boats currently in build here, the level of customization in a CNB boat is rather high.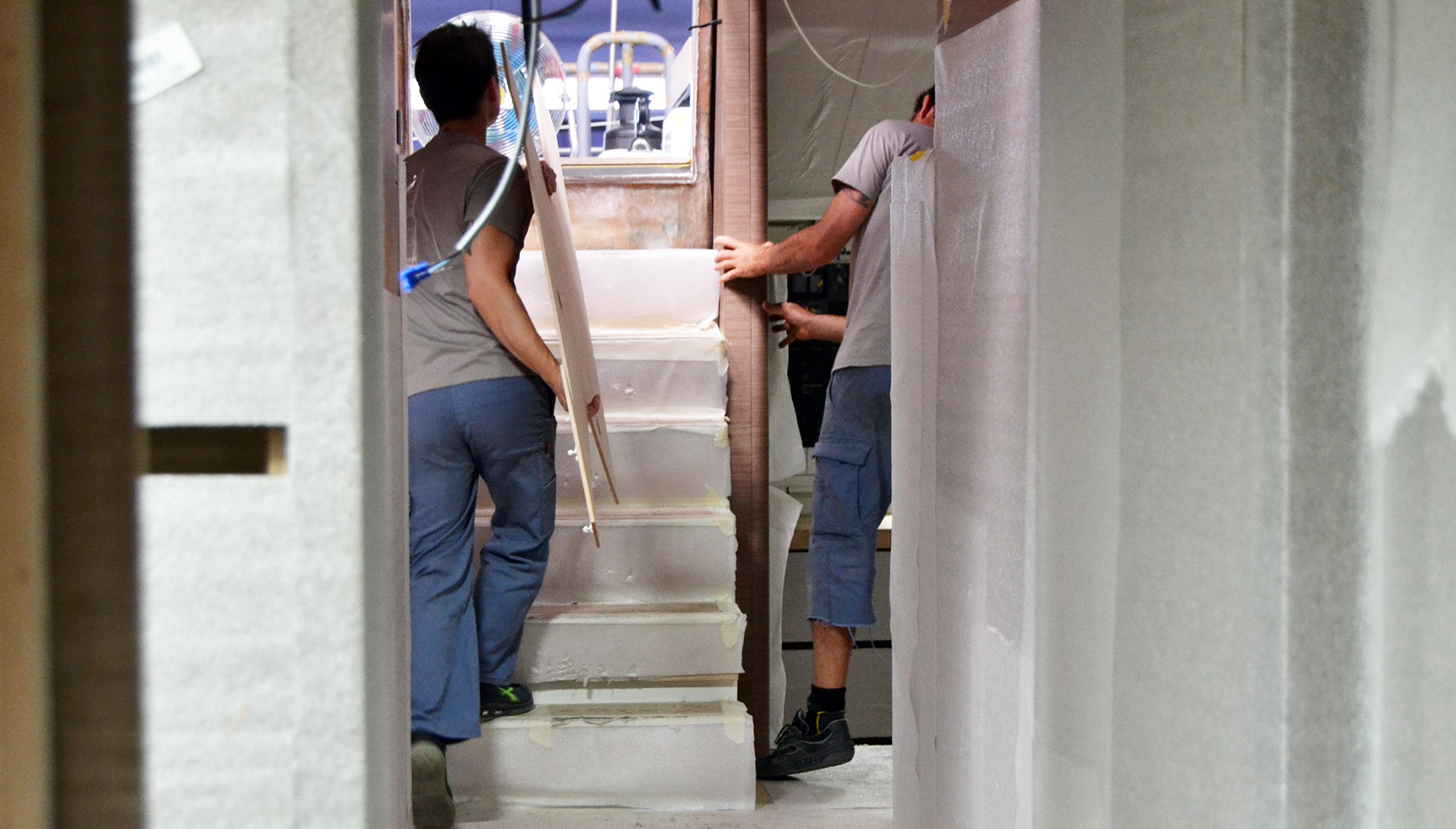 When I visited the CNB 66 that was in the build right now with all modules fitted and the deck installed, I was watching a crowd of craftsmen entering the boat with various parts, fitting, measuring, testing, adjusting and leaving for adding changes. It was a come and go and a buzz of activity that you won´t have on production boats where workers are just installing pre-fabricated stuff and switch to the next item on the list. In a CNB there is much more craftsmanship taking place.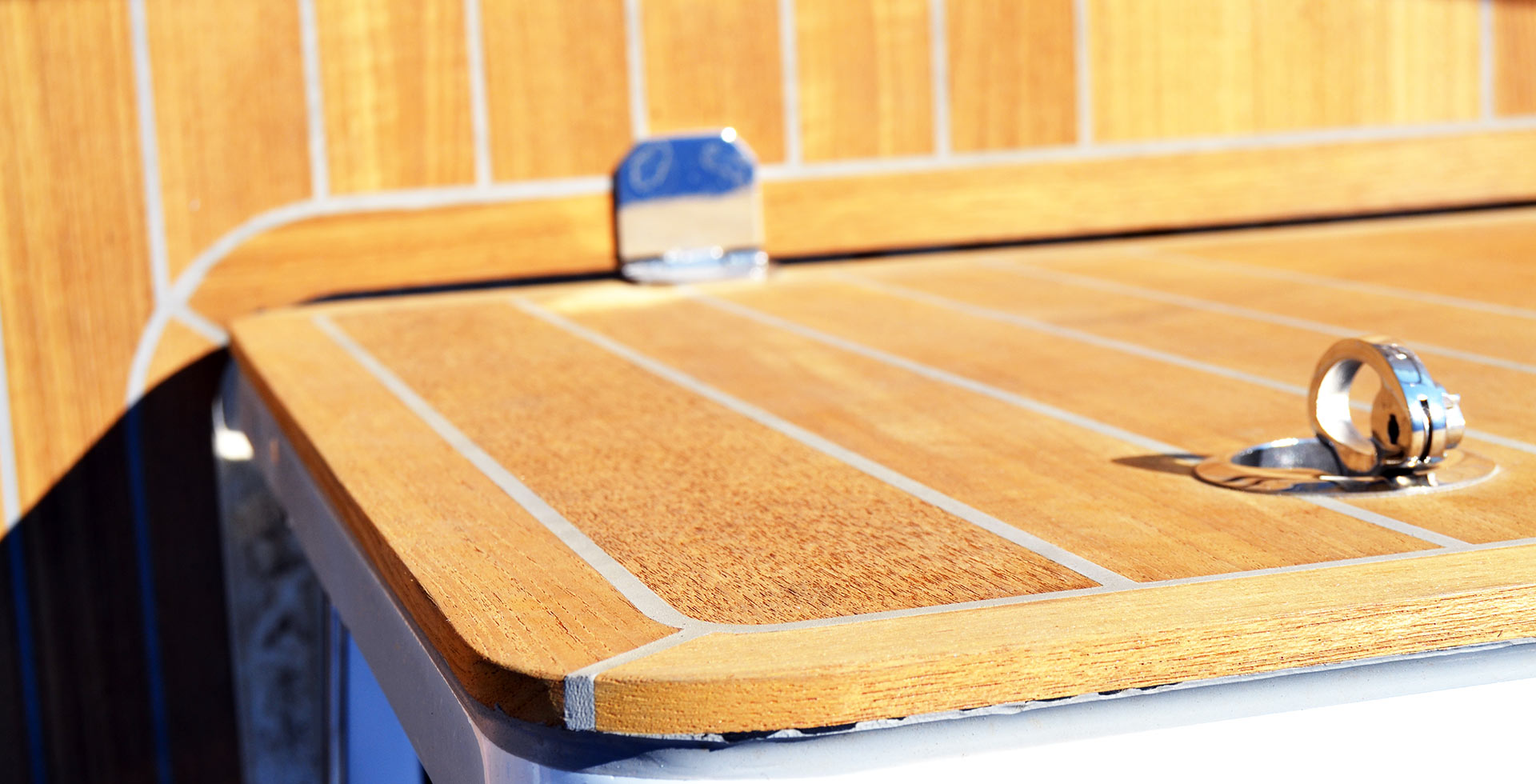 This is to be seen in so many details on the boats, the woodworks for example. Rounded edges, many massive wooden parts and even the Teak decking of a CNB comes with a staggering 8 millimeters thickness that will most certainly last for a long time out there. I was very impressed by the skills and the unique setup that of production quality that CNB had developed here over time: "All this is special knowledge and a huge pile of experiences for our workforce", says Matthieu: "But it as well aligns with similar sets of skills in Monfalcone, so it was logical to move CNB´s production over to Italy." But they will otherwise also insure that the "B" in CNB will go on stand for French quality made in Bordeaux: It is just the actual production moving out. The head, the brain of CNB will stay in Bordeaux for sure.
Pure eye candy: A CNB 76 almost ready for handover
So we are heading for the water of mighty Garonne where a finished CNB 76 is moored and is currently receiving final fittings for a handover in just over 2 weeks to her new happy owners. It´s flood right now and the Atlantic Ocean is pushing the water with a strong current upriver. The beautiful blue color of the hull is sprayed with muddy splashes, but Matthieu smiles: "The water of River Garonne is never brown. We call it blond. That´s because it carries the sand from the Pyrenees that builds up on the river banks here and make the foundation to the unique soil quality that makes our Bordeaux wines so tasty." He smiles as we board the ship.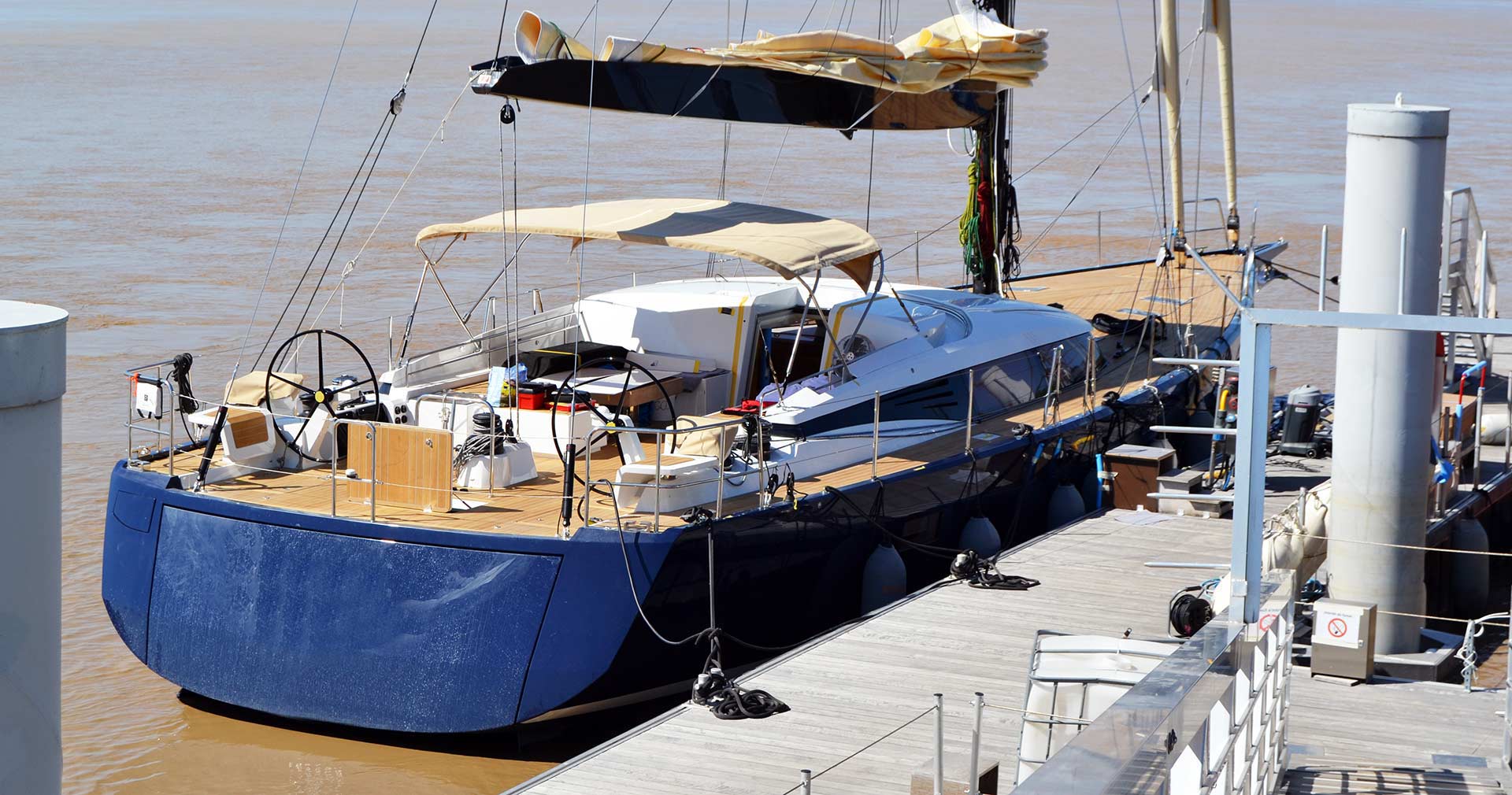 The CNB 76 is pure bliss. Designed by Philippe Briand as well, here lines are unmistakably CNB. Just a little over 23 meters long, this boat most certainly can tackle the challenges of an oceangoing voyage to the remotest parts of the world, although especially the Jean-Marc Piaton designed interior is clearly Med-style with an emphasis on luxurious cruising. I loved the details of the CNB 76, such as the huge Carbon V-boom that came with the all-carbon mast that is fitted with a classy full-battened mainsail.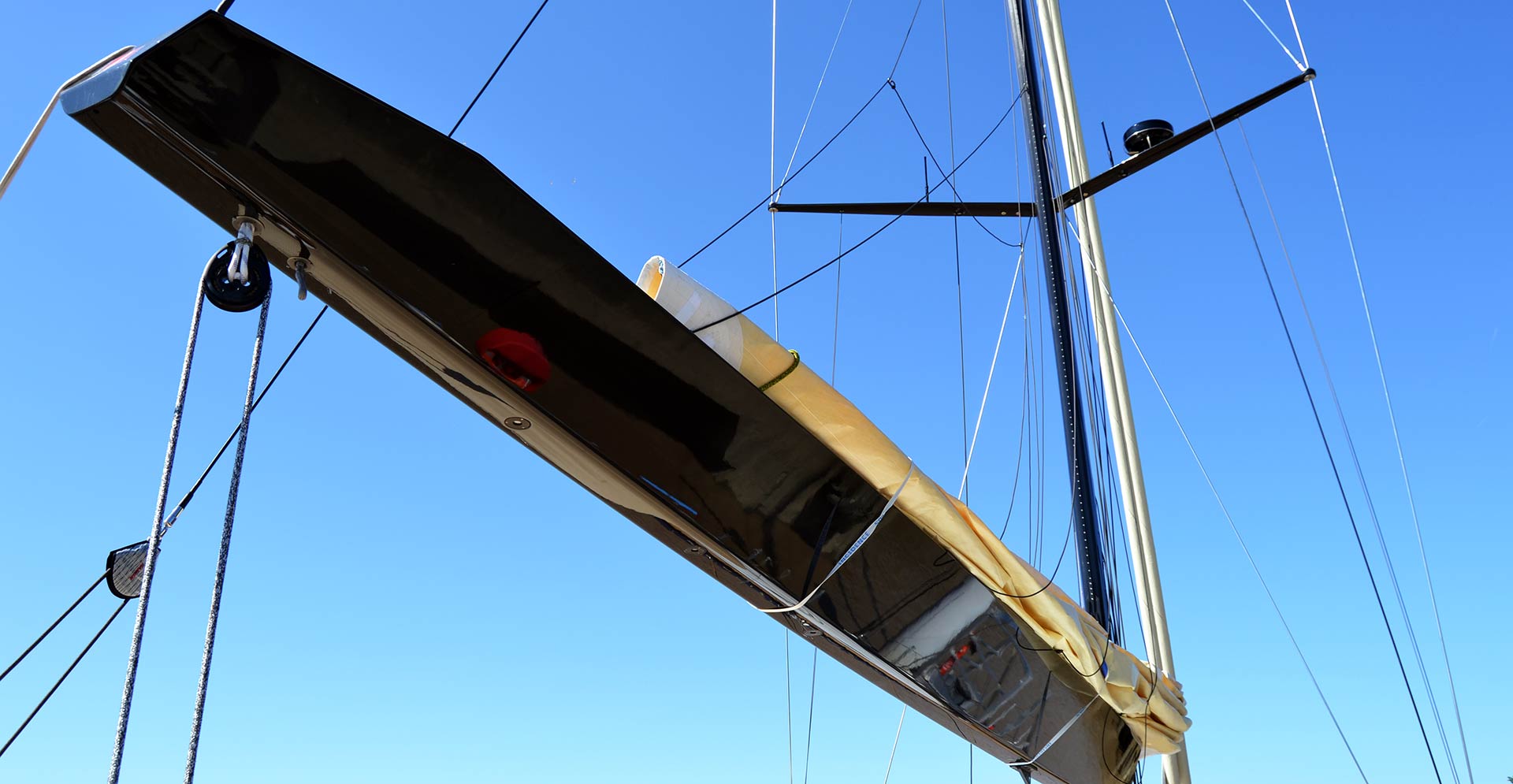 Those little details, like the constrictor clutches on the mast, let my heart rate rise: Matthieu explains the concept behind these clutches and the pros of having a constrictor: "You most certainly won´t see this stuff on production boats, it´s more a thing of racing yachts, but I love the easy handling and the ingenious idea behind this thing." Me too!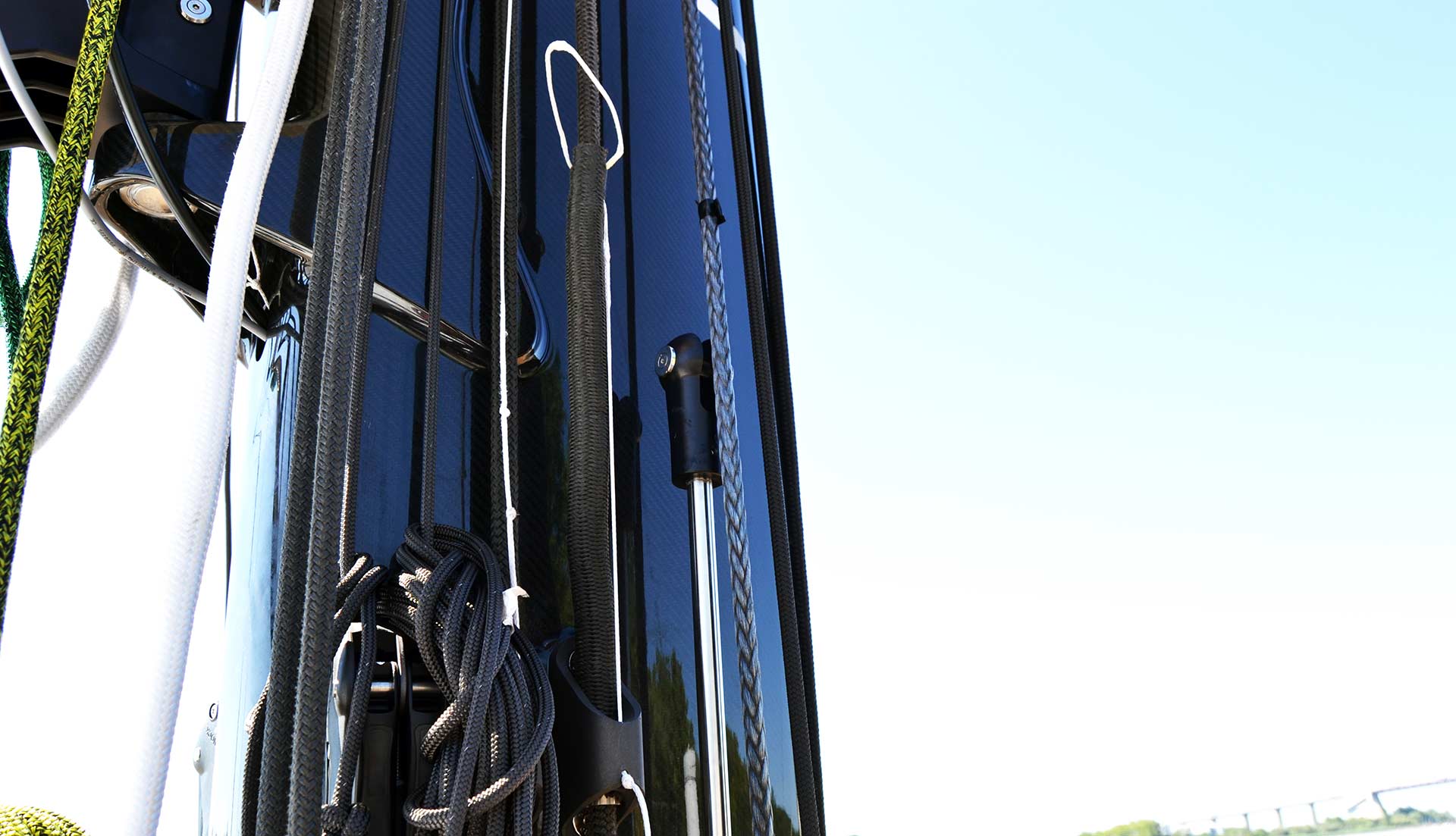 When it comes to racing, a CNB is of course not a Volvo Ocean race candidate, but the 305 square metres upwind sail area pulling the 45 tons (with a ballast of 15 tons) very efficiently and making the boat a quite vivid performer. The Oyster 745 weighs in 54 tons – being 3 metres shorter, just for a quick comparison. That as well means that all sailing gear aboard the CNB lives up to the highest of expectations and is made to perform.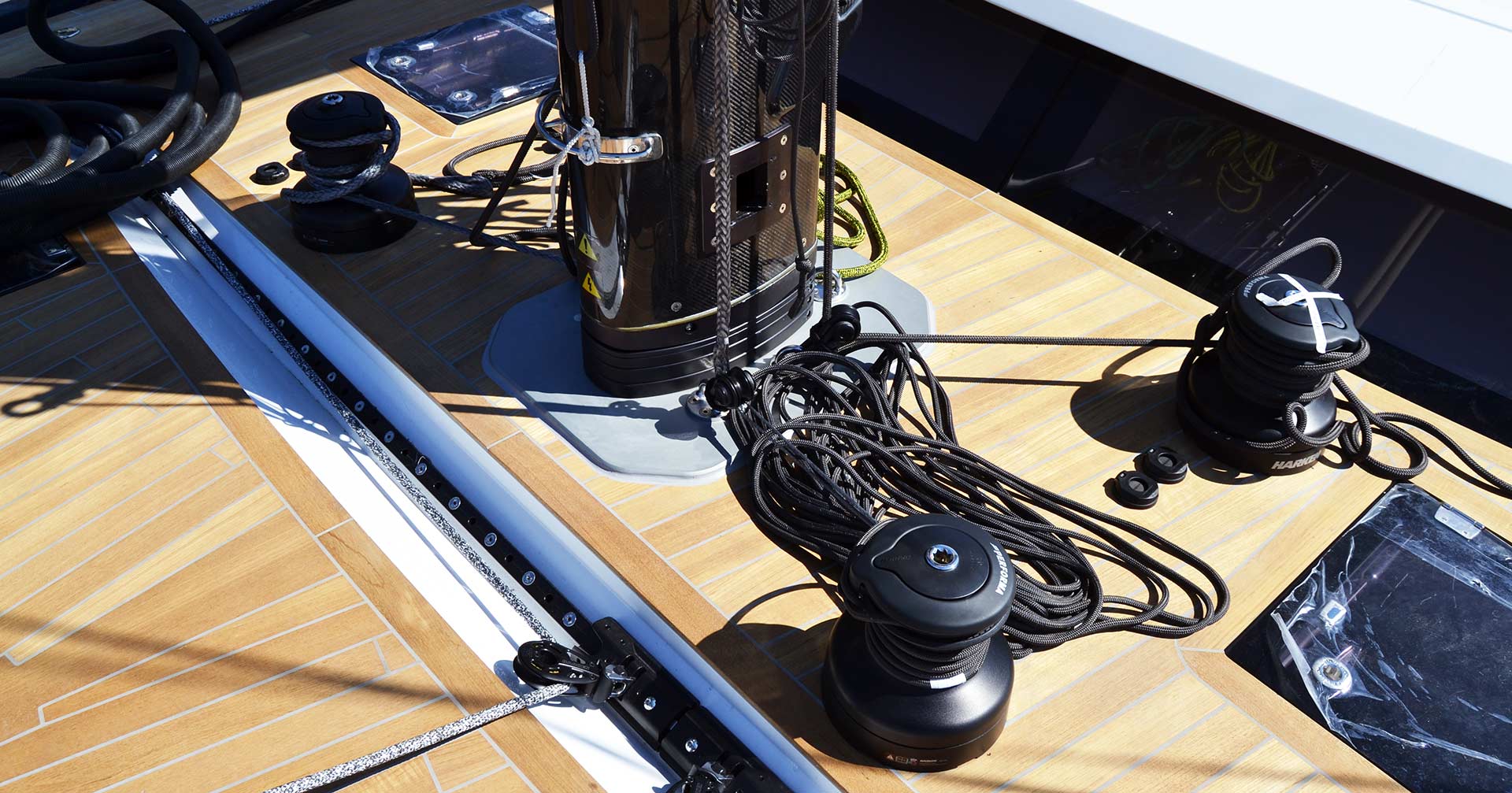 These are Harken Performa winches, no less than four installed to run the rigging right at the mast foot. Halyards and other secondary lines are operated from here. Every single winch on the boat is electric. The loads on the rigging are way too high as to expect the crew to manually pull the cranks. I loved the layout anyway: There is a classy "mainsheet island" with the central huge winch just between the two steering wheels, the mainsheet fitted where it belongs – to the boom head.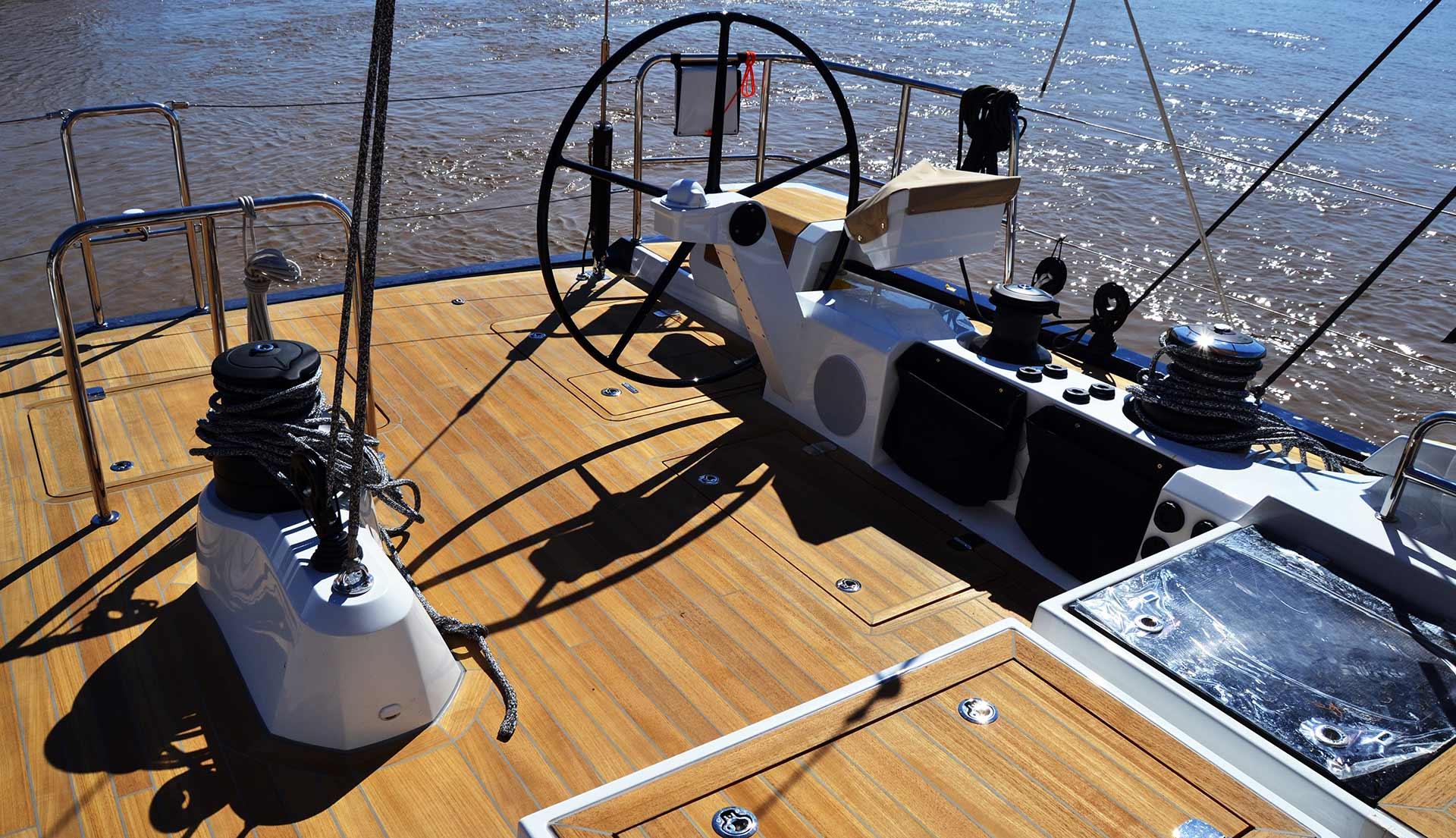 All furling for the blade jib and Genoa is done by powerful electric furlers. I am amazed how narrow and small these are when you actually stand in front of them – considering the fact that these small machines will have to furl in the 152 square meters of the Genoa under load. Amazing! Nicely done as well the shape of the bow sprit – what a great feel it must be to have a Gennaker hoisted on a boat like this!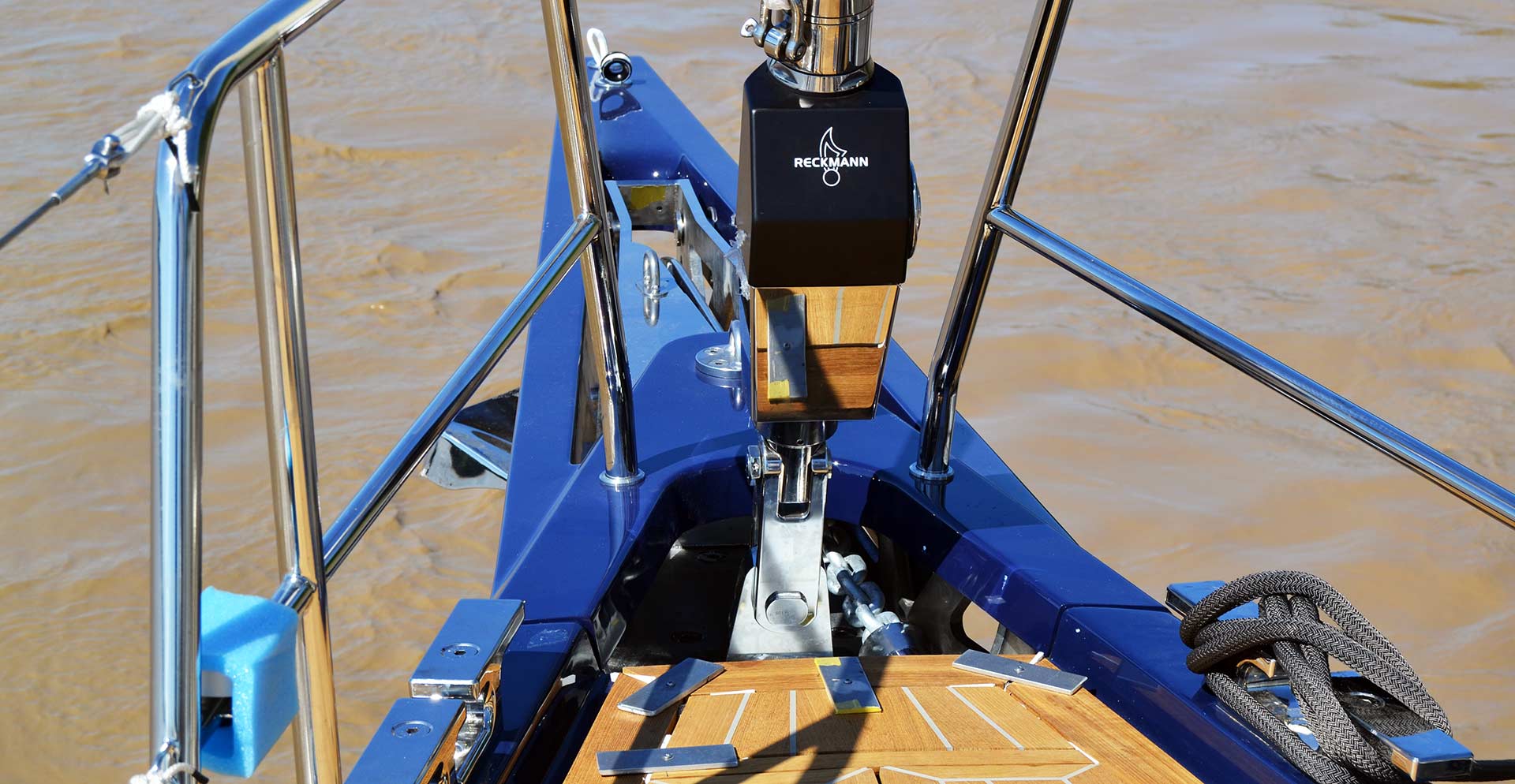 Everything on this CNB 76 is massive: Just look at the cleats here. Stainless polished steel, rock solid and thick but also nice to look at. Looking at this amazing yacht, her blue colored hull, the blond waters of the Garonne washing by and the fresh Teak – I suddenly understand the magic of CNB brand the uniqueness of the CNB-experience. It´s something deeply French about that boat.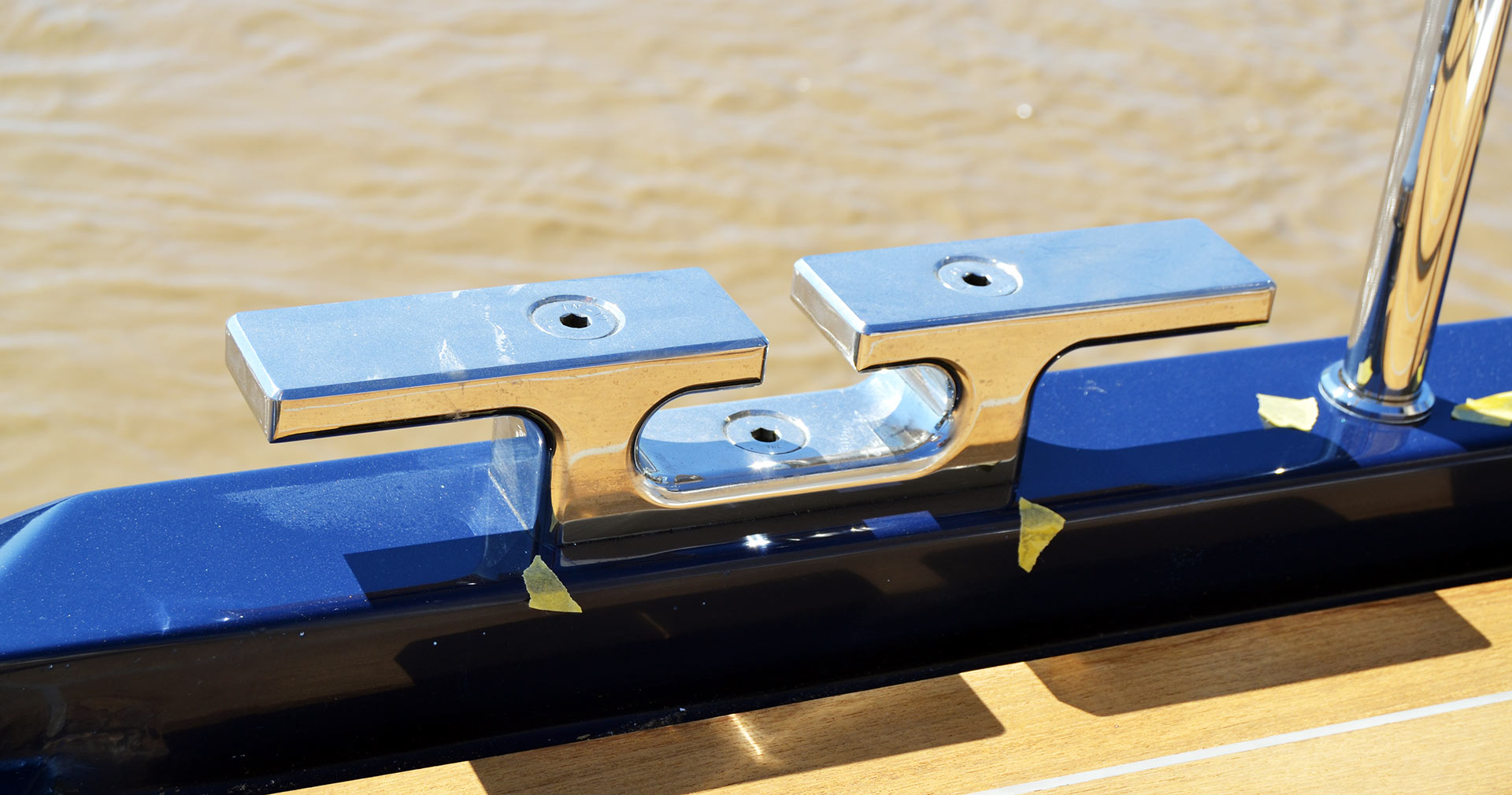 Being aboard hull number 24 the CNB 76 is kind of a best-seller of the yard. This boat is in production for her sixth year now. I am amazed by the fact that this yard isn´t rushing to new models every year and strives to thrill the people with an ongoing bombardment of new stuff, new models, new shapes and new news. CNB currently has two models to offer, the 66 and the 76 and they go on to sell these boats with success: Philippe Briand´s design is timeless and elegant – no need to come up with new shapes all the time. But the true Wow-effect happens when you enter the boat´s internal spaces …
Palace on the water: Interior of the CNB 76
The CNB 76 is no more and no less than a luxurious palace on the water. She is made to enchant crew and guests, offer wide spaces, lounge areas, big cabins to withdraw from daily trouble. The raised saloon is made to offer a breathtaking view on the surface of the water both standing and sitting. I loved the sliding sofa to starboard side: The settee can be transformed.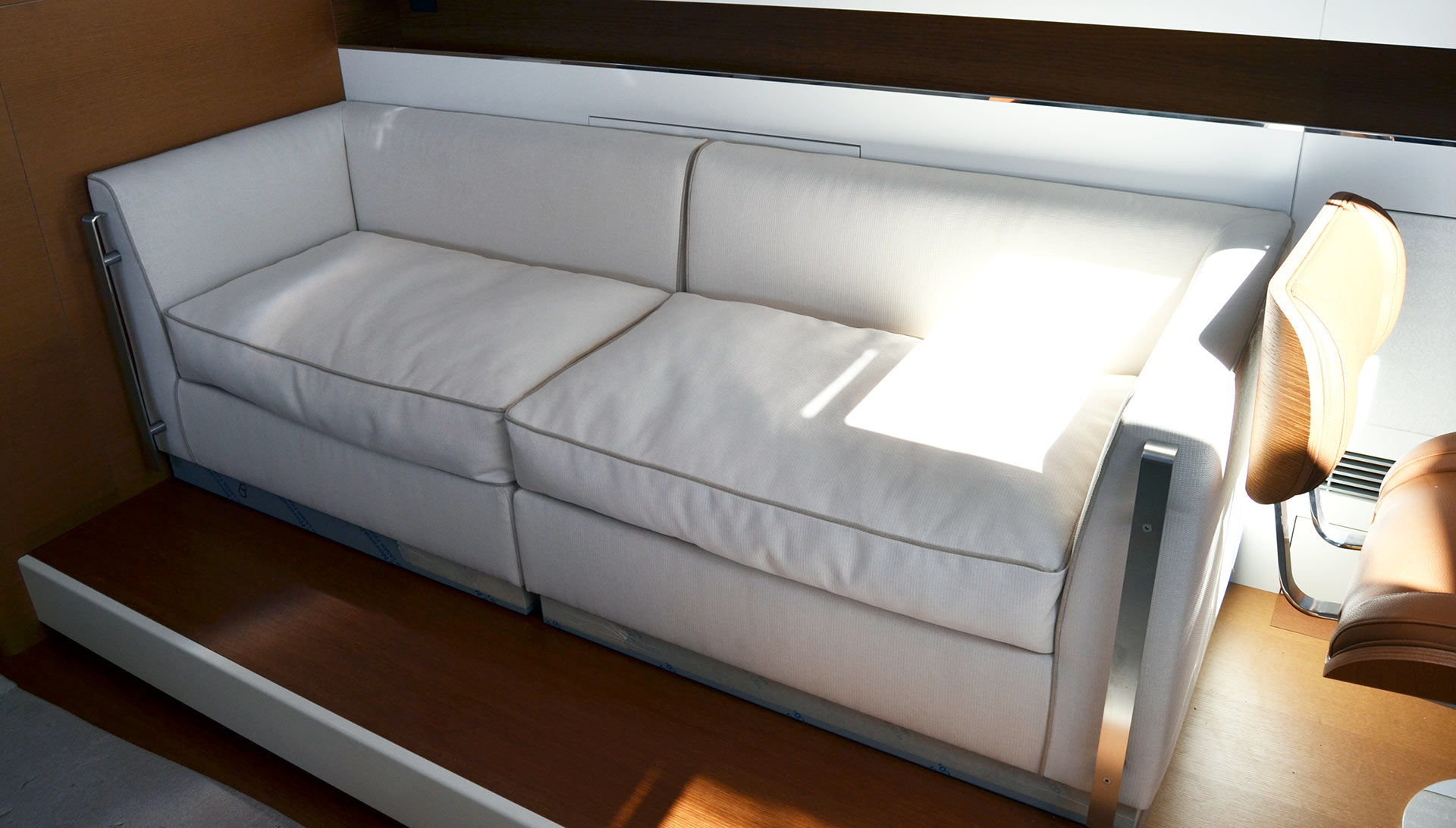 It will slide aside so that the saloon-faced settee becomes two huge armchairs facing each other with a small coffee-table sliding out of the wall in between them. Hallberg-Rassy´s Captain´s Chairs-concept on a whole new level. It´s a matter of fact that the owner has free reign over countless fabrics, leather and materials to choose from for the interiors.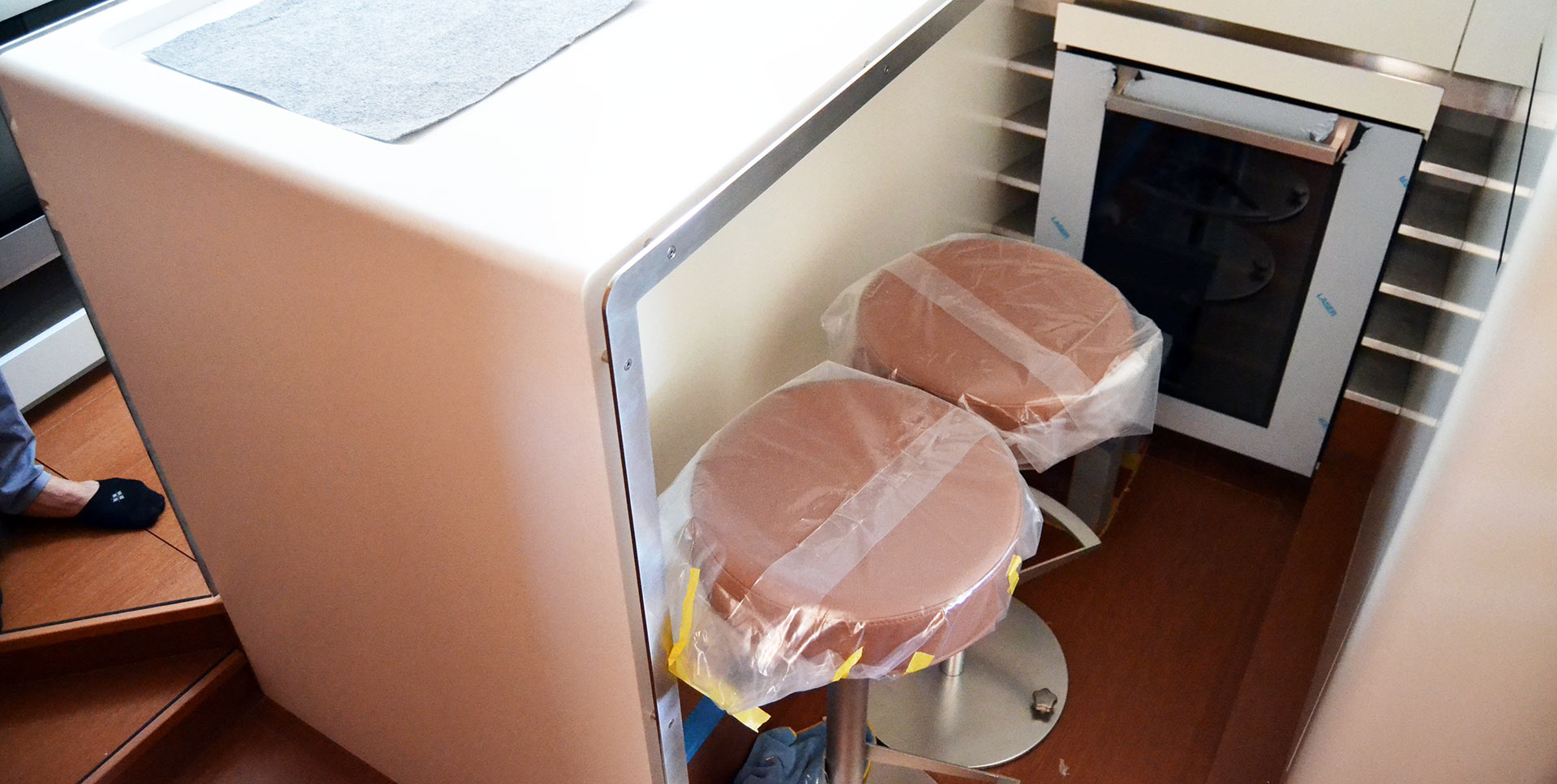 In the stern section of the yacht, on starboard side right vis-à-vis the assumingly biggest skipper cabin I´ve ever seen, there is the galley. It should be called "kitchen" because this is what it is: A fully staffed huge, spacious kitchen equipped with all kinds of appliances you know from your town house. There is even a bar with two high chairs for a quick long drink …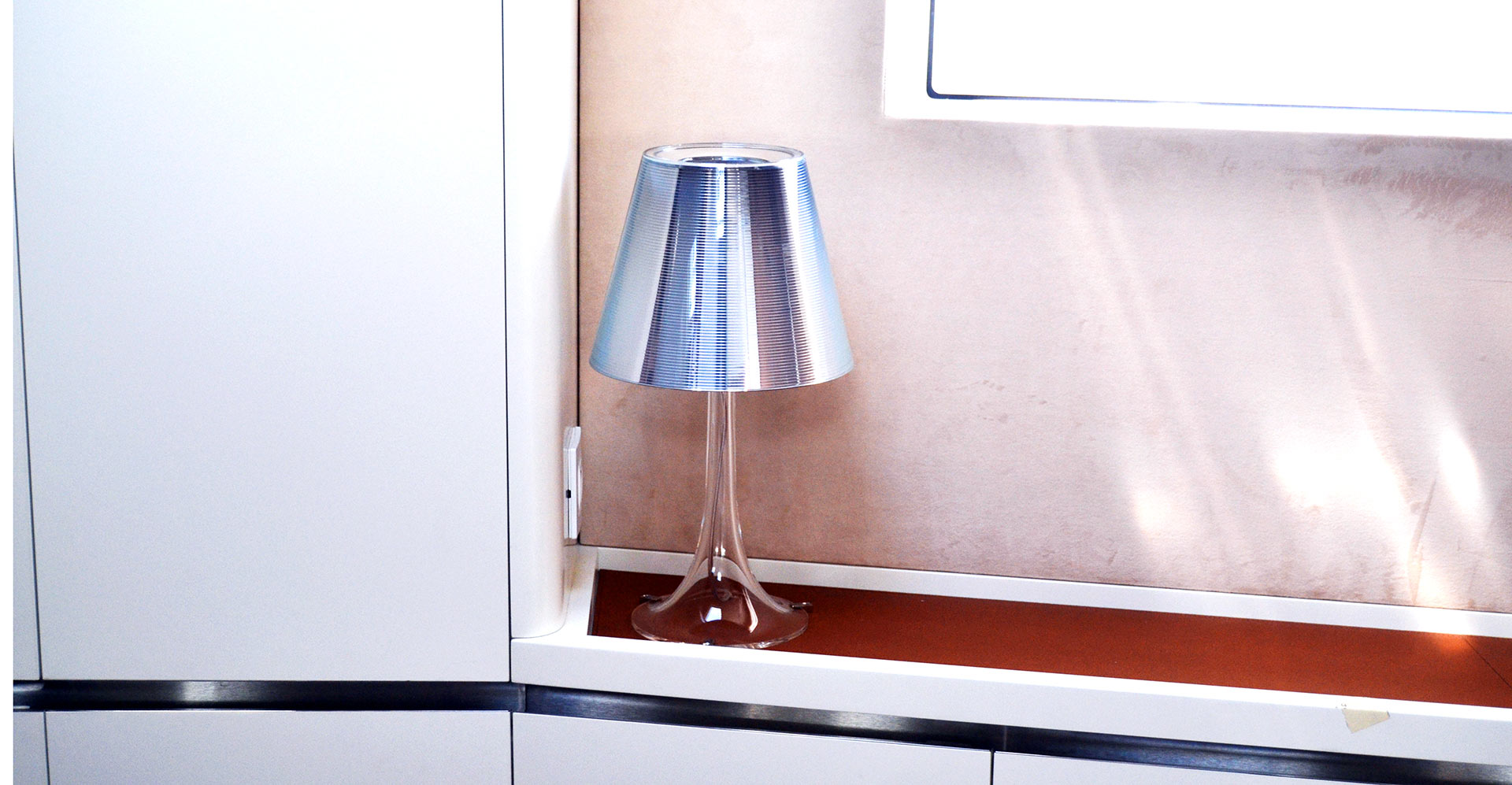 Other details flatter the eyes of the knowing only, such as the exquisite Flos-lamps which are installed in the owner´s cabin. High class everywhere you look: I couldn´t take pictures but as much as I was excited to see the "upfront" quality of this boat I loved the quality and building efforst that went into all those hidden structures: Like the substruction for the roofing panels which was so perfectly done and in a solid way like I´ve never seen it on a GRP boat before.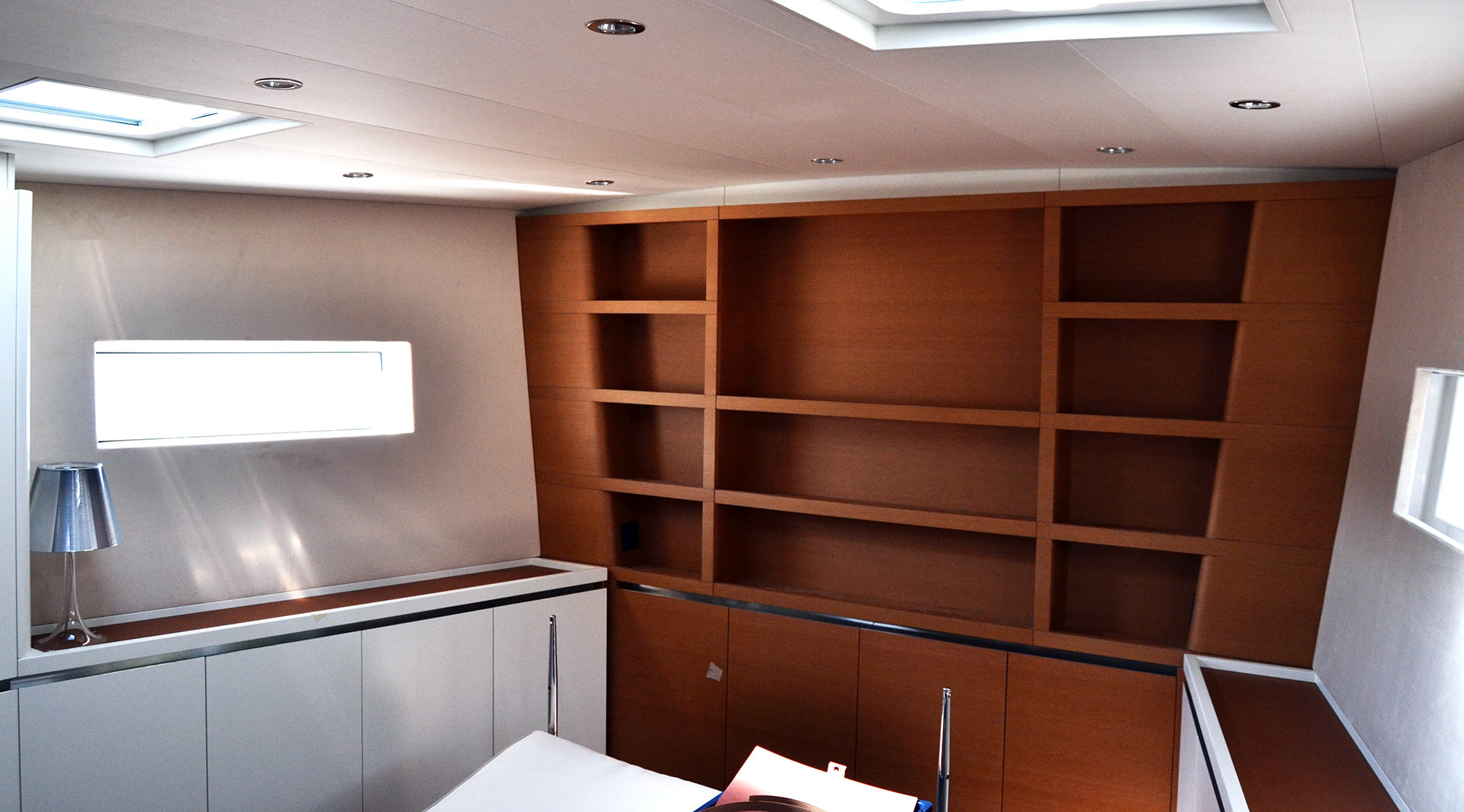 Amazing. This CNB 76 was due for client handover in just over two weeks and a cast of CNB-workers roamed the boat to final-fit details. I can only imagine the exciting moment when the happy new owners sign their documents and after two or more days of handover process cast off and put the bow towards the Atlantic Ocean, to sail down the Garonne and hoist the laminate sails for the first time. What a great sight this must be!
Savoir Vivre meets Bella Italia
So I leave the yard and after saying Goodbye to Matthieu and Yann I am deeply impressed. The fact that they are building these boats in such a special way was completely new to me and the level of perfection in craftsmanship was astonishing. I was able to gain a deeper understanding for the uniqueness of a CNB yacht and that insight.
I wish the boats, the brands and the product in the end all the best when moved to Italy. Although Monfalcone production is more known for their competence in making big inboard power boats I am sure and confident that CNB yachts conceived in Bordeaux but made in Italy will as well be astonishing pieces of high quality craftsmanship and staggering beauties on the waters. And maybe the handover service in Italy will also include the splashing of the boat with a litre of blond water of the River Garonne.
French sailing couture at its best: You may also like to read
CNB 66 complete walkthrough
At Alubat yard: Where Ovni and Cigale is born
Rough Cherbourg-like sailing yacht: At Garcia and Allures yard