There are a load of things connected to my job which I really do enjoy and appreciate (well, that´s the reason I finally chose to work in the boating industry), but there are as well things I don´t really like as much. One of them is keeping secrets, like knowledge of boat projects to come which I must not publish, no matter what. One of those secrets was (and partially, still is) the all-new upcoming Beneteau First Yacht 53 which was revealed to us by CEO Gianguido Girotti more than one year ago in all her detail … and had to stay quiet and calm about this exciting project! Well, not until recently when the PR-people of the yard revealed her to the public. Partially.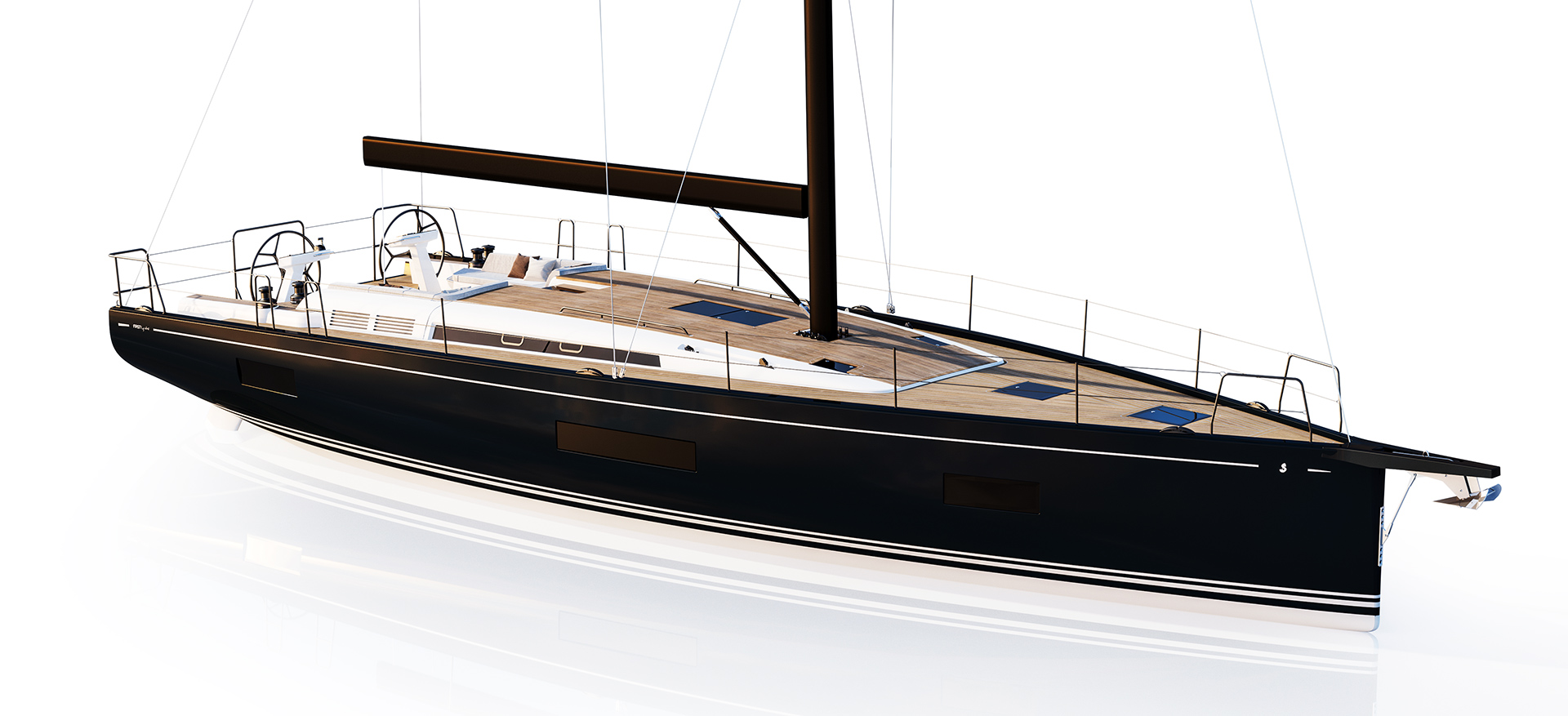 So here she comes, 53 feet, the new First Yacht. But what´s that fuzz all about? Well, apart from her design and the data, it´s the bare fact that there is a new First yacht at all. Since years and not just after the somehow ill-fated last project of the First 30 by Juan K Beneteau seemed to have forgotten about their long decades history of fine performance- and racing-oriented sailing yachts. It was not until 2 years ago when Gianguido Girotti, as he was telling us, during Cannes Yachting Festival was doing some brain storming and sketching around – on a napkin. Weeks and months later he got approval by Madame Anette Roux-Beneteau and the backing of the company to launch a plan of nut just building another boat called "First", but to launch a whole new branch of quick boats over the coming years. Seascape has been bought and their fine boats transformed into the new First-boats, 14 feet to 27 feet with a completely new designed 36 feet boat in the making. And here fits the new Beneteau First Yacht 53 – the new First from the other end of the scale.
Beneteau is pushing the performance cruiser-concept
But why now? Is it just tradition and the push to have a kind of quicker boat available for clients next to the famous Oceanis-range? No, there´s more to it. As Gianguido Girotti explains – over the past years sales in +50 feet blue water cruisers saw a staggering decrease of 50 per cent whereas the units of +50 feet of high-luxury performance cruisers were up 30 per cent. What is going on in the market? Mostly, says the analysis, that´s people with money getting younger and younger. It´s not the mid- or end-60 business man retiring and sailing around the world, it´s the "Gentlemen Racer" who is still in the midst of his working live, seeking maximum fun and excitement paired with luxury. By the way, that may explain the growth of Mediterranean "Rolex Races" for this kind of client. The new First Yacht 53 is targeted to appeal exactly this spot on the market: People who want a quick boat with high level of comfort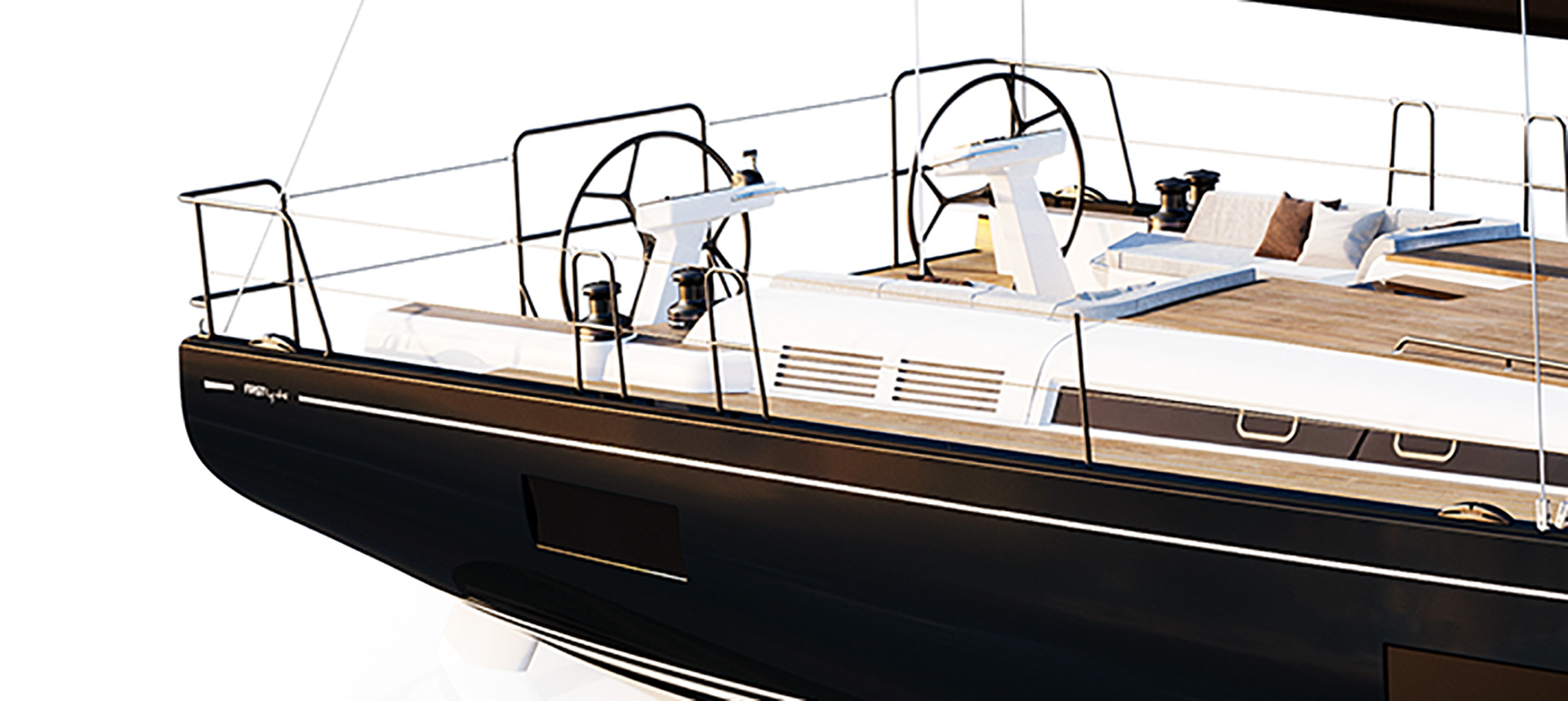 The First Yacht 53 is due to deliver this level of comfort and style for sure. The benchmark is clearly set: When it comes to style and comfort, it´s clearly the Solaris and the Swan which the French boatbuilders have in mind. Looking at the power and the performance, it´s the X-Yacht´s XP-series that is set to be outperformed. The aim is high and the goal is set – the French are talking serious business. But there´s more to it. They really pushed the limits even before the boat was even conceived to make sure that just the best concept is green-lit to proceed: No less than four design-teams of the most famous naval architects today have been invited to come up with their ideas. In the end, Roberto Biscontini (Americas Cup) and Laurenzo Argento (Wally Yachts) have been chosen to lead the pack. No less than 20 iterations of the hull design had been extensively CFD-tested and checked. The outcome: A well balanced, powerful hull with high speed potential but also a nice level of sailing comfort.
Talking to Beneteau´s Sailing Yachts Manager Damien Jacob I was told that "many boats are barely distinguishable today due to the lack of ideas and inspirations." The transom for example was something a lot of thought went into: Beneteau was clever enough not to reveal too much about the new design but I can tell that it will be a full-width open transom with some nice surprising detail, making the new First Yacht 53 very much distinguishable from other yachts. A high performance mast, carbon boom as well as rod-rigging will be standard, nice features like Teak on the coach roof, hidden lines and recessed genoa sheet tracks. Challenge excepted: The new First Yacht 53 is said to be priced some 30 per cent below the 55-feet competition for a similar level of equipment.
Roberto Biscontini and Laurenzo Argento taking it up a notch
Unfortunately there have just been 2 renderings published so far – although there of course a lot more. From reactions of my friends and sailing mates I can tell that some seem to be not very excited of the design, but I can assure you guys that the yard carefully chose this angle because they don´tb want to reveal too much of the boat. And I can say from my point of view that there are other shots from other angles showing the true character of the boat far better: Black, wide, flat … quick! Same goes for the interior, by the way.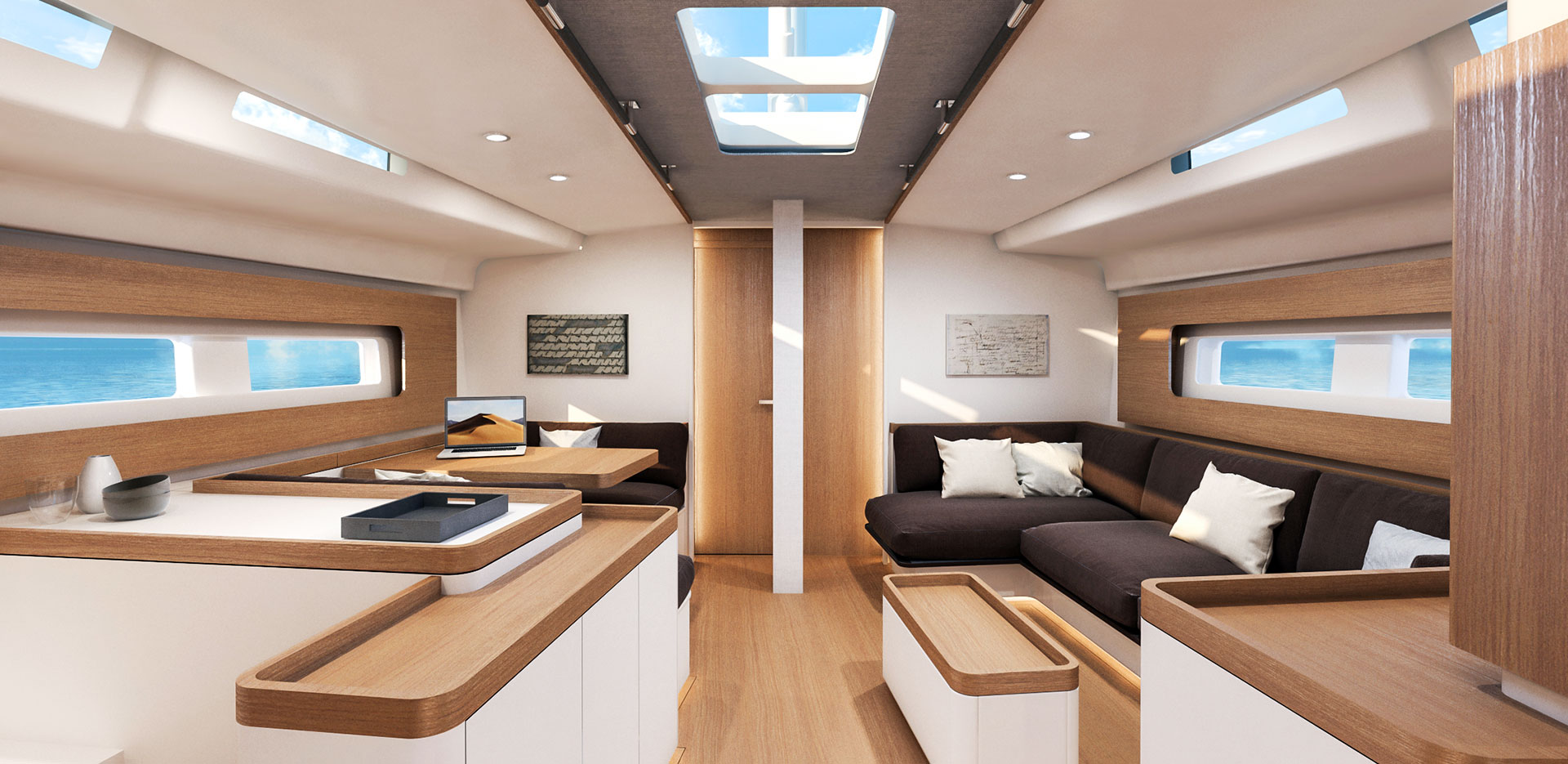 But apart from the design itself, I found it way more interesting to listen to what Gianguido Girotti had to say about the internal layout of the boat: Not less than a revolution, I might say. There will be a fully equipped galley to port side, yes, but looking at the concept one might realize that there is no dedicated dining area. It is simply gone. The research has shown that this type of boat is used with fewer people calling for a different layout. Here we go …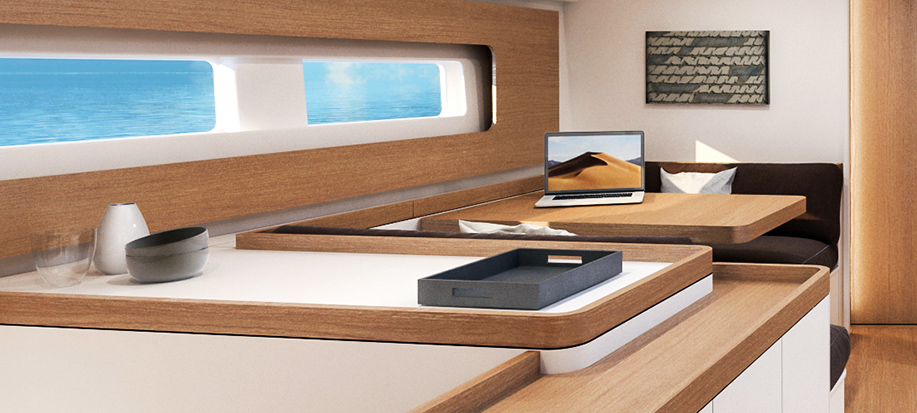 Adjoining to the galley is a small area, I´d call it "breakfast table" with two facing seating accommodations. It seems that it´s not a full three-seater, nor a 2-seater. So just two people having a cup of coffee or tea in the morning, reading the latest weather forecast or having a chatThat´s all. With no larger dedicated dining area valuable space has thus been freed to add what – according to the research – the owners want: A like-at-home lounging area. "When people are down below, it´s mostly in the evening hours. That´s lounging and watching TV or having a drink."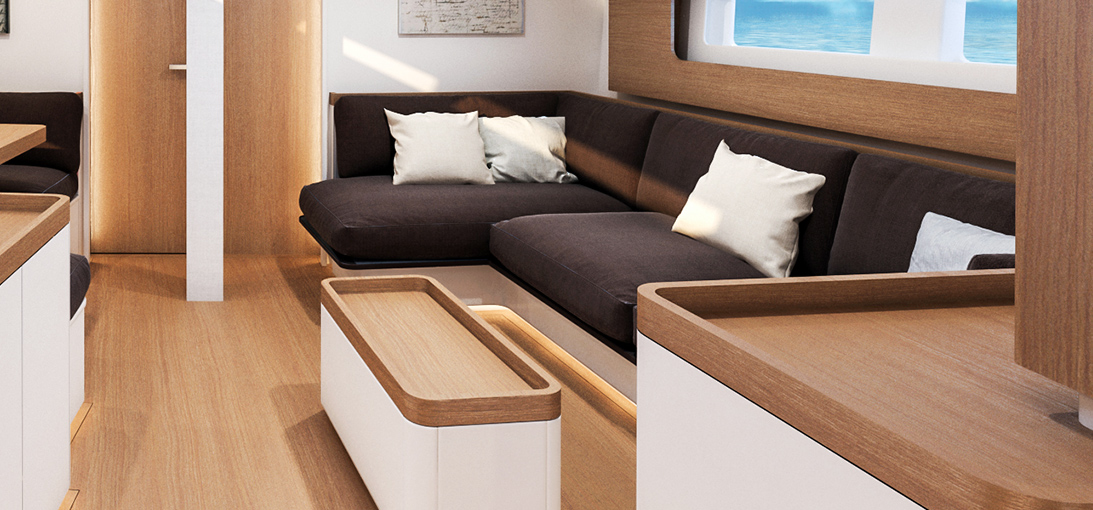 I think this concept is just gorgeous and I love Beneteau for taking such a bold step! I remember seeing the new Swan 65 (read the article here) and in this boat it seems that the designers had exactly the same thoughts – but reacted differently. They added no less than 4 seating and lounging and dining areas, using up all the huge space in the Swan 65. In this respect, I would say that the idea to rather skip the dining area of the French is the better choice. Other things prevailed, or let´s say, will have a comeback, such as the extensively used edge veneers in the First Yacht 53 of which Beneteau says they have a long standing tradition and knowledge of craftmanship.
Waiting for the first boat
I think it´s a great development, not just for Beneteau as a company but for the whole boating industry. Personally I think the industry somehow has lost it´s track when it comes to performance sailing: There are some brands making some nice boats but I felt that the emphasis of the whole branch was on making cruisers suited for the big market. Brands like X-Yachts and others seemed to had virtually no competition by the big names of the industry. That´s for sure changing with the First Yacht 53.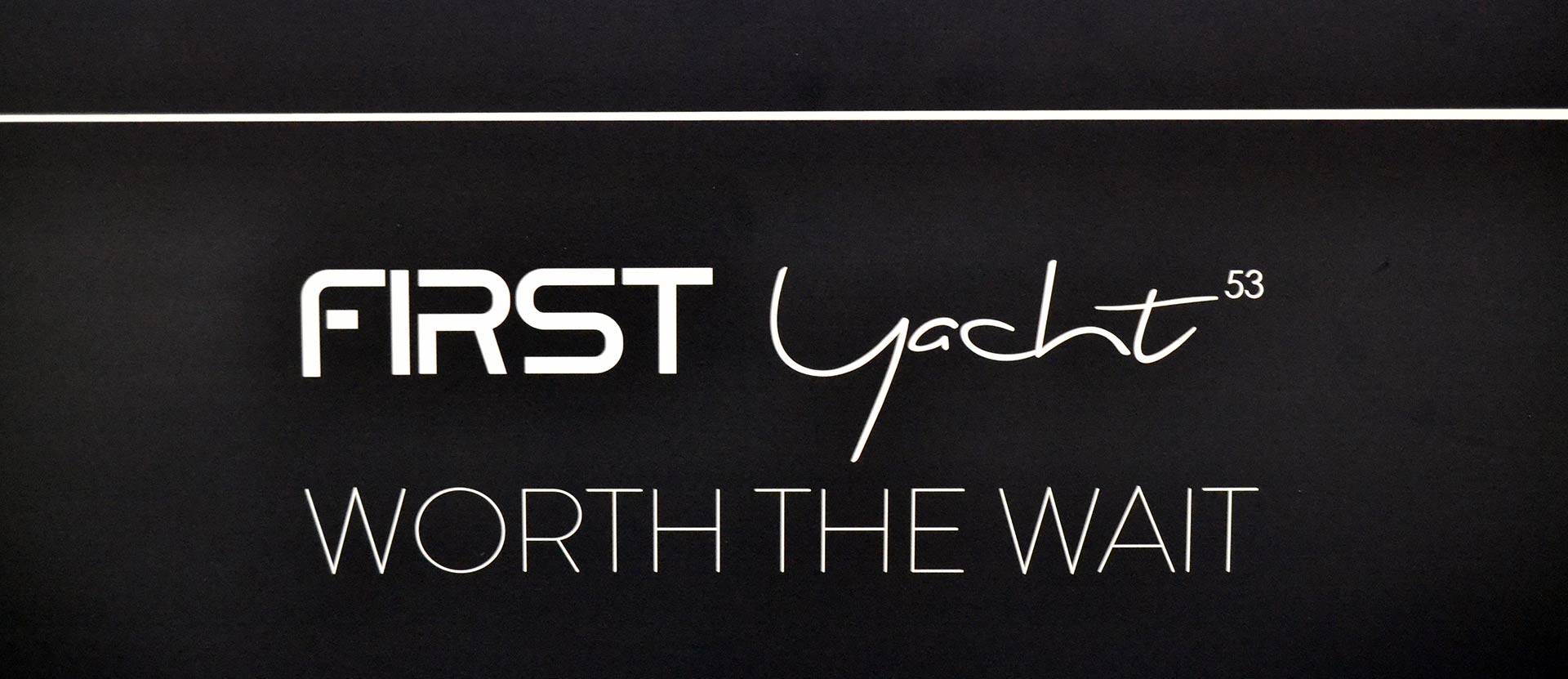 I am sure this new boat is boosting the performance cruiser market since not too much progress has been, especially if one keeps in mind that the 53 is just the first of a new range of boats that will see yachts being released in the 40 and 45 feet-size as well. And my hope is that this may be an ignition for other production companies to update their dated designs, like Dehler for example. Keeping secrets is an odd thing. There has been a 1:1 mock-up of the First Yacht 53 interior – which was far more revealing than this single rendering released by the yard. Sadly, the mock-up has been destroyed and so we all have to be patient to see the next rendering being released. Or, latest, let´s all meet in Cannes in September when the first First is due to be presented to the public.
More on performance cruisers:
Talking to Javier Soto Acebal on Solaris yachts
Arcona yachts as seen from Torgny Jansson
IMOCA & more: Strolling Lorient´s "La Base" pro-sailing yard