I have a special relationship with Italy. As, I would assume, as every German I admire Italian style, their sense for good lines, for good design and their taste for almost everything which we would call "the good things in life". Be it cars, food, clothing or – of course – boats. I love the lush and open way in which Italians are embracing live and the tasks ahead. In this, it was the Italia Yachts 13.98 as seen on the Hamburg Boat Show in 2013 when I first fell in love with the brand.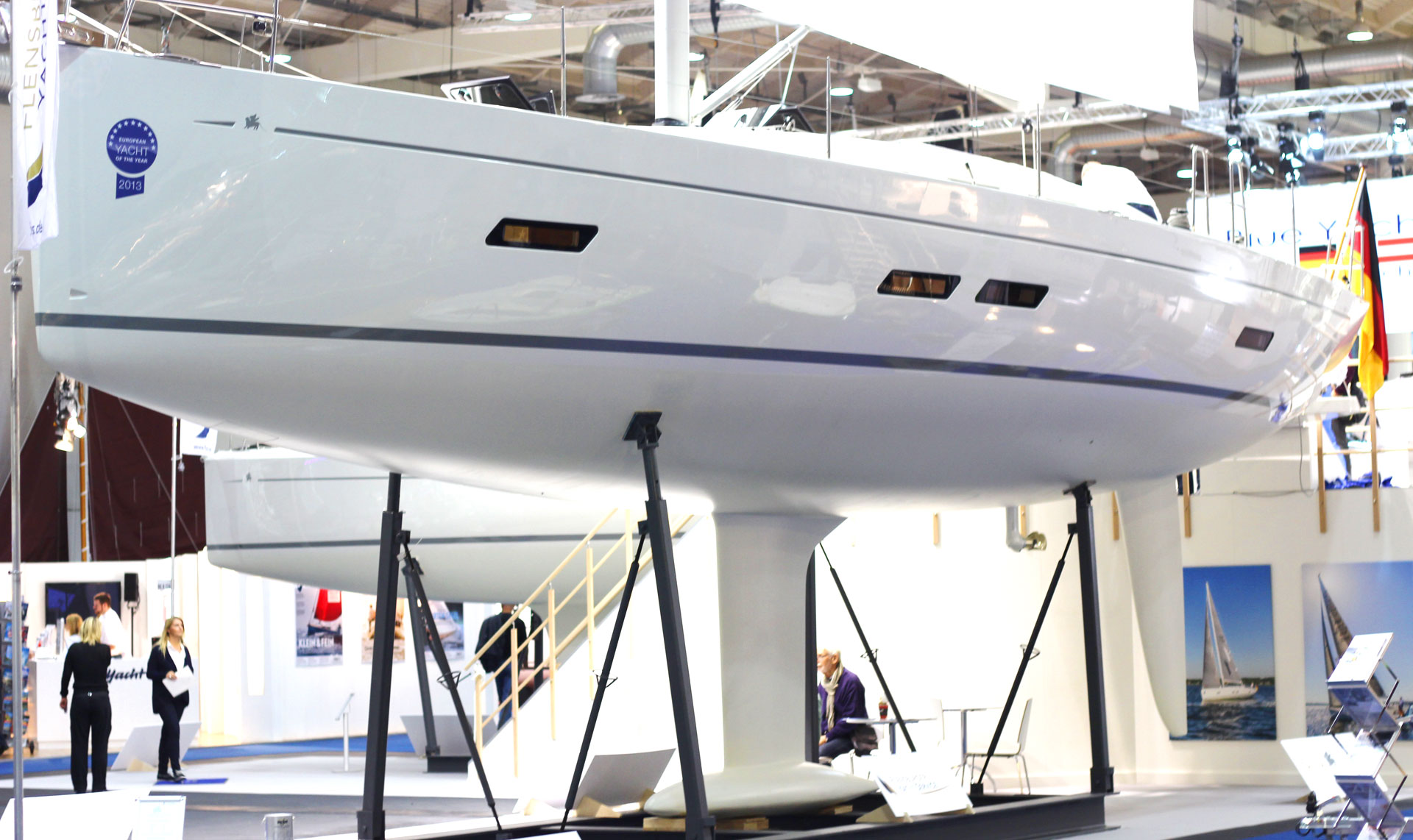 Absolutely stunning exterior design with some elementary features which are still setting apart an Italia Yacht from other boats and a level of design and craftsmanship internally – these have been and still are the principal features of a boat made in Chioggia (near Venice) and I was happy to having had the chance to meet Franco Corrazza, founder and owner of Italia Yachts, together with principal naval architect and designer Matteo Polli (read my interviews here and here).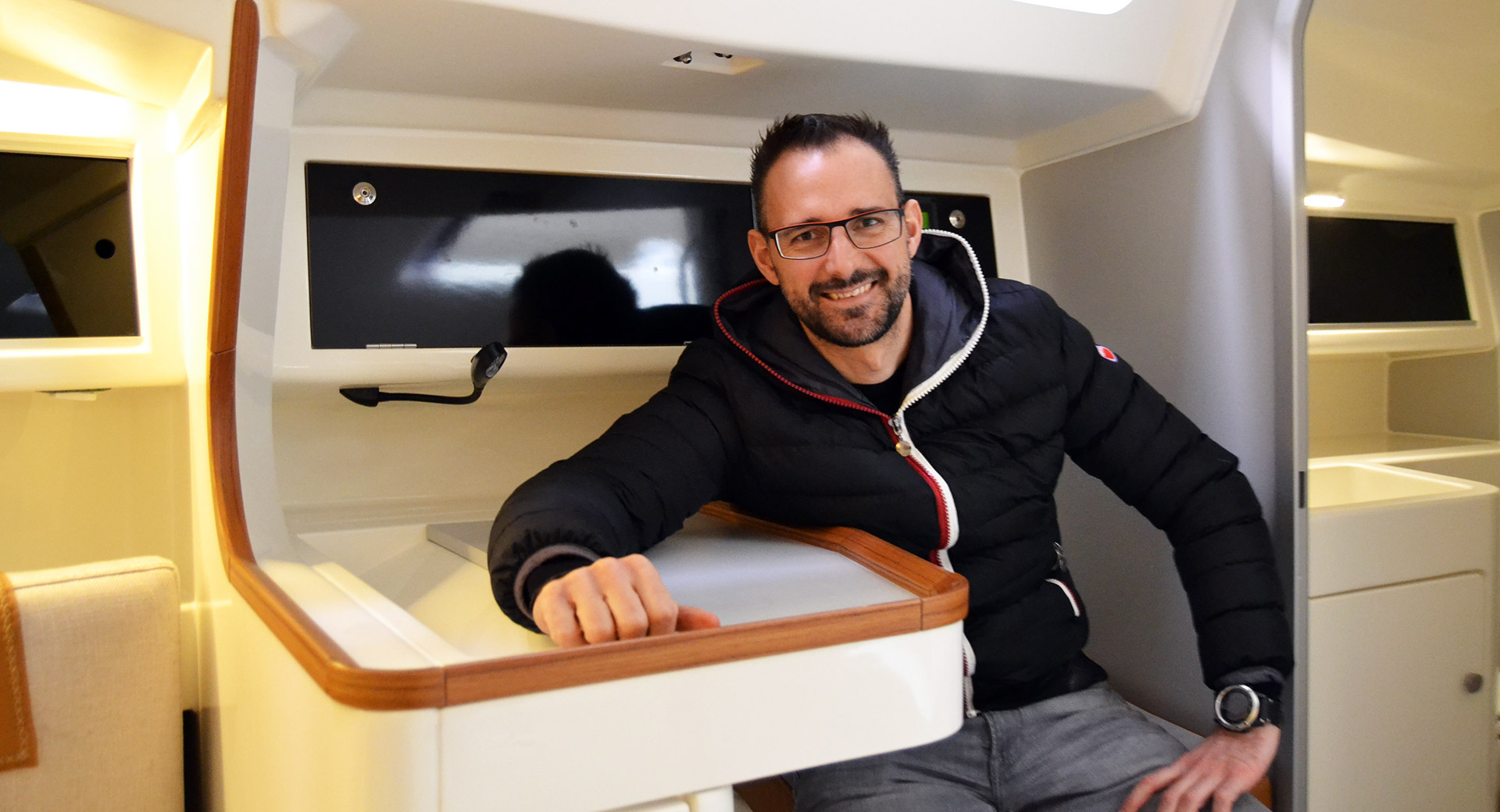 I as well took the chance to meet Matteo again in San Giorgio di Nogara where Italia Yachts used to have a yard as well back in 2018 where he was showing the production of the Italia Yachts 9.98 racer. Now Matteo Polli is still the principal mastermind behind the boat designs from Chioggia, but things changed – he is self employed with his own company now. And these news had been accompanied by a big bang, the launch of the all-new Italia Yachts 11.98 "Bellissima". Let´s have a closer look, I thought, and called Matteo asking for a small chat. Here we go …
The all-new Italia Yachts 11.98 "Bellissima"
NO FRILLS SAILING.com | Lars Reisberg: "Matteo, tell me, when did the yard made the decision to develop the 11.98? What was the reason to go for a 38 ft-racer/cruiser?"
Matteo Polli: "We started to work on the concept back in 2017. That was following the success that was kicking in after launching of the Italia Yachts 9.98. The main idea behind the 11.98-boat concept was at first simply to try to develop a bigger 9.98 in order to have more interior space for cruising without compromising the racing side. A bigger boat allows also more internal height without scarifying the external aggressive look. In this way the boat could be more appealing in the market in Northern Europe where of course the average height of people is bigger."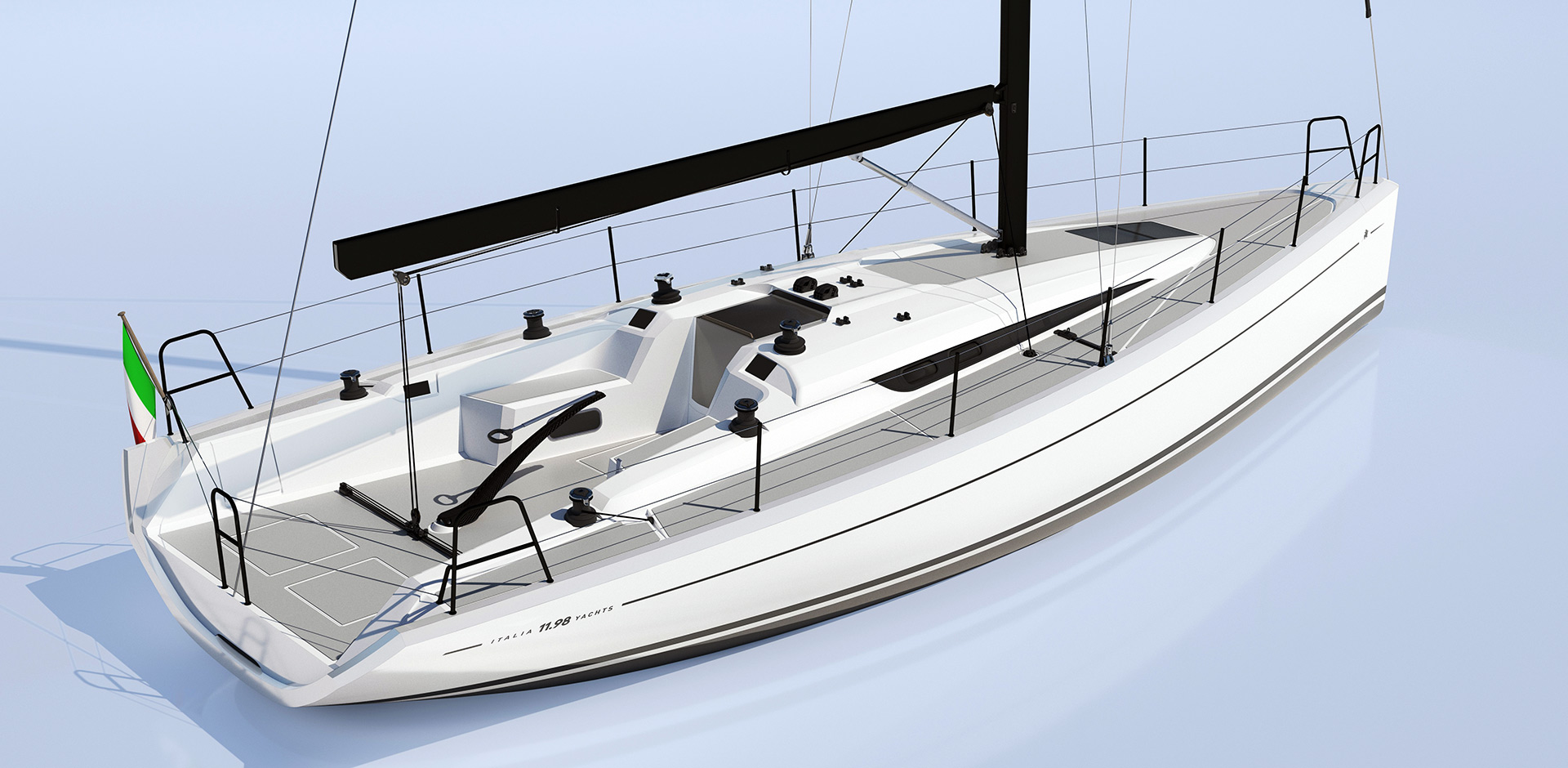 NFS.com: "What influence did the learnings from the 9.98 had on the 11.98-design?"
Matteo Polli: "Oh, totally yes! I have been able to extract a lot of lessons learned from extensively sailing the 9.98, both during racing and in cruising-mode. I have tried to keep the good things and to change what was not working so well in my eyes."
NFS.com: "What would you say are the top-points of the new 11.98, what can she do better?"
Matteo Polli: "I expect the Italia Yachts 11.98 will be better in light winds – that´s honestly where the 9.98 was suffering a bit. This will make the 11.98 more suitable for offshore racing in the Med where light winds are dominant. However, she will be still very good in medium to strong conditions and reaching, in fact the hull topsides have been designed to improve dynamic stability at high angles of heel. I have also been trying to have the interior space layout as such that it will be easier to stack sails and crew on windward when the boat is used in offshore racing. This is by the way the reason why the layout of the boat is symmetrical."
NFS.com: "How is the Italia Yachts 11.98 build?"
Matteo Polli: "The boat is made by utilizing proven hand lamination-techniques with vinylester resin. The structure is reinforced by biaxial and undirectional glass fibres. Carbon unidirectional will be used for making strong hull bottom structure cappings."
NFS.com: "What is the preferred range of use that the Italia Yachts 11.98 can be put to? Is she a true racer for the Med, optimized for reaching and running or a versatile boat on every point of sail, even fast upwind?"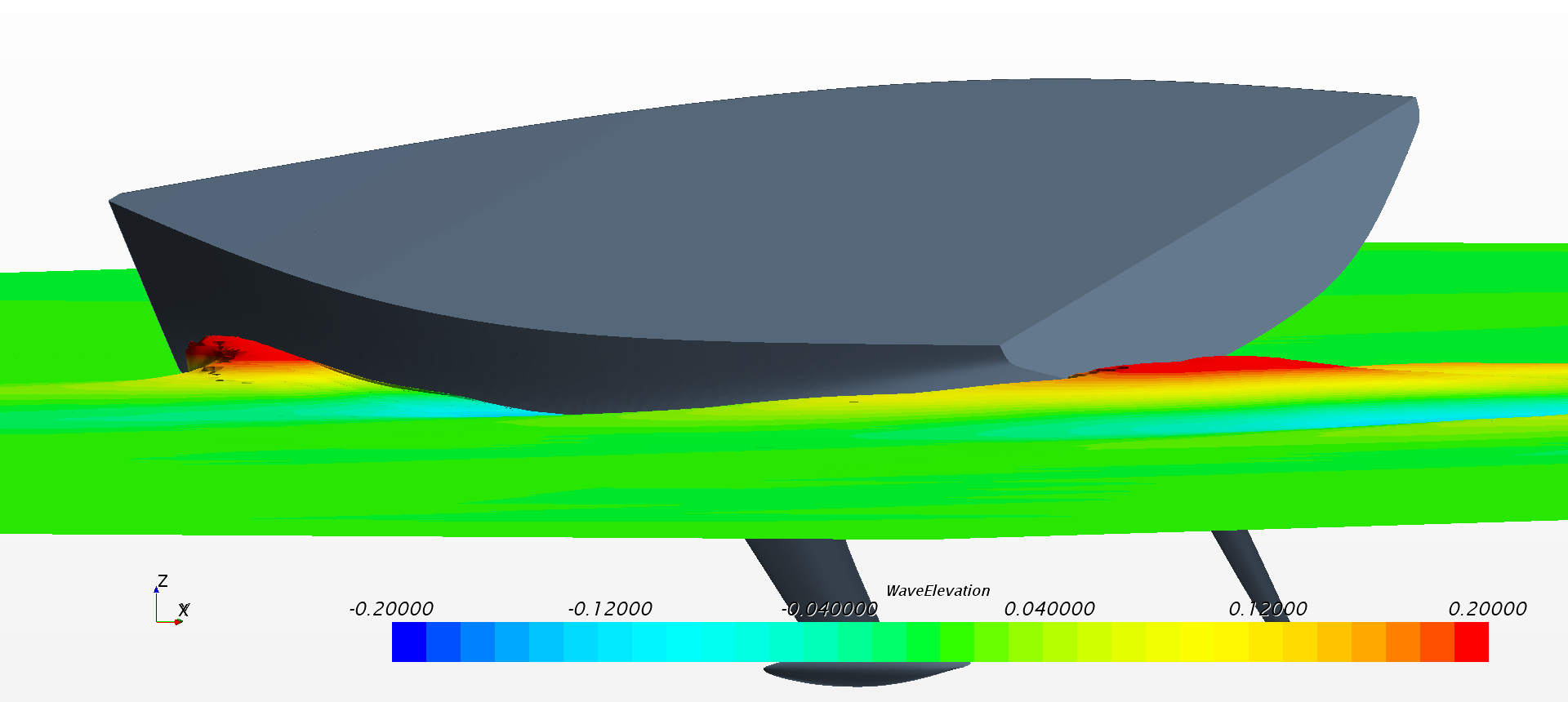 Matteo Polli: "Well, I expect she will have a very all round performance profile that will allow any kind of racing and also allow good fun when cruising around. She is not extreme in any way, my goal was to design a boat that could fit well in any condition without looking for ultimate performance in only one situation. That said I feel this is a missing product on the actual market. We had nice and successful boats like this in the past which are in fact still in the highest part of the scoreboards since none of the newest designs are capable of such results."
Form follows function here
NFS.com: "Italia Yachts is still kind of "refusing" to add a double-rudder configuration to either the cruisers or the racer/cruisers – why is that?"
Matteo Polli: "Well, is not exactly that Italia Yacht is "refusing" to do so, it is simply a matter of fact. When developing the initial concept it quickly became comes clear that we do not need double rudders. Besides, I find some design features nowadays may have more to do with fashion rather than real performance in this market. Hull chines, reverse bows, double rudders etc help a lot on very high speed-machines when the wind is blowing hard from behind. In all other cases I have the opinion that they do clearly reduce performance or comfort."
NFS.com: "The Italia Yachts cruiser-range is still a kind of "racy" performance-oriented boat, why introducing a thoroughbred racing-line? Is the market and demand for those boats increasing?"
Matteo Polli: "It seems so, yes. I can tell you that we have sold more than thirty Italia Yachts 9.98 around the world! At a first look it may seem a small number but in fat the opposite is the case. That´s because no other racing boat not meant for one design racing has been sold in such a quantity! Probably on the larger size there will be even higher numbers and of the Italia Yachts 11.98 we already sold as many as seven boats before the first one had even touched the water!"
NFS.com: "You left Italia Yachts to work as an independent naval architect, tell me more about your decision and how it affects your relation to Italia Yachts."
On personal matters
Matteo Polli: "I decided to leave Italia Yachts as an employee because I felt it was time for me to start my own company and engage relationships with different companies and owners. In other words: I was seeking new challenges! I will of course continue working for Italia Yachts designing boats for them but from an independent standing point."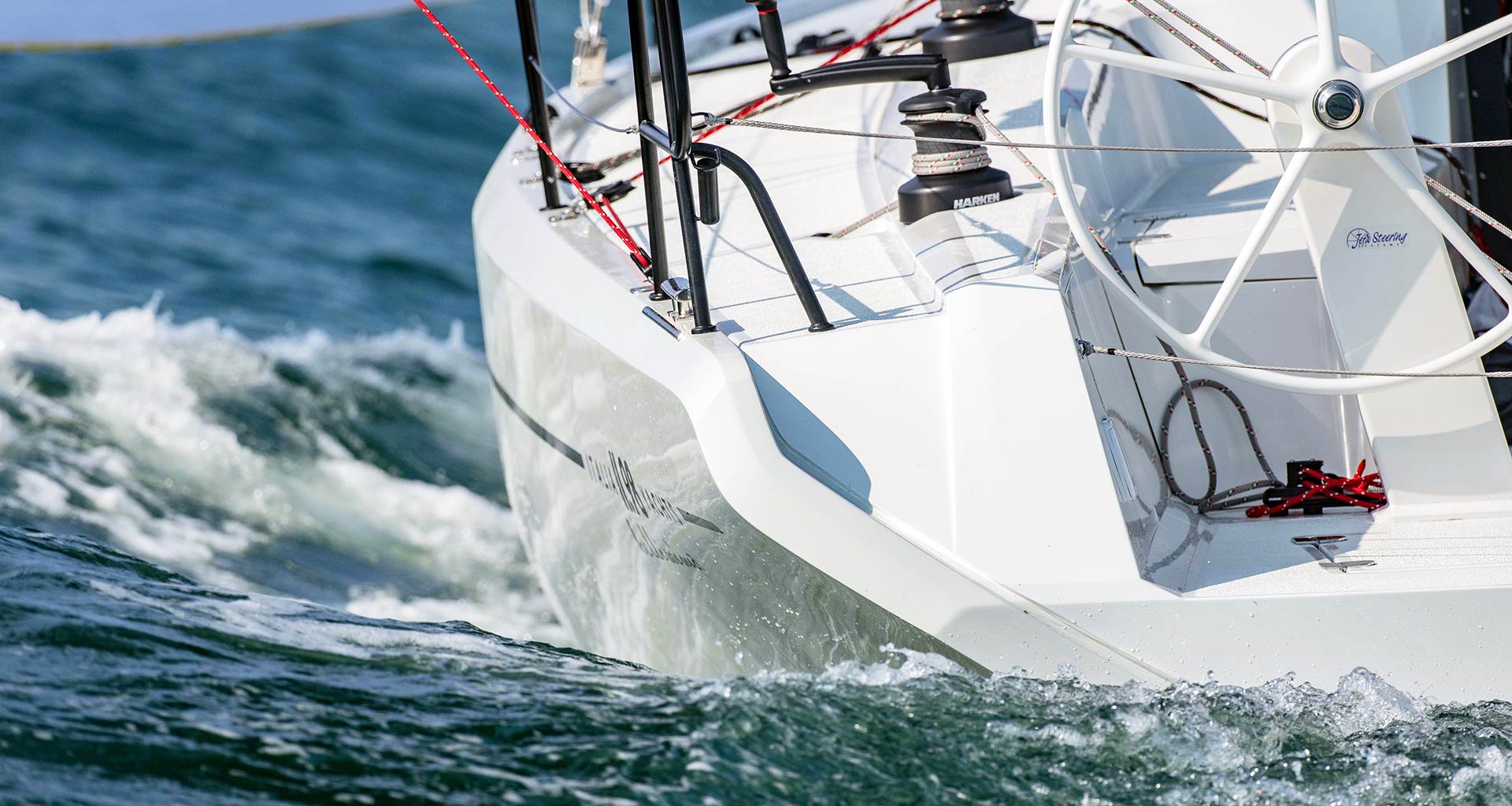 NFS.com: "So there are other projects you are currently working on? What is to be expected from Italia Yachts in the future – and from you personally?"
Matteo Polli: "Well, yes. But I am sorry that I cannot disclose that much at the moment, especially regarding Italia Yachts, but I can say there are quite a few new designs on the drawing board. Personally, I am designing IRC-keel versions for the 9.98 and the 11.98 in order to enlarge the racing options of these two models. I have also been contacted from a couple of well-known boatyards for new designs, which I will hopefully describe in the next interview." (laughs)
Thank you so much, Matteo, for giving a short insight to the new Italia Yachts 11.98 racer/cruiser – all the best and I hope to featuring you soon with more interesting articles.
Love Italian boats? Here are some nice other articles:
At the Solaris Yard in Aquilea
What if? At Cranchi Yard in Piantedo
Gulliver 57 – a Cigale 18 on steroids