As I was pointing out in my previous post wrapping up the last edition of the Cannes Yachting Festival, edition 2019, I personally thought that there had just been two monohulls which really kicked ass and catched my imagination. One was the magnificent Beneteau First Yacht 53 of which I am delivering a detailed walkthrough in the coming days, and the second one was in the truest sense of the word the other end of the performance-yacht´s spectrum: Dehler´s all new 30 One Design "pocket racer".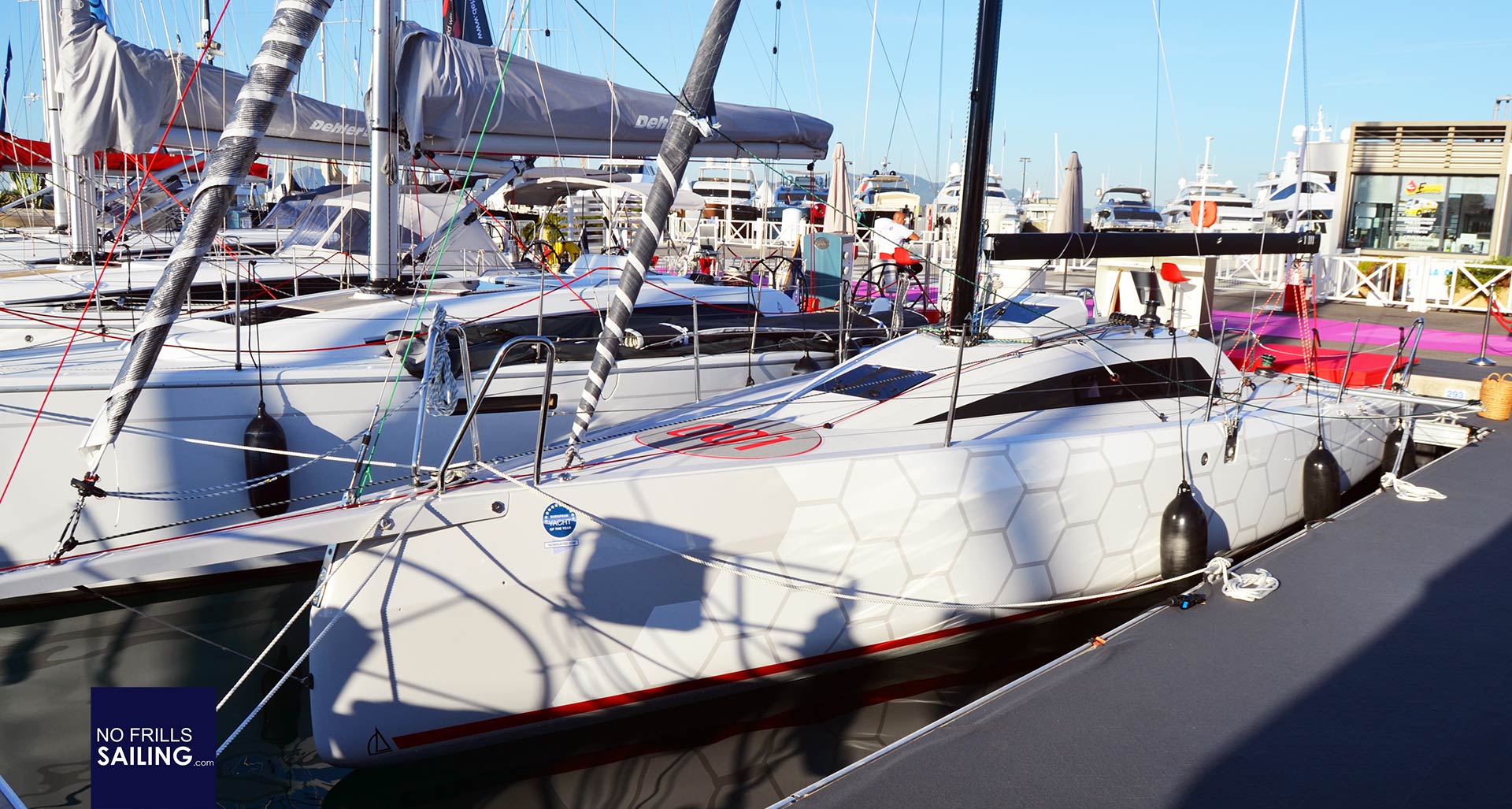 As I always do when I am at boat shows, I sneaked on to the exhibition ground very, very early so that I´d get the best light from the dawning sun and have the boat for myself. You all know that I have a crush on Dehler yachts, of which the Dehler 42 is my favorite boat so far. I also love sailing small, quick boats, just like I did with the Beneteau First 30R last year. The new Dehler 30OD was a big bang for the business and sparked high expectations and rumors when announced months ago. And here she was, the #001, first hull completed, mooring in Cannes.
Serious racing – no frills
She is a serious racer, there are no doubts. A first glance at her appearance, the aggressive lines, sleek hull design and cat-like windows are a strong statement. Looking at her running rigging and her cockpit reveals that she isn´t just a fancy speedy lookalike but a true piece of sports equipment made for business. Sailors willing to test their offshore skills in real single- and doublehand races are the main target group for this boat. Races like the Silverrudder, Europe´s biggest single hand regatta around the Danish island of Fyn or the Vegvisir-regatta (double handed) with record-breaking numbers of starters seem to underline the demand for these small racing boats.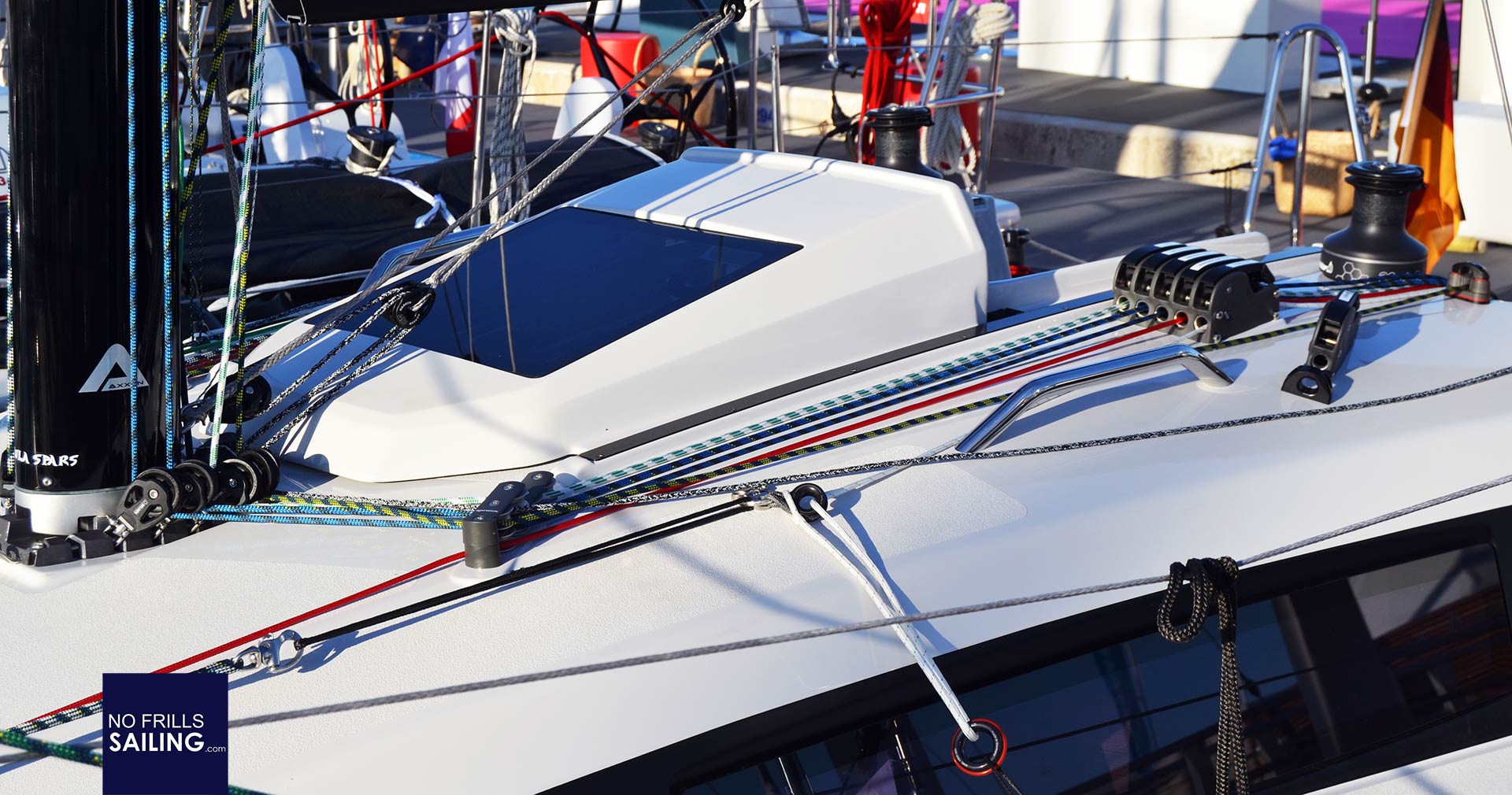 The Dehler 30OD is much smaller than the competing SunFast 3300 (later more on this boat) or the Figaro 3 with a waterline length of just 9.15 metres and a width of 3.25 metres the new German racer is some half a meter shorter than her French competitors. Nevertheless, aimed mainly at clients in the Baltic Sea and coastal shore racing, the Dehler has some advantage over, let´s say the Figaro 3: She at least seems to be much easier to control, no foils – which can intimidate. This boat reminds me more of a Pogo: Small, no frills, straight up and honest sailing.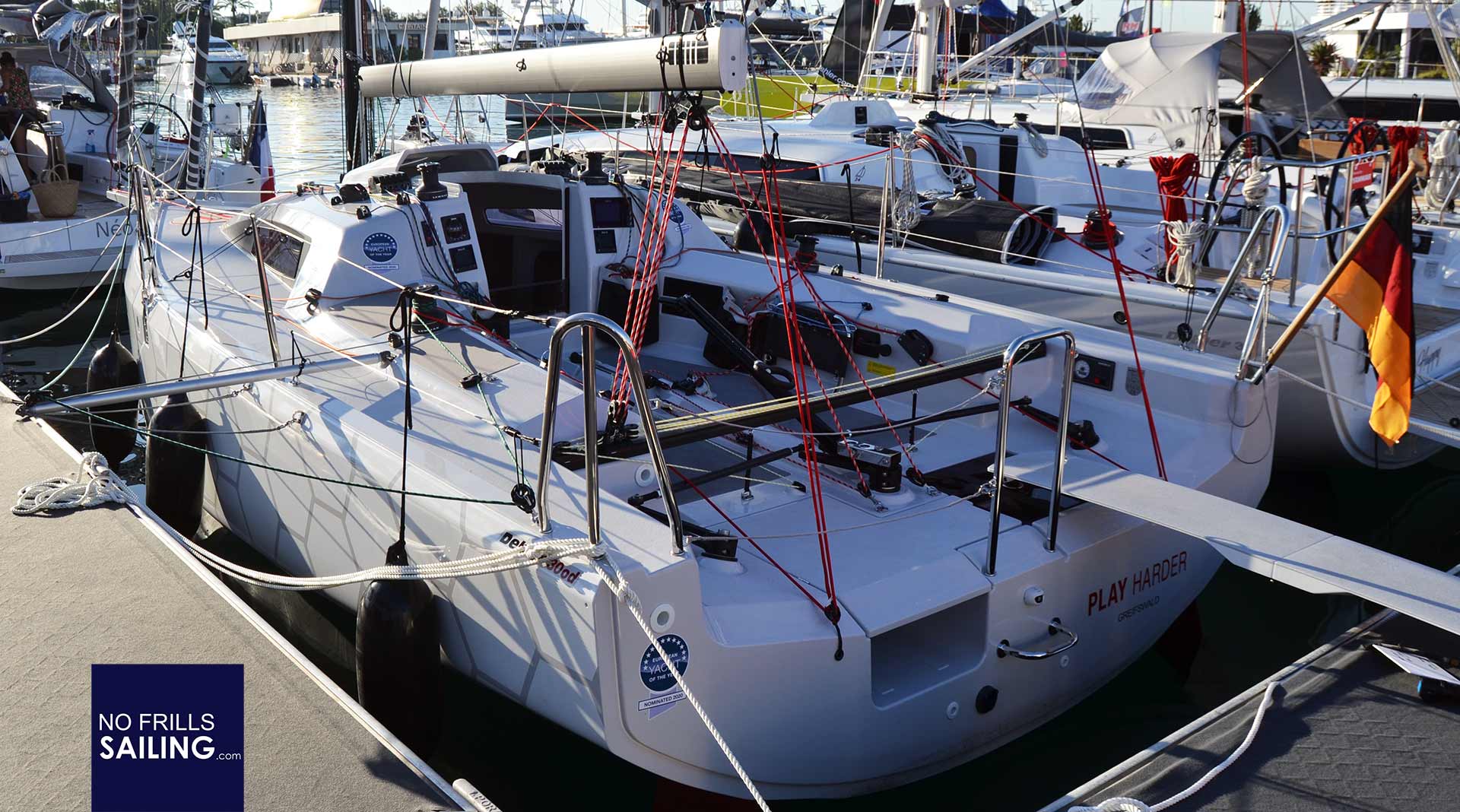 Nearing the boat from astern reveals her wide ready-to-plane hull shape. She is fitted with a tiller-steering on double blades. As an offshore boat – she has a Cat A-certification for 4 persons – there is a dedicated space for a life raft directly under a small floorboard. Vis-à-vis on starboard side a small water sealed locker can take on more stuff.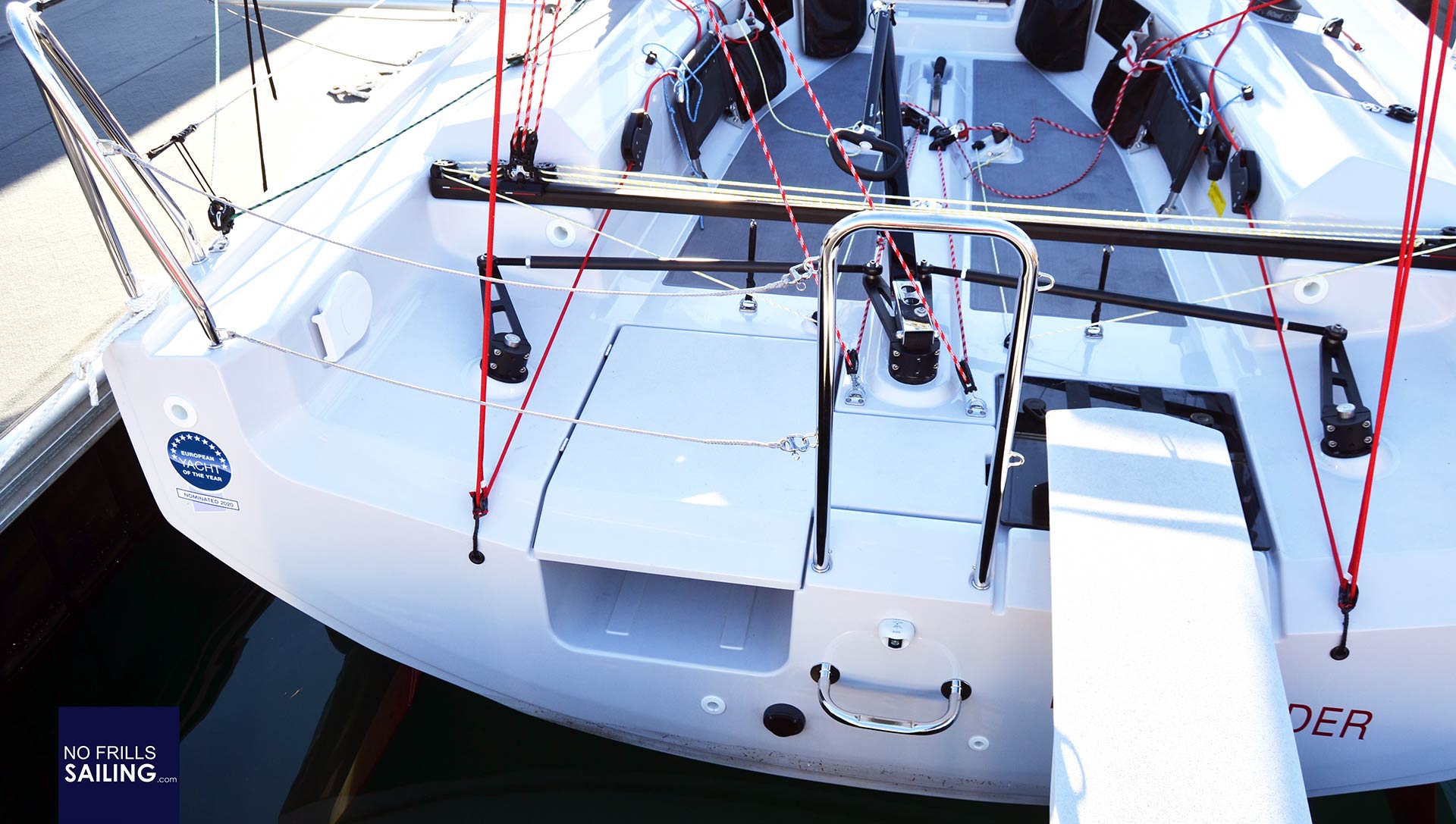 One unmistakable sign for a boat destined to "perform" better than the normal cruising yachts are adjustable backstays. On ordinary yachts this is a feat that enables the skipper to fortify tension on the backstay to straighten out the forestay when sailing upwind – on the Dehler 30OD both backstays are adjustable, sails trim is a big thing on this yacht and so let´s have a closer look.
Running rigging layout for single & double handed racing
Entering the large cockpit that will easily fit two sailors acting on the winches and clamps one will have to step over the large mainsheet traveler. This piece of equipment is clearly a thing of the past when it comes to cruising boats but much more than a commodity on a racing boat like the Dehler 30OD. The traveler promises pinpointed fine trim of the main sail that on this boat has a sail area of 34.5 square meters.
Stepping into the cockpit one notices the mainsheet fitted as German system running through clamps mounted on a large, massive looking longitudinal "spine" running through the cockpit from aft to the entryway. The mainsheet may be controlled by hand which is much faster than having the sheet on a winch. I proofed by myself that this configuration is working very well when I sailed the 40 feet aluminium performance cruiser last year.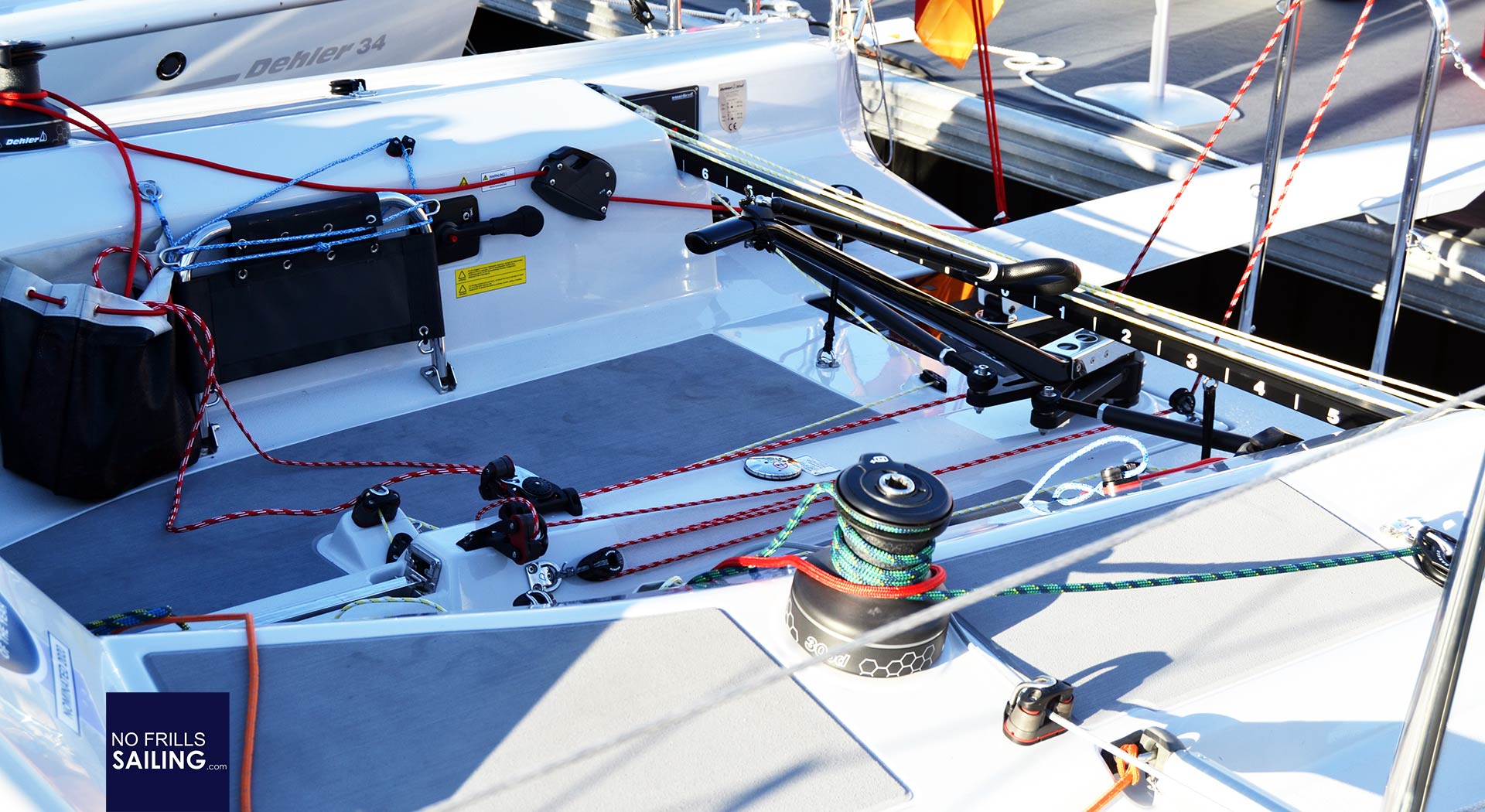 The Genoa winches are mounted on a very accessible position and can be worked on from either side of the wide coamings where the crew will be sitting. There are two rigid footrests on both sides of the cockpit for securely fitting oneself when sailing with excessive heeling. What is odd on small boats though – but happy to have it aboard – is the standard height reeling that looks oversized on a 30 feet boat. But it will be nice and cozy to lean onto it when underway.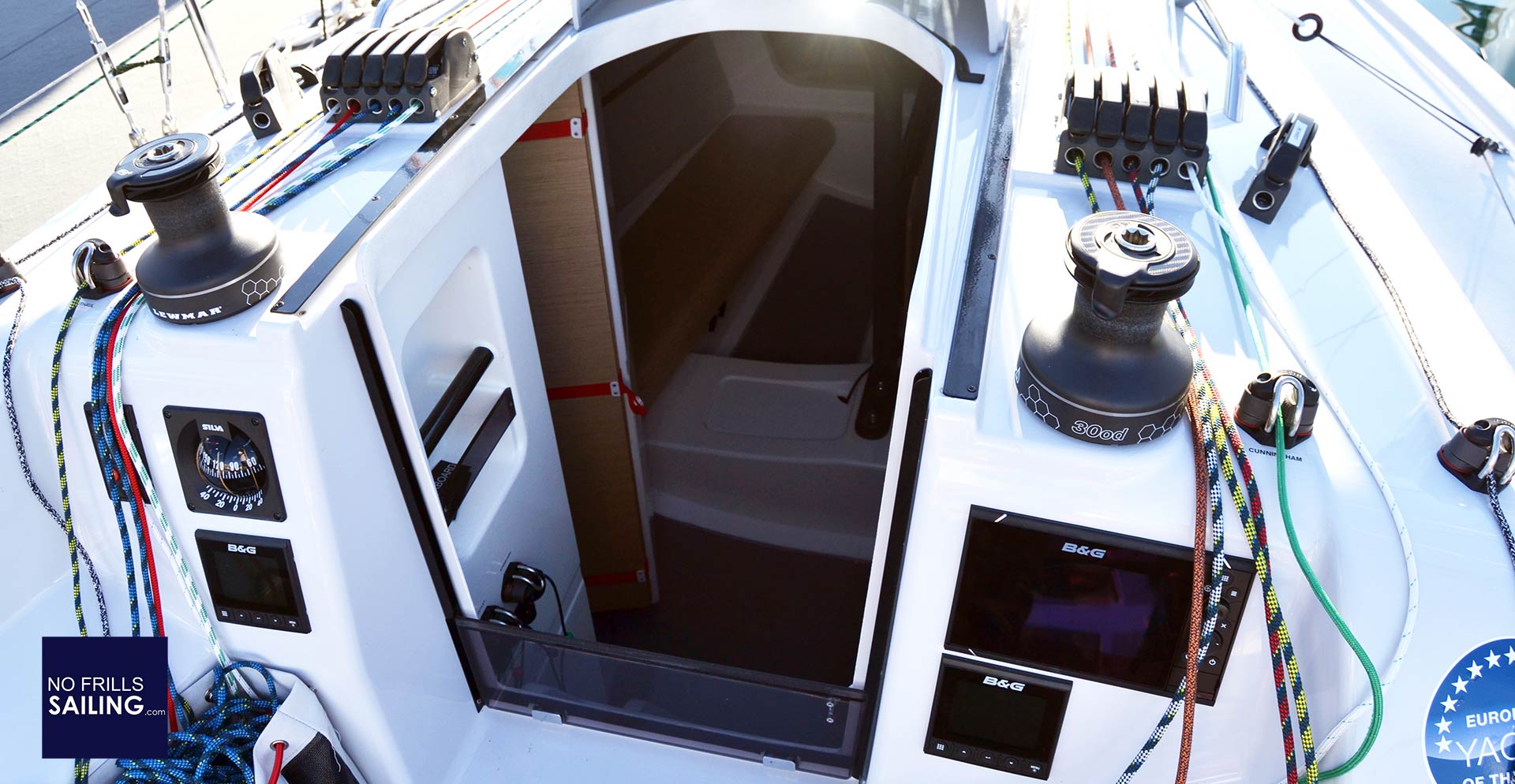 Moving forward the skipper will find the working winches on both sides of the entryway to work the halyards, reefing lines and other parts of the running rigging. No less than 12 clamps and many more additional curry-clamps for neglected lines such as the classy Cunningham or the 3D-barber hauler add to the count of the skipper´s keyboard in the front. Pretty impressive! A 9 inch B&G chart plotter and no less than two B&G Triton-displays along with a standard magnetic compass complete the cockpit of the Dehler 30OD.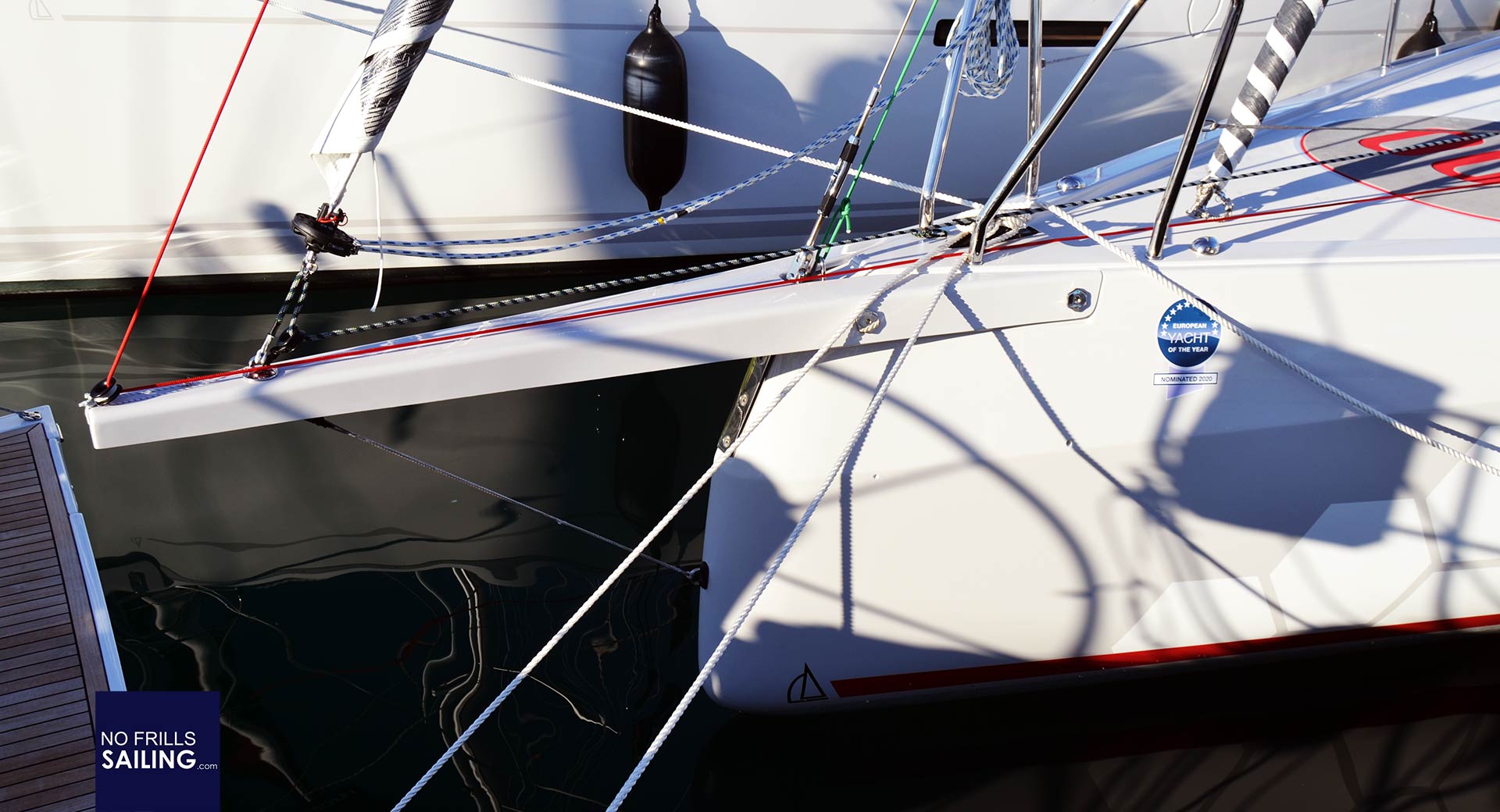 Most impressive detail of the Dehler 30OD from my point of view was the massive bow sprit that pinches out in front of the hull for slightly less than a full meter. This rigid piece of equipment can fly no less than 3 forestays for a wide variety of sails, like the standard 105% overlapping Genoa with 28.5 sq. metres sails area, the staysail/jib with 13.5 sq.metres, the Code0 with 45 sq.metres and some Gennakers. Apart from the wide range of combinations to react to changing wind conditions, this details even more underlines the claim of the Dehler 30OD to be a true racing boat.
Reduced interiors – a fresh approach
The interior of a racing boat is of secondary importance, to say the least. Nevertheless, the psychological component during a long haul offshore race, skipper´s and crew´s wellbeing is a factor that cannot be disregarded. On the other hand a boat like the Dehler 30OD wants to be more than just a pure all-out sporting equipment. "Cruising" is a bit of a overblown word here, but maybe a young owner couple will use the Dehler 30OD for a summer vacation trip – a pretty fast one though. So, interior design was of great importance during the development phase of this yacht.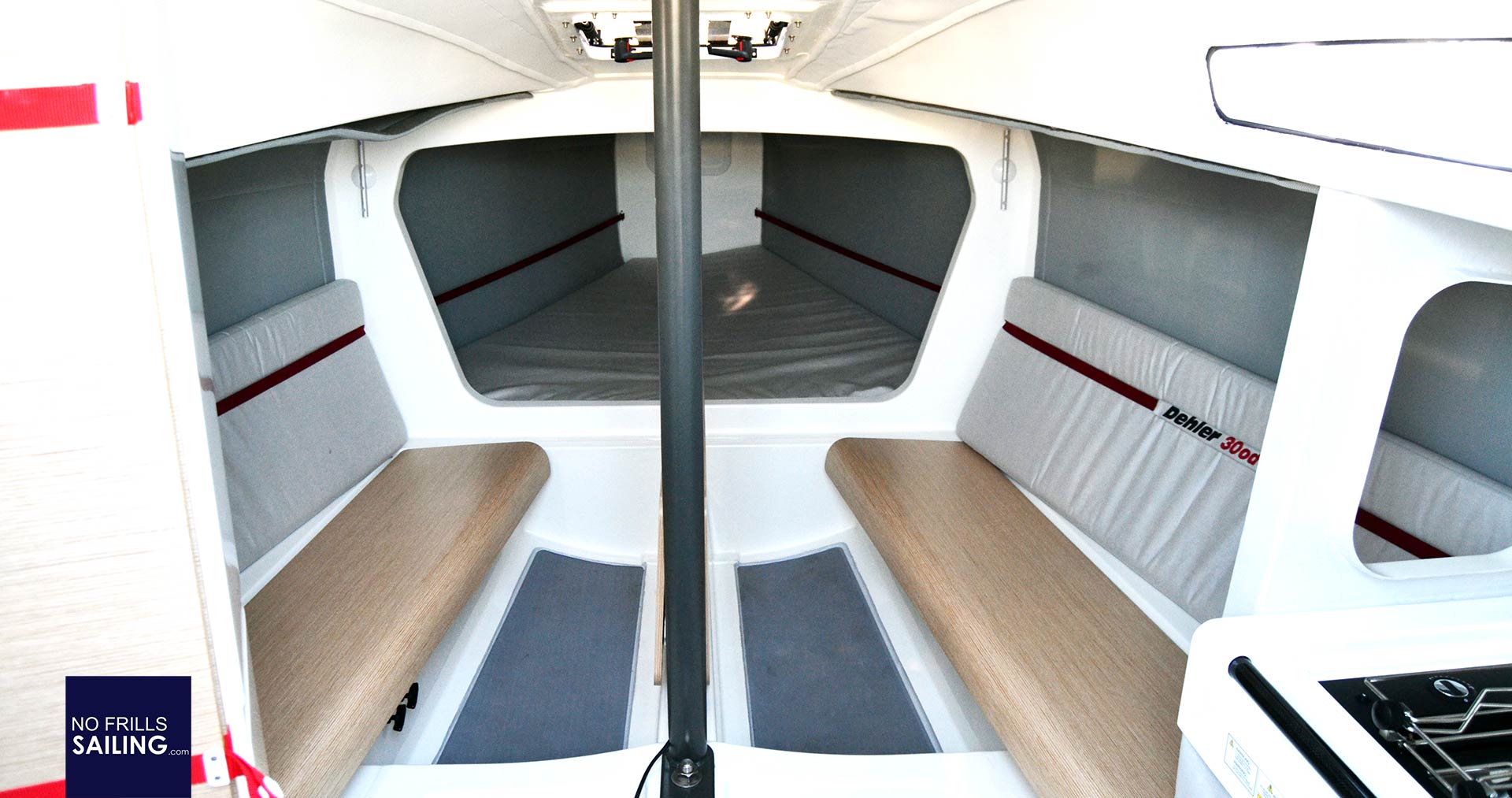 The 30OD offers at least a minimum of comfort: There are two "cabins" in the aft which offer space for 2 adults and one fore "cabin" that can house – if not stuffed with spare sails – another adult. Of course, more people can fit in but that at the price of feeling like anchovis in a can. The Dehler 30OD features some wooden fittings and nice new materials acting as wall covers and panels which I liked very much – I will work on a more detailed article looking at these details.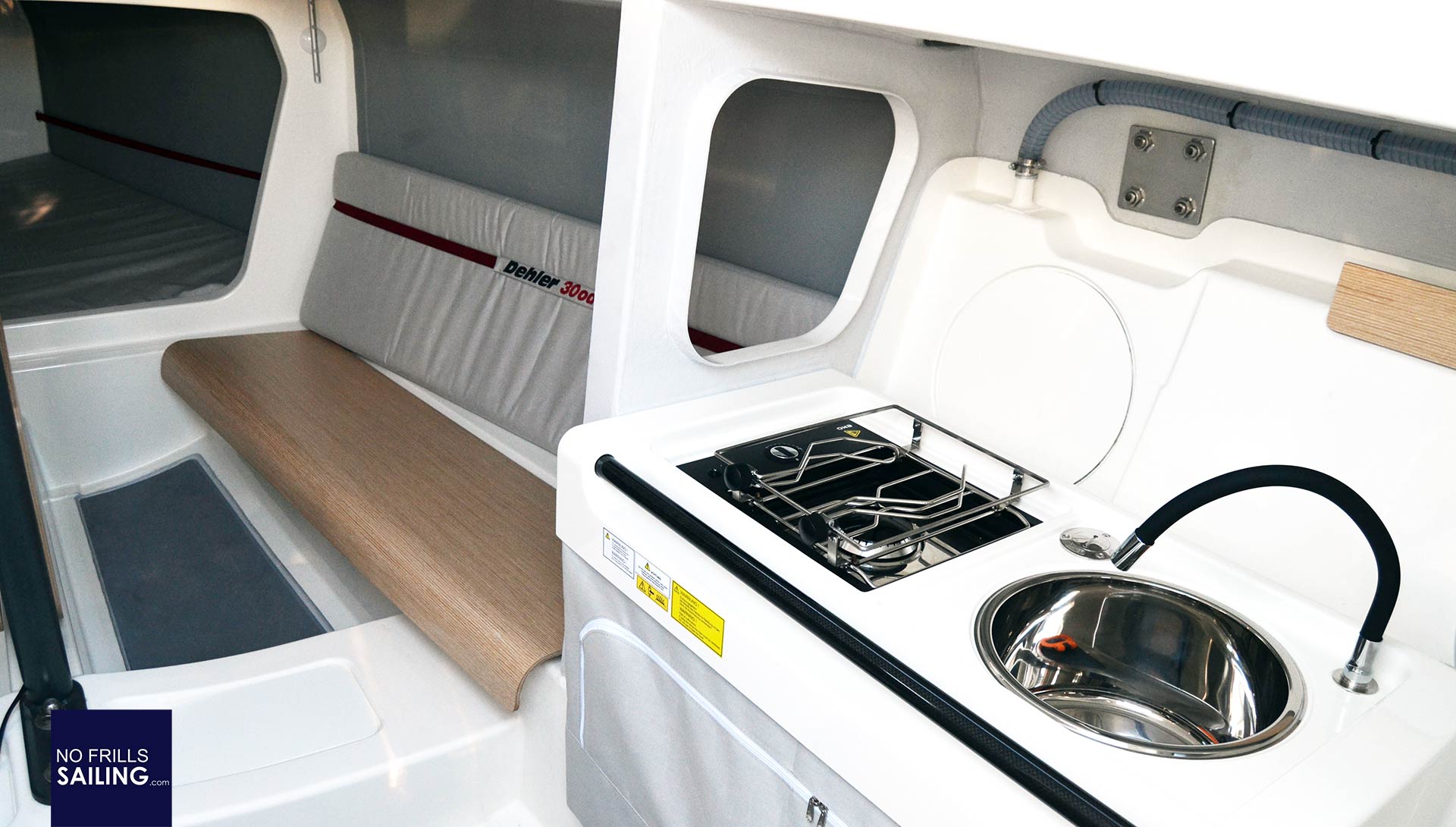 There is a bathroom (I loved the idea of the "floating" doors) and a fully operational galley with some nice ideas how to safe volume and weight. All this is due to a furthermore detailed inspection of the interiors of that boat. All in all, she truly is a piece of sports equipment but will be gladly offering a berth to find a good night´s sleep for the wet, tired skipper, a place to cook a decent hot meal and a sink to wash off the salt of a long racing leg. What could one expect more?
Is this the "European Yacht of the Year" 2020?
All in all I was pretty impressed by the Dehler 30OD and the work of the German yard. Later that day I talked to the guys of Speedsailing who test sailed the boat the days before. These guys have a name in Germany´s racing scene, acting as Pogo-dealers and partners for amateur racing skippers in the North of Germany. They had been full of praise for the boat. Judging by the glow in their eyes, there is no reason to not believe their testimony … all that is missing now is a sea trial for myself.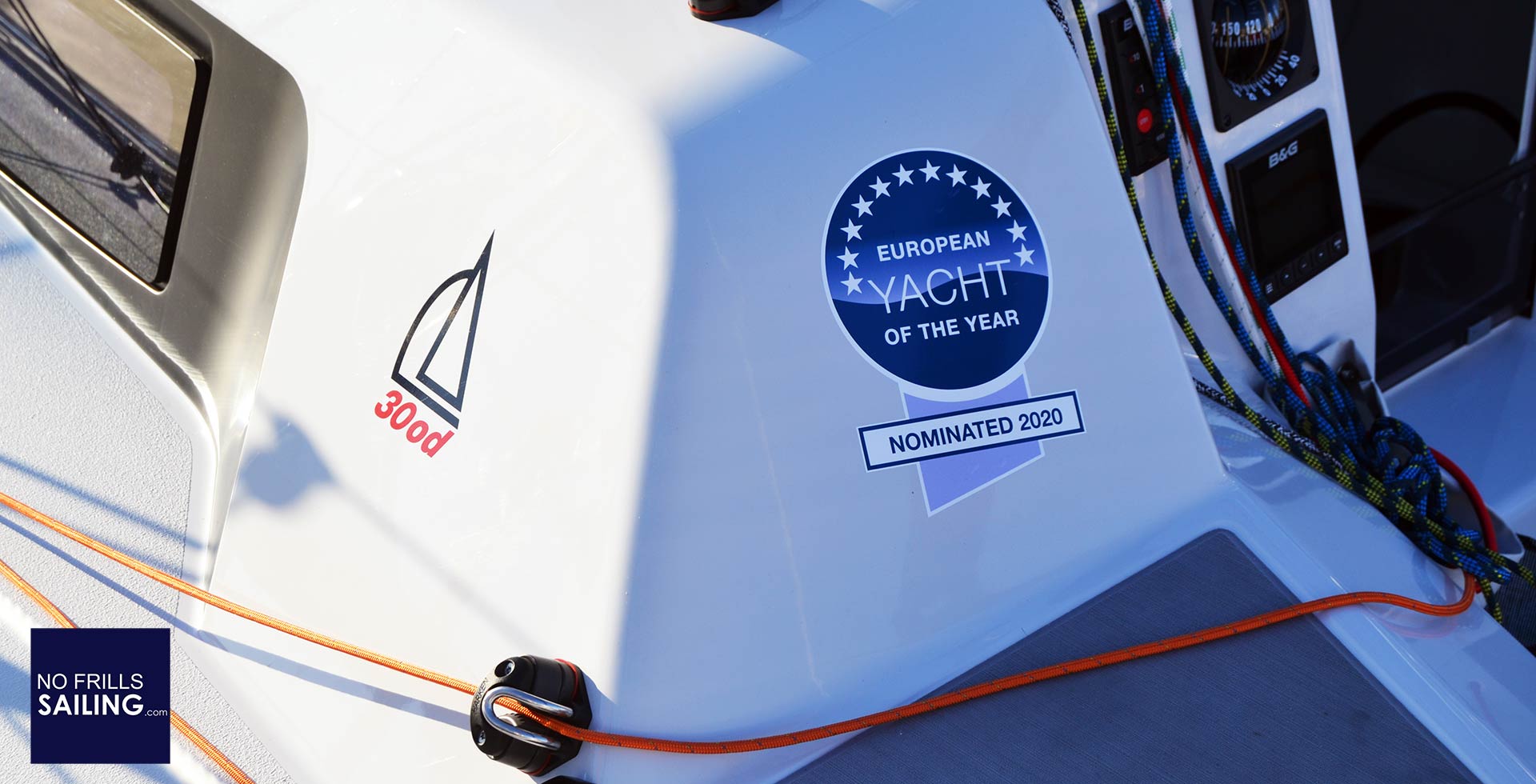 Dehler´s 30OD may be a perfect racing boat for a single or double hand crew seeking the sensation of "real" regatta racing in a modern boat. She is a complicated sports equipment that undoubtedly can be sailed very quick and very aggressively – and can also act as a perfect small boat for fast cruising with occasional racing. This is underlined by her receiving her accolade by being instantly nominated as "European Yacht of the Year 2020" which I hope she will be awarded later the year – it is great to see Dehler finally coming up with such a superb boat and I hope the brand will go on in refurbishing their performance-cruiser line as well in the near future.
You may also like to read:
Dehler 42 – my favorite yacht at Ancora Yachtfestival 2016
At the Figaro 3 production with Gianguido Girotti
JPK performance yachts: A yard tour with Jean Pierre Kelbert