The announcement of the world´s largest pleasure craft manufacturer, Beneteau, to revive the performance line – called First – some two years ago came as a surprise and as a relief for sailors. It was also raising expectations to how the French yard will on the one hand re-connect to the rich past of First yachts plowing the seas back from the Seventies till the Nineties on the one hand and how these new boats will be like in terms of competing with current state-of-the-art performance cruisers like Solaris, X-Yachts and others. Releasing the renderings released of the First Yacht 53 sparked a rich conversation about Beneteau´s approach – now, with hull #1 in the water shown in Cannes 2019 the boat was finally there ready to be explored. Let´s join me on a complete walkthrough.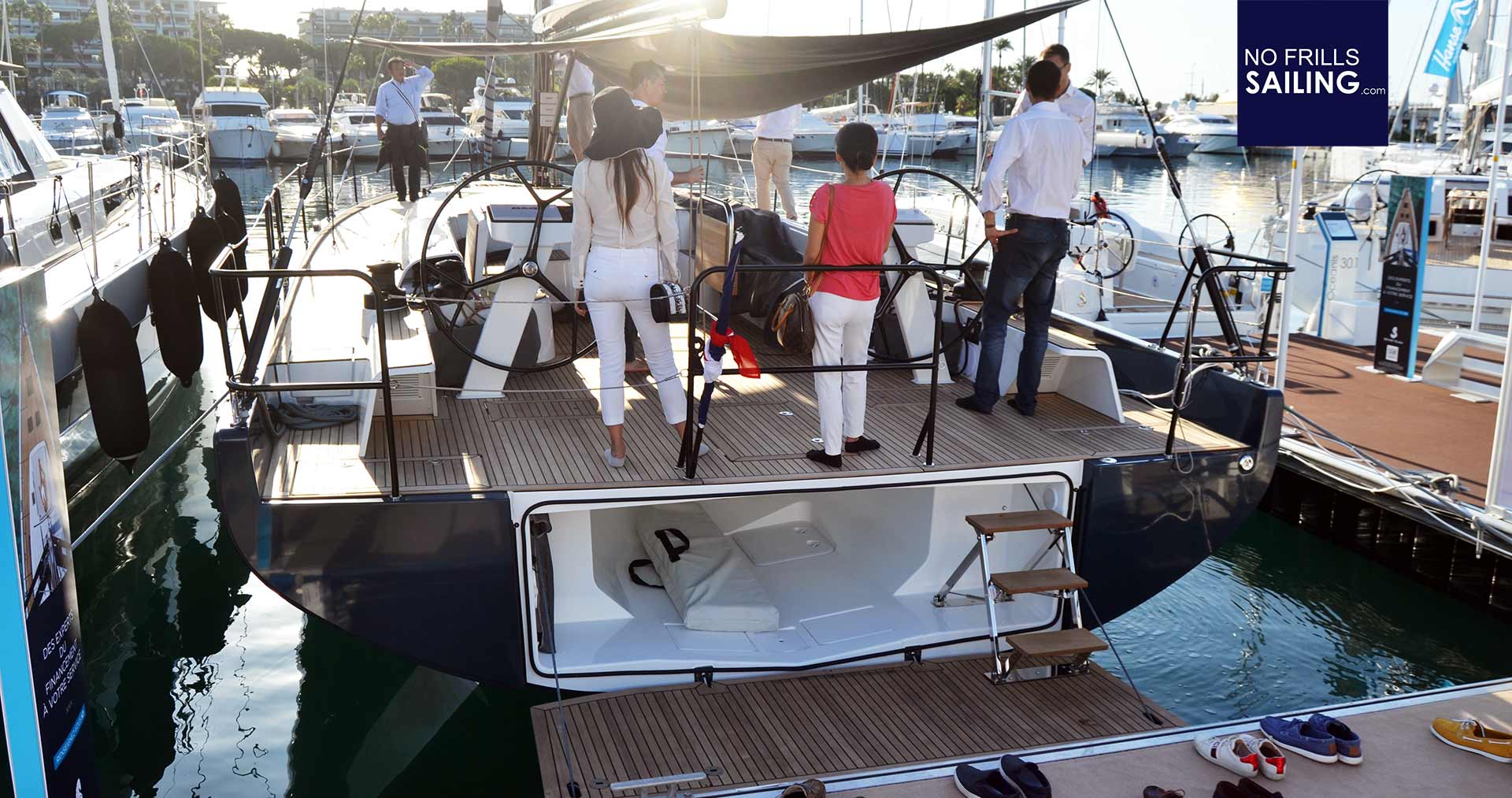 Although I didn´t really liked the new concept of splitting up Cannes Yachting Festival into two different marinas, Beneteau managed to provide a nice collection of their current sailing yachts range from Oceanis 30.1 to the lovely 46.1 and the magnificent 51.1 – but the real star of the fleet has of course been the all new First Yacht 53. Queues of people waiting in line to enter this boat, waiting times up to 30 minutes – it was a pleasure seeing so much interest in this new yacht. Which didn´t quite came as a surprise.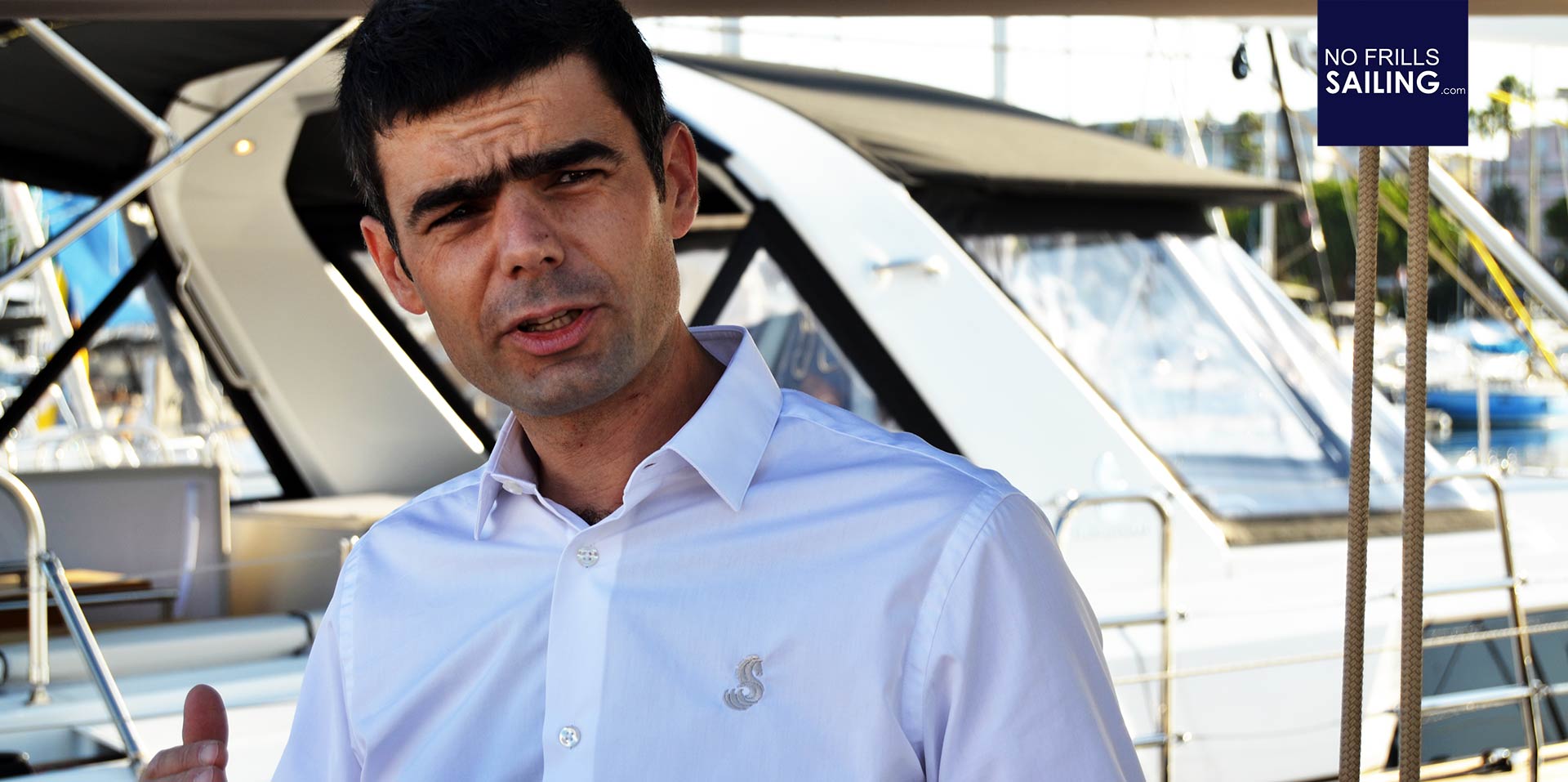 Talking to Damien Jacob, product marketing coordinator for Beneteau´s sailing yachts, I realized that every little detail in the new First Yacht 53 has been meticulously thought through over a development period of more than 3 years – every inch of the boat, every piece and bit has been revisited, analyzed and if necessary re-designed to fit a new holistic approach. The First Yacht 53 truly isn´t just a faster Oceanis, she is complete re-thought concept of boating (a fact that I tried to explain in a past article, read it here). And the true revolution, the most impressive outcome of this new approach, can be seen inside of the boat, and so we will start our tour under deck.
Revolution in interior yacht design
Entering the large salon of the First Yacht 53 one instantly recognizes that something different has been done here. Something very different. This 53-footer is a big boat indeed and the internal volume available to the interior designers is huge. One a first glance they sticked to a proven and classy 3-cabin-layout: Galley to port side, a head to starboard side, a salon up until the fore bulkhead. But here´s where the differences to all currently available other yachts kick in.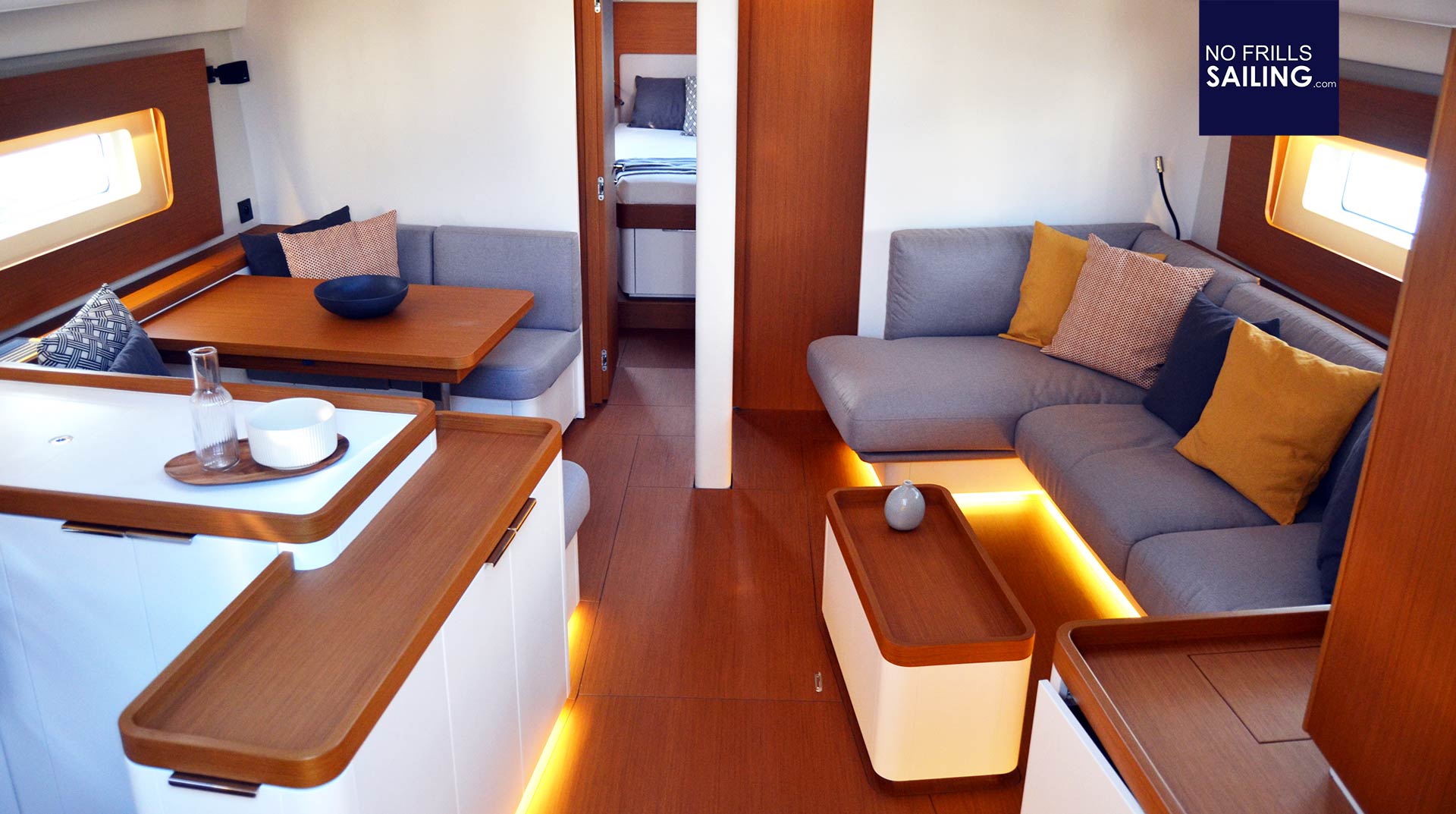 Studies done by the yard had been revealing that people rarely use these large dinner tables of their boats. Boating is taking place in good weather conditions, mostly in summer when it is warm and dry outside – so the crew and guests will spend most of their time outside up in the cockpit. Even when they prepare meals aboard, they will enjoy them up on deck. So Beneteau decided to get rid of those large dinner tables.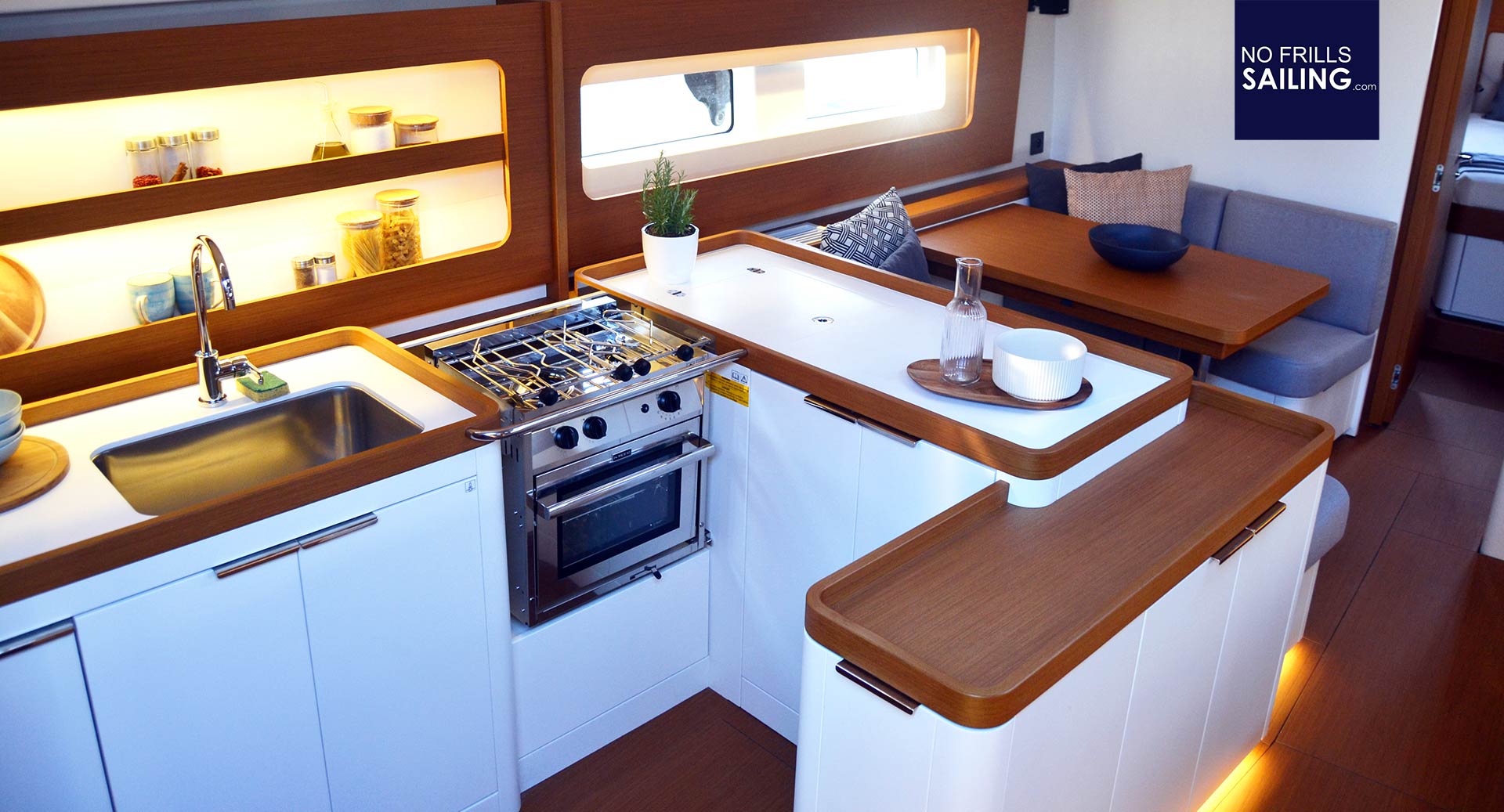 Of course you need a place where to sit down, have a coffee or a quick breakfast, so first thing they´ve done is to incorporate a small dining table right in front of the galley at one of the large port-side hull windows. The table is small enough for not eating up too much of the precious volume – two people can sit here and have plenty of space available, four adults is possible by a slid-out element that can enlarge the dining table. That´s a cool move, and two flies with one hit: The chart table that grew smaller and smaller with every new iteration of cruising yachts up to a point where it´s cramped somewhere just as an alibi and cannot house a tablet anymore – is gone! So, if the First Yacht 53 skipper wants to do the chart work or logbook – take a seat at the dining table. Nice!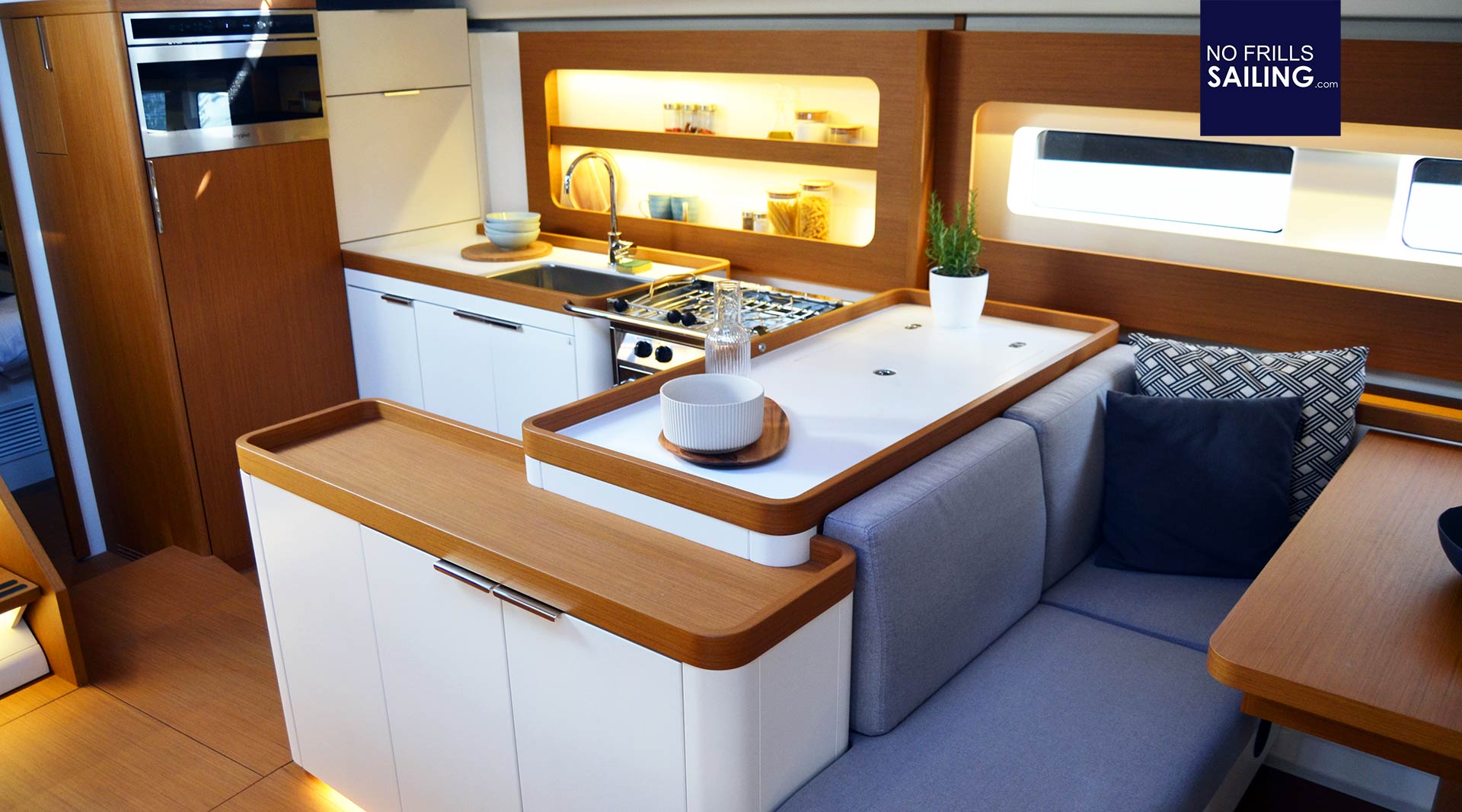 The First Yacht 53 has a great galley. The amount of cooling and freezing stowage is amazing (to the price of having to install batteries and a genset/generator). There is an XXL-sink, very nicely chosen mountings, Corian is standard. All white surfaces of the interior furniture are hand lacquered and executed perfectly, the fittings are of superior quality and a real step up from already good Oceanis-standards.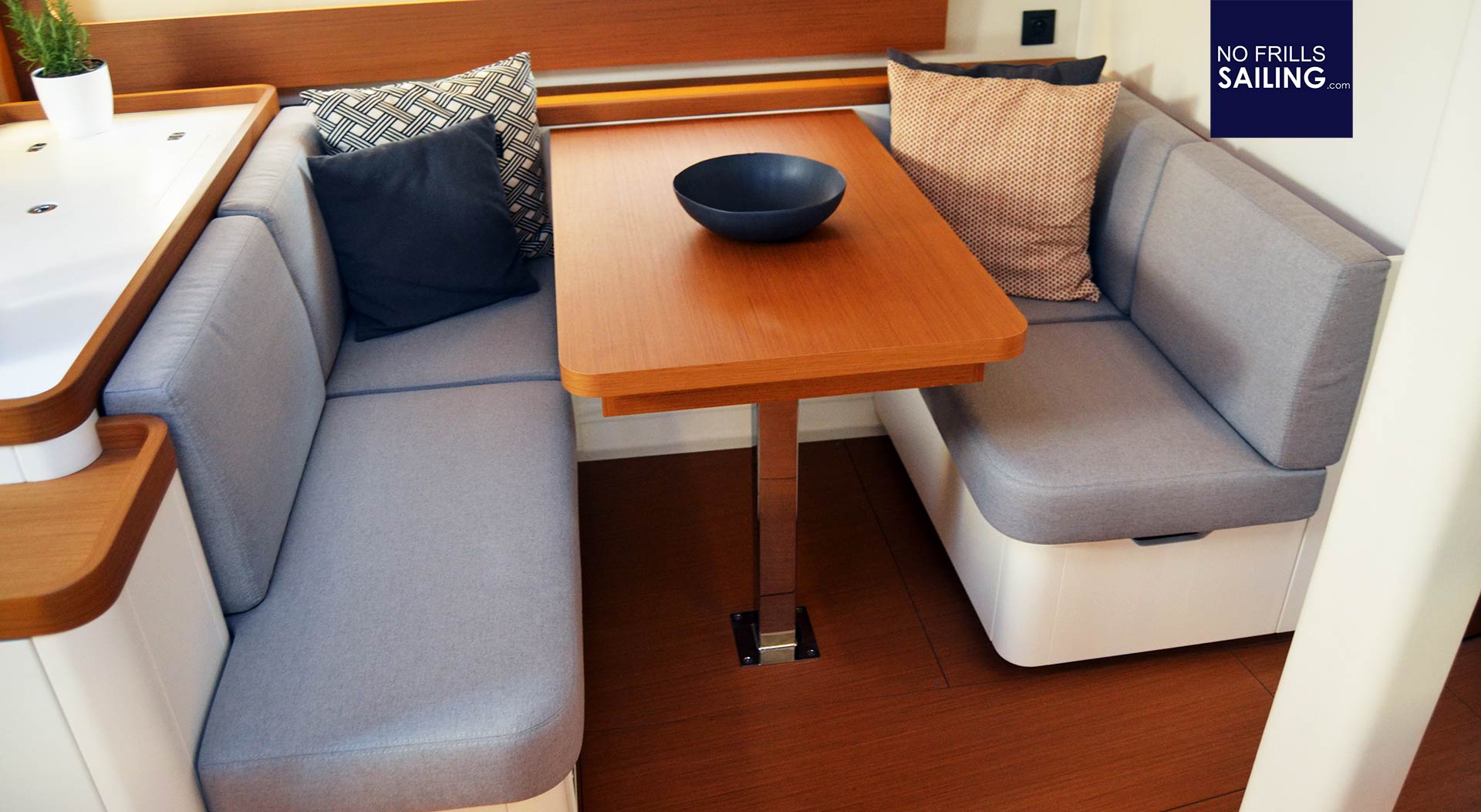 The small dining table – or should I call it "coffee table"? – can be lowered and fitted with extra cushion to form a surplus reclining sofa. But the real clever trick is to save space for rather useless big "las supper"-style dinner tables. Referring to my article on the new Nautor´s Swan 65 as seen during Boot Duesseldorf 2018: The exact opposite seen there revealing the whole dilemma of current interior yacht design: The Swan is a perfectly built and adorably beautiful boat, but it cannot deal clever with internal volume, offering not one, not two but four (!) dining and seating areas. Crazy!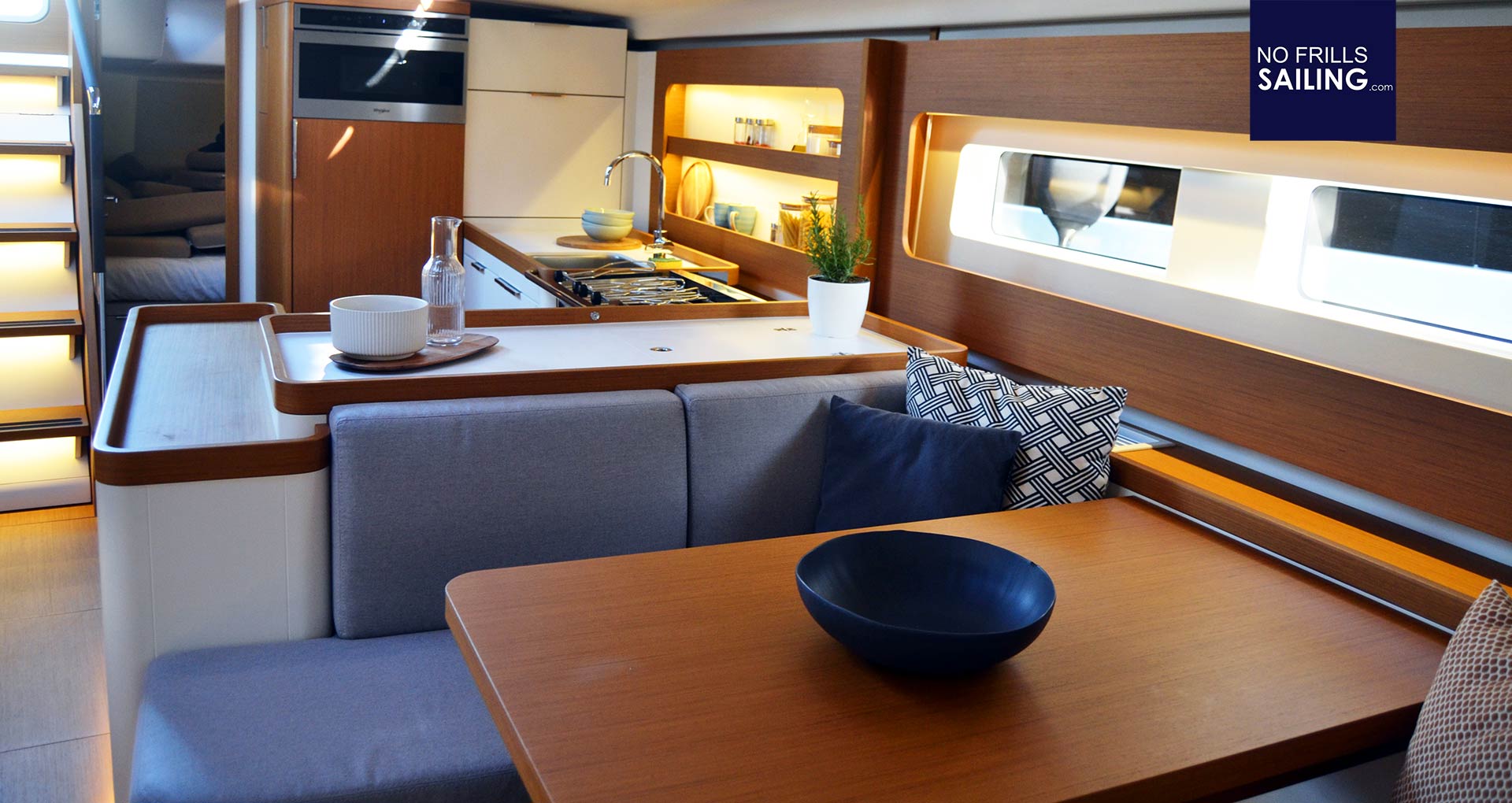 So here´s the first true revolution and revelation in the First Yacht 53: No large, useless dining table and no alibi chart table anymore, instead, a sexy, clever and well-sized coffee table at exactly the right spot of the boat with a multifunctional purpose. Judging from my own reaction and the feedback by the visitors to the boat, Beneteau made a choice that was on-spot and exactly right. Chapeau!
Boule moulé – the art of rounded edges
Another great detail of the First Yacht 53 interior design is the choice and quality of material and finishing. I spoke about the white lacquered furniture surface which blend in rather beautifully with the design. Beneteau´s designers looked at the tradition and the heritage of past First yachts and they re-discovered a specialty Beneteau was once known for and a leading producer: The so called "Boule moulé" technique.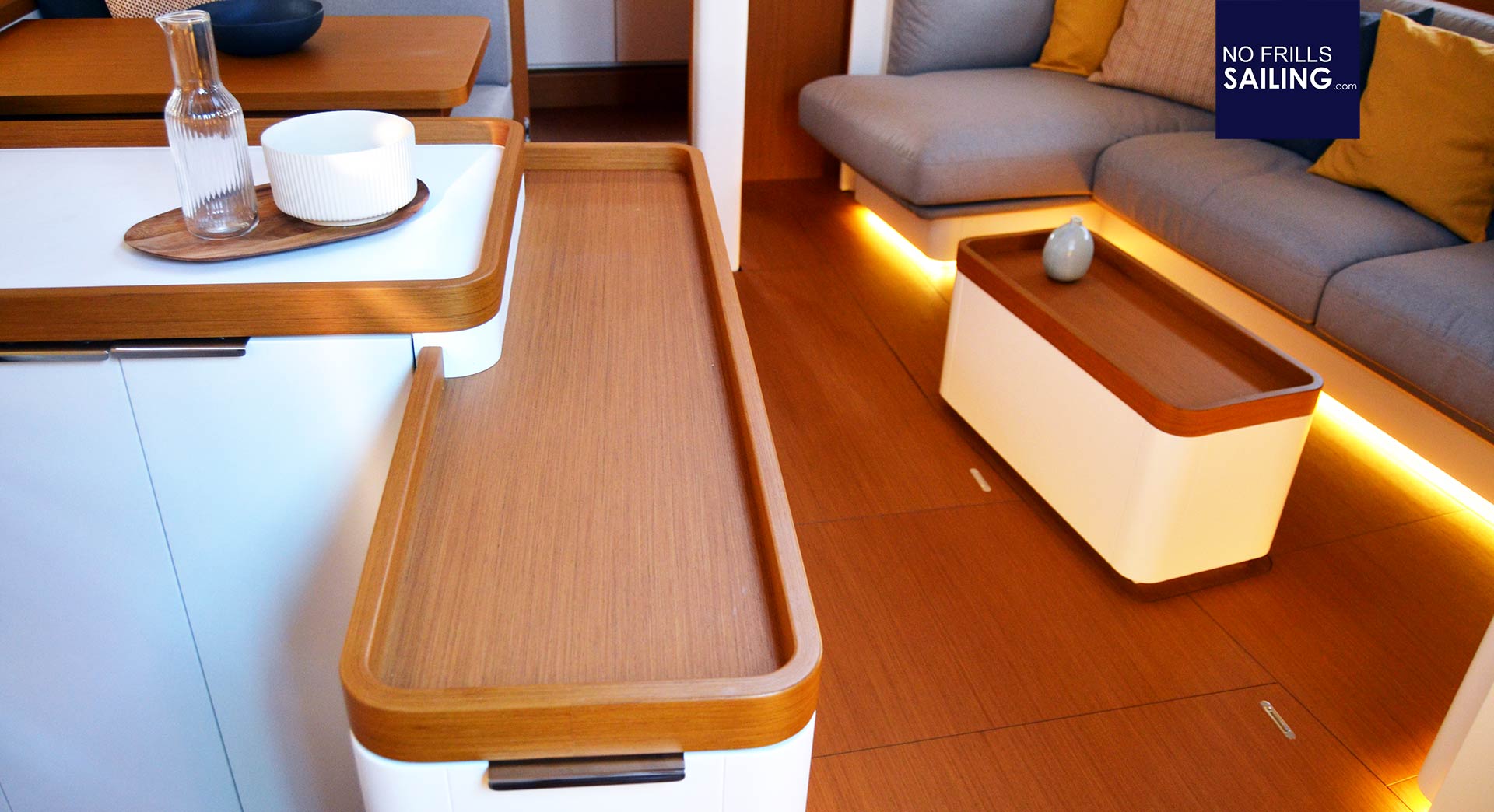 Boule moulé are dozens upon dozens of layers of thin wooden sheets laminated into a mould to form round edges. These very hard and solid blanks are cut to pieces, smoothly sanded and lacquered to form those beautiful, solid grab rails and end-fittings of the furniture built into the First Yacht 53. Just look at the effect the extensive use of those Boule moulé-parts has to the overall look and feel of the boat´s interior! It´s just awesome and not only a reference to past Beneteau First yachts but also a clear statement: Making a Boule moulé is very expensive and time consuming, thus having them in these boats is a boost of building quality. A boost in appearance of the whole yacht it is indeed!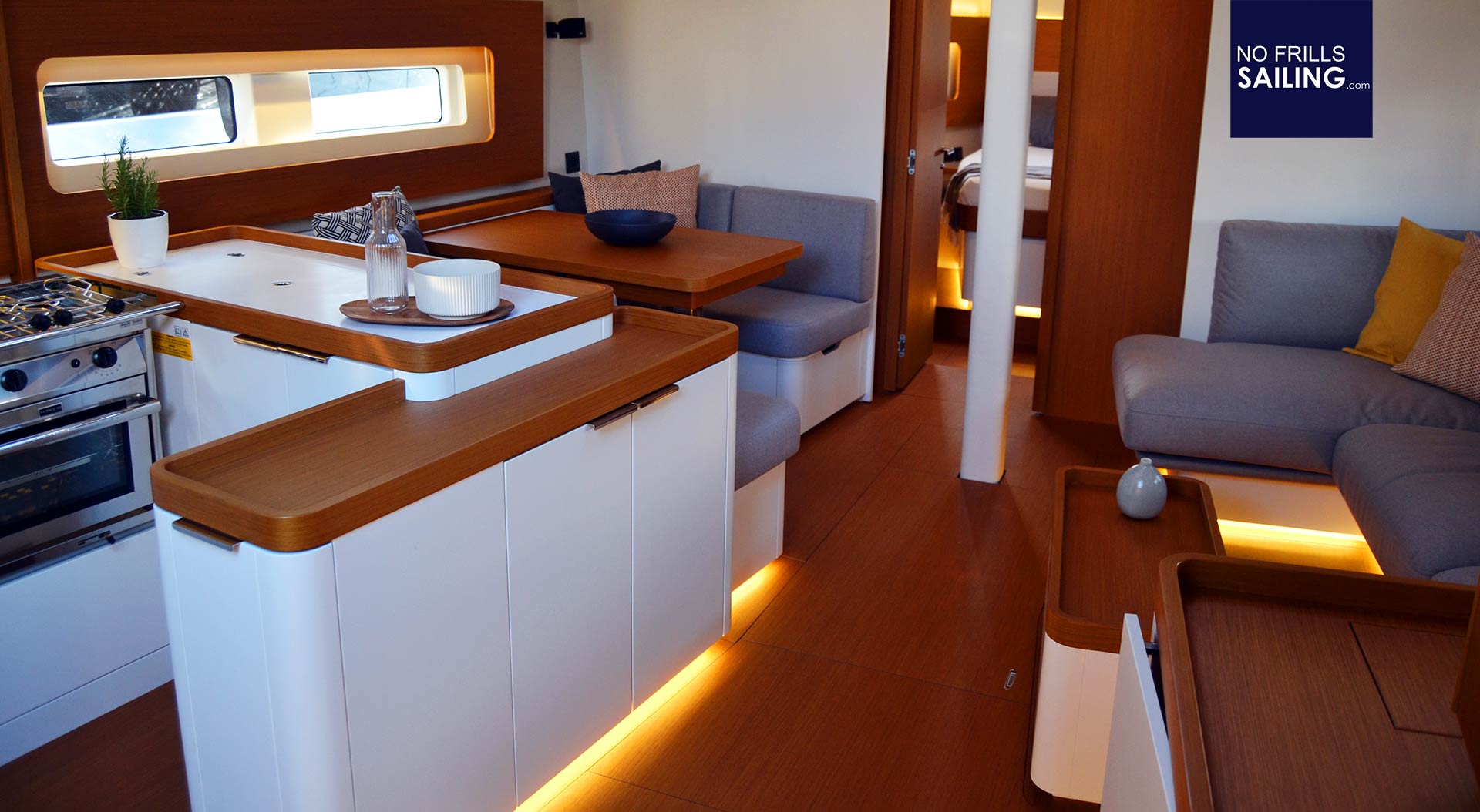 I loved the choices that have been made in designing the First Yacht 53 interior. I know that it was unavoidable from a constructional standpoint but the only thing that is a minor downside is the small step from salon-level into the galley. Crew and owners will be aware of that I am sure and again it is done because otherwise standing height would have been compromised in the galley, so it´s a minor issue. Other than that, I am overwhelmed!
Lost in cushion – a new level of yacht sofa
So, what to do with all that new free internal space now that we´ve got rid of the "last supper" dinner tables? Well, Beneteau´s research showed that when people retreat down below they mostly do so in the evening hours shortly before going to bed: They seek a place where they can recline, be slouched in a sofa, maybe sipping a last long drink and having a nice conversation or watch the evening news. So that´s how Beneteau designed the new salon: It´s a lounge for pros!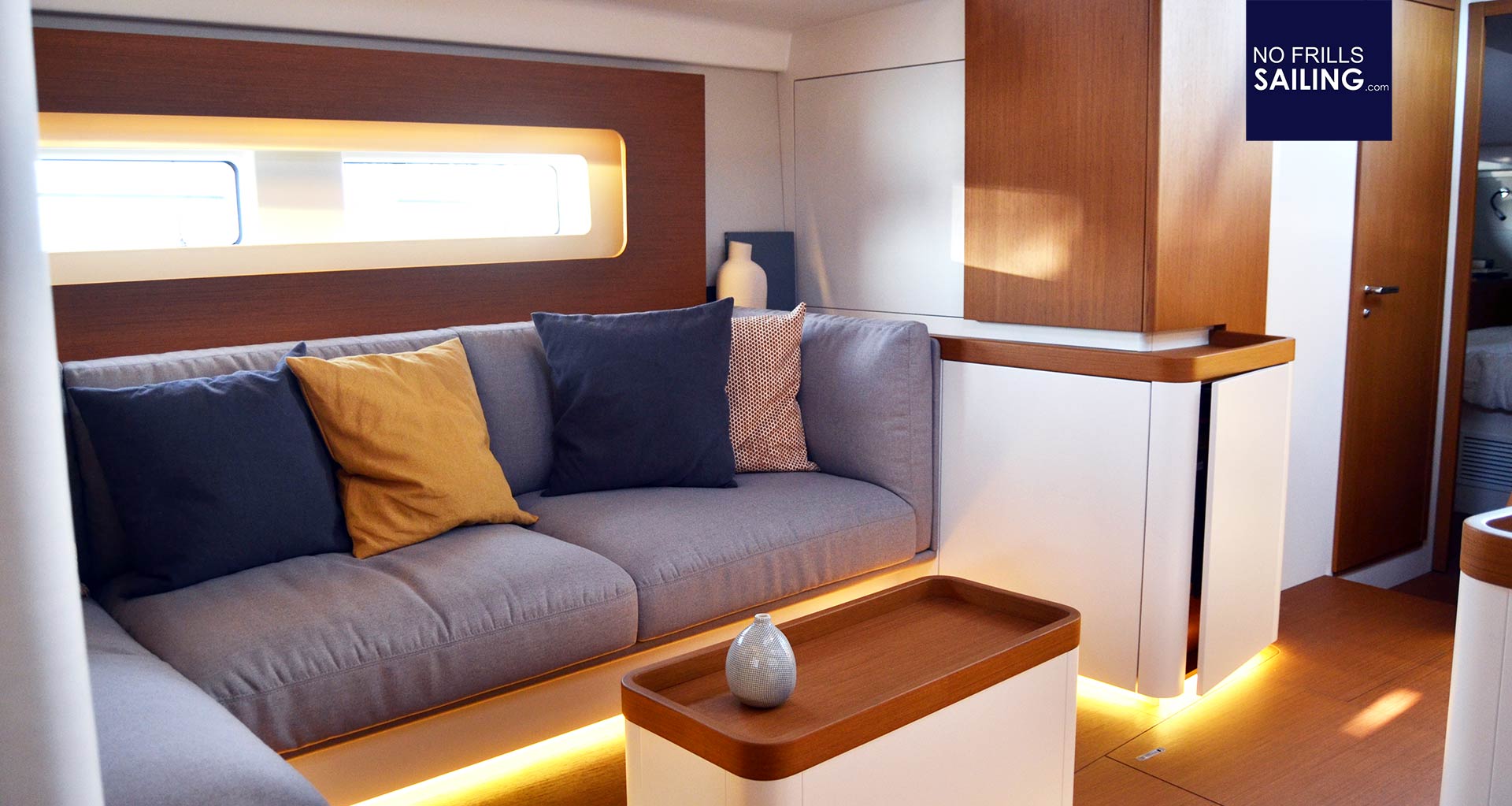 The may make the salon look small but that´s a visual illusion. The sofa of the First Yacht 53 is the second revolution. For the first time in boat building history (so they say at least) a yard went to a sofa producer and started a collaboration. In case of the First Yacht 53 this was an Italian brand known for making luxurious couches and sofas. No less than seven (!) different iterations of especially built sofas had been tested before a decision had been made.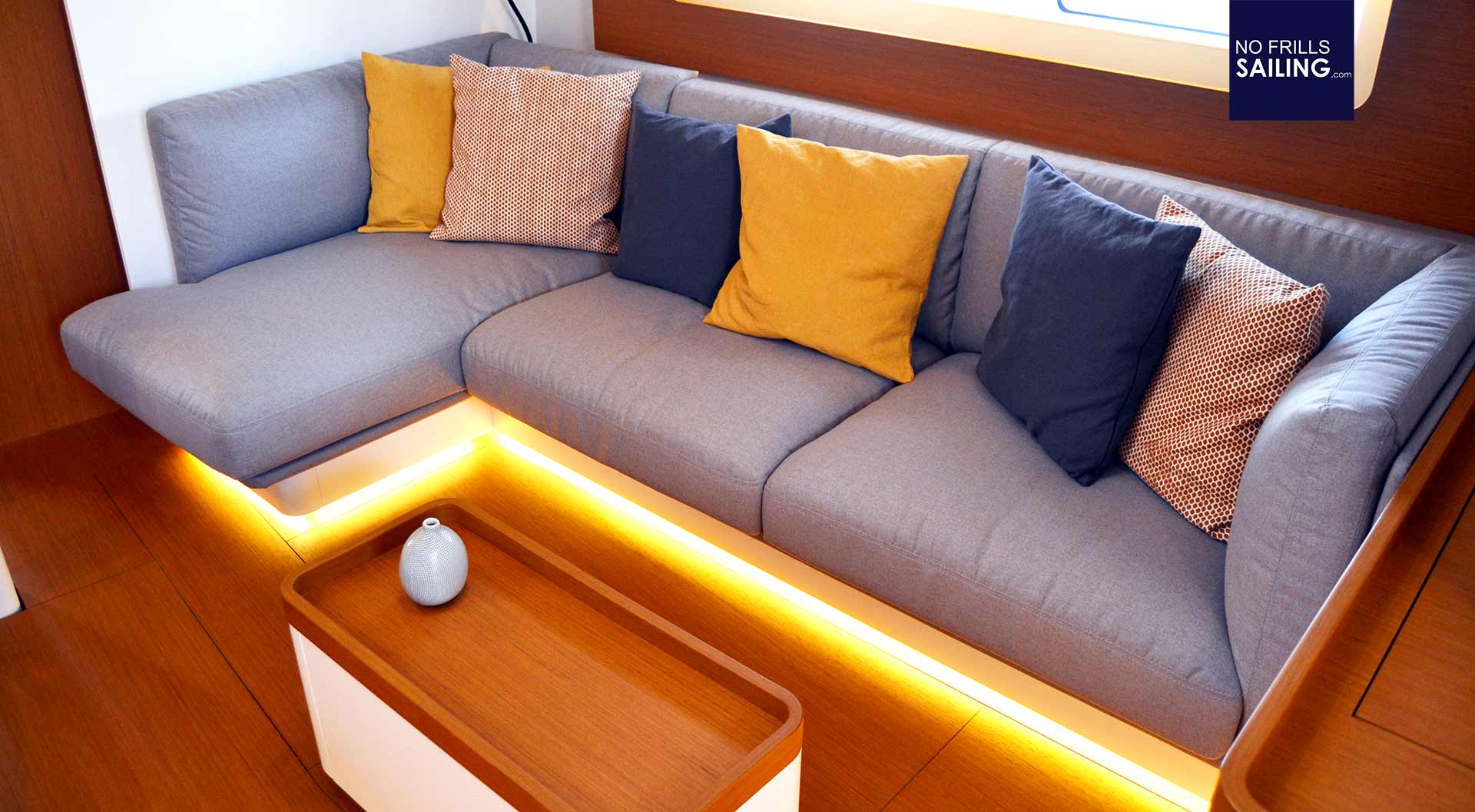 In the end, the sofa of the First Yacht 53 is a huge lounge area. Cushions are so cozy, so soft, so comfortable that once be seated here it´s hard to get up again. This sofa hits the spot right away: It´s not just cushions on a GRP-moulded surface, it´s a purpose-built couch made to provide maximum recreational effect. And it does this so well!
Rest assured, First Yacht 53 provides three gorgeous cabins of which naturally the fore cabin with the large island bed is the king. I loved the small seating arrangements to both sides of the bed providing support when getting dessed/undressed on each tack, I liked the utilization of indirect LED-lighting making the island bed "float" in the air and again the light-suffused interior, well chosen interaction of wooden and lacquered surface.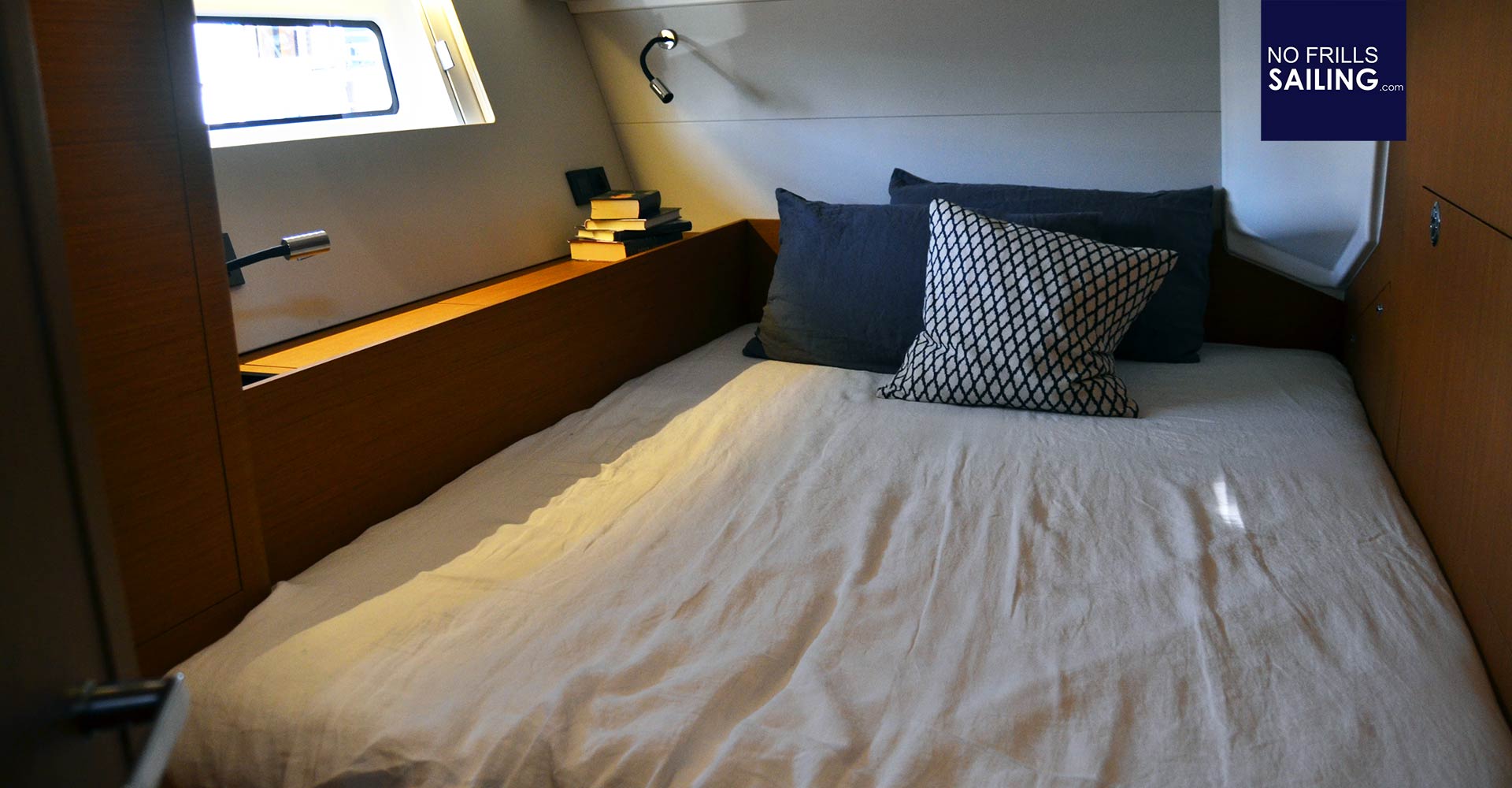 The aft cabins are as well big-size and executed perfectly. Beneteau covered almost every inch of bare GRP with wooden panels or leather/denim covered panels. The large port hole windows in the hull make the cabins suffused with natural light and provide a breathtaking view over the anchorage or sea when sailing, especially when under water in heeled condition. 10 points, Beneteau – this is just a perfect yacht´s interior!
Open Maxi Racer´s transom
But also the outside design is worth some notes. Upon releasing of the first rendering the internet exploded, which was to be expected, with some expressing disappointment of the design. They stated that Beneteau in their mind didn´t come up with something "fresh" and "new" but rather sticked to a classy design approach. I agree that for example the presentation of the then brand new Oceanis 51.1 was a huge step for Beneteau in cruising yacht design and the sister designs of their 46.1 and 30.1 made people applaud rightly so. Choosing the classic approach for their new First Yacht 53 was on the other hand logical – and by the way not less exciting.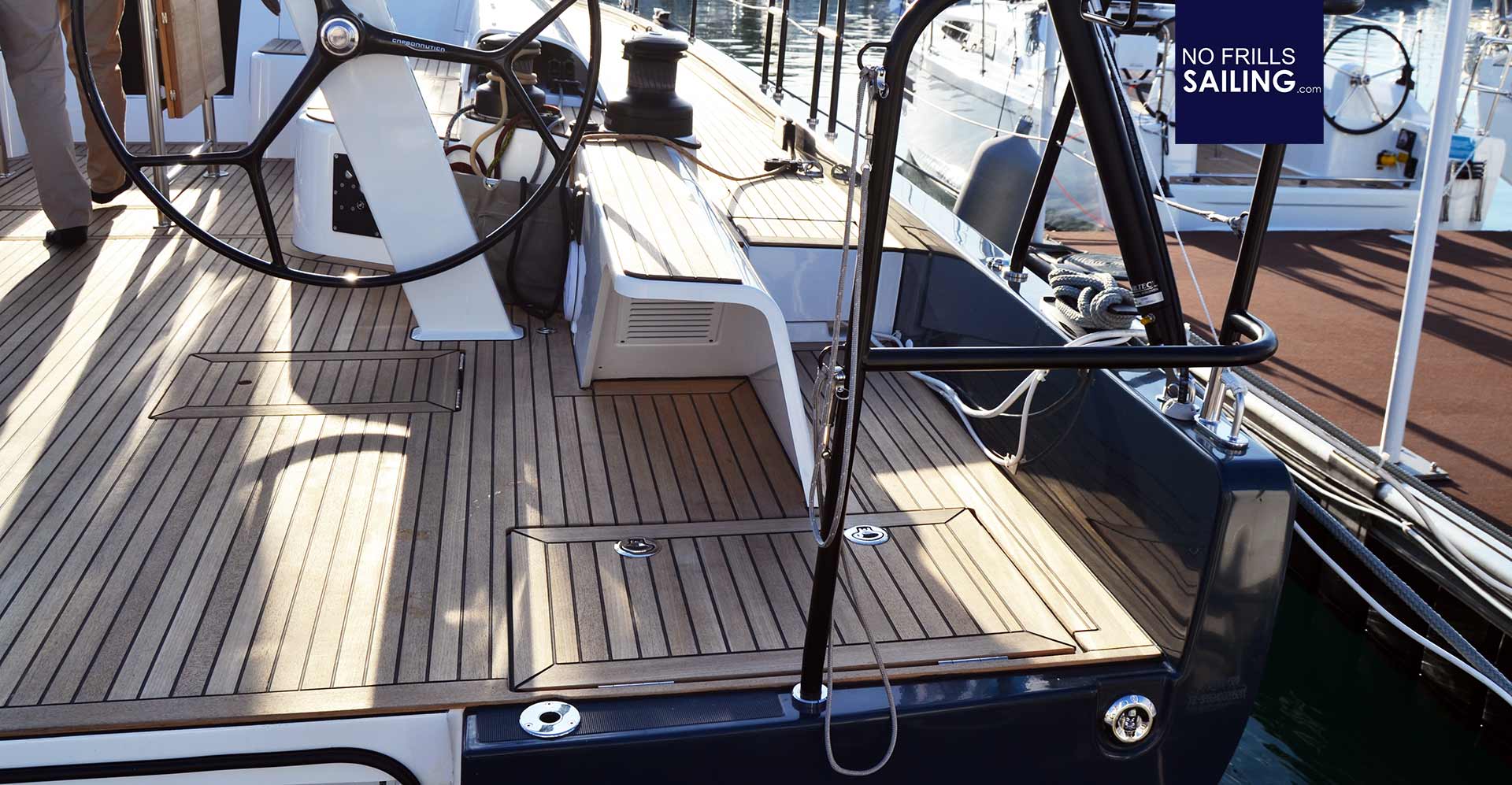 First detail is the perfectly shaped open transom that is clearly derived from pro racing yachts. As Damien Jacob was putting it: "In most performance sailing boats the transom looks nearly the same. The boats are virtually indistinguishable from each other as the design provides little differences." Not so with the First Yacht 53 – the 5 metre wide stern section is flush and open. The superstructure and seating benches end well before the steering posts, elongated by cleverly and sexy shaped seats for the helmsman.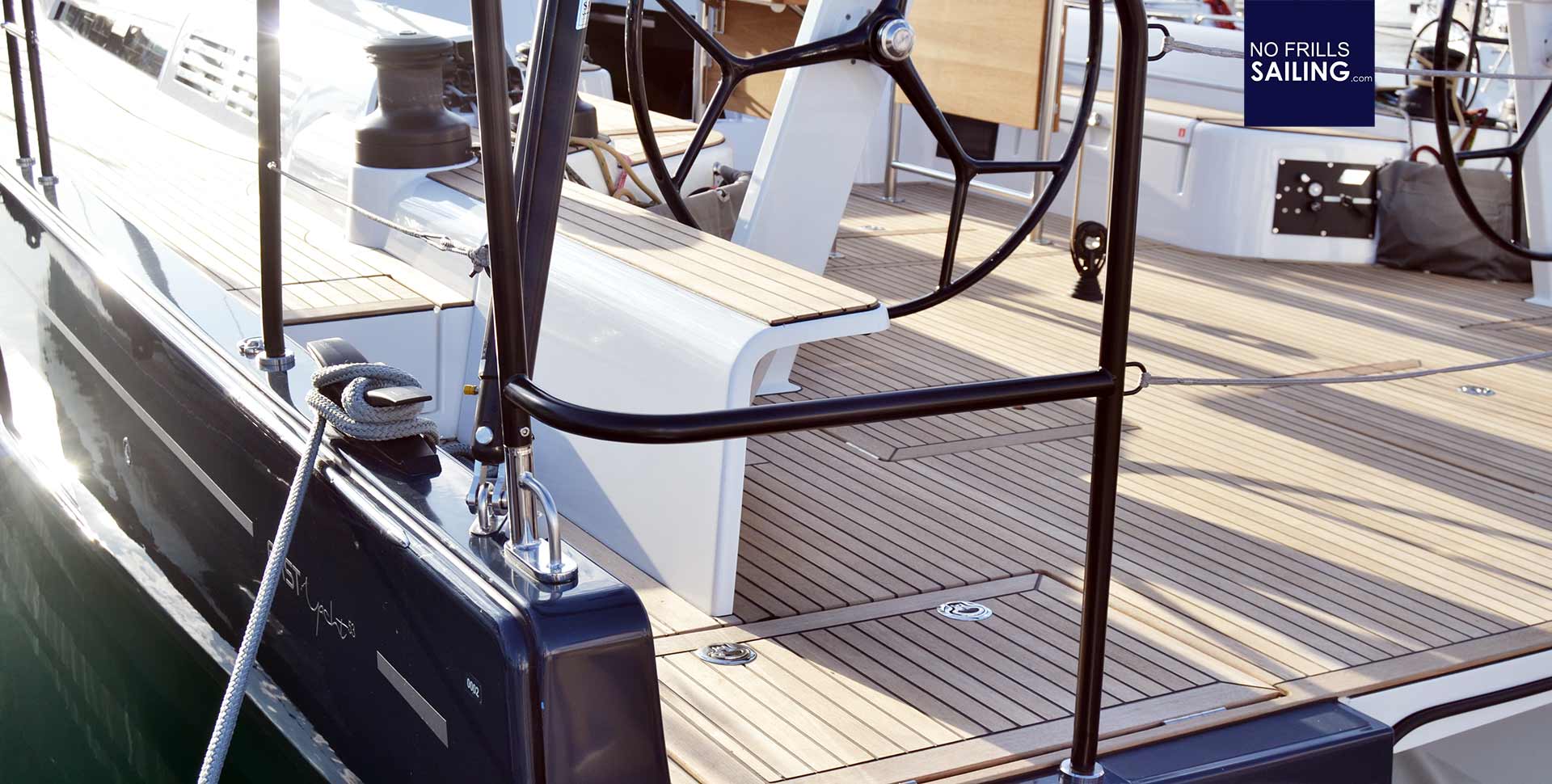 These seats are placed and sized in a way that crew members can pass by and walk around the helmsman to the side decks without bothering the man at the wheel. Moreover, Beneteau could cleverly hide shore power connection under flaps. This nice configuration helps to insert a very tempting sheerline that is unique and classy, making the First Yacht 53´s appearance so beautiful.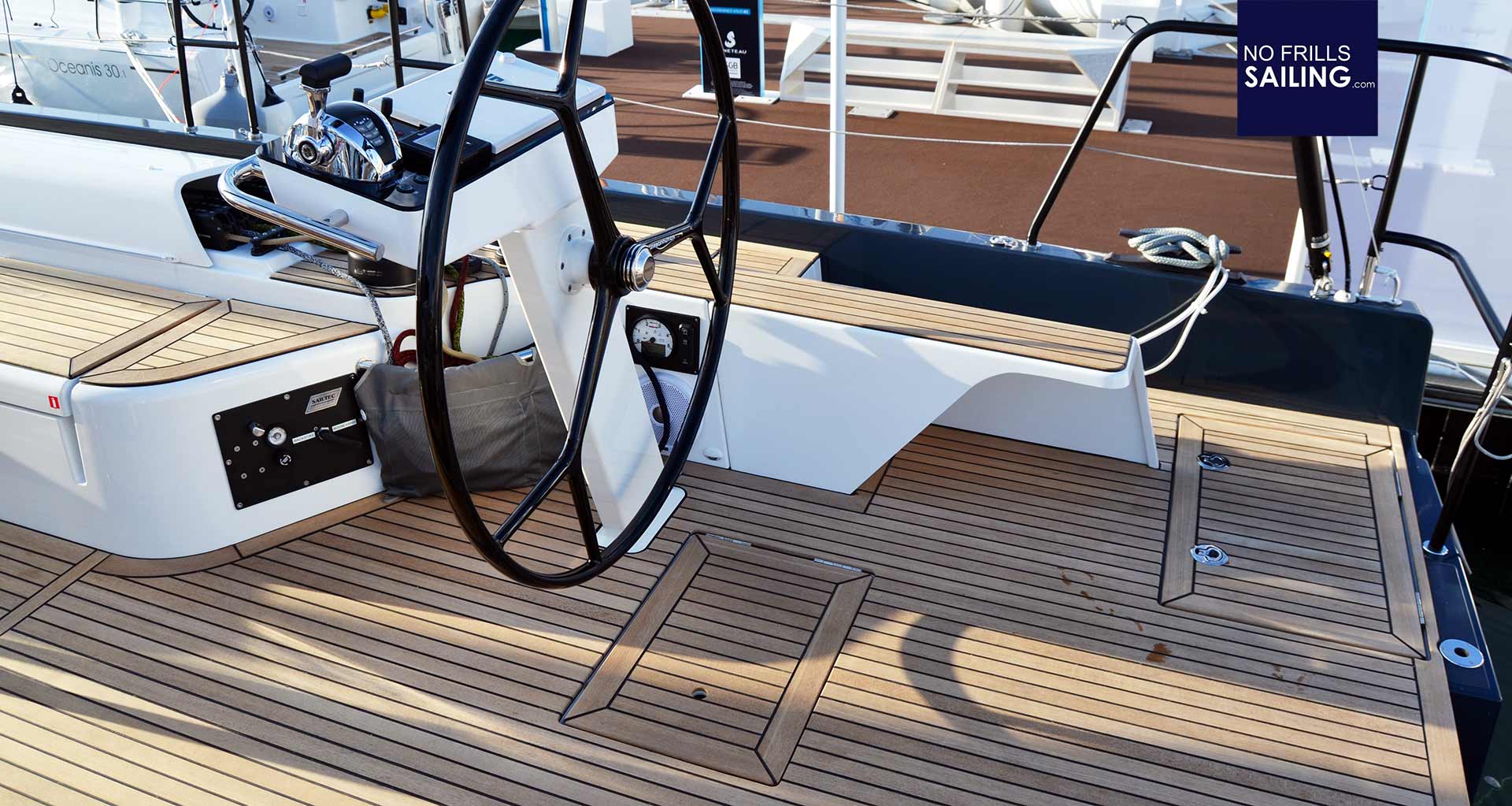 With the First Yacht 53 many, many features come as standard and aren´t money-intensive options. Such as the black composite steering wheels or black lacquered stanchions of the reeling. The steering post is huge, providing electronic engine throttles, a laaaarge plotter display and secondary instruments. Backstay is operated by hydraulic means.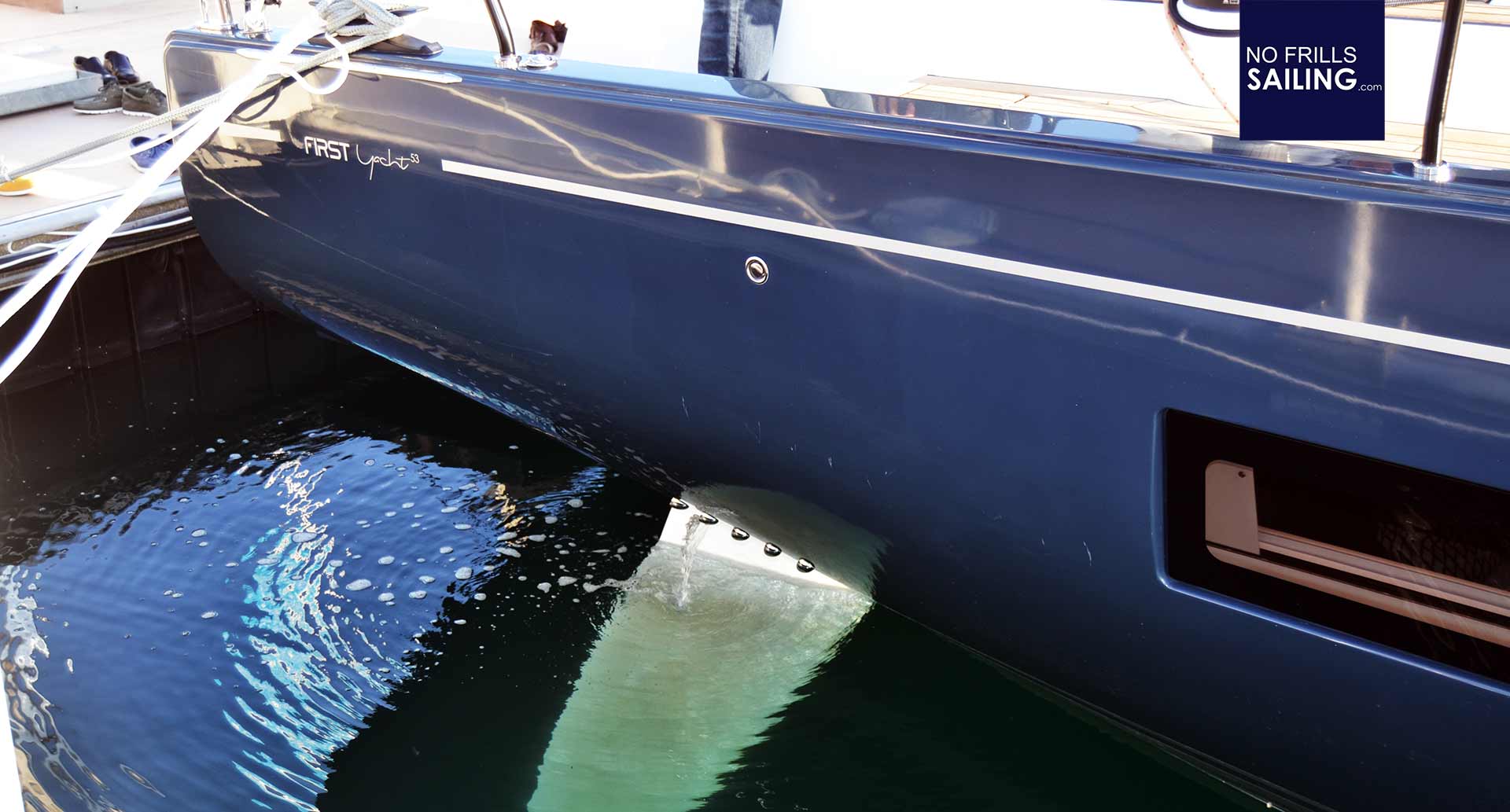 Of course does the First Yacht 53 come with double rudders which – in my opinion – offer far more advantages than disadvantages over single rudder configuration on wide-sterned reaching boats like the First Yacht 53. I couldn´t sail the boat as of yet but judging from my experience with other Beneteau made yachts I assume that steering will be featherlight and direct, almost instantaneously translating steering commands to course corrections.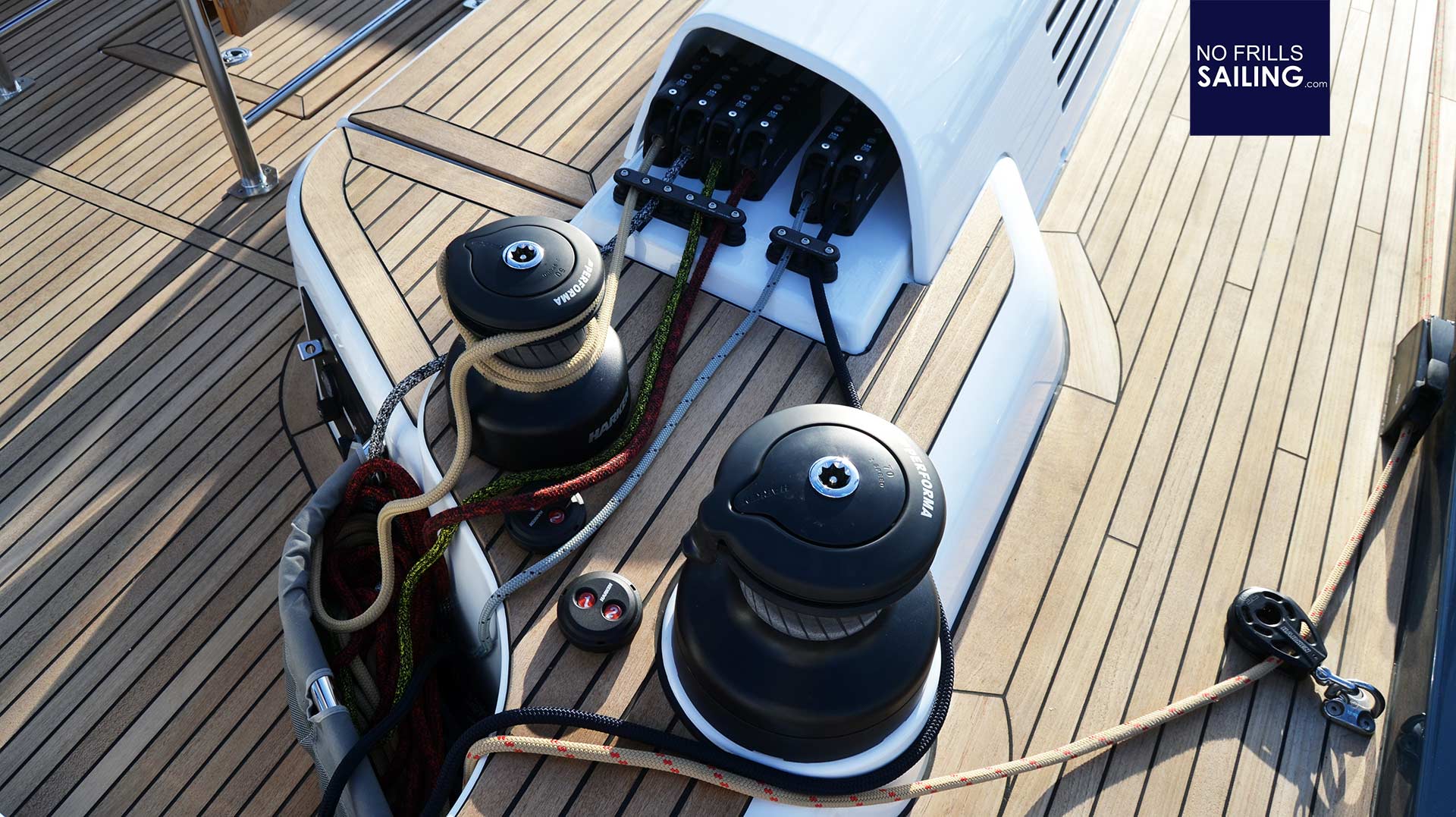 Although the First Yacht 53 is meant to be a performance cruiser and thus race-ready to be put into serious gentlemen´s races and regattas, her running rigging layout clearly points toward single handed sailing. All sheets, halyards and reefing lines are running all abaft to two working winches and two large Genoa winches – by the way, Harken performa winches are standard equipment, of which port side working winch (where the main sail halyard is operated) is electric by standard. The helmsman can operate all winches from behind, nevertheless, in crewed racing mode all four may be manned by an individual offering enough room for crew members to gather at their winch.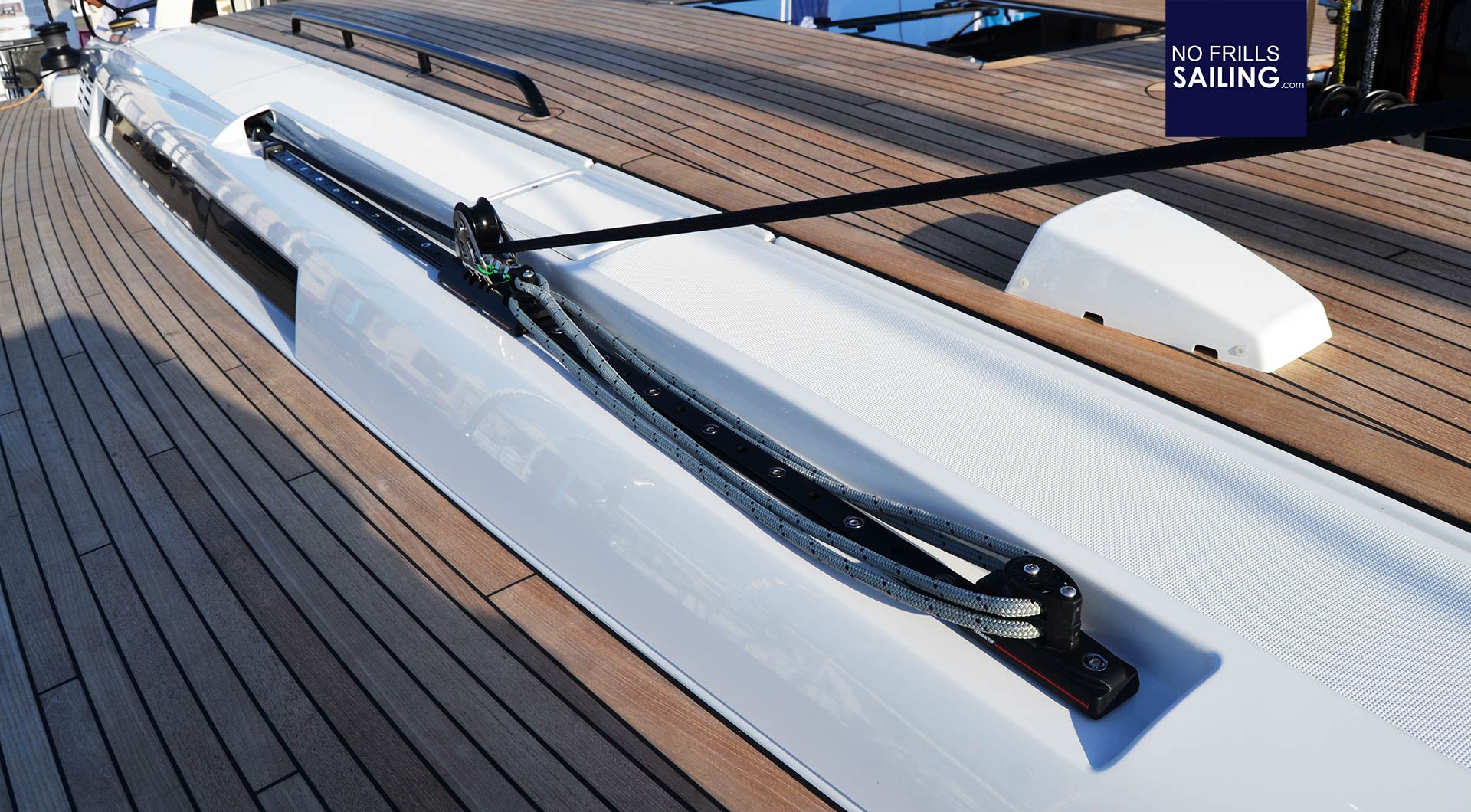 I loved the small details, like the recessed Genoa tracks. Again, lines for trimming sheet leads are also running flush under the coach roof. The recessed traveler not just adds to the sheer and clean looks of the boat but also enables the Genoa or jib sails to come up with slightly more sails area. By the way, Beneteau also offers a large mainsail traveler as an option, so serious racers may adapt their First Yacht 53 to their needs nicely here.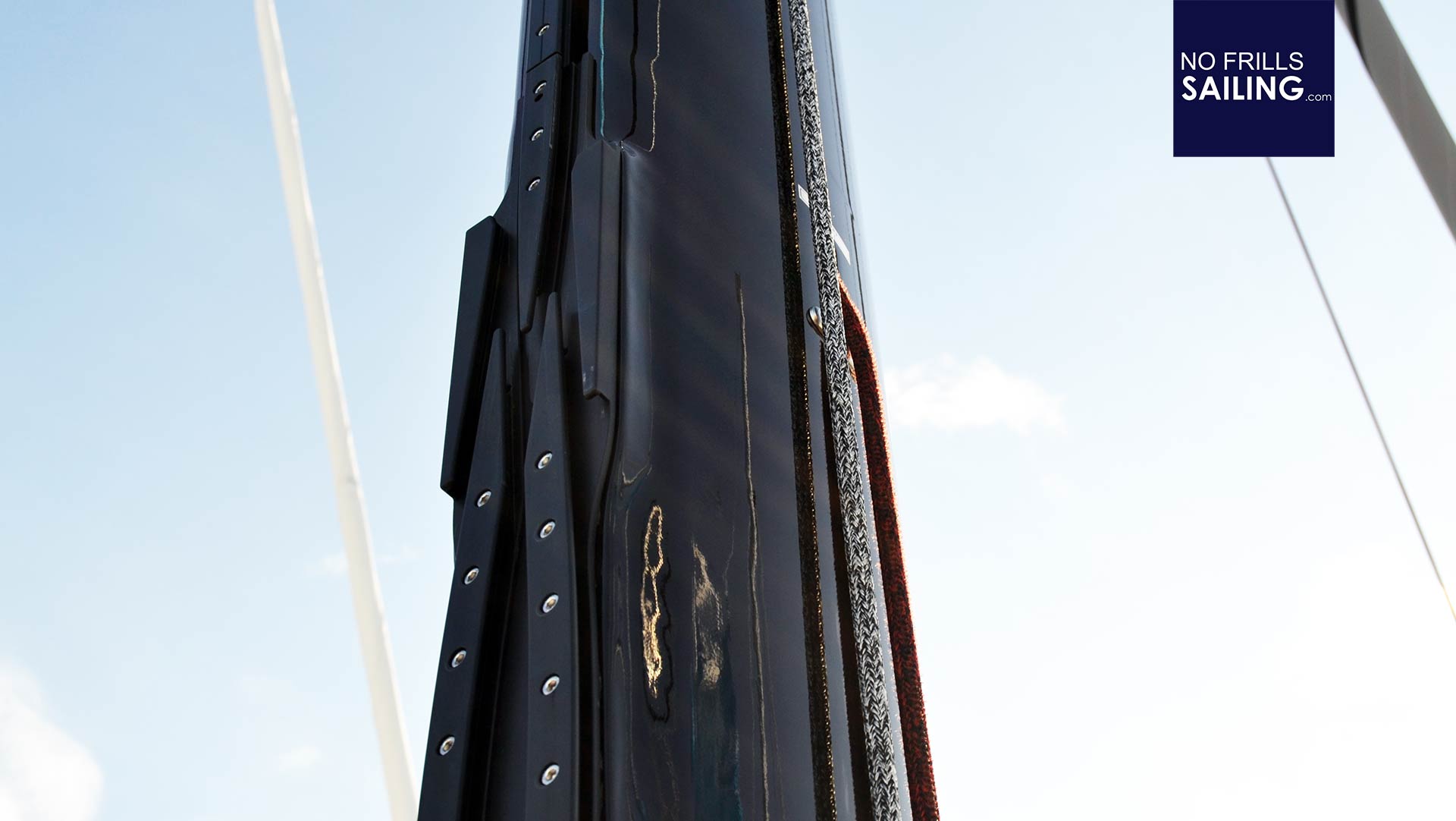 Also coming as standard on the First Yacht 53 and a great detail is the Harken mainsail switch system for the luff. In order to have the mainsail stacked nicely and not having it piled up too high, the mainsail switch lets the mast sliders enter either left or right hand track when coming down – thus reducing the stacking height of the folded mainsail significantly. That´s a nice thing!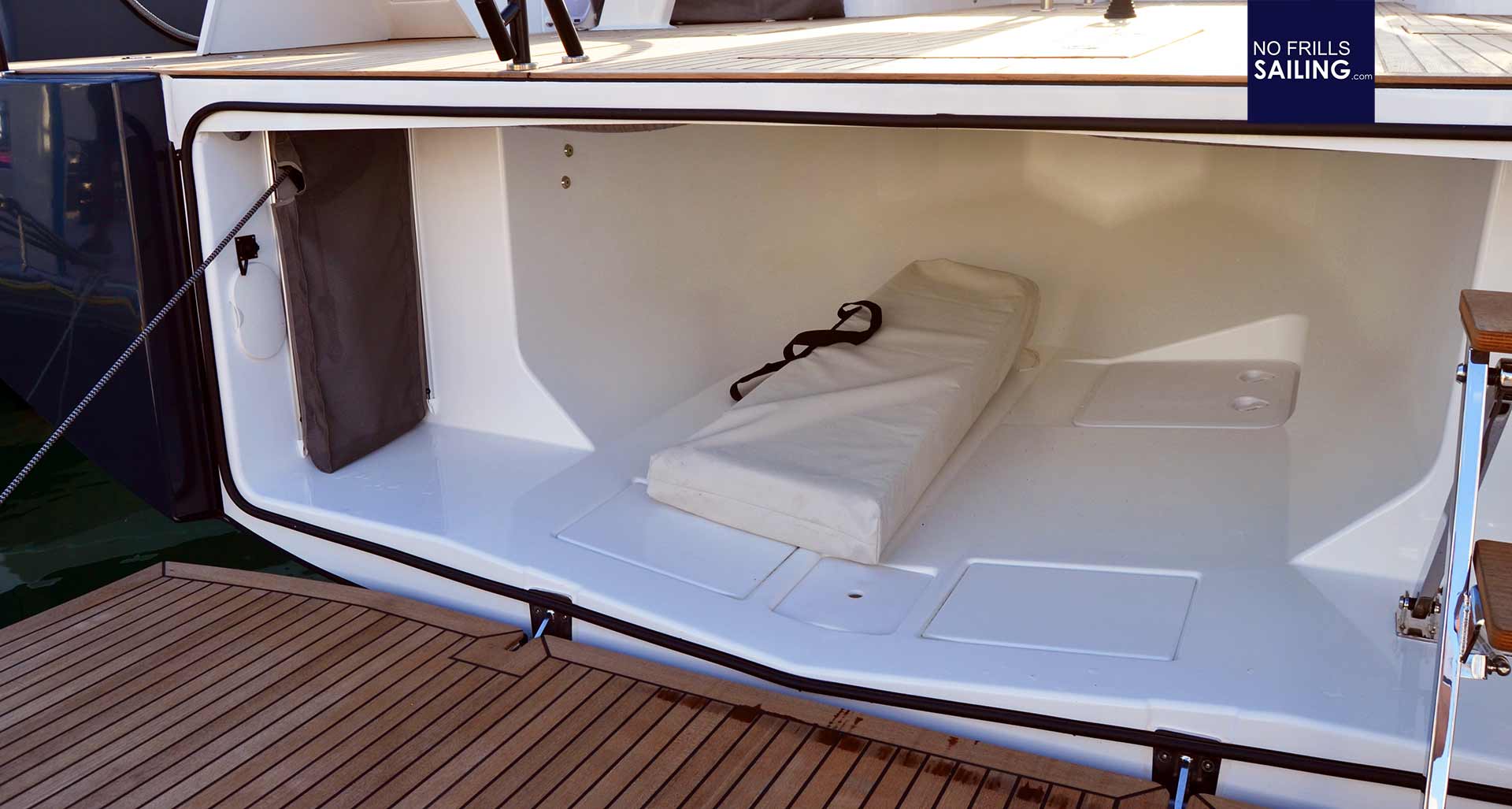 Last but not least, the First Yacht 53 provides a decent dinghy garage for tenders of up to 2.40 metres, partially deflated tenders of up to 2.70 m may fit as well. The garage can be entered by the large electrically lowered transom opening or via a large opening hatch in the deck. For the first time on a boat smaller than 55 feet I´ve seed a decent garage not eating up too much internal space from the aft cabins, which again is a great design feat by the French.
Is this the new benchmark?
So, is the new First Yacht 53 a benchmark in yacht design? Only time will tell. Judging by my own reaction to this boat and the excitement of all these visitors, judging by the sales figures (the boat is sold out for the first coming year by now) she is more than meeting the yard´s expectations for sure. I think the new First Yacht 53 sets a high bar for all following models – a smaller 45-footer will be coming in the future – and is certainly a huge start for the revived new First-line for Beneteau.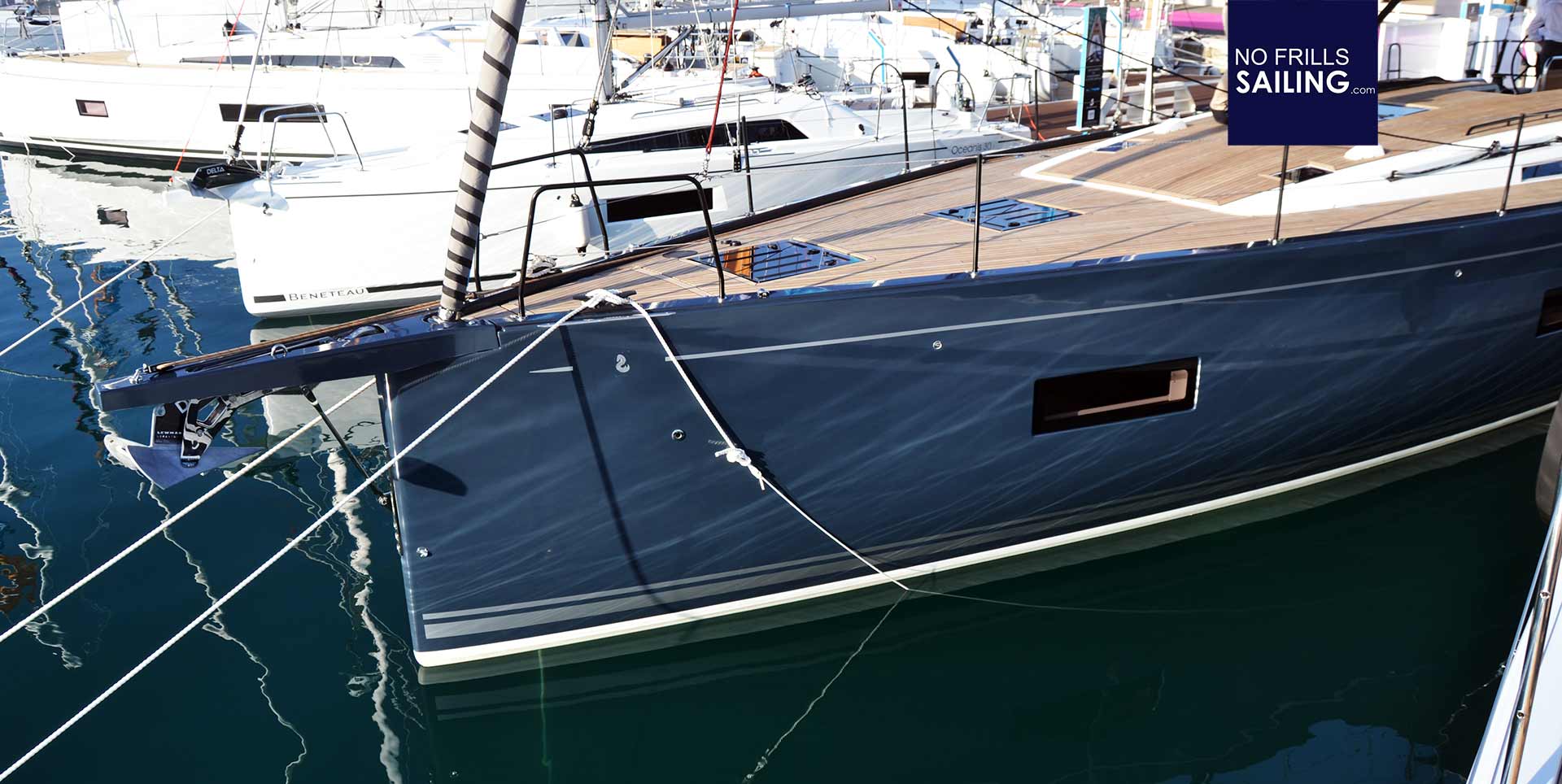 I personally must admit that I admire her interior very, very much and give huge credits to the design team for having the guts to get rid of all these useless old concepts and take a lead in coming up with something so new and fresh. It´s a true revelation and I hope the First Yacht 53 internal concept will spark a whole new era in interior design solutions in yachting, maybe also in the cruising range.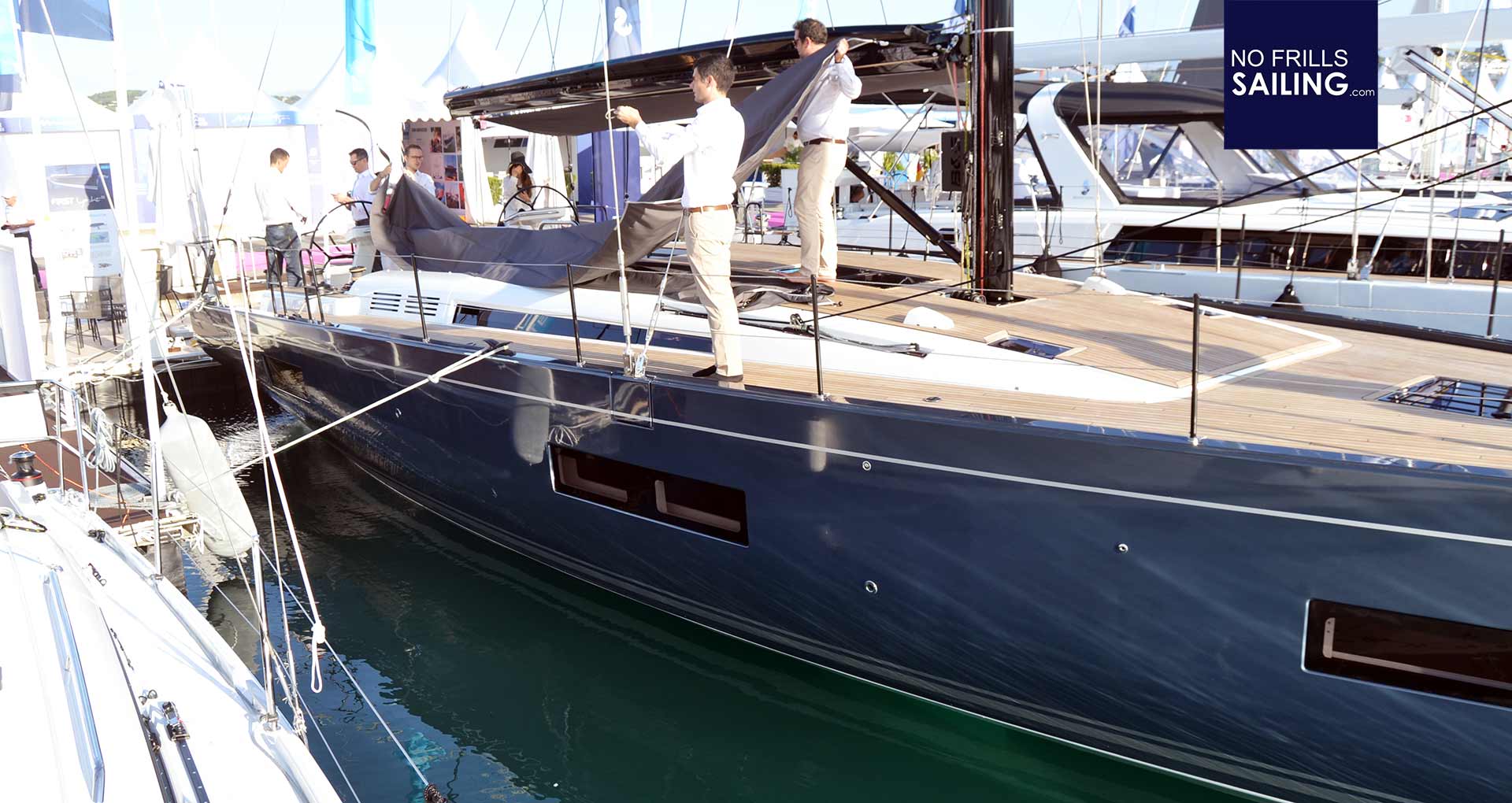 In the end I am very, very much looking forward to sailing one of these in the future – a big plus in having a job like mine. Hopefully there will be a chance soon to take the helm and feel the power of the First Yacht 53 that is said sitting well above her direct competitors like Solaris and Grand Soleil and immediately in between XP-50 and XP-55. I´ll keep you guys updated here.
You may also like to read about these performance yachts:
Marc Lombard´s new CIGALE 16 by Alubat
Meet the Berckemeyer BM 49 Pilot House
Umberto felci talks the new ICE 60 performance cruiser