As the ordering process of my new boat takes a bit longer than expected or hoped for due to, let´s say, budgetary issues, I deviate my attention a bit away from accounting, saving money and so on to, well, equipping the boat. As you may have read in a previous article on the advantages of small boats I´ve decided to go as small as possible. At the same time, I try to squeeze out the most of it regarding cruising pleasure and sailing adventures. "Most possible" – applies as well to culinary affairs and so galley of my new boat plays of course an important role. In short: My new boat does not have one …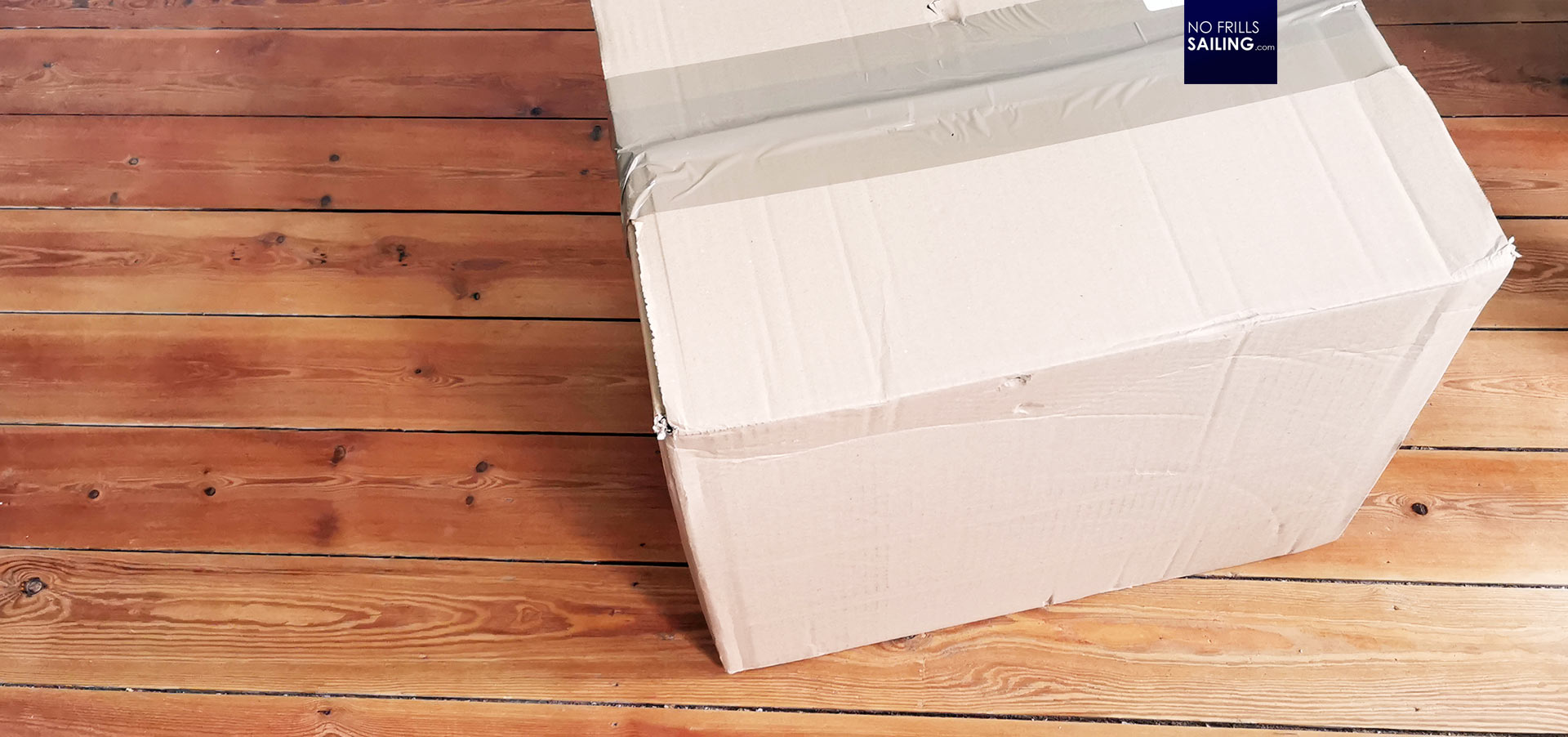 This weekend the first package with essential galley equipment arrived. I find it very inspiring to think of a galley-concept for a boat like the First 27. As this boat does not have anything (except for a gimbled mount for a camping cooker) to provide some food or hot beverages, I will have to come up with an own concept. In a wider sense, I call this "Micro Cruising" which is a new hashtag I introduce to this blog. Micro cruising for me – in the first step – means to come up with ideas to achieve the highest level of comfort with the least amount of equipment. So, here´s the first piece of equipment, let´s have a look.
Unboxing the Lotus Grill
BBQ is somehow an integral part of providing food during summer-time when being outdoors. I guess it´s a leftover of man´s stone age heritage, putting some fresh meat or veggies on open fire, have it roasted and grilled and devour this fine, simple food with greatest pleasure. For me, having the opportunity to do a BBQ when underway is an integral part of onboard cuisine. So here we are: I opted for the Lotus Grill – a hint from a friend brought me here.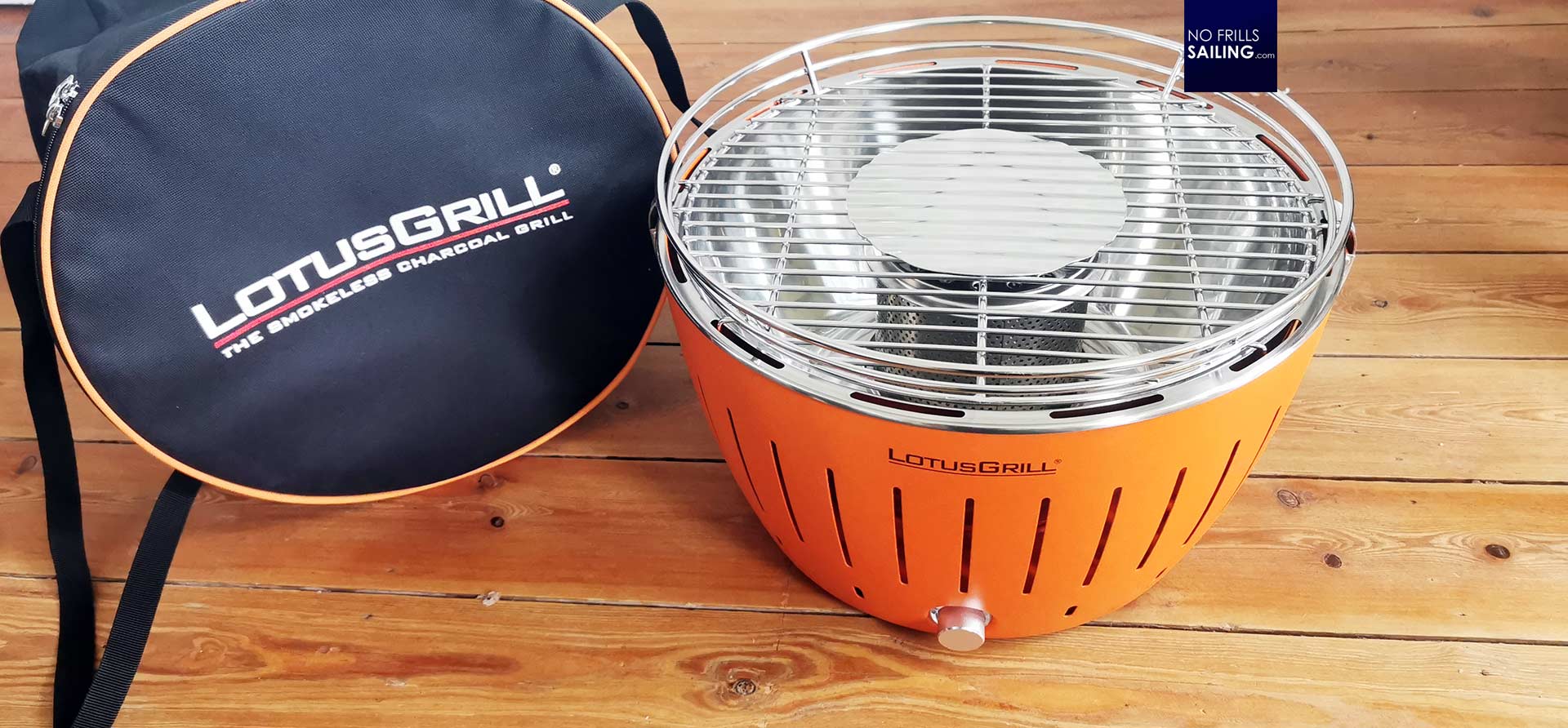 Essentially, the Lotus Grill brings together two premises under which I personally like to have a BBQ. First of all, I really don´t like electric BBQ – it´s just not the same. Anyway, my new boat won´t support the energy consumption of such an item. Secondly, I was looking for a charcoal-powered easy and safe to use and smallest possible BBQ. The Lotus Grill may be the solution for all my requirements.
Unboxing the parts shows the principal function of the BBQ. An inner and outer casing separate the hot part: Thus it should be possible to carry around the BBQ even when in use. Second, you just need a handful of charcoal in order to power the BBQ which is put in a burner-casing that is placed in the midst of the inner casing. It will be ignited by a bit of burner paste put on a steel plate underneath the coal. Best part is the electric powered ventilation.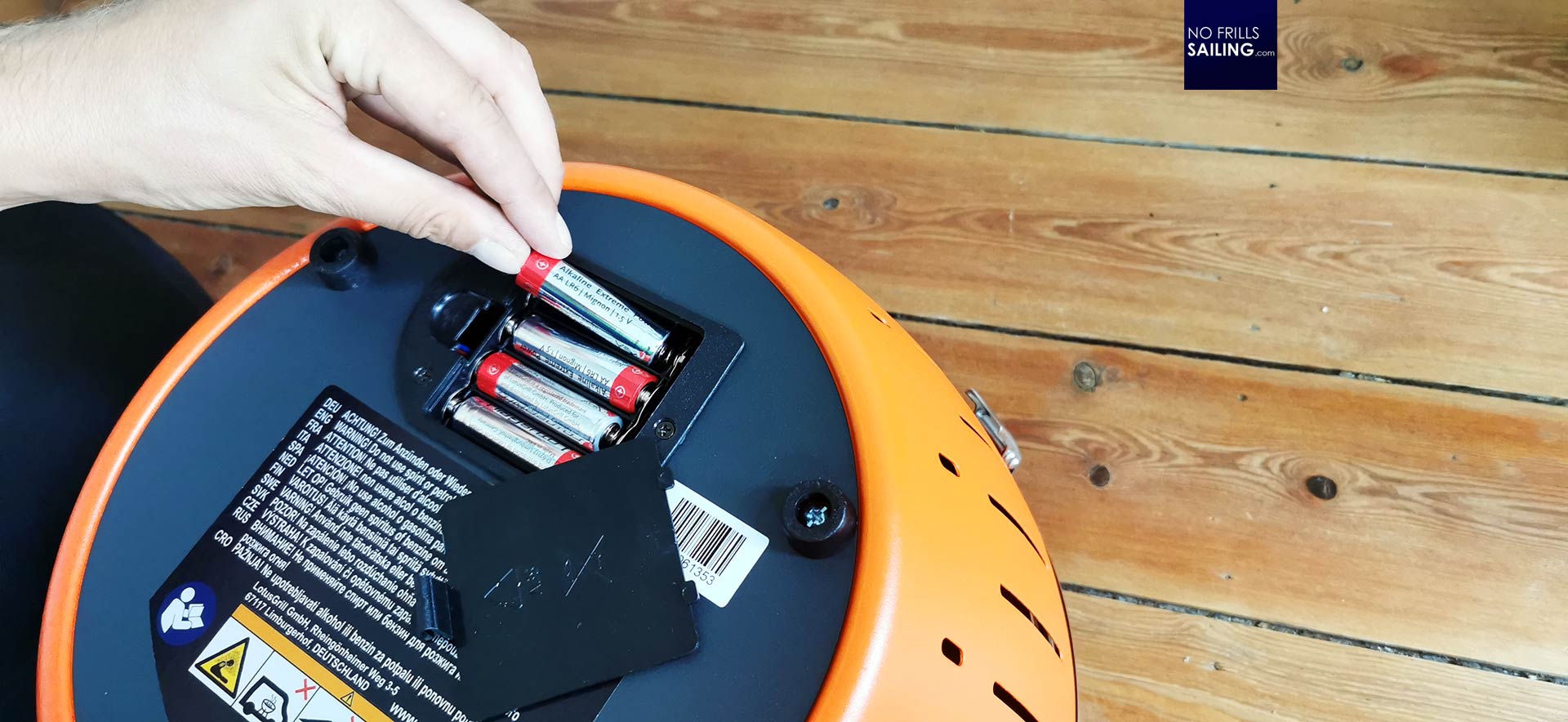 Driven by some AA-batteries (or USB-connection, which my boat will support for sure) a fan makes sure that fresh air is funneled into the burning case and fuels the proper combustion of the charcoal. The heat will be reflected by the inner casing and focused onto the roasting grill. A simple principle, a few parts and a safe, easy and simple concept. Unfortunately we´ve had a full weekend of downpour, otherwise I would have tested the BBQ for this article (which of course will be made for good later).
My plans for the new boat´s galley
So here we are. I am happy with my first piece of equipment and a second package is underway. For the First 27 I am thinking of a portable galley, maybe stored in one big plastic box which may be put into the aft part of the cabin and pulled out whenever food is needed. This box will contain everything from cutlery, plates and pans to basic spices, sugar and coffee to a mini-sink and cleansing agent. A full-fledged portable galley, so to say.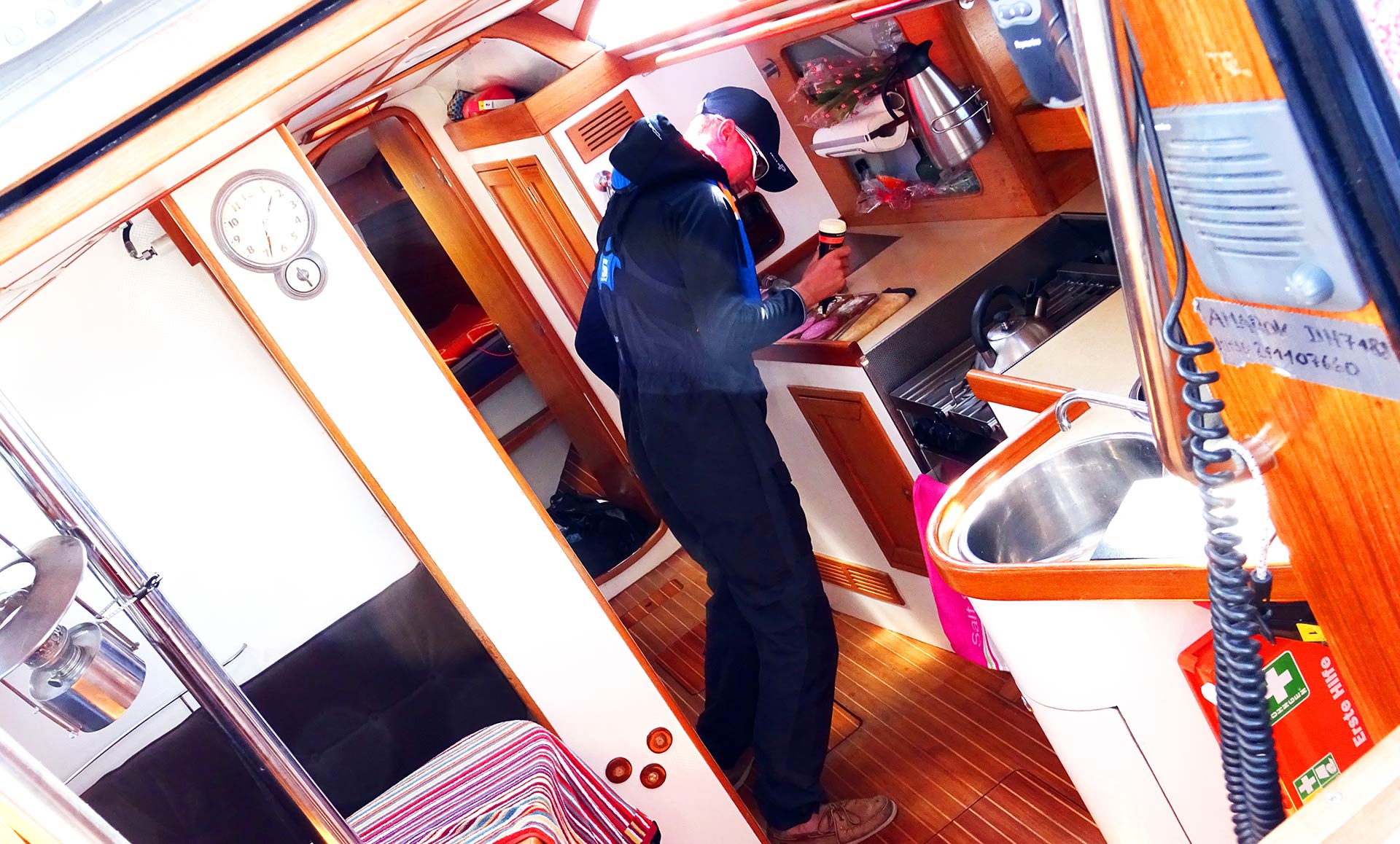 I try to find a Seascape 27-owner in my vicinity to get detailed onboard impressions first hand and take some measurements to slowly but progressively build up the set-up of the galley of my new boat. In this, the Lotus Grill is just the first step. As you may know, I am very keen on recipes and onboard cooking, with this BBQ a lot of whole new possibilities of providing food opened up: For safety reasons of course it´s a matter of fact that the Lotus Grill will only be used when the boat is moored or at anchor.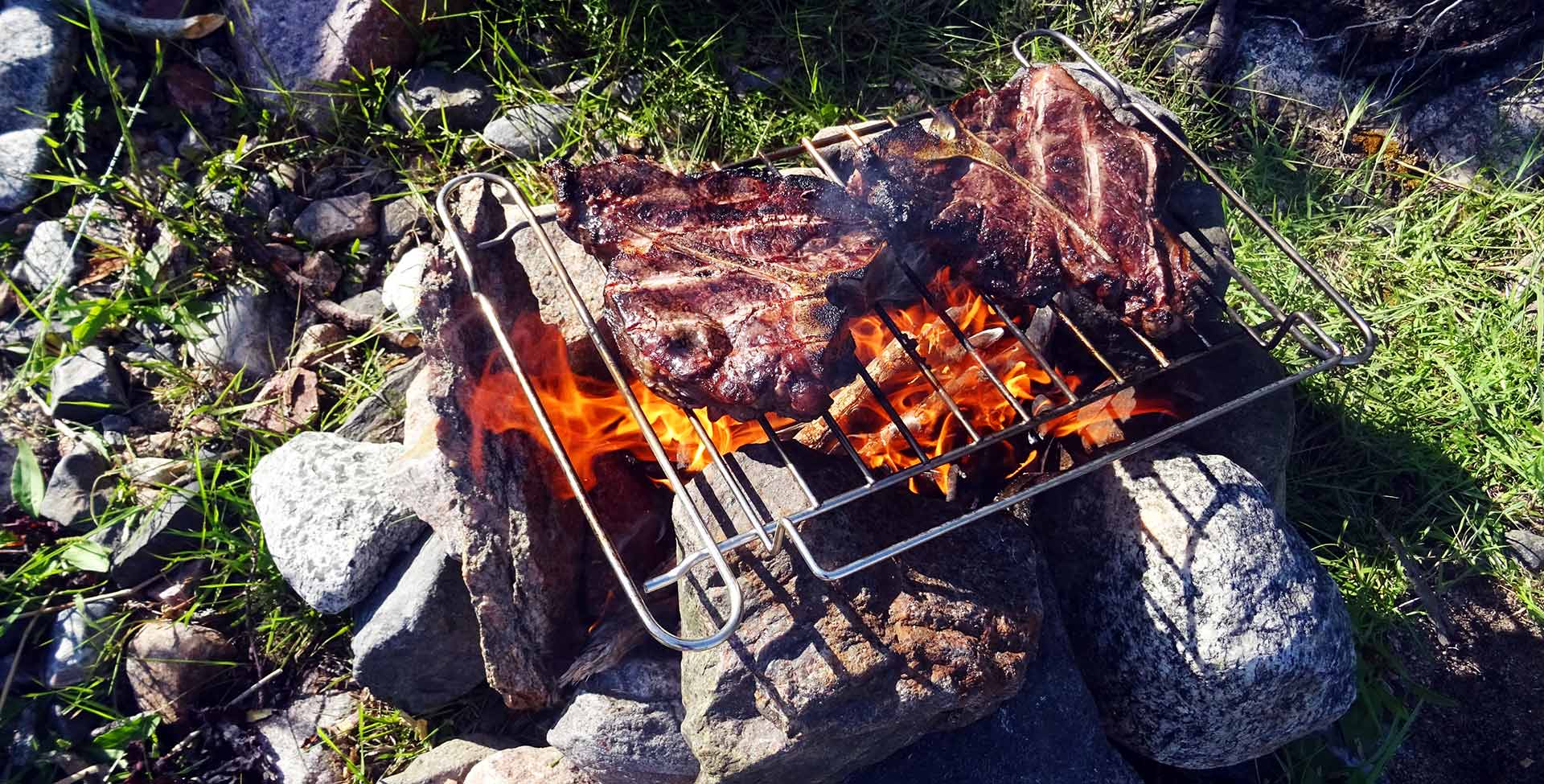 So, apart from the annoying fact that I won´t be able to acquire the new boat in 2020, this micro cruising-idea opens up a whole new area of interest for me. "How much boat do you need?" is a question I have already answered for myself, now I can dive deeper and find answers to "How much comfort do you need on a boat?" in all sorts of possible perspectives. We do have a First 24 coming to our company and I still plan my "Madcap"-sailing trip in late summer which I hope will bring some of my new micro-cruising equipment to the live-test.
You may also like to read these articles:
This may be my new boat: Oceanis 30.1
Another idea First 27: Is this the new boat of mine?
Sea trialing a Beneteau First 27: Think Seascape