Another big step towards my own new boat has been made: As part of a sea trial-week in the Southern part of Germany I spent 10 days on board and with the Beneteau First 24 (which is essentially a Seascape 24). Hosting guests and potential clients aboard with frequent sea trial-action was boosting our sales but also opening up the chance for me to gain more intimate insight into small boat-issues which I´d like to address in a few upcoming articles. This first article will deal with small boat comfort. And I can tell you: There´s plenty of it!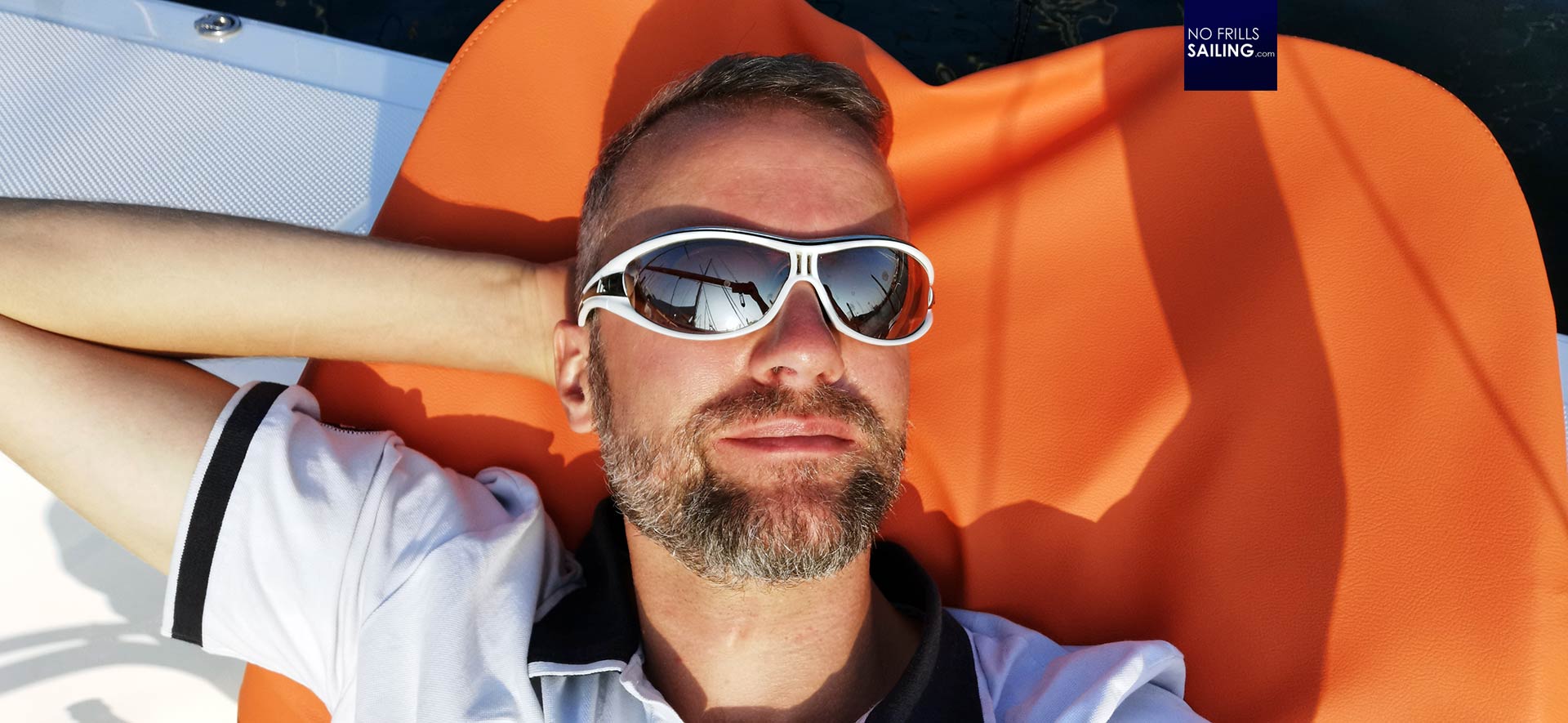 Mooring at the pontoon in between the client-appointments there was quite some time for me to roam the boat and spend time enjoying the treats offered by it. Small boats like the First 24 or my upcoming First 27 may not be as glamorous and stunning as a beautiful Solaris or Oyster and of course the variety of amenities offered are much, much smaller and way more limited, but as life is in one´s head and happiness is a state of mind, let´s draw the most out of it and get started.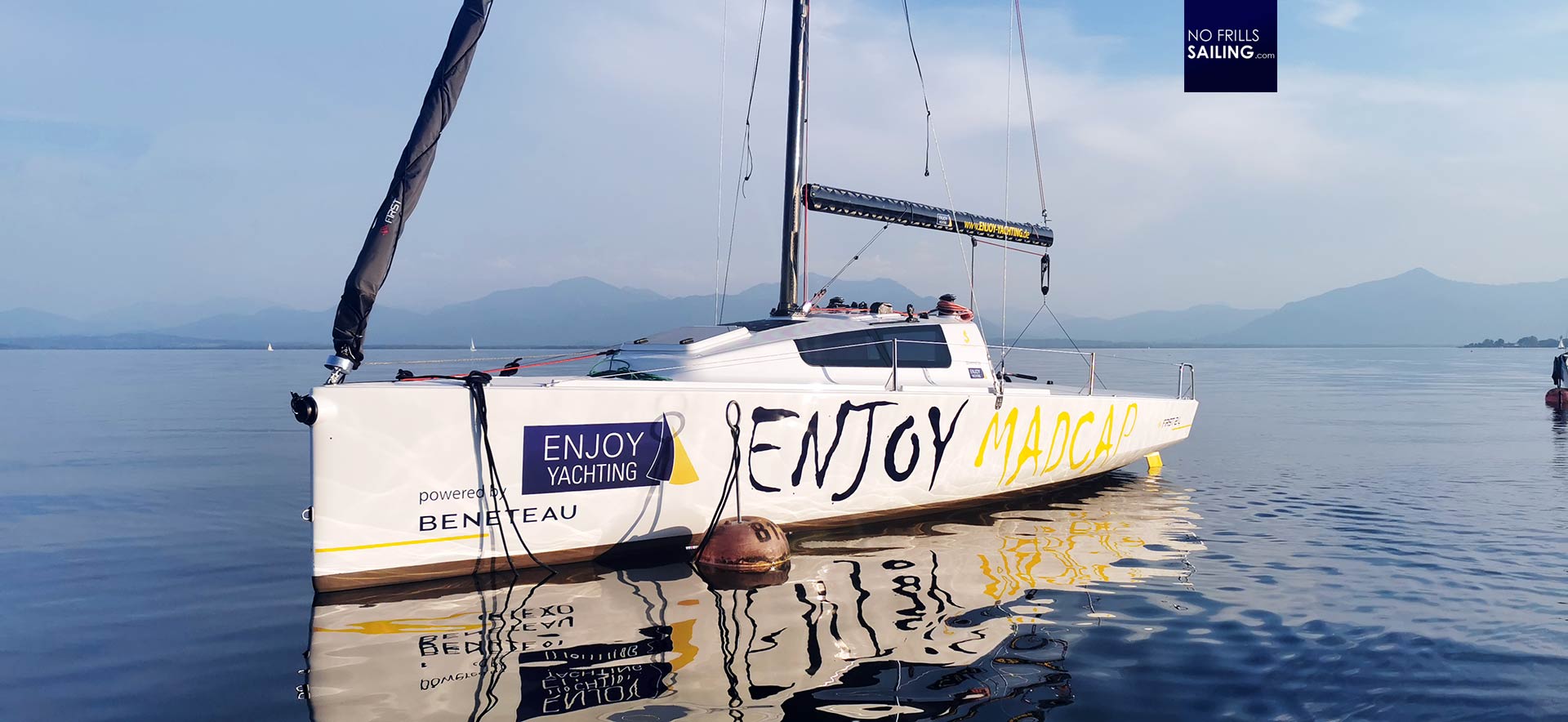 First thing I noticed which is a lot contributing to the comfort-factor of a small boat like this one was the fact that it was so small in the first place. Sounds ridiculous? Well, not so much: A small boat is way much easier to handle, to maintain, to rigg, to clean, to deal with. All the hazzle and bristling of big yachts is not to be found on a small boat. Rowing to the buoy at which my MADCAP was tied to it took me exactly 8 minutes to clean the boat from morning moisture and leftovers of the sleeping ducks from past night – and I was ready to go. Very satisfying.
A key element: Energy management
For most boat owners I know one big point for comfort is closely connected to energy. Big battery bunks on the yachts for powering all these multiple gadgets. On a small boat like the First 24 we of course have a very limited range of energy consuming appliances: LED lights in the cabin and navigational instruments. That´s all. The small battery though will be re-charged by a 50 Watts solar panel: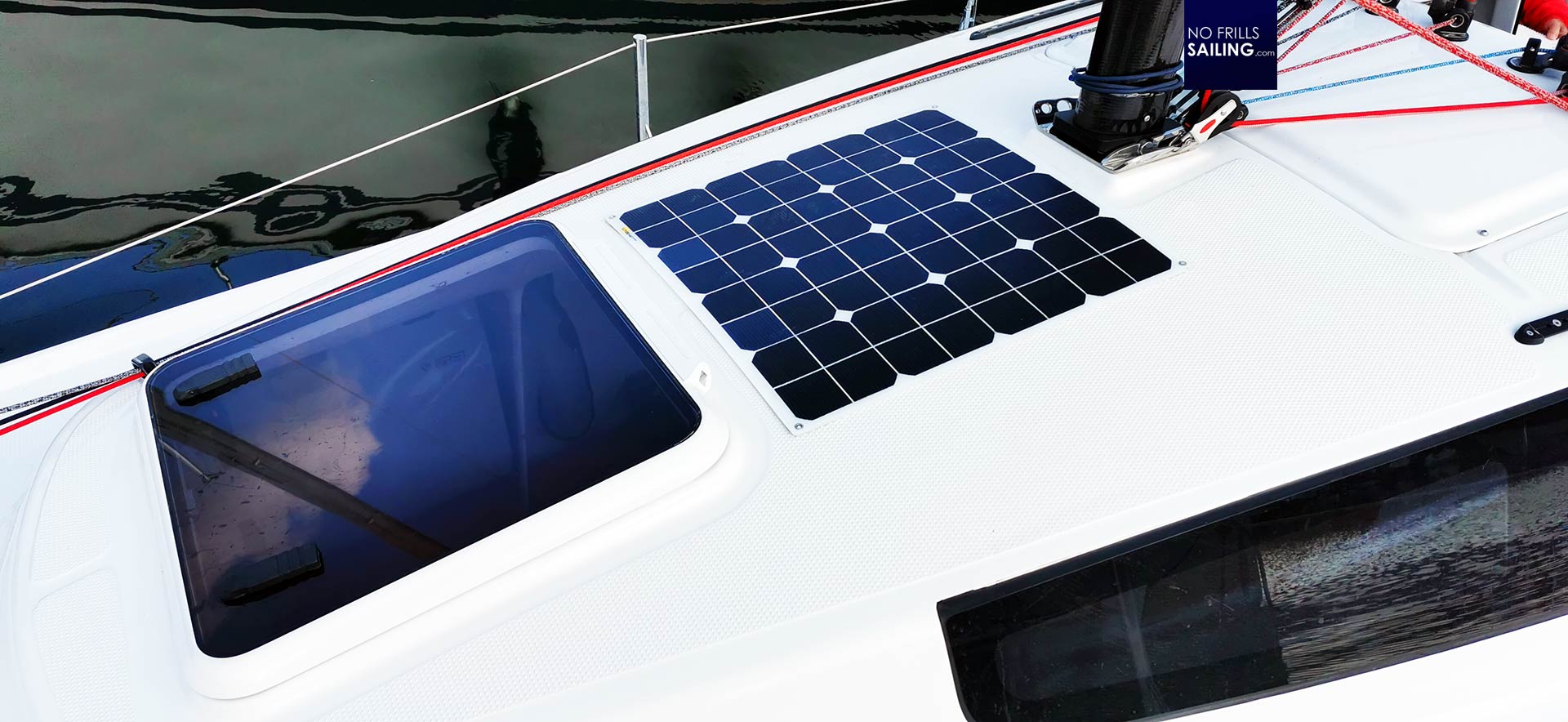 Which is very, very convenient. This small panel manages to sustain a constant charging of the board-battery even via indirect lights. Solar power in my view will become a much more important part in boating in the coming years with very, very interesting solutions like custom made flexible panels, solar cells on sails and various other solutions in the pipeline. For now on MADCAP I was astonished how efficient a even a small panel like this one in the end can be.
Of course, for some gadgets we need more power: Recharging the Torqeedo E-drive batteries unfortunately cannot be done via solar-powered 12 Volts plugs (smartphones on the other hand are recharged) so you need the occasional visit to a marina with shore power. MADCAP as well as many other small boats offer at least as an option the shore power plug and charger, which is a box I definitely would tick when considering buying a boat.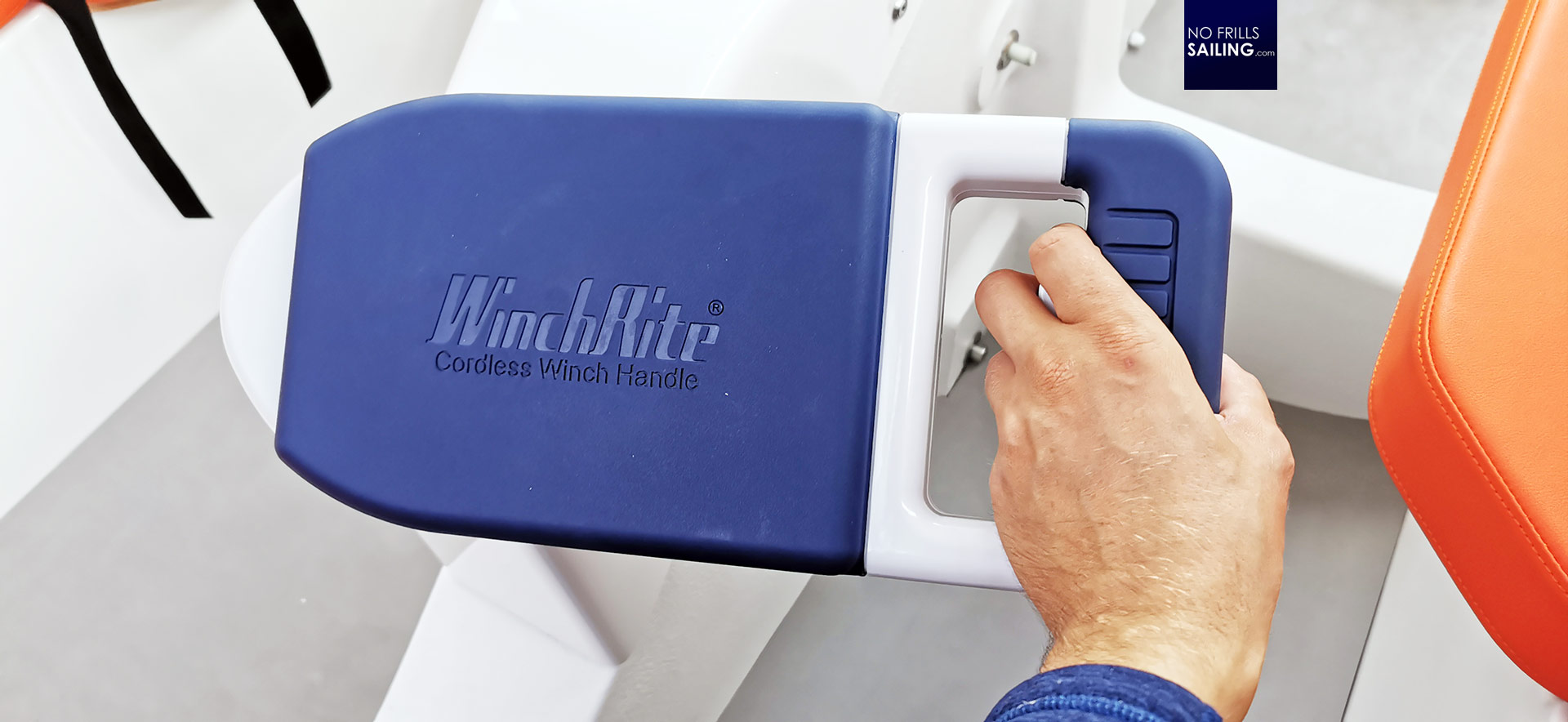 Getting up and down of the swing keel on MADCAP is a pain in the ass (not because it's a heavy thing to do but tiring) so that one might use the electric winch. After approximately five times getting up and down of the keel, the winch´s battery was nearly empty and needed a recharge: This can be done via 12 V charger or – much faster – when utilizing 230 Volts. Name it: shore power! Same goes for portable ceramic heaters and other appliances. So I would reckon that solar and shore power options are a premise for enjoying small boat comforts.
Enjoying simple luxury
Once you have made up your mind and the decision for going for a small boat is made, you will see that the level of comfort even on a boat as short as 24 feet is amazing. On MADCAP two adults (a young couple heavily in love maybe) will find that there is no shortage of seating and lounging space on deck and down below either. Let´s take a look at the boat´s interior: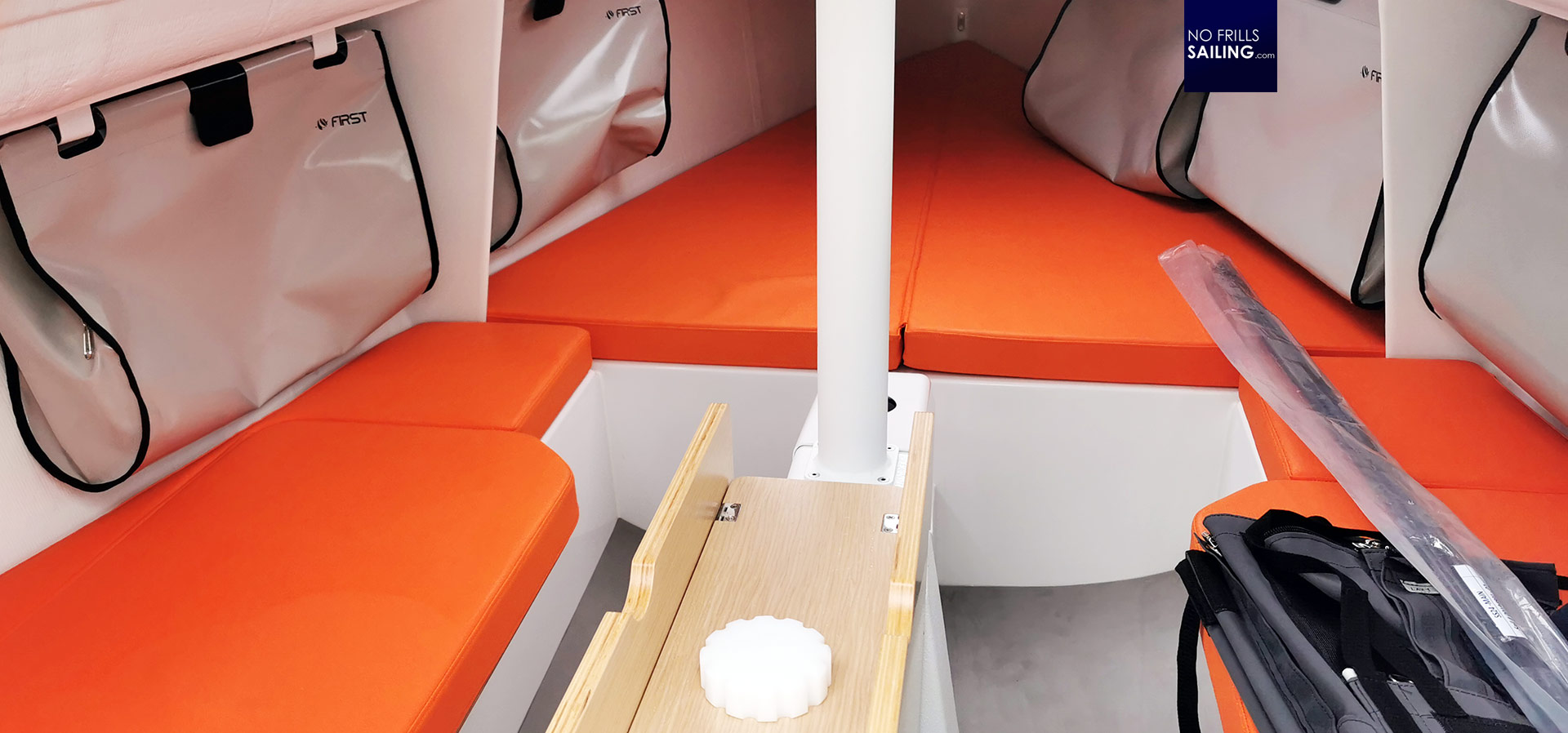 Of course one should be arranging the legs to fit into the spaces not occupied by the keel-housing and the spars, but once you´ve found your position you can spend a full evening down there, for example on a rainy day at anchor. There is enough headroom when seated and the benches are long enough for stretching out. I became a huge fan of the clever table offered as an option by seascape.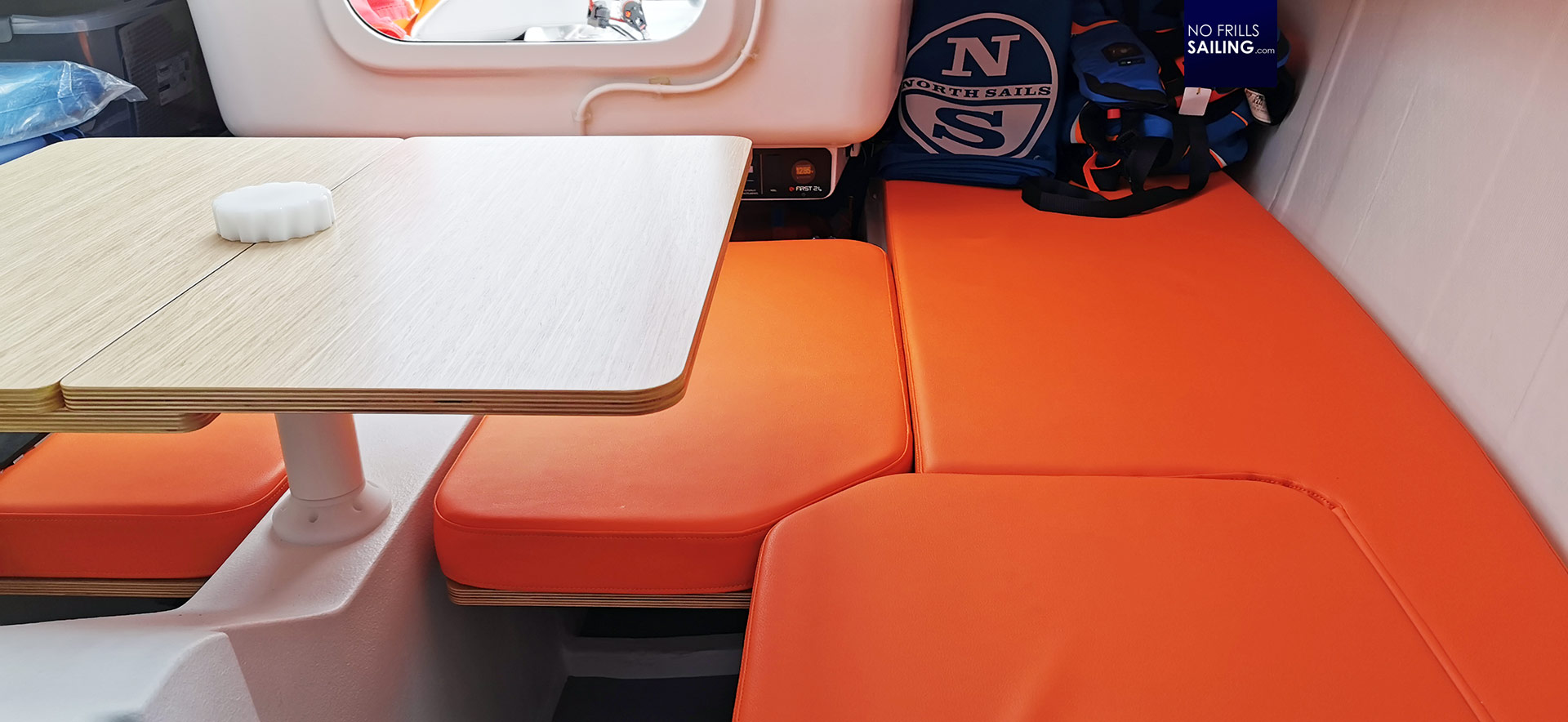 It´s a simple but very effective solution: A big plastic screw holds the table in place when folded away – but if unfolded it can house a proper dinner for two! Also, if the seating benches are taken out, two more persons can have a comfy seat at the entryway and join in for breakfast. The table is made from plywood with a simple folding mechanism – if damaged it can be repaired very easily.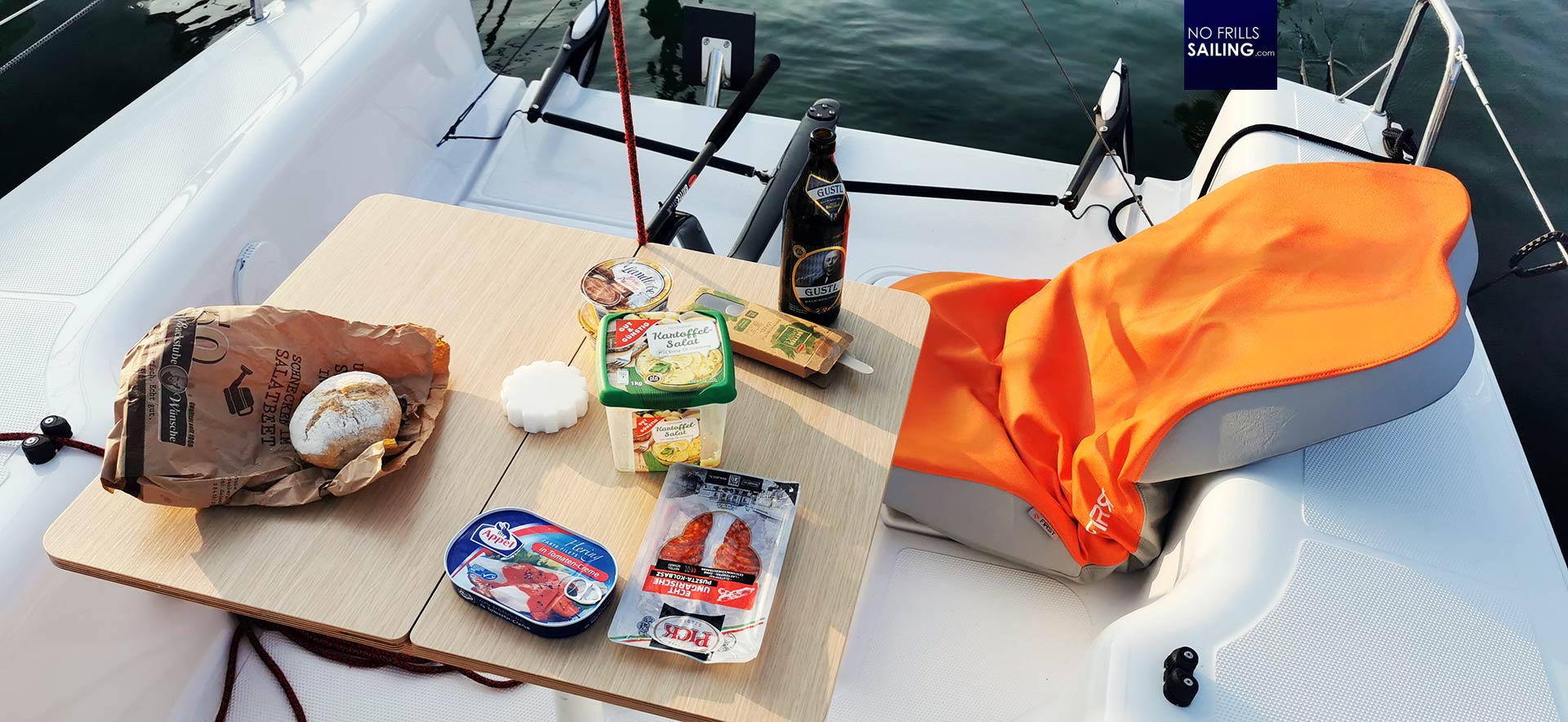 An extension can be screwed to the cockpit flooring and this very same table is used outside and can also host a cockpit-dinner. Of course: One shortcoming of small boats now immediately is in the spotlight – the absence of a proper galley. For MADCAP the solution would be to have mobile BBQ or stoves (of which I will test the Jetboil cooking system soon) – same goes for my new upcoming First 27 which at least offers a gimbal mount to fit a Jetboil to it. Other small boats will come with a galley – in this a potential buyer can scale up or down the amount of amenities and gadgets needed.
A good night´s sleep in a small boat
Obviously a WC and a sink for personal hygiene is much appreciated on a boat. MADCAP is too small to offer either of them – and as a thoroughbred racing boat it is simply not the concept of that boat too. For taking a whizz there is an option to fit a portable camping toilet, washing yourself must be done by using fresh water from canisters and a simple bowl, which fits to the "camping on the water"-concept of the boat. Another aspect of comfort of course is the question if a good night´s sleep can be provided.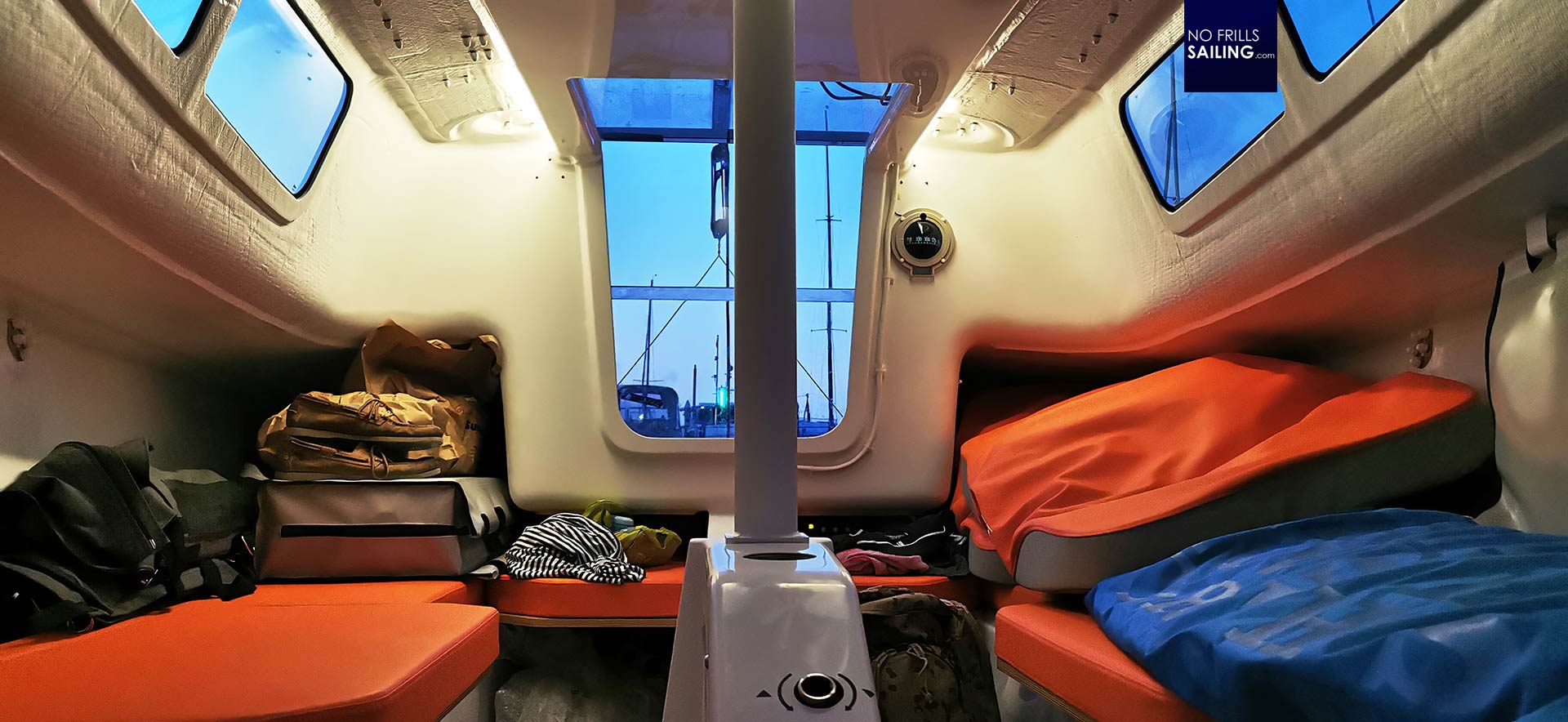 I must say, it works absolutely fine! I did have my sleeping bag and a comfy blanket with me to spend a night aboard and test how it feels. After I finished my dinner in the cockpit, reclining fantastically cozy in the stylish bean bags in the cockpit, I killed a couple of beers and when sun was finally down after brushing my teeth went down below. The First 24 comes with adequate LED lighting for the salon. There is more than enough options for finding a berth for the night.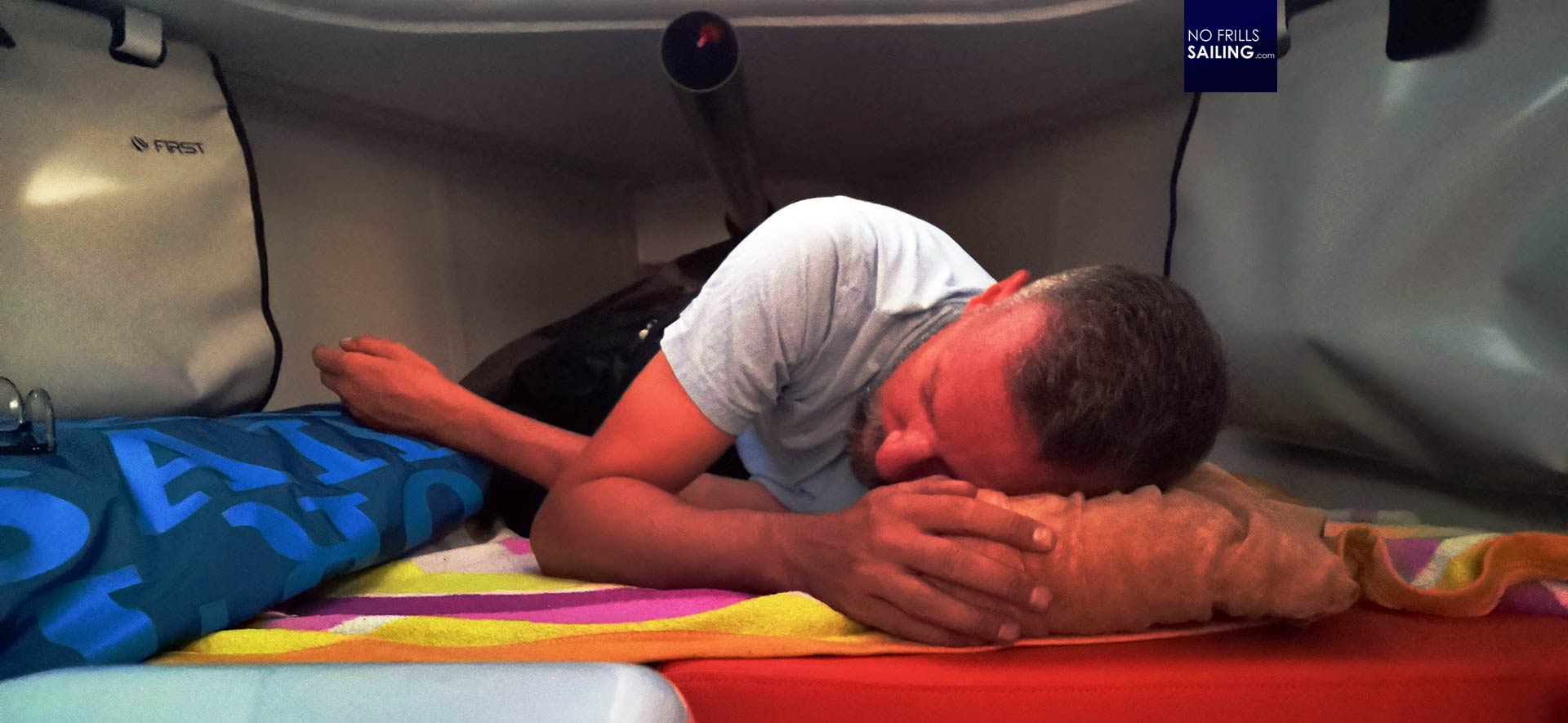 In the bow of course two adults would be sleeping comfortably although the bowsprit might be in the way if you want to start some love action. As I would put it: There is only room for one pipe in the bow … Aft two more adults can find a berth, additionally widened by the extractable seating-extensions offered as an option. So 4 persons in a 24 footer? No problem! I absolutely look forward to my First 27 where the same concept is applied but a forward bulkhead with magnetic swing doors will make the forepeak separable from the aft section for more privacy (and a proper toilet is mounted as well).
How much comfort do you need?
Being 10 days on MADCAP, enjoying an uncluttered and easy boat which is so much fun to sail (that´s another article) was very helpful in defining my own way to become a "micro-cruiser". The question of how much boat one needs has been answered more than impressive: From an energy-standpoint to maintenance and time spend for cleaning and setting up the boat, I cannot find any shortcomings. Of course, one needs to find a solution for hygiene, cooking and heating. This is a question of cleverly choosing the right products offered on the market in the first place.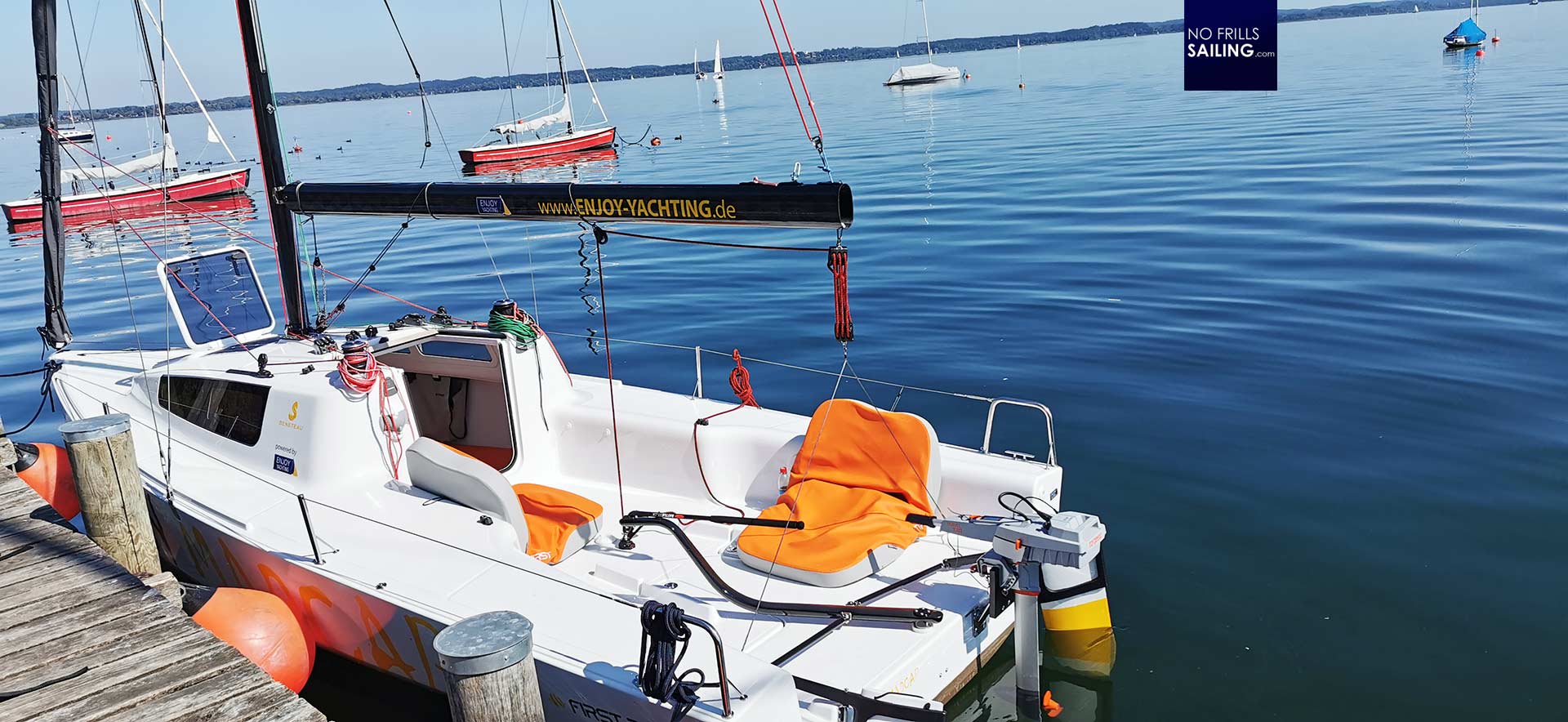 I loved being aboard MADCAP: A perfect test for my own boat. Spending more time sailing and enjoying the boat while cutting time needed for setting up the boat and having it ready. The maximization of sailing fun and pleasure at anchor. As much as I love being aboard the big cruisers and indulging the gadgets provided as well as the massive volume created – it´s the easiness and therefore independence experienced aboard MADCAP that fascinated me the most and makes me much more looking forward to receiving my 27 feet sailboat.
You may also be interested in these articles:
Go small – go now!
My decision for a small(er) boat
Pogo 36 at Boot Duesseldorf Boat Show 2019