Muxia may be one of the first ports to visit after sailing through the Gulf of Biscay on your way down south or – as it was in my case – the last port to visit before going north. I discovered the small town of Muxia on the naval chart two days after we set sail in the Portuguese city of Porto for our sailing trip north through the Bay of Biscay and the English Channel to bring a Bavaria 37 back home to her German portin the Baltic Sea. As we had to cope with a strong Northerly, not permitting us to sail, we simply had to replenish our Diesel-tanks. Sailing to A Coruna, which may have been the obvious solution, wasn´t one for us: No time at all.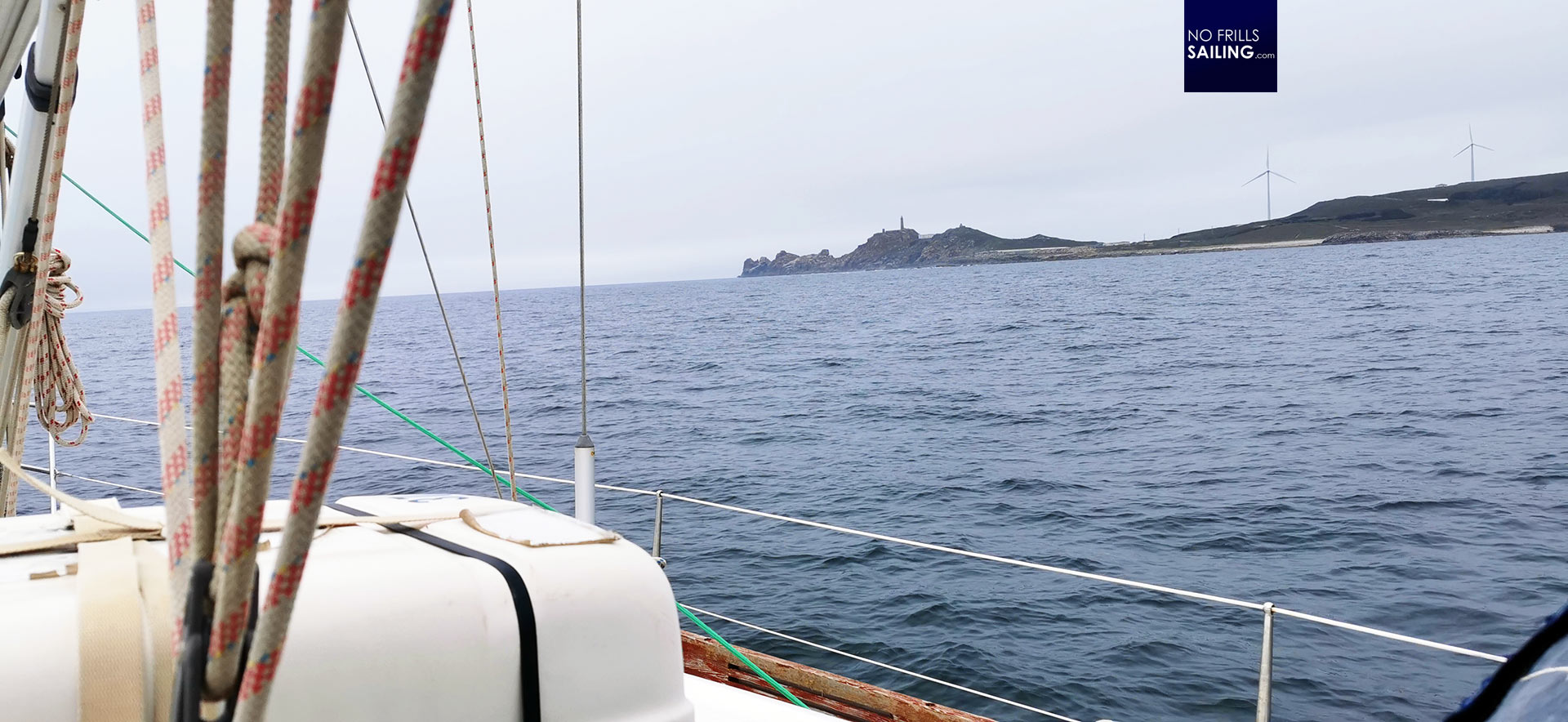 Muxia was a lucky hit. Let me spoil you: We loved it here and still consider Muxia as one of the hidden gems uncovered on our trip. When most sailors would plan a longer stopover in A Coruna (some 30 miles further to the East) to enjoy a vibrant Spanish city, we were overwhelmed by the strange, alienated, remote feeling this small town created in us. Maybe this was instilled by the fact that Muxia not just feels but indeed is the end of Spain on the far northwestern corner of the country. We entered the almost empty marina around noon, passing on our starboard side the most famous church called Santuario da Virxe da Barca, a major milestone on the Camino de Santiago, the Way of St. James.
How to sail to Muxia
Muxia is easy to find: Passing the famous Death Coast coming from the North it is a short dash into the Ria do Porto (which of course has nothing to do with Porto in Portugal but indeed is the estuary of the famous Rio Grande at its end way inland). On the southern side Muxia is clearly visible. The marina is protected against harsh winds, huge waves rolling in from the Atlantic Ocean and high tides by massive breakwaters.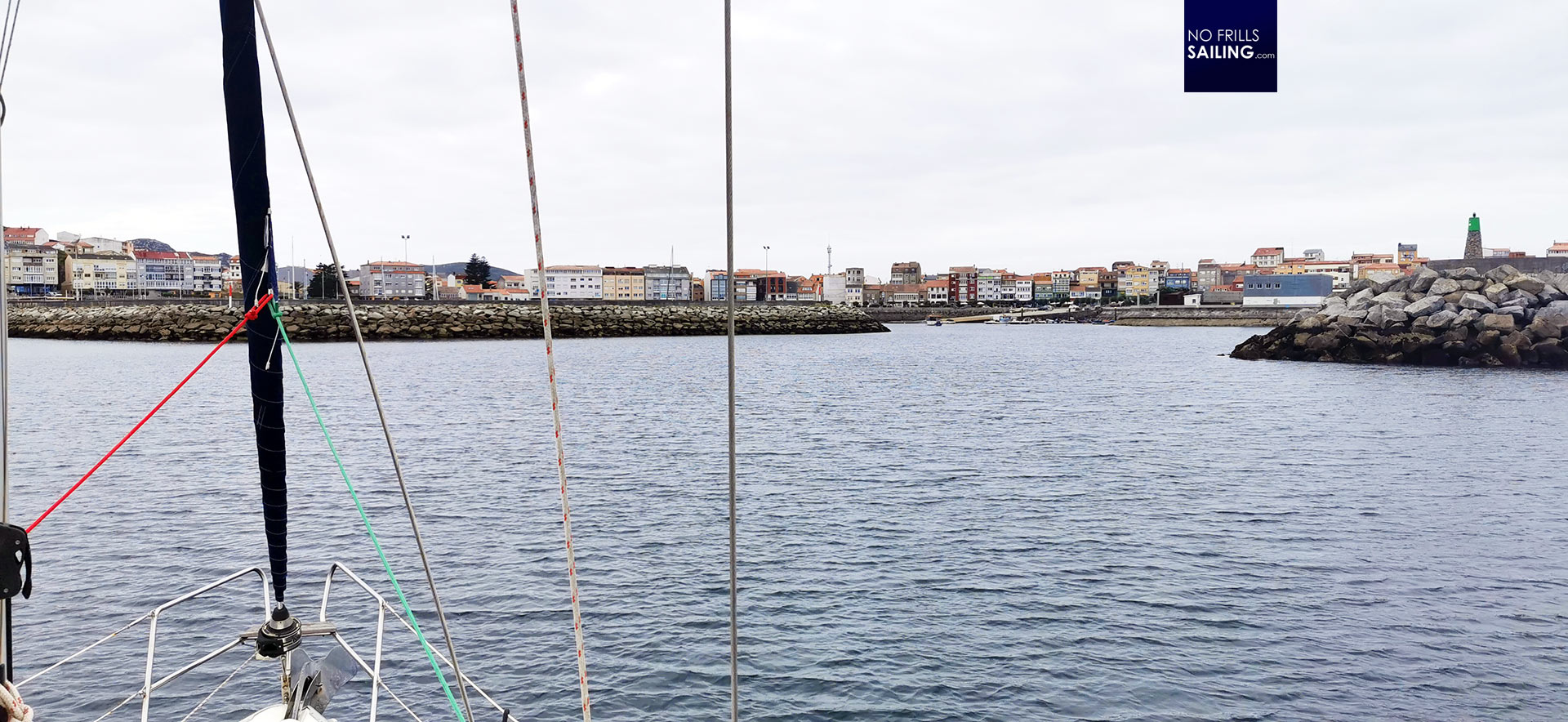 On Channel 16 VHF the marinero will answer immediately and assign a berth. Draft in Muxia is not of any concern, even with low tide boats of 4 metres will be mooring safely here in this port, boats with up to 6 metres draft will find especially dedicated berths. The marina is surprisingly big for a small town like Muxia: More than 232 berths for boats with a length of up to 24 metres are provided. We landed here and moored FREE WILLY, first and above all to get fresh Diesel. But we have been so impressed by this very, very special feeling, that we decided to prolong our stay and have a stroll at the waterfront and a hot meal as well.
Mooring in Muxia Marina
The marina is made up of swimming pontoons with finger-jetties. Mooring can be done stern first or bow first. We found this place relatively protected against winds, especially when harsh Westerlies are blowing Muxia is an ideal hideaway and protection. The pontoons are relatively new and sport shore power as well as fresh water.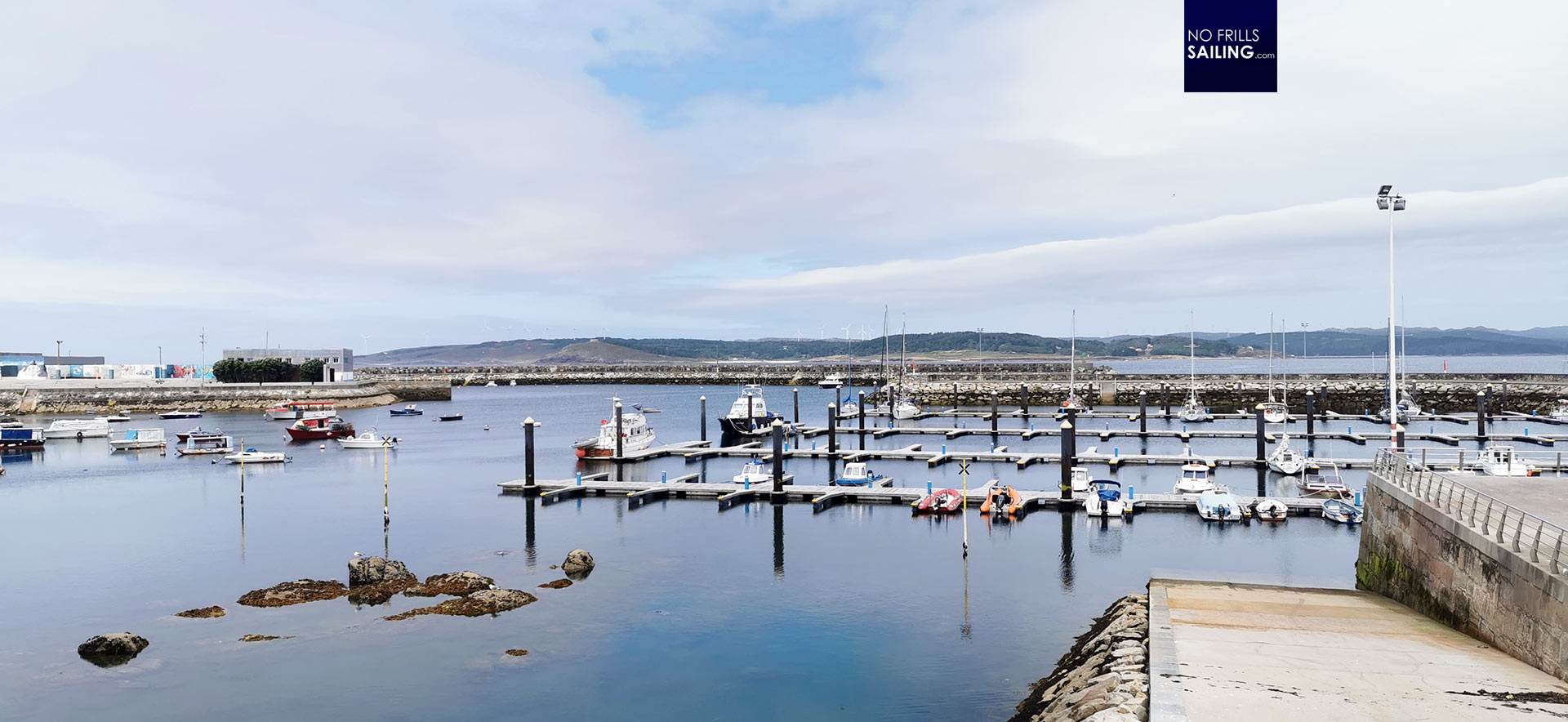 All in all, Muxia offers all relevant services for sailing crews, but all in a very reduced way: Bunkering Diesel is an act of manly work, I can tell you. The fuel station is an ordinary Shell gas station for cars located up on the waterfront of the town. The marinero (at the same time chief of the gas station) will fill up canisters with the amount of Diesel you require: By hand lorry the canisters are hauled by the clients to the boats and must be filles by means of sucking on a hose into the boat´s tank. Not very convenient, prone to wasting fuel and especially at low tide when the pontoons are down below street level, very sweaty.
Demurrage in Muxia
Prices have been very low. Spain is tormented by a harsh economic crisis, even more by Covid 19. Foreign visitors may have already been scarce in this faraway region of the country, now with Corona hitting Southern Europe hard, it may be even worse. So, mooring your sailboat here for a day, let´s say a 40 footer, may cost you 17 to 25 Euros, which is a reasonable price. On the other hand, I must say I was surprised being charged for a full day PLUS a fee for every person aboard although we did not stay a night and left Muxia after 4 hours flat. Definitely not a plus but maybe just a communication problem.
We haven´t been to A Coruna on our trip due to time restraints but I would make a bet that prices there will be higher, so Muxia is a great alternative for sailors keen to have just a short stopover for re-stocking and re-fueling. Nevertheless, it would be a shame not to recognize the beautiful, rough and barren land of the surrounding nature. Staying here for one or two nights, taking on a bike and cycle to the nearby places of interest may be something worth doing.
Bathroom facilities & Amenities
Checking the website´s point "Services" I read that the marina offers showers and toilets. As we haven´t seen any buildings on the pontoons and not in the direct proximity of the marina I would guess that these are located in a building not far over the street – definitely a long walk for taking a whizz from the pontoon. The marina also offers WiFi (not checked) and a laundry.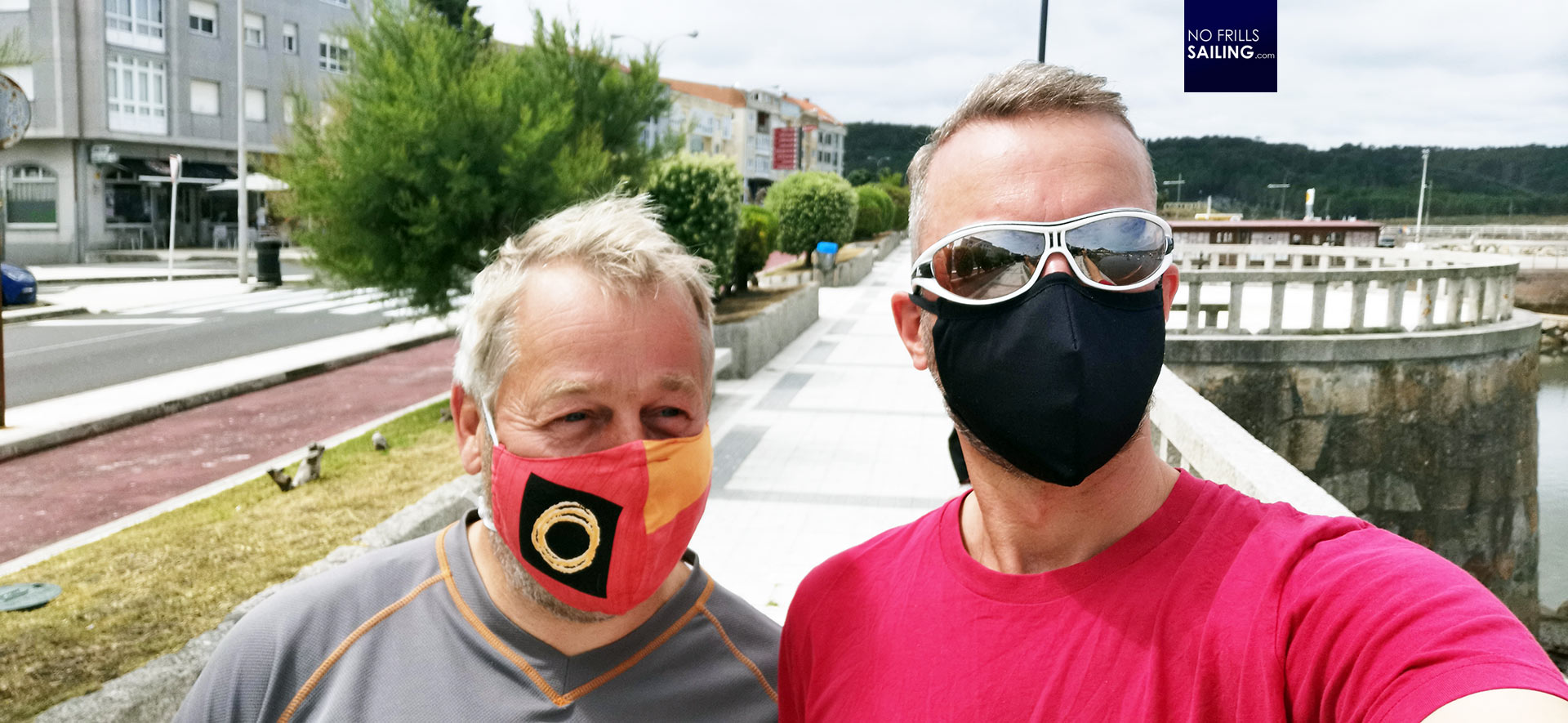 As we have visited Muxia during the Covid 19-pandemic the state of Spain had imposed very strict rules of social distancing and hygiene so I did not bother to check for these amenities either. As I definitely plan to return to Northwestern Spain for exploring those fantastic Rias I hope to re-write this article for a more detailed review, for now I am sorry for not being able to provide any details on this matter.
Dining out and resting one´s Oars
Spain, especially the coastal areas, is a Mekka for hungry people and conoisseurs of everything catched in the ocean. Fresh fish is to be found in nearly all restaurants at the waterfront, grilled Pulpo or marinated fish filets as well. It´s a simple yet straight cuisine free of any hustle and bustle. We chose a grill bar and refreshed ourselves with full packed plates, hot fries and an ice-cold beer. I do not have a specific tip but the old hint of going where the locals eat.
In the end, Muxia reminded me of a remote Alaskan fishermen´s town rather than being in burning hot Spain. This special mixture of visiting an outpost inhabited by a special breed of people was adding some salt to our adventure. I´d of course be keen on sailing to the glamorous and beautiful A Coruna but I as well would love to come back one day to take in much more of this rough, lovely town.
My overall assessment of Muxia Harbour is 6 out of 10 points
 Link to Muxia Marina Website here
You may read all Biscay Sailing articles by clicking of the hashtag #biscaysailing