You may have read the articles on my journey to acquiring a new boat (from big aluminium yachts before Corona to the idea of a smaller boat maybe being better to the First 27 as the boat of choice) and you´ve seen it from my own personal, very intimate point of view. There is a another story to it which is my professional side as a Beneteau dealer and marketing pro: Of course it is my job to boost sales of the boats and so I am always looking for the next crazy idea that might work in getting people excited about our products. Well, here´s the story of the MADCAP which began in late spring this year … I did a small sketch in a paper note during a rather boring phone conversation …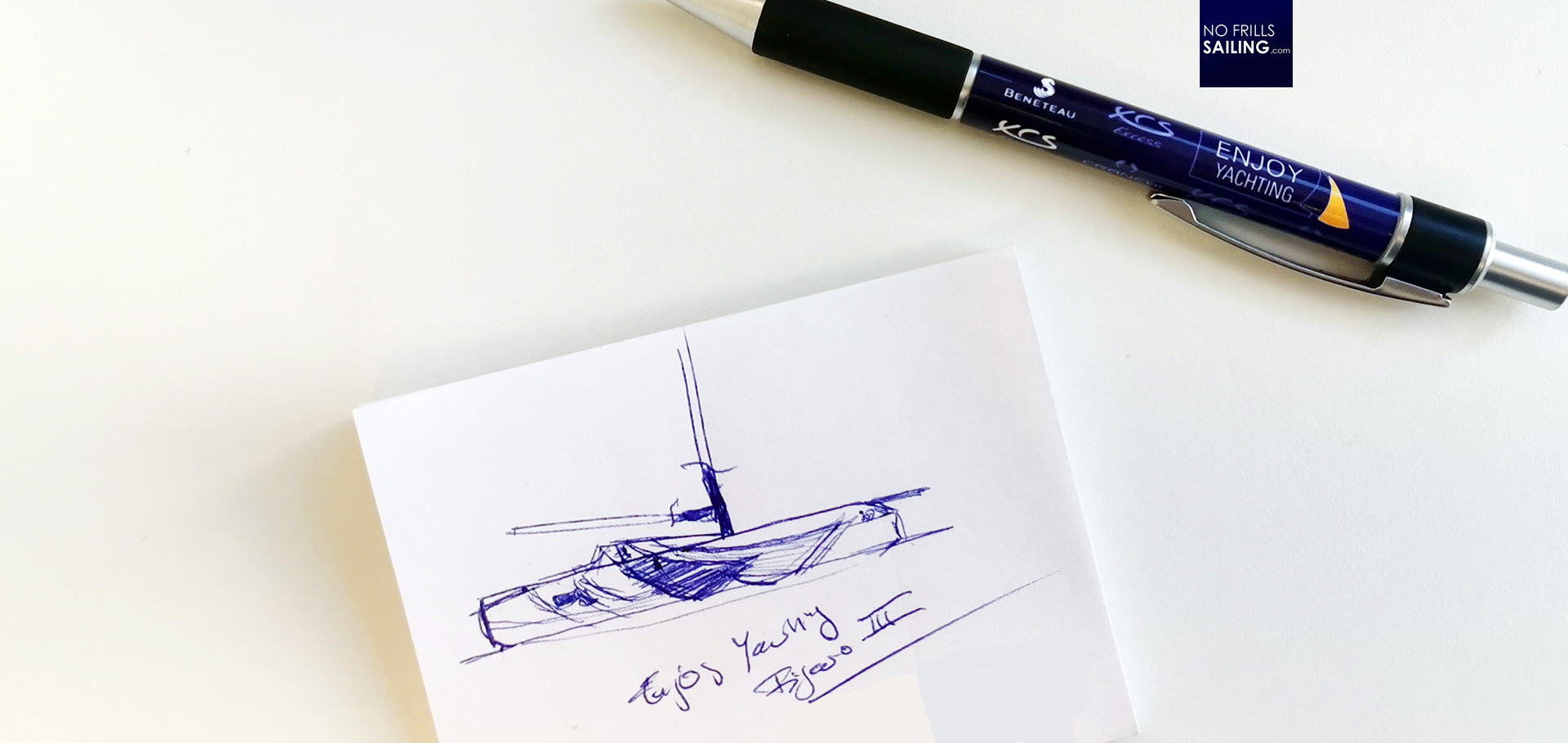 It was a sudden idea. A brain-blitz, you might call it: Why not having a Figaro 3 as a company racing boat? This fast true racer is the first series production foiling boat and is having a remarkable life in the Figaro-class ever since with pro-skippers like Jeremy Beyou of CHARAL for example sailing a "mini-CHARAL" in form of the new Figaro 3 too. Sales outside the class and outside France are, admittedly, a bit stagnant. I guess that´s due to the somewhat extreme nature of that boat and people´s reluctance or fond respect towards foils and foiling. Well, I´ve never had the chance to sail a Figaro 3 but people who did told me she was as easy as ABC and as Luc Joessell put it: "Bringing her to 80 per cent can be done by any skilled sailor." And 80 per cent on the Figaro 3 must be like flying indeed! "The rest is hard work and lots of experience, but that is gained fast on this boat.", he assures. So, I began playing around with this idea.
It´s not the Figaro 3, but a MADCAP as well for sure!
Sailing the Figaro 3 was a dream of mine since the boat was officially conceived and presented to the public. At that time I´ve had the honor to talk to legendary Eric Ingouf of Beneteau who sadly deceased this year, but his vision of that boat was fascinating me. Also, after visiting the brand new "Racing Division" of the yard, a modern production facility dedicated to special boats of the brand in Nantes I had this idea of acquiring a Figaro 3 for us as a marketing tool and sailing showcase.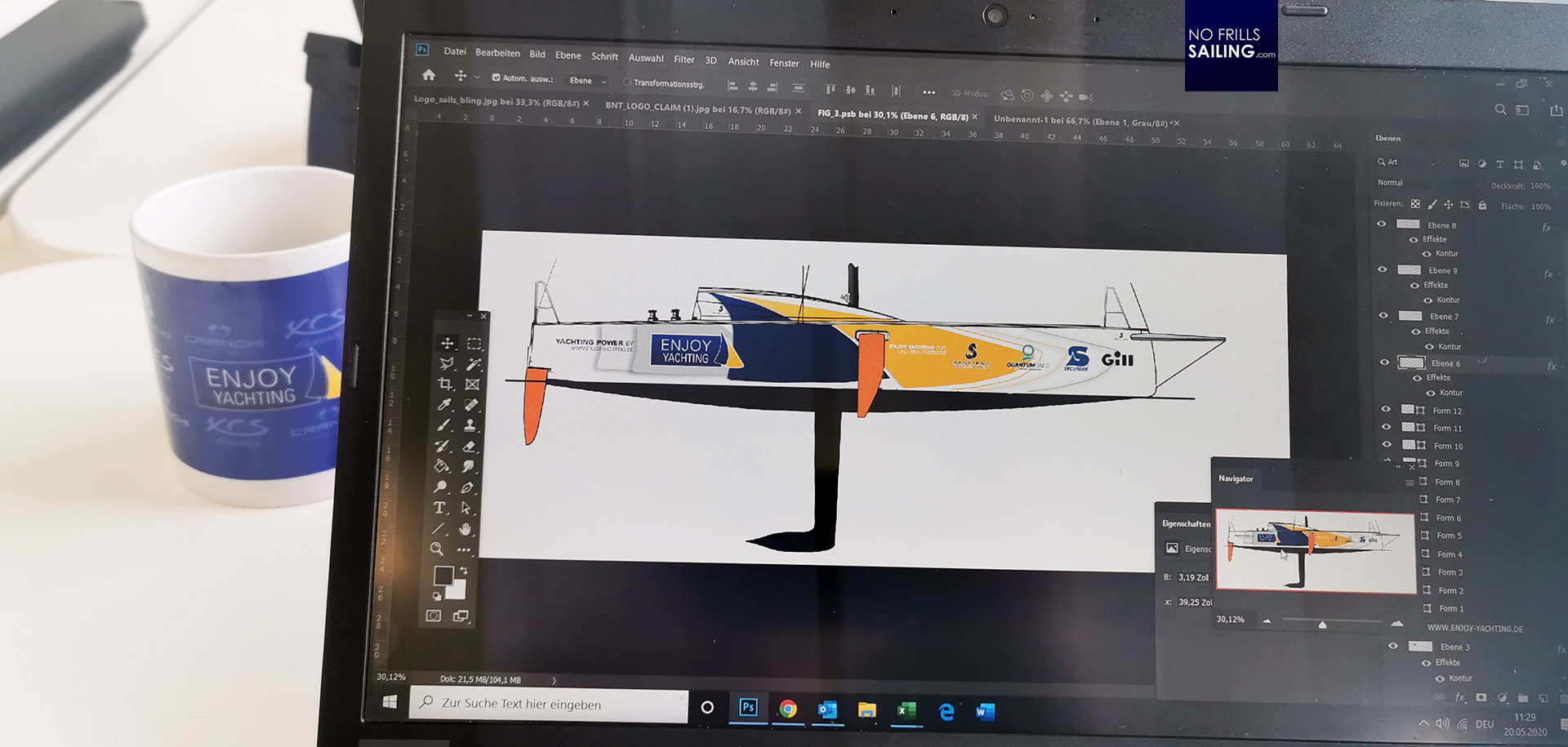 After introduction of the new boat to the class sales went quite fine to the pros but kind of stalled when it came to private owners. I personally think that many private racing guys in the 30 to 35-feet class hesitate to acquire a foiling boat, maybe thinking it is too hard to sail her, which was vehemently denied by Luc Joessel to whom I´ve talked excessively about this boat. But, well, what can I say, investing a budget of some 180.000 Euros (plus all the extra money) in a racing machine like this is something a boat-dealer like we are would only be feasible if the boat was to be raced professionally. Well, I am not a regatta-crack and don´t want to become one (although I love occasional racing, and so we skipped that plan. But instead …
We just stepped down some sizes and went for the First 24, the ex Seascape and now since some two years after takeover by the French company the new First-line. I must say that I really like the new Firsts: Lightweight, decent building quality, carbon-rigging as standard, North Sails racing laminate as well. These boats, especially the First 24, are boasting with sail area and thus power. I´ve tried the bigger First 27 two years ago and I was fascinated – as you may know, this is to become my new private boat soon. So, here we are – the company´s new tool arrived.
Designing MADCAP
I was quick in digging up the old Figaro 3 design and started to adapt it for the First 24. Somehow the name MADCAP was spooking in my brain ever since I saw that boat and as it is my privilege as Marketing Director of my company to assign names to boats which are going to stay longer in the company I called her ENJOY MADCAP. And I still think it is a very fitting name for a boat that powerful and quick. Happy as I am, my boss is backing these stunts as he knows about the importance of such marketing tools and, besides, is at least as crazy as I am. So here we are, MADCAP arrived and we started immediately to make her ready to touch water.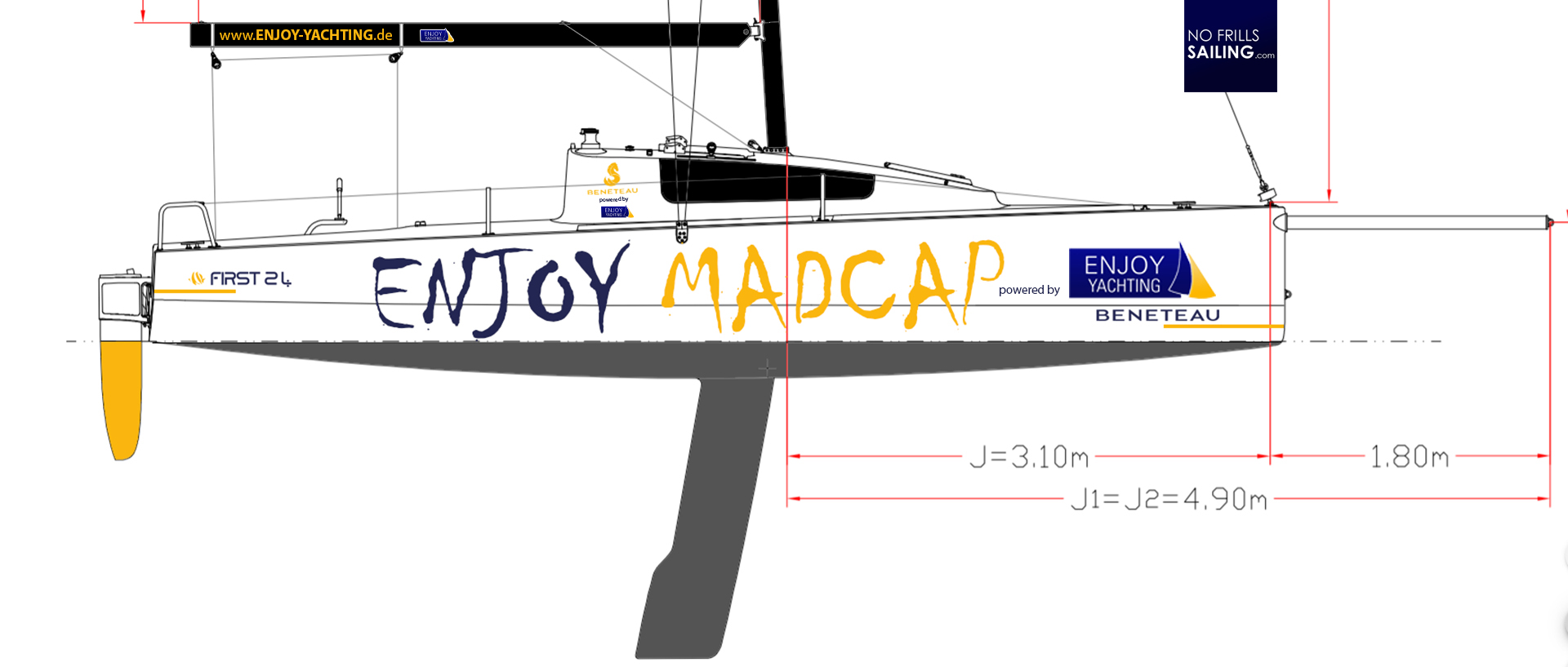 I transferred the design components to our partners producing boat´s names and big stickers. These guys who called their company "Monsterwerbung", which translates "Monster-advertising" are for a good reason our partners, because they are not just fast in their work and professional as it can be – they are crazy too. After some calls and talks they improved my initial design and a handful days later the stickers arrived.
My idea was to have the boat fitted with a lasting design that is on the one hand catchy and memrable to our clients and on the one hand professional and not too overly invasive to one´s eyes. I think we´ve made a good job in adapting the initial Figaro-design and bringing it to a new level. Of course I´ve used the colors of my company but also achieved a certain own style for the boat, especially by choosing a certain font type for the boat´s name.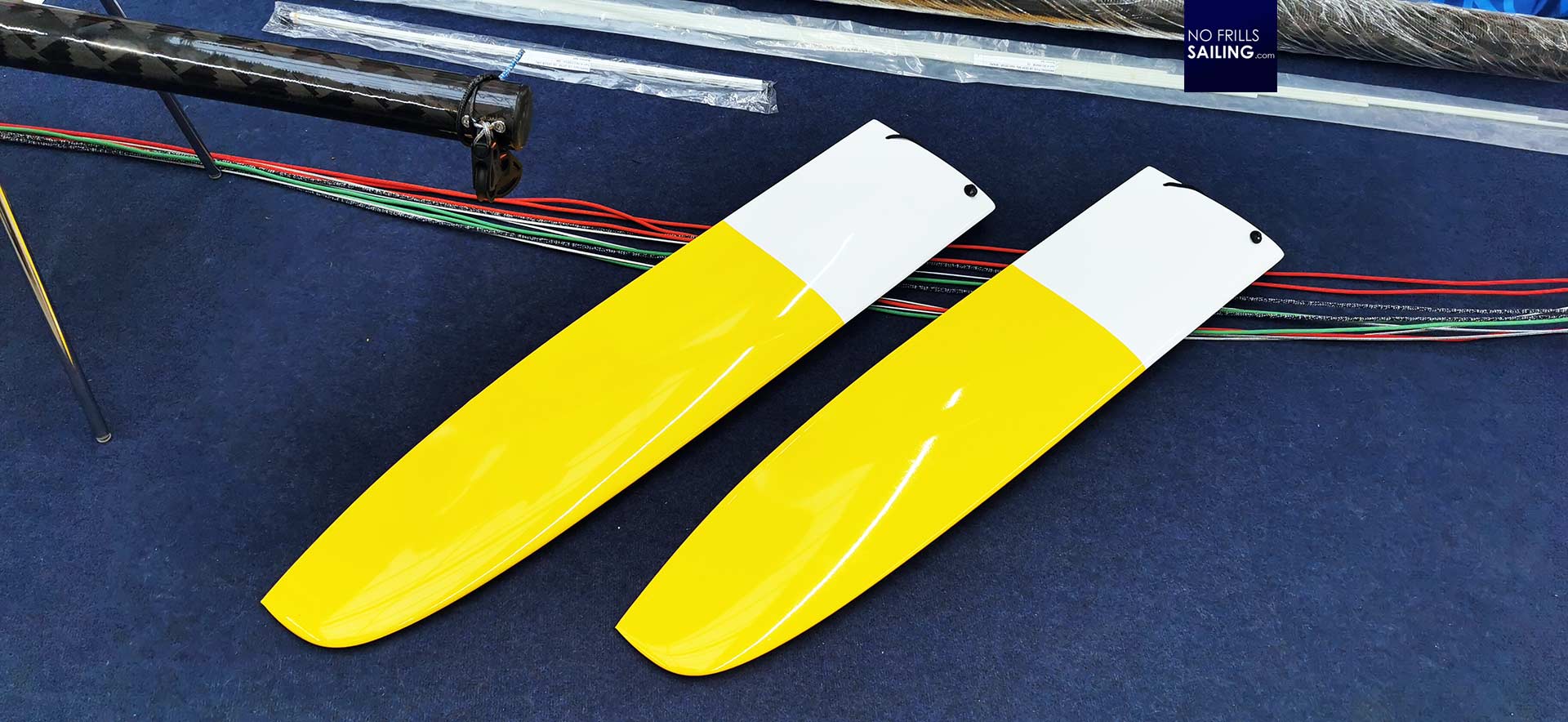 As the First, ex-Seascape, boats do bear rudder blades which are just poked into their tiller bearings and taken out after sailing, it was a special wish to have the wetted surface covered in orange foil as well. It's a kind of reminder of the big IMOCA or Class 40 sisters of our little racer and I am sure this will add some extra wow!-effect to the boat when she is finally sailing. Do you like it?
MADCAP gets her new dress
So let´s go. We briefed the team and immediately too her to our little yard where my colleagues began to sand her hull and started to building up a professional antifouling protection. Two layers of VC Tar by International as osmosis-protection and sealing for the hull, two layers of VC 17 self-polishing antifouling. In a matter of one week the boat was finished and put in her trailer.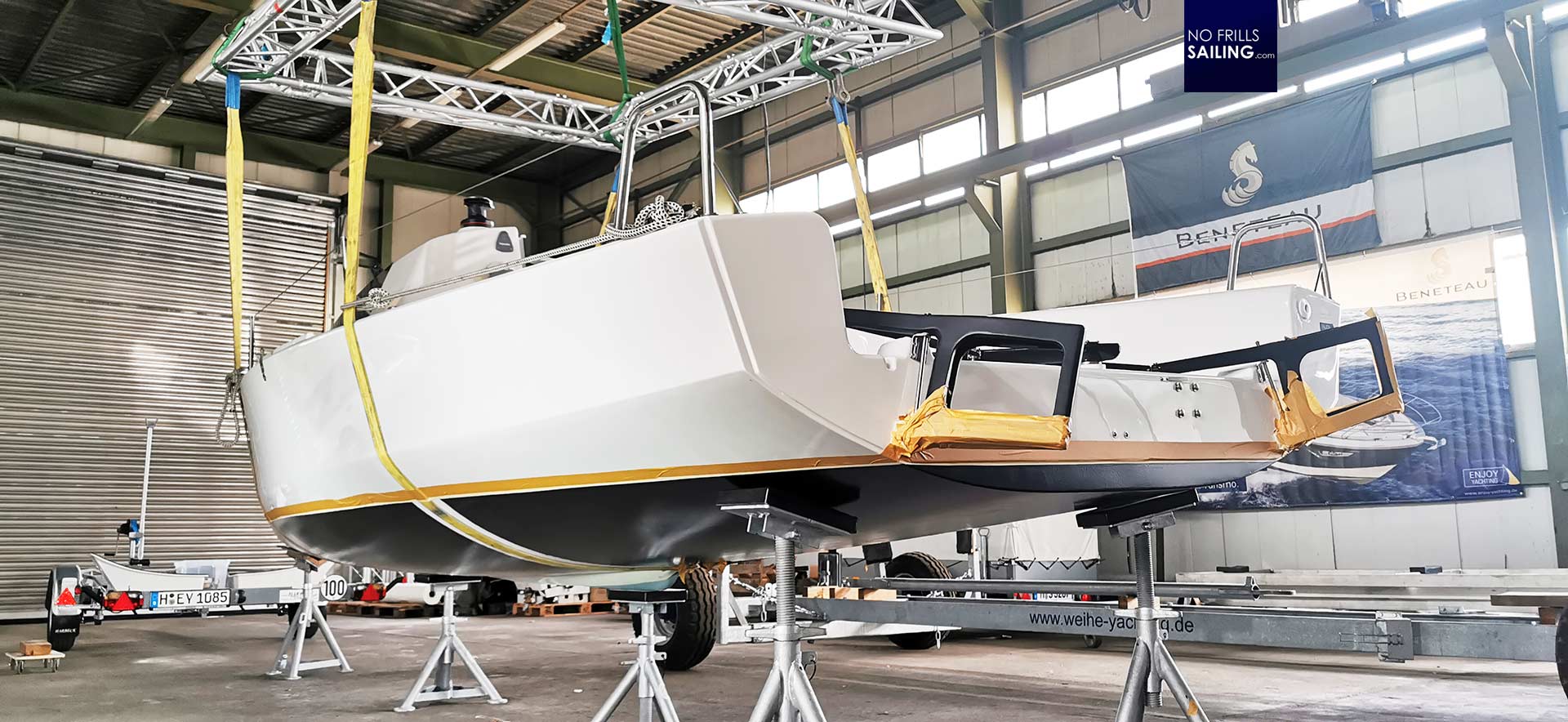 This First 24 is going to be sailed by the company for at least one season as a marketing tool, so we didn´t spare any efforts to make it perfect for the future guests. Parallel to the boat arriving I started a little campaign to invite First-afficionados for sea trials which are about to begin in a few days time. Having the boat at our yard delivered quite some material to throw around and tease people. The one teased most, of course, was me.
As for the propulsion, I chose to go the electric way. Firsts are powered by outboard engines and that´s normally an internal combustion engine. These things are loud, they do stink, they have their issues and you always need to have canisters of fuel at hand – meaning stored aboard – which will inevitably spread the stench of gas throughout the boat. I hate it! I just can´t stand the smell as it is uncomfortable, not very inviting and besides injurious to health. So I ordered the Torqeedo electric engine.
We don´t have too much experience with that kind of propulsion but from the little amount we acquired I can state that for boats this size these are absolutely gorgeous! Generating more than enough power to drive the boat sufficiently quick, the only limitation is the charge level of the battery. When not pushing to max power one battery will last some hours, besides, I´ve ordered a spare battery for just in case I´d need more power or power for a longer duration of time.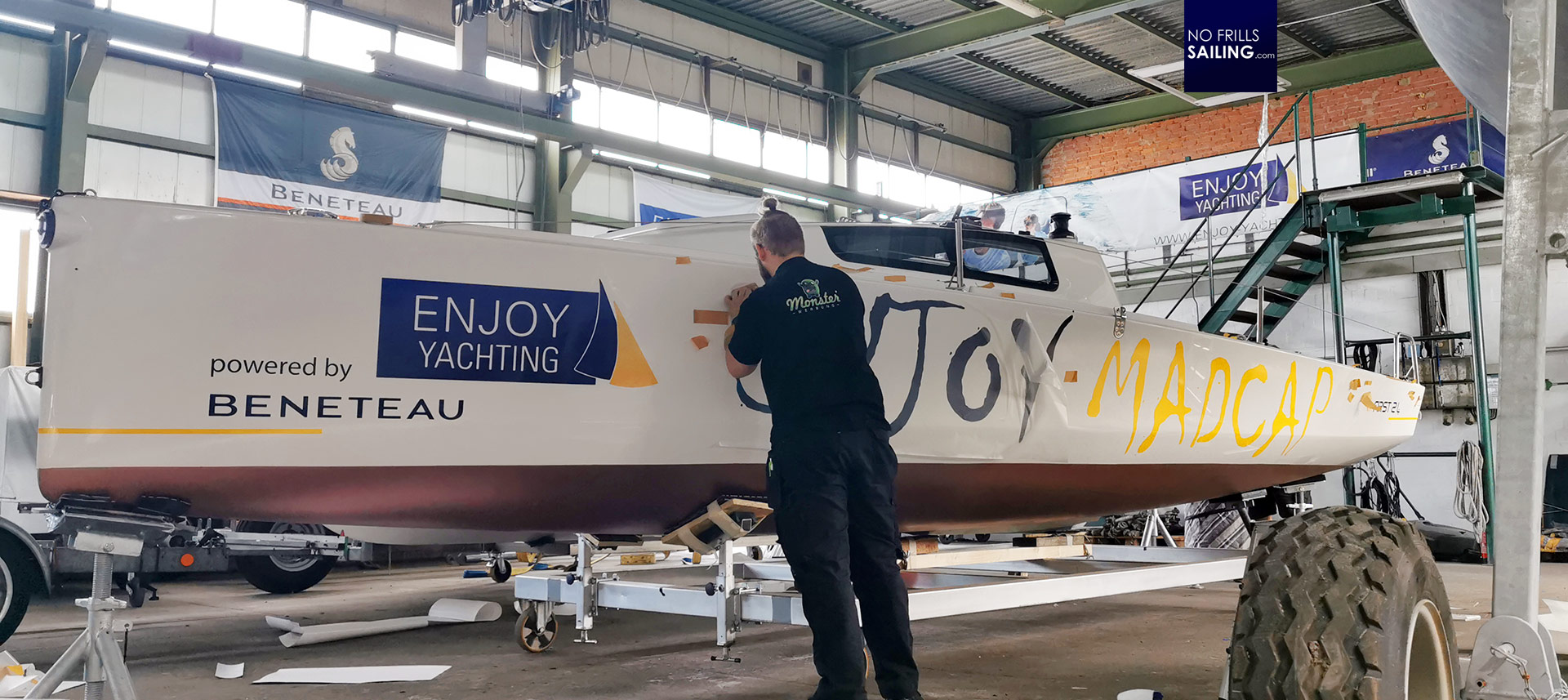 I couldn´t wait for the guys of Monsterwerbung and went over to the workshop to put on the sticker of her name to the transom. What a little glorious moment: The proud little boat had her name now and I was so proud of her. It´s still kind of unreal to think of the big amount of fun and pleasant anticipation that can be generated by such a small boat?! Welcome to the world, ENJOY MADCAP!
Ready for Take-off
So here we are. Just yesterday the guys of Monsterwerbung arrived with the large stickers and started their work. In a matter of a handful of hours the colorful adhesive foils were applied. What started as a mere idea and of going a bit crazy was now about to finally taking shape. Step by step the boat neared her completion, my vision becoming reality. Finally seeing MADCAP standing there proud and ready was a very moving moment. Although she is not my boat, she technically kind of is and I am moved, excited and emotional every time I see her. There she is, MADCAP, ready to sail …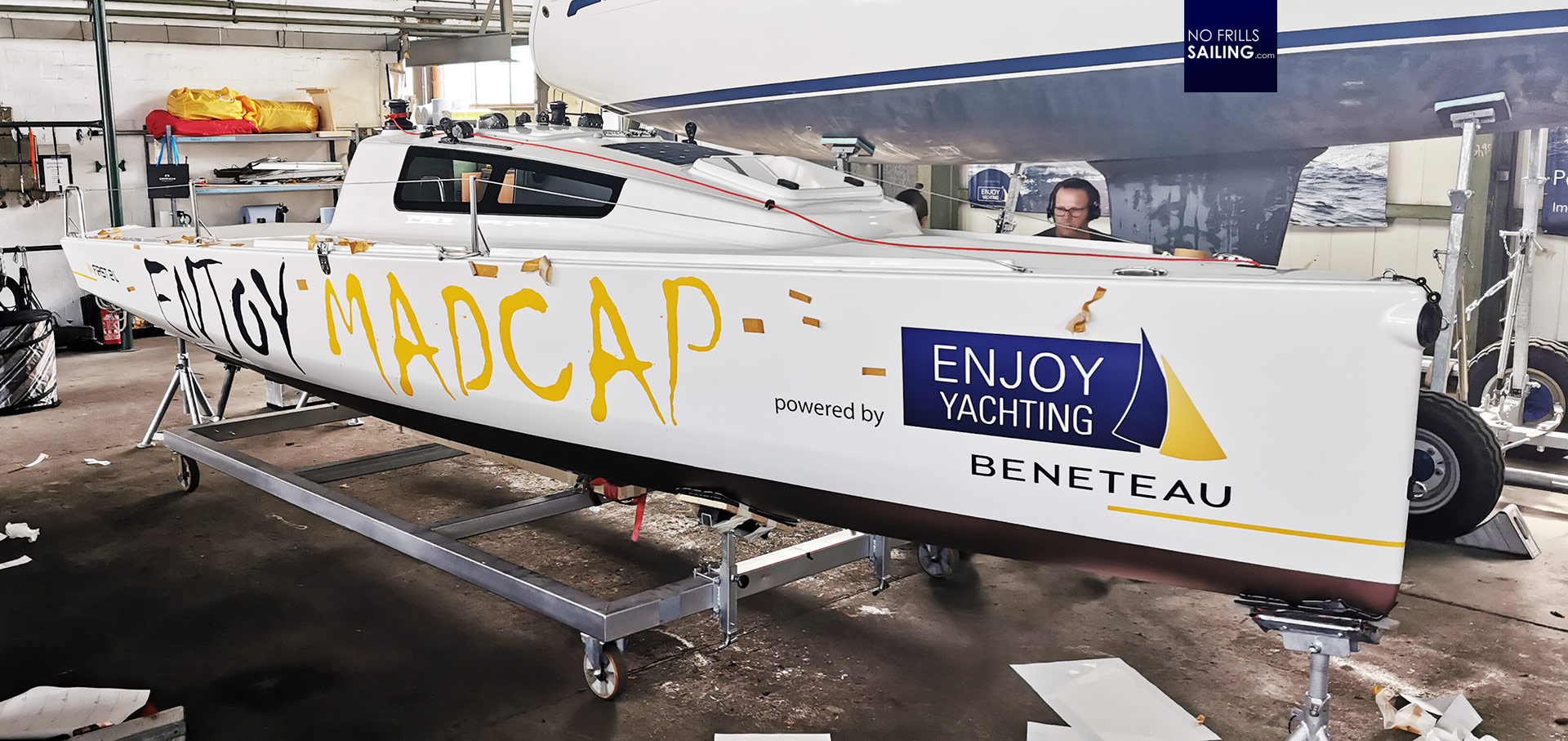 Now, the plan is to take her to the Baltic Sea next week and have her rigged. I will then do my first ever quick dashes with the boat accompanied by a friend and kind of small-boat-pro-skipper from whom I hope to grab some hints and trick of for mastering small boat sailing and then it´s time to welcome our clients-to be aboard as I will start to do a small Germany roadshow to three sailing areas showing the boat and hopefully exciting some people to get one for themselves. It will be another highlight of sailing season 2020. But, the biggest highlight of course is about to come I a few weeks time: My own First 27 is in the production process and nearing completion. Can´t imagine my heart rate when she finally touches water …
You may like to read following articles on the new First-boats, ex-Seascape:
Think Seascape: Testing the First 27
Another idea: My new boat will be a First 27!