Like almost everybody I love racing boats. There is this certain feeling of looking at a thoroughbred racer, purely designed to run as fast as it can, no comforts whatsoever, with skipper and crew just links between sheets, ropes and carbon. This fascination is equally vivid for the big high-end racing machines like the foiling IMOCAs or the super-trimarans, the Class 40-circus and the Classse-Mini. New boats like the Dehler 30 OD fascinate me as well as the new "smaller" boats for more professional skippers. Speaking of which we must inevitably arrive at the Figaro 3 by Beneteau.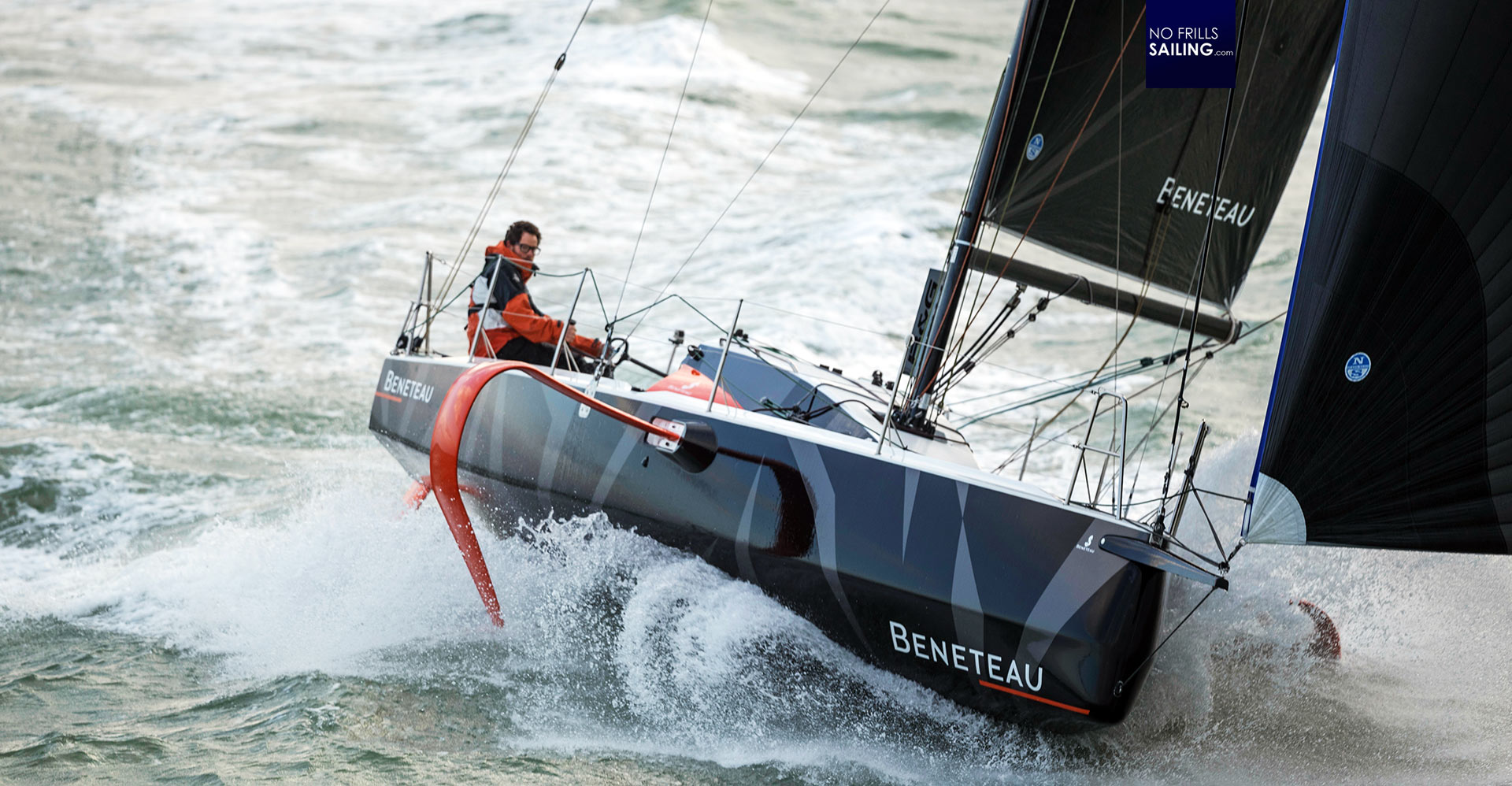 This boat has thrilled a lot of racing skippers as well as ordinary "spare time"-sailors like me: I know that because I saw the crowds admiring the prototype of the Figaro 3 when first shown in Paris. Last week I was fortunate to catch Luc Joessel of Beneteau and despite the crazy workschedules and stresses imposed by the Corona-crisis, he agreed to do an interview on the Figaro 3 – so here we go …
NO FRILLS SAILING.com | Lars Reisberg: "Luc, it´s a pleasure having you here – at least virtually due to Covid 19 – thanks for taking your precious time for this interview! At first, please tell me about your position and responsibility within Beneteau, some dates on your background and maybe some info on your past engagements."
Luc Joessel: "Hi Lars, pleasure is on my side. I have been with Beneteau for two years now. I am part of the Marketing-team where we are developing the new products for the brand, myself as a product manager focusing on the sailing range. Regarding my past, I have worked for more than 20 years now in the marine industry. First in the United Kingdom with Spinlock. Then with North Sails in France,  mostly in Marketing & Communication and in Sales."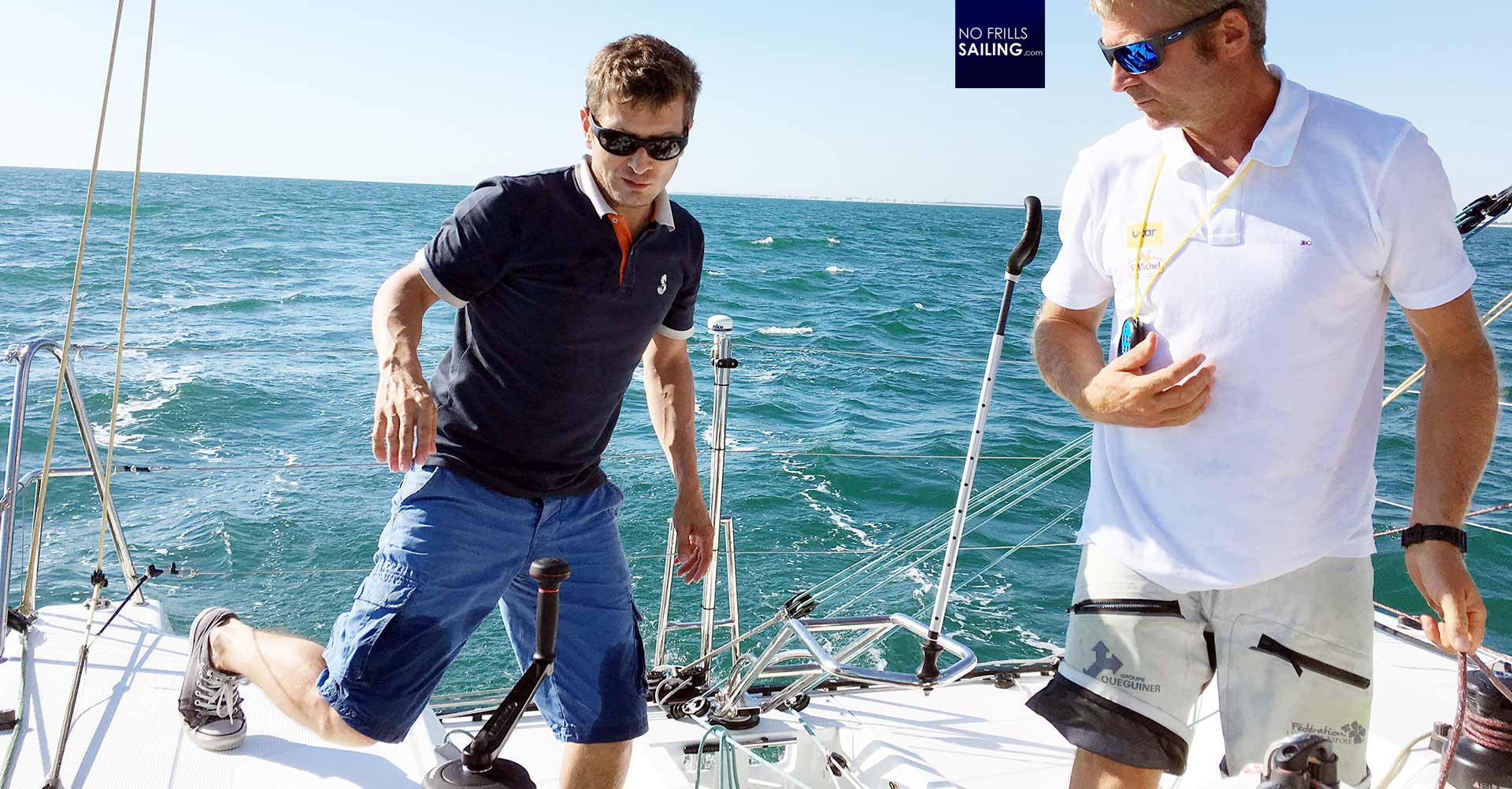 NFS.com: "I wanted to talk with you on the Figaro 3 which is now out there for 2 years sailing the seas. Did you have an active role in the Figaro 3-development? What is your current job when it comes to the Figaro 3 in particular?"
Luc Joessel: "No, unfortunately not. The Figaro 3 had been developed before I joined Beneteau. The fleet was starting to being built in our dedicated Cheviré factory when I arrived. My role regarding this particular boat is to be the link between Beneteau, the Figaro class and the sailors. So back in  the years 2018, 2019 I worked with the production team to organize factory tours and afterwards the deliveries. Together with my colleagues from the sales team we organize sea trials and try to push the sales of the boat. Last not least, I helped the communication team to launch the boat at the Paris boat show. Finally, last year 2019 was the first full racing season so it was a pretty strenuous and busy season too."
NFS.com: "How is the boat performing so far? For example in terms of sales success – how many units have been built and, or sold?"
Luc Joessel: "So far the whole venture is quite successful I would say. We have built 90 boats in total and to date around 70 units have been sold in Europe, some went to America and Asia too."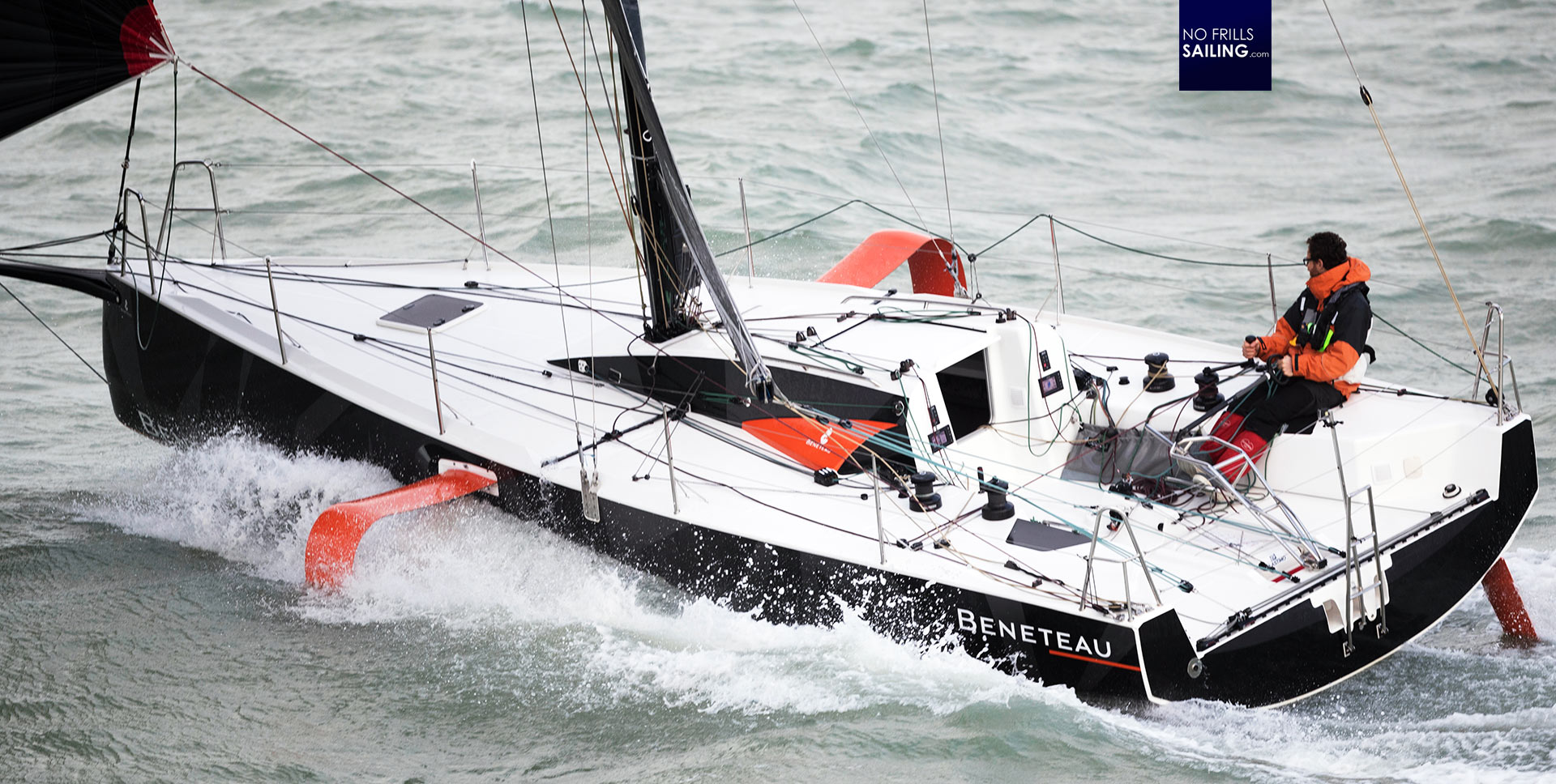 NFS.com: "How is the class accepting the new boat and what´s the feedback from both pro and amateur sailors on the F3?"
Luc Joessel: "The Figaro 3 is the first foil-assisted offshore one-design boat in the world. No one before Beneteau ever built a boat like this. And I would say that Figaro-skippers are the best singlehanded sailors on the planet. So, the first racing season has been pretty intense. Everyone – and that includes Beneteau – has a few interesting challenges but we had a fantastic first year on the water with a fleet of nearly 50 boats racing the main event of the year, which is La Solitaire du Figaro. Reviewing the comment, I shall say that the initial feedback from them is good, this is a demanding boat for sure and the learning curve is steep."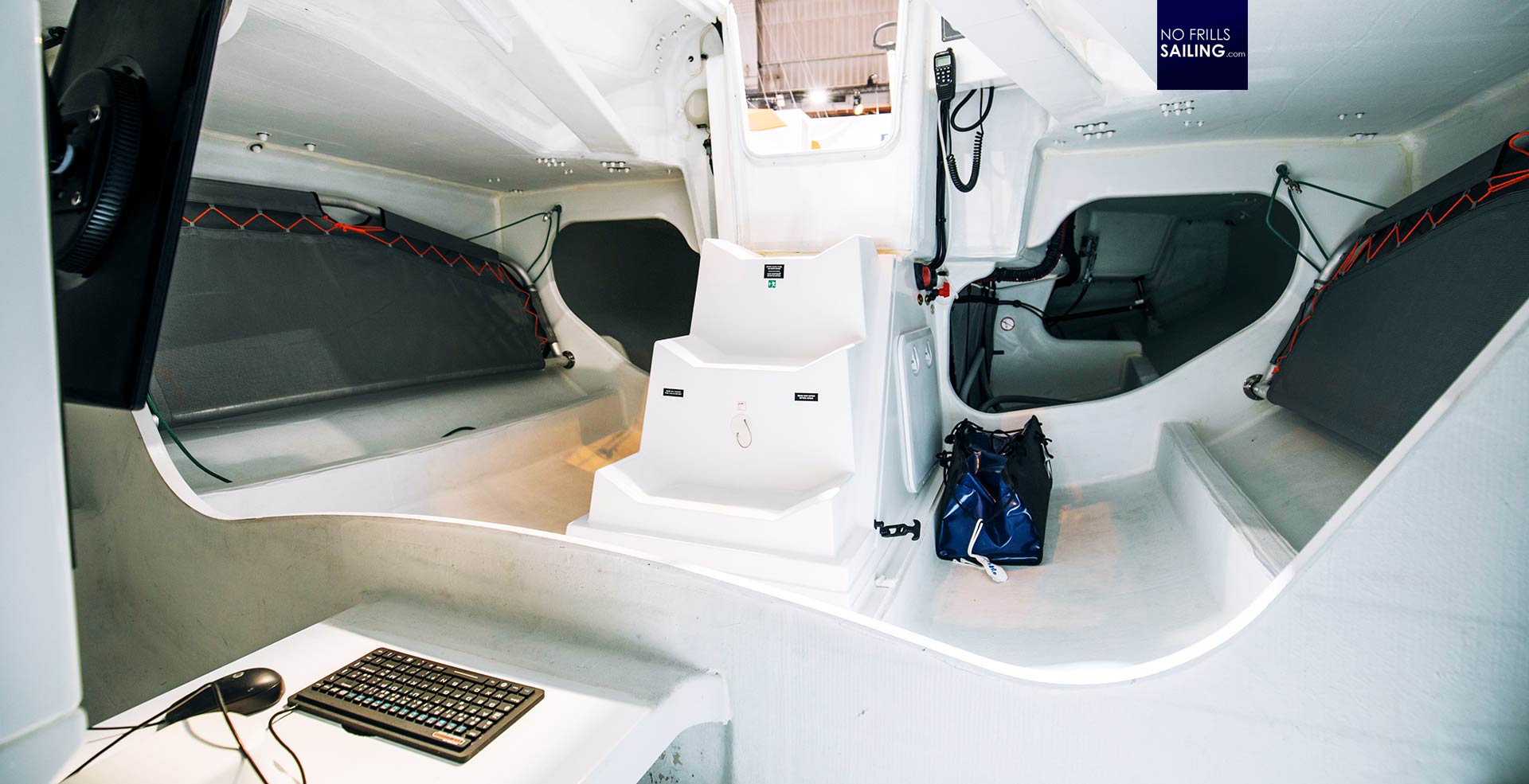 NFS.com: "What are the strongest points on the Figaro 3, as well in comparison to the Figaro 2?"
Luc Joessel: "The Figaro 3 is a modern offshore boat. Every Figaro has to be a state-of-the-art boat when we launch it. It is the briefing by the class: Keep it for 10 years to protect the skipper´s investments, as most of them own their boats, and make the class attractive. So, for example Figaro 1 was the first offshore one-design boat with water ballast-tanks. Figaro 2 introduced a full-carbon rig as standard, twin rudders and was ISO certified as Category A. Now, Figaro 3 has all of this, except that foils are replacing water ballast-tanks. As you know, almost all of the composite is infused, the sailplan is more modern with the rig moved aft, square top mainsail, A-sails on a fixed carbon bowsprit and so on. And of course it´s an ISO Cat A boat too. So in my opinion this is the perfect offshore boat for the decade to come!"
NFS.com: "How would you describe the sailing characteristics of the Figaro 3? What is it like to sail this boat?"
Luc Joessel: "You should try it as well – that boat is pure fun! Fast, very responsive, a lot of work. When you start sailing Figaro 3, you obviously focus on the foils which are the "new thing" but in fact you really quickly forget them as they are very easy to operate. They work like daggerboards below 10 knots and add their magic turbo effect above 10 or 11 knots of boat speed. Figaro 3 actually follows the new trend in offshore racing: Just like the latest IMOCAs with their giant foils the limit in performance today is probably not the boat but the skipper. There is so much power that if you want to perform for the whole duration of the race you need to take care of yourself … otherwise you will be quickly burnt. The first ever race of the class with the new boat was double-handed, the Sardinha Cup by Beneteau. The guys pushed hard, breeze was on and when they stopped after the first leg the main question essentially was: "How are we going to do it when we sail singlehanded?!?" But they learned and sailed an awesome season afterwards."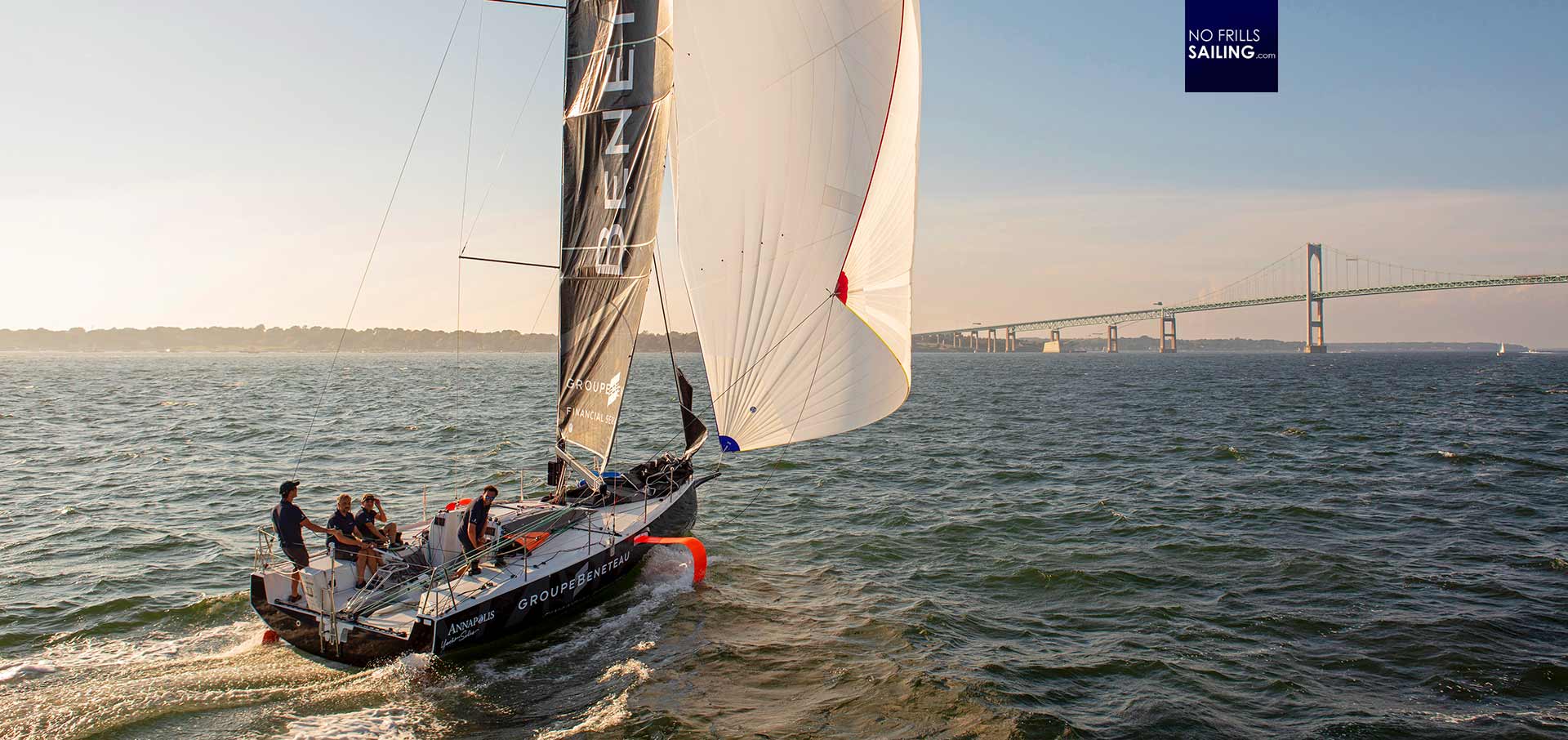 NFS.com: "Did any specific details of the Figaro 3 or learnings from her development influence the development of later boats, maybe also Oceanis-boats or the new First Yacht-range?"
Luc Joessel: "Although they bring a lot of stability and therefore comfort, it is hard to imagine foils on a cruising boat today: This technology takes up lots of space inside and it´s still quite expensive. However, we worked with top quality suppliers for Figaro 3, like Multiplast and use most of them for the First Yacht 53 too. Namely that´s North Sails, although every Figaro skipper is free to choose his brand of sails, Lorima/Sparcraft spars, Harken deck gear, Lemer cast iron/lead keel and so on. So in a way, yes of course, Figaro 3 had an impact on the other product ranges we offer."
NFS.com: "What was the most impressive or surprising thing for you personally about the Figaro 3 when you sailed her?"
Luc Joessel: "Helming the Figaro 3 is a treat and any sailor can sail safely with full main and the big kite. These 160 square metres in total and up to 20 knots are very impressive. I remember sailing the boat with the press and Beneteau dealers in Newport in those kind of conditions: Everyone felt safe and we´ve had a lot of fun. Reaching high speeds with this boat – between 15 and 20 knots – is relatively easy too. Going further up to 25 knots is another story but most of the pros already reached speeds well in excess of 20 knots."
NFS.com: "Apart from the French Figaro-class, who is buying the F3 as private owners – what are these people like?"
Luc Joessel: "Oh, we have a quite an interesting mix of profiles. Owners either coming from bigger fully-crewed boats who are sick of chasing crews and want "to do everything on the boat", seasoned shorthanded amateur skippers … it´s a wide range. But what they all have in common is that they are passionate and experienced sailors for sure."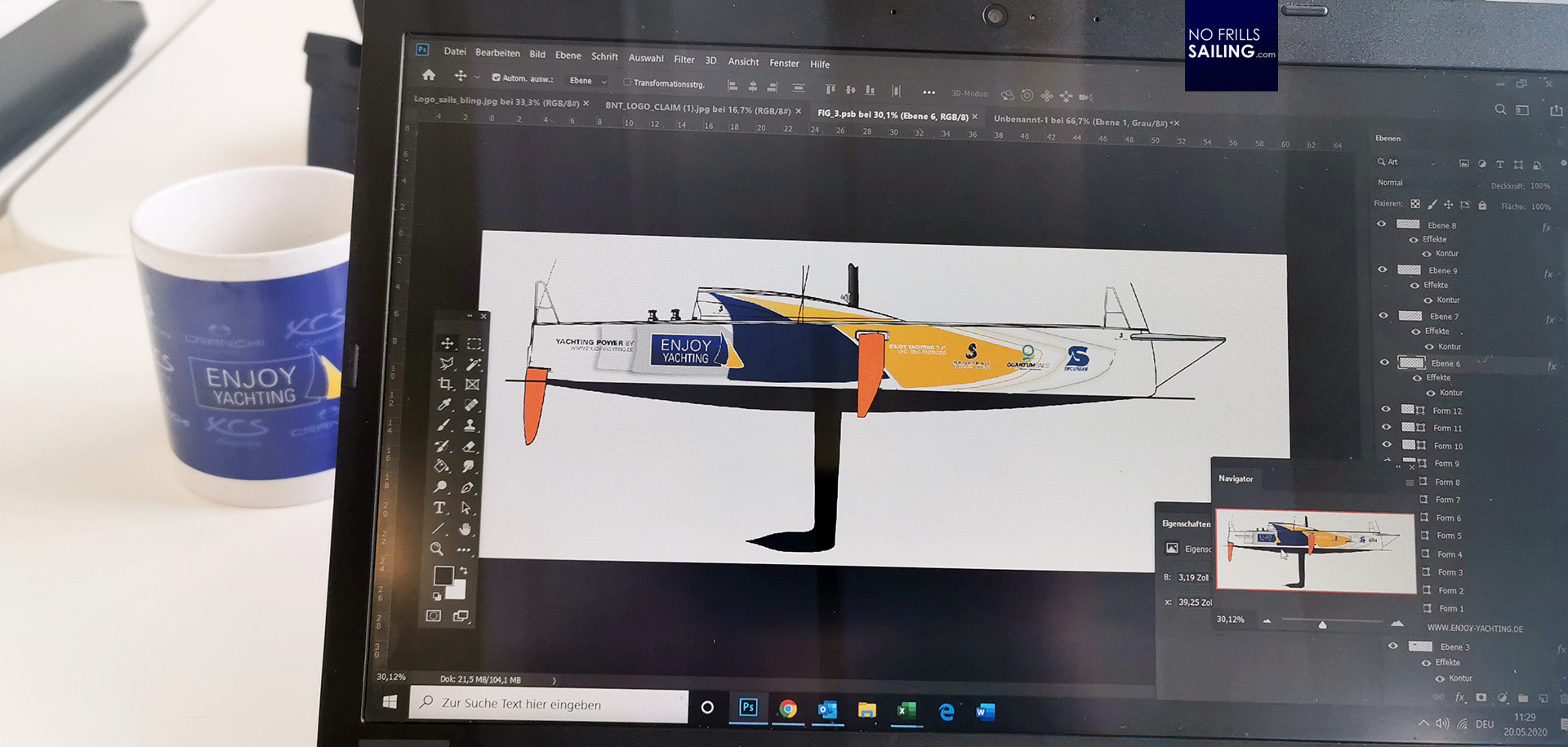 NFS.com: "What is the future of the Figaro 3 like – especially the plans to have this boat instated as the new Olympic offshore boat?"
Luc Joessel: "Well as I said before, we sold mostly in Europe and a few in America and Asia. So we are looking at expanding our customer base where we see potential. For example, except in Sweden we do not have any boat in Northern Europe and we only have one in the Mediterranean – there´s a lot to do for us. And we are looking for opportunities in Australia and New Zealand too. I would say that shorthanded offshore racing is growing everywhere in the world for sure so we should be able to convince a few more owners. Interest usually starts once we have a boat in the country. As far as the Olympic Games in Paris 2024 are concerned, it is great news to have this new mixed doublehanded offshore discipline there. And of course it would be great to have a French boat! It is still early days though, we know that Figaro 3 could do the job and as many other manufacturers we are talking to World Sailing … well, I guess time will tell."
Many thanks, Luc, for this exciting insight to Beneteau´s racing division and the Figaro 3-performance. I personally would love to catch a ride on one of these. Maybe, when the C19-craze is over and we can travel more freely, we can have a short dash out next time in in the yard.
You might also be interested to read more about racing and sailing:
Talking to Jeremy Beyou of next-gen IMCOA "CHARAL"
Singlehand sailing training on IMOCA with Lizzy Foreman
Tackling racing a sailboat for the first time: Talking to pro Tim Kroeger