Last weekend I did have the pleasure to attend Paris boat show, the legendary Salon Nautique. I was so excited upon entering Paris fairground as I did have read a lot about this boat show and was keen on seeing the show by myself. As I work for Beneteau yachts in Germany, I noticed in the company this thrilling pleasant anticipation of the coming show: Salon Nautique is still one of the most important shows for the company, which applies especially for all French yards as well.
Pen Duick 3 by Eric Taberly: A Sailing Legend
What I noticed first was how small the show apparently was: Just a hand full of exhibition halls of which the sailing boat hall was the most interesting one for me. Entering the big hall – it was well into the show and during a normal working week´s day, I was stunned of how many people were roaming the exhibition. Remembering some German shows the contrast to virtually empty halls in my own country was appalling. I was greeted by a mere French legend: Eric Taberly´s PEN DUICK III.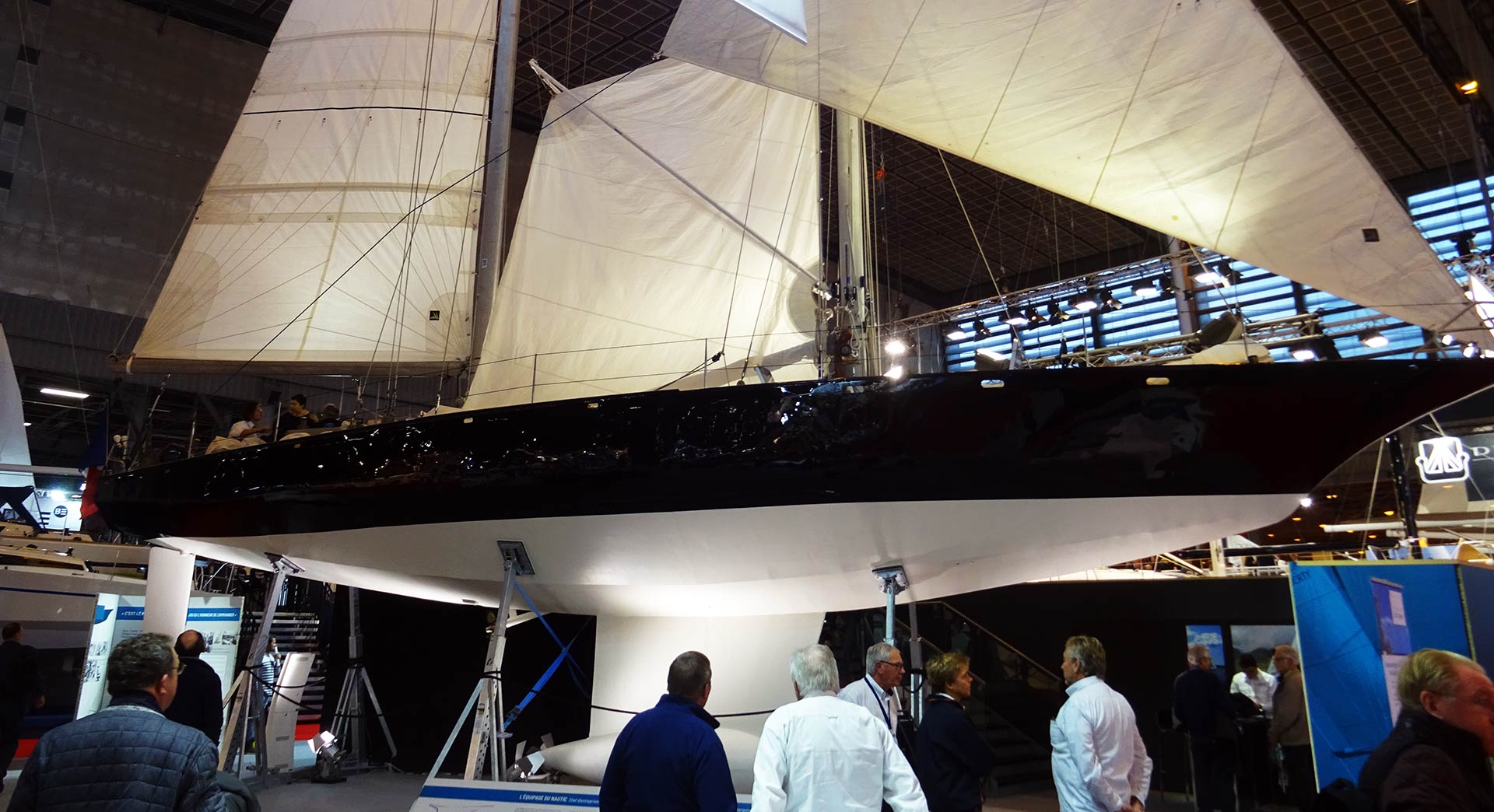 This legendary yacht, the third of Taberly´s PEN DUICKs, was exhibited right in the center of the hall. Partially rigged, some sails hoisted and in a very good shape (judging from her outside freshly painted hull) the Eric Taberly Society had a very big stand on the show. This is France, I thought to myself, trying to imaging a German counterpart, acquiring as much space on a fair back home. Impossible.
The PEN DUICK III was as impressive as one can imagine. A massive, streamlined hard-chined hull, double masted with massive steel columns. I admired the boat and spending much time looking at this legendary yacht it got more and more difficult for me to imagine sailing this hulk single handed: No help whatsoever by modern winches, let alone electric gadgets, navigational stuff or satellite communications. Very, very impressive though!
Allures 45.9: An Aluminium Dream Yacht
The Paris boat show is very clearly arranged. There aren´t too many exhibitors if you do not count the three big French yards Beneteau, Jeanneau and Dufour as these three are occupying the most space of the show. Not far from the PEN DUICK III I was attracted by the familiar appearance of a very special material – Aluminium. It was the stand of Allures Yachts.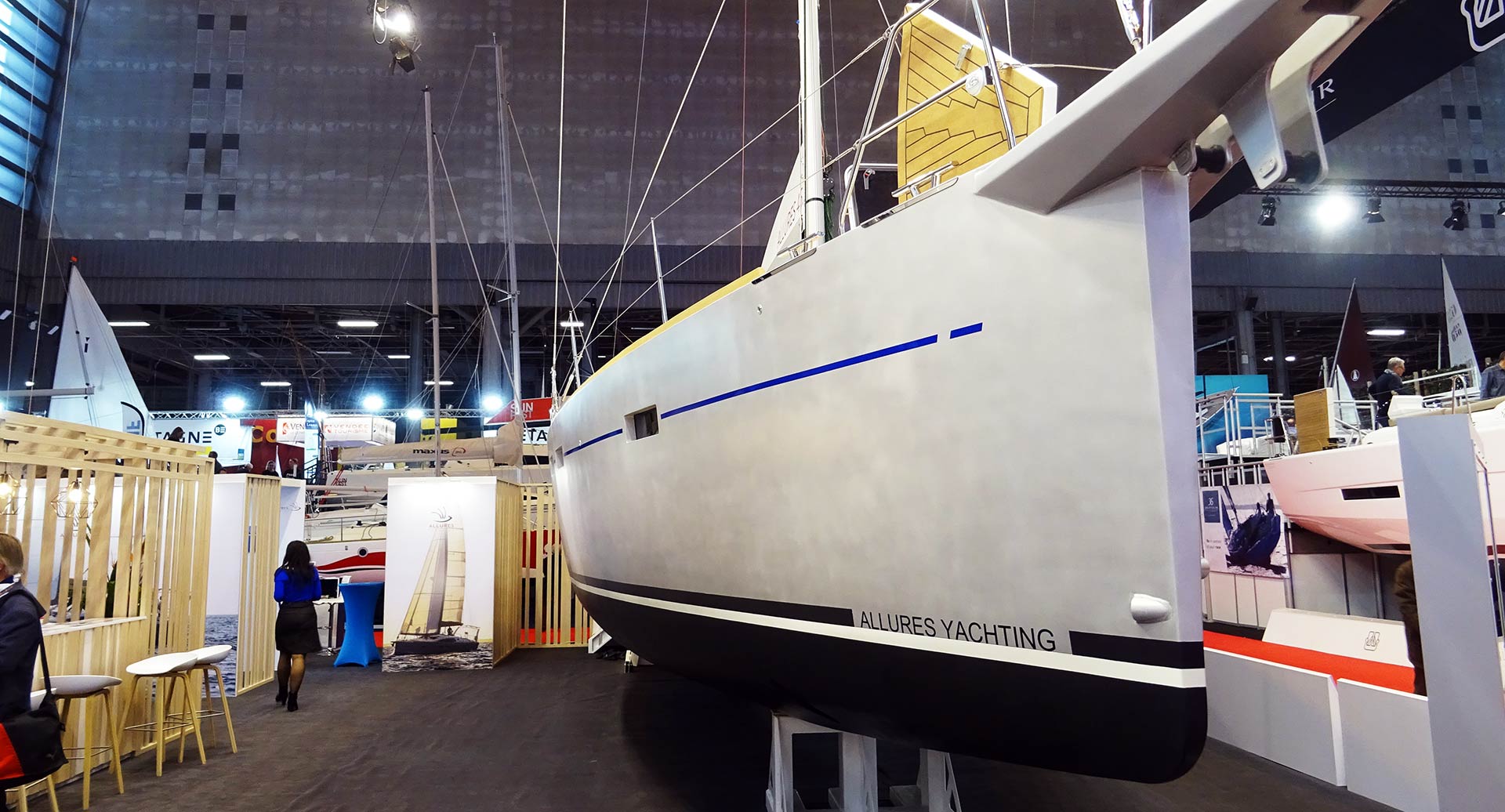 The exhibited boat was the Allures 45.9, a blue water cruiser made for the long haul. Perfectly built with a rounded hull, I admired the skills of the manual jobs done here. No flaws, no scratches – just a perfectly crafted hull. I unfortunately didn´t had any time to inspect the internals of this yacht but I saved this Allures yachts to my personal schedule for a later onboard tour.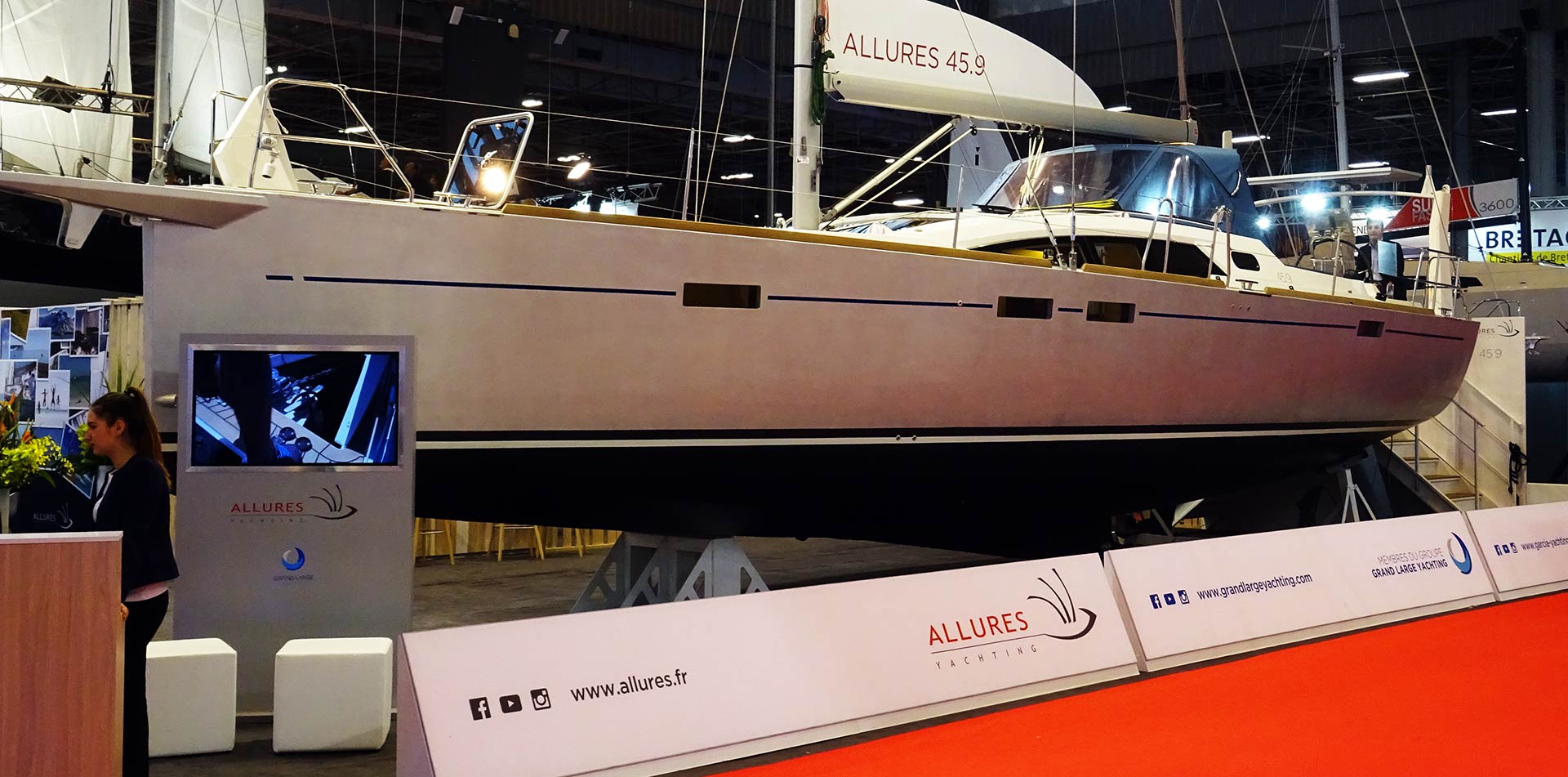 Roaming further through the sailing yachts hall I soon discovered that … there really wasn´t much more to see here. Some Catamarans (which aren´t of any interest for me) and smaller fun-boats were situated at the outer areas of the hall and anywhere you go you will unavoidably end up in front of the big three French yards – which isn´t as bad as it sounds though, but as one colleage told me: "If Beneteau quits Paris boat show, the fair will be dead." I know this from Germany …
This certainly French touch: RM Yachts & Offcet
But behold! Not so fast! There indeed are some more things to discover here other than the big brands in cruiser-making. Of course RM Yachts of La Rochelle (which I visited recently, read the article here) did exhibit their latest boat, the RM 1370. This yacht was painted in a raging fiery red which is kind of a trademark of RM: "Sexy fresh yachts!", as Marc Lombard, the principal designer, once told me.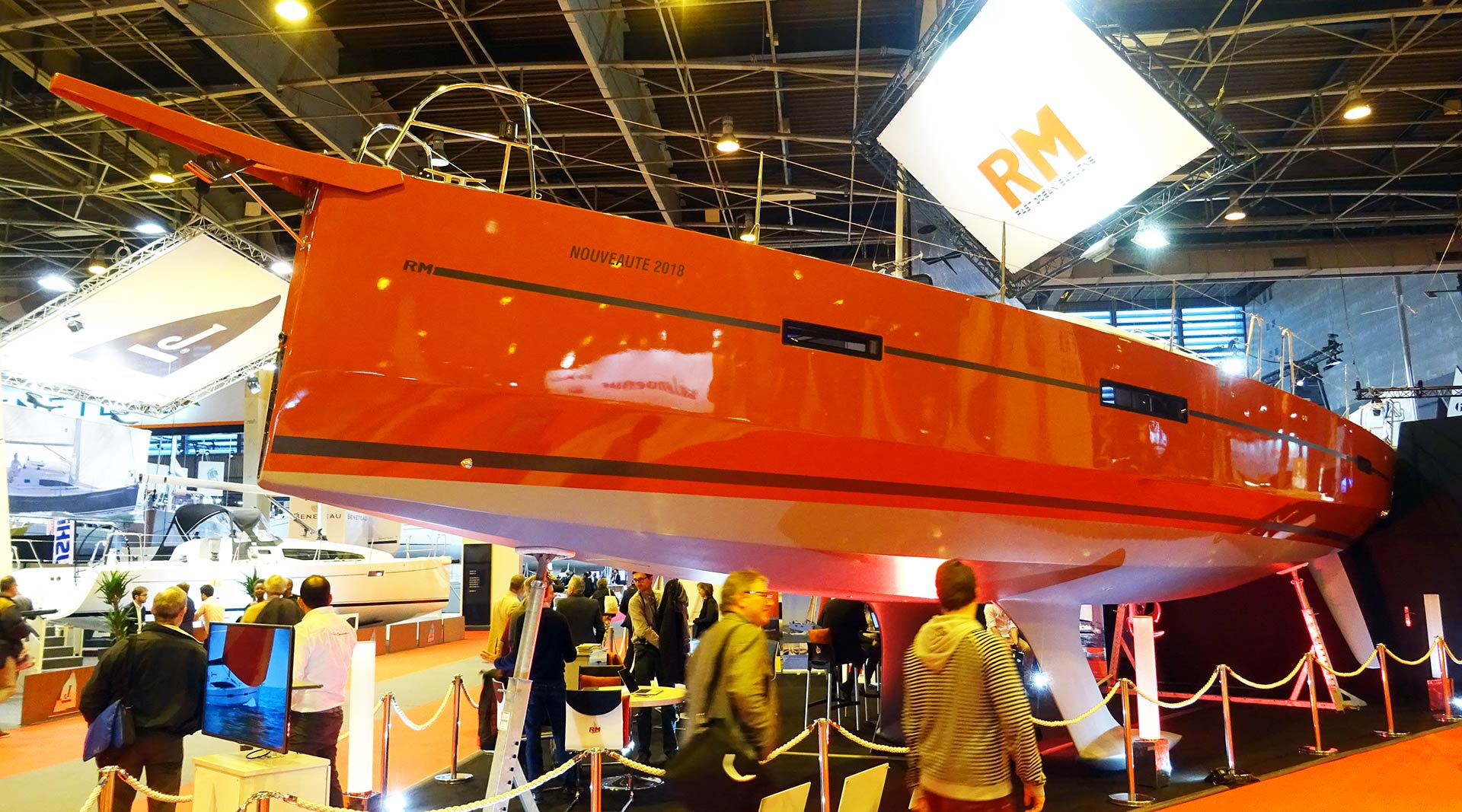 The boat was outfitted with a twin keel solution, able to fall dry in the tidelands of the French Atlantic coast. Kind of unusual appearance to German eyes as this twin keel solution is seldom seen in Germany: We prefer a single keel, retractable (like seen on the Allures). I also loved the strange design of another yacht: The new Offcet 32SC, also done by Marc Lombard.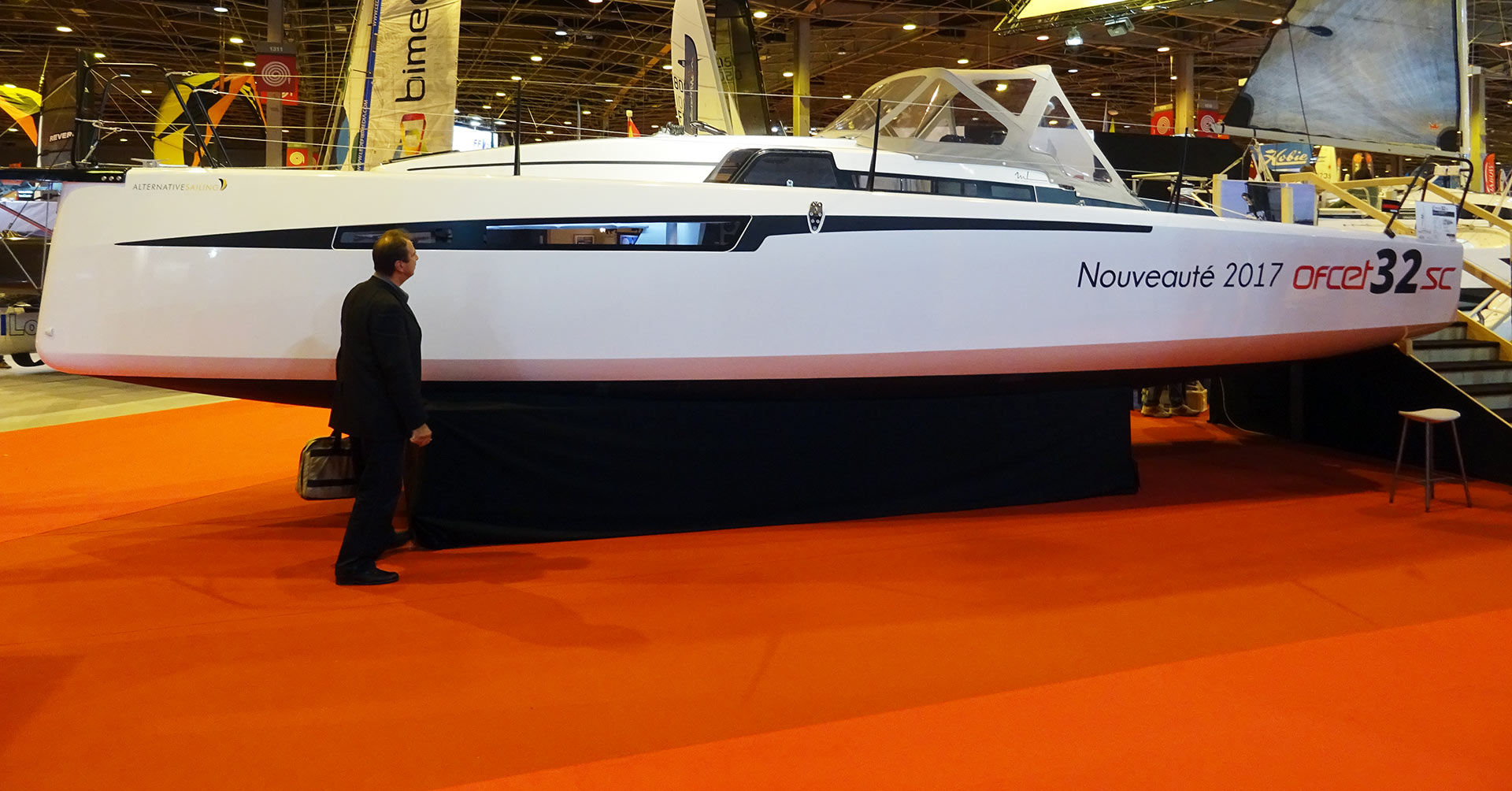 This is French Sailing Culture indeed, I thought to myself whilst walking around the Offcet. The design of the hull itself implied nothing else but speed and fun. The outward appearance resembled a Lamborghini sportscar rather than a sailing yacht. A lightning cast in GRP – everything on this yacht resembled the Occet-motto, resembling a "Pogo on Speed", as it appeared to me.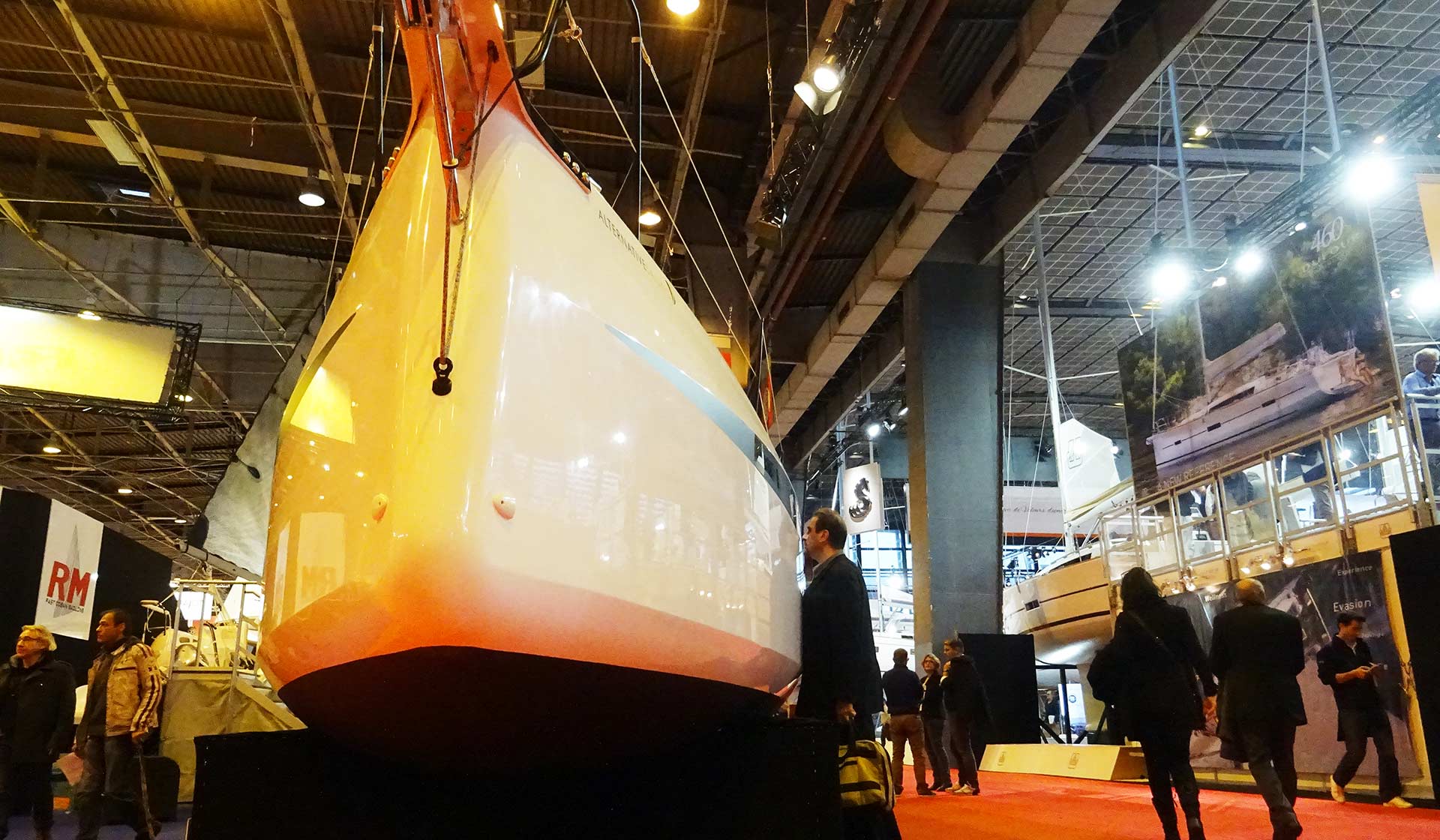 In the end, Paris Boat Show is indeed an interesting venue. It is a nice shop-window to current French yachting culture, making it possible to take a look onto the products of both the big French brands as well as smaller yards. It is certainly not a big show though – it cannot compete with Cannes Yachting Festival for sure nor with Europe´s most important show, the BOOT in Düsseldorf. Nevertheless, what was my personal highlight and truly typical French: The stand in Eric Taberly´s honour which I in the end liked most.
You may also like to read:
At BOOT Düsseldorf – Yacht Interior Design Part 1 and 2
Roaming the Hanseboot in Hamburg
My favourite yachts at Ancora Boat Show – Dehler 42 and Faurby