Now, things develop at a very rapid rate these days and that is a good thing: After having waited such a long time from making up myself and finding a decision which new boat to go for, from finally ordering the very boat to delivery and first works on the brand new First 27 SE it took quite some time. As they say: Pleasant anticipation is the best about acquiring a new boat, now the pace has sped up and that is a good thing. On my to-do-list another bog chunk has been crossed off yesterday: The custom design.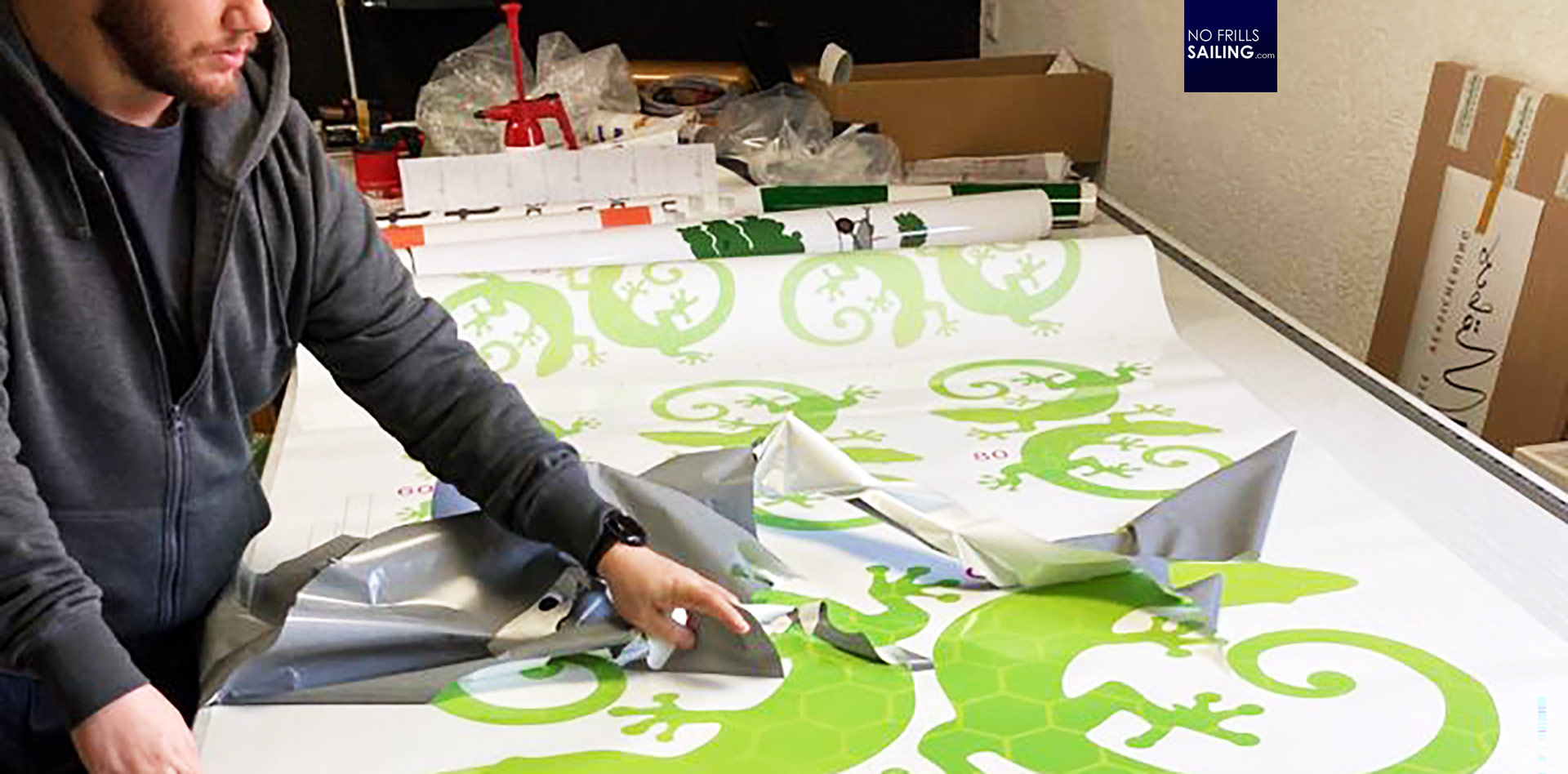 The day before I received some pictures from the guys showing the huge plotting tables with the raw stickers being prepared, which is a really big thing to do: A laser was cutting out spotlessly the geckos, all the stickers had to be transferred onto a different interlayer and even covered from the other side by some transferring layer. Seeing all this I understood which efforts are taken and why a custom sticker design for a boat is not a cheap undertaking if done by pros.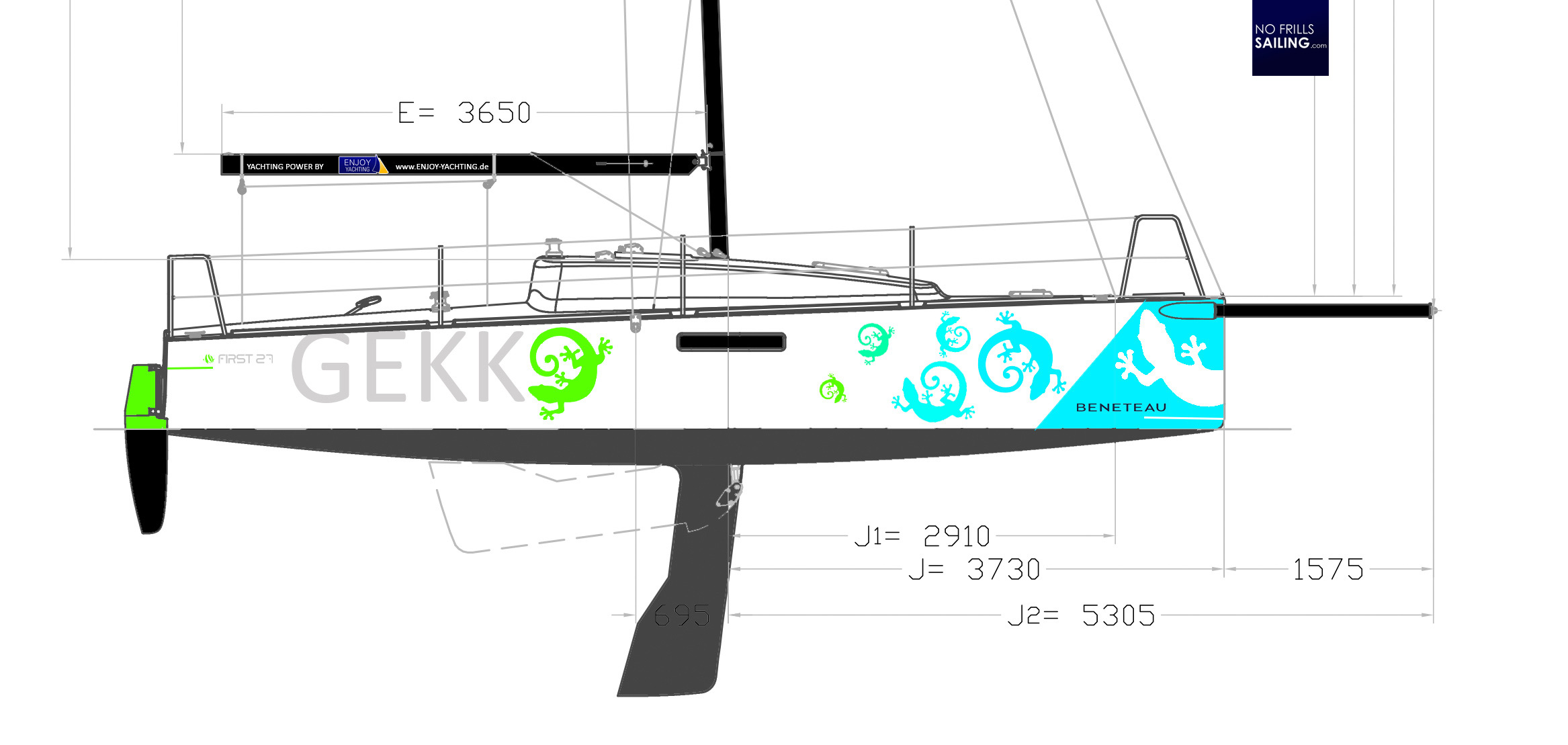 I developed a very simple but kind of dramatic color scheme for the boat´s design: Not as "loud" as our last designs of ENJOY MADCAP or the HOTSHOT, both being smaller First 24 SE-sisterships of my boat. I also didn´t wanted to do a fully covered design like the one I developed for the "Feynman-boat" which is easily the most memorable of my designs so far. No, I think the picture of the Gecko, the greenish color and the reptile scale-pattern is more than enough to create an eye-catching design.
The becoming of GEKKO
My friends of a professional company whos job it is to put up stickers to cars, trucks, buildings and – right so – boats, arrived early in the morning with a trunk load full of geckos. Exciting! At first they began to thoroughly clean the boat´s hull with a very strong agent: Completely getting rid of any greasy substances on the surface was the task.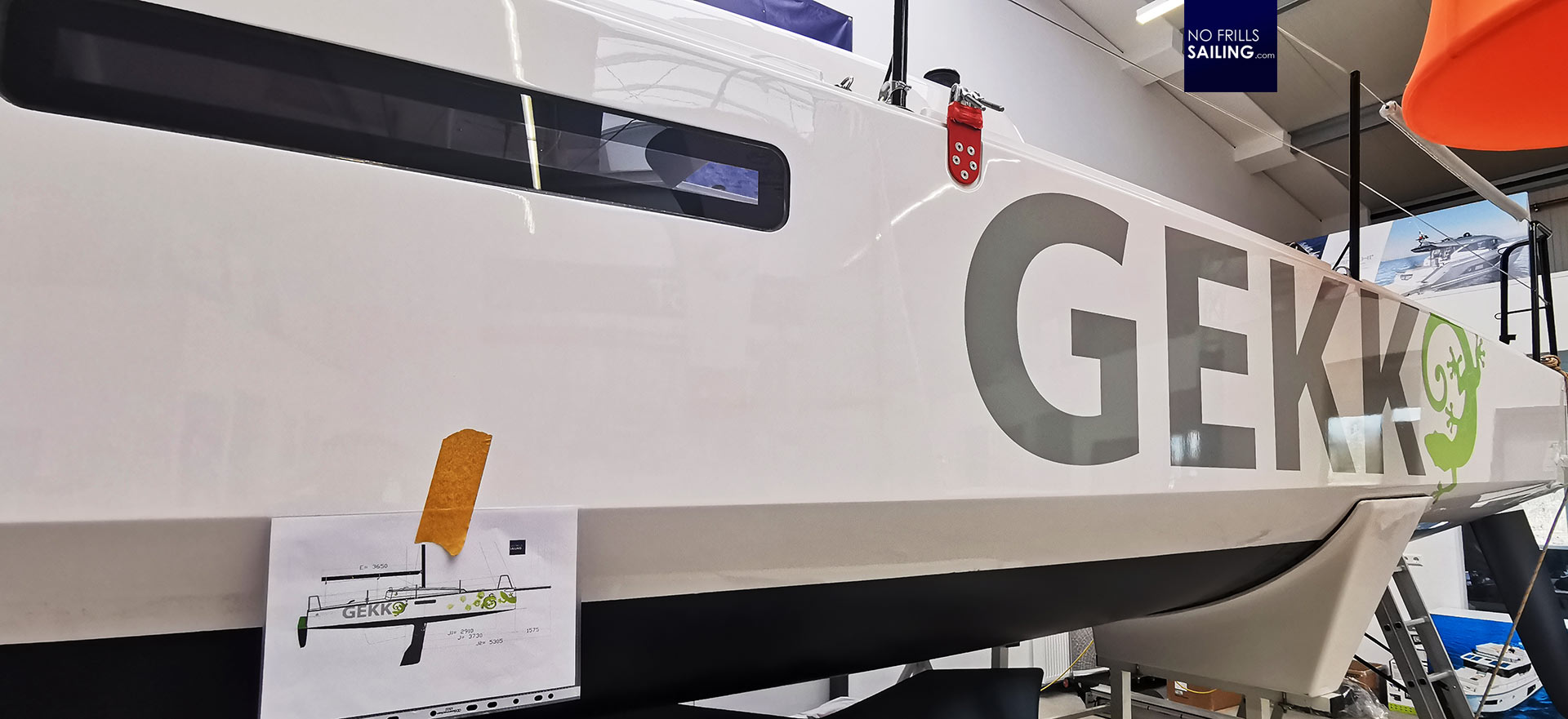 They started by marking the areas where the straps of the marina crane would later have the boat: That is an area where the pressure of the straps might damage the stickers. It wasn´t a problem in the bow section but almost impossible in the stern part: I will have to secure the strap here in some other way. Positioning the biggest sticker, which is the name of the boat, was a tricky thing as this first sticker is always the hardest.
Once that was done, the first Gecko was put up to the boat. Beginning at the front the guys worked their way back down to the stern, sticking the geckos to the hull so that I could check from afar if position and distribution of the stickers was fine. I fine-tuned some oft he geckos so that each one of them is slightly different positioned than the next and gave green light.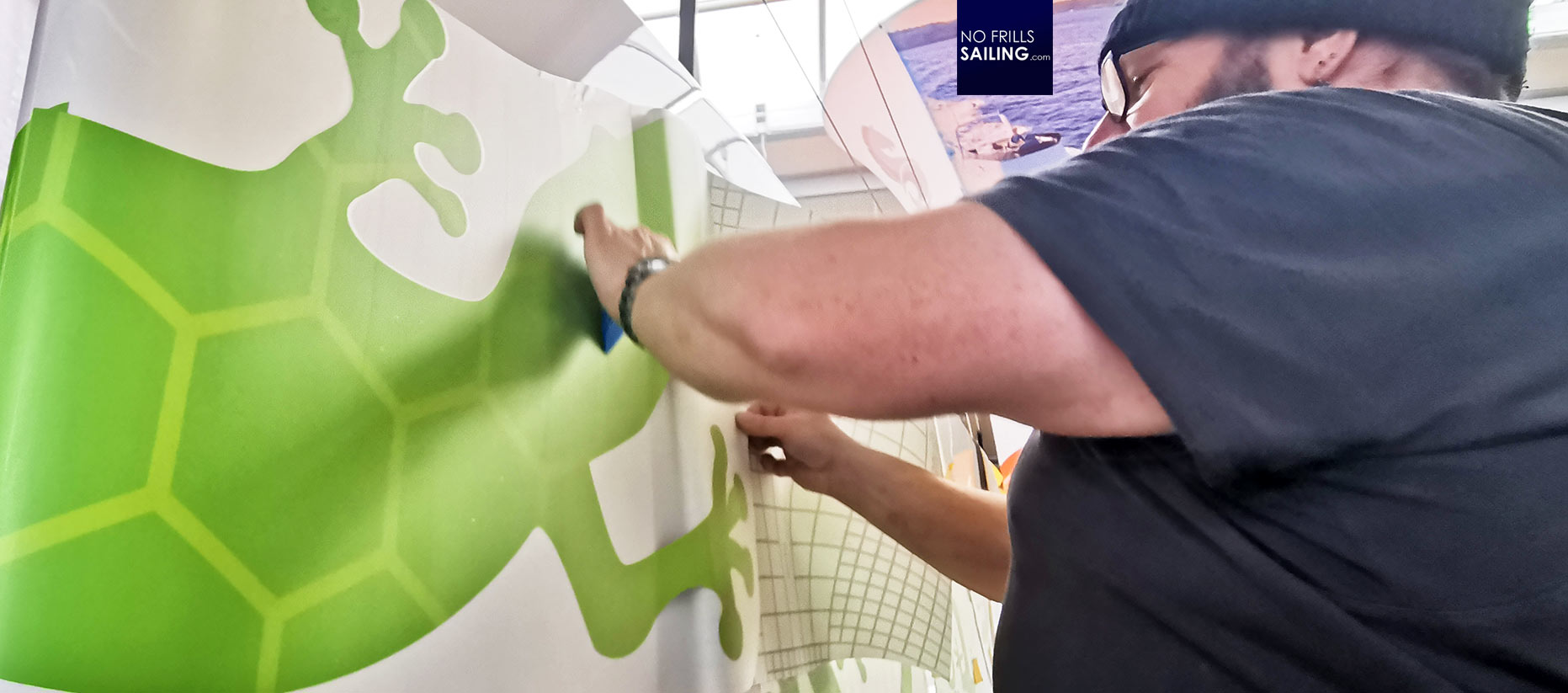 Putting up such big stickers which are covering large areas without wrinkles and air bubbles is a tricky thing. I regularly put on stickers on boats by myself but these are much smaller, better to control. The guys of the professional company have their "secrets" of how to achieve a spotless outcome, how to press out air bubbles and avoid wrinkles.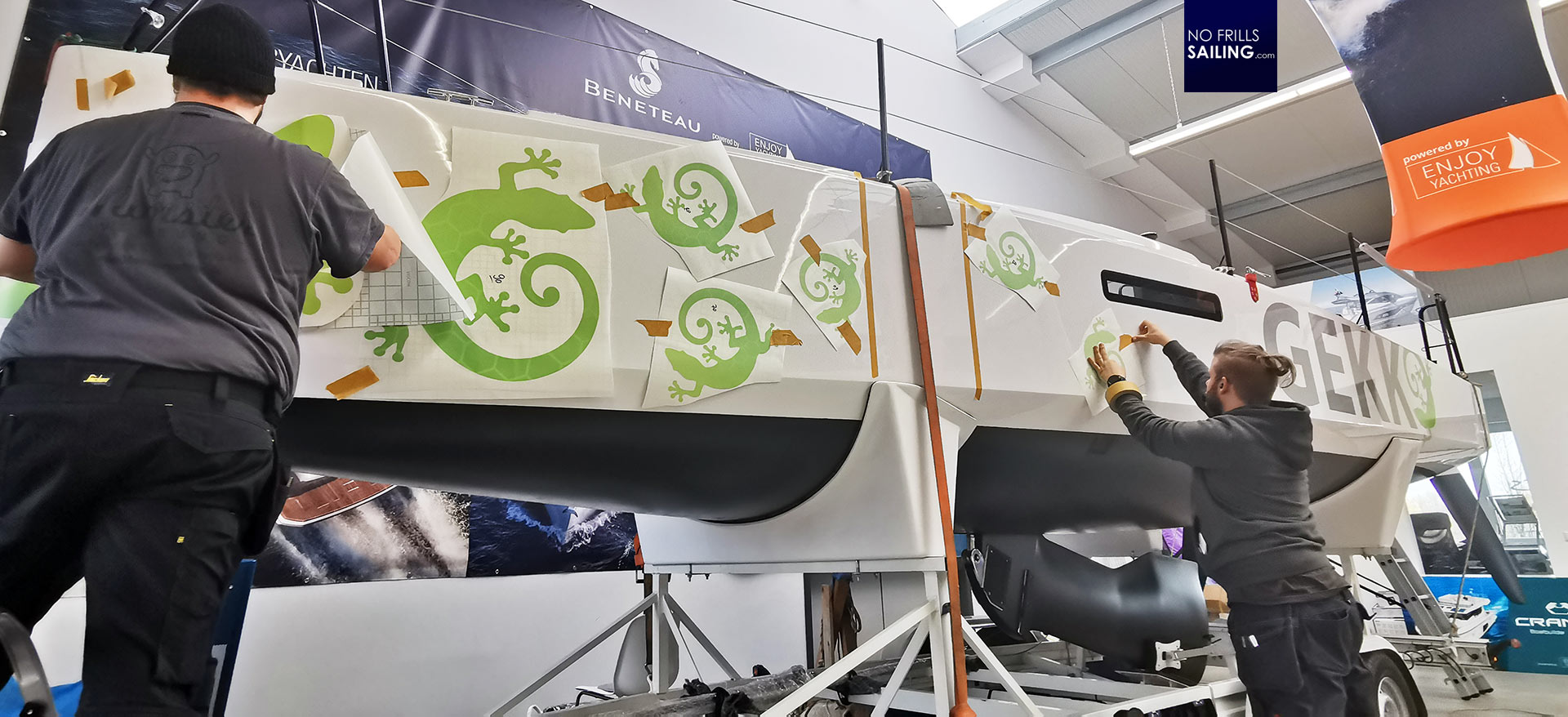 I was astonished of how fast these two guys work. They had put up a printout of my design on the boat, regularly checked for each item if placed accordingly and had the job done in under two hours. One guy took over port side, the other starboard side. I checked every 10 minutes or so and finally was happy not to have put up my filming gear to create a kind of time-wrap video: It would have been rather short. Now, here we are – she is finished!
The story of the ship´s name
You may know the story behind finding the name of GEKKO, which basically was an idea of my two kids who I encouraged to come up with a proper name for "their" new boat. I thought this might be a good start for slowly but surely bringing them close to sailing and create a thorough bond between them and the boat. GEKKO was their second choice (only after the first name they came up with represented a turtle, which I didn´t thought was the appropriate soul-mate-animal for a racing boat like the Seascape 27 / First 27 SE.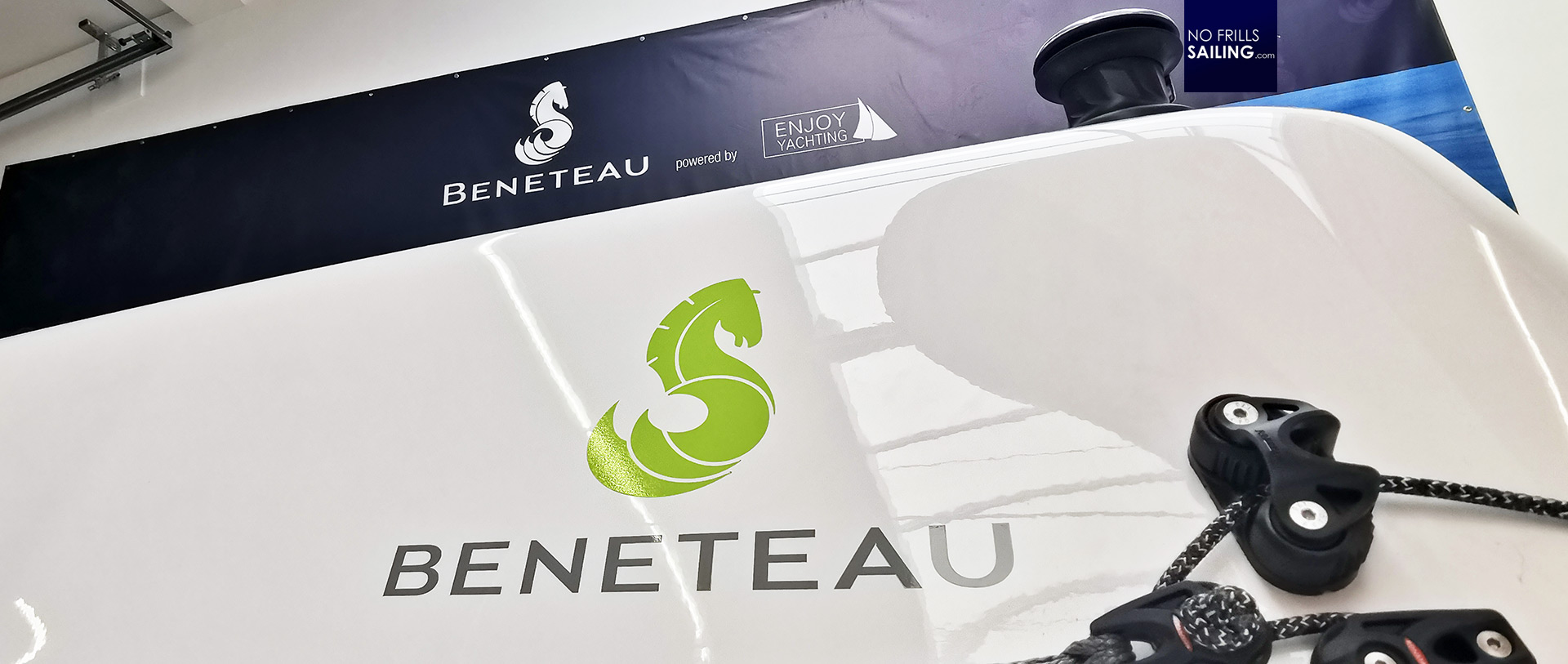 Of course I also changed the colors of the Beneteau- and First-branding to match the color scheme to GEKKO-green and found it suits the boat beautifully. Even my boss, who is more a kind of big-powerboat-guy, came up to the workshop and agreed to the beauty of the design. Sending some whatsapp pics to my kids I received excessively great feedback by my happy kids. Mission accomplished, I shall say.
I myself got kind of a bit emotional when the last sticker finally git put on the boat, which was her name GEKKO and the home port of Lübeck, which is the Northern German town where I live. GEKKO is my second boat now and after four years of tedious refit action in my first boat, OLIVIA which never swam since then, this is now going to be my very first boat to be actually sailed by myself and that realization hit me hard, shook me to the bones. I´d say that this is happiness, isn´t it?
Hitting water soon
Now, there she is: Standing proud and pretty, new GEKKO, the First 27 SE #122 ready for watering. Really ready? Well, not quite so: Next week there is the last big item on the list to tackle. We have to install the Torqeedo engine, big lithium-ion battery and control panel. Which shouldn´t be an all-too big issue for the pros working in our company, but still a big task.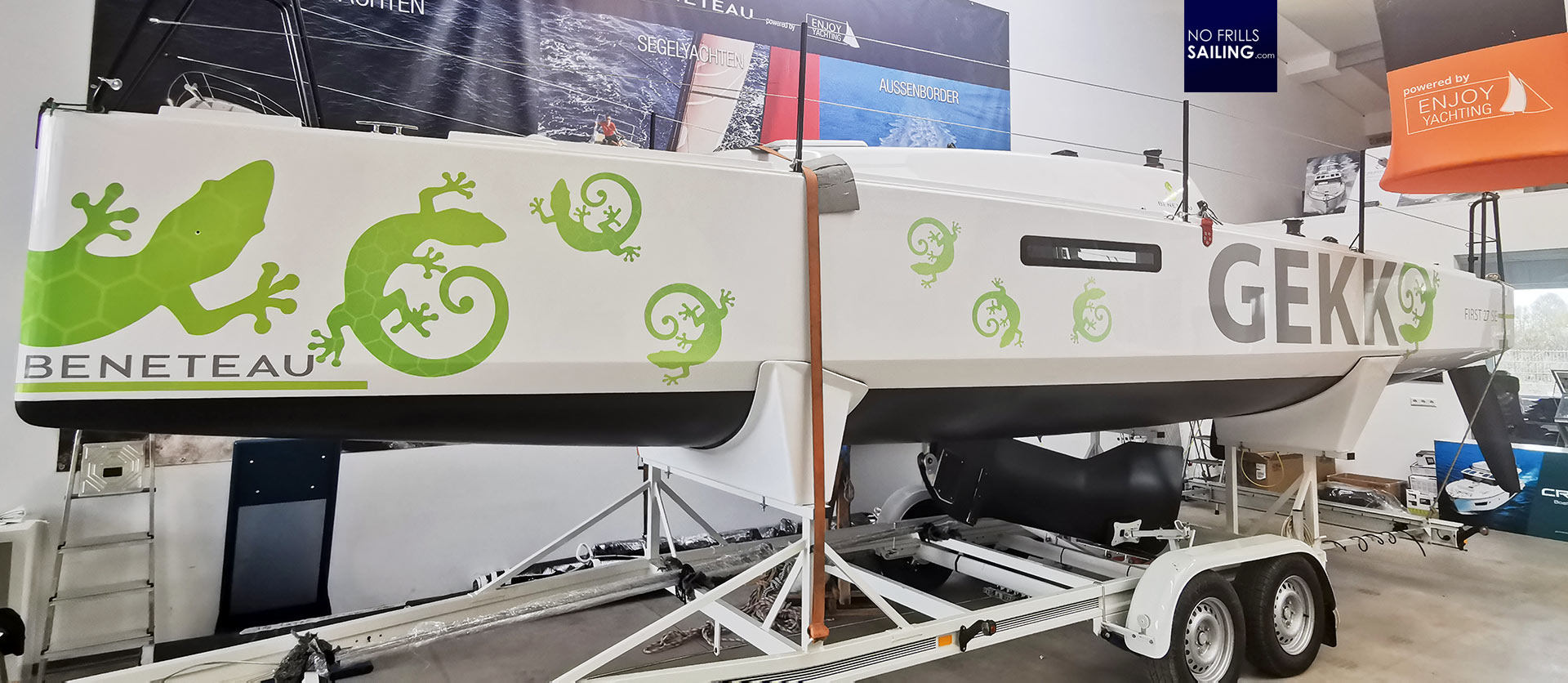 Crane day is re-scheduled from April 20iest to 28th, one week more for safety. Rigging of the boat shouldn´t be a problem after we have done a pre-installation last week so that I guess I can be sailing her for the first time by the end of this month finally, starting with some three weeks delay – which isn´t a problem since weather had been awful the last weeks and otherwise Covid 19 still restricts sailing action to a large extend, I couldn´t have sailed anywhere indeed.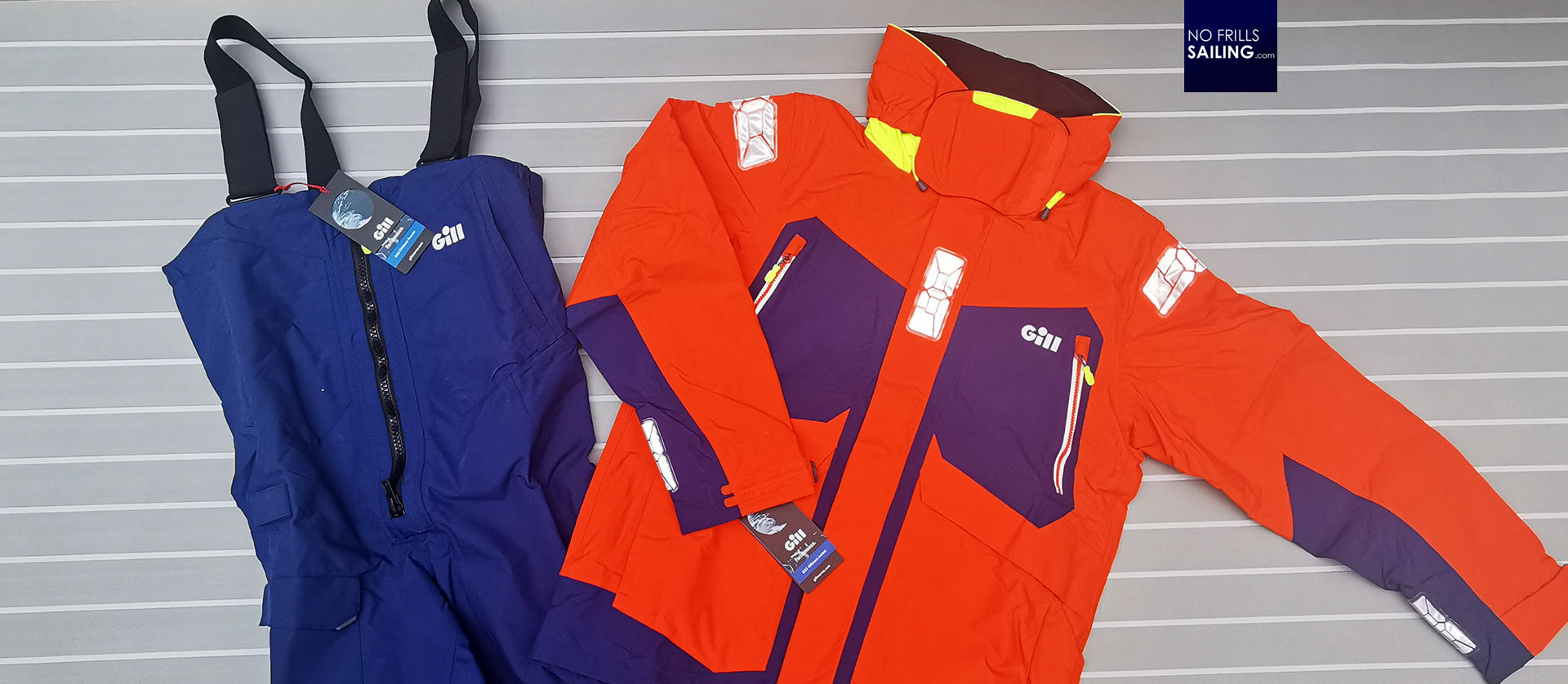 Other than that more and more equipment is arriving in a constant stream of deliveries, such as a brand new Gill collection of offshore oilskin which I thought is appropriate to exchange with my – beloved but 5 year old – previous outfit. I also received the MMSI and callsign for my VHF by the German authorities and some items for further upgrading the interior: It remains exciting. So, let me know in the comments how you like GEKKOs design, I appreciate it much.
You may also like to read:
All Seascape-related articles by clicking the hashtag #thinkseascape
Custom-designing the Feynman-boat, parts 1 and 2
A brand new design in IMOCA 60 racing yachts: CHARAL