Two days ago the big was finally there. It came so fast that I felt a kind of been thrown off guard: It was around 8 o´clock in the morning, the sun was barely up and the darkness of night still fighting to not give up rule over the world. The chilly cold crawled upwards through my body from the cold leather seats of my cold car as I turned around the corner, driving to work. And suddenly there she was: Parked right in front of the entrance.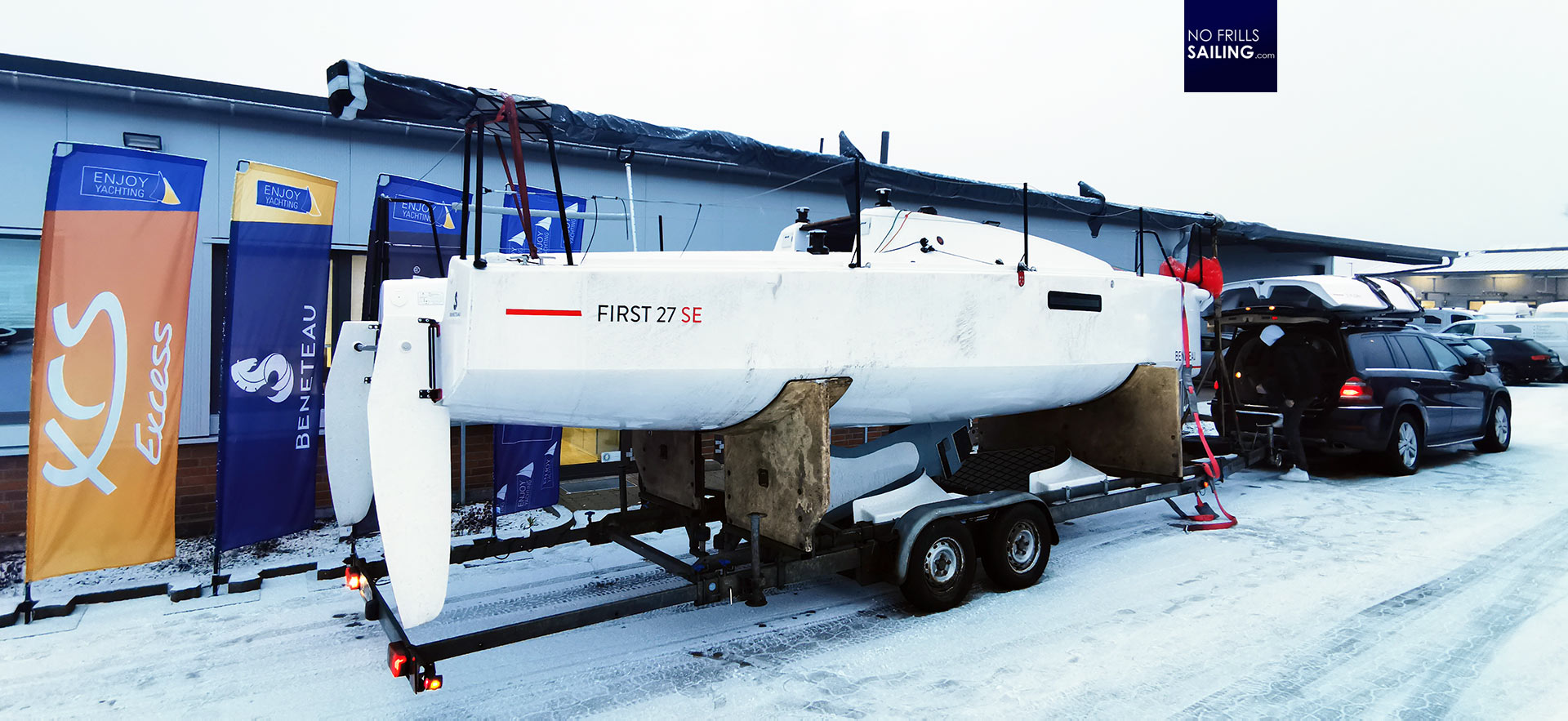 Oh wow!, I sad to myself, hit the brakes, the car slid some metres to come to a complete halt. The two drivers which I already knew from previous deliveries waved at me, already putting away the transport leashes and locks. My heart jumped: Finally, after this long, long voyage, my new boat was here – this promised to turn into a very exciting and interesting day. I parked my car, got out and tried to ignore the developing stress and hustle that is normal when unloading a boat is scheduled – just standing there, trying to grasp the situation and get a feel for the boat.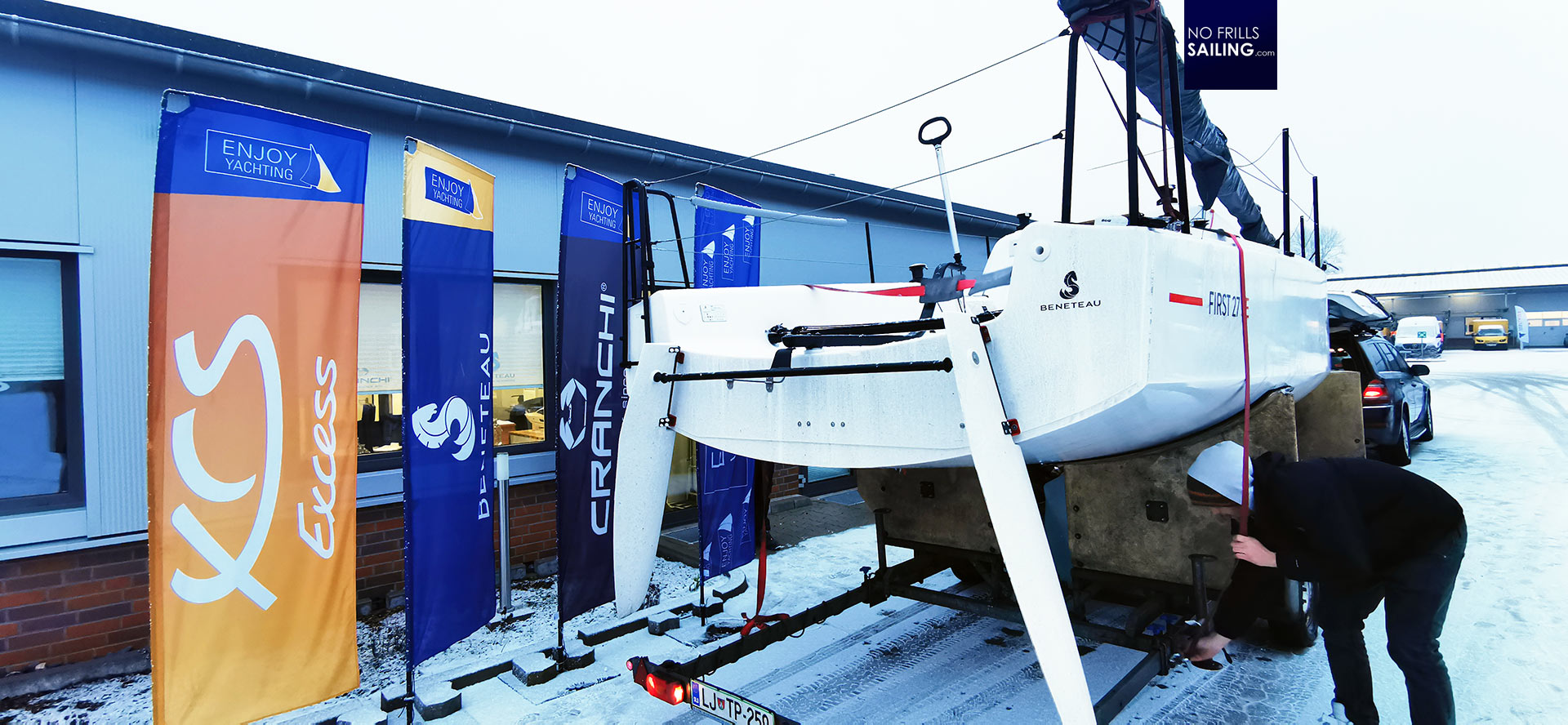 And what a sight she is, indeed! The sleek lines of Sam Manuard are breathtaking. She really looks like a "pocket-IMOCA" if you will. Her wide stern section (which, when looked closely, isn´t so wide in fact): I liked the view from the bow aft: Her hard chines in the rear and her thin, almost lengthy-warped hull shape make her look absolutely sick – a true racer, tempting, sexy lines. No regrets, no doubts: Here she was, GEKKO had finally arrived!
Perfect timing by Seascape
More than that, this day had also a wider meaning for me as it turned out it was my birthday. Of course, it was planned, was nevertheless, the sheer fact that Seascape timed the arrival as such was kind of flattering and very touching. They even fitted a nice big red ribbon to the pulpit and the drivers extended the yard´s greetings: I finally experienced by myself what I have seen so many times before. A happy owner receiving his new boat. What a feeling!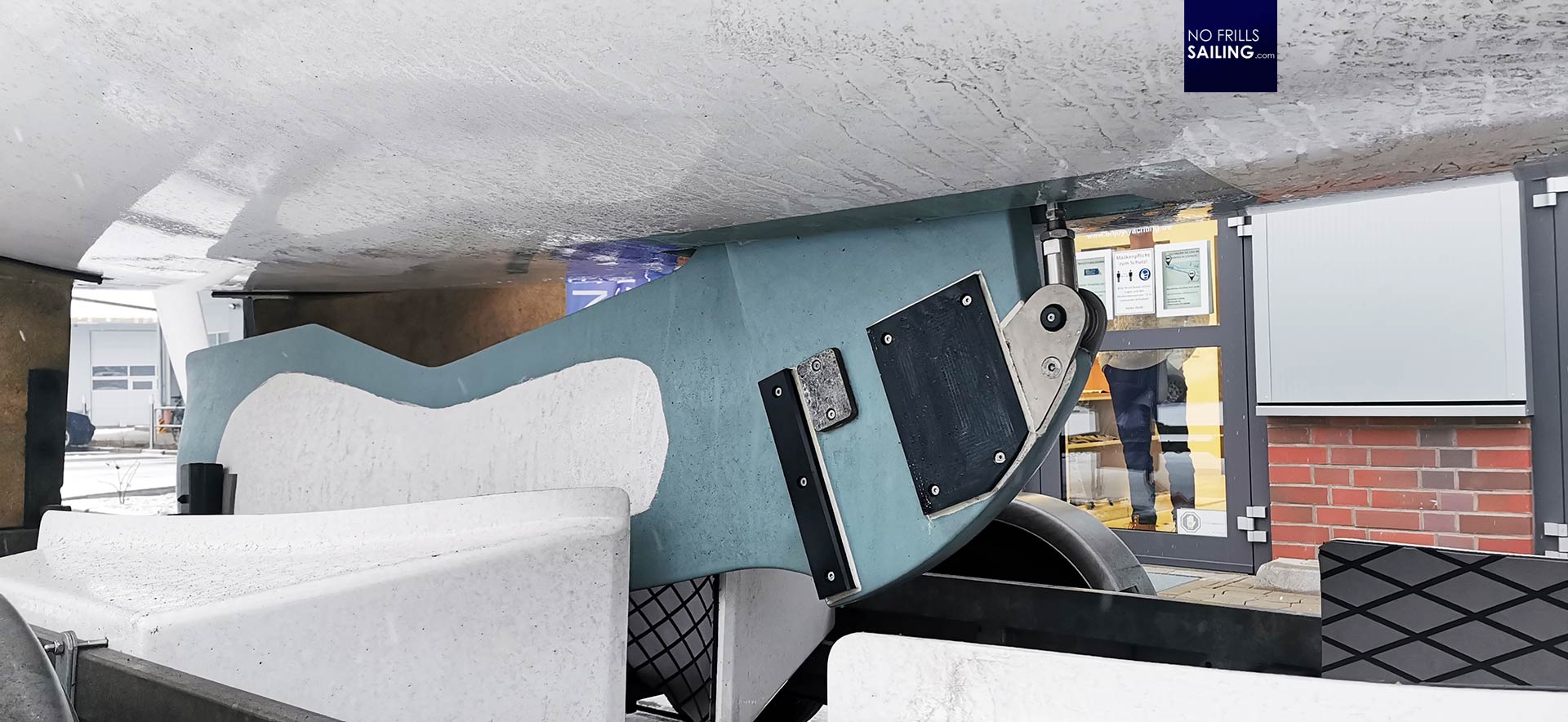 Of course I checked the boat for transport damage thoroughly (which was hard to do because driving 13 hours from the yard through the Alps through no less than three rainy, snowy wet countries had her covered in dirt all over the place. Nevertheless my desire grew by the minute to have her in the water, get down the keel and hoist her sails. Of course I new that this moment won´t arrive before April, if everything goes fine, of course.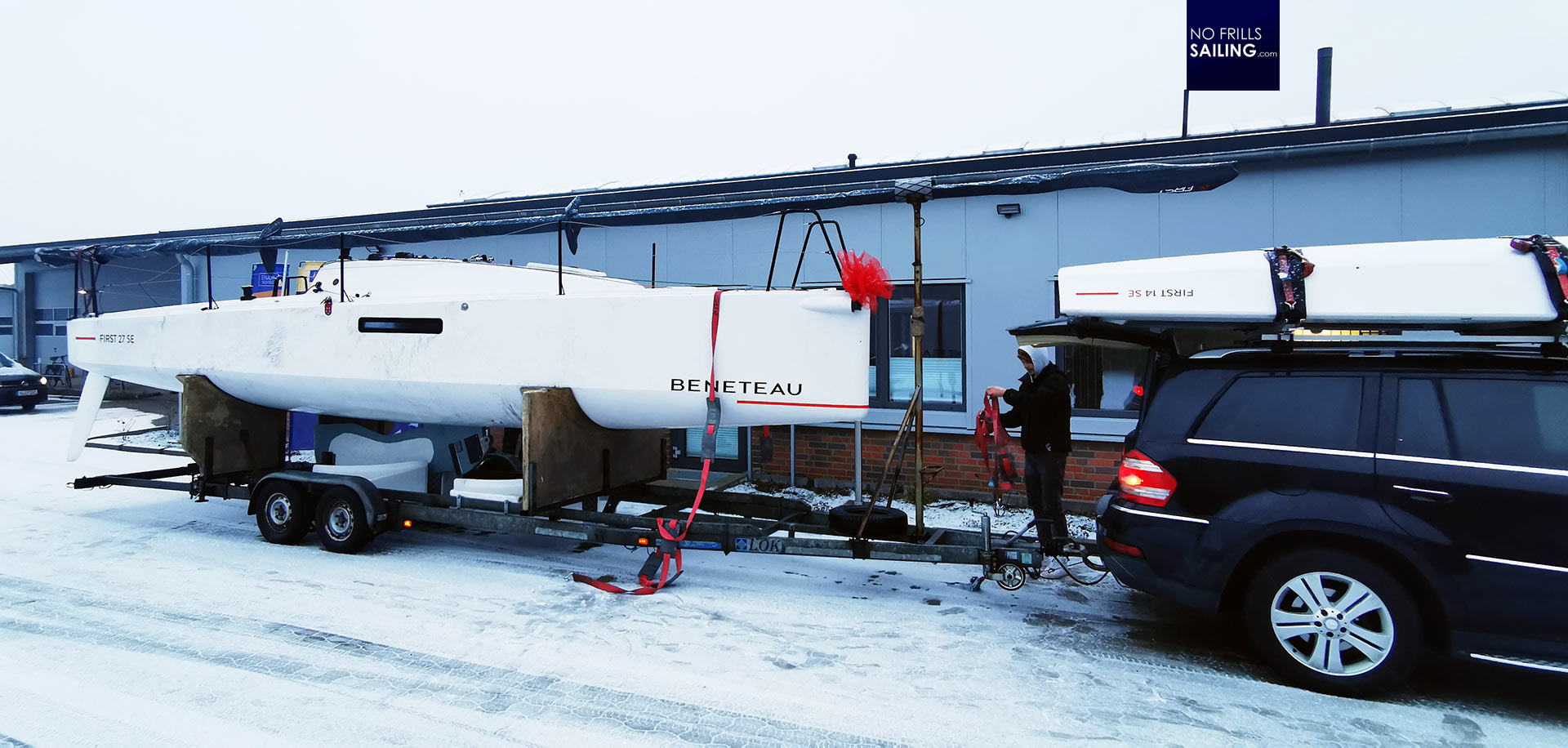 We drove the boat to our big workshop where my colleagues, eager not to put a scratch onto her, put her on her own trailer and secured the boat. Signing off the papers and waving the truck-guys goodbye, I celebrated my birthday and kept a distance to the boat. As birthdays go, it´s a constant beeping of messages from near and far friends and phone calls, there simply wasn´t time to fully enjoy the new boat: This I did one day later, taking half an hour to clear the boat´s interior from all the packages and equipment, I switched on the lights, sat down in the saloon and for the first time I was able to get a feel for the new boat.
A first quick room tour of the First 27 SE
And I must say, she is everything I expected – and so much more! On 27 feet, especially 27 feet designed for speed, "standing height" is a term not applicable to this boat. Like in the First 24 before, you of course cannot stand up inside, instead, roaming about inside the boat is done by sliding sitting upright on the benches. I still congratulate myself for having chosen the orange cushion. It´s fresh – it fits the character of the boat and, sending a picture to my kids, their excitement in return was a confirmation as well.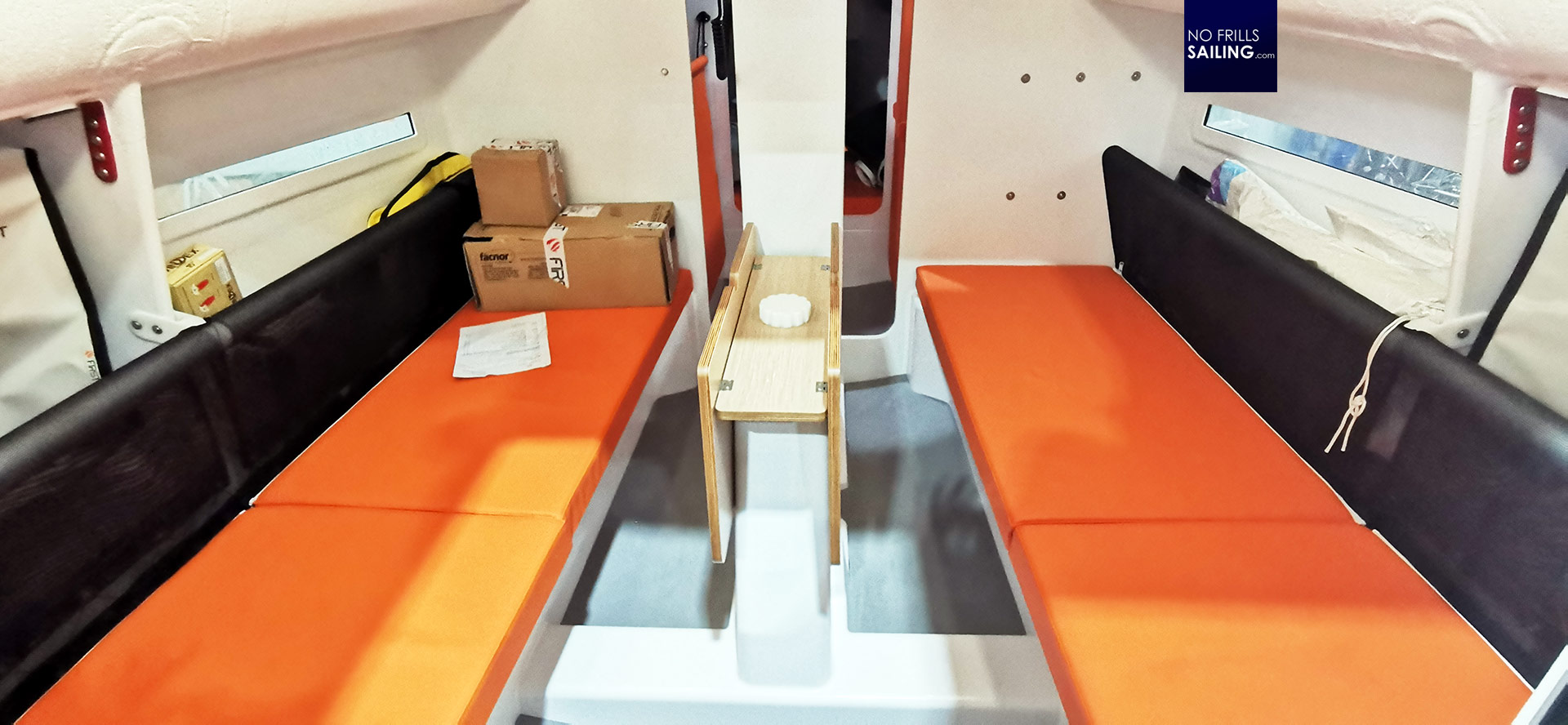 The saloon is surprisingly long and spacious. I already know the ingenious folding table from the First 24, more than enough for two people. Installation of VHF and the gimbal for the Jetboil-cooking system is fine, especially the folding plotter-technique is cool, protecting the feat from outside influences, precipitation and theft of course. Let´s go to the fore cabin.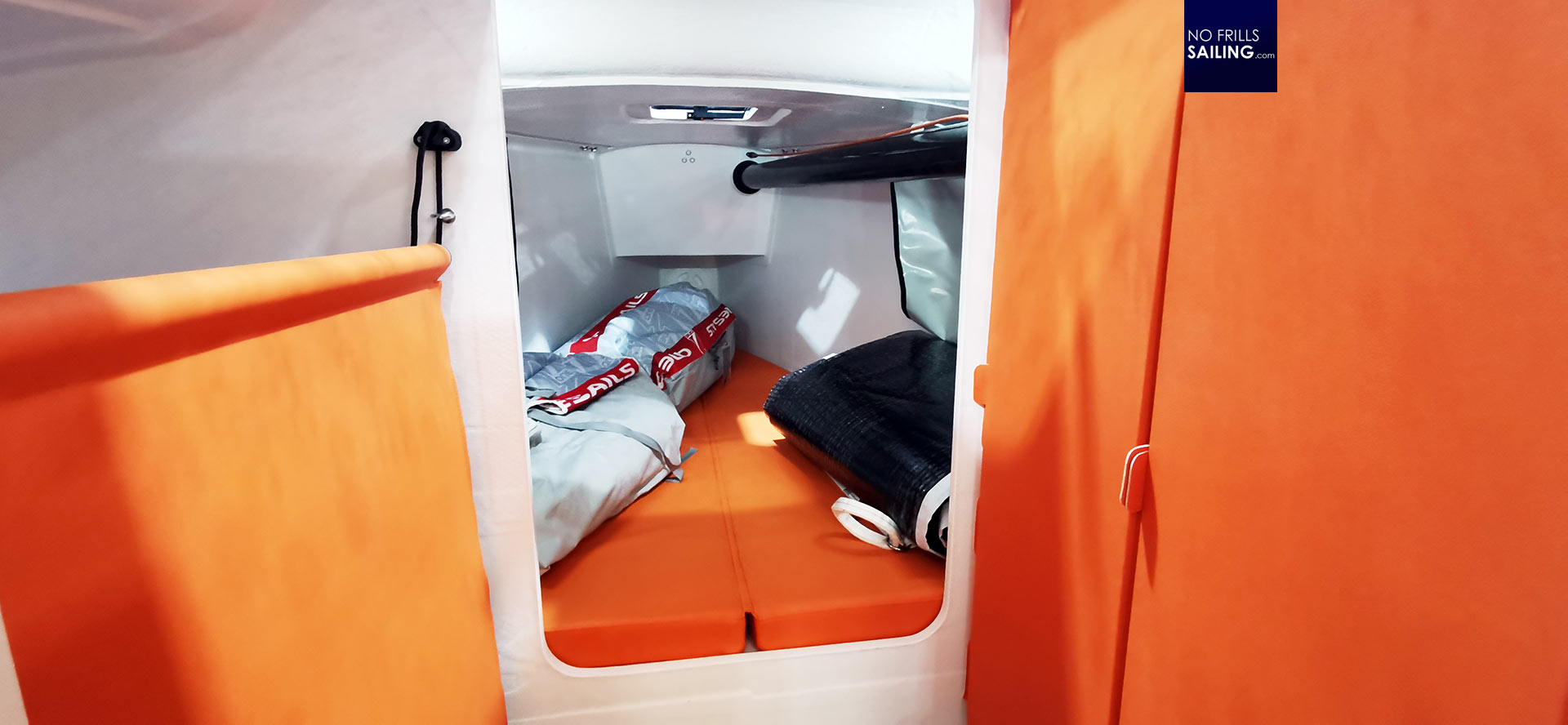 Right behind the main bulkhead to port side is the huge Gennaker-locker. It´s really huge. Maybe here´s a good location to have the boat´s heavy parts stowed underneath the Gennaker. Although I´ve already sailed on the First 27 before I didn´t remember the Gennaker storage as being so big. The fore cabin should have the same size as the First 24 in which I already test-slept one night on the Lake Constance. Nice!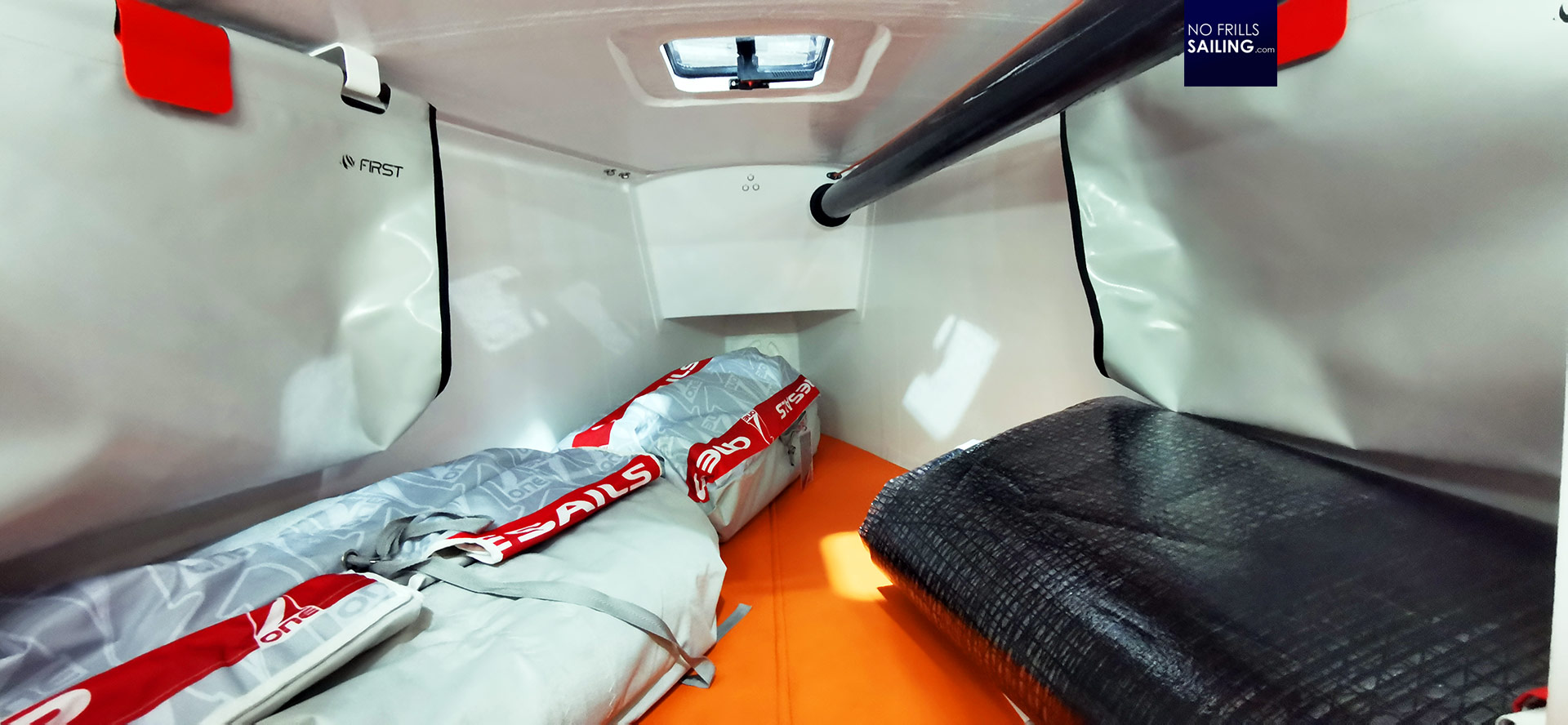 Maybe the two hanging bags to either side are taking away too much space when used by two people but we will see. My oldest son called my later that day and was eager to reserve this cabin for himself, stating that "here it will be nicely and gently wobbling the most", which he likes. One detail was of special interest for me that day – and this was the head of the First 27 SE.
A harbinger for #microcruising
During my long voyage of deciding which boat to go for I first scaled down immensely my demands what boat to go for. Coming from 50 feet aluminium exploration cruisers to adapt to the then freshly developing Covid-crisis I reduced the desired boat size to "small". Looking back to my awesome Oceanis 30.1-trip to Sweden it was then this cruiser I thought would suit me best. But then, finally, I opted for the First 27/Seascape 27 for many reasons – one was the marine toilet of course.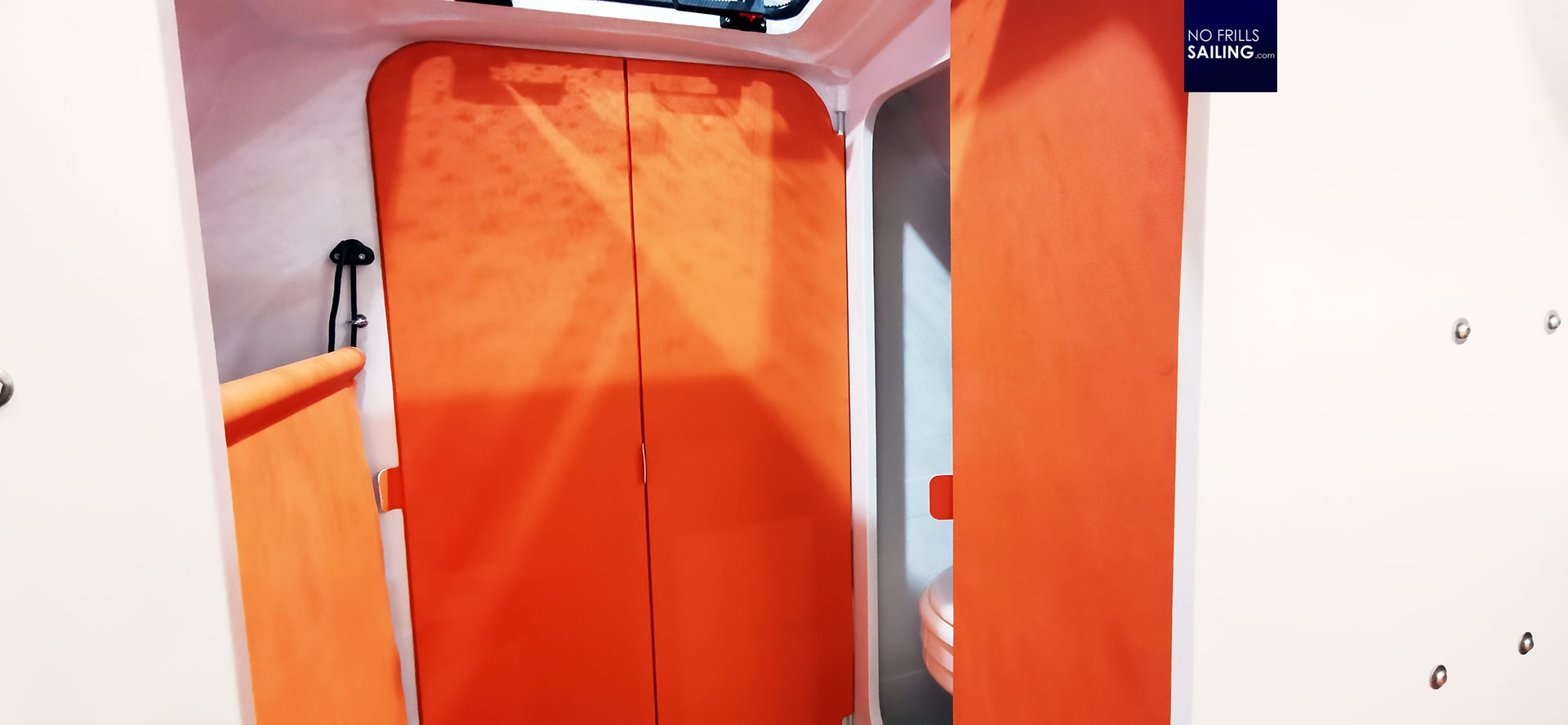 I can trade in internal volume without any remorse for having a quick boat. No problem. I can also trade in boat´s size for having the possibility of putting the boat on a trailer and drive it where I like to sail – and spare expensive winter storage costs at marinas. No problem as well. But I cannot trade in the comfort of taking a dump into a proper toilet. That is an absolute necessity for me, my kids and guests aboard to be able to sit down, relax and dispose of personal waste in a proper manner.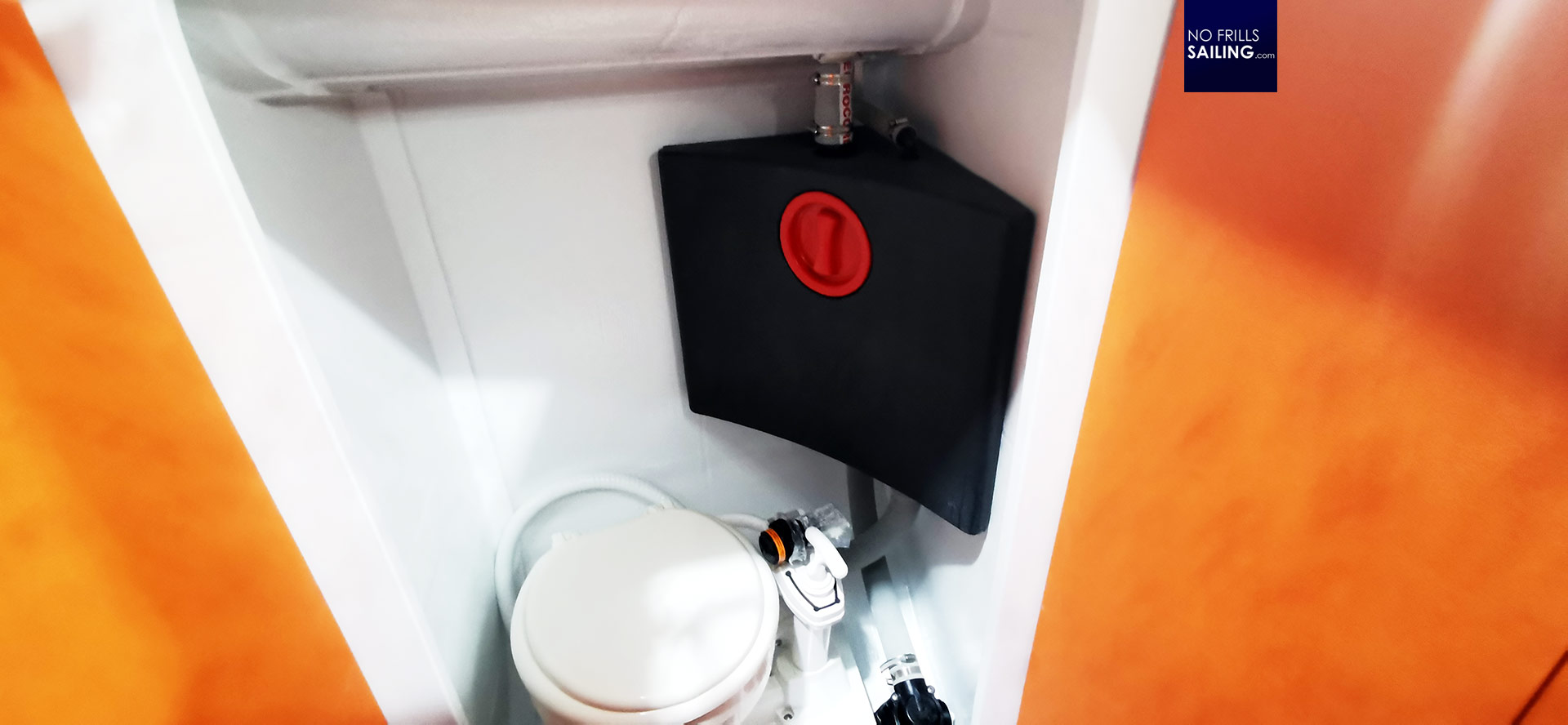 And that is the case on the First 27: A Jabsco pumping toilet is installed, a waste tank of course as well. The ingenious folding doors will separate the head when occupied from fore cabin and saloon, a small overhead hatch will make sure that ventilation is possible and natural light provides some comforts. This is perfectly solved on the First 27 and now that I´ve checked it by myself thoroughly that´s a real plus of this boat.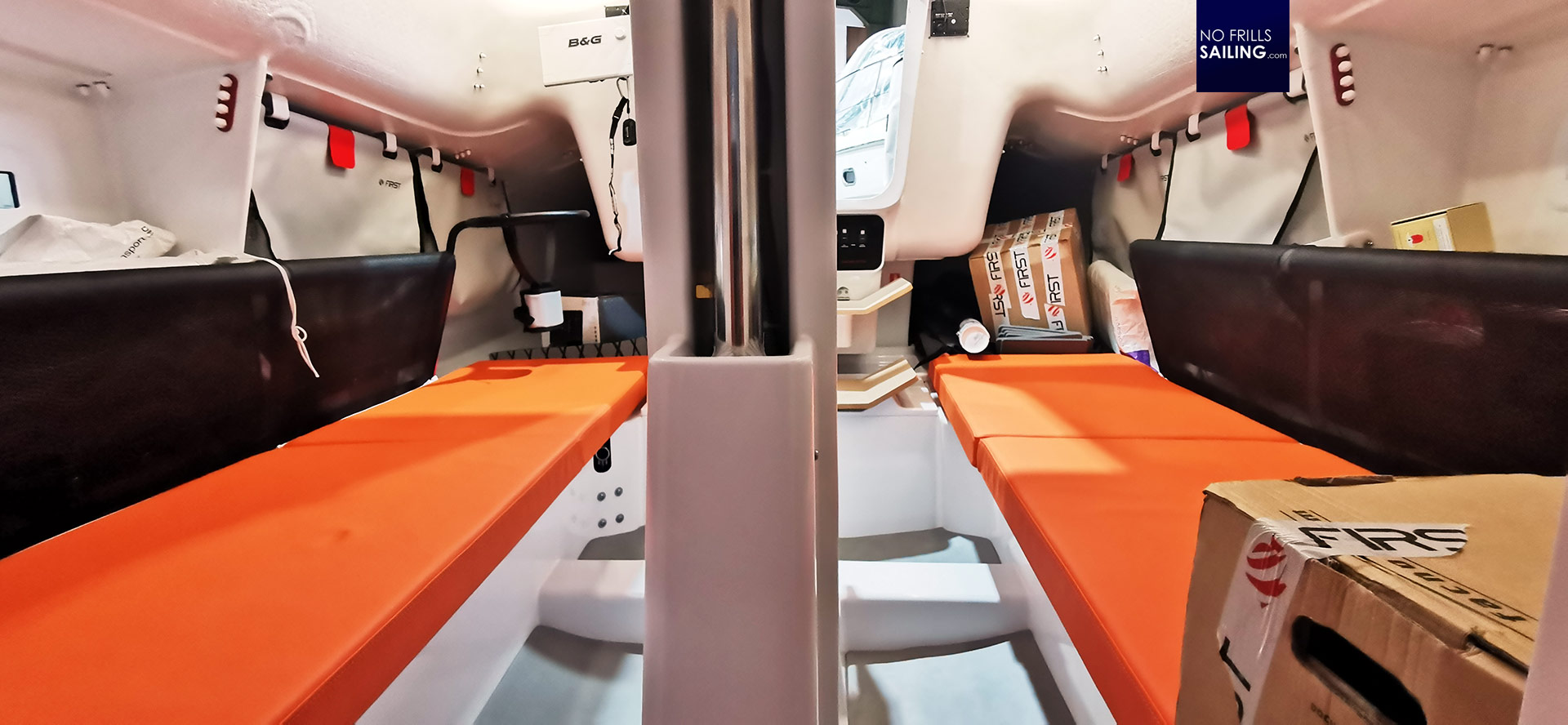 Now, going back to the main area in the saloon, I checked the flooring which is the first thing I will upgrade on this boat. Taking out the standard grey foam floor-tiles these will act as gauge models for new Eva-marine foam floor tiles I will produce the coming days. I want them in a bit higher quality and the grey with some white or black caulking. Nice little detail that will definitely put a notch up for the saloon´s look and feel.
For now I left GEKKO as of course our client´s boats have priority and there are a lot of them to prepare for handover these days. Nevertheless I leave GEKKO with a very nice mixture of pride, happiness and the impatience to make her ready for hitting water and hoisting sails the first time. What a rollercoaster ride of feelings – now I know how it feels like to buy a brand new boat. It´s a nice feeling.
What´s up next, GEKKO?
The boat is now in our workshop at the company´s headquarter. Next week I will take care of the mentioned flooring tiles and plan to check the solar panels so that the custom-made array can be produced. The Torqeedo-engine is ordered and should be delivered around the beginning of March, application of antifouling is scheduled for mid to end of March as well. In the meantime I try to study the owner´s manual: The hydraulic keel mechanism for example is a main feat of this boat of which I haven´t got any clue at all right now.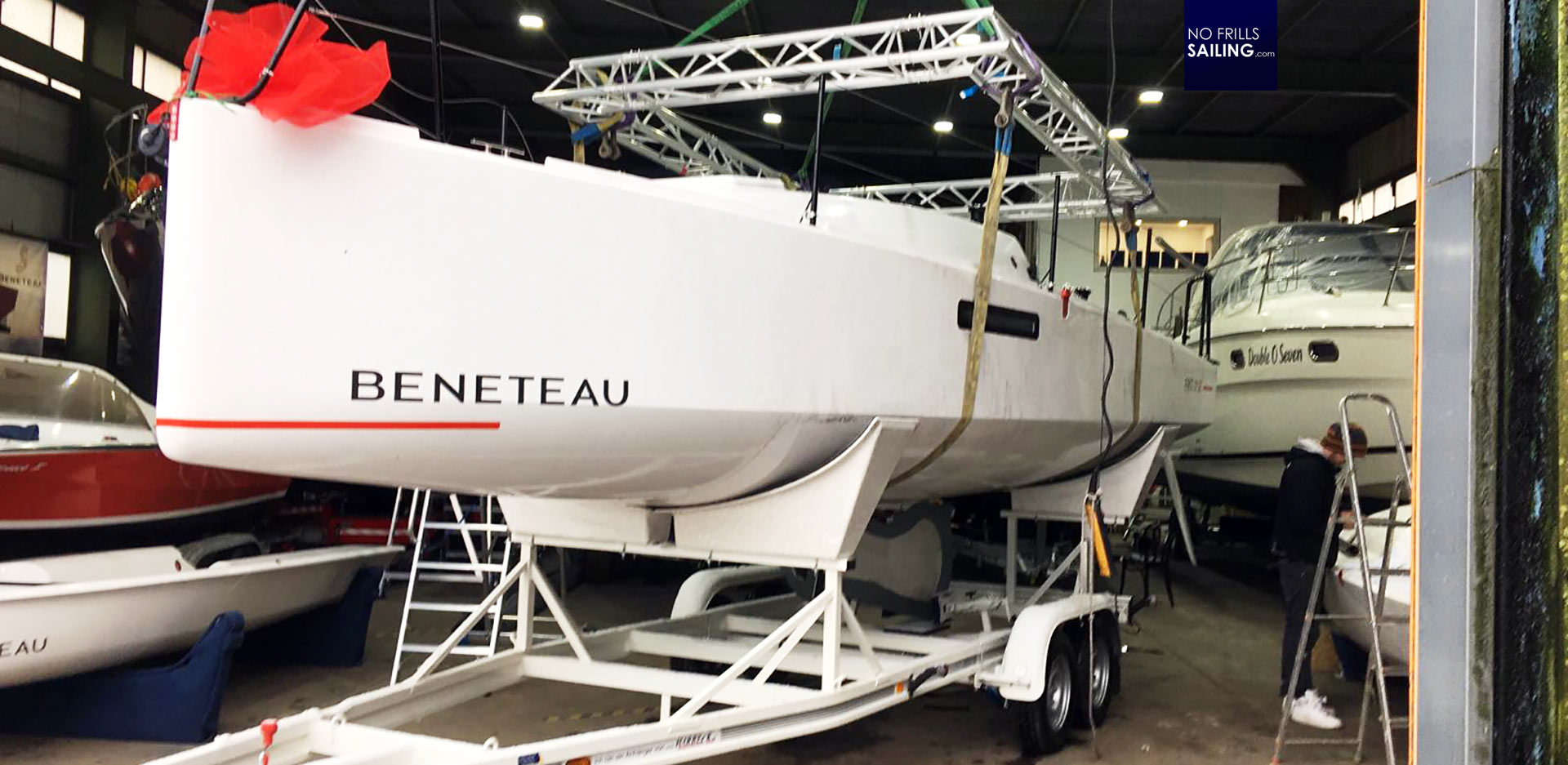 In any case, this fourtysecond of my birthdays will forever remain a very special one: Receiving GEKKO on this day makes this boat even more important to me. I am joyful and happy and more so because my kids reacted absolutely fantastic and look forward to go sailing with me on her. In these dark months of winter and during these relatively stressful times regarding the ongoing crisis this is definitely something that cheers me up so much: I never would have imagine that spending so much money can actually make you happy this much. Thanks to all who had been sending greetings and best wishes, I very much appreciate this.
You may like to read these related articles:
Everything about GEKKO may be browsed here
What is #microcuising?