So the new year starts exactly like the old one ended: We´ve got a tightened lockdown here in Germany and besides I´ve lost my driver´s license for speeding for a month. Well, that coincides "just fine" as we aren´t allowed to travel anywhere anyway so that fits – along comes the message from the yard that my boat´s delivery is slightly off plan and two weeks behind schedule. Never mind: GEKKO now will arrive just in time to my birthday beginning next month.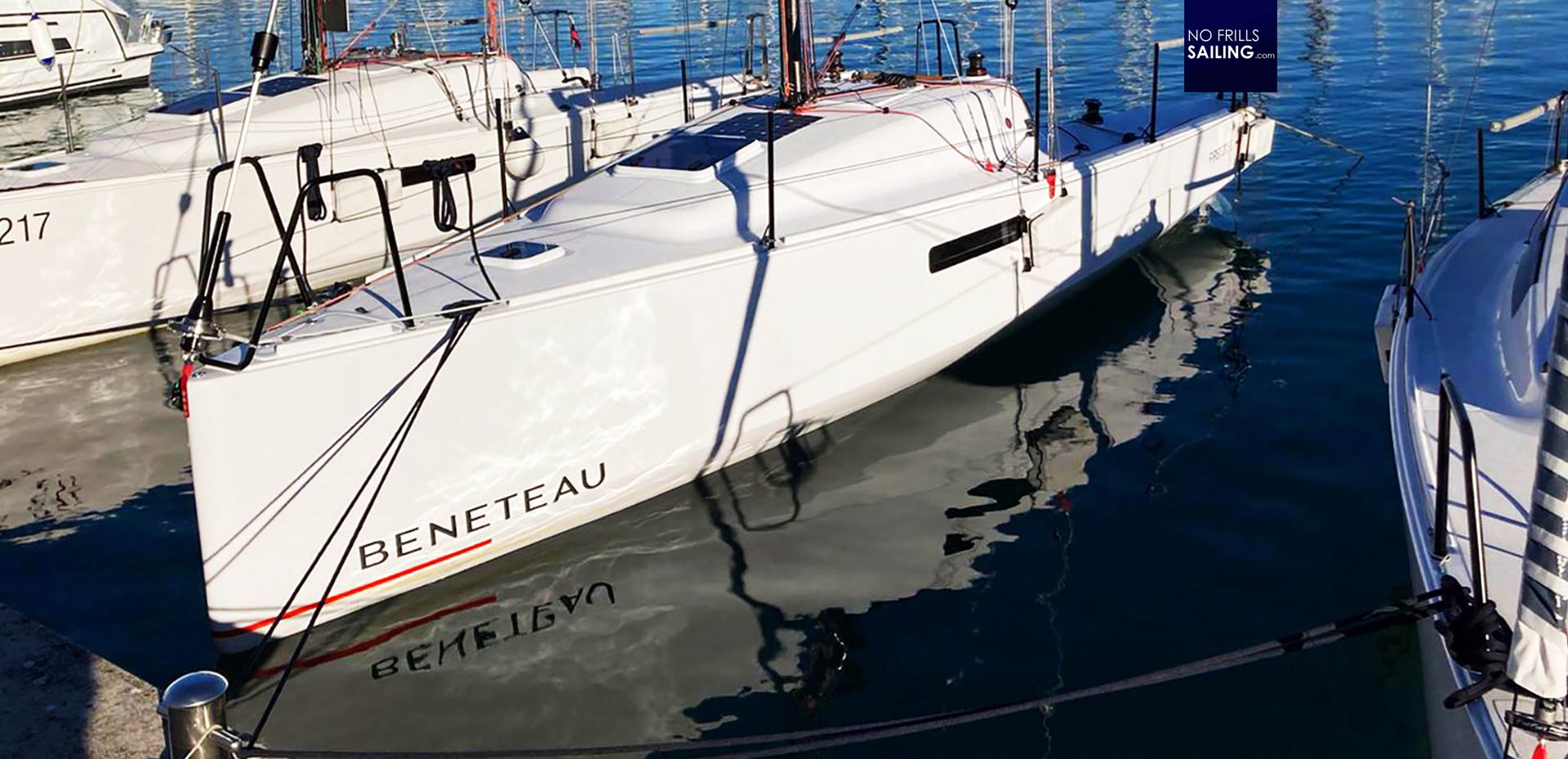 Nevertheless, besides acquiring some on-board equipment for the #microcuising galley of GEKKO I´ve started to the upgrade-project of the solar power array of the boat. Originally the First 27 comes with a 50 Wp solar panel that is constantly recharging the onboard battery. One of our clients who bought a big +50 feet oceanic cruiser was very excited and proud to tell me about his great experience with fitting a custom-made solar array to his yacht (read it here) and highly recommended an Austrian company specialized in this matter: Solbian Solar. Today marked another big step for my own project though: The paper template of my custom array arrived.
The 1:1 paper template for the solar array
Let´s start at the beginning: After making contact with Solbian in Austria I received a quick answer and first suggestions for a custom solar array for the First 27. I´ve decided to fit an electric engine to GEKKO as I don´t want to have any hustle with clogged carburetors and stinking (carcinogenic!) gasoline handling/spilling. This would be the Torqeedo Cruise 4.0 engine which can push boats of up to 4 tons displacement and equalizes a 8 horse power outboard engine. That´s a 4 kW engine. This will be fed by the new Lithium high load-battery 48-5000.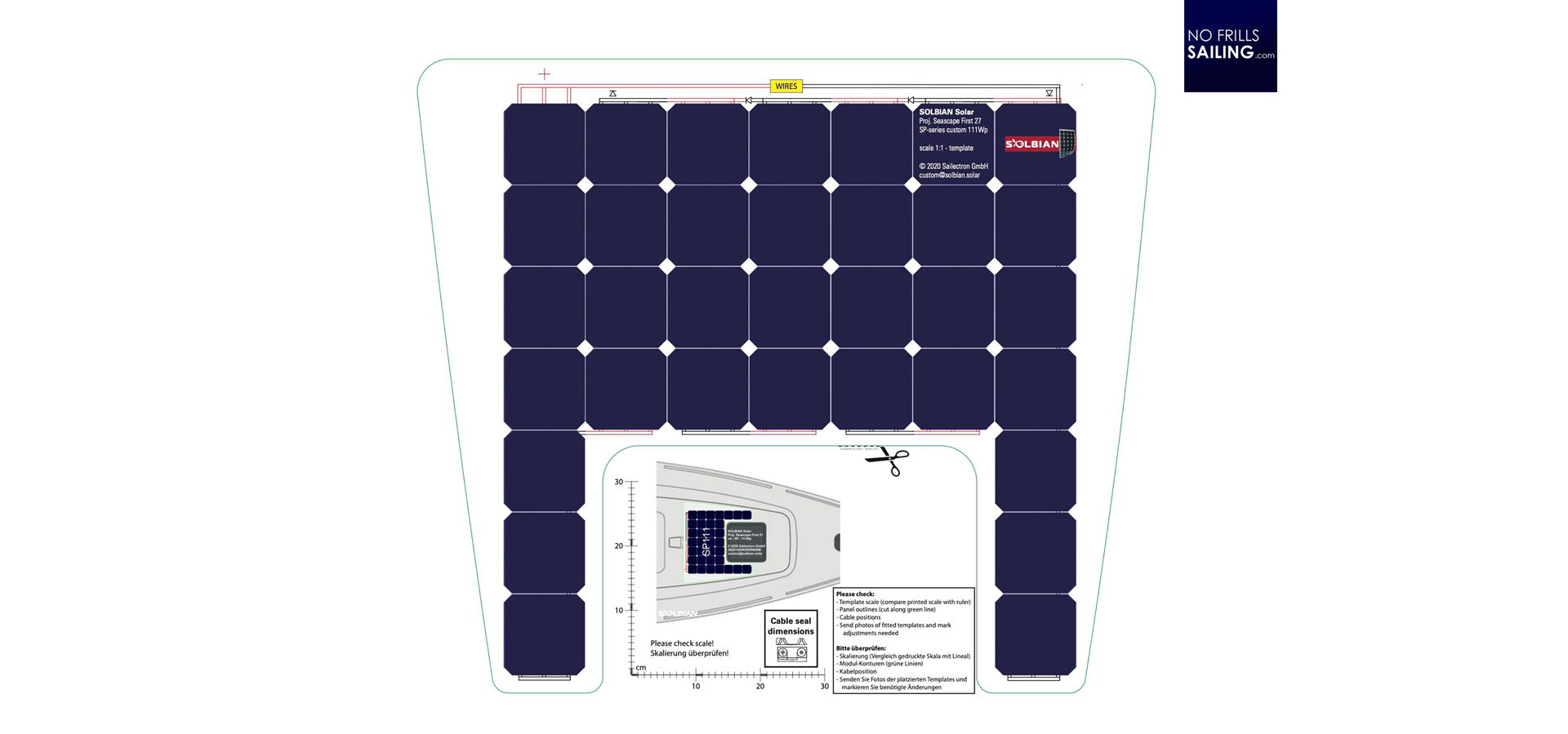 Mr. Körner of Solbian did a quick calculation and offered two solutions for a solar-array capable of re-charging the battery as quickly as possible on the one hand and utilizing the most of the available area to cover with solar-cells. The outcome was a CAD-graphic showing the custom panel planned for GEKKO. This panel will be placed just forward of the main skylight hatch. We´ve had a vivid mail exchange and managed to raise the power output from initially 78 Wp to now 111 Wp which is a huge plus. Today a 1:1 cardboard-paper template arrived and I unpacked it. It´s just huge!
Seeing it on screen and imagining this on the boat is one thing – having it physically in my own hands and literally see it with my own eyes laying before me is a different story. This panel is very big, bigger than I thought. I am now working with Mr. Körner to add another secondary panel – of course smaller – just in front of the skylight hatch to utilize as much of the area as possible. GEKKO´s autopilot, a B&G NAC2 and her plotter will be the main current consumers, I´d maybe fit a Dometic coolbox as well so that there will be constant need for electric power – this the need for fast re-charging.
Next steps for the First 27 SE-upgrade
After the boat is going to arrive in Germany in two weeks the next step for the custom solar array is clear: As Mr. Körner told me, I should cut out the paper template and fit it to the actual boat. By this I can determine if the planned panel fits just fine or if it needs adjustments. I will also make a new panel for the secondary solar cells in front of the hatch – of not Solbian sends one.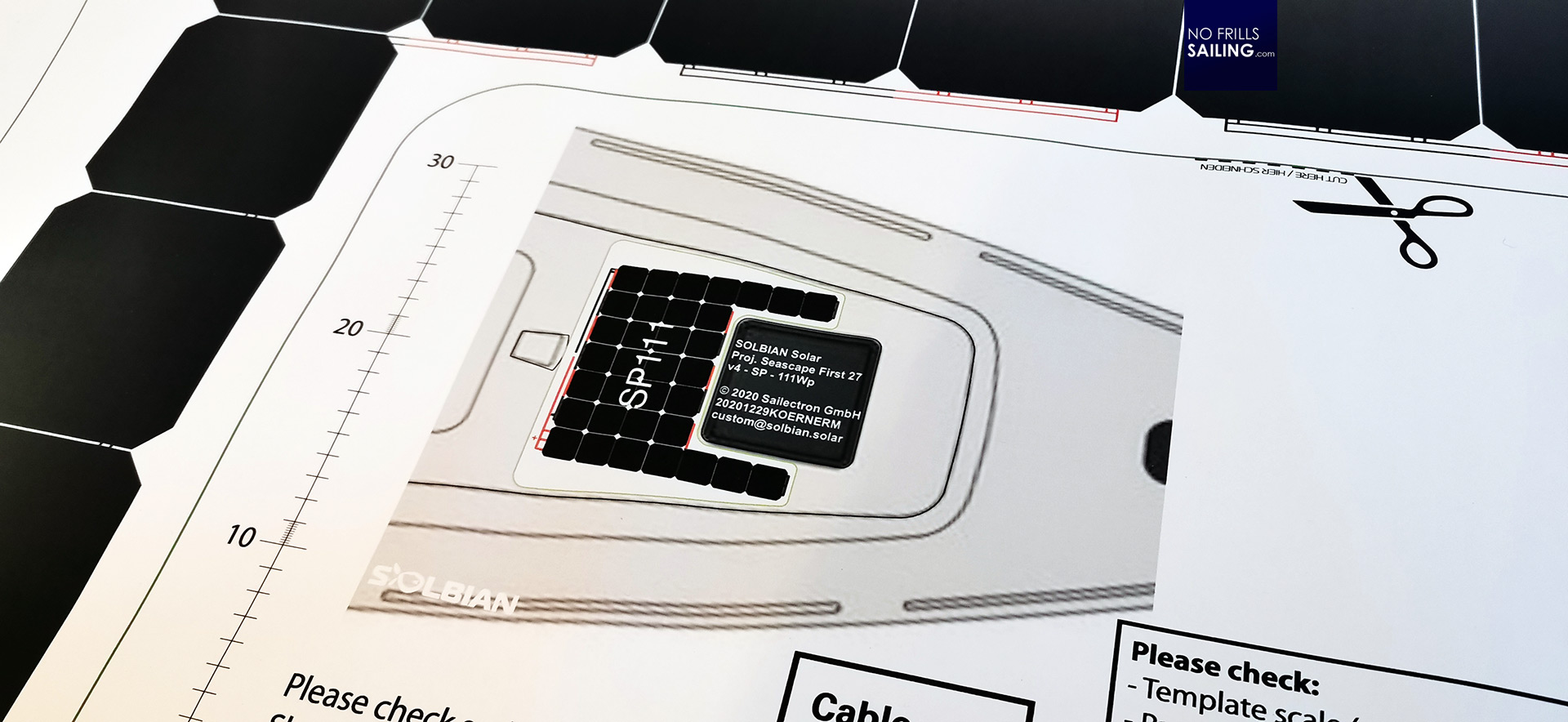 It´s a vital part of the upgrade-project and now that I have the first real items in my hand it starts to feel real too. Up until now, GEKKO was more of an idea, a collection of bits and bytes, colorful pictures and a lot of dreaming. Now it will be here for real in a short time and I am super excited to finally being able to start working on the boat – not just shopping towels and sleeping bags. Great things ahead, my friends.
You may also be interested in reading these related articles:
Solar power for sailing yachts, parts 1 and 2
Micro cruising: My live test aboard a First 24
Electric engine test: Torqeedo Travel 1003 review